Kitchens function best when the room is uncluttered!  Kitchen towels are the perfect way to add a punch of color and still keep the space defined for practical use!  The style and season of a kitchen can be transformed by the simple addition of a new tea towel.  Here are some of my favorite kitchen towels this season and some tips for caring for your kitchen towels and finding the most absorbent towels for your kitchen!
Did you know….
you should never use fabric softener with towels.
linen towels are perfect for decoration.
cotton towels are much more functional than linen towels.
old cotton flour sack towels are very absorbent.
cotton towels become softer and more absorbent with each wash.
you should soak towels in vinegar and then wash prior to using the first time.
-removes the coating manufacturers seem to soak everything in.
-prevents the colors from running.
While I'm totally loving all three of these 100% cotton tea towels from
West Elm
, the Scandinavian Tree towel on the far left had
 to have been made with my kitchen in mind!  I'm totally loving it!
Also from West Elm, I think this Kitchen Canister Tea Towels in ivory and black is
totally chic.  I love that their eclectic feel of a perfect mix of vintage and modern!
I am in love with the blues, greens, and yellow Houndstooth in this
modern Linen/Cotton blend Tea Towel from Avrilloreti!
Designed and printed directly onto the fabric, they're a total work of art by Avril!
This set of 100% cotton dish towels in a coral red, golden yellow,
and light aqua blue featuring hand-drawn patterns
from Lean Duncan is perfect!  Simple.Modern.Love.
with embroidered and appliqued wrens and doves sip from a dainty tea service!
Stripes with flowers, leaves, butterflies and scrolling patterns make
it perfect for Spring!  These thick cotton kitchen towels are generously sized and
have a burlap band on one corner for easy hanging and are generously sized!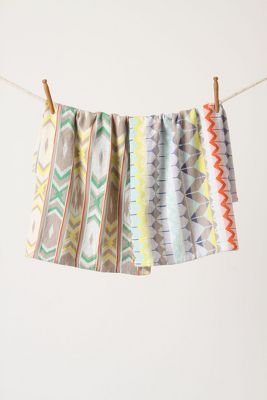 Also from
Anthropologie
, this Geo Jacquard Dishtowel set is a
thing of beauty! The colorful angles combined with neutral tones on
this high quality cotton fabric is perfect for Summer.
This whimsical glasses and goblets dish towel from
Crate and Barrel is TOO CUTE!   A combination of freehand
black-ink sketching filled in with color and set on a stark
white background offers a playful, sophisticated style.
Blend of Cotton and Linen.
Also from Crate and Barrel, "Artist Maija Louekari was
inspired by the vintage crocheted potholders of her grandmother."
Can you stand how cute this is!?  Blend of Cotton and Linen.

I always find very cute tea towels at World Market for an unreal low price.
I'm loving this Applique Teapot Tea Towel with a perfect geometric background
mixed with my favorite shades of blues and yellows on the applique!  The
whimsical Graphic Dot Butterfly Tea Towel is one of my favorites, too!
Oh Little Rabbit sells these Organic cotton flour sack towel that are
screen printed with an original hand drawn Mason Jar, tea cup,
and kitchen appliances prints.   This little shop is
cranking it with tons of adorable screen printed tea towels!
Perfect year-round kitchen towels…and the price is crazy reasonable!
If you're looking for GREAT highly absorbent towels,
these striped, basketweave kitchen towels are made
of Turkish cotton and are found at Williams Sonoma.
or…
These basic 100% Cotton Floursack towels are very
absorbent and a great price from Simply Smart Living.