This week my mom came for a visit and the two of us had fun eating at Zoe's (my favorite) and doing a little lot of shopping.  This weekend's plan…work on my fourth grader's Invention Convention project and my first grader's State Report and Speech (any Maine friends out there!?)  One more weekend until baseball tryout, aka, our calendar being way overbooked again!  This year we're playing Baby B up so the boys can be on the same team and Daddy will be the coach…hopefully that will give us a little more flex time than last semester!!!  So what's new with you!?!?  Enjoying weather in the 70s like us Texas Peeps!?!  Big plans for the Super Bowl!?!  Share your project in the party, then catch me up on your life scoop in the comments…I love your visits Sweet Friends!
This week on It's Overflowing and Barns & Noodles…
Home Cooking Inspiration :: Cream of the Crop Recipe Features
Homemade Crafts and Decor :: Overflowing with Creativity Features
Check out my friend Kim's Party at Too Much Time On My Hands…Open Now!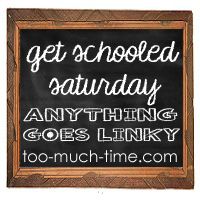 And here's my button so you can add it to your sidebar!
<div align="center"><a href="http://www.itsoverflowing.com" title="It's Overflowing"><img src="http://3.bp.blogspot.com/-8OfW03Bs9-8/T_ehaBN4PBI/AAAAAAAA4kc/0Hm2IsUWMfM/s1600/Party%252BButton.jpg" alt="It's Overflowing" style="border:none;" /></a></div>

Thanks for sharing your Overflowing with Creativity Projects and Cream of the Crop Recipes! XO, Aimee