Ready for another Dreamy Dwelling Home Tour!  Today, Melissa is sharing her home filled with beautiful Collections and lots of Southern Charm — Daisy Mae Belle is a great blog inspired by her three southern girls, Daisy, Anna Belle, and Lila Mae — they can never leave the South, right!  She loves to shop thrift stores, paint furniture, and craft her way to a welcoming home — ready to see it?!!
I sure wish you could drop in for a visit…I'd show you my dining room and family room.
I'd tell you about how I long for a farmhouse…
…but, how we actually live in the suburbs.  Which is perfect for my family right now.
I'd show you my new pantry.
And, tell you about how my dad helped me.  And, about what a genius he is with wood!  I'd show you some of the furniture I'd painted.
And, tell you how I love to always have something welcoming hanging on my front door.
I'd show you my latest burlap project.  And, ask you to share yours.  (The burlap ideas are endless!)
I'd show you my girls' rooms — Daisy's room…
and Anna Belle's room.  Which happens to be my current decorating project.

And, share how I had already made a Christmas lamp……even though it is only September!
And, we could end the day here in my backyard.
Stop by often for a glass of sweet tea — Daisy Mae Belle!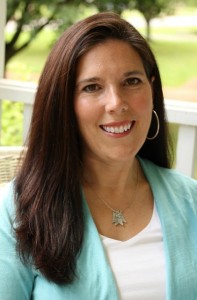 Thanks for the tour Melissa — I love this picture of your three sweet girls!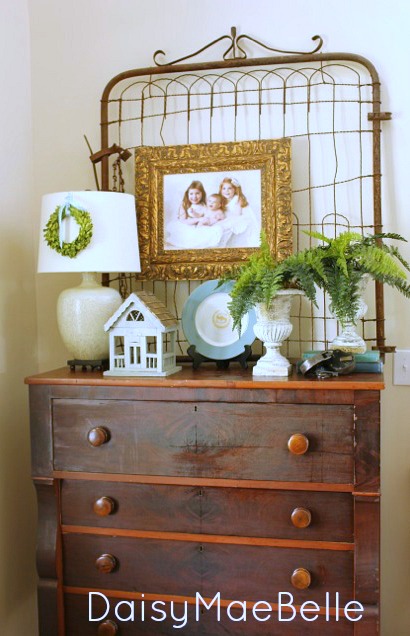 Did you love this Beautiful Home Tour!?  Melissa's home screams 'Southern Charm' — I'm totally inspired!  If you have a house tour you'd like to share on It's Overflowing, send me a line at itsoverflowing {at} gmail {dot} com.  XO, Aimee

Disclosure of Material Connection: I received one or more of the products or services mentioned in some of my posts in the hope that I would give it a good review on my blog. Regardless, I only recommend products or services I use personally and believe my readers will enjoy. I am disclosing this in accordance with the Federal Trade Commission's 16 CFR, Part 255: "Guides Concerning the Use of Endorsements and Testimonials in Advertising."