Today, we have another great craft in our series, A Craft Made By You.   You may remember our sweet friend, Carrie from the beautiful crafts she shared at our link parties (which started back this Sunday)?!?   She is here to share her quick and super easy project, DIY Monogram Wall Art and it is so perfect, I can hardly stand it.  
Have you ever been so excited about a project you could barely think of anything else until you completed it? This is one of those projects.  I was right in the middle of our $30 Budget Bedroom Makeover and this monogram was going to be one of the key elements in the gallery wall.  There was a problem.  The weather was not cooperating.  It was about 20 degrees and super windy outside–not good for spray painting!  My response: Who cares if it's 20 degrees outside.  I'm gonna do it anyway!
I decided to spray paint in the garage to block out some of the wind.  I painted the letters and ampersand inside a big cardboard box to ensure the paint didn't end up on the garage floor.  My neighbors probably thought I was crazy.  That's okay because I'm so happy with how this project turned out, hopefully your weather will be better than mine.
 Materials and Cost Breakdown:
• Two wood letters: $1.74 each after 30% discount at Hobby Lobby
• Wood ampersand: $2.99 after the 50% discount at Hobby Lobby

• Spray paint in the color(s) of your choice: 

$3.44 for the silver paint and I already owned the white paint
• Cardboard box for spray painting: already owned
• Super glue: already owned
Total Cost for the Project: $9.91!

Instructions:
• Spray paint your letters and ampersand in the color(s) of your choice.  I chose to paint my letters in a big cardboard box to prevent paint from getting all over the place.
• Once the paint dries, decide how you want the letters and ampersand arranged.  Use your creativity here!  The monogram can be vertical, horizontal, diagonal, or any arrangement you choose.
• Remember to factor in how you will hang this project up on the wall.  If you're planning on using a hook on the back, make sure that hook ends up in the middle of the arrangement.  You can also use sticky tack to attach it to the wall if it's not too heavy.
• Once you've decided the arrangement and how it will be displayed, use superglue to attach the letters and ampersand together in your chosen arrangement and let them try completely.
• Hang on the wall or display on a shelf and enjoy!
See, wasn't that super easy?
Here's how my monogram looks on display in my new gallery wall:
I'm glad I decided to glue the letters and ampersand together because it has a 3-dimensional effect that I adore.  
The monogram adds more visual interest to the gallery wall.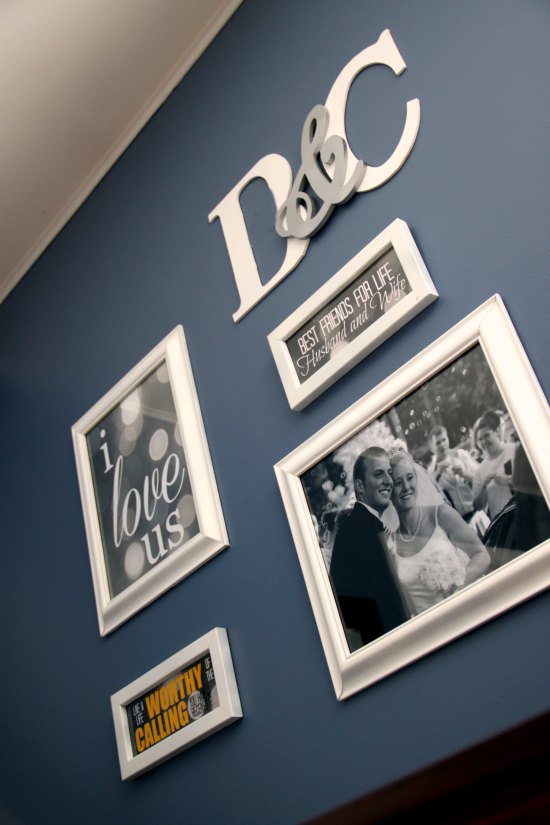 I love taking some frugal items and making them into something special!
Carrie is a wife and mommy who doesn't have it all together.  A little bit of coffee and a LOT of Jesus gets her through the day.  Carrie This Home is the place where she loves  to share life, DIY projects, and easy recipes.
Carrie  creates and shares tons of cute, creative crafts on her blog so definitely check her out!!!
 I hope this tutorial gets your creative juices flowing!
 More Fun Craft Ideas