Do you want to build a weight rack? If you love to keep track of your weights while workout at home, then you must organize your weights. So, go with these 10 best DIY dumbbell rack plans to organize your home gym and workout spaces, and they will especially provide good care to the weights and dumbbells. Most of them are made of wood and have so many different designs to suit different situations and spaces. However, to carry a collection of your heavyweights, you will get the free plans for building a metal dumbbell rack too.
Take a short tour of these 10 DIY dumbbell rack plans that the perfect homemade samples are giving you amazing inspirations. You will get the free step-by-step instructions, guides, and even the video tutorials to build a dumbbell rack like a pro at home.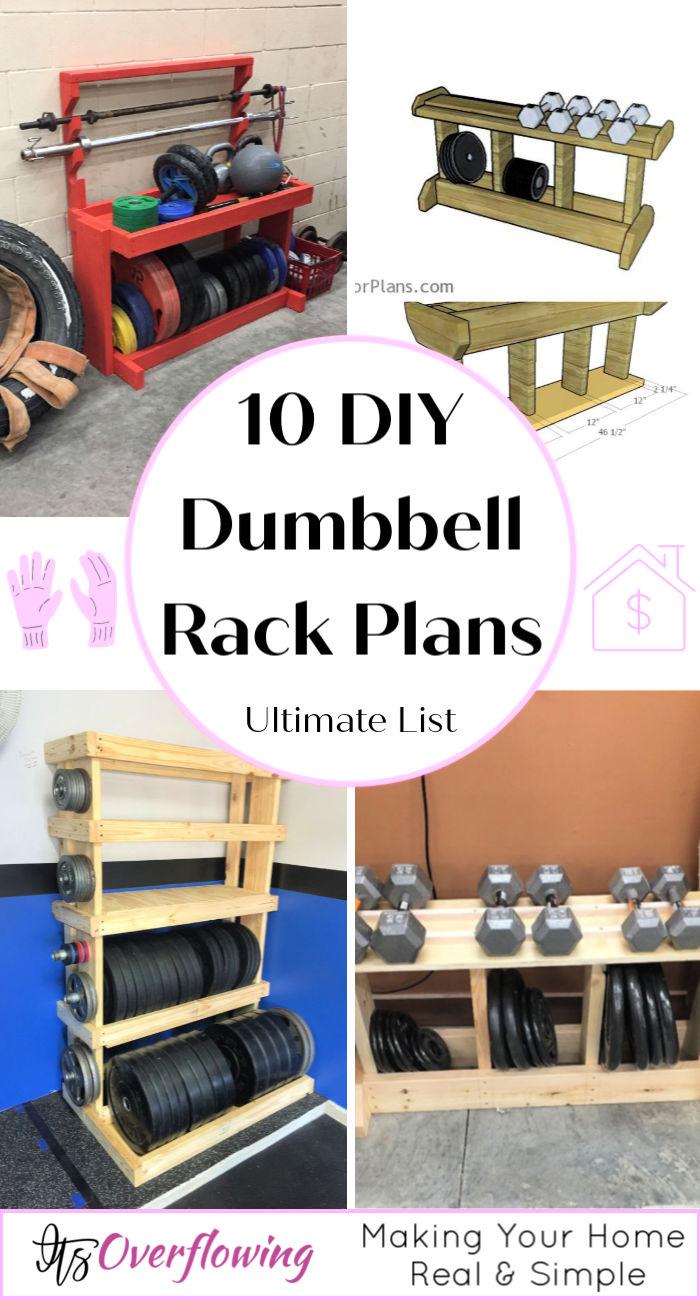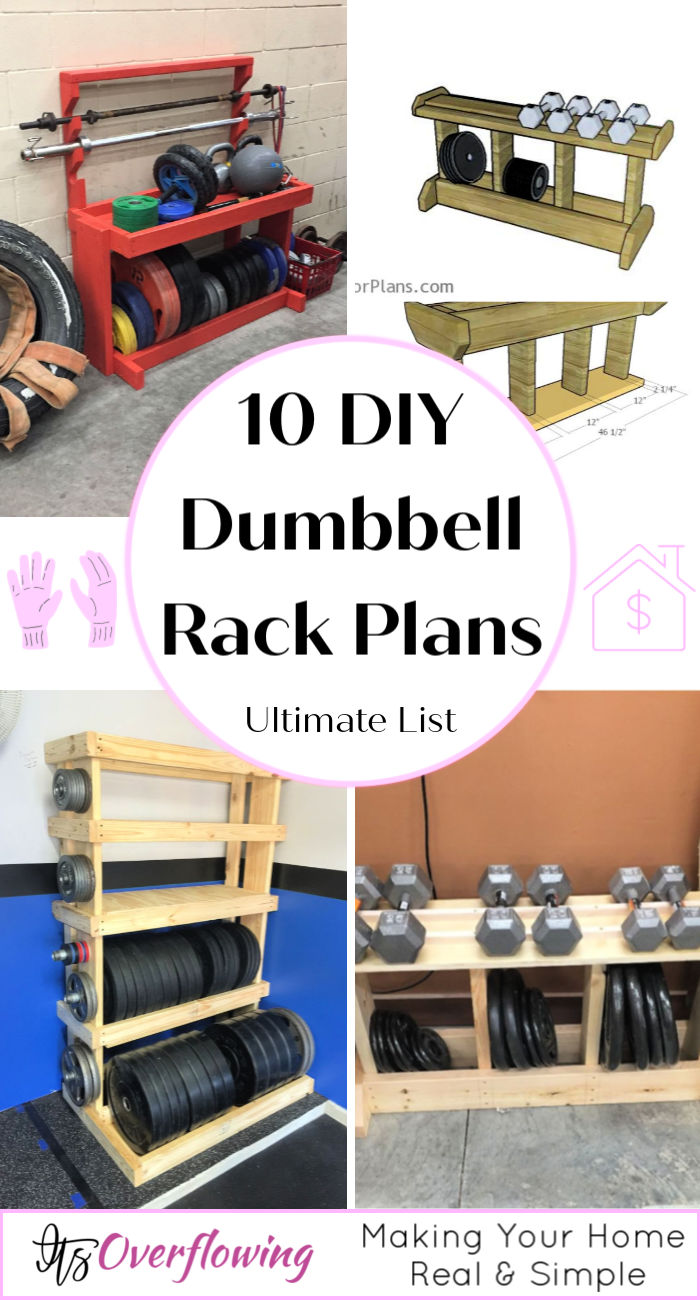 Opt for a tiered design that will provide a number of shelves to gain the categorical storage of your weights. Next, plan out a triangular dumbbell rack too out of scrap wood, will bring style to your home gym along with managing your weight collection nicely. The DIY dumbbell rack list provides designs for every short spaced and spacious home gym.
First, make the DIY dumbbell rack plan according to your weights and other gym equipment and decide on a design that you can ever achieve with the scrap wood. Just take a tour of all these DIY dumbbell rack designs and choose a design you are looking for in your home gym.
1. Build a DIY Dumbbell Rack in 3 Steps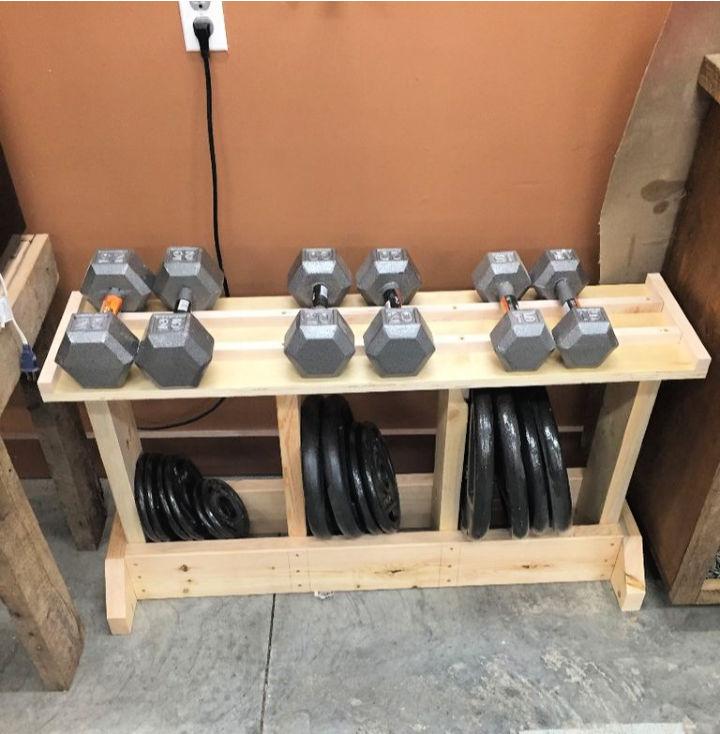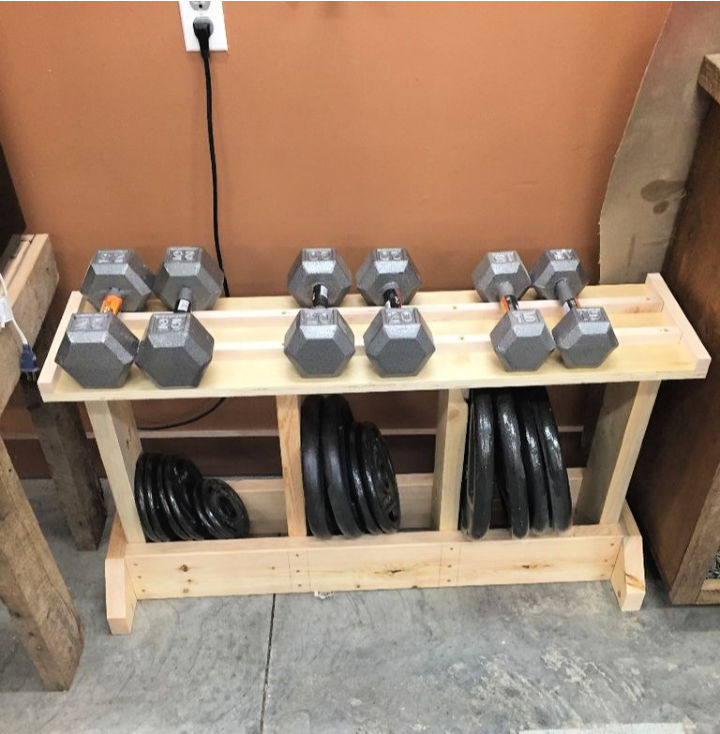 Declutter your workout area with this DIY dumbbell rack. The DIY weight rack constructions will complete in 3 easy steps. Grab the 2 pieces of 2x6s and an 11" x 43″ size of 3/4″ thick plywood to build this dumbbell rack. Do the assembly with the screws. Start the project by building the base first. Details here instructables
2. DIY Dumbbell Rack – Free Plan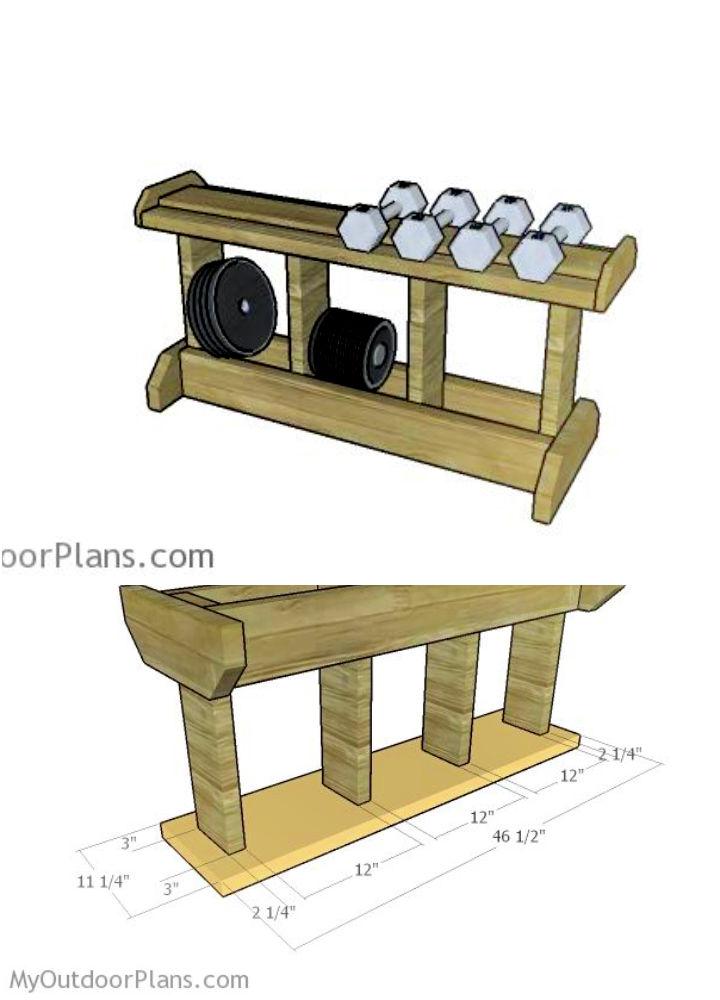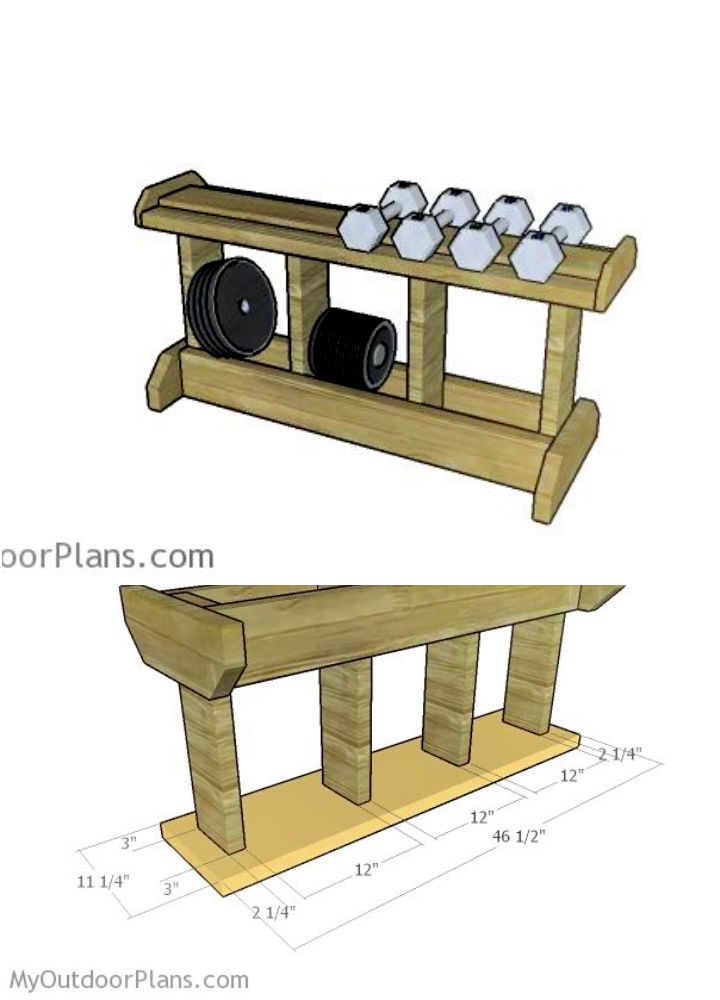 Get here free DIY weight rack plans to build a dumbbell rack like a pro. It will help in organizing your home gym quite easily and inexpensively. You need 2×6, 2×12, 1×4 and 1×6 lumber wood slats to build this dumbbell rack at home. The project will complete in a day, and it can be given as a sweet handmade gift too. Details here myoutdoorplans
3. DIY Weight and Barbell Storage Rack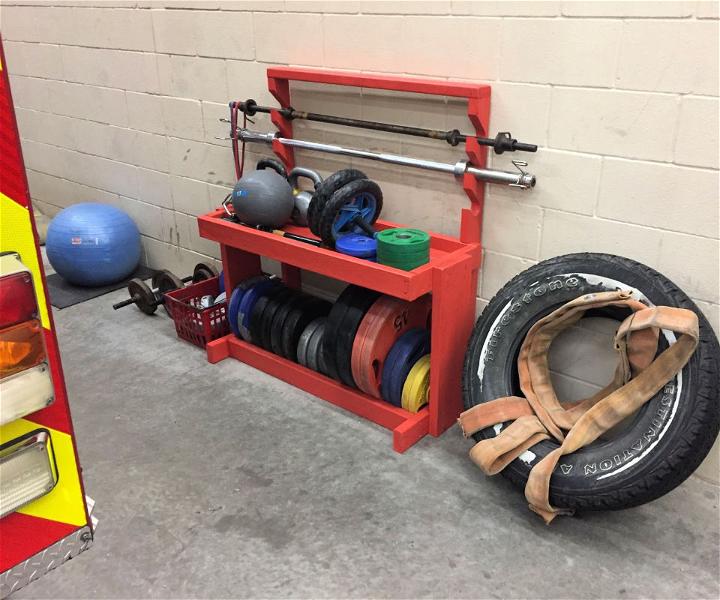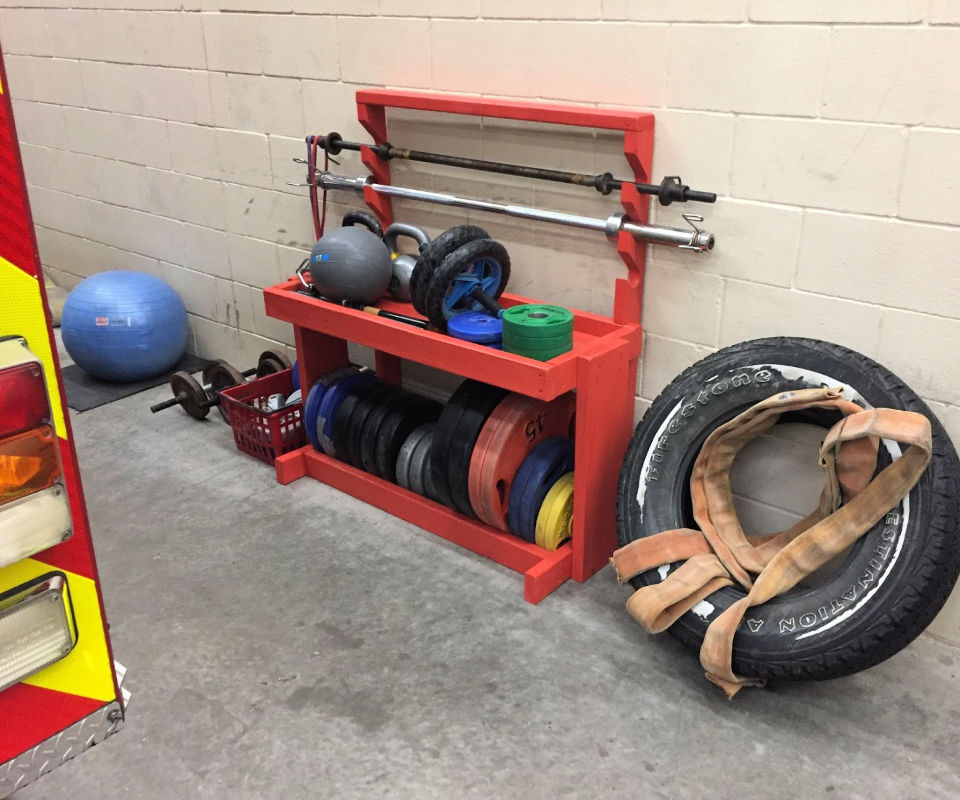 Lacking smart storage options in your home gym? Then take a smart step to organize it now by building this weight and barbell storage rack. You need an 8′ length of 2×8 and 7 pieces of 8′ long 2×4 to build this storage rack that will help in the neat storage of your weights. Details here instructables
4. DIY Dumbbell Rack / Table Desk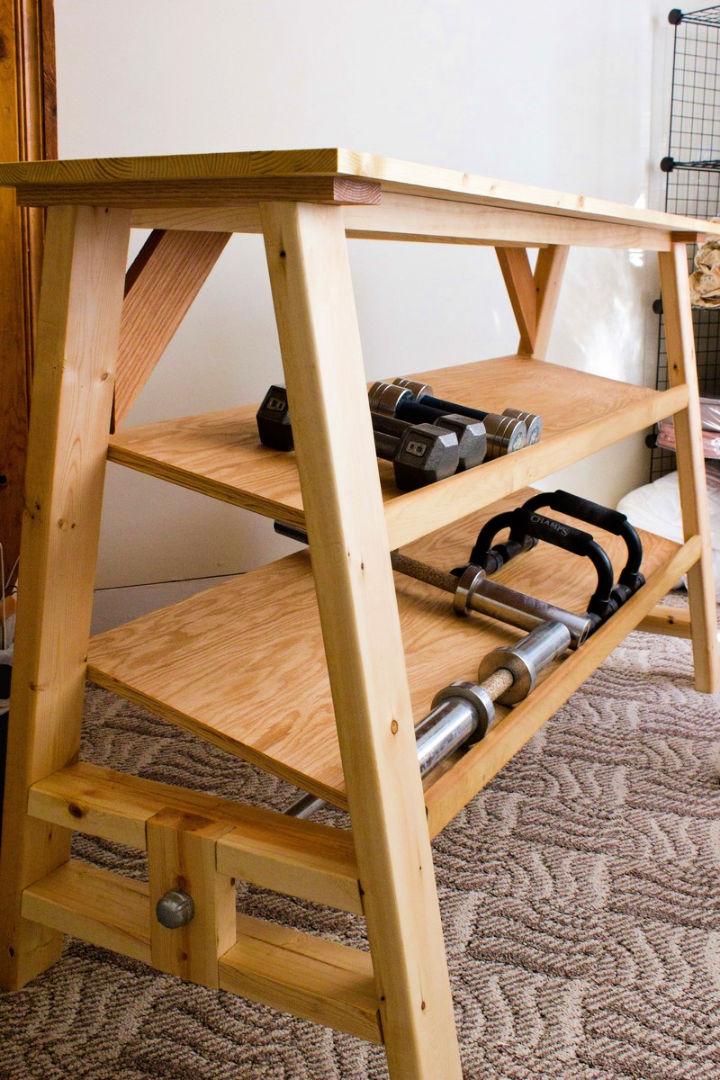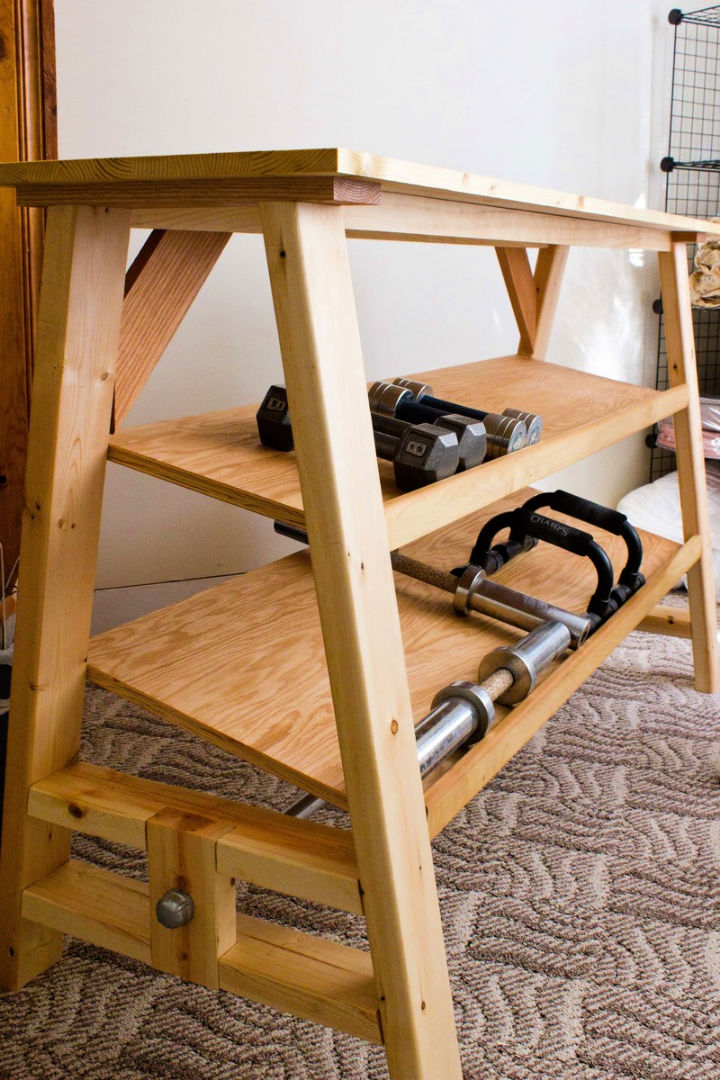 This project will cost you $50-$100 and will just complete on the weekend, depending on your skill level. Build this DIY dumbbell rack or table desk with the 2x4s, plywood, or with oak scraps. Finish this table with boiled linseed oil and with furniture wax. This wooden project requires and intermediate skill level. Details here ana white
5. DIY Custom Garage Gym Weights Rack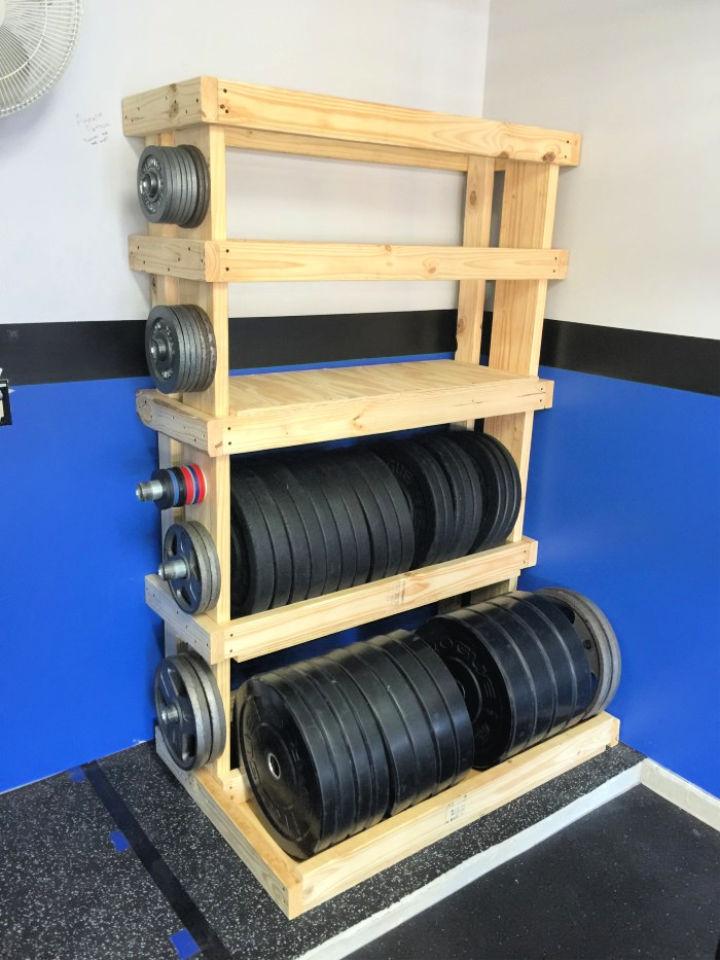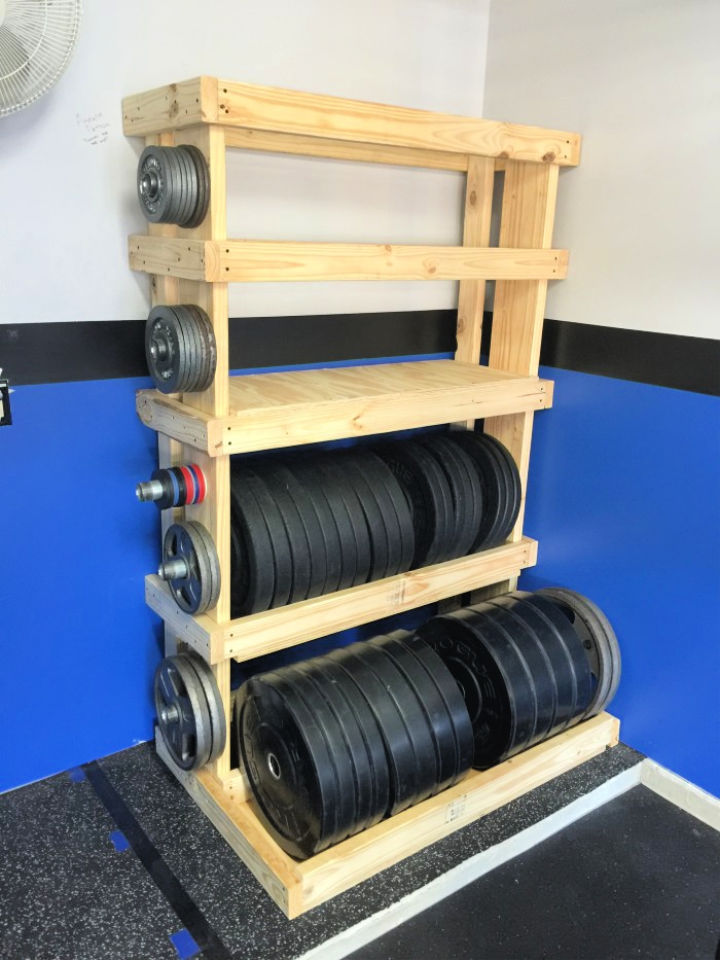 If you love to work out in the garage and have built a gym there that is always cluttered with weights. Then you must organize it by adding this custom garage gym DIY weight rack. Make it with 2x4s, 2x6s, and plywood, and it will nicely organize your gym equipment. Details here munsonmischief
6. Dumbbell Weight Rack Storage from Wood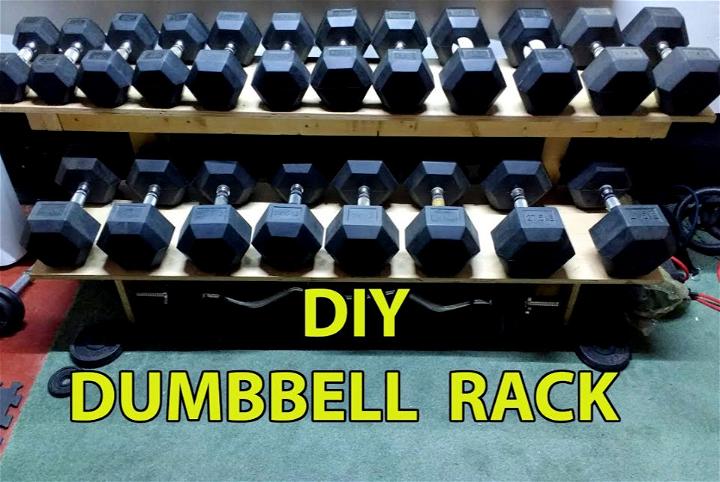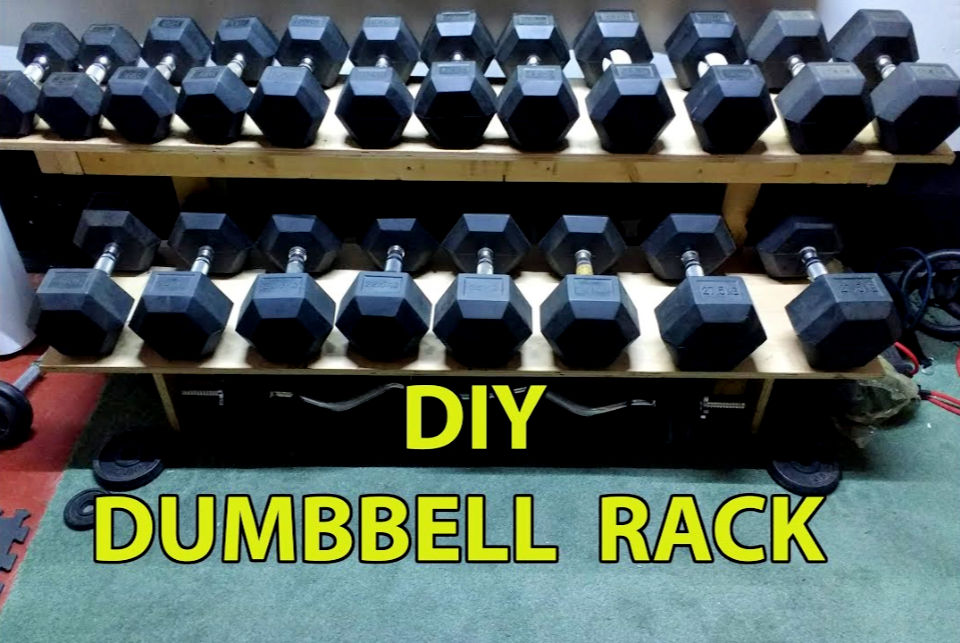 Get here the video instructions about how to build a DIY weight rack like a pro. It will nicely organize your gym weight collection that is often to roll down on the floor and create a big mess in your workout space. Build the durable wooden shelves that you can tier up to multiple levels building this weight rack. youtube
7. DIY $20 Dumbbell Rack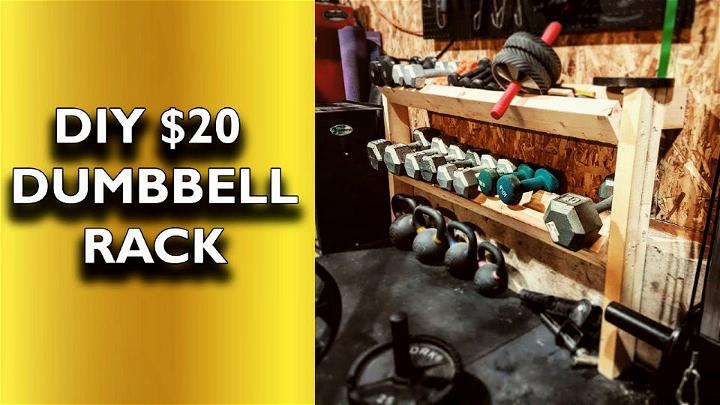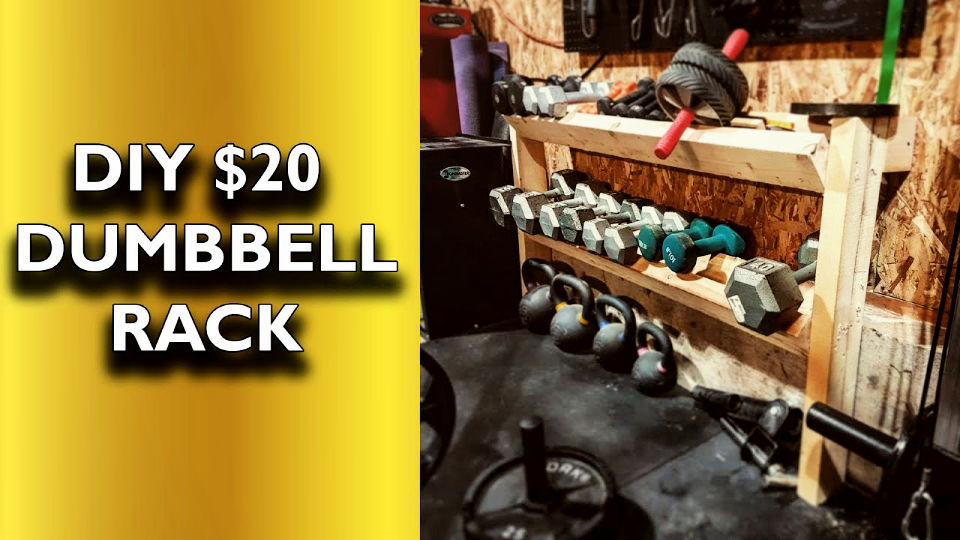 Again a big thanks to this video tutorial that will help you complete the dumbbell rack in less than $20, and it will be super durable too. Grab the solid pinewood boards like 2×4, 2x6s, and 2×12 to build this type of dumbbell gym rack will make a great handmade to a gym lover. Details here youtube
8. Homemade Wooden Weight Rack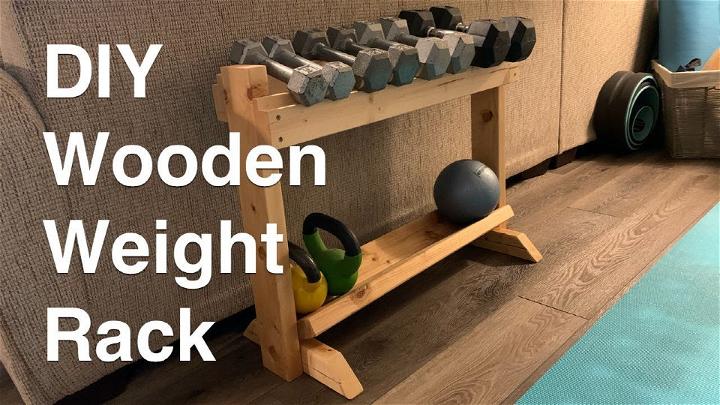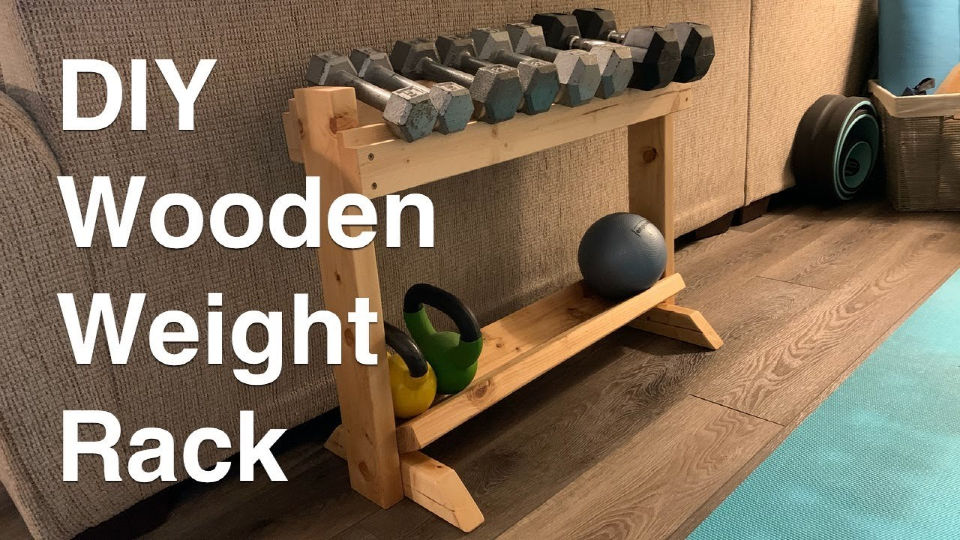 Get the free video tutorial here to build this wooden weight rack that comes with a V-shelf at the bottom to handle another type of weight, as you can see. Get busy with the 2x4s wood slats to build this wooden weight rack, will make a sweet handmade gift to a gym lover. Details here youtube
9. Make a DIY Dumbbell Rack from Scrap Wood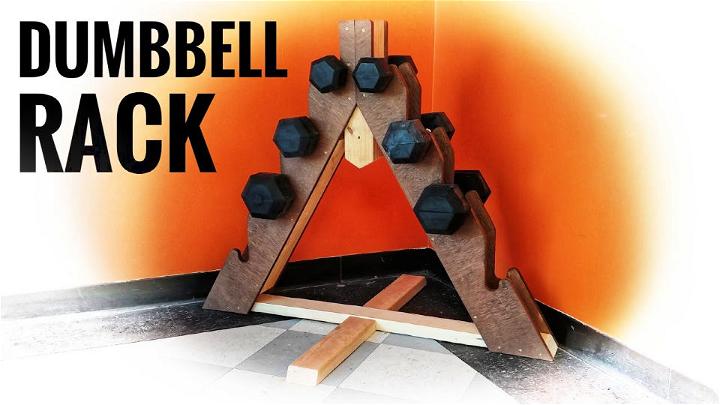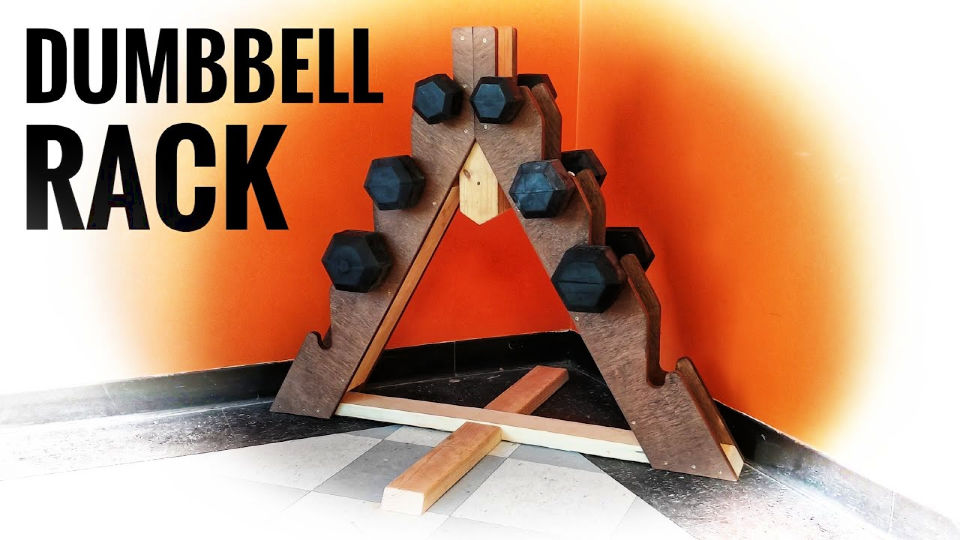 Put the scrap wood pieces to good use and build this lasting longer dumbbell rack. It is all about to build a triangular dumbbell rack that will hold the weights nicely in the cavities and holdings built-in the sides. Must get this rack for your gym or a garage workout space. Details here youtube
10. Custom Made Dumbbell Storage Rack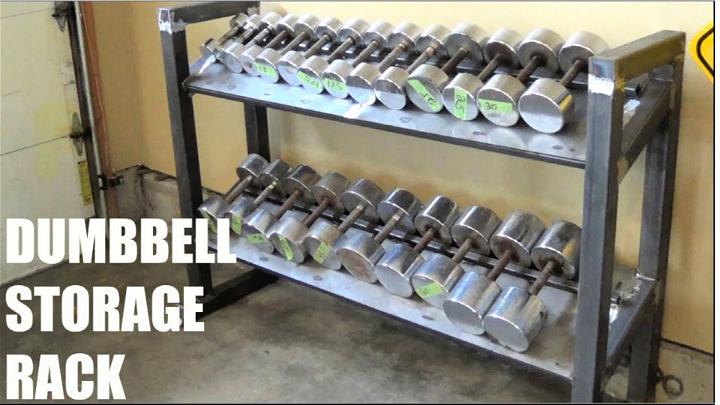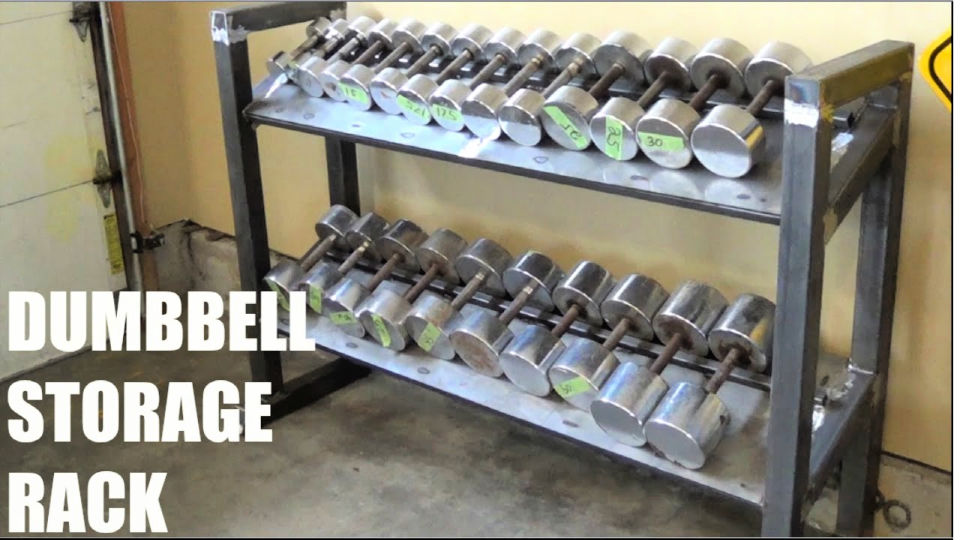 Pick the free plans here to build a dumbbell rack system. You will get the video instructions to build it all like a pro. Get busy with the steel plates or sheets to build the lasting longer rack system for your home gym or any indoor workout space. Free guides here youtube
Conclusion:
Getting an organized home workout space is necessary to keep your equipment organized. So, these DIY dumbbell rack ideas will help you to build a custom model of dumbbell rack that will fit best to your home gym needs. From using lumber, pinewood, scrap wood, plywood, and even the steel plates, these ideas use all to build a lasting longer dumbbell rack. All these ideas are budget-friendly and will demand the least carpentry experience.
Enjoy a happy and organized home gyming!!!