Do you love traveling? Then you're certainly going to love these DIY truck bed storage ideas! People usually have a travel camper or truck just to travel! Want to know how you can make your travel experience ten times better? By installing a DIY truck bed storage! Having a bed at the back of yourself truck can provide you with the ultimate comfort! Just lie down a comforter and some pillows and you're good to go! However, with your storage items all over the place, it can be hard to relax. That's why these 15 unique DIY truck bed storage ideas will help you out a lot! All of the storage items will be neatly tucked into the drawers under your bed!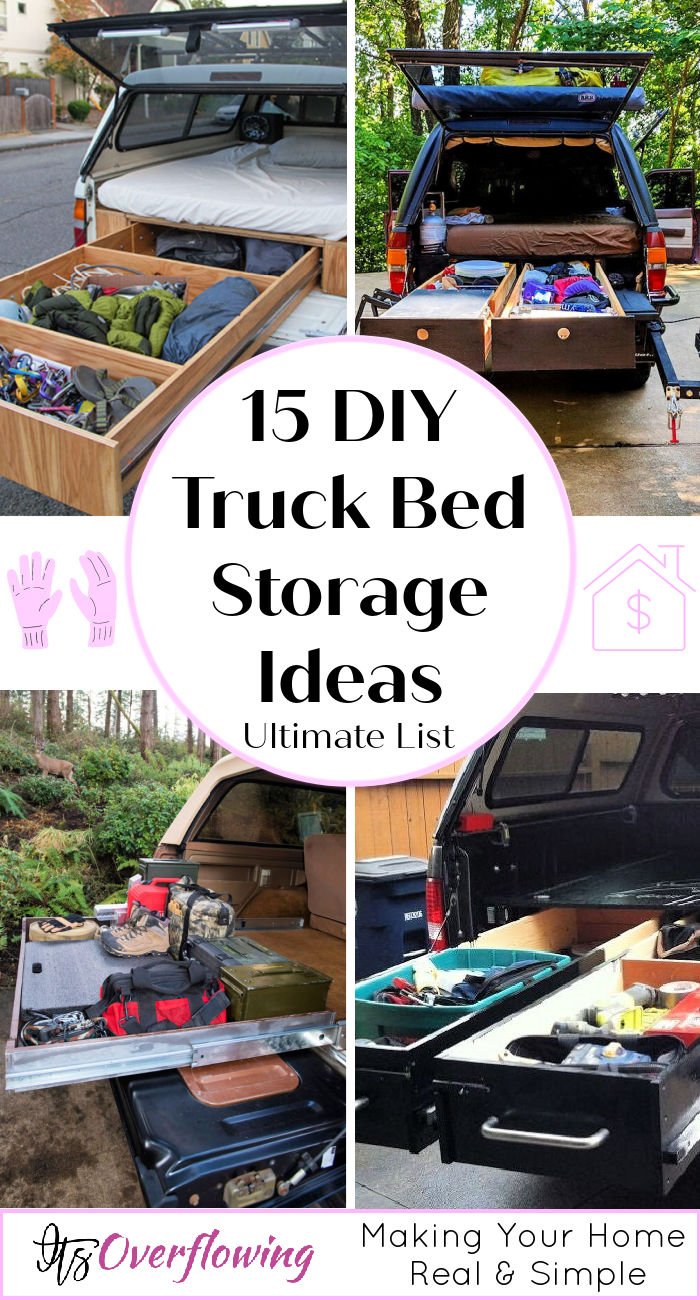 Why should you build a DIY truck bed storage yourself? Well, it is a great investment of time. The summer season can give you a lot of free time on your hands, so this can be a great project to keep you occupied. There is no doubt that making a DIY truck bed storage at home will save you a ton of money! Secondly, you will be able to customize a truck bed camper and make it your own! In this article, a range of DIY truck bed storage ideas will be covered from truck bed drawers to sliding drawers, from decked to RV storage drawers!
1. How to Build Truck Bed Drawers
We all need some extra storage, sometimes during traveling with a camper or truck. A great way to utilize more truck bed space can be by making DIY truck bed drawers! Follow these DIY truck bed storage drawers to organize your camper. They will be hidden under the bed so they won't be visible unless you open them. Also, just hideaway all of your junk there. You can also keep your tools stored there! Follow this DIY truck bed slide out rails tutorial.
2. DIY Truck Bed Storage Slide Under Bed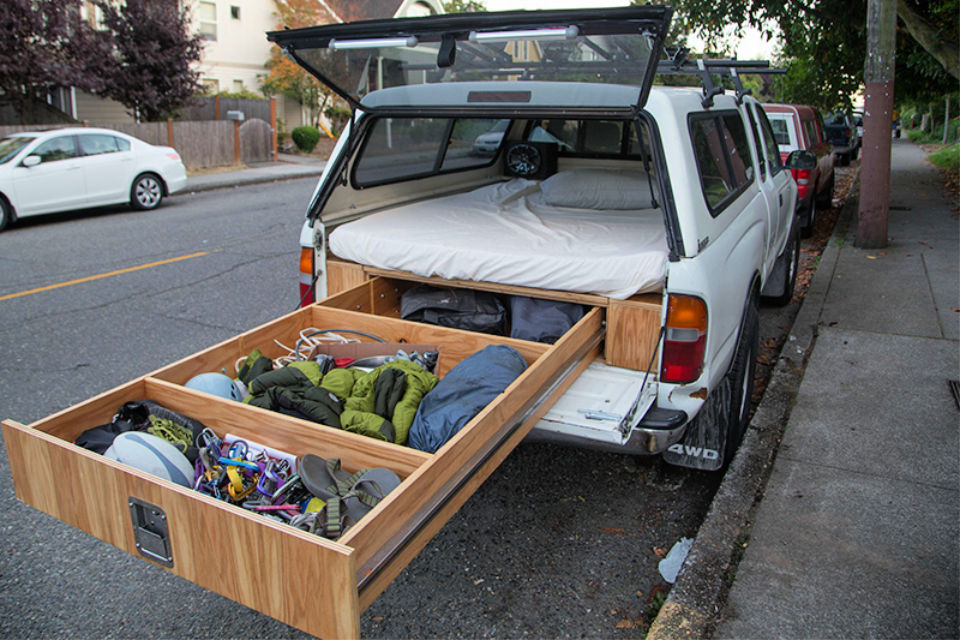 Having a DIY truck bed storage is a great idea. Especially if you love traveling and camping! You can turn a simple pickup truck into something super cool! It involves t-nuts, angle irons and bolts. Click the link below for step by step guide with illustrations. sunnyskyz
3. Truck Bed Drawers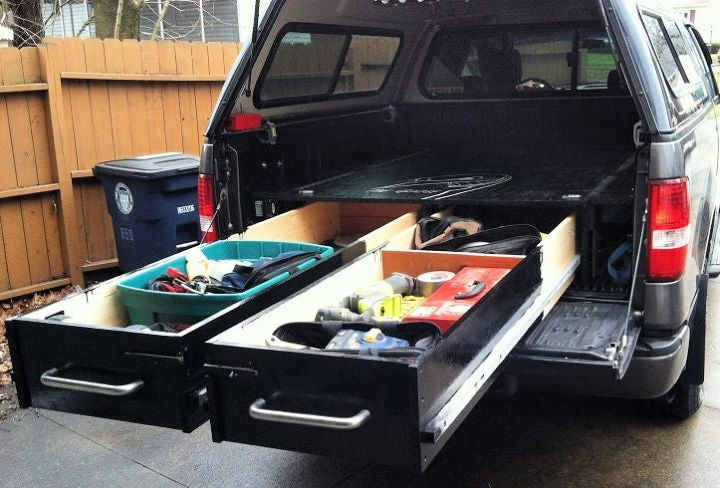 Need a storage unit? Can't find any space in your travel truck anymore? Why not make truck bed drawers! They will provide you will ample storage and a safe place to keep your stuff! Circular saw jigsaw, screw gun, tape measure, and a few other basic tools will be needed for you to nail this DIY truck bed divider project! instructables
4. Pickup Truck Bed Storage
Planning a camping trip? Want to make it better with some good quality truck bed drawers? Why not make these ones! They are very cheaper than getting them professionally done or buying them at a market. Only $230 a pair! The price may depend on the size you're going for. youtube
5. Truck Bed Storage Containers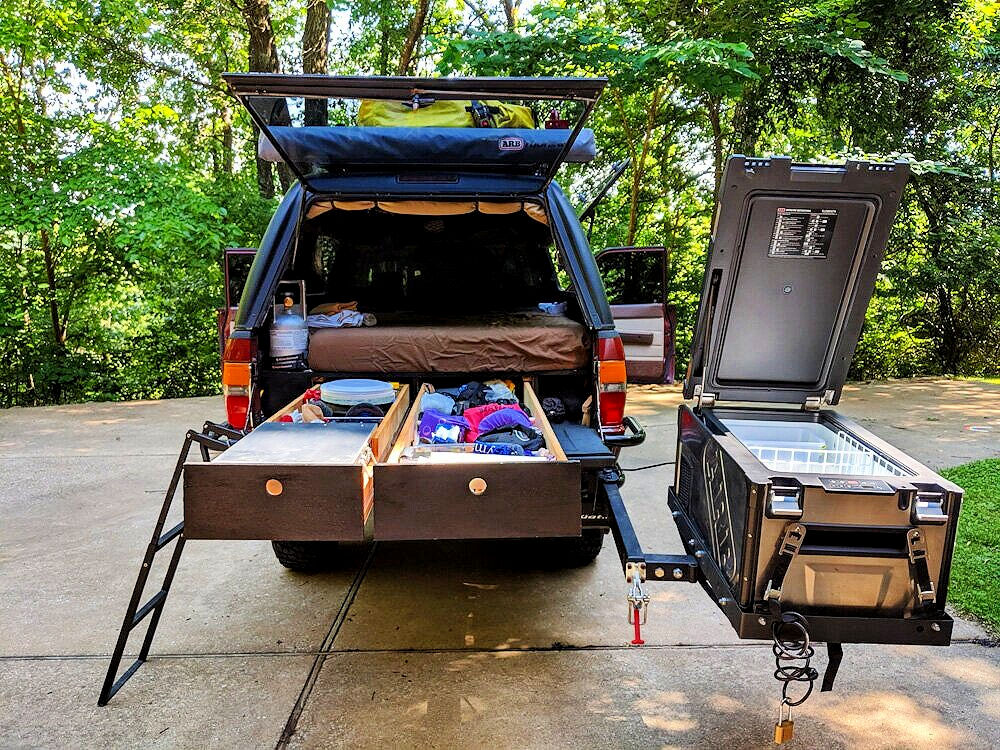 Isn't it a fantastic concept! Having a platform bed in your own truck! On top of that, having some DIY truck bed storage! You can do so by having containers under the platform bed. It may sound a little complicated, but don't be intimidated! It's not that hard to construct! takethetruck
6. Pickup Truck Bed Organizer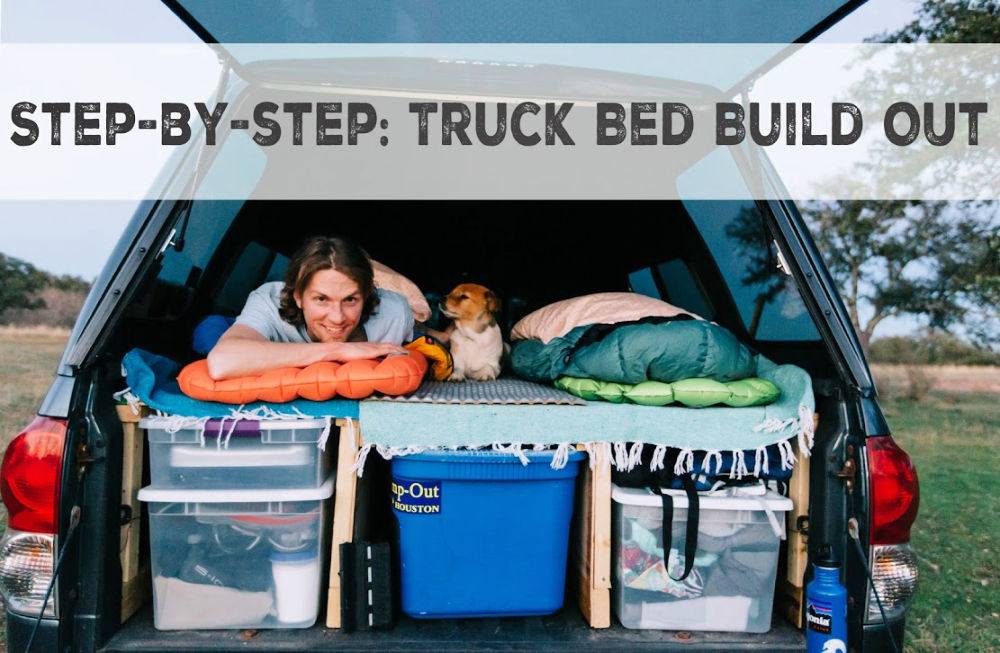 Do you love camping? If yes, then you should definitely invest your time in this fantastic DIY truck bed storage. You can construct a bed and some storage containers underneath the bed, in the back of your truck! You're going to thank this guide, the next time you decide to travel! cindygiovagnoli
7. Full Sliding Truck Bed Storage for RV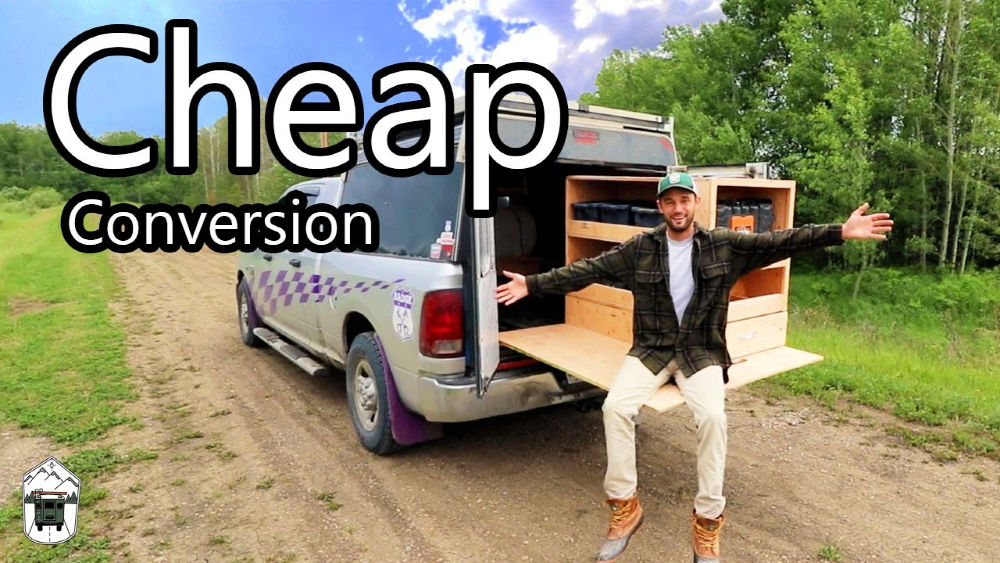 If you want a lot of storage in your RV, you can ditch the bed and just build storage containers at the back of your truck. It is a great way to have a ton of storage! You can keep all of your building tools there and take them with you everywhere you go! youtube
8. Build a Truck Bed Camper for UNDER $400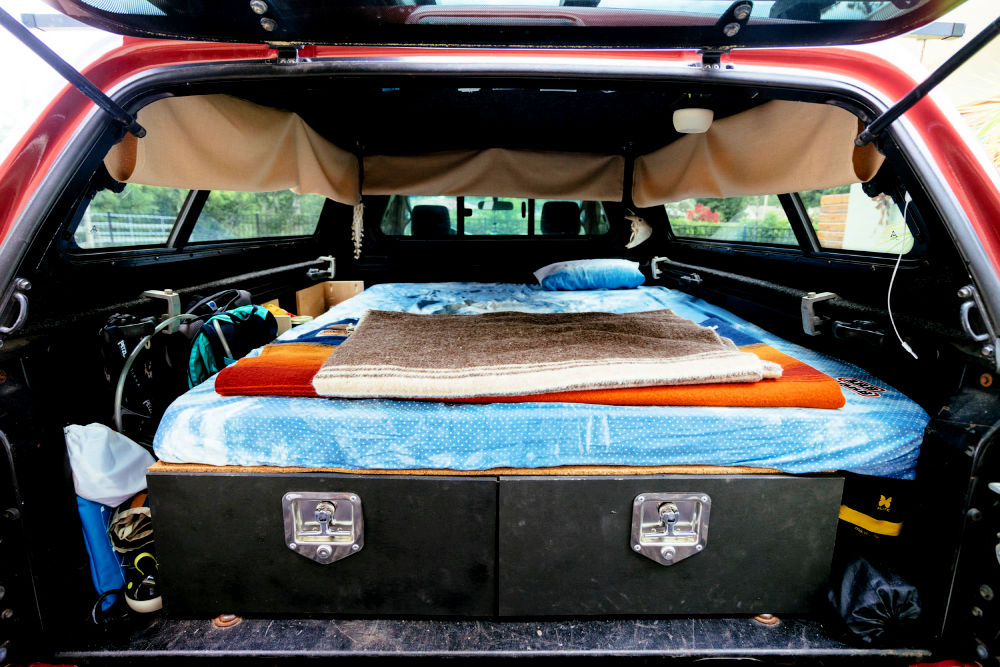 If you got a truck just so you and you're family could travel on it across the state, then you should definitely give this guide a look! You will realize how important it is to have a bed and some DIY truck bed storage in the back of your truck! boundfornowhere
9. Install a Sliding Truck Bed Drawer System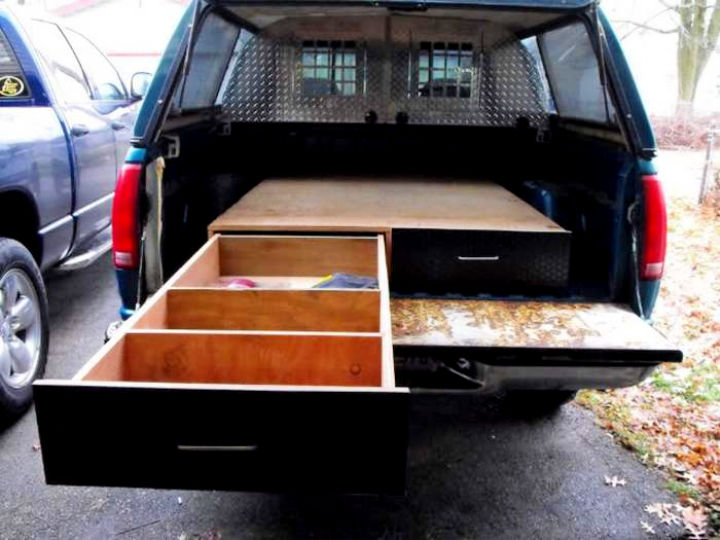 Your road trip experience can be made ten times better by following this fantastically detailed guide! Learn to build a platform bed and some storage underneath it! 1 – sheet 3/4 Plywood, 1 – sheet 1/4 Masonite, and a few other materials will be required for this project. theownerbu
10. Truck Bed Storage
The base of this truck bed storage is made using plywood, the joints are glued together. For more storage, you can divide the drawers from the middle. The storage compartments are made out of plywood. Hit the link for more details. thebeansan
11. DIY Truck Bed Organizer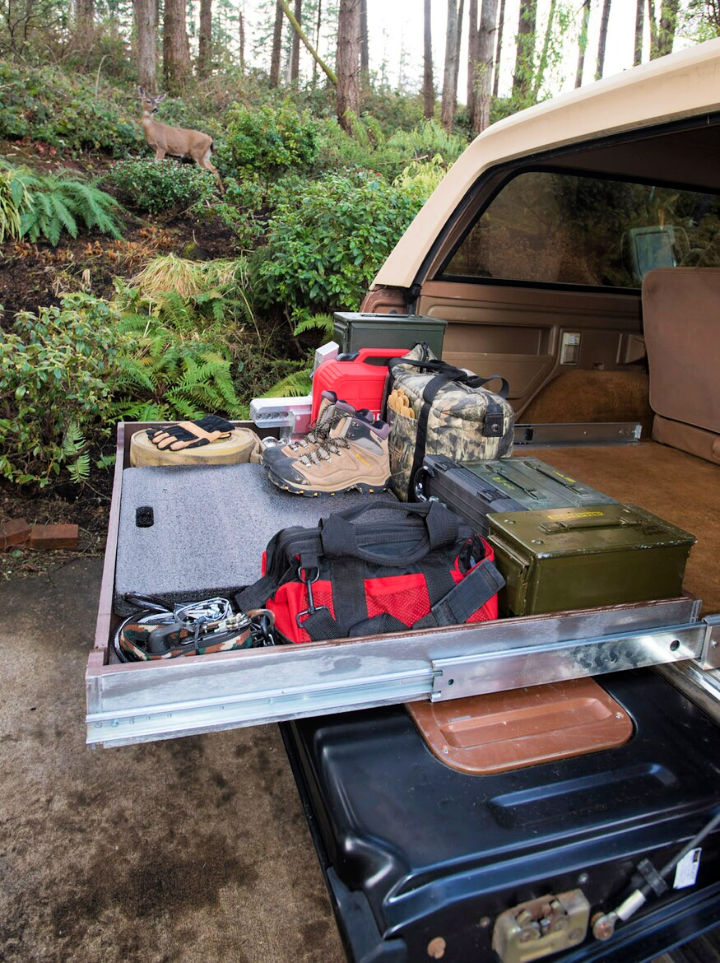 Here is an excellent plan on how to make a sliding cargo tray at the back of your truck. You can use it for some extra storage for all the trips you may take. It can be used to keep bags, shoes, etc. You can also use it for the storage of your tools, when not traveling. fourwheeler
12. Truck Bed Draw System
Here is a simple and easy to follow guide to making a bed and some DIY truck bed storage, at the backside of your truck! A great way to have some extra storage! You can keep all of the bags there when you go on those family trips and never worry about not being able to fit it all! youtube
13. How to Build Truck Bed Storage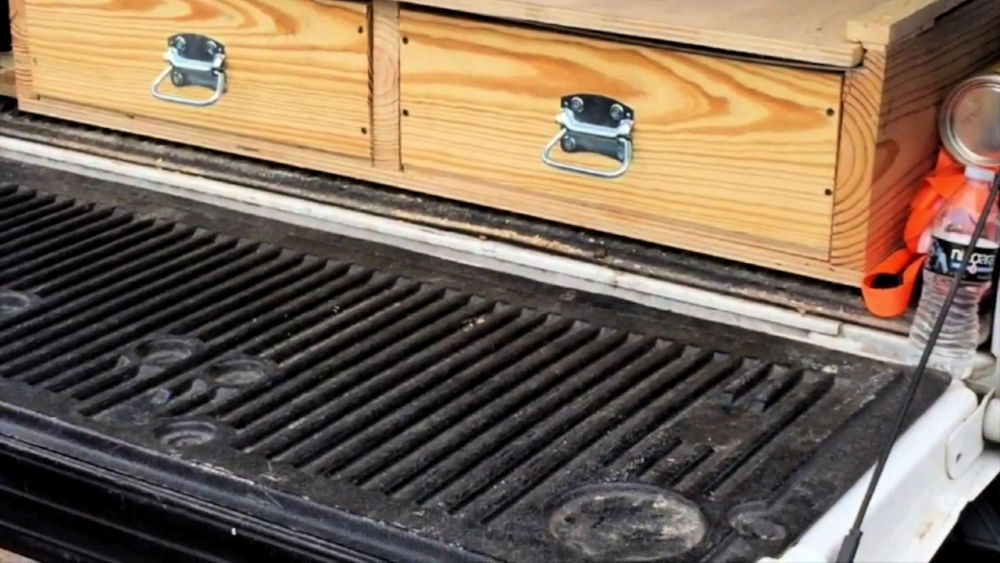 Here is super cheap and simple DIY truck bed storage! All of the materials cost around $150! That is very inexpensive, compared to all of the other ones. The best part is that it is still of good quality and will last you a long time! youtube
14. Truck Bed Storage Drawers
Miter saw Jigsaw, a drill, and a few other basic tools that will be needed for you to nail this project! It isn't too complicated to make, which is the best part of it! You can easily make it over a weekend. You will thank this amazing guide later when you decide to go on a trip! youtube
15. Pickup Bed Storage System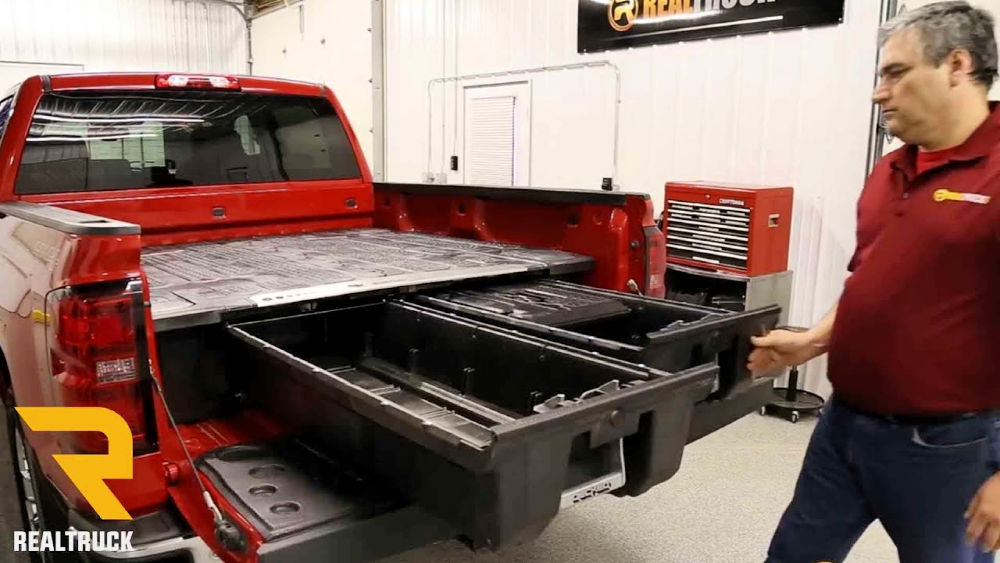 If you're looking for DIY truck bed storage solutions that don't require wood, then you should follow this article! It uses polyethylene and recycled steel to do this amazing pickup bed storage project! It may be a little complicated to make, but there's always a way to make! youtube
DIY Camper: Don't want a huge RV or super expensive camper? Then build your own cost-effective homemade camper is a fun and inexpensive way to get your own campervan!
Conclusion:
You may be tempted to make a DIY truck bed storage unit, right now! However, there are some things you may need to look into before starting! A really important thing to do is to take the measurements accurately!
You don't want to make an amazing storage unit and then it not being able to fit your truck. Take all of the measurements before buying the lumber so you exactly know how much to buy. This way you won't buy anything extra and save some more money! Just browse our list of unique truck bed storage ideas to organize your truck.