There is nothing quite like the satisfaction of completing a DIY project. Whether you're making a new piece of furniture, fixing up an old one, or creating something entirely new, the feeling of accomplishment is unbeatable. And while DIY projects can be incredibly rewarding, they can also be quite challenging.
If you're new to the world of DIY, the prospect of taking on a project can be daunting. But with the right tools in your arsenal, you can tackle almost any project with confidence. Therefore in this article, we're going to take a look at seven essential craft tools that will make any DIY easy work. So whether you're just starting and don't know where to begin, or you're a seasoned pro looking for some new ideas, read on for some inspiration!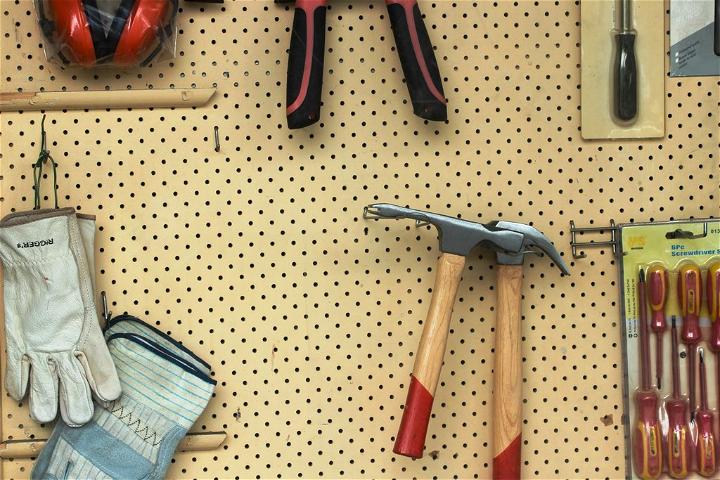 A Good Quality Hammer
No matter what kind of project you're undertaking, a hammer is always going to be one of the most essential tools. It's perfect for driving nails into wood, and can also be used for prying things apart or breaking up materials. When choosing a hammer for your DIY projects, it's important to select one that is both comfortable to hold and durable. The best hammers are usually made from steel or titanium and have a padded grip to reduce fatigue. And depending on the project you're working on, you may also want to invest in a specialty hammer, such as a sledgehammer or mallet. However, for most projects, a standard claw hammer will suffice.
A Well-Sharpened Knife
A knife is an incredibly versatile tool that can be used for a variety of purposes, from cutting rope and fabric to carving wood. And when it comes to DIY projects, a well-sharpened knife can be indispensable. Whether you go for a folding knife, a pocket knife, or a fixed-blade knife, make sure it's always sharpened and ready to go. When choosing the right knife for your projects, it's important to consider the type of material you'll be working with. For example, if you're going to be doing a lot of cutting through tough materials like wood, a fixed-blade knife will be a better option than a small pocket knife. But if you need a knife that's more versatile and can be used for a variety of tasks, a folding knife is the way to go. You'll be surprised how often you reach for your knife when working on a project, so it's worth investing in a good quality one.
A Level
A level is an essential tool for ensuring that your DIY projects are straight and level. Whether you're hanging a picture frame, mounting a shelf, or building a piece of furniture, a level will help you get the job done right. There are a few different types of levels to choose from, but for most DIY projects, a standard 24-inch bubble level will suffice. These are relatively inexpensive and can be found at most hardware stores or ordered online. Just be sure to check that the level is straight before using it, as some cheaper models may not be entirely accurate. If you're working on a large project, you may want to invest in a longer level so you can easily check for accuracy.
A Tape Measure
A tape measure is another essential tool for any DIYer. It's perfect for measuring materials, determining the size of a space, and marking out cut lines. It is especially useful when working with wood, as you can use it to measure the length of boards and ensure that they are cut to the correct size. When selecting a tape measure, look for one that is at least 25 feet long. This will give you plenty of lengths to work with and will make measuring larger materials much easier. You may also want to invest in a retractable tape measure, which can be easily stored and pulled out when needed. These are especially handy for those who are always on the go.
A Good Quality Drill
If you're planning on doing any kind of construction or woodworking, a drill is an essential tool. It's perfect for creating holes, driving screws, and drilling into various materials. When choosing a drill for your projects, it's important to select one that is powerful enough to handle the task at hand. For most household projects, a cordless drill with two batteries will suffice. However, if you're planning on doing more heavy-duty work, you may want to invest in a corded drill. These are more powerful and can handle tougher jobs. No matter what kind of drill you choose, be sure to get one with a variety of drill bits so you can tackle any project that comes your way.
Good Pain of Scissors
Good scissors are essential for cutting fabric and other materials accurately and easily. This is especially important when you're working with delicate fabrics or trying to achieve a precise cut. A good pair of scissors will make the job much easier and less frustrating. They're also indispensable for making clean, straight cuts in paper projects. Whether you're making cards, scrapbooks, or any other type of paper craft, having sharp scissors makes all the difference in the world. It's much harder to get a nice clean cut with blunt or rusty scissors. Even if your DIY project doesn't require any cutting whatsoever, it's still handy to have a good pair of scissors around just in case something unexpected comes up. You never know when you might need to make a quick snip.
A Good Glue Gun
A glue gun is another tool that can be extremely useful for DIY projects. They're great for attaching pieces of fabric, wood, or other materials quickly and easily. They can also be used for more delicate tasks like creating beadwork or sequin embellishments. Glue guns are very easy to use, but it's important to be careful with them since the glue can get very hot. Be sure to read the instructions carefully before using one for the first time. Once you get the hang of it, though, you'll find that a glue gun is a versatile and handy tool to have around for all sorts of different projects.

Whether you're a beginner or a seasoned DIYer, these seven essential tools will help you tackle any project that comes your way. From measuring and cutting materials to attaching them, these tools will make your life much easier. So stock up on supplies and get started on your next project today!