If you've ever moved into a new home, you'll recall that moment when you stood looking at all those blank walls and wondering how you were going to fill them. Of course, you can visit home decor stores and buy ready-printed wall art, but we've got another suggestion for decorating a new home – make your own DIY artwork. Sound daunting? In fact, many DIY design solutions – painting, embroidery, and more – are surprisingly easy to pull off. And the result will be a stunning feature wall in your home.
Making DIY wall art can also be wonderfully inexpensive. Instead of spending a fortune on that high-end piece you saw in a catalog, you can make your own version for a fraction of the cost, and you'll have the satisfaction of knowing you made it yourself. So, set aside a bit of time, and maybe get some friends round or enlist the help of your children – because it's time to make some DIY wall art!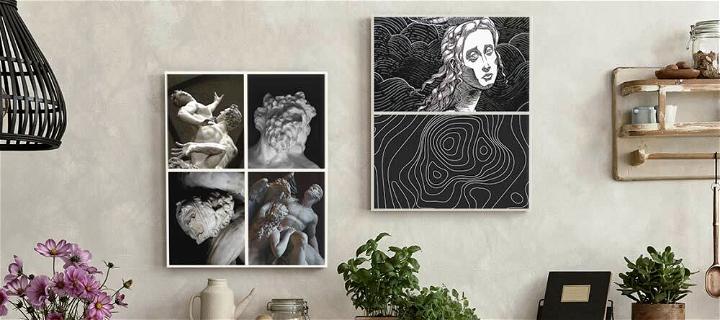 We've put together some great ideas that you can make with the minimum of effort:
Grid of Nature Silhouettes
To create this feature, start by gathering leaves and branches with thin stems. Then place them on canvas boards. Using acrylic paint and a round foam stencil brush, paint around the leaves, covering the whole canvas. Finally, remove the leaves and let the boards dry, then use more paint for any touch-ups. You can also frame your picture if you want.
DIY Canvas Prints
You can create affordable personalized wall art by getting your own photos printed on canvas. Whether you choose vacation photos, portraits of loved ones or pets, or abstract images, they'll be transformed into gallery-worthy works of art when they're printed on fine-grained canvas wrapped on a wooden stretcher frame. If you want to give your room an artistic feel, hanging canvas prints on the wall is a great place to start. And to create a really striking arrangement, you can create a gallery wall by grouping multiple canvas prints with a matching theme or color palette.
Printing your photos on canvas is easier and cheaper than ever before – there are plenty of online services offering great quality at appealing prices. We recommend going with an established name like CANVASDISCOUNT. All you need to do is to upload your pictures to their website, complete your order, and wait for your print to be delivered to your door.
String Wall Art
String art isn't just for summer camp! It's a great way to decorate your home too. Hanging some string wall art in your living room makes for a great conversation piece, or you could try making words like "bathtime" or "splash" to display in the bathroom. The technique is simple: begin by cutting letters out of craft paper, then using the letters as a guide, mark nail holes on the wall with a pencil. Finally, decorate nails with lengths of thick, multi-colored yarn and hammer them into the wall.
Wallpaper Flower Wall Art
Bring a classic aesthetic to your home by making flower wall art. If you love flowers, but getting a regular supply of fresh flowers isn't within your budget, a home-made flower bouquet is the next best thing. This wall art idea lets you combine all your favorite flowers into a single beautiful design.
Start by cutting out floating flowers from some leftover wallpaper. Trace 8 to 12 petals (depending on size) on the back of the paper and then cut the petals out. Next, pinch one tip of each petal so that the two sides of the tip come together, then glue the two sides in place. Once you've repeated the process for all your petals, glue them together in a circle. Use pushpins to secure the artwork to the wall.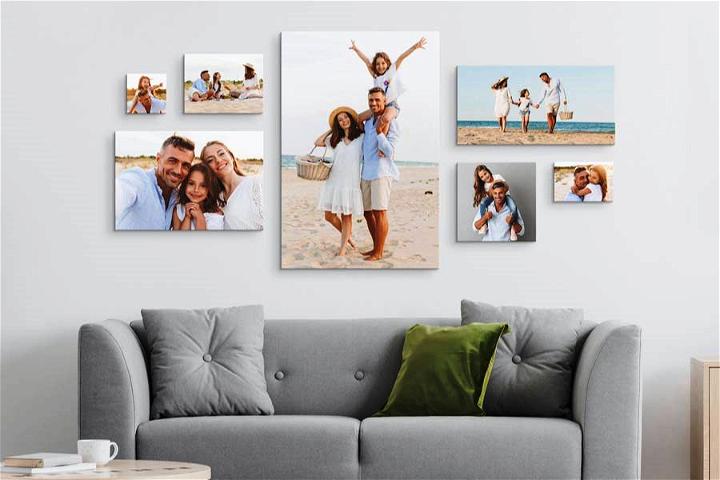 Ink Art
Ink art projects look a bit like intricate watercolor paintings, so you might be surprised how simple they are to create! Alcohol-based ink and rubbing alcohol are poured over glass, where they magically transform into a beautiful collage of organic lines and shapes. Find a simple frame to display your project and you'll have a mesmerizing piece of wall art in no time.
DIY Abstract Wall Paintings
Marbleized wall decor is extremely popular in the interior design world right now, and once you've seen the results for yourself you'll understand why. This is a wonderfully effective way to add a splash of color to your walls. The textures provide a nice contrast to flat white walls, and the colors liven up any space effortlessly.
DIY Wall Posters
Another simple yet elegant way to spruce up your home and fill empty walls is to print your photos as custom photo posters. A poster is a classic wall art solution that will show your favorite photos to their very best advantage. Photo posters are also very lightweight and easy to hang, and – crucially – very affordable. Photo posters will integrate well with almost any home interior, and they're super-simple to make – just choose a respected printing company like CanvasDiscount.com and upload your images online!
Jewelry Art
This is a simple technique whereby household jewelry is turned into framed art. Just find some frames from a second-hand store – a slightly worn appearance can add to the shabby-chic effect – and display the jewelry inside. Decorating the frames with fabric, paper, ribbon, or glass can make the final composition even more glamorous.
Splash of Neon
This simple DIY wall art idea is created using dry-erase boards as the canvas. You'll need a spray bottle of water and a few cans of brightly colored spray paint to achieve the look. Just spray the boards with water and paint alternately, blotting any excess water with paper towels as you work. The technique is straightforward but the result can be spectacular. And there are plenty of video tutorials you can check out before you start.
As you can see, there's a plethora of DIY wall art ideas that demand the minimum of effort and expense. With just a bit of imagination you can create your own wall art masterpiece that reflects your unique personality!