Who does not like peace of mind? Probably, everyone. But do you know the biggest secret of peace of mind is? We have compiled that secret here in these 100 DIY cleaning tips and hacks! Cleanliness has some magic, which makes all the surrounding peaceful. No matter how happy one is, but if one is around a messy surrounding, one can never relax mentally. Even it is proven scientifically proven that cleanliness plays a huge role in spreading peaceful and relaxing vibes. We have brought with us 100 extremely useful DIY cleaning tips and hacks for you all. These tips are easy to implement and have promising results. After going through them and following them, we assure you that your house will never be untidy again.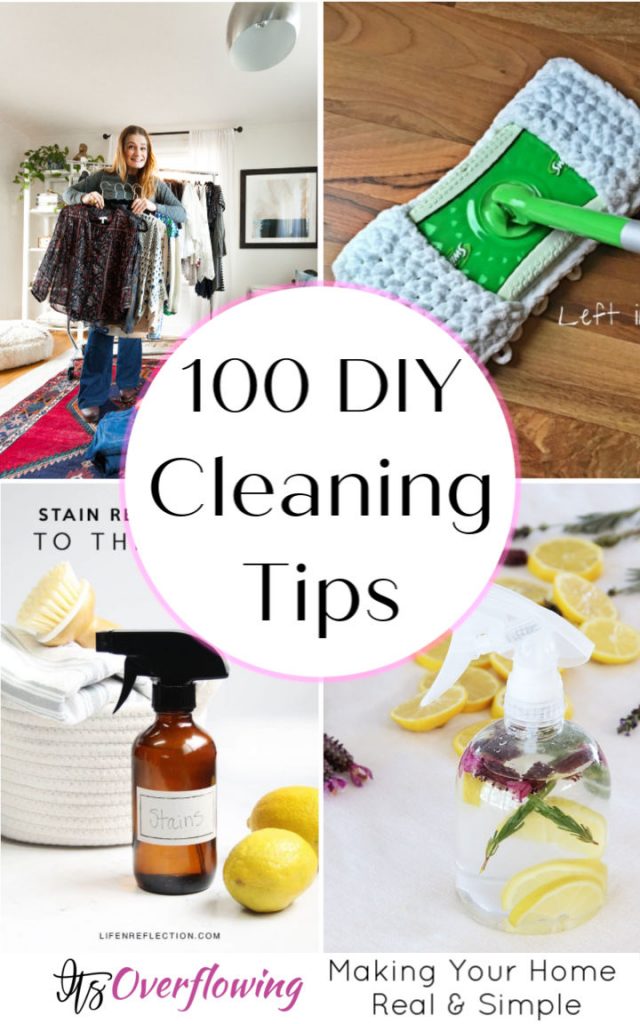 All the pals with excessive cleaning OCD must gather and give a look to this treasure, they will never find anywhere. The DIY cleaning tips and hacks explained in these tutorials are a sure short cut to a clean surrounding. Whether it is the matter of bathroom cleaning, kitchen cleaning, car cleaning, or household cleaning, every sort of diy cleaning tip is explained here. The ingredients needed for making these cleansers are mostly available at home. In addition to cleaning, organizing tips are also described, which in turn, cleans the surrounding. Taking out a little time every day to clean and organize can keep your house as clean as glass. Well, we have tips for cleaning glass as well. Go on!
DIY All Purpose Natural Lemon & Lavender Cleaner:
All you need for this mixture is a spray bottle, distilled water, white vinegar, lemon essential oil, and lavender essential oil. Shake this mixture up and get started on your spring cleaning! Essential oils are really famous right now, and they smell really good. Use this spray as a natural cleaner on tile, flooring, windows, metal chairs. abubblylife
DIY Natural Cleaning Kit:
If you have little kids around your house, it is suggested to clean up your house naturally! Instead of using harsh chemicals, which may have an adverse effect on them. It is recommended to keep some natural essential oils, clean towels, and a few scrubbing brushes in a box together. lifenreflection
5 Reasons You Need a Rug Pad Under that Rug:
You need to get a rug pad! It provides softness to any rug, prevents scratches from the floor or carpet underneath, and prevents the fibers of the rug from being crushed! This increases its longevity, helps hold the rug in place- prevents slips, and stops the buildup of bacteria under your rug. designimprovised
How to Clean with Essential Oils:
Essential oils are not only natural and safe but smell really good too! They're inexpensive and multi-purpose. Nowadays, household cleaners are full of chemicals and toxins which can be harmful to your family, especially if you have babies or toddlers in your house. Use these tips to clean up your house with essential oils. lifenreflection
Non Toxic Home Cleaning Natural – DIY Guide:
By following this guide, you can not only benefit your own health but also help reduce environmental pollution. Environmental pollution is called due to the disposal of the common cleaners we use nowadays because they are full of toxic substances. nonagon
Herbal Homemade Scouring Powder:
To make this, you need baking soda, dried herbs, and flowers/ pure essential oils. By making this herbal homemade scouring powder, you will be motivated to get on that spring cleaning grind! While keeping your family safe from poisonous substances, your house will smell amazing too! lifenreflection
Easy-to-tackle Spring Cleaning Checklist:
Want to start that spring cleaning grind but don't know where to start? You need to check out this easy-to-tackle spring cleaning checklist. You owe it to yourself and your family! It is recommended to sit down and schedule this checklist to actually get it done! julieblanner
Guide To Refreshing Your Home This Spring:
Spring is the perfect season to give your house a makeover! It is an excellent habit to start the New Year with a new, refreshing start. Follow this guide to do so. The best guide to getting your life back together! jacquelynclark
Garbage Can Deodorizer Pods:
Everyone hates kitchen odors. If you cook your meals at home, you may have experienced those! Want to put an end to these kitchen garbage odors, for once and for all? Follow this guide to make a garbage can deodorizer pod! lifenreflection
DIY Home Smell Great + Giveaway:
Are you one of those people who quickly lights up candles before people come over to your house? This DIY Cleaning Tips guide will help you solve the problem of your house constantly having that 'old house smell.' jojotastic
Natural Streak Free Glass Cleaner:
If you have a toddler in your family, you should definitely check out this guide. The natural steak free glass cleaner will leave no grease behind! This cleaner will leave all your shiny surfaces spotless! lifenreflection
Maintain a Clean Home with 6 Easy Ideas:
You are done with your spring cleaning, but you already know that it's going to go back to its original form in a month or so. Follow this guide to maintain a clean house! If you want to keep your house clean all year round, you will have to maintain it! These are some easy ideas to keep your house clean without putting too much time or effort into it. julieblanner
Easiest Way To Clean Stove Top Grates:
Are you tired of scrubbing your stovetop grates, but the gunk just seems to never come off! The grates are made of heavy cast iron, and so everything just sticks onto them! Follow these instructions to clean it without any scrubbing! Yes, you heard that, right! No scrubbing, whatsoever. practicallyfunctional
Natural Stain Remover Spray To The Rescue:
If you have babies in your house, this natural stain remover will help you so much! This will not only save you time but also help reduce the toxins for better health. It will help you out with almost any type of stain – oil stains, water-based stains, or even gel stains! lifenreflection
Summer Bedroom Cleaning Routine & Refresh:
The summertime comes with a lot of free time. One great way to spend that time is by developing a cleaning routine – it will make you feel very put-together. No need to quickly clean up your room before your friends come over- if you follow this guide! thediymommy
DIY House Clean(ish) in 15 Minutes a Day:
You can follow this routine every day before going to the gym. This will be a great way to pay off to your house, and the best part is that it only takes 15 minutes! Plus, it's super easy peasy and can satisfy the Monica #feels inside you within no time. madetobelovely
Homemade Goo Gone + Re-purpose Old Jars:
Do you have a jar hoarding problem? You can use them again! This DIY Goo Gone recipe will have your old jars and bottles look brand new in no time. No need to buy expensive soap, shampoo, and spray bottles. helloglow
Closet Clean-out Tips For a Tiny House:
If you have a tiny house, you probably have a very tiny closet too! It can be tough to fit in all your clothes, shoes, and bags in that one small closet. This guide will give you tips on how you can get your small closet organized. jojotastic
DIY Laundry Crystals – Fabric Softener Alternative:
For the natural living lifestyle, you will have to ditch the store brought fabric softeners as they are loaded up with harmful chemicals. So, one way to replace them is by making these DIY laundry crystals. Another benefit of making your own fabric softeners is that you can scent them. However, you want. Some of the scents available as essential oils are lemon, peppermint, rosemary, and spearmint or lavender and wild orange. Since you will use essential oils as scents, it will stay on your clothes a lot longer too! happy-mothering
Make a Nontoxic Bathtub Scrub:
Out of all the DIY Cleaning Tips in this article, this is probably the most important one. Skin is a very important part of our body. If you don't take care of it, it will age and make you look older than you really are. One way to take care of your skin is by using a non-toxic bathtub scrub recipe in this guide. hellonest
How to Make a Scrub Brush For Your Drill:
Floor cleaners with a scent of pine give a lovely aroma to the surrounding area. The essentials needed will be 4 cups of warm water, pine essential oil (10-15 drops), liquid castile soap (unscented) 1 tablespoon and drop of rosemary (optional). practicallyfunctional
DIY All Purpose Natural Surface Cleaner:
Spring demands a deep cleaning of the house. How to do it? This tutorial tells you all the DIY Cleaning Tips. First of all, get rid of clutter and give a thorough cleaning. Update your furniture arrangements in a way to create more space. Spray a flowery scent to feel like spring. lifenreflection
DIY Pine-scented Floor Cleaner:
Follow these 9 cleaning habits, and you will never see s drop of dirt in your house. The habits are; make the bed, fold clothes, and put them in cupboards! Then sweep floors, do the dishes, clean kitchen sink, wipe countertops, clean light switches and handles, make wardrobe and lastly, clean something you have been avoiding. hellonest
Spring Cleaning Tips for Small Spaces:
Maintaining kitchen hygiene is non-negotiable. A cutting board must be clean all the time as most of the food has to be cut there. Wash the cutting board with a bit of soap, rinse it with water and let it dry. Never use a wet cutting board. jojotastic
9 Everyday Habits For a Clean:
Nothing is as difficult as cleaning a messy closet. A whole day is needed to clean it. Hey there! We have a formula of 3o minutes to organize your messy closet. Before going on this mission, gather dustbin and trash bags. Take everything out, clean the closet, spend 15 mins going through clothes and sorting them out, and in just a minute put them back. hellonest
How To Clean A Cutting Board:
Carpets look really neat in house. But, keeping them clean is quite a task. This DIY carpet cleaner is easy to make and does wonders. All you need is 2 tbsp laundry detergent, ¼ cup of Awesome cleaner, 1 tsp fabric softener (optional), 1 scoop pf Oxyclean, and 1 gallon of hot water. hellonest
How to Organize a Closet In 30 Minutes:
If you want to give a tidy and beautiful look to the room, set the bed properly. You can make your bed like a pro by following these instructions. Your bed base should be straight. Sheets should be tidy. Lay down the sheet and fold it from corners so that it may not come out. Fluff your pillows and place them vertically. Spread your bed cover half on the bed. boxwoodavenue
DIY 5-ingredient Carpet Cleaner:
The mop cleans the floor, and we have to keep the mop clean. The best way to keep it safe and clean is by making a cover for it. Crochet covers are thick and last long. They do not let the outer dirt to enter the mop and keeps it strings safe. The crochet pattern is simple to follow, as explained in this tutorial. hellonest
How to Make Your Bed Like a Pro:
Keep your laundry organized and tidy by implementing these easy tips. Install a storage area on the wall for laundry supplies. The drying rack can be hanged from the ceiling. Put baskets and storage containers for dirty and tidy clothes. Make a folding station. Install curtains for separation. loveandrenovations
Quick and Thick Sweeper Cover – Free Crochet Pattern:
If you have OCD, and you do not rely even on cleaning products, then make your own bathroom cleaner. Ingredients needed; 1 ½ cup baking soda, ½ cup warm water, ½ cup liquid soap, 2 tbsp apple cider vinegar/white vinegar. All these things are usually available at home. leftinknots
Easy and Beautiful Laundry Room Organization Ideas:
Are your windows and glass panes always dirty? You can make your glass at home transparent as never before by making this cleaner. Take ¼ cup of apple cider vinegar/synthetic vinegar, 1/4cup of rubbing alcohol, 2 cups water, 1 tbsp of cornstarch, and 10 drops of essential oil. Mix them all and clean as never before. julieblanner
Homemade Bathroom Cleaner:
All the OCD folks must try this cleaner. Make it and store it in a bottle. Wherever you see a speck of slight dirt, spray it and ta-da! This leaning tip will make you sleep in peace. All you need is 2 cups of water, ¼ cup of lemon juice, and 1 cup of Hydrogen Peroxide. rootandrevel
DIY Natural Glass and Window Cleaner:
Having a large cabinet with huge storage does not mean things are organized. To keep a cabinet organized and clean, you must take some steps. First of all, clean the cabinet with new and effective detergent. Place organizers or small bottles to put your stuff in them, so they won't seem scattered. rootandrevel
DIY 3-ingredient Natural All-purpose Cleaner:
Homemade cleaners are the best, as they have organic products and are readily available. You can make it anytime and use it when needed. If you have 1 cup of white vinegar, 3 drops of tea tree oil, 3 drops of grapefruit oil, and 1 cup of water, you can make it instantly. rootandrevel
Cleaning Cabinet Makeover:
Laundry rooms are usually a big mess, filled with unwashed clothes and washed but unfolded clothes along with detergents and leaners. Keeping them organized is a huge task. Here we have compiled some brilliant and easy ideas to implement in order to keep the laundry room neat and clean. homemadebycarmona
Homemade Natural Cleaning Spray:
A cleaning scrub does wonder while making tubs and bathrooms clean. You can create this scrub cleaner with vodka, vinegar, baking soda, and essential oil. Spray this mixture in your tub, let it stay for some time and then scrub it with a washcloth. You will be amazed by the results. themerrythought
How to Organize Laundry Room:
Homemade cleaners are effective, but the smell of vinegar stinks. Essential oils can be infused to make them smell refreshing. They not only smell fresh but also have cleaning properties. To make this lavender sage cleaner, we need white vinegar, whole spices or herbs (sage, thyme, whole cloves, cinnamon sticks, lemon peels, orange peels) and jars with lid. boxwoodavenue
Make Cheap and Effective Soft Scrub Cleaner:
If you are one of those people who are lazy as a snail when it comes to cleaning, then this dirty cleaning secret is going to be of great help. With this Mr. Clean Magic Eraser, you can swipe everything clean within seconds, whether it is a cabinet or a stove. No need to scrub for hours anymore. bybrittanygoldwyn
Lavender Sage All-purpose Spray Cleaner:
Fill your carpet full of odor by following this simple DIY Cleaning Tip. Remove all the furniture from the carpet area! Then take baking soda and sprinkle it all over the carpet. Let it sit for some time. Use the vacuum to clean the baking soda. Then replace your furniture. hellonest
Dirty Little Cleaning Secret:
While going on work, the difficult most task is to clear the kitchen. Coming back home to a dirty kitchen is no less than a nightmare. Divide your 10 minutes into the tasks, as explained in the tutorial, and clean your kitchen within no time. homemadebycarmona
How to Remove Carpet Odor:
Carpets hold onto smells very easily because they are the most porous surface in your house. This is why carpets can be very absorbent, and those smells from the times you burned something, someone smoked in your house, or maybe you spilled something onto your carpet won't go away. Follow this guide to get rid of those smells without much effort! theseamanmom
10 Minutes to a Clean Kitchen:
Life is short; everyone wants to save time, right? You could spend your free time with your family, studying, listening to music and so much more! What if you were told that you can clean up your kitchen in 10 minutes if you use your tie a little more efficiently? Yes, you heard that right. Check out these instructions to save a lot of your precious time. boxwoodavenue
DIY Clean Restoration Hardware Linen Furniture:
If you have hardware linen furniture or maybe you're thinking of buying it, this guide will take you through the process of cleaning it. This type of furniture usually comes in lights colors like white or cream, and it can be very difficult to remove stains from them. julieblanner
Natural Way To Clean Pans:
Are you tired of scrubbing those pans? You're not alone! Here is a way to naturally clean those stubborn stains that never seem to go away. Using this method is not only eco-friendly but also beneficial for your own and your family's health! theseamanmom
DIY Coffee Garbage Disposal Deodorizers:
If you're a coffee lover or you love the smell of coffee, you should definitely check out this site to learn to make these DIY coffee garbage disposal deodorizers! If you cook at home a lot, this is the best way to get rid of that stinky smell coming from those garbage disposals. hellonest
Create a Pretty and Functional Kids Closet:
This plan helps you out if you're on a budget but still want to treat your kids to a pretty closet. As your kids grow older, their clothes start taking a lot of space, and eventually, you have to set up their own closet. You will start to notice this when your little babies turn into pre-teens! They may even demand it themselves! thesweetestdigs
Deodorize a Stinky Garbage Disposal Naturally:
Here is another way to deodorize stinky garbage disposal naturally. If you're allergic to the ingredients used in the last two deodorizers or just don't have them in your house right now, use this one! midwesternmoms
Homemade Cleaning Products from The Garden and Kitchen:
All the cleaners made in this guide are made using ingredients from your kitchen or garden. Yes, you heard that, right! Isn't it exciting? This how you green-clean. Not only environmentally-sound but marvelous for your well-being too! afreshlegacy
DIY Dishwasher Tabs:
Dishwasher tabs help to cut grease easily, and it's a great multi-purpose cleaner! This will save a lot of scrubbing and hard work. It'll make a lot of foam and bubbles, which is ideal as a dishwasher. The DIY dishwasher tabs will leave your dishes clean and spotless while saving you coins and time. midwesternmoms
5 Tips for a Dust-free House:
It can be hard to live with allergies – the worst part is that even if a little bit of dust comes into contact with you, you may need to bring those allergy medicines back to use. This DIY Cleaning Tips' guide will give you a few tips to create an allergy-free and clean space for yourself and your family members. thesweetestdigs
How to Make Toilet Fizzies:
No one is a fan of cleaning toilets. To make the daily torture of cleaning your toilets easier, make these easy toilet fizzies. All you will have to do is drop one in the toilet bowl, let it foam up and then flush. That's how easy it is! It has a lot of ingredients that are naturally detoxing. The best part is that they are inexpensive to make. midwesternmoms
3 Green Cleaning Lavender Oil Uses + Recipes:
Who doesn't love the smell of lavender? As long as you're not allergic to it, you can follow these recipes to clean up your house. This guide will also show you ways to use lavender oil. hellonest
DIY Garbage Disposal Refreshers:
Once you're done cleaning up your garbage disposals, use these garbage disposal refreshers to maintain its cleanliness. Maintenance is very important if you don't want your garbage disposals to go back to the way they were! helpfulhomemade
How to Organize Your Garage in 5 Simple Steps:
Did you party a little too much in your garage? Now is the time to clean it up. This guide will show you ways to use your time a little more efficiently and not spend the whole day deciding on where to start organizing! postcardsfromtheridge
DIY Natural All-purpose Cleaner:
No need to spend a ton of money on the expensive cleaner. You can make an all-purpose cleaner using the ingredients you have at home. Commercial cleaners tend to have many harsh chemicals that can have a non-healthy influence on babies or toddlers. Even if you're not a mom, this can benefit even a broke college student. sheuncovered
Homemade Toilet Cleaner:
If you're not a fan of how much 'chemically' store brought cleaners smell, you can make a homemade toilet cleaner and add your favorite scents to it! This will save you the runs to the pharmacy because you keep getting sick due to those store brought- filled-with-toxins cleaners. midwesternmoms
How to Make Laundry Sauce:
It never hurts to have fewer chemicals and spend some less money on your cleaners. This DIY laundry sauce is such a fun little project – it smells amazing too! A lot more better than those commercial detergents jordanseasyentertaining
Homemade Mopping Solution For Cleaning Tile Floors:
Everyone loves freshly mopped floors. Use this homemade mopping solution for cleaning the tile floor as this will leave no residue behind, unlike those cleaners brought from the market and leave your tiles sparkling, clean, and spotless. midwesternmoms
DIY Cleaning Kit With Homemade Cleaners:
There is no better way to start the New Year than getting a new cleaning kit. Treat yourself by making this DIY cleaning kit with homemade cleaners and make a pact to be cleaner and have your life together this year. You can even use some of the cleaners already mentioned in this article and add them to your cleaning kit. jordanseasyentertaining
DIY Lemongrass Garbage Disposal Refreshers:
DIY lemongrass garbage disposal refresher is the fourth garbage disposal refresher in this DIY Cleaning Tips article! This proves that there are many ways and different ingredients you can use to make the garbage disposal and keep your house smelling good. evermine
DIY Disinfecting Fridge Cleaner:
Your fridge is a very important place. It's where you place your food! Sometimes people forget their leftovers there, and then the fridge starts smelling stinky. This guide will show you how you can deep clean your refrigerator and then make it smell good too! Using a DIY disinfectant and deodorizer made with all-natural ingredients! hellonest
Herb-infused Gentle-on-skin Homemade Dish Soap:
Herb-infused gentle-on-skin homemade dish soap is very environmentally friendly. This soap will be cleaning all the dishes in your sink and will save a ton of money, as well. Making the homemade dish soap is a very fun little project that you carry out in your free time. hellonest
Kitchen Sink Organization:
If you have a small kitchen, it can be tough to organize everything and free some space on the counters. This guide will show you ways of how you can use some products which can be hung on the walls and are made to utilize space. They will free you some serious space and make it easier for you to cook. homemadeginger
DIY 3-ingredent Natural Bleach:
The DIY 3-ingredient natural bleach is an excellent alternative to the store brought bleach. Store brought bleach are not only loaded with chemicals, but they are also stronger than needed, which can ruin your tiles over time. This natural bleach will save you the fumes when cleaning up. helloglow
Homemade All-purpose Cleaner:
Homemade All-purpose Cleaner is very helpful. It saves you money as you can use one cleaner for all types of messes. This cleaner is made of oranges peel, which is not only natural but will smell amazing too. 1000threadsblog
Superpower Natural Cloth Dusters:
Superpower natural cloth duster is a great way to clean up the dust in your house if you have kids in your house. All you need to do is hand every kid a sock! This DIY uses socks to clean up and natural ingredients to make the mixture, which is used as the dip. hellonest
Vinegar All Purpose Cleaner:
This cleaner is made with vinegar and is an all-purpose cleaner. Since vinegar is an all-natural ingredient, this product will be perfect for green cleaning. This can be used to clean all types of places – kitchen counters, bathroom counters, toilets, mirrors, etc. cherishedbliss
12 Natural Remedies for Household Pests:
As soon as the weather gets warmer, uninvited guests are seen around the house. If you dropped food somewhere and forgot to pick it up, the next thing you see is a bunch of ants attacking it. Chemicals are too toxic to be used in houses with kids around. Follow these natural remedies to get rid of those uninvited household pests. helloglow
5 Naturally Antibacterial Bathroom Cleaners:
No one likes the chemical-type smell of the store brought cleaners. These 5 naturally antibacterial bathroom cleaners smell really good. You can even ask your kids to do the work as the cleaners are not bad for your health because of the natural ingredients used. The cleaner's smell can be customized depending on your likings- cinnamon, clove, lavender, lemon, oregano, rosemary, etc. hellonest
Filing Fabric & a Fabric Organization Round-up:
If you have space but more stuff to store, check out this site. It will show you very detailed ways you can use filing fabrics and fabric organizers to utilize space! One of the best DIY Cleaning Tips in this article! thinkingcloset
All Natural Wood Polish:
Commercial polishes can ruin your furniture overtime – they contain silicone. And every new application is putting another layer of itself, which leads to dust and humidity trapped between those layers. Over time, it can lead to making your furniture look dull and old. kiwiservices
DIY Citrus All-natural Floor Cleaner:
This guide is a special one for all the young mums out there. Little kids spend most of their time on the floor, and this is why it is important to make sure that the floor is very clean. It is better to use all-natural homemade cleaners for your tiles as toxic substances in the commercial cleaners can have an adverse effect on your kids. hellonest
How to Deep Clean a Laptop:
Almost everyone owns a laptop nowadays. With the world of technology advancing every day, no one wants to be left behind. However, it can be a tricky thing to clean a laptop. Keyboards can get very dirty, and food particles can get stuck inside them. This guide will take you through the process of deep cleaning a laptop and making it look and smell brand new! kiwiservices
How To Clean a Patio Or Deck:
Patios should be kept clean, just like the other floors of your house. This can be another thing added to your spring-cleaning checklist. With the spring season just around the corner, you will be having many barbeques there, with your friends. To make those experiences even better, it is recommended to dedicate a day to clean it up. martysmusings
Natural Glass Cleaner With Surprise Ingredient:
The first thing that someone notices in your house are the glass! There may be glass on your table or windows or any type of glass furniture. Use this natural glass cleaner with a surprise ingredient to leave that glass furniture clean and sparkly in seconds! hellonest
Homemade Household Cleaner:
Eco-friendly and the beautiful scent of lemon! This homemade household cleaner is everything you ever asked for! This spray can be used anywhere for a quick clean-up. You can make it and put it in a cute spray bottle and have one in every room! If you don't like the lemon scent, you can always customize it upon your liking. bonaippetit
Homemade Copper and Brass Polish:
Using chemicals to clean up copper and brass can cause reactions and affect your health-can cause skin irritations, attack your respiratory system, etc. It is better to use natural products to clean copper and brass. This guide will show you easy and healthy ways which work! blahblahmagazine
Cleaning House Plants:
Plants do a lot for you. They provide you with oxygen, make you live longer, and add beauty and aesthetics to your house. You can pay them off by taking care of them. This guide will show you ways you can take care of your plants using the stuff and ingredients you have at home! sas-does.blogspot
How to Clean Your Grill The All-natural Way:
The spring season comes with many barbeques and family gatherings. It is recommended to clean up your grill before that season, so you don't have to worry about it later! With HellOnest, learn the most natural ways to clean your grill! hellonest
DIY Cleansing Stovetop Scent:
This holiday and spring season; make your kitchen smell really good by this lovely addition of DIY Cleansing Stovetop Scent. This will keep the air clean and your environment fresh! You will make the yummiest food in the most spotless kitchen ever after using this cleanser. detailsblog
Stylish and Modern Cleaning Tools:
Need the motivation to start your spring cleaning? What better way to motivate yourself than buying cute and stylish tools! You can add these tools to your spring cleaning kit, which we talked about earlier in this article. These tools will be so cute that you won't even mind leaving them out. jojotastic
Adorable DIY Stainless Steel Cleaner:
Stainless steel is essential in all modern kitchens nowadays. While looking very sleek and stylish, stainless steel can last a long while and does not rust easily. It has no pores, so it does not absorb or trap any dust particles inside it. It can be a bit tricky to clean this material properly. Read this guide to understand the whole process. lifenreflection
DIY Grease-fighting Lavender Dish Soap:
If you're into green-cleaning, you know that store brought green products do not cut down grease properly. No more worries! This guide will show you a way of making homemade, ingredients at home, and all-natural, non-toxic cleaner. The best part is that it'll leave your dishes smelling like lavender! How heavenly! hellonest
DIY Rose Petal-Infused Vodka Cleaning Spray:
Who doesn't like the fragrance of roses? Why not add it to your cleaning sprays to not only please yourself but your guests, as well. Store-brought cleaners have heap loads of harsh chemicals inside them, and they can be damaging to your health and even give you migraines! Make this DIY rose petal-infused vodka cleaning spray and have a great time. alifeadjacent
DIY Chocolate & Roses Room Spray:
Chocolates and roses! Does that not sound heavenly! Heavenly in caps- lock! You can make this spray for Valentine's Day this February and spray it all over your house! If you love chocolates and roses, then this can be an all-year vibe for you! alifeadjacent
Simplest Way To Make Reusable Dryer Sheets:
There isn't any scent fresher than lemons or oranges. Commercial dryer sheets can smell like chemicals and the toxic substances in them can make your skin extremely dry and strip you off of your skin's natural oils. These reusable dryers will save you time, money, and protect your skin. hellonest
How to Clean Shower Glass:
It can be really hard to clean a shower glass door, it is so huge, has all types of stains on it- hard water stains, mineral buildup, and soap- and it takes so much time to clean up. There has to be a more efficient way! There is! Follow this guide to know what it is. handmadeweekly
Simple Cola Essential Oil Blend:
Is your go-to drink coca-cola? If yes, then you need to check out this article. It shows you ways in which you can make your room smell like coca-cola! Yes, you heard that, right! The best part is that it's all-natural and won't damage your body like actual cola does! alifeadjacent
How to Clean the Garbage Disposal:
Your garbage disposal can start smelling bad after a while, especially if you cook at home. No one likes cleaning garbage disposals! But you have to properly clean them to make sure that they don't smell like that for a long time. This guide will take you the process of deep cleaning a garbage disposal. cleanandscentsible
DIY Disinfecting Wipes:
All the moms here know just how important disinfectants can be. They're what keep your child's health safe and sound. It is better to make DIY disinfecting wipes at home using natural substances. This way, you will know exactly what substances you have in your products. Out of all the DIY Cleaning Tips mentioned in this article, this is the most important one. alifeadjacent
Laundry Detergent With Tea Tree + Rosemary:
Store- brought detergents can be very expensive and bad for health. This guide is for moms to broke college students as everyone wants to save money. It'll focus on how you can spend less money and start cleaning. This definitely requires more effort than just simply buying a commercial detergent. Still, it'll have significant benefits on your health in a long way. hellonest
Make Your Own Lemon All Purpose Cleaner:
Doing laundry can be very satisfying. To make the process even more fun, you can make this laundry detergent with tea tree + rosemary. It'll leave your clothes, smelling very fresh and clean. thelittlemonsterblog
Homemade Reusable Disinfectant Wipes:
Lemon is a natural acid. It can be great to clean stuff up. Make lemony all-purpose cleaner using this guide. It can be used on appliances and all types of counters. Don't use it on natural stone. hellonest
Homemade Laundry Detergent:
You can make these homemade reusable disinfectant wipes and take help from your kids in dusting, as well. Just hand out one wipe to each kid, and the house will be clean in no time. You don't have to worry about their health with these as all-natural and healthy products are used in them. thehomesteady
Make Your Own Natural Stain Remover Spray:
Homemade laundry detergent is very useful because it is made using healthy products. It doesn't have a ton of chemicals in them. Also, they smell so much better too. hellonest
Behind Closed Doors:
The spring season will come with a lot of laundries and a lot of stains. These stains cannot be removed with detergents alone. You will need to make a natural stain remover to remove stains effectively. Use this spray this spring and summer season to quickly get rid of those ice-cream and dirt stains. Even though it has all-natural work, it'll still work better than a store-bought stain remover spray and save you so much scrubbing, hard work, and time. visualmeringue
2-ingredient Fabric Softener Crystals:
Behind the closed door means behind the cabinets. You should store all your stuff in the way in which you utilize the space. You can do this by using exceptional products and seeing organization tips. Follow this guide to go through the process of cleaning up your cupboards and keep it looking pretty even behind the closed doors! hellonest
DIY 2 Minutes All-purpose Cleaner:
Store-brought fabric softener crystals are so expensive! It is very cheap and easy to make a fabric softener at home. All you need are 2 ingredients! Can you believe it? Imagine wasting a ton of your money- earned from so much hard work- once you know this trick. homebakedbliss
How to Make Reusable T-shirt Wipes:
Make this 2 minutes all-purpose cleaner to clean up your house last minute. You can find both of these ingredients in your own home! PRobably alreday resting in your kitchen closte! Hit the tutorial for the step b y step guide! hellonest
2 DIY All Purpose Cleaner Recipes:
If you have useless t-shirts lying around the house, use this DIY Cleaning Tip to make reusable t-shirt wipes! Never throw your torn shirts, instead use them in a productive way after following this tutorial. hellonest
Go to your kitchen and quickly gather all the cleaning ingredients. Make your own cleansers and cleanse the air around. Similarly, learn the organizing tips and perfectly organize your closets and cabinets. You will start loving yourself after following these simple DIY Cleaning Tips. After all, who does not like to remain clean all the time?