It is time to replace the toxic and super expensive store-bought air and fabric fresheners with these homemade Febreze ideas! We all know how expensive those air fresheners cans can be! And moreover, the scent is sometimes extra strong to even bear for a longer time. Many people are even allergic to that! Therefore, keeping in view all of these pain points, we have rounded up these 15 super helpful homemade Febreze recipes. Yes, you can now DIY Febreze at home, that too even single-handedly. With just a few ingredients and super easy recipe, you can make it all in one go. So kill the pungent and bad smell with these promising fresh air homemade Febreze wonders!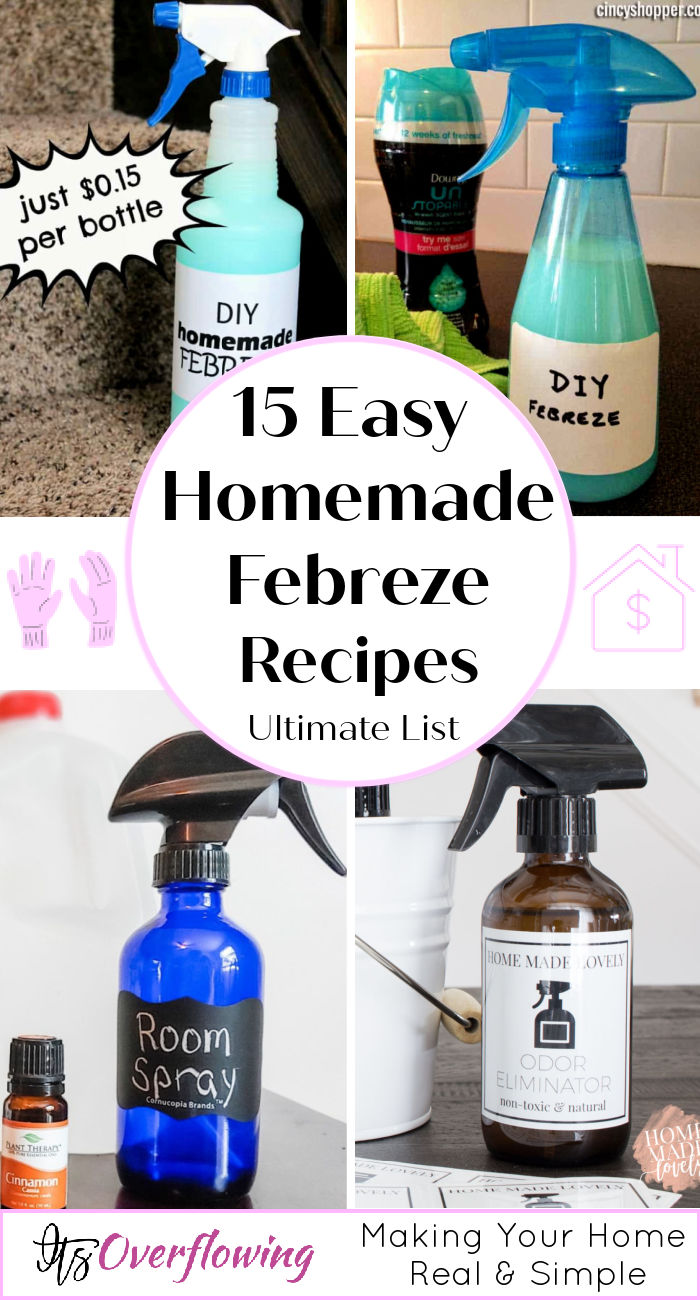 One thing to keep in mind is that while advertisers are cheering for "breathe happily", sadly the commercial Febreze is all deprived of the happy components. Rather they are all just so toxic and harmful that it can mess up your health, big time! The fun part about working upon these projects at home is that you can make a gallon of this Febreze and store it. Also, it will keep you safe from all the toxic and chemical elements a commercial Febreze might contain.
Check out all the following 15 cost-effective and easy DIY Febreze recipes that you can use to whip up your very own homemade Febreze! The fragrances are all quite inviting and appealing. Plus, the ingredients required might already be lying around your pantry! With our without fabric softener, these recipes are quite promising.
1. DIY Febreze Without Fabric Softener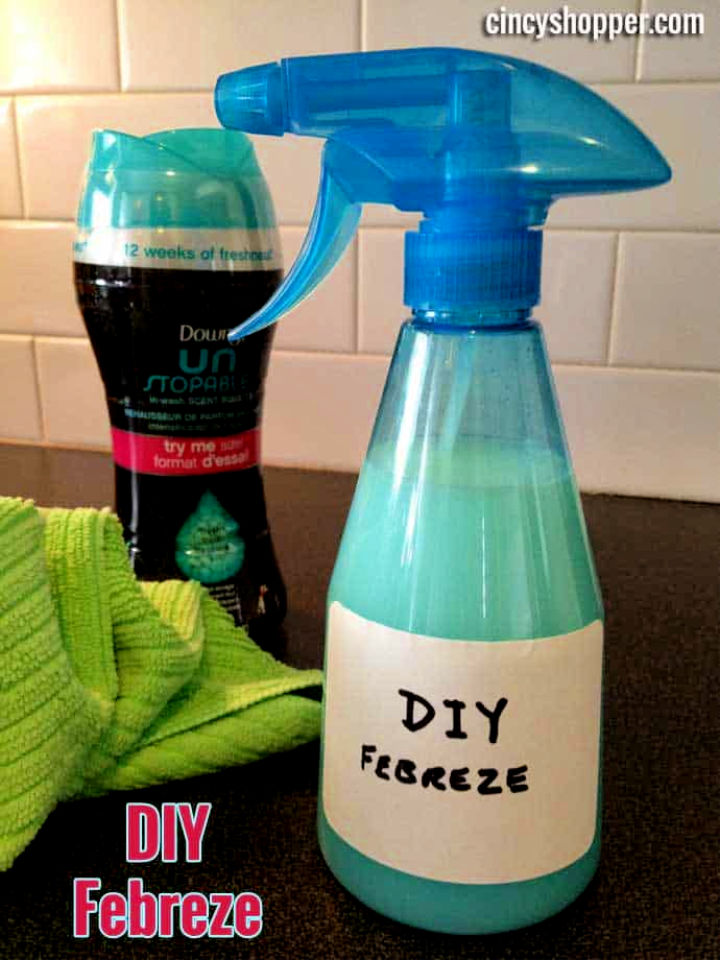 Give downy, baking soda, and hot water a try in making this homemade fabric refresher. You can make it exactly like the commercial ones but at home. As the Febreze available at the commercial store is outrageously expensive, so why not make an inexpensive one at home? Check the link to DIY it like a pro! cincyshopper
2. Homemade Febreze
Get some fresh vibes inspiration by making your own homemade Febreze. With just four ingredients, you can DIY it at home in less than an hour. So cut this item from your shopping list next time because, with these homemade Febreze recipe instructions, you will become a pro at making homemade Febreze. inspirationalmo
3. How to Make Febreze
Learn how to make Febreze at home! This homemade Febreze will keep you on budget and will make your home smell fresh and inviting! Hit the link below to get an understanding of how to make Febreze at home. To make it all by yourself, you will need just lukewarm water with isopropyl alcohol and essential oils. fourhungrybo
4. 3 Ingredients Febreze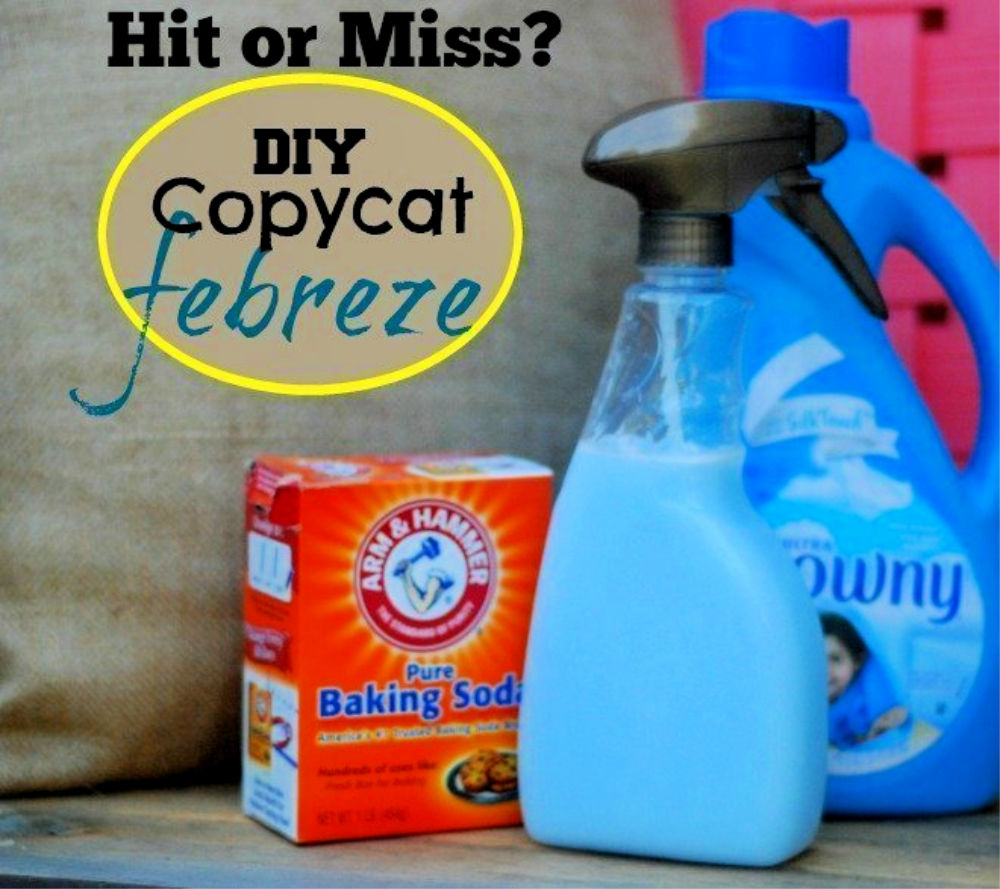 So everybody loves a fresh, pleasing odor home but buying expensive store air fresheners is not much liked!! Below are the tips for you to make Febreze just by using 3 ingredients. Use liquid fabric softener, baking soda, and warm water to make the Febreze. Also, check out the link to know the recipe and step by step guide. anallievent
5. Homemade All Natural Air Freshener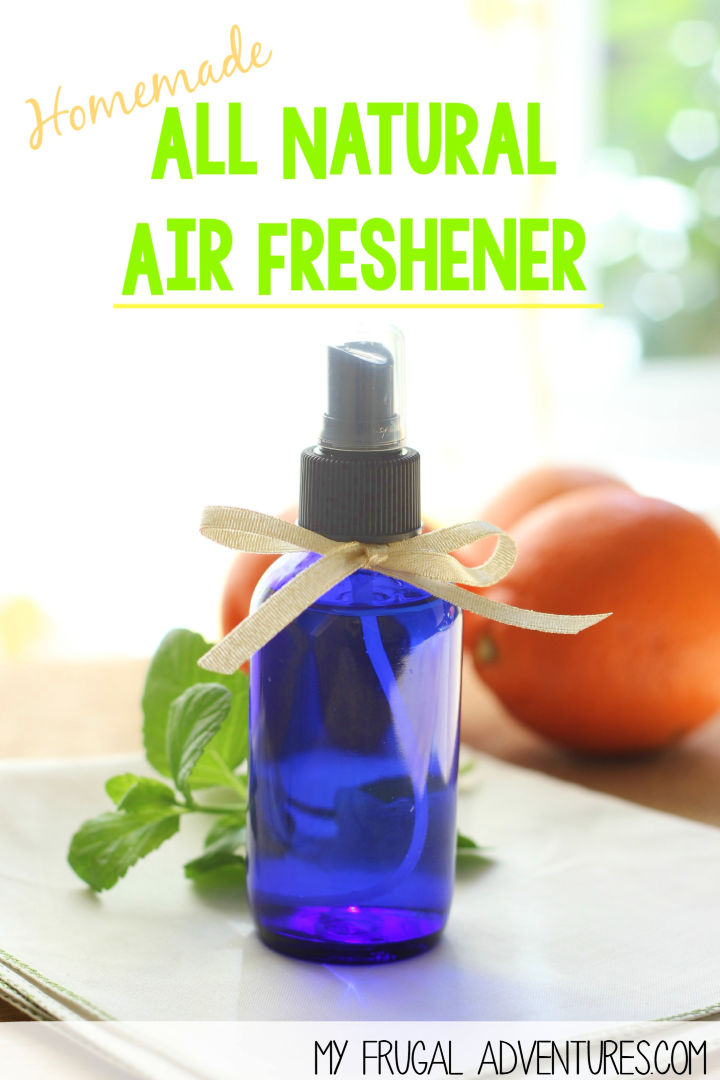 Eliminate every bad odor from your place! Kick out all the bad smells by making this homemade air freshener spray. Expunge all the chemicals a store Febreze contains and create a rather all-natural and pure Febreze at home. The detail instructions right inside the link will help you to make it. myfrugaladven
6. DIY Febreze With Printable Label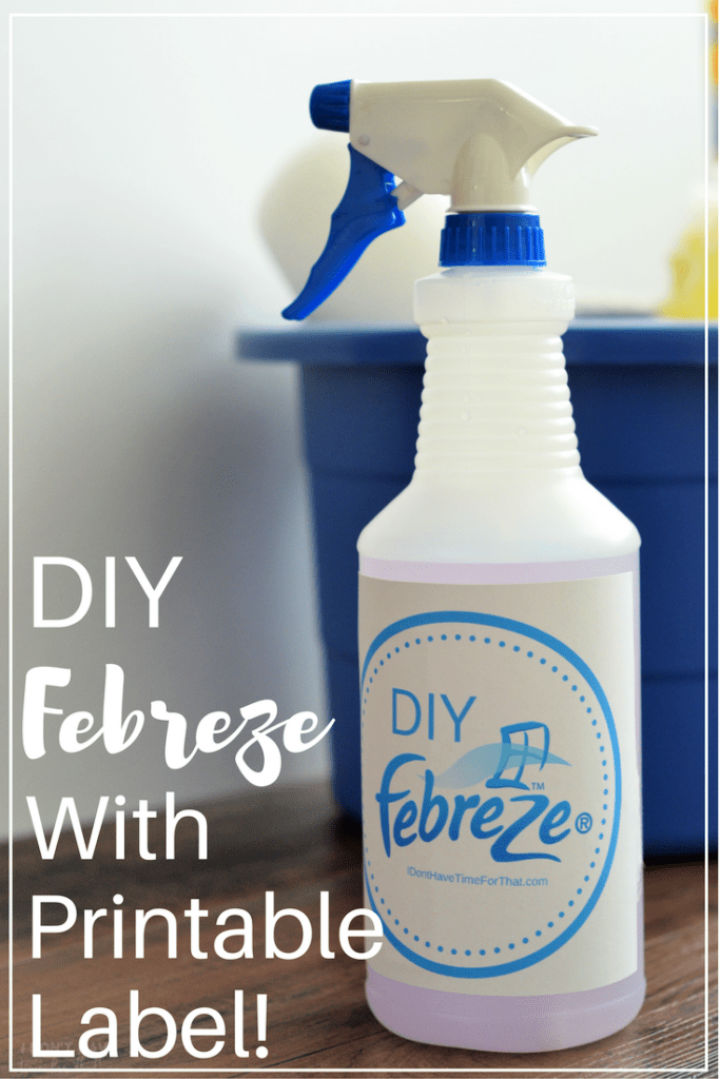 Yes, you can now make Febreze at home. Surprising isn't it? Turn yourself a pro at making this pleasing bottle of lovely fragrance at home by just following the instructions herein. Bring amazing aroma and tidiness simultaneously inside your home with this amazing fun project. You can nail it, single-handedly! idonthavetime
7. 2 ingredients Febreze Spray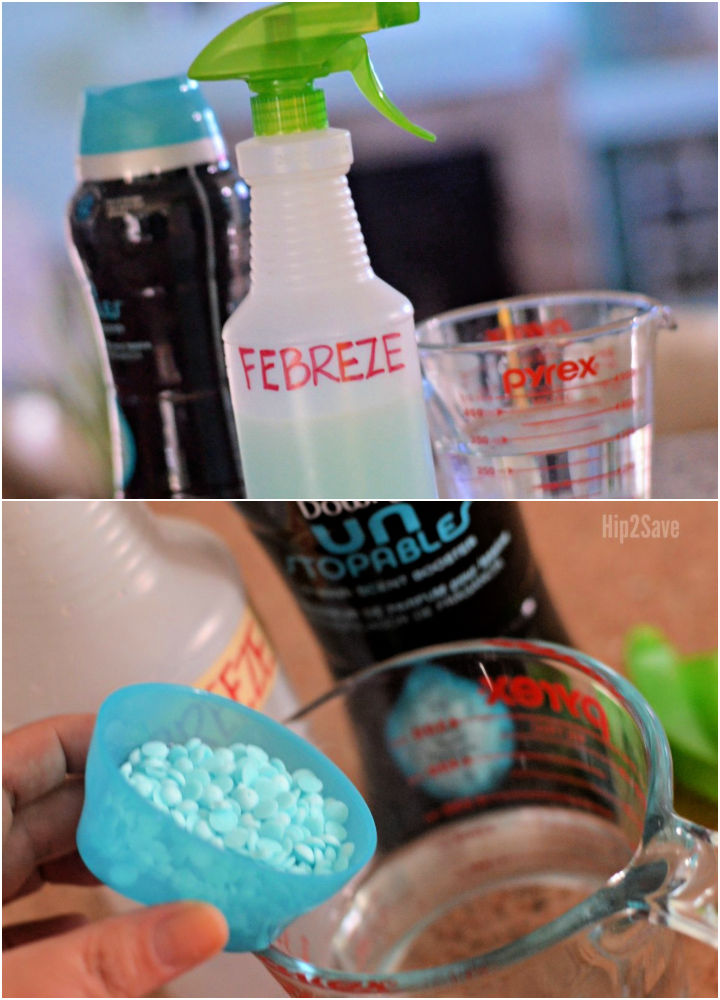 Here is this super simple and easy recipe to make this homemade Febreze. This project surprisingly includes just 2 ingredients. Wow! You just need to mix laundry scent booster with warm water to accomplish this Febreze. Click the link to see the step by step directions on this project! hip2save
8. Make Your Own Febreze
Let's get real here! Everyone loves the smell of Febreze, but it can be ridiculously expensive, even on sale too! Make your own Febreze and use it an entire month to brighten and scent up your home. Check the shopping list and directions to make this Febreze here. popsugar
9. Homemade Natural Febreze
Freshen up the aroma of your place with this homemade Febreze. It is super easy to make with just 3 ingredients. This project is totally toxic-free, so use it as much as you want and breathe happily. You need a spray bottle, baking soda, distilled water, and essential oils. brownthumb
10. Non-Toxic Homemade Febreze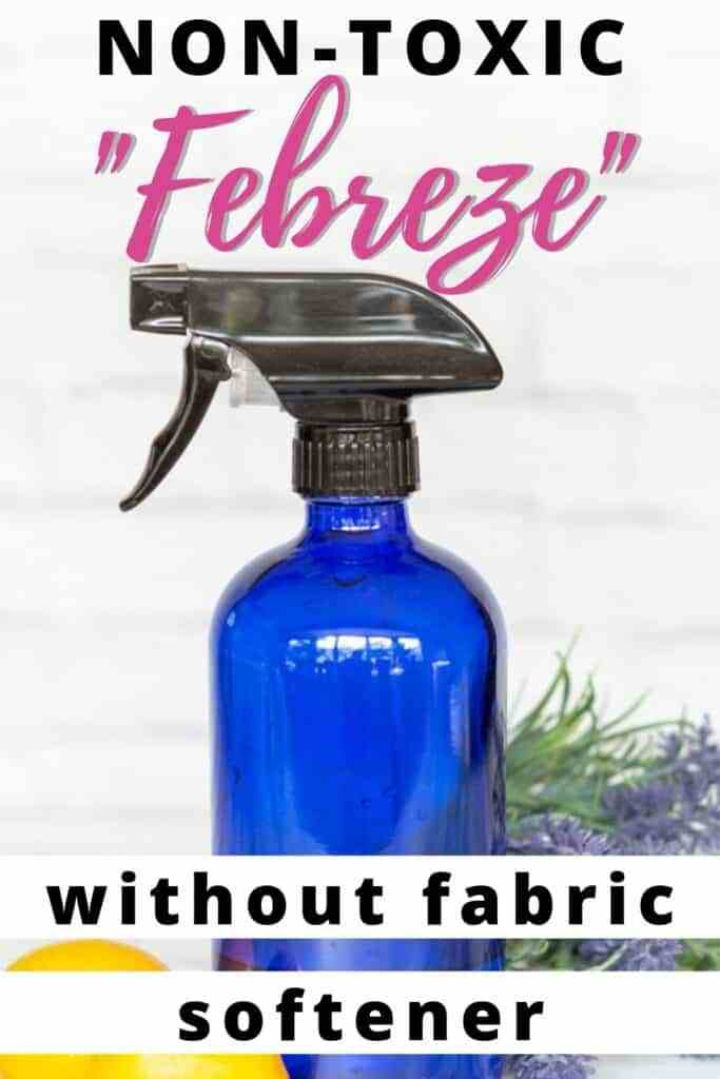 This project might be one of the best cleaning DIY Febreze you have come across. You can entirely make it at your home without pouring toxic elements like fabric softener in it. It is easy to make and safer to use. You can certainly make it for better use! natashalh
11. Eliminator Spray Or Febreze Recipe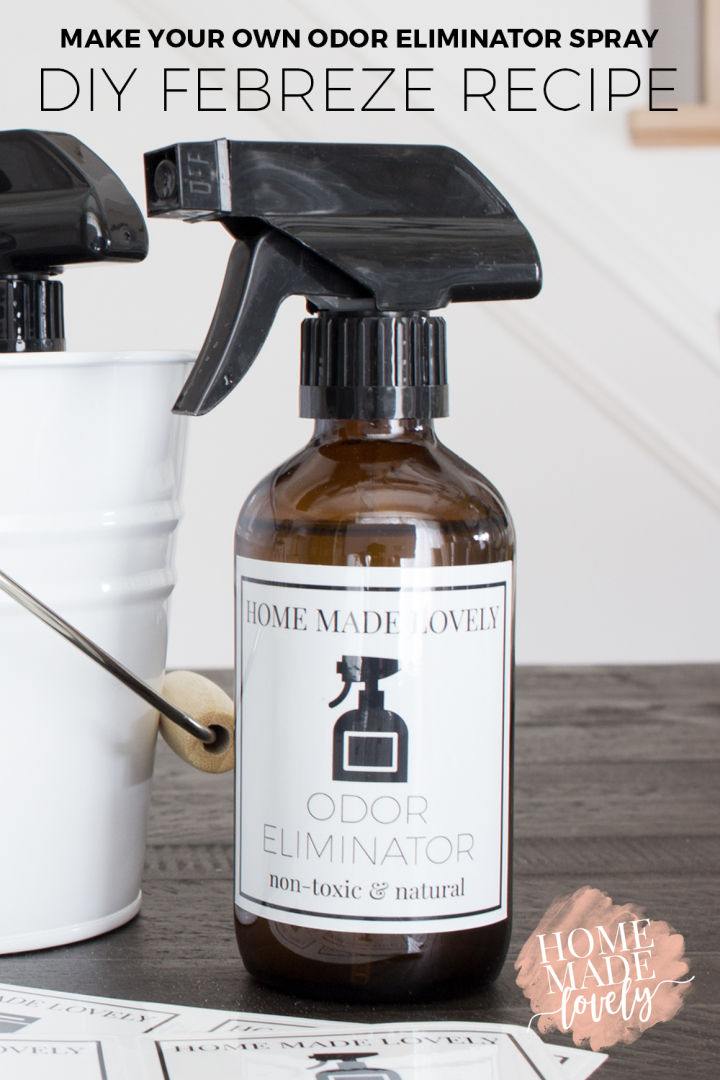 Why buy when you can DIY! Once you see how easy and healthy DIY Febreze is to make, you will never go back to the store-bought options. Grab the ingredients like lavender oil, spray bottle, witch hazel, baking soda, and warm water to nail this project like a pro. homemadelov
12. The Best Febreze Recipe
Replace those expensive, toxic air freshener sprays with this DIY Febreze. No need to spend tons of money on a store-bought product when you can make it at home. It does not only works great, but it is super simple to make. The tutorial will guide you the way!! onecrazymom
13. Homemade Febreze Recipes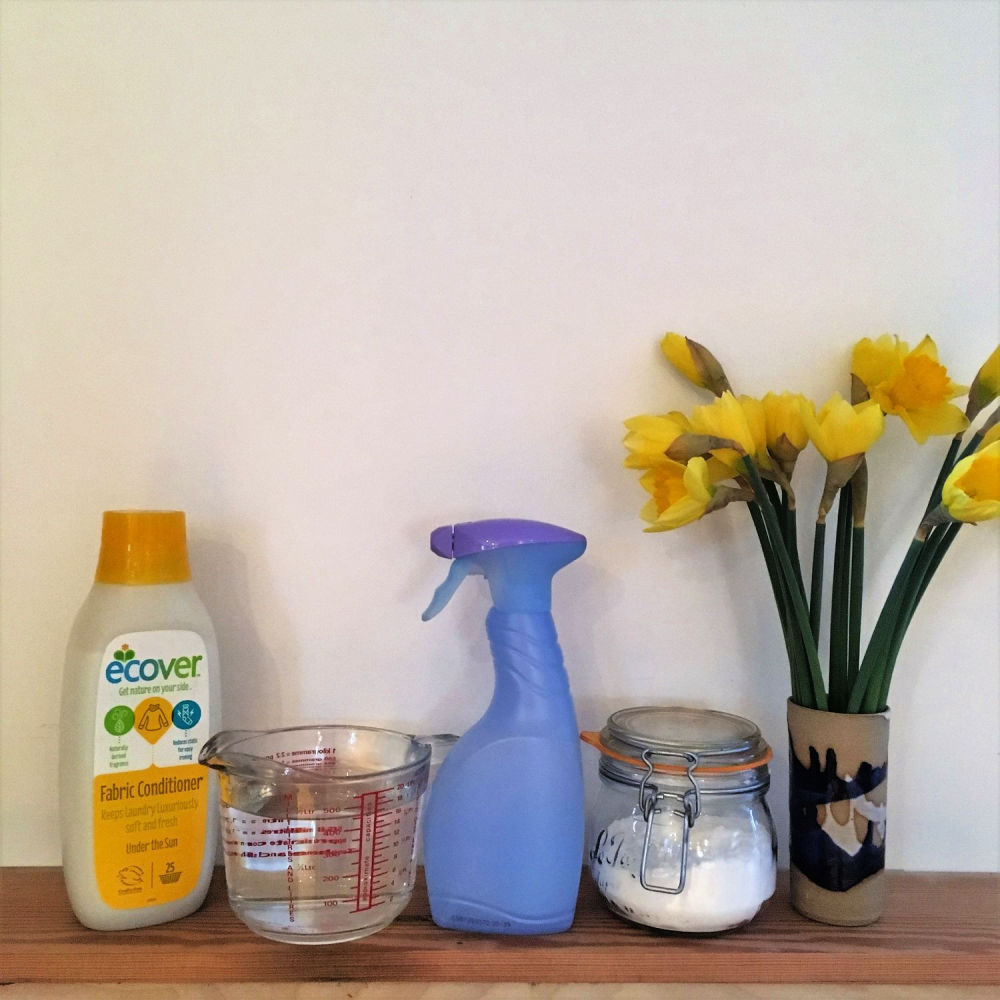 Keep your house feeling fresh by mixing up a few simple ingredients and making this homemade Febreze. The recipe is quite simple, and it just uses a few ingredients that might be available at your place already. Furthermore, keep it stored in a bottle or a spray bottle for daily use! mobilezerowa
14. How to Make Your Own Febreze Spray
Get rid of the unwanted odors and bring fresh scent at your place so that it feels great to inhale. You can get this just by DIYing some refreshing Febreze. Ingredients required are 235ml water, 37g carbonate of soda, 118ml fabric softener. Moreover, the step by step guide can be explored in the link below! yardsales
15. DIY Natural Room Spray & Fabric Refresher
Smelling good when you step into your home is the first feeling that hits you like you are in heaven. DIY this natural room spray and fabric refresher! Gather supplies including water, baking soda, rubbing alcohol and essential oils! honestlylea
Conclusion:
Now, keep yourself safe and away from the harmful chemicals by rather opting for some homemade Febreze options! They serve the purpose and you can make a gallon and store for later use too! The DIY Febreze recipes are all mostly natural ingredients and can be of great help! The commercial fragrances can cause really serious health issues than merely a mild allergy. After all, breathing in toxins is no good for anyone. So, explore our roundup of 15 quick and easy homemade Febreze recipe!!