Need an Easy Recipe for cleaning mattress, sofa, and sofa cushions? Tell me the truth, did it freak you out that I bought two new-to-me sofas on Craigslist? I'm telling you, I have one goal in mind – save for my kitchen remodel. Just a little truth talk with the girls, if I had been there picking up the sofas and had seen their condition I would have passed. But when you send your hubby and he's sweet enough to take an hour+ out of his day to pick something up for you — you smile, say thanks, and get to work remedying the situation.
This wasn't the first piece I've had to freshen up and give new life! Thankfully I've tried this before on a chair or two, and every couple months on my mattresses. Knowing the potential was there, I stripped the dog hair infested slipcovers. Then I vacuumed over the entire surface of the cushions and sofa removing the few stray hairs that had seeped under the slipcover. Already feeling better about our purchase, I went into the kitchen and made up a mason jar full of my favorite upholstery and mattress cleaning concoction –
Add 5-6 drop of lavender essential oil added to 1 cup of baking soda.
Place the lid on the mason jar and shake to mix.
Use a strainer to evenly sprinkle onto surfaces of dirty fabrics.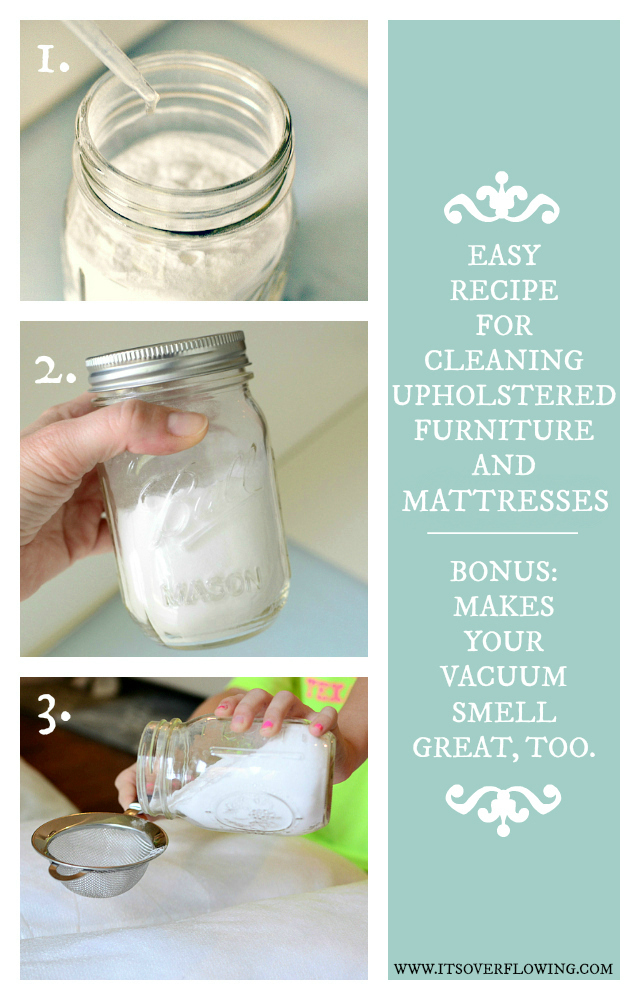 Doesn't look too bad does it — Little B loved helping me sprinkle the mason jar contents. (Someone mentioned they had better luck sprinkling by replacing the mason jar lid with a parmesan lid) — I love it when you personalize it to make it your own!
After letting it sit for an hour or more, allowing the baking soda to penetrate – killing dust mites and other nasty things, I used the hose on my vacuum with an upholstery attachment to thoroughly vacuum the sofa and cushions. The baking soda helped to draw any unseen moisture and deep dirtiness. It also worked to deodorize the fabric, leaving it smelling fresh and clean. The faint smell of lavender left by the essential oil still lingers and smells perfect.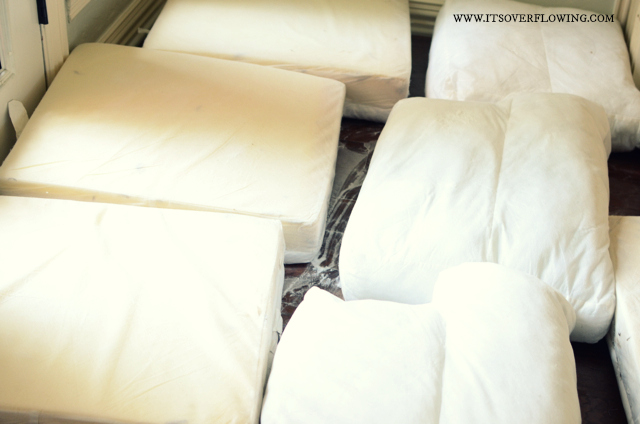 And bonus — every time I vacuum, the lavender smell is released and makes my house smell delicious. If you don't have upholstery needing to be cleaned, just add 4-5 drops of lavender to your vacuum bag and enjoy the same lingering, soothing smell every time you vacuum.
Learn the secret to cleaning your home quickly with our helpful house cleaning checklist at Itsoverflowing.com.