Willing to gain a round bed that will match the modern interior textures, then go with these 12 Round Bed Designs that are sure to give a luxurious appeal to any newly built bedroom. You don't just need to have an ultra-modern home to add these round beds. They will rock in vintage-inspired and rustic interior environments too. The unusual round appeal will surely impress an onlooker, a must-have design of the bed, to add new decor dimensions to your bedrooms. Explore this collection of 12 Round Bed Designs that are more than beautiful and come in various color combinations to fit best to any interior decor theme. From tufted to wooden, you can choose any design suiting best to your bedroom decor theme.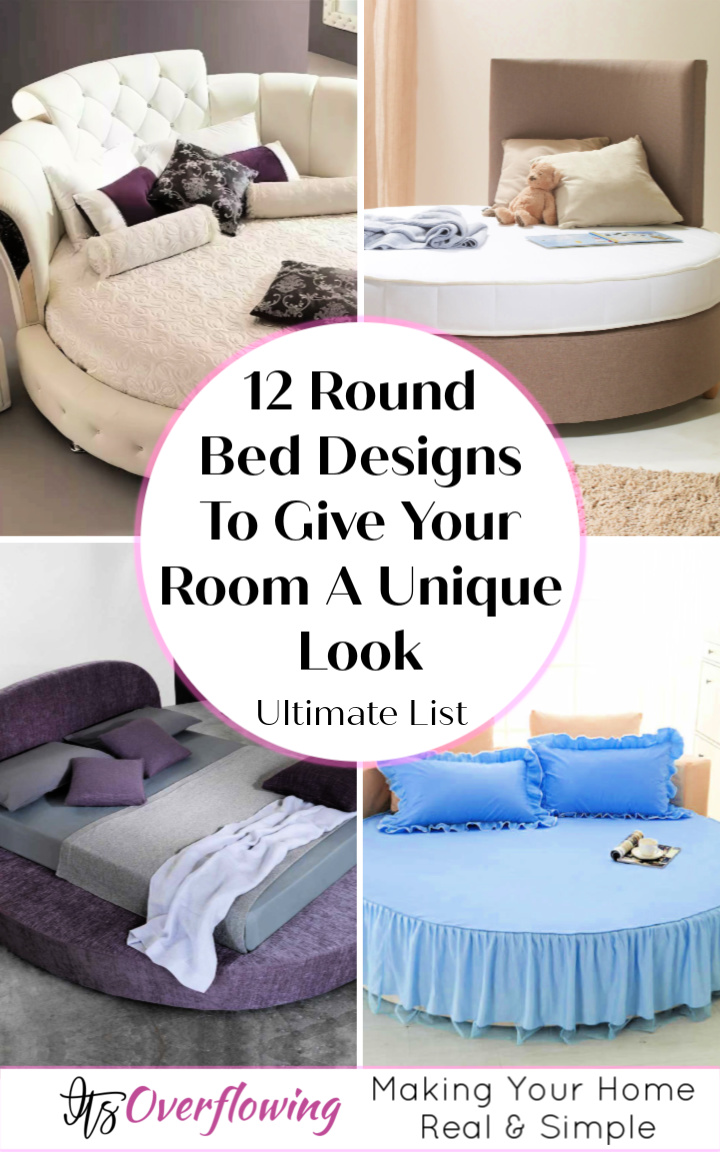 If you are on a mission to save a lot of bedroom floor space without compromising on the style, these perfectly cute circular bed designs are for you. Time to freshen up your bedroom with a unique and unusual bed design and these round ones are just terrific. Most of these Luxurious Circle Beds are tufted and come with a variety of headboards suiting different styles and tastes of bedroom lovers. The list provides amazing homemade samples for kids and girls' bedrooms too. Choose these unique and modern round bed designs for your luxury compartments, guest rooms, and any room. Time to live the luxury with these perfect round beds will surely add great visual details to your bedroom.
1. Beautiful Round Bed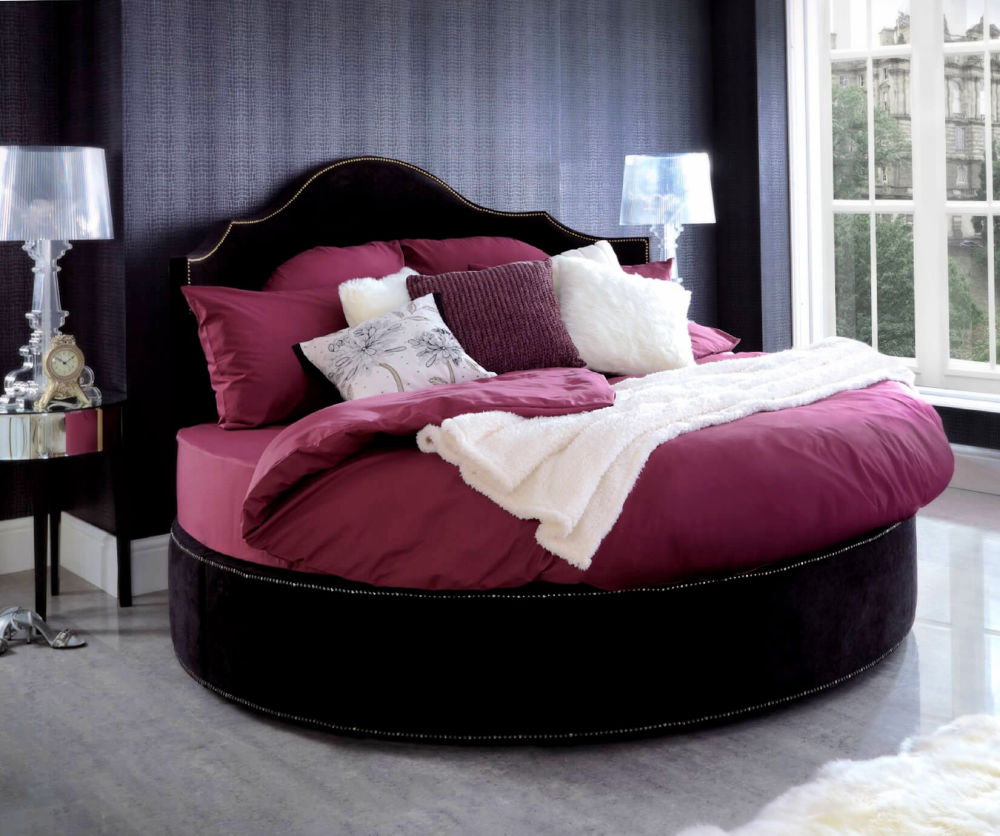 A modern design of the bed for modern rooms will have to save a lot of space to fit the rest of the bedroom essentials. This here a beautiful circle bed ready to enhance your bedding experience. The perfectly round black bed with plum mattress, pillows, lampshade and blanket and also with camelback tufted headboard are the superior accent features of this cheap round bed.
2. Circle Bed Design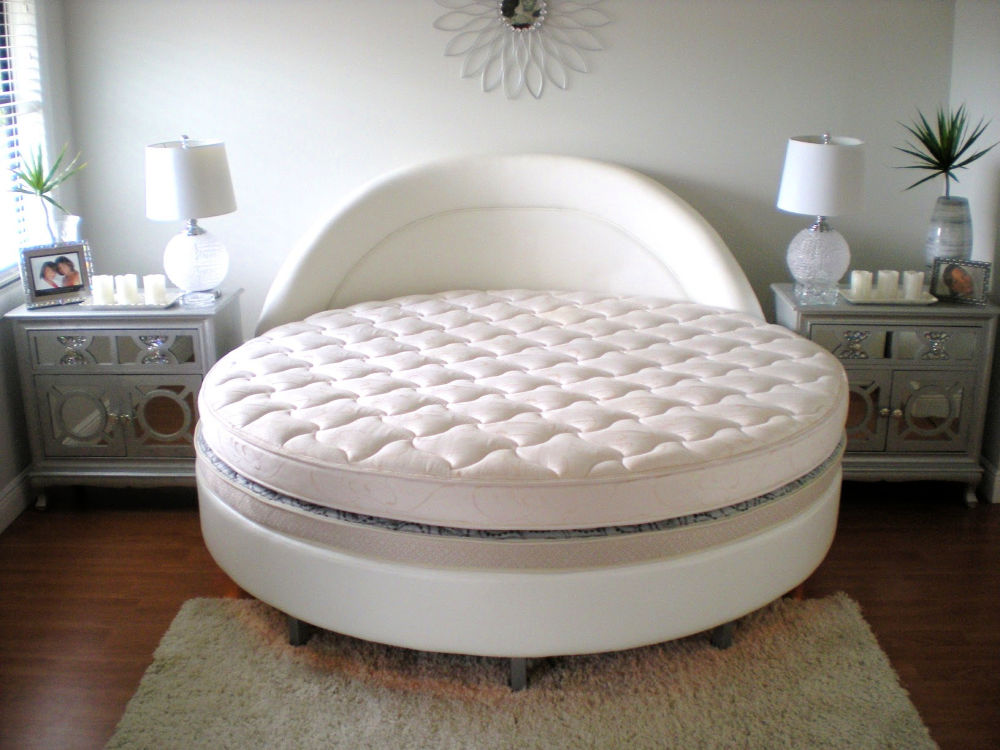 Looking for ways to empower your master bedroom with more grace, then choose this circle bed design. It will blend beautifully in the modern textures with its unique circular shape. It comes on a wheel and will be a real comfort to sleep and sit on. Superspace-savvy design of the modern bed.
3. Cute Circle Bed Design
Bring a big wow factor to your modern bedroom interior by choosing this cute circle bed design. It gains attention due to ruffled black cover and comes with a beautiful mattress cushion fixed in. A line of pillows along the backrest-style headboard takes the beauty of the bed to the next level.
4. King Size Round Bed Design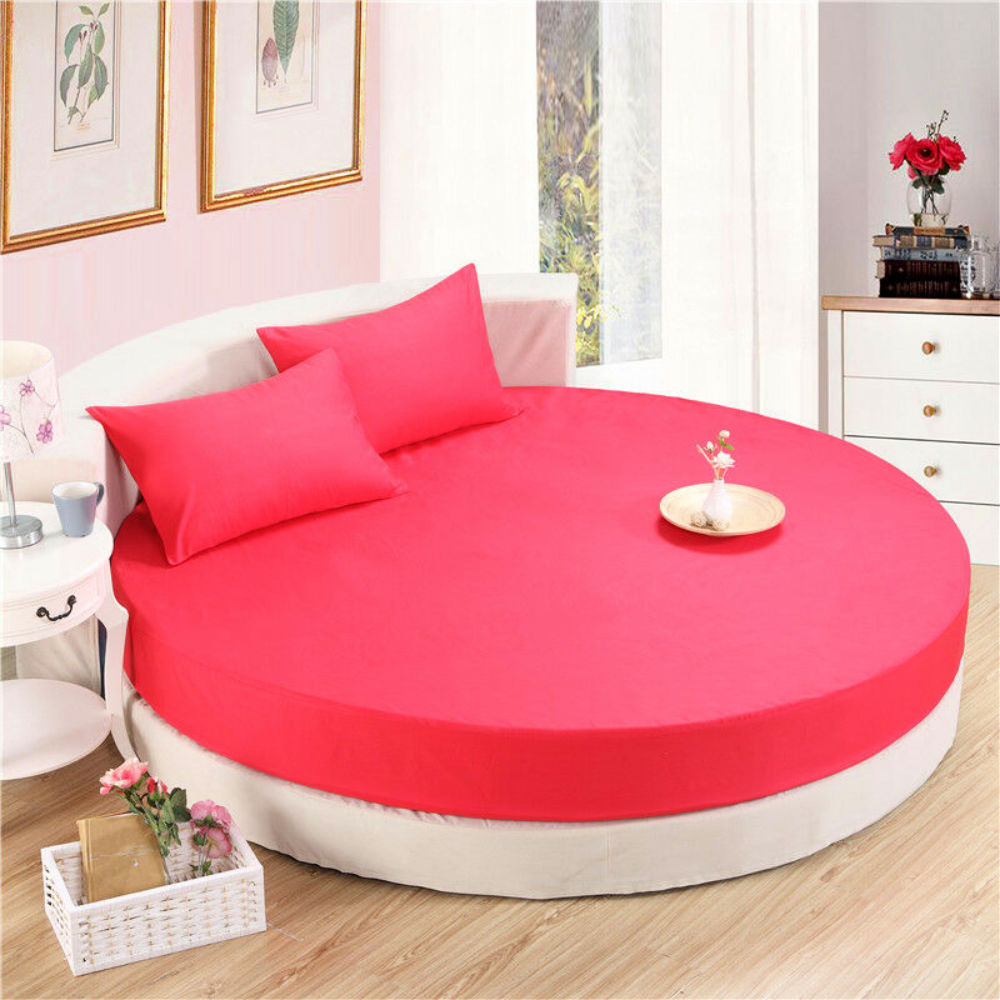 The pink and white appeal of this unusual round bed design confirms it to be a great model for the girls' bedrooms. A complete round shape makes it a one-of-a-kind modern bedding, and it will blend beautifully in the modern interior design textures. It will be a great pleasure to enjoy zzzz on it.
5. King Size Round Bed With Headboard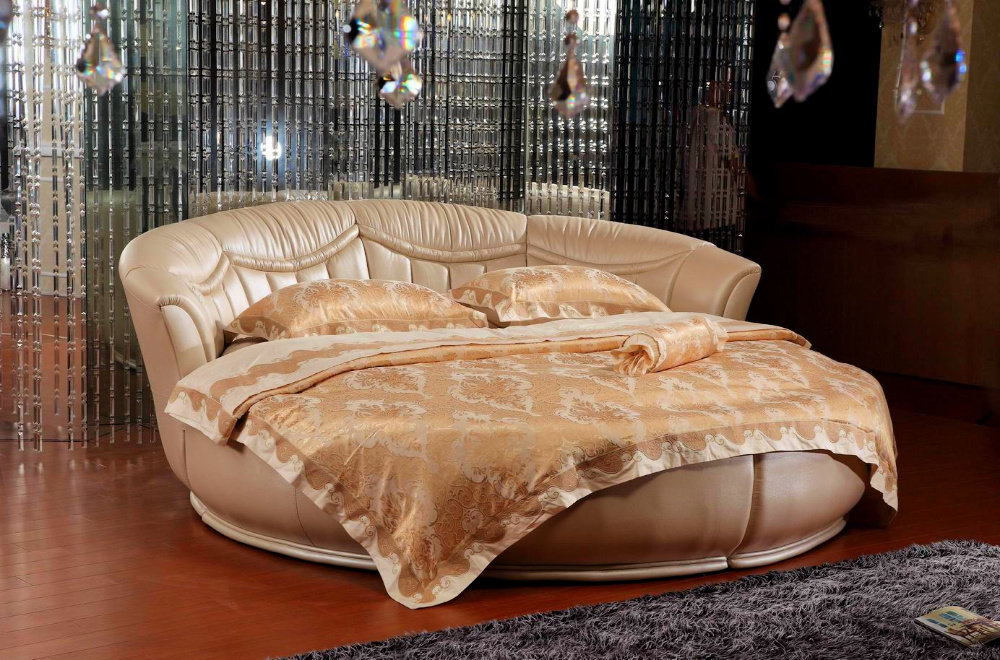 One of the best king size bed to add to your newly built bedroom. It will be a big show-stopper there due to having a perfectly round shape. From a distance, it looks like a giant reclining chair or daybed but is a real luxury to sleep on. Take your sleeping routines to the next level using this round bed with a headboard.
6. Large Headboard Round Bed Design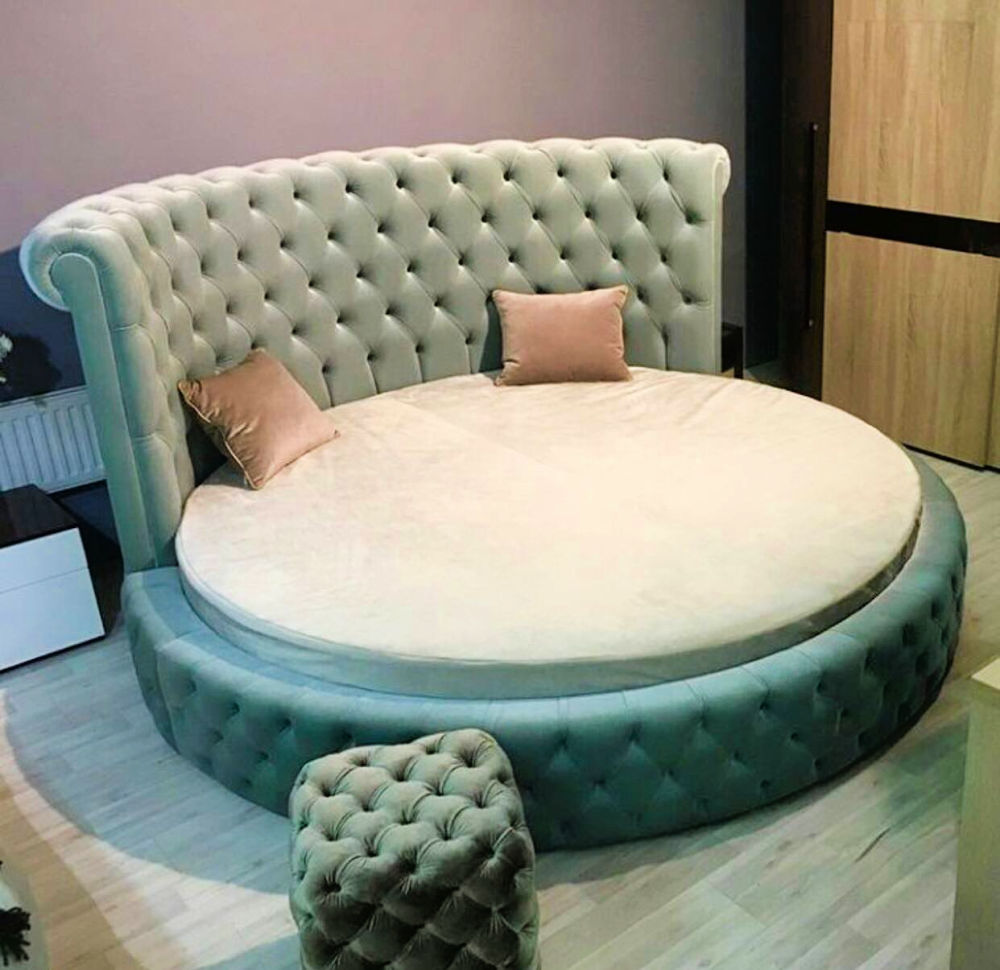 See here the amazing design elevation of the modern bed designs. The superior tufted bed design graced up with a completed circle design. It is like a giant round chair with no legs. Use this handsome modern bed design to transform any bedroom into a dreamy space. Make it nicely cushioned for a high value sleeping comfort.
7. Round Bed Frame With Mattress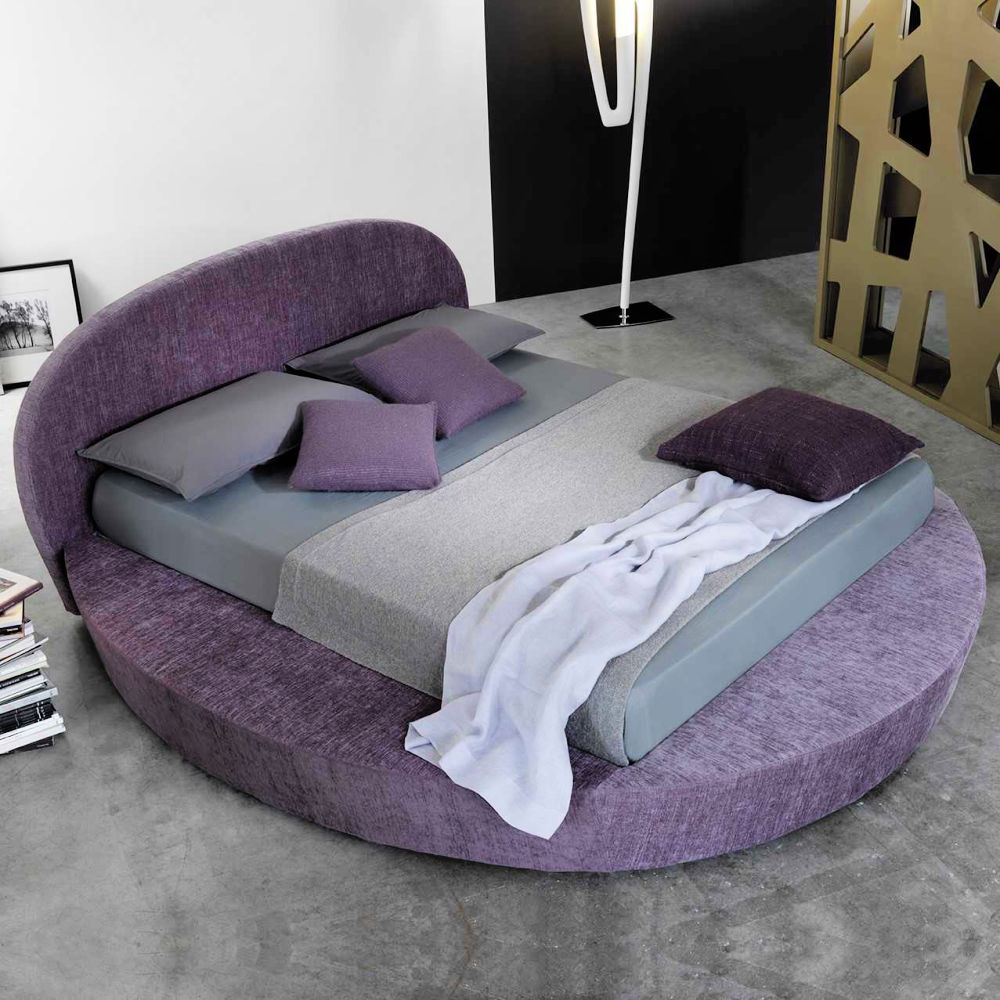 Are you planning your bedroom? Then transform it using this circle bed frame and mattress. Sleeping on this one-of-a-kind luxury bed will be real heaven, and it will add great visual details to the entire ambiance of your bedroom. Time to get your bedroom look fantastic with this new creative design twist, the round bed.
8. Simple Blue Bed Design
Time to add new modern decor dimensions to your master bedroom using this simple blue round bed. The giant blue round bedding space with the upholstered curved headboard featuring a creamy neutral hue, are the main accent features of this bed. The best princess style bed to add to your kids' bedrooms.
9. Koala Bed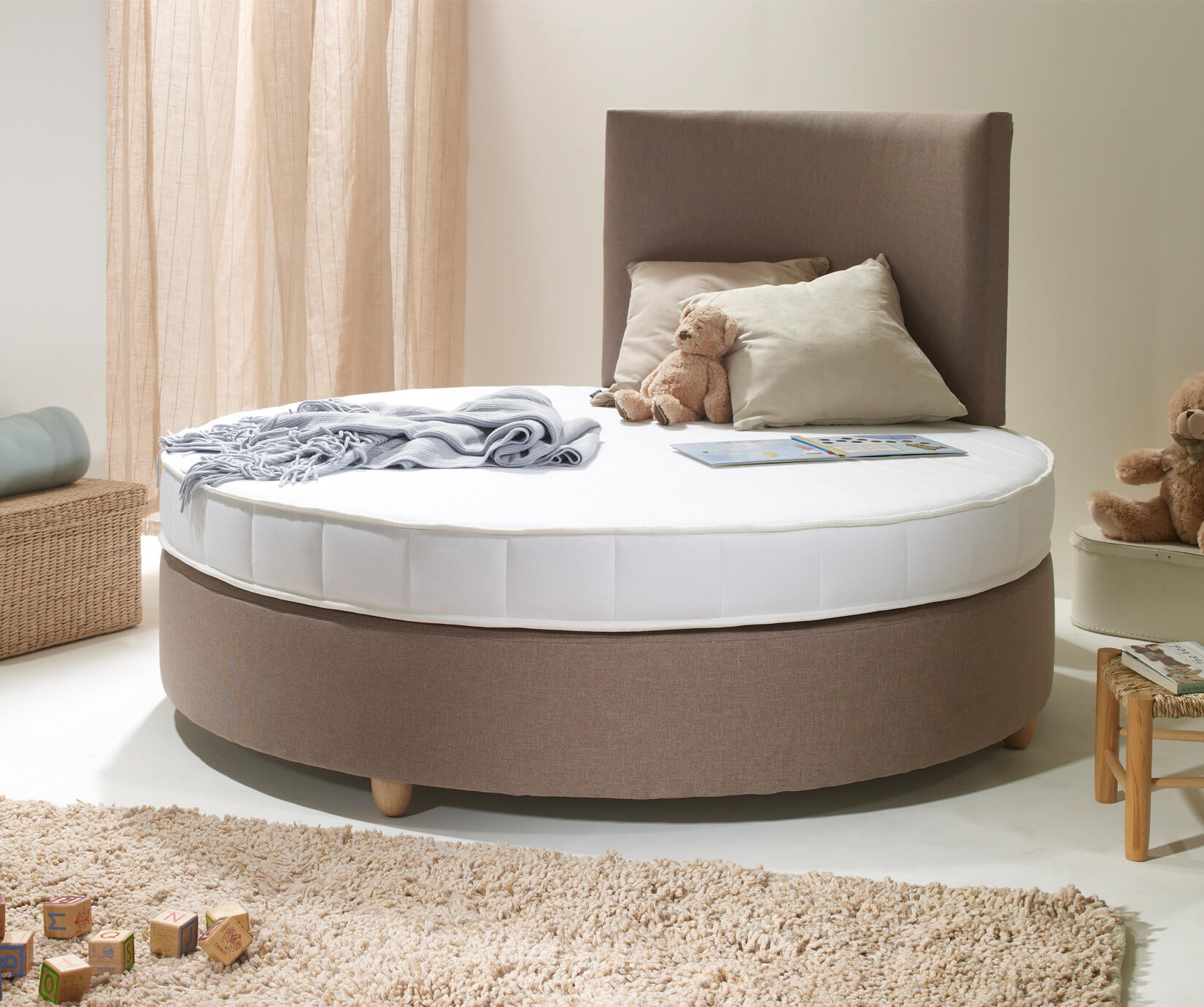 At a very first look, you will surely fall for this so nice-looking rounded bed, having name the "Koala' round bed. It features a white and a brown hue and will be your next most comfy platform to take a rest after a busy day. It will speak volumes for the modern decors and should not miss out when having modern interior fashion craze on the brain.
10. Simple Circle Bed Design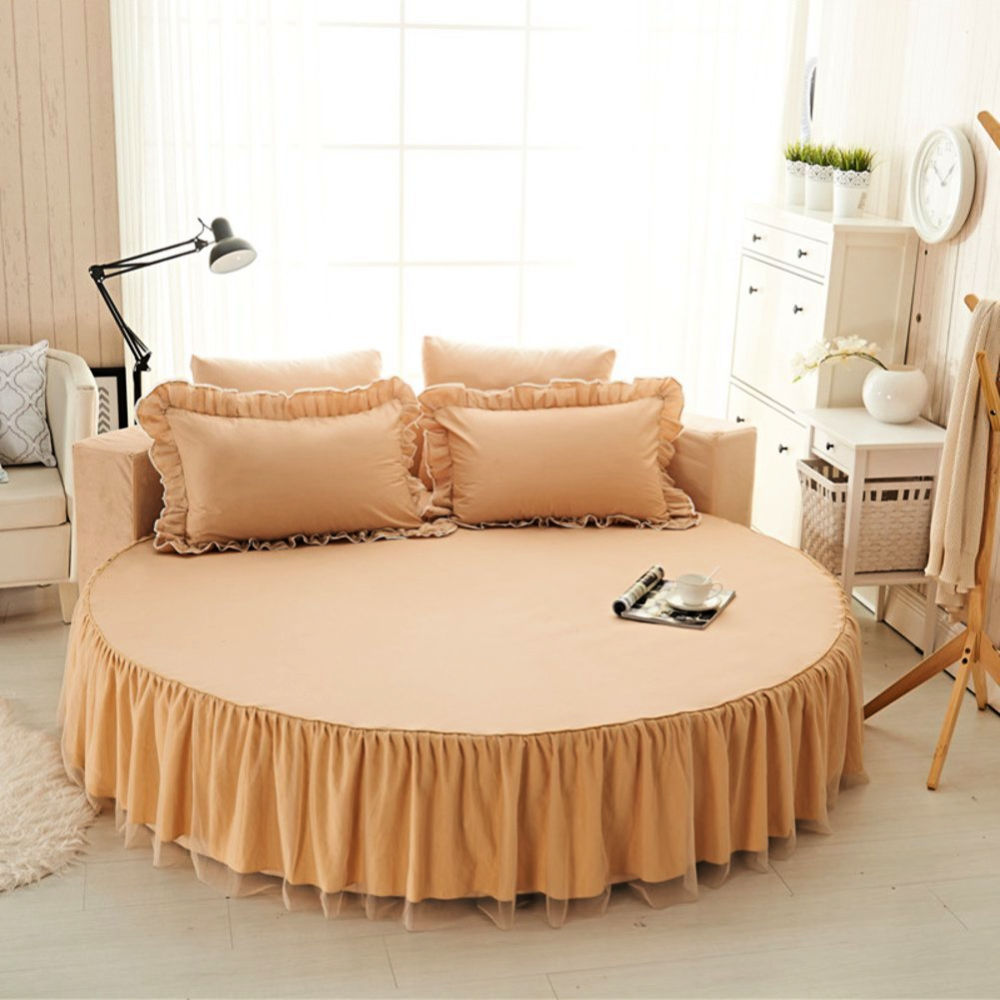 Celebrate your love for bedding by choosing this round bed design. It features a neutral mattress and headboard cover and impresses with the perfection of roundness. The cover has ruffles all around that graces it up more. A lovely bed design that will be everyone's favorite for sure.
11. Corner Bed
Have the modern bedroom fashion on the brain all the time? Then satisfy your modern bed obsession with this corner bed, which will make everyone say a big wow. The perfectly round sleeping section with a curved headboard that is a little higher from the sleeping section is the real beauty of these modern beds.
12. White Round Bed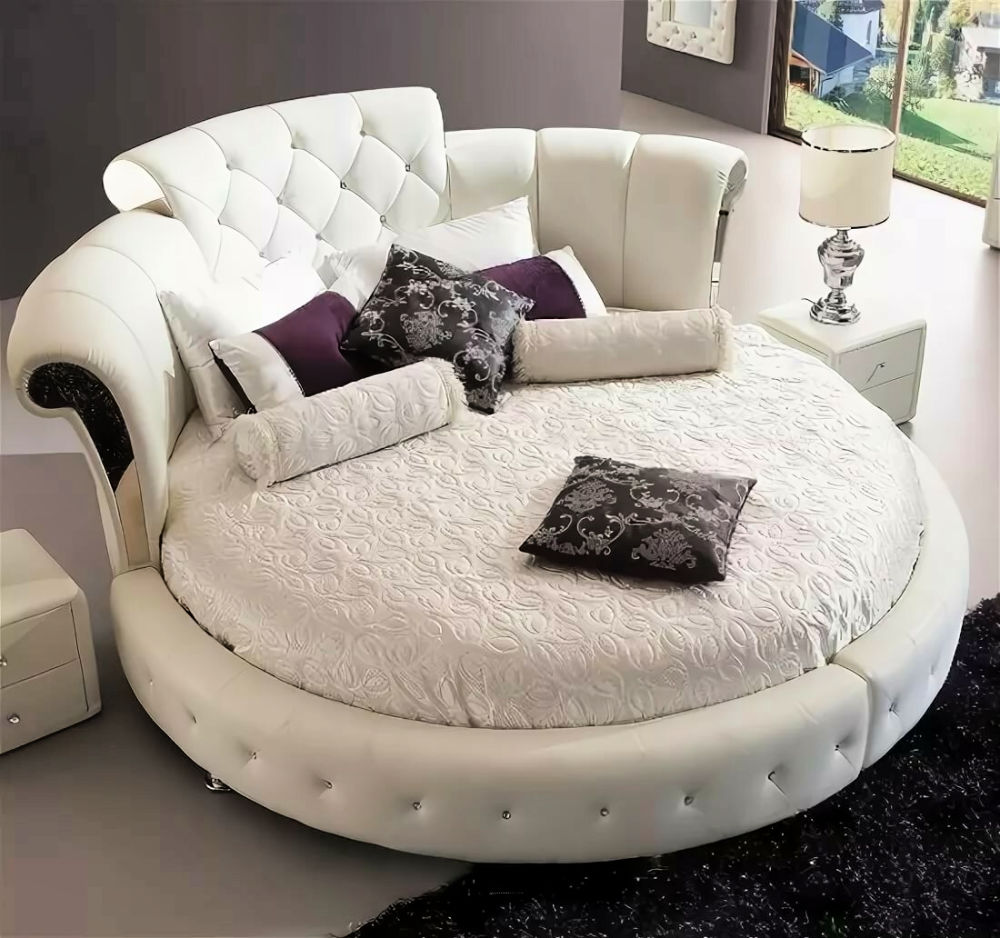 Live the real luxury with this white round bed. The bed is well tufted and looks like a circular sofa, and it will provide the ultimate sitting and sleeping comfort. If added with two matching nightstands, it will be a whole impressive addition to one's bedroom. Let it serve as a perfect daybed too.
You can save your money by doing DIY projects and make inexpensive furniture for your bedroom!
Conclusion:
Willing to change the look of your bedroom with some unique and one-of-a-kind additions? Opt for these Round Bed Designs that are impressive, and most of them come tufted and upholstered. These beds will totally transform your traditional style bedrooms and will add new style dimensions. Due to being perfectly round, these beds will help free up lots of bedroom space to install the other furniture pieces like a dressing table and nightstand. These beds will be a great addition to any living room, modern kids' room, and to your master bedroom.