Do you get the feeling of accomplishment when walking in your bedroom? You will really feel so if you look at this lighted platform bed! Built it at home with the help of this DIY Platform Bed with Floating Nightstands tutorial will share all construction details! The floating nightstands help save a lot of floor space and nicely hold the table lamps and other night supporting material! The floating nightstands also offer a built-in underside pocket where you can organize your reading books, the charging outlets will nicely charge your lamps and phones! The most amazing feature of this platform bed is the lighted headboard that comes with under-mount LED puck lights, there is an ON and Off light switch too to control the amount of backlight! Create a stunning gorgeous appeal of your bed by building this lighted DIY platform bed, will surely make you live the luxury!
In the market price, this bed will cost you an arm and a leg but building it at home with lumber will be a budget-friendly project! Time to fancy up your bedroom without breaking the bank, with this DIY Platform Bed with Floating Nightstands project! It will work up super quickly even when having much less woodworking experience!
Supplies:
8-inch Lumber
Plywood
Jigsaw
Coping Saw
LED Light Strips
Sandpaper of 400, 120 and 80 Grit
Glossy Latex Black Paint
Screws
Dowel Jig
Quarter inch Dowels
Danish Oil
Polyurethane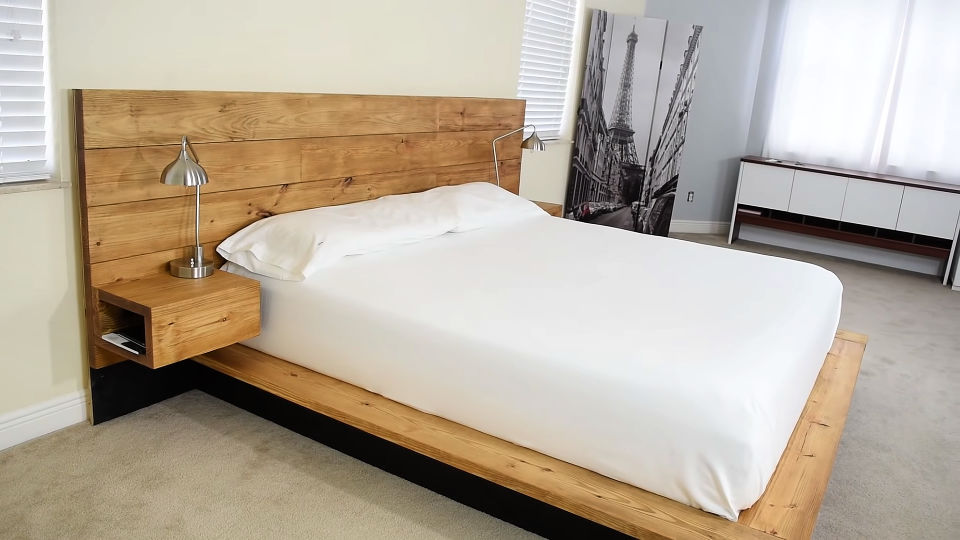 DIY Platform Bed Construction Details:
Cut the 8-inch lumber to size and build the bottom frame of the bed! Before you get into the construction, decide the size of your bed according to your bedroom space!
Cut the 8-inch lumber to size and build the bottom frame of the bed! Before you get into the construction, decide the size of your bed according to your bedroom space!
Sand the surfaces smooth and apply a few coats of glossy latest black paint to paint the bottom frame all black.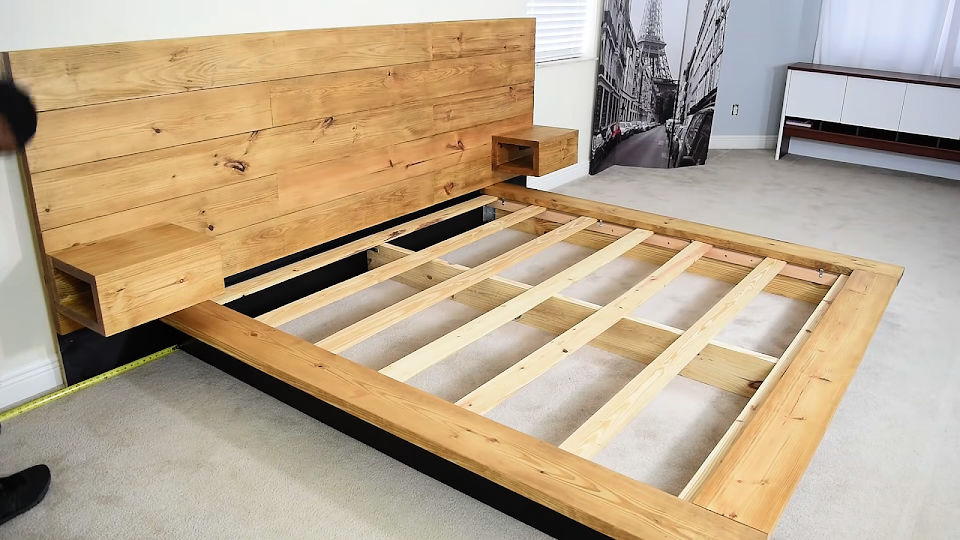 Next, build the mattress supports by adding lumber slats, should be equally spaced! Use the less thick lumber slats to build the mattress supports but they are extra durable!
Cut a plywood piece to size, fill it up with the custom lumber sizes, this step is going to be a big fun like you are playing a game puzzle! Remove the excess of edges after filling the entire plywood size solid, this would be your headboard! The headboard is a combination of two different types of woods, hence it will be heavy in weight!
Install the hardware to bed using recommended durable hardware! Fix the LED light strips to the backside of the headboard, choose them in the color you want! Don't forget to install an On and Off switch on a nightstand or on a headboard that will help control the amount of light!
Make Your DIY Platform Bed Storage Friendly
Next also shape up two boxes with leftover lumber, which can be added to the front side of the headboard as storage-friendly floating nightstands! Fix the light lamps on each floating nightstand and next start storing your books inside them!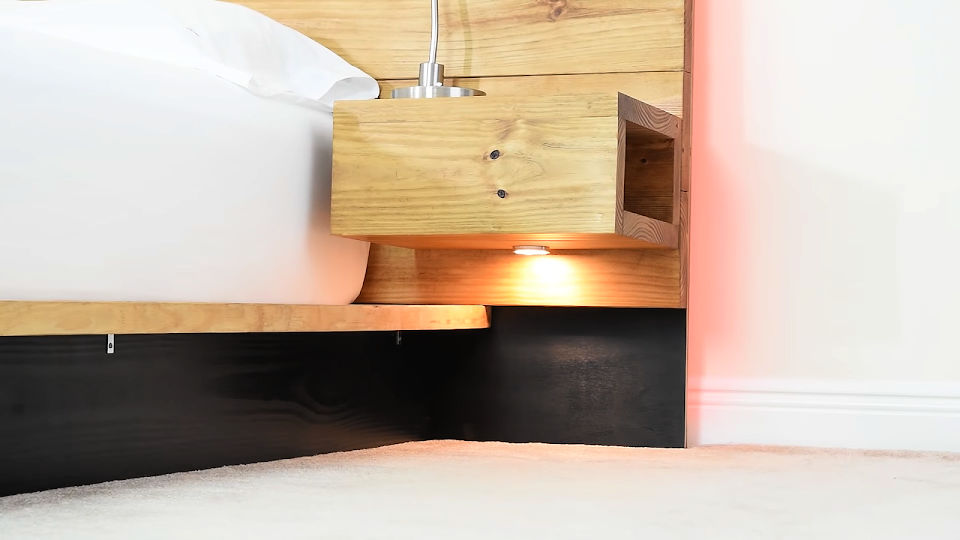 DIY Floating Nights:
The floating nightstand will help save a lot of floor space and hence will make your bedroom look spacious! Fix the miniature lights to the bottom side of the floating nightstand for extra exposure of light in your bedroom! This lighted platform bed will be the real luxury for sure!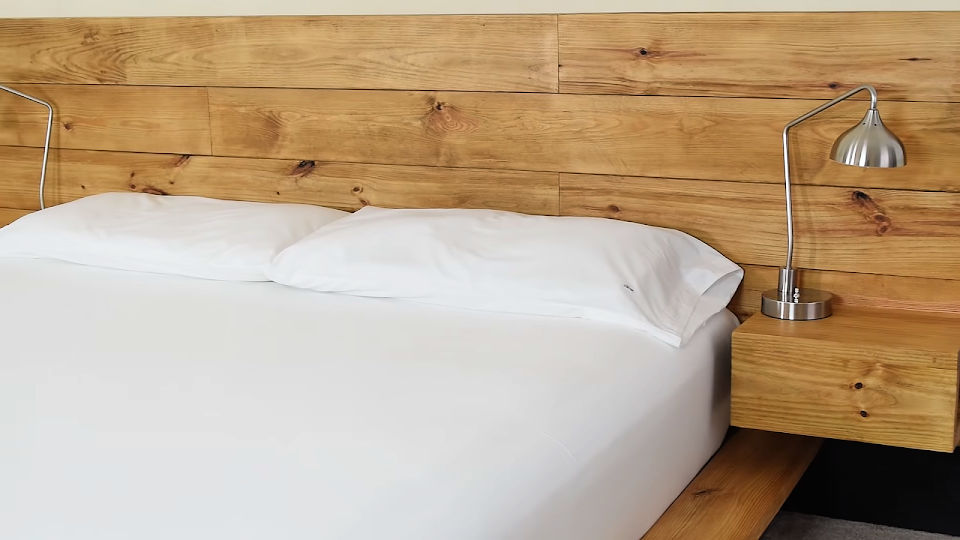 Next, choose your mattress of choice to start sleeping on this bed, which will be a great addition to your master bedroom! Do get this platform bed to transform your bedroom into a dreamy place! Bring your zzzz routines to the next level by building this lovely platform bed, which will surely impress!
Please a beloved on in your life by building this bed for him! It is one of the best gifts that you can design yourself with custom added features!
You may also find more information in the video tutorial.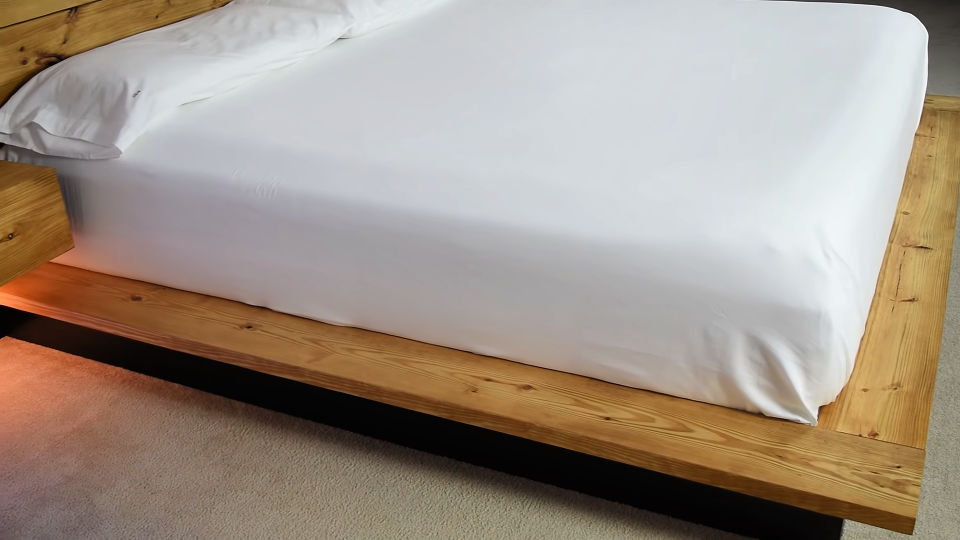 Bring lots of shine and protection to wood grains by giving a lovely wood finish! Opt for a Danish Oil and Polyurethane treatment to jazz up the wooden surfaces! This platform features a blank tone of the wood and hence will bring a great wooden and decorative character to any bedroom!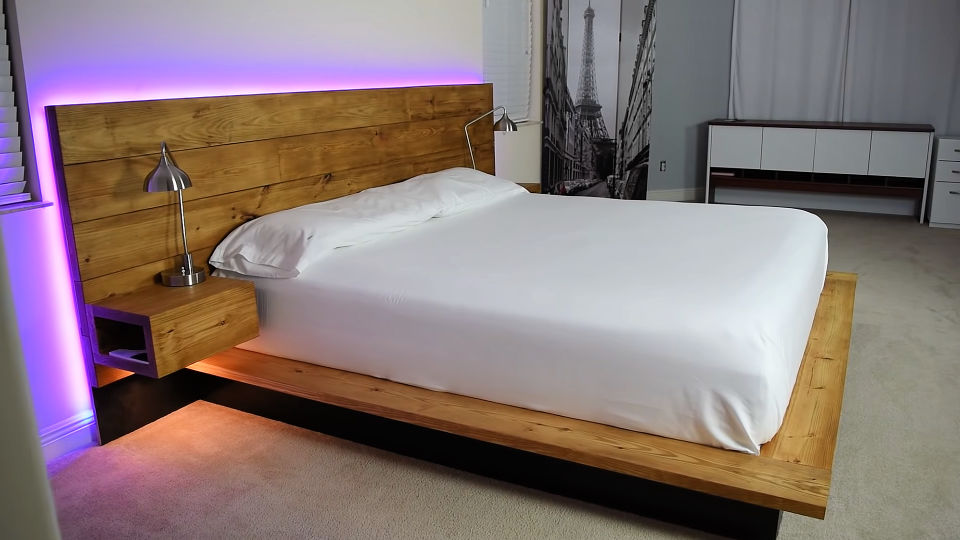 Build this bed in any size you want, it will look great in toddler, queen and king size and will be loved dearly by all! Paint it in colors of choice so it will fit best for your bedroom decor theme!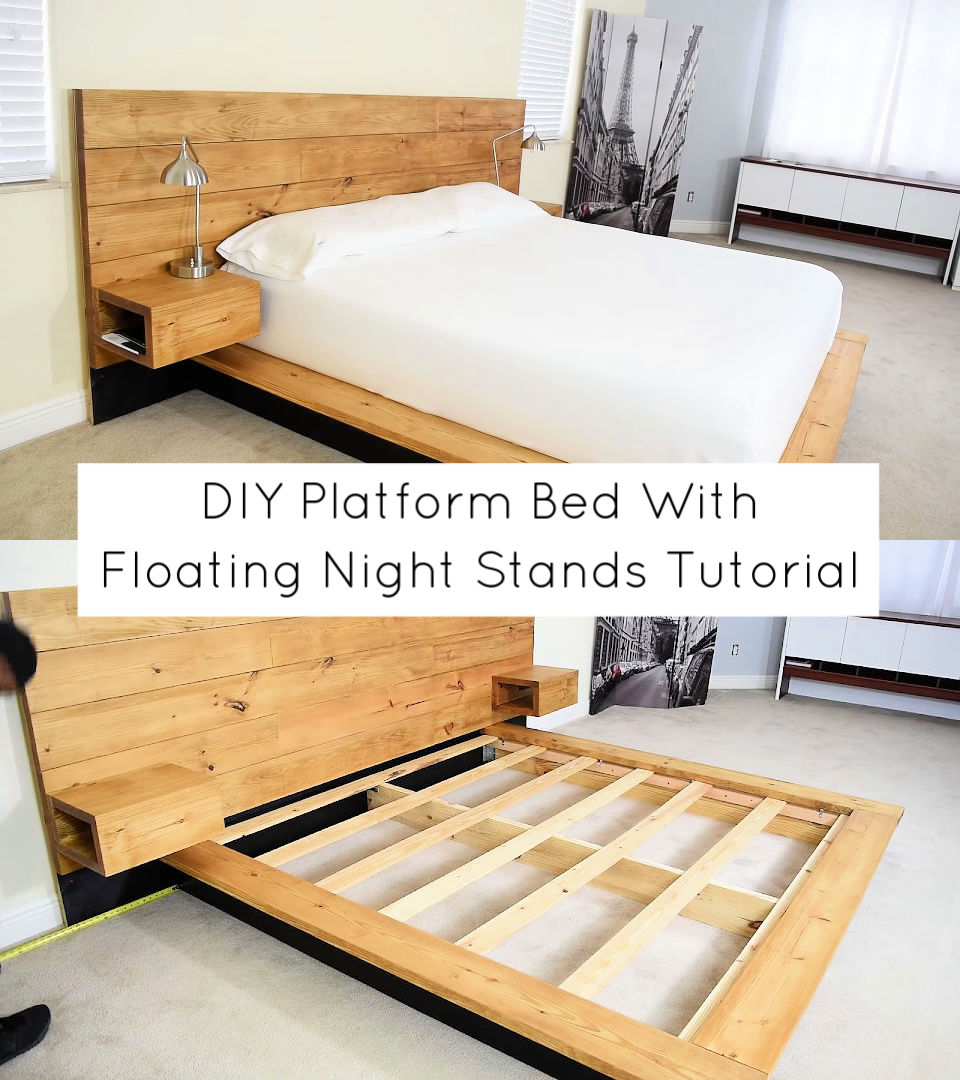 Conclusion:
It is too expensive to live the bedroom luxury! Grab the main bedroom item, the bed, without breaking the bank using this DIY platform bed hack! It will allow you to build a pro-style lighted platform bed with a luxurious wooden appeal! With minimal carpentry or woodworking skills, you will be able to build this expensive-looking inexpensive bed! Consider it giving as a gift or transform your newly built bedroom with it! DIY platform bed to make and sell also to earn some great profits!