Are you short of space and needs a partition anyway? No worries, just learn how to build a barn door! We have a perfect idea for you. These 70 DIY barn door plans and ideas will solve your space and partition issues. Barn doors do not open by swinging them, rather they need to be slide to get opened. Barn door does not require the rotatable hinges and a place to fix them. Hence, they can be made easily as a DIY sliding barn door. You can use the barn doors to separate two rooms or create your dressing area in a whole new room. Barn doors look stylish and can be made fancy in a lot of ways. Actually, DIY Sliding barn doors are going popular in farmhouse decorating!
Barn doors are not as difficult to make as they seem. These ultimate free list of 70 DIY barn door ideas and plans will help you decide about the door you want in your home. The free plans will help you to buy the right material for the barn doors and the right method to install them. You can make your barn door fancy or elite by adding your own ideas and aesthetics! Customization is always an option while doings some great woodworking projects. Excitingly design your interior by installing these DIY barn doors instead of usual doors!
1. DIY Wood Chevron Barn Door

Planning to do some modifications in your room with attached bath in it, how about creating a nice wooden chevron barn door with your bathroom. This door is perfect out of those DIY Barn door projects that can easily be slid and add beauty to your overall interior. remodelaholic
2. Build Your Own Barn Doors

Barn doors can be incorporated in your interior throughout your home. It's a perfect addition to add to your living space like for kitchen, bathroom, bedroom or any other room in your house. Build your very own barn door by using the material mentioned here. brandisawyer
3. Make Sliding Barn Door Media Console

Give your master bedroom a complete makeover with a sliding barn door. This free tutorial by shanty2 chic on a sliding barn door gives you enough room to add a rustic space in your media unit. Place some lovely decoration pieces on both sides of your doors to give a nice rustic finish. shanty-2-chic
4. How to Make Dutch Barn Door

A Dutch barn door is a perfect addition to your house if you have young kids and pets in your house. Adding a Dutch door to the baby's room adds some style and privacy to your living room too. You can also get your very own adjustable level of privacy with these Dutch barn doors. remodelaholic
5. Awesome DIY Sliding Barn Door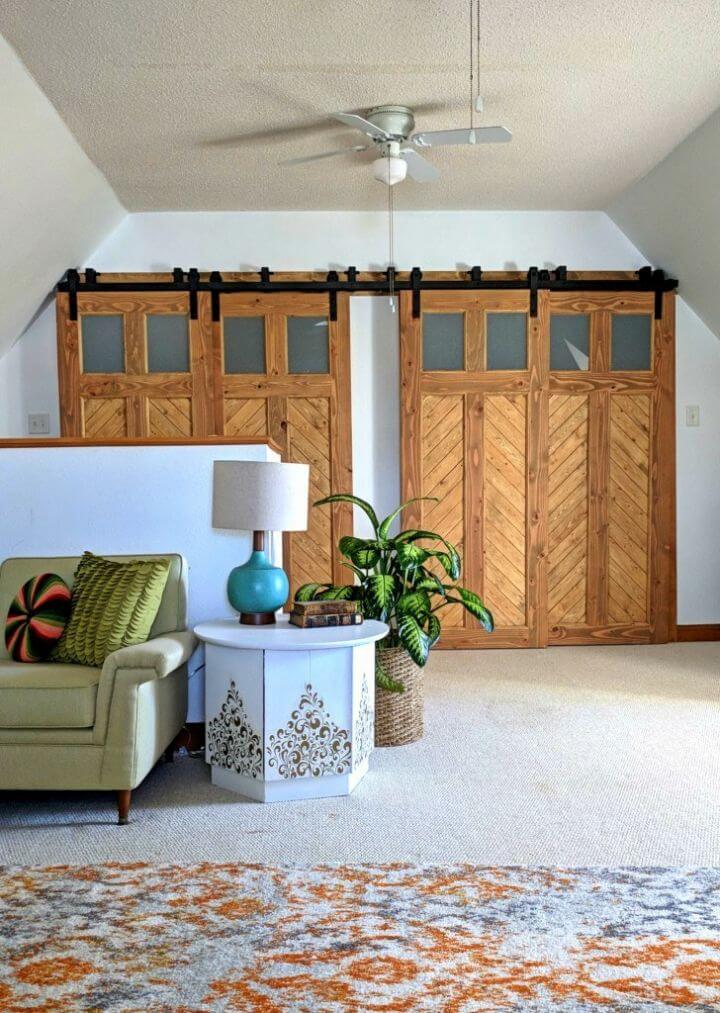 Do you happen to have that house in which two rooms are linked together? Or most probably, you are looking for some inspirations to separate two spaces. This tutorial on DIY barn door is for you. realitydaydream
6. DIY Barn Door Baby Gate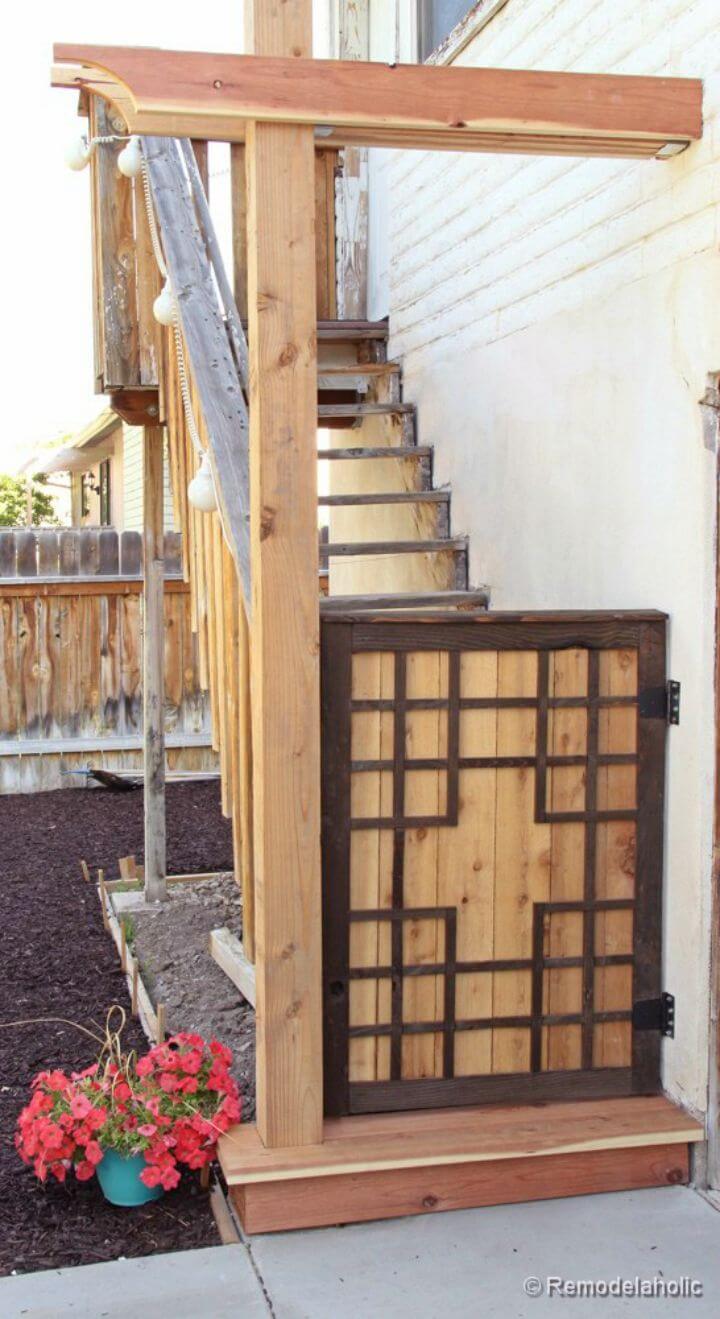 Not all barn door projects use a sliding door mechanism. This tutorial on making your own baby dutch barn door gate is a perfect safety tool for all those parents who have little kids in their homes. remodelaholic
7. DIY Barn Door Tutorial
If you have some space where the traditional door is not feasible to be placed, a barn sliding door might be an answer. This video tutorial here will help you to add a rustic sliding door in your room only by using some supplies, and you are good to go. jennasuedesign
8. How to Build Barn Door
Thinking to do a little makeover with your home this summer vacation? A small re-do with the old bathroom doors would be a good start. This tutorial on barn doors is an essential way to help you out with creating something at home and all by yourself. houseseven
9. Make Closet Barn Door
If you happen to have a small living space in your room, you can always create some more room for yourself. This tutorial on DIY Barn Door is a perfect example of how you can transform your small room into an open space room. Create your own door by following the steps here. mapleleavessyca
10. DIY Master Bathroom Barn Door
A rustic look barn door is always an excellent option to be used a sliding barn door for your bathroom; better is a barn door that has a weathered finish to it. It's not that difficult to achieve one weathered finish door, a simple paint job will do the job as done here. shadesofbluein
11. How to DIY Sliding Barn Door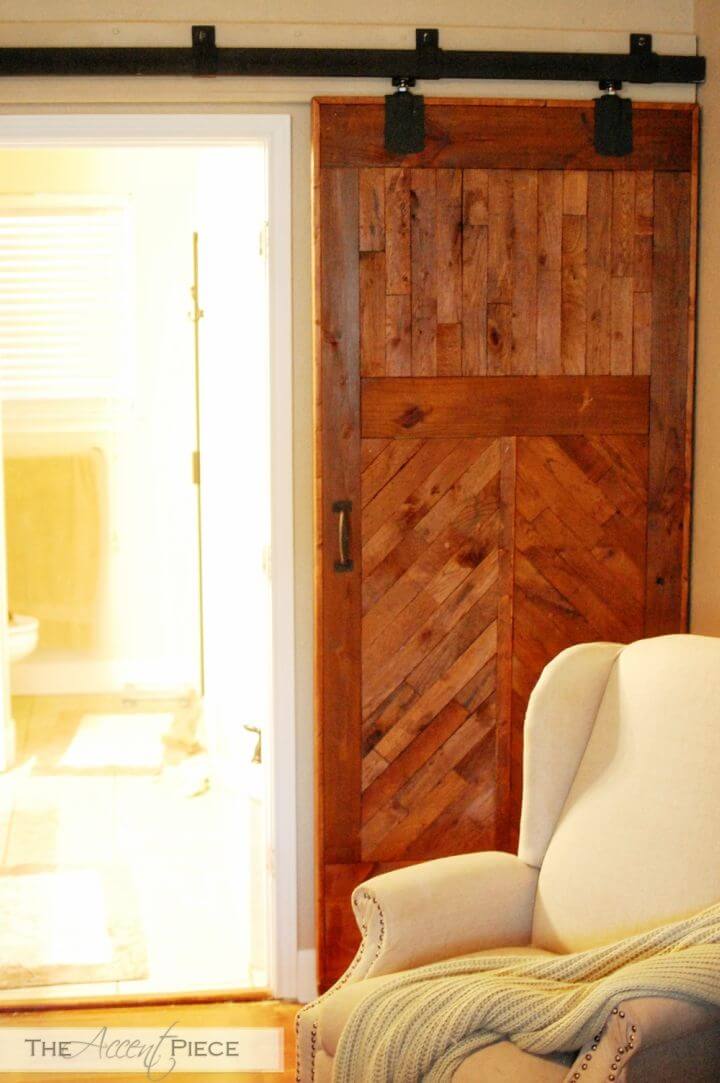 Most doors that open near your window in your living room take enough space! And so you can't enjoy the sunlight on winter mornings or if you need to enjoy some coffee by the open window. This tutorial on sliding barn door will surely solve your problem, and you can enjoy the perfect time without any hassle. theaccentpiece
12. Make Laundry Room Barn Door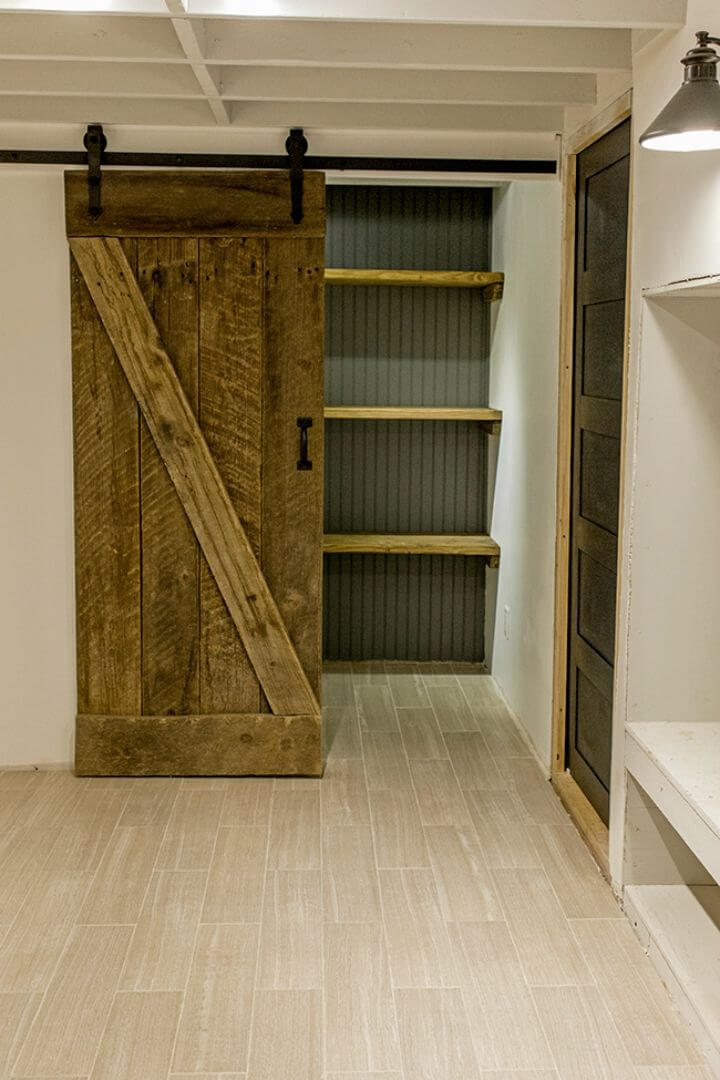 A nicely crafted barn door at your laundry room is an excellent presentation to add to your cleaning area. This tutorial in the link will show you how you can create the perfect rustic barn sliding door in some simple steps. jennasuedesign
13. Build a Sliding Barn Door
If you happen to face any issues regarding the space in your living room or outside your restroom, a sliding DIY barn door is an ideal option to look for. They are lightweight, help to keep the room warm, and are good to keep one's privacy and so many other advantages. christinasadventures
14. DIY Barn Door Track
A normal perception says that a barn sliding door in an expensive piece of entity to purchase. For some reason, it is, but you can always create something all by yourself. This tutorial on the barn sliding door is one of those crafts that is undoubtedly going to be pocket-friendly! And you will love the final product once you are finished. homemadelovely
15. Super Simple DIY Barn Door
If you are more into simple crafts and textures, this tutorial on a simple sliding barn door will come up to your expectations. It's a comfortable and lightweight craft. Perfect to be used when you want to get rid of the old door in your house. makeit-loveit
16. Build Your Own Barn Door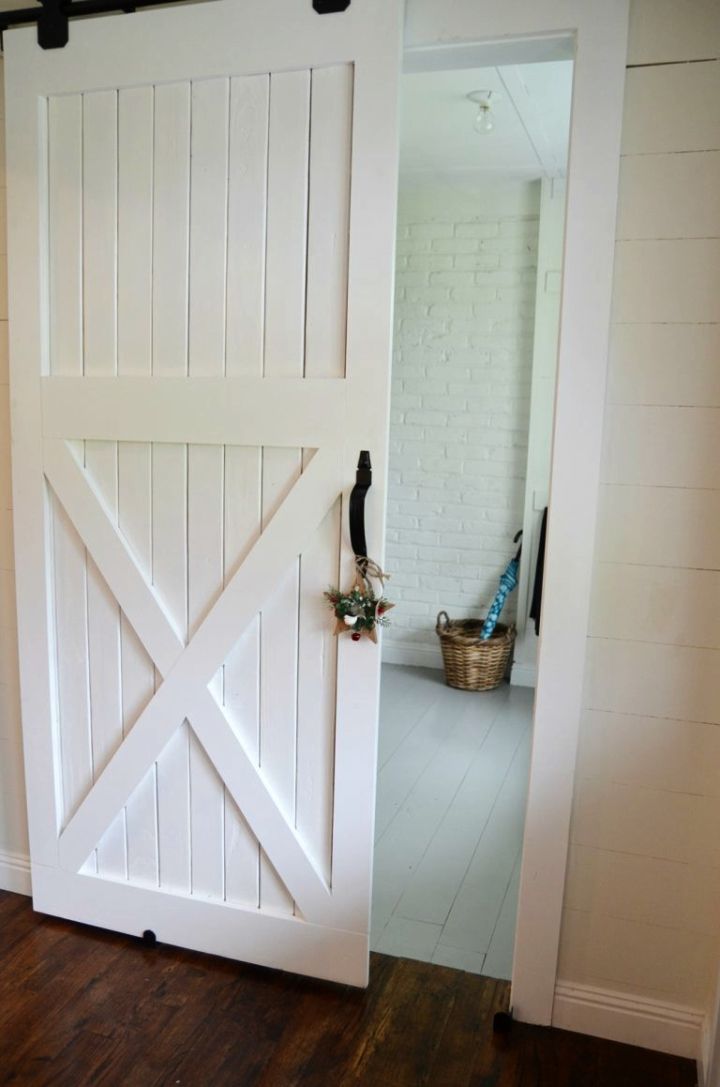 Sometimes the most interesting wooden crafts projects are the one that has a classic approach to them. This tutorial on rustic barn sliding door is a simple craft; add a layer of white paint on it to give it a complete final finish. beneathmyheart
17. DIY Contemporary 4-panel Barn Door for $50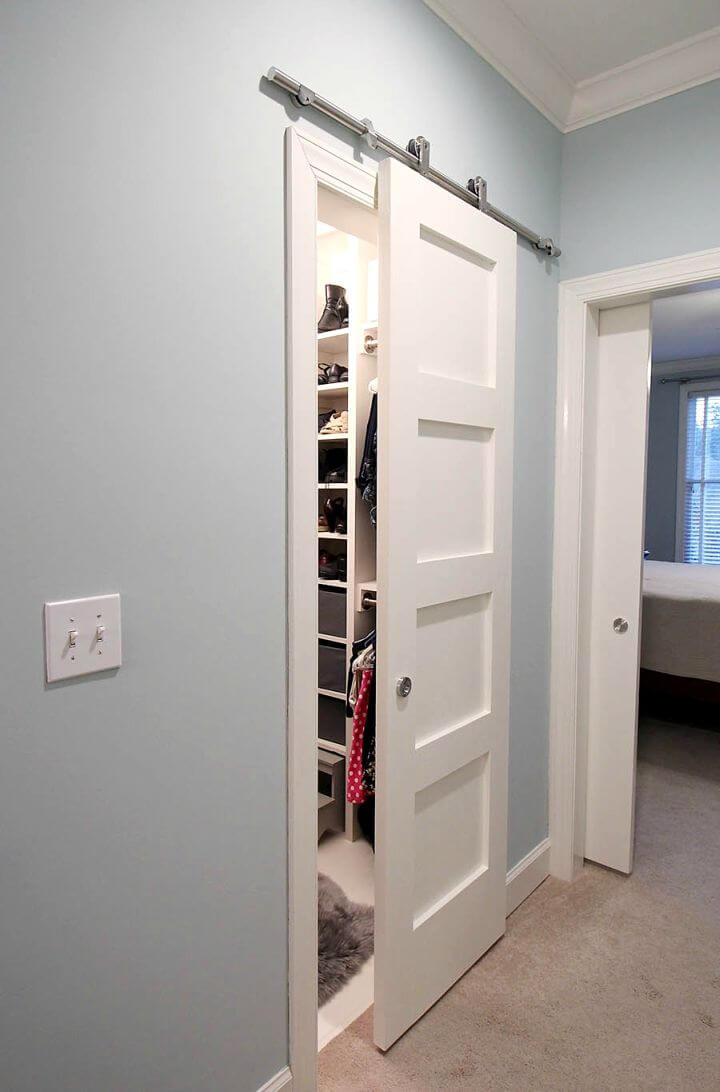 If you are someone who is looking to give a completely different makeover to the entire ambiance of the living room! Then this simple, polished wooden 4 panel sliding barn door is a pocket-friendly DIY barn door project that you can get in only $50. deeplysouthernhome
18. How to Make Sliding Barn Door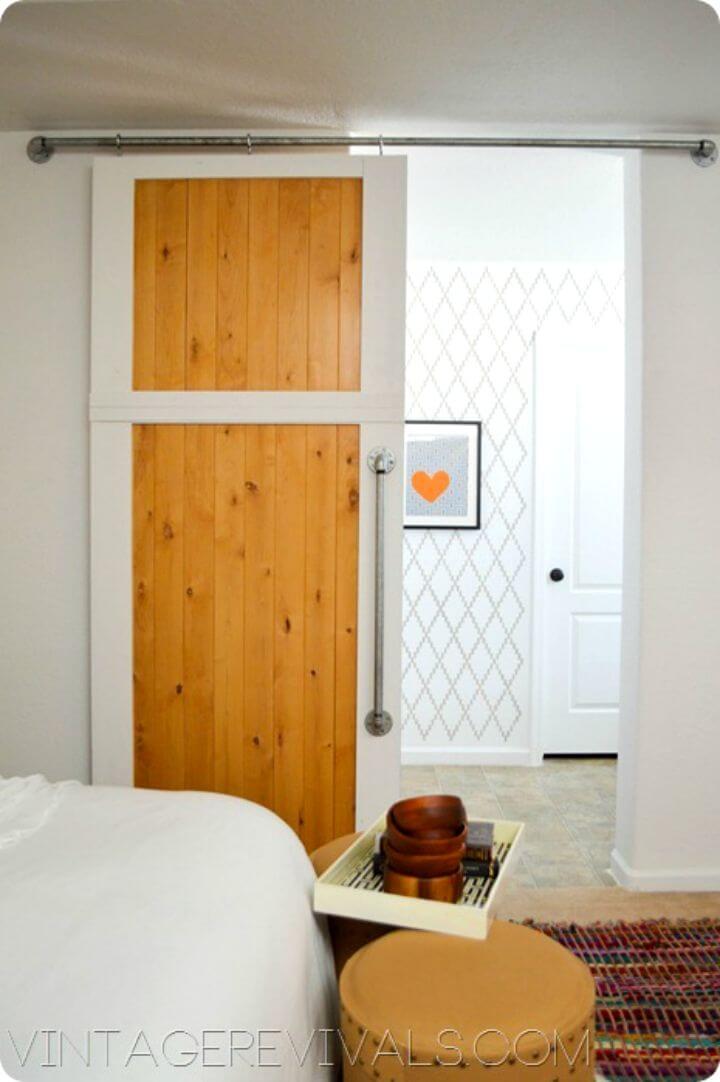 Create an eye-catching contemporary finish barn door for your living room, with high contrast orangey wood and white paint you can always create a statement. Create your own barn sliding door by using the supplies mentioned here. vintagerevivals
19. Easy DIY Barn Door
Barn doors are a fun way to create a statement in any living space. To add more style to your sliding barn, this tutorial will help you how you can create one with a colorful yet handy element to create it. finditmakeitloveit
20. Make Rolling Door Hardware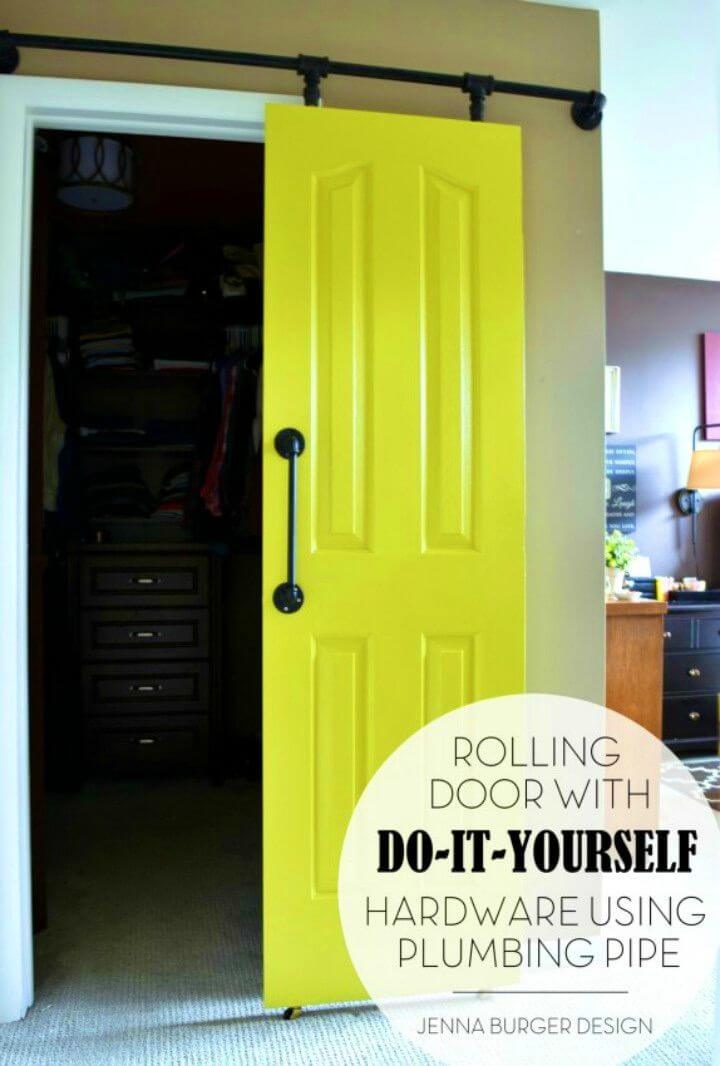 Who thought that plumbing pipes can be used to support doors? With this tutorial now, you can make your own Sliding barn door, and with the help of plumbing pipes, you can slide them too. This project is not just a pocket-friendly but fun way to craft as well. jennaburger
21. How to Make Sliding Door
Simple homemade crafts are always one of those pieces of crafts that are handy and are always admired. DIY Barn door hardware comes up with a hefty price tag attached to it, so what's better than to create one for yourself as done here. theletteredcottage
22. Make Sliding Barn Door Bathroom Cabinet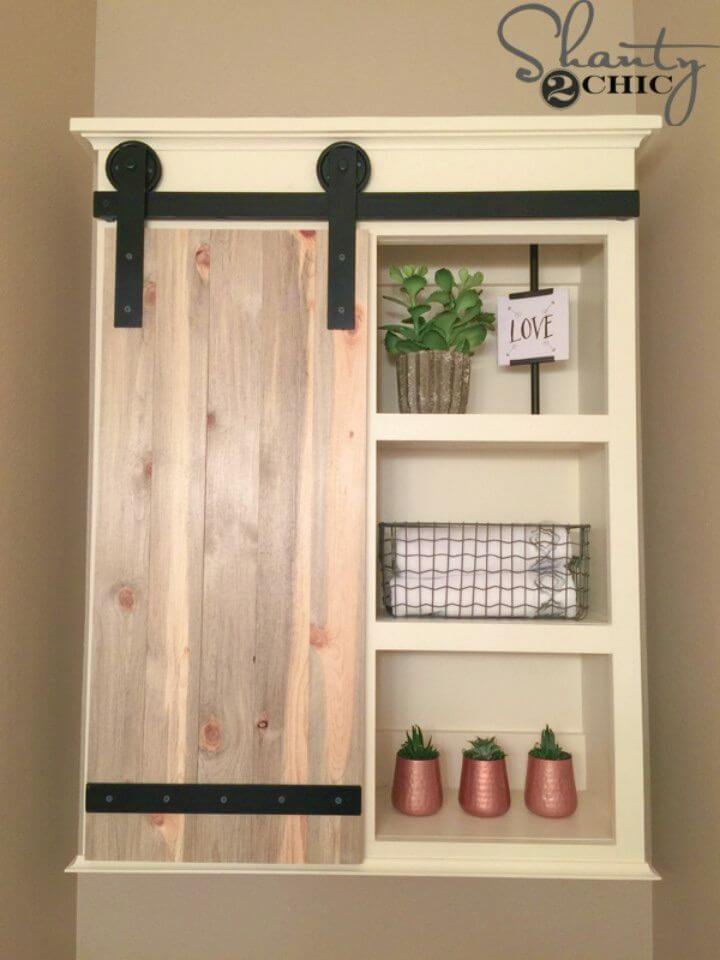 Shanty 2-Chic has always got some lovely DIY ideas to look for all those individuals who want to make a change. If you are one of those, then this DIY Tutorial on bathroom cabinet sliding door is made for your needs. It's a fun craft to make, and all you need is to follow these steps, and you can get yourself a cute cabinet for your bathroom. shanty-2-chic
23. DIY Reclaimed French Doors on Rolling Door Hardware
A swinging door is always an issue for those who have a small interior space. These French reclaimed wood doors are perfect lightweight barn doors that can be used in any area to boast some space. thespacebetween
24. Simple DIY Bathroom Rolling Door
If you happen to have two doors, one that opens in your bathroom and one that opens in your room both connected together, you sure must be facing some issue with this. In order to release some tension, this link here will help you create your own sliding DIY Door so you can easily have some easy bath time. inmyownstyle
25. Inexpensive DIY Sliding Barn Door
Rustic barn doors add life to the overall interior; they do a lovely job framing any space. This tutorial on an inexpensive DIY Sliding barn door is one of those crafts that you would love to install in your house. It's easy, lightweight and costs like nothing. remodelaholic
26. DIY Industrial Pipe Sliding Barn Door TV Cover
For those people who are in love with wooden interiors, this Wooden sliding barn door is worth a lot. This barn door will add a rustic charm to your living area, the perfect way to cover TV behind the wooden panels, and create a statement for the guests over. lizmarie
27. Easy DIY Barn Door Paint and Install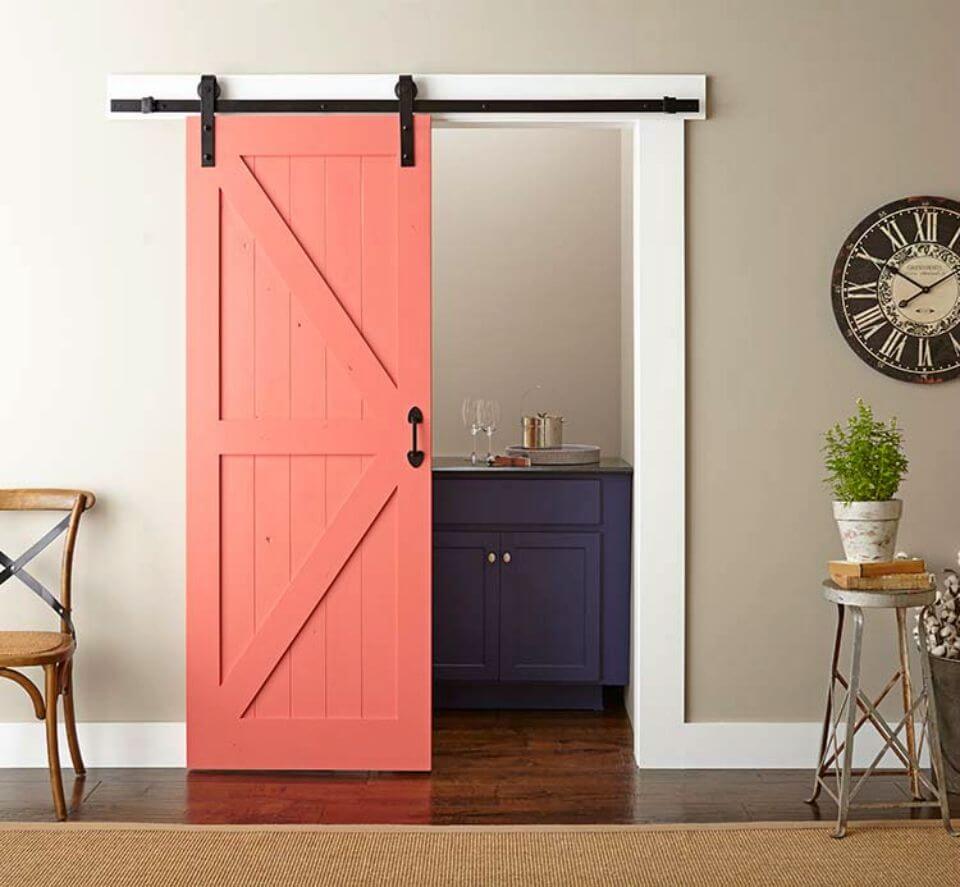 With the advancement in current interior space, DIY barn door projects are a hit around the town. These barn doors are space savers, lightweight, and are very easy to install in any area you want. Create your own colorful sliding barn door, paint it to give a final look and install as done here. homedepot
28. DIY Double Barn Doors
While one barn door is an effective and efficient way to save some space in your interior, a combination of two of them is going to be hit around town. Create your own Double door sliding barn doors in simple steps as done here. infarrantlycreative
29. Modern DIY Barn Door
Reclaimed wooden projects are always an excellent way to save some money and time, they send out a touch of modernity and some overwhelming interiors that can make a statement. With this tutorial on modern sliding barn doors, you can surely get some appealing comments from the guests next time. abeautifulmess
30. How to Make Double Barn Door
Many of you have come across single barn doors. These doors are a perfect way to add some space in any interior. But if you have some bigger space that a single door won't cover, you can always create double sliding doors in your space. thriftyandchic
31. Build a Pallet Sliding Barn Door
Wooden pallets are an ideal assortment that can help you to move weights around. This pallet can also be used to make sliding DIY barn doors out of them. Amazed? Create your very own wooden pallet made barn door in easy steps. lehmanlane
32. Adorable DIY Sliding Barn Door
Add a touch of lightweight wooden equipment in your living room with this sliding barn door. The ideal way to separate two places that are combined together. Create your own sliding door in simple steps as done here. prettyprovidence
33. Make Farmhouse Sliding Barn Door
A farmhouse sliding barn door is always an excellent inspiration for those who are an admirer of old-style interior trends. This tutorial on the sliding barn door is a simple task for those who need to add some rustic touch to their living space. runtoradiance
34. Simple DIY Sliding Barn Door
In any interior space, you always need some room for improvement; you continuously come up with thoughts to make some modifications to your house or office. This tutorial on the sliding barn door is something similar for those who are looking for some cool ideas to remodel their old rooms. christinasadven
35. DIY Rustic Barn Door and Hardware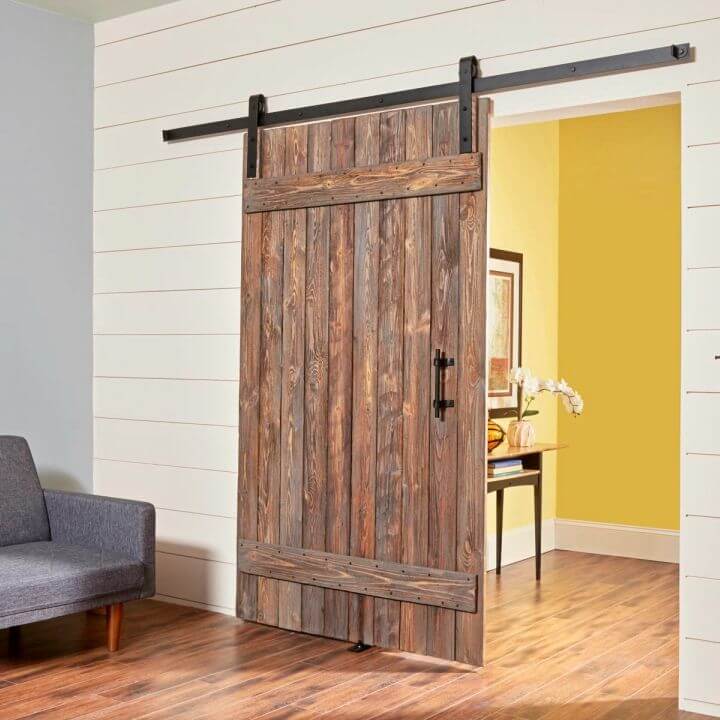 Weathered finish wooden boards are an ideal decor element to enhance any interior decoration. This descriptive set of instructions, along with some supplies and a video tutorial below, will help you to craft your very own sliding rustic barn door on barn door hardware. familyhandyman
36. How to Build a Fabric Sliding Door
You might have come across lots of video tutorials or sets of instructions as to how you can use a wooden barn door for your interiors. Still, this unique tutorial on using shower curtains to make the fabric sliding door is something new. It's effortless, and it's a perfect hack to use as your bathroom door too. petitemodernlife
37. DIY Barn Door Reveal
If you are thinking of turning your old door into the trash, rethink. You can always make use of those old wooden doors to complete a new look and feel as done here. With this sliding barn door now, you don't need to worry about the space in your room. theidearoom
38. Cheap and Quick DIY Barn Door
They say time is money. In interiors, both time and money matter. You need to pick and choose the best possible option to cater to your needs. Like this inexpensive wooden DIY barn door, that you can make in no time without expecting to spend tons of money on. remodelaholic
39. DIY Herringbone Barn Door
You cannot have so many ideas for Barn doors since they are one expensive mode of covering up space. This tutorial on herringbone barn door will not only save your time but also will be a fun craft to create at home. Use a dark tone wood textured polish to give a final look, and you have got yourself your very own barn door. bowerpower
40. Make 6 Ft Wide by 7 Foot Tall Barn Door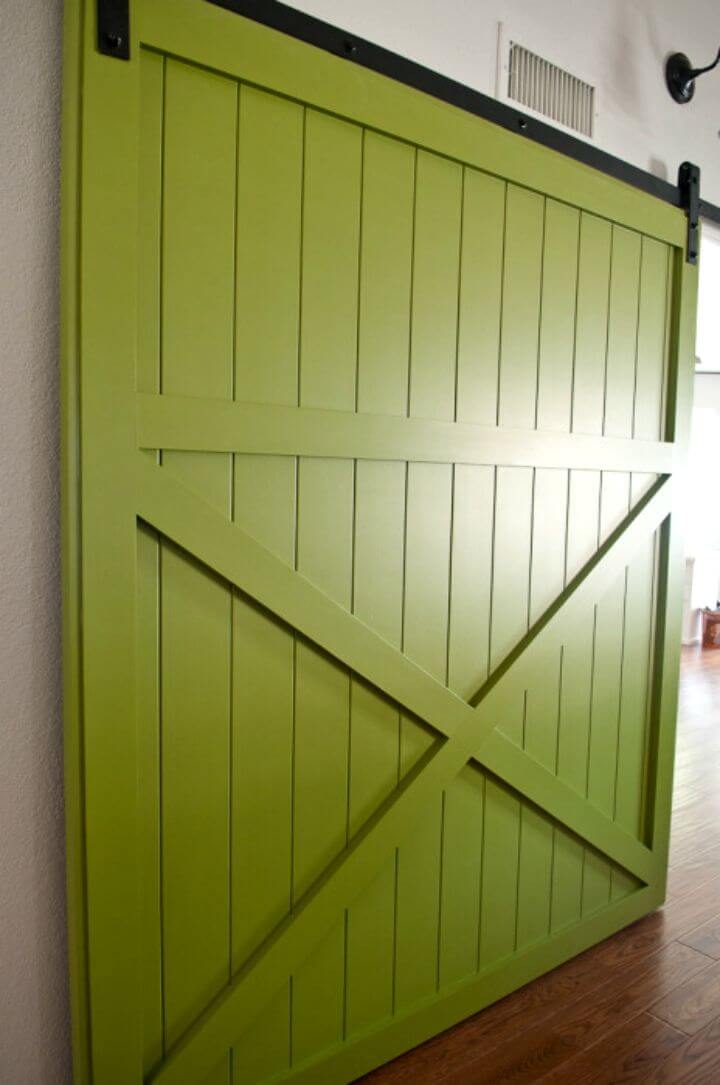 Generally, barn doors are perfect for covering the spaces that are hindering the overall interiors or if you are in the mood to give a little makeover to your house. So a nicely built barn door that is huge and broad in structure is one excellent idea to go for, for any interior space to give it a nice feeler. Just like the one for 6×7 Feet barn door made here. lifewithfingerpr
41. DIY Barn Door Under $10
Budget is that one constraint that everyone looks up to before making a decision, unless until you are some Richie rich. But for most of us, that's not the case. So if you really want to create a more straightforward change into your interiors, an inexpensive way to add a barn door is one unique way to do so. It all will cost you around $10, which is pretty reasonable to afford. gatheredinthe
42. DIY Double Pantry Barn Door Under $90
For all those people who want to make some modifications in their pantry! Or if you're going to add a missing door in your pantry, this staying in the budget tutorial will help you to install one Barn door yourself. designingvibes
43. Make $50 British Brace Barn Door
Planning to do a little makeover with your studio, how about adding a nice wooden British brace barn door at the front to give a warm welcome. All you need is a 4×8 Plywood sheet and some hardware tools to create your own barn door, and all this can be done in just $50. remingtonavenue
44. Build Barn Door and Hardware for Around $80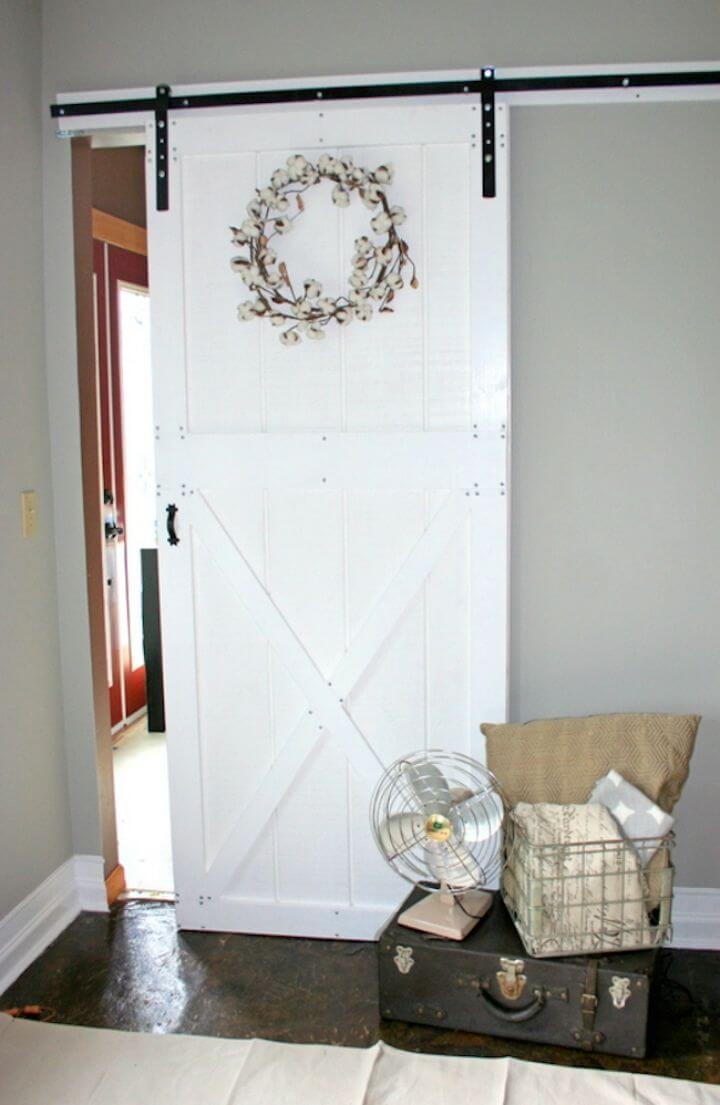 A barn door is one important add on in any household that you want to make look more spacious, or also to add some privacy in your routine. Get this sliding barn door in $80 for your living room or anywhere you want to add a separate door. ana-white
45. DIY Hidden Study with Sliding Barn Doors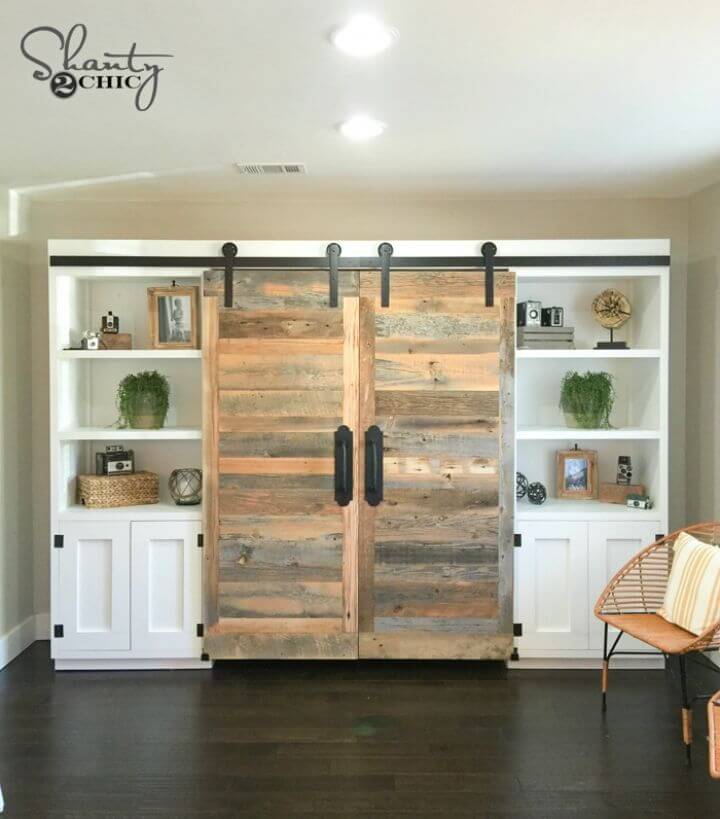 For some people who are amid readers, a little space is all they need to have some nice quiet time. This tutorial on a hidden study behind a barn door is undoubtedly a nice add on in your study area or in your dining area as well. shanty-2-chic
46. How to Install a Sliding Barn Door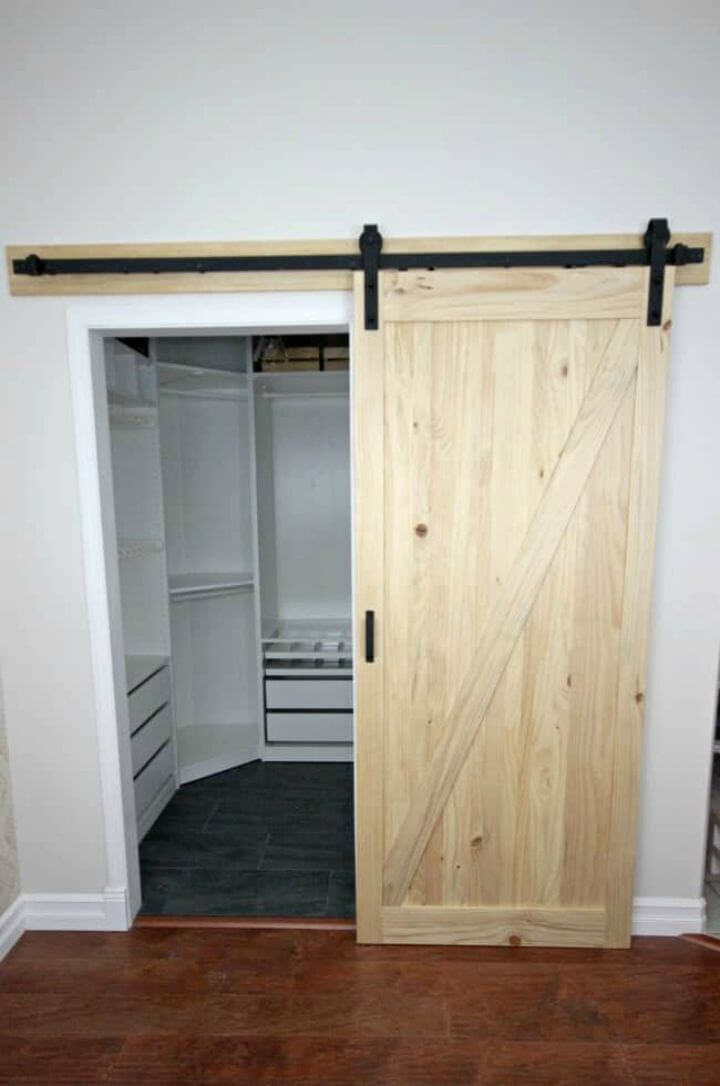 A Wardrobe is one section in your room or in a powder room that needs some privacy since you need to get dressed and look your best. Install one barn door in your wardrobe in simple steps, as shown here. lovecreatecelebrate
47. DIY Reclaimed Wood Barn Door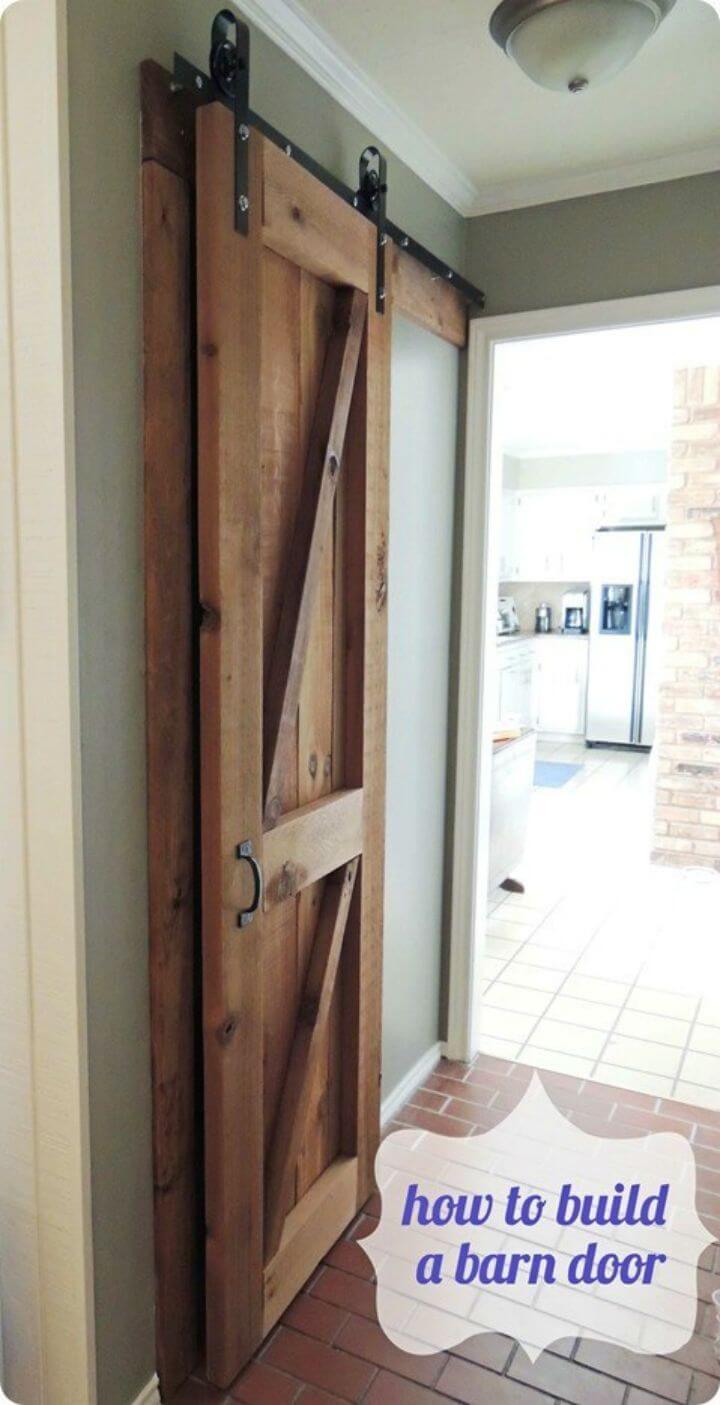 Speaking of reclaimed wood crafts, this DIY barn door tutorial has something for all those who are in love with the vintage look and feel interiors. This sliding barn door is perfect for adding some privacy and safety in your living room and anywhere in your home as you desire. knockoffdecor
48. How to Make Barn Style Door
A Barn styled door carries a lot of charm. If you are planning to add a nice door in your backyard storage room, try using some wooden panels to create your very own Barn door. This tutorial here will help you to create a statement out of your creation. instructables
49. DIY Wide Rustic Barn Door
Add a rustic charm to your house with this wide rustic barn door, so now you can have your own personal space in any wide openings. The tutorial here will help you to create one door in simple steps and only by using some supplies. kleinworthco
50. Make Barn Door for Tiny House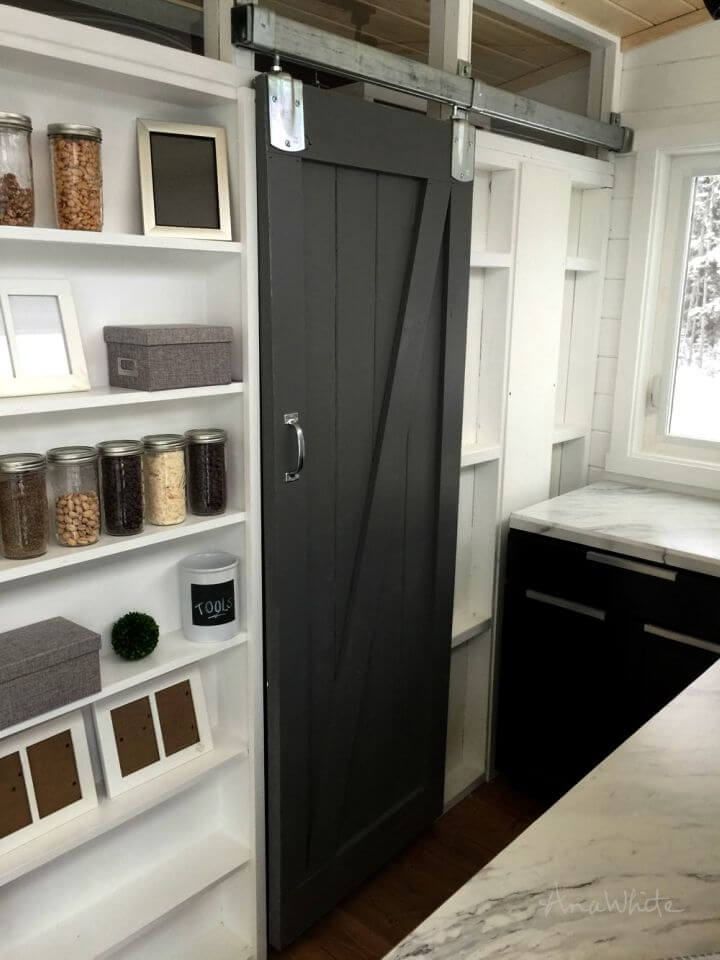 If you happen to have a small house, and all you worry about is a door that gets in your way for daily operations. This tutorial on sliding barn doors will help you to create some space for you in a little area. ana-white
51. How to Build a Sliding Barn Door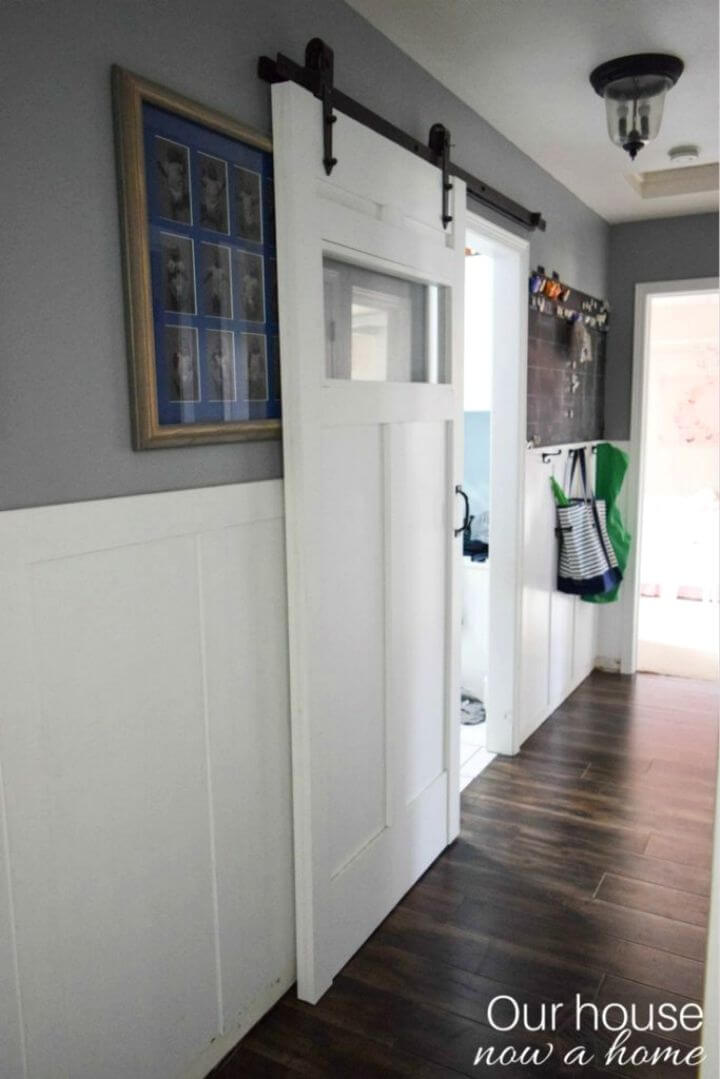 For any house, either big or small, everyone demands a little space and some privacy of their own. Well, for most of the case, swinging doors cause a hurdle in achieving the desired outcome. In this scenario, a sliding barn door is a perfect option to go for. It's easy to make and lightweight too.
52. Simple DIY Barn Door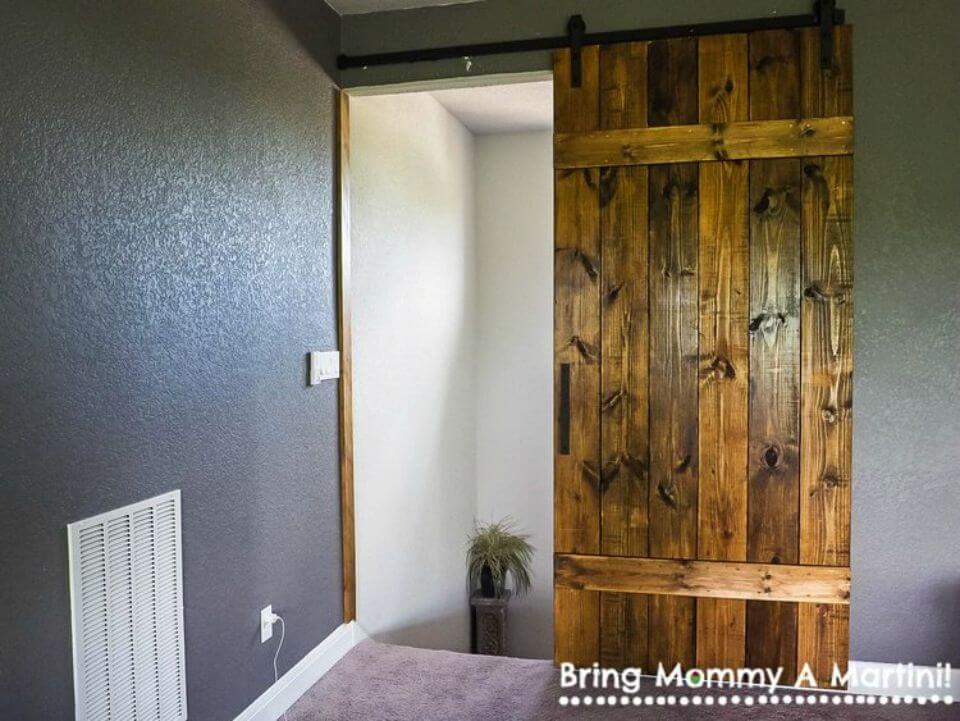 If you happen to have toddlers in your house who are always running to go down the stairs since you won't always be around the kids. This tutorial here on simple sliding barn doors is for those parents who need to keep their kids safe and secure in a perimeter they want. bringmommyam
53. Wonderful DIY Barn Door Window Treatment
For most households, a clean and minimalistic interior suits well. If you are looking to work along such lines of craft, then this tutorial on a barn door is perfect for treating those old swinging windows and installing your own barn door. Paint them later to give them a final look. homedepot
54. How to Build Cedar Barn Door
Looking to do a little makeover to your old wardrobe? Well, there cannot be a better option than making a barn door out of cedar wood for it. With its perfect aroma and sturdy body, this project will finally look amazing once it's completed. instructables
55. How to Build Barn Door at Low-budget
With a shift of modernity in interior trends, a DIY barn door project is a complete hit. Since it creates more space in any environment, it's placed, thus being an ideal option to use to create a statement. Create your own barn door in simple steps and in a low budget. southernrevivals
56. DIY Black Bypass Barndoors Tutorial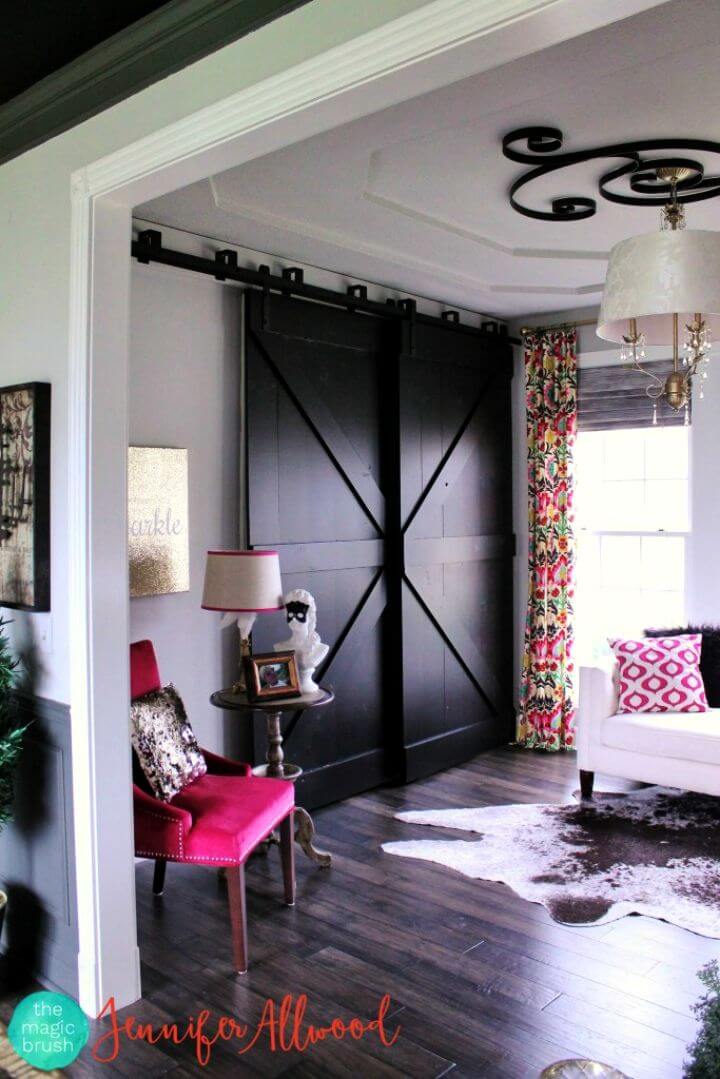 If you are looking to add some partition between two rooms interconnected together, but you can't think of any idea as to how to go about. This tutorial on installing a black bypass barn door will help you solve your problem. It's easy and can be made in very less time by using very minimal supplies. themagicbrushinc
57. DIY Lightweight Sliding Barn Door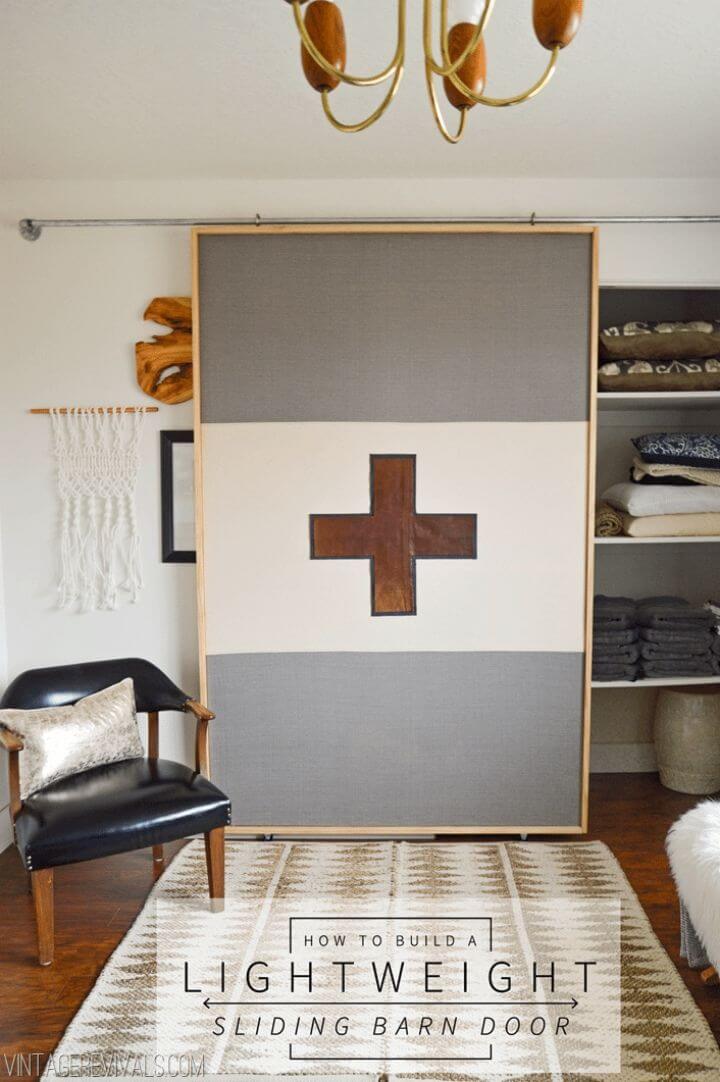 For most people creating something at home is a fun activity. It can be more fun if it's easy to carry and takes very little time to complete. Just like this fabric made sliding Barn door that is not only lightweight but can be installed in very little time. vintagerevivals
58. How to Make Barn Door Baby Gate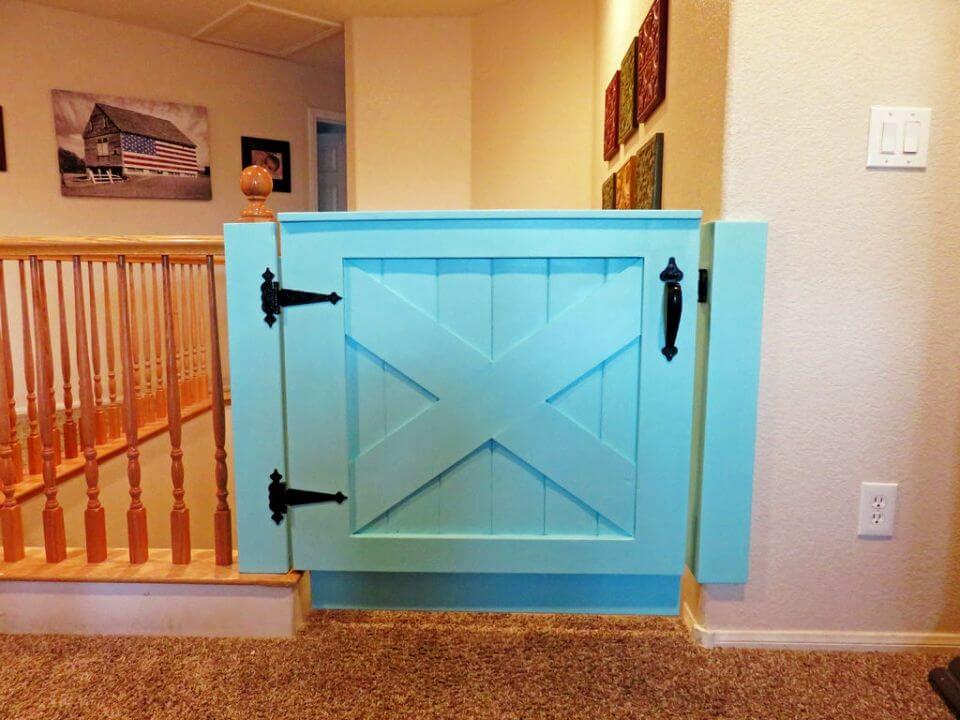 If you are planning to install a barn door in your staircase to prevent kids from falling or always running into them, this tutorial on a small baby barn door is for you. Its simple craft put a latch on it so you can close it when kids are around, and you don't worry about them too. instructables
59. DIY Install a Sliding Barn Door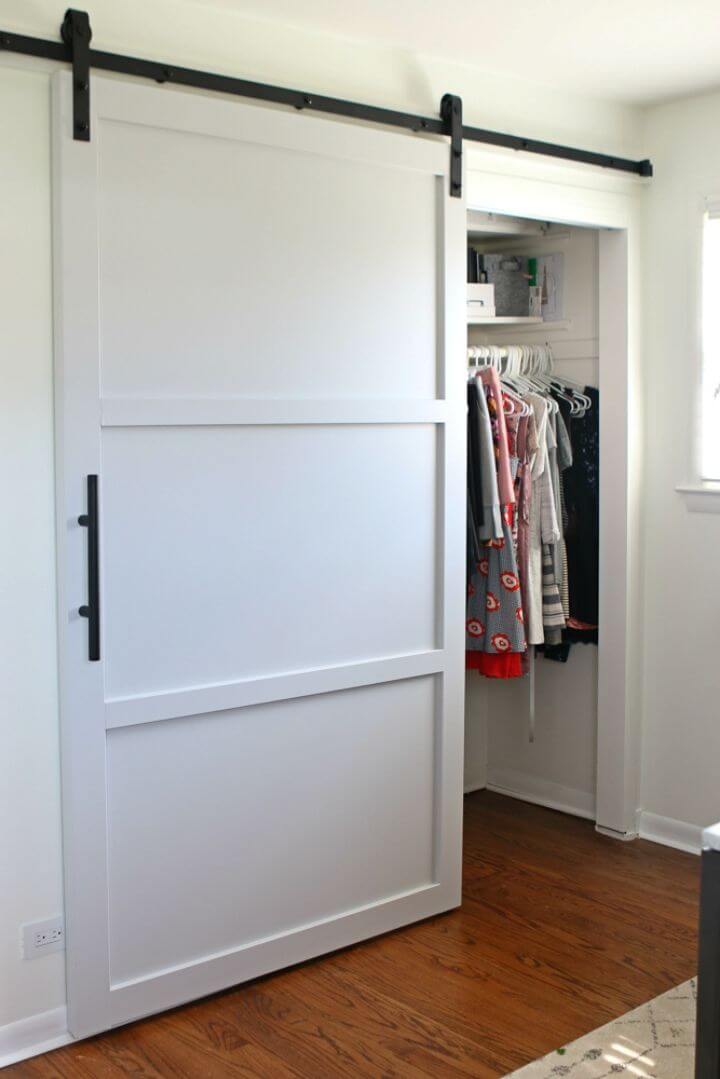 If you just moved into a new house, and you kind of want to make some changes with old interiors like to your closet hanging door. This simple, minimalistic sliding barn door might be the right thing to do. The tutorial here will help you to create your very own barn door in simple steps. zillow
60. Simple DIY Sliding Barn Doors
Add a character to your living space with this wooden sliding barn door; it's an ideal addition to any household. All you need is a pinewood, some hardware tools, and you can get yourself this fantastic barn door in a concise span of time. theturquoisehome
61. Gorgeous DIY Double Barn Door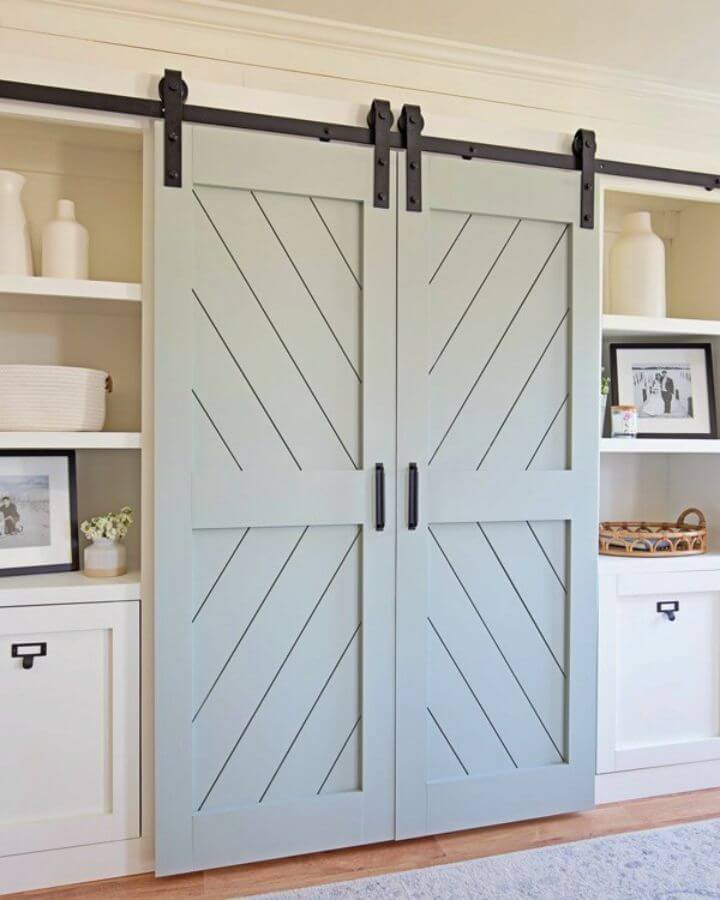 A living room in one room in your house in which everyone comes together to have some quality time. To add a touch of customization and modernity to your space, how about creating a solid sliding double barn door media unit, in a way that it hides the TV out of sight. A perfect craft to create a statement by following just simple steps. angelamariemade
62. DIY Hang a Barn Door
For some people crafting and hanging a barn door might be a tricky task. To some extent, it is. But this tutorial will help you how you can attach a barn door like a pro. Just follow these simple steps and easily hang and craft a Sliding barn door. dunnlumber
63. DIY Sliding Barn Door With Pet Door
If you are in a state of mind to do a little makeover with your living room door, then adding a sliding DIY barn door in place of the old door might be a possible answer. Also, you can add a small pet door for the pets in the house so they can use this new addition to your home too. martysmusings
64. DIY Sliding Barn Door With Wood Shim Panels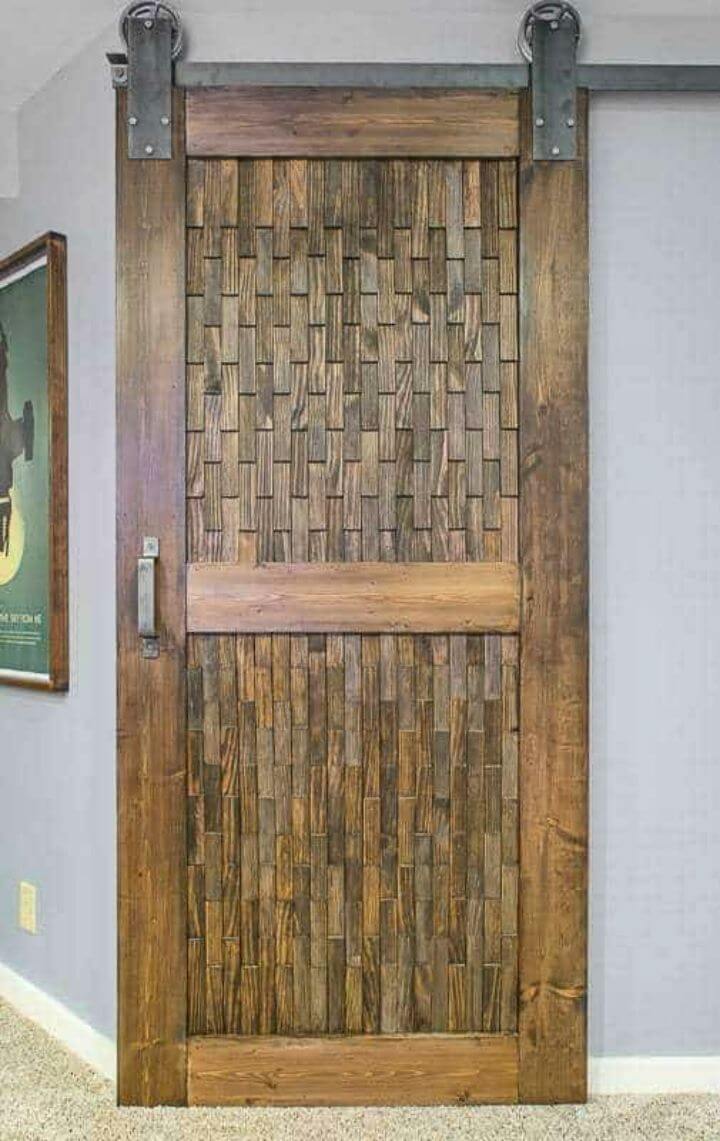 Add a touch of modern, rustic, and uniqueness to your living room with this DIY Wooden shim barn door. Made up of plywood sheet and some trims to get the desired shape, it is a perfect add on to your rustic charm. thehandyman
65. Make Your Own Sliding Barn Door
If you are someone who wants to install a nicely done Sliding barn door in your home, but the budget has kept you tight. Then this tutorial on one barn door is for you to create using some plywood sheets of size 4×8. The grooves and tongues glued together later gives a perfect final product that you can't take your eyes off from. wilkerdos
66. Build a Barn Door in Under an Hour
Apart from budget constraints, time constraints are also important. If you want to do a remodeling of your old living room, adding a nicely weathered finish sliding barn door in only an hour is not a bad job to take care of. joyfulderivatives
67. Turn Old Pallets Into Barn Doors
Wooden panels are light sheets of wood that are very handy to create any craft you want, such as a sliding barn door. With its rustic-chic outlook, you can create your own barn door and create some room for the space that is too uptight. Easy pallet ideas
68. DIY Farmhouse Barn Doors
Wood and farmhouse-inspired interiors always go side by side. If you are planning to give a nice interior touch to your old wooden interior, adding a sliding barn door in your room is all you need. Its lightweight gives a nice warm welcome and is pleasing to the overall look and feel of your room. pinedaisyhouse
69. DIY Sliding Barn Doors Using Skateboard Wheels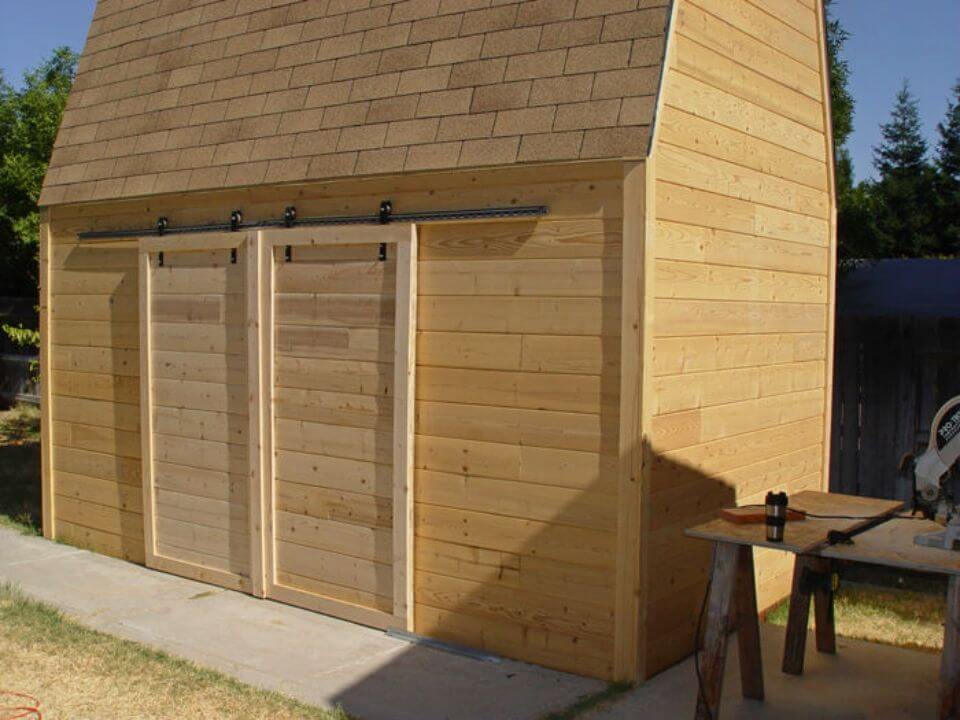 Who would have thought skateboard wheels can be used to support and slide a barn door? With this tutorial now, you can create a sliding barn door by using skateboard wheels. These wheels, because of their material, are sturdy and can last a more extended time. instructables
70. Make Barn Door Style Window Covering
Are you planning to add a cover on your coverless windows inside your room? Adding a sliding DIY barn door on it can be an excellent addition to your room. They send out a nice natural and rustic touch to an overall interior, get yours as done here. sawdustsisters
We are sure that after looking at these barn door plans, you are very much clear on how to build a barn door inexpensivly. The material needed can be bought easily from any hardware store. Furthermore, the equipment required is also not very complex. A straightforward equipment is needed which, probably, you will have at home or can be bought easily.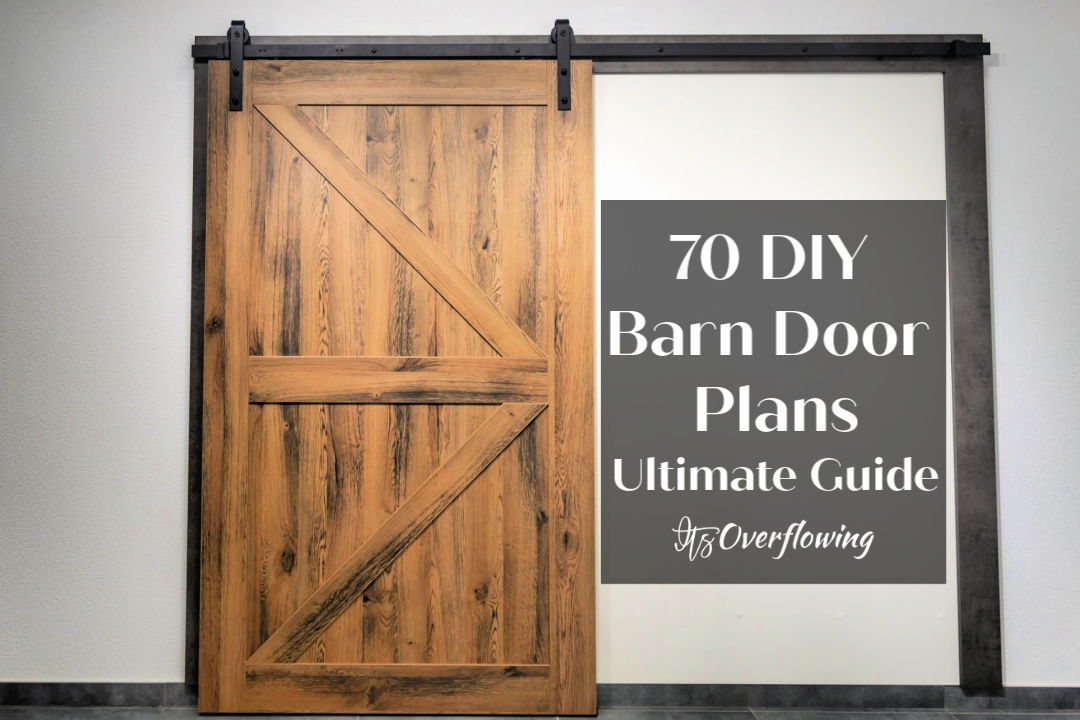 Also, DIY barn door plans demand little time and hard work. All in all, constructing your own DIY barn door is not rocket science. If you are ready for a bit of work with determination, you can construct it easily.