We deadly need the firewood protection the cold winter days. A shed is the most desired structure for the moisture control while managing the firewood stocks. So, build gorgeously durable and stylish sheds with these DIY firewood shed plans that encircle all the smart details to build and plan a shed like a pro. from miniature sheds to large ones having 3-4 face cord storage capacities, you will get free plans and guides for all. Just browse this list of 35 free DIY firewood shed plans that impress with an array of designs. From traditionally styled firewood sheds to modern good looking ones to self-standing ones, you will get tutorials for all.
Furthermore, you will get the free plans for building recycled firewood storage sheds too, which will cost you next to nothing.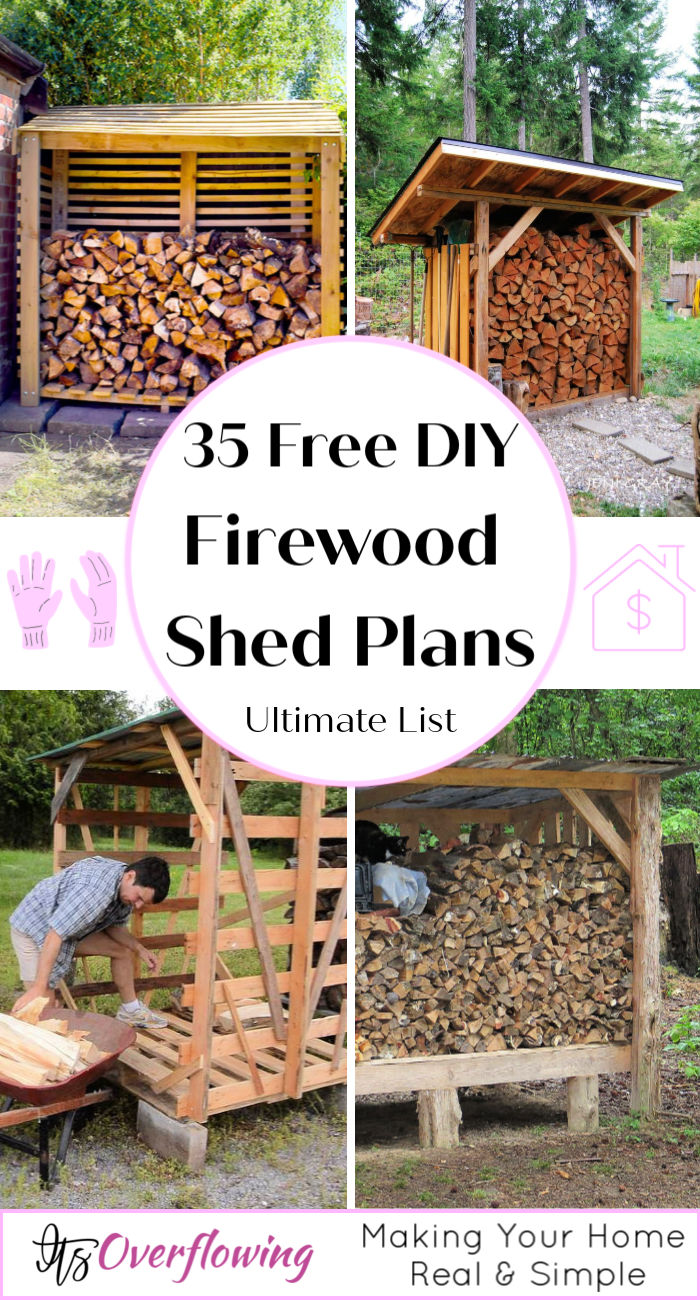 You should keep a few things in mind before you build a DIY firewood shed. Give your first priority to moisture-controlling feature, and you can be smart to do so in lots of different ways. Just build the sheds a little off the ground so the moisture building upon the ground, will not reach the firewood stocks. Next, build the chevron or tilted roofs that will not let the rainwater or snow to retain over the roof that may make the wood too tough to heat in your home.
The corrugated metal roofs will be a great choice to wipe off instantly the snow and rainwater. Build also the wood storage sheds matching to your home will add a great curb appeal. Browse the entire list of these DIY firewood shed plans free to see lots of enchanting samples to choose from.
1. Wood Shed Plans
Are you addicted to firepits or fireplaces in winters? Then you will love to have a good stock of firewood. So, build a woodshed that will help manage a good stock of firewood and will also keep it safe from the rain. You need an easy skill to build this wooden shed, will complete in a day. It will cost you $300. Just build a big wooden box-like structure with titled corrugated metal roof and then raise it on some durable legs. Details here myoutdoorplans
2. How to Build a Firewood Storage Shed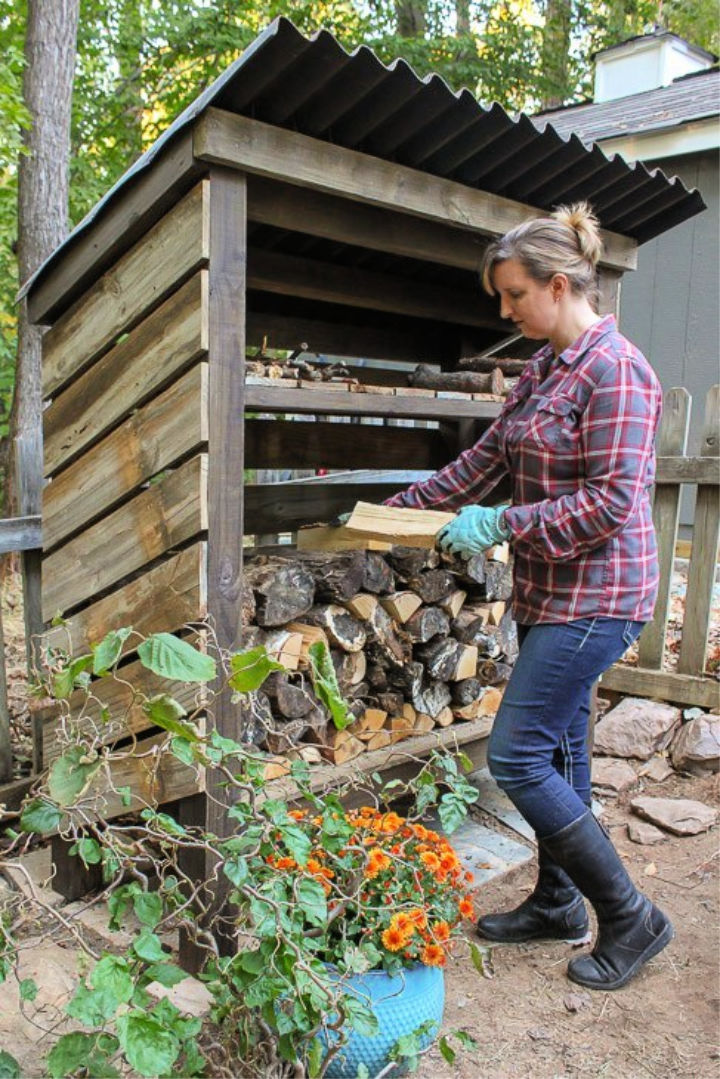 Check out here more free plans to build a firewood shed. This comes in a little larger size and can manage a big stock of firewood. It will not let the rainwater to make the wood wet due to having a tilted metallic roof. You need 4x4s, 2x4s and 5/8" x 6 to build this DIY firewood shed. Use the corrugated roofing sheet to build the roof o the shed. Install the durable legs for a stable standing of it. prettyhandygirl
3. Firewood Storage Shed Plans
Grab here the free diagram-based plans to build this firewood storage shed. Here you need 2×6, 4×4, 1×6, and 3/4" plywood sheet to build this firewood shelter. You will get the diagram directions from building joists, rafters, decking walls, and roofing. The concrete and tube forms to build the solid concrete footing will make the firewood shed a little off the ground. One of the best firewood storage ideas to set up in your backyard. howtospecialist
4. Outdoor Firewood Storage Shed
Do you love to keep the good stock of firewood in a safe way? Here you need an intermediate skill level to build this firewood shelter. This outdoor shed will complete in a day and you need 2x3s, 2x4s, shipping pallets and pressure-treated fencing to build this firewood storage shed. Install the corrugated metal roof on an angle using the roof fasteners. Build this shed will not cost you big for sure. Details here diynetwork
5. Firewood Storage Shed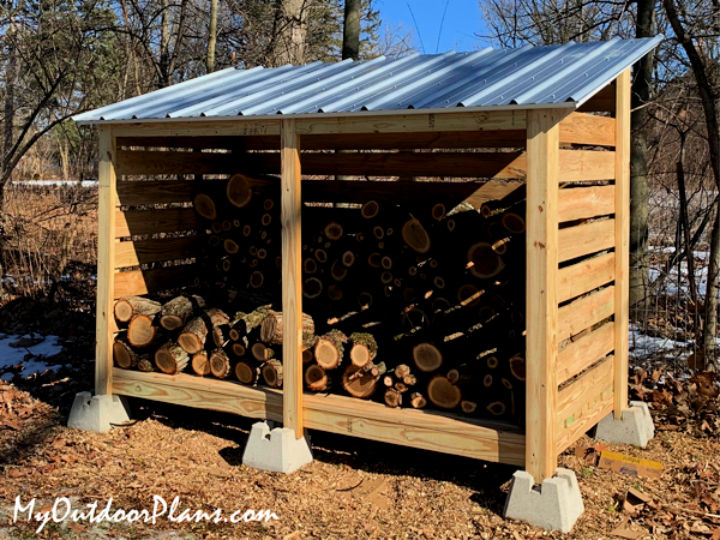 Firewood stocks will be darn easy to manage by having this firewood storage shed installed in your backyard near the firepit. You need the 2×6, 2x4s, 3/4" plywood, and 1x6s to build this wood shed design. For roofing, you need underlayment, asphalt shingles, and durable roofing fasteners. Start building this shed by building first the base frame and then install the legs and roof. There are free diagrams and illustrations to guide you through every step. Details here myoutdoorplans
6. Movable Firewood Shed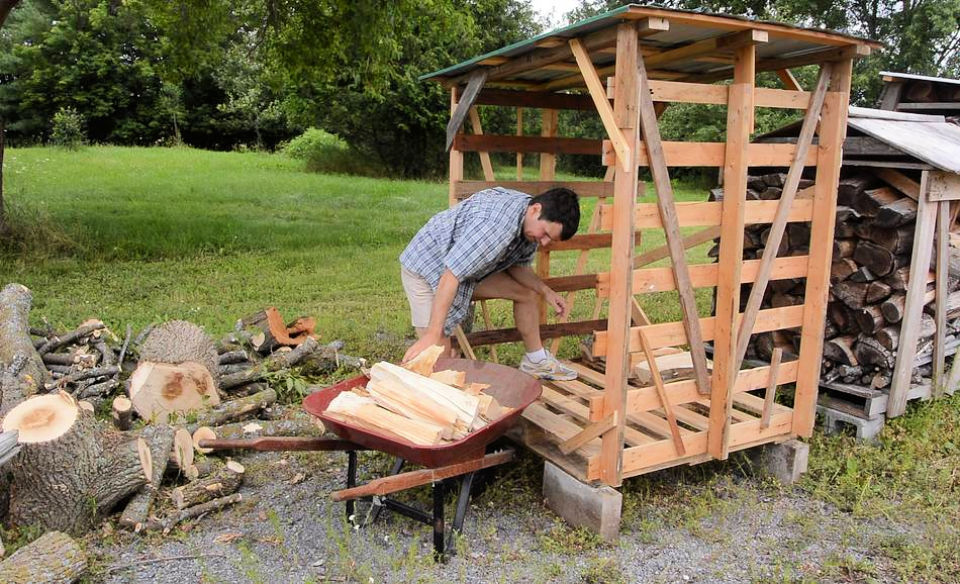 You will love building this another great firewood shed that is movable and can be dragged to any outdoor location with a little effort. The shed comes on wheels and can easily be dragged to any outdoor firepit. Just upcycle the wood pallets to build this firewood shed. Install the metallic tilted roof that will not let the rainwater to retain. It will also keep the snow away from the roof. One of the best firewood shed to build quickly for free. woodgears
7. Firewood Storage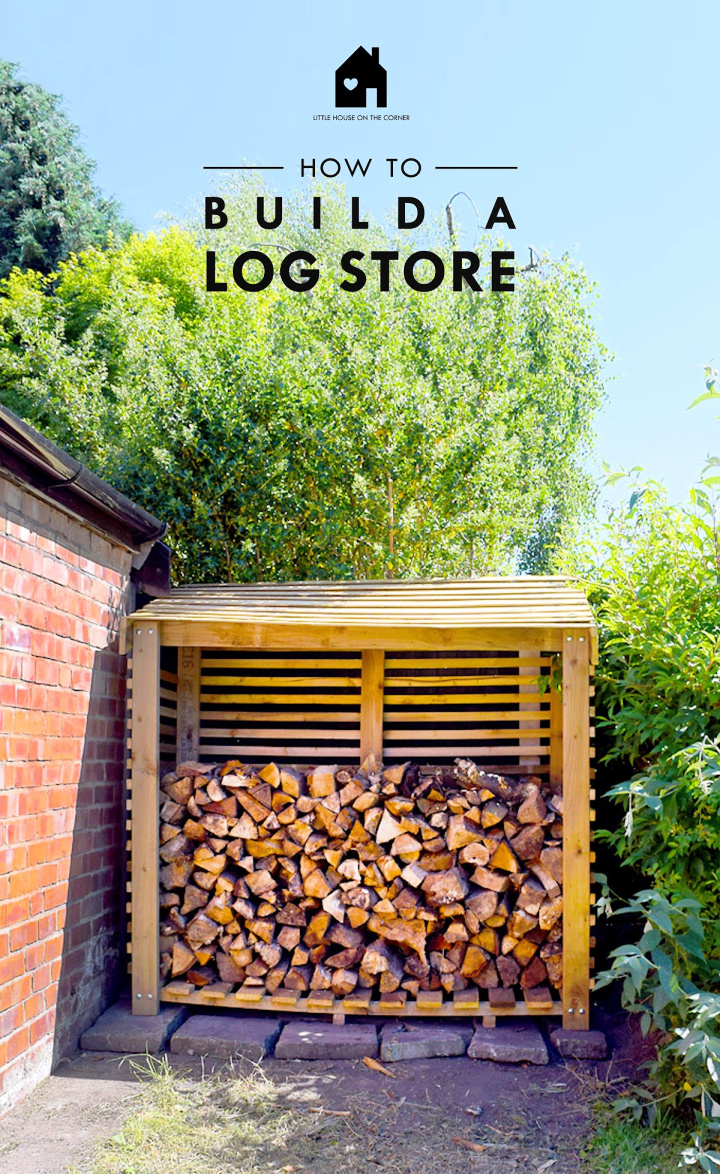 Get inspired by this another rocking design of firewood storage shelter that looks amazingly beautiful and gorgeous. You will get the free plans from building floor structure to roof structure to main structure. Further you need the cladding and durable hardware to assemble the firewood. A one of the best DIY plan to build a firewood shed quickly and cost-efficiently. Must built-in near the outdoor firepit to nicely manage the firewood stock. littlehouseonthe
8. An Open and Pretty Shed
This firewood comes with a little open sides and will nicely hold the stacks of firewood. This shed comes on a cinderblock and will be a little off the ground. Build this shed using 2x3s and 5×4 roofing ply to build this fantastic looking wooden shed. Build the roof with tar paper, and shingles. Finish this wooden shed with deck stain. When get empty, you can use this shed as an adorable bench that will come with shelter. A super quick and easy to build shed in no time. Details here ana white
9. Building a Cob Wood Shed
Get here step-by-step instructions to build the largest shed of your life, the cob woodshed that comes in a rick clay appeal and will definitely help manage a big stock of firewood. You need the typical and shredded wood fibers for building this shed. One of the beauteous models of most natural-looking ever to build by yourself. Build it with friends or family members to have great fun. Details here instructables
10. Firewood Storage Garden Shed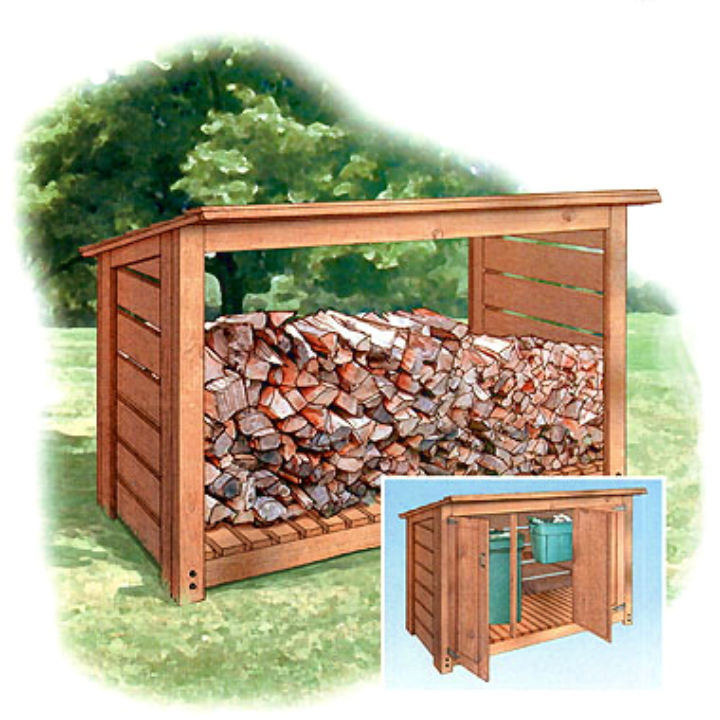 Building this firewood mostly involve using the 2x4s wood slats and next you can use 1×3, 1×4, 1×6, 1×2 and plywood to complete this garden firewood shed. It also comes with a durable frame and also with an angled sloped roof, will be loved dearly by all who love to enjoy the evenings by sitting around a firepit. You need a beginner skill level to build it. archive
11. Build a Woodshed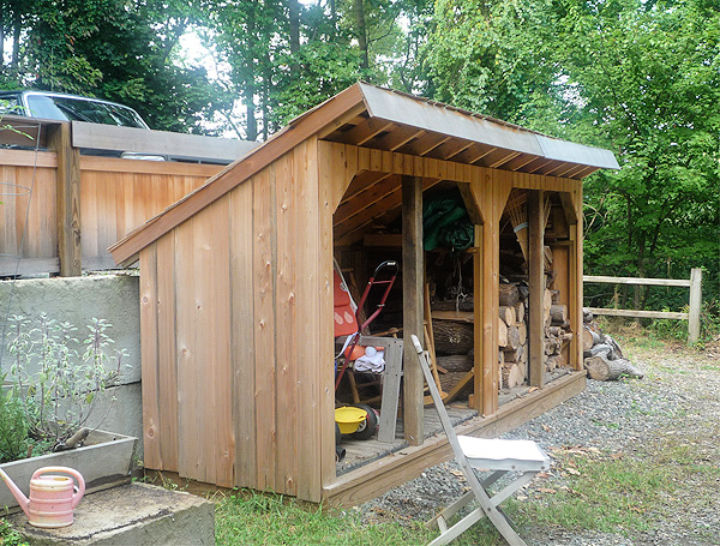 Willing to build a shed this weekend, then go with these free wood shed plans that will make you go for a crazy quick construction giving you a durable and stylish shed as a big reward. This shed comes with a solid professional design is to build mostly with 4×4 and 2x4s wood boards. Grab the free plans to build it like a pro. weekndr
12. DIY Wood Shed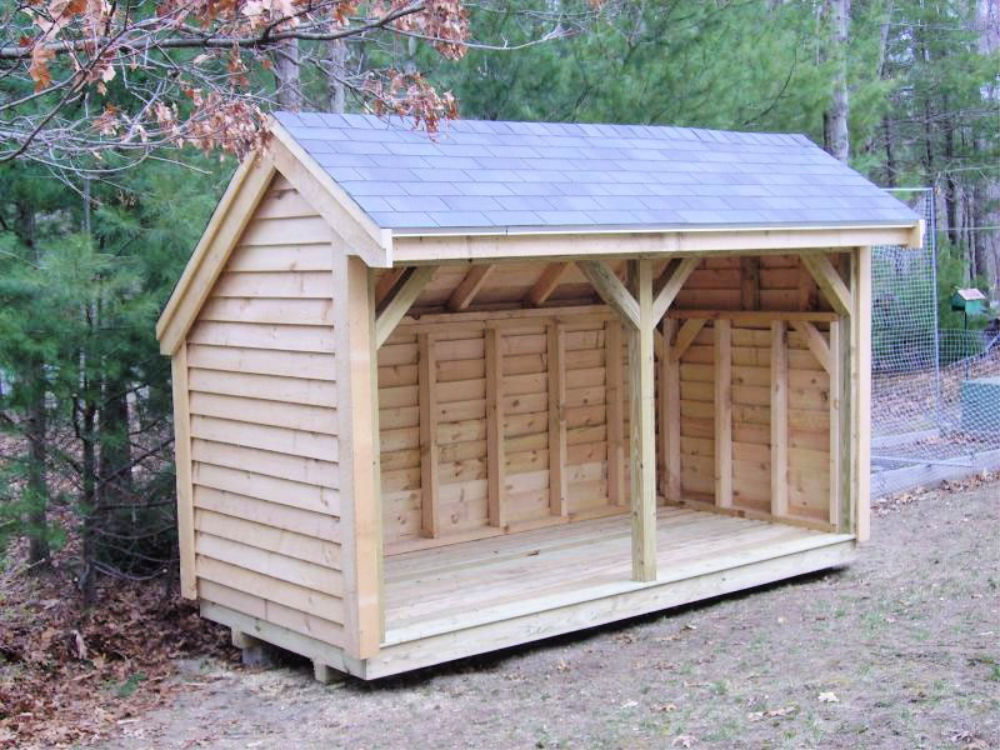 Save your firewood from the moisture build-up from the ground by building a wood shed. It will store your firewood on a decent height and will provide access from the front side. This DIY firewood storage shed is just like a mini wooden bungalow with the whole front uncovered. It provides a roof to keep your wood safe from snow and rain. Build the base using concrete blocks and next use the 2x4s, 2x6s, and plywood. For building a chevron roof, use the roof underlay and asphalt shingles. Details here firewoodvictoria
13. Freestanding Firewood Shed
The firewood you will bring in your home to heat should come with moisture content 14%-20%. So, building a shed becomes a need when you need to keep your stocks dry from rain and snow. So, get here free plans to build a lovely self-standing one at home without getting a bit expensive. It can nicely hold a whole face cord of firewood. From roofing to sides to bottom, it is made of cedar wood bards. Free cultist and tutorial here blackanddecker
14. Matching Home and Firewood Shed Plan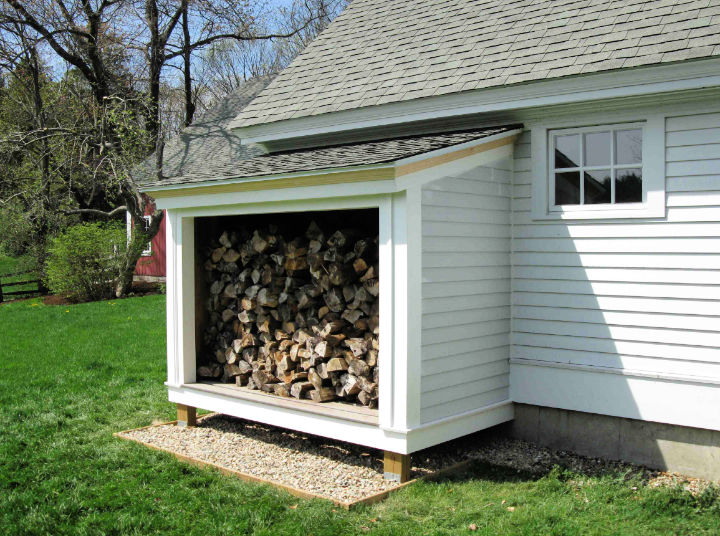 Willing to build firewood that will make your home exterior a bit sharper? Then we must go with this matching home, and firewood shed plans. The shed comes with a shingled roof, the only difference, the only difference. The rest of the design has lines nicely matching the wall lines. First, build the base with concrete footings. Next, install the ledges and sidewall frames and also the roof rafters on an angle. Next, sheath the entire frame, and that's it. Details here aconcordcarpenter
15. Firewood Shed Design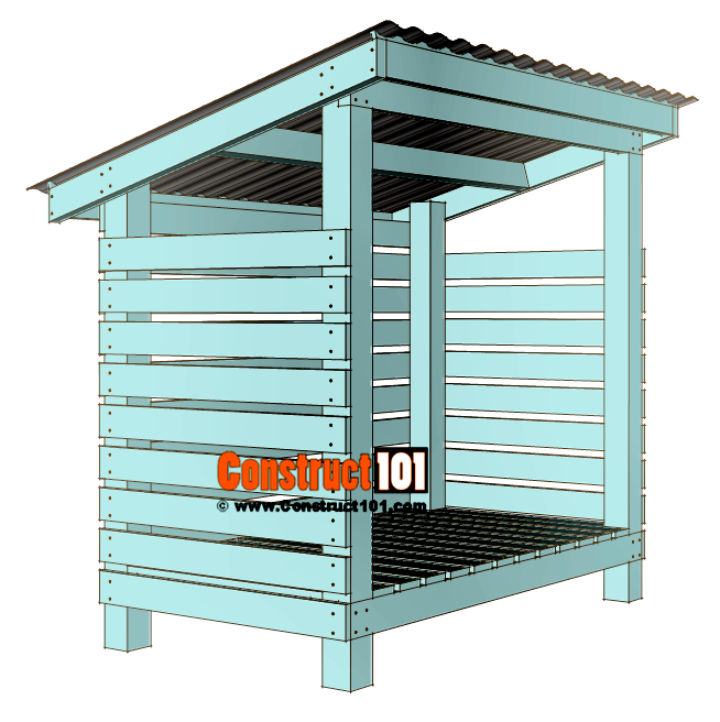 You will love this self-standing firewood shed that is a looking graceful due to a steeper roof. The roof is on an angle, will not let the rainwater or snow to bring moisture to firewood that you want to keep dry to heat in the home. Build the frame with the shed using 2x4s with 4×4 corner posts and feet. Fill the frame up with the slatted cross arrangements of 1x4s and then install the roof. Use the roof underlay, and then asphalt shingles will rock for shingled effect. Paint it to match your home or leave blank. construct101
16. 4×10 Firewood Shed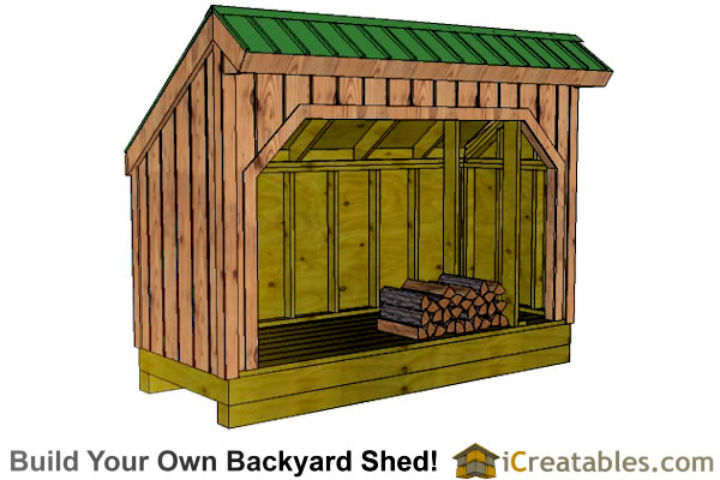 Undoubtedly, you will not let your bigger firewood stocks go wasted. So, do save them from ruining by building a lovely shed outdoor. Get here free plans to build a 4×10 firewood shed will take good care of your firewood stocks and will keep the moisture away, giving you the dry firewood to heat in-home or in firepit. What basic constructions is all about, you have to build the frame of this shed using the 2x4s, 2x6s, 1×3 and opt for the heavy-duty wooden posts like 4×4 to build the corner poles. Opt for the T1-11 siding to fill the shed solid. Details here icreatables
17. Building an Old Fashioned Firewood Shed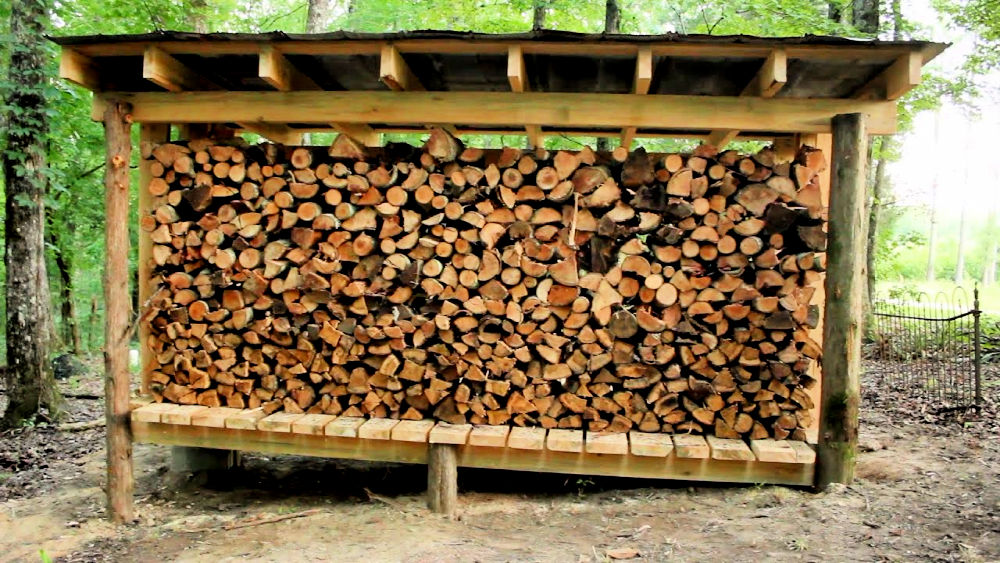 Are you still a great fan of the traditional style of living? Then you will surely like building this old fashioned firewood shed. Make it using the home-milled wood logs and lumbers, and it will last for years to come to supply your dry firewood. Install the cross beams and vertical pillar using wood logs. Build the frame and roof rafters and even the side ledgers using lumber. Use the lumber slats again to fill the frames solid. Opt for the corrugated metal roofing to build the sloped roof. Full tutorial here youtube
18. Firewood Shed to Store 3-4 Face Cords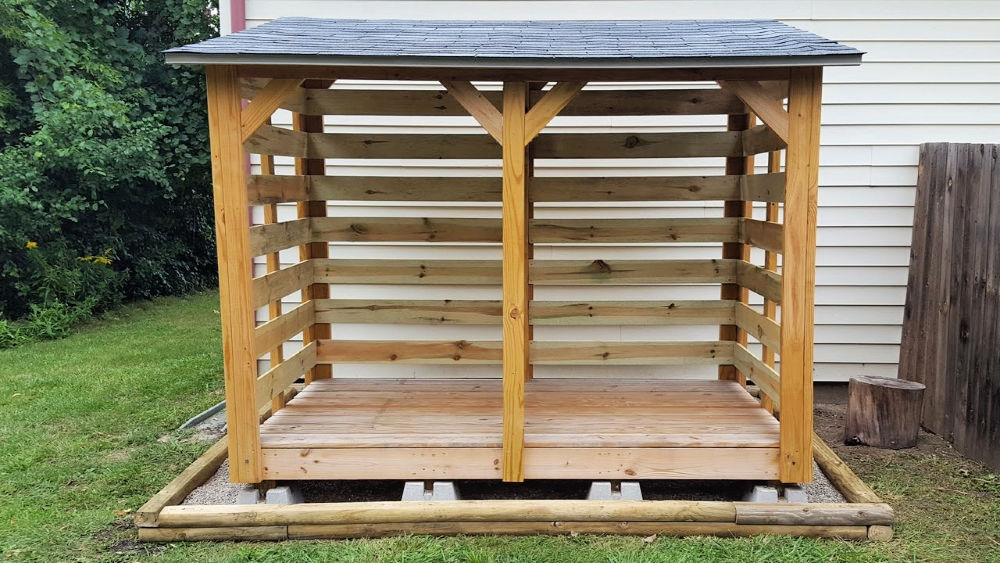 You can build a firewood shed of any storage-capacity according to daily consumption of firewood in winters. So, get here instructions to build a shed that will store the 3-4 face cords quite efficiently. The finished size of this good looking shed if 8′ x 4′. First, make a plan for the bottom, front, and sides and also for the roofing and then accomplish your plans using the appropriate lumber boards. Opt for 4×4, 2x4s, and 2x6s, etc. to build this DIY wood shed. It is just adorable and comes with a concrete foundation. youtube
19. DIY Pallet Woodshed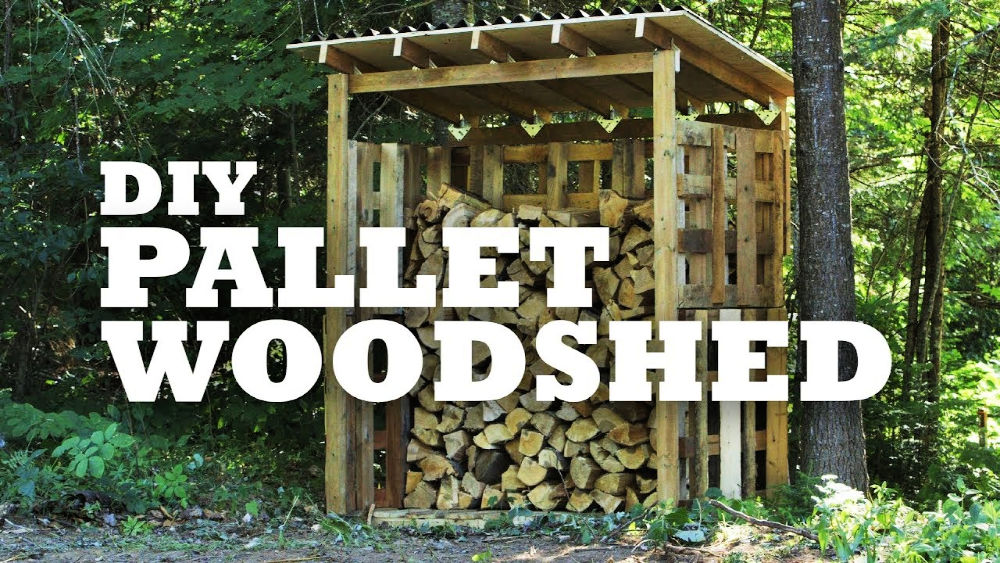 It may cost you big to build a custom model of wooden firewood shed with custom storage capacity. So, get here free plans to build a firewood shed at a cost next to nothing. Just put together the free recycled pallets to build all from sturdy base to durable sidewalls of your woodshed and next finish it up with a tilted roof. Use extra wood to install the roof rafters on an angle. Add roofing underlay and finishing with corrugated metal. Details here youtube
20. Firewood Storage From Pallets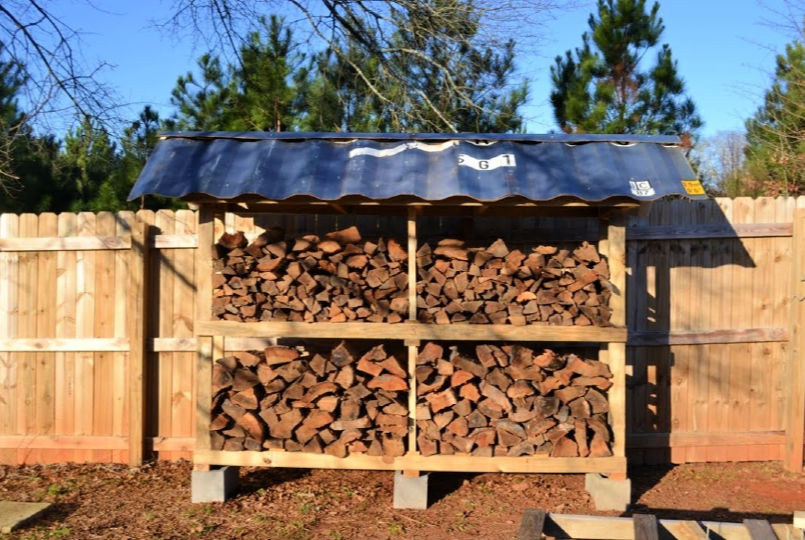 Get free plans for another cost-efficient model of hand-build firewood shed. Again, head over to free pallets to build this adorable storage shed will help keep moisture-free storage of your firewood. It comes with a concrete footing and provides unbeatable moisture protection to firewood stocks due to the tilted corrugated metal roof. Use extra wood to install the cross supports, roof rafters, and other components. One of the best firewood to make with pallets. Tutorial here youtube
21. Firewood Shed Plans
The wood can easily catch moisture, and it can be a big challenge to fire the wet wood. It may be a serious issue when you need to set your fireplace instantly on fire to get winter heat. So, manage a dry stock of firewood by building this self-standing firewood shed. First, build the solid wooden box that will be the bottom platform and next install the sides and roof. Leave the sides or back open and finish the shed with corrugated tilted metal roof. Details here youtube
22. Simple Firewood Shed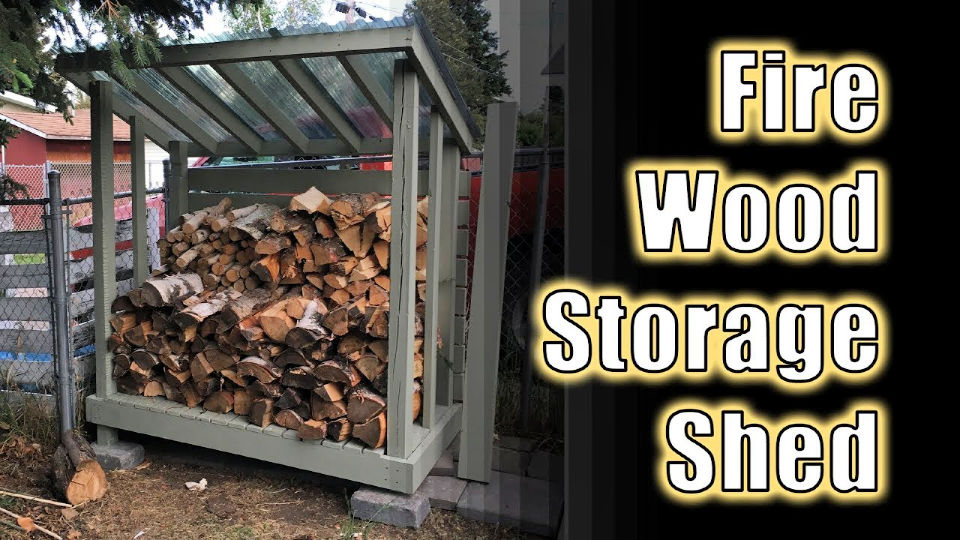 In the dead of cold, the daily consumption of firewood just increases considerably. So, why not build the firewood sheds of large storage capacities to organize your firewood stocks? Follow the free plans here to build a large firewood shed. Build this wooden firewood shed with both lumber and pallets. Build the corner poles or posts with 4x4s and next use the separated apart pallet wood slats to build the sides, main bottom platform, and even the roof. Details here youtube
23. Builds Firewood Storage Shed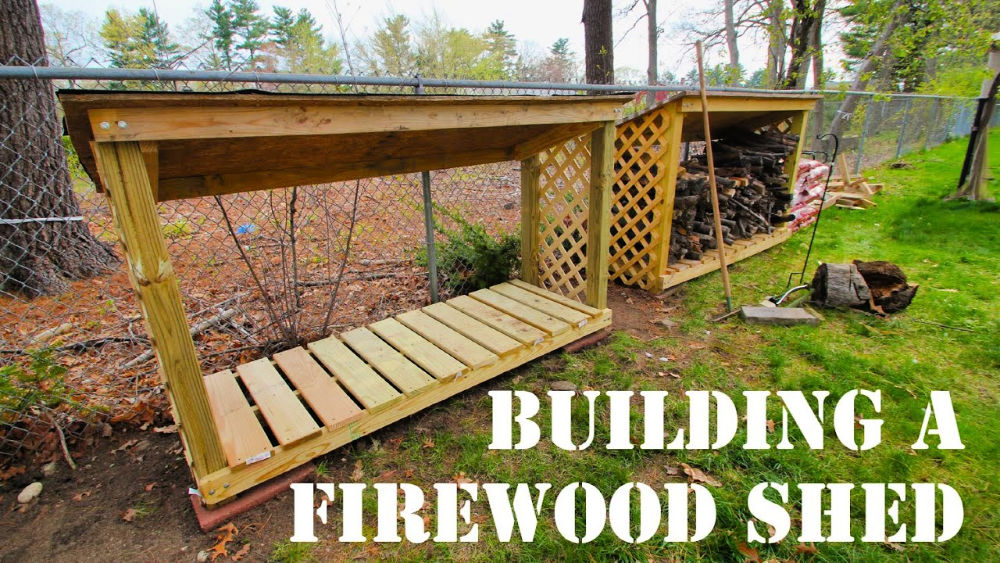 If you are new to building a firewood storage shed and don't know how to build a pro-style one first time, then this video tutorial will be a total help. From cuttings to taking measurements to plan the frame, you will get the video guides for building part ever. Use the heavy-duty square posts to build the main corner spaces and opt for heavy-duty lumber or cedar boards to build roof rafters. Let the roof come tilted for easy falling down of rainwater and snow. Cover the sides with wooden lattice. Details here youtube
24. Firewood Storage Shed from Reclaimed Materials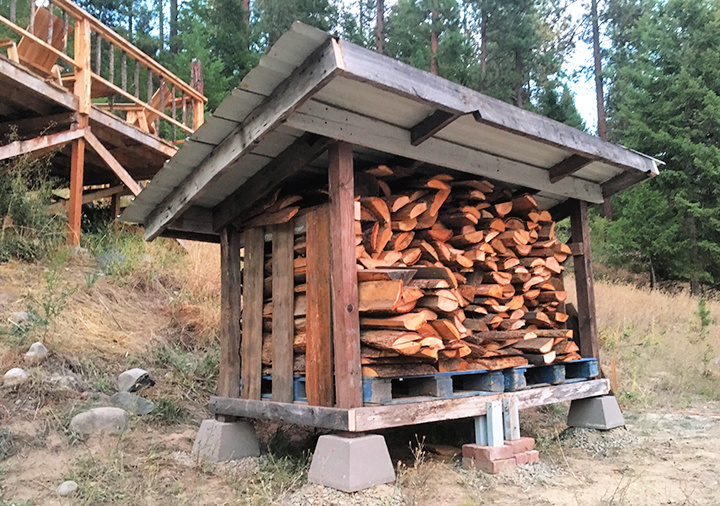 Building a firewood shed when using all market bought supplies. So, go with these easy firewood storage shed plans that will help build a quick storage shed using reclaimed materials. Build first the heavy-duty wooden platform for the bottom, can be set on the concrete blocks. Install the 4x4s side poles and ledgers and opt for a little edged roof. The edged outward metal roof will provide total safety to firewood from moisture due to being sloped, will automatically wipe off the snow. Details here purelivingforlife
25. Mini Firewood Shed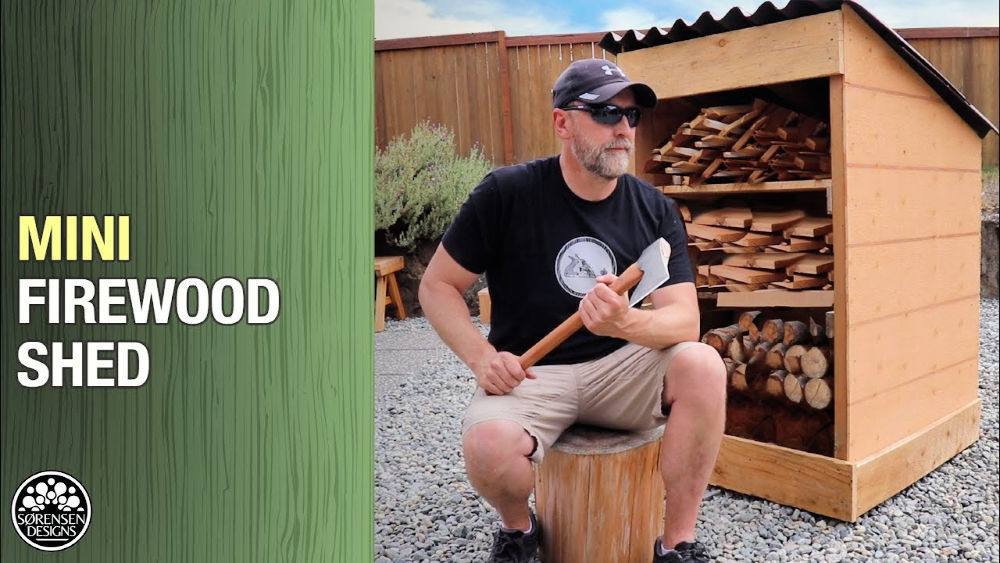 Find here the total help to build mini firewood shed like a pro and without getting expensive. From building the foundation, bottom platform, sidewalls, roof, and front, you will get the directions for all. The lumber, cedar, pallets, recycled woods, and leftover woods all can be used to accomplish this miniature firewood shed design. It will be amazing to feature in your backyard or garden too. First, build the frame with tilted roof rafters and then sheath the frame with quarter-inch plywood. Details here youtube
26. How to Build a Firewood Shed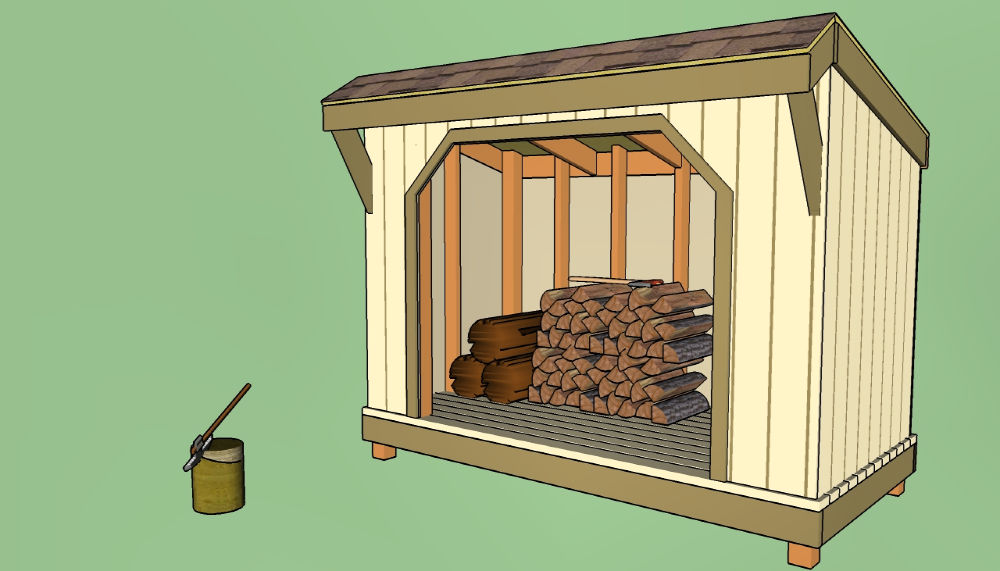 Learn how to build a firewood shed! Be a professional in building a firewood shed by going with this free plan that provides cut lists, measurements, and illustrations to build a firewood shed quickly. Use the 2x6s, 2x4s, 3×4" plywood, and 1x3s lumber boards to build all like joists, decking, wall, rafters, roof, and trims. If you prefer the shingled roofs, then opt for the asphalt shingles to get a good looking shingled roof. One of the most beautiful of the firewood shed ever built. Construct it with the desired storage capacity. Details here howtospecialist
Firewood Storage Ideas
These are just firewood shed ideas so, if you've have some woodworking skills then you can easily build something by following your mind creativity.
27. Outdoor Firewood Storage Shed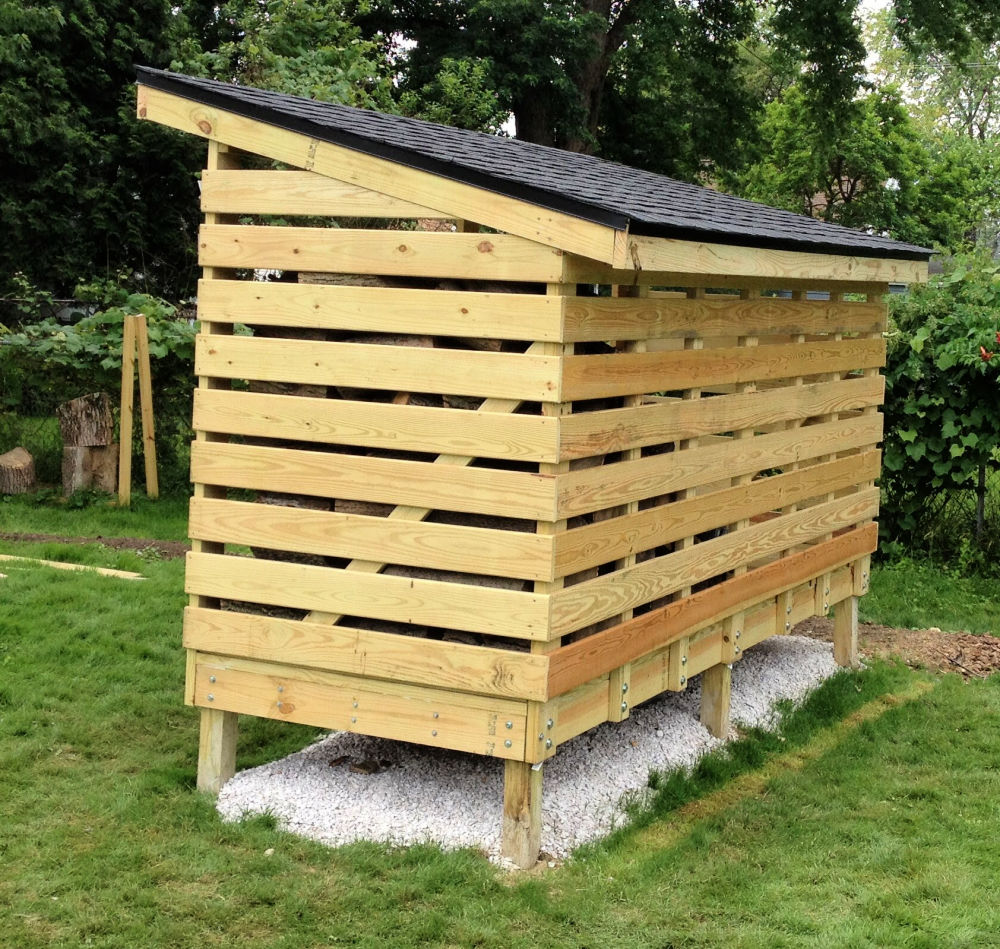 Grab here the free plans to build a self-standing firewood shed that features the slatted sides, back and a bottom desk. It comes with durable side poles, and tilted metal roof too for moisture protection. The corners poles are extended to serve as short legs, too, so the ground moisture will not get access to firewood stocks. 2x4s, 2x6s, 4x4s, 1x4s, plywood, and roofing shingles will be an amazing choice to build this outdoor firewood storage shed.
28. Firewood Shelters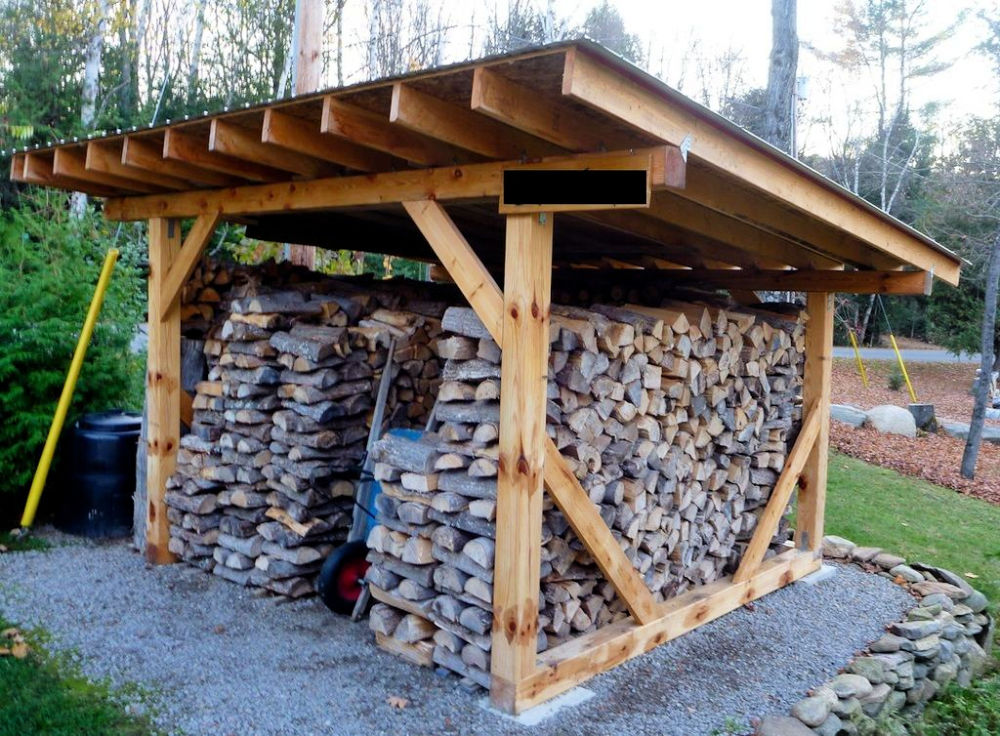 Learn here how to build a moisture-free shelter for your firewood stocks without getting a bit expensive. Just grab the heavy-duty wooden posts like 4×4 or 4×6 to build the corner poles. Next, install the cross supports on the top to hold the rafters. Next, install the roofing on an angle and leave the sides open or fill them solid too. The choices are all yours. One of the best shed to organize large firewood stocks.
29. Firewood Shed Design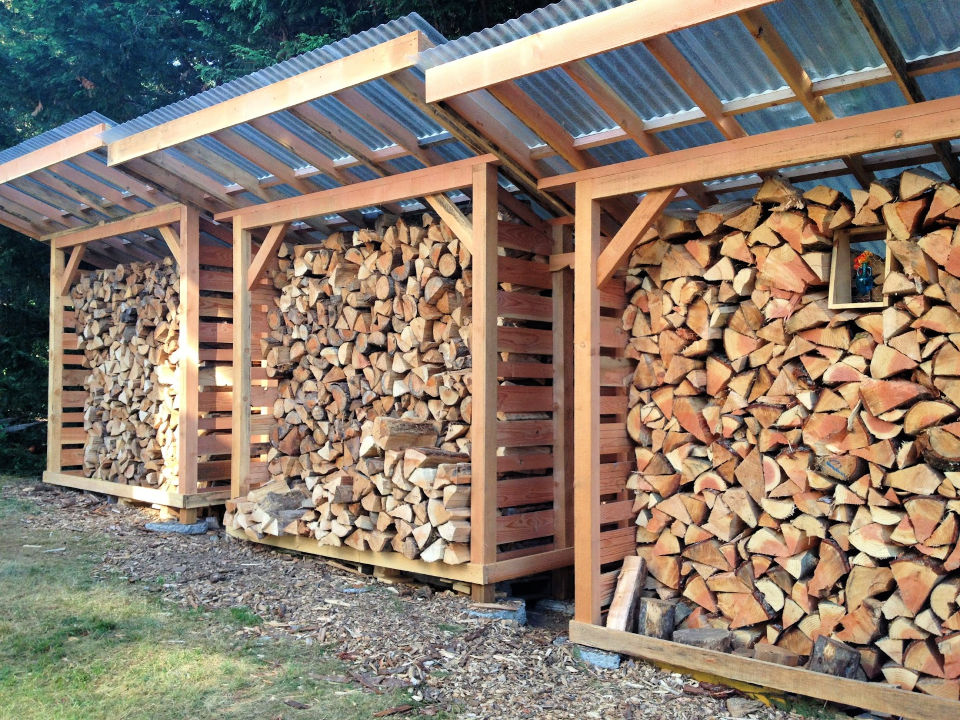 You will surely fall for this trio of sheds that are fully packed with firewood and come with glittery metal tilted roofs. They are super resistant to snow and rainwater and a little off the grounds to keep the firewood safe from the ground moisture. The roofs are a little bigger than the top of the shed and hence will be super safe to store and organize your firewood stocks. The 4×4, 2×4 and 1×4 or 1×6 will be the ideal type of boards to build this kind of firewood sheds.
30. Firewood Storage Shed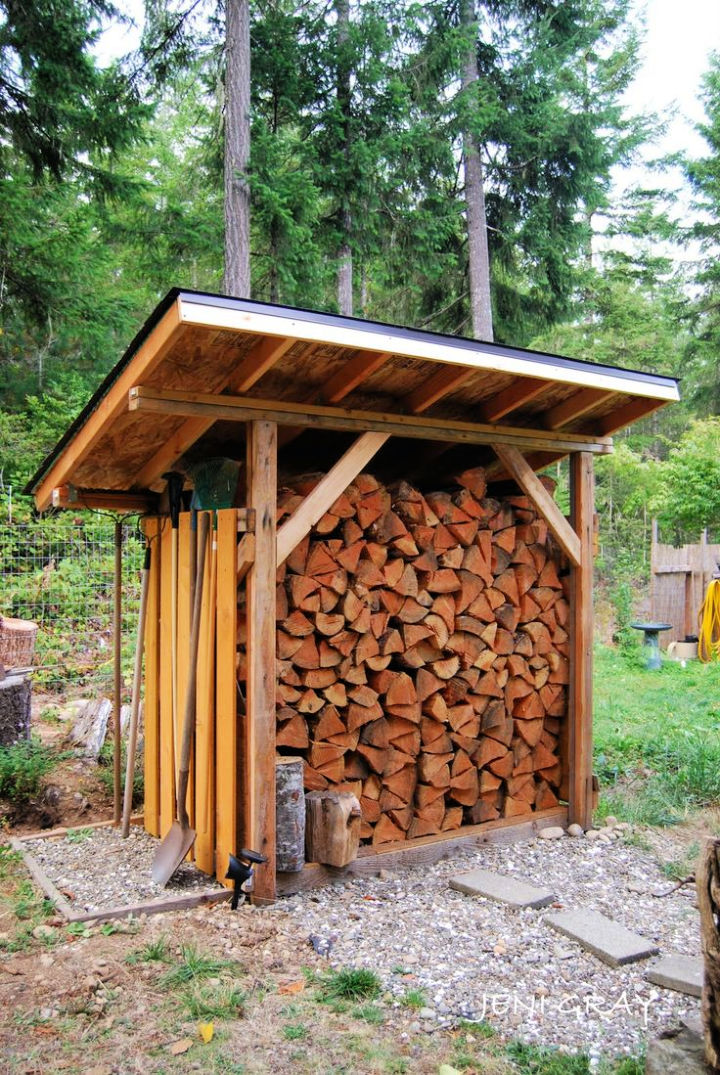 Feel free to build this firewood that is not very large but comes with a decent height to hold inside a large supply of firewood. Build first the bottom platform and then install the corner heavy-duty 4x4s pillars or poles. Install durable cross supports, braces, and then roof rafters on an angle. Use plywood to cover the roof rafters neatly and next add it up with the corrugated metal roof. Fill the sides with vertical slats. Keep a little space for air circulation.
31. Wood Sheds Designs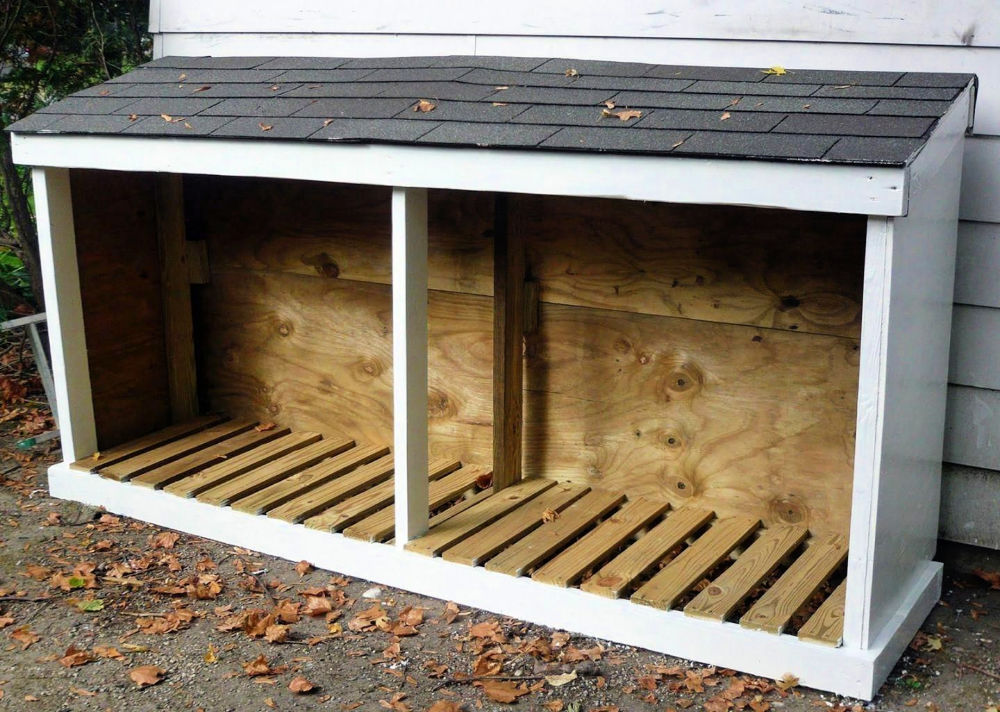 If you are genius enough to do the custom wood constructions, then do make gorgeous looking wood sheds at home. Great design inspiration is here, it comes with a low height and features a slatted wooden bottom platform. The back and sides are filled solid with plywood. The shingled tilted roof is the feature that, above all. This wide opening shed will nicely store your firewood stocks is quite something quick and easy to build.
32. Woodshed Plans
You will surely fall for these cute mini wooden sheds that will bring tons of focal stimulation to your outdoor too. These woodsheds are like the giant wooden crates that come with chevron roofs and will be a total pleasure to organize your firewood stocks. You can build a series of such woodsheds to take your outdoor decors to the next level. The slatted or shingled chevron roofs will not let the rainwater to stay.
33. Firewood Shed Ideas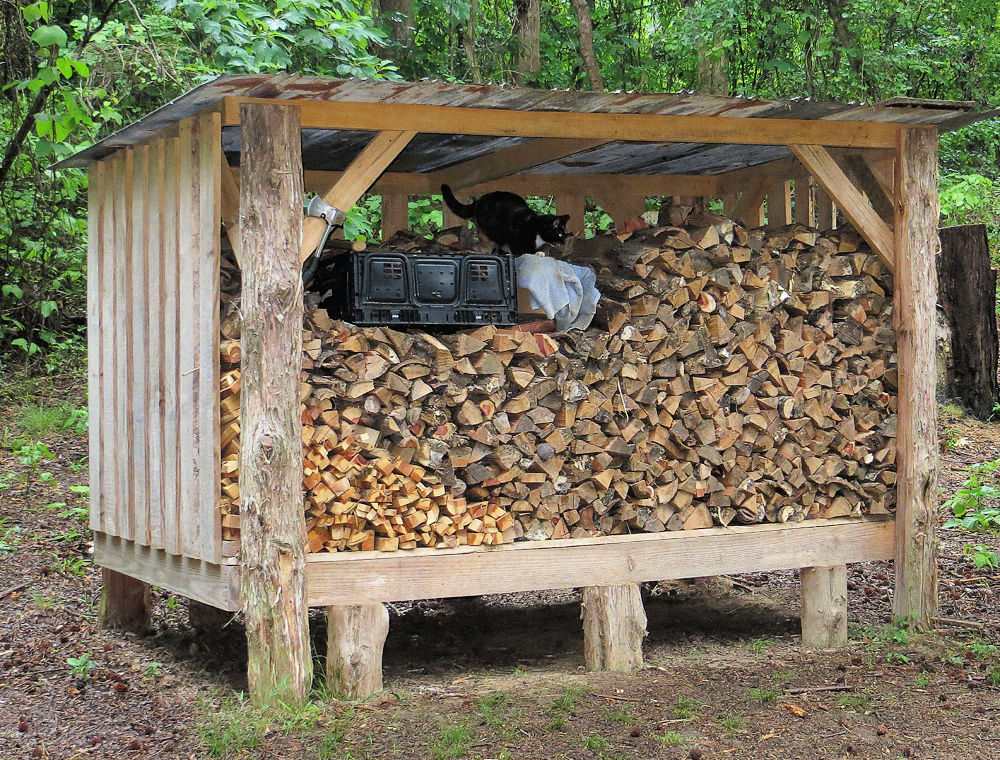 This one of the most natural-looking firewood sheds comes supported with the wood log poles and looks pretty rustic to look great in the backyard. Use extra cut short wood log lengths to support the bottom platform and be smart in planning the roof on an angle. Just install the rafters on the cross beams and cover them solid with the metal roofs. Opt for a chevron roof design also for this shed.
34. Wood Shed Plans
This epic wooden shed looks like a cute mini bungalow and features a shingled chevron roof. The fully filled, well sheathed and sold wooden structure stands on the concrete foundation, and there are robust pillars to support the front of this woodshed. One of the most outstanding and well built wooden sheds to build quickly like a pro. Use the lumber, cedar, or pine wood boards to frame and sheath it up with plywood.
35. Firewood Sheds Designs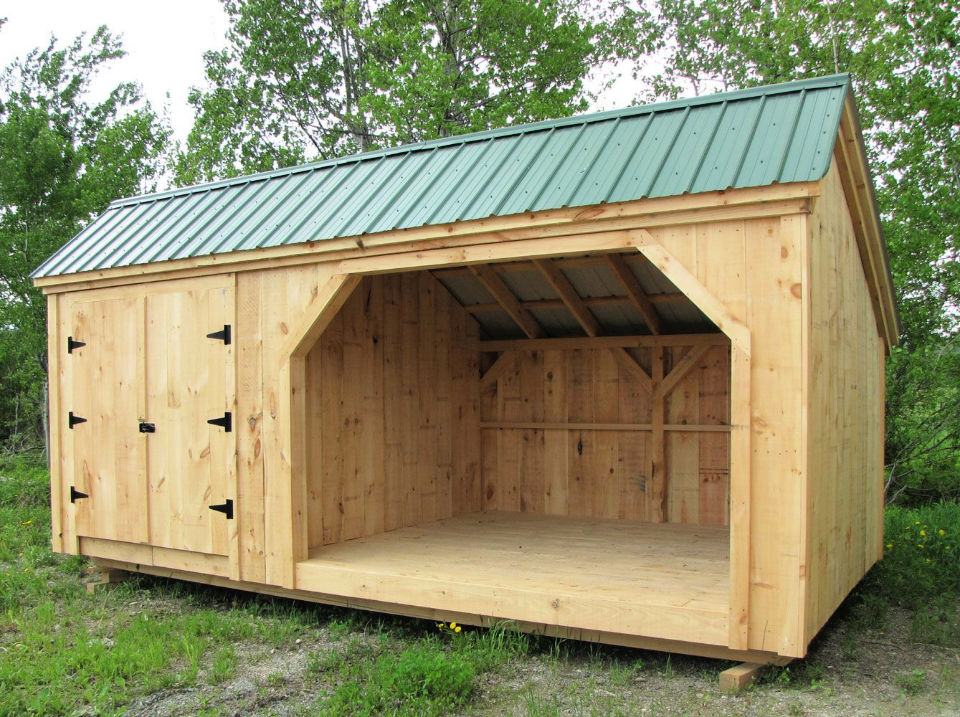 The firewood to use any time in the deadly cold weather, so there should always be extra wood in stock. So manage your firewood supply using by building this firewood shed, will nicely hold your firewood stocks. It comes with an attached cabin secured with a hinged door. One of the best shed that will hold your garden supplies and equipment and also the large stock of firewood. The chevron shingled roof will surely impress at a very first look.
Do you want to build your own firewood shed? If you're new to woodworking then check out these 150 simple woodworking projects for beginners to learn more woodworking skills in no time. Step by step instructions with detailed material and cut list.
Conclusion:
If you are addicted to sitting around the firepit or indoor fireplaces, then it will surely demand to build a firewood storage shed. A firewood shed will help keep the moisture away from the firewood and hence will help keep the wood dry for a long, long time to heat easily in your home. So, if you are planning to build a firewood shelter, then go with these simple firewood shed plans to instantly build a firewood shed of choice in no time. These free firewood storage shed plans will provide illustrations, free diagrams, measurements, and even the full video tutorials to help you build custom firewood shed.