Have no idea about which woodworking project to start from? Well, then you're in the right place. These beginner woodworking projects are perfect to start woodworking at no cost. They are super easy to do and don't require a lot of time. You only need some basic tools for most of these plans. If you don't own any tools yet, no need to worry! Some of them require no tools at all! With these beginners and very basic woodworking projects, you can give some exciting makeover to your home decor especially. Or be more organized than ever before! Every home needs exciting furniture, which is both functional and appealing and if anything, these woodworking projects for beginners are bound to ace that part!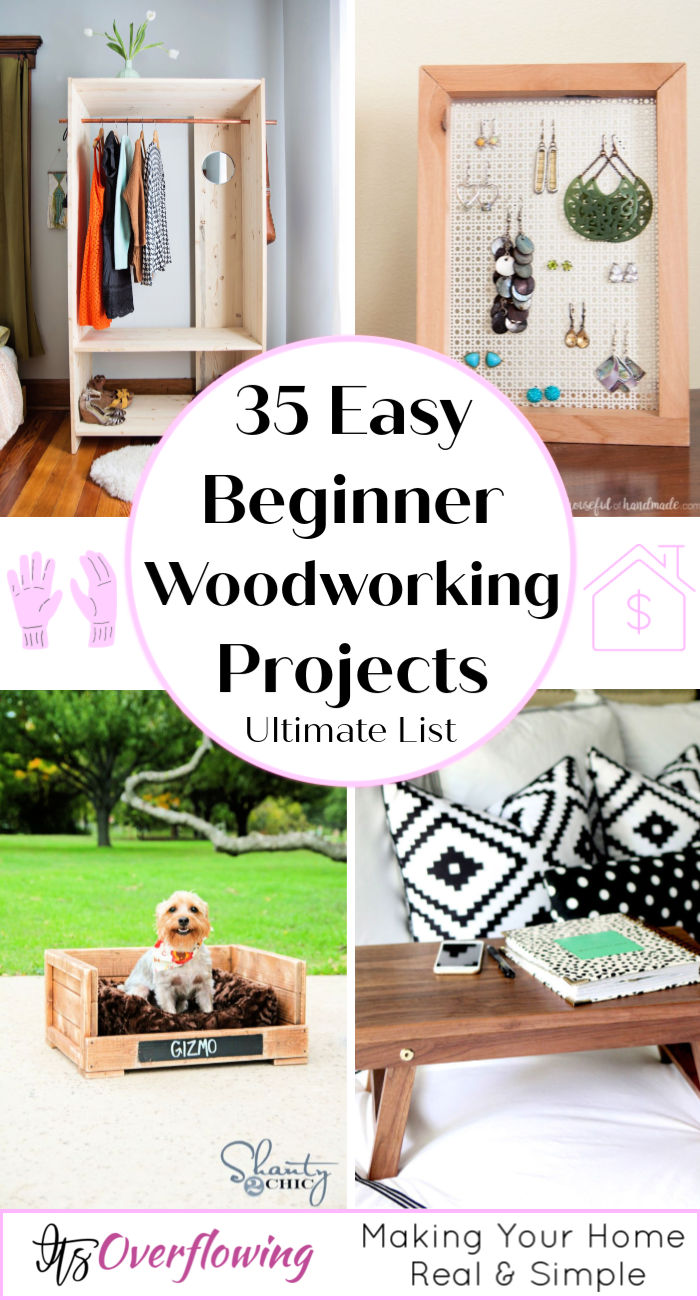 The only complicated part about the whole process can be finding the lumber! You don't want to buy it too expensive; this is why it is recommended for you to do some research before getting started. Browse through the internet and get familiar with the prices! Then you can go to the carpenter stores. This article will cover a range of beginner woodworking projects, from modern wardrobes to mountain hooks, from pet beds to chisel racks, from wooden speakers to mid-century nightstands! There's so much to choose from!
1. Mountain Wall Hooks
How cool are these hooks! You can use them to hang your favorite things or achievements that you want to put on display, for example – medals! The guide comes with a shopping list, dimensions, directions, and tools list, as well! Tape measure, speed square, safety glasses, and a few other tools will be required. ana white
2. Modern DIY Plant Hanger
Sometimes, plants can be hidden by placing them in the corners of your house. Plants are so beautiful and an active source of oxygen! This is why plants should be hanged up instead. Follow this woodworking for beginners to learn more about it! biggerthantheth
3. Modern Wooden Wardrobe
This is cool project out of all beginner woodworking projects! Here's an open closet idea. It is huge and has a lot of storage space in it. This way, you will be able to store anything in it – from your shoes to your clothes! Almost everything. It may be intimidating to look at, but don't worry, it's actually super simple to make. abeautifulmess
4. Minimalist Daybed With Storage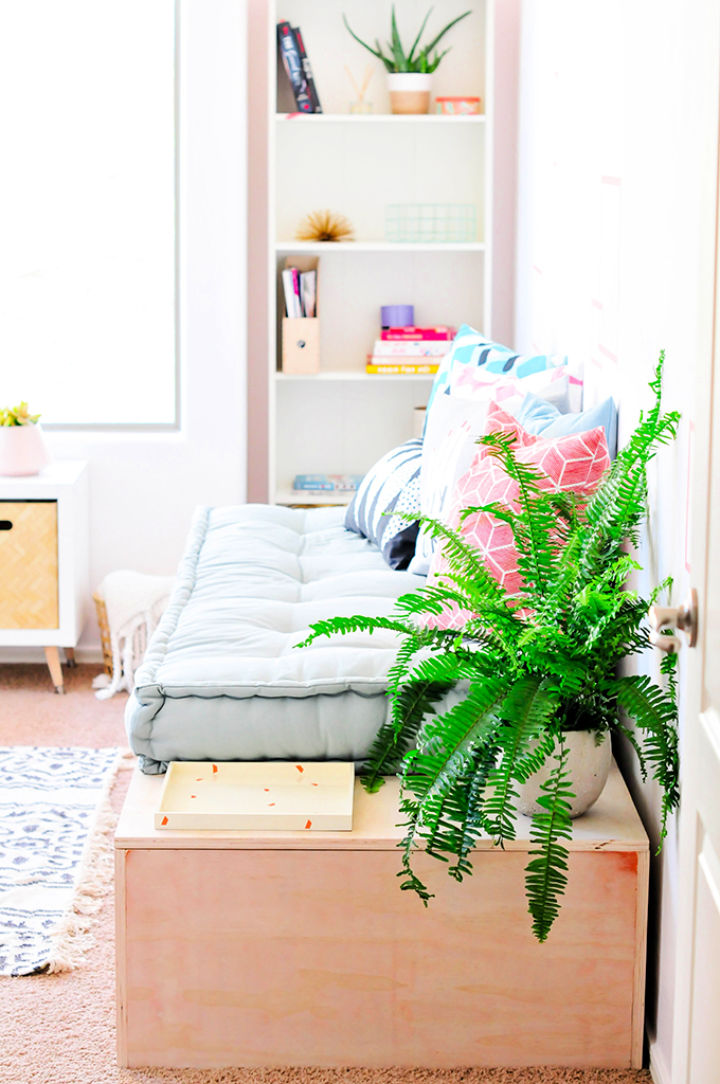 This amazing daybed looks so comfortable! You can place this in your living room and have rounds of Netflix all day! It will not make you uncomfortable or twist your neck. You can place many pillows to take the comfort level to its utmost potential. theproperblog
5. Wooden Cutting Board
The wooden boards found at the market are just not it. You may not be able to find the exact type you want, or maybe they're all just too expensive. You can make your own ones, in no less than an hour! They are so simple to make that almost anyone can make this. No special skill required whatsoever. abeautifulmess
6. DIY $12 Pet Bed
Your pets require a lot of love and caring. Why not show them some love by making a simple DIY pet bed? It is so simple to make, and you cannot mess it up as long as you're following the guide. You will need furring strips in the dimensions 1x4x8, 1x2x8, and 2x4x10! shanty 2 chic
7. DIY Chisel Rack
All you need is a free afternoon to make this fantastic project a success. In this video tutorial, they will teach you on how you can make a standard size chisel rack. You can make it in any size you want. Since it is a video tutorial, it will help you understand the process really well! youtube
8. Wooden Sofa Sleeve With Cup Holder
You don't require any complicated tools for this amazing woodworking for beginners. It features a wooden sofa sleeve with a cup holder, as well! If you don't own a coffee table by the side of your sofa, then you should definitely make something like this for it. abeautifulmess
9. Minimal Wood Spice Rack
Let's talk about the beginner woodworking projects that all of the minimalists have been waiting for! Here's a very simple and plain looking spice rack! It screams, "less is more!'. That is very true in this case! You can keep this on your dining table or in your kitchen! curbly
10. Folding Sewing Box for Beginners
You can make a folding sewing box without any complicated tools! Just follow all the steps in this guide, and don't rush it. If you're a little practiced in this, then you may take it a level u by customizing it however you want! Use your other tools and be a little creative. instructables
11. Wooden Speaker for Beginners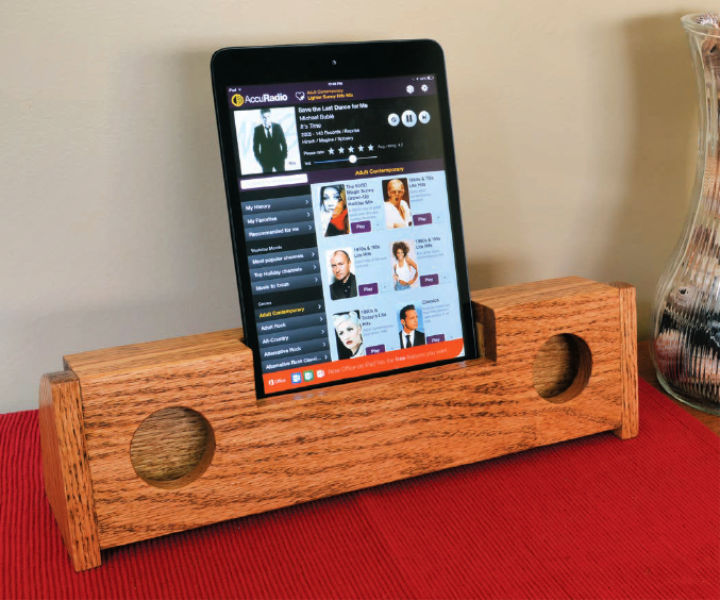 The commercial speakers' can be a little too expensive. You may buy some cheap quality ones, but they are not worth it. Instead of all that hassle, just make your own speakers by following this plan! They are super amazing and sound great, as well. popularwoodwo
12. DIY Wooden Arrow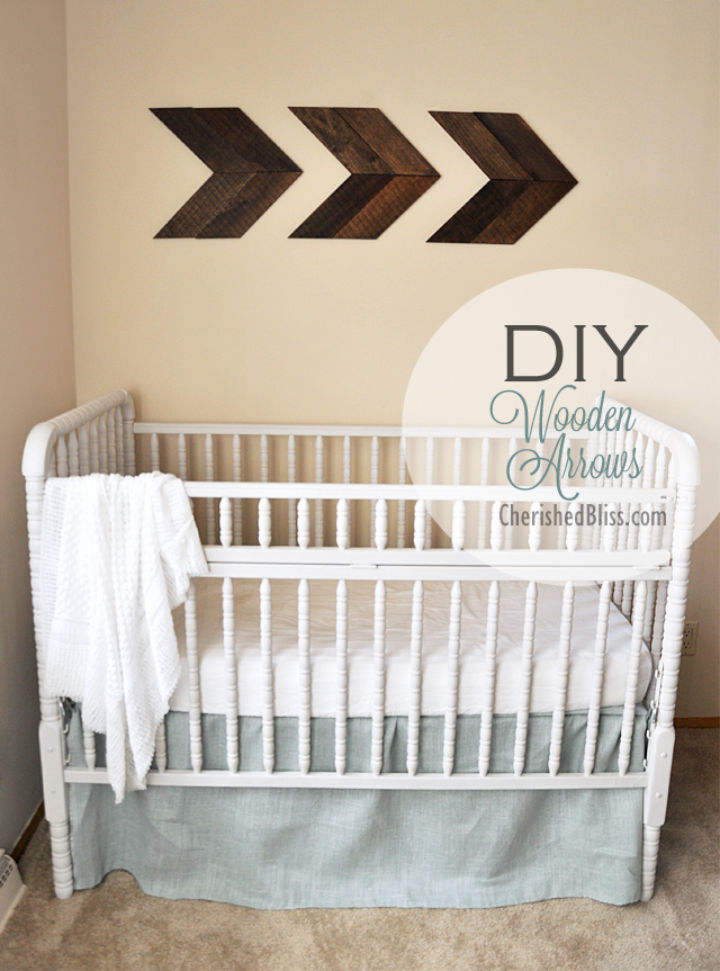 Add this easy project to your simple woodworking projects list! Sometimes, all we need is something simple but still worth spending the time making it. Here's how you can make this wooden arrow that can cover up any plain walls that you may have. Miter saw, tape measure, mending plates, drill, wood stain, and a few other supplies will be required for this project. cherishedbliss
13. Beginner's Outdoor Pallet Side Table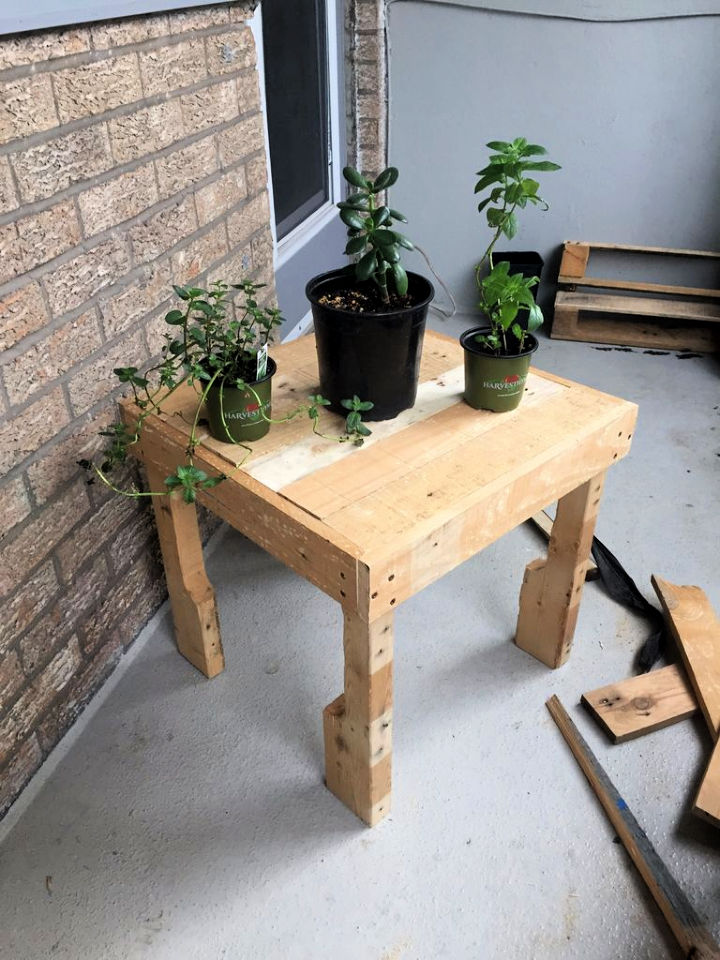 Having the time of your life in your amazing backyard can be a challenge without having a table by your side. You can use the table to place your books, coffee, sunscreen, and all of the necessities! Place some flower pots on it to make it look beautiful! instructables
14. Homemade Wood Doormat
Isn't this wood doormat idea just fantastic? It's not only super stunning but also will help out a lot in practical life. Especially if you live in a muddy area, it will be great to scrape off the mud from the shoes before entering the house. The doormat will be super easy to clean, as well! themerrythought
15. Up-cycled Corrugated and Plastic Bags
Such a pretty lamp using recycling! These woodworking projects for beginners are just perfect! It only does not benefit nature and eco-system but will also look beautiful in your room! It's hard to believe that something this lovely can be made that easily! instructables
16. Easy DIY Earring Stand
Earrings are one of those jewelry pieces that are just the most beautiful! They are so delicate and come in different colors and designs. This is why it can be a good idea to keep them on display, instead of hiding them in your drawers! Nail gun, paint, wood glue ad a few other supplies will be required. housefulofhand
17. Farmhouse Style Shiplap Wall Key Holder
Little things can this keyholder can make your house a lot more functional and organized! Never forget your important cards or wallet on the go by keeping it in this keyholder! It is such a cool idea, and will you be a lot more careful. No need to spend 10 minutes every morning trying to find the key! sawdustsisters
18. Pallet Wood Candle Holder
Candles are an essential part of having a comfortable and positive environment is your house. Especially, the scented candles can really add a vibe. This plan features a pallet candle holder, which will make it easier for you to clean up the wax and also make it all look super stunning! diyhuntress
19. DIY Hardwood Cutting Board
Cutting boards are essential to have in your kitchen. However, it is totally unacceptable to buy them at such high prices at the market when you could just make your own in a lot less! It is so easy that you will be shocked. The table saw miter saw, wood chisel, and a few other tools needed. thesprucecrafts
20. Folding Lap Desk from One Board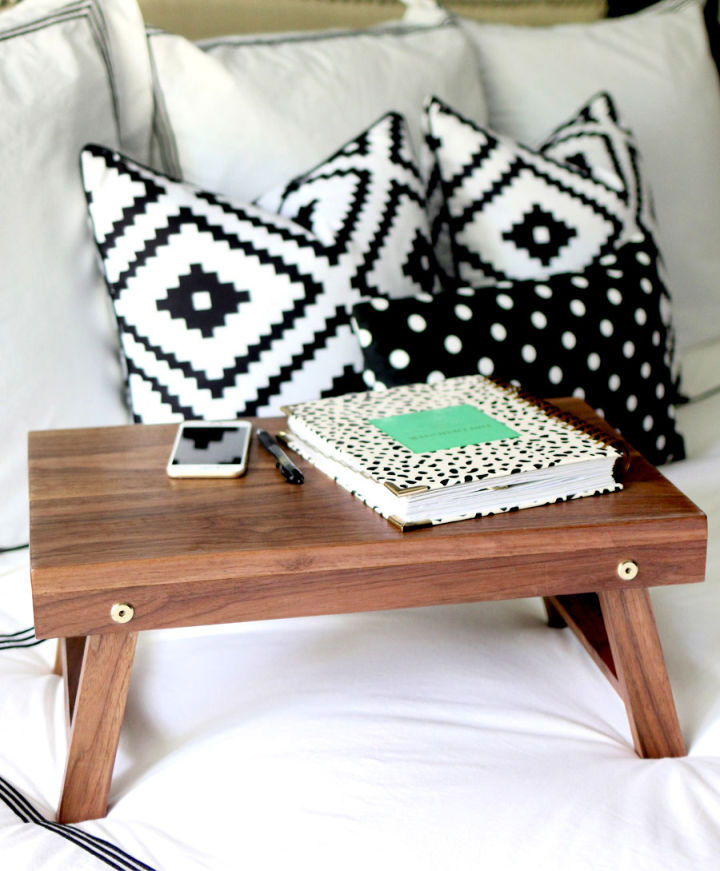 We all get those lazy days when you just don't want to get out of the bed! It is okay and understandable. On these days, you still should not slack off! Just get all of the necessary work done in the comfort of your bed! Make this amazing board work from bed. jenwoodhouse
21. DIY Mid Century Nightstand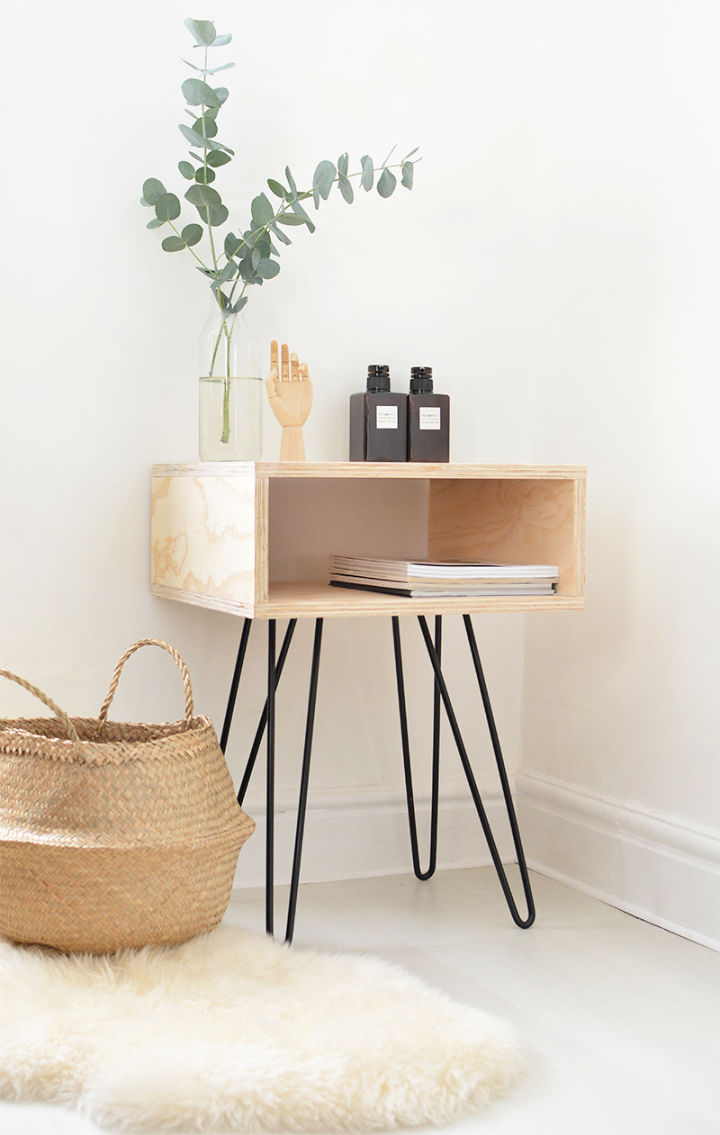 Mid-century furniture is all the hype nowadays. Everyone loves an excellent design with enough storage. Having a nightstand is very helpful in keeping your phone on an alarm clock on it. You don't even need a drill for this amazing DIY project! burkatron
22. DIY Wooden Picture Holders
Memories are just very precious things to us. Some of them are captured using a camera. Why not place your favorite ones in your room? This way, you will be able to think about the happy times, a lot more. Use this amazing guide to do so. passionshake
23. DIY Wood Block Lamp
Lamps make the perfect gift! Think about it – everyone needs a lamp, be it a boy or a girl, a young person, or an old person. Here's a plan that you could use to make an amazing lamp, very easily, in the comfort of your very own house! instructables
24. Mid Century Modern Armchair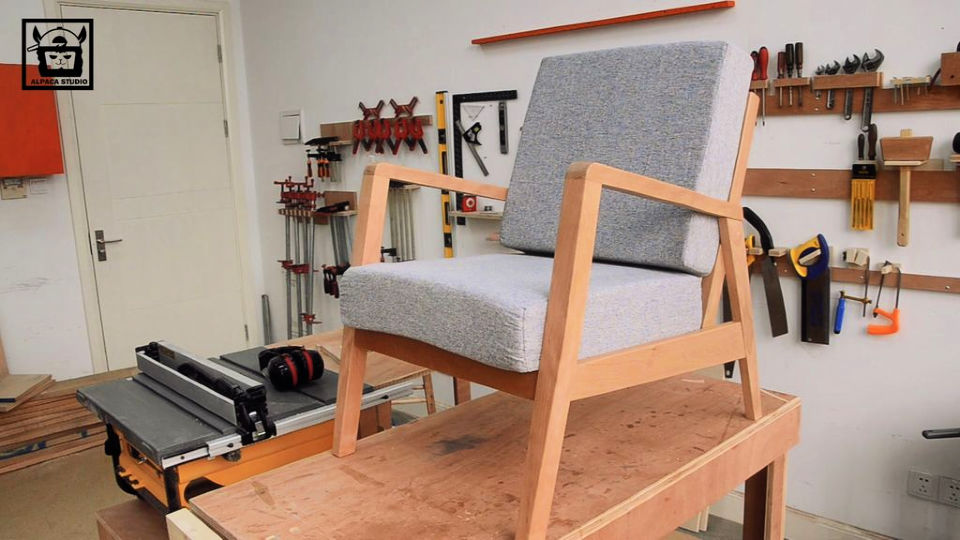 A mid-century modern armchair seems like the perfect beginner woodworking project! This guide of woodworking projects for beginners will show you how you can make it step by step with real-life images and detail. It also has a video tutorial in it. Certainly, which will be a great addition to your living room. instructables
25. Address Number Wall Planter
Simple address plates hanged outside the house are common. Make a difference by creating a different address plate. An address number on a wall planter looks pretty and refreshing. It gives a welcoming vibe to the guests. You can either plant some leafy plants or flowery ones. shanty 2 chic
26. Free Outdoor Chair Plans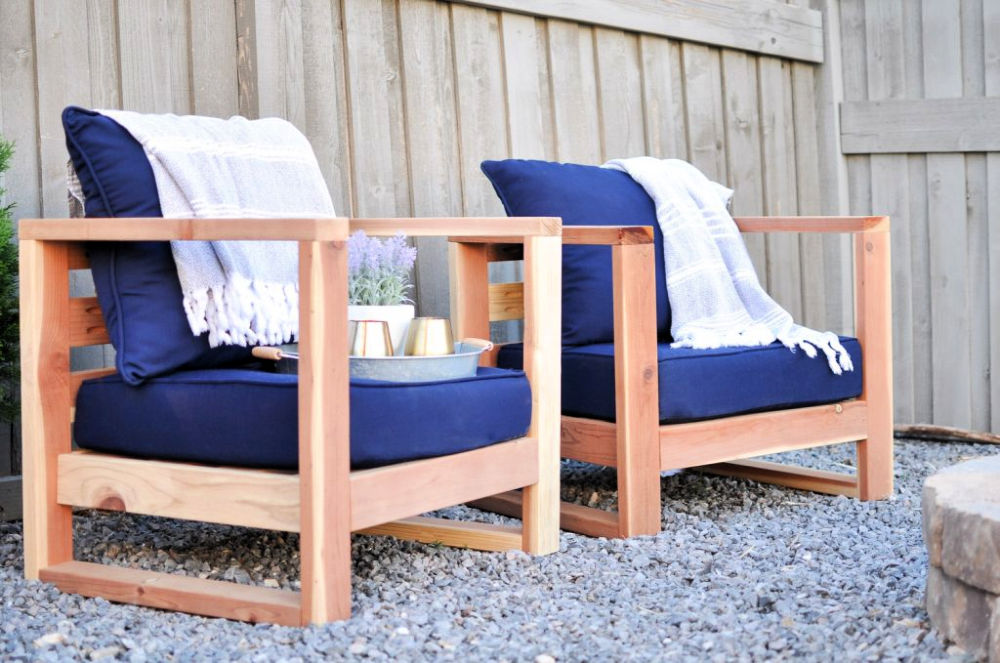 The best use of wood is to craft some furniture out of it!! One of the easiest DIY using wood is the creation of chairs. Chairs for the lawn are necessary to relax after a tiring day. Make some chairs for your outdoor area using this Free Outdoor Chair Plans and rewind while sitting on them. cherishedbliss
27. Easy Birdhouse Plans
Birdhouse made from wood is a simple yet very interesting DIY project. You can involve your kids as well in these beginner woodworking projects and enhance their love for birds. Birds will visit the house, and the constant chirping of theirs will keep your space alive. This easy birdhouse plan is straightforward to implement. skiptomylou
28. Build a Reclaimed Wood Crate
Want to get rid of some junk of wood lying in the backyard? Try this project of a reclaimed wood crate. You can use these crates to organize your stuff, lying everywhere without a home. If you have some nails and a drill machine, your work is almost done. funkyjunkinteri
29. Beginner's Wood Photo Display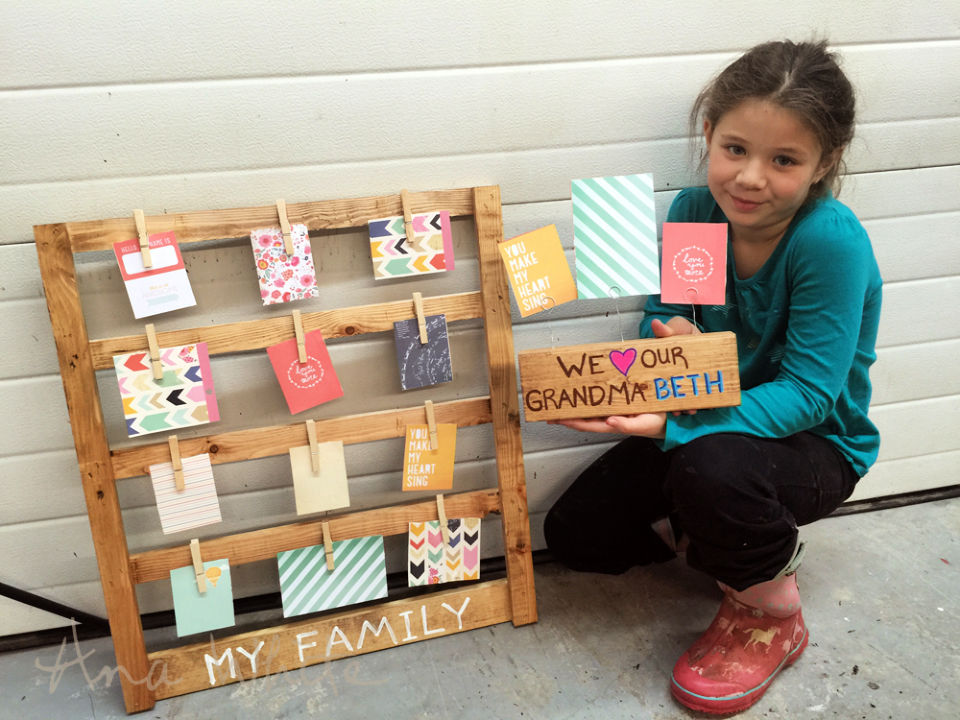 An amalgamation of memories in frames is one best thing to look at and cherish. This wood photo display will gather all your pretty photos together in one frame. You can make it quickly and gift it to your loved one as well. It surely will be a thoughtful gift. ana white
30. Stackable Fruit & Veggie Crates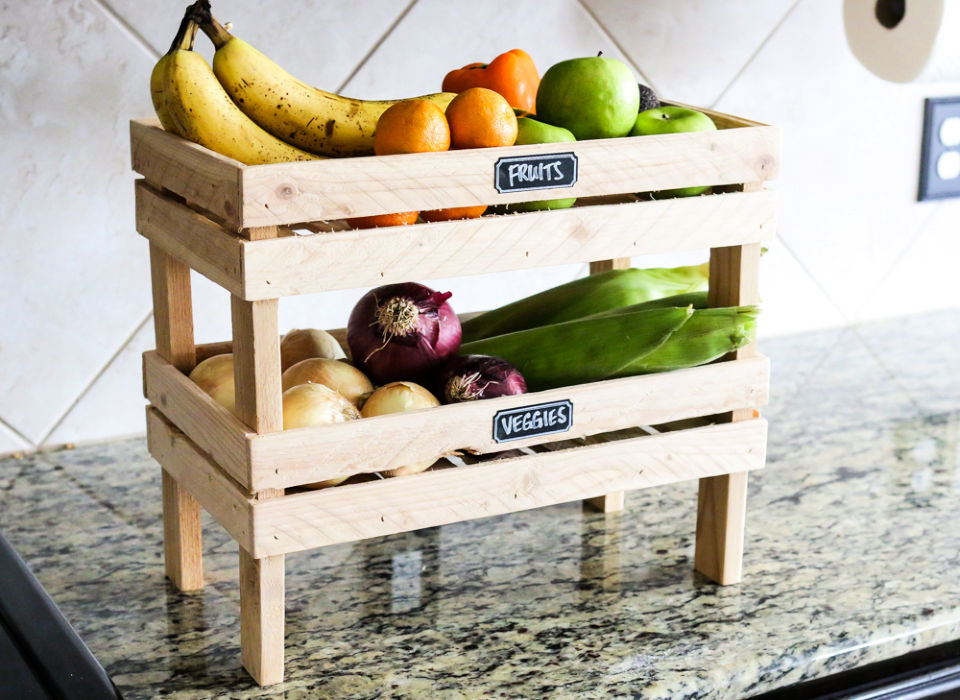 With this stackable fruit and vegetable crate, you will never have to worry about finding the right place for your fruits! As this crate is made out of pallets and with gaps, perfect air circulation, check!! It will make the crate airy from the bottom. Supplies required are lath boards, brad nails, circular saw, hammer, and boards. jenwoodhouse
31. Rustic V Wall Decor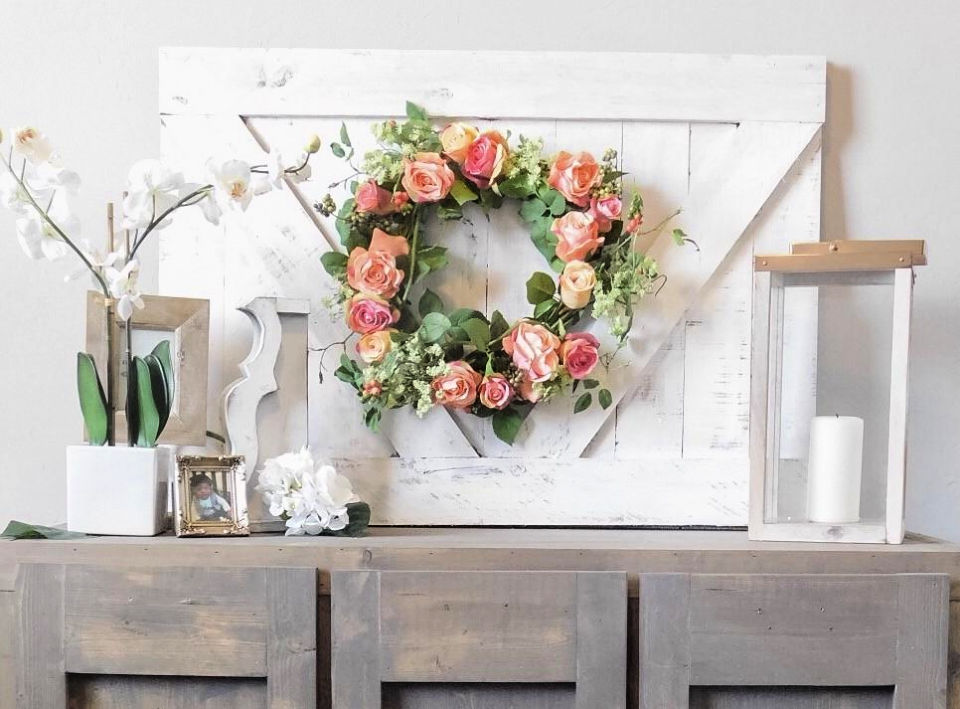 Who doesn't hate empty walls? If you do too, then good, you are in the right place. Check out this superb rustic V wall decor that will revive the wall with a farmhouse feel to your living space. The project is highly doable and very simple, just follow the instructions right from the link below! handmade haven
32. Bath Tray With Book Rest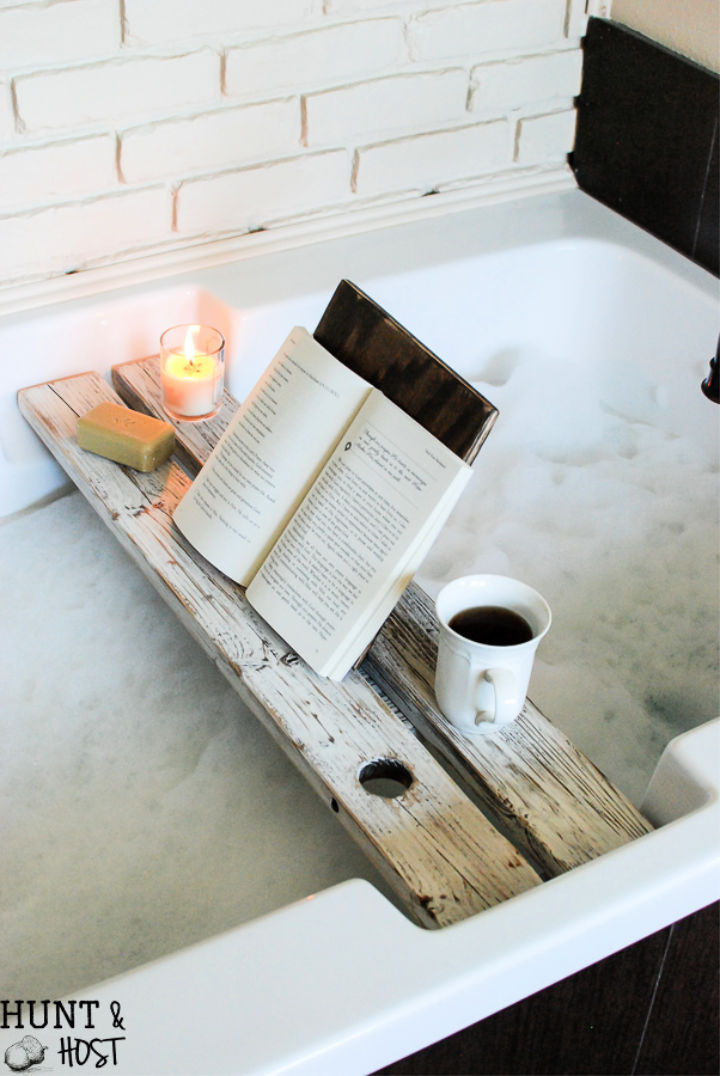 What is more soothing than a relaxing bath after a long hectic day? But what if you add something more lavish in your bath. This bath tray with book rest will make your bath even more pleasing. DIY it without any high carpentry skills. Just check out the instructions and get started! huntandhost
33. DIY Industrial Jewelry Organizer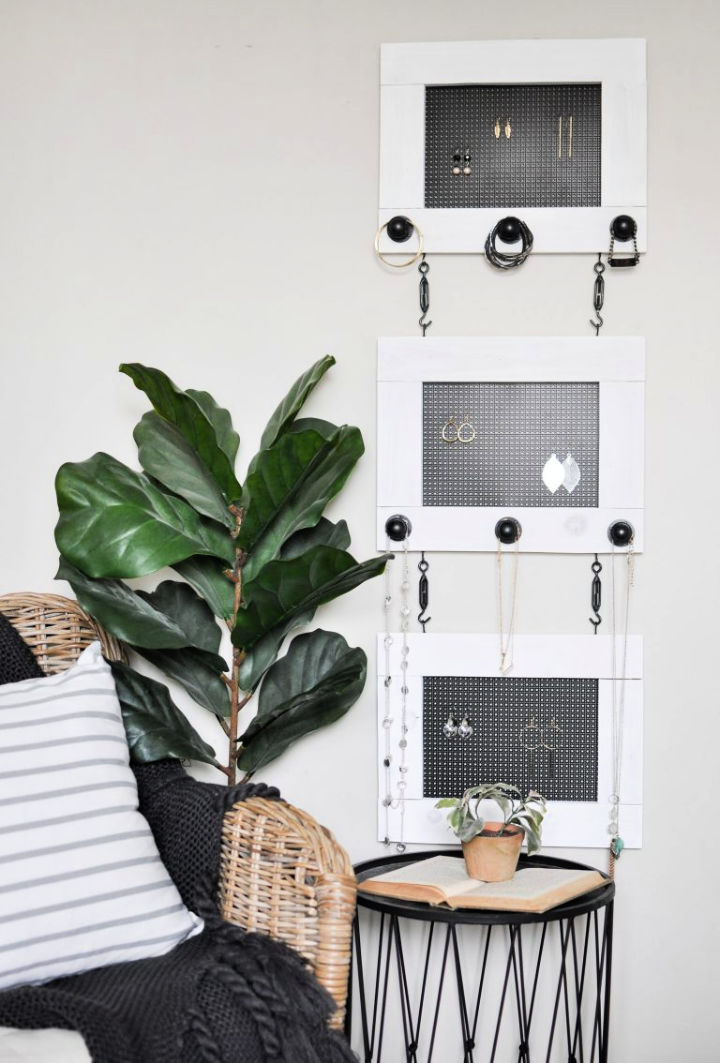 Do you love to stay on top of your being an organized game? That is why you need this DIY industrial jewelry organizer in your life. Categorize your expensive, formal, and informal jewelry with this jewelry organizer. Supplies you will need are corner braces, knobs, aluminum sheets, orbit sander, and turnbuckles. cherishedbliss
34. Pottery Barn Bulk Bins
Kids at home means a flood of toys here and there! Inspired to take control of the situation with a bulk bin exactly the same you might have seen at Pottery Barn. There you go! Materials required are plywood, brad nails, edge banding, miter saw, table saw, safety glasses, and hearing protection. rogueengineer
35. How to Build a Shoe Cubby
Get your shoes the designated place they need!! But, if you have not any shoe cubby at your home, build one. The free plan here will walk you through all the steps to help you in building a shoe cubby trouble freely and single-handedly. Gear up and get started! bybrittanygoldw
Make more money with your hobby by just following these woodworking projects that sell and can give high profit.
Conclusion About Beginner Woodworking Projects:
A beginner? Always wanted to do woodworking? Well, then these beginner woodworking projects will surely keep you occupied for a while! The best part about woodworking is that you're never bored! You're always thinking about your next project, and it has your mind occupied at all times. It is recommended to invest in some basic tools like a table saw, jigsaw, etc. You're going to enjoy this lots more by keeping your mind open to new possibilities and beginner woodworking projects!