The outdoor decor of the house should be focused as much as the interior. Adding a little furniture to the outdoor space, patio or garden can increase the overall beauty of the home. These simple, easy to make 150 homemade DIY outdoor furniture plans will assist you to save your money and build low-cost outdoor furniture for your area by yourself. If it's raining or mesmerizing wind is blowing, you can enjoy it by sitting on your furniture. What better enjoyment you can think of? Rainy day, a cup of tea and hot fries; the recipe for complete enjoyment. Certainly, a relaxing chair, sofa, bench or DIY patio furniture will help you relax more with tea and fries during a rainy day.
The DIY furniture that will suit your outdoor space depends on the area you have got. These easy to build DIY outdoor furniture plans will let you decide the furniture according to the space demand. If you don't have a shed, then a wood bench will do fine, as the change of weather won't affect it. But if you have a covered place, then a piece of proper furniture consisting of chairs or sofa will make your space look fantastic. Furthermore, you can decorate your furniture by adding small tables and embellishing them with miniature plants or small pots.

Learn how to build this styling DIY outdoor furniture, including a full-sized outdoor sofa, farmhouse dining table, garden bench and DIY coffee table. It is an easy build with free plans! You don't have to be an expert woodworker to take on one of these 150 woodworking projects for beginners. Every wood project includes free plans and tips for success.
1. Outdoor Sectional Furniture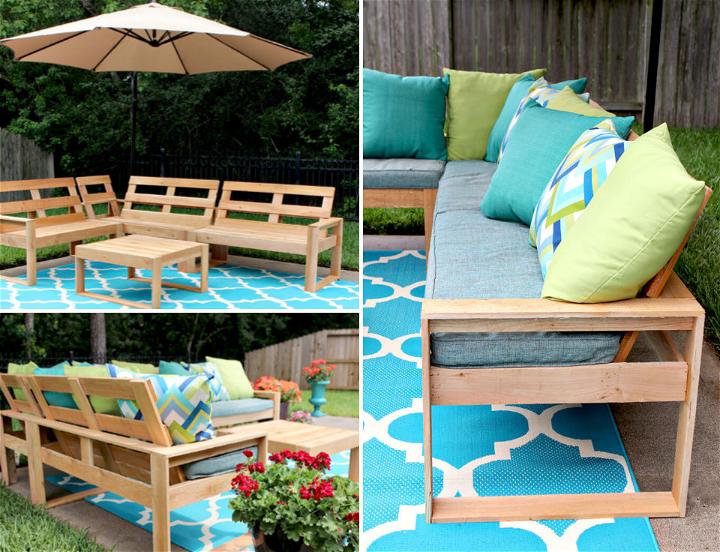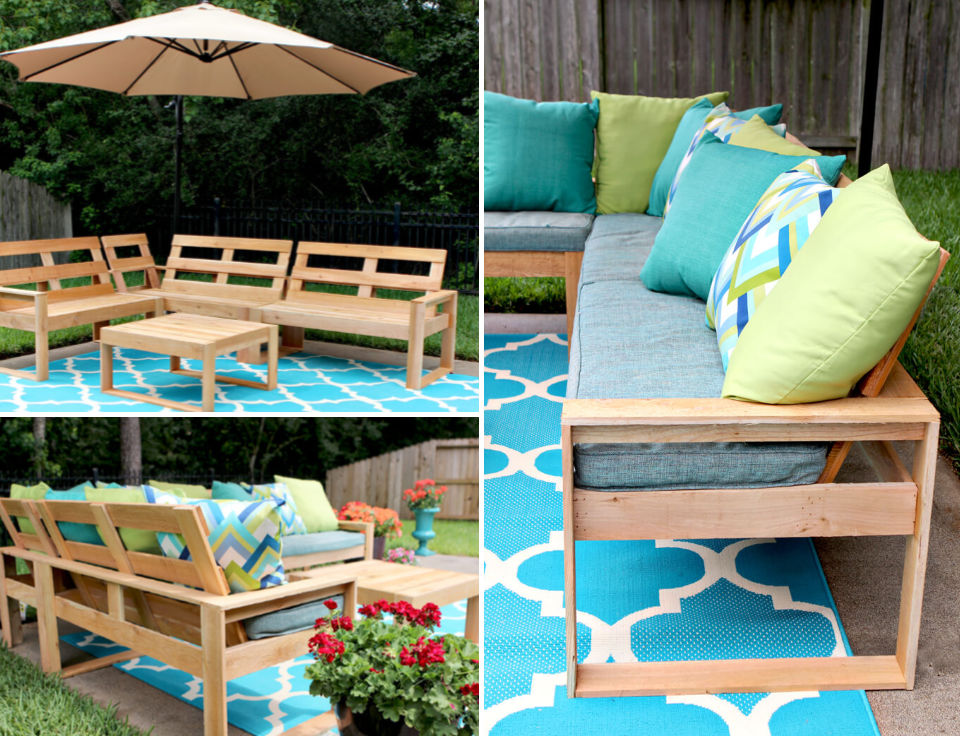 DIY Sectional patio furniture is an add- on into your lifestyle that generally not so many people consider, but you should. By offering the highest comfort level, this DIY outdoor furniture idea on $100 sectional L shaped furniture provides the class of your living room on your patio. grayhousestudio
2. Modern DIY Outdoor Sofa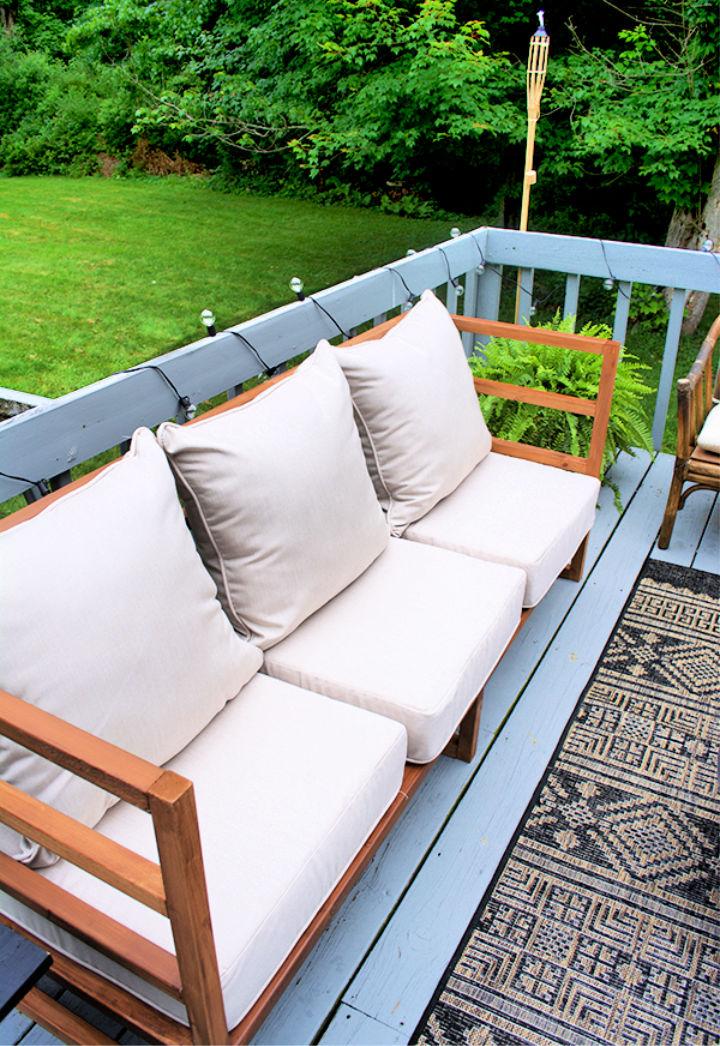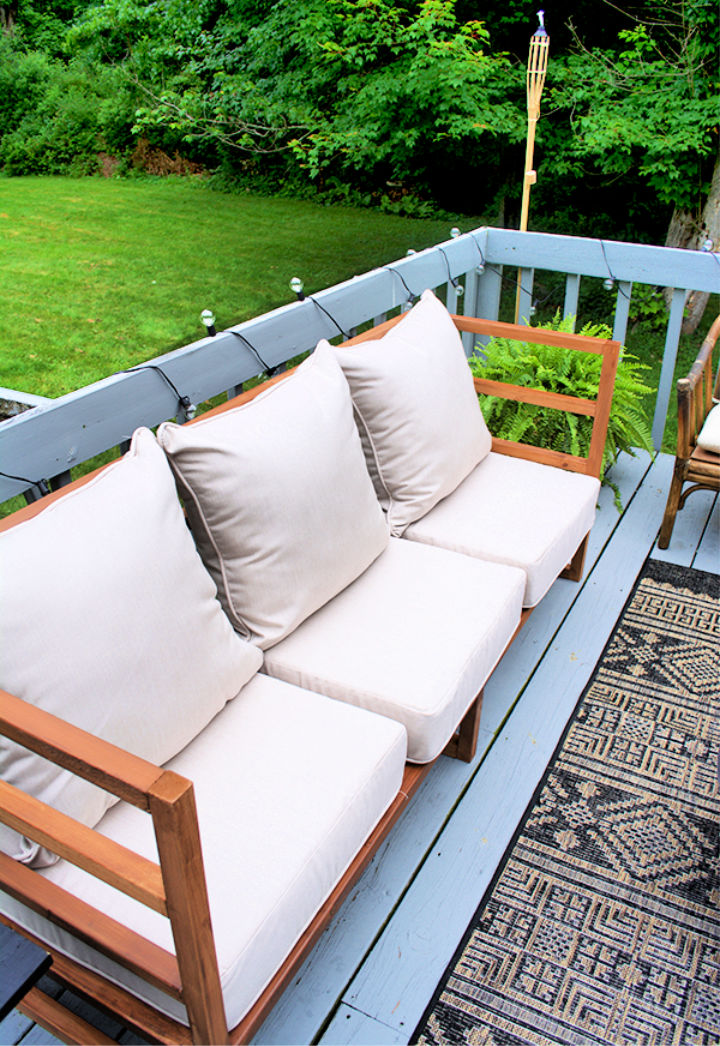 Planning to do a little makeover with your patio this weekend, how about adding some nice handmade Modern outdoor sofa to it as well. One of the finest DIY outdoor furniture ideas to enjoy with family and friends as you relax by the fire pit on cold winter days or nights. brepurposed
3. DIY Picnic Table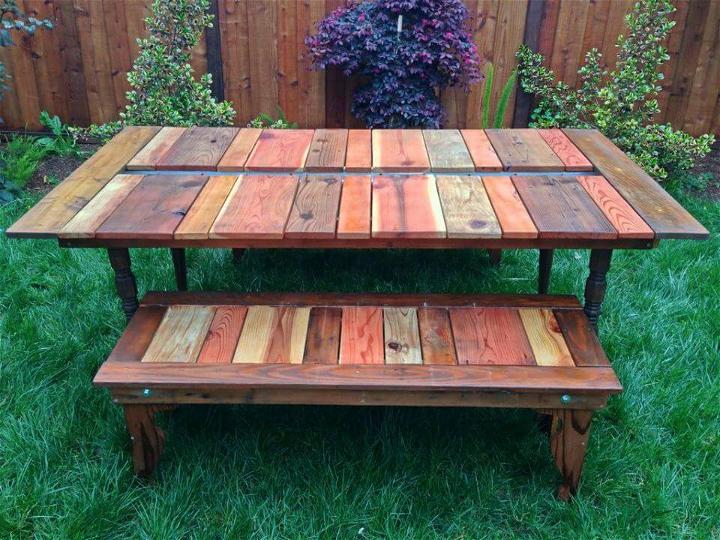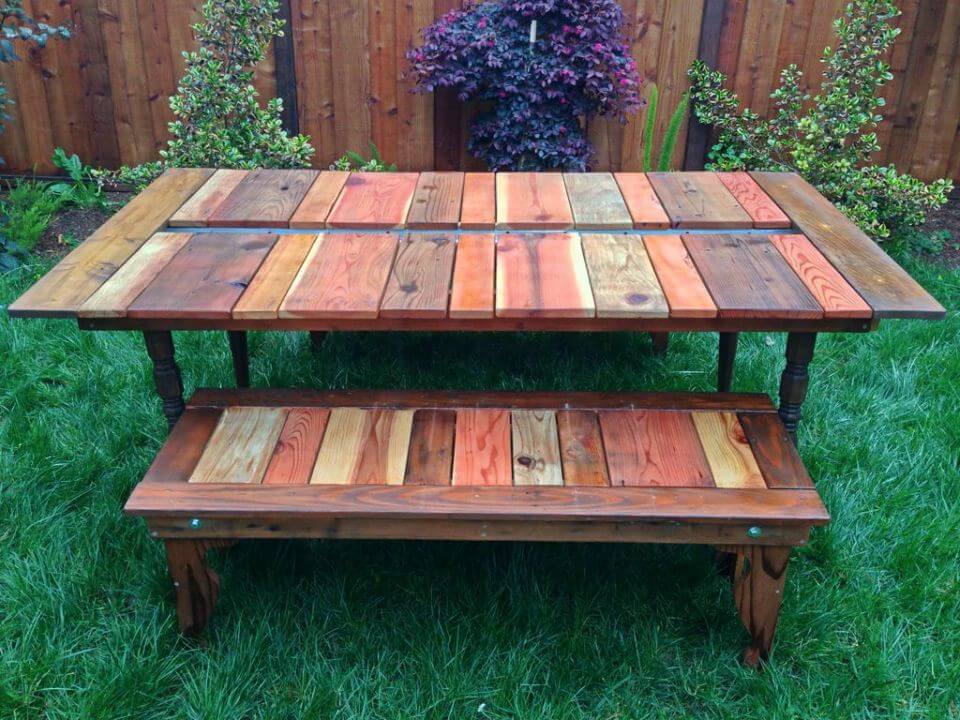 This DIY reclaimed wood picnic table is perfect for outdoor entertainment and fun! With a cooler installed in the middle perfect to store your drinks in it to keep them cold or as you like. The picnic table tutorial will guide you as to how you can make this cool table with benches in a matter of a few days. instructables
Do you want to build a unique picnic table? then These free DIY picnic table plans will help you build a backyard retreat in just one weekend. All of the free plans and step by step instructions include.
4. Build Your Own Outdoor Bar

Planning a get-together party with friends this weekend? A nice wooden outdoor bar would be an excellent choice to present the drinks to the guests. This tutorial on the outdoor wooden bar is for those people who like to experiment with these DIY outdoor furniture plans at home. bonvivantbaby
5. Make Outdoor Cabana Lounge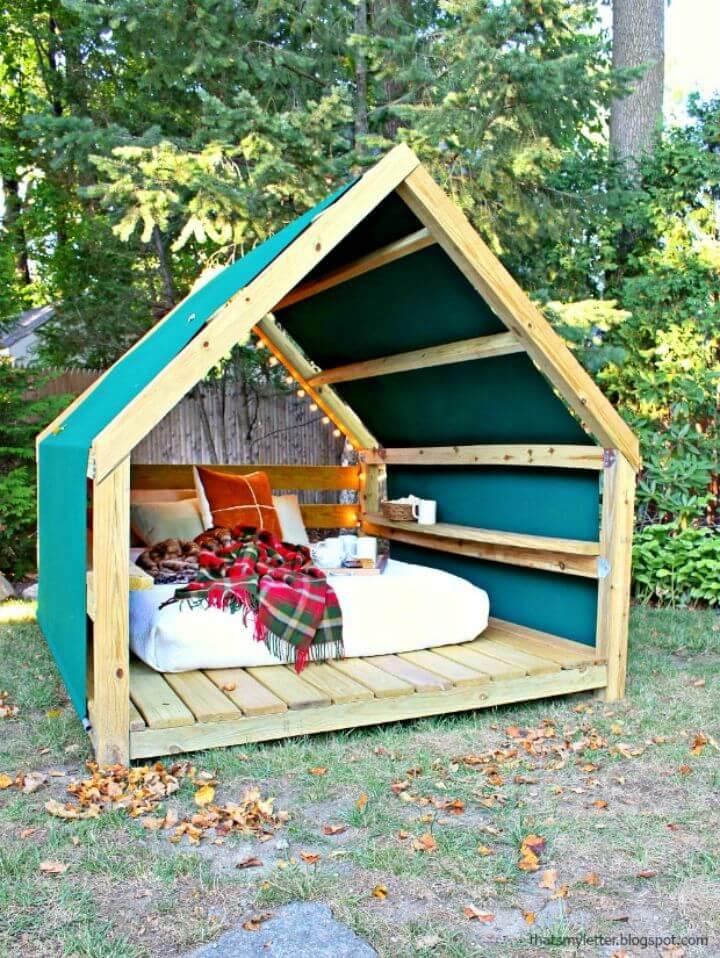 Create a backyard fun treat for your kids this summer with this outdoor cabana lounge. With its hut shaped wooden structure, this DIY Outdoor house will be one of the favorite spots for the kids to have some summer fun. jaimecostiglio
Moderate DIY skills are needed to build outdoor cabana lounge! These DIY wood projects are adjustable so you just need woodworking tools, simple plans and start building.
6. DIY Outdoor Chair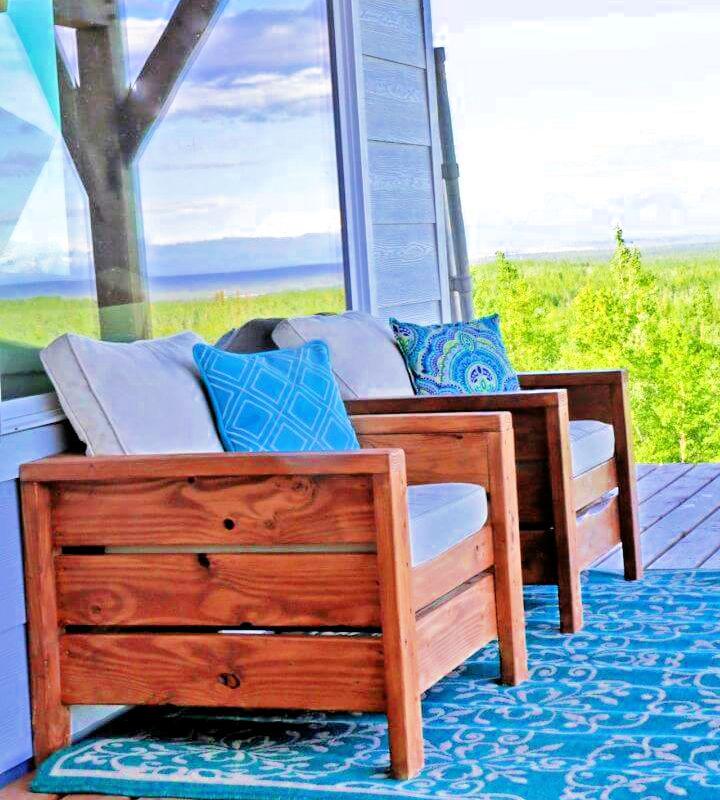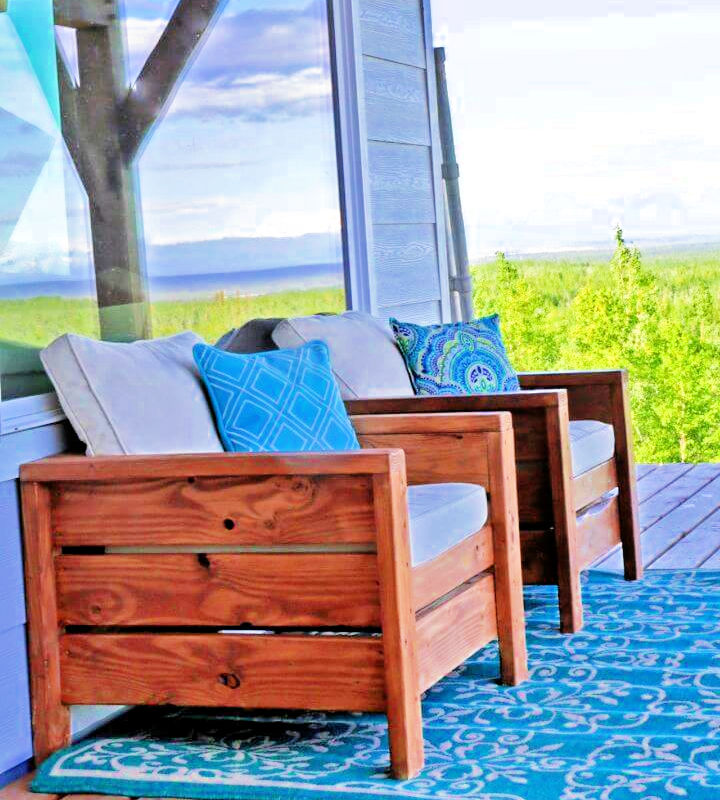 Planning to spend some alone time in the countryside or by the beach, a nicely made DIY Wooden chair to relax by the sound of water or to see a sunset is not a bad idea. This wooden chair can be made in some simple steps, and as you are finished, you can carry it with you to your destination as well. ana white
7. DIY Potting Bench for Garden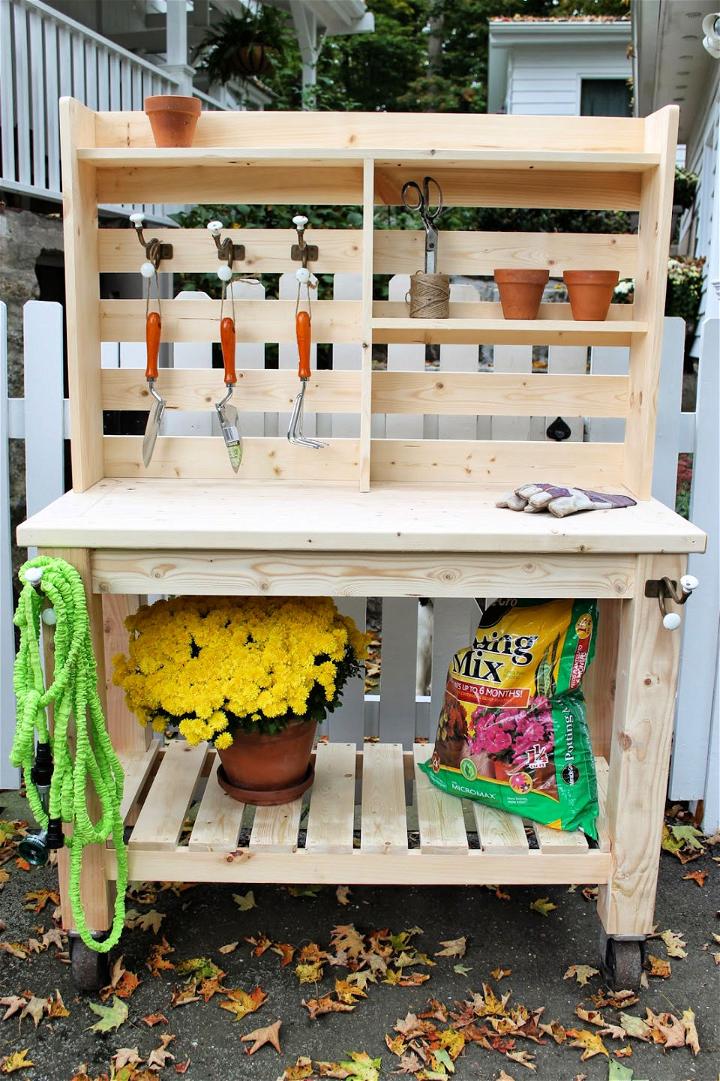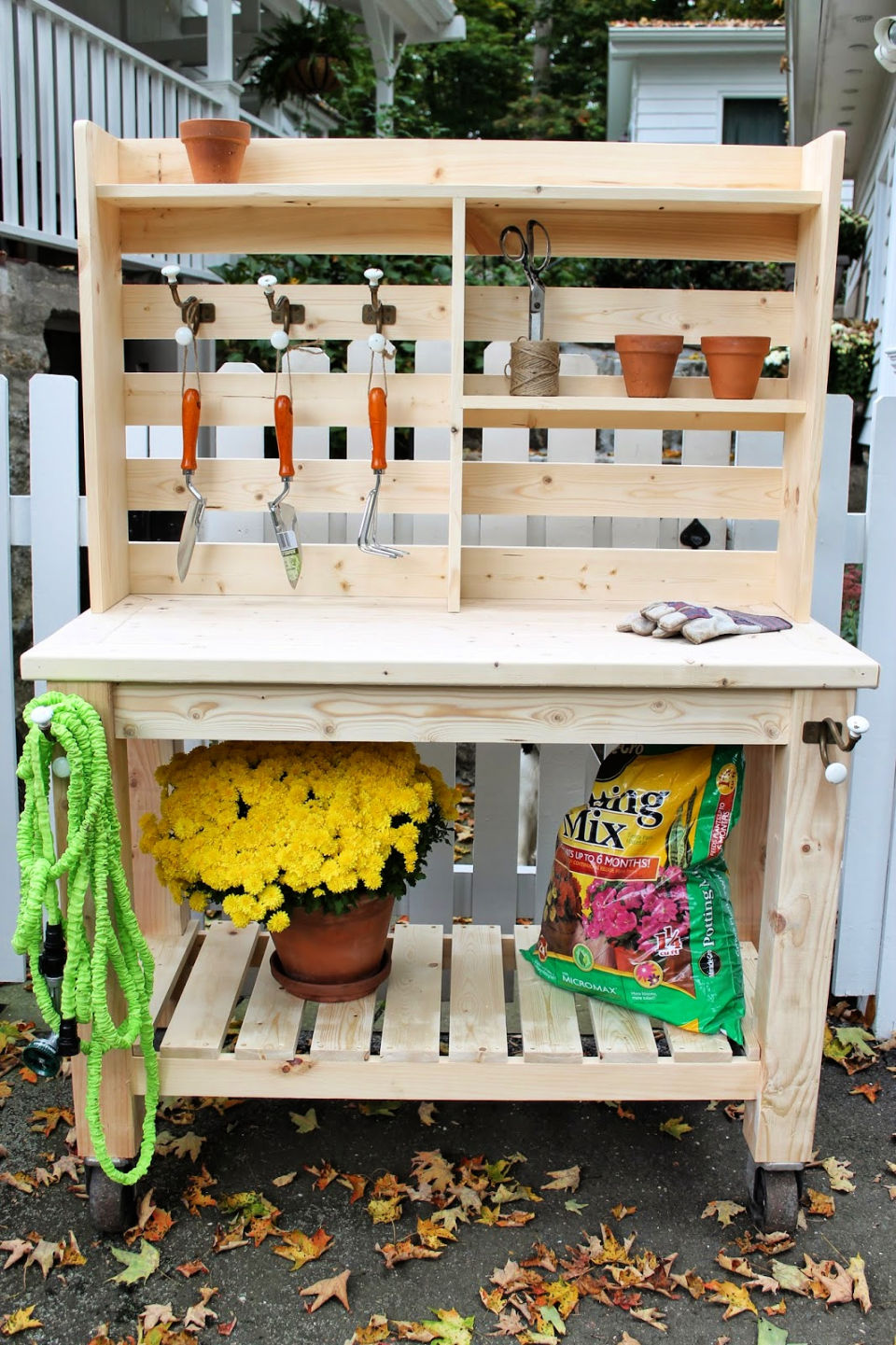 If you are someone who loves to do some landscaping and mini planter assembly in the backyard! This potting bench tutorial on creating your own potting bench will come handy for your work. This potting bench can be one of those DIY outdoor furniture where you can work and have some fun of your own.
8. Outdoor Patio Table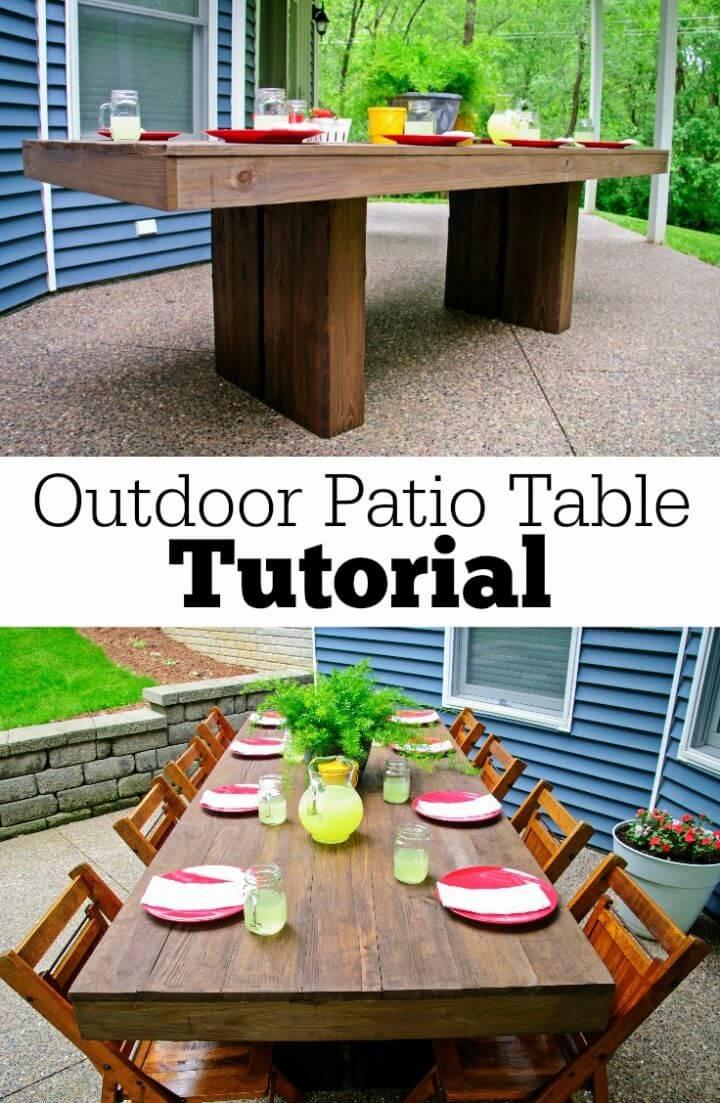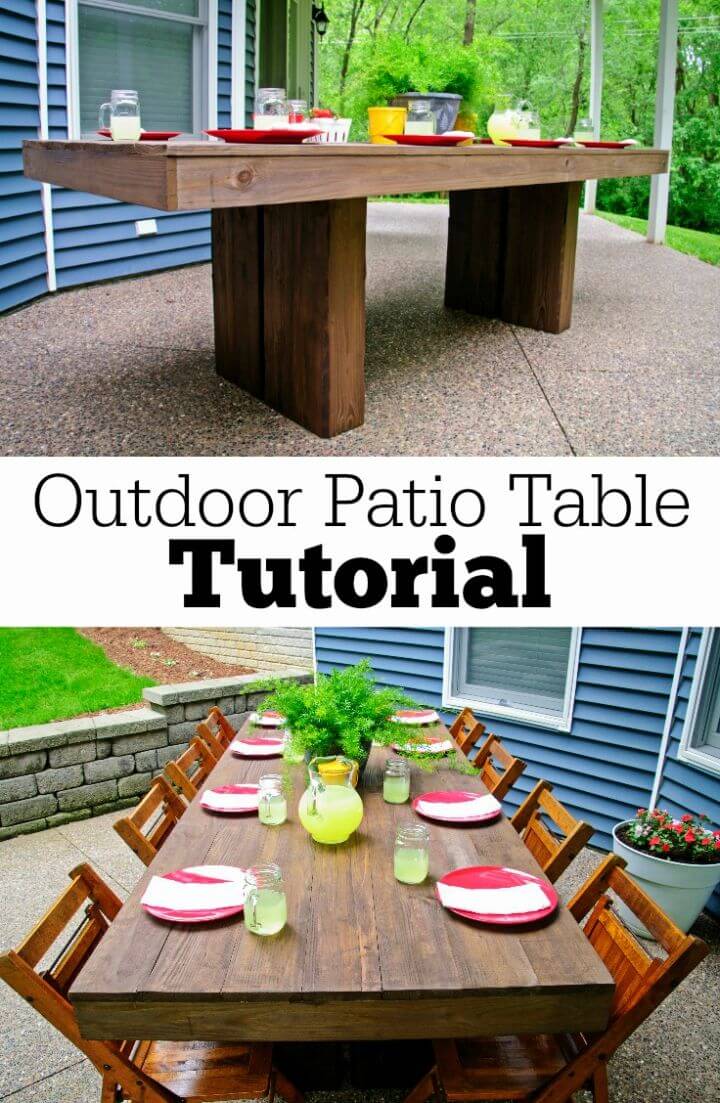 Patios are one of those outdoor design work that enhances the overall look and feel of any home outdoor. Well, you can also enhance the experience by adding an outdoor dining table to your patio. So you can sit and have lunch or dinner at night with your family in the sky. decorandthedog
9. Build a Hexagon Cedar Bench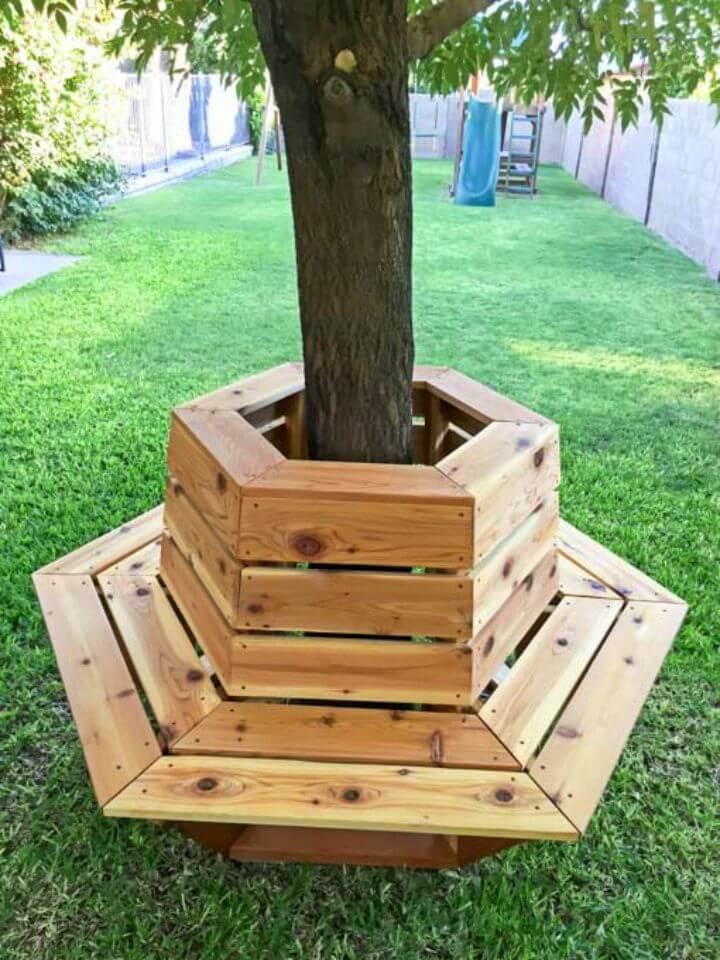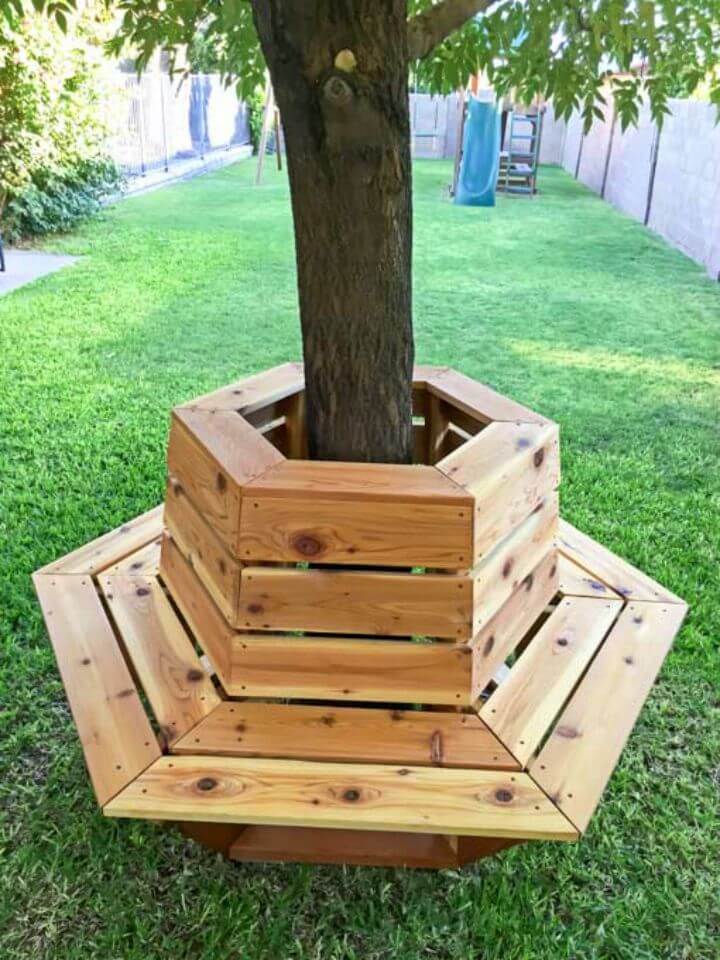 Check out this fantastic hexagon cedar wood made bench tutorial! Perfectly ideal for all those outdoor family gatherings where you all can sit together and have some nice chit chat session. Put some nice wood polish paint on it to give it a nice look and feel. addicted2diy
10. Outdoor Cabana

Planning to spend a beautiful summer afternoon with your family or loved ones? This fantastic DIY project on a homemade outdoor sofa and bench is perfect for you to lounge in the open air! Or you can drape them too if you need some privacy or personal space. homedepot
11. Outdoor Bench

Just like indoor furniture, this whole guide help you build cheap DIY outdoor furniture. If you want to add a sturdy and firm outdoor furniture in your patio to place your little outdoor decor elements, this outdoor bench is an ideal option to go for. Even your mailmen can put your mails on it so you can access them when you get to see them. cherishedbliss
12. DIY Outdoor Sofa

For most furniture brands, an outdoor sofa is something that costs a lot. And for most of us people budget is always that one constraint that we consider before purchasing anything. So this tutorial on an inexpensive outdoor sofa is for all those people who want to stay in budget. paydaycvc
13. Simple Dining Table

Ana white has brought up a straightforward and nice outdoor dining table hack for all those who want to enhance their outdoor dining experience at home. The link here can tell you how you can make your very own dining table in simple steps and what size of wood and what kind of wood is suitable for you to get along. ana white
14. Outdoor Table Under $65

Who would have thought that you can create your very own Outdoor dining table in just $65? This tutorial right here from shanty 2- chic will help you as to how you can use the minimum budget and get the fantastic product for your outdoor dining experience. shanty 2 chic
15. DIY Outdoor Sofa Table

Are you someone who is always into decorating home with nice decor elements and rustic interiors? Well, this wooden console is an ideal way to place your things in your patio and enhance the overall look and feel of your outdoor settings. h2obungalow
16. DIY Outdoor Sectional With Built-in Coolers

L Shaped Sectional sofas are perfect for huge gatherings. This tutorial on a sectional sofa with built-in drinks cooler is the perfect summer party hack. Just place the sofa in the backyard, and you can have a little party of your own with friends. rainonatinroof
17. DIY Round Outdoor Dining Table

An outdoor dining experience is full of fun. It's more exciting when you create a wooden table all by yourself. Just like the tutorial here for an outdoor dining table, you can craft your own dining table with solid wood legs. It's perfect for serving more than 6 people easily. jaimecostiglio
18. Make Wooden Crate Outdoor Table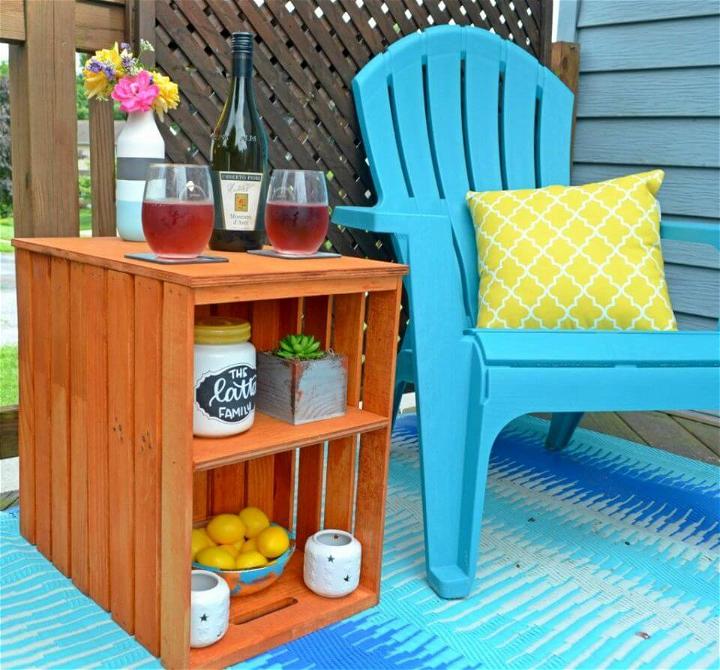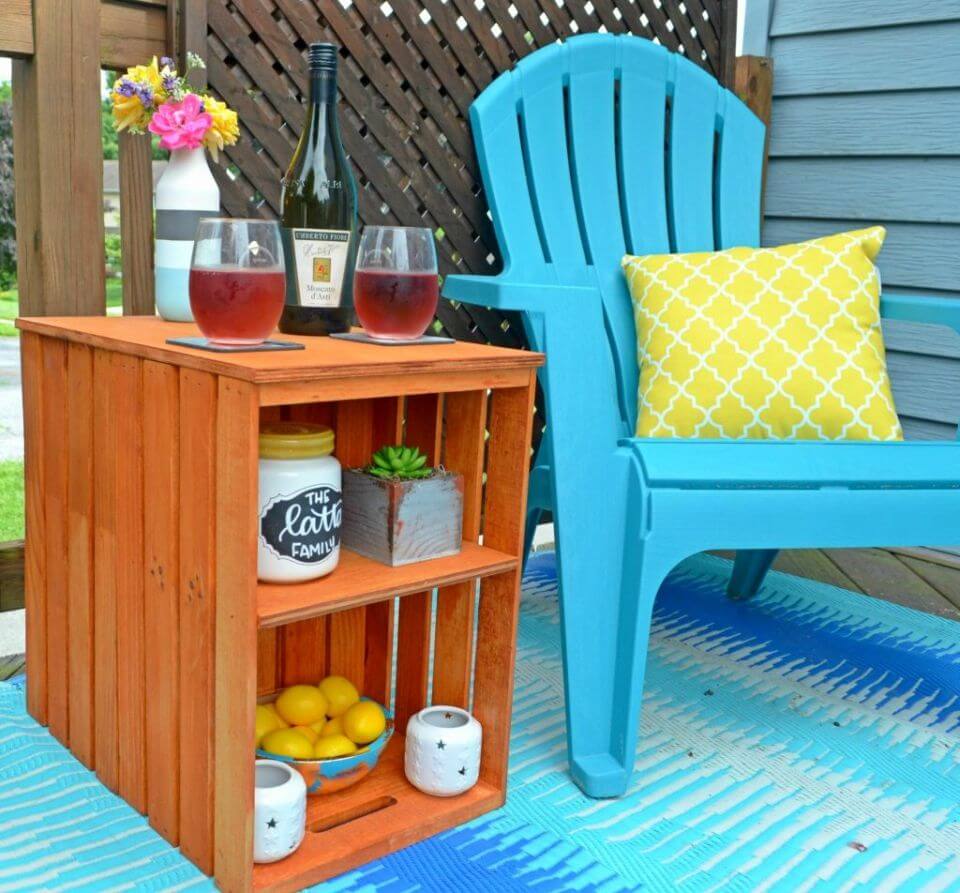 This fantastic outdoor table made out of just simple crates is one of the unique DIY outdoor furniture plans that anyone would love to make. This minimalistic crate table can be used as an end table to place drinks or cutlery! Whenever you are resting on your armchair by the fire pit or when lazing around soaking the sun. amylattacreations
19. How to Build Outdoor Single Lounger

A lounge chair is a perfect outdoor essential that you would love to rest in on a lazy Sunday. It's a must-have in every house that has a swimming pool. The craft is straightforward to create, is lightweight, and its height can be adjusted too as per your liking. Create your own lounge chair as done here. ana white
20. Make Hang Relaxing Porch Swing

As kids, we used to love swinging in the park with our friends. In order to recall the good old times, create your own hanging porch swing. Kids will love to swing on it in their free time, and also, you can have some good time on a nice pleasant day. juliapalosini
21. Easy DIY Picnic Table

Here is an easy picnic table plan that will get you a solid, traditional wooden picnic table in a matter of a few days. The table is made up of 2×4's, and it is enough to seat a whole family. theownerbuilder
22. Make Pallet Sectional for Outdoor Furniture

Apart from just sorting things, a wooden pallet has lots of possibilities to offer. The tutorial right here will get you equipped with steps as to how to make your very own pallet outdoor sectional sofa. The supplies which will be needed include lots of pallet wood, nail gun, table saw, stain sealer, and hinges. liketheyogurt
23. DIY Outdoor X-stool or Table

Decor settings that offer 2 in 1 characteristic are often complimented. Just like this outdoor X stool that can also serve as a table to place anything on it. This outdoor table is handy and can be made in easy, simple steps. ladygoats, This is the perfect beginner woodworking project for you.
24. DIY Patio Table With Drink Coolers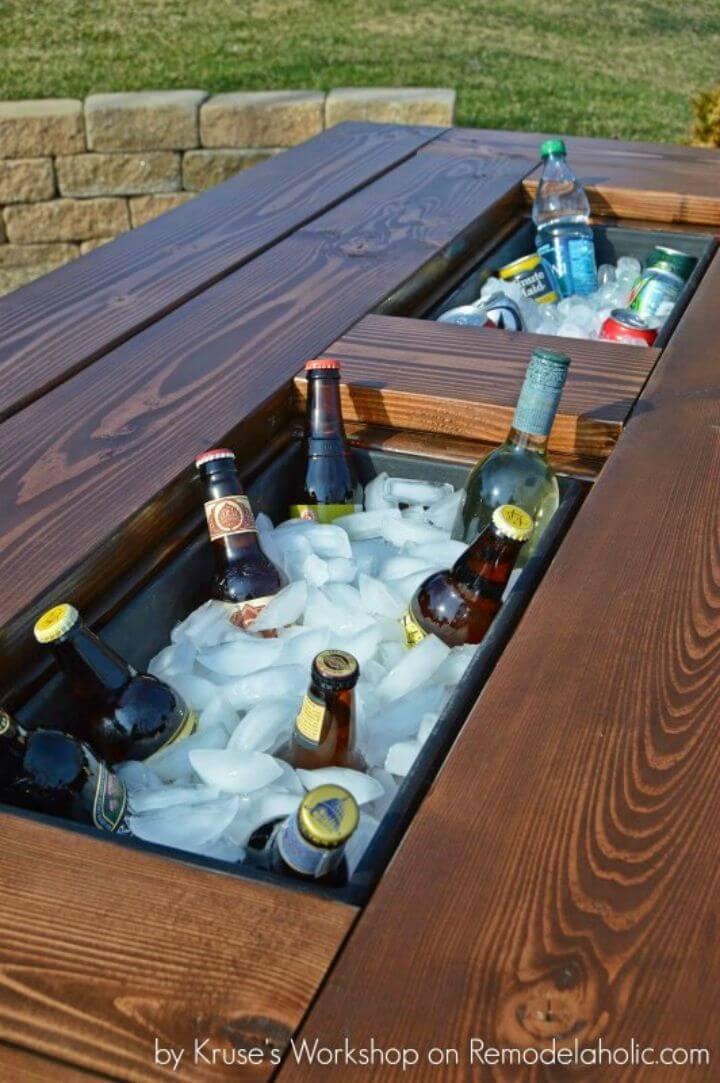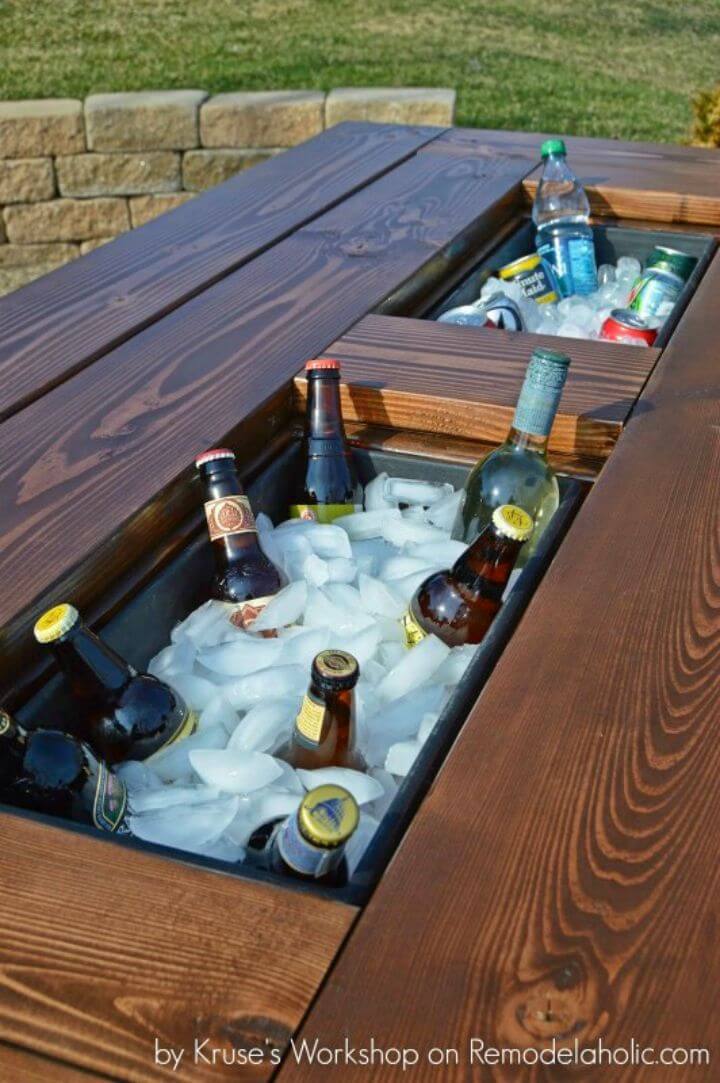 Who doesn't love a nice chilled bottle on a summer evening? This patio table with build in drink cooler is perfect summer hack to have some fun with friends and family. You won't be needing to rush to the refrigerator all the time to fetch a drink when you are dining on this rustic art piece. remodelaholic
25. Industrial Wood and Steel Console

Create your very own DIY outdoor furniture with a mix of both industrial and wood. Perfect to compliment a rustic outdoor theme, get yourself a nice wood and steel console. Place some faux or fresh flowers on it to complete the look. jenwoodhouse
26. Simple DIY Wire Basket Side Table

A wire side table is something that is a neat, easy, and minimalistic outdoor table that you can use in your daily operations. Create your own side table by using the supplies mentioned in the tutorial and present cleanly and neatly. theshabbycreek
27. Build a Curved Fire Pit Bench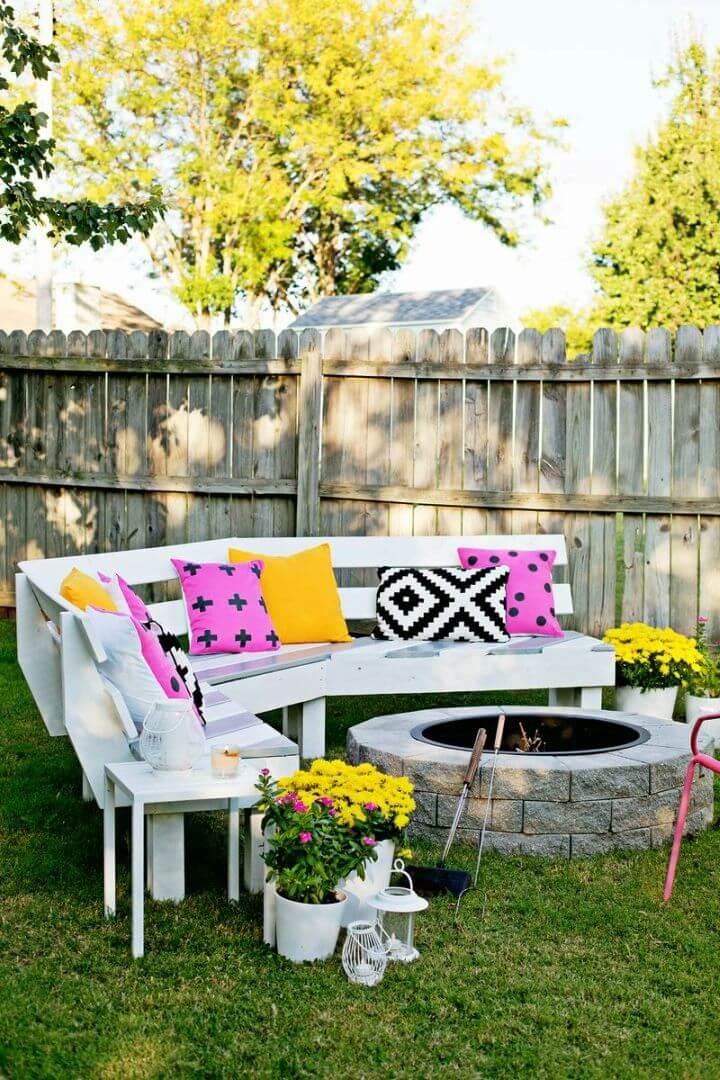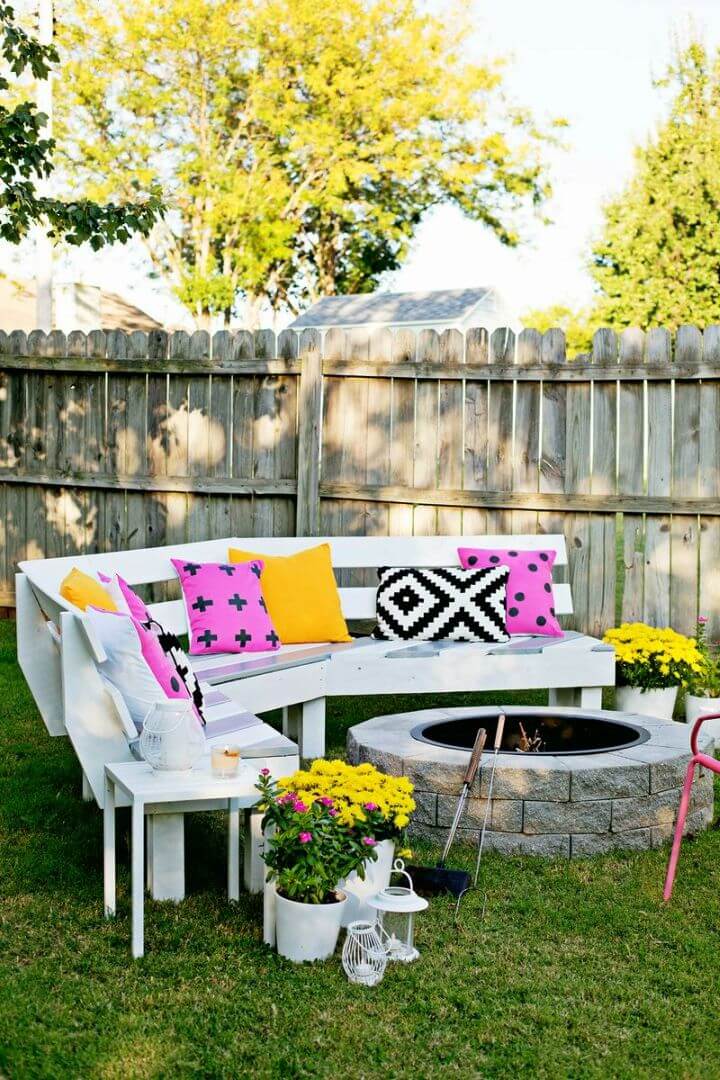 Winter nights are cold, and if you are someone who loves to spend some quality time with friends and family, this DIY outdoor furniture is a must for your backyard. This curved shaped bench is perfect for a huge gathering to sit by the fire and enjoy some warmth. hgnv
28. DIY Outdoor Chaise Lounge

Soak some sun this summer season with this chaise lounge chair. A piece of ideal DIY outdoor furniture to place by the poolside. Add some cushion on top of it for added comfort. The shape of this lounge chair is designed in a way that cradles your body and keeps you from falling down. buildsomething
29. How to Make Pallet Wooden Sofa

Create some rustic outdoor sofa from wooden pallets at home, this craft is one hell of simple homemade DIY Hack to get equipped to this weekend. Later you can place this sofa in your patio and enjoy the beauty nature has to offer. funkyjunkinteriors
30. DIY Herringbone Dining Table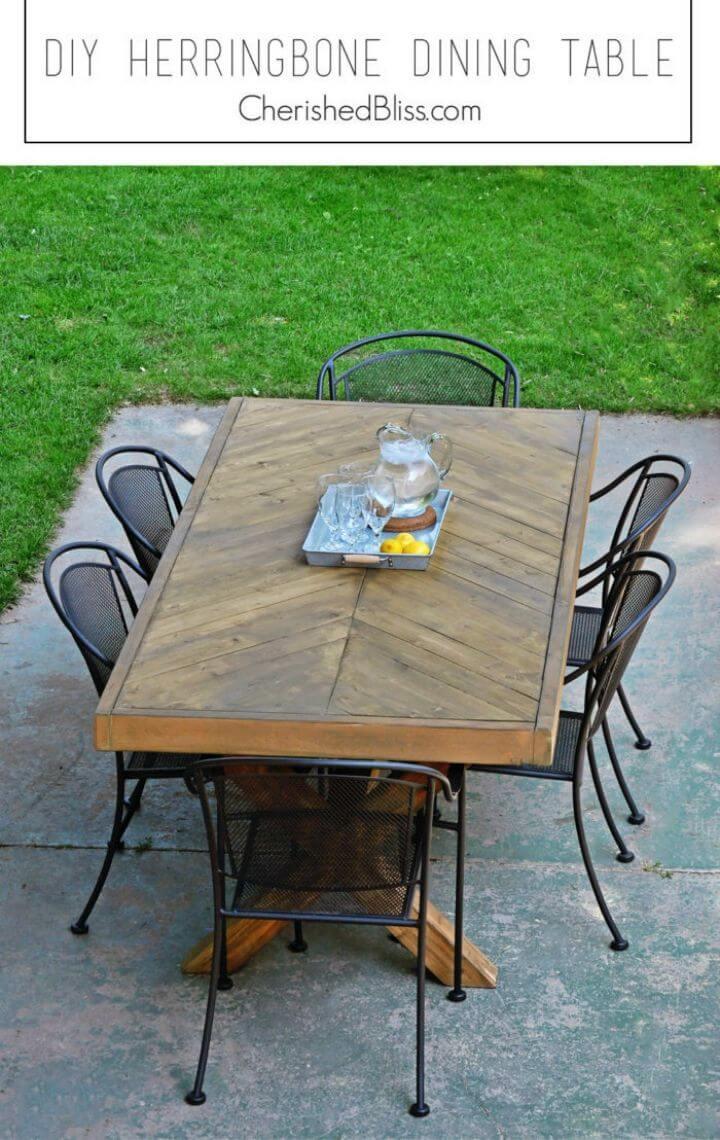 A sturdy and functional outdoor dining table is something everyone should have in their house. This herringbone dining table is one of those solid wooden crafts that will compliment your outdoor living style. It's an ideal place for all the family to come together and dine together. Create yours as done here. cherishedbliss
31. Build Your Own Outdoor Couches

An outdoor couch is one of the perfect DIY outdoor furniture items that are perfect for spending summer evenings. The tutorial here will show you how you can build your own couch in simple steps, at home with the help of minimal accessories. honeybearlane
32. DIY Free-standing Hammock Stand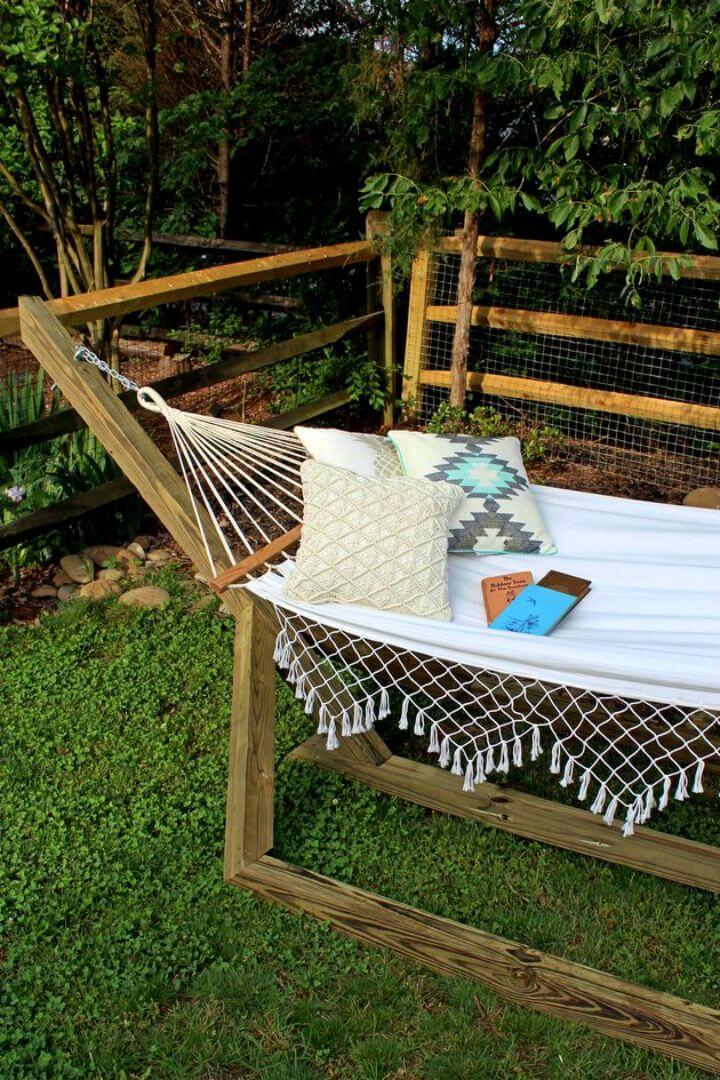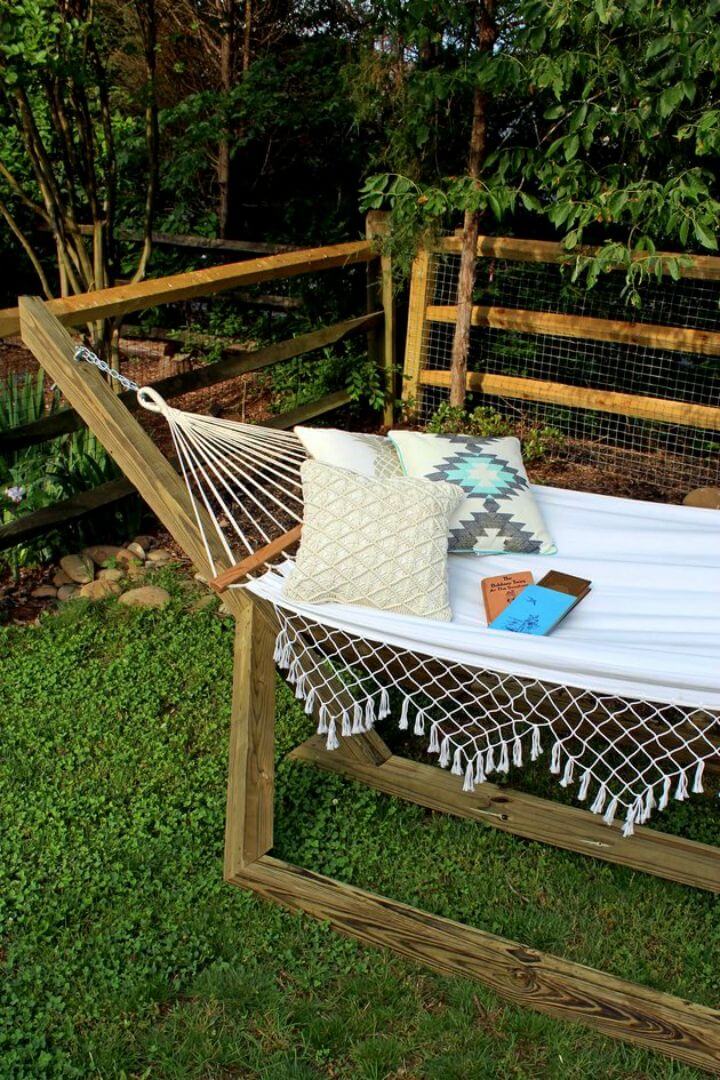 After a long day at work, there is nothing better than coming home and relaxing in your very own homemade hammock. Having a perfect nap in the summer breeze, it couldn't get any better than this. To sustain this handmade hammock, you will need a solid stand to support it, get it done as completed in the free tutorial here. hunker
33. Outdoor Pallet Coffee Table

Free wooden pallets gives a variety of benefits, they tend to support heavy pieces of equipment! Also, help you to make your very own homemade outdoor furniture. Create a coffee table made out of wooden pallets in a relaxed and straightforward way possible, as done here. southernrevivals
Instead of spending a lot of money on a coffee table, consider making your own pallet coffee table. Use discarded wood pallets, and with a little woodworking skills.
34. Amazing DIY Grass Bed

For all those people who have a concrete floor backyard, and all they fancy is to lay down on the grass and soak some winter sun. This grass bed is for all of those people who long for some green in their house. Just lay down some soil and grass in the bed as done in the link, and you can get yourself a bed made out of the grass at home. mymodernmet
35. How to DIY Pallet Table

A Wooden pallet furniture is one of those crafts that are free, durable and can be used as a piece of DIY outdoor furniture as well. This crisp white DIY Pallet table in the tutorial is one of those crafts you can make at home. All you need are few wooden pallets, Timber, Safety glass, wood saw, screw, drill, hammer, sanding paper, and some wood paint for the final touch. bridgman
36. How to Build Corner Bench

Planning to spice up your oddly sad home entrance with something rustic and chic? This wooden corner bench would be a suitable add on for welcoming the guests or whoever drops by at the main entrance. Create your very own corner bench in simple steps as done here. remodelaholic
37. Modern DIY Outdoor Bench

DIY furniture are fun to work on, exceptionally, if they are being crafted for your own house. This outdoor wooden bench is a perfect DIY craft to work on this summer. You don't need any screws or bolts to hold the wood together, just follow the tutorial and you are good to go. diycandy
38. Make Your Own Hypertufa Outdoor Table

Create your very own outdoor hypertufa table that is a planter and has a wooden top too. With its solid molded planter in the bottom, the table gives a sturdy structure to compliment the concrete floor in any outdoor space. homedit
39. Inexpensive DIY Pallet Swing Bed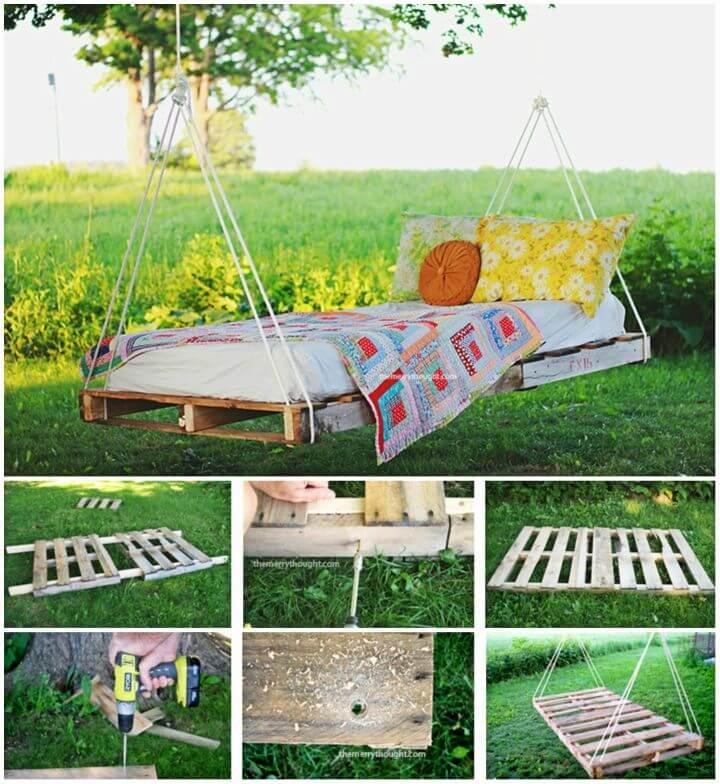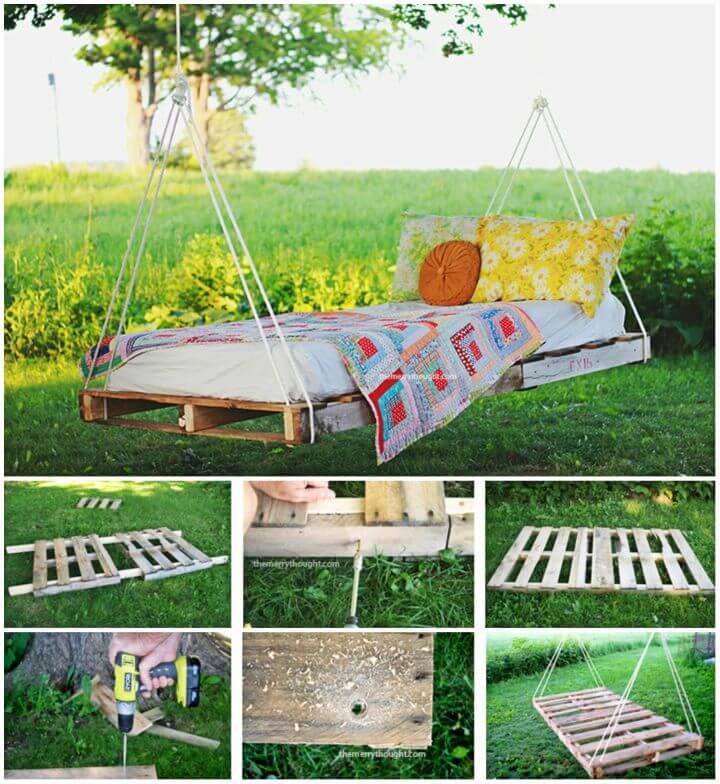 A DIY Hanging bed can add a lot of personality in any space. Also, it is less expensive than most of the hanging beds you can find in different furniture stores. This inexpensive pallet made the hanging bed is perfect DIY outdoor furniture that can be placed in your porch or in your garden so you can rest and have some "me time." themerrythought
40. How to Make Log Lounger

Making yard waste turn into something useful is somehow contributing back to the environment. Just like creating a wooden log lounger chair out of those logs that you were thinking to throw away. With its rock-solid structure, this log chair will be a piece of ideal DIY outdoor furniture to rest. homemade
41. Easy to Make Garden Armchair

It's always fun and budget-friendly when you can make use of something that was thrown away or was not in use. Just like this old fruit crate, that has been remolded into a garden armchair. The tutorial will show you how you can use the home available supplies and make your own garden chair. enthusiasts
42. DIY Vintage Chair Drink Stand

Transform your party into something more creative and rustic this summer. With this vintage chair turned into a drink stand, you can make your parties more exciting, and guests would love to have some drinks from this stand. ohmy creative
43. Wooden Pallet Chillout Lounge

Wooden pallets have always been a useful resource in any household. As a matter of fact, they can also be used to make a beautiful outdoor chill-out lounge. It's a perfect space where you can sit with your family and friends and have some quality time. frecklesandfluff
44. How to Make Outdoor Storage Bench

Outdoor parties are fun and exciting. Still, it's challenging to manage all those outdoor party decor elements when it rains or if any unforeseen climatic change happens. In order to overcome this issue, all you need is a storage box and a bench, so you don't need to run all the time to hide those beautiful cushions of yours. sandandsisal
45. Quick DIY Patio Table

A nicely paved patio is something that all modern houses require as part of their outdoor living. You can always enhance the overall look and feel of your patio! By adding a lovely DIY Wooden end table to place your teacups or any floral decor pieces, just to give a complete look. camelotartcreati
46. Build a Garden Love Seat

A nicely crafted and comfortable love seat is one outdoor craft that every garden must-have. In order to create your own wooden outdoor love seat, pinewood would be an excellent option to craft it. Follow the link here to craft your own love seat. home dzine
47. DIY $35 Wood Chaise Lounges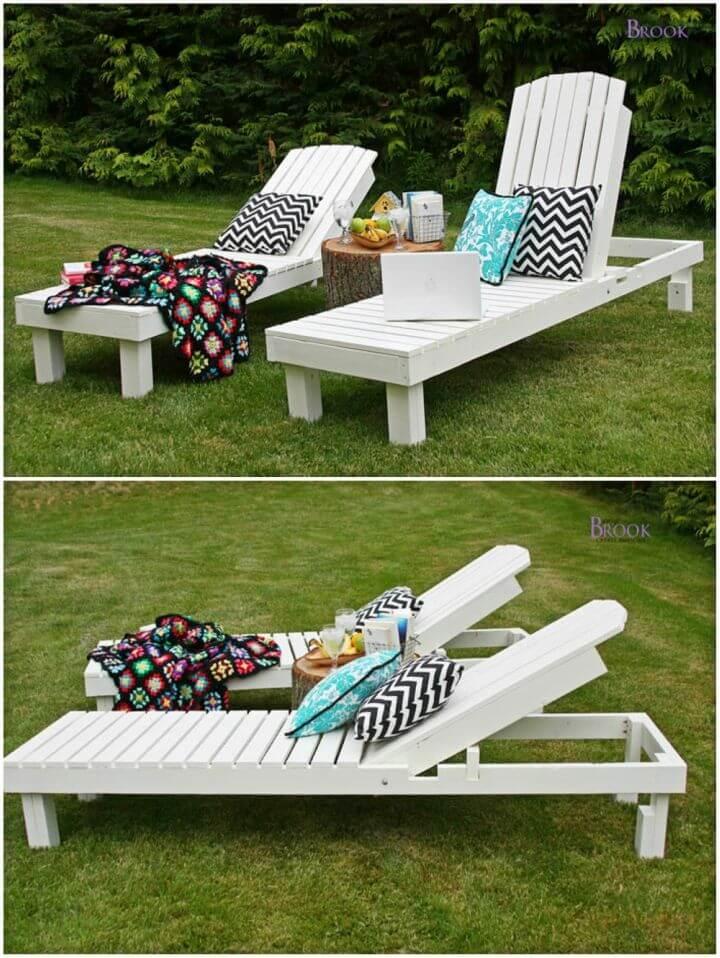 Wooden chaise lounge chairs are the perfect addition to any outdoor area. These chairs provide a variety of benefits for all seasons. Transform your boring outdoors into something modern with these chaise lounge chairs, and create them at home with a minimal budget just like in the tutorial here. ana white
48. Easy DIY Back Porch Seating

Thinking to transform your empty space into something useful? How about adding a nice and comfy seating space at the corner. It can be a perfect spot for you to enjoy the summer breeze or a nice cup of coffee by winter evening. Create your own back porch seating as done here. apartmenttherapy
49. Wooden Crate Storage Table

Wooden crates offer a lot of variety in different packaging items of daily use! They also can come handy in creating your own DIY Storage table. This tutorial right here will show you how you can transform your old wooden crate into a storage table in just a matter of a couple of minutes. simplicityinthe
50. How to Make Adirondack Chair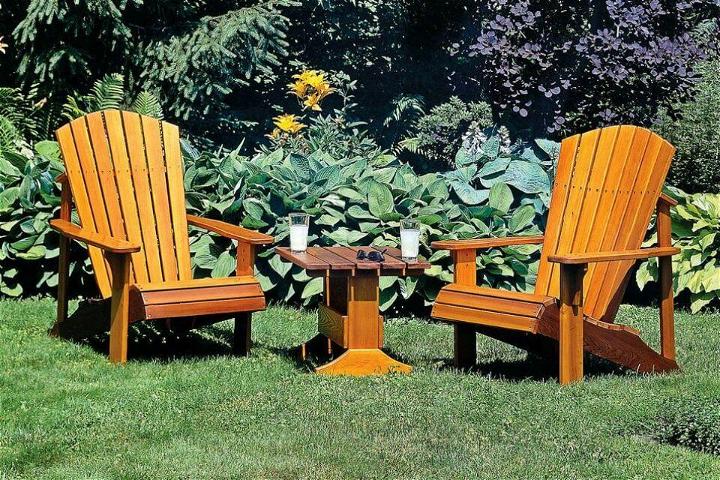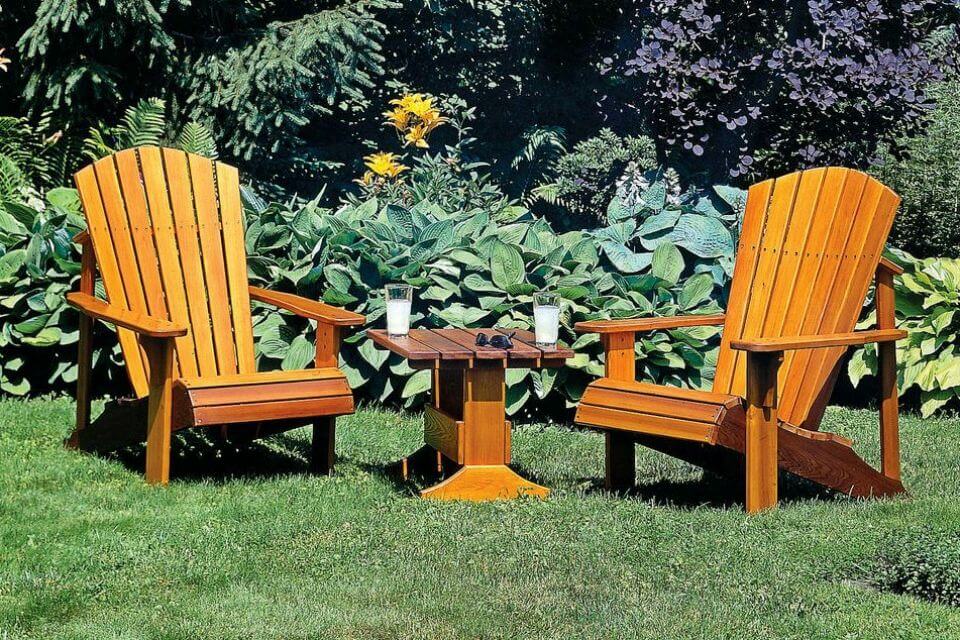 Adirondack chair made with cedar wood and with its wide slats is a perfect outdoor chair! With its wide armrest and slatted back, the seat offers an excellent outdoor experience while you sit back and relax. It can be one of those poolside chairs you must-have for your next pool party. instructables
51. Herb Garden Coffee Table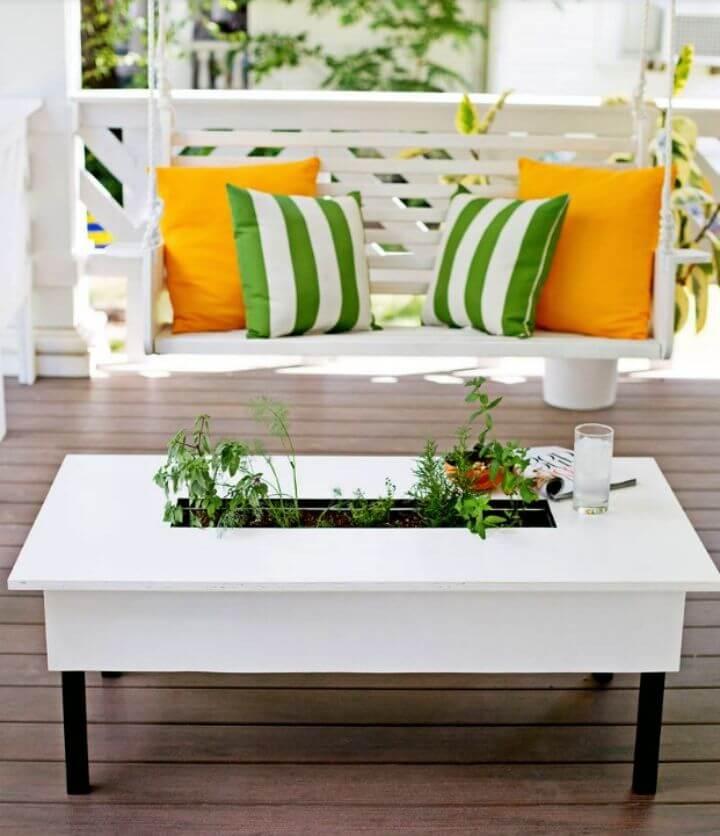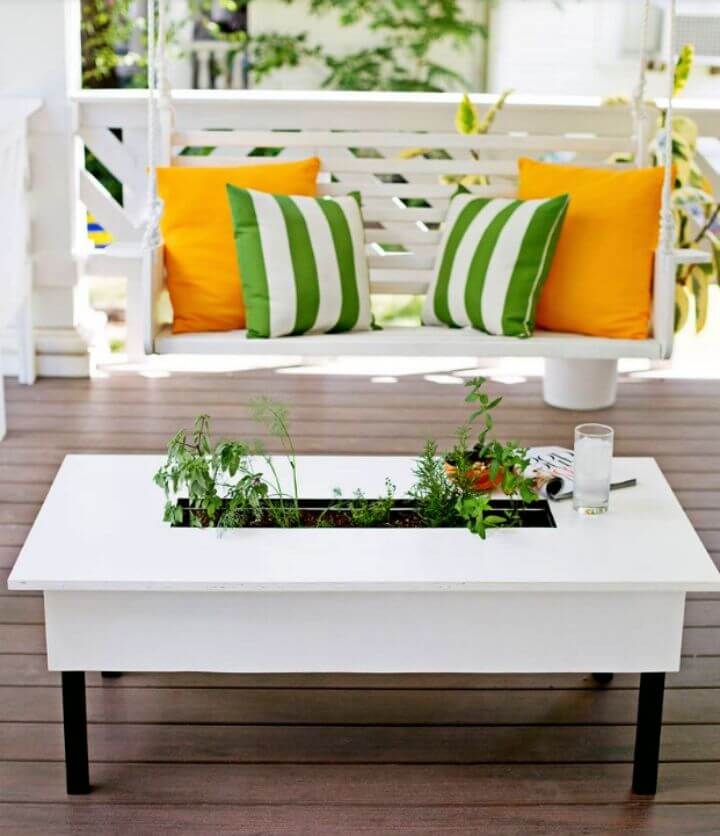 Add a customized touch to your patio with this herb coffee table, perfect for those who like to have some coffee or tea in the evening outdoor. You can pluck some mint and add into your tea, just for some sweet minty flavor. abeautifulmess
52. DIY Outdoor Movie Theater Seats

The movie theater is fun and amazing to spend some free time with your friends and family. It gets more exciting when you can have some theater experience at home. Create your own homemade backyard theater in simple steps as done here. notjustahouse
53. Make Your Own Patio Day Bed

Patio daybeds are an ideal outdoor spot for you to lounge outdoors. Use some wooden pallets to create the base of the daybed and install a comfy mattress above it for added comfort. Create your DIY homemade daybed in simple steps as done here. lovelygreens
54. $45 Outdoor Adirondack Chairs

There is nothing more cheerful than relaxing in an Adirondack chair. With its beautiful wide slats and elevated seat, check out this tutorial on an inexpensive Adirondack chair. It is for all those people who are looking to create some customized addition to their backyard within budget. savedbylovecrea
55. Affordable Outdoor Sofa

Ana white always has some excellent homemade DIY Solutions for all of us! This time this tutorial on making an affordable outdoor white sofa is for all those who want to spice up their outdoor experience at their home. ana white
56. Homemade X-brace Side Table

Side tables or most people refer to as end tables are a useful side piece for any furniture. They serve as a major source to place lamps, books, tea, and daily usage items. This Tutorial on X Brace side table with a concrete top is perfect for those who are looking for outdoor side tables on a budget. rogueengineer
57. Easy to Build a Fire Table

An outdoor fire table is always an excellent option for outdoor get-togethers! It provides you room to sit with your loved ones and have some quality time. Especially during winter nights, this fire table would come handy. Create your own as done here in the tutorial. familyhandyman
58. Quick DIY Outdoor Rolling Cart

Rolling carts come useful when you want to serve someone with style. An outdoor rolling cart would be an excellent addition to the outdoor patio, so whenever guests come, they can be served as they deserve. Create your own DIY Rolling cart in simple steps and by using simple supplies. anythingpretty
59. How to Build Potting Table

Who doesn't love a sweet BBQ on the weekend with family, especially if it's done in your home backyard? This tutorial on a potting table is an ideal DIY option for all those who are loved to do some grill fun and love to make those juicy steaks. ladygoats
60. Outdoor Planter Box

You don't have to be an expert in horticulture or landscaping. With this tutorial on DIY planter box, now you can make your house entrance feel livelier. These green planters are very easy to make part of your patio or your driveway. They will give more of a close to nature vibe too. cherishedbliss
61. How to Build Garden Side Table

Side tables are an important part of your furniture settings that can be used as supporting furniture. If placed in a garden, they can be used to display nice floral elements, some nice green faux, and decor pieces. These garden side tables are one of the outdoor essentials everyone should have in their outdoor area. ehow
62. Awesome DIY Bench and Arbor Combo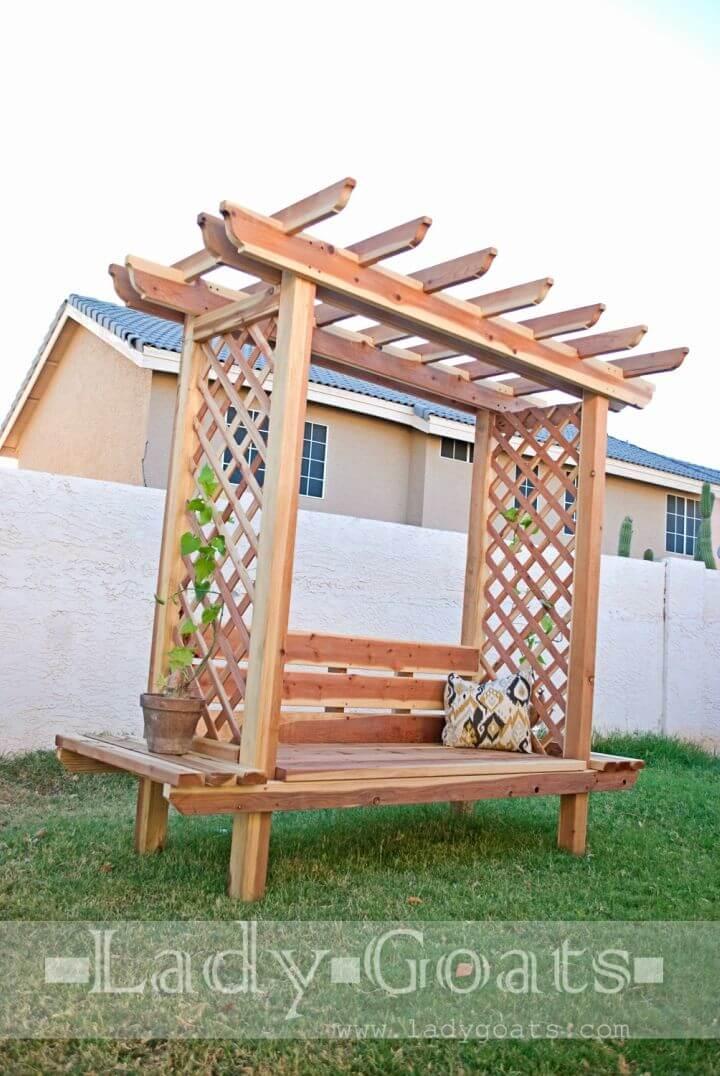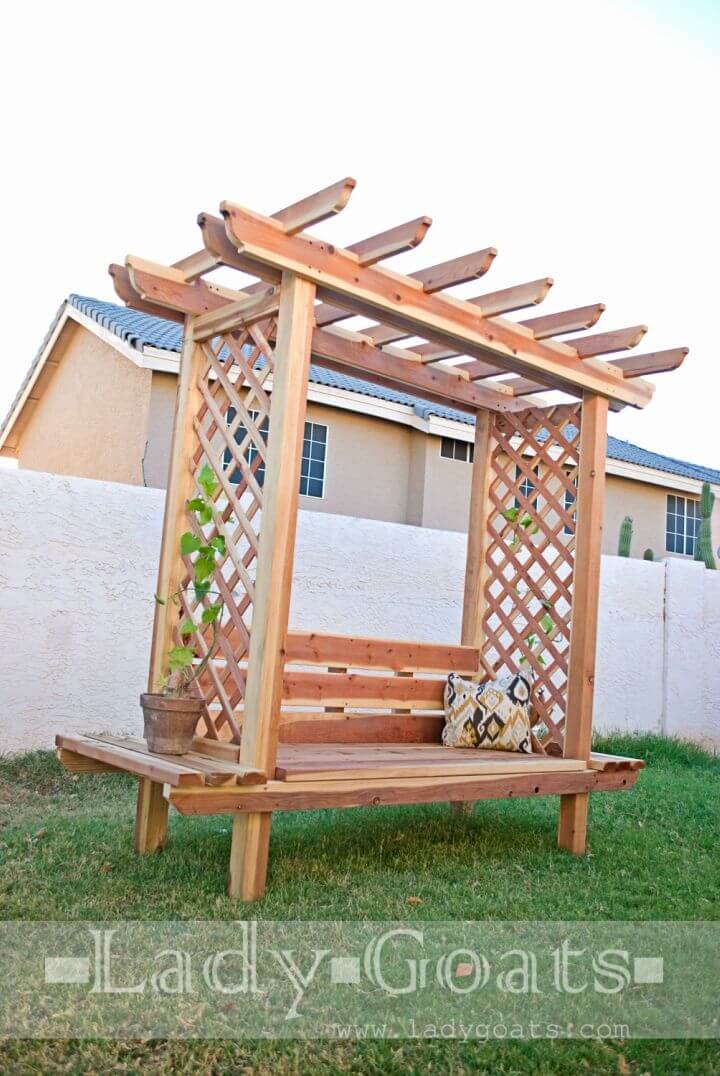 A bench and arbor are one of those outdoor combinations that every house must-have. This particular arbor and bench are quite similar to larger patio pergolas but slightly smaller in size but totally functional. ladygoats
63. Easy DIY Modular Outdoor Seating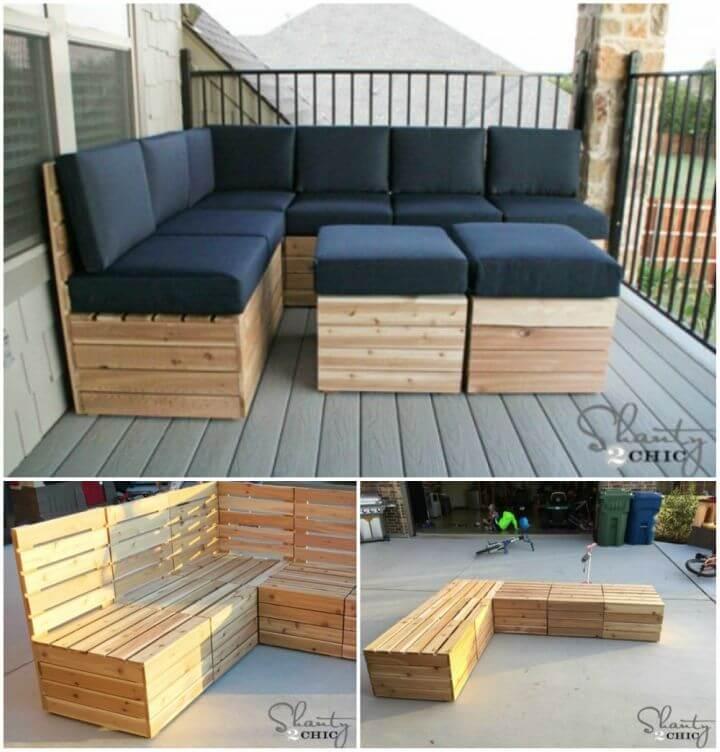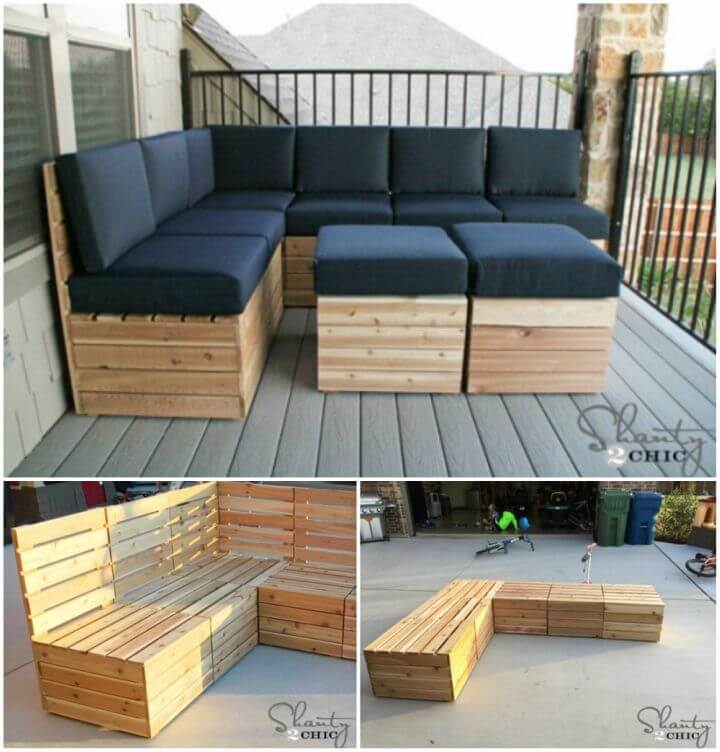 For most indoor and outdoor settings, it's either too rustic, or it's too modern. For those who are into modern outdoor decorations, this tutorial on L- shaped sectional modular sofa setting will fit their description. shanty 2 chic
64. Outdoor Chairs and Porch

Just like any modern outdoor settings, your backyard should be presentable enough that you can spend some quality time with friends and family in peace. With this tutorial now, you can make your porch stand out and welcoming for the guests. thriftyandchic
65. How to Build Outdoor Chairs

For most outdoor chairs that you see in IKEA or in different furniture stores, they are quite expensive. You can always create your own outdoor chairs as done here in the tutorial, they are quite easy to make, and they are even not as expensive as you think. notjustahouse
66. DIY Wooden Benches Garden Furniture

DIY Outdoor furniture is an enjoyable and exciting wooden craft to make, and even they are an excellent addition to any outdoor space. This tutorial on an outdoor wood table is one of those outdoor garden DIY furniture you can craft in less than an hour. kleinworthco
67. Outdoor Side Table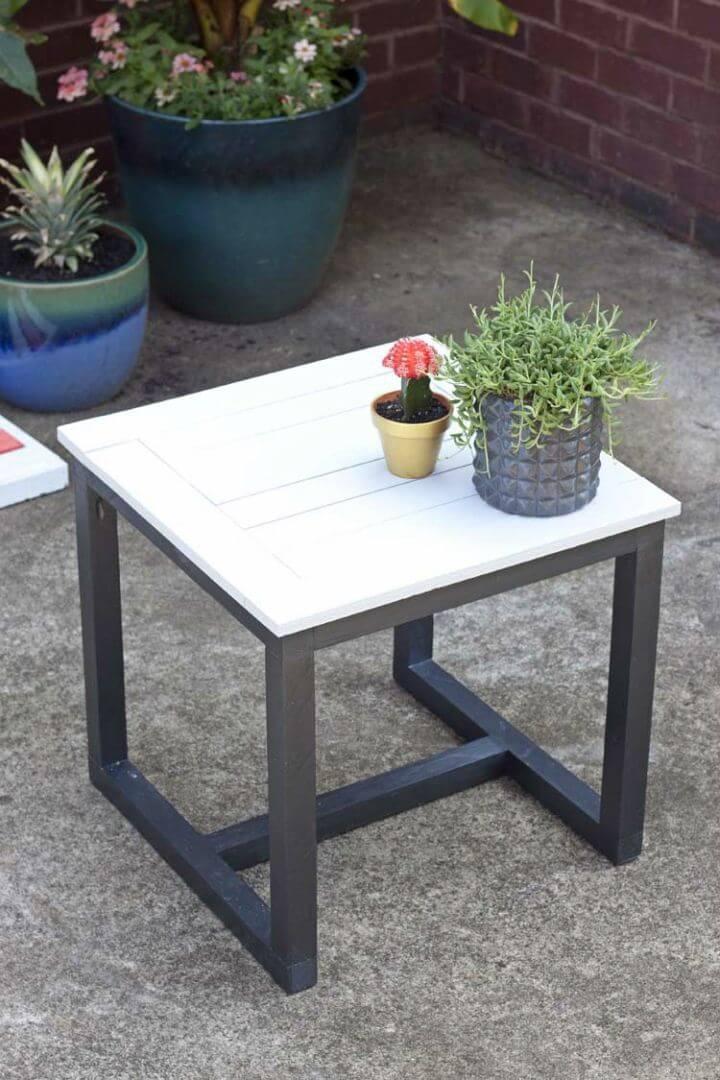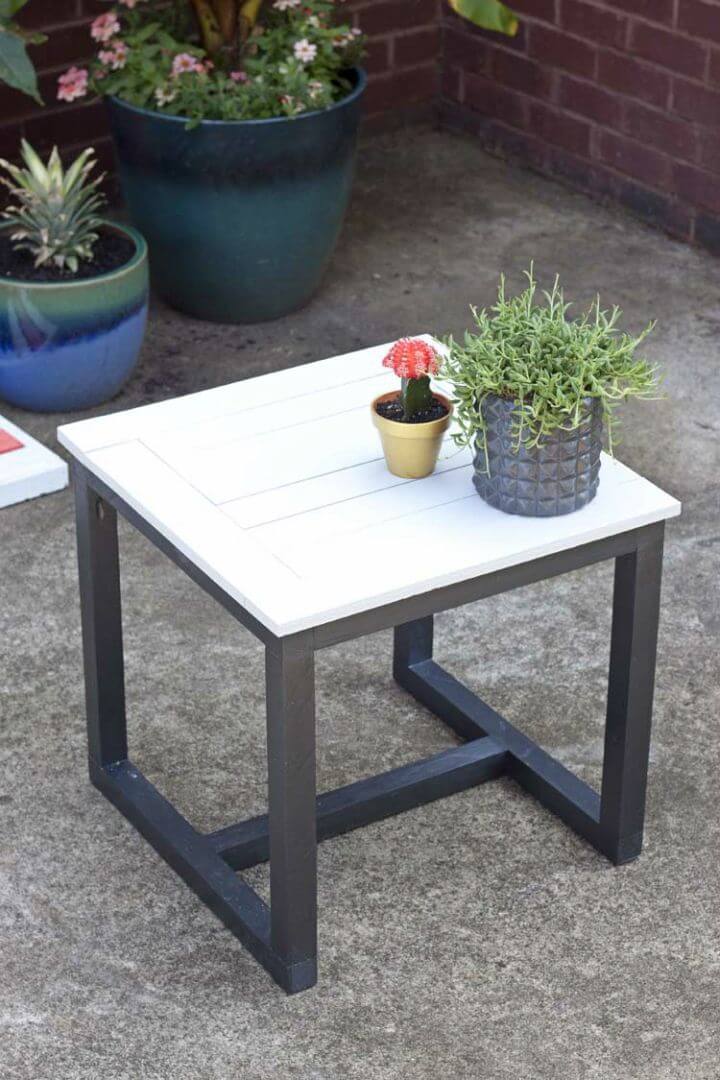 For most outdoors, a side table serves the right purpose when you want to spend some time relaxing by the sun and sipping some sweet, warm tea in the winter evening. This tutorial right here will help you create your own side table in a couple of minutes. southernrevivals
68. Outdoor Chaise Lounge

Create your own sturdy and comfortable outdoor chaise lounge chair. It's an ideal addition to your backyard if you like to soak some sun in the winter afternoon or if you want to spend some quality time by the pool. blackanddecker
69. How to Make Outdoor Side Table

When budget and time are only two constraints you are worried about, homemade DIY tips and tricks come to rescue. This tutorial on how to make a side table with a concrete top is undoubtedly going to keep your budget safe! And you can enhance the overall look and feel of your backyard in just simple steps. fixthisbuildthat
70. Modern Outdoor Chair

An outdoor chair is one of those essential DIY outdoor furniture elements that every house should have. This free plan on a modern armchair with its solid wooden structure is an ideal chair to sit back and relax during warm summer evenings or in cold winter nights sipping a cup of coffee by the fire. cherishedbliss
71. Outdoor Sofa for Seating

Add a touch of rustic, exotic, and urban mood to your DIY outdoor furniture with this modern wooden outdoor sofa. The free plan here consists of all the necessary steps you need to make a modern sofa in simple steps, perfect for your outdoor living lifestyle. theshabbycree
72. Make Wooden Outdoor Bench

A DIY Outdoor bench is quite an option to add in any outdoor space, if you don't have any seating space by the outdoor table. This bench is straightforward to make. All you need are a few old slats of wood and some supplies to make an ideal outdoor bench. artsychicksrule
73. Pallet Wood Planter Box

Welcome summers with something full of flowers, like a planter full of colorful fresh flowers. The DIY tutorial on how to make a pallet wood planter box is for all those who are into rustic and chick outdoor decor elements. housebyhoff
74. DIY Outdoor Nesting Activity Table

The outdoor nesting table is a fun outdoor space for kids, where they can play and have some sort of their own fun. With compartment for sand and water both, now kids can have some outdoor fun of their own. rogueengineer
75. Tile Outdoor Table

Create your own fun and exciting full of colors mosaic tiled outdoor coffee table this summer. The table is straightforward to make at home, all you need are some mosaic tile slats, some mortar to apply on these slats so they can fit on the tabletop. centsationalstyle
76. DIY Picnic Table Out of a Barn Door

It's always nice to recycle old unwanted things and make something useful out of them. Just like a thrown away barn door, which can be used to make a solid picnic table for the whole family this winter season. rainonatinroof
77. Build a Patio Table With Cooler

Who doesn't love some chilled drink on a hot summer evening? This patio table with inbuilt cooler in the middle is a perfect summer treat for all those people who like to have summer evening get together. blackanddecker
78. DIY Nautical Picnic Table for Bigger Kids

This summer, create your own picnic table, ideal to have nice outdoor family time with kids at home. The plan here will show you what size of wood you should use and how exactly you can make this table enough for your kids to fit into. housefulofhand
79. Outdoor Trestle Dining Table

Craft a solid dining table this winter vacation for your outdoor dining table. Using a combination of teak wood and solid 2×6 fir boards for the top, this dining table can seat almost 10 people in it. It's perfect for large gatherings. jaimecostiglio
80. Super Easy DIY Headboard Bench

Planning on creating something with your old un-used headboard? This free pattern here will show you how can you make an excellent DIY headboard bench at home in some easy and simple steps. You can even paint it later to give it a final finishing touch for more detailing. artsychicksrule
81. Build Your Own Outdoor Sofa

With current interior trends in furniture and decor, a modern outdoor sofa is essential to be placed in any outdoor setting. This sofa can be made in simple steps by just following the steps here, it's easy, and all it needs are some supplies to complete this project at home. fixthisbuildthat
82. Homemade Slatted Outdoor Sofa

A slatted sofa is one of those outdoor sofas that are perfect to use during outdoor Barbeque parties with family. Since it can encompass 5-6 people in it, it is a must-have outdoor essential for every house. Create your own wide slatted, solid sofa as done here. housefulofhand
83. How to Build Outdoor Lounge Chairs

Shanty 2- chic never stops to inspire us with their amazing DIY outdoor furniture plans. With this plan on outdoor lounge chairs, now you can relax on those summer evenings by the pool, sipping some excellent cocktail juice. shanty 2 chic
84. DIY Treasure Chest Toy Box

Kids love to stay in a little fantasy world of their own. In order to make them feel more happy and excited, you can make a wooden treasure box that can be used to store their toys. It's a fun craft that kids will love to play with. housefulofhand
85. DIY Outdoor Coffee Table and Bench

An outdoor coffee table that can be converted into a bench is one of those DIY outdoor furniture plans you need for sure for your outdoor living. This tutorial on DIY outdoor convertible coffee table and bench is one useful craft so you can sit and enjoy some coffee or tea in winter evenings. handmade
86. How to Build Plant Stands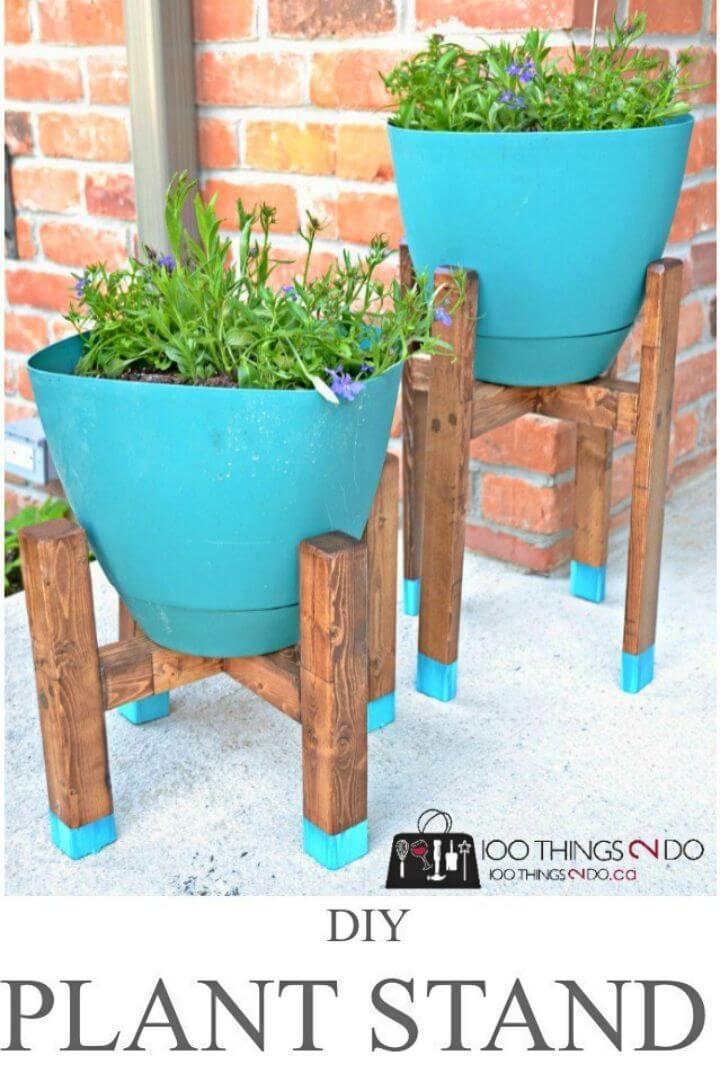 It's always nice to add some green and some faux in your patio or outdoor dining space! A lovely plant stand perhaps can be one of those decor enhancements you could do over the weekend. The 2×2 stand will look perfect in your driveway, patio, or at your entrance. 100things2do
87. Pallet Wood Hose Holder With Planter

A hose holder is one of the outdoor essential that every garden should have since it's a valuable tool to water the plants and flowers in the garden area. Create your own hose holder with a build-in planter box by using wooden pallets in some simple steps as shared here. diycandy
88. How to Make Outdoor Rolling Console

Add a touch of rustic and customized decor to your outdoor lifestyle with this Rolling console, the console offers a wide variety of drinkables and eatables that you can present to your guests. They would love this handmade wooden craft, and maybe you can make one for them as well. jaimecostiglio
89. Quick to Make Outdoor Buffet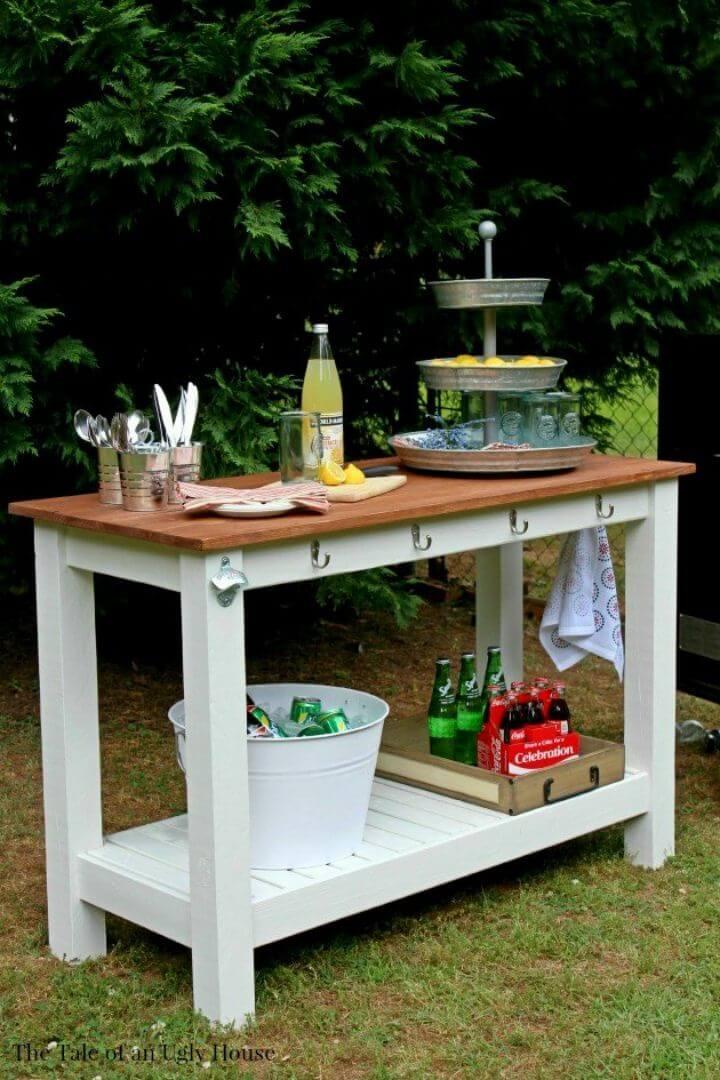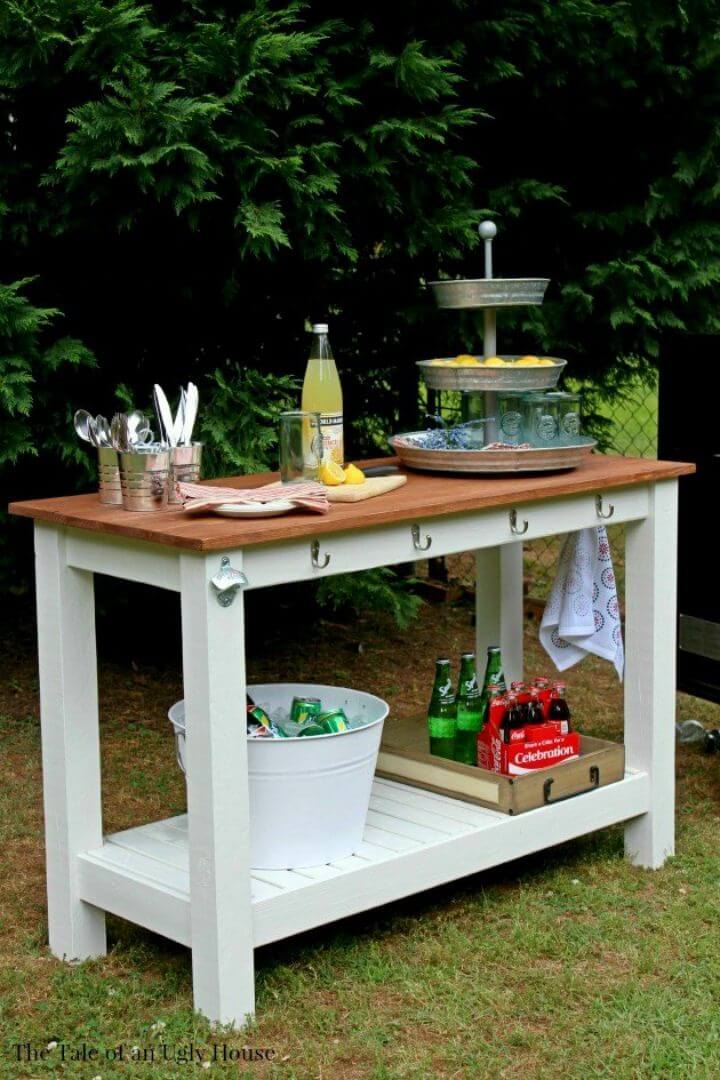 Family gatherings are always fun and exciting, especially over weekends. So spice up the fun with this DIY Homemade outdoor Buffet Table, this table is perfect for welcoming the guests with necessary eatable and drinks. sincerelymarie
90. How to Make Tiered Ladder Garden

Create an adorable plant stand in your backyard with this tiered ladder. This old ladder can be used to make your backyard stand out with a fully functional plant stand. It can be your favorite spot to sit in the morning and have a cup of tea. loveandrenova
91. DIY Concrete Paver Outdoor Coffee Table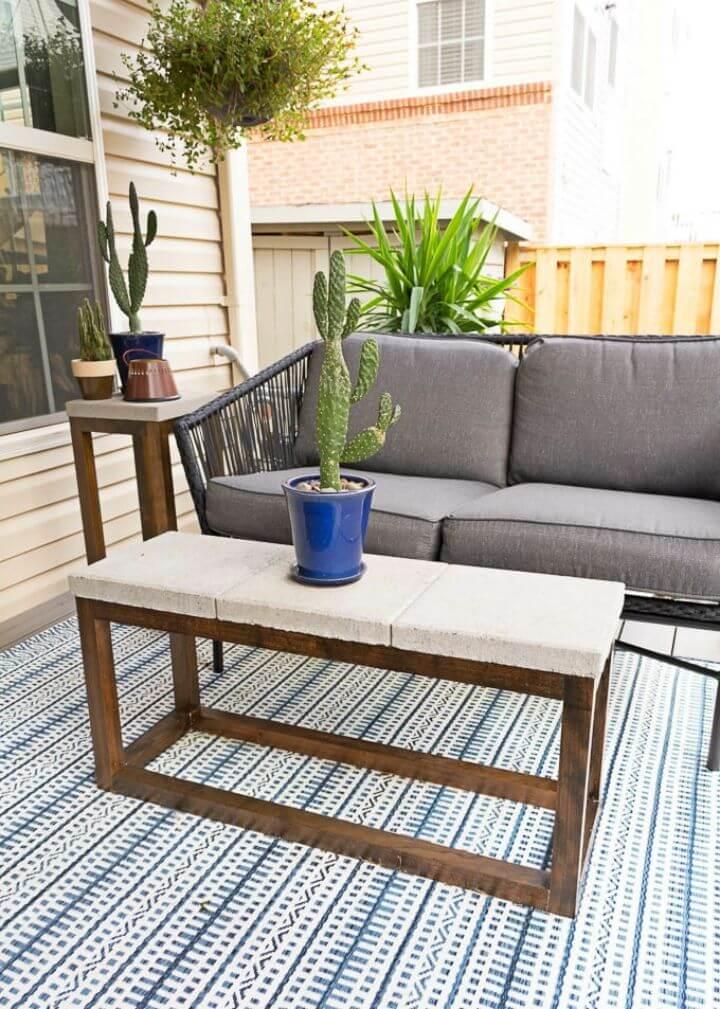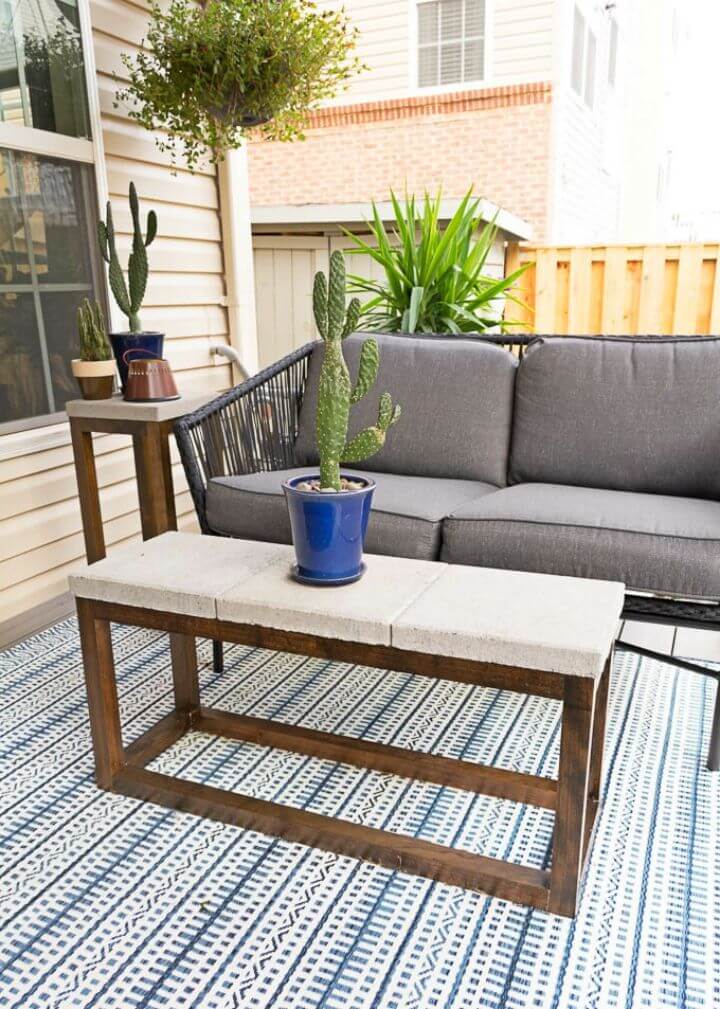 You might have come across thousands of coffee table options in furniture stores, but this concrete top coffee table is new in the block. All you need is 2×2 wooden legs made out of pinewood, concrete pavers, saw, adhesives, and some other supplies. bybrittany
92. Adorable DIY Kids Outdoor Table

Crafting an outdoor table for kids is always fun and exciting, it gives one immense pleasure to see kids loving the homemade craft. The supplies that you can require to make one table include Miter Saw, Kreg jig, Orbital sander, drill! And some exterior paints to give the final touches. cherishedbliss
93. DIY Outdoor Bench

Create your own wooden bench for your outdoor seating. It's one of those spots where you can sit back and relax and enjoy the fruits of all the possibilities nature has to offer. Create your own wooden bench by following this tutorial within a few minutes. creativegreen
94. Make Outdoor Party Buffet Table

An outdoor Buffet table is one of the perfect outdoor attractions for a party. You can add lots of party favors on top of the table. This tutorial right here will show you how you can use an old door and a sink to make your very own buffet table at home. salvagedliving
95. Build an Outdoor Wood Plank Loveseat

Outdoor furniture made out of planked wood is one of the fantastic DIY outdoor Furniture that anyone can have. This tutorial on an outdoor planked loveseat for two is a piece of ideal outdoor furniture that you can make in simple steps. rogueengineer
96. Make Your Own Aluminum Chair

Planning to do a colorful makeover to your old un-used aluminum chair this weekend? All you need are few supplies, including a colorful paracord and macrame cords in different colors, scissors, a flathead screwdriver, and a rubber band to complete the project at home. abeautifulmess
97. How to Build Timber Side Table

Make your own homemade side table with this timber wood, it's one of the solid frame craft that you can use as a piece of wooden outdoor furniture. Perfect for placing a cup of coffee, a novel book, or even a small planter to accessorize it. francoisetmoi
98. DIY Outdoor Cinder-blocks Bench

Concrete cinder blocks and planks of wood make perfect seating arrangements for a piece of DIY outdoor furniture. You don't need any tools to make this outdoor bench. Just some cinder blocks and some 4×6 wooden blocks. Add some warmish paint on the wood to give a final touch. hunker
99. Quick DIY Outdoor Farmhouse Table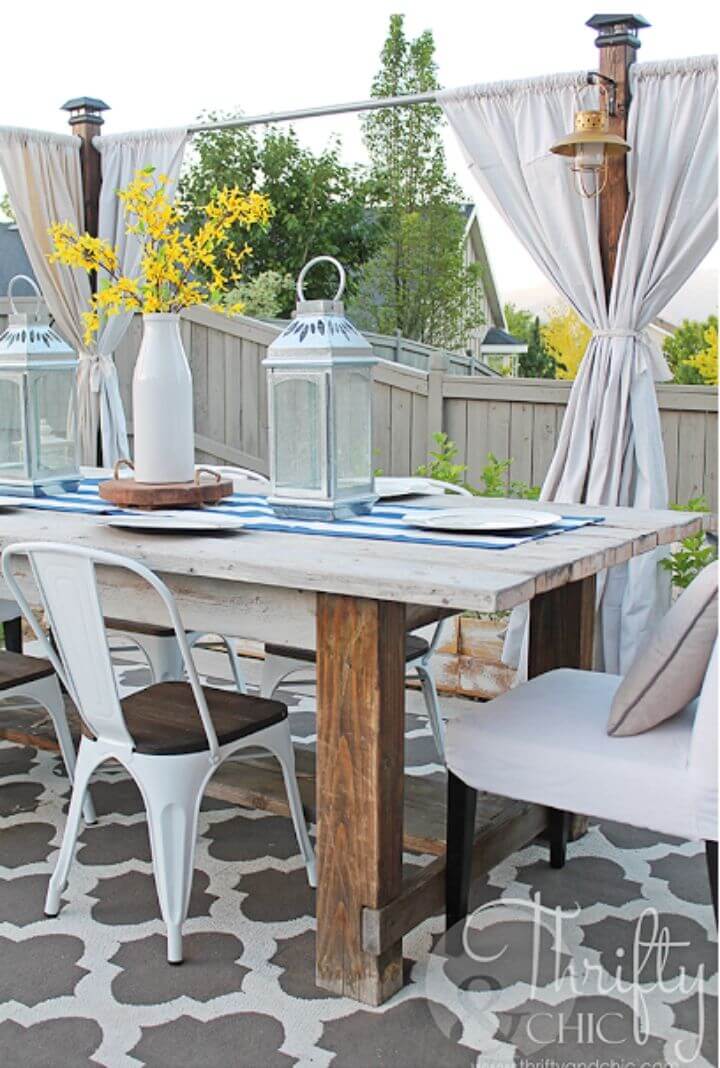 A farmhouse inspired outdoor dining table is one way to add a touch of rustic and modernity to your outdoor area. This rustic table would be a perfect spot to seat your loved ones over a nice barbeque or a nice family dinner. thriftyandchic
100. DIY Pallet Hanging Chair

Spend some relaxing time in your backyard with this wooden palter made hanging chair, it's perfect for you to lay down after a hectic day at the office. Or even swing and rest on a nice summer morning. Create your backyard swing in simple steps as done here. instructables
101. Build a Wood Deck Cooler

Regardless of any season, an outdoor friend's get-togethers is always fun. Add a welcoming decor for your friends over the next party with this wooden cooler deck. Made up of wooden slats, this solid cooler deck is perfect for chilling some drinks on a hot sunny day. foxhollow
102. How To Make Pallet Bar

Rustic and customized DIY outdoor furniture is one of the most refreshing ideas one can work on, this bar table made out of old pallet wood is one of those crafts. Create your own wooden table as done in the tutorial here; it would be a fun spot to have some drinks with your friends. stackeddesign
103. DIY Vintage Milk Jug Side Tables

It doesn't cost that much to be a little creative, with possible resources, you can always create something inspiring and exciting for yourself. Just like this side table made out of vintage milk jugs can be an excellent DIY option to craft one side table using accessories at home. prettyhandygirl
104. Turn Old Pallets into Daybed

An outdoor pallet daybed is a perfect place to sit down with your loved ones, sleep when you want to in an outdoor environment, or even lounge for some quiet time by nature. This tutorial right here will show you how you can make your very own daybed in just simple steps. prettyprudent
105. Build a Pallet Deck Chair

It's always nice to sit back and relax on your wooden deck by the pool or lake. If, by any means, you happen to live near a small lake or a pond, this tutorial on wooden deck chairs made out of wood pallets is a fantastic option! You can re-consider before the new outdoor furniture purchase. instructables
106. DIY 2×4 Outdoor Table

For most furniture shops, patio furniture is super expensive. A simple 2×4 table supplies and details are enough to make a presentable outdoor side table that is very easy to make! And it can all be done in a minimal amount of budget too smallhomesoul
107. DIY Outdoor Wooden Seating

An outdoor seating option for any household is an ideal space where you can sit, relax, and have some me-time all by yourself. This tutorial on outdoor wooden seating is for those individuals who want to try and upgrade their DIY Skills. hertoolbelt
108. How to Make an Amazing Outdoor Table

Marble or stone makes an excellent option for the top of the center tables. This outdoor table with a stone top is one of those magnificent crafts you can design in a matter of a few minutes. All you need are some supplies and this link to follow to create your own homemade outdoor table. familyhandyman
109. Build an Outdoor Dining Table

The dining table is one spot where all the family comes together at least once a day to have a meal together. To bond more with the family, this tutorial on the outdoor dining table has come to life! So now you will count days to have a complete family get together and some fun time at one spot. findingsilverpen
110. How to Build a Patio Table

It's always budget-friendly when you use an old worn out wooden table. An old table can come handy to be placed in your patio, it can be used as a place where guests can be served with some tea, or you can place some decoration pieces on it too. instructables
111. How to Build an Outdoor Table

A solid outdoor table made out of natural and homemade accents is always an excellent option to consider. This tutorial on cedar wood made an outdoor table with concrete top totally goes with rock formation floors, poolside, or even in a garden. bhg
112. DIY Outdoor Wooden Table

An outdoor wooden table made out of 2×4 and 2×6 wooden slats is one of those most beautiful DIY outdoor furniture crafts you must start working on. The tutorial here shows what basic tools you can use to make this dining table, with staying in budget. cravingsome
113. Simple DIY Outdoor Dining Table

A clean and straightforward outdoor table is what every household should have. Ana white brings some excellent design options for one outdoor table that can be made in some simple steps, and by using some basic supplies. ana white
114. Outdoor Dining Table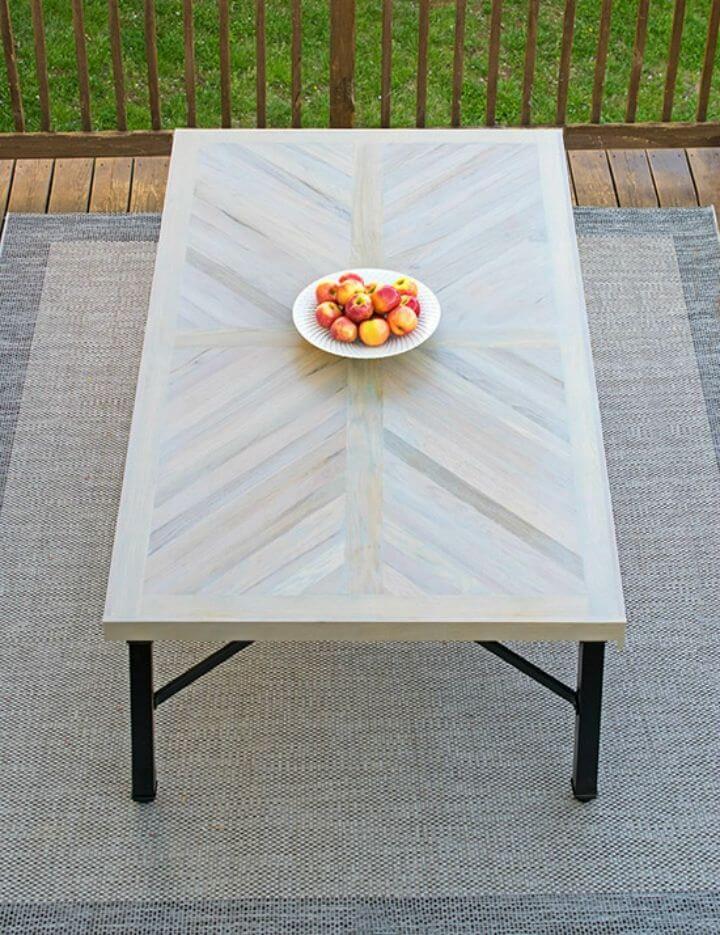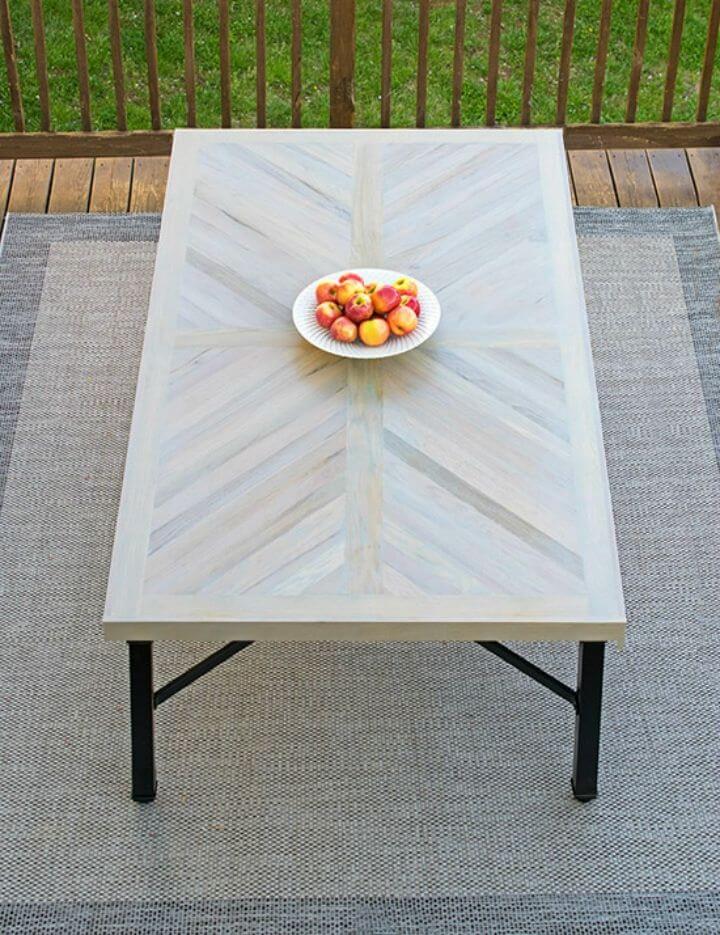 Here is a free pattern for the outdoor dining table, made out of 2×4's scrap wood for the base and white oak wood floors as a solid top. With its weathered finish, this dining table is an ideal outdoor table where all families can sit and have a quality time. cravingsome
115. Outdoor Farmhouse Table and Benches

Thinking to remodel your backyard porch with some added rustic wooden farmhouse-inspired table? Well, there is nothing better than a farmhouse outdoor dining table with side benches, perfect for accompanying a large family. erinspain
116. Simple DIY Outdoor Side Table

Who doesn't like to have a little me time in the evening or some sweet, warm fresh air in the morning? This wooden side table made out of cedarwood gives a nice compliment to the overall outdoor space. The free downloadable plans will help you to craft one nicely and neatly. rogueengineer
117. DIY 2×4 Outdoor Coffee Table

Ana white never stops amazing us with her amazing wooden outdoor crafts, just like this adorable coffee table made out of 2×4 wooden slats. One of the finest and cleanest outdoor tables, you can make part of your outdoor lounging. ana white
118. Homemade Outdoor Coffee Table

Are you a beginner at DIY outdoor furniture ideas and want to start with something exciting this summer break? Well, this DIY Outdoor coffee table can be an excellent craft to begin working on. The tutorial here shows how you can use basic tools and supplies to create a homemade coffee table within budget. anikasdiylife
119. Outdoor Rolling Stump Side Table

Add a rustic, urban, and chic feel to your patio this summer with this rolling stump side table. It is one of those unique crafts you usually don't see at any furniture store. Craft your own masterpiece as done here. thehappyhousie
120. DIY Hampton Umbrella Side Tables

Chaise lounge chairs are one the essentials to sit back and relax by the pool, but a nicely crafted side table that can hold an umbrella is more needed in those hot summer days. Shanty 2- Chic has always got some ways to make your outdoor lifestyle on point. shanty 2 chic
121. How to Make Wooden Cooler

It's always an excellent idea to place an outdoor cooling station for drinks whenever you have friends over. Well, this summer starts working on this idea, as Ana white has brought one of the most excellent hacks for summer parties, a wooden cooler. Perfect for storing and serving chilled drinks whenever wanted or desired. ana white
122. Build a Murphy Bar

Can't afford to have a full-sized bar in your outdoor space? With this foldable outdoor murphy bar table now, you can store maximum drinks, gives you a nice sturdy and plain surface to serve the drinks. And also, it can be folded back when it's not in use. hunker
123. DIY Potting Bench Turned Outdoor Bar

For most people, creativity has no boundaries, just like this old potting bench that has been transformed into an outdoor bar. Now you can have some outdoor fun of your own with this bar, serve and enjoy chilled drinks over a nice warm sunny day. thecreativity
124. Build a Rolling Prep and Serve Cart

This cool rustic DIY prep cart can be an excellent addition to your outdoor patio, it can be used to serve guests as you like. The wheels on it make them easy to roll anywhere you want. Just follow the tutorial and create your very own prep cart at home. homedepot
125. DIY Outdoor Daybed with Canopy

Patios are usually those outdoor sections of a house where you can sit back, relax, and have some excellent peaceful time. A daybed added to the patio can enhance some of your quality time, with a canopy on it acting as the cherry on top. ana white
126. Make a Barstool Using Only 2x4s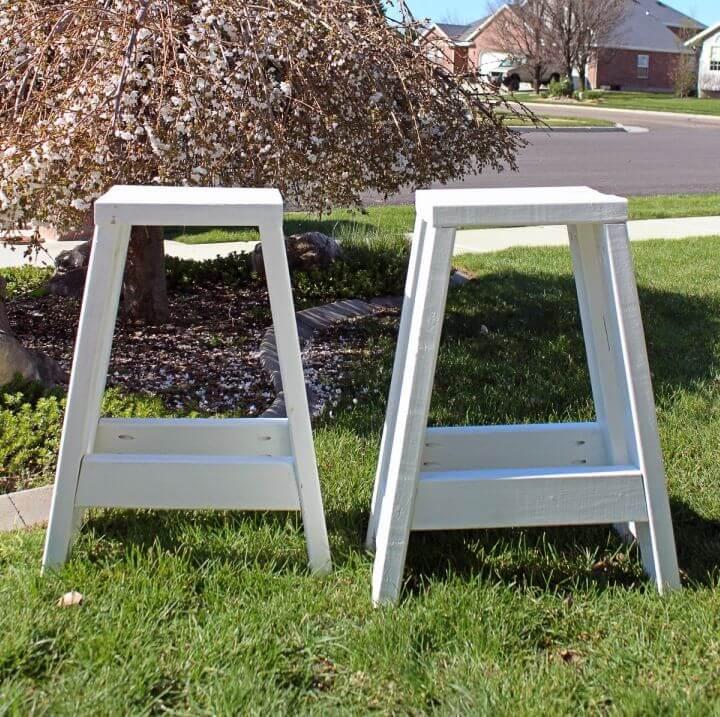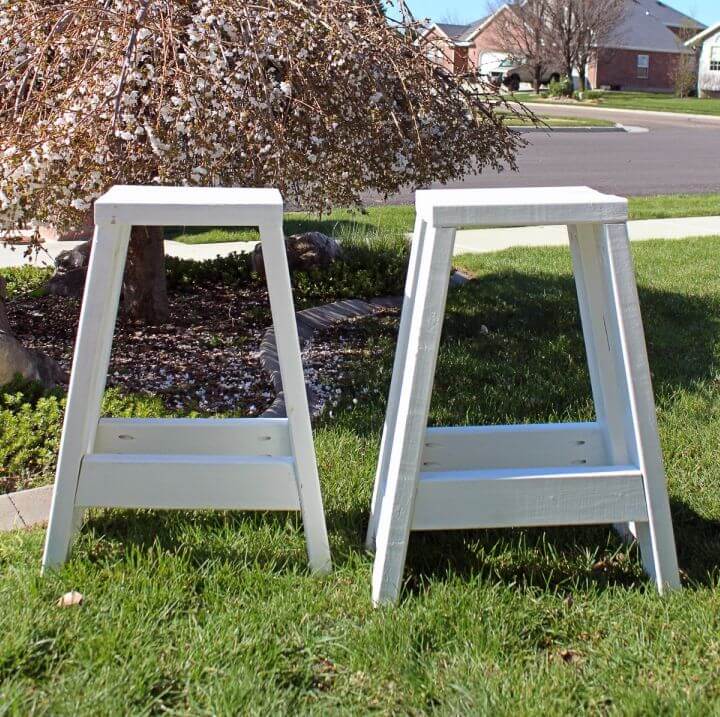 Check out this fantastic DIY barstool made out of 2×4's. With their added height, they are perfect to be used as outdoor seats, or you can even place planters on them and use them as planter stands. Excellent weathered finish paint on these chairs would give a complete look to these barstools. sawdustsisters
127. Gorgeous DIY Sturdy Garden Bench

An outdoor wooden bench makes a piece of perfect DIY garden furniture that you can install in your garden! Most importantly, great for you to sit back and relax during the morning or on winter nights by the fire. The simple 2×4 wooden garden outdoor bench can be made in easy steps as done here. thecreativemom
128. DIY One Arm Outdoor Sectional Piece

An outdoor sectional sofa is certainly one of that DIY outdoor furniture that is a perfect choice for the big family gathering! It can be placed in the corner of your patio by the fireplace. This 2×4 wooden one-armed sectional sofa can be made in simple steps, as shown here. ana white
129. How to Make Wooden Slat Bench

Get your patio remodeled with something rustic- chic inspired outdoor bench. This tutorial on a repurposed wooden slat bench with back is one of those cost-effective free outdoor furniture plans that you should work on. It's effortless to craft, and it only takes very fewer supplies to make it. myrepurposedlife
130. Build an Adirondack Chair

Adirondack chairs are one of the finest and rustic DIY outdoor furniture that goes very well in an outdoor patio or by the pool. Due to their laid back structure, they are perfect for relaxing on a beautiful sunny day in winter. You can build your own Adirondack chair at home, just like the one made here. blackanddecker
131. How to Make an Outdoor Chair

Add a modern touch to your outdoor patio with this versatile Outdoor chair. This 2×4 Lumber wood made chairs are a perfect choice to place in your outdoor area, especially if you have kids in the house too. The seat is made in simple steps, get yours also like done here. instructables
132. DIY Adirondack Chairs from Scratch

An Adirondack chair might look an easy outdoor craft to make, but this is certainly not the case. Due to its sturdy frame, this chair needs perfect calibration to install and lay back as required from it. Build your own Possible Adirondack chair just like one done here. justthewoods
133. DIY Outdoor Sectional for Big Family

The family gets together and is always fun. A cedar board made L Shaped sectional outdoor sofa is perfect for big seat family. Place some lovely soft and comfortable cushions on it and relax as you like. Place the same cedar wood made a coffee table in front to complete the overall look and feel. reluctantentert
134. Easy DIY 2×4 Adirondack Chair

Do you like to read books in an open natural environment? Well, there can't be an any better way to sit back, relax, and have an excellent read then lying on 2×4 Adirondack chair. Add life to your patio with this DIY outdoor furniture. ana white
135. DIY Raised Garden Bed

For most landscaping and horticulture are a tough task since they involve a lot of shovel work and plantation. It can be made exciting with this DIY raised garden bed. It's one of the perfect homemade creations if you have a small garden space, and you love homegrown vegetables. lowes
136. DIY $60 Outdoor Dining Table

A Solid cedar wood made table is one of those creations you must try your hands on. The video tutorial on an outdoor dining table that you can make only in $60 is a perfect lifesaver. All you need are some spax screws, some 2×4 studs, and some wood off course to make this magic work. shanty 2 chic
137. DIY Picnic Table in One Day

Picnics are fun, exciting activities to go on with your friends and family. In order to have some fun of your own in your backyard, a beautifully crafted wooden picnic table with bench can be nice DIY outdoor furniture to have. You can make this piece in one day, just like the one here. justmeasuringup
138. Modern DIY Kids' Picnic Table

Kids love to go to a fun theme park or some beautiful resort, how nice it would be if you create one adorable picnic table in the backyard. It can be one of those places for kids, where they can't get enough from, and they can play there on weekends all day long. lovelyindeed
139. Build a Farmhouse Picnic Table

Create your very own DIY farmhouse inspired picnic table at your home in simple steps. This can be an even better way of enhancing your backyard; kids would love to hang out and eat at this dining table. lifestorage
140. Build an Outdoor Bench

A weathered finish DIY outdoor bench is one perfect DIY outdoor furniture that can be used in your patio. It's best to place some faux, flowers, or even a vase of flowers on top of it. The bench can e made in only $13, and some 2×4 lumber pieces. theidearoom
141. Simple DIY Chevron Outdoor Privacy Wall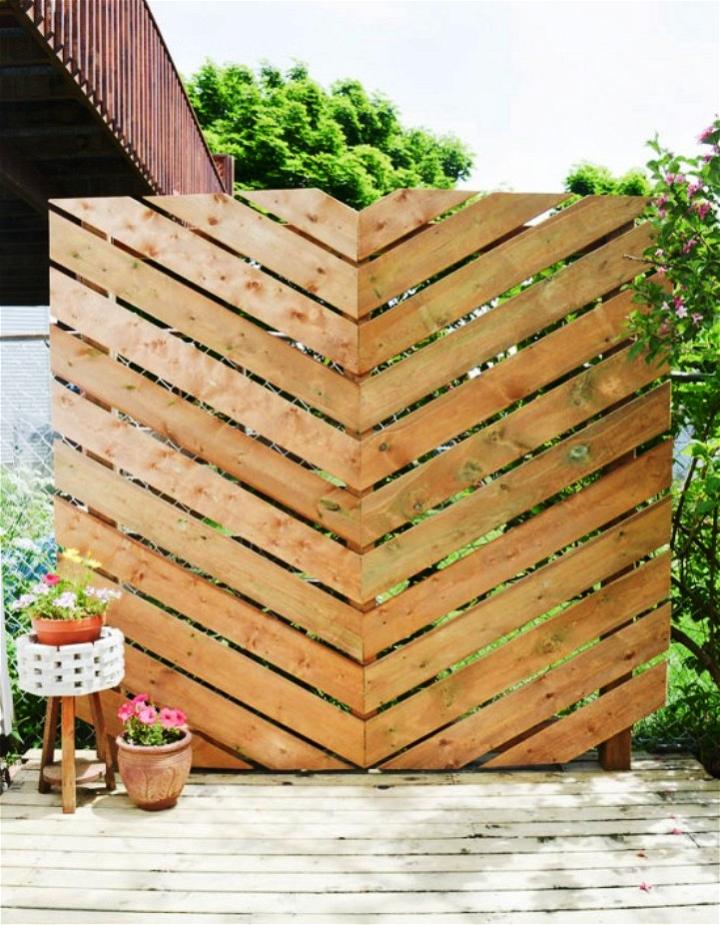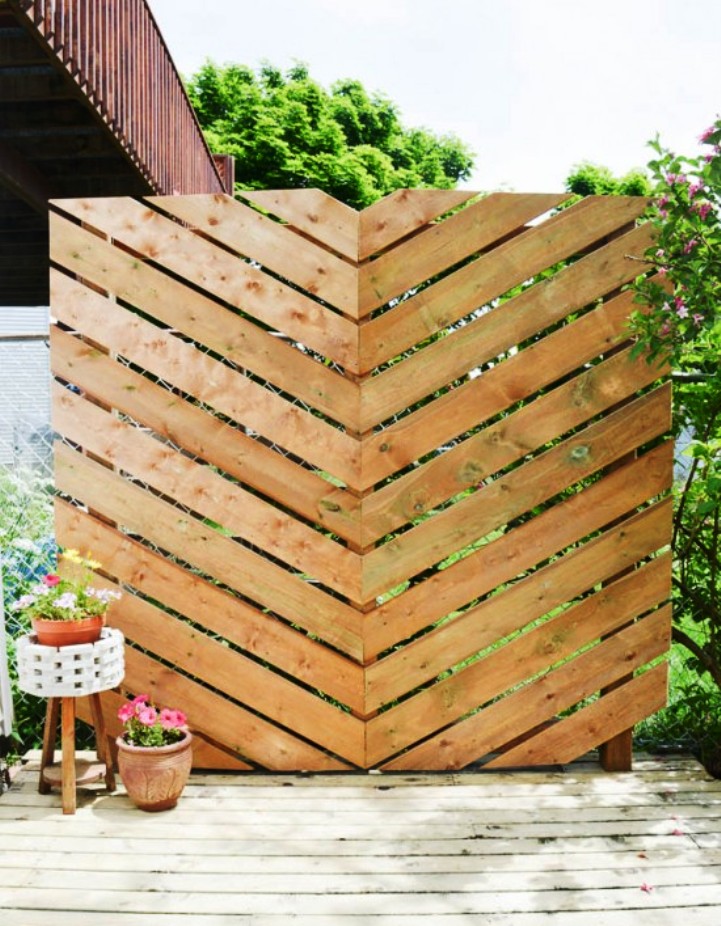 You don't need to hang clothes or walls to create some privacy. A rustic chevron wooden ourdoor privacy wall can be one of the answers to this issue too. The solid frame of this chevron wall can be a source of privacy from the neighbors or from anyone you desire. diypassion
If you need more privacy screen tutorials then these DIY Outdoor Privacy Screen Ideas with step by step pictures help you to build wonderful backyard.
142. Build a Cedar Potting Bench

Planting and harvesting is a healthy habit that most people don't pick. If you love to take care of your garden or even love spending some time with greenery, this potting bench will come handy for your next garden project. Create your own as done here. familyhandyman
143. Ladder Garden Planter

Are you planning to remodel your small patio space into something customized or in some natural way? This tiered ladder made out of cedar fence pickets can be an ideal option to make a small nursery of your own. ana white
144. Super Easy 15 Minutes Pallet Couch

An outdoor pallet wood made a couch probably is one of those furniture pieces that give immense comfort when you lay on it. Due to its comfortability and the solid base wooden pallet base, they are best to rest in warm winter nights by the fire or on a sunny day. theboondocks
145. How to Turn Old Crate Into an Ottoman

It's always a happy moment to transform an old piece of furniture into something more creative or useful. This old crate turned into an ottoman is one of those examples you should work on this summer. It's easy, comfortable and costs very less to make. ilovethatjunk
146. How to Build Patio Wooden Bench

An outdoor sofa made out of Lumber wood can be one of the DIY outdoor furniture that you have been looking for. With their wide armrest, which can be used as a built-in coffee table. Create your own sleek and unique sofa set just like done here. familyhandyman
147. DIY Patio Table With Drink Coolers

Who doesn't love some chilled, cold beer on a hot sunny day? Well, cold drinks are the life of the party. Either way, if you want to spend a friendly family get-together, this outdoor patio table with built-in coolers will inspire the guests on the table. thehandymans
148. How to Make Outdoor Stools

Do you happen to have a nice wooden deck in your outdoor patio? There can't be anything more complimentary to place on them then some lovely wooden stools. The tutorial here showcases wooden stools, one of the easiest crafts you can make even if you are a beginner. rogueengineer
149. Build a Pallet Deck Chair

Deck chairs made wooden pallets are a piece of ideal DIY patio furniture if you are living by a lake, poolside or by the nice view of natural habitat. Create your own wooden pallet deck chair, so you can sit back and relax in the outdoor as you like. instructables
150. Outdoor Wood Table

A wooden outdoor table is a perfect dining table option for a huge family gathering. Just place some beautiful cake stands with candle holders on the right and left, some nice ribbon chairs on the sides, and lovely floral touch on the top of the table to make a statement. chicstyleliving
151. How to DIY Patio Table

Create an impeccable hospitality experience for your guests, with this amazingly crafted wooden patio table. The patio is one of the places where you can make someone feel more welcomed, so by creating this patio table, you can make sure that they feel delighted to be at your place. instructables
Conclusion:
The ton of free DIY outdoor furniture plans presented in these tutorials can help people with any sort of outdoor space or area. Why buy expensive furniture when you can make your own? By working on any of these homemade DIY furniture plans, you can equip your outdoor with a classy and graceful outlook.
You can enjoy the outer world by relaxing on the furniture. You can make any sort of furniture by using the same material, as required for DIY furniture. Consequently, you can save a huge amount and spend it somewhere else. We hope we have tempted you enough to plan a DIY outdoor furniture plans for this season.