It is almost spring season, and with it comes whole new ways of redecorating your patio, backyard, or even entire house. But even though that sounds amazing and we know you like a challenge, it also takes a lot of time to prepare everything for remodeling. Also, one of the biggest problems is to find the right inspiration and DIY furniture projects that you can make right from your home. We are here to help you with that. This article is a fantastic compilation of 50 DIY outdoor bench plans to build the perfect spot to sit in your garden, backyard or patio, we gladly share with you. We hope that this article helps you decide on the type of outdoor bench you want in your backyard, garden, or patio. Most of the projects are super fun and simple to complete.
Even without previous DIY experience, although we recommend having some prior knowledge before attempting a few of the more complicated wooden garden bench plans from this article. But don't worry, if you want that wooden garden bench and don't have much previous DIY experience, we got you covered. Every DIY garden bench idea from this article comes with an in-depth and well-written tutorial.
You can follow these tutorials each step of the way until you complete your very own garden bench. You can find most of the supplies for these outdoor benches at a local store, although we are sure you already have the most of it in your garage just lying around and waiting to be used. Once you complete the bench you choose from this impressive list of garden bench plans, it is time to make a small (or big) party, invite the people you love, and showcase your latest DIY adventure.
Simple outdoor wooden bench plans:
If you have some DIY loving friends who would also like a new DIY bench for this season, consider sharing this article with them. We are sure they will appreciate the gesture, and if that`s not enough, you can always go out and help them in the process, making it double the fun for everyone, and you never know, maybe you design a special and unique bench from these outdoor bench plans. If that is ever the case, please share your work with us, send us pictures, we would love to see how our article has inspired you. And as always, the most important thing is to have fun in the process. So enjoy.
If you are often to sit at your patio or terrace space with a couple of friends and family members, then do accomplish your patio sitting space desires with this hand-built wooden patio outdoor bench that is beefy and lasting longer and comes with criss-cross legs! The green appeal of this outdoor bench would also freshen up your patio!
DIY Box Crib-style Outdoor Bench and Planter
Add functionality to your outdoors in a subtle manner by bringing this very unique and stylish DIY bench to your outdoor or garden space! What will catch the eyes most, is the box crib style of the bench that has been done with the slatted arrangement of cedar wood boards! Give a custom wood finish and that's it! Full how-to tutorial here lowes
Build a Farmhouse Bench
Want to organize your outdoor spaces without losing the style and elegance? If yes, then do go with this farmhouse style outdoor bench, is a pure hand-built wooden creation! It will engage the onlookers with its beautiful white and choco appeal that is a perfect match to farmhouse decor style! Here is how to make it! homedepot
How to Make Ana White Large Porch Bench
Willing to set up your porch for daydreaming and also to enjoy naturally occurring scenes then this large bench is a perfect choice, will provide enough sitting space to a porch area and will enchant everyone with its fab simple design that comes in alluring chic white appeal! Another bench to duplicate for your porch! iamahomemaker
How to Build West Elm Bench Knock-off
Having a big lust for the West Elm furniture? Can't afford it right now? Then do opt for the West Elm furniture knock offs that will give you the same value of happiness for sure! Start by building this very special West Elm DIY bench knock-off that is sure to bring a great style statement to your porch area and will be a big breeze to make! Another great outdoor bench to make at home! homemadebycarmona
Make a French-style Wooden Bench From Old Chairs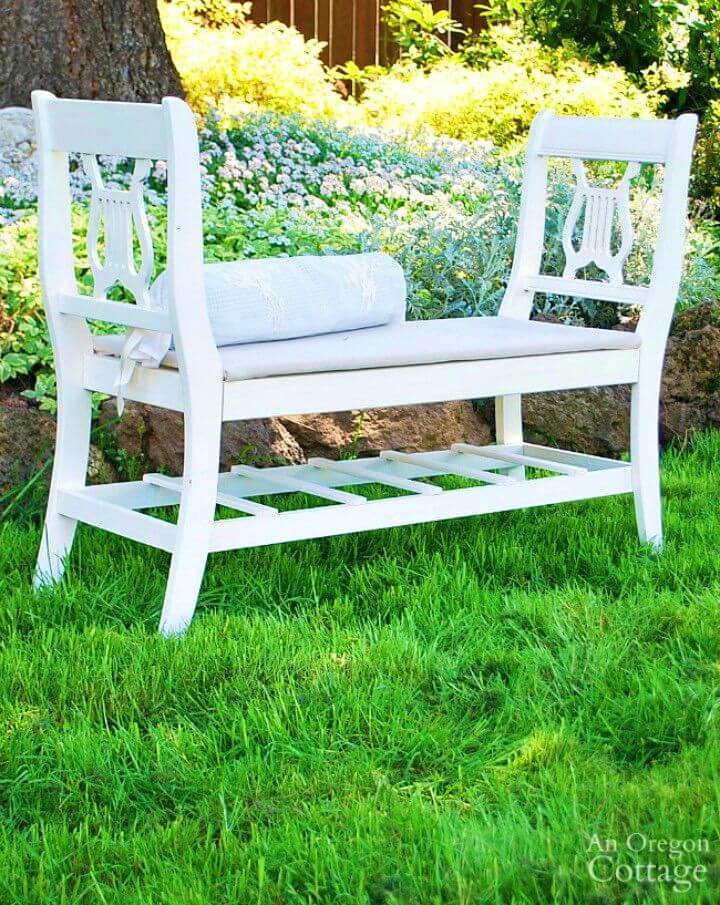 May your are genius enough in your imaginations, but you are going going to praise the creativity involved in building this French furniture delight, a handsome looking outdoor bench that is made of two old chairs that comes with a jointed berth position the backrests of the chairs build the accent sides of the bench! Don't forget to paint your completed bench in French decor style! anoregoncottage
DIY Farmhouse Bench Tutorial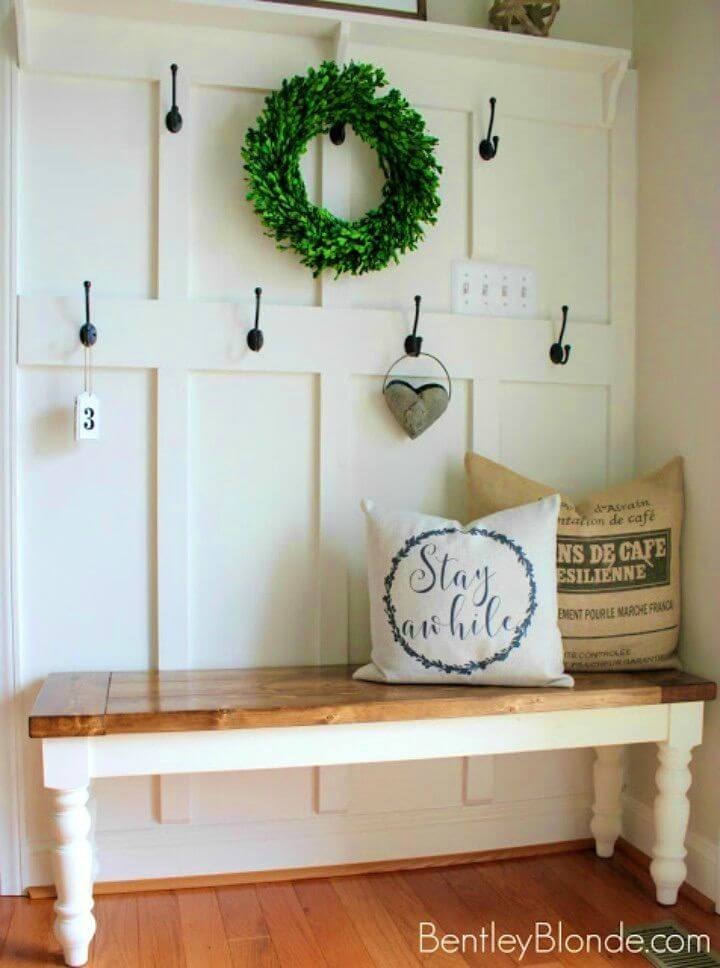 If you are a big fan of the wooden elegance, then you are going to fall in love with this dainty piece of a wood bench that is sure to bring great visual interest to your front porch along with a farmhouse style! Here it is a farmhouse bench that comes with a white base that stands on wood country bench legs, and the top has been done using the biscuit joints using the durable wood planks and slats! bentleyblonde
Easy DIY Corner Bench
Establish sophistication to your front porch or home deck by adding this very special wooden corner bench that demands no extra side or end table as it comes with a built-in corner side or end table! Here this very creative model of L-shape outdoor also comes in a milk-choco appeal and here is how to make it remodelaholic
How to Build Outdoor Storage Bench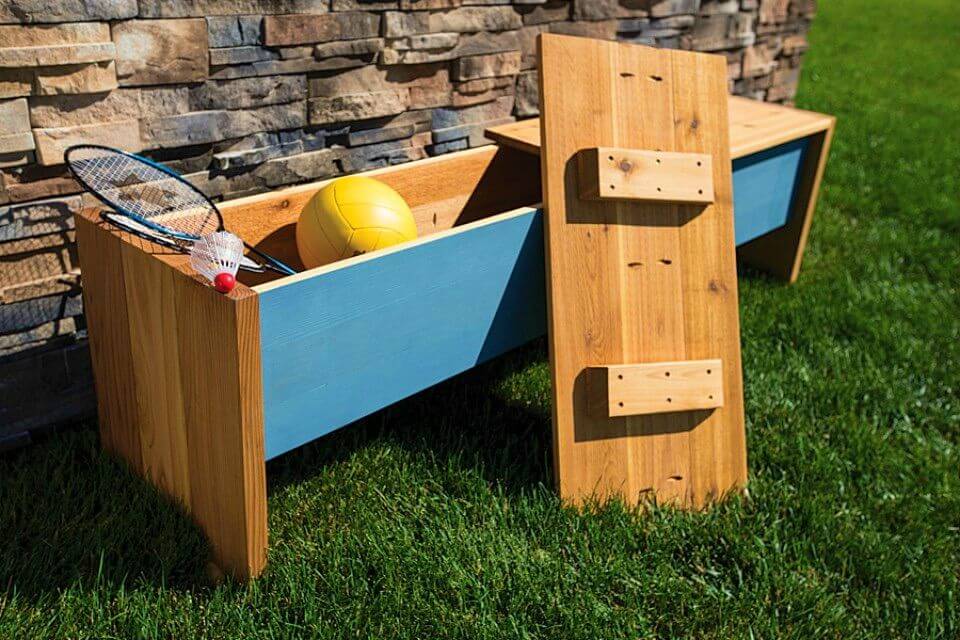 Sometime you also need some storage space at you outdoor where you can secretly store some essential! So, here comes this outdoor storage bench for a great rescue, it provides a secrete stash under the seats where you can store all from kids toys to other items of need! Build bigger wooden boxes that will be having lids as seats, another great DIY bench design to duplicate for your outdoor! buildsomething
Build a Double Chair Bench with Table
Here is something very special that will please all the couples or any two fast friends, a smartly built double chair wooden bench that also provides a wide jointed armrest in the center, will make a great side or end table! Again get crafty with the wooden slats to build this rare design of outdoor! Full free plans and tutorial here diypete
Adorable DIY Front Porch Bench
Rank up the style of your porch also by adding this beauteous model of hand-built outdoorbench! Will provide an elegant style to your porch along with accomplishing the sitting space desires there! This is here another masterpiece to build at home and here this bench will be a piece of cake to make if you are having a little woodworking experience! overthebigmoon
How to DIY a Bench
Build also the durable outdoor bench at home using the 1×4 and 4×4 wooden boards, check out here a dashing model that is stylish, hand-built one and is too beefy to live for years to come! It has been raised in sturdiness and has also been strengthened more using underside braces! Grab the full how-to instructions from here notjustahousewife
Build Your Own Storage Bench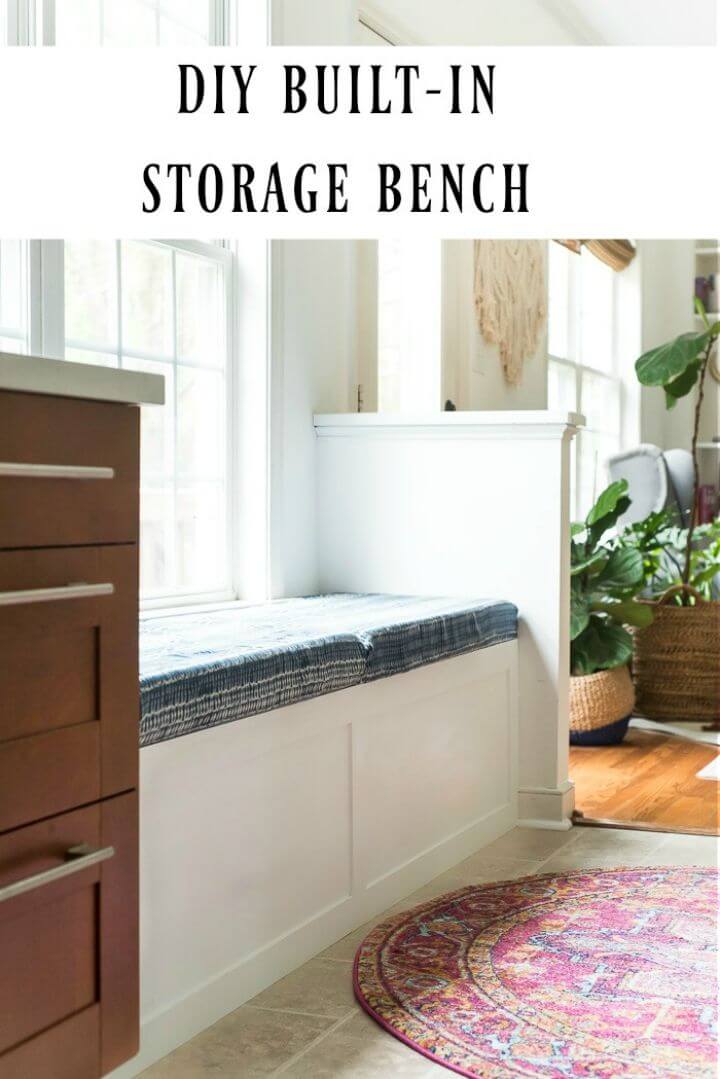 The dual functional DIY furniture items really rock in the interiors that are going through short space issues! So, presenting here this elegant built-in bench that also offers ample storage space to digest interior home clutter! Here this bench has been painted in white to suit the DIY room decor style and comes with comfy seat cushions! Full how-to instructions here placeofmytaste
How to Make Wheelbarrow Garden Bench
Here is the exceptionally cute and super unique model of the outdoor bench that is sure to bring a great visual interest to your green spaces as it comes in a wheelbarrow style! Here all you need is to build a bench first which you can then transform into a wheelbarrow then using extra wooden lengths and a wheel as you can see! Full free plans here bhg
Easy to Make Slatwood Bench
You are definitely going to fall in love with the slatted arrangements that appear into a fabulous model of bench that will rock any outdoor or indoor space! Put the slats of equal length and thickness together to build the top and next finish this top with angled tapered wooden legs and? do give a custom wood finish to this hand-built model of outdoor bench! abeautifulmess
How to Make X-brace Wooden Bench
Duplicate this another unique model of a bench that is sure to bring a great rustic touch to your porch or to any targeted space! X-braces or sides are what that responsible behind the so beautiful and elegant design of this bench! This bench is made of kiln-dried lumber and pinewood boards and is sure to be long living! It will rock in rustic environments but you can also paint it modern! rogueengineer
Modern DIY 2×6 Bench Waterfall Bench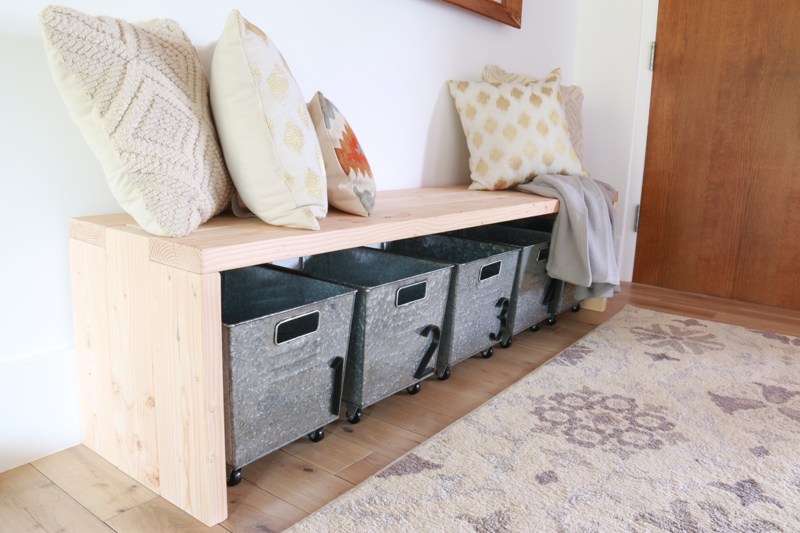 If you are dire need of both sitting and storage space and don't want to use further extra inches of the floor space then do choose this very gorgeous 2×6 waterfall bench that is too beefy to live long! Here the 2x6x10′ wooden boards have been put together to make this fantastic-looking bench, you can easily fill its underside with storage baskets or containers that may also come on wheels! remodelaholic
Make Your Own Park Bench
The outdoor climates cause a big damage to beautiful appeal of the outdoor benches you have recently added! So, also update your park or outdoor benches by making them painted in a nice way! Look at this very gorgeous looking park bench that that has been repainted and given a durable finish then and looks stunning in its final more beautiful look! homejelly
Build a $40 Wooden Bench for the Dining Table
Also organize your dining room by installing very good looking benches there around your dining table, so why not build some great looking matching benches for your dining table at home? Check out here the sample beefy wooden outdoor benches that have been made for the dining table and are looking exceptionally beautiful! Here is how to make them! shanty-2-chic
How to Turn a Pallet Into an Outdoor Patio Bench
Get creative and also rebuild the pallets into stunning benches and sofas that can be put together anywhere at your outdoor as Pallet Furniture for getting a well organized sitting area! Look at this well-cushioned outdoor patio bench that is totally a creative pallet wood creation and everyone can easily build it at home! rkblack
DIY George Nelson-inspired Outdoor Slat Bench
By using the durable wood planks or slats, you can easily build the durable wooden outdoor benches of any style that is favorite to you! We would like to inspire your creativity with this hand-built model of George Nelson-inspired outdoor slat bench that is a child's play to make at home using the durable wooden planks and slats! Here this DIY bench gains an industrial appeal due to addition of metal hairpin legs! Another great bench design to make at home! manmadediy
How to Make X Arbor with Bench
There is just no end to creative models of wooden outdoor benches that you can build for your garden and outdoor spaces! Create a big focal point in your garden by installing this X arbor wooden bench that will dazzle the audience first with its unique design appeal, accent X-sides and also with the beautiful slatted roof! Full how-to tutorial and free plans here mylove2create
Modern DIY Park Bench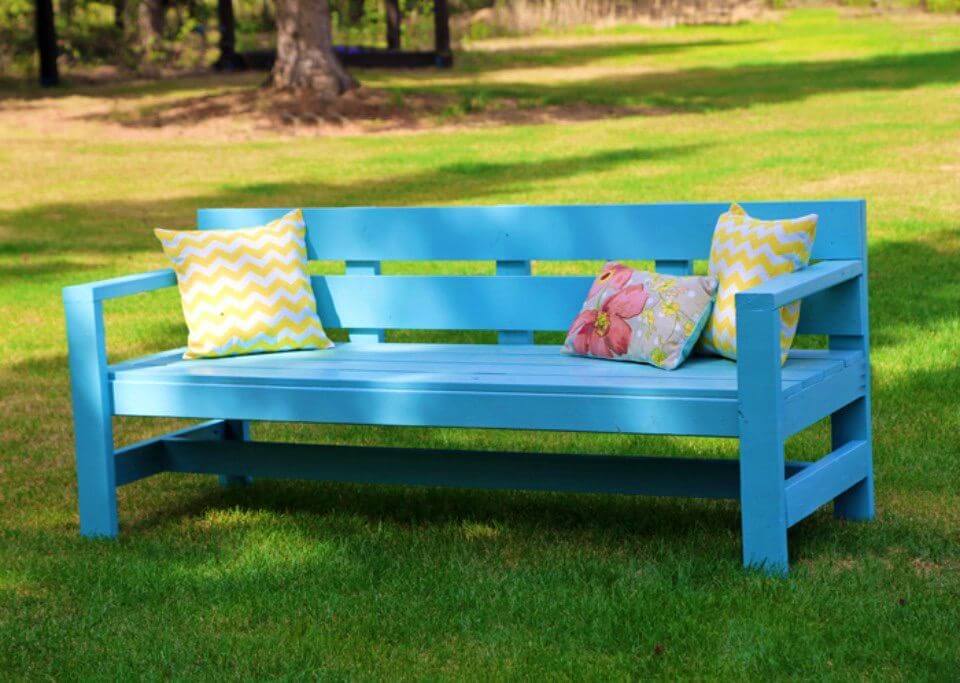 Here is what you will love to see next in your park, lawn, at deck or at any patio, a very beautiful park bench that is purely handcrafted one and is too sturdy to live for years to come! Here gain you have to get crafty with the custom wooden lengths and boards to build this unique model of wooden park bench! ana-white
Build a Rustic Wooden Bench
Presenting here a cool homemade design of bench for the rustic lovers, start building this bench also by building A-frame sides and then install a slatted top and also make the wooden bench extra sturdy by adding the underside braces! Another great model of wooden outdoor bench to make at home, would be a great addition to a farmhouse style interior! gnhlumber
DIY Kingsize Headboard Bench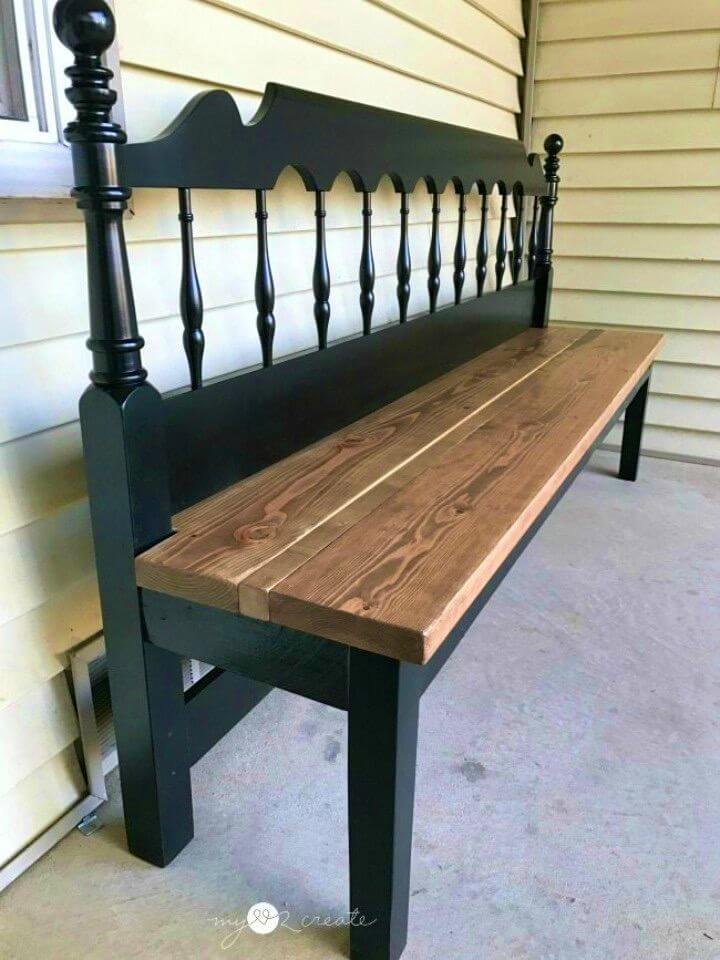 Here is an amazing transformation that will put you in a big amazement for you! The artistic appeal and fabulous backrest of this given DIY bench will surely win your heart! Here an old headboard from a king size bed have been rebuilt and added with a new berth and it gives a stunning and gorgeous looking headboard bench! myrepurposedlife
Pretty DIY Curved Fire Pit Bench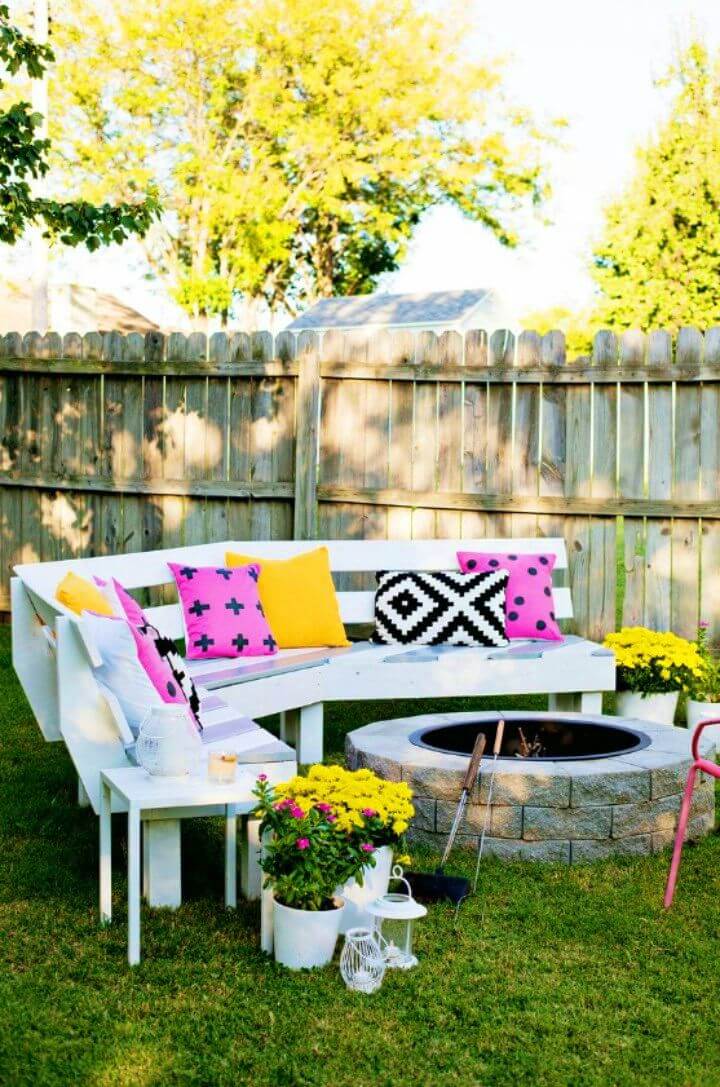 If you love to spend the chilly evenings by sitting around a firepit then you will definitely fall in love with this curved wooden outdoor bench that will nicely come around your fire pit for an instant comfy seating space! Here this wooden bench project will demand for precise cuttings and measurements! Full step-by-step instructions here abeautifulmess
DIY Williams Sonoma Inspired Outdoor Bench
Jazz up your patio or any outdoor also by adding this William Sonoma Inspired outdoor bench that is solid and will live for years to come! Go smartly handmade with the 2x4s pine wood boards which can be packed together to build this solid wooden outdoor benches, will provide both an instant style to space and amazing sitting space! diycandy
Bring also a great pleasure to your healthy outdoor life by making this durable outdoor bench that will cost you just nothing! Here this bench is made of free pallets and hence is something super sturdy! Here this bench also offers a backrest, tilted armrests and a sturdy berth position! Another great wooden bench to make at home! instructables
How to Build Tufted Bench
You will also find here amazing information about how to upholster a bed! We would like to inspire you by sharing this beautiful tufted bench sample that comes with beefy legs and with a well-upholstered top! Here this bench is made of custom wooden boards and plywood and stands on the turned wood legs! Another great outdoor bench project to do at home! shadesofblueinteriors
How to Make $20 Outdoor Patio Bench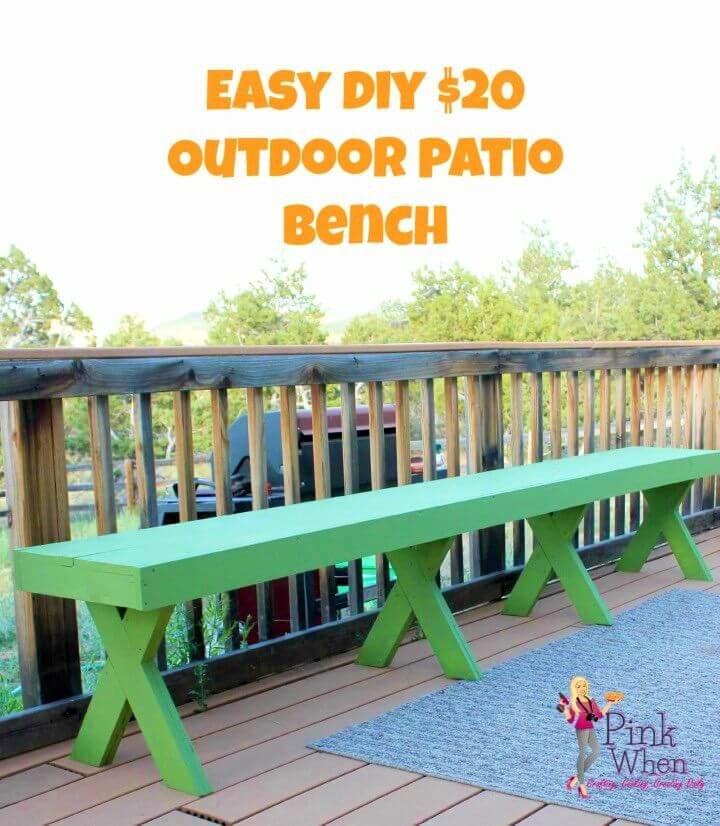 If you are often to sit at your patio or terrace space with couple of friends and family members then do accomplish your patio sitting space desires with this hand-built wooden outdoor patio bench that is beefy and lasting longer and comes with criss-cross legs! Green appeal of this bench would also freshen up your patio! pinkwhen
Simple DIY End of Bed Bench
Also bring a great style to your bedroom by adding this bed end bench that is made of 2×6 and 2×2 furring strips! What special in this wooden bench design is the upholstered top that is super soft to sit on and would be a piece of cake to get tufted! If you want to clone this wooden bench for your bedroom then do get the instructional guides from here simplybeautifulbyangela
DIY $20 X Leg Bench Woodworking Plans
If you strive for the wooden elegance and outstanding furniture designs then you will love to stare again and again at this X-leg bench that is sure to be a great addition to your outdoor or patio and will be a big pleasure to sit one while intending to enjoy the healthy outdoor environments! Make the bench seat by going with the slatted arrangement of wood planks and then raise it on the x-legs, the featuring component of this entire bench design! sawdustgirl
DIY Farmhouse Bench with Storage
Storage-friendly benches are becoming a hot trend so now you can also build farmhouse style outdoor benches at home with built-in storage space! Peek into creative details of the farmhouse style bench design that offers built-in storage compartments which can be filled with the storage baskets easily! A super unique and budget-friendly bench design to make at home! lifestorage
Easy DIY Repurposed Metal Headboard Bench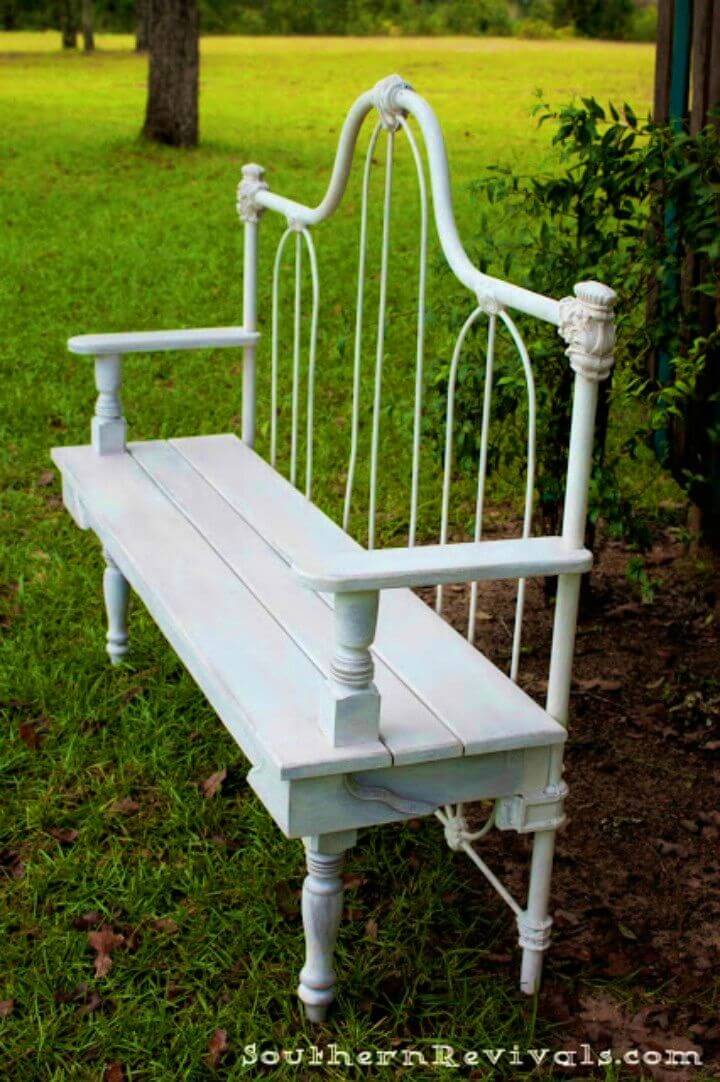 Peek also into details of this creative bench design that is one-of-a-kind and is a highly smart upcycling of an old metal headboard! Add up the recycled metal headboard with a wooden seat and legs and gain lovely wood-metal bench that will be a big center of attention for sure and will also solve your sitting space issue! One more affordable and creative DIY bench hack! southernrevivals
Adorable DIY Garden Arbor Bench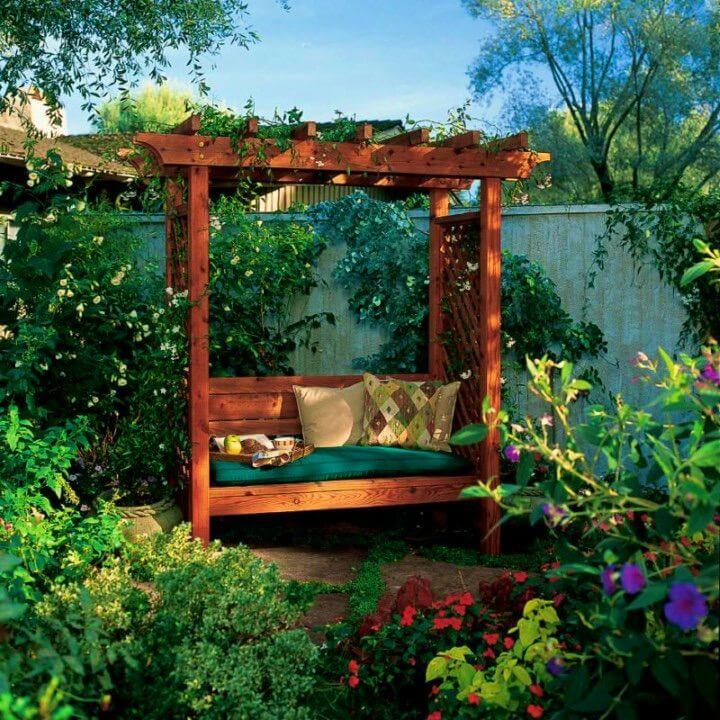 If you love to sit at outdoor with the greenery surrounding you, then you will love to sit on this garden arbor bench that comes with accent sides and a slatted roof that will rock as trellises also for your climbing garden plants! Here again, you have to get busy with the slatted wooden lengths to duplicate this super unique outdoor bench design! Here is how to make it! sunset
DIY Outdoor Storage Bench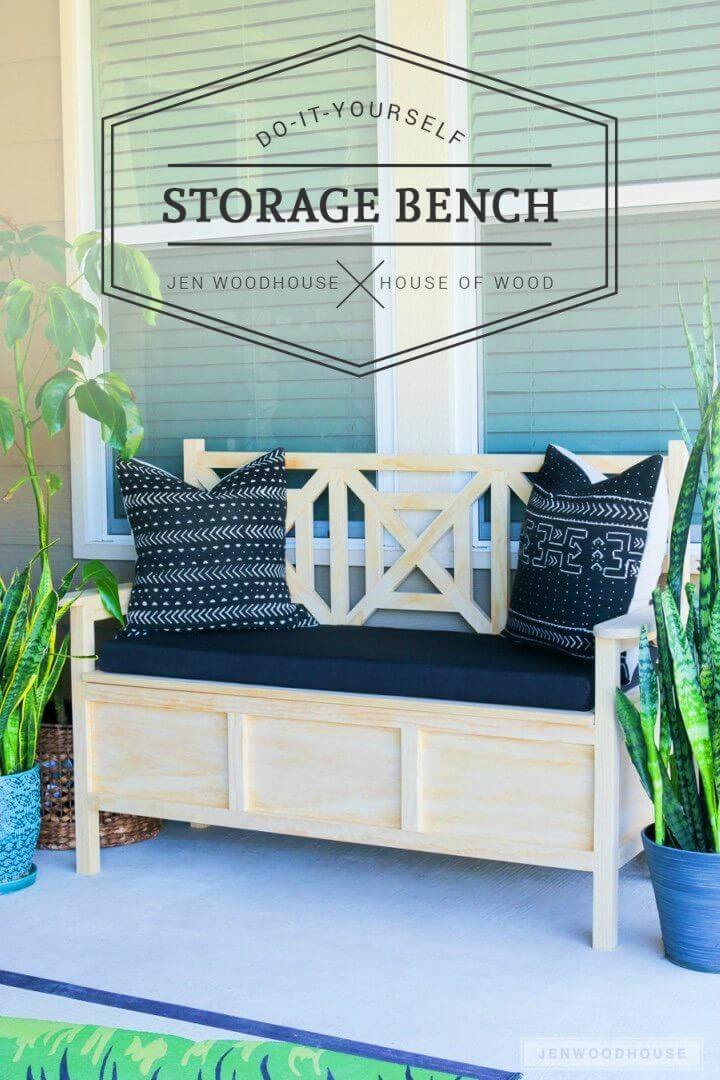 Do you lack some sitting space at your outdoor? Then time to full your outdoor sitting demand in style with this outdoor bench that will also provide storage space to keep your essentials and custom items of need in touch! Here this bench will provide storage in the seats, and the seats will come hinged! The artistic backrest is the most amazing part of this entire bench design! jenwoodhouse
Build a Hexagon Cedar Bench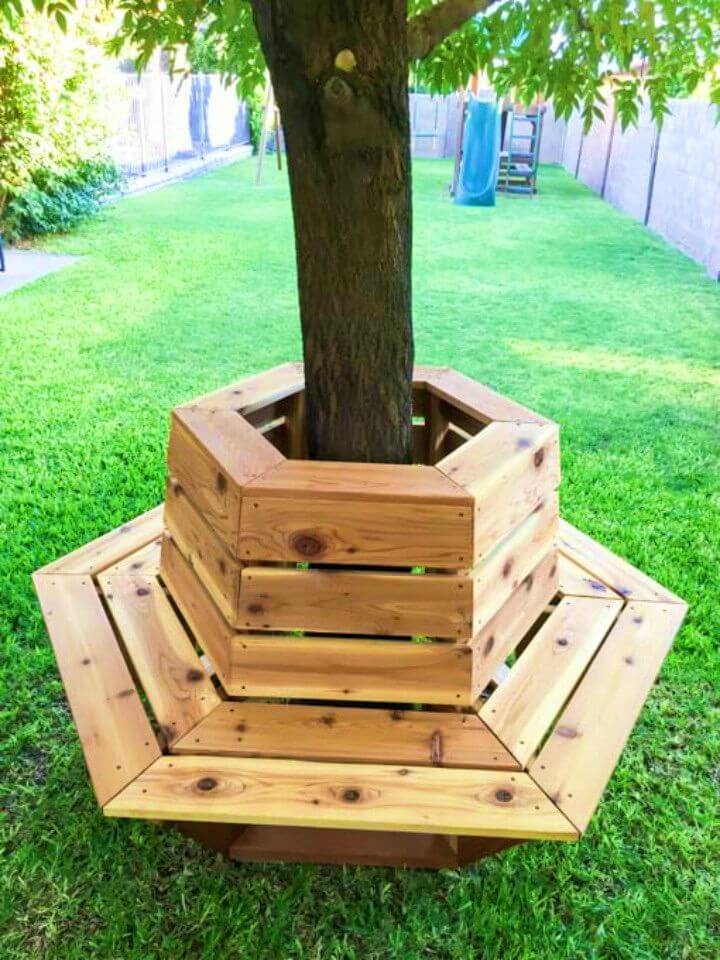 Add a beautiful curb appeal also to your home by installing this hexagon cedar bench around your lawn tree having a solid trunk! This DIY bench will encircle the entire tree stem and hence will be a big pleasure to sit on in the summer season under the shades of the garden or lawn trees! If you live sitting under the trees, then this bench design is only for you! addicted2diy
How to Build Sturdy Garden Bench
Look at this another great and fantastic outdoor bench design that has also been raised in sturdiness and hence can handle a lot of weight too along with withstanding the harsh outdoor climates! The design of this bench is simple but pretty and chic white appeal doubles up the charm of this bench! The angled backrest will provide you with the perfect sitting position to enjoy the naturally occurring scenes! thecreativemom
How to Make Storage Bench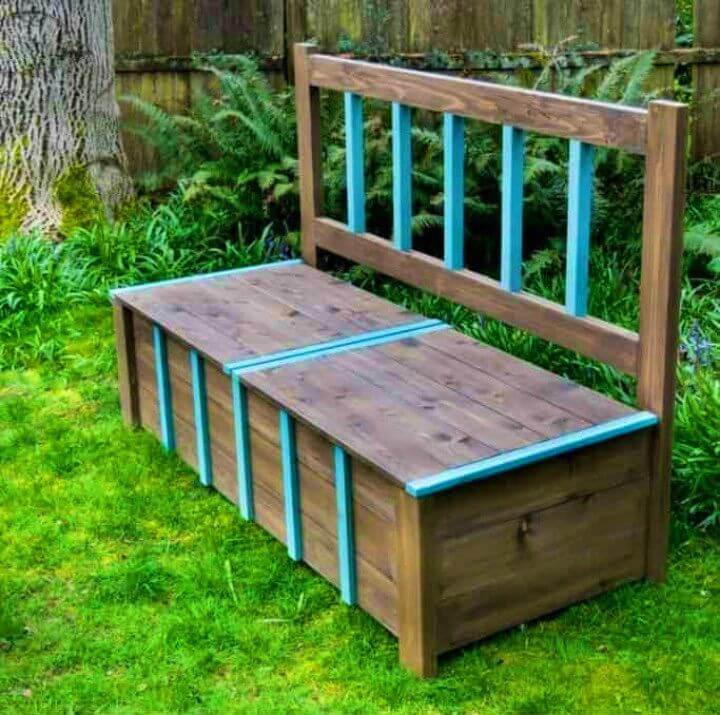 Want to add some super unique benches to your outdoors? Then do opt for this unique bench design that also provides storage space in the seats and will be a big pleasure to make at home! Here all you need is to build a bigger wooden box or chest which would make the seat of the bench, and next you can finish it up by installing an accent backrest! A simple yet functional DIY bench idea! thehandymansdaughter
Build Your Own Farmhouse DIY Bench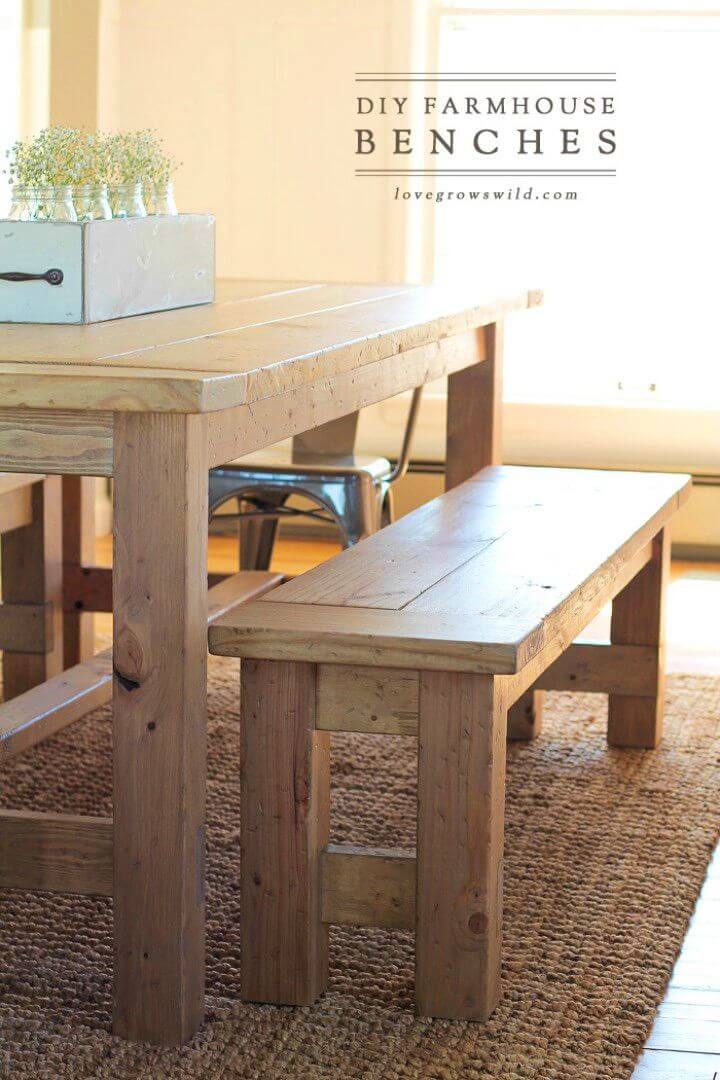 If you are following a farmhouse style of decors, then this lovely bench is only for you, will bring the farmhouse touch to any space and will rock in the farmhouse style home interiors! You can also choose this bench to be around your farmhouse style dining table! Grab the custom wooden slats and thick wooden boards to duplicate this bench for your home or outdoor! lovegrowswild
Build a Farmhouse DIY Bench for Under $20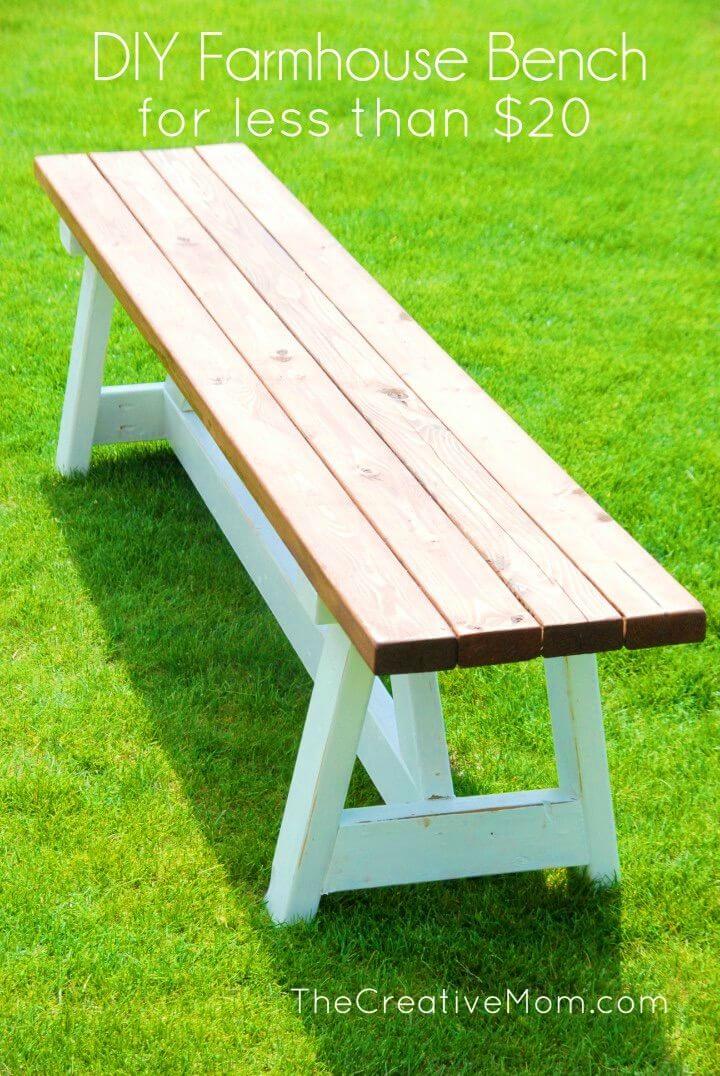 Farmhouse style furniture is a hot trend but also offers high-cost prices which can cause a big load on your wallet! So, build your own special farmhouse style benches at home under $20, and they will also make a great gift to friends and neighbors! Need to look at some ready-made samples, then check out this farmhouse style bench design, strengthened with extra braces and comes with a slatted berth position! thecreativemom
Simple DIY Outdoor Bench
You have great satisfaction when you organize space as you do and it is all about to choose the right products needed for the organization, and this L-shape wooden outdoor bench would help organize your deck in a subtle manner! It provides storage in seats, comes with hinged berths and can be given a custom finish to match surrounding decors! ramblingrenovators
Easy DIY Outdoor Bench Under $15
The benches that come with A-frame sides always look extra beautiful and that?s why they are often to see in your parks, lawns, and gardens! Here is how to build an outdoor bench under $15, will also cost you a minimum construction work for sure! Paint your finally finished bench for a custom appeal that will rock your park and here is how to make it shanty-2-chic
DIY Garden Love Seat
The super comfy two-seater is here made of wood, will bind every onlooker under its creative spell and here the brilliant design curves have a great impact on the overall beautiful the bench and also provides the best seat and a backrest to sit in a super comfortable way! Cut the curved sides out of the plywood and then fill them up with the slatted arrangement of your favorite wooden lengths! Finish for a custom look or appeal! home-dzine
Make Outdoor Storage Box and DIY Bench
Again a big thanks to plywood with which this whole giant storage box has been built, will also make a storage-friendly bench! The idea is to build a bigger wooden box that can easily be finished with hinged lid and bottom wheels and you can make it cushioned to use as a bench! Another great and outstanding DIY bench idea that everyone can duplicate! sandandsisal
How to Make Mudroom Bench for Entryway
Build all sorts of indoor and outdoor benches at home without getting a bit expensive! Hopefully, you can also build multi-functional mudroom benches at home like a pro and just check out there this sample design that is looking cute, would make a great hall tree also! Here it provides a storage-friendly bottom section, a shelving unit installed to top and also a large hanging section in the mid! This is here a pinewood and plywood construction! honeybearlane
DIY Rustic Outdoor Bench with Back
Want to sit at your porch in style? Then do build a good looking porch bench on which you can sit and if you don?t know how to make a cool one then do have a look at this rustic outdoor bench that comes with a backrest also! Here the constructions of this bench again all about the slatted arrangements of the wooden planks and slats! myrepurposedlife
How to Make Outdoor Bench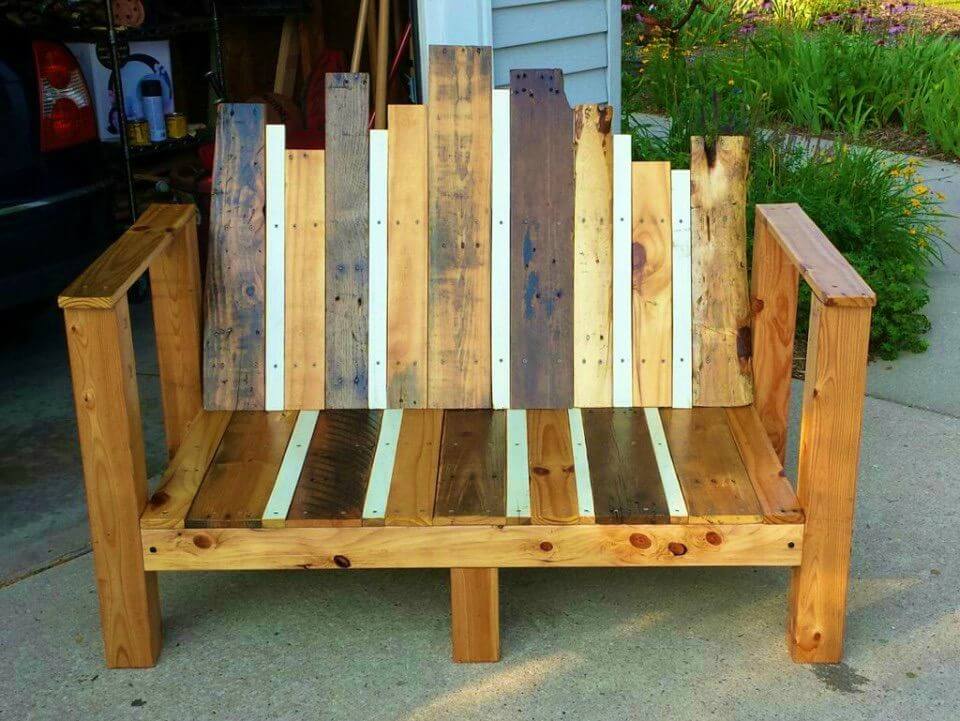 Also, go handmade with the recycled type of woods and make very good looking outdoor benches at home in an inexpensive way! Look at this very interesting outdoor bench that comes with an artistic backrest and is made of reclaimed lumber while it is having entire backrest made of pallet wood! Another great wooden bench to make at home! instructables
Build a SimpleOutdoor Bench
The outdoors always looking great that feature brilliant looking sitting plans but outdoor sitting furniture is always expensive to buy! So, build your own special wooden outdoor benches at home just like this given one that comes with a slatted berth and has been given a nice rustic wood finish! Do duplicate it at home using any recycled wood! ana-white
Build a Semi-circular Wooden outdoor Bench
There is no end to styles and designs of benches that you can add to an outdoor space and here is another great one to grab your attention, a semi-circular outdoor bench that will rock to sit around a fire-pit in the chilly evenings and can be made at home with the minimal wood experience! Full free instructions and free plans are here! diynetwork
How to Build Outdoor Bench
If you strive for the style and sturdiness of furniture items, then do clone this wooden outdoor bench that is beefy and durable at the same time! Here all you the wood slats in different sizes and thick wooden posts to make this DIY bench, use the thick wooden posts to build lasting longer legs of the bench! A simple yet great design of wood bench! artsychicksrule
You may also like these ourdoor garden beds to your grow vegetables in your garden: