With the spring around the corner, now is the best time to think about your next garden project. So to make your life a bit easier, we gathered some pretty cool raised garden bed projects here and decided to make this awesome list of 50 raised garden bed plans. And I must say, all these garden projects are super easy to construct. Also, all of them can be made in just one afternoon and less. And the best part is that all of them can be made for a budget-friendly price. Which is more than awesome, don't you think? So buckle up ladies and gentlemen the raised garden bed countdown is about to start. For our first post, we choose an awesome and easy to make a raised garden box.
How to build raised garden beds on a cheap budget?
This is quite a simple task if you follow the simple instructions you can find in the post. Speaking of simple instructions, all these posts come with great explanations and step by step guides on how to build a raised garden bed. So you don't have to worry about what's next. All you need to do is to scroll down a bit and to choose the garden bed you like the most. Next, we have another super easy to do a raised multi-leveled garden planter box. This planter box is such a great solution for small backyards, patios, apartments, in general, for small spaces. One of my favorite projects here is this adorable enclosure.
This is an awesome way to protect your garden. And a cool addition to your backyard decor. Besides, it's functional; this one looks pretty beautifully too. Okay, I don't want to spoil everything for you. Just scroll down a bit to see what else we prepared for you today. And maybe you find something interesting for your next outdoor project. Also, feel free to share and comment on our posts with your friends and family members. And if you decide to make one of these raised garden bed beauties, make sure to send us pictures of your garden bed artwork so we can enjoy them too.
DIY Raised Garden Box – Easy Project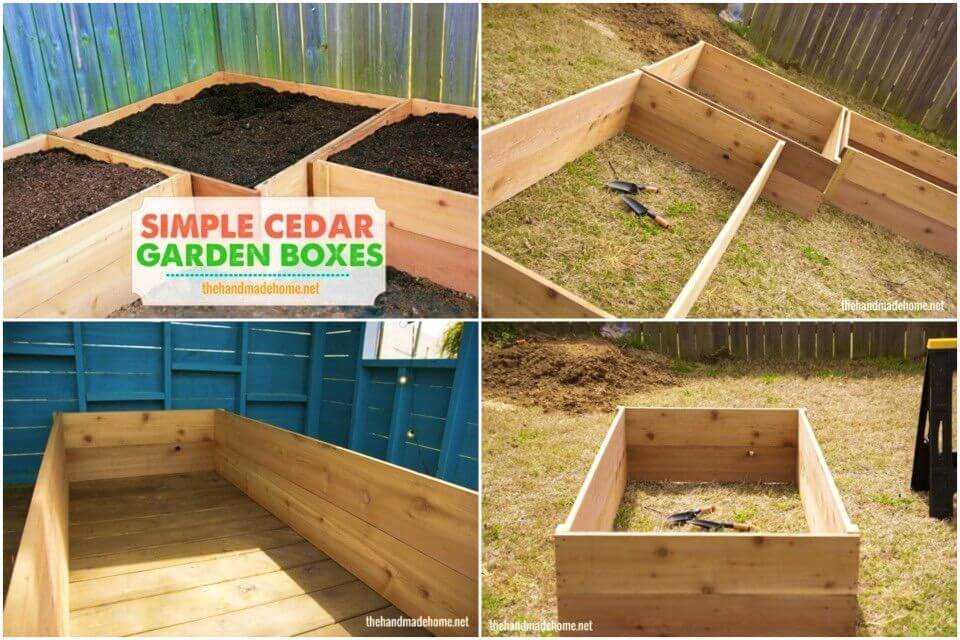 If you want to make your garden look incredible, you can innovate it by creating new things on it, such as garden boxes. Choose wood as the principal material and look for the rest of the supplies like drills, saw, screws, or any other important supply. Click here for more details:thehandmadehom
DIY Raised Multi-Leveled Garden Planter Box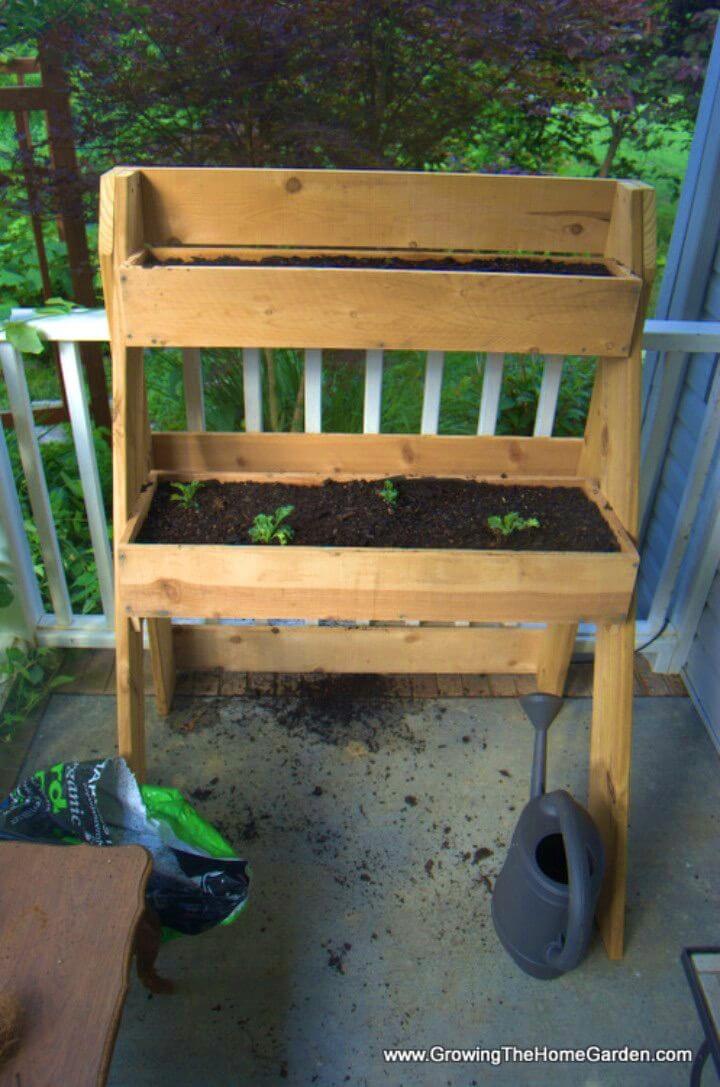 In this case, you can create a multi-leveled planter and keep it in the back to decorate your yard. It is important to select good resistant wood and begin to make this lovely planter. When this is done, plant some beautiful plants in it and spray some water every day to make them grow.growingthehomegarden
How to Build an Enclosure to Protect Your Raised Garden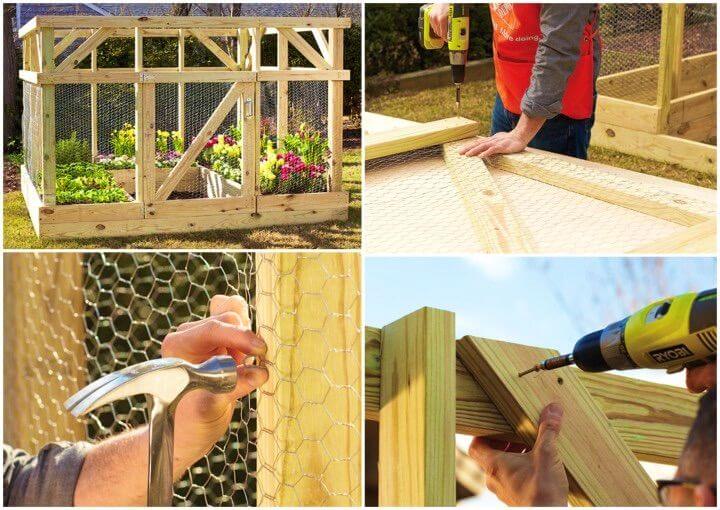 Sometimes you want to make something different and funny in your yard, and creating this amazing enclosure there, is a perfect option. Make sure it is big enough so that you and your family can get inside and plant any flower you want. It's the perfect space to take care of your favorite plants. gardenclub.homedepot
Make a Raised Garden Bed With Landscaping Timbers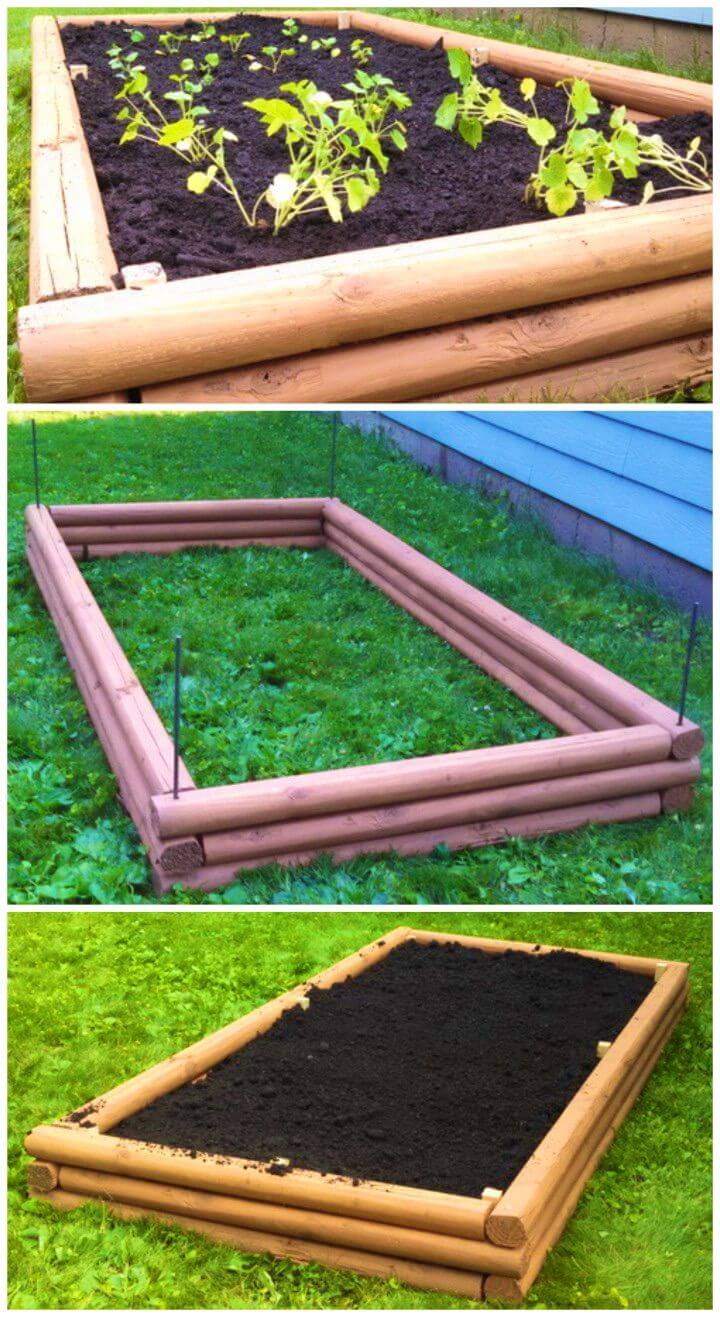 If you have some landscaping timbers without using them, check this out and create something interesting. Grab them all and place them making a rectangle, just like a bed. Then, fill the inside part with sand and fertilizer. It's a lovely space to have in your garden. removeandreplace
Adorable DIY Elevated Garden Bed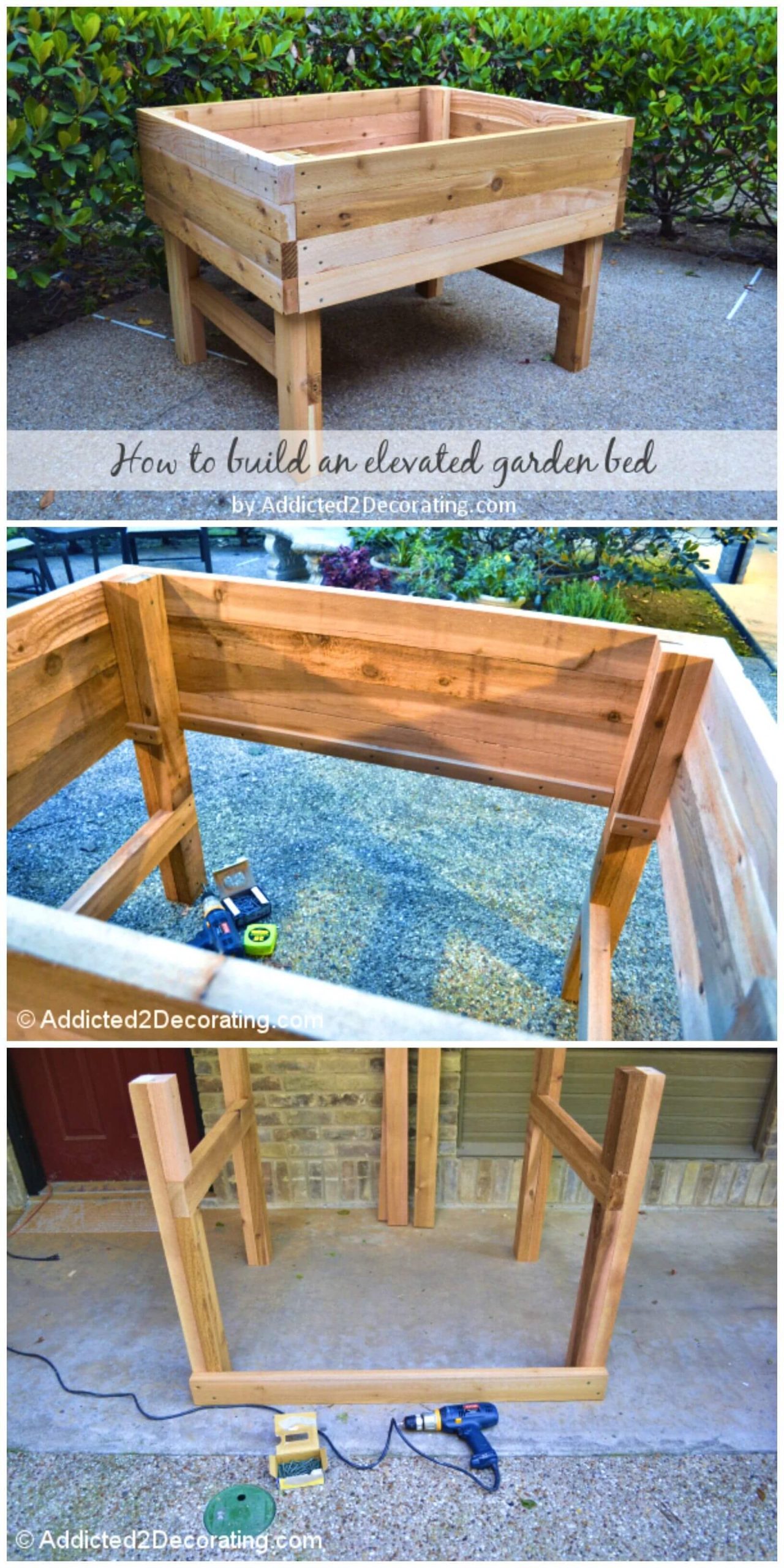 In this opportunity, you will learn how to build an elevated garden bed to decorate your yard. Take some woods, drills, a saw, and screws to create it without inconvenience. Make sure to build it in a medium-size so that it doesn't occupy so much space. Have fun while making it. addicted2decorating
DIY $35 Raised Garden Beds
If your yard is big enough, you can create some garden beds all over the place to have an organized space. Select the plants you want to plant, and you will see how beautiful it will look. The size of each garden bed will depend on you. Check the link below to see more details: queenbeecoupons
How to DIY Tiered Herb Garden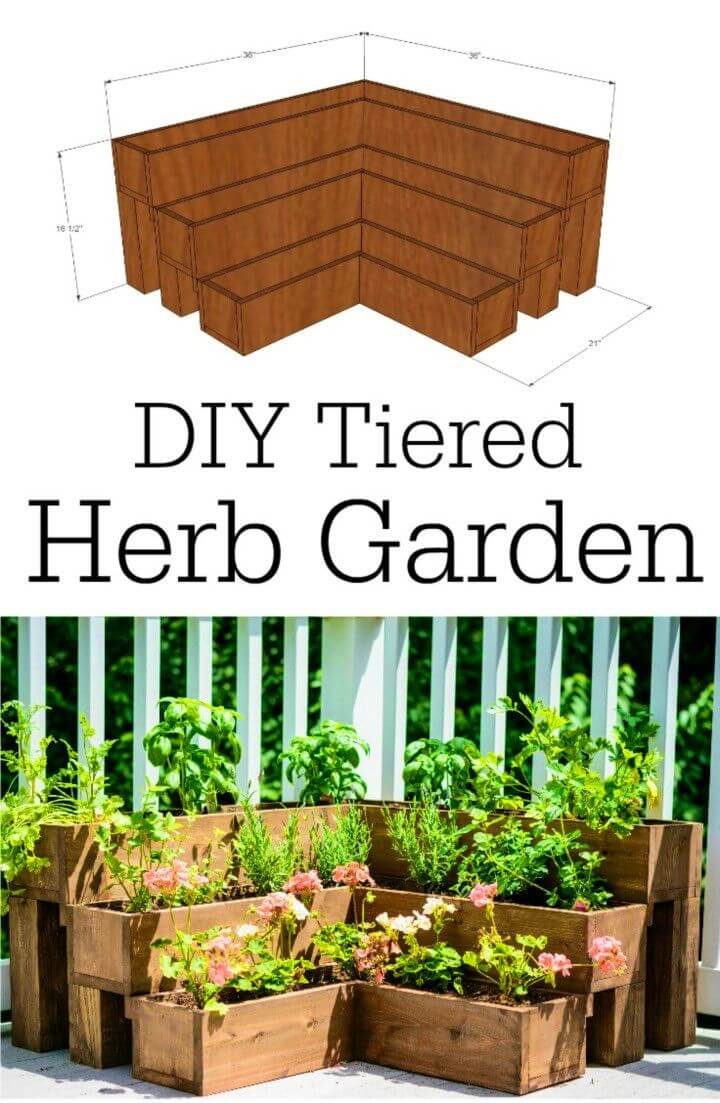 This is a lovely way to make something cool and different. It can be placed in the entryway or in the yard. Use woods to create the base of the herb garden and plant as many plants as you want. It gives a lovely view to the guests. Check how to do it by clicking here: decorandthedog
DIY Covered Greenhouse PVC Garden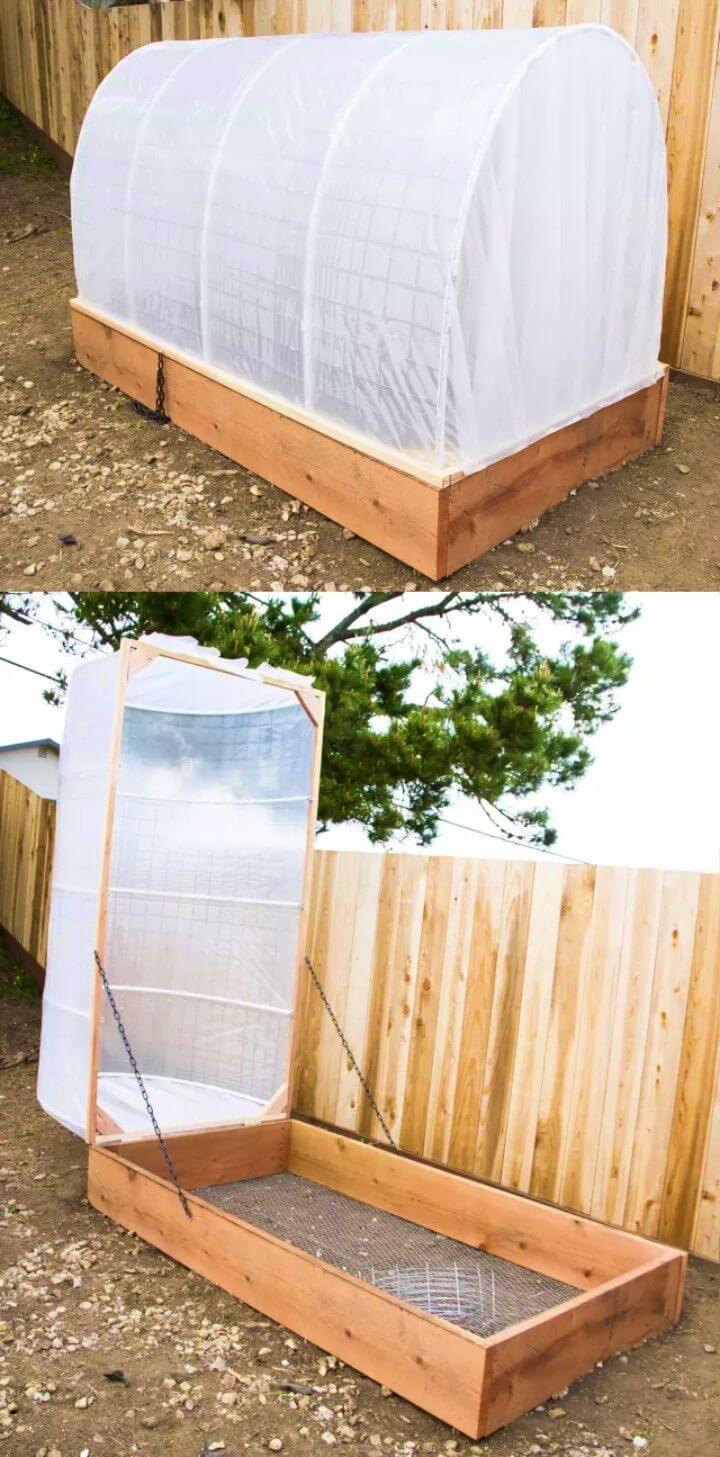 In this case, select wood material to create the base of this incredible covered greenhouse garden. It's perfect if you want to protect your plants and conserve them at a good temperature. The supplies are described in the link below. apartmenttherapy
How to Make Tiered Raised Garden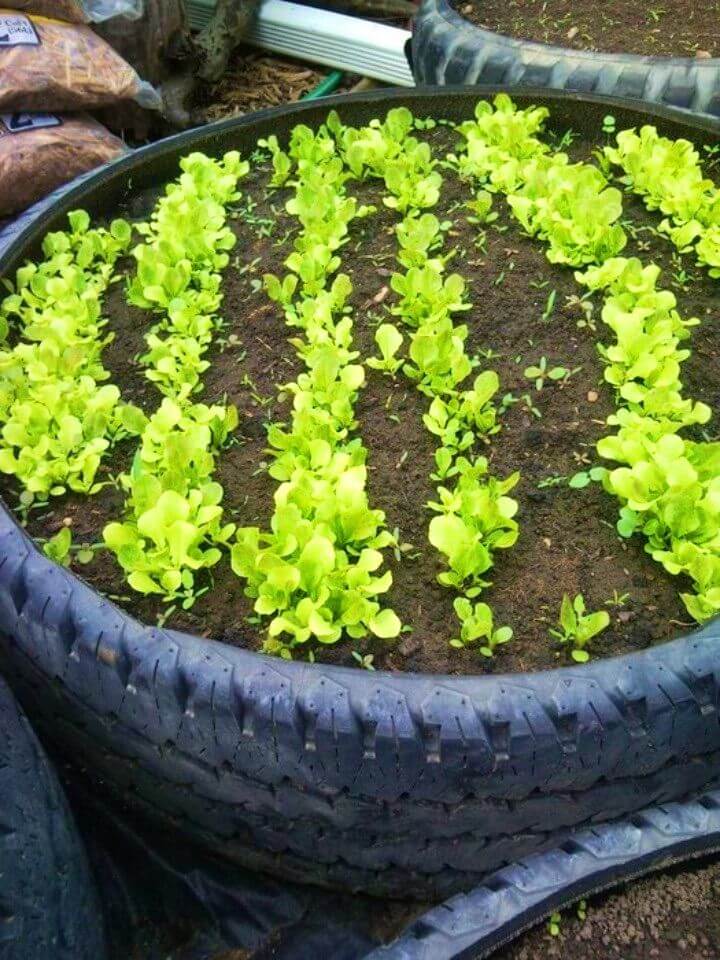 In this opportunity, you will change the look of your yard by planting the selected flowers in a tire. You can use as many as you want and decorate the complete space by placing these lovely items around. Everything will look organized and cute. Check the supplies you need to look for instructables
Build Your Own Square Foot Garden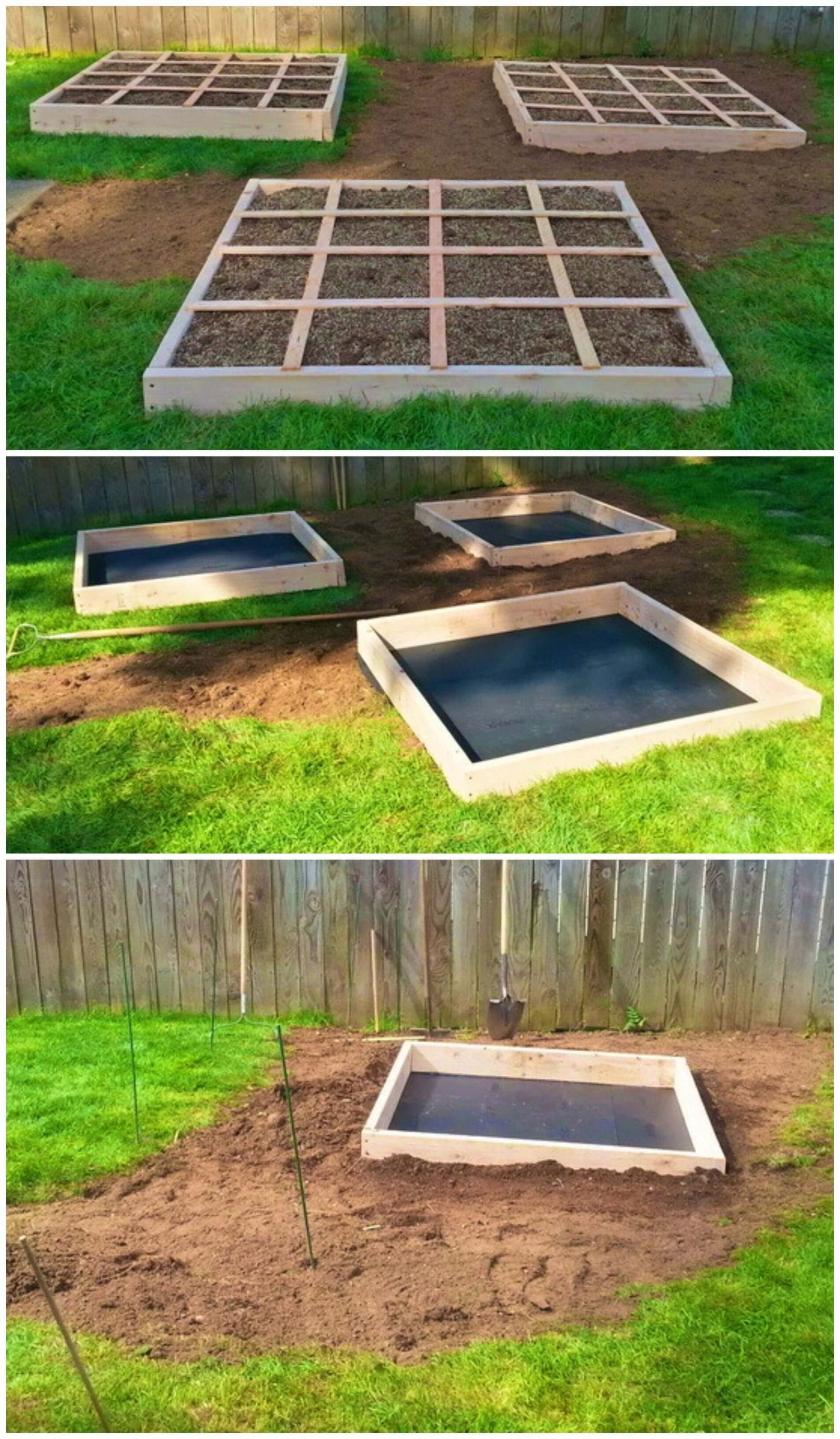 This is an interesting decoration you can create on your own by using just some woods, drills, and screws. Make small squares inside the big one to plant different plants on each mini square. You can create as many squares as you can, the yard will look unique and fun. removeandreplace
Easy to Build a Raised Garden Bed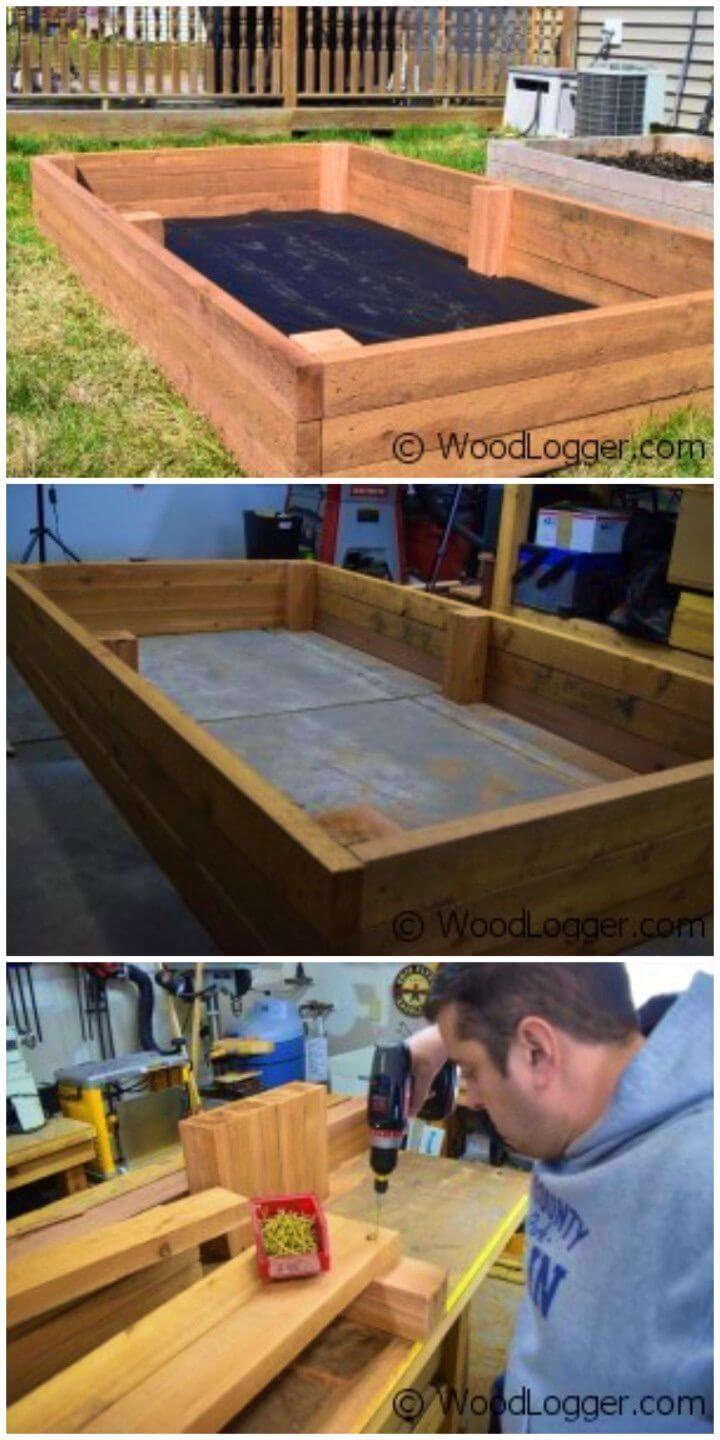 Creating raised garden beds is easy and a fun thing to do. Select woods, drills, saws, screws, and any other material you might use. If your yard is big enough, you can create a long garden bed. Make sure the height, the width, and the length of the garden bed fit perfectly with the measure of your yard. woodlogger
DIY the Ultimate Raised Bed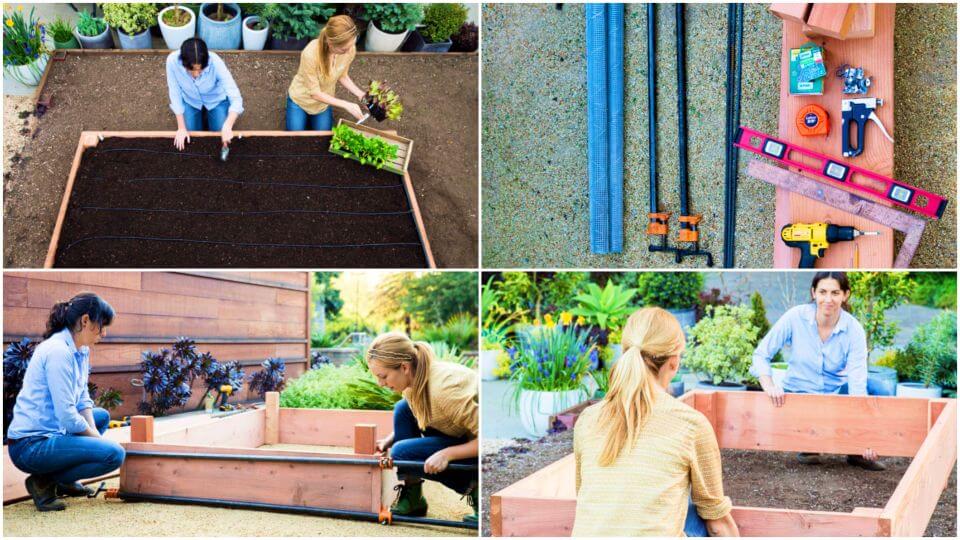 Even if your yard is not big enough or you want to use half of it for your plants and the other one for another thing, you can create this incredible square bed to put it in your yard. After placing it, you just have to cover it with sand and fertilizer while you are planting your favorite plants. sunset
How To Build a Raised Garden Bed – Memorial Day Mini Project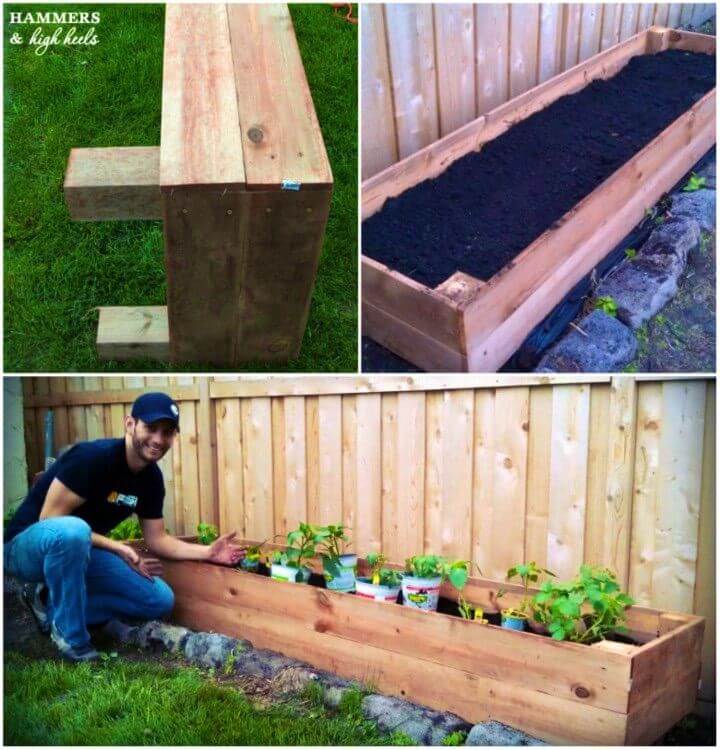 If you are a plant lover, but you don't have too much space in your yard, then this is a great option. Look for pressure-treated cedar tone, deck screws, a roll of weed to stop sheeting, and some plants and seeds of your choice. Check how to start by clicking here: hammersandhighheels
Amazing DIY Natural Wood Raised Garden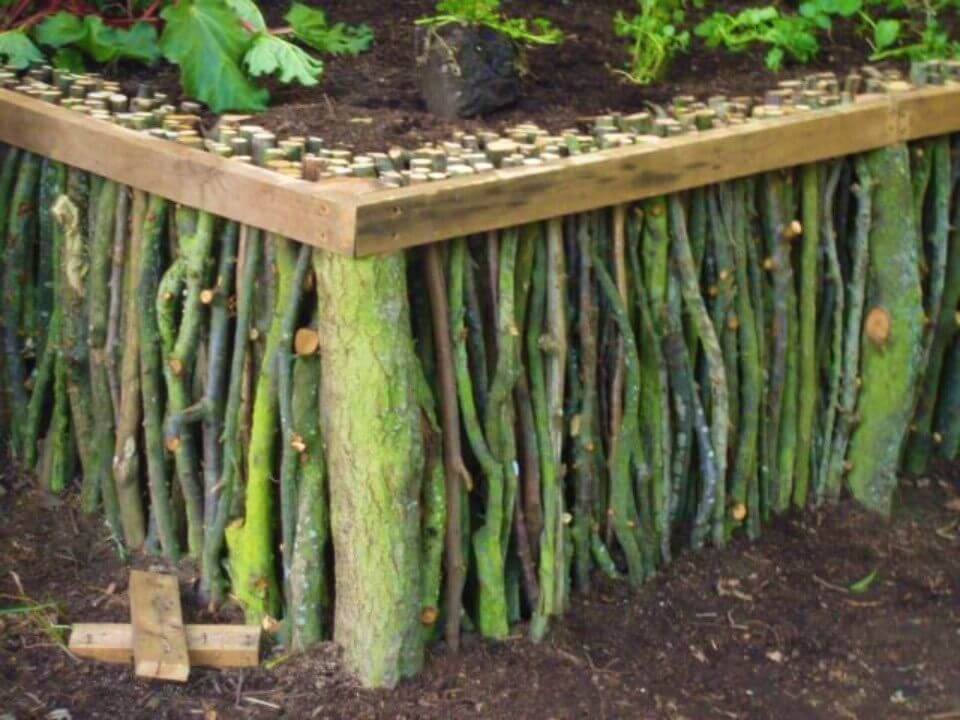 Innovating your space is a big compromise. In this case, you have the opportunity to create a natural wood raised a garden in your yard, and you just need to look for small branches, a few thicker logs, and some timber sections. After having the base part, add the timber sections above them to plant your favorite seeds. instructables
DIY Raised Garden Beds for Growing Vegetables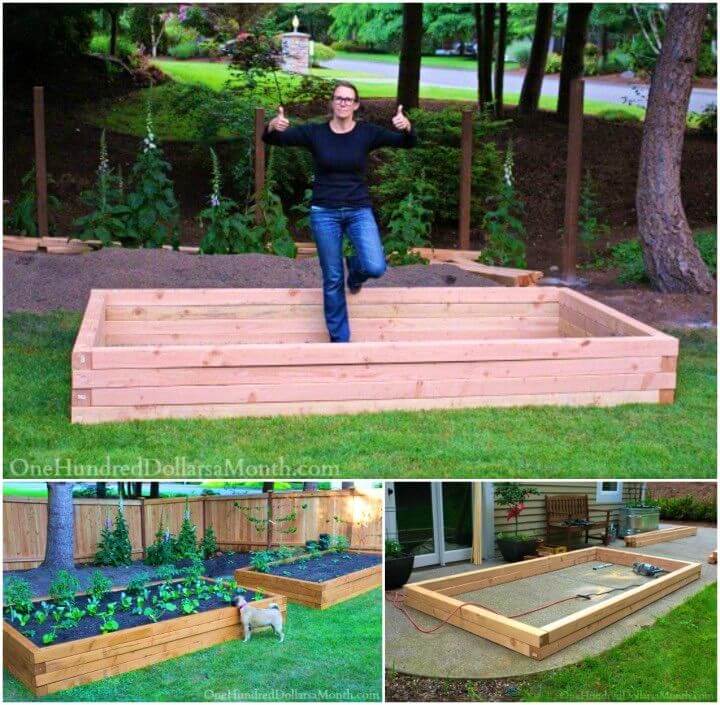 Grab as much straight timber sections as you can, and place them together to create a medium-size rectangle. At the end of the day, you will have an amazing garden bed to grow your favorite vegetables. The supplies you will use are described on the link below: onehundreddollarsamonth
Easiest DIY Raised Bed Garden Design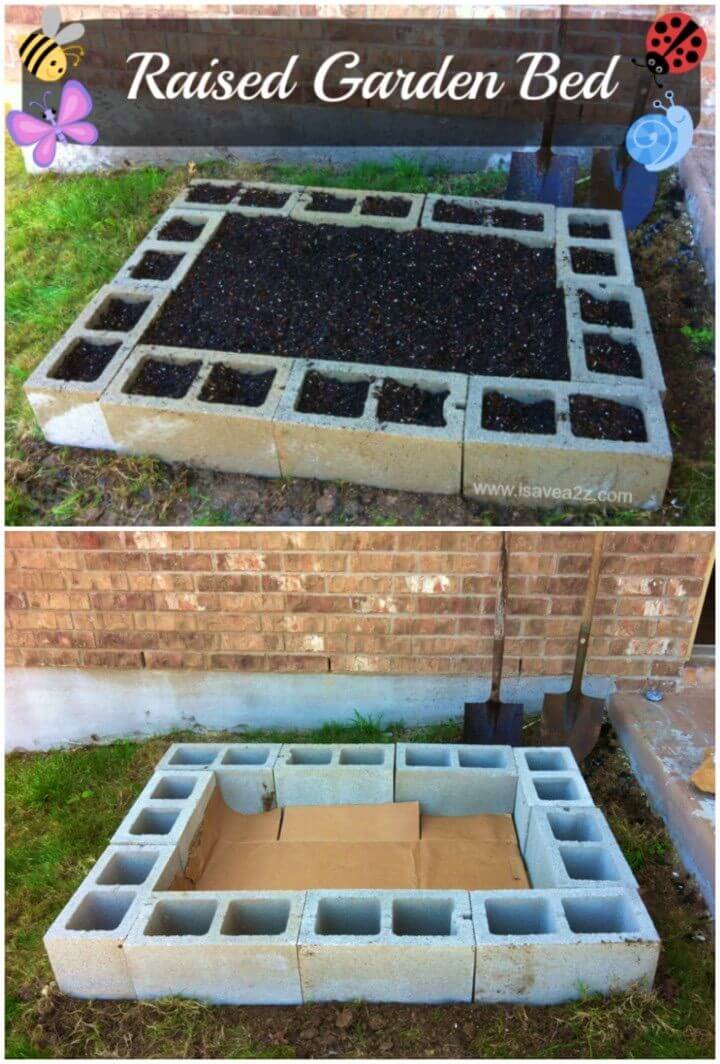 If you want to change the view of your yard, and you don't have too much space to do something big, you can use some cinder blocks to make a square. Make sure to place the blocks with the holes facing up. Fill each hole and each space with fertilizer, and you will have the place ready to use it. isavea2z
Turn Wooden Pallets into Raised Garden Planter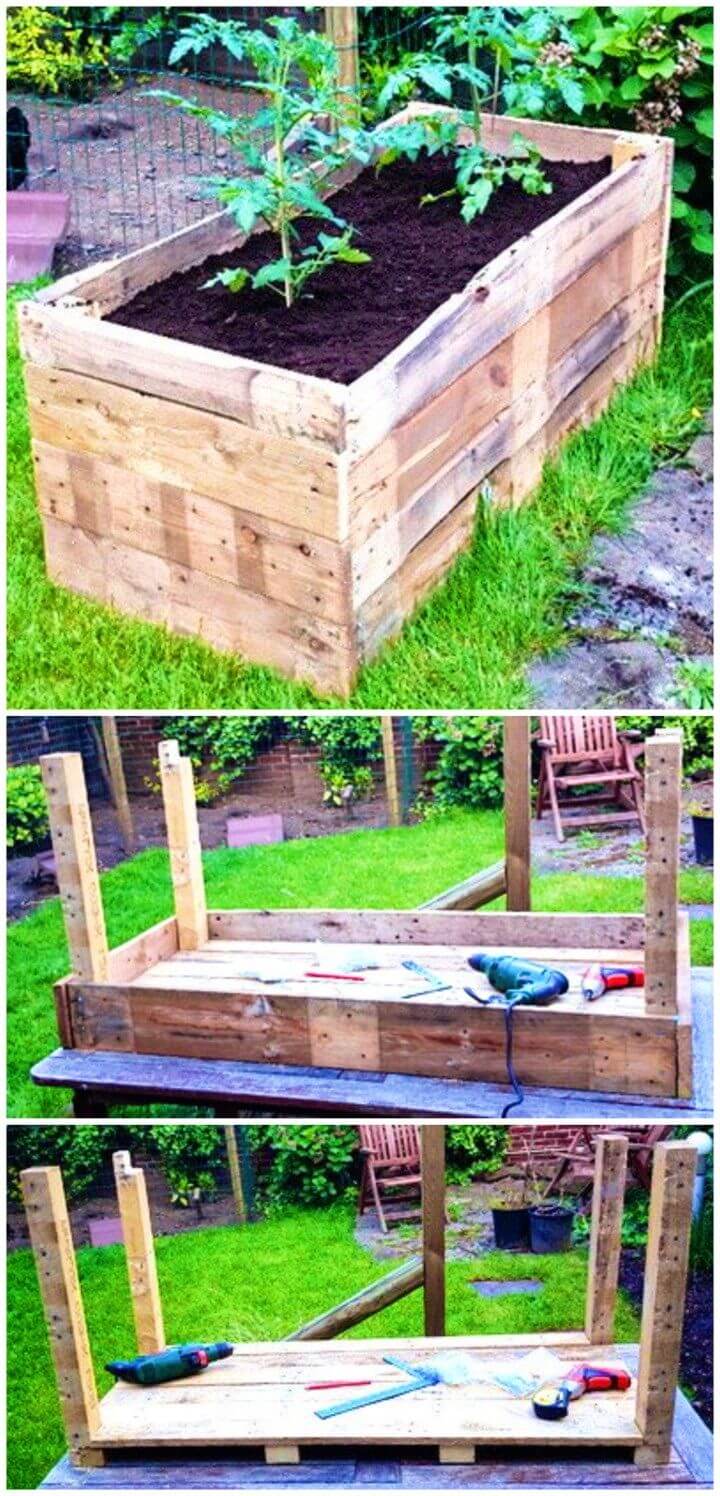 The first thing you have to do is to find free pallets in different sizes, break them apart and place them where your garden planter will be so that you will know how long and big it will be. Begin building the bottom part using different thicknesses of the wood to make it stronger. Click here for more: removeandreplace
How To Make Elevated Raised Garden Bed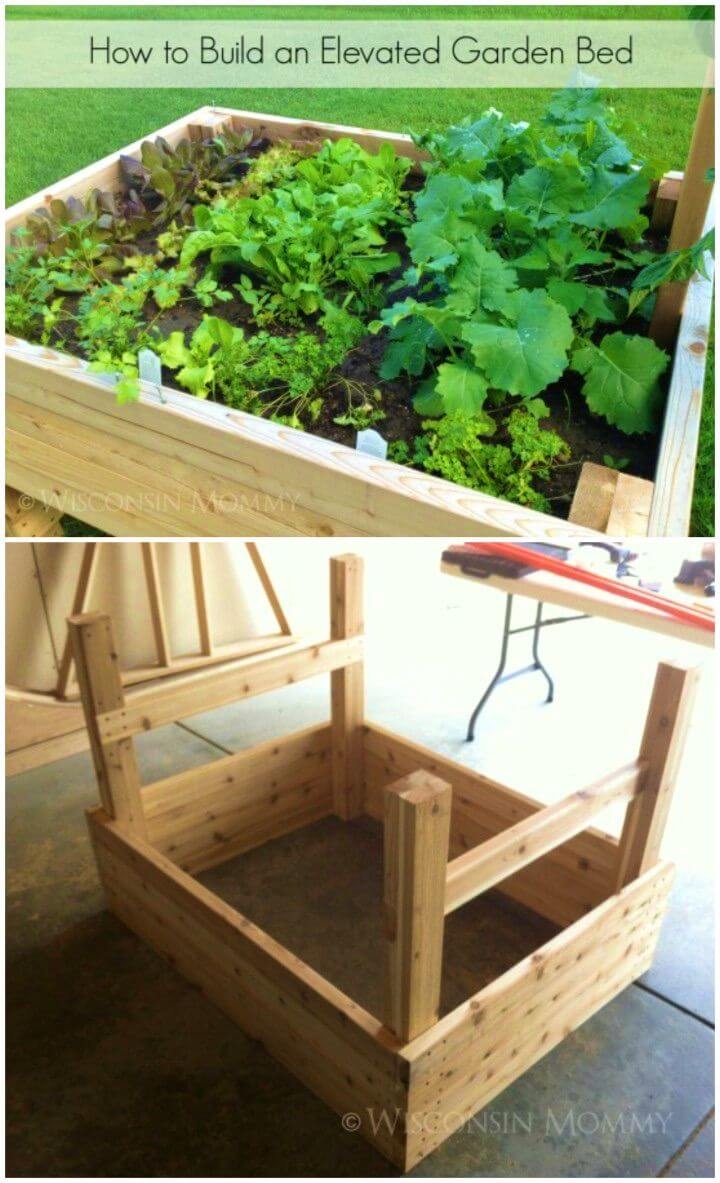 Elevated raised garden beds are perfect for keeping your yard organized and beautiful. In this case, the garden bed is small, so that you just have to plant your favorite seeds. Take care of them daily, and you will see how pretty and cute they will grow. Check here to read the complete steps: wisconsinmommy
Build Raised Garden Bed – on Legs!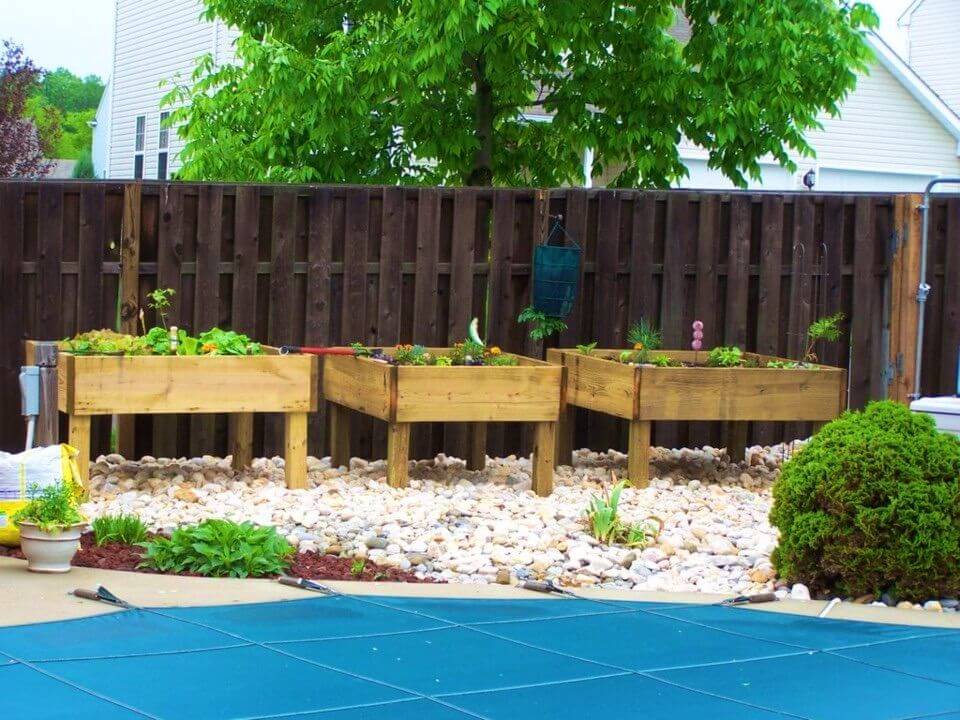 If you want to make something unique and special, you can create garden beds, but in this case, create some legs to attach them to each garden bed and make them look more incredible and cuter. Check the link below: instructables
DIY $10 Cedar Raised Garden Beds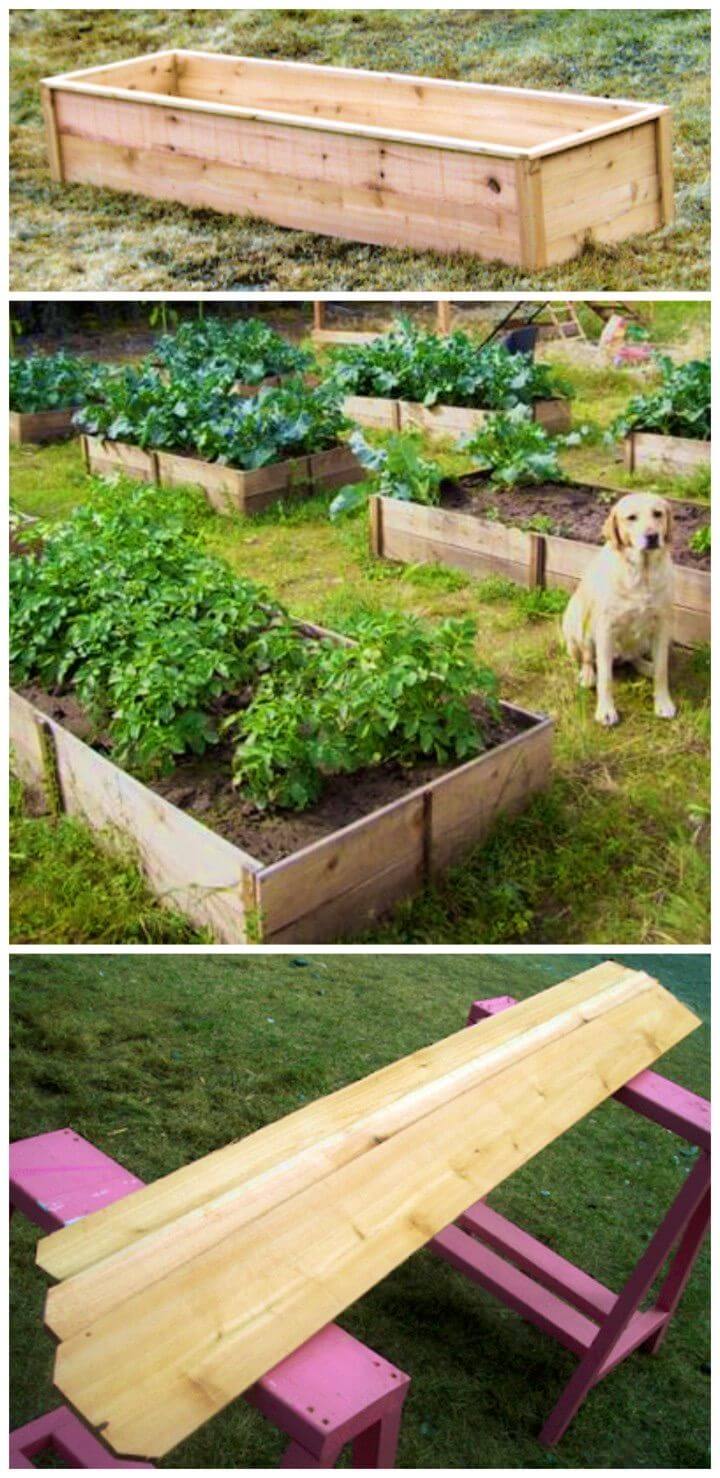 Keeping everything organized is a big challenge. Look for some timber sections with the same size and the same color. Attach them together to create a rectangle and place it in the yard. It can be as big as you want. Check the complete steps here: ana-white
Adorable DIY Raised Garden Bed for Vegetables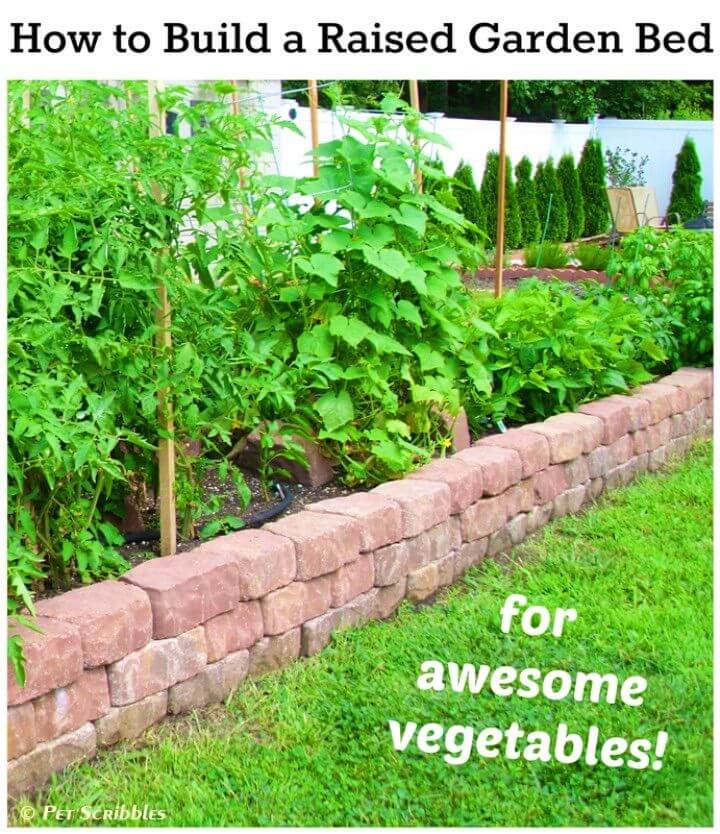 If you want to have your own space to grow your favorite seeds, build a raised garden bed using a few stones with some glue. Place all the stones together to create a small enclosure and fill it with fertilizer. Spray the seeds vegetables in it and have fun taking care of them. petscribbles
DIY Raised Planter Bed From Pallets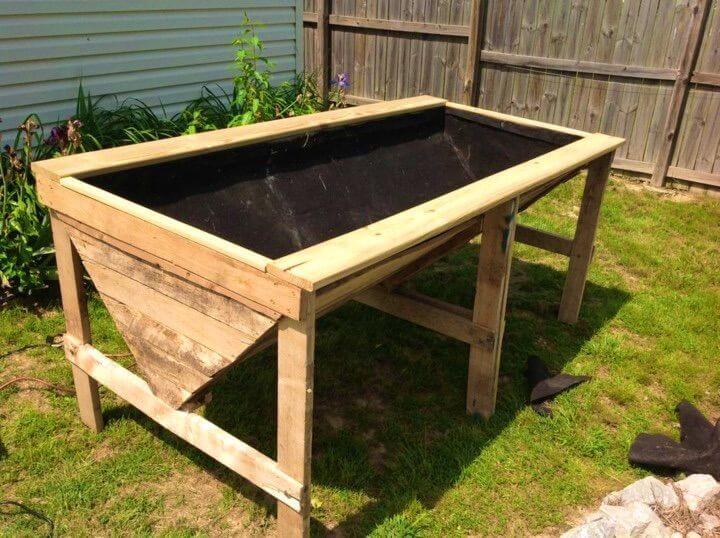 It is not necessary to make something big to plant your favorite plants. You can look for some timber sections in different sizes, drills, a saw, and some deck screws to start working on this project. Make some legs so that you can move it and place it anywhere you want. instructables
Build Your Own Raised Garden Beds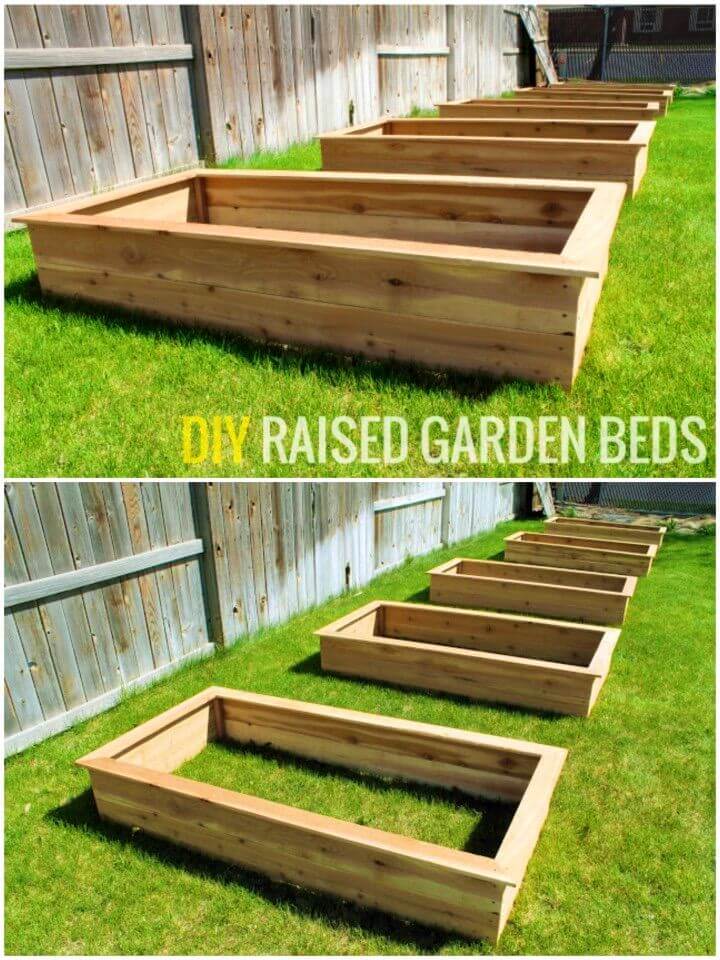 In this opportunity, choose wood material to begin creating garden beds. It's an incredible option to decorate your backyard in a lovely way. Depending on the space you have, you can create some of them. Check the complete instructions here on the link: chrislovesjulia
Build Raised Garden Beds From Reclaimed Wood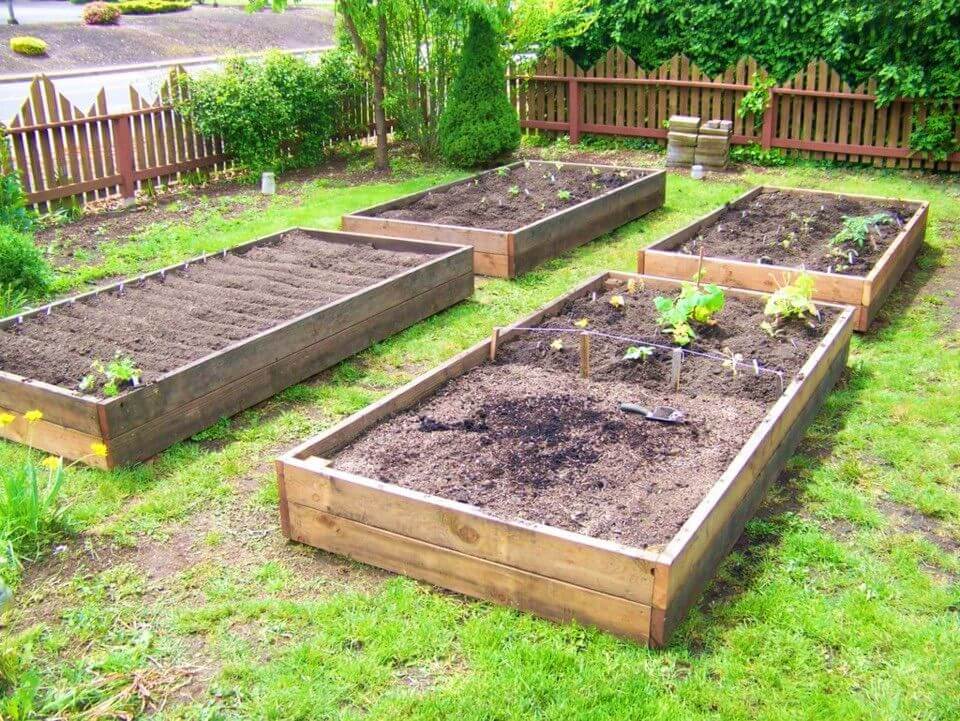 If you don't have new materials, that's not a problem. You can look for reclaimed wood to create these awesome garden beds. Also, if you want to have an original view, you can paint these garden beds to make it look more rustic and cute. instructables
How To Make Raised Garden Box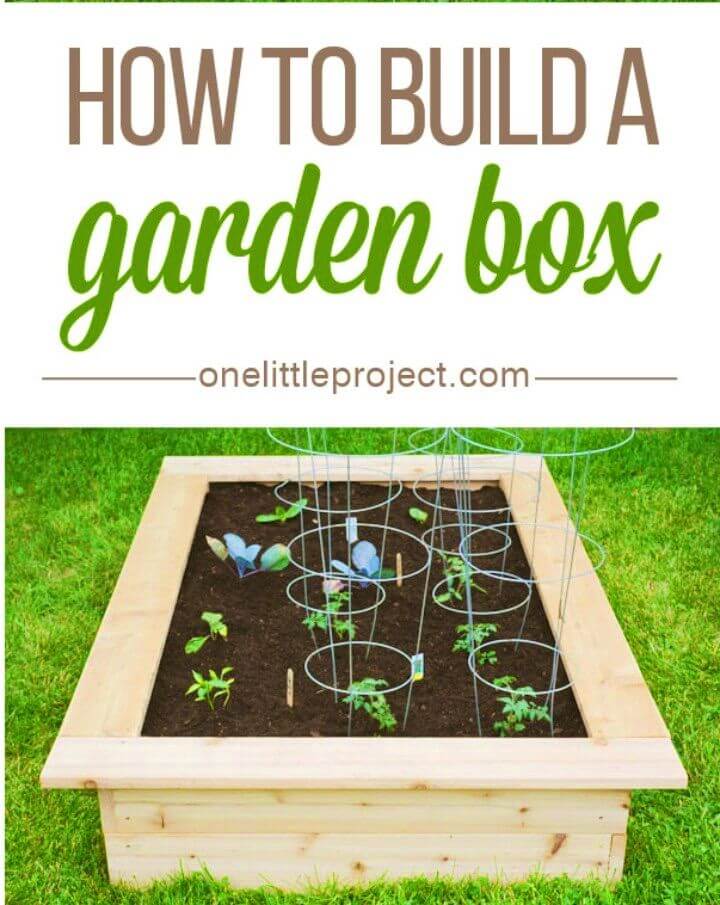 Having a backyard full of vegetables and plants, it's a unique decoration you can make. Even in the entryway, you can create a small garden box to create a lovely view for all your guests. You should definitely try it. Check the complete steps here: onelittleproject
DIY Raised Garden Bed For Fresh Veggies And Flowers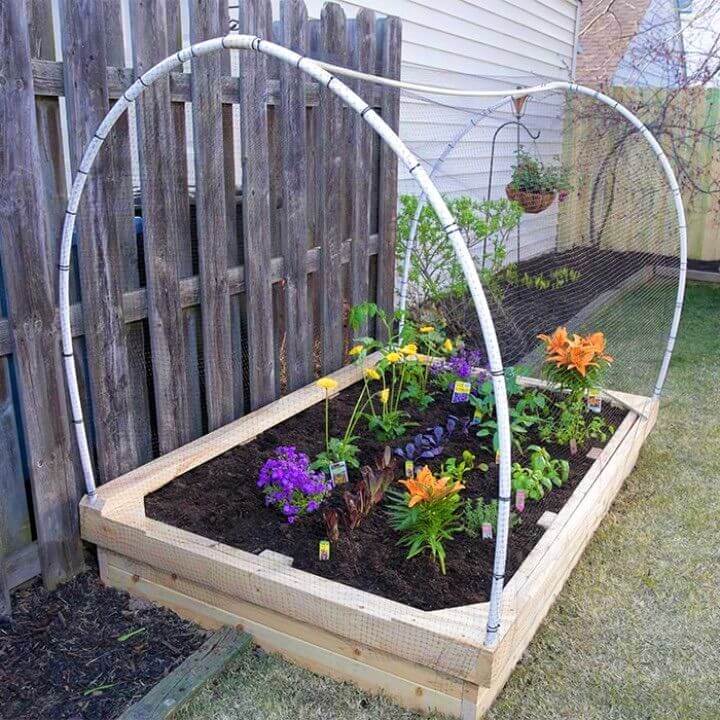 It is important to create something new and fresh to innovate any space at home. In this case, try to create a small raised garden beds with a mesh. In that space, you can cultivate your favorite plants and take care of them more than the usual ones. Click here for more: lowes
Build a Starter Raised Bed For Kids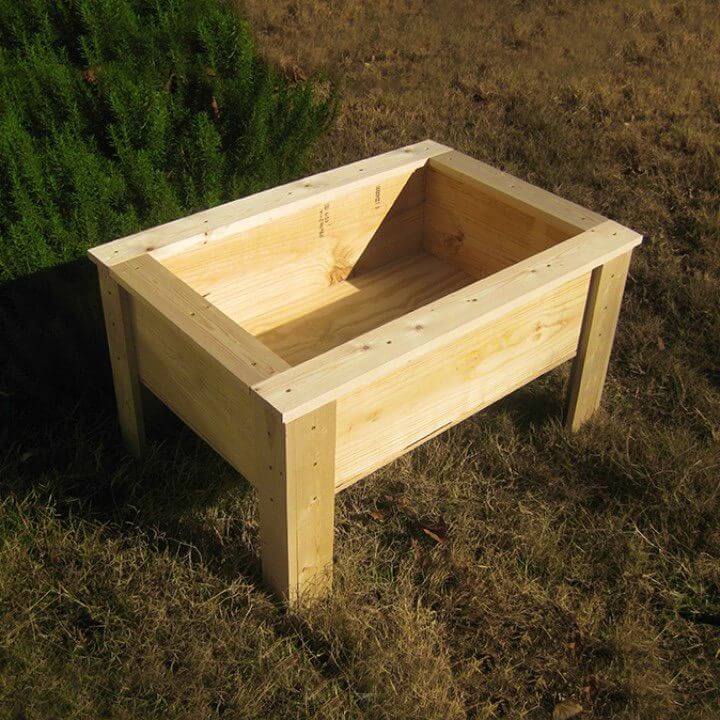 Sometimes it is important to teach kids how to take care of the plants, so if you want them to help you, create them a small garden bed for them so that they can fill it with sand and spray some seeds to help them grow. Look how you can make it by clicking here: vegetablegardener
Easy DIY Self-Watering Veggie Table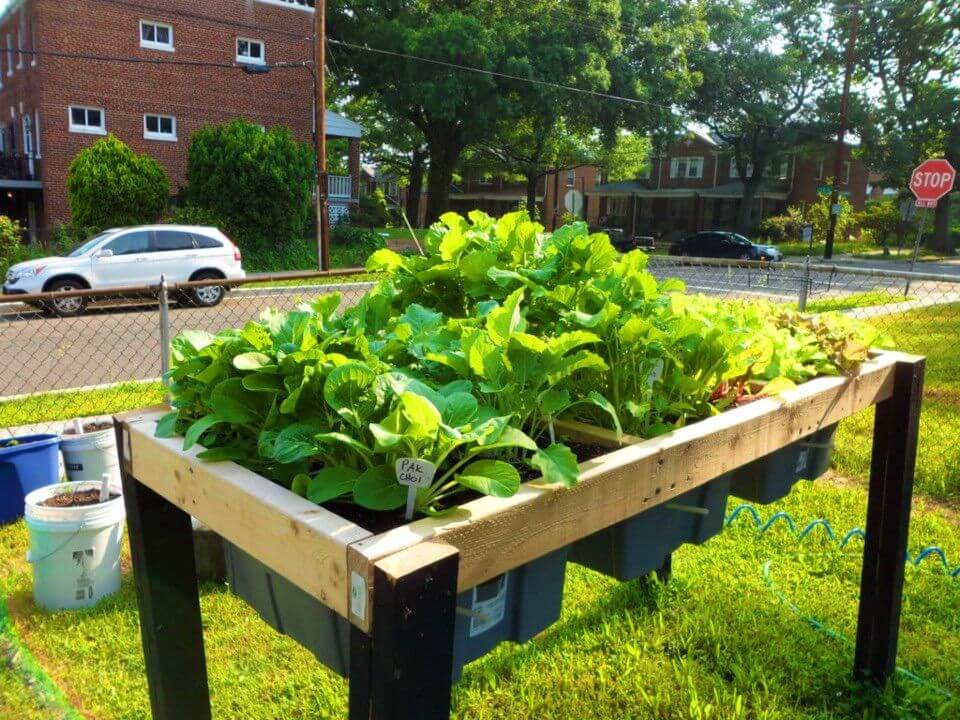 In this case, create a lovely veggie table by using some timber sections to make the table border and the legs. Also, use small self-watering containers to help you grow vegetables and herbs. Using this method is more original, easier, and successful. instructables
Create Raised Garden Beds in Your Own Yard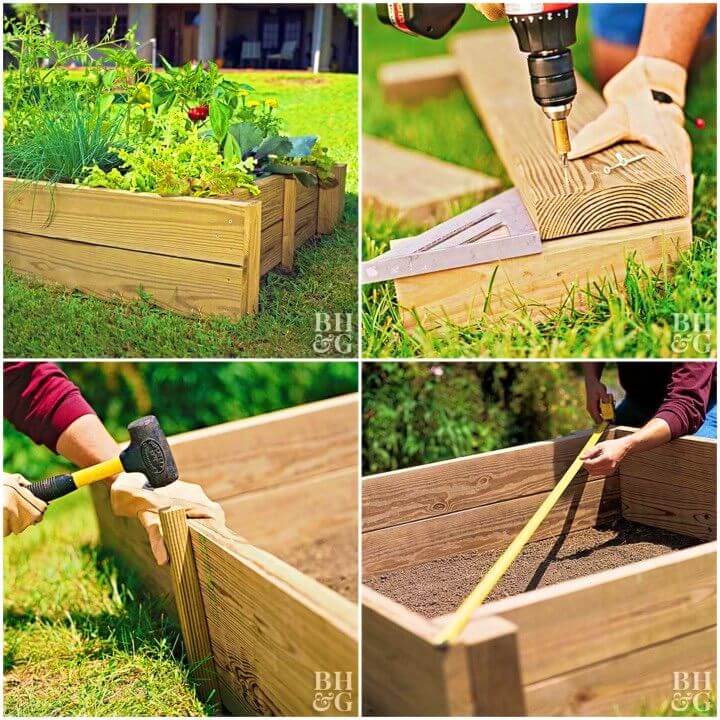 You can create different types of garden beds, and for this one, you will need a saw, drills, a hammer, deck screws, and timber sections. Make sure to have the right measure and start to create it. I'm sure it will look absolutely stunning in your backyard. bhg
Simple Building Raised Garden Beds Tutorial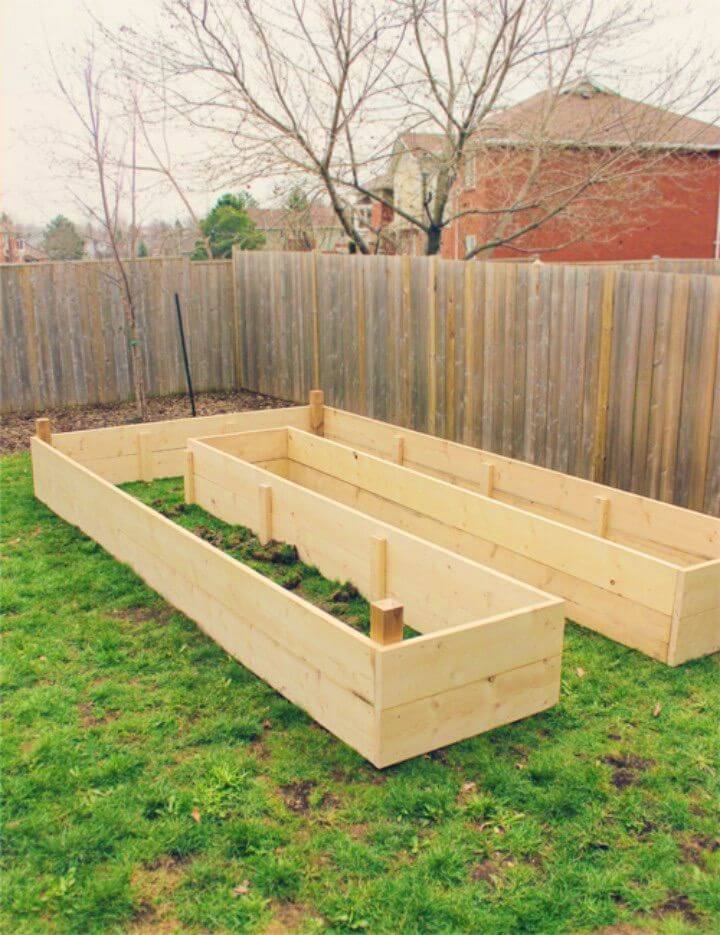 This project here is really different and unique. It consists of creating like a labyrinth by using wood to make the form. After is done, fill it completely with sand and fertilizer, add your favorite seeds, and water them every day until you start to see how beautiful they will grow. brittanystager
DIY Trellis & Raised Garden Box Combo
Here you have another cool way to implement your creativity in your backyard. Look for some wood material in different sizes, a drill, some screws, and a hammer and begin to work on this. After creating the boxes, attach the trellis to the garden boxes. It will look absolutely different. weedemandreap
DIY Concrete Block Raised Bed Garden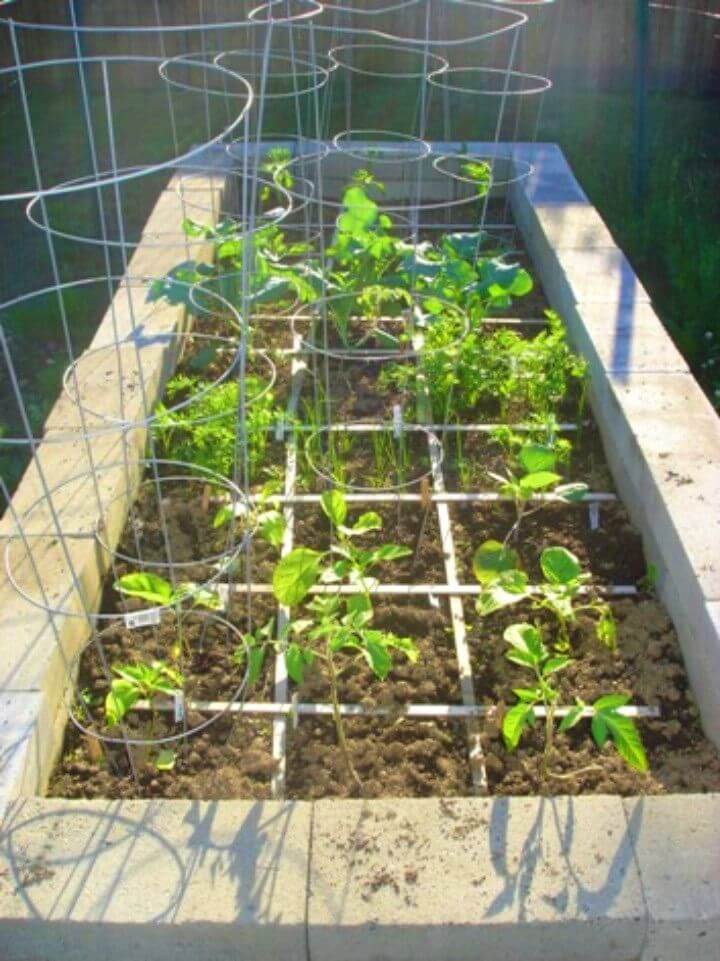 In this opportunity, you won't use timber sections to create the garden box; look for concrete blocks instead and begin to place them together, creating a rectangle. Then, you can use thin sticks to divide inside it creating small squares. It will look incredible after everything is done. shtfblog
Build A Raised Herb Garden in 4 Steps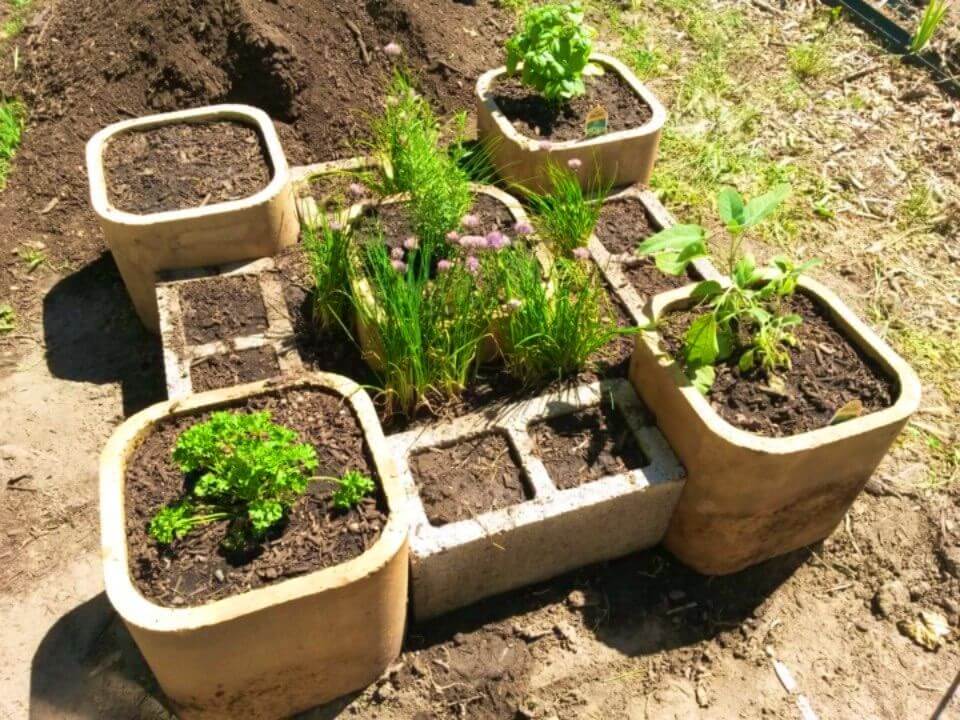 In this case, you have to create five plant pots. The biggest ones will be in the corners and in the middle, and all of them will be attached to each other by some concrete blocks which will be filled by sand and plants as well. It's an original way to make something different and fun. instructables
Quick and Easy Raised Garden Bed Project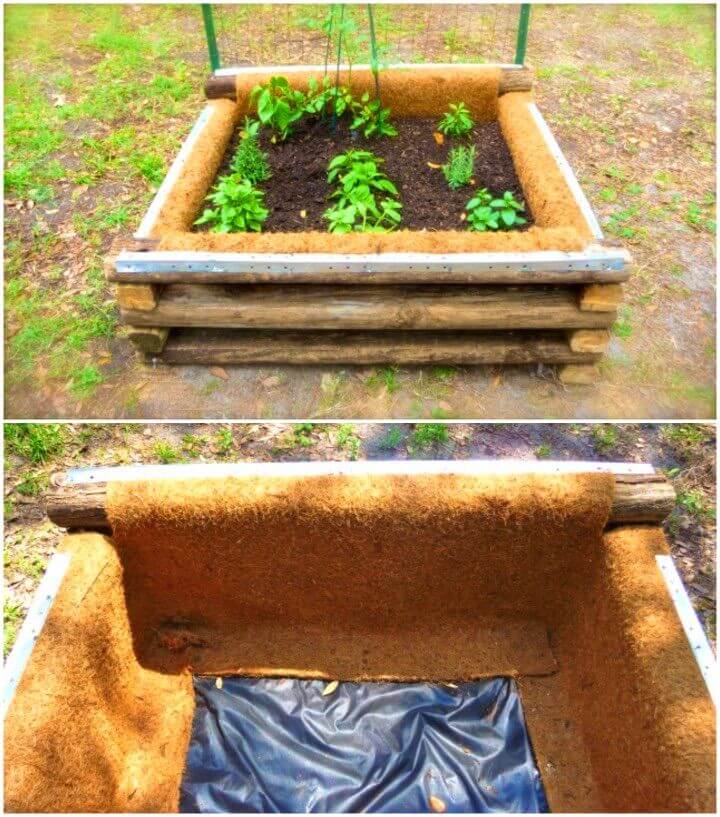 Here you have a wonderful and cute garden bed to create it in your backyard. It's absolutely comfortable and unique. The most characteristic item in this project is the weed cloth, which is necessary to place it inside the box for the free spaces you will have between the wood. craftorganic
DIY Raised Bed Garden + Trellis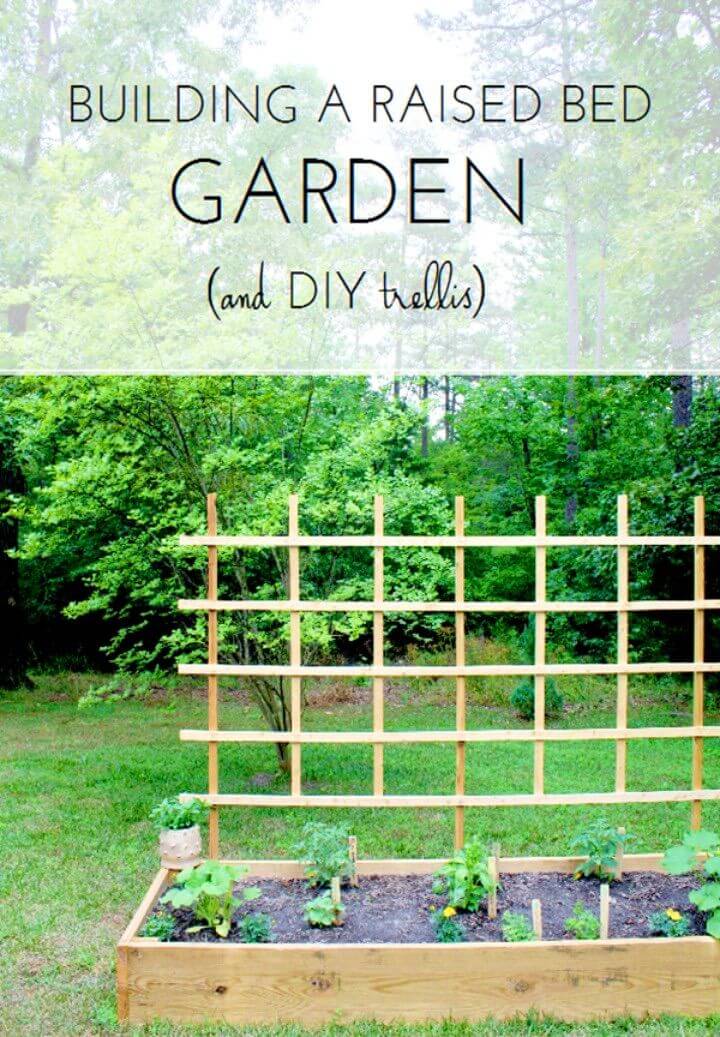 This is pretty similar to other garden bed explained above. The first thing you have to do is to look for the supplies to create these lovely garden beds, then use some trellis in the border of one side of the boxes to make a lovely view. It's absolutely incredible. You will love it for sure. emilyaclark
DIY Squash Growing Racks Out Of Pallets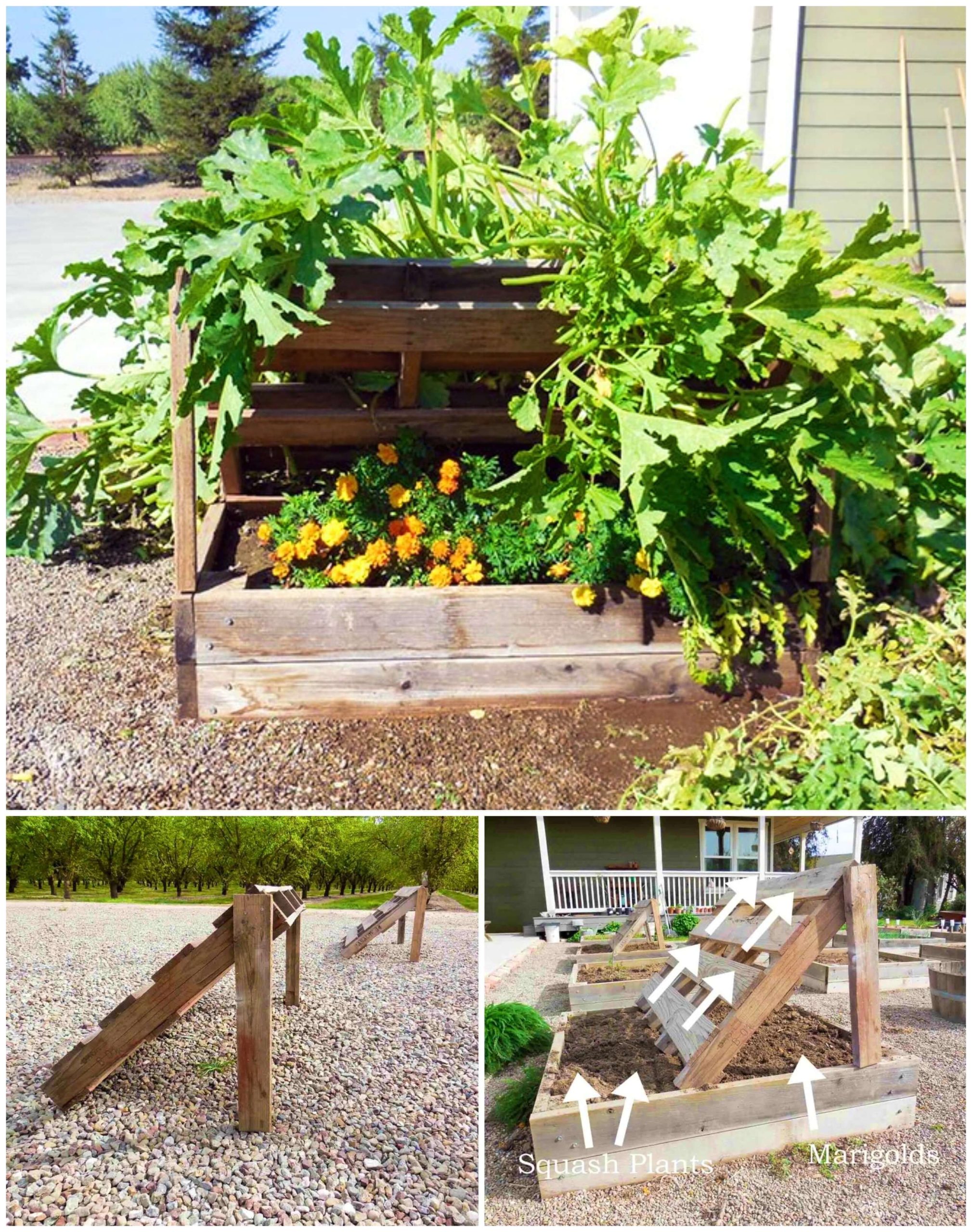 If you love squash plants, then, you must create this kind of racks pallets.It's the best option for those kinds of plants. They tend to outgrow fast, which is more difficult to water them and walk around if they are placed in a regular garden box. Click here to see how to make it. thepaintedhinge
Build Your Own Wooden Raised Bed Garden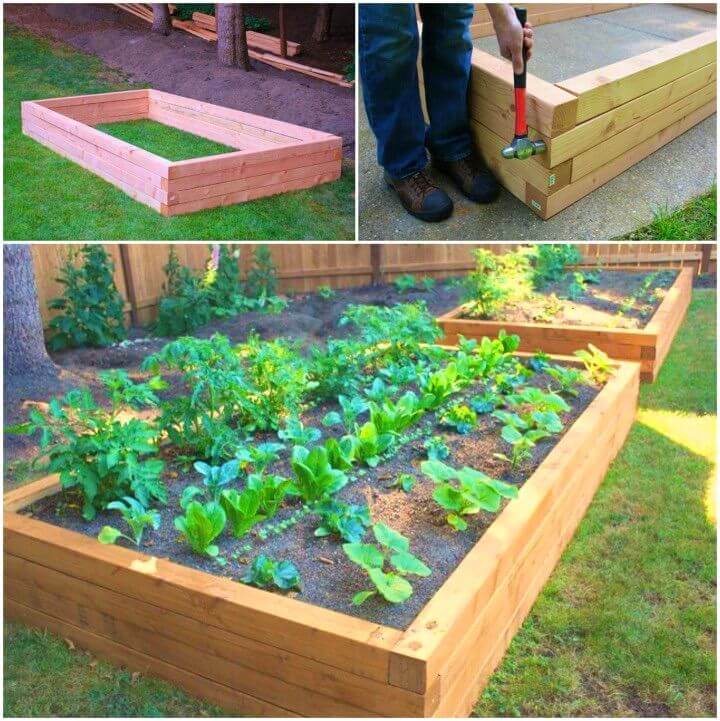 These raised garden beds seem to be pretty easy to make. You just need to look for timber sections, a drill, a saw, a hammer, and some decks screws. Keep the box organized by adding just similar plants and water them every day to help them grow fast. You will love it. ehow
Make a Raised Bed For Planting Flowers Or Vegetables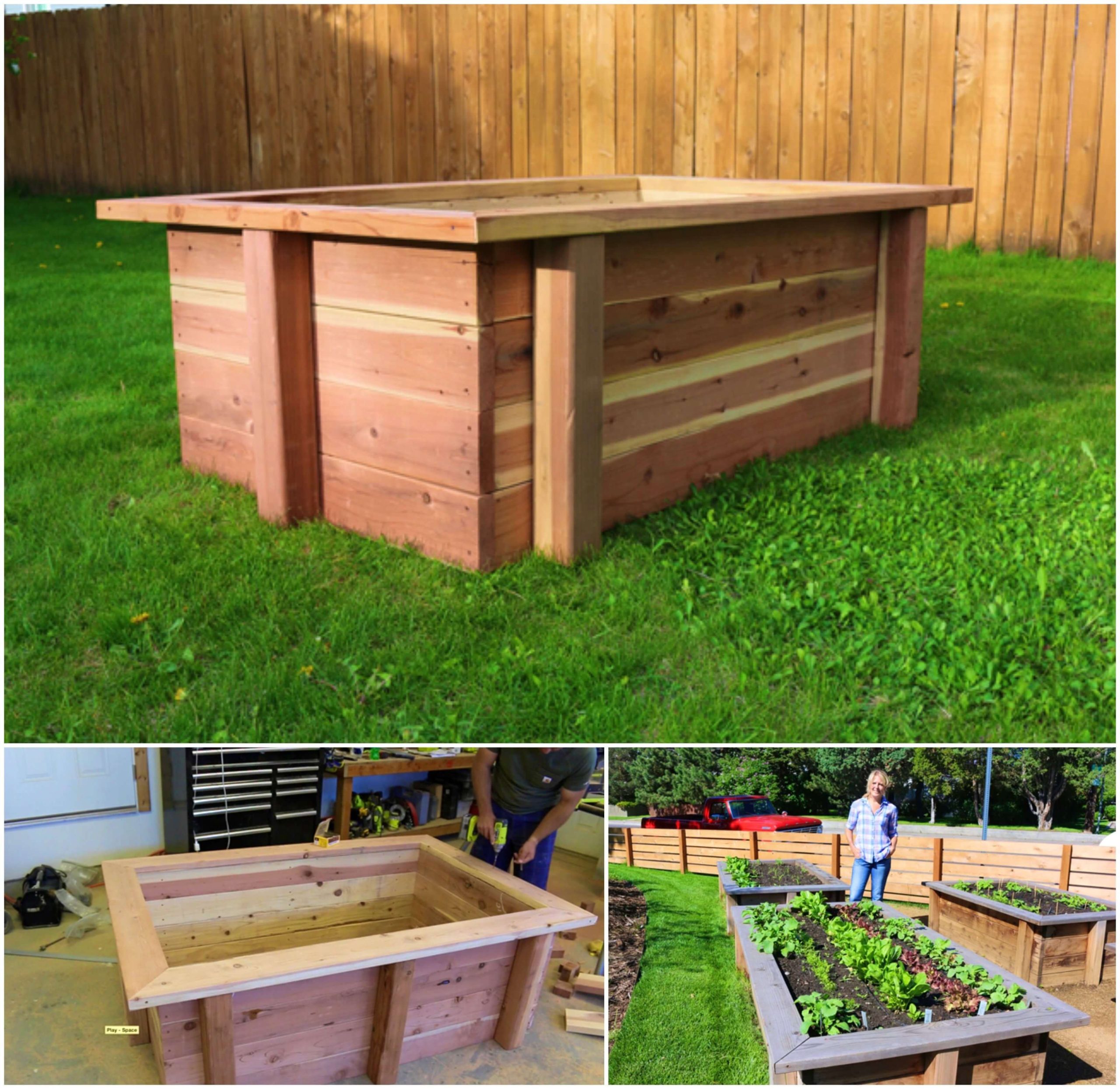 In this case, the garden bed is bigger and seems to be more comfortable to water them. Use different sizes of wood and start to work on it. After having the regular base, add a few timber sections in the corners and in the middle to make it look more rustic and stronger. diypete
Make a Raised Garden Bed to Grow Vegetable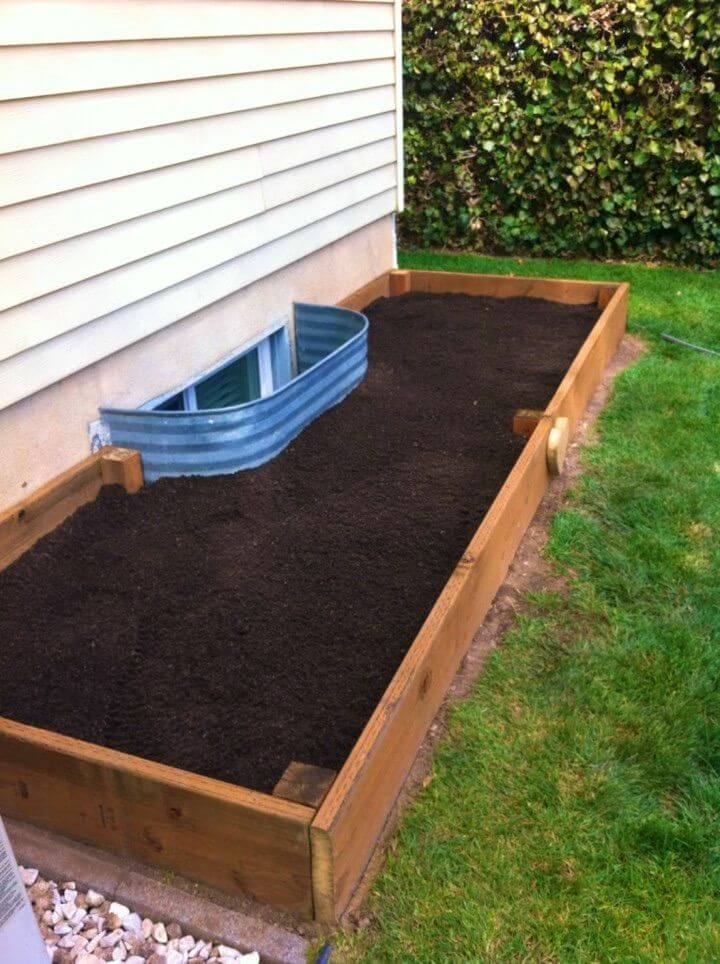 This one over here seems to be pretty easier. You just need to look for long wood material and attach them together to create a lovely rectangle. Then, fill it with some sand and fertilizer to add the vegetable seeds you want to cultivate. It's original and unique. Click here for more: frysauceandgrits
DIY Corrugated Metal Raised Garden Beds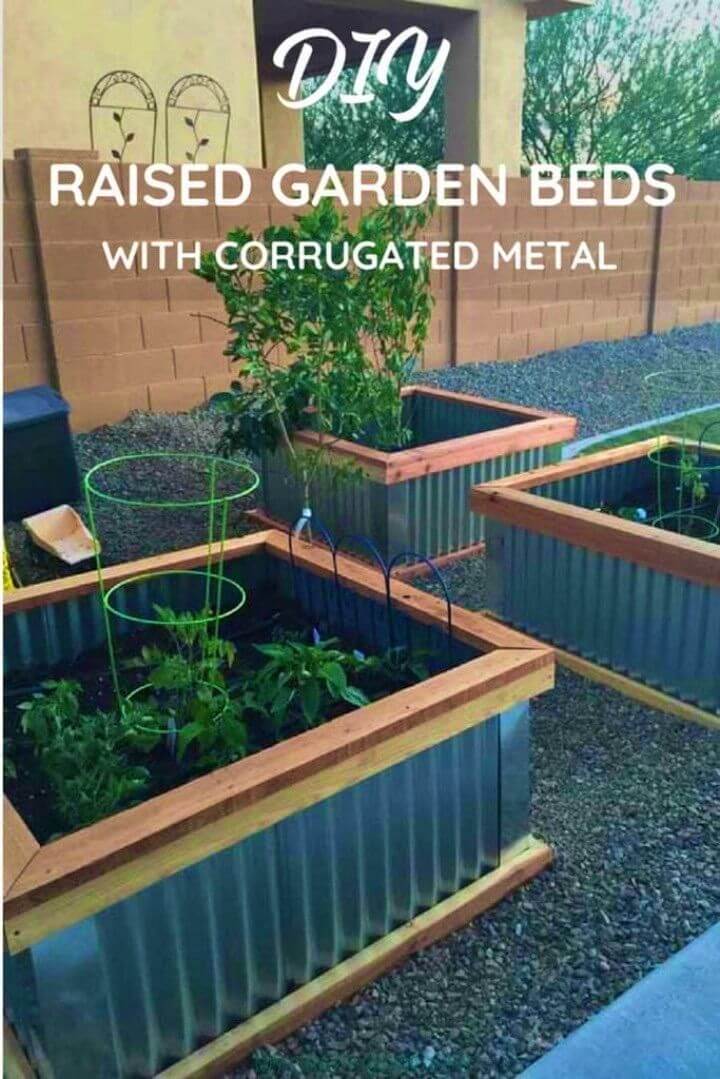 Here you have different and special garden beds you can create in your backyard to innovate your gardening style. It consists of looking for corrugated metal and use it as the base of the boxes, then, create a lovely border on the top using wood to make it fancier and unique. mycrazygoodlife
Simple DIY Cedar Raised Garden Bed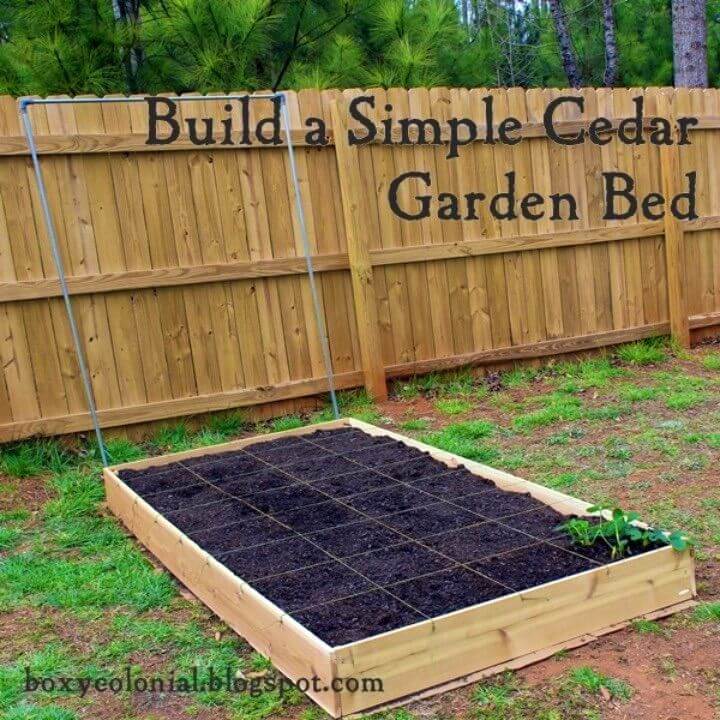 If you don't want to create something too complicated, make this simple cedar garden bed using just a few timber sections to make like a little box and fill it with fertilizer to be ready to grow your favorite plants. Check the complete instructions here: boxycolonial
How to Build Raised-Bed Garden – Simple Project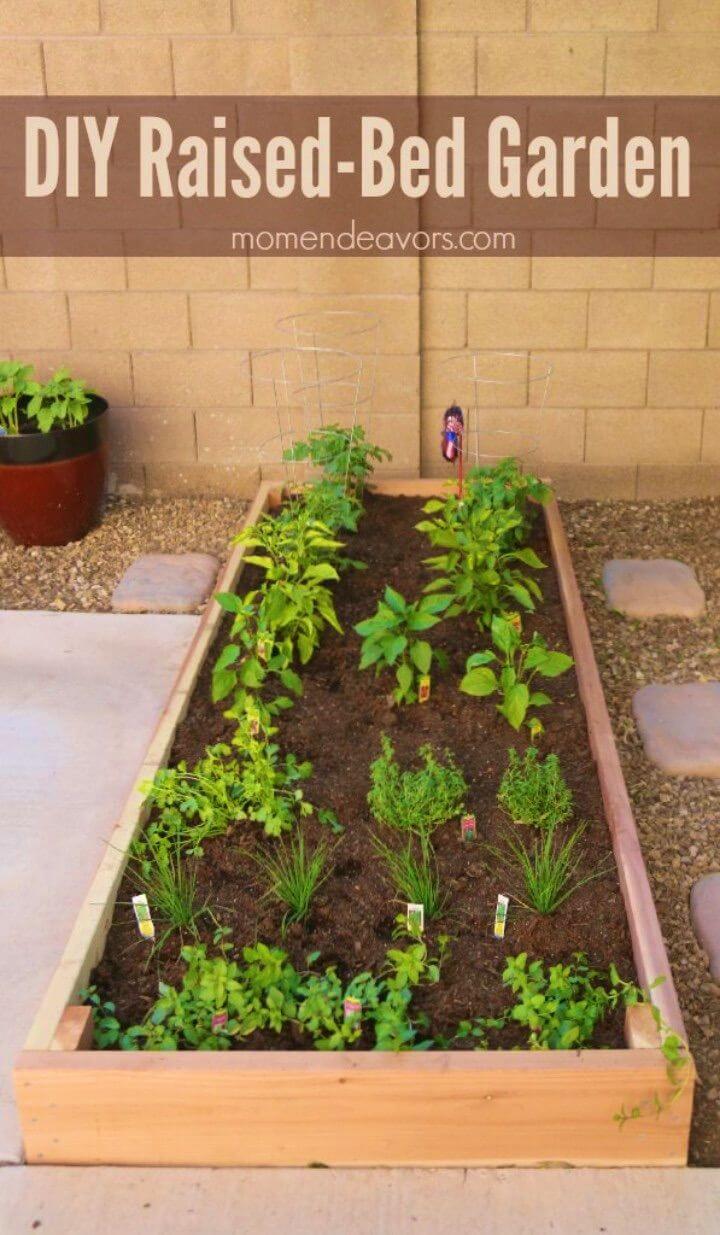 This one over here is more delicate and small so that you can place it anywhere you want. It basically consists of looking at the same supplies to make this lovely raised garden beds. Try to plant small flowers that don't grow too much so that it will look cuter and special. momendeavors
DIY Raised Garden Beds for Backyard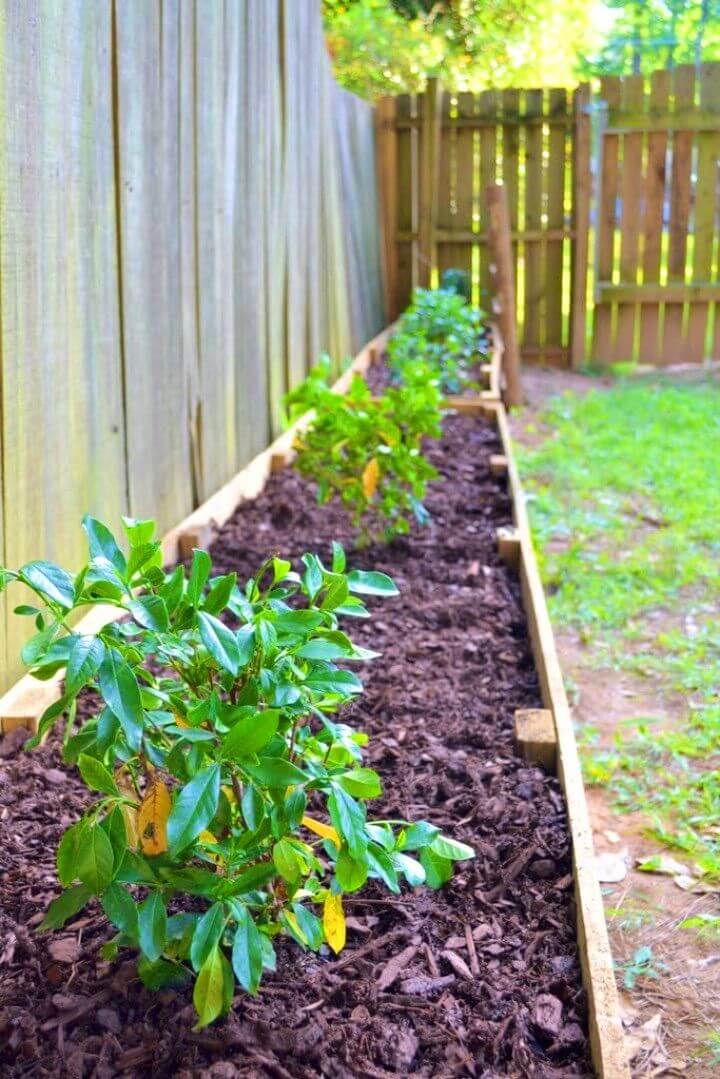 This garden bed over here is larger than the one above. It's perfect to create it next to the fence. It will make the view more elegant and organized. Make sure to water them every day so that your plants will grow beautiful, and it will give more color to the house. uglyducklinghouse
Make Raised Herb Beds From Old Drawers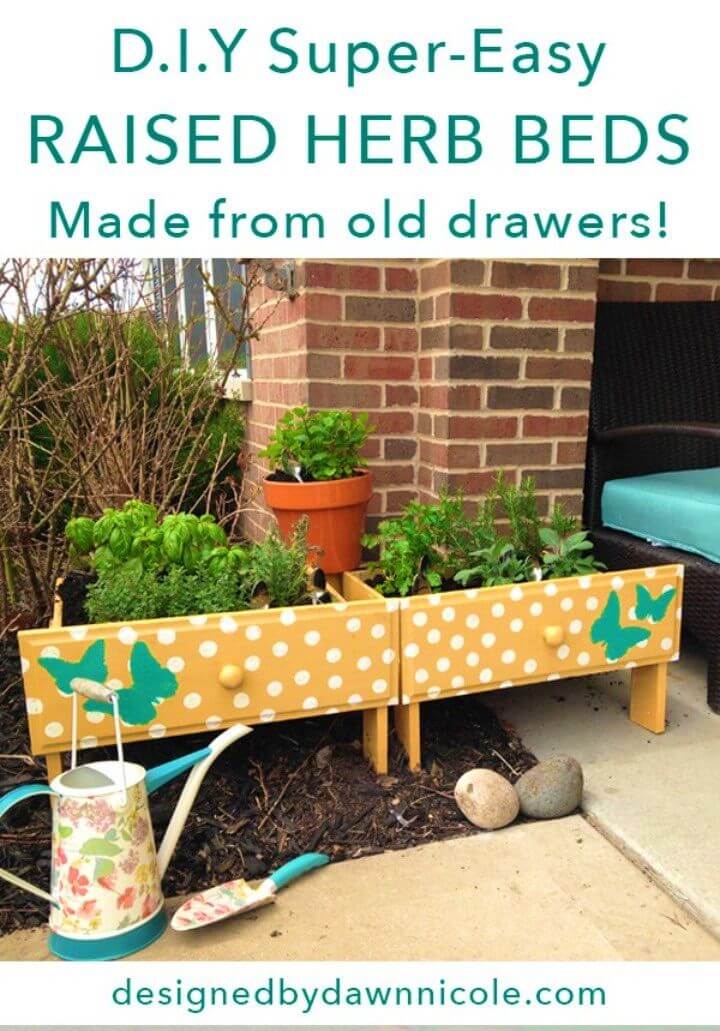 You can personalize any garden beds you create by using some paints on the wood base. Make them as small as possible so that you can place them in the backyard or in the entryway. It seems to be cute and fascinating. Check the instructions here: bydawnnicole
Build Raised Pallet Garden Beds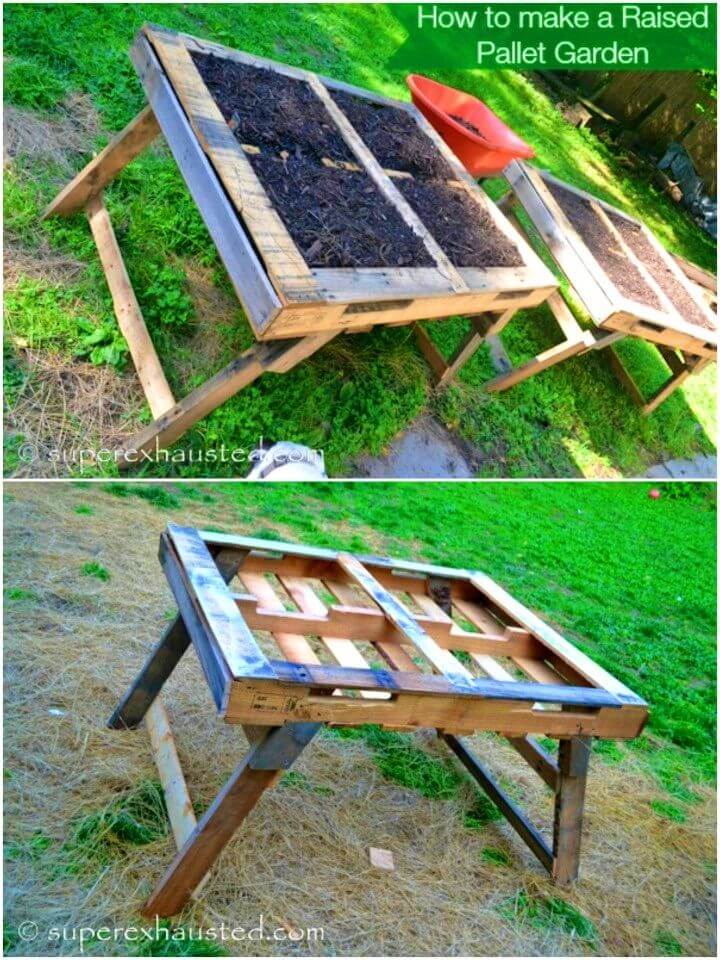 This one over here seems to be a small pallet veggie table. It consists of attaching different sizes of the pallet wood and create a lovely table ready to spray some seeds. Then, grab other timber sections to make the legs. It's perfect for decorating your garden as well as grow free vegetables. superexhausted
Want to decorate your garden? Or Grow vegetables? these pallet planter ideas have great options for you to choose and build your own.
DIY Fencing Raised Garden Beds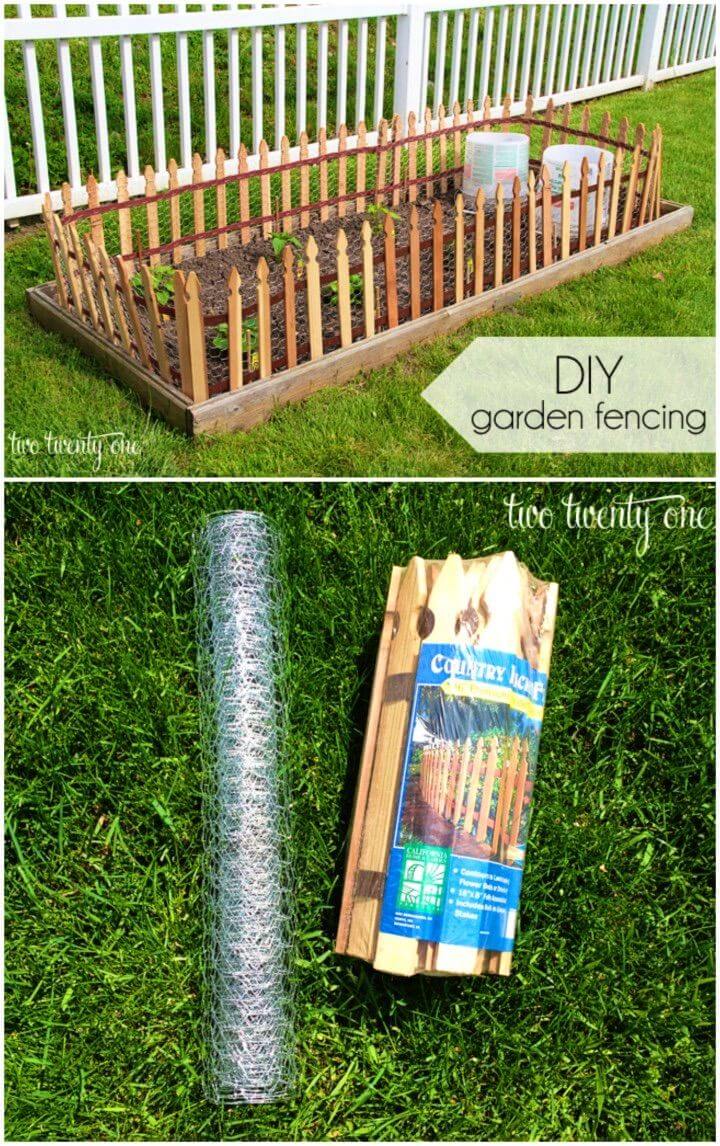 Grab tiny wood sticks to create the base by attaching them together. After having the base done, look for the roll of wire fencing and three rolls of wooden fencing to finish the project. It will be absolutely enchanted and innovative. twotwentyone
Build Tiered Raised Garden Beds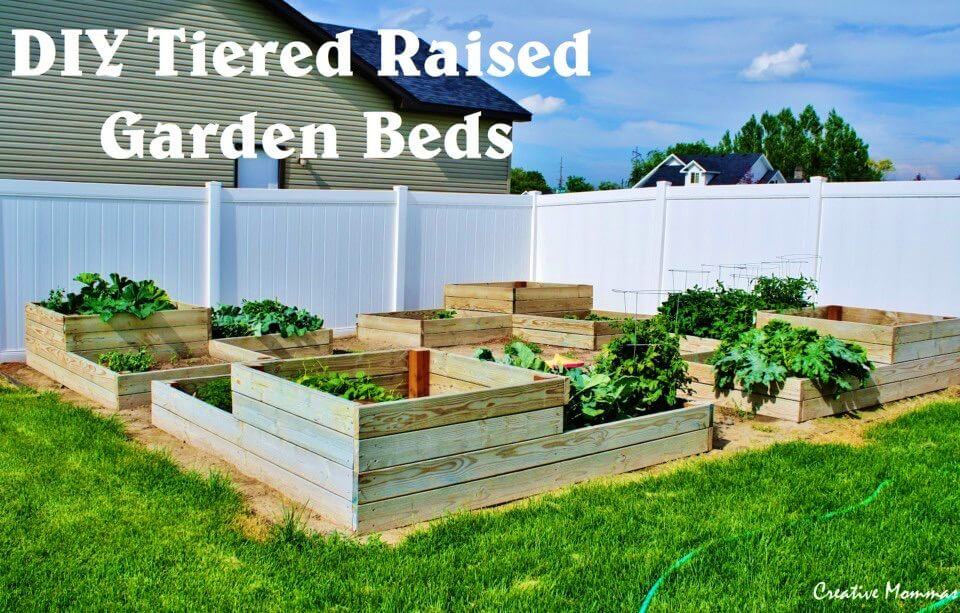 In this case, you have the option to make something cool and different, so try to make lovely tiered raised garden beds by using different measures of wood and plant some herbs and vegetables as well. acreativemomma
DIY Rolling Raised Garden Bed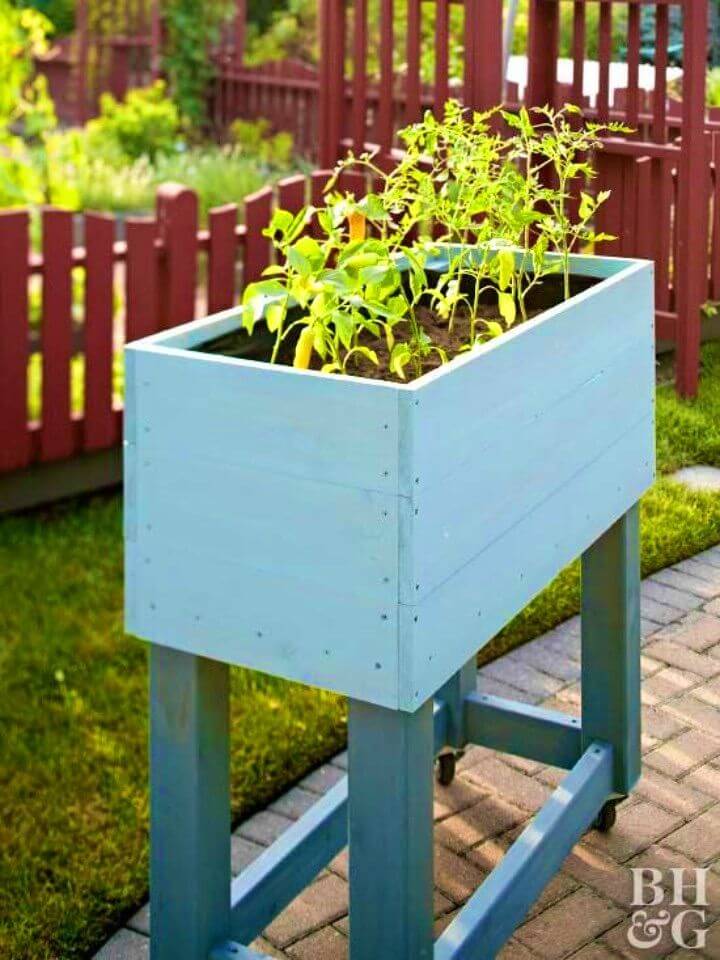 If you want to decorate your yard without making a big garden bed, this is the best option to make something different to decorate your house. Build a rolling raised garden bed so that you can plant your favorite flower and move it around if it needs the sunlight or not. bhg
Build a Covered Raised Garden Bed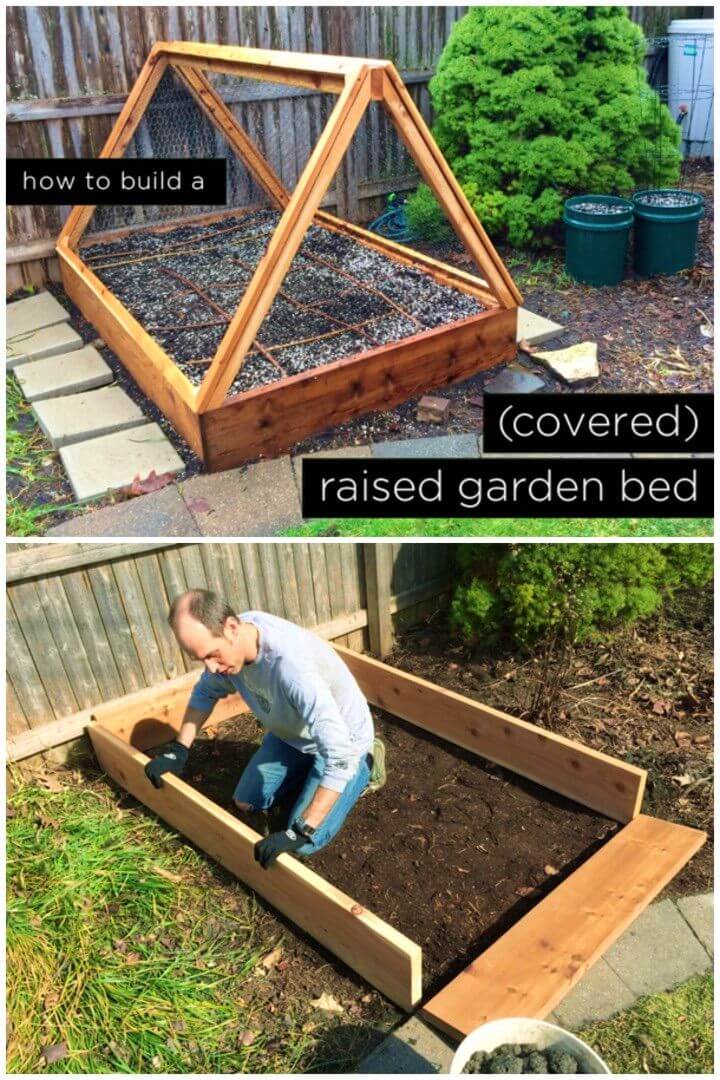 Here you have another design you can easily create by adding a few timber sections with the same size. Then, create like a triangle form to cover the garden bed, making something cool and enchanting. rathersquare
Inexpensive DIY Raised Garden Bed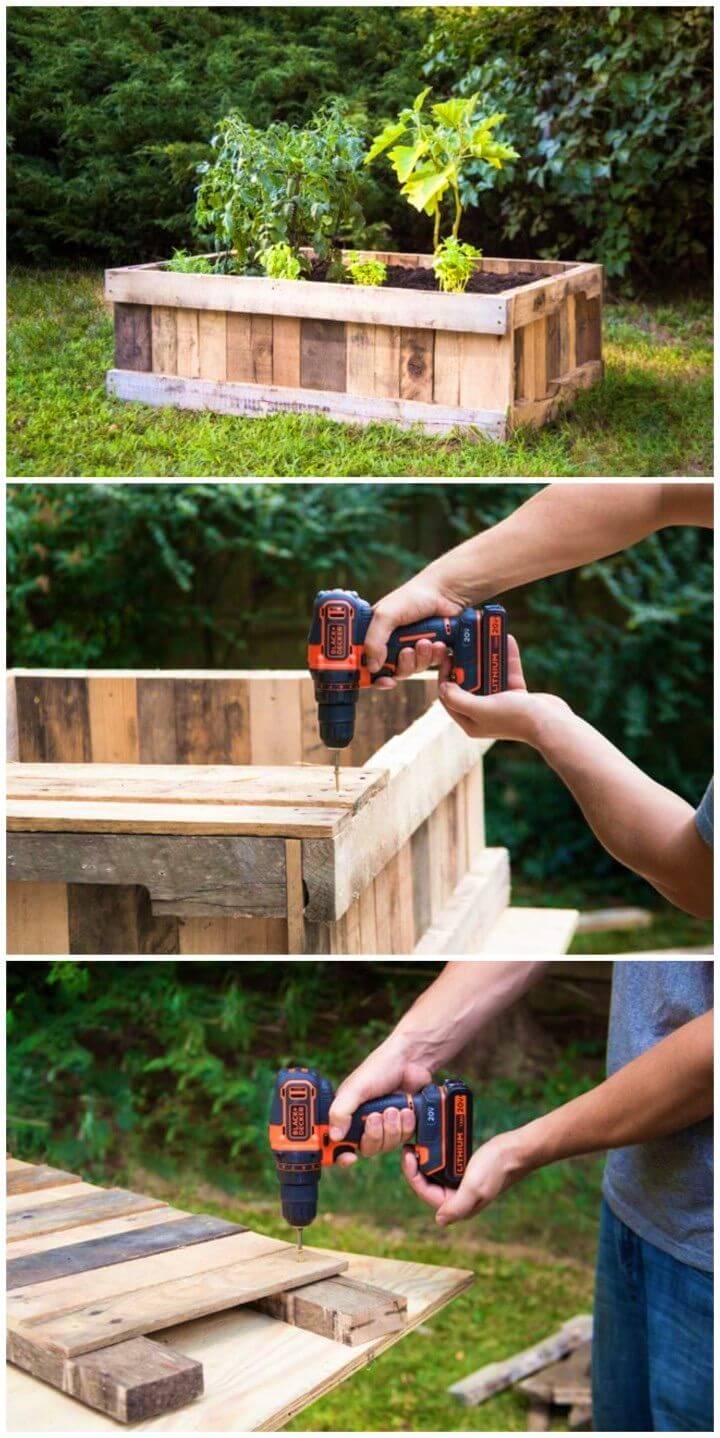 The rustic theme is always a chosen method to make the view more interesting and captivating. In this case, select wood materials with a different aspect, a drill, a hammer, screws, and a saw if it's necessary. Then, start to work on this incredible raised garden bed and innovate your yard. blackanddecker