The extra stuff lying around spoils the whole stylish look of a room or interior. Just empty up the floor spaces with these 20 easy to build DIY corner shelf ideas that will decorate the blank corners of your home and office space. These DIY corner shelves will help you declutter the rooms without losing the style and grace of an interior. These corner shelf ideas will provide free plans to build floating corner shelves to self-standing ones coming in interesting artistic shapes. Open up this collection of 20 simple DIY corner shelf plans that will enchant with a variety of designs.
Actually, you are going to take a tour of all the worldly popular hacks to build a DIY corner shelf like a pro. From simple L-shape corner shelves to graceful triangular corner shelves, you will get step-by-step guides and tutorials for all styles of DIY corner shelves.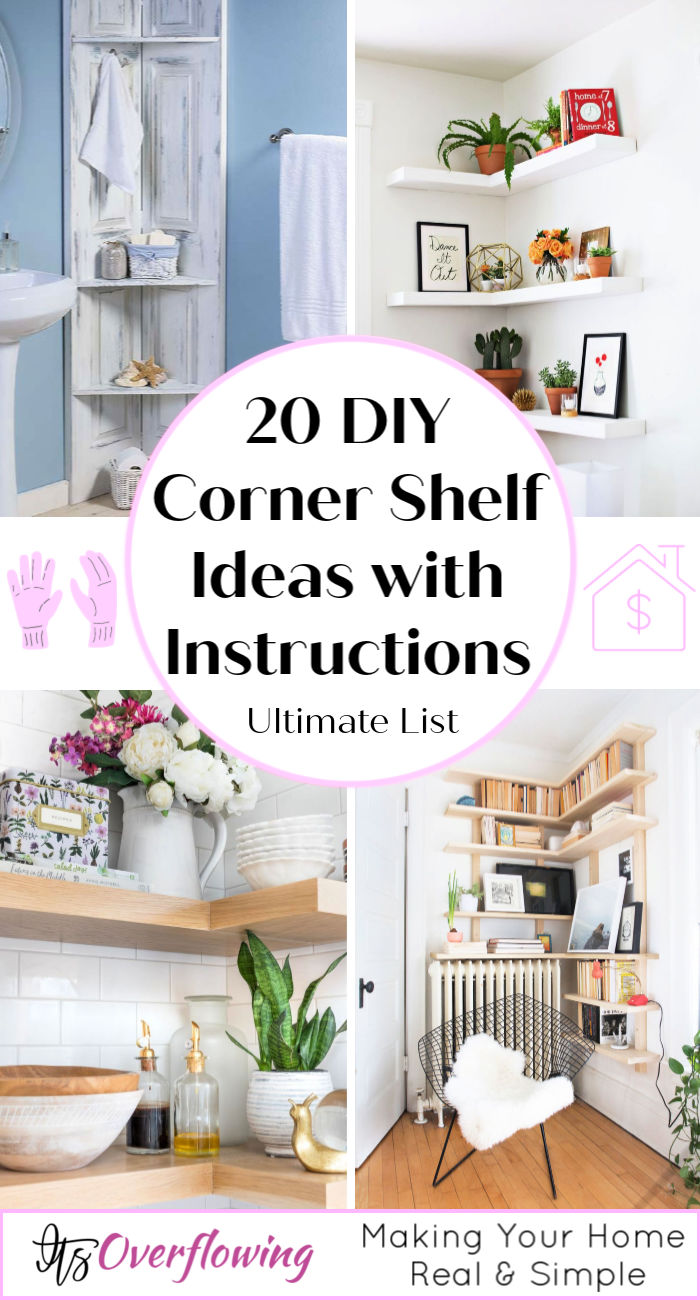 Whether you intend to grant more storage space to an interior or willing to bring a tremendous functional character thereby creating a beauty station, head over to these DIY corner shelf ideas. Cast a space theme in the kids' room by installing the rocket corner shelves. Repurpose the old doors and pine boards to build the durable DIY corner shelf at a fraction of cost.
Bring a tremendous industrial decor touch to your spaces by installing vertical standing wood and metal pipe corner shelves. Browse the entire collection of these DIY corner shelf ideas and see lots of designs for kitchen and garage organization too.
1. DIY Corner Shelves
Grab the 2×2 and the popular board lengths to install these corner shelves. The best way to use the corner space for adding storage and beauty in a particular room. Just fit the shelves pieces together using wooden pegs. These DIY bookshelves will rock to organize your books. Details here deucecitieshen
2. Beachy Bathroom Corner Shelves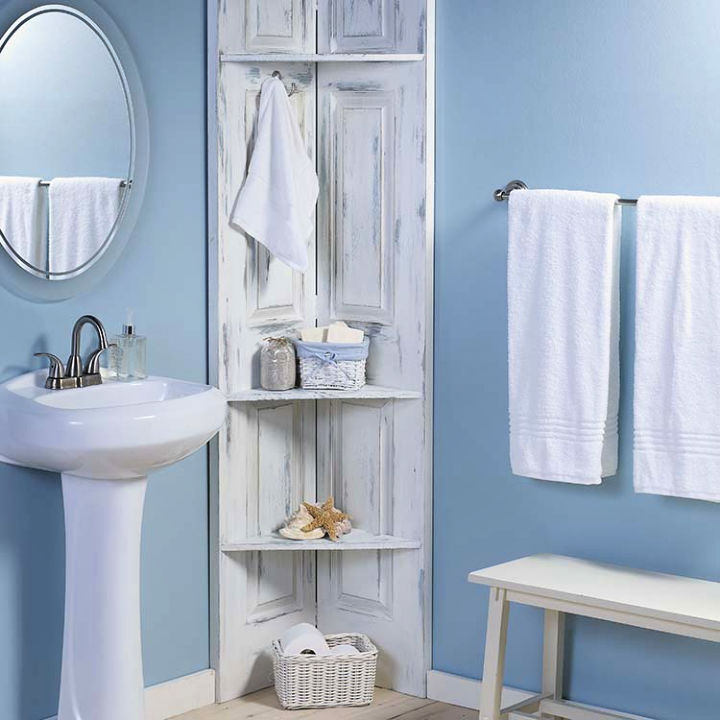 Grab a 30 x 80 bi-fold door and add it up with the 1 x 24 x 48 pine shelves to build these beachy bathroom corner shelves. The distressed white appeal will just rock for a shabby chic bathroom. Add it up with hooks to hang your towels and other items of this kind. homedepot
A quick and easy DIY Ladder Shelf tutorial that anyone can make – perfect to put to work indoors or out!
3. DIY Floating Corner Shelves Plan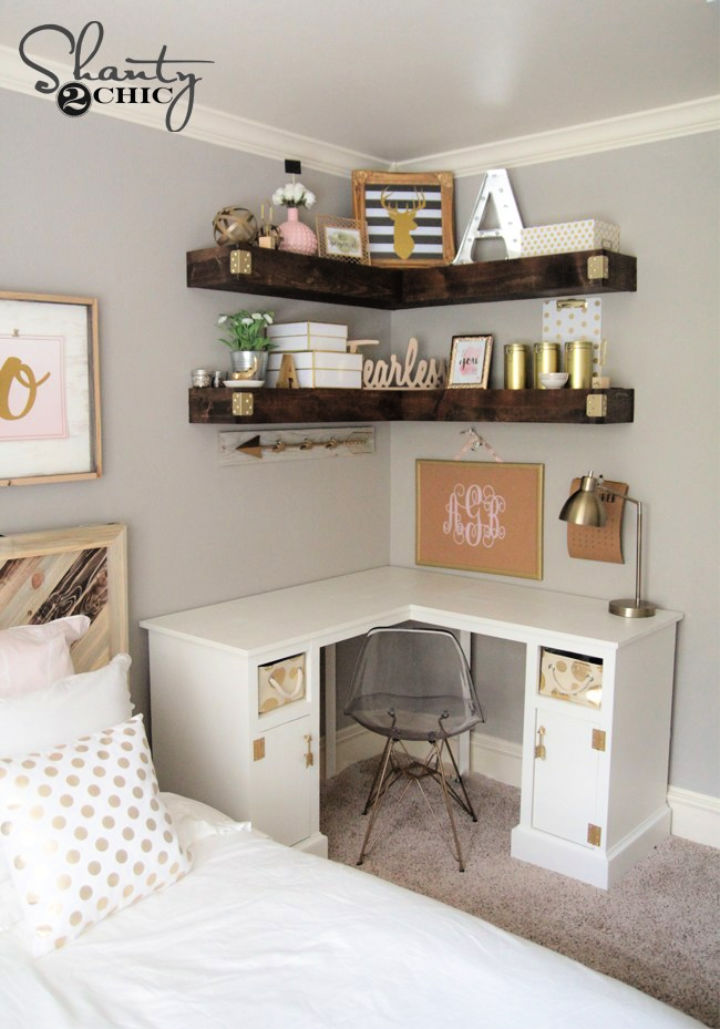 How to build corner shelves? First, use the 2x4s wood slats to build the E-shape frame for the floating shelves. Install them to corner space and then add the 1/4" plywood to their bottom side. Cover the top using 1×10 boards. Secure the edges with angle metal plates and stain the shelves for a gorgeous appeal. Details here shanty 2 chic
4. Corner Shelves for Your Garage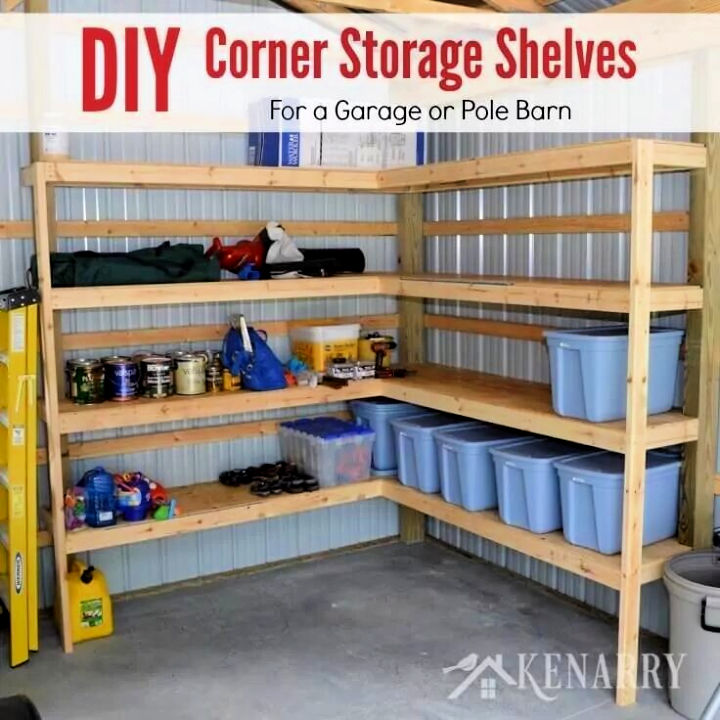 Organize your garage using these vertical corner shelves, will nicely hold your tools and materials. Just use the 2x4s to build the shelving frame and opt for the 4ft x 8ft plywood for building the rest of these corner shelves. The best type of shelves to get for a quick garage organization. kenarry
5. DIY Kitchen Floating Corner Shelves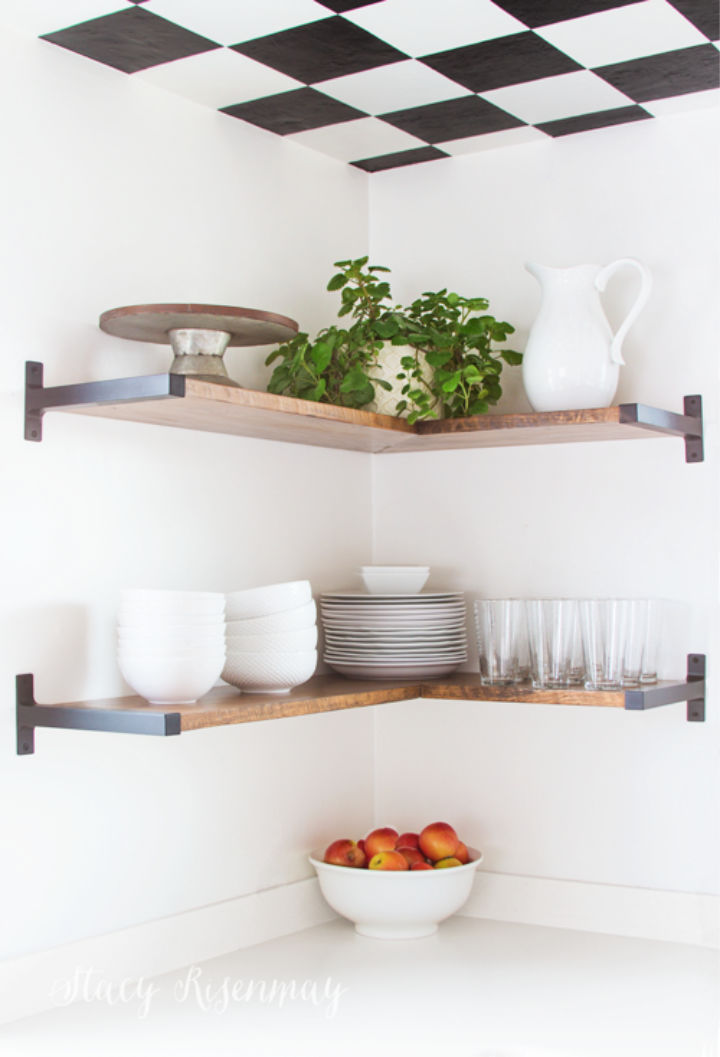 Check out here a smart IKEA hack to build modern-looking corner shelves. Just grab IKEA EKBY floating shelves brackets and then fit your shelves in them. Mount them on the wall and start displaying and organizing your things on them. If loaded with centerpieces, they will be a big decor station. notjustahouse
6. Corner Shelf Made from An Old Door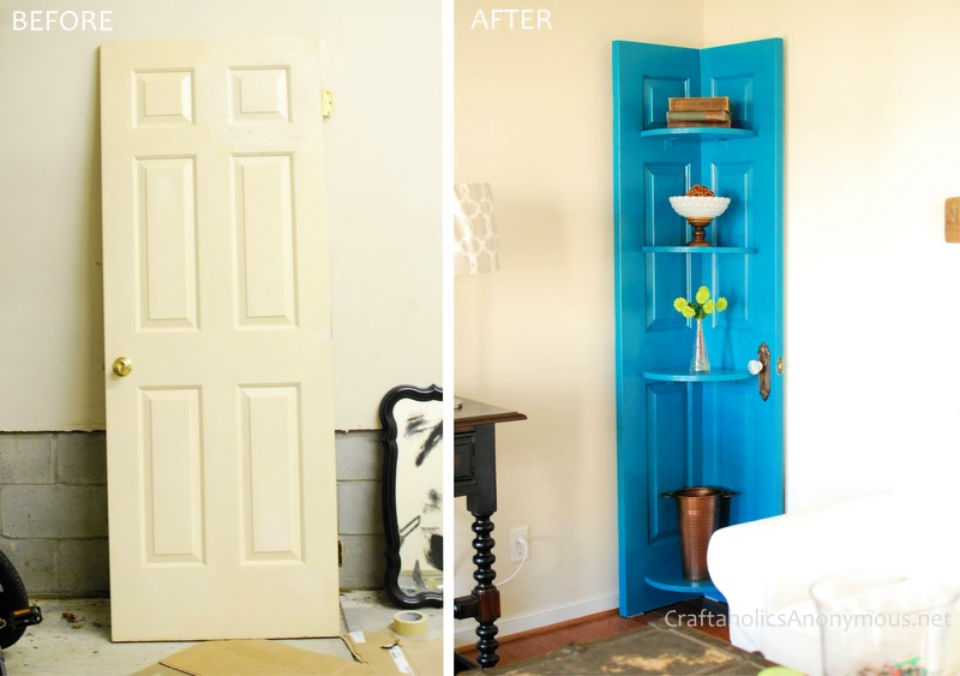 Repurpose the old doors too fro home to build nice looking corner shelving units. Get inspired by this vertical corner shelf made of an old door and added up with pinewood shelves. Take the door into halves and assemble an L-shape for the best corner fit. Finish with pinewood shelves. craftaholicsanon
7. Build A Corner Shelf In 7 Minutes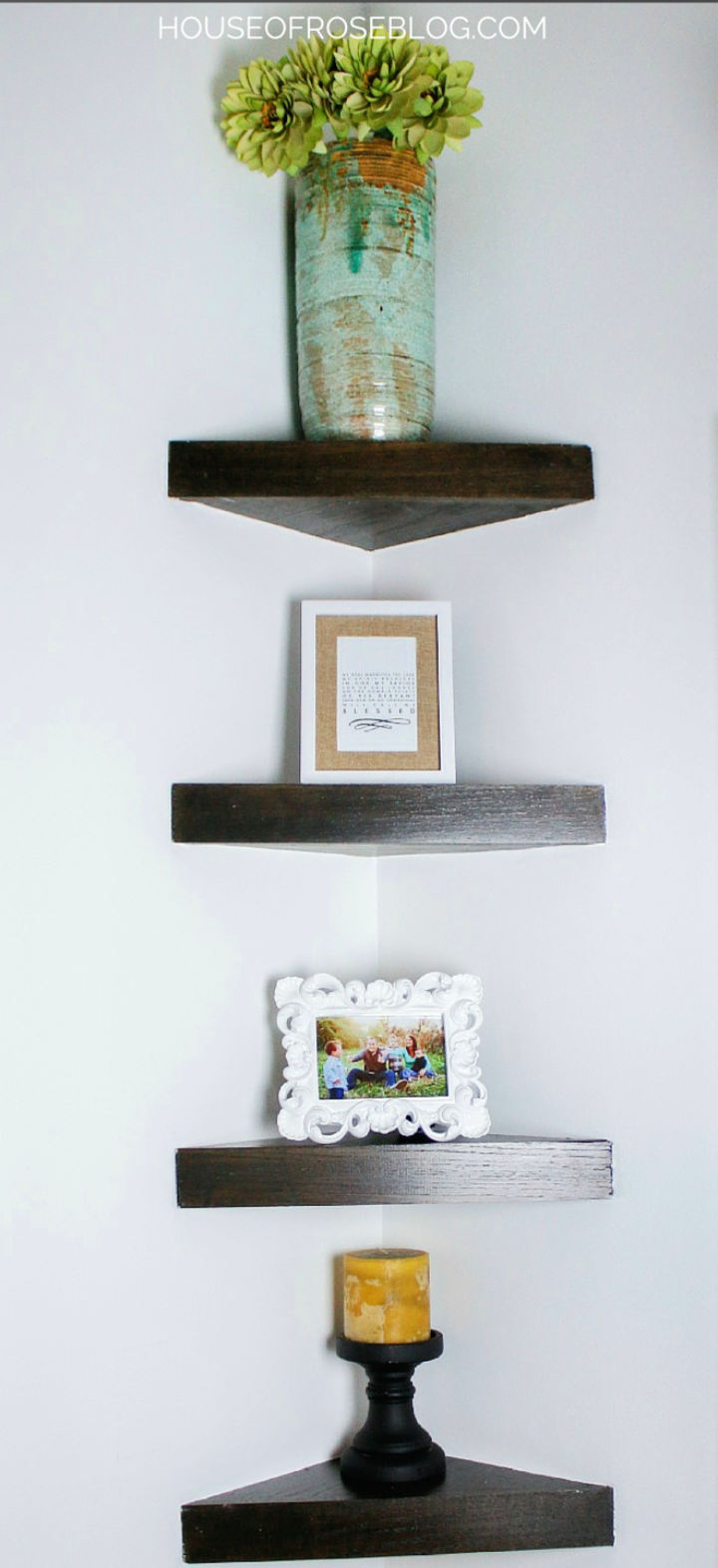 An ideal style of corner shelves to display your art frames, decors, and other masterpieces of art. Just go with the 1×2, 1×3, 3/4" plywood and 1/4" plywood to build these corner shelves. Just spend 7 minutes with your tools and materials to make these corner shelves. Details here houseofrose
8. 5 Minutes Natural Pine Corner Shelf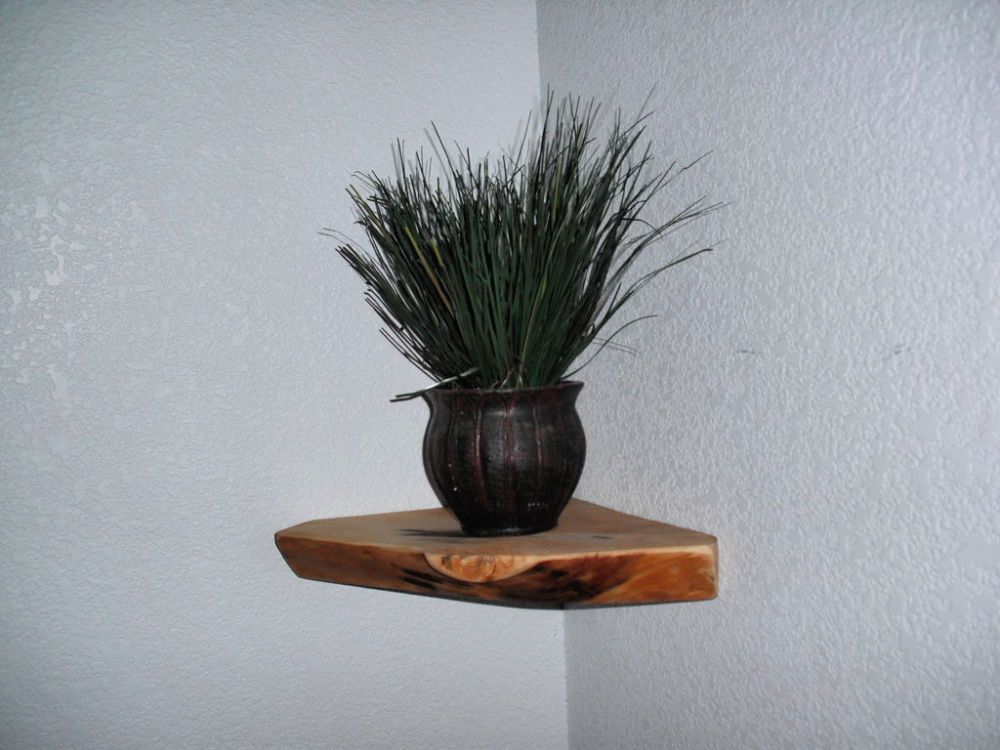 Feature the natural rustic edge of the wood in any particular room interior by installing this corner shelf. Here all you need is a triangular piece of pinewood with at least one live edge. Sand the stain your decided shelf and then screw them in the wall to hold your centerpieces. instructables
9. Upcycled Louver Door Corner Cabinet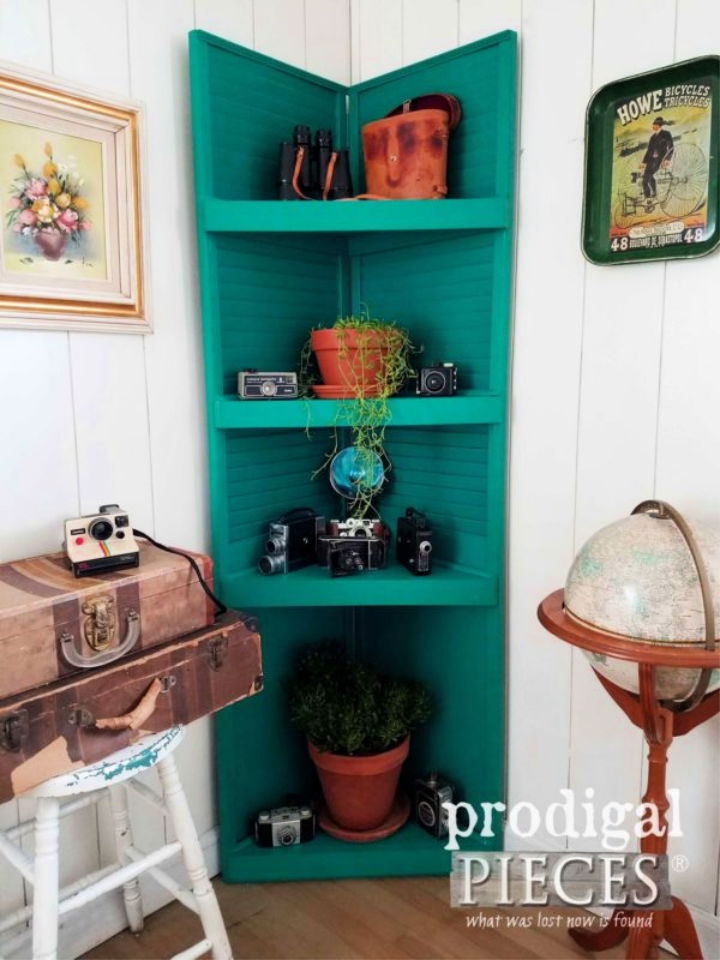 Build the DIY corner shelf using a lot of recycled materials. For vertical corner shelving units, the old doors will be an ideal candidate. Take the door into halves and reassemble it into L-shape for the best corner fit. Add it up with more triangular wooden floating shelves and enjoy. Details here prodigalpieces
10. DIY Corner Shelf
How to make a corner shelf at home cheaply? Check out here a pretty genius hack to build a double DIY corner shelf in no time. This shelf looks like a wooden outline or frame for a thicker corner shelf. Just use the L-brackets to hold this shelf on the wall using durable metal screws. You will surely love the way these corner shelves will serve. woodshopdiaries
11. DIY Corner Shelves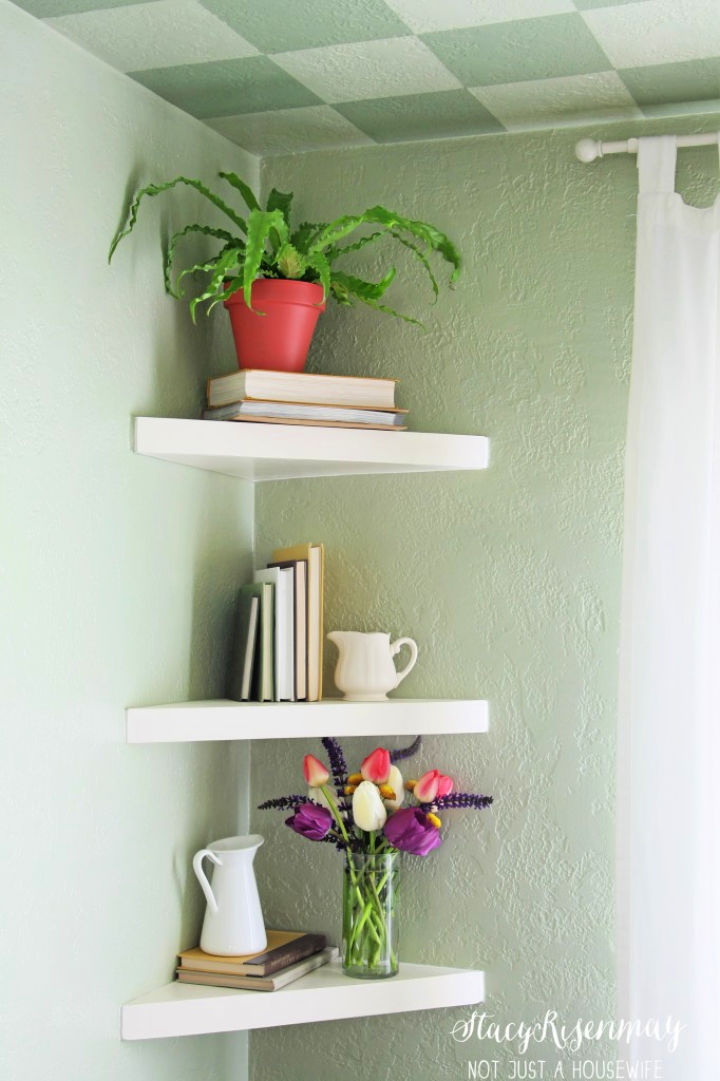 Use the 2x4s and plywood to build these floating corner wall shelves. They will add a big functional character along with tons of storage space to a particular room. They are just ideal for displaying your art and items of decors and interest. Full step-by-step tutorial here notjustahouse
12. DIY Pine Wood Floating Corner Shelf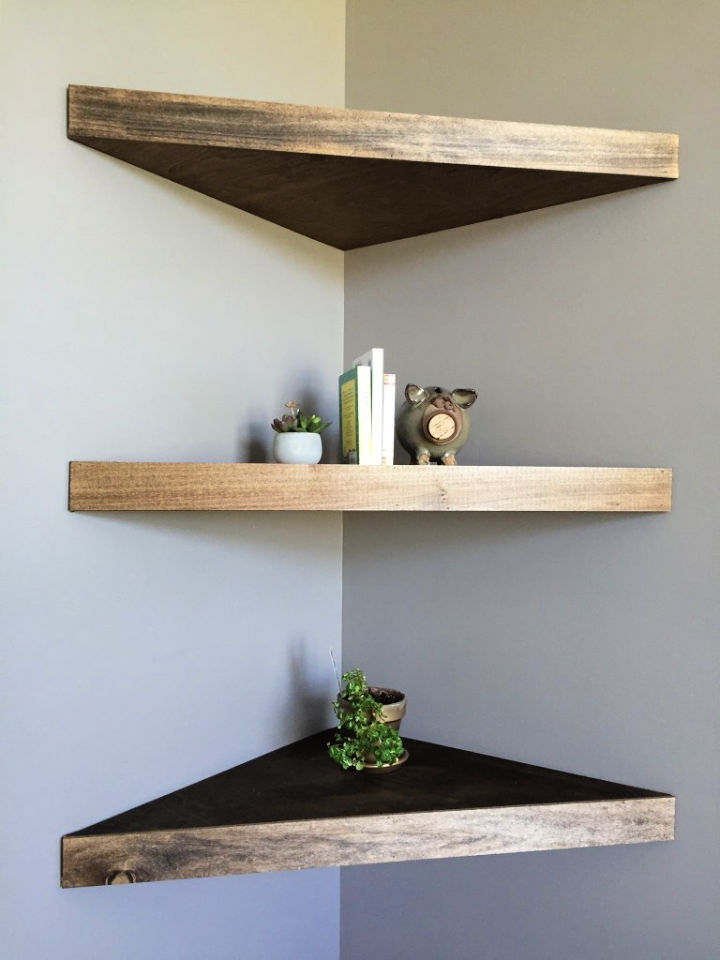 How to make a corner shelf? Take the pinewood triangles and then install them to corners of a room. For hanging them stably there, screw them directly in the wall by making pocket holes in sides facing the walls. The shelves will nicely hold your centerpieces and custom items of decors. comfortandcha
13. How to Make Corner Floating Shelves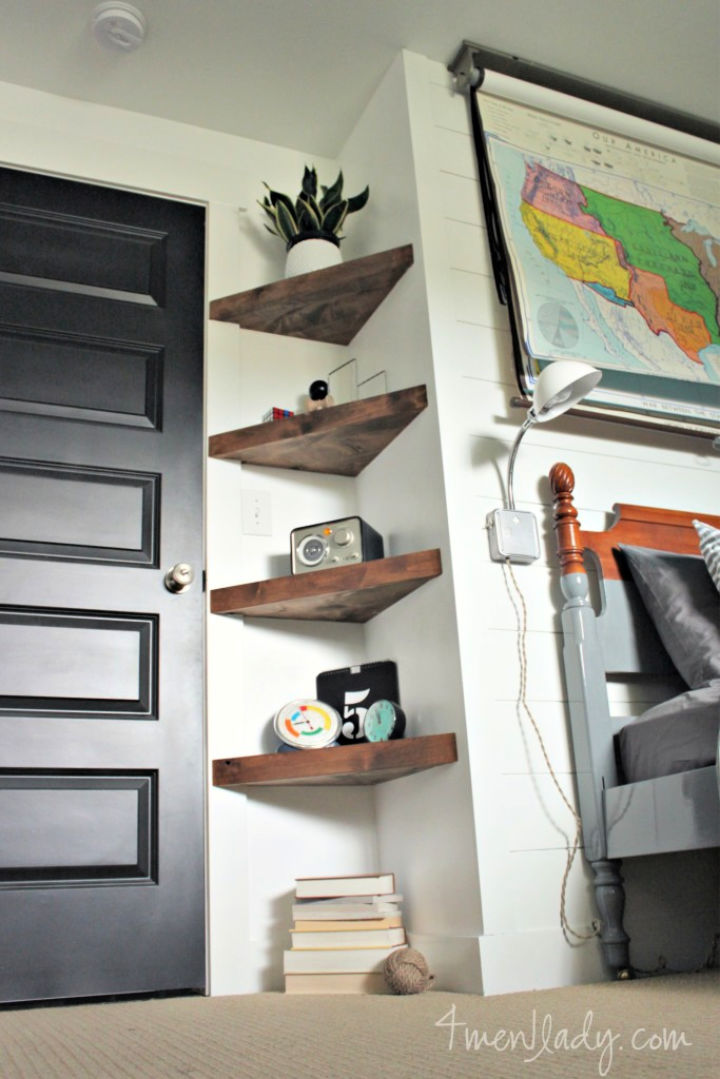 To install these floating corner shelves, first install the 1x1s supports on the wall. Next, get two identical triangular boards of wood and add one to the top side and other to the bottom. Cover the front solid using extra wood and gain lovely corner floating shelves. Details here 4men1lady
14. Rocket Corner Shelf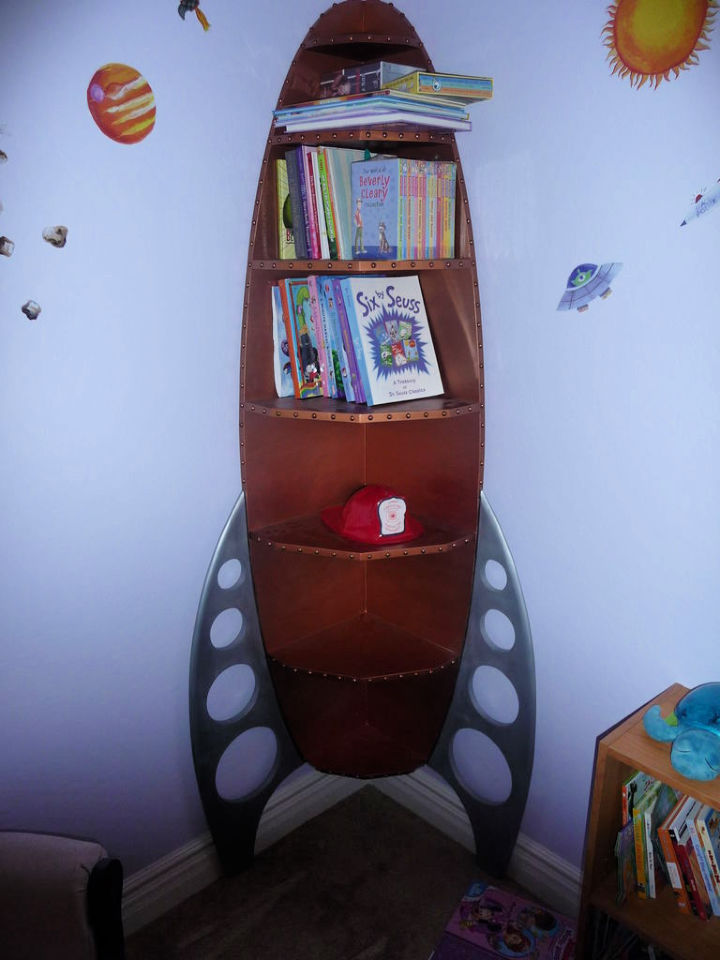 For your space-themed interiors, this rocket corner shelf is an ideal choice. It can stand alone vertically, holding your stuff like books, mural frames, photos, and custom centerpieces with great care and grace. Here you need 3/4" MDF board, 1/4" x 2′ x 4′ sheets of hardboard to make this rocket corner shelf. instructables
15. Rustic Industrial Free-standing DIY Corner Shelf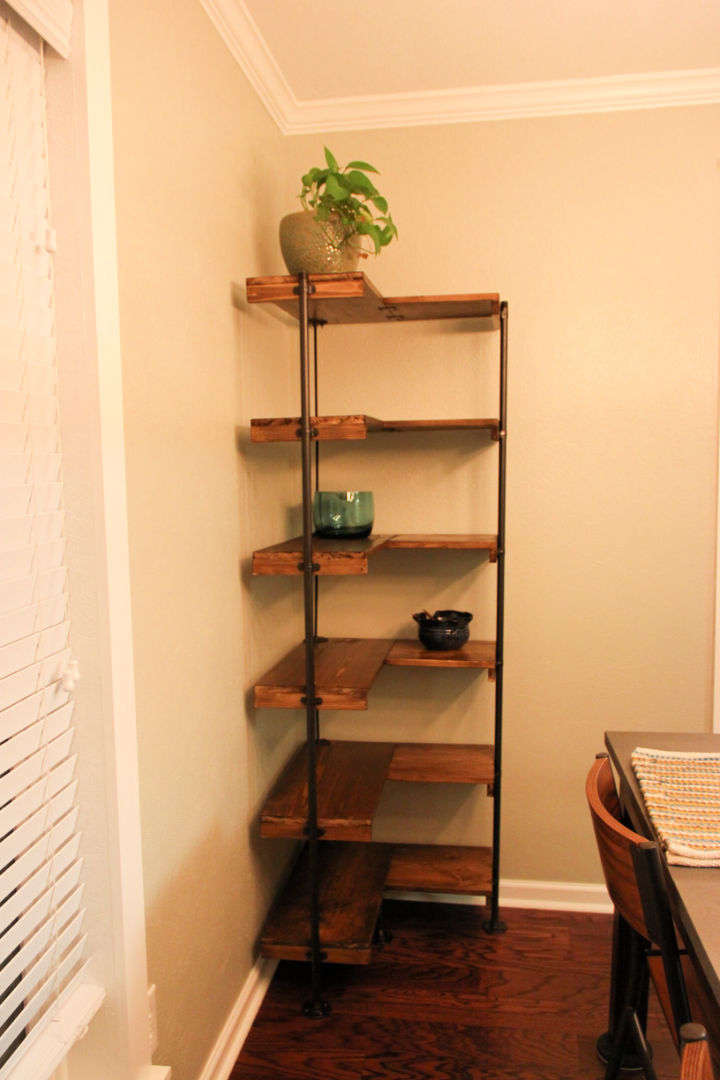 This vertical DIY corner shelf gains attention due to certain added features. These corner shelves look rustic and industrial and can stand alone on any flat surface to serve the purpose. Just build the industrial frame using black metal pipe and floor flanges. Build the shelves using oak and pinewood boards. lauramakes
16. Budget-friendly Floating Corner Shelves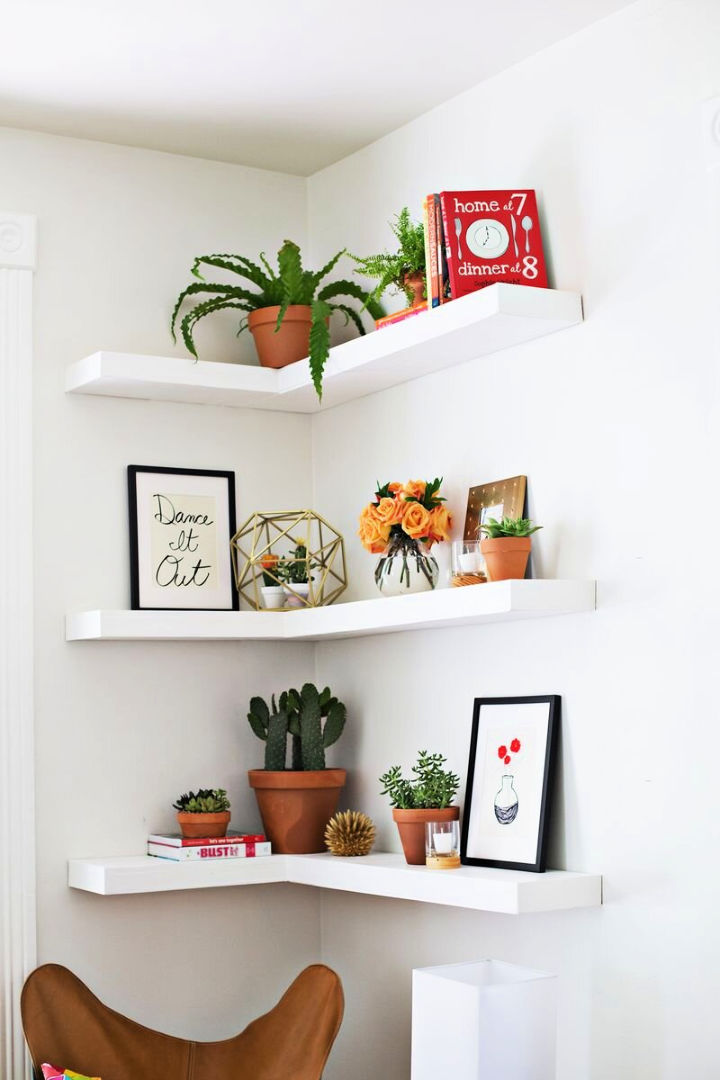 The chic white appeal of these DIY corner shelves is a big delight to view. Build these corner floating shelves using 2x4s, 1x8x12, 1/4"x4'x8′ plywood, wood screws, and heavy-duty fasteners. You have to use the Kreg jig pocket hole jig too in this project. Start the project first, building the E-shape shelf frame. abeautifulmess
Build simple and inexpensive DIY Floating Shelves by following this tutorial and FREE woodworking plans!
17. DIY Corner Shelf In Your Kitchen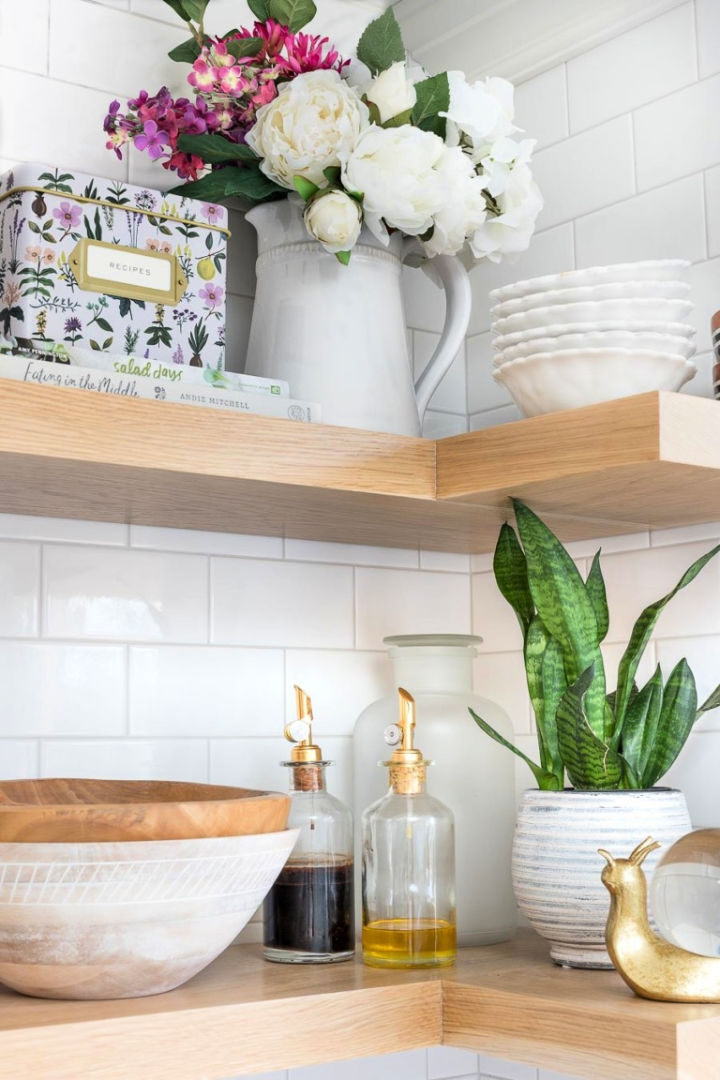 Spice up your kitchen with these DIY corner shelves will work up super quickly. You need here white oak shelving boards and metal floating shelf brackets to build these DIY corner shelves. These shelves will nicely organize and display your stuff in the kitchen. Details here drivenbydecor
18. Wooden Wall Corner Shelf
Display your decorative objects gracefully using this wooden wall corner shelf. Take the wooden shelving boards into equal lengths and then build the lovely L-shapes out of them. Next, put together those L-shape together vertically with a side flip and gain this DIY corner shelf. youtube
19. Modern Corner Shelf with Hidden Drawer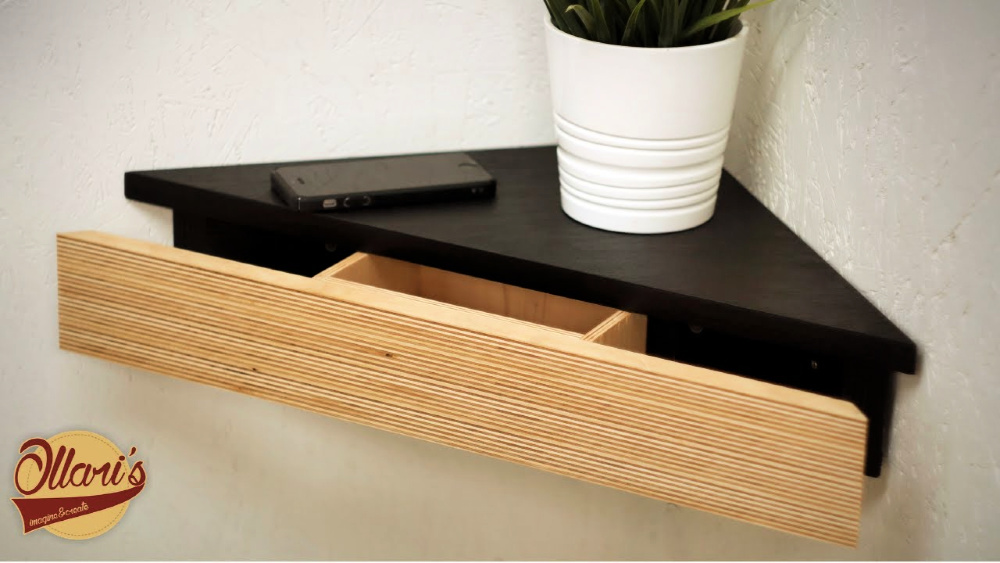 This modern DIY corner shelf comes with a fantastic twist. It comes with a hidden drawer and also with a secrete storage compartment. First, install the shelf supports and then add the top and bottom identical triangular shelf boards. Next, add the front with an attached drawer. Details here youtube
20. DIY Floating Corner Shelves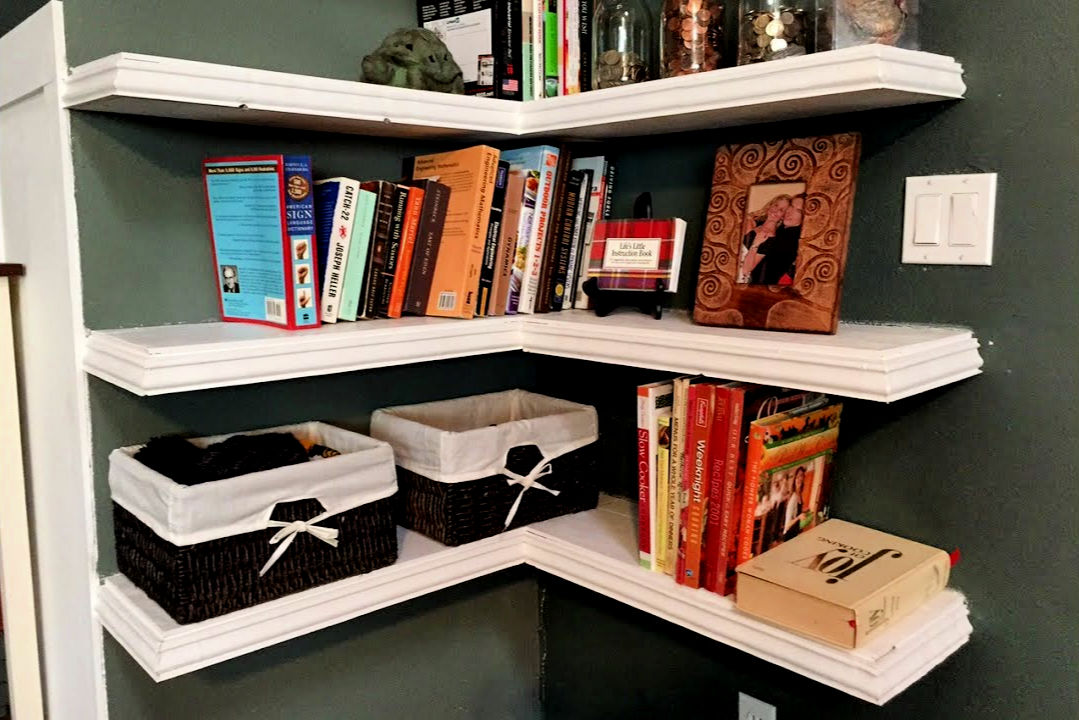 Bring a whimsical style and elegance to your living room or in any place by installing these floating corner shelves. First, build the E-shape frames, cover them up with thin plywood and screw them in the wall. Next, add the front cross lengths and cover then front sides of shelves with accent wood moldings. youtube
You don't need a lot of extra space (or a lot of extra cash) to build these simple DIY shelves to organize your home and garage decoratively. Each includes step-by-step free plans.
Conclusion:
Don't let the clutter ruin the decorative theme of your home. Get organized with these DIY corner shelf ideas that will allow you to transfer your extra items to empty room corners. These corner shelf ideas will help get maximum out of room corners and will be great for both storage and display purposes. With the provided free corner shelf plans and tutorials, you will be able to build them all quickly at home. So, do spice up your room or home shelving units with these DIY corner shelves.