What hurts a book reader most? Not being able to quickly access the urging reading. For a homemaker and for a mom, the most annoying moments involve cleaning the mess off the floor. Hence, a collection of these 50 clever DIY bookshelf ideas and plans are for everyone! From a passionate book reader to a decor loving person. These DIY bookshelves are ideal for keeping any kind of storage stuff. Ranging from your favorite books, academic or not. Keeping your kids reading books or even toys collection. An ideal DIY bookshelf in the living room, with a lot of decor pieces, paintings, family gallery wall, or anything else. So, basically, this roundup of 50 DIY bookshelf ideas are not merely stylish, classy, and home decor elevating but also highly functional. They are for EVERYONE here and anyone can build these bookshelves, and this makes them quite ideal.
If you are exhausted from always losing your stuff in the mess or pile of clothes or Go knows everything on the floor, these DIY bookshelf ideas can be of great value! Plus, such stylish rescue furniture can be quite charming in itself. Go for a vintage touch or a floor to ceiling bookcase, there are so many bookshelf ideas below. From detailed from the scratch products to simple crates combined together! So, just learn how to make a bookshelf.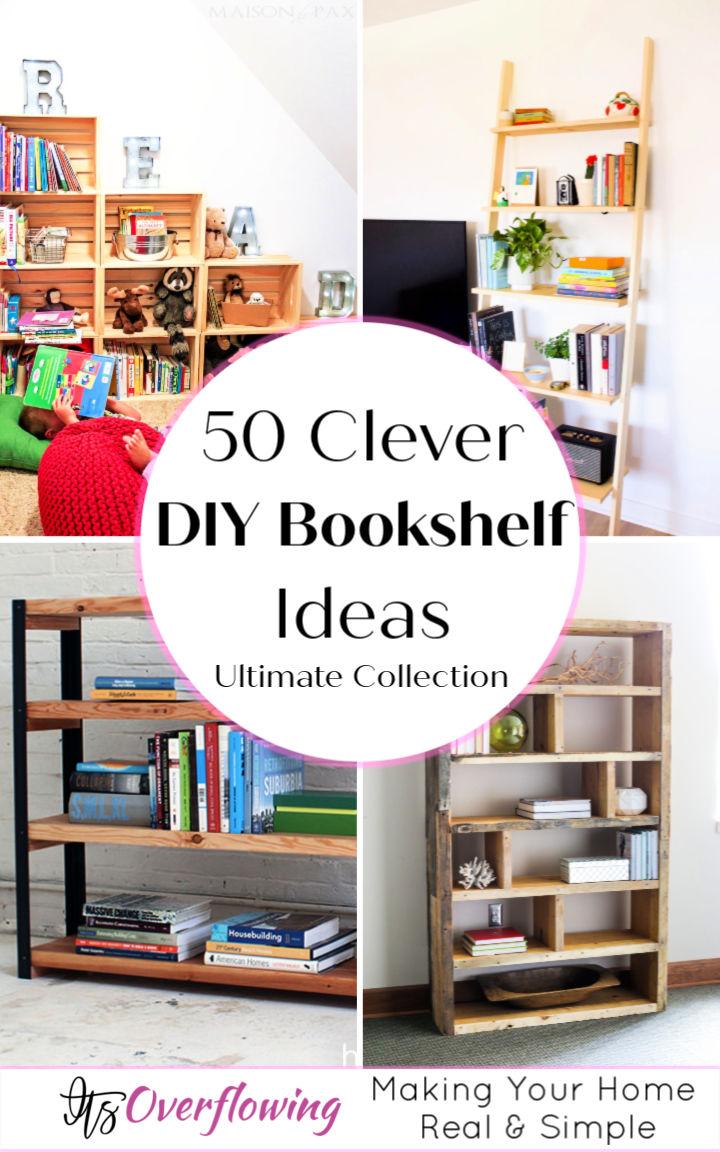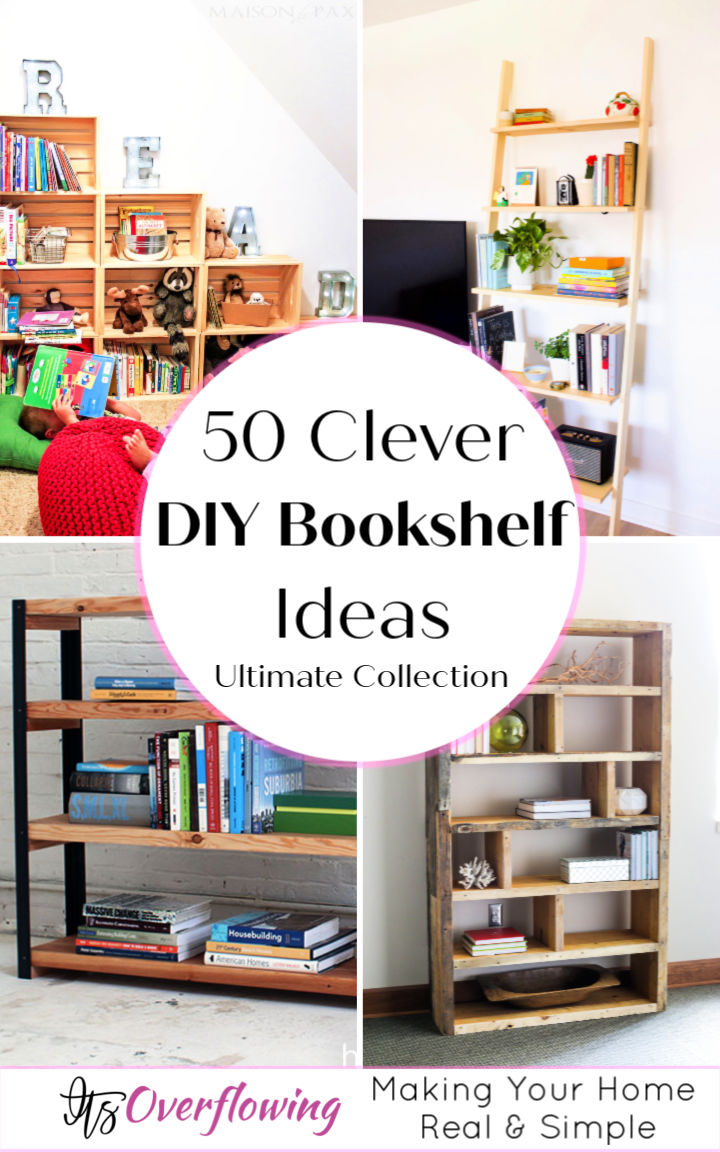 You can explore these easy to build bookshelf ideas and choose any idea. Depending upon your usage requirements, your level of skill, and your home decor! The following DIY bookshelves roundup comes up with detailed tutorials, complete step by step guides and lists of materials. So, you are really in for a treat here!
1. DIY Playroom Stepped Crate Bookshelf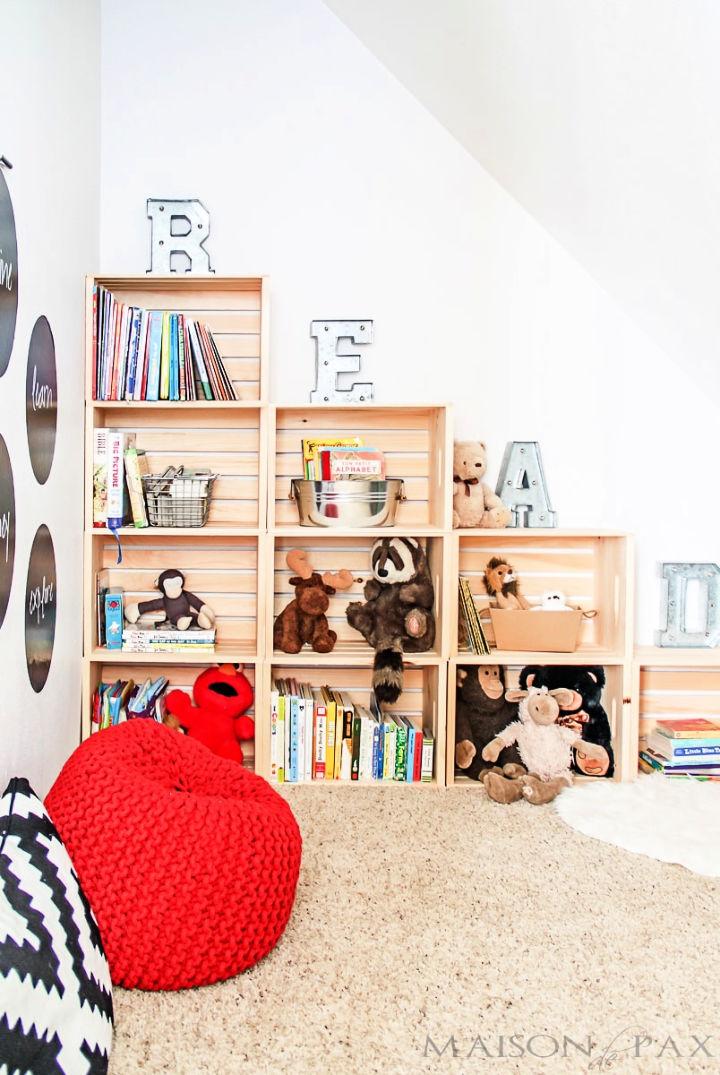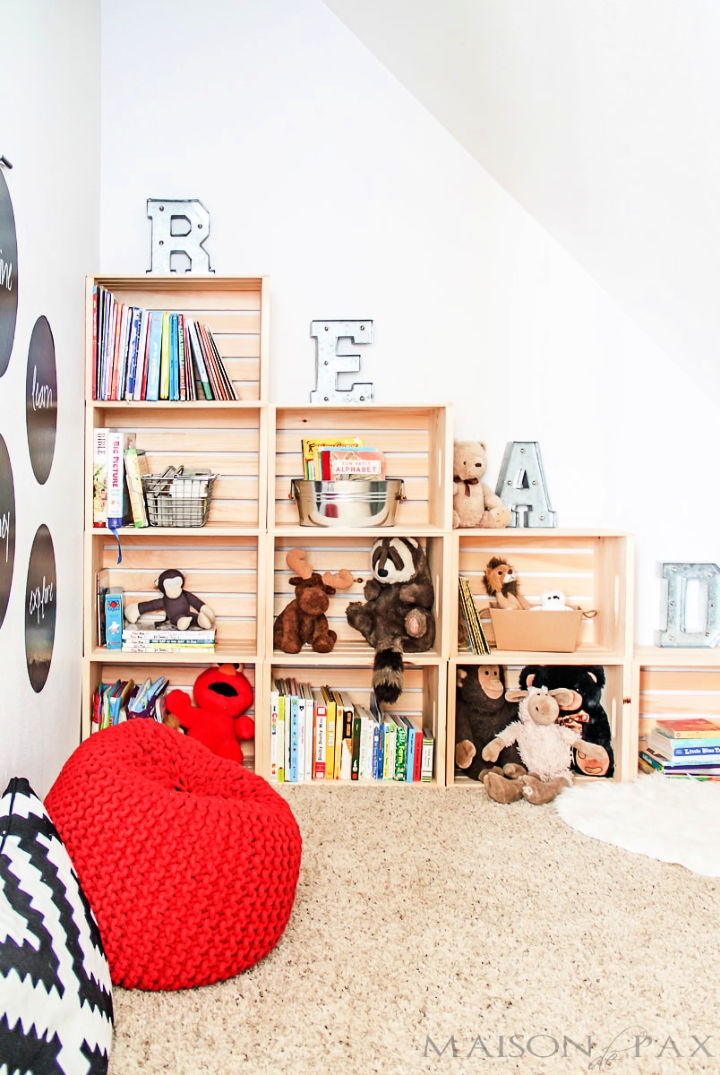 You have got to keep your kids apt at everything! From keeping their room clean to making them learn the process. This DIY bookshelf with steps is a wonderful idea! Whether you put stuffed toys in it or any storybooks. maisondepax
2. How to Build a Leaning Bookshelf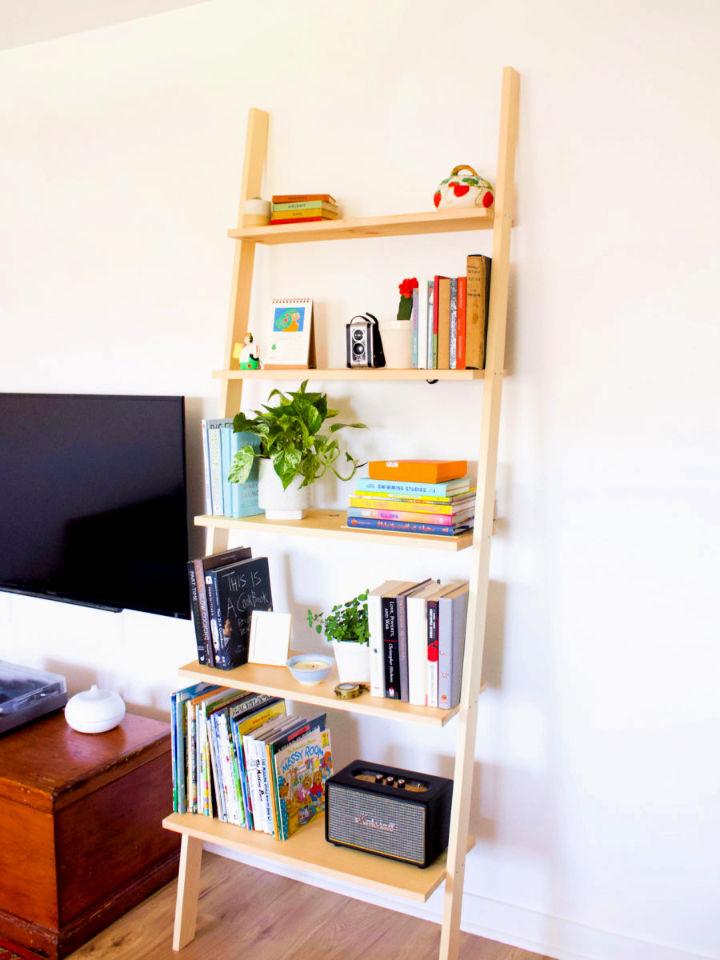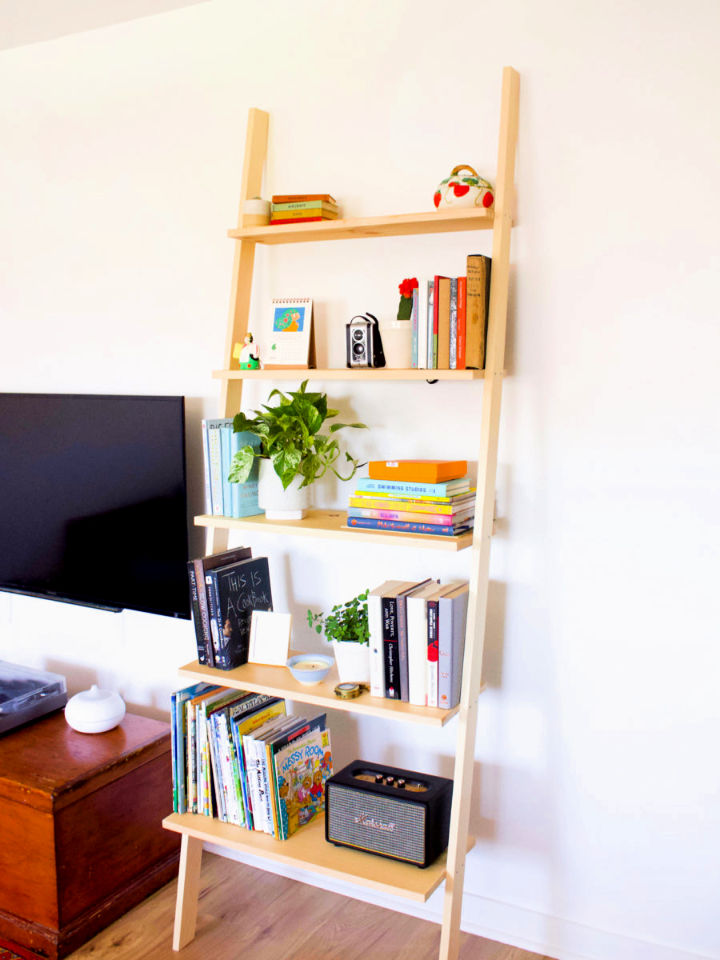 Learn how to make a leaning bookshelf for your books and other useful stuff. You will love this idea as this project might hold many of the stuff that was creating a mess down on the table or floor. Collect supplies like a chop saw, table saw power drill, pine boards, screws, and sandpaper. fishandbull
3. Simple Bookcase for Your Bedroom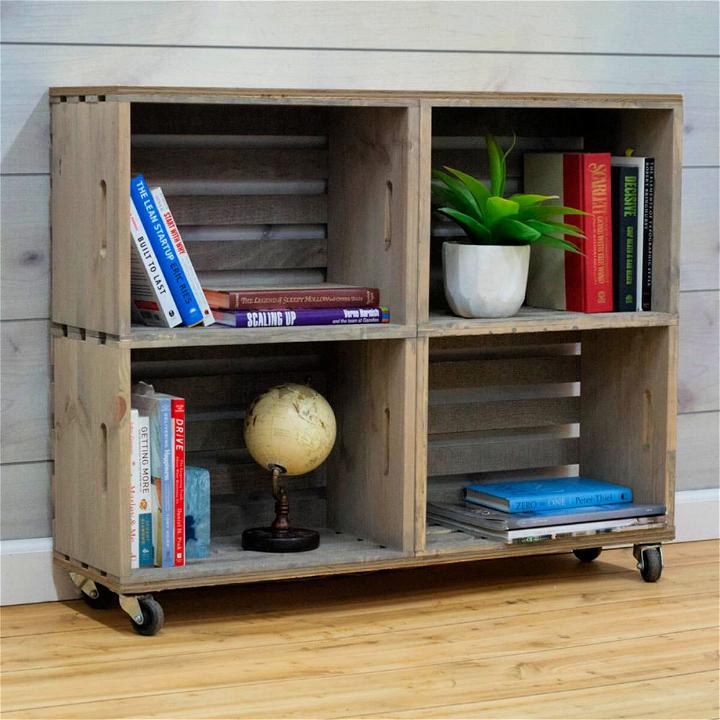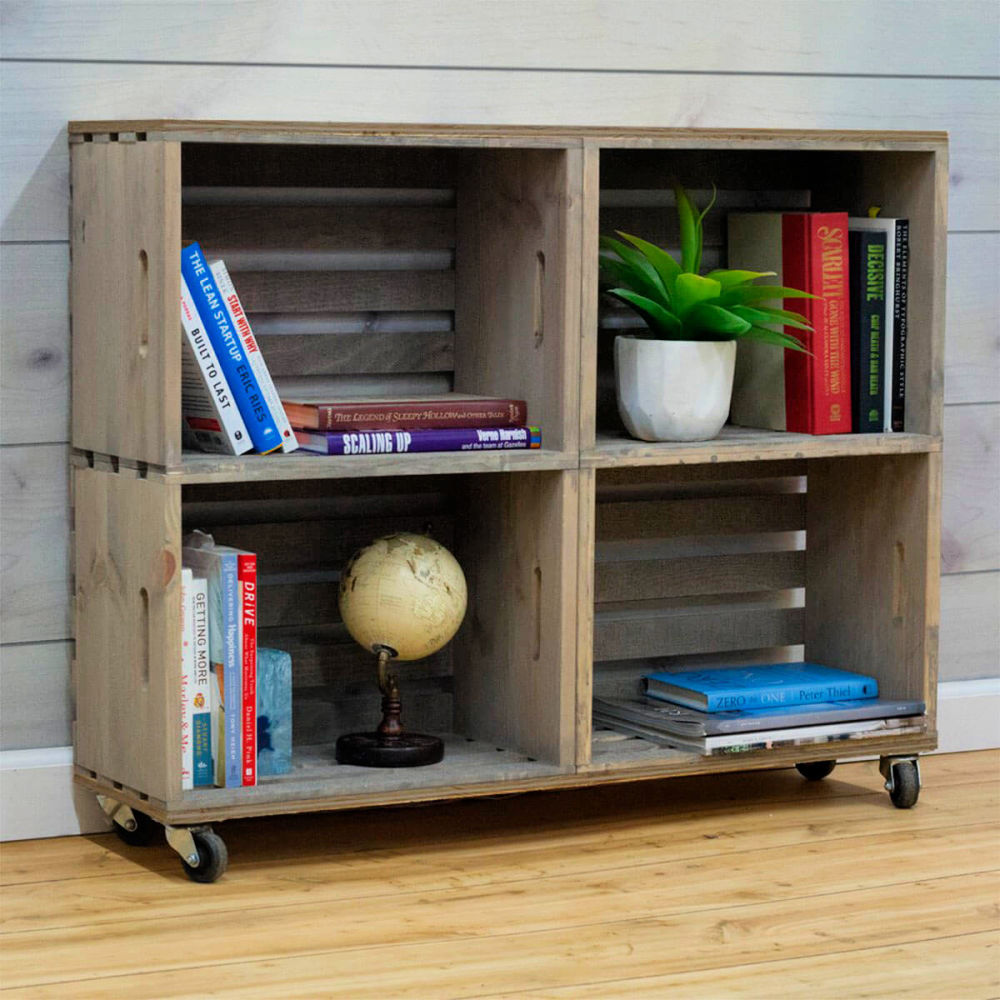 There is no such thing like TOO many books for a true book reader. The more, the merrier. However, making a bookshelf at home is much more economical than buying the commercial ones. Make this simple bookcase for your bedroom, where you can access your favorite reading easily! familyhandyman
4. Modern Kids Bookrack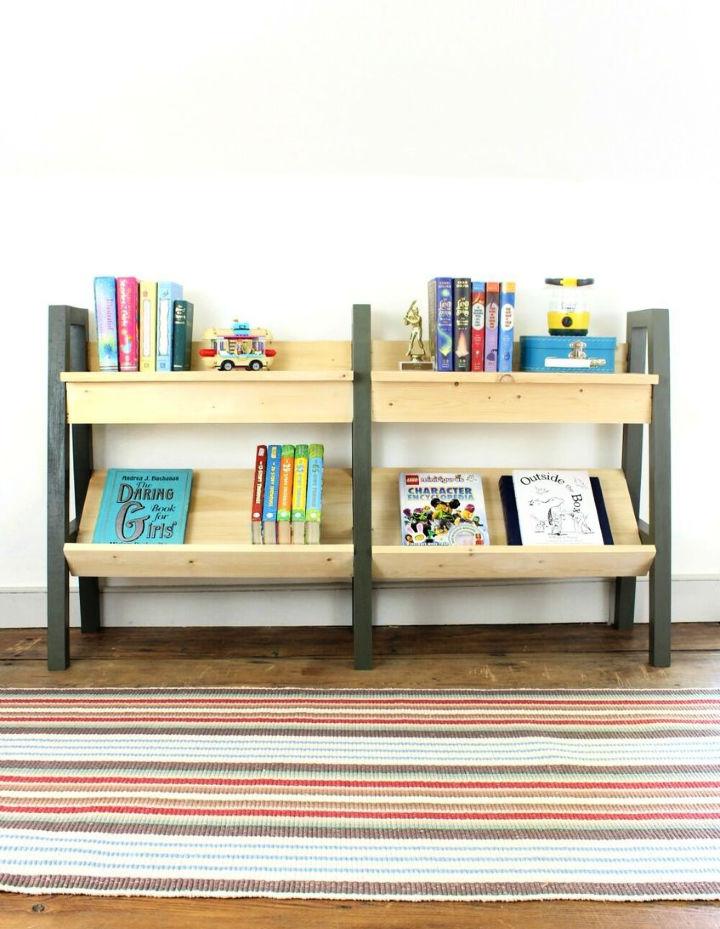 Make reading books a habit for your kids! Put an accessible and stylish bookshelf in their room, where they can easily approach them books. This bookrack is featured in an angle where the bottom shelf and smaller top shelf is perfect for showing the most favorite books and toys in a perfect preference order! ana white
5. DIY Ironbound Bookcase Plan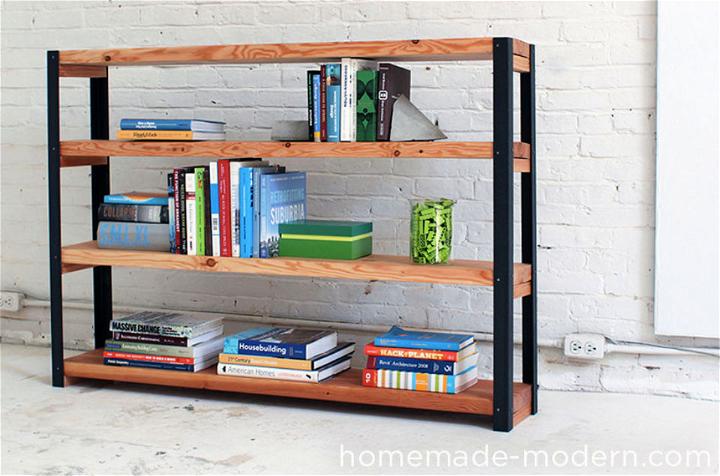 Want to add a fabulous and stylish bookcase in your room? This amazing project is modern and useful at the same time. You can entirely work upon this ironbound bookcase all by yourself. But don't feel intimidated at all, as this step by step guide in the link will walk you through making the final product! homemade modern
6. Low-waste Bookshelf Plan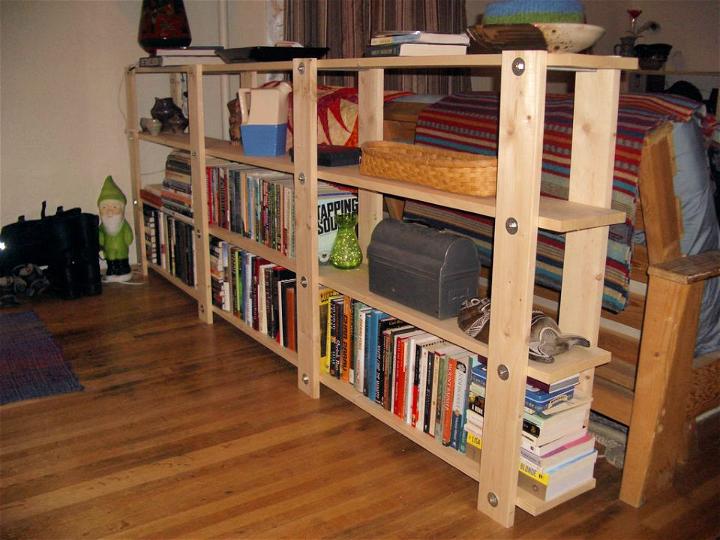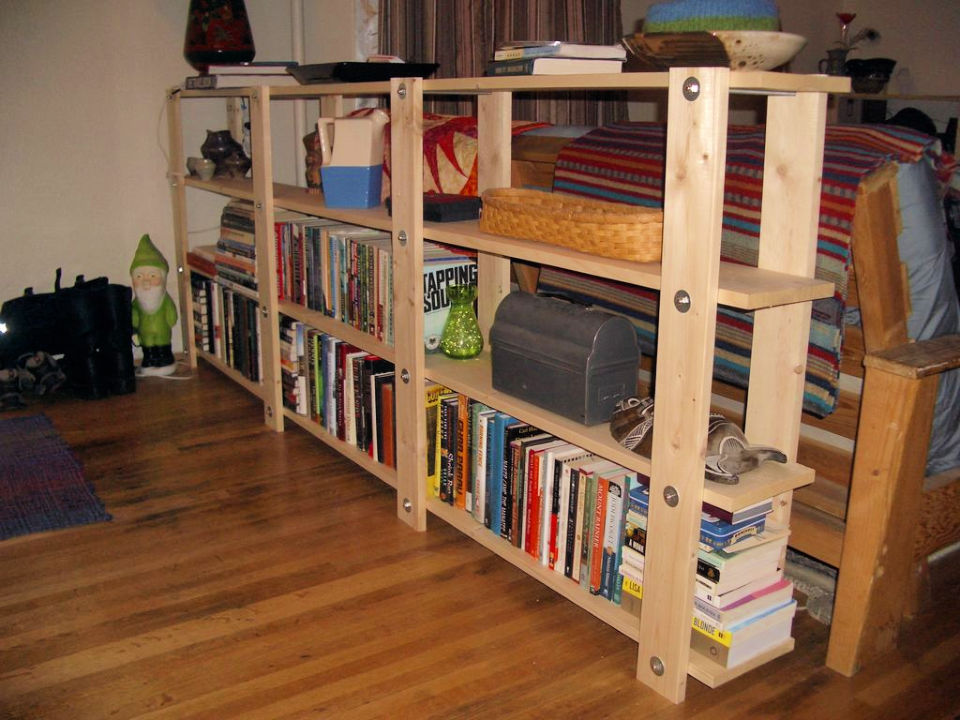 You don't even need to be a professional carpenter for this project. It is insanely cheap, easy to nail, and a highly functional DIY bookshelf that has the ability to hold many books in it. Build this portable project that has the finished measurement of 3''x8'', made with just a few tools and supplies. instructables
7. Crates and Reclaimed Pallet Bookshelf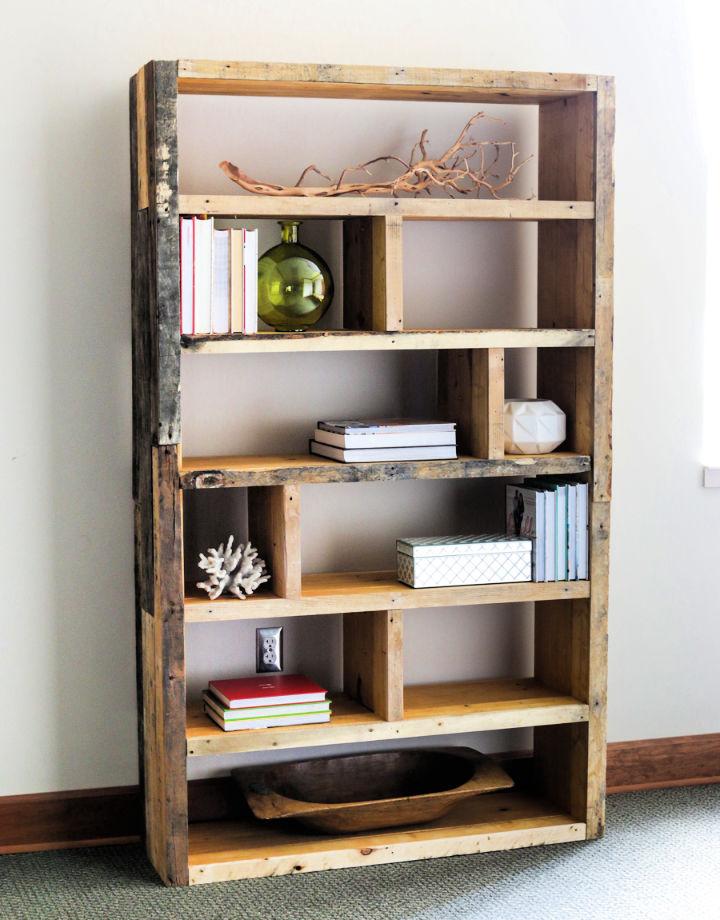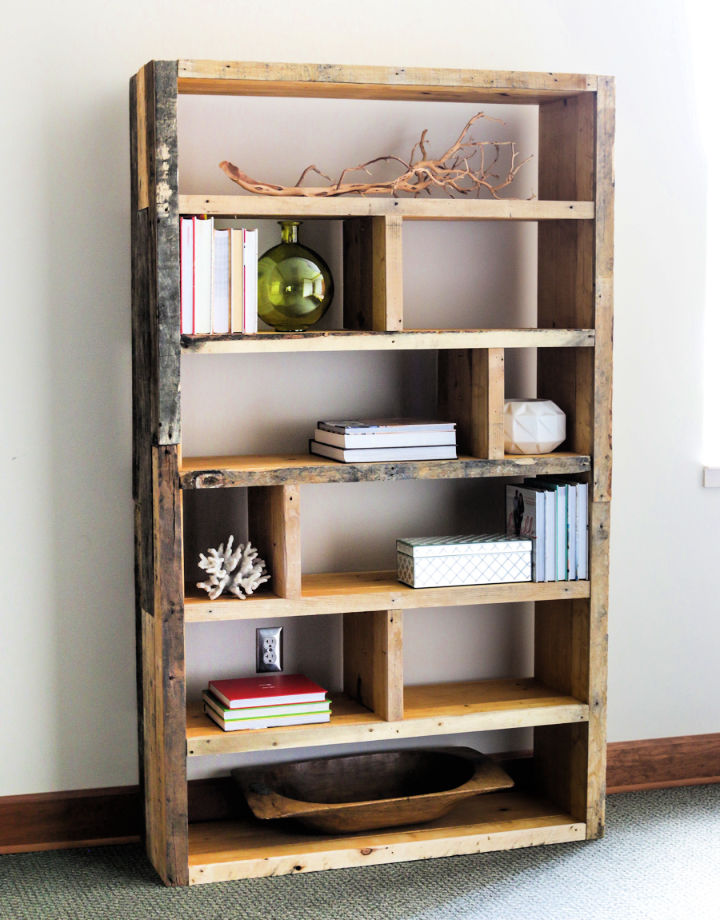 Hey book-worms! Want to learn to make this crate and reclaimed pallet bookshelf all cost-effectively and trouble freely? So what are you waiting for? Grab tools and materials to get started with this project. You will need a tape measure, pencil, drill, hammer, saw, screws, nails, glue, and boards. jenwoodhouse
Do you know what you can do with recycled wooden pallets? Ohh, Yes, You can build a lot of pallet projects, furniture and home decor at no cost! So where to get pallets for free? This ultimate wooden pallets guide will help you learn to all about pallet wood use, size, types, safety and free pallets!
8. DIY Build a Plywood Bookshelf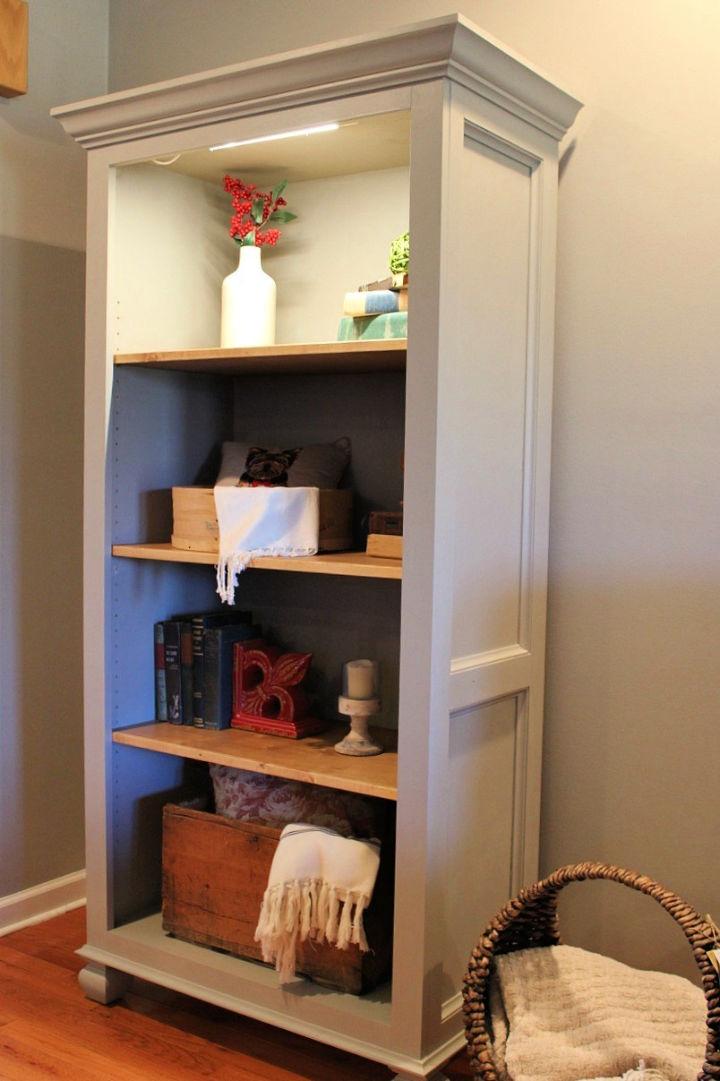 In this economy, affording commercial products is not a big yes for all of us! Hence, this DIY bookcase is all in for your rescue. Head to the tutorial to see how you can build this plywood bookshelf. No doubt, it would be an excellent addition to your TV lounge furniture decor. woodshopdiari
9. Homemade Traditional Bookshelf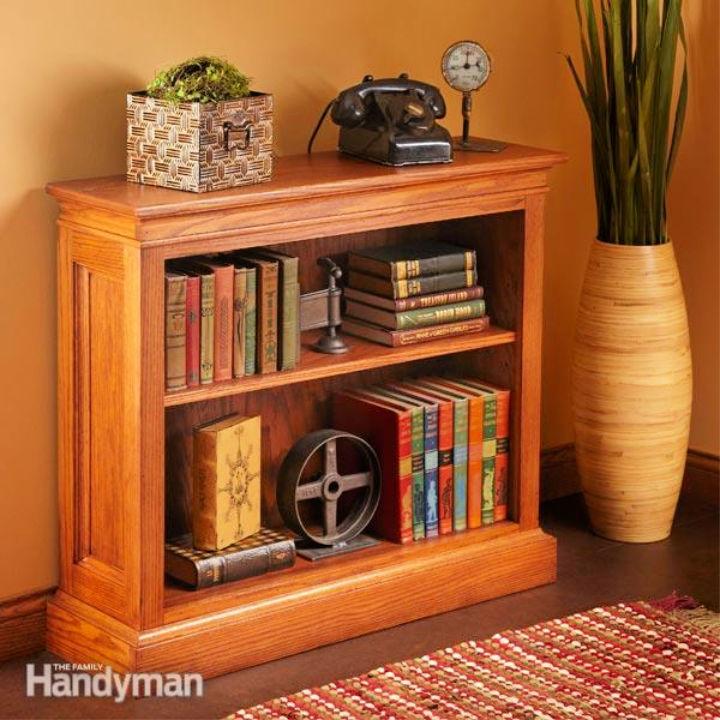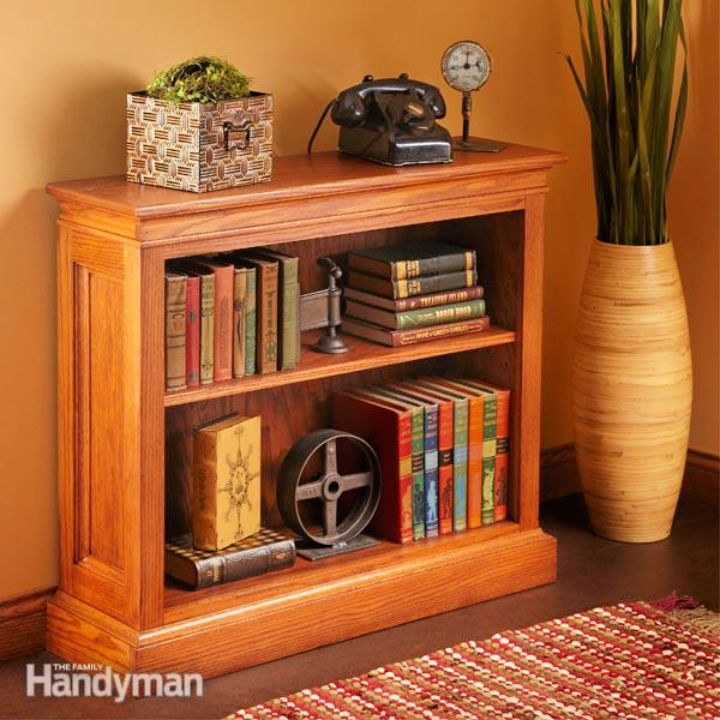 Build this traditional homemade bookshelf without investing much of your time and effort into it. It will be the best and fantastic project you will make for your bedroom or TV lounge. Now you don't need to go far to grab a book for your night-sleep reading or an afternoon-nap reading. familyhandyman
10. Knock-Down Bookshelves
If you find your hallway little echoic or empty, you must fill it up by placing a classy piece of furniture there. So what is best than this knock-down shelves that are perfect for holding all your novels and other knowledgeable books. Also, it will bring grace and style to any space where you would want to put it. instructables
11. Easy DIY Bookcase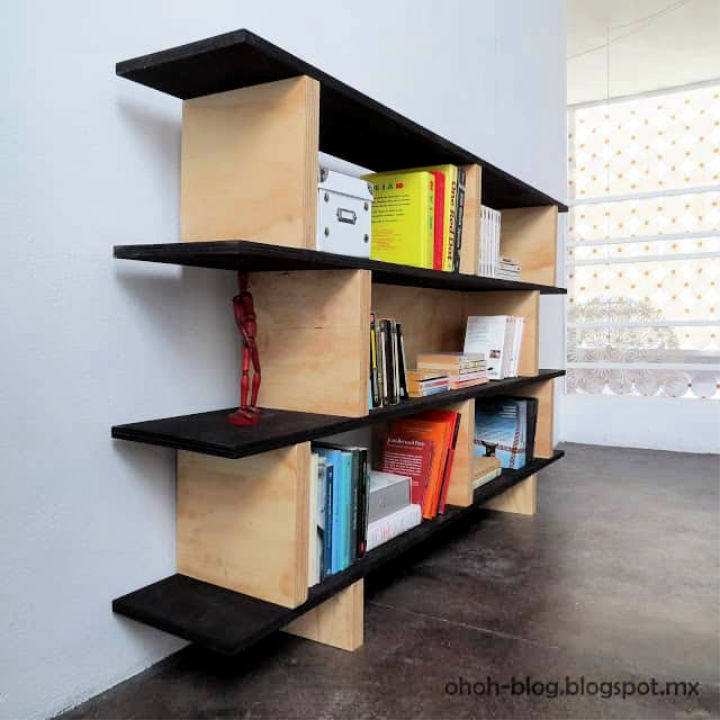 Create your own mini-library at home by making this easiest to work up a DIY bookcase project. You will get astonished seeing how much of volume and weight of books this bookcase can hold. Plus, it is not merely functional but can be nailed over just a weekend! Such a quick build it is! ohohdeco
12. Industrial Bookcase Plan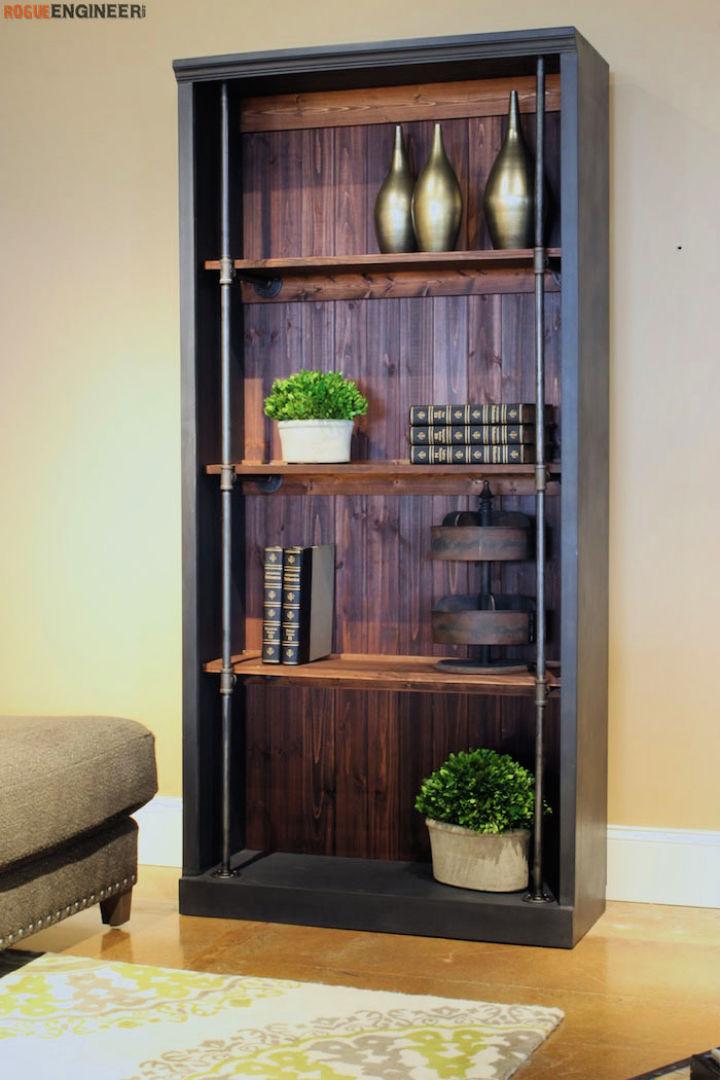 Look at this industrial bookcase? Isn't it all trendy and classy? Now you can build it all on your own and entirely at home without needing many reinforcements. It is the kind of bookcase cum decor shelf, you can put anything you want to place on these shelves. Collect your tools and material and hit off these projects already! rogueengineer
13. DIY Bookshelf Inspired By Pottery Barn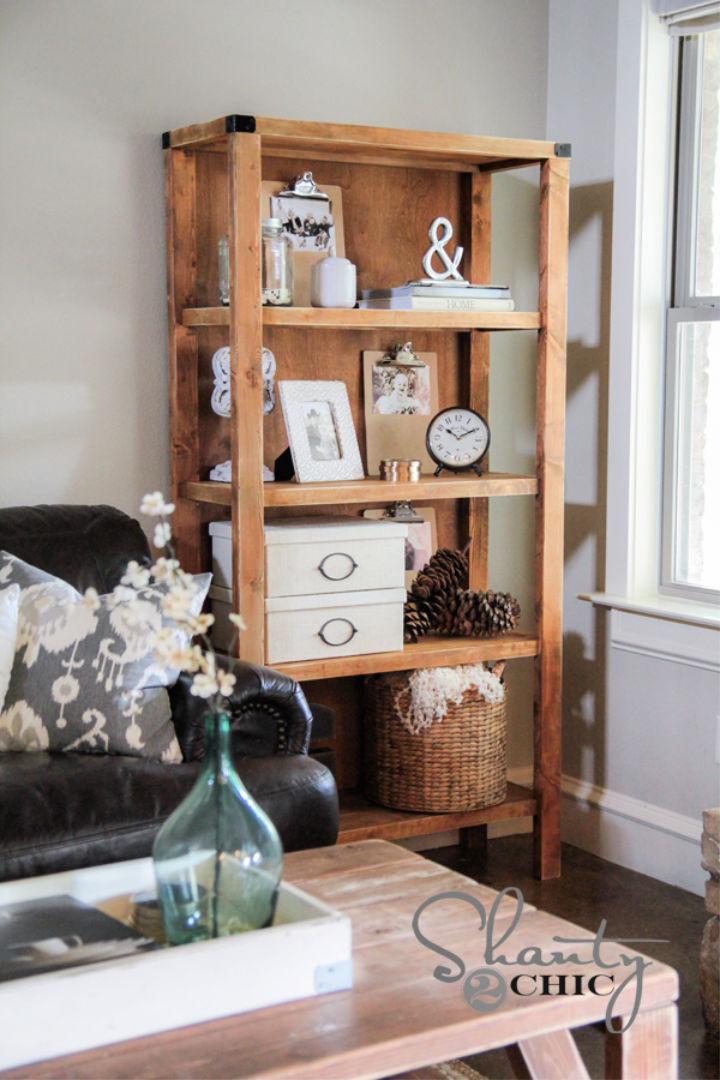 Have you ever visited Pottery Barn but refrained yourself from buying because everything is oh so darn expensive? We get that! Hence, let us interest you into this DIY bookshelf that will give your product almost a hundred percent look of Pottery Barn furniture. Be the hit of the town with this wonderful decor addition. ana white
14. DIY Sawhorse Bookcase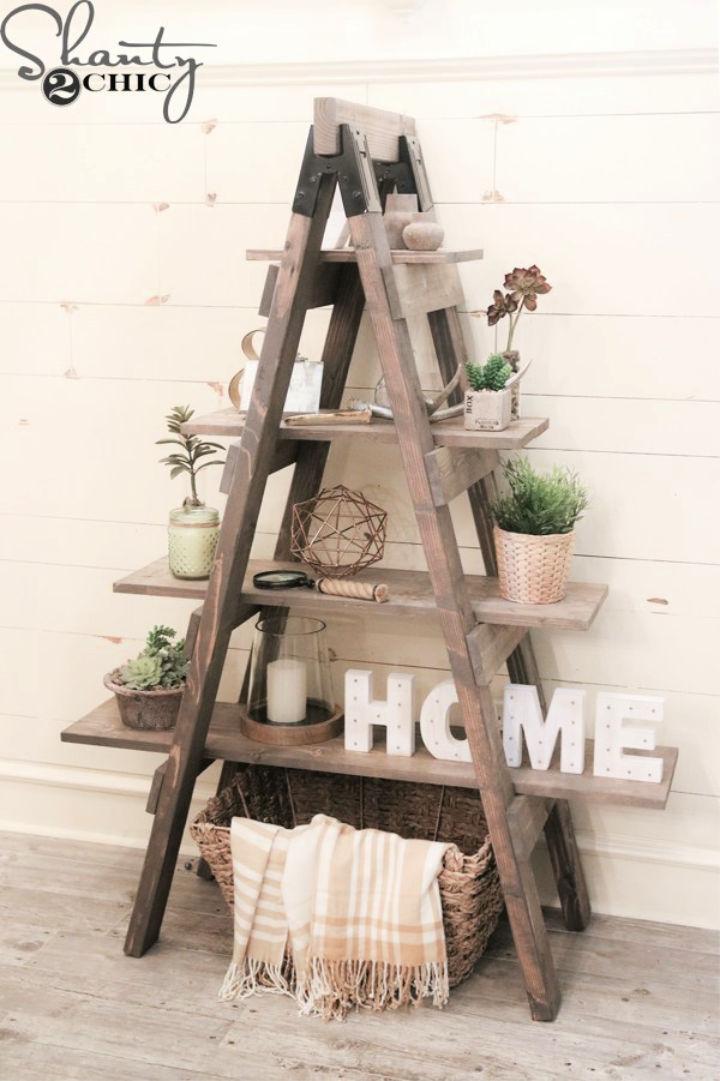 Check out this sawhorse bookcase to get rid of the cluttered up situations of your room or lounge. The link below will instruct you in detail about doing this project. With just a few tools and materials, you can spruce up your decor like a pro! shanty 2 chic
15. Handmade Hanging Bookshelves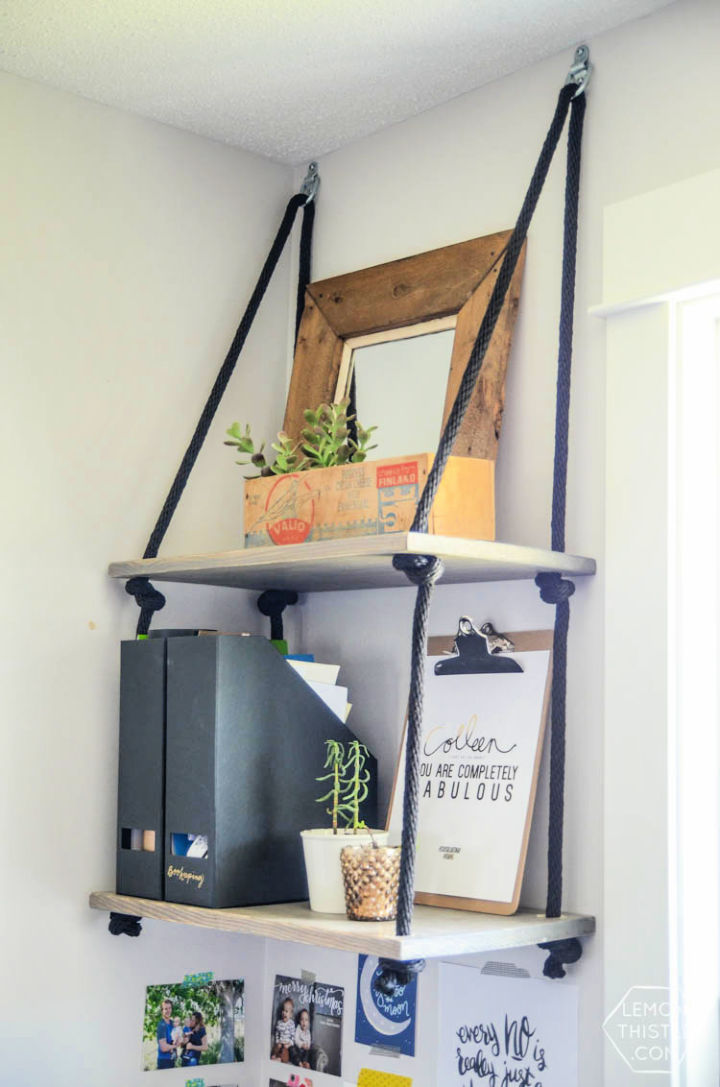 If you are suffering from lack of space in your home, but you are desperately in need of bookshelves, check out this appealing idea of hanging bookshelves. It won't take any space on the floor and simultaneously provide your wall an embellishing and decorative look. lemonthistle
16. How to Make a Vertical Bookshelf
A vertical bookshelf is ideal for a lot of reasons! For starters, it is pencil-thin but a super stylish project. It is perfectly a beginner's project that doesn't involve any complexity of building either. Yet the vertical standing shelves have a lot of storage space to offer. ehow
17. Tree Bookshelf in 5 Steps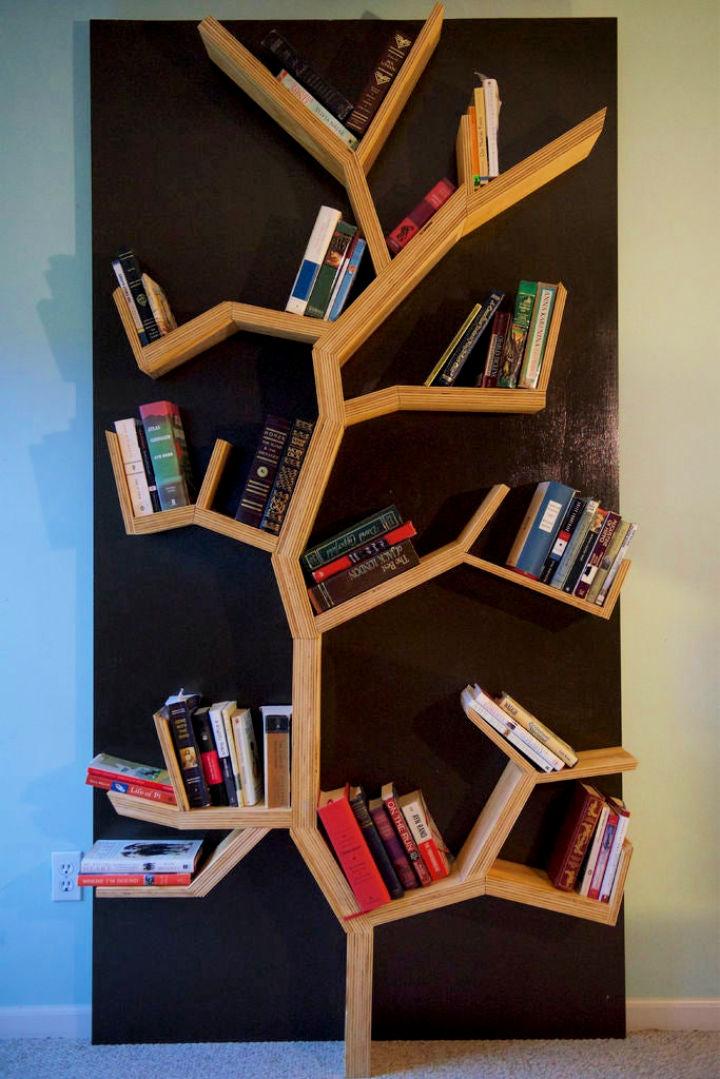 Talk about being an aesthetic enthusiast and, at the same time, an OCD victim or more like Monica spirit. Check out this mind-blowing tree bookshelf that is highly functional and totally spruce up material or your decor! This project is surprisingly easy and can be whipped up in just 5 steps. instructables
18. Modern Mid-Century Side Table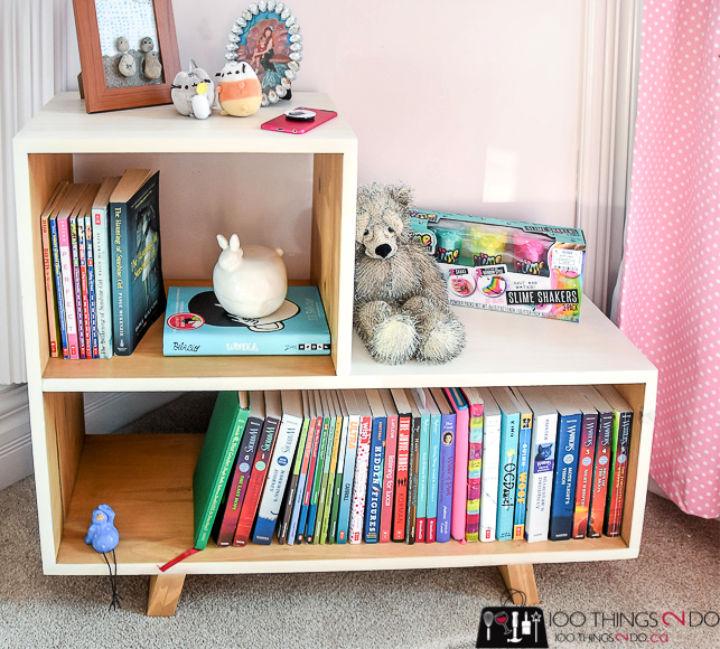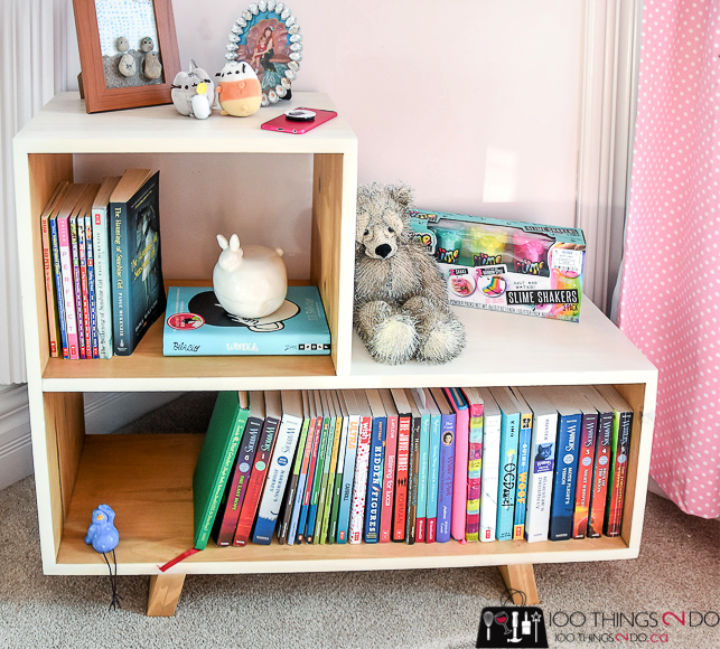 How to Make a Bookshelf in Table Style? Put this mid-century side table at any corner of your room, hallway, or TV lounge. It will bring elegance and grace anywhere you want! This project is super beautiful that can help you manage all the clutter and mess of your room. Try it! jenwoodhouse
19. West Elm Knock-off Bookshelf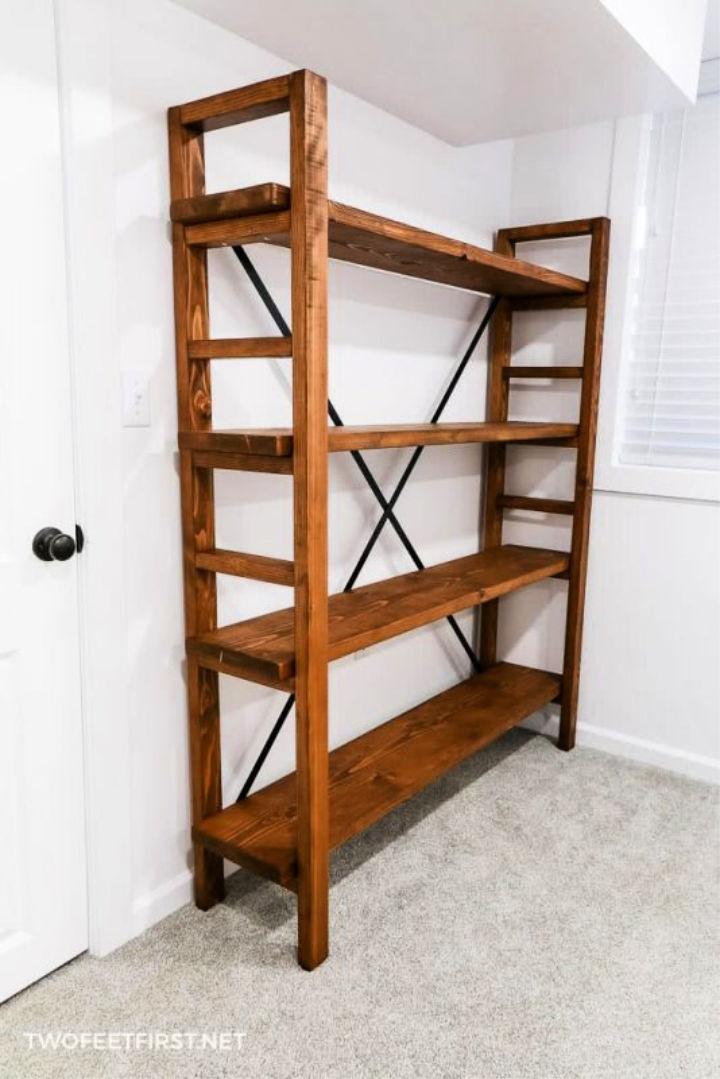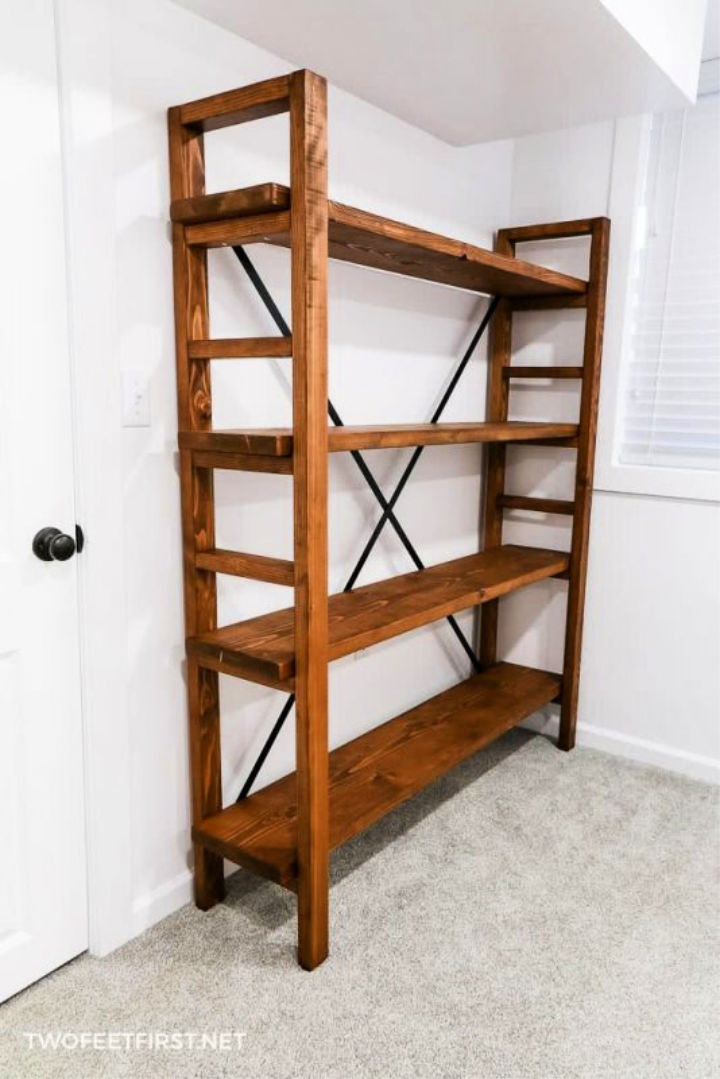 Check out this uber classy and lovely west elm bookshelf! It has quite a lot of storage options to offer and looks uber classy too! You won't endure much cost in building this DIY bookshelf at home. This project uses pine wood along with a few other supplies and tools mentioned in the tutorial. twofeetfirst
20. Geometric DIY Bookshelf Plan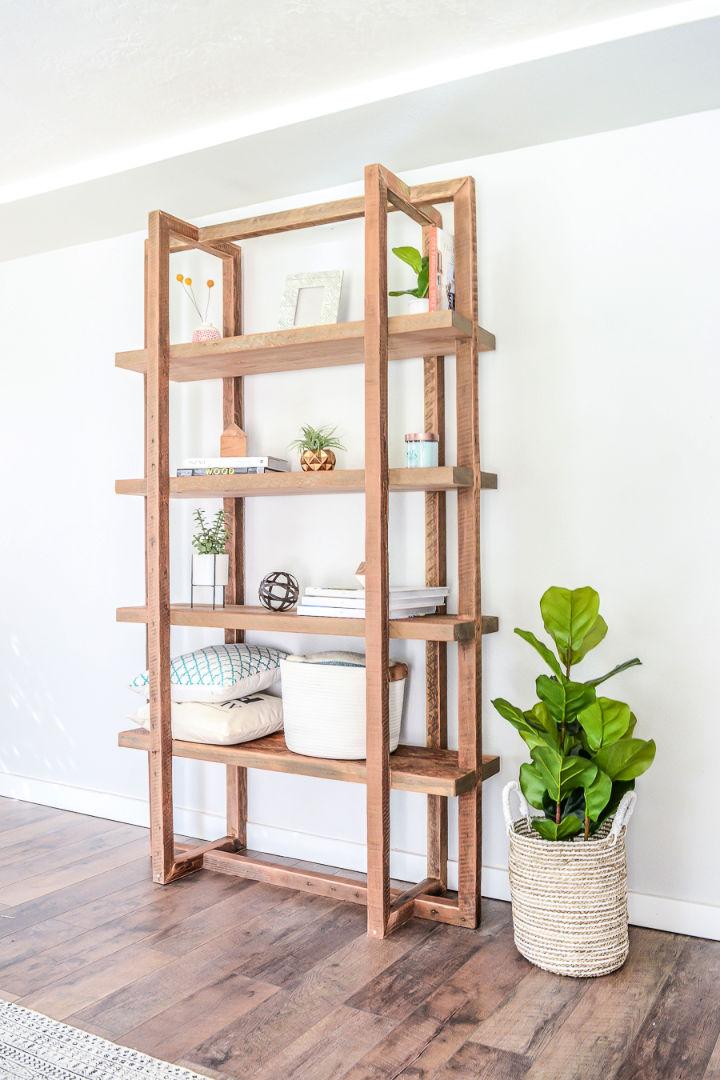 Have you ever been in love with this sort of geometrical bookshelf at a store that was super cool but out of your budget? Oh! The pain is real. But you can now spruce up this furniture piece all at home using your basic skills and few materials. Honestly, doing this project at home will cost you less than half of the store article. jenwoodhouse
Make more money with your woodworking business with these popular and easy woodworking projects that sell well.
21. Ana White Kentwood Bookshelf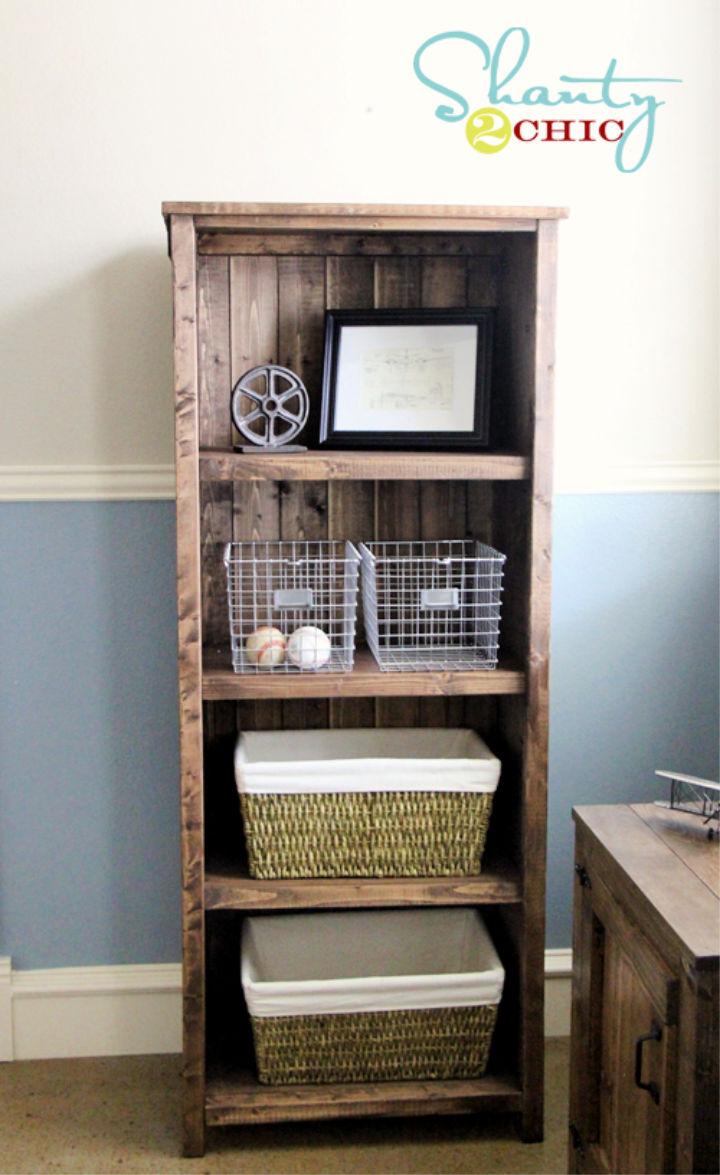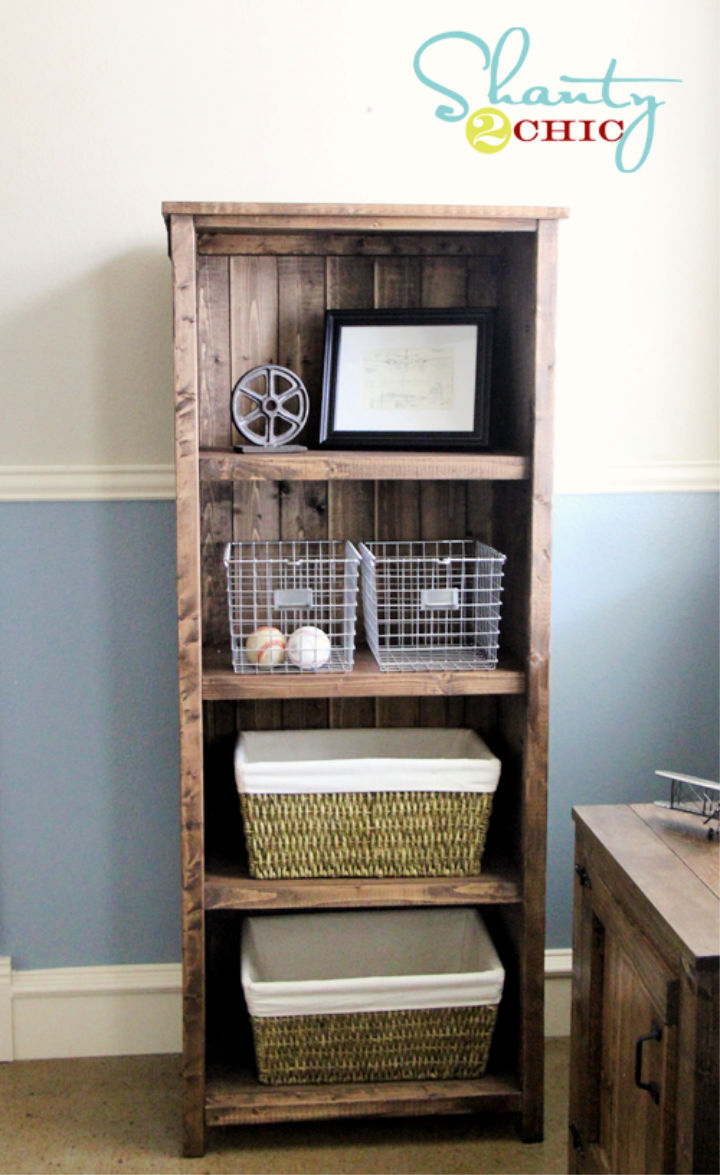 A little taste of rustic can never be too bad! Plus, rustic is something that goes a long, long way. Check out this Ana White Kentwood bookshelf. You will need some finish nails, pocket hole screws, wood glue, and wood filler for nailing this DIY bookshelf. ana white
22. DIY Contemporary Bookcase
A contemporary bookcase to elevate your decor game to a whole new level! With ideal management in check, of course. The lovely twist in this bookcase lies in its composition. With each part worked separately and then joined together! Get the details from the tutorial. popularwoodwo
23. How to Build a Ledge Bookshelf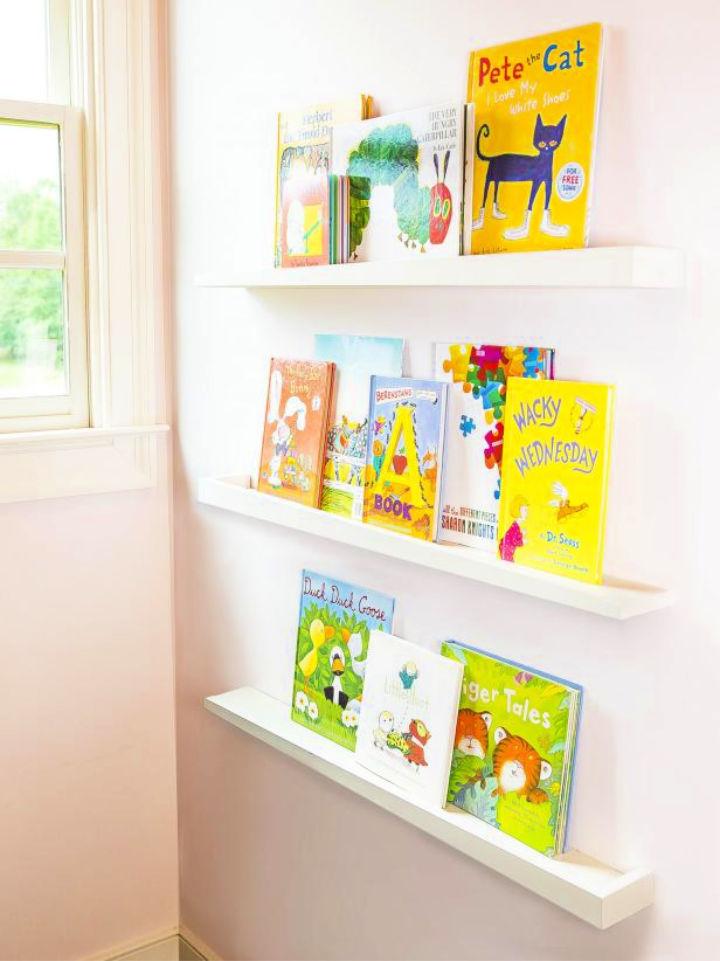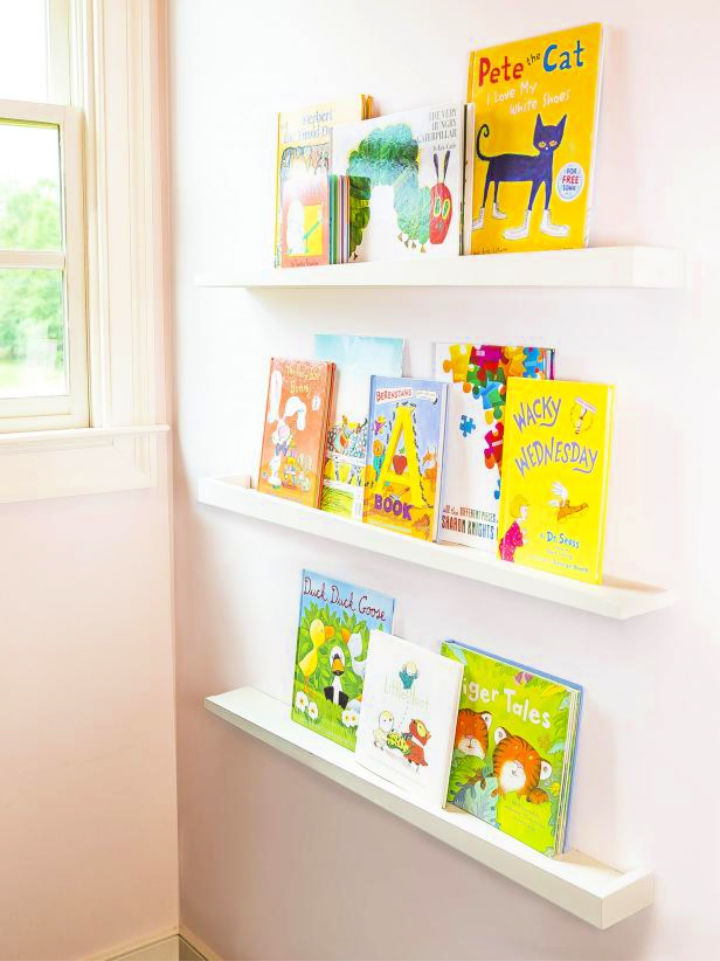 A ledge bookshelf is ideal for a kid's room! It will not compensate any more clutter for the little devils to spread around. Most importantly, they can learn a thing or two about keeping it clean around. These narrow shelves take little space but serve the purpose right. hgtv
24. DIY Crate Bookshelf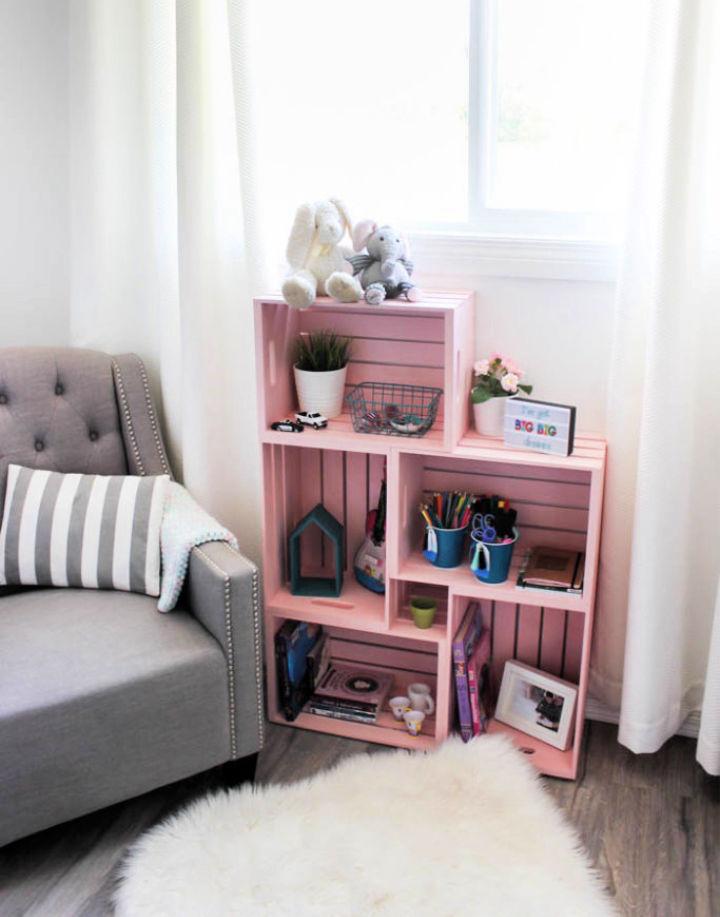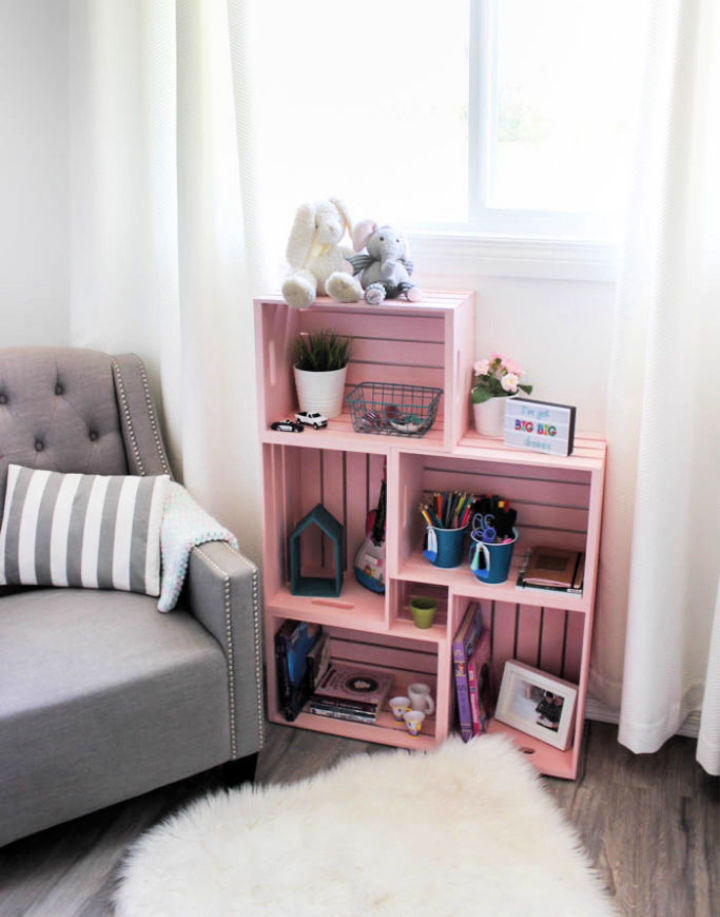 Everybody has a garage full of empty crates! Just lying around compiling a mess. What if we tell you the ultimate secret of transforming those crates into this charming DIY bookshelf? Buy new crates or use the old ones, be your designer. Click the link below for details. lovecreatecelebr
25. Wooden Crate Bookshelf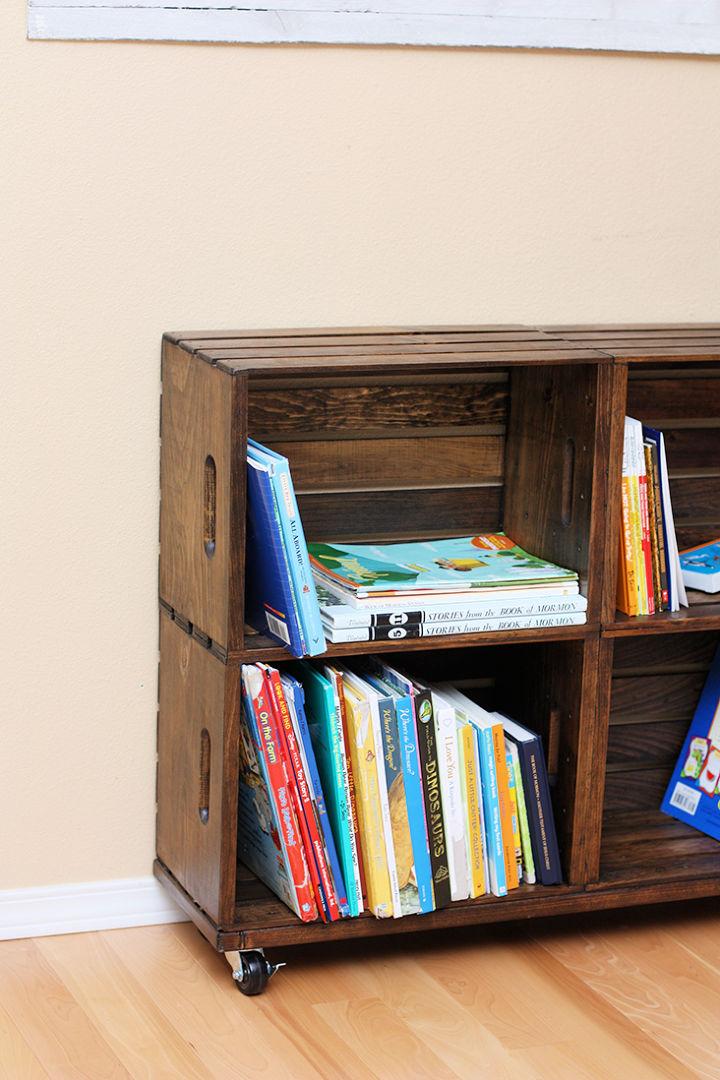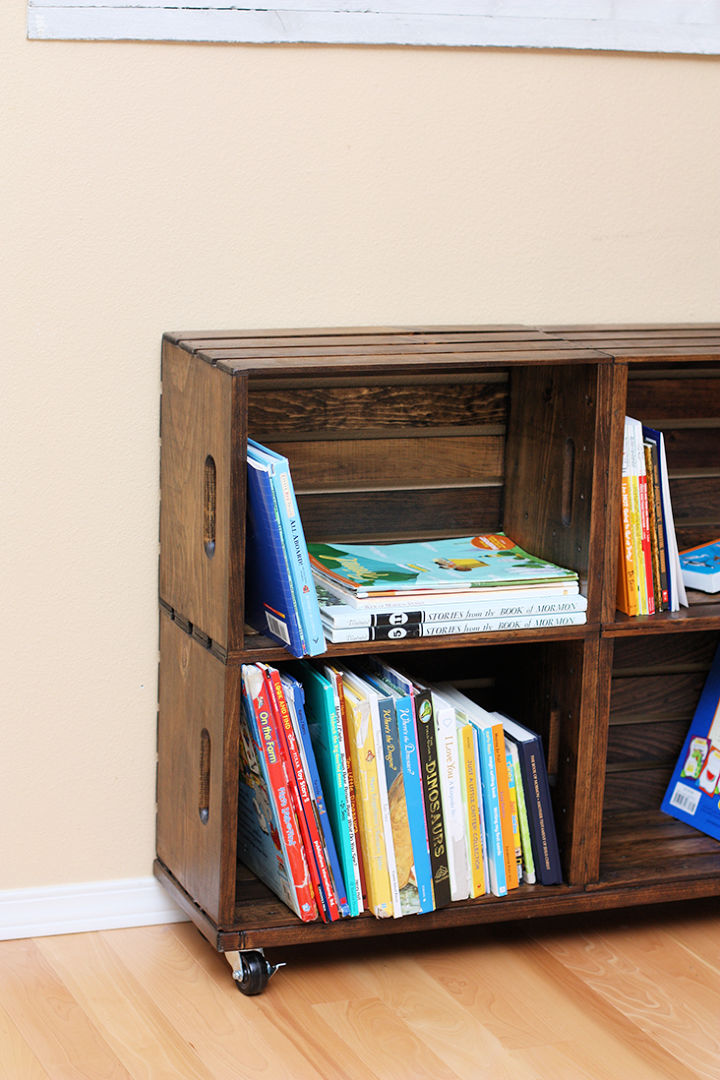 Another one from our collection of DIY bookshelves! A wooden crate with wheels. Nothing says an ideal decor like portable stuff. Using wood glue and screws, join the crates together in your desired orientation. Then paint them with the color of your choice! sewmuchado
26. Honeycomb Hexagon Shelves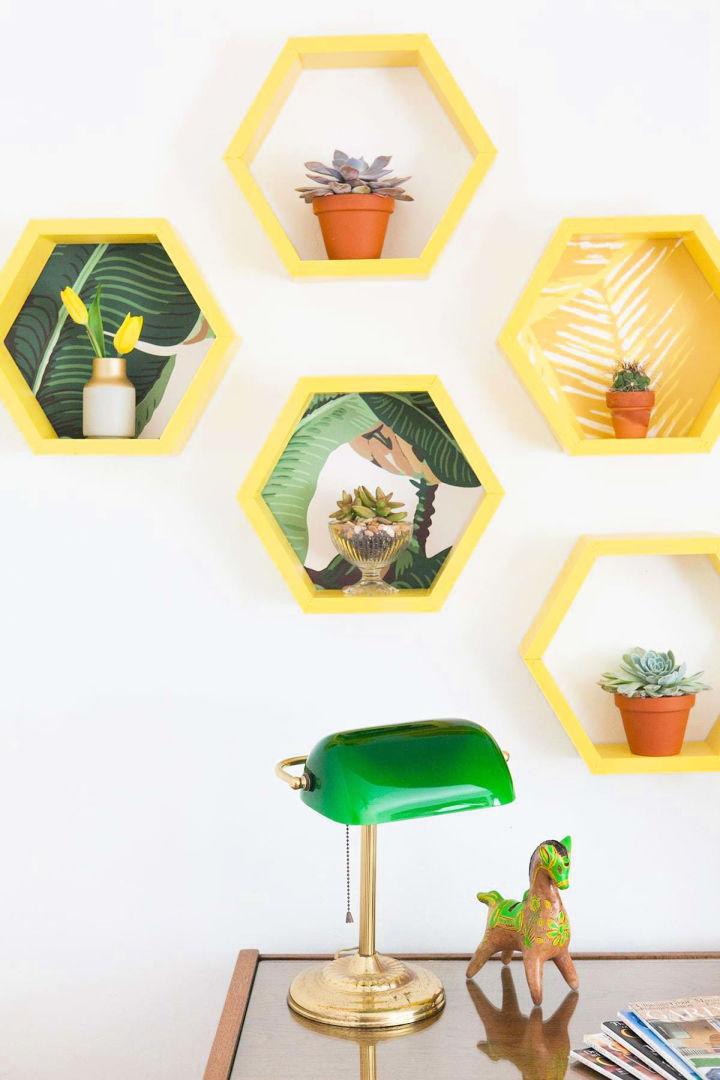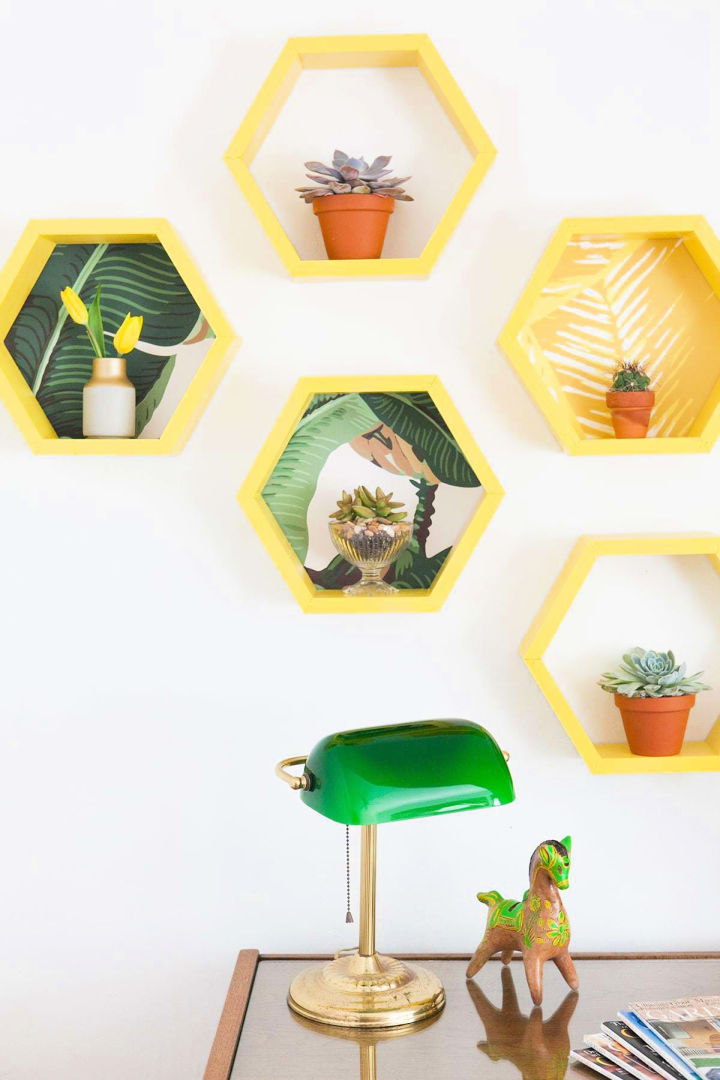 How about we interest you with this exciting floating shelves idea? The two-fold usage: for storage and making the ideal wall decor. The entire supplies will cost you hardly around $35. Wowza! jessicabrigham
27. DIY Built-In Shelves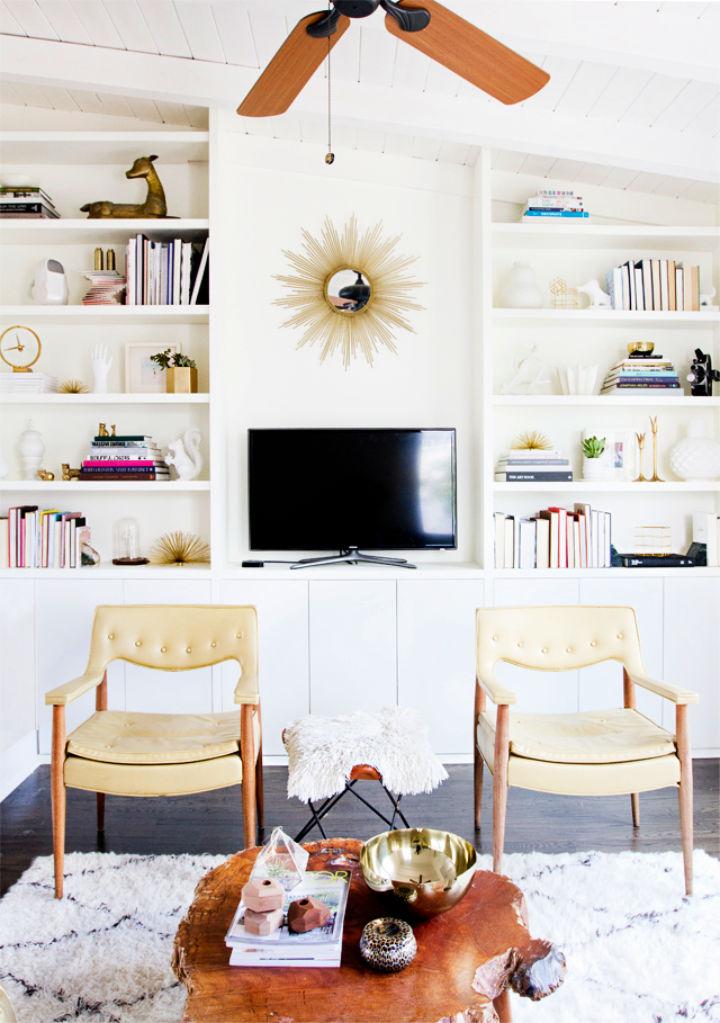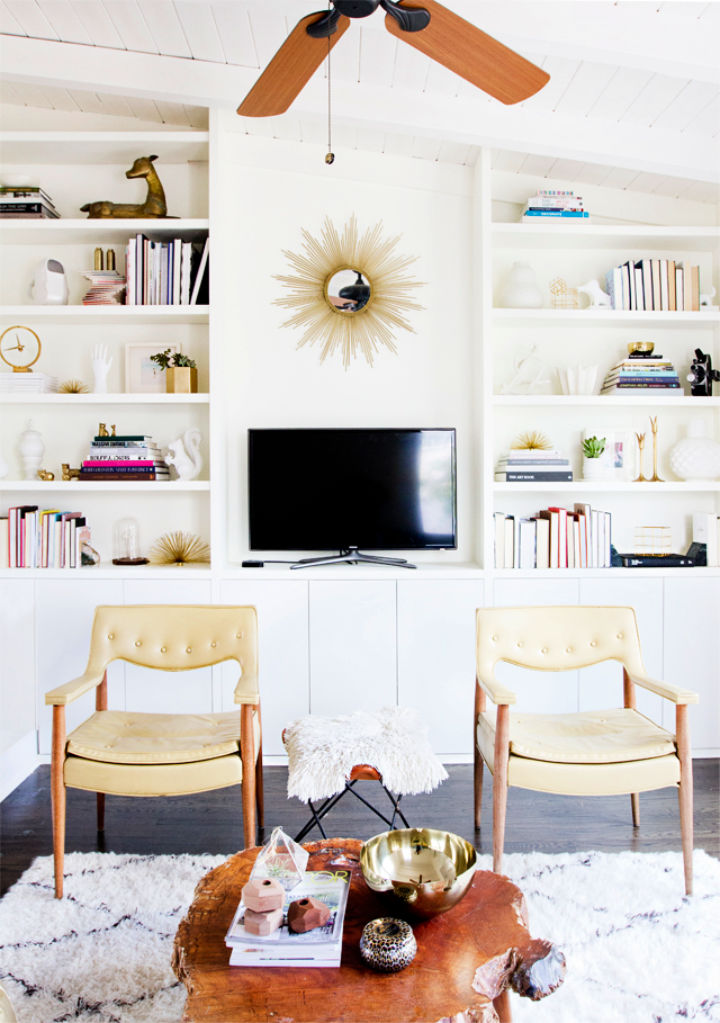 Built-in shelves are the essence of any living room! They make an ideal decor piece. If you happen to know your way around using a miter saw, then you can easily craft this DIY bookcase from scratch. A little bit of cutting, lots of paint, and combining them together into one piece. sarahshermans
28. Fruit Slice Shelves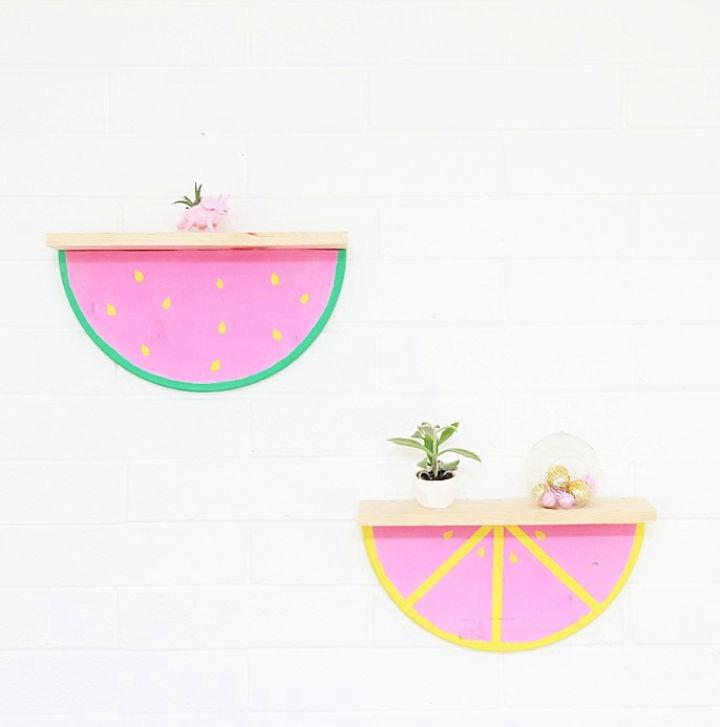 There are literally no limits to imagination or creativity! Combine it with DIY, and you are in for a treat. We are loving these fruit slices bookshelves. Such an amuse and delightful storage idea or decor upgrader. Hit the tutorial for all the details. abubblylife
29. DIY Triangle Bookshelves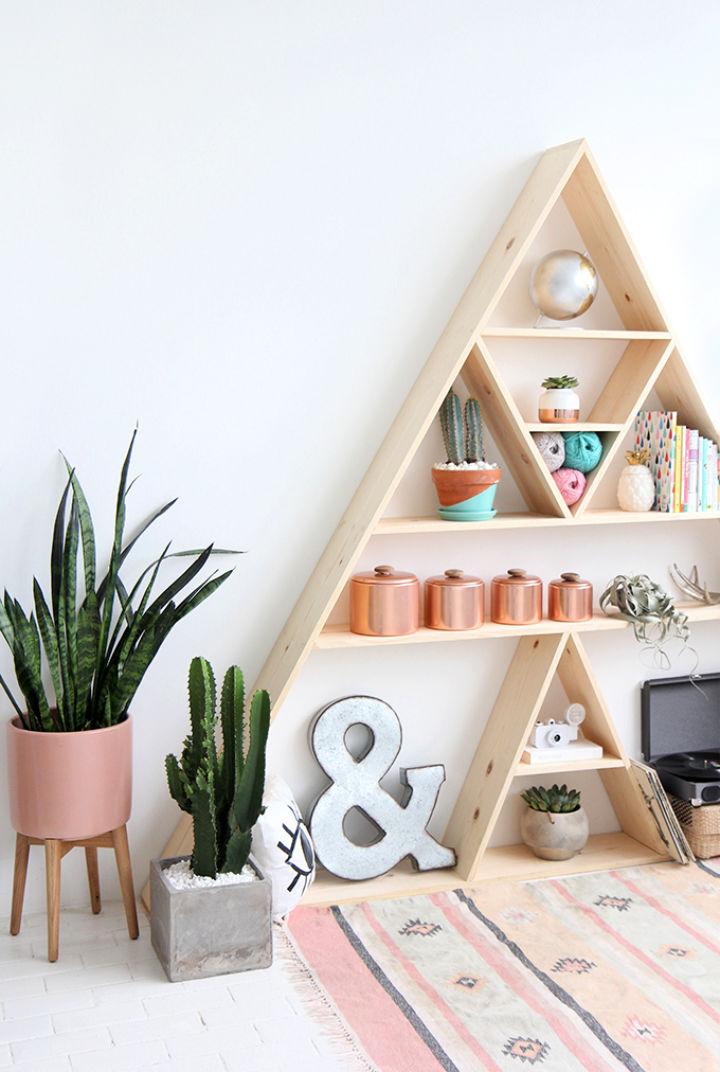 Triangle bookshelf can smartly let you manage the available space! Plus, it can hold more items strategically, not letting any space for any clutter. You can add multiple geometry delights inside this DIY bookshelf too. ispydiy
30. Wall Mounted DIY Bookshelves
These wall mounted bookshelves are ideal for holding all the huge bulk of kids storybooks or other books! Without letting them fall off with your kid's much exciting touch! This one is made out of pine boards, 1 x 2 boards, airstrike nailer, miter saw, jigsaw, paint or stain, and a sanding block. refreshliving
31. DIY Rustic Wood Shelves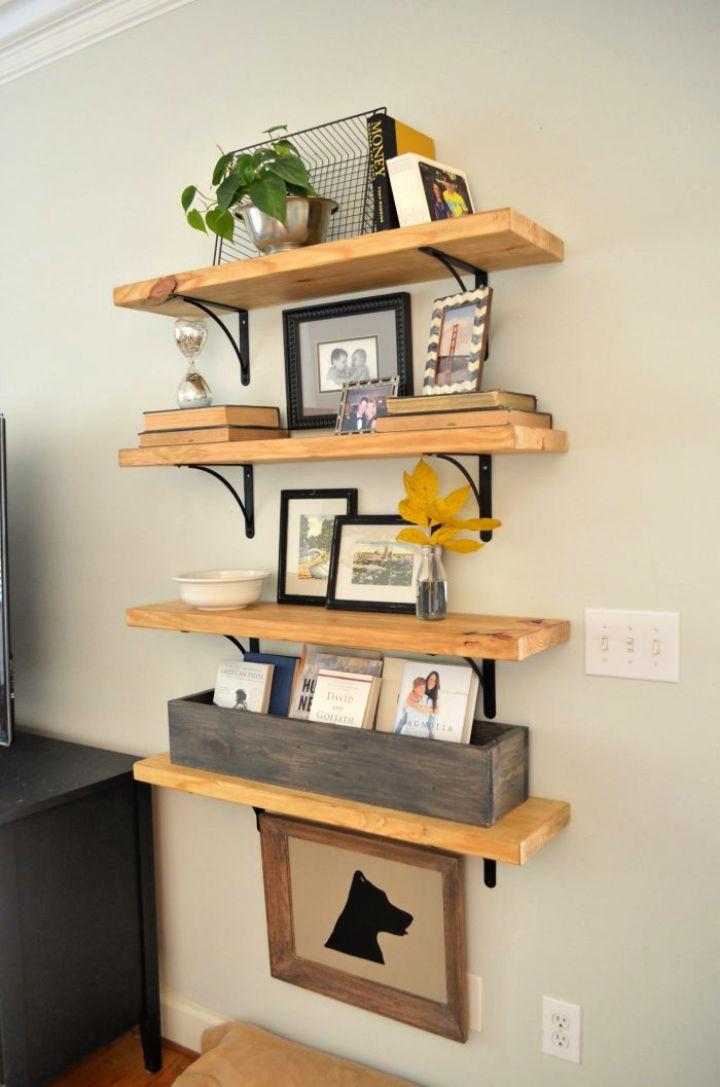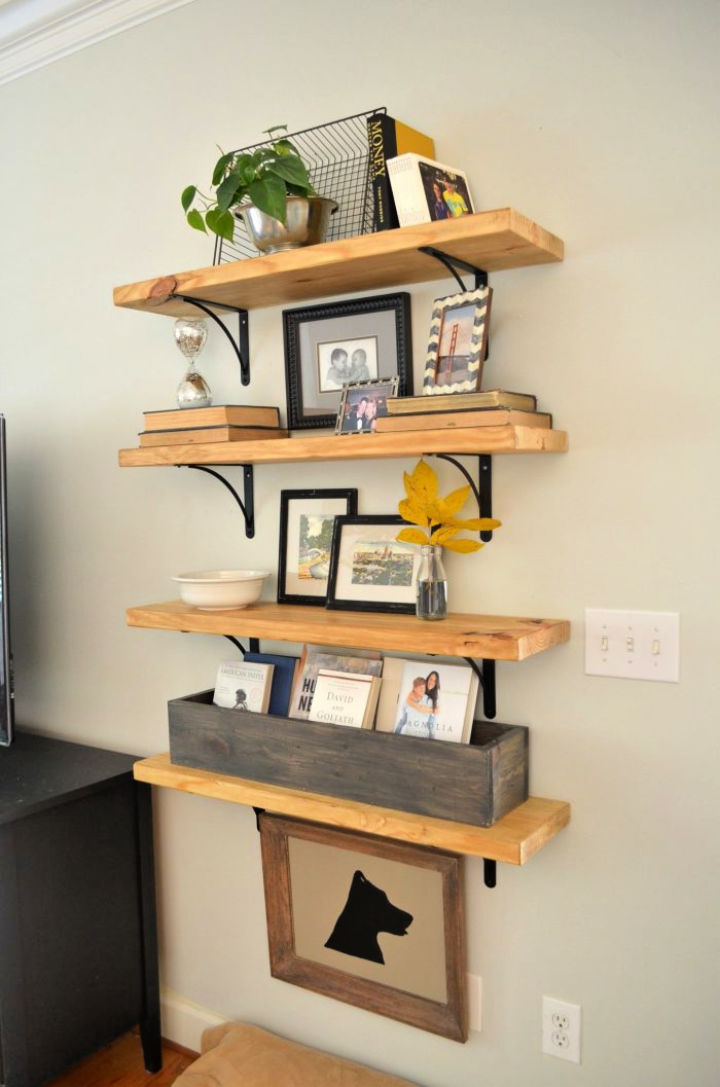 Get your hands on 2, 2 x 10 pine boards. Metal brackets, electric sander, and antiquing wax for whipping up these rustic DIY bookshelves! These wall mounted bookshelves will not only provide ample space for storage but also elevate the decor. athomewiththe
32. Industrial Pipe Open Shelving
A little touch of industrial glamor never hurts any decor! For a fact, it adds quite a whimsical appeal. If you are looking for a much affordable remodel, these open shelves with an industrial pipe is your shot. Head over to the tutorial for getting the supplies. createdbyv
33. Copper & Wood Bookshelf
What a royal combination of copper and wood! An ideal DIY bookshelf for your living room or room. While managing to keep the clutter in check, don't compromise on your decor. If you want the full-fledge copper piping a little too expensive, instead use wood dowels and save some money! treasuresandtra
34. Build Floating Shelves for Uneven Walls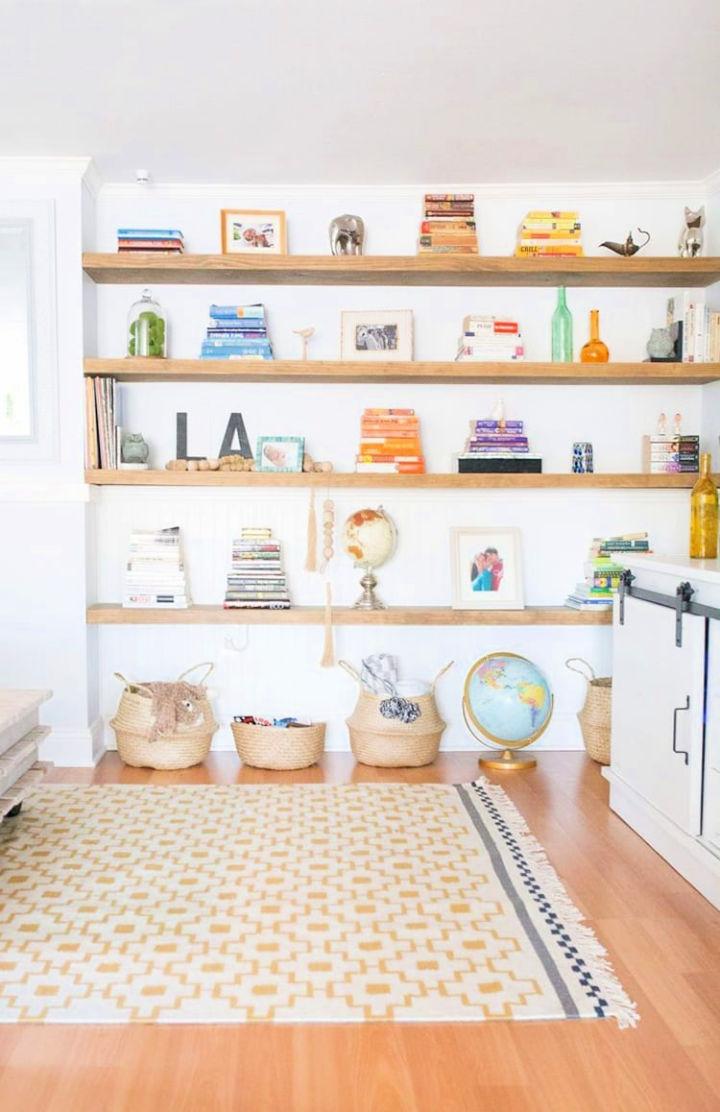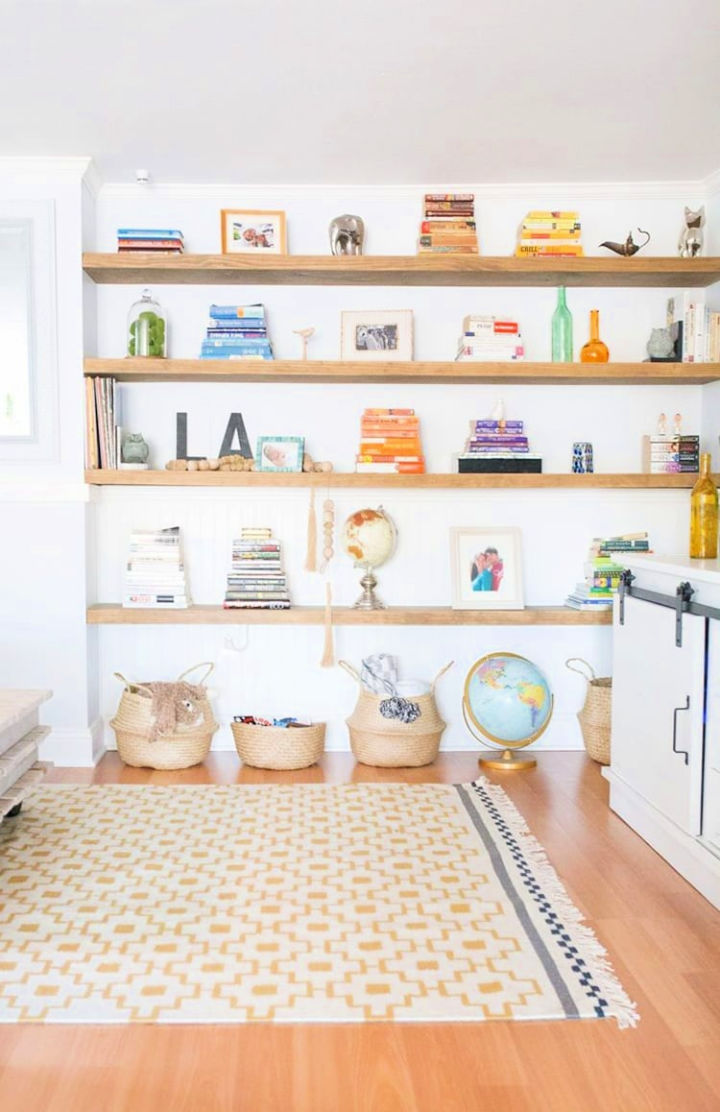 Uneven walls can be a decor buster! How to manage a space that is too uneven to even the decor equation. Well, Shrimp Salad Circus has got just the right DIY bookshelf idea for your uneven walls. It involves using a drill, paintbrush, nail gun, woodworking ruler, saw, brads, and wood screws. shrimpsaladcircus
35. Bookcase with Angled Shelves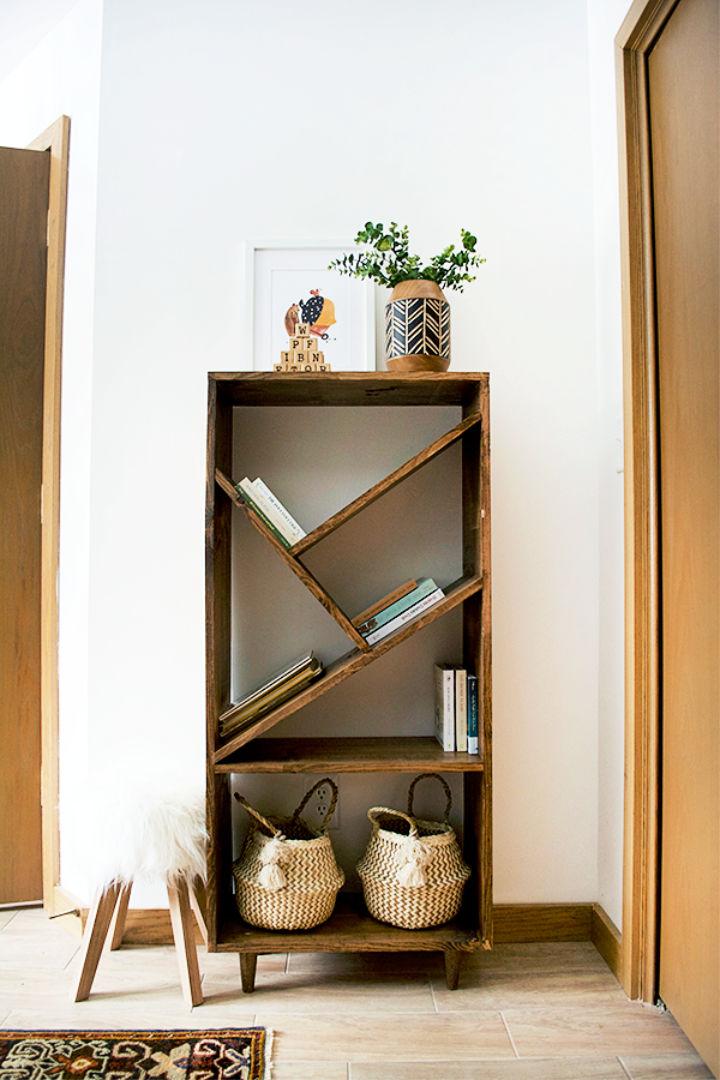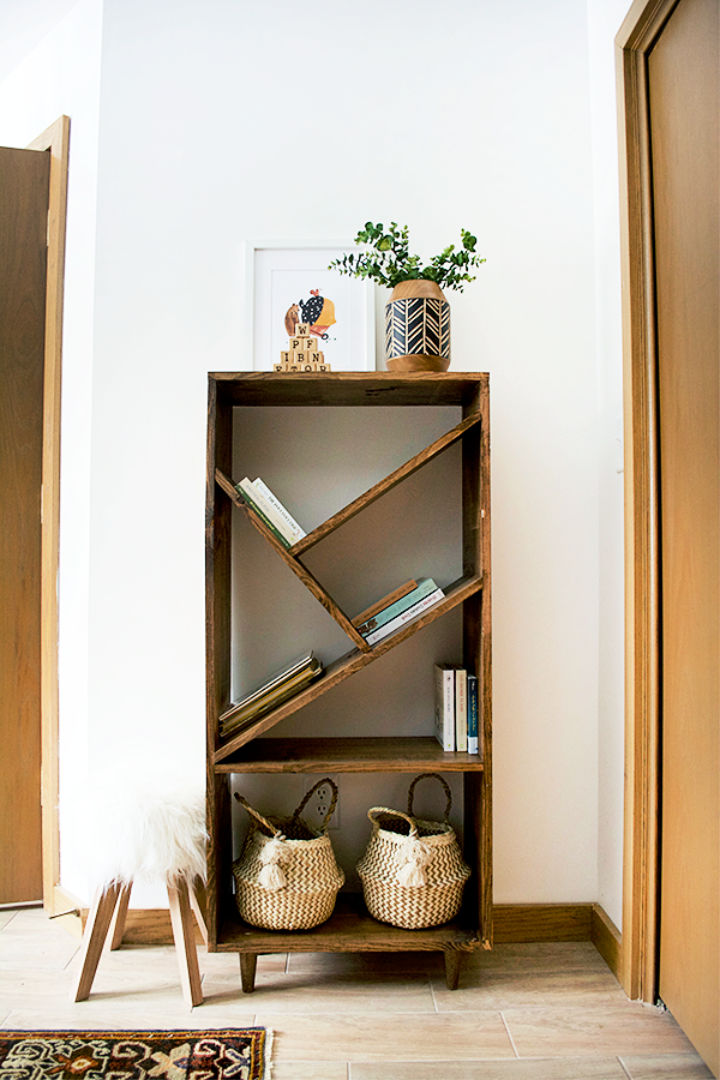 A simple bookcase with added angle shelves can add quite a classic touch to any storage option. Instead of buying and spending hefty bucks on commercial ones, instead, go for a DIY bookshelf. This one requires 12" wide pine boards along with pocket hole system, Kreg jig, table saw, stain, and polyacrylic. brepurposed
36. Rain Gutter Bookshelves Under $10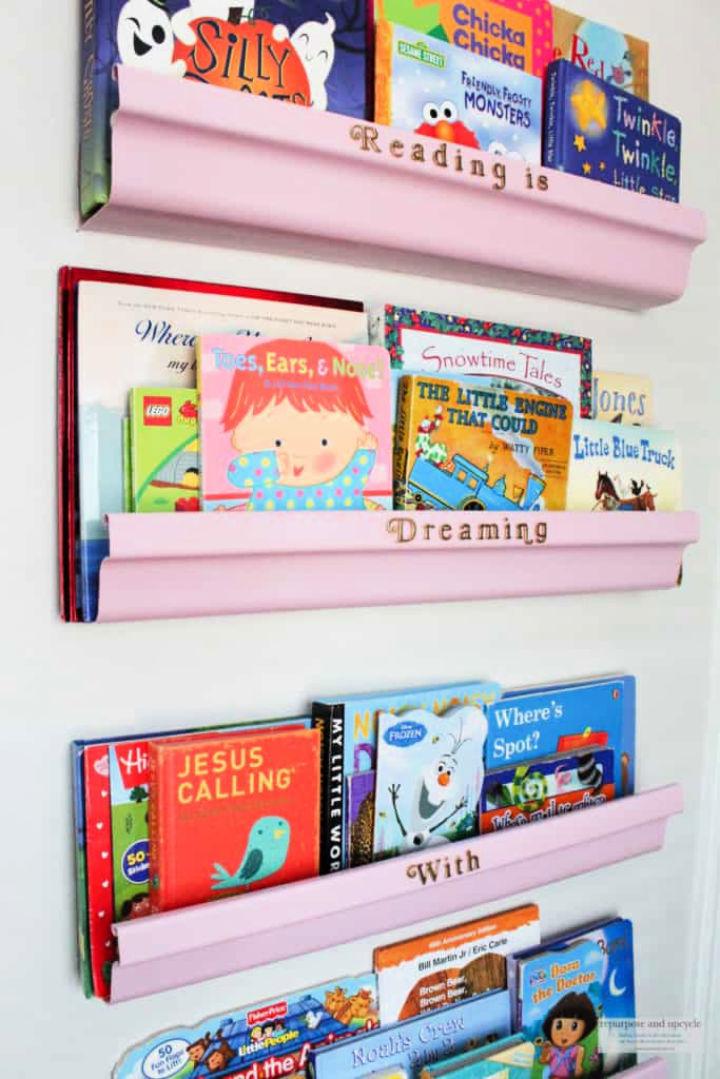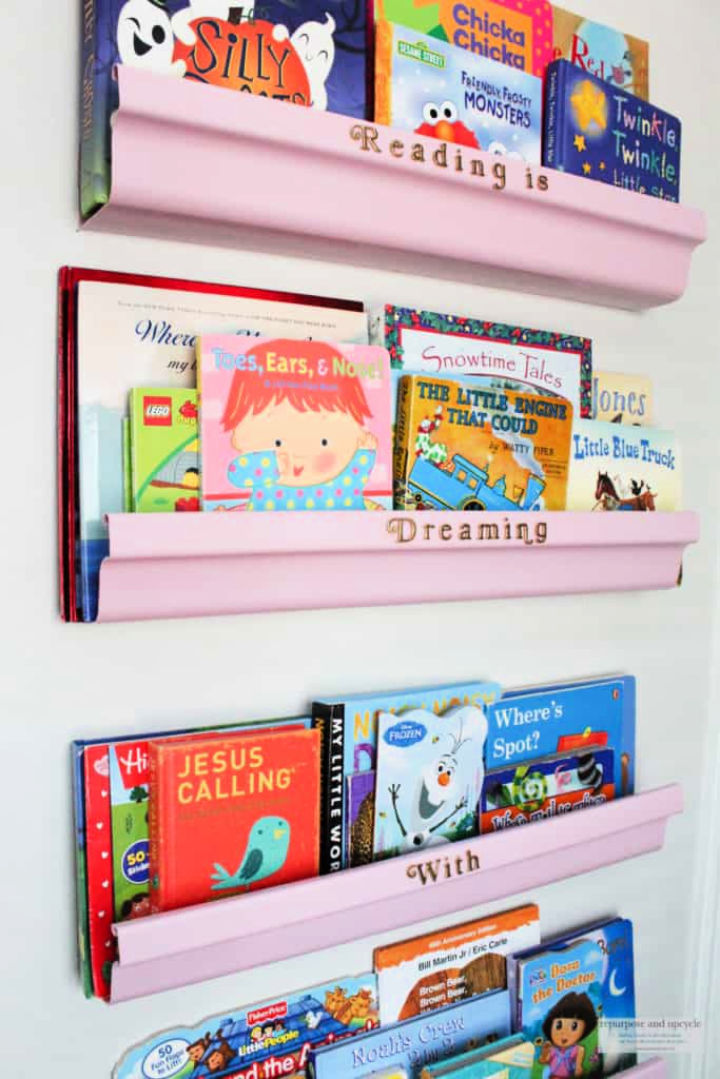 Can you even imagine building a bookshelf using rain gutters? Yeah, we neither. But Repurpose, and Upcycle has done it here quite beautifully. You will be needing some rain gutters as your key supply along with other building notions. Click the link below for details. repurposeandup
37. DIY Wine Crate Bookshelf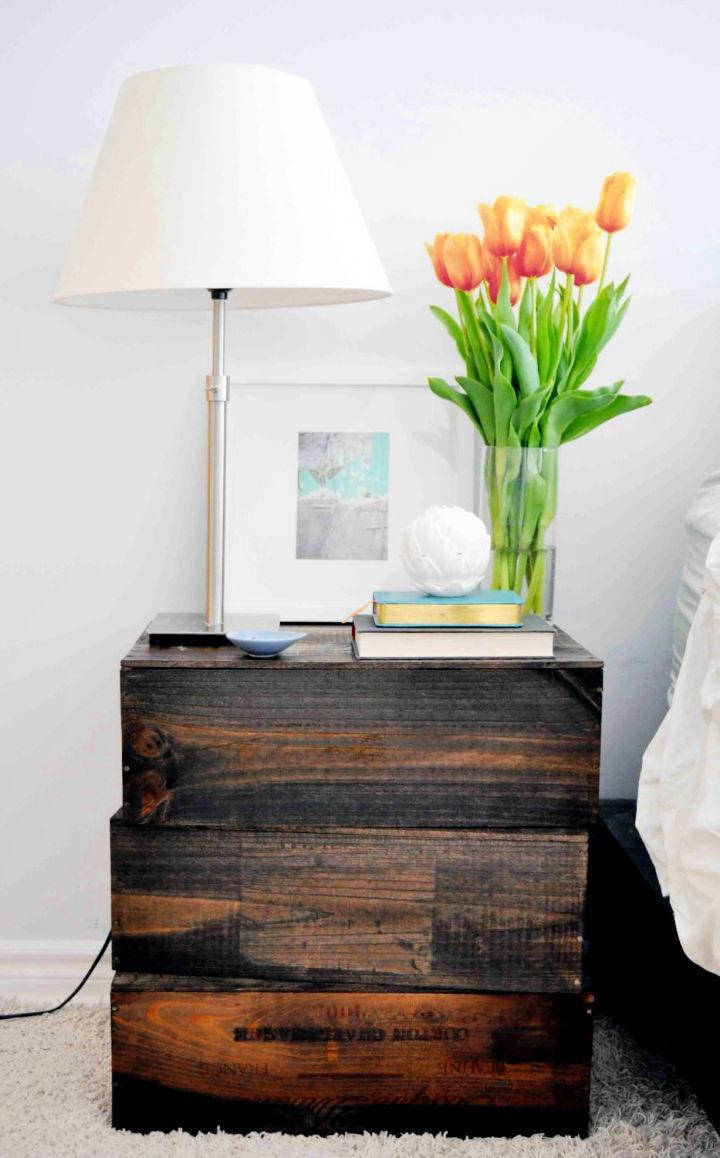 Who says only old wine is worthy! The old wine crates are also worth so much more. Like putting them as your next rustic and whimsical bookshelves. It merely involves some staining and putting them upon each other. jacquelynclark
38. Vinyl Record DIY Bookshelf
Check out this wine record bookshelf! This looks so minimalistic and yet so classy to be a part of your decor game. Plus, it is elevated from the floor; this gives it an even further elegant and royal look. Get all the details from the tutorial for nailing this beauty. thesurznickcom
39. How to Build a Vertical Book Tower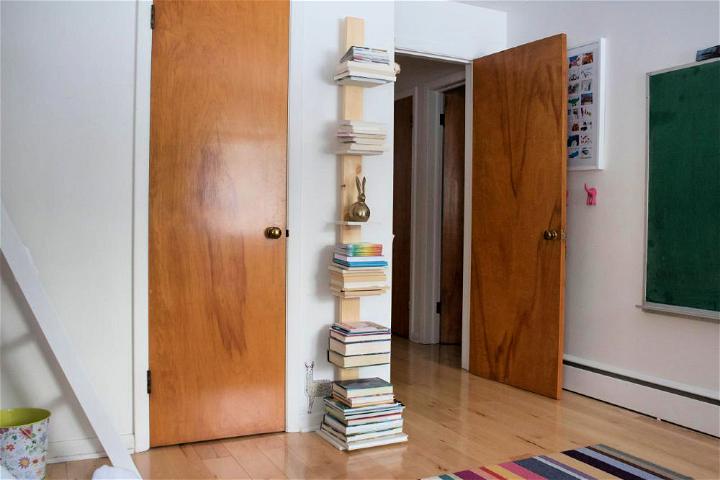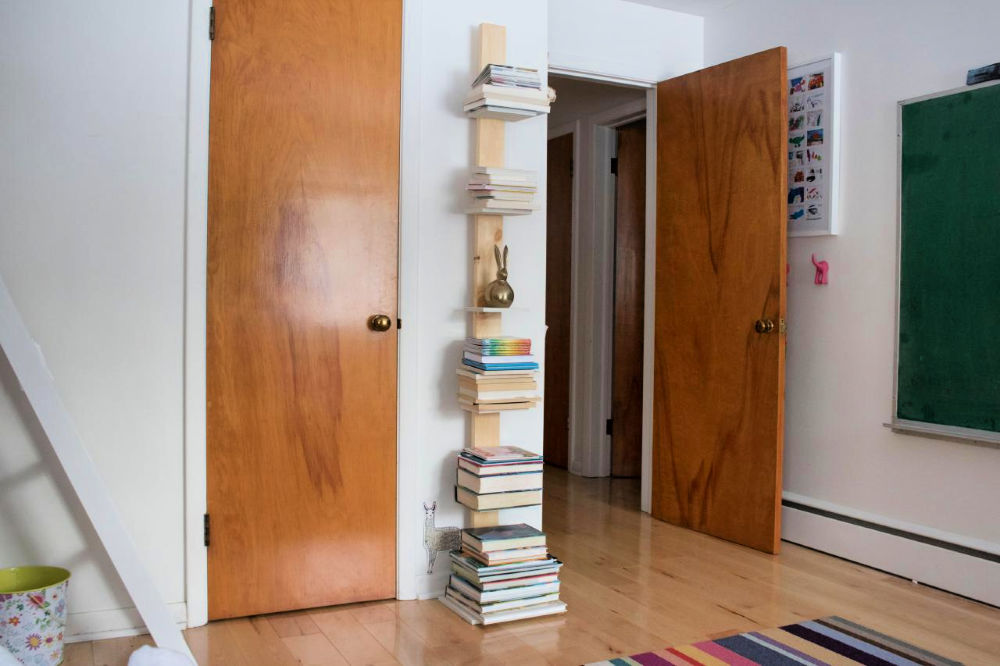 Bored of the same traditional bookshelves? Let us interest you in this super stylish vertical book tower. That's right. Offers storage with even an added priority touch. You will need 2 x 4 x 8 pine board, 2 x 2 piece of ½" MDF, 2" wood screws with other basic construction supplies. diynetwork
40. Build Your Own Bookcase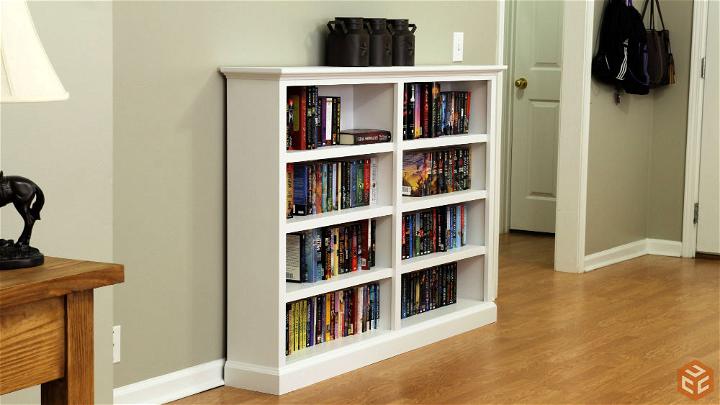 Certainly, the key to a happy life is to be in charge of everything in it! While you may not be able to practice maximum authority in everything but you can still at least make your own DIY bookshelf. If you love reading books, this one can hold A LOT of them at the same time, offering room for being stylish too. jayscustomcre
41. Built In Bookcases With Cabinets
The idea with storage is that it never a lot! The more, the better. Check out this DIY built-in bookcase with cabinets. The shelves are comprised of industrial shelving, 2" thick wood slabs with as little cost as just $400. Hit the tutorial for details. h2obungalow
42. DIY Leaning Ladder Shelf
A leaning ladder shelf is a storage with style! By using a chop saw, cut each shelf to the sizes. The detailed sizing guide can be found in the link below. You can pine board to nail this piece of art and storage. brepurposed
43. Little DIY Bookshelf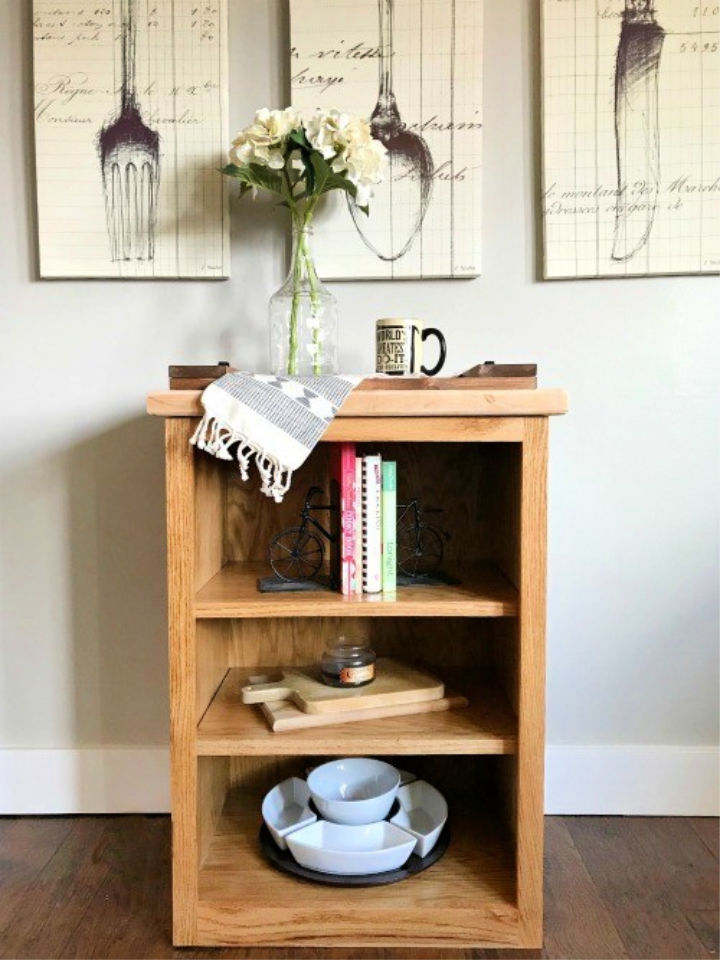 Not a fan of big storage options? As it also makes room for a big mess, if not handled properly. This little and straightforward DIY bookshelf can totally eliminate that factor. Plus, it is the perfect size to put in any nook or corner. woodshopdiaries
44. DIY Scrap Wood House Shelf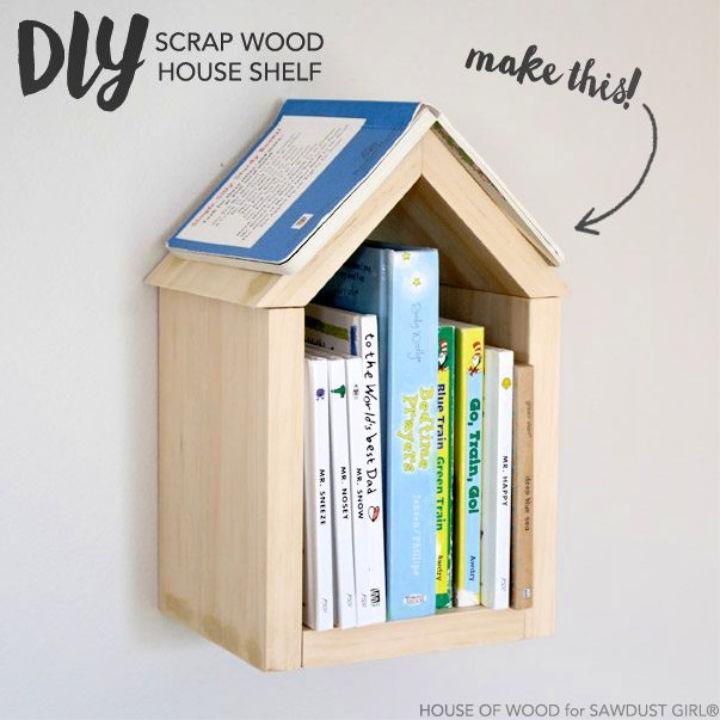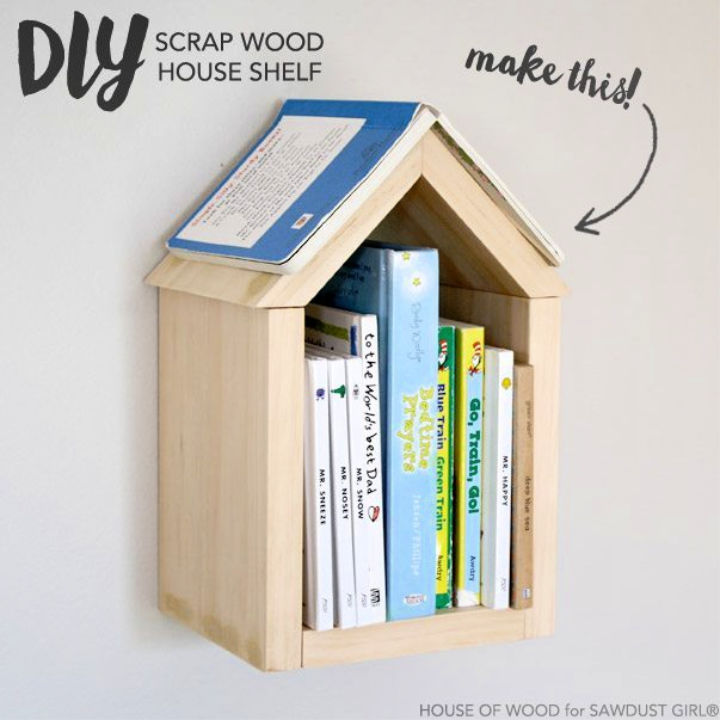 We are totally loving this scrapbook house shelf. Doesn't it remind you of the lovely birdhouses? A walk down the memory lane, indeed. It is super simple to make using 2 pieces of 1 x 6 of 7", 1 x 6 of 5" and one 1 x 6 of 5" for the top. Also, wood glue and brad nails. sawdustgirl
45. Homemade Wood Bookshelf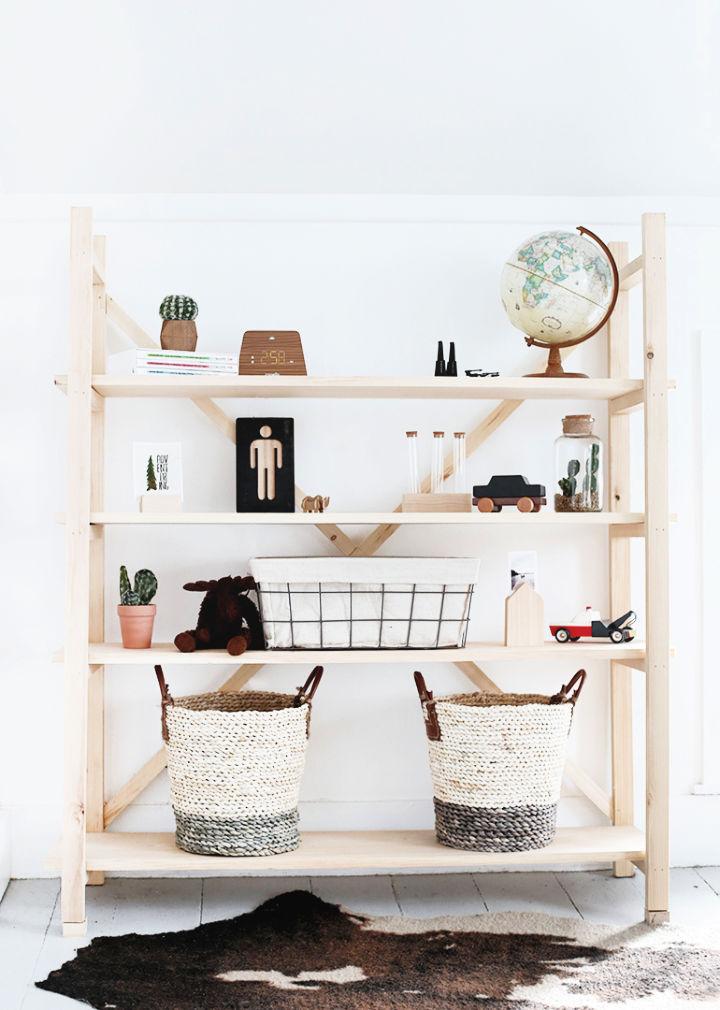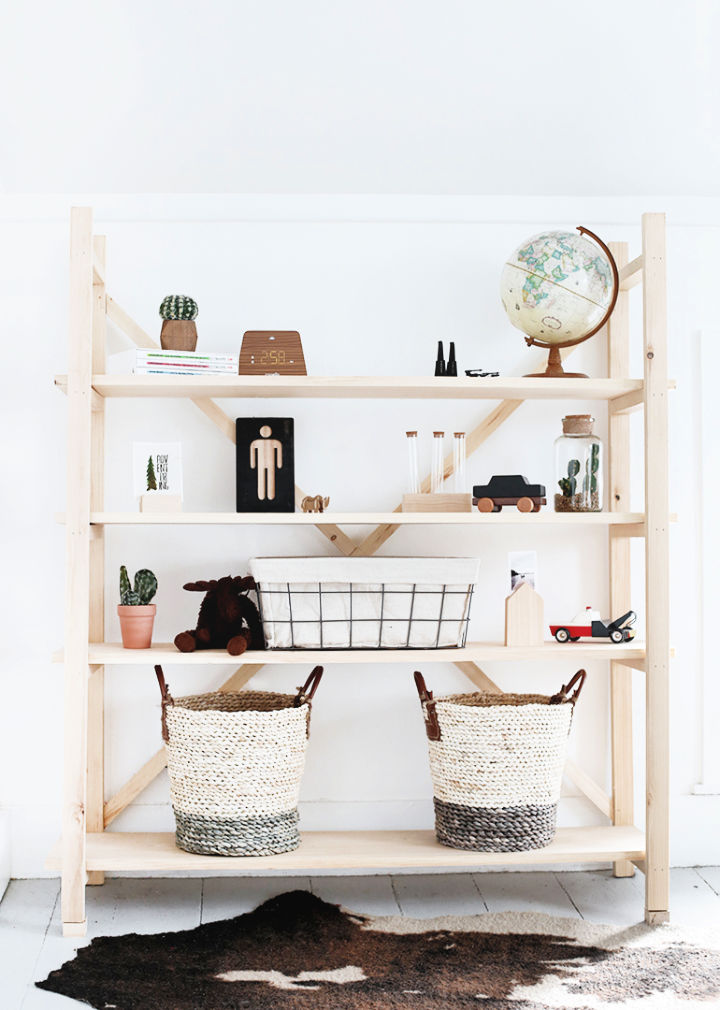 Like we say, the most significant benefit of DIYing is to be in charge of your decor or other notions. Control your storage needs by building this DIY bookshelf made of wood. It looks quite elevating, offers a lot of space, and had a minimalistic character added to it. themerrythought
46. DIY Ladder Bookshelves
A ladder bookshelf for sprucing up your living room decor! You need supplies including ladder, pinewood, L-brackets, screws, and drill. Cut the pinewood planks to a rather incremental size. Get the sizing details from the link below. collectivegen
47. Easy Leather Strap DIY Bookshelf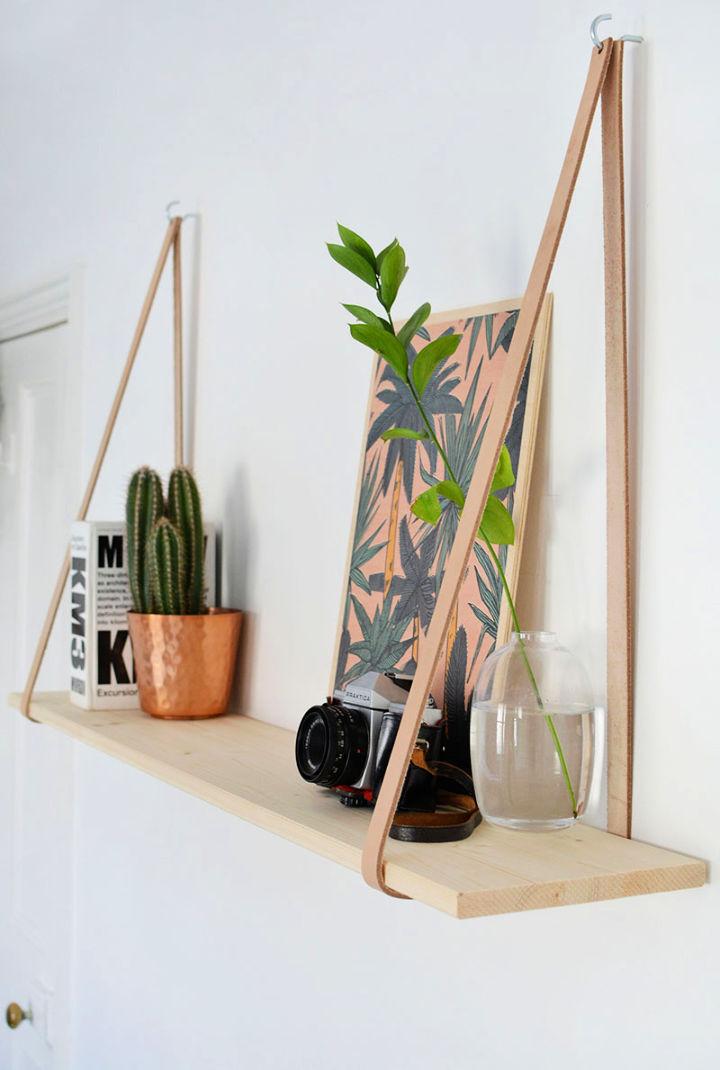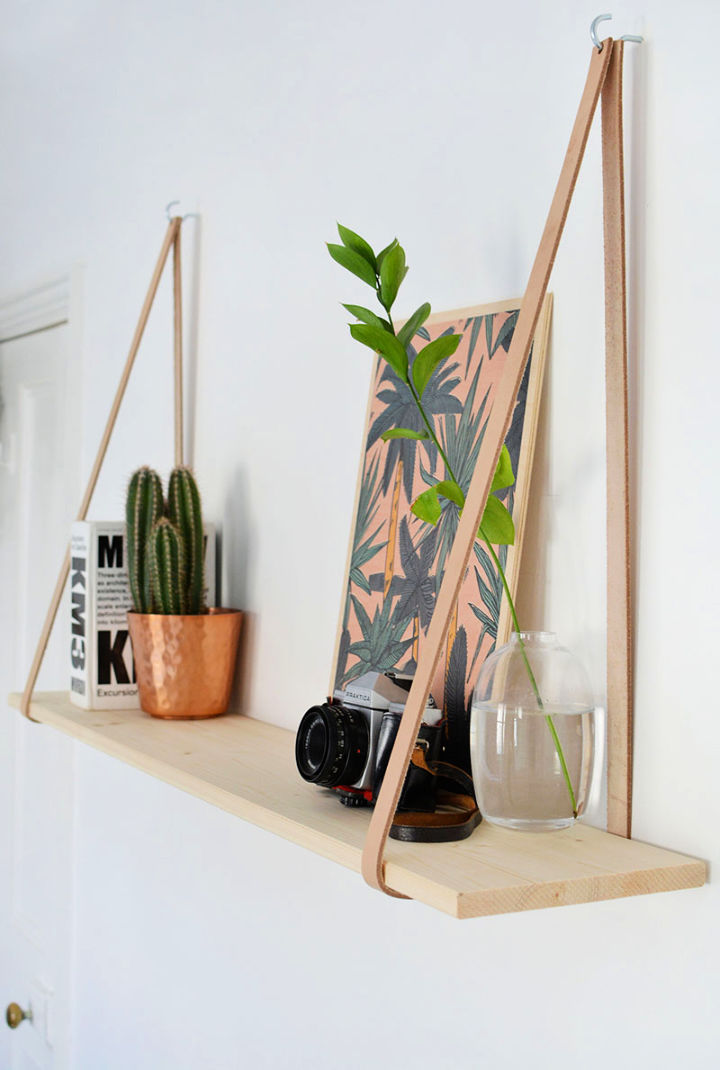 If you are not much of a builder, this super easy leather strap bookshelf is going to be such a delight for you. You merely need two 50" leather straps, leather hole punch, about 120 cm of the wooden plank (or any desired size. Also, screw hooks, wall plugs, and drill. burkatron
48. Simple Modern DIY Bookshelf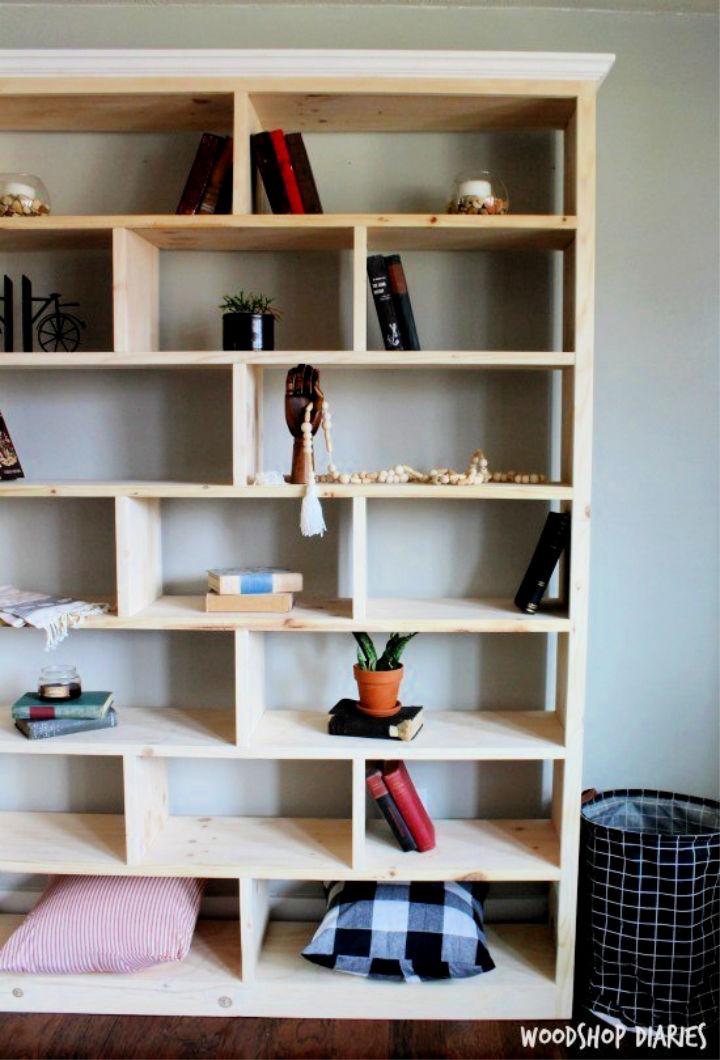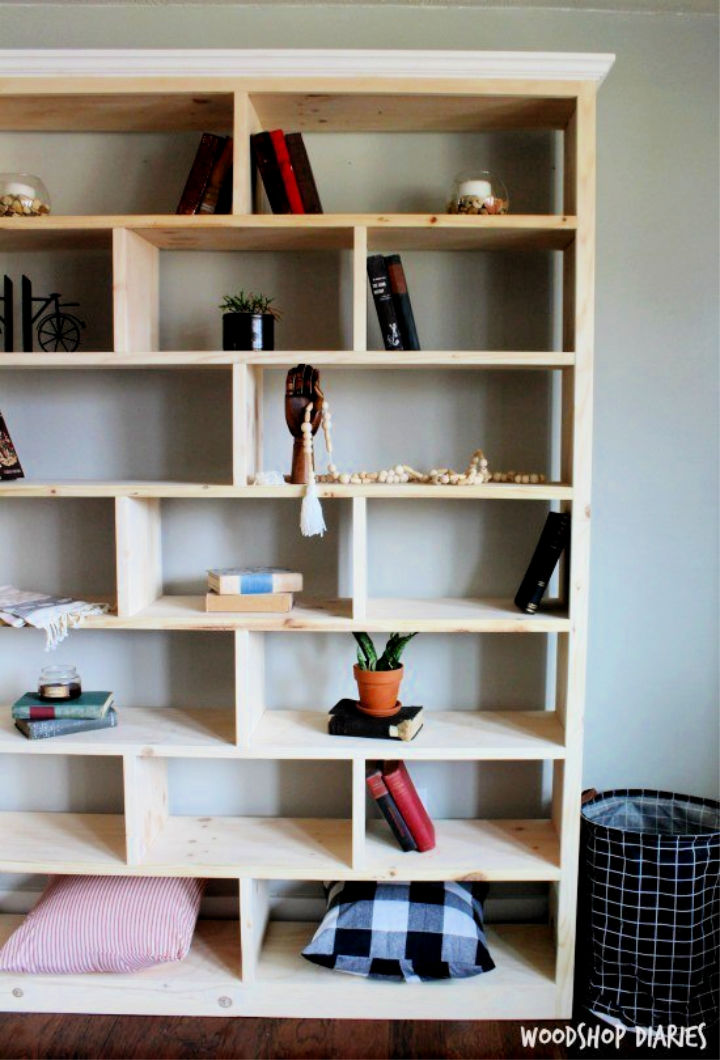 There is nothing like too much storage space! It keeps getting lesser and lesser. But keep that risk at a halt with this maximum storage offering DIY bookshelf. It is simple to build yet pretty modern to bring more character to your room! Head over to the tutorial now for all the details. woodshopdiaries
49. Build a Classic Floor-To-Ceiling Bookcase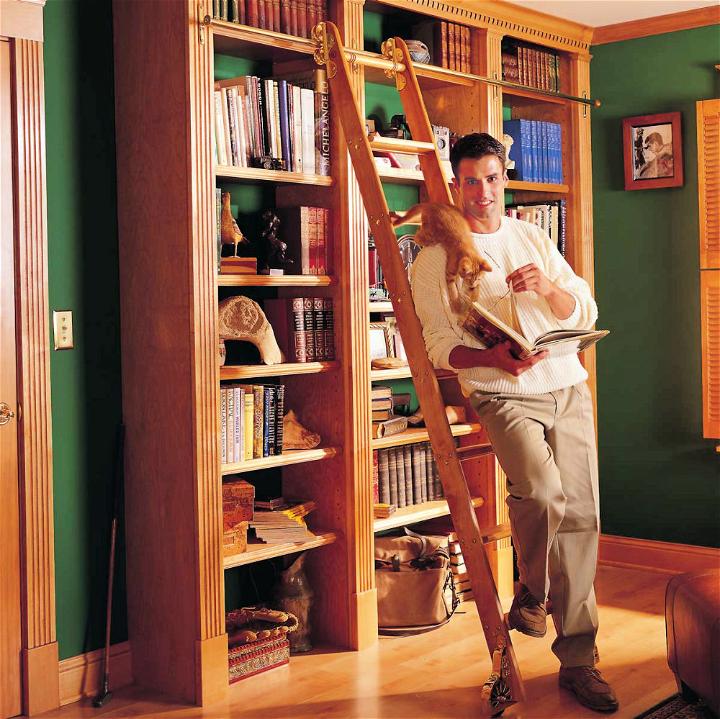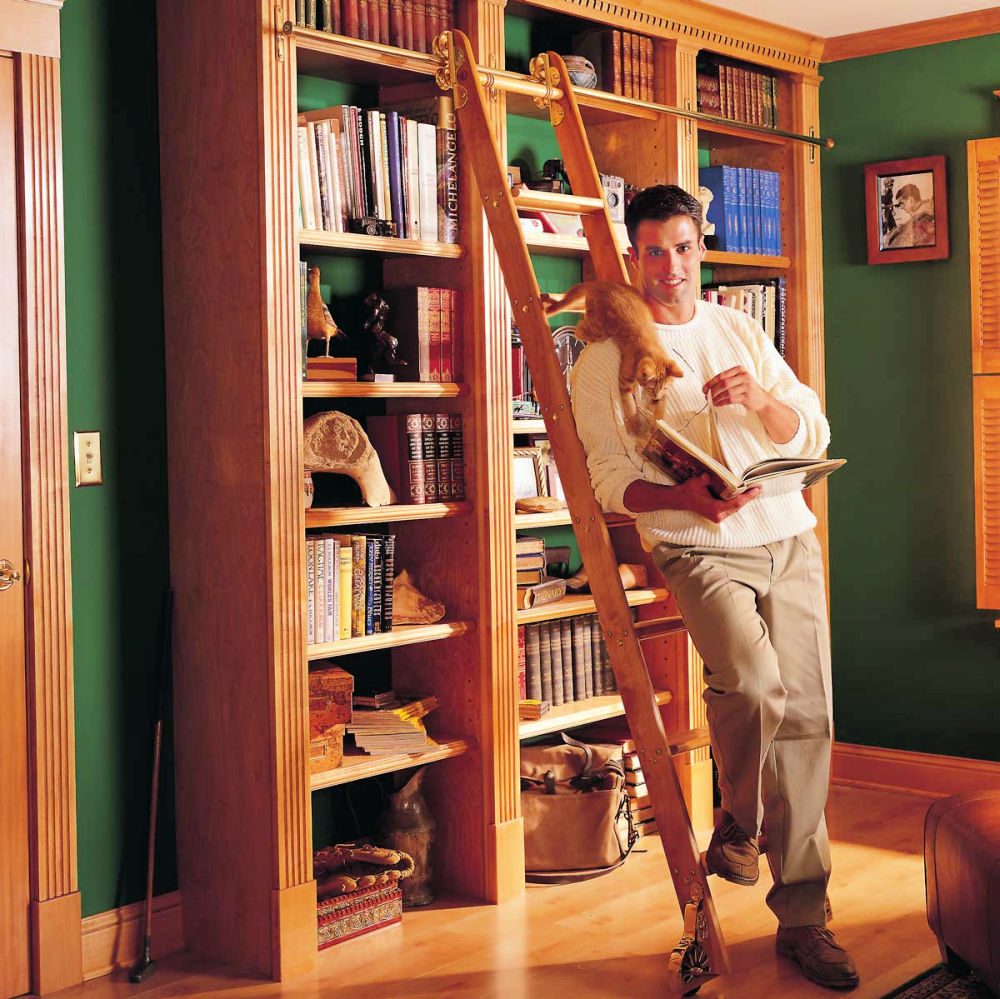 Fan of the vintage touch? The old era portrayed in the movies showing the ever pretty classic floor to ceiling bookshelf. This reviving Greek style is uber classical and can be built quite quickly. Don't forget to click the link below for gathering supplies and getting started. Perfect for your home library, study room, or living room wall. familyhandyman
50. How to Build a Bookself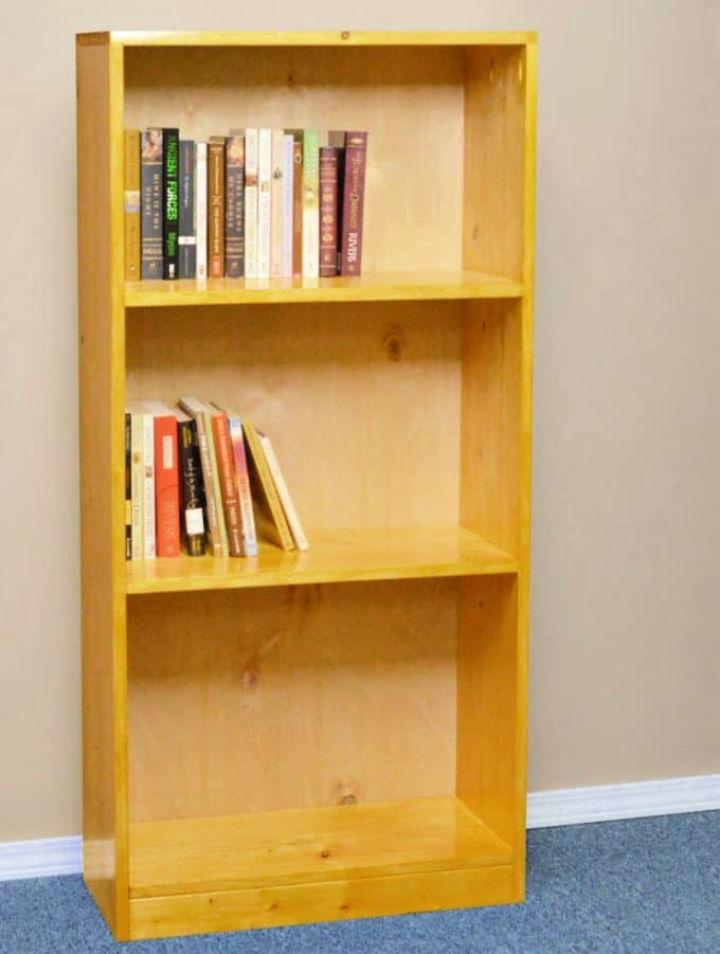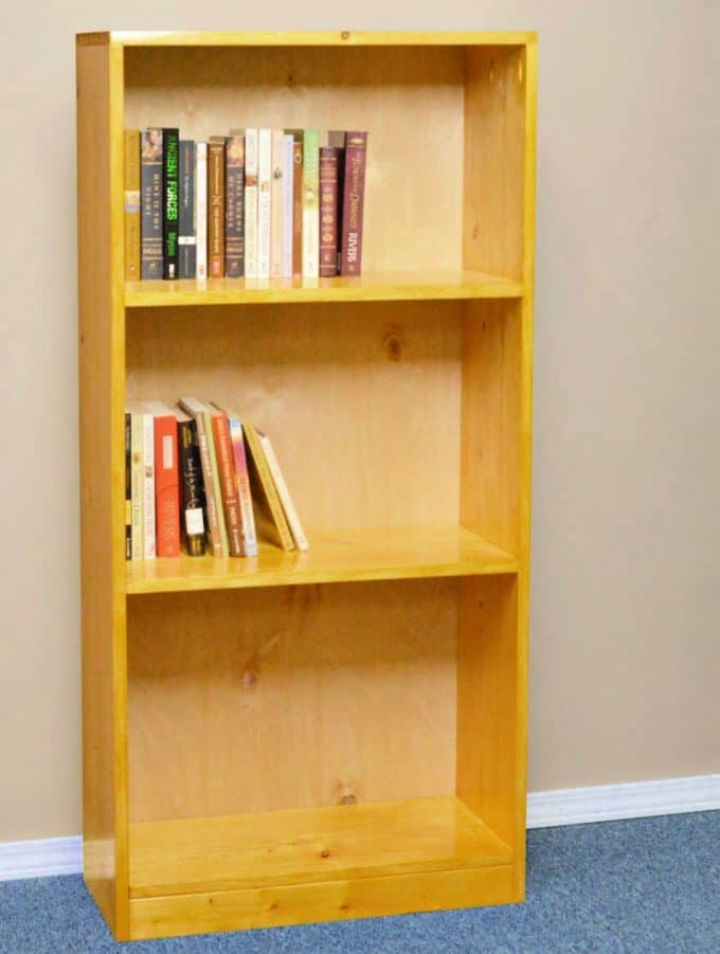 DIYing is for everyone who desires to be fully in control of their home decor! For instance, in our entire collection of DIY bookshelves, this one is perfect for a beginner to get started with. You just need some pine woodcuts, backer boards, and other constructing supplies. Learn how to make a bookshelf by yourself easily: 5minutesformom
Do you need more DIY storage shelves to organize your entire home without spending a ton of money? These DIY shelves are simple to build and cost you less in materials that are ideal for re-organization and and will add beauty to your home.
You may also learn how to build floating shelves. A floating shelf is attractive, easy to build and inexpensive. DIY Floating Shelves are a beautiful and budget-friendly way to accessorize your home.
Conclusion:
Be your own decor guide and, as a result, in charge of your life by nailing exactly the kind of decor that inspires you! These DIY bookshelves can be the best thing that you decide to bring to your home this season. With the lovely light breeze around, get started with some elevating DIYing. Just like these exciting DIY bookshelf plans that are easy to build and give you extra storage space to organize your books easily!