Having problems finding the best way to store DVDs? Then you must organize your DVD collections with these 20 best DIY DVD storage ideas that are the creative hacks from genius brains. These DVD storage ideas will declutter your media room by organizing and displaying your DVDs nicely and will be wholly budget-friendly to make. From self-standing DVD storage towers to incredible DVD storage shelves to spinning DVD organizers, you will see all designs in this list of 20 DIY DVD Storage Ideas that have been shared to inspire.
These DIY DVD storage ideas here are the coolest hacks to get organized in your media rooms and will make it easy to store your DVDs with amazing ease of a pick. Finally, you will get the no-cost DVD Organization hacks too that will simply be life-changing.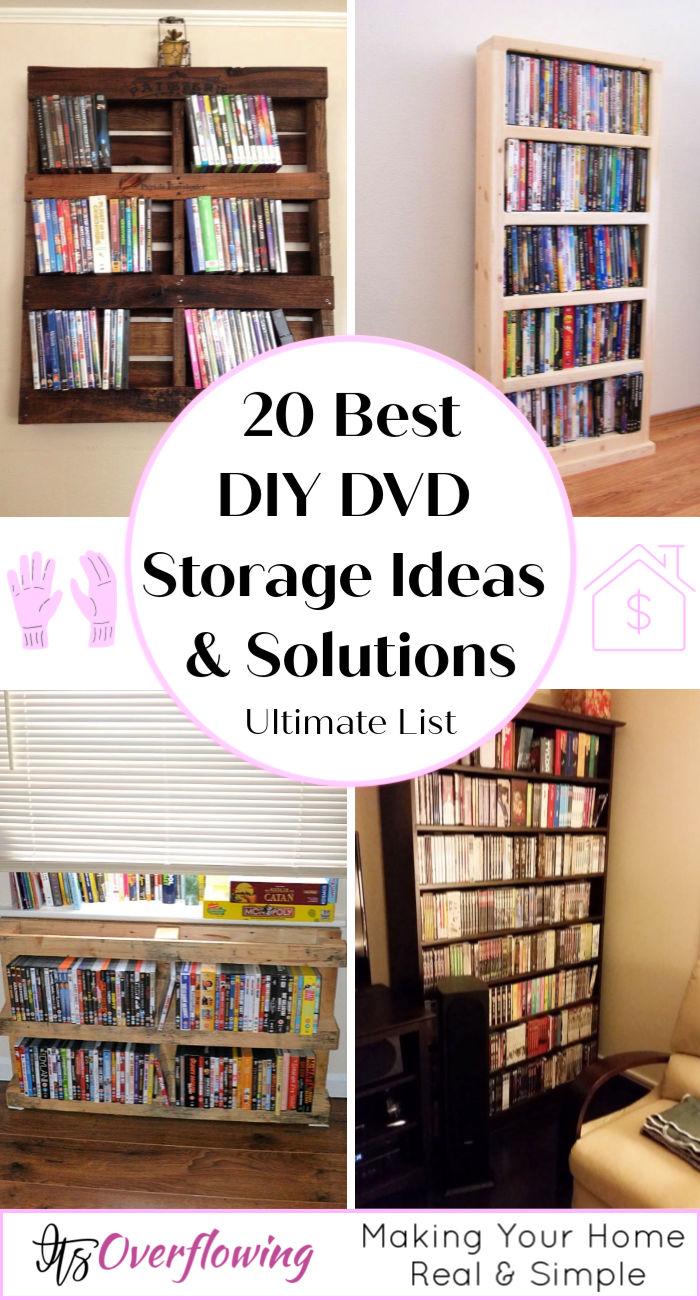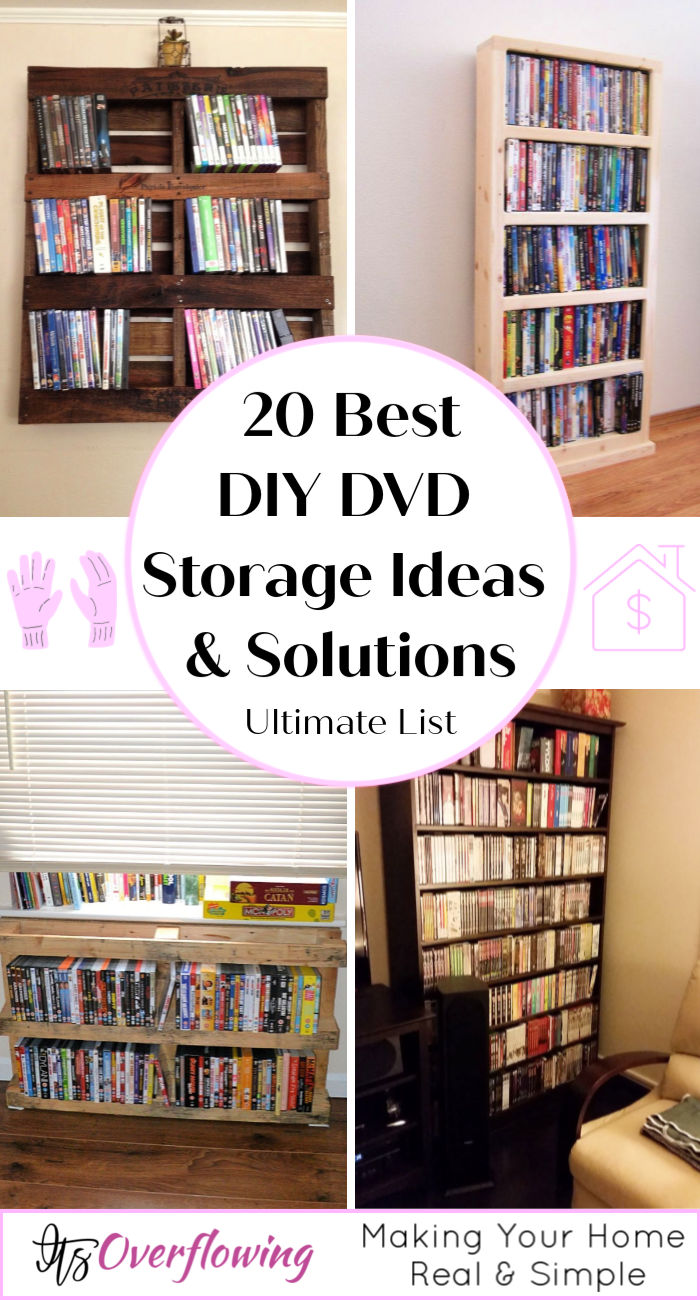 Take your DVDs out of the cases and add up the Index tabs to store in a bin or media boxes. Repurpose the leftover plywood to build stylish spinning DVD storage units and opt for the wall-mounted DVD cabinets that will create an enchanting display of your DVD collections too. Build the bigger self-standing units with the wood-like 1×8, 1×10 and 1×12 that will make the best bookshelves too and also jazz up your media room by building an open media room storage unit too.
Use free pallets to build no-cost DIY DVD storage solutions, and they will be extra durable too. Get crafty with the cardboard to make no-cost DVD organizers. Look through all cd storage ideas to get inspired more.
1. DIY DVD Storage Shelves for $20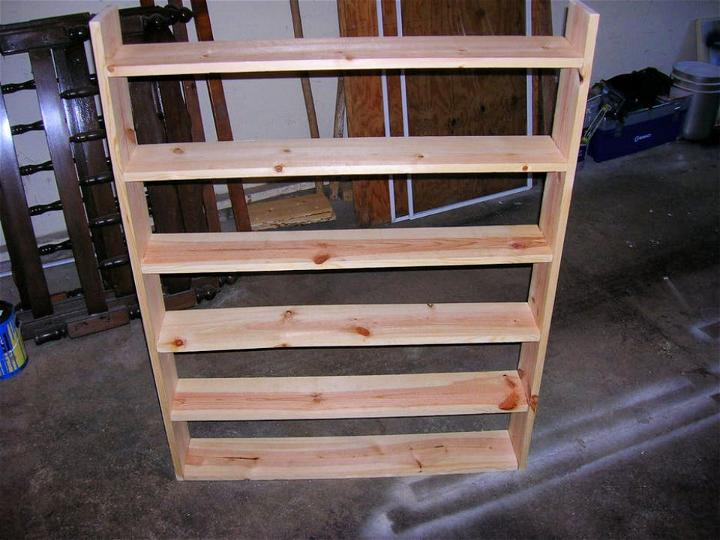 Are you addicted to computer gaming and watching movies? Then we guess you surely be having a large collection of DVDs coming out of the drawers. Step up a functional module to organize DVDs nicely by spending only $20 on DVD storage shelves. Get 5 pieces of 1×6 in 6′ length and 36" length of 2×4 to build this DVD shelving unit. instructables
2. Homemade DVD Storage Closet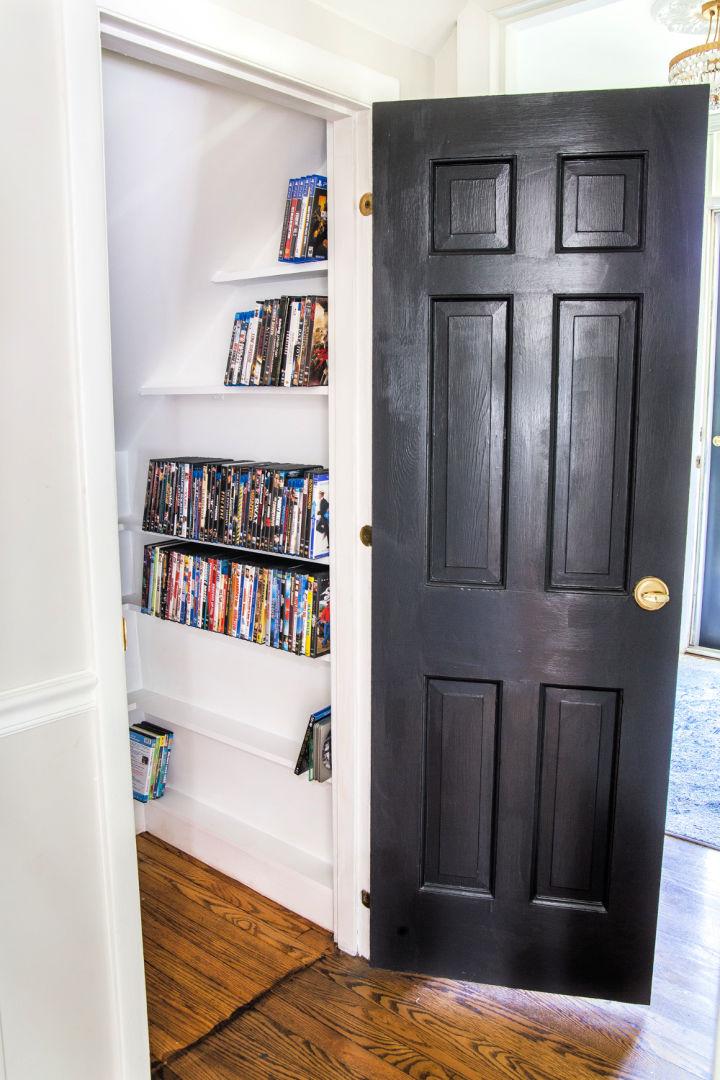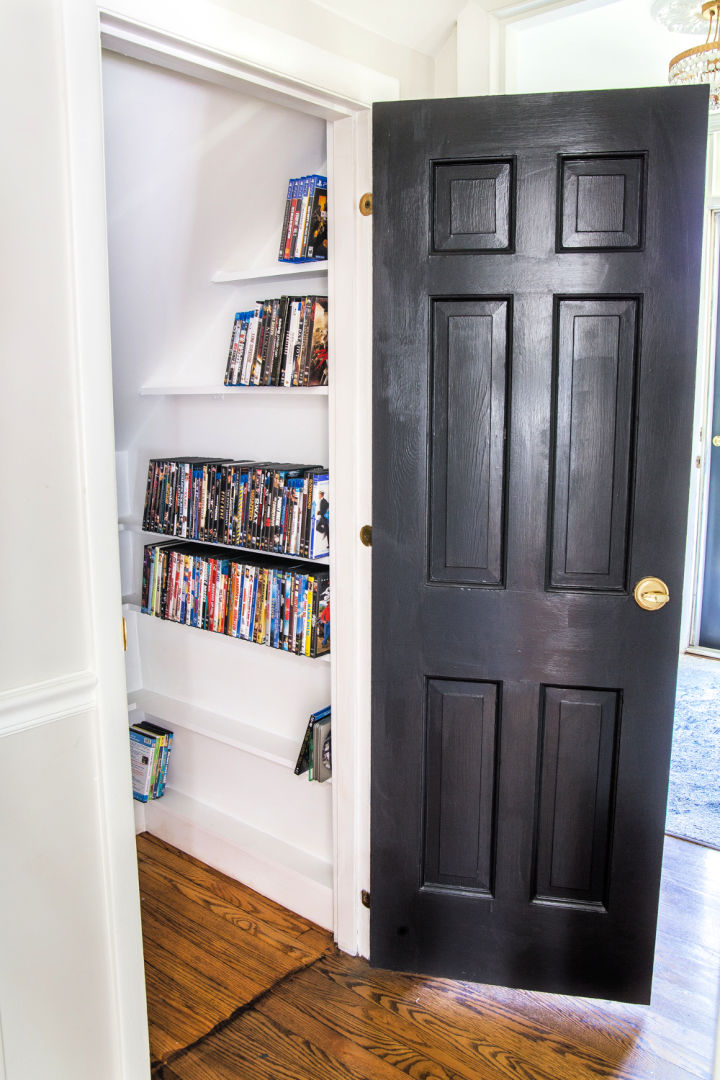 The scratches are total damage to your expensive and important DVDs, and they often get scratched due to a lack of storage options. Come out from worry of your losing your DVDs by building this DVD storage closet. Build it using 2x4x8′, 1/4plywood, 1x4x8′, primer or paint, and L brackets. blesserhouse
3. How to Build a Wall Cabinet for DVDs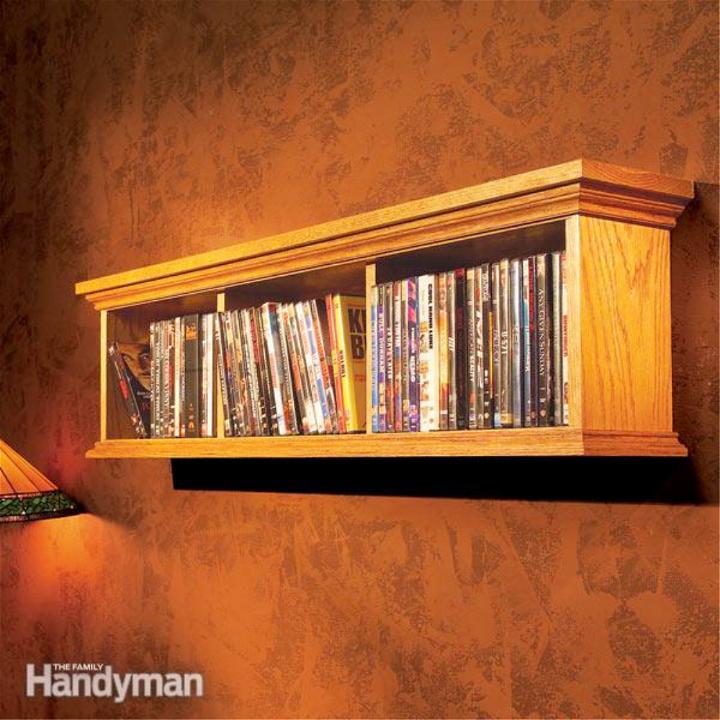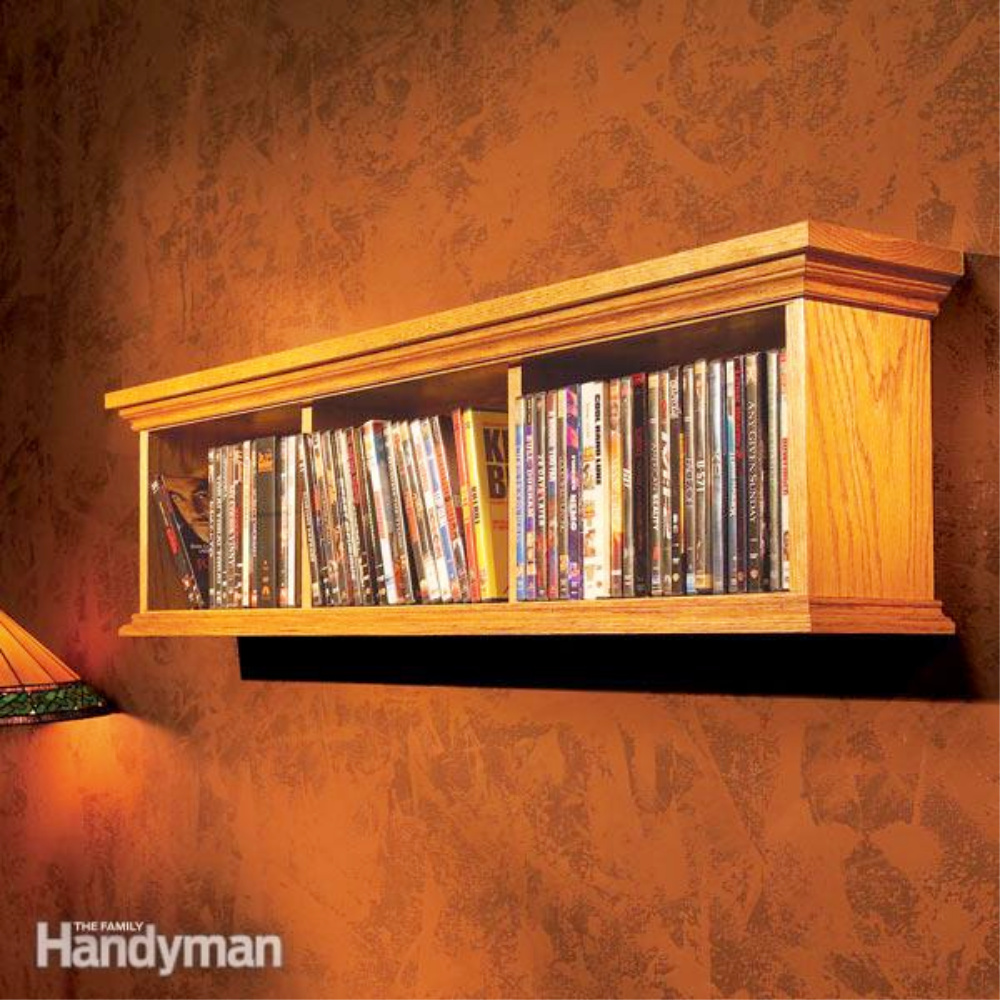 Provide care to those hard DVD copies by building this wall cabinet. Build this fantastic looking wall DVD cabinet using 1/4" plywood, 1×8 hardwood boards, and cove molding. For a more graceful and enchanting wood appeal, consider giving it a better finish using oil stain. Details here familyhandyman
4. DIY Index Tabs For DVD Storage / CD storage ideas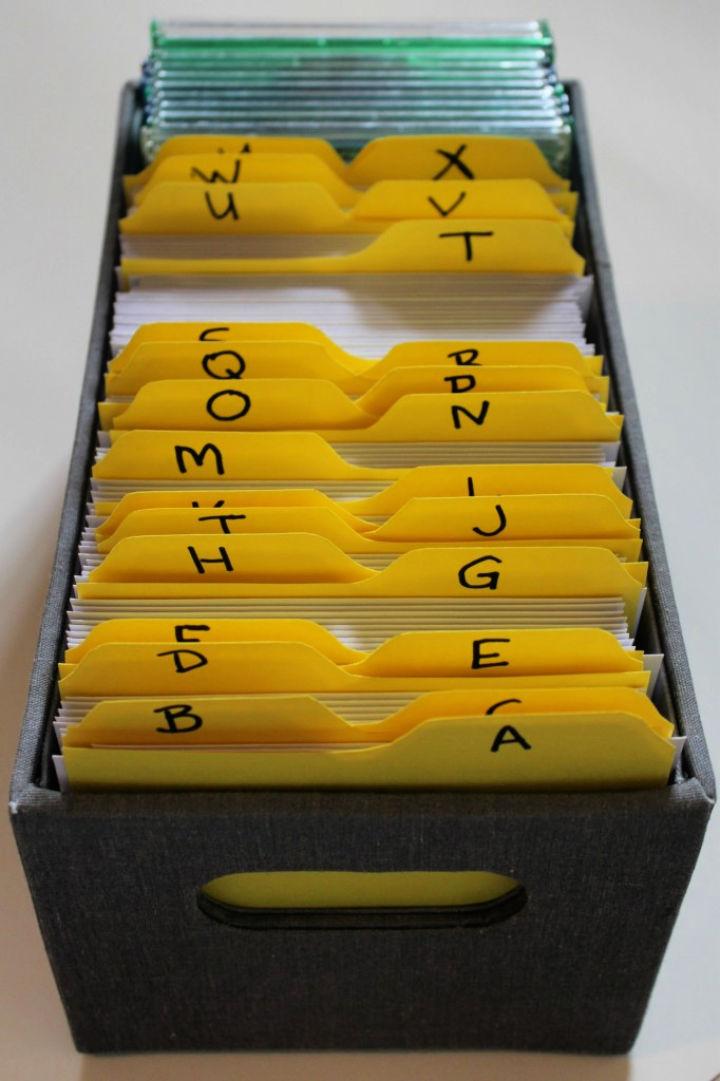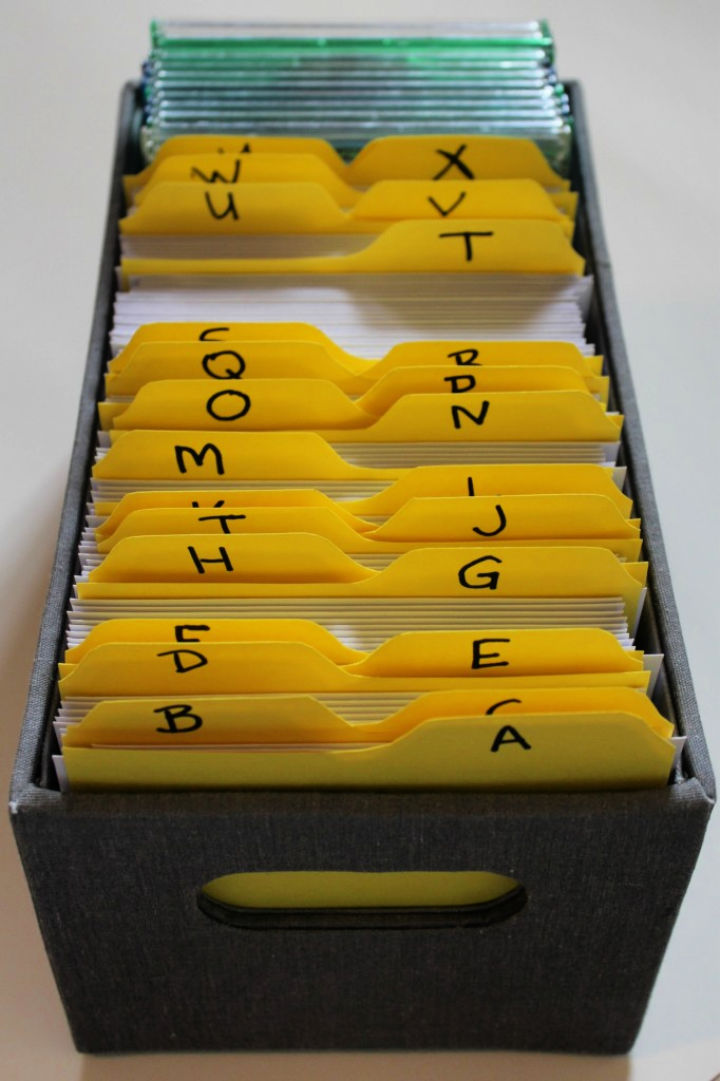 One of the best DVD storage solutions will provide ease to pick your favorite DVD quickly and easily due to categorical storage. Grab the fabric storage bin, buy them inexpensively from stores, and next, you need paper DVD envelopes and markers to complete this DVD storage with index tabs. frazzledjoy
5. Wall Mounted DVD Shelves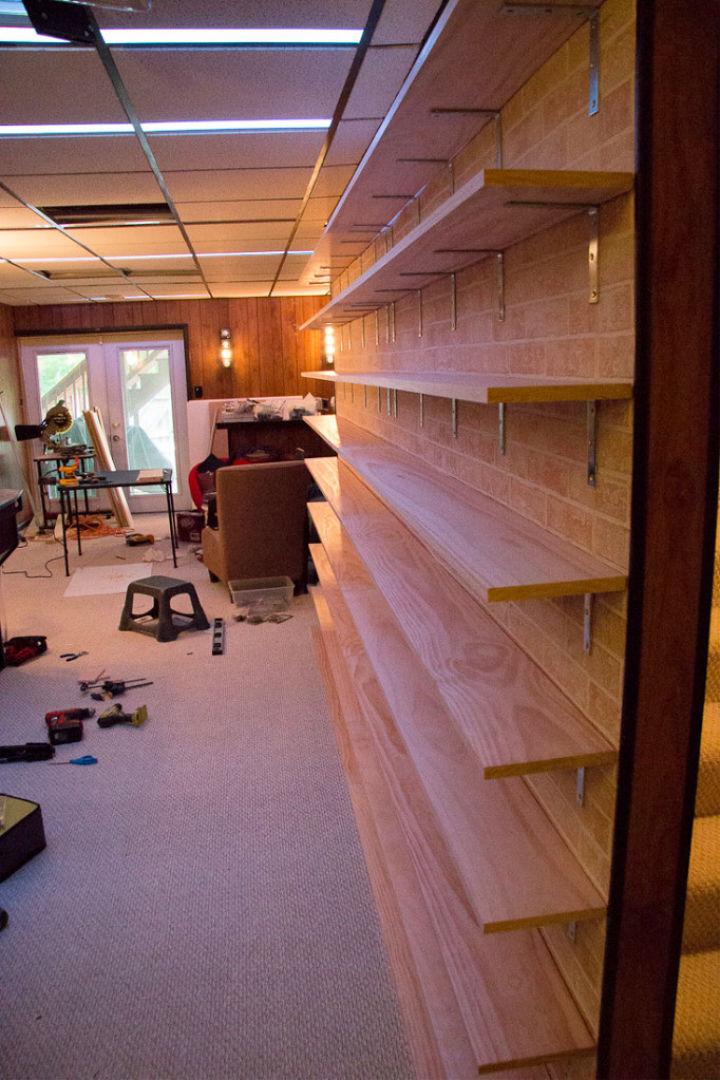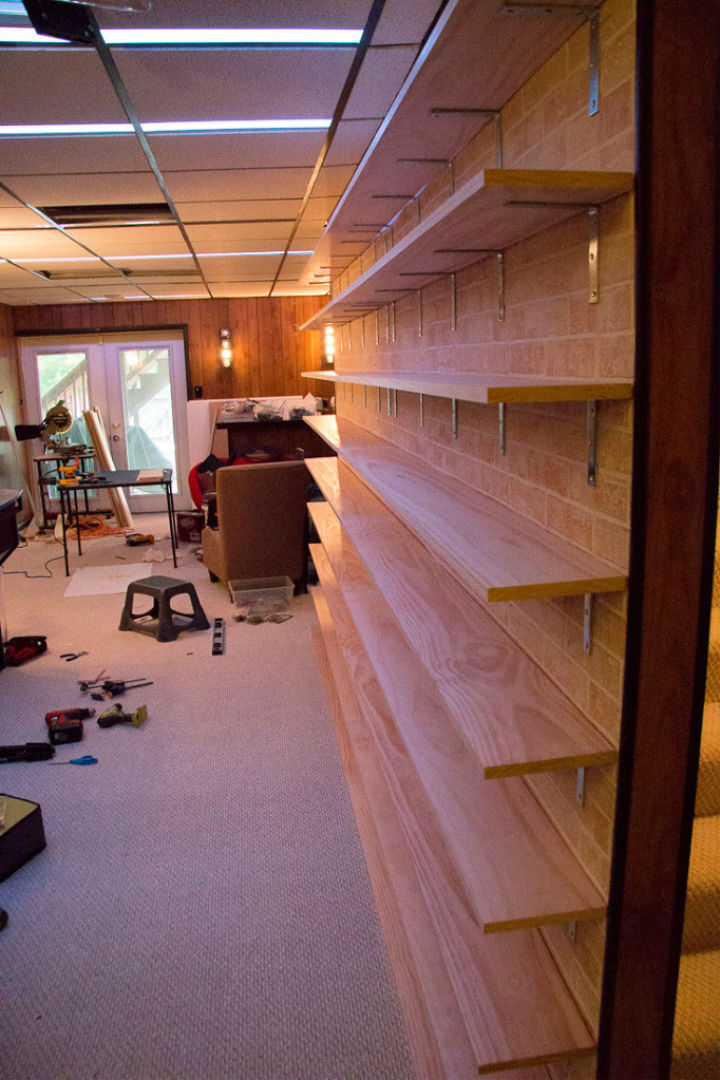 Do you need some great cd storage ideas? Want to organize those large messy collections of DVDs or want to install the best DVD display shelves in your shop? Then opt for this wall-mounted DVD shelf. Just use a laser level and first install the L-brackets. Next, put the cut to size pine board shelves on them, repeat the process until you get perfect shelves on the entire wall. supernovaadven
6. DIY Wooden DVD Shelving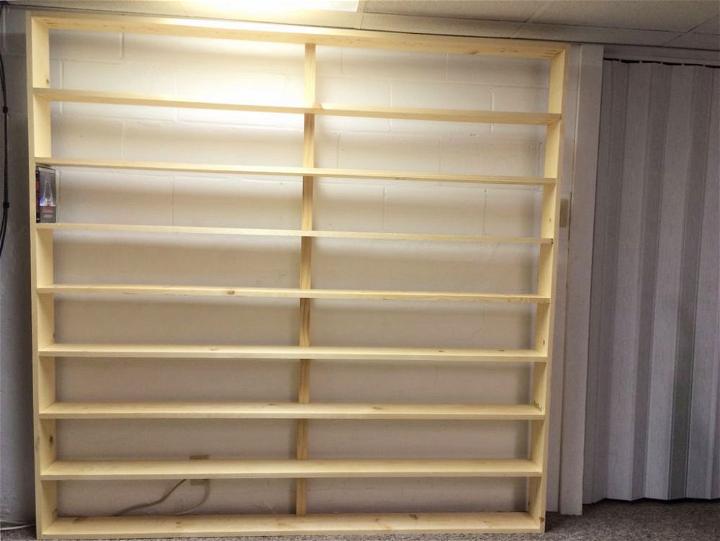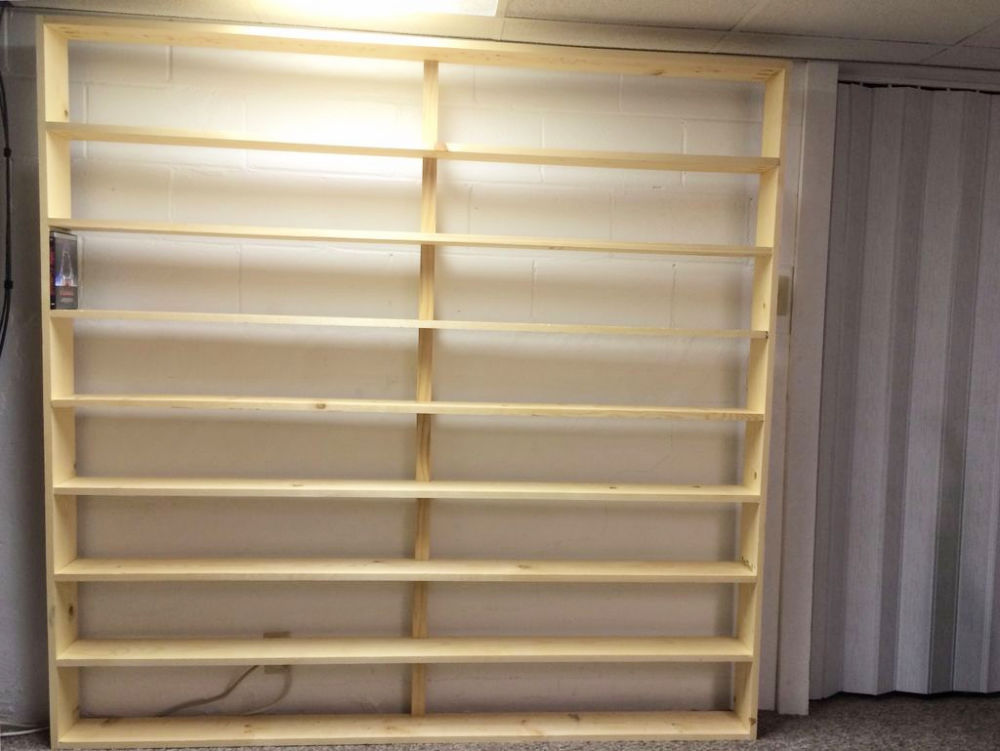 Get manually craft with the wood to build custom models of DVD shelving units that will fit a custom wall space or to the top of a computer desk. Let this wooden DVD shelving organize and display your DVD collections. Grab 11 pieces of 1x6x6′ and 1 piece of 1x2x6′ to build it. Details here instructables
7. Build a Spinning DVD Rack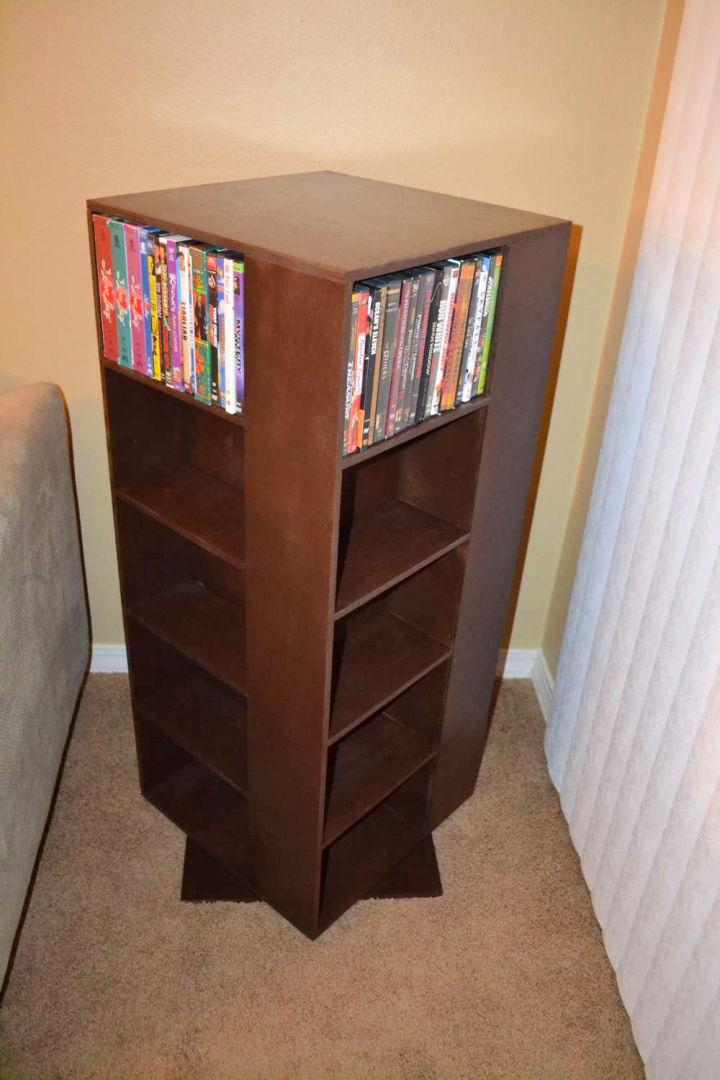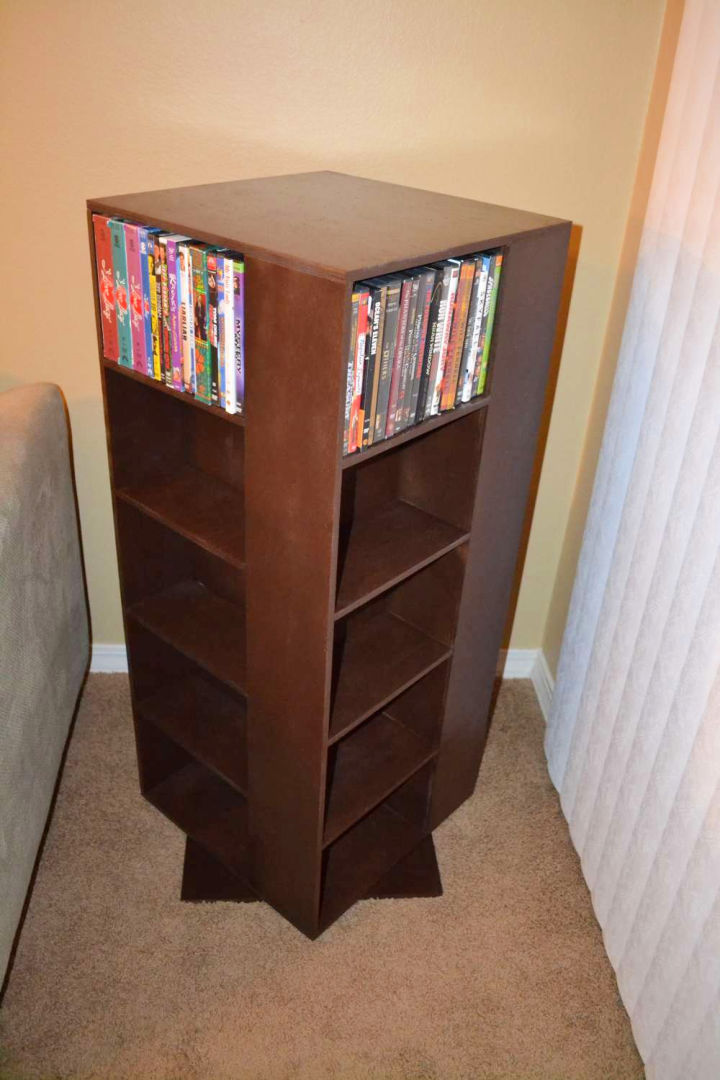 Spice up the DVD storage game with this spinning DVD rack will be a modern DVD storage solution also to make at home. The projects will complete in less than a day and will cost you less than $175. Just build it using 1/2" hard plywood. Next, give it a durable and nice wood finish. Details here ana white
8. Custom DIY DVD Shelf Project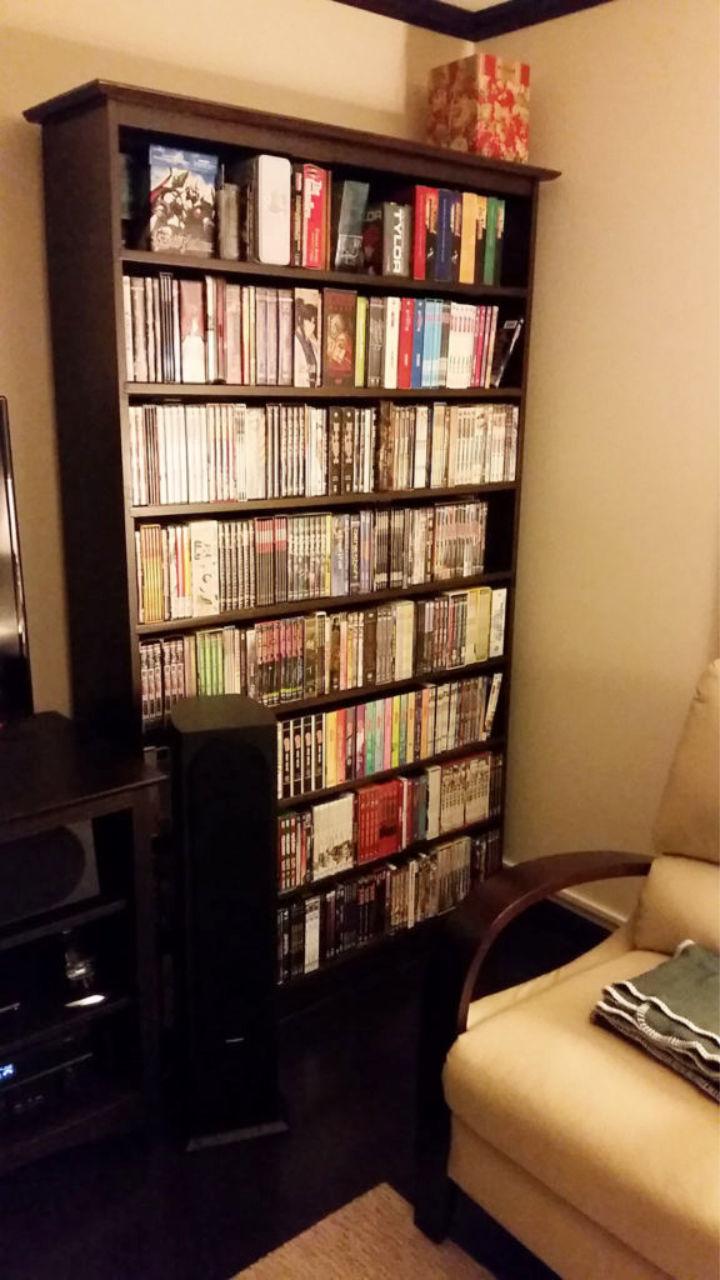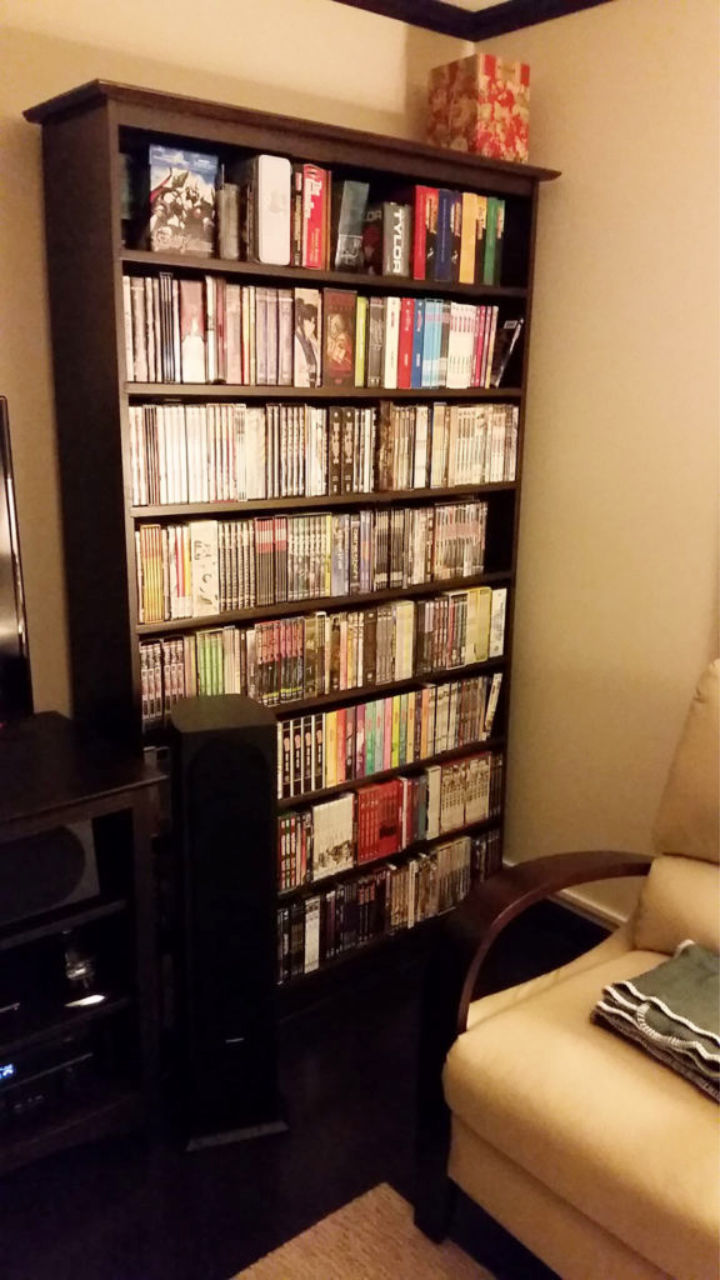 Display and organize your DVD collections by building this giant DVD shelf. Prefer a custom size of it that will best to your needs. Use the 1×12, 1×2, 1×4, and plywood to build this DVD Shelf that is looking amazingly gorgeous and beautiful. Don't forget to give it a durable wood finish. Details here darkling poppa
9. Custom Shelves for DVD Storage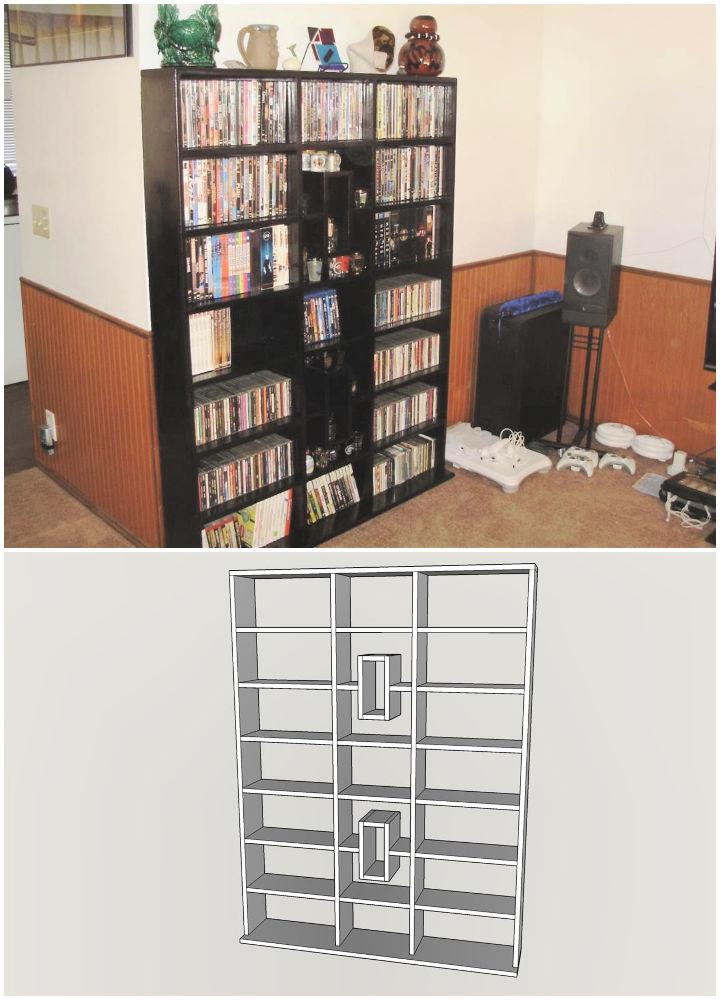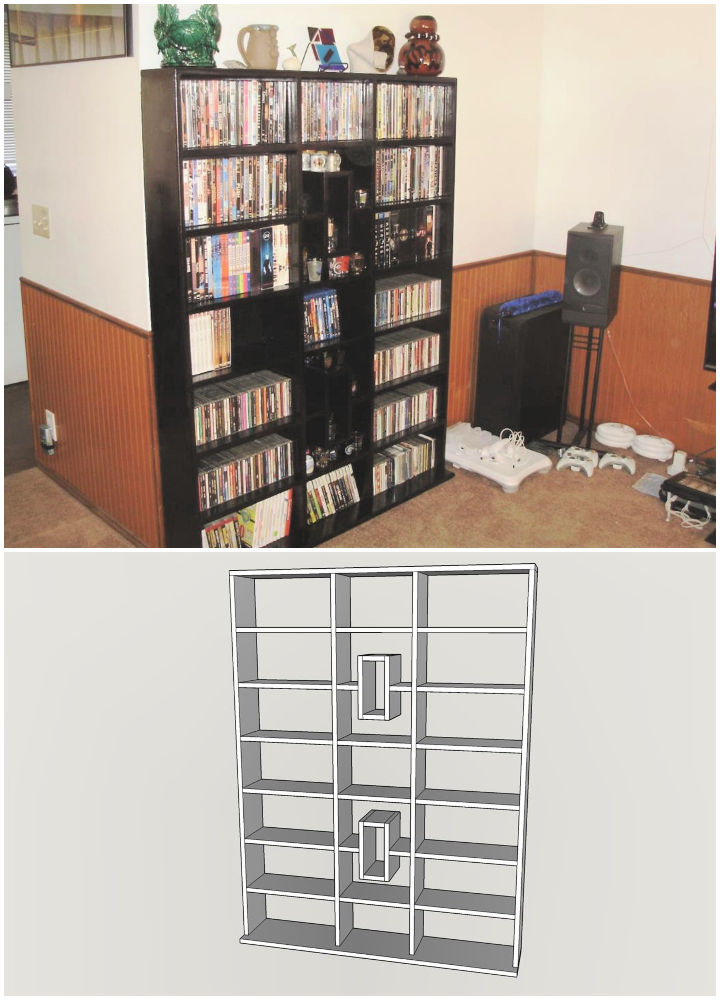 Get here free plans for building a custom shelving unit like a pro. It will nicely organize your DVD collection is something darn beautiful to look at. Grab 10 pieces of 1×8, total 72" in size, and 1 piece of 1×10 of 48" length to build this custom DVD storage shelf model. Provide it weather protection by giving a durable wood finish. Details here buildsomething
10. Consolidated DVD Storage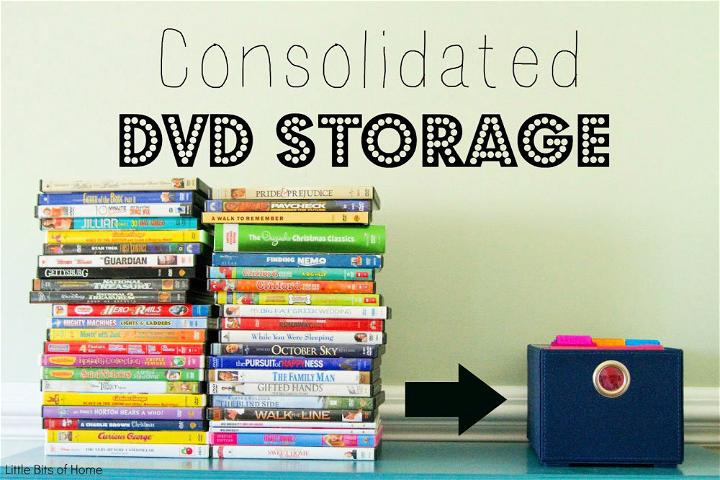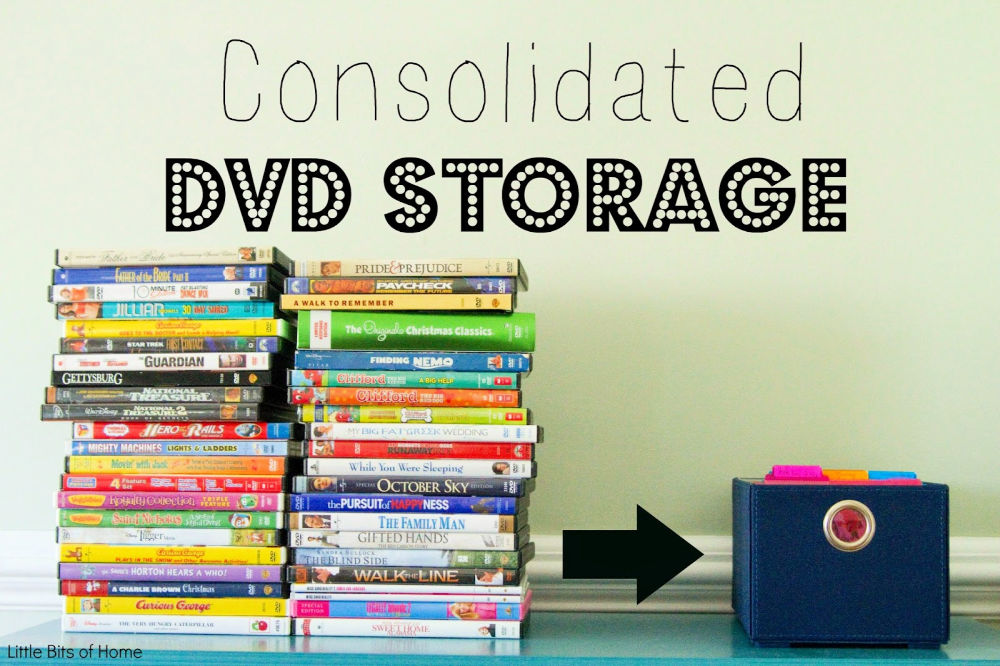 Just grab a big container or medium box from the nearby store and start organizing your DVDs in it. So, just take your DVDs out of the cases, add them up with the colorful index table labels, and start organizing in the box. It is going to be the best-consolidated storage of your DVDs. Details here littlebitsofhome
11. Free Open Media Shelf Plan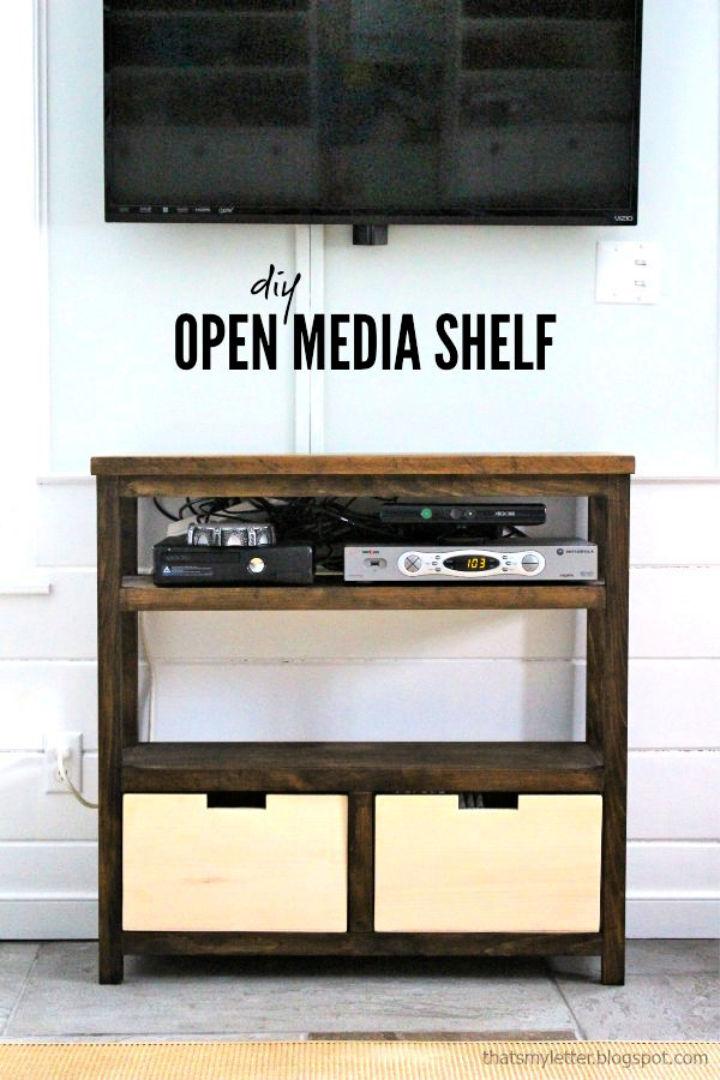 This open media shelf will allow direct storage of DVDs with an enchanting display. It will provide super-easy of the store and pick your favorite DVDs. Just get busy with the 2×2, 1×2, 1×10, plywood, and 2 butcher blocks having size 36″ x 13″ to build this media shelf. It looks great in the rustic wood appeal. Details here jaimecostiglio
12. DIY Pallet Craft DVD Storage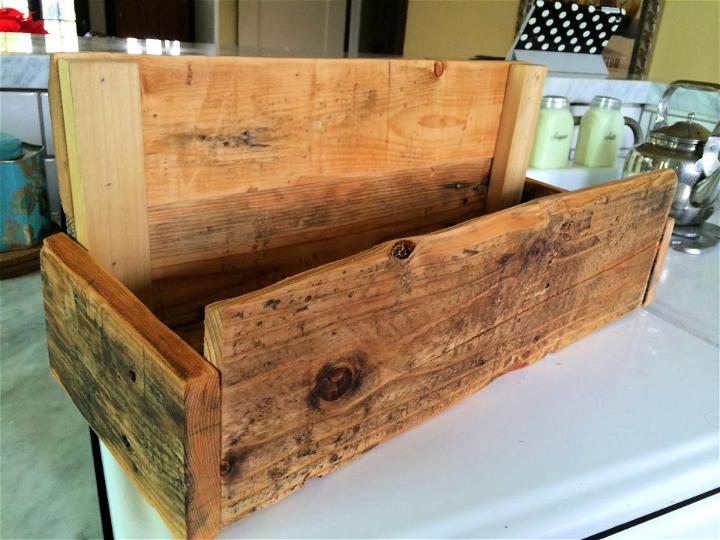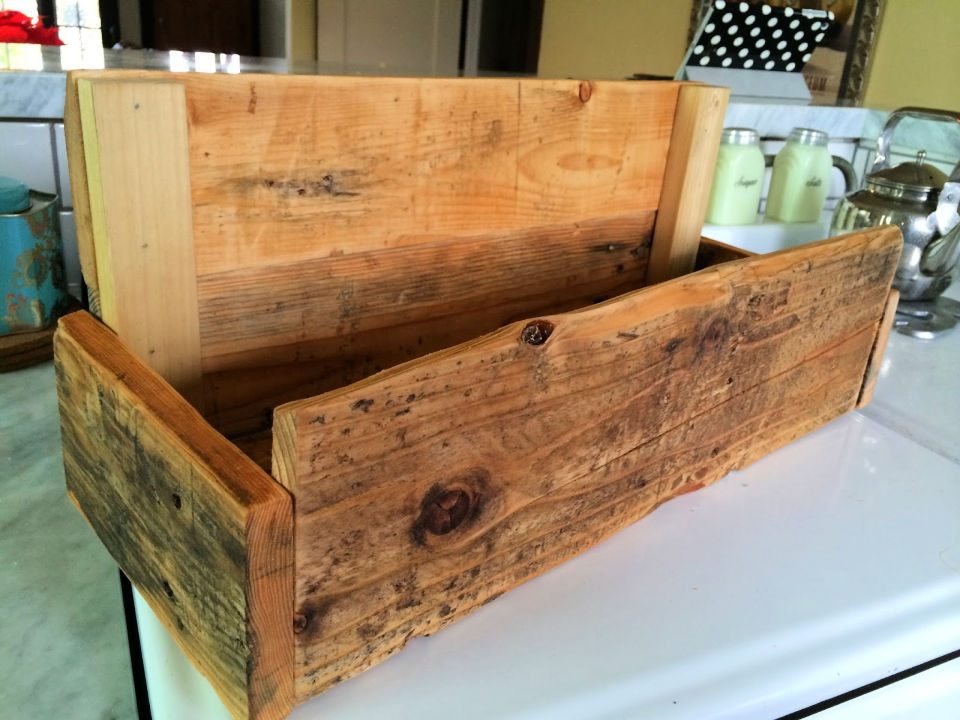 Go with this free DIY hack to build a lasting longer wooden DVD storage shelf. Just head over to free recycled pallets and build this wood DVD storage box. Just separate apart the pallet wood slats and then put them together, making a lovely box or caddy and finish with soft felt feet. Details here madmeganswork
13. DIY DVD Storage Pine Shelf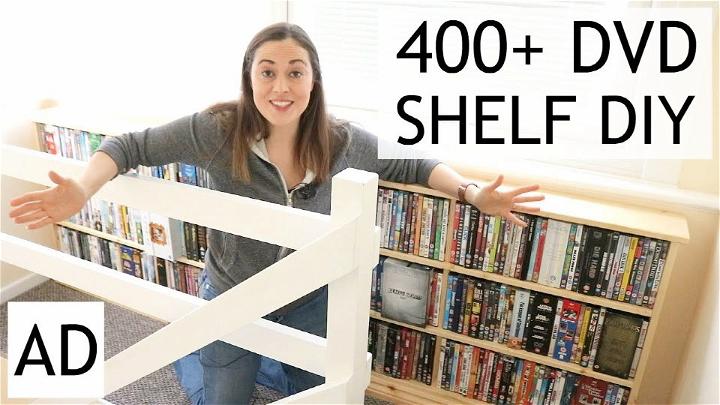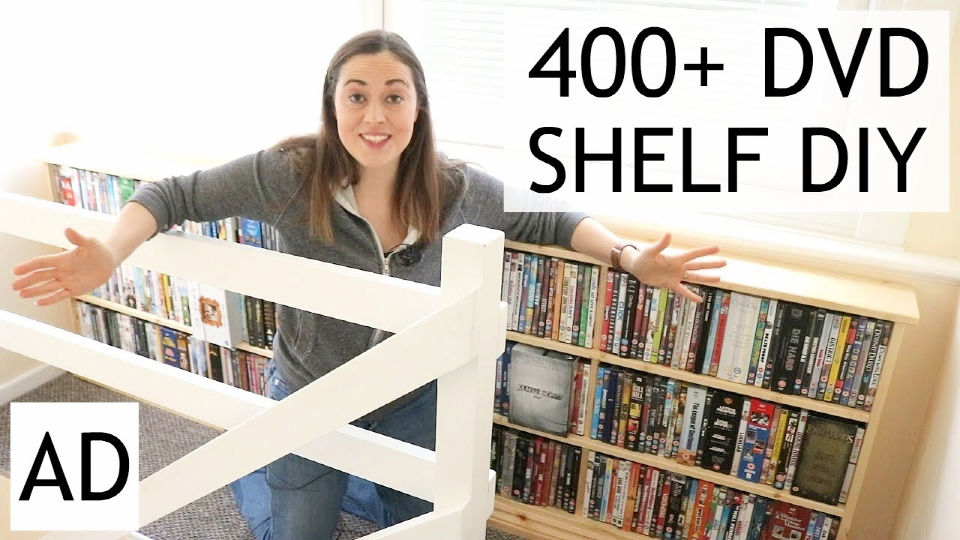 For storing large DVD collection, opt for large DVD storage shelves just like this DVD storage pine shelf. Just cut the pine boards to size and then put them on the wall-mounted shelf brackets to get a wall hanging storage shelves. Otherwise, put them together to build a self-standing DVD storage unit. Details here youtube
14. Making a DVD Rack or CD tower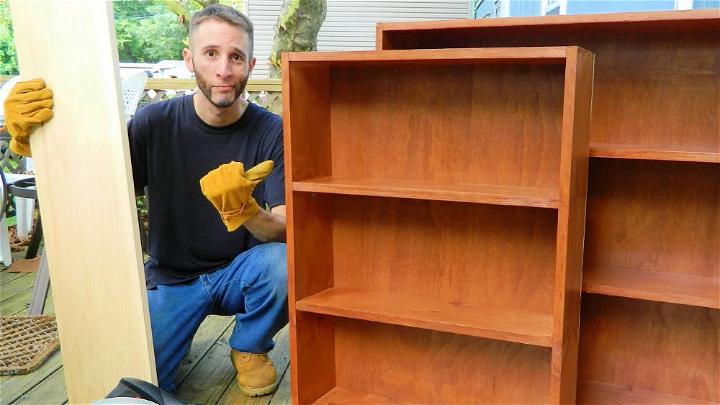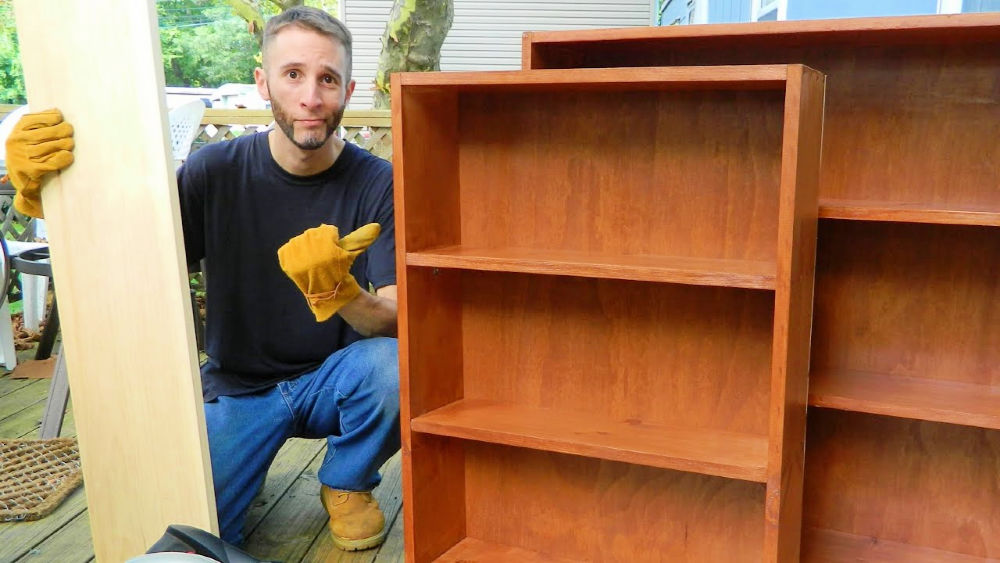 Check out here the dual functional storage unit made at home. It is a hot combination of a DVD Rack and a CD tower and will allow space for book storage too. Just build it using the 1x10x8′ and 1x8x8′ boards, and you will love doing the construction that is pretty easy and quick. Details here youtube
15. How to Make a Wooden CD Rack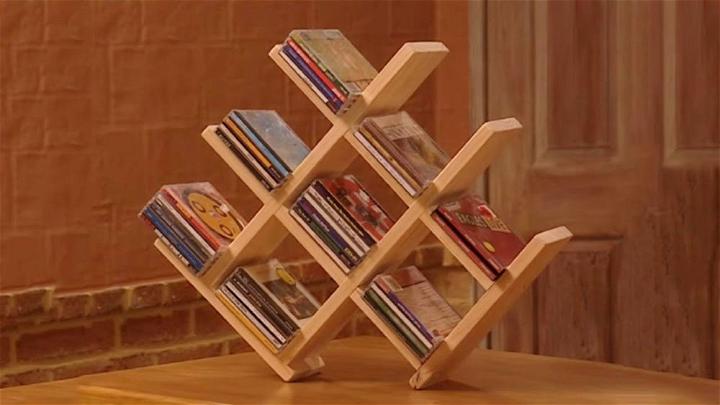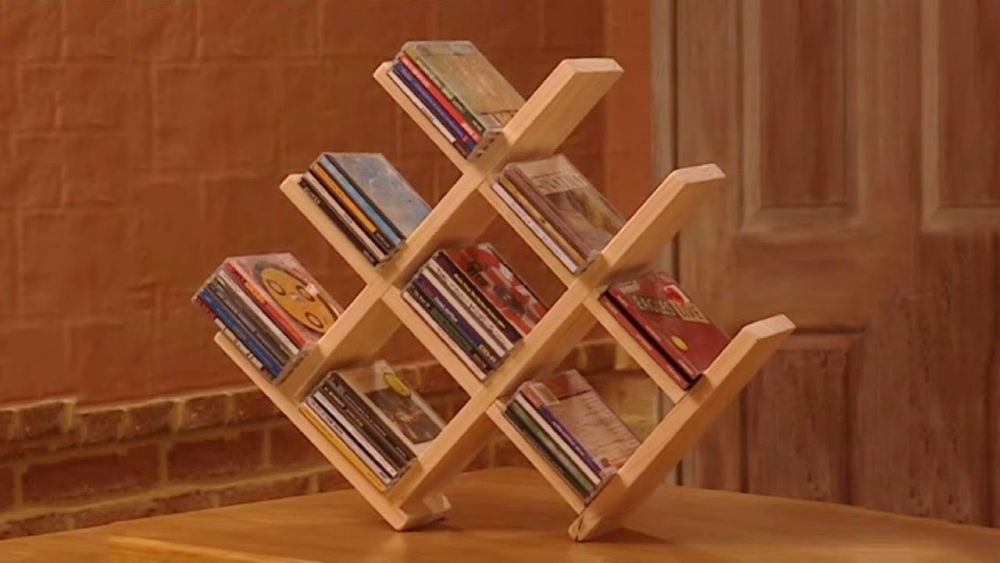 Go for a great geometrical decor statement by this wooden CD rack that has an outstanding grid-style design. You have to cut the miter cuts in your selected and cut to size wooden boards so they can be combined making this adorable wooden CD rack. A better gift to give someone special. youtube
16. Cardboard DVD Rack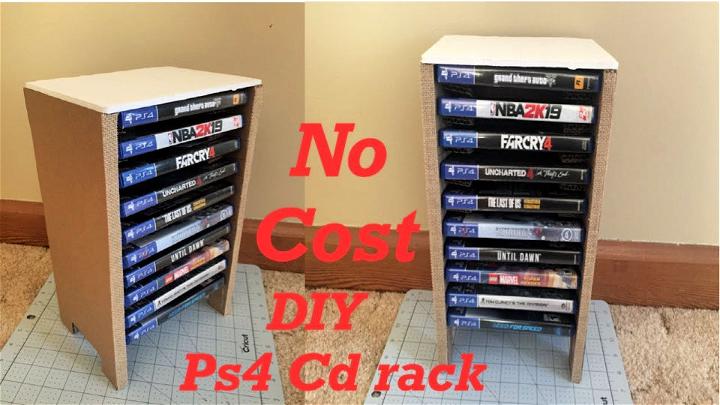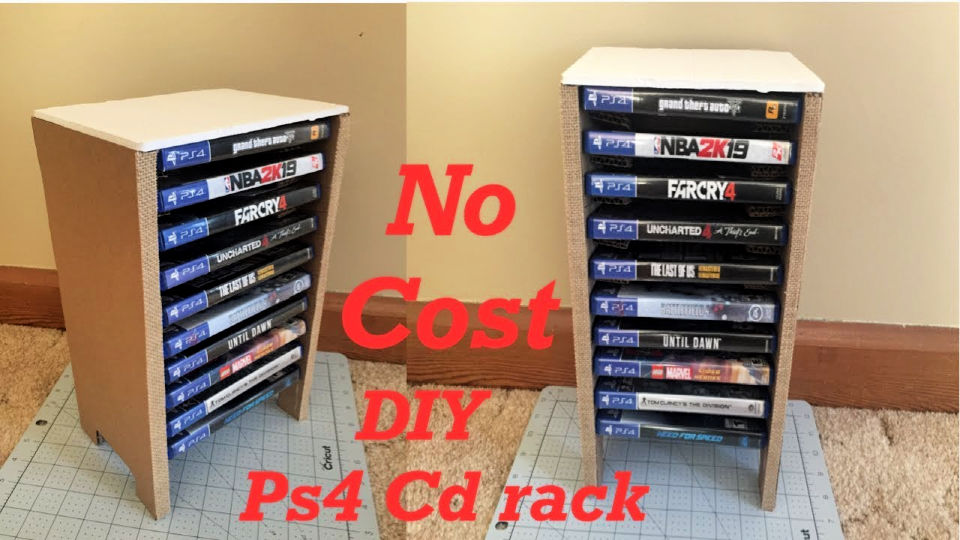 Go with the recycled cardboard or with the market bought one to build this DVD rack. If recycling cardboard from home like the empty home appliance delivery box, then building this DVD rack will cost you nothing. Just layer together pieces for added thickness, then start cutting your design out. Details here youtube
17. DVD Storage Wall Shelf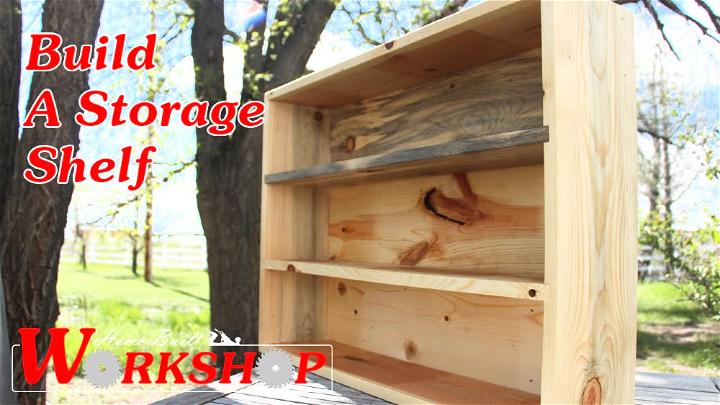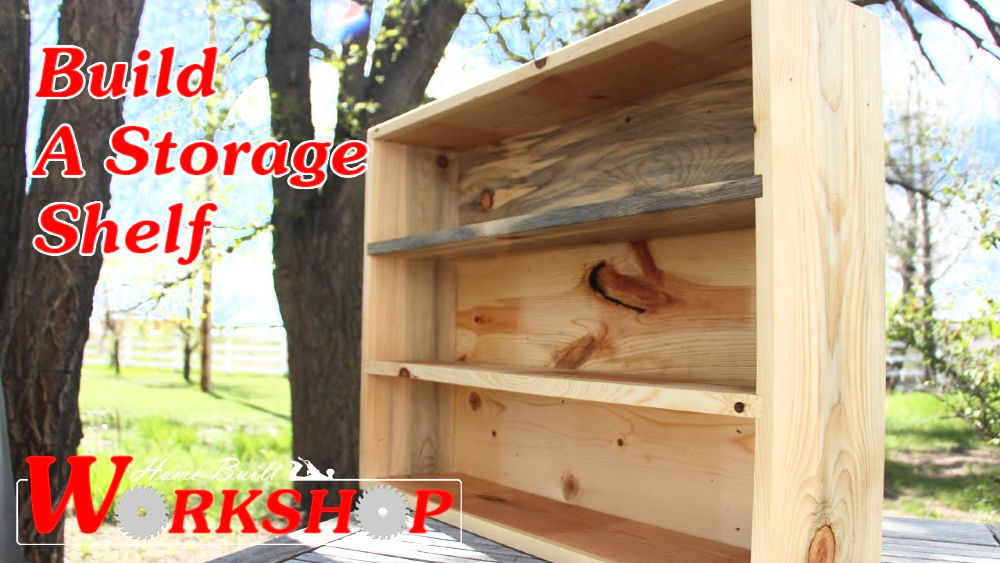 This project involves different techniques to build a storage DVD wall shelf. The idea here is to build a bigger wooden box with the sideboards having cut grooves in them. Next, fit the shelves in the grooves to get a lovely DVD storage unit. Give it a nice wood finish, and here you go. Details here youtube
18. DVD Storage Case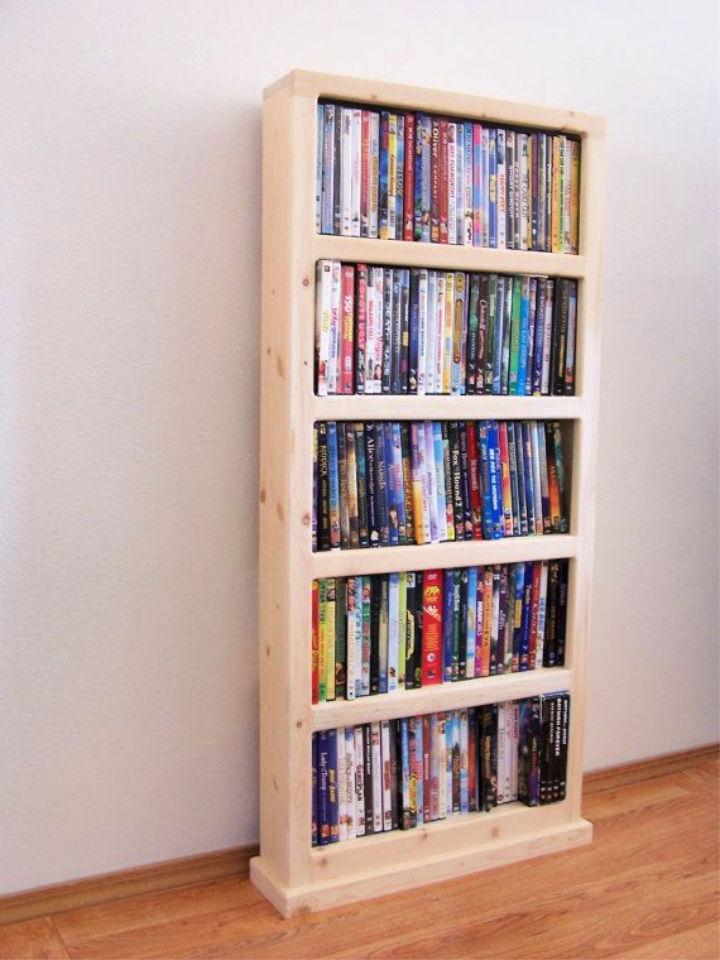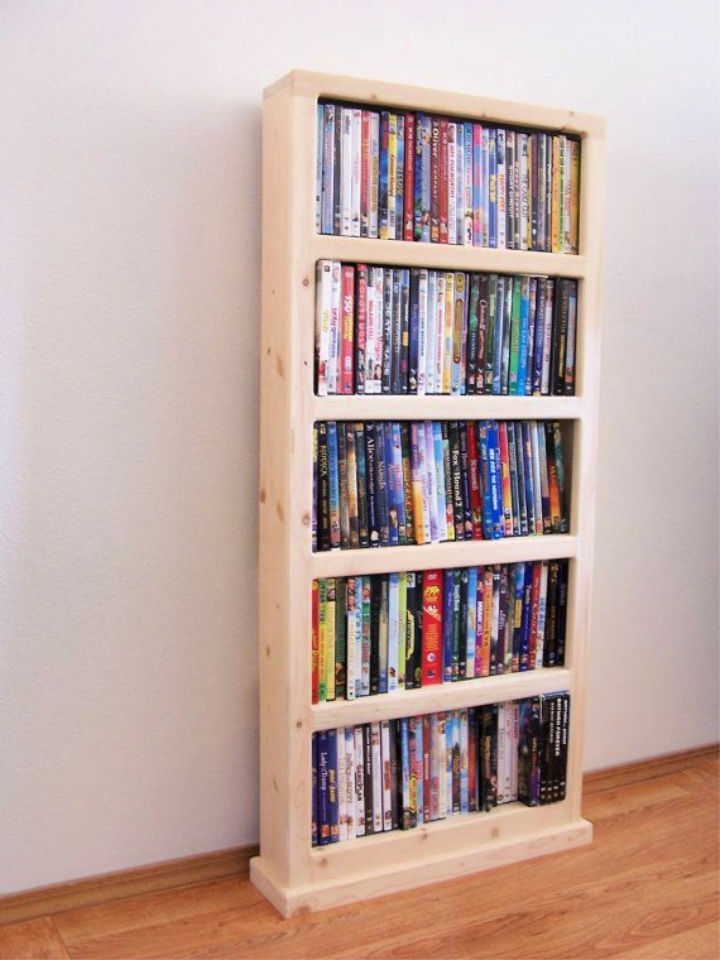 Go with the 2x4s, 2×2, and 2×6 type of wooden boards to build this DVD storage case. It can perform well in any media room and is just super quick and easy to build. This DIY DVD storage tower will make a great homemade gift too, and construction needs a beginner skill level. Details here
19. Pallet Wood DVD Rack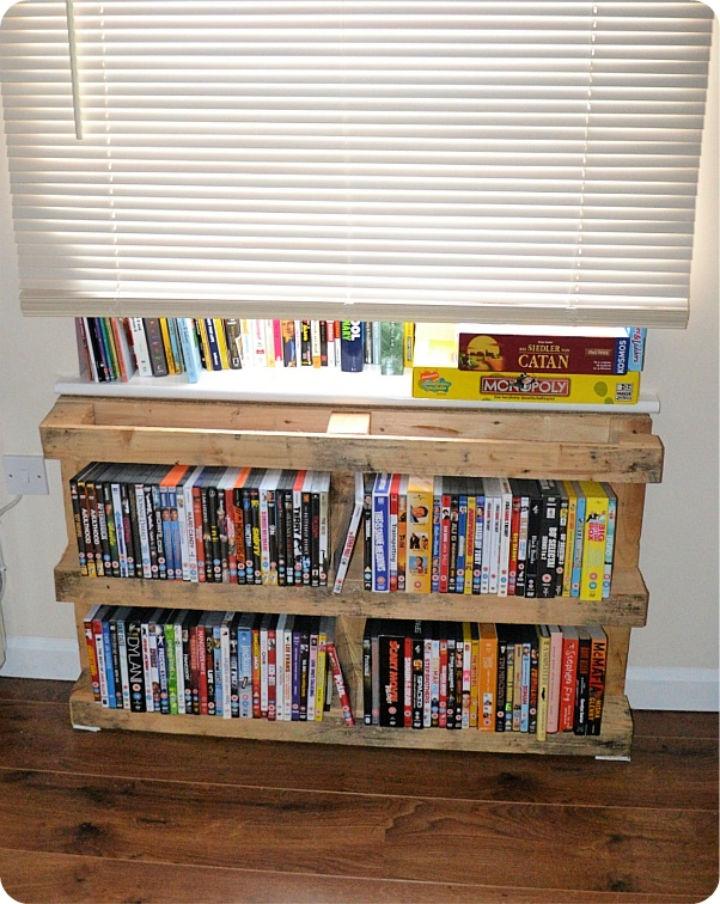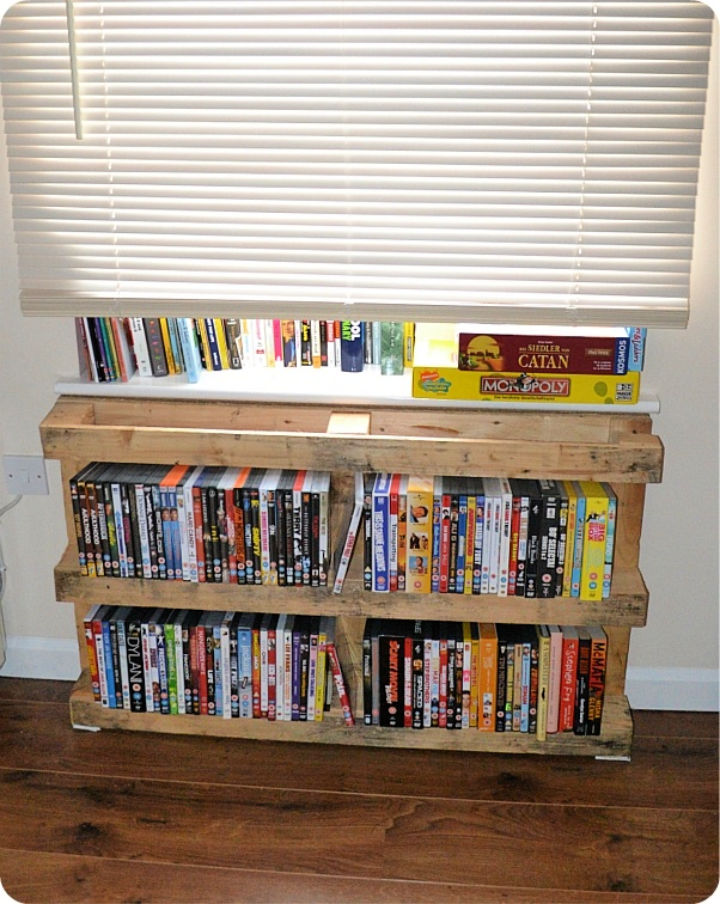 The free pallets can be the best way to store DVDs and build no-cost DIY DVD storage racks, will make lovely gifts for friends tangled in DVD storage problems. Just trim the pallets down to custom sizes and then start storing your DVDs in them. Due to being made of pallets, this DVD rack will last for years to come. easy pallet ideas
20. Rustic Pallet DVD Shelf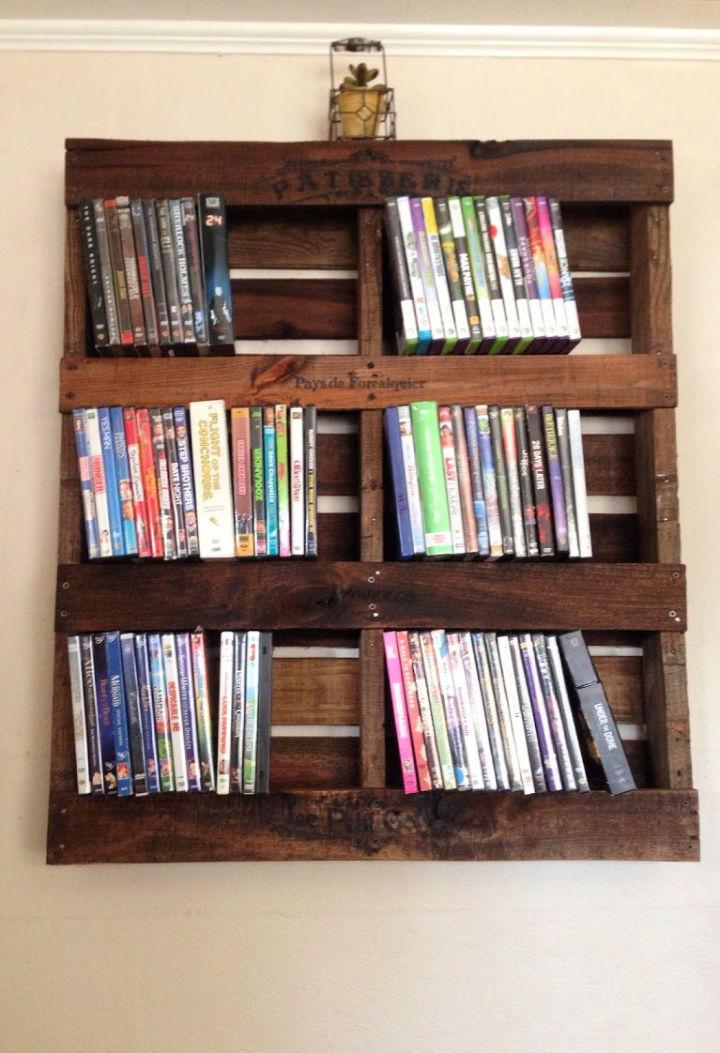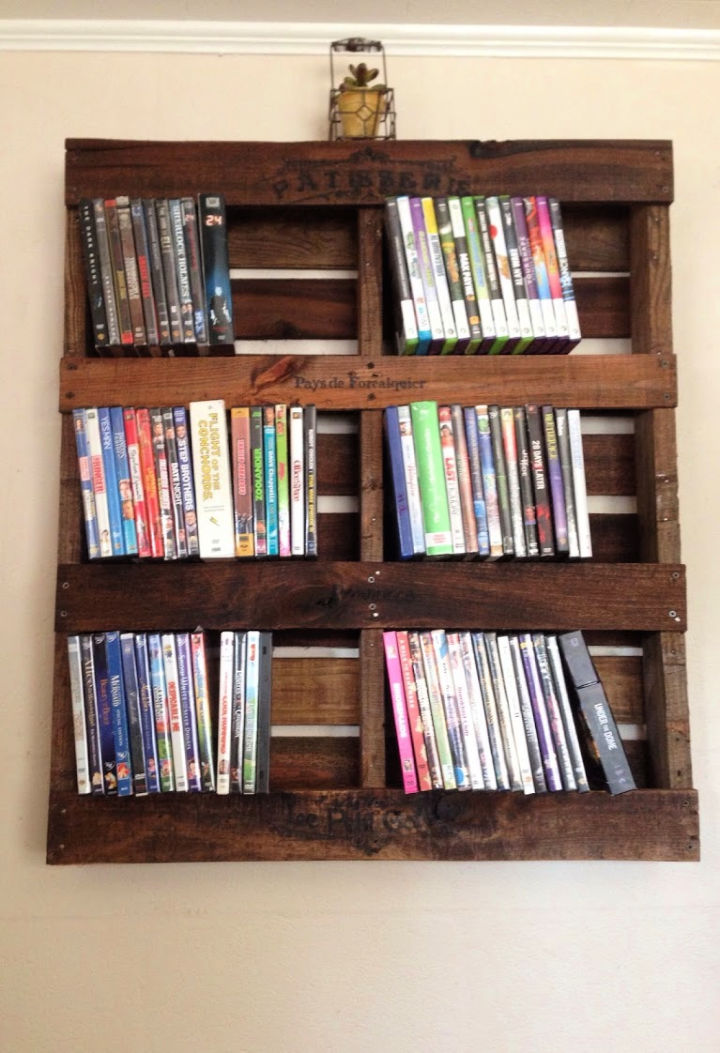 Repurpose the pallets for building no-cost wall-mounted DVD storage solutions. Look at this rustic wooden pallet wall shelf model, pretty quick and easy to make. Just recondition a pallet by doing a quick sanding and staining and then mount it on the wall using a durable hanging system.
Best Way To Store Dvds:
It can cause serious problems when not finding an important DVD for some software installations, for playing games or for watching your favorite movies. So, one should organize all the DVD collection to pick the right one at the right time, so these best DIY DVD storage ideas come for a big rescue. They involve building all DVD storage shelves, self-standing storage towers, and caddies inexpensively at home that will surely tidy up your DVD collection along with providing the ease of a pick.