Wooden Pallets have recently gained popularity as an easy to make pallet projects or home decor. Pallets are horizontal wooden surfaces. Wood pallets are easy to handle and work with. Free Pallets have multiple purposes; they can be used to decorate or make your home furniture at no cost, or you can also use them in your garden projects. Pallets are also used as a base for providing assembling, handling, storing as well as transporting different products and materials.
Wooden Pallets protect the products that are transported via them. Pallets are an integral part of developing modern logistics. There are various kinds of pallet materials, including paper, plastic, wood, and metal pallets. But the most dominating pallet kind is the Wooden Pallets.
Wood pallets are overall a great combination of things like weight, cost, durability, and toughness. Due to a more significant benefit associated with pallet recycling, wooden pallets are refurbished over time and can be reused.
This area of pallet recycling is explored later in the article, in detail. From timber, you can fabricate custom wood pallets.
Different Pallets Type:
There are different kinds of pallets, like Plastic, paper, wood, and metal pallets.
Plastic Pallets:
Plastic pallets are way more expensive than wooden pallets but are famous for their extreme durability characteristics, and they are easy to sanitize and manufactured precisely.
Paper Pallets:
Paper Pallets also go by as Eco pallets. They are made from paperboard.
Metal Pallets:
Metal pallets, to overcome fire suspension risk or disposal issues, metal pallets are the best alternative to opt. They have great strength, and they're fire-resistant. Most importantly, they can be reused or cleaned.
Wood Pallets are easier to handle, carry, and manage. They can be recycled and used for making various other kinds of pallet furniture or pallet projects.
Pallet Styles
Pallet styles are determined based on these qualities;
Whether a pallet has a single or double face – This refers to if a pallet can be used as a top deck as well as a bottom deck. A single-faced pallet is also known as a Skid.
If a pallet is reversible – This means that both decks can be used as top decks
Or if a pallet is irreversible – This means that only one side of the deck can be used as a top deck.
Wood pallets are also differentiated based on common entry types; this determines if the pallet will be entered by pallet trucks or forklifts.
What Are Pallets Made Of?
As evident from their names, Plastic pallets are composed of High-density polyethylene (HDPE) and Polypropylene (PP) materials, plastic pallets that are recycled have both of these materials available in them.
Paper pallets are made of corrugated fiberboard or 2 or 3 layers of thick paper which is grooved in alternate patterns to make it thicker and stronger.
Metal pallets are made of metal or aluminum, due to their more exceptional strength ability they provide a real advantage in maintaining long term assets safely.
Wooden Pallets are composed of the two most common kinds of species of wood available. These are Southern yellow pine or oak. We'll be covering wood pallets in detail in the rest of the article.
Since they are most used and easy to handle pallet type, they're more demanded. You can use recycled pallet wood again, which gives it an environmental benefit too, there are many DIY pallet projects available also.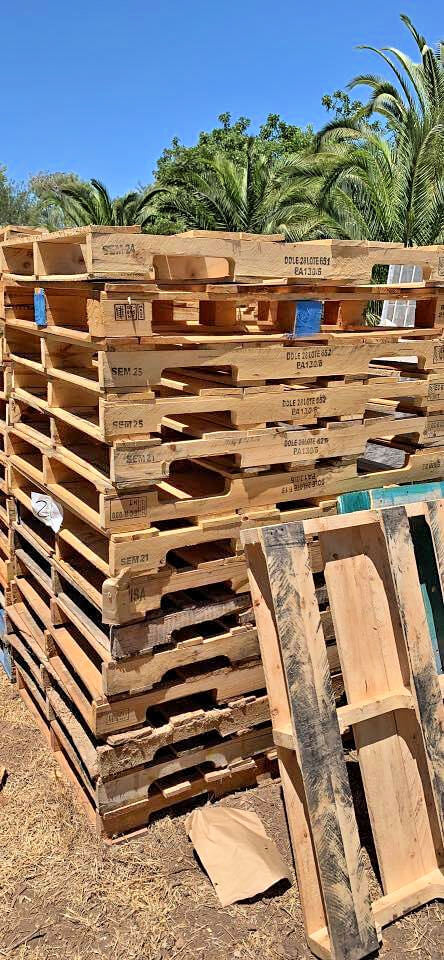 How Much Does a Pallet Weight
Pallets have this advantage that they can be customized as per various size requirements. Still, there are some typical sizes available and used most frequently.
The Standard Pallet Size or Standard Pallet Dimensions used in North America are 48*40 inches. According to this, there are five pallet sizes and recognized by ISO in different regions.
North America – 1219*1016 (48×40 inches)
Europe & Asia – 1000*1200
Australia – 1165*1165
North America, Europe & Asia – 1067*1067
Asia – 1100*1100
Europe – 800*1200
Against these various pallet sizes, the standard weight a pallet can Weight is as follows: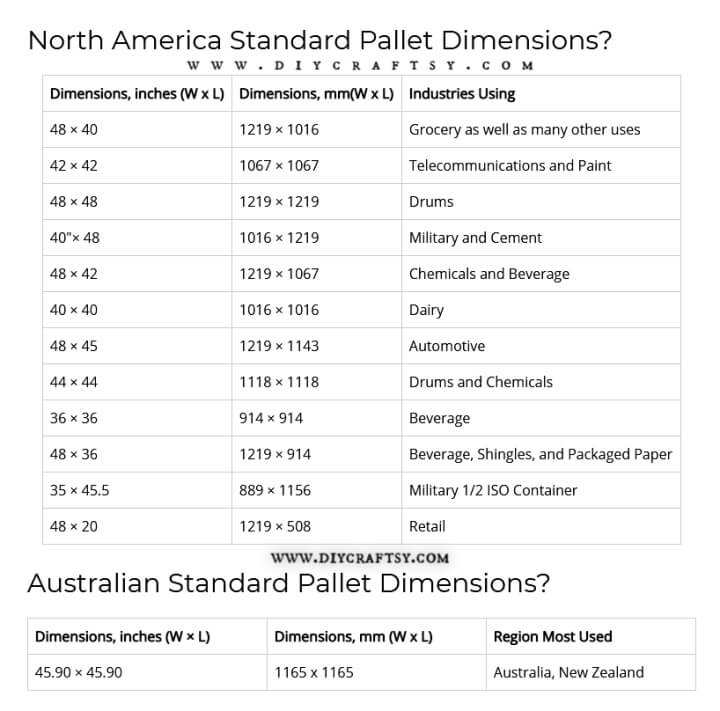 A standard pallet can weigh 4600 lbs., The weight that a pallet can weight is measured using pounds. After stating this, it is evident to say that a standard wooden pallet with dimensions as 48*40 inches can Weight up to 4600 lbs., Whereas, in case of lightweight plastic pallets, they can Weight from 3 to about 15 pounds. The Grocery Manufacturers Association or GMA recognized this standard pallet size.
Where to Find Pallets?
Pallets have recently gained a lot of importance and purpose in business and homes, similarly. Creative and easy to make pallet projects have grabbed people's attention, and everyone is ready to craft something creative out of old wooden pallets.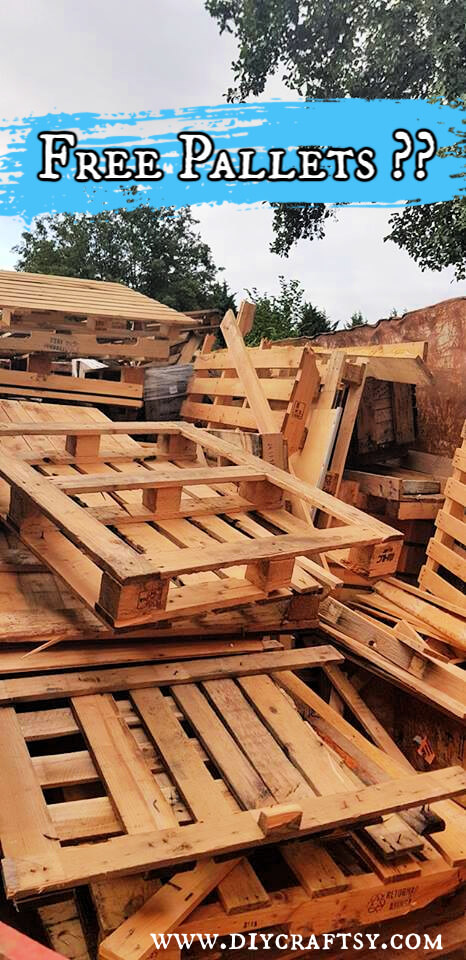 Where to Get Free Pallets?
You can find free pallets or better-conditioned pallets from small places as well as bigger places, alike. But if you are looking to build yourself a pallet table, pallet garden bed, etc. You can easily find pallets at:
Find Free Pallets in garden nurseries and stores around your local area market.
Motorcycle or automotive shops.
Specialty equipment suppliers and stores.
Try to search "Free Pallets" on Facebook. A lot of people giving away used pallets for free!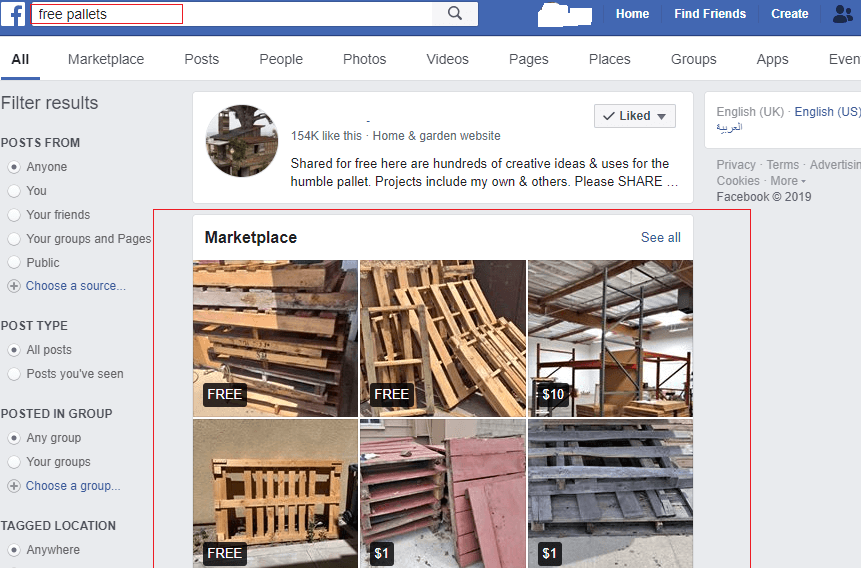 If you are looking for entirely free wooden pallets, recycled pallet or scrap lumber, you can look out at construction sites & search over Facebook and on Craigslist.
Where to Buy Pallets?
Are you not getting free pallets, and want to buy pallets wood? Buying pallets and finding the right wooden pallet is a tricky choice to make. Sometimes it takes a lot of research to find the rightfully treated, IPPC logo pallets from trustworthy retailers or markets.
You can use the Pallets for Sale Near Me local search at the local online market, craigslist or even Facebook market.
You can use Wood Pallets for sale search words too at craigslist and find out where are the wooden pallets available in your local area.
Some examples of online Pallets availability are such as Amazon, Craigslist or Kamps Pallets, etc.,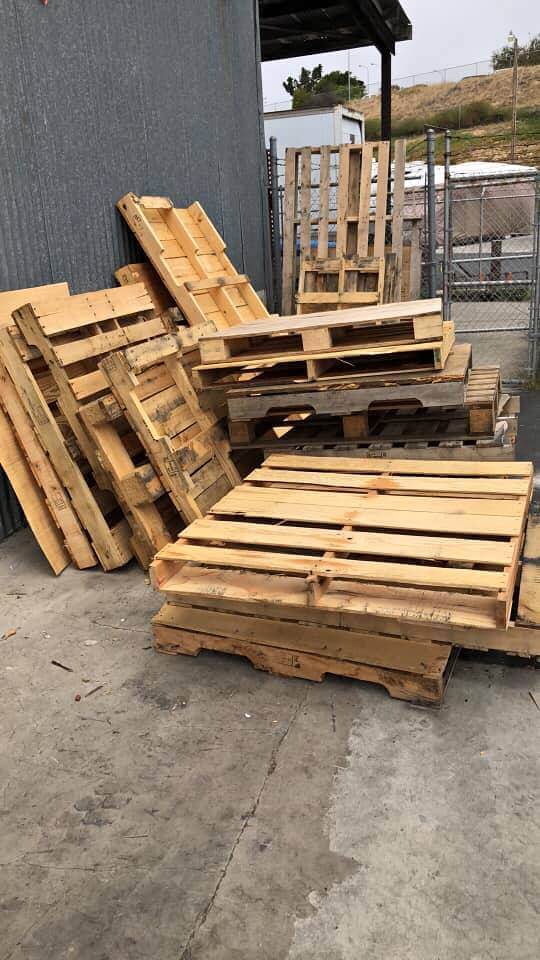 Where to Buy Pallets of Merchandise?
If you are looking to buy pallets for sale of merchandise, again you can make a start by applying a local search on the internet, ask around your local area market.
To share a few places, where you can find the lowest possible merchandise pallet in good quality and get the best possible profit margins. You can go for PalletBid.com, and you can place a full truckload order here.
You can also go for Quicklotz for ordering truckloads, pallets or even single cases.
Direct Liquidation is also offering merchandise pallets.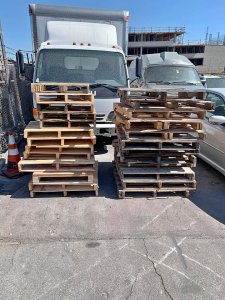 How to Buy Pallets of Returned Merchandise from Walmart?
If you are looking to stack up high-quality pallets obtained at low merchandising prices, Buying Walmart Returned Pallet merchandise is one of your best options to go. Again, the decision is tricky, and you need to look out for trustworthy liquidators to get these returned pallets from. "Direct Liquidation" is an excellent option to choose; they not only offer Walmart liquidated pallets but give complete and comprehensive information too.
You can also get Walmart liquidated pallets from "Walmart Liquidation Auctions."
How to Buy Amazon Return Pallets?
You can buy Amazon return pallets in high quality and easy availability at Direct Liquidation, and they are top-tiered partnered with Amazon.
Also the place an order at Liquidation.com. You can also get Amazon to return pallets at low merchandise prices at BULQ.
Pallet Safety
While working along with free wooden pallets, there're always some cautions to look out for and save yourself from getting hurt. These are the few pallet safety tips that you can review before getting your hand on wooden pallets:
Always use gloves that are cut resistant to avoid any cuts or scratches on hands or arms.
Often wooden pallets have rusty nails coming out of the corners. Always lookout for these sharp nails. These could be so dangerous that if not treated properly, they can cause Tetanus. If tetanus is not appropriately treated, it can prove to be fatal.
Walking on wooden pallets is also a dangerous territory to be on. Apart from the nails sticking out of a pallet, you never know it might not be fit to handle your weight and break down in any shape. Falling on a wooden pallet can turn out to be a severe injury.

If you are moving around plastic pallets, look out for stains or muscle pulls. Plastic pallets must be handled and picked up carefully with a good posture to support the pallet weight, which is around 100lbs.
Always keep wood pallets lying down on the floor instead of holding them straight leaned up against the wall. A falling pallet can hurt a person if it falls over anyone.
Pallets Size:
Pallets are massive in size, and carrying them around in arms is difficult and risky. Always move around pallets by sliding them if you don't have a mechanical help available.
If you are planning to stack up pallets, always use forklifts, and avoid the workforce.
Don't stack more than eight high pallets, and they could become imbalanced and fall over someone causing severe injuries.
Take away the broken pallet right away to the reusable or recycle area, don't let it stay with the whole stacks. You might forget later on or handle them in haste.
Don't underestimate the threat posed by a little broken wood piece of a pallet. Instead of kicking it aside carelessly, you should throw in the garbage. This small piece can make people slip on it and get serious injuries after the slip.
Always stack the wooden pallets carefully in defined and systematic steps. Use proper motions to lift one pallet the side of the stack and then on the top.
Pallet Tools
If you're planning to reclaim pallet lumber, using a crowbar to pry the pallet boards apart is a common mistake. The crowbar can although easily damaged and split the wood apart from each other, but then you will have damaged wood at your hand and nothing else. In this section, I am going to talk about how can you use simple pallet tools to split the bars and claim the lumber too.
How to Take Apart a Pallet
Use a hammer and pound out the nails from behind. You can do this by using a simple claw hammer, a small sledge or a short scrap piece to take the blows first. That is, don't hit at the wood directly. It will damage the pallet. Hit indirectly using a piece of scrap.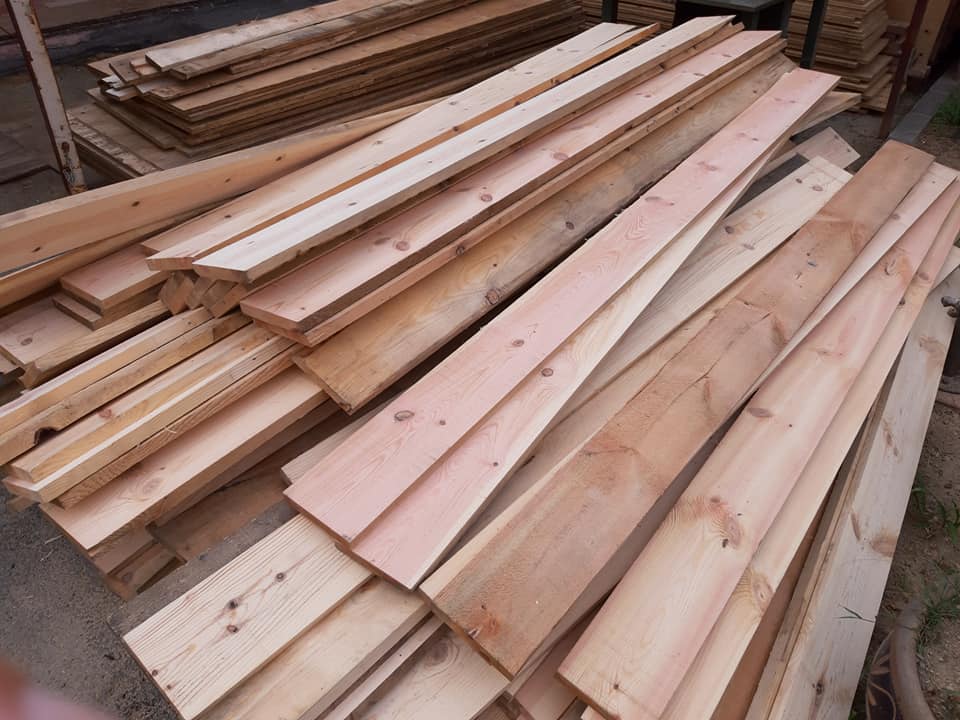 Using Pry bars
There're two conventional Pry bars kinds/styles available and used in the market to take a pallet apart;
Duckbill – It is most suitable to use when you want to pry the lead board of a pallet with damaging the wood. The jaw of the tool is placed over the top end of the pallet. After the jaw is set correctly, the lever is handled upward.
Double Fork pry bar – These are used to remove the interior boards of the pallet. By applying leverage, the fork moves forward the deck board and takes it apart from the stringer.
Power Tools
These tools are operated more with the workforce. Two commonly used tools are Sawzall and as well as the Nail Kicker. The wood components are held together with the help of nails. A reciprocating saw is then used to cut the nails apart at the joints. Nail kicker is used to bringing the nails out of the wood. It pushes them deep inside that they are bound to come out from the other end.
Pallet Dismantle Machinery:
For a huge volume of pallet recycling. Formal and mechanical pallet dismantling machinery is used. These commercial pallet dismantling machinery are of two types, mainly as circular cutting heads or band saw dismantler.
Pressure Dismantling:
These first emerged in the 1970s. This machine has an adjustable tabletop and free turning discs. The pallet goes under the discs and they sheer off the joints of the deck board from the stringer. The disadvantage of this type of machinery is that its timings to disassemble are fast. This system poses more damage to the wooden pallets during disassembly. Nail stubs also get flattened!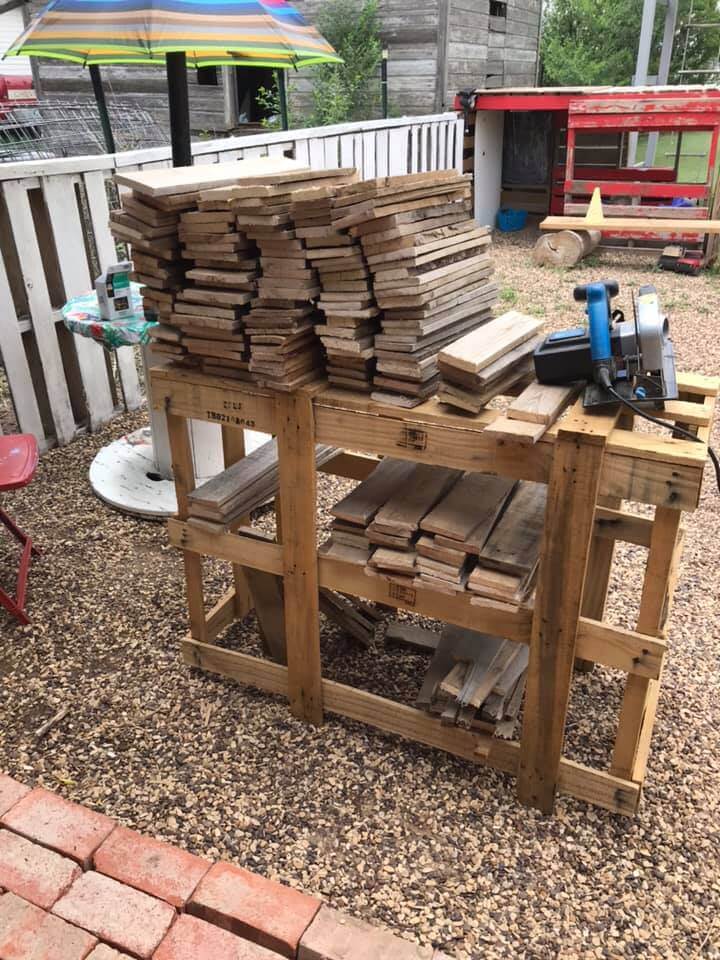 The band saw Dismantlers:
It is a piece of ideal machinery to use for pallet dismantling. It uses an overhead machine on top of the table and makes clean cuts, free of any flat nail stubs. A band saw blade is utilized to cut through the deck boards from the stringer.
This method guarantees more lumber recovery and less damaged or least damaged wood.
Both these methods can be further enhanced by using chop saws in case of getting shorter pieces of wood.
How to Paint Pallet
If you like, retro looks for your wooden pallet furniture or birdcage or any other item, and you can paint your pallet furniture. But before doing that, there're a few takeaway notes for that:
Each wood is unique and has different characteristics, so each wood might not give the same results with painting.
To paint your wooden pallet, the first step to follow is to use sand. You must first sand your wooden surface after that use a damp cloth and make the surface reasonably smooth.
Now, clean the wood pallet carefully and smoothly and make sure the adherence of the paint on it.
You can get a Chip brush for as low as $1 and use it to paint your pallet. In case if you have sanded it way too smoothly, you can use a good quality brush to get even smoothest results.
Before you start painting, focus on overcoming the porous surface issue with the pallet wood, use a primer. You can apply a good quality primer to the wood before you go to the painting zone.
Just in case, if you're looking for something retro or old school, you can skip putting up primer. Only sanding the wood will make it look more weathered or rustic.
For multi colors applications, always start by applying the lightest color at first and then end up with a darker tone. You can also use different brushes.
For multi-layered painting, wait patiently for the first layer to dry down completely. Once the first layer has dried, then apply the next color. Otherwise, the colors will get blended, and you'll not get an elegant look. Of course, if that's what you're looking for.
Paint Pallet Wood:
For an excellent vintage look, apply your first light color and then sand the wood again before applying the other layer. Likewise, repeat the process as per your number of layers.
For simple plain looks, a lot of sanding is not recommended.
The sandpaper of 80 grit is most suitable for simple plain looks. In case of an even more excellent and smoother surface, you can go for 120 grit sandpaper.
All these takeaway notes are applicable for all kinds of paints, including oil, acrylic, latex, etc.
After sanding the wood and then painting it, now you'd want your hard work to stick for longer. For that purpose, you can seal the pallet using varnishes or sealing wax, etc.
To apply your sealant, you can use a chip brush too. In case you're looking for an extra glossy surface, use a good quality brush that can trap more air. These quality brushes are available in the market, easily.
If you're planning to stain your pallet wood, you must keep in mind that different kinds of wood give different types of reactions to staining. You might as well prefer to scrap it before staining it.
Stain carefully and make your choice wisely, once stained excessively, you can't take it back.
Keep the edge wet to be able to brush the marks.
For shine, you can use varnish or polish.
Are you interested in rock painting? Learn how to start rock painting with the answers to most asked questions by beginners!
Is Pallet Wood Safe to Burn?
Generally, a Pallet wood with fumigant methyl bromide is good and safe to burn in your garden fir pits. Pallets that are categorized under MB are considered safe to burn in the garden fire pit and fireplaces. But you should always be more aware of the other chemicals that a pallet might have gotten with the contact in.
Usually, pallet woods make ideal fire burners, the wood is dry and thin and produces a good hot flame. Another thing to look for before burning your pallet wood is to look out for nails that previously joined the deck boards with the stringer.
If nails are still stuck in the wood bars and you burn them along with it, I am sure that's not what you would like to have to burn in your living room along with your wood. You can now easily figure out which pallets are treated with MB and hence are safer to burn.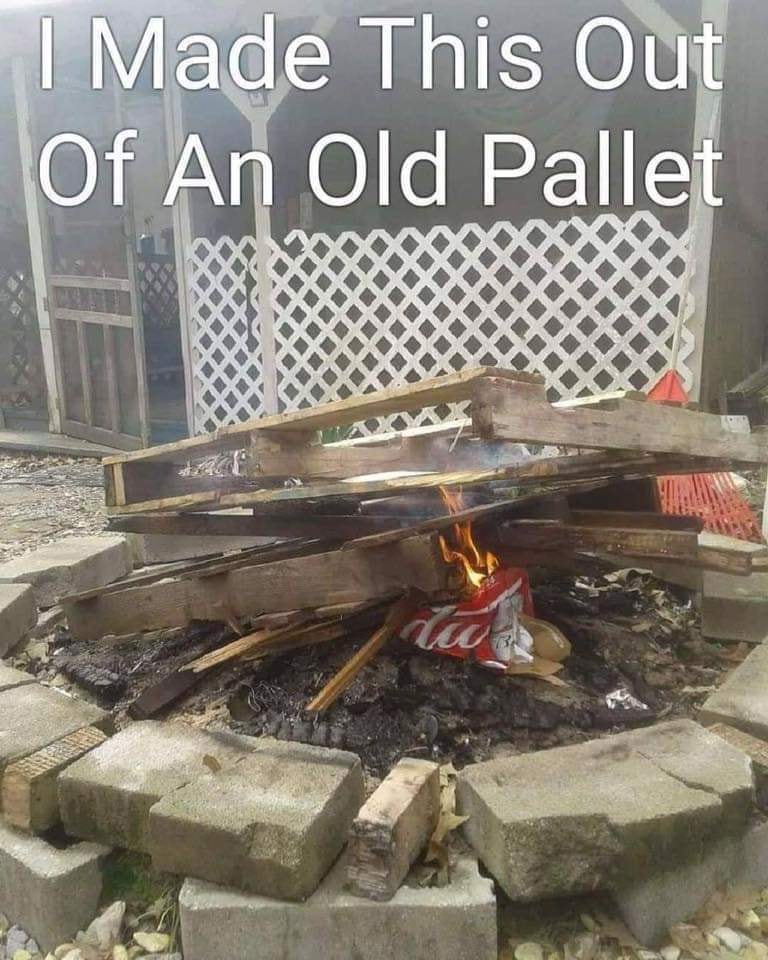 Wooden pallets are now supposed to have an IPPC logo that depicts that this pallet has been heat-treated. Or that it has been fumigated with methyl bromide.
The standard format of this code is two letters of country code like XX, a unique number which is assigned by the National Plant Protection Organization (NPPO) such as 000. Then HT which states Heat Treatment or MB which signifies Methyl Bromide or DB that shows Debarked.
In case if your pallet is missing the IPPC logo, you might not want to test it by burning it at home yourself. It poses too much risk of other chemical exposure, which can prove to be extremely dangerous.
Careful about the wooden pallets:
You should be extraordinarily careful about the pallets that have had something spilled on them. Especially the pallets that had an oil spilling incident, you should never try burning them even after you think they have been cleaned thoroughly.
Many a time, pallets are shipped from one country to another. In the US the IPPC code is a must, but you may not witness it in other countries.
In case even if your pallet is safe to burn, or you consider it a safe burning pallet, still using a mask. Use a mask before cutting it into a piece and then even while burning it, so you can save yourself from any instant chemical reactions or pollution that might happen or vaporize in the early start.
Pallet Recycling
Pallets recycling can also be known as a blanket term to define all the pallet business processes. These include; sorting of wood, refurbishing, dismantling, and manufacturing of pallets for sale. This also includes and encompasses wood pallets and pallet components grinding to get fiber products. To give a quick overview, the industrial recycling of pallets is considered to be way more profitable than any of the other pallet business processes.
We gathered up a list of the best woodworking projects for beginners that you can easily build with these free pallets. All wood projects come with quick summary of the tools & time needed.
Different recycling pallets are categorized as per sizes, dismantling, and reparability status.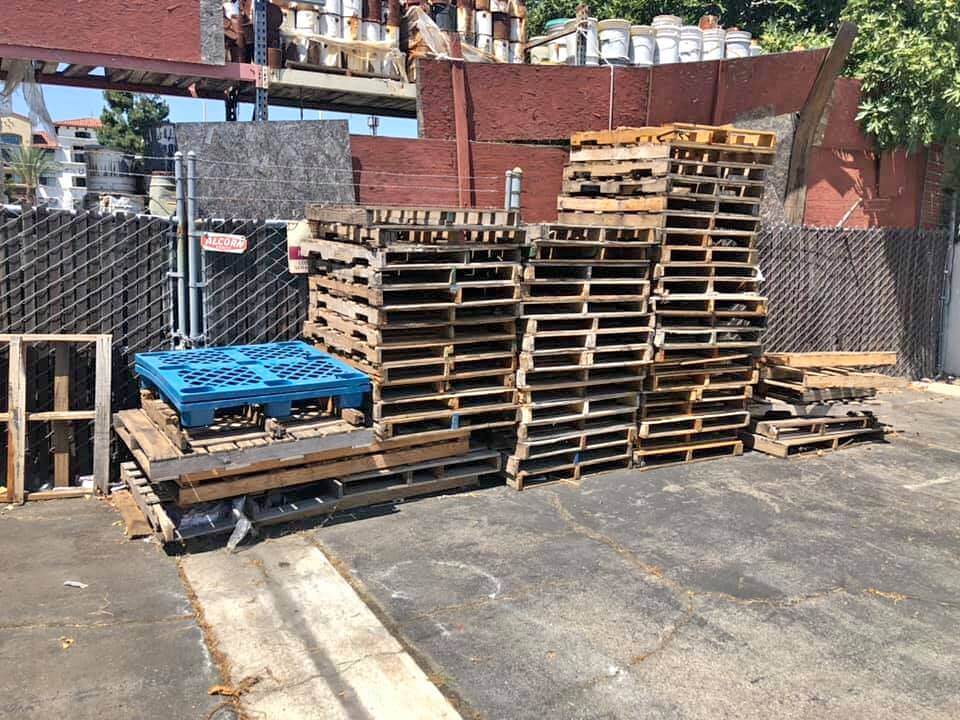 The most attractive standard pallet sizes to recyclers are 48×40 inches' pallet, the typical pallet size. But other sizes like 40*40 inches, 42*42 inches, and 48*48 inches' pallet sizes are also desirable for recycling.
Pallet recycling is done by recyclers using the dismantling machinery, forklifts, stacking & unstacking equipment, wood grinding systems, and automatic sorting lines.
As per research, about 95% of wood pallets are considered to be reusable.
What can you do with free pallets for your Home?
Pallet Furniture
Across the globe, people are following the more significant trend of turning pallet furniture for indoor or outdoor purposes. They are fun and easy to craft. Also, by the time you are done, you can make yourself a useable coffee table, outdoor bench, sofa, or any other relatively inexpensive furniture. Some of the creative ideas for pallet furniture are;
Outdoor pallet loungers – You can create your relaxing area by carefully sanding the wood and crafting this lounge furniture for outdoor gatherings.
Modern Corner Lounge – You can make individual or combined sofas along with a coffee table in the middle. You can even paint it the color you like and create something fascinating.
DIY Swing- You can also craft a relaxing pallet bed swing.
Wooden Pallet Deck- You can make this own pallet wooden deck under $300 and keep your lamps or system on it. Also, a bookcase would do too.
But there's a lot more you can DIY with free pallets.
You can build endless pallet projects so for this, you can find more pallet ideas here!
Pallet Bed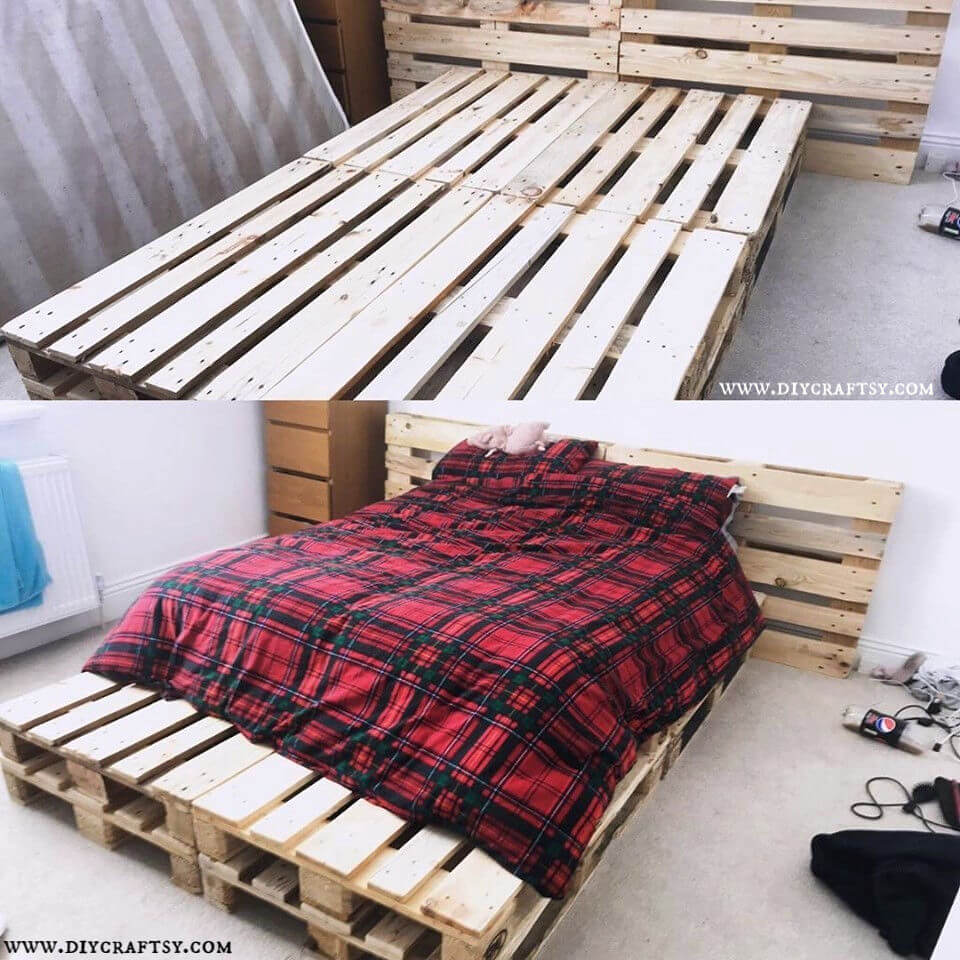 You can easily build a pallet bed by using these simple things;
Four similar pallets
4 3" bolts (washers & nuts)
8 4" hurricane straps
4'*8′ hardboard sheet
Around 80 1" screws
Any adhesive or Liquid nails
Use a circular saw and prepare the pallets, join the deck boards and pallet ends.
Add bottom drawers.
Paint using sandpaper.
To keep the drawers, void available, put tops of the pallet on the ends of the other pallet. Now stack them together using hurricane straps.
Use bolts to keep tops and bottoms together.
Ready to use!
Pallet Chair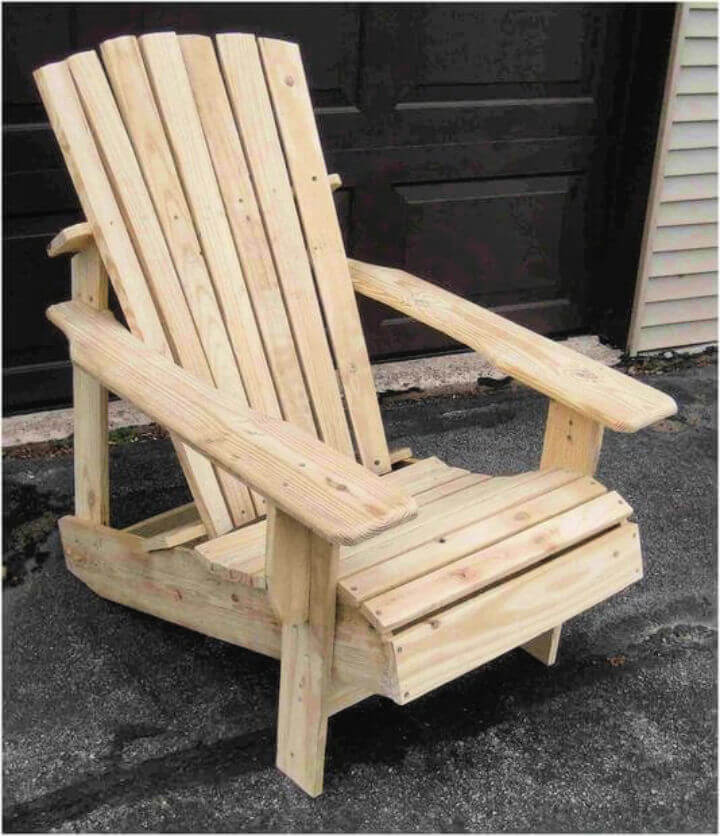 Easily make yourself a pallet chair using;
Two Pallets.
Gather tools – hammer, drill, screwdriver, woodcutter, nails & screws, sanding sheet.
Two pallets use – One as a sitting area, one as back. Cut accordingly in a curve to make a degree of inclination. Cut the left pallets to make elbow rests for the chair.
Use the sanding sheet carefully and thoroughly to rule out the risk of splinters.
Bind it all together with the help of nails and screws to strengthen the pallet chairs ability to take the weight.
You can use wood varnish and apply it to make the chair look better.
Pallet Table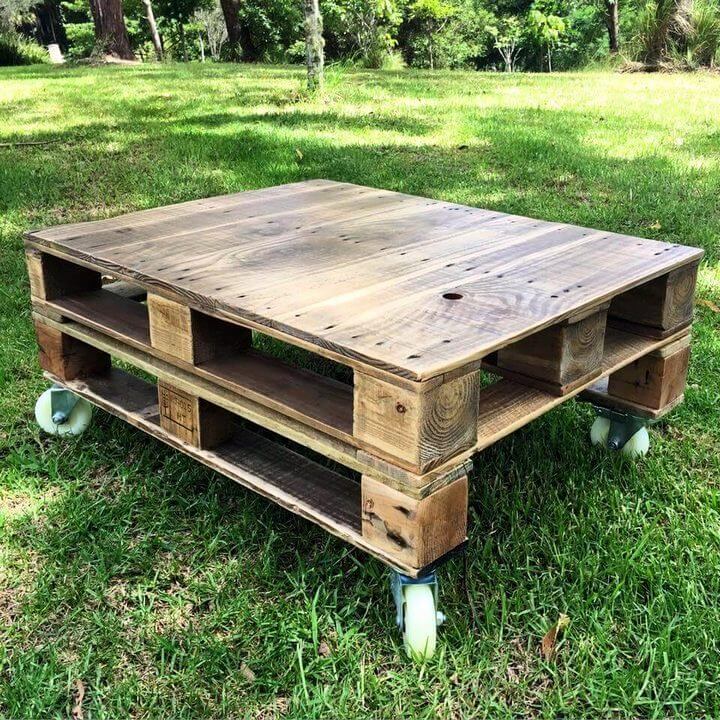 Make a catchy pallet coffee table by using;
A pallet
Saw
Screws
Glue
Nails
Drill
Glass or wood for the tabletop
Cut leveled legs for the table out of the pallet. Leveled legs are essential to keep the table balanced.
Cut other pieces of wooden pallet for joining table legs.
Assemble the DIY table. You can do so by in a symmetrical manner or ensure design, and assemble by gluing wooden sticks randomly.
Must sand the wood to make it look smooth. You can paint, you can use transparent glass too.
Pallet Sofa
Get 9 average sized pallets.
Cut the pallets in a similar average-sized width. You can cut your pallets around 28" wide.
And make the length to 78" *78."
You can use your dumped baby mattresses as your cushions, place the pillows on the pallet to see the size fits or not.
Once you are done with size confirmation, then secure the back of your pallet sofa by using at least 2" long screws across the seam.
Enjoy your pallet sofa for outdoor gatherings, bonfires, or even naps. You can make this entire sofa under $10. Not a bad deal, right?
Pallet Patio Furniture
Before started building, you can begin by confirming pallet patio furniture design in your mind.
Then cut off the pallet such as that the deck boards get separated from the stringer without getting any damage.
After you have cut your pieces in your desired sizes, you can use an electric or manual sander to make the surface smooth.
You can use various connecting types for putting up the legs of the table, a most straightforward approach and a simple one is to make it like an X.
You can connect the wooden bar with screws as the top of the table. Stain and use!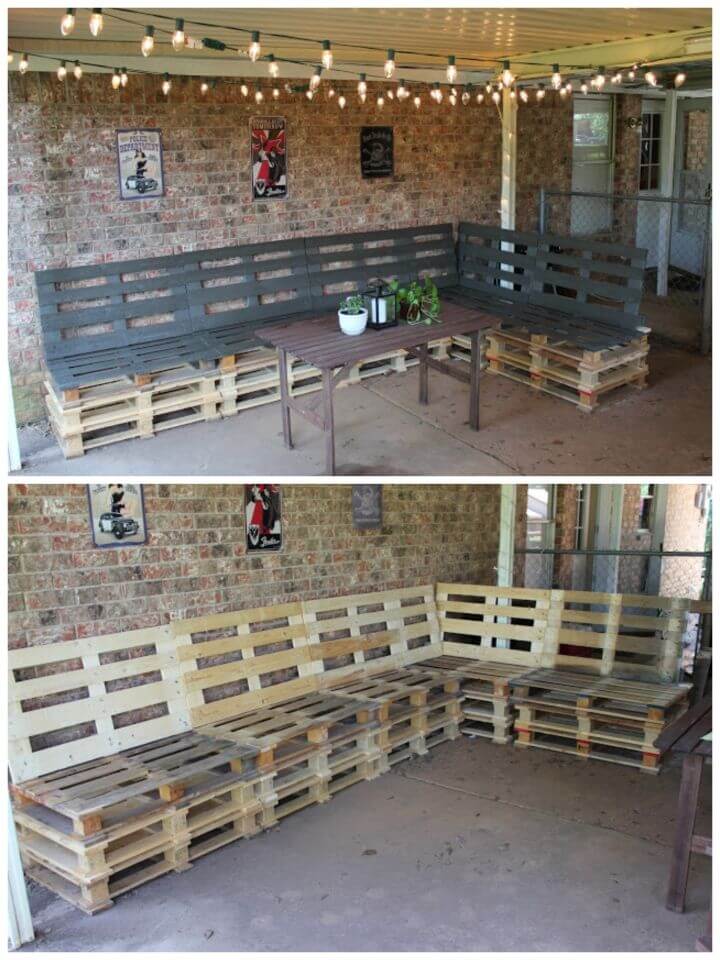 Pallet Projects
Making DIY pallet projects for the indoor and outdoor area are on the new rise. People are getting interested in pallet furniture more than ever. For one reason, they are almost free to get and easy to craft something memorable and extremely durable. There are just a few things to keep in mind like the IPPC logo to make sure that these pallets are safe to use. Also, avoid using a rotting wooden pallet.
Among the number of things that you can easily create and add value to your living, I am going to name here a few. You can get your bedroom a huge pallet headboard right behind your bed. You can make a pallet accent wall, a pallet bar, a pallet coffee table or desk. Of course, all of these things must be made after carefully sanding the wooden pallet to make the surface smooth and harmless. Practically free home furniture!
Pallet Shed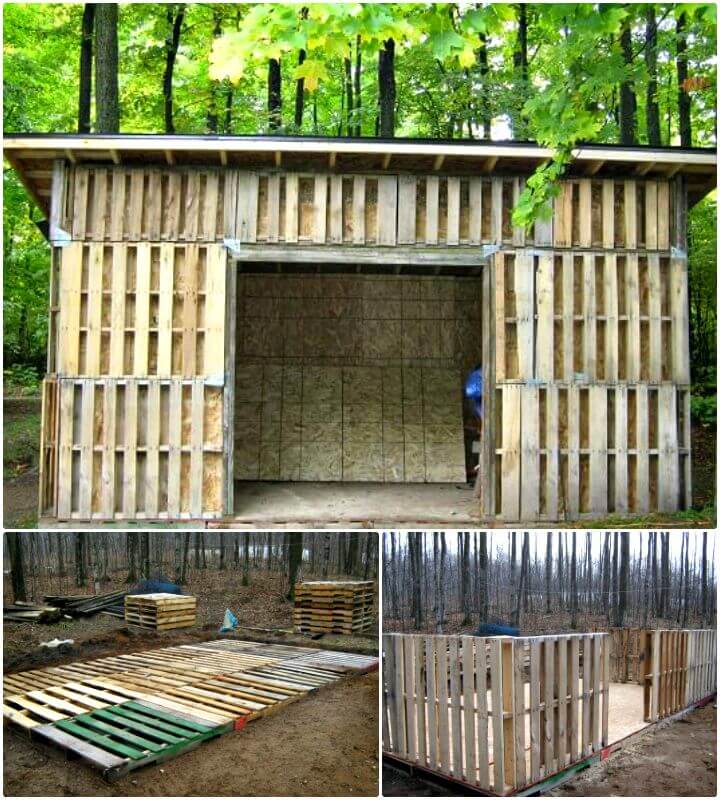 With these simple tools, you can Build a Shed from Pallets? Question answered.
Drill
Circular saw
Oscillating tool
Level
Step ladder
Two pliers set
Tape measure
Dozens of pallets
Nuts and washers
Around 5 pounds' screws
Roofing tin
Chipboard
Attach your pallets using the 3" screws.
Make a standing wall first.
Add other pallets using screws in the bottom and all threads to bind around the sides.
Use 48″ x 40″ pallets as sidewalls.
Put up the chipboard as the door
Use tin and self-scrapping screws for the roof.
Pallet Garden Beds
Are you a homestead? Then try a cheap garden bed for your vegetables!
How To Make a Pallet Herb Garden
You will need;
Wooden pallets
Scissors
Garden Fabric
Staple Gun
Top Soil
Plants
Turn over the pallets, lay the garden fabric over its back.
Roll and cover the four sides too
Start stapling the garden fabric to the backside of the pallet wood.
Now, turn over the pallet smoothly. Start stapling the garden fabric on the top edges of the sides.
Start filling up the boxes with soil. Roundabout a cubic foot of soil is good to go with.
After getting done with that, now start planting.
Enjoy your own lush green pallet garden bed plants!
Pallet House
Due to secure handling, durability, recycling, and inexpensive nature of free wooden pallets. Pallets are now used on an extensive basis for many furniture crafting. Pallet houses are an option too.
Construct the walls modularly out of the pallets.
Make sure that the walls are treated with polyurethane varnish for the effect of extra strength addition.
You should use concrete as a durable base floor instead of pallets.
For the roof, again using pallets could be way riskier.
A metal sheathing rooftop is a better alternative option.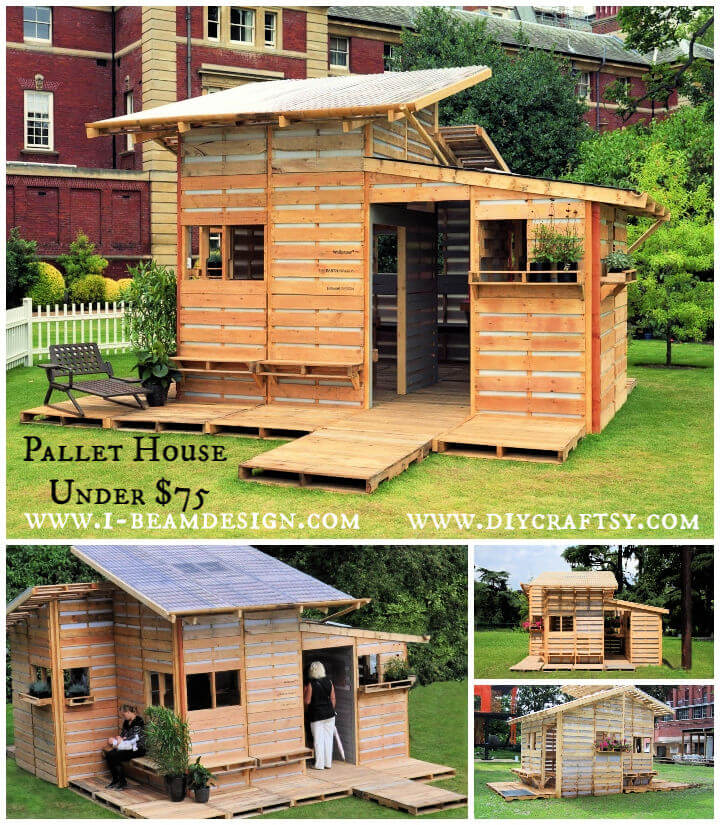 You can get ready-made pallet houses under $75 from I-Beam design.
Pallet Playhouse
The first step is to lay the ground base for the pallet playhouse.
You can lay down 2 or 3 pallets depending on your size requirement.
Use deck screws to level out the floor.
Same way, put up the pallet walls. If you want a walk in door or passageway, you can set up three walls and keep the entrance open.
Use the sandpaper to clean and smooth the pallet surface. Make the surroundings splinter-free for your little ones.
For the roof, you can put up the galvanized steel panel using self-tapping screws.
For the proper pallet flooring, you can carpet tiles.
Pallet Swimming Pool
Get around ten large-sized pallets.
Beneath them place a durable tarp.
Fasten the nine pallets together using nail boards, along the sides of each pallet.
Use sheets/blanket and use the staple gun to staple them across the boards. This is to avoid damage due to sharp corners and edges of the board.
Now, put the pool liner inside.
To give your pallet swimming pool a very classy look, you can use bamboo rolls and place them around the pool.
Let it rest in the sun for a few days and use it to refresh yourself on any hot summer day!
Pallet Doghouse
Get your dog a homey place for almost free! How to Build a Doghouse Out of Pallets? You'll simply;
Modify the pallets to create squared up pallet walls.
Now join the walls, you can have three walls and keep the entrance open, or you can make a four tilted walled box.
In the latter, now use a saw to cut the door.
After you are done, do not forget to use the sandpaper and rule out the chance of any wood splinters to avoid your pet from getting hurt.
Cut the floor & roof, and it's ready to use.
Pallet Chicken Coop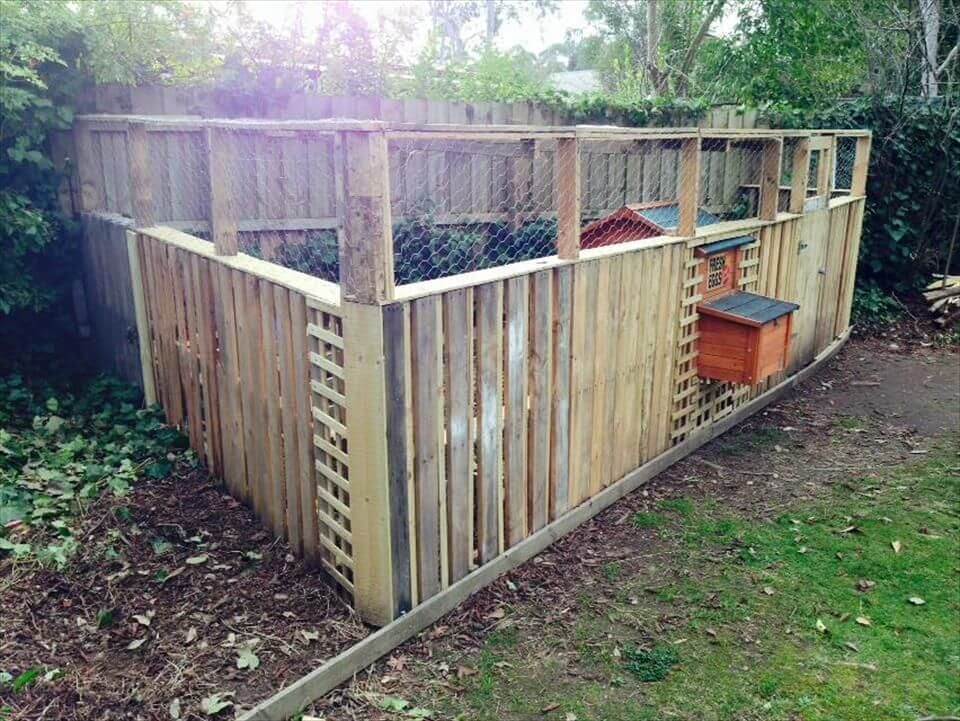 Are you inspired by DIY pallet wood ideas and wondering How to Build a Chicken Coop Out of Pallets? You can do that;
By putting up about 4-6 sets of pliers in your backyard.
Cover the plier now with the base of a wooden pallet. Put up the pallet walls on the base and screw them together.
Make sure to have a leveled top while you are screwing the walls to the base.
Use a chainsaw to cut the doorway into the chicken coop.
Fill in the gaps with chopped straw. You can also put up a sliding pallet or dumped drawer as your egg collector.
And Your DIY chicken coop is ready now!
Need more ideas? Try this ultimate list of easy to build pallet chicken coop with step by step free plans!
Summary About Pallets:
Pallets are the new obsession of the market, and people feel meaningful after having created something for their homes or gardens by their own hands. Pallets are easy to handle, very inexpensive, and creative crafts. They are the new crazy reclaimed wood for people to start DIY projects, and every day, millions of people are sharing DIY pallet projects online. They are a good and stable rising fashion in the market.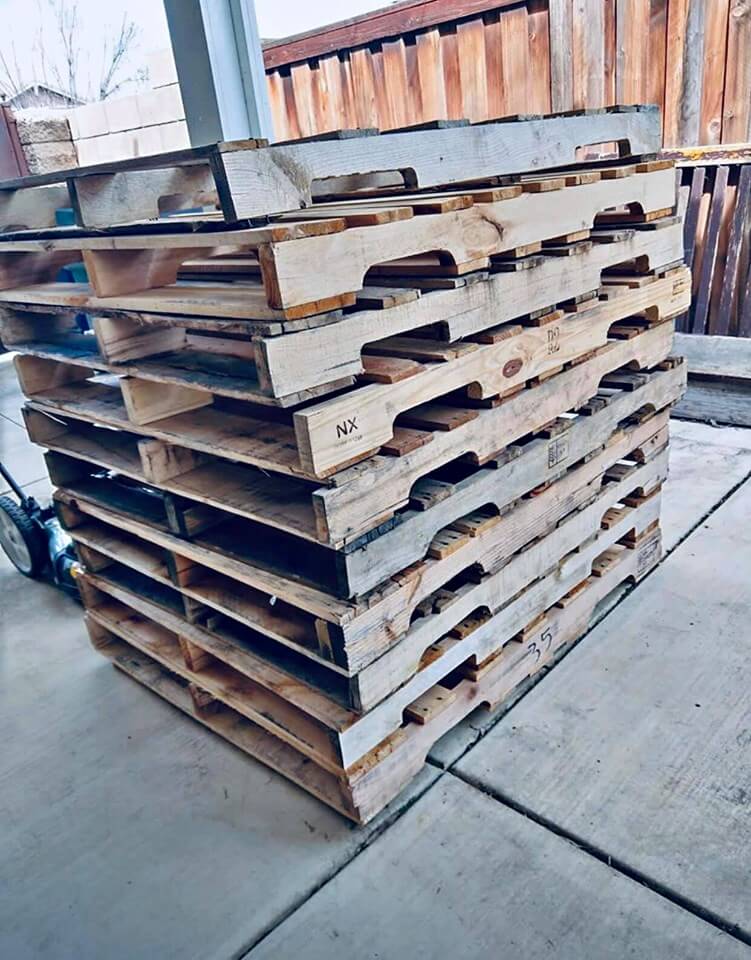 Pallets have been using widely in the transportation and supply chain sector for a very long time. They ensure and give safe travel transport to materials and products. They are the most effective way to store products. Pallets play a significant role in material handling, stacking, and transporting.
Nowadays, another most important environmental benefit of free pallets is that they can be recycled and reused. People have the option to reuse these scrap pallets to either sell it and make money or make creative pallet furniture projects out of it.
Industrial or household use, wooden pallets have multi-uses and benefits.