Are you addicted to eating healthy and fresh food? Then consider building your own chicken coop if you love eating chicken every day. Build a functional DIY chicken coop at home with these 25 free pallet chicken coop plans that will allow you to build a pro-style birdcage without breaking the bank. As you are going to use the free pallets and scrap woods so these hen houses will cost you next to nothing. Building your own hen house will also allow you to customize the dimensions to fit the design to targeted space.
If you need to look at some sample design to plan a custom model, then explore this list of 25 Pallet Chicken Coops that involve all from small to medium to extra large designs. Some come alone, and some come with attached chicken runs. Furthermore, you will get the free plans for building a chicken coop also that will make a cool chicken tractor too.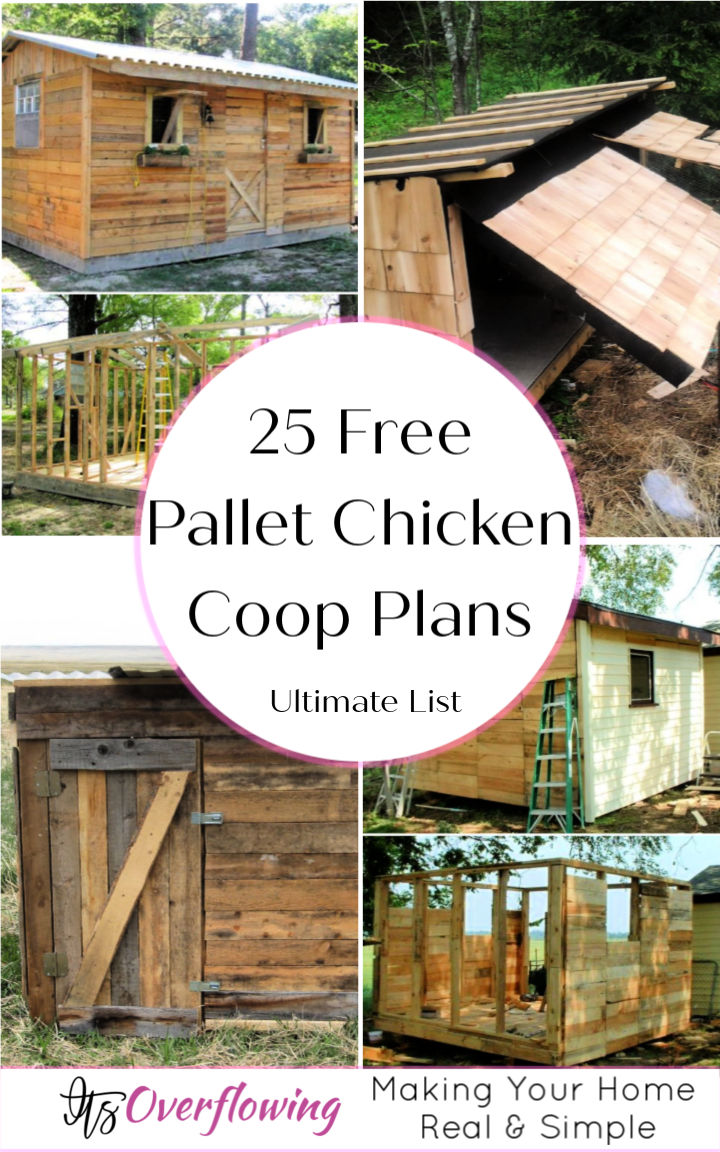 These pallet ideas involve using both uncut and disassembled pallets to build these hen houses. You can start most of the construction by building first the floor. Install the concrete blocks to make it a little off the ground. Install the arched or dome style chicken coops with a solid pallet wood foundation. Save a lot of your costs by building large bungalow-style hen houses. Install tarp-covered shingled roofs for an enchanting appeal of your completed design, along with adding a lot of weatherproofing. Browse the entire list of these Free Pallet Chicken Coop Plans to get your creativity inspired.
1. Pallet Chicken Coop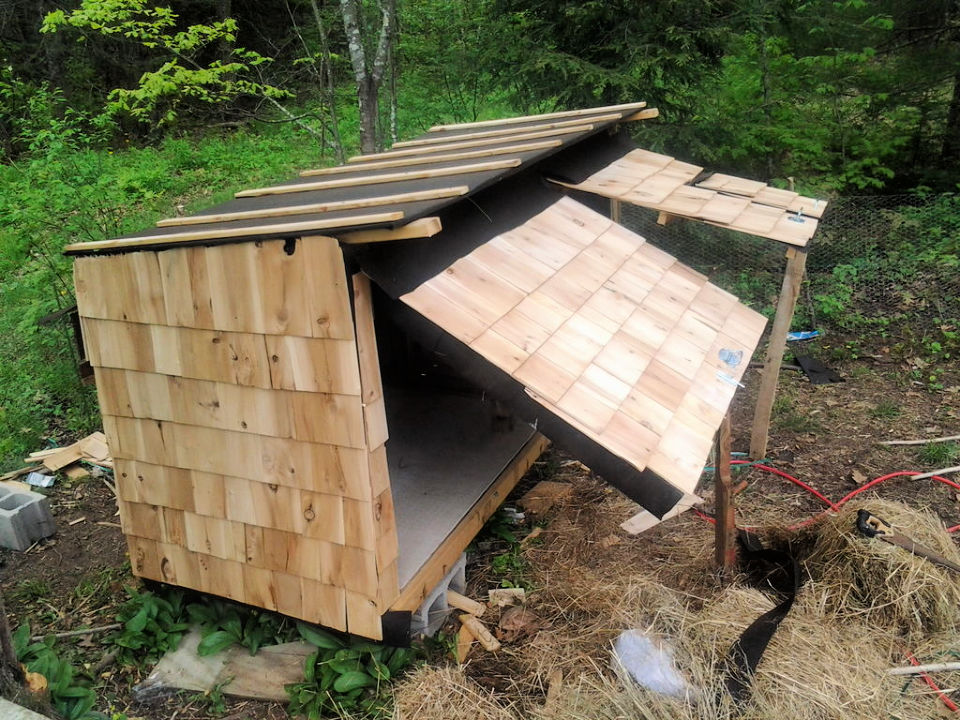 Get into poultry with little or not investments by building this wooden chicken coop. It will cost you next to nothing due to being made of recycled pallets. Build the basic frame with the wooden pallets, sheath the frame by covering with tar paper, and finish with cedar shakes for a shingled look. instructables
2. 4×8 Wood Pallets Chicken Coop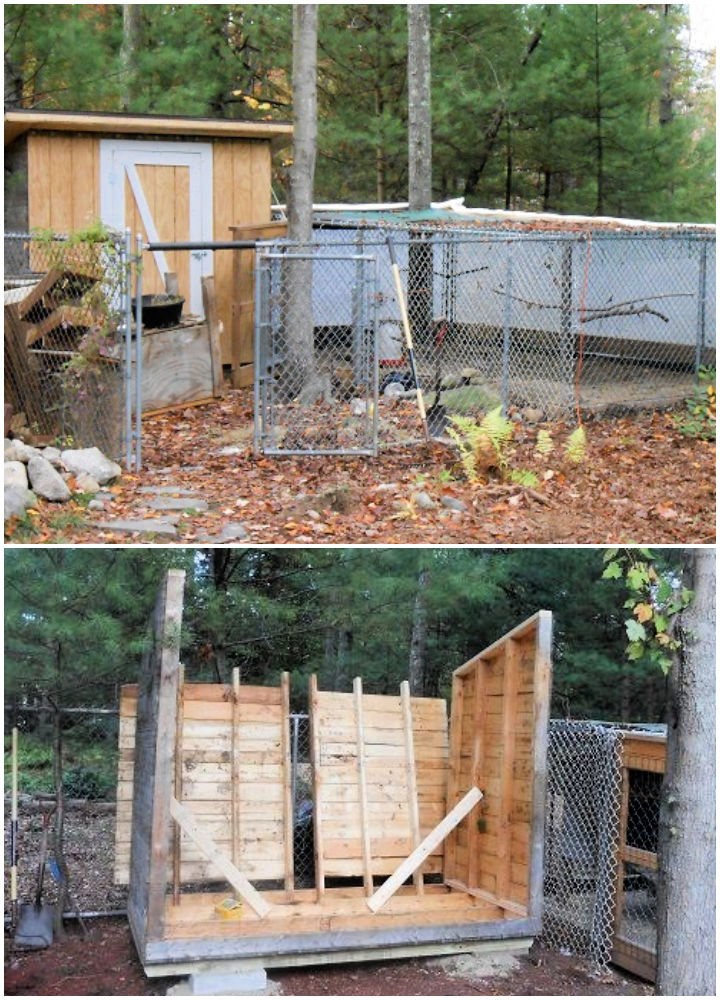 Build the base of this wide chicken coop with 4×8 pallets and also with the 4x4s pressure treated wooden posts. The roof is 6′ x 10′. Fence this chicken coop and insulate with the plywood. Install a door providing a way to the chicken run and finish by adding perches inside and also build a nesting box. backyardchickens
3. How to Build a Pallet Chicken Coop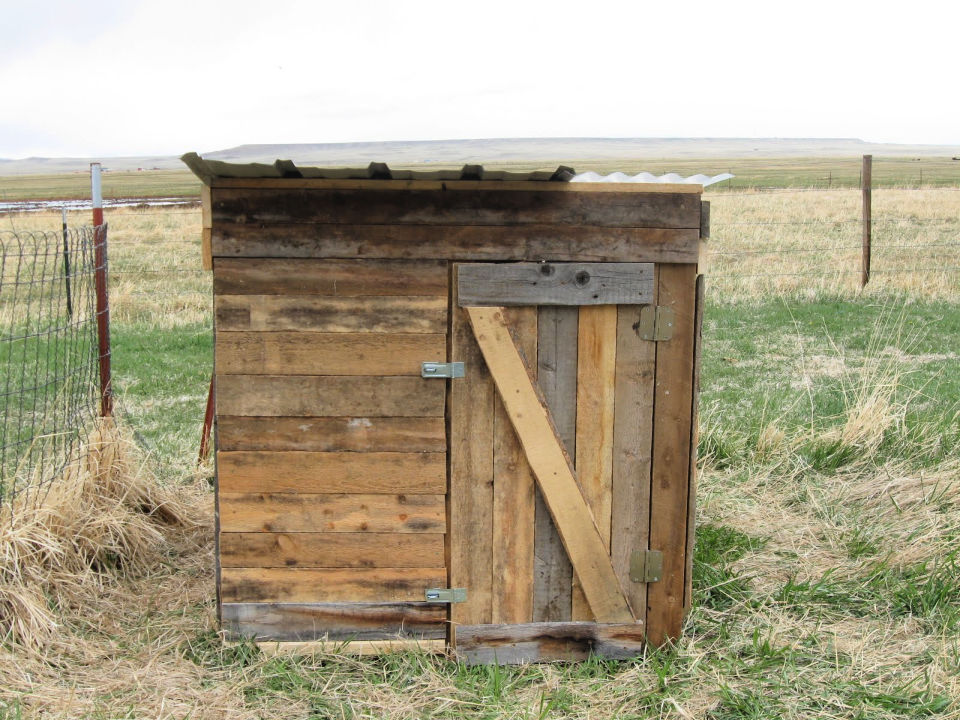 You will build this wooden pallet chicken coop that is wholly made of free recycled pallets. It features a tiled roof and a graceful main entrance. Some recycled 1x4s have also been used to build up this chicken house, the is durable and makes a lovely weatherproof cave for the meat birds. Details here aranchmom
4. Chicken Coop from Recycled Wood Pallets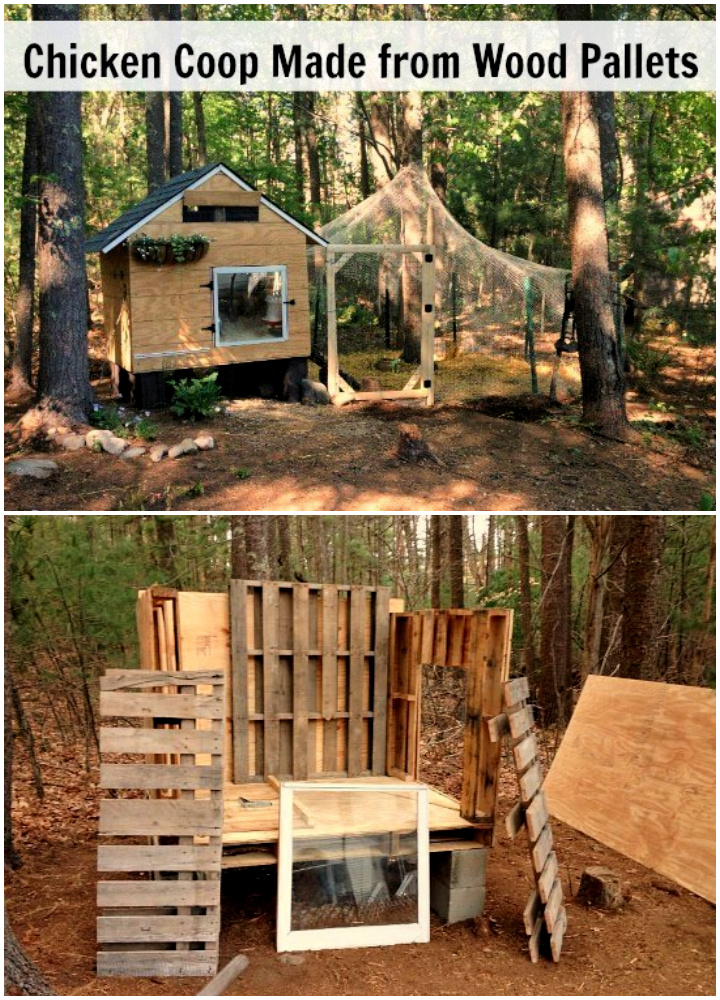 Most of this chicken house is made of recycled materials. Go smartly handmade with free recycled pallets and a repurposed glass window to build the primary frame Sheath the frame and install the chevron bungalow-style shingled roof. Make it a little off the ground using concrete supports. Details here onehundreddoll
5. Chicken Coop Out of Recycled Pallets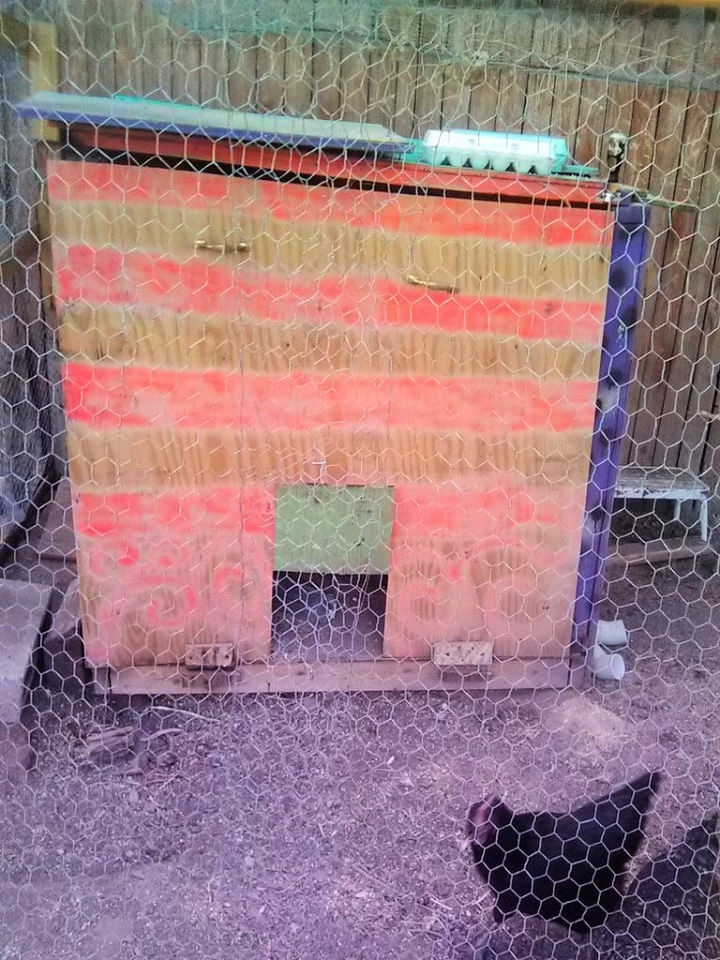 Don't leave the scrap woods and free pallets to rot, just upcycle them to build this chicken coop that can be finished with a custom water and weatherproof top. This chicken house comes in a miniature size and offers PVC pipe chicken feeders. Fence it with chicken wire and add a flipping down the hinged door. Details here instructables
6. Functional Pallet Chicken Coop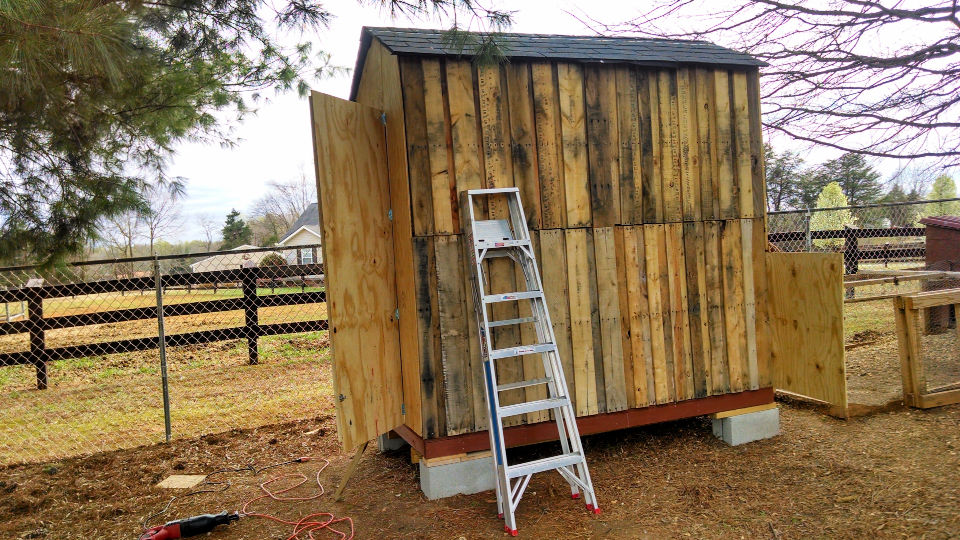 Get here professional, free plans and instructions to build a functional wooden pallet chicken coop. Start building it by making first a 4′ x 8′ floor frame using 2x4s, next cover it up with plywood. Next, install the mid, front, and back frames and cover them up with pallets making a chicken coop. Make the chevron roof using plywood, tar paper and shingles. summersacres
7. Build a Chicken Coop from Pallets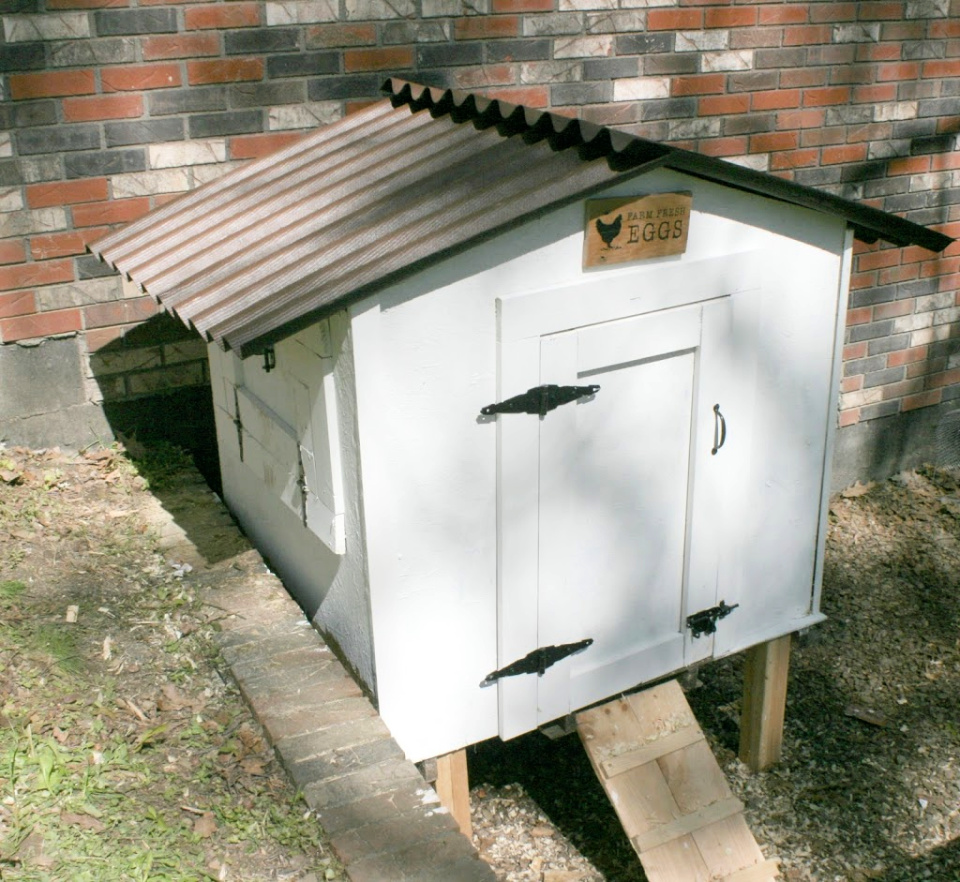 A cuter version of the homemade chicken coop, personalized with a wooden chicken nameplate. Raise a whole pallet skid on 4x4s wooden post legs and then arrange the pallets vertically to build the side walls. Sheath the chicken coop side frames with plywood. Finish by install a ramp, roosting and egg lying section. Details here rootsandwings
8. Judys Free Pallet Chicken Coop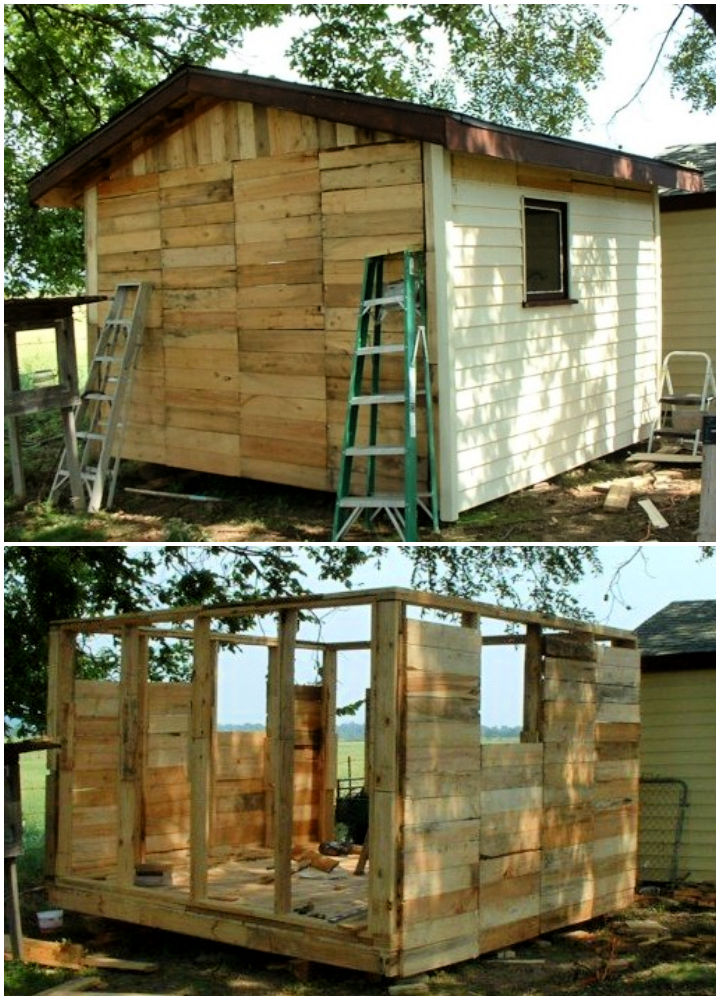 Start the poultry on a mini scale by building this wooden hen house. From the solid wooden floor to primary skeleton, this Judys chicken coop is made of 1x6s wooden boards. Use the pallets to fill solid the primary skeleton and then sheath the frame. Install metallic or shingled chevron roof and also create a shingled appeal of the entire henhouse using extra wood. backyardchickens
9. Chicken Coop Out Of Pallets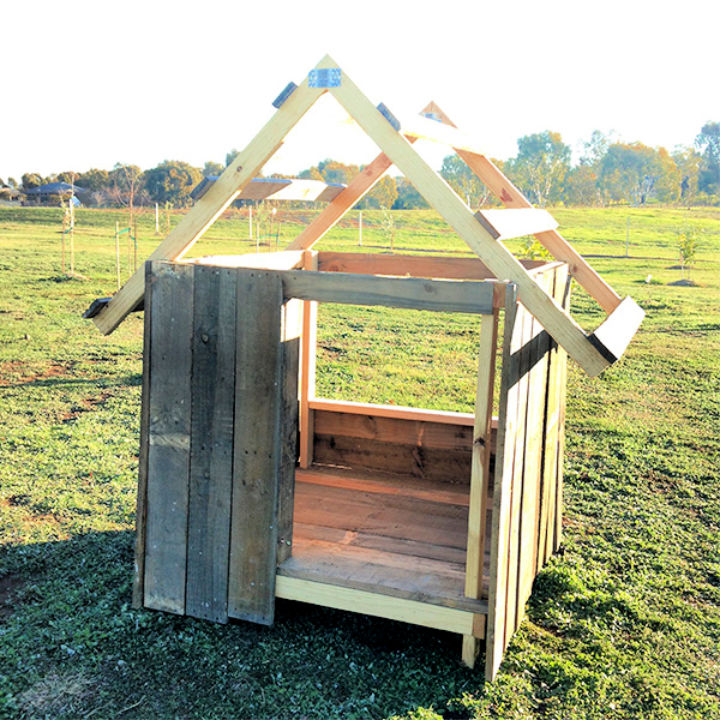 Building this chicken coop demands first to build a primary skeleton. So, plan out the model and then use the 2x4s or other similar wood planks to build the primary frame. Next, fill the frame solid with separated apart pallet wood slats. Dismantle the pallets using a pry bar. Details here scrapsoffive
10. Chicken Coop from a Pile Of Pallets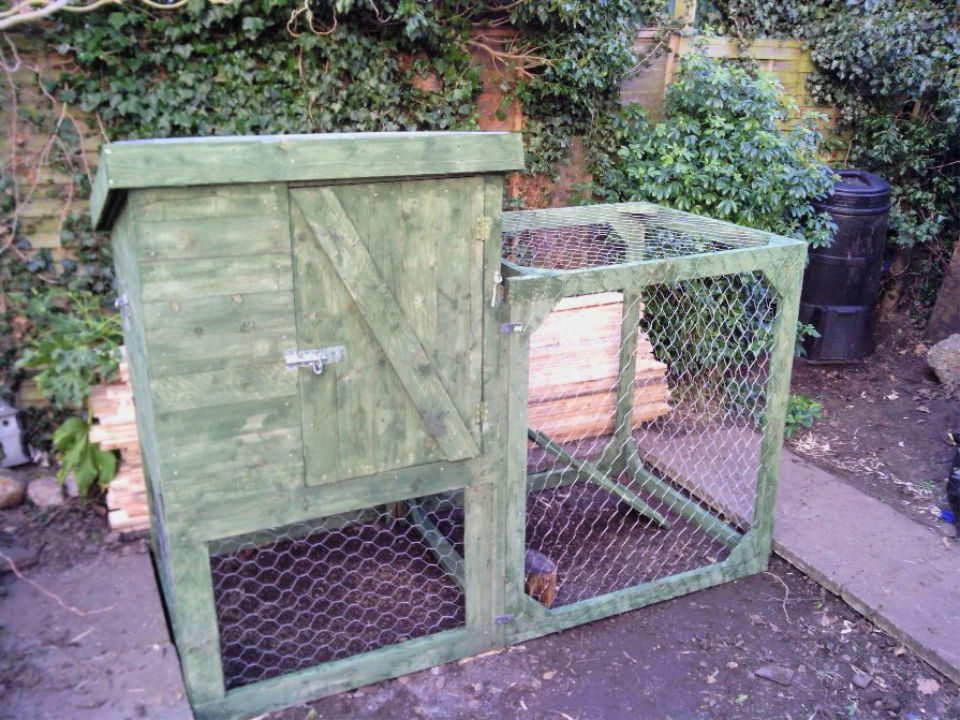 Opt for the hen house to make your chickens live the luxury. This handsome design of hand-built chicken coop comes with an attached chicken run fenced with chicken wire. Along with a greenish appeal, it provides a tilted roof, a nesting box and all inside that a hen house should have. Details here shed and beyond
11. Sweetchickss Pallet Chicken Coop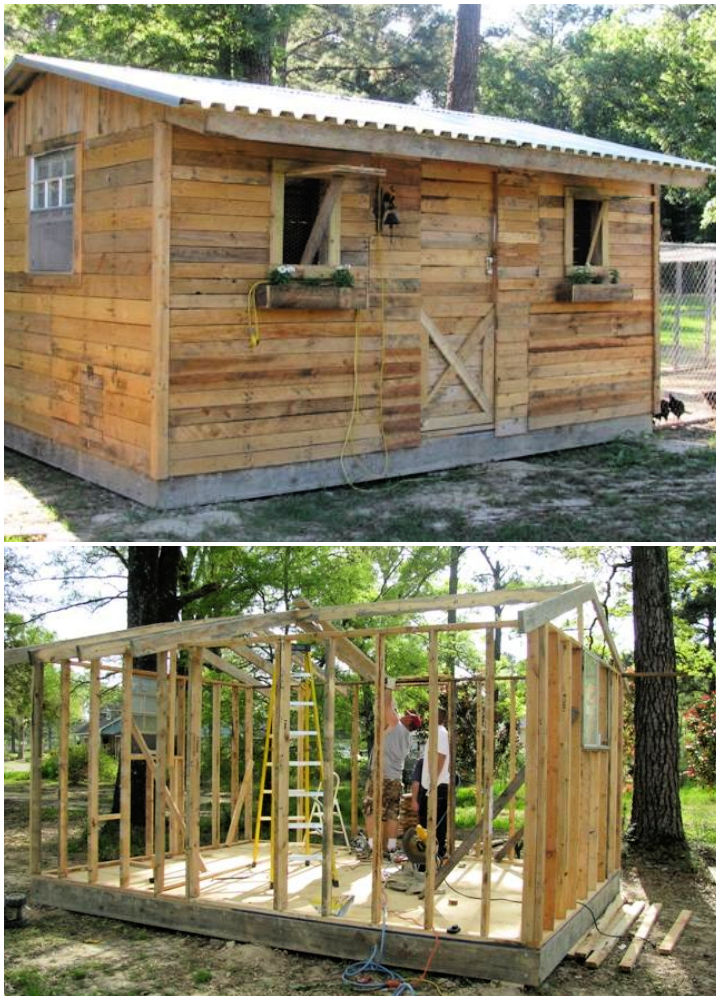 Start constructing bigger chicken coops using a pile of free pallet skids. Pry bar the pallets to gain a big pile and then start building it first by constructing a solid wooden floor. Next, frame up the walls and fill them up with separated apart pieces of pallets. For chevron roof, install the rafters and finish with your favorite metal or wooden roof. Details here backyardchickens
12. Homemade Pallet Wood Chicken Coop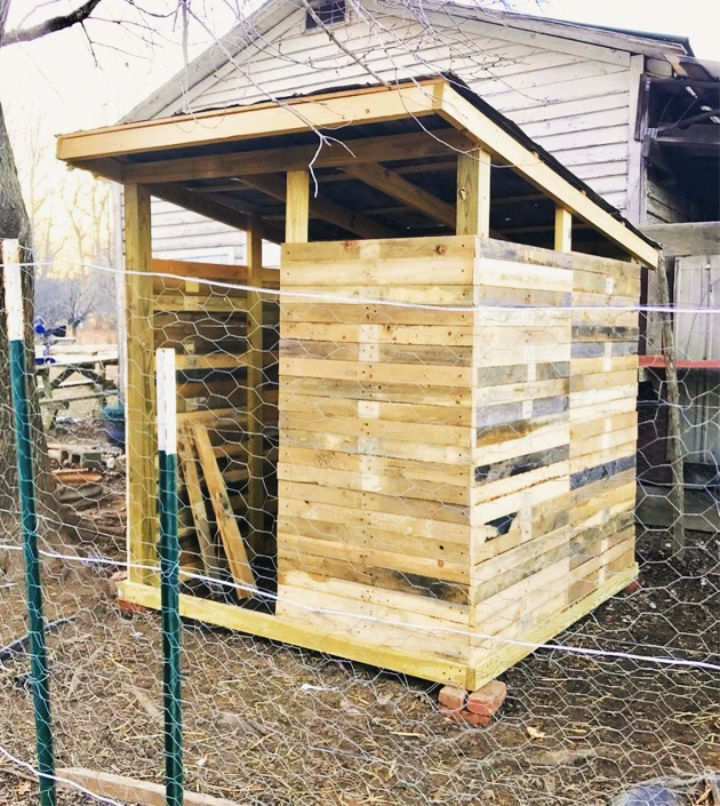 You need here the 2x4s, 4x4s and wooden pallet slats to build this hen house that is looking just outstanding. Put flat the wooden pallet skids to build the floor and next, install the roof pillars and corner supports and then install the tilted roof. Fence it up with the chicken wire. ladyleeshome
13. $20.00 Chicken Tractor and Coop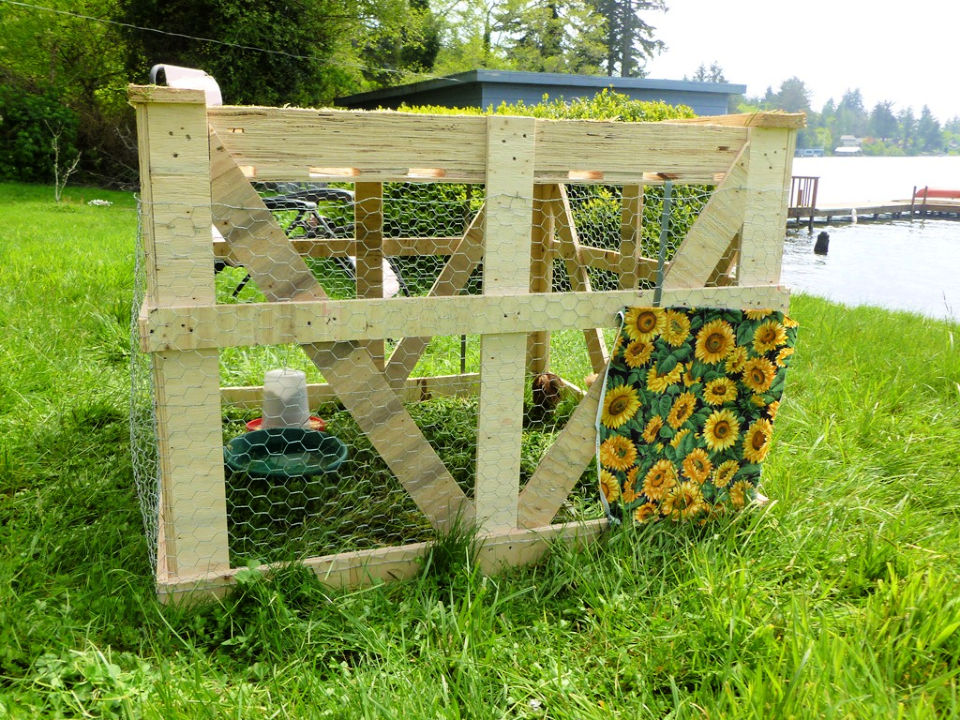 This chicken coop is dual functional and will allow your chicken to access the grass directly. It will cost you $20 to build this chicken coop that will serve as a chicken tractor too. You need pallets, chicken wire and plywood to build this fantastic functional hen house. Details here pebblekeeper
14. Building a Pallet Wood Chicken Coop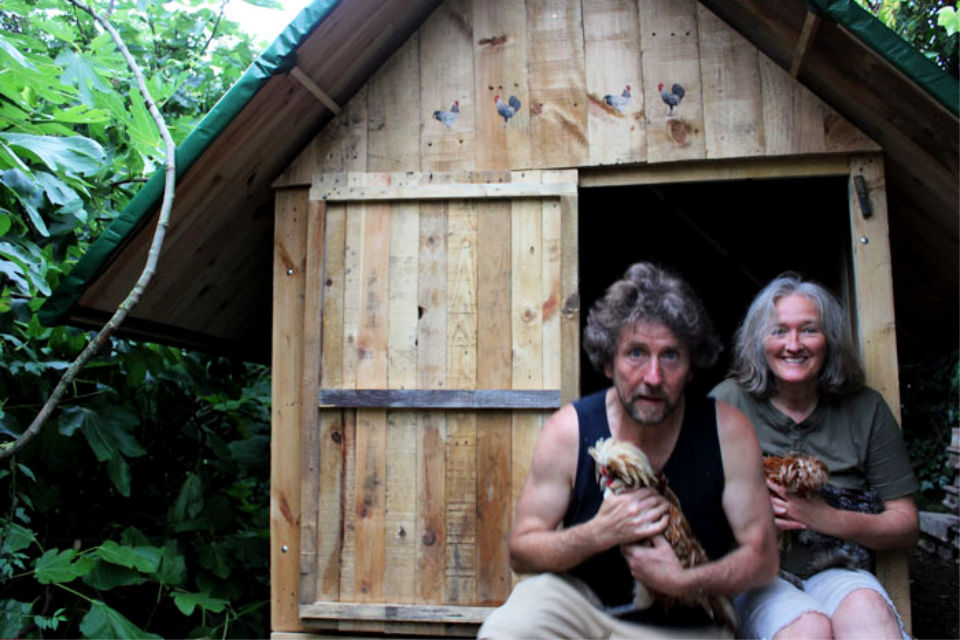 Willing to raise your own chicken for a fresh meat supply? Then start your poultry with zero investment by building this free of cost wooden pallet chicken coop. It comes with a bungalow style design and also with a chevron roof. A handsome achievement done with pallet wood. homegrown
15. How to Make a Pallet Chicken Coop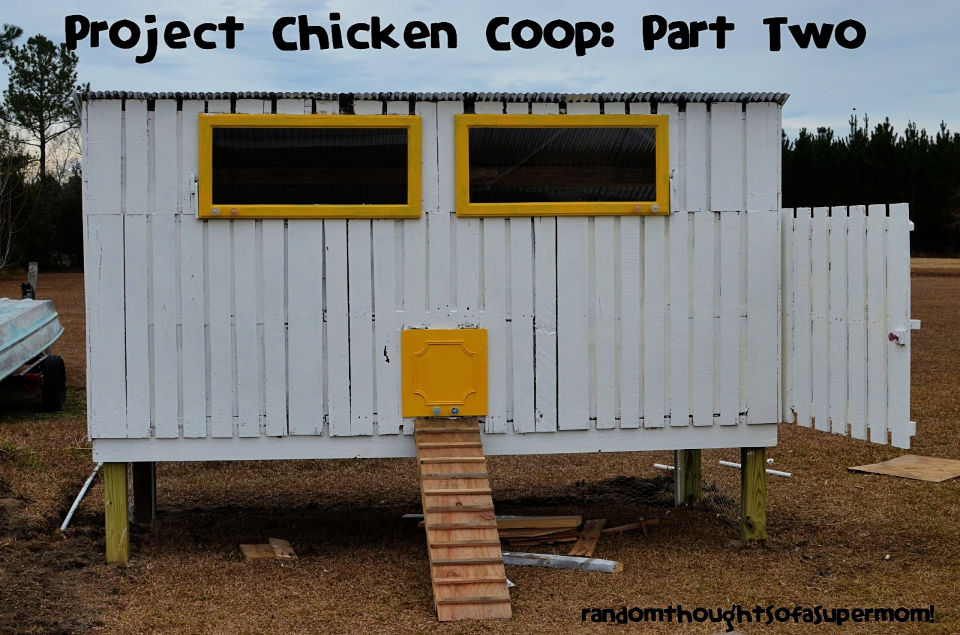 Building hen house with the free pallets is a hot trend, not gone through it yet? Then get free step-by=-step instructions from here to build a chicken coop like a pro. Build the primary frame with pallets, sheath them with plywood and finish with a tilted corrugated metal roof. Details here the wilso -world
16. Simple Chicken Coop from Pallets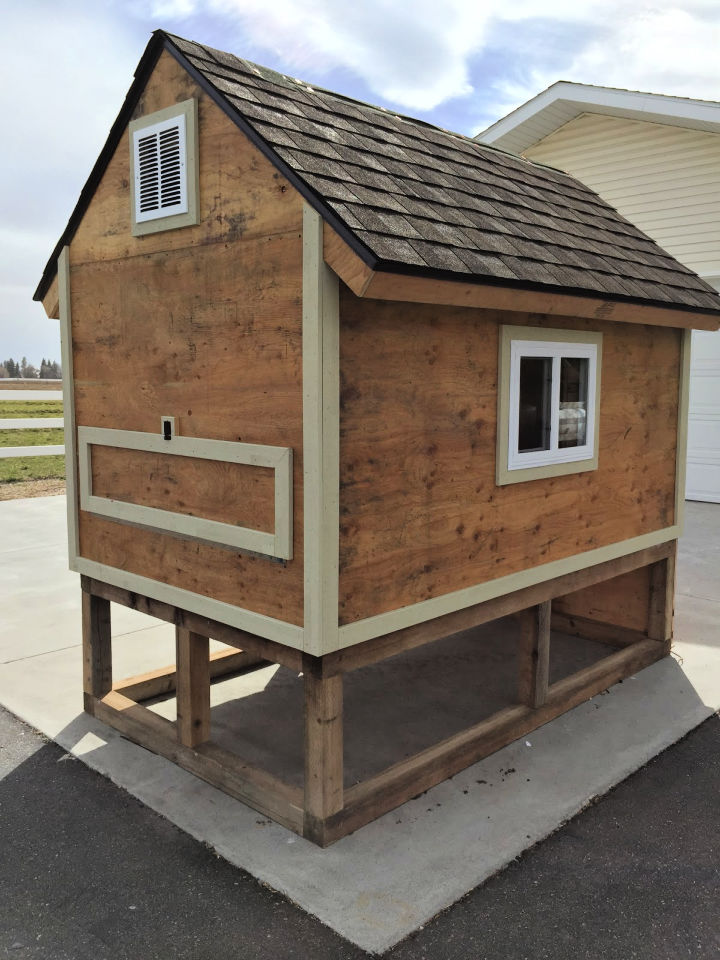 From simple to advanced, get all the pallet chicken coop plans from here. This is just like a mini luxury house for the chicken that features a plain solid wooden structure and shingled chevron roof. Build the bottom frame with 4x4s wood slats and then build the whole with giant pallets even the chevron roof. Decorate and paint in the way you like. avisiontorem
17. 3 Recycled Pallets Chicken Coop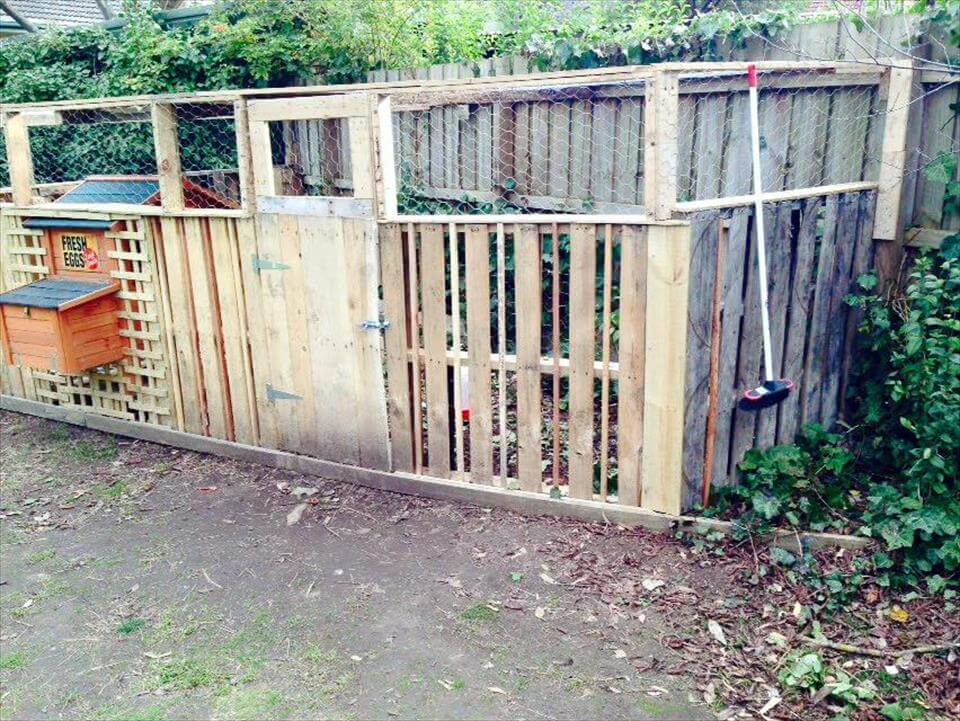 You will just love the miniature cute design of this wooden pallet chicken coop. It features an easy to make design and a strong fence. It stands on a solid pallet base and is darn easy to build with free pallets. Put together wooden pallets making a strong structure then sheath them with plywood. Easy Pallet Ideas
18. Chicken Coop on a Pallet Foundation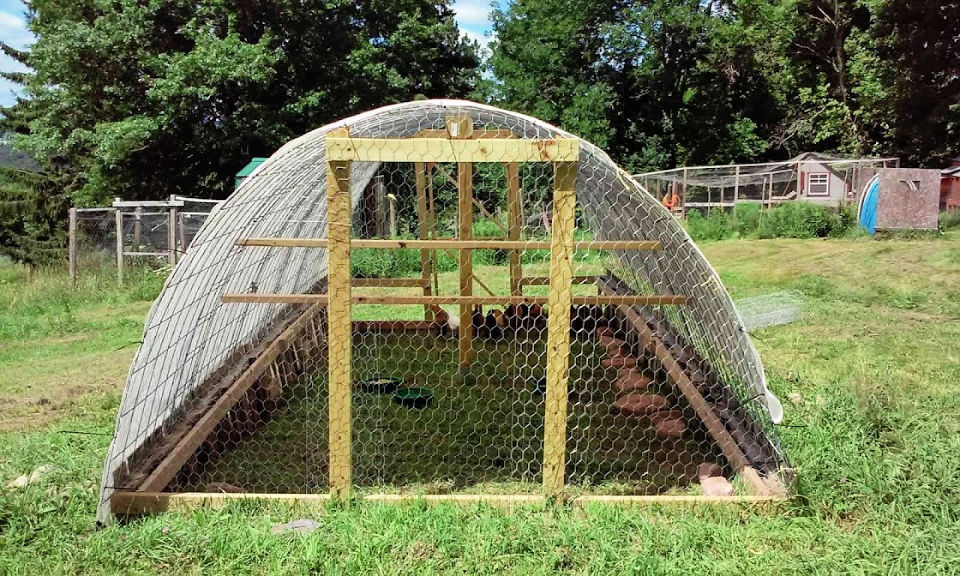 Cut the pallets into custom pieces that you can fix in the garden ground as cool little fence panels. Here they will serve as a great foundation for a chicken coop. Connect both ends of the pallet foundation using 2x4s boards. Next, install the door frame and dome-style cattle panels. Cover the roof with a tarp for weatherproofing. redfeatherfarm
19. Pallet & Recycled Wood Chicken Coop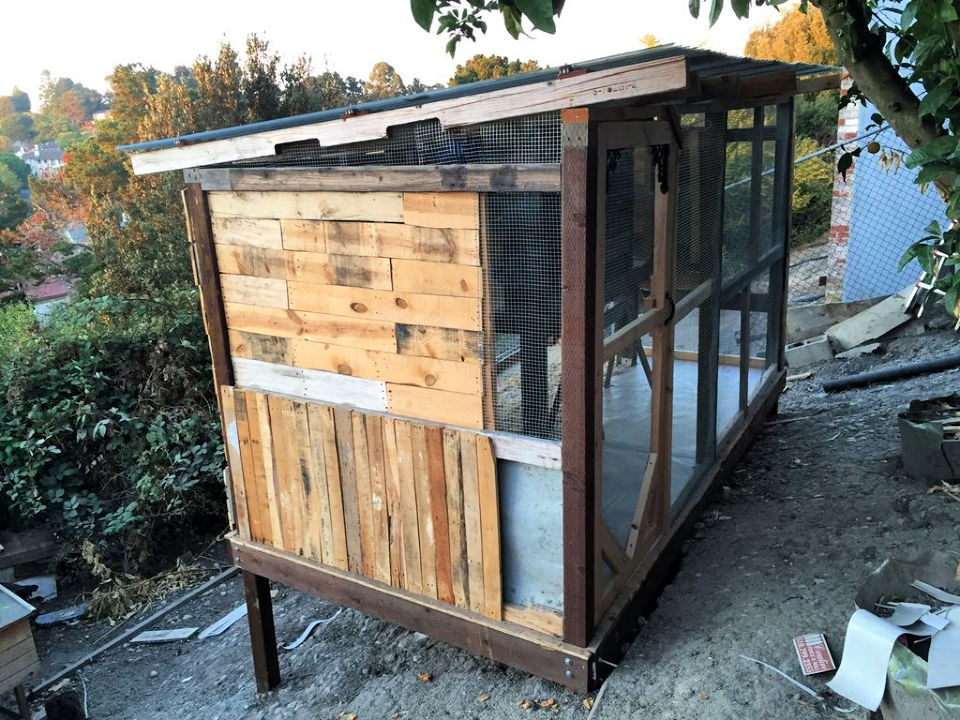 Start building this wooden chicken coop by installing first the posts. Dig holes, fix your posts in them, and pour concrete in. Frame up the sides, fill them up solid with pallets and install the corrugated metal roof. Next, install the nesting box, sleeping area, and other features. Details here instructables
20. Pallet Coop for Chickens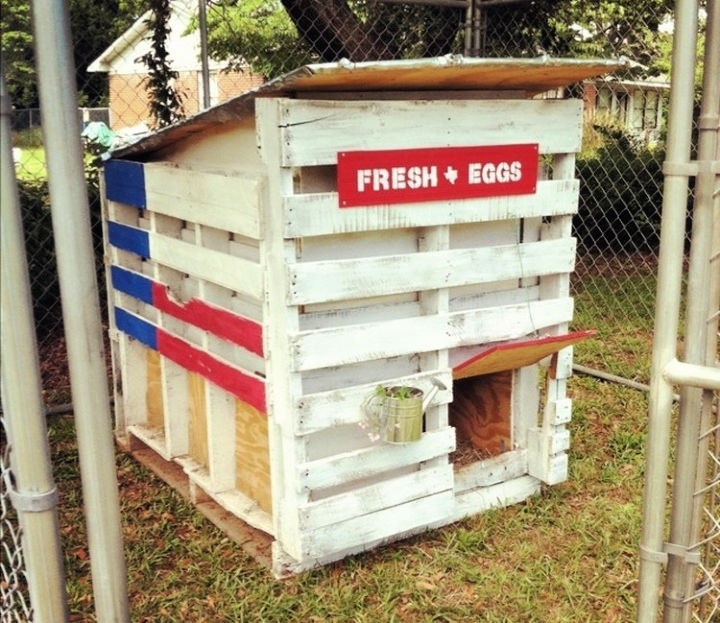 Use mostly the whole and uncut pallets to build this chicken coop. It features a tiled roof, a painted appearance, and a tiled roof. Sheath your design with plywood and then install the other features like nesting box and sleeping section. Personalize the design by adding custom nameplates. Details here
21. Chicken Coops Made from Pallets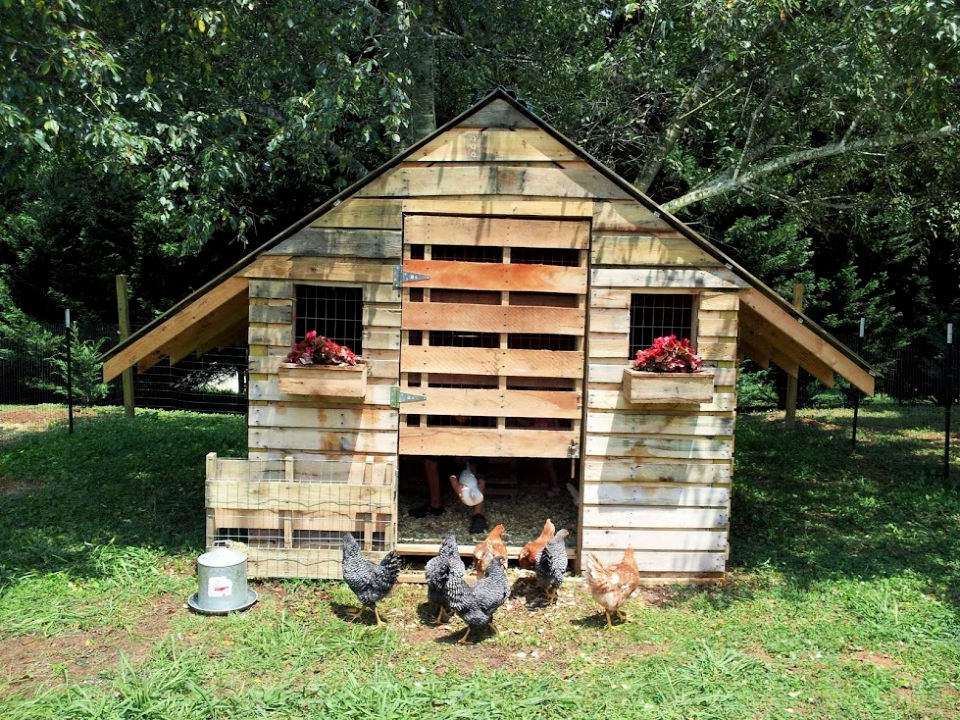 Turn to raise chicken into a big fun by building this chicken coop, can easily be made with pallets. It features a chevron roof, two windows, a nice inner section to safely house the meat birds. The shingled design will impress at a very first look. Next, also use a pallet skid to install a hinged door too.
22. Wood Pallet Chicken Coop
One will surely fall in love with this wooden pallet chicken coop that comes with a miniature design. Put together the wood slats to build first the primary skeleton and then fill the design solid with separated apart pallet wood slats. Add windows and finish with a nameplate. Details here
23. Chicken Pallet Scratch Coop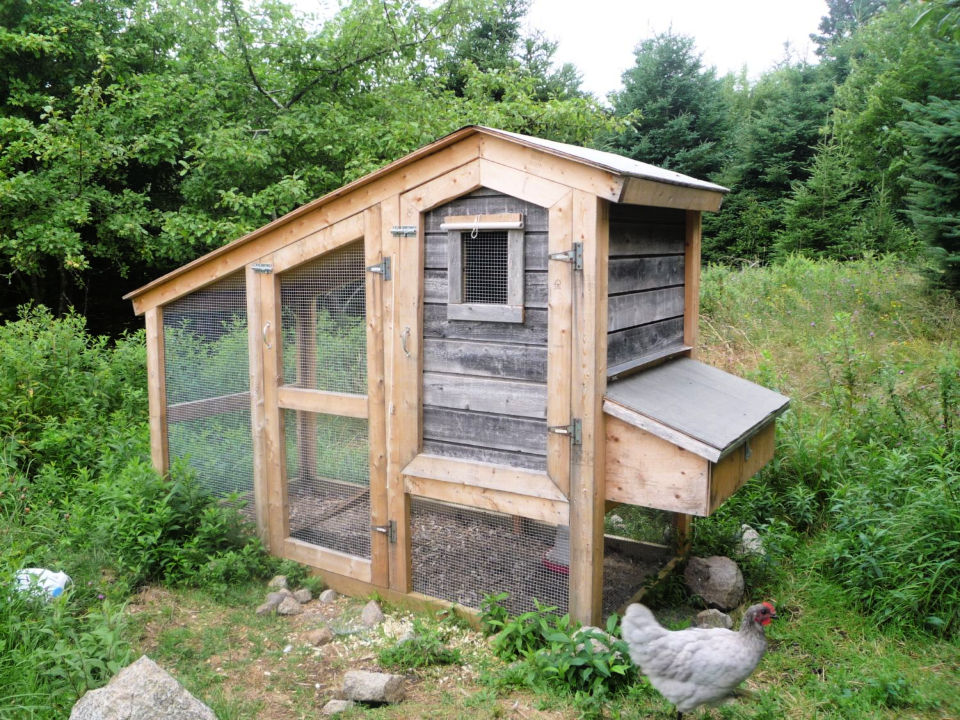 Every poultry lover will drool over this chicken pallet scratch coop. It provides an attached chicken run and offers a door to get in the main chicken coop. One of the best chicken coop designs to build with free pallets. It provides a nesting box at the backside and will not let the rainwater retaining due to a chevron roof. Details here
24. Best Pallet Chicken Coop
A genius pallet wood creation, a hen house with succulent planter tilted roof. The design is mini but comes with all the chicken coop signature features. Along with inside roosting and egg-laying sections, it provides windows an attached chicken run and a cool ramp too.
25. Backyard Pallet Chicken Coops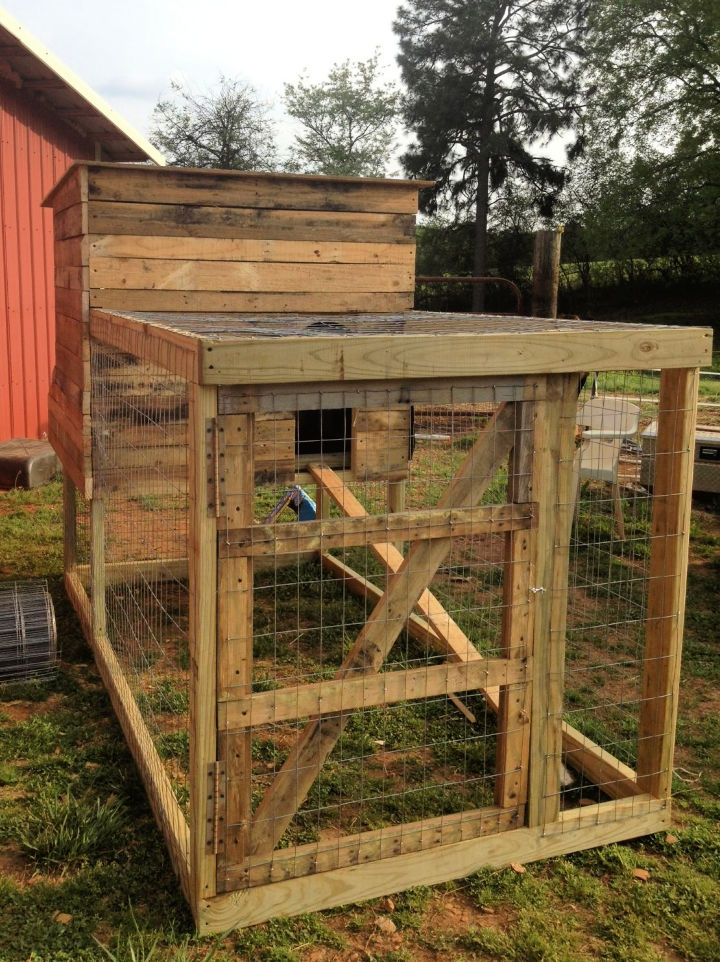 Another handsome pallet wood creation, a gorgeous looking wooden pallet chicken coop that will bring the raising chicken game to the next level. Build first the chicken coop and then install an attached chicken run, should be covered or fenced with chicken wire. Details here
Conclusion:
These DIY chicken coop plans will be a total help if you want to start your poultry business on a mini scale. Just get busy with the old woods and pallets and build almost no-cost models of hen houses, which will help you safely raise your chickens. So, you will get a fresh supply of chicken and eggs. The step-by-step instructions and visual tutorials will guide you through each step like framing, sheathing, flooring, fencing, and roofing.