We just get attracted to soft flames of candles by nature. They are to make us feel more romantic and hence are often to be on the dining table. Learn how to make a candle holder by following these 15 easy DIY wooden candle holders that are fast, frugal, and fantastic to make at home. Just head over to those scraps of wood lying in home and start doing building these candle stands that are guaranteed to give to tea lights, taper candles, and pillar candles an impressive height. So, they will emerge as the hottest light centerpieces if put together. Maybe you are willing to see some practical demonstration. If yes, then simply head over to these 15 DIY Wood Candle Holders that contain the readymade samples too matching to every decor theme of your home.
The list shares making adorable DIY candle holders using square wood posts and wood longs and all things in between.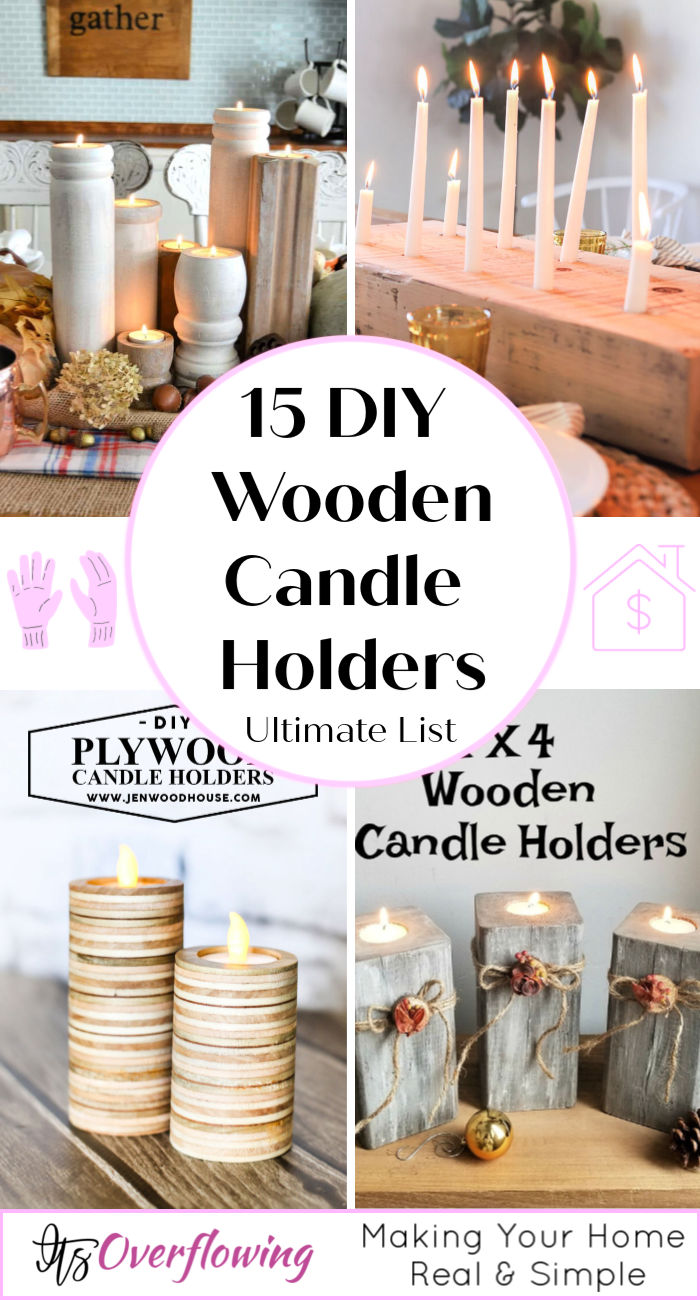 From modern to rustic to nautical, these DIY wooden candle holders provide step-by-step instructions and tutorials to build wooden candle holders matching to every decor theme. The major step in making these wooden candles is to take the lengths of wood logs or square wood posts, and then to drill holes in their top using spade bit or Forstner bit. Finally, you can fit the tea light or taper candles in them. Furthermore, use the recycled skateboards to make lovely wooden candle holders even in geometrical shapes. Repurpose old furniture legs to make sweet candle stands and also use the wooden bowls to make sweet wooden candle holders.
1. Scrap Plywood Candle Holders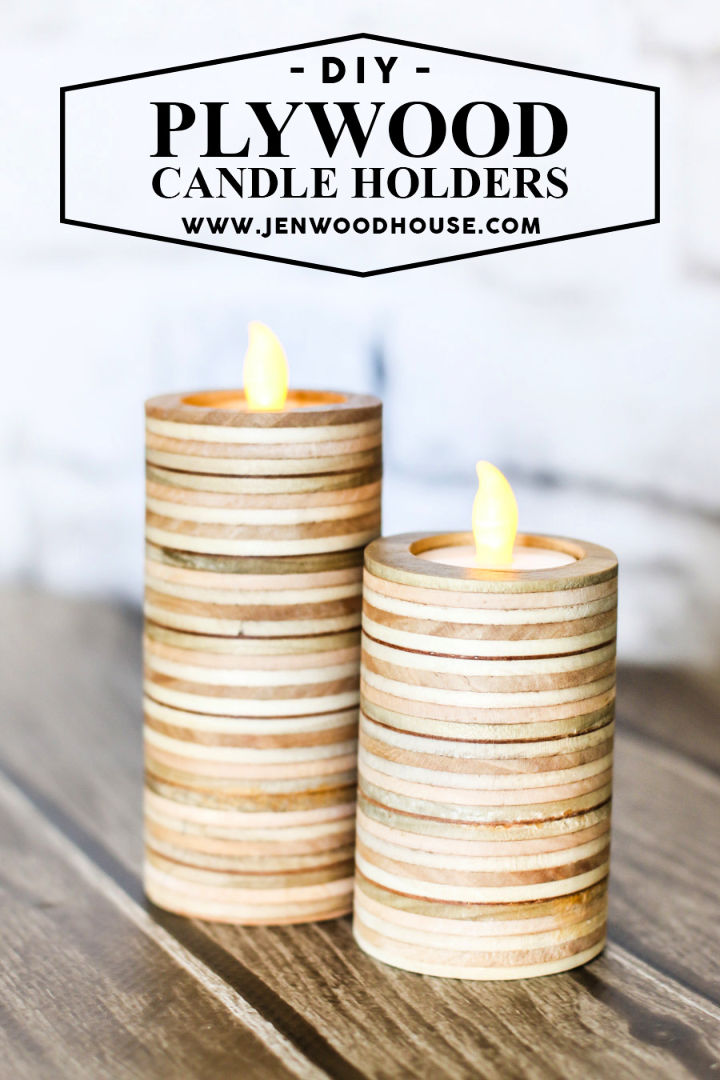 Make fantastic looking wooden candle holders out of leftover plywood. Use a hole saw and cut out plywood cookies, stack them and glue in place to get a cylindrical shape. Next, use the 1 1/2" Forstner bit to drill the hole to make the tea lights sit easily in these candle holders. Details here jenwoodhouse
2. Geometric Wooden Candle Holders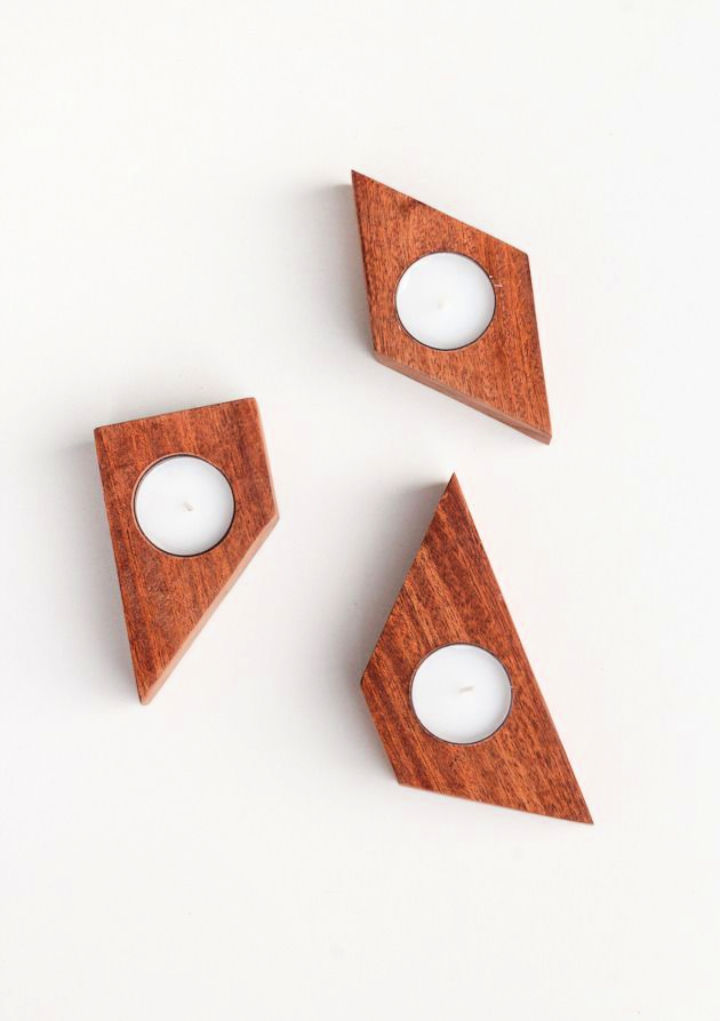 Are you obsessed with the geometrical decors, then do satisfy your craze for them by making these geometric wooden candle holders. Cut the geometrical pieces down from a 1 1/2" thick wood slat. Next, use a spade bit and drill big holes in the center to fit the tea light candles inside. Details here curbly
3. Wood Candle Holder from Skateboard Veneer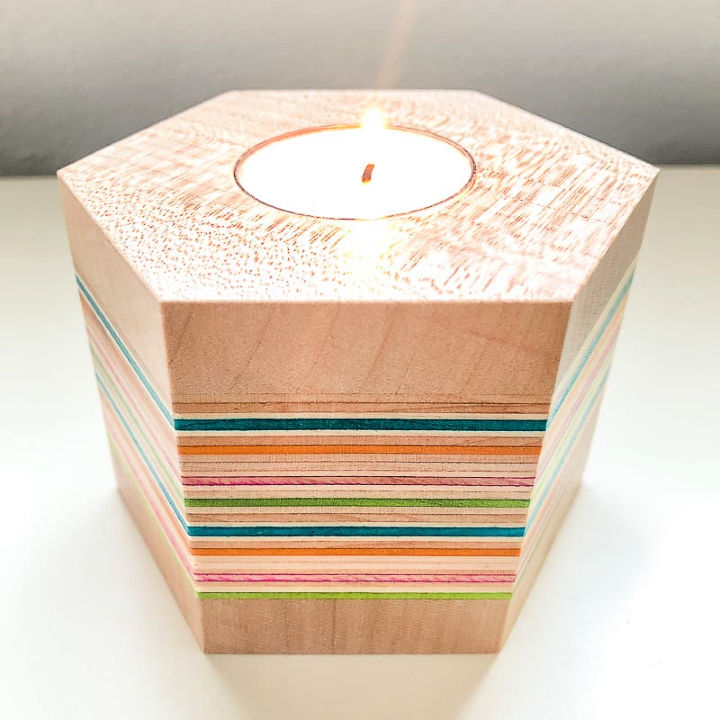 Make also fantastic geometrical wooden candle holders out of recycled skateboards, will complete super quickly. Just take the skateboard veneer into square sizes and stack them to a decent height. Next, draw a hexagon on the top and remove the rest of the wood. Use a Forstner bit to cut the hole out for tea light candle fittings. thehandymansda
4. Wooden Candle Holders
Do you have anything to do with the old chair legs? Repurpose them to make lovely wooden candle holders, will make the best light decor centerpieces. Add up the salvaged table legs with 4×4 fence caps to one end and terracotta saucers to another end. Load plastic plates, floral, your favorite faux flowers, and then your decorative candles. Don't forget to paint your completed candle holders for a chic white appeal. salvagedinspira
5. Tree Branch Wood Candle Holders
Satisfy your cravings for enchanting rustic decors using these tree branch wood candle holders, will surely impress at a very first look. Just take the 2", 5" and 7" wood log sizes with 3" diameter. And cut out 1/2" deep holes in them using a 1 1/2" bit drill. Fit the tea candle lights in, and here you go. thespiffycookie
6. Wooden House Candle Holders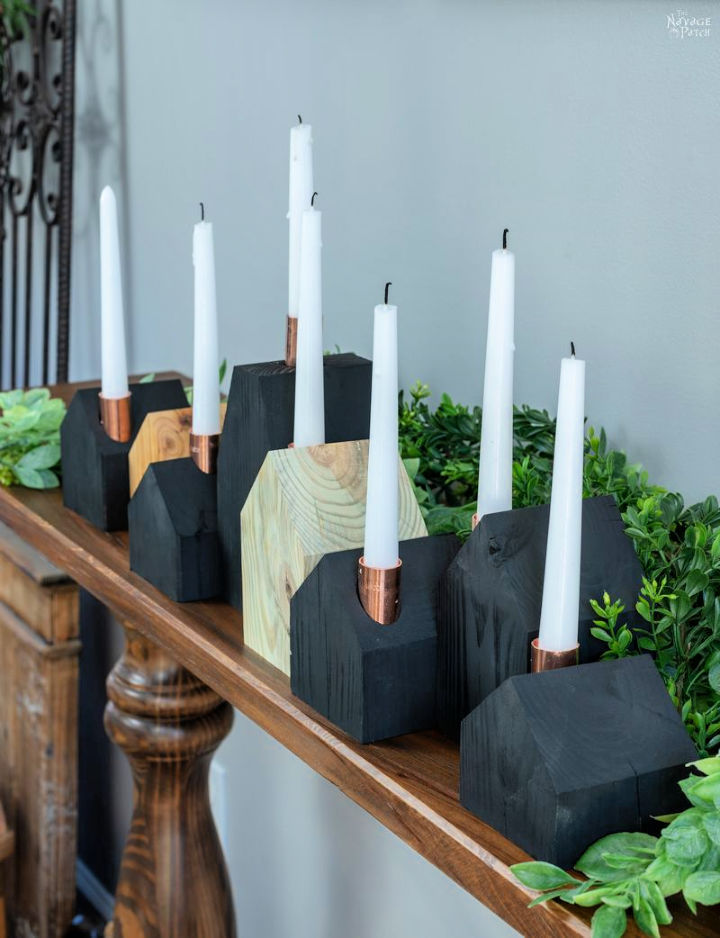 Opt for this enchanting candlelight centerpiece that will make an occasional perfect decor. Just cut the 4×4 wooden posts to desired length sizes and then give sharp angle cuts to their topsides for a chevron shape, it will look like a house then. Use a 1" Forstner drill bit to drill deep holes in sides, fit copper couplings in and make them hold long slim candles. Put the faux greenery all around for an enhanced visual impact. thenavagepatch
7. Wood Candle Holder Using an Old Beam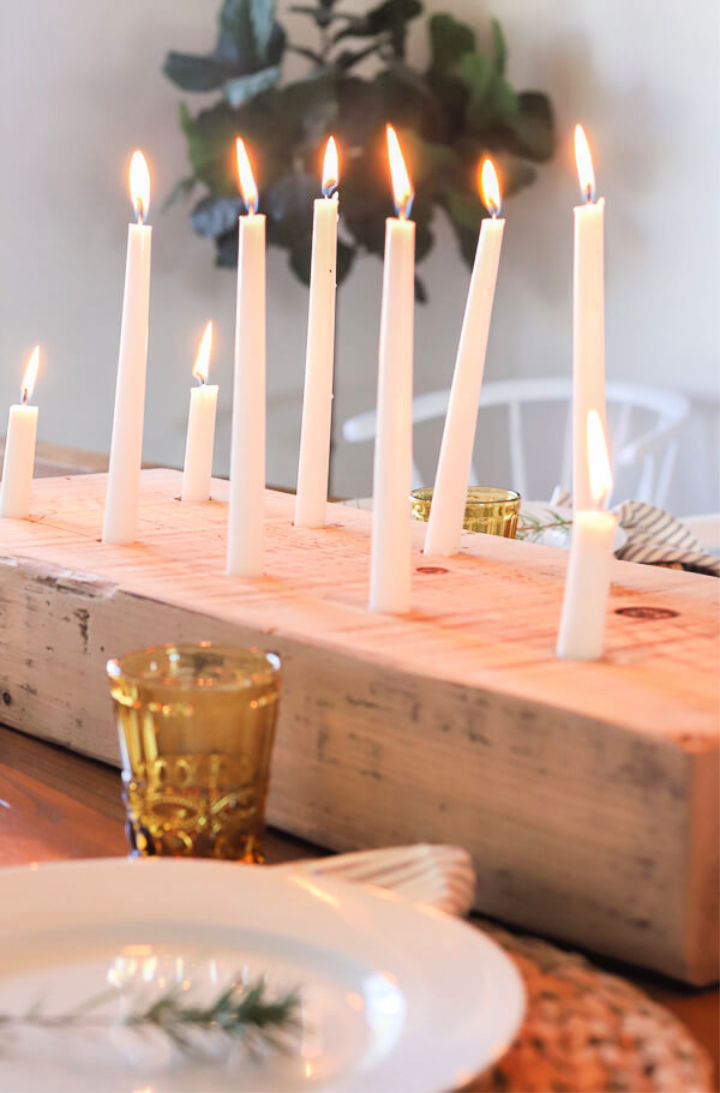 Make your guests say a big wow by setting this wooden candle holder on your dining table. Make it using a large wood beam, drill holes in it to fit the long slim candles in, and gain an eccentric light candle centerpiece in no time. One of the best DIY Wooden Candle Holder project. Details here twelveonmain
8. 4×4 Wooden Candle Holders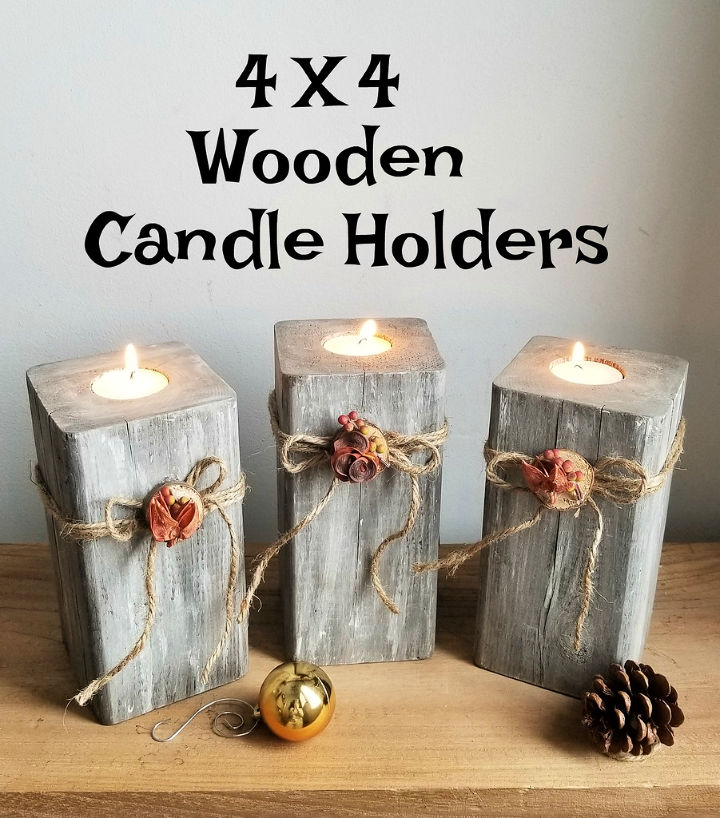 A one of the best rustic light decor centerpiece to make at home super quickly. Just grab the 4×4 wood posts and use a Forstner bit to dig a little deep hole in their tops so they can easily hold the tea candle lights in those holes. Use rustic twine for added rusticity. Details here turtlesandtails
9. Homemade Wooden Candle Holders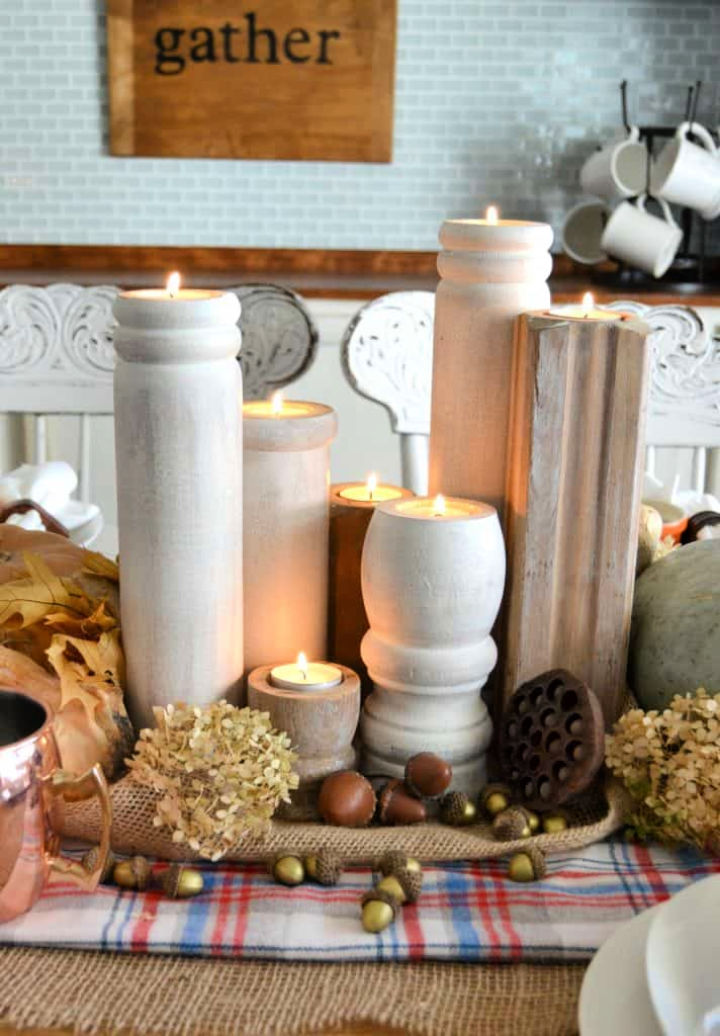 Make outstanding looking decorative wooden candle holders out of wood table legs too. Just trim the legs down or do cutting to take the part of the leg that looks most beautiful. Next, make the holes in their tops to fit tea candlelight or drill deeper holes to add copper couplings to holder long slim candles. mycreativedays
10. Birch Wood Candle Holders
Are you a big fan of the rustic yet modern type of decors? Then you will surely give ten out of to these lighted birch wood beauties. Take the birchwood logs of different desired sizes. Make deeper holes in their tops to fix the tea light candles and then adorn more with rustic embellishments if you like. oleanderandpalm
11. Wooden Bowl Candle Holder
Bring tons of visual details to your dining table with these wooden bowl candle holders, quite something quick and easy to make. Just pour the melted wax in the wooden bowls and then make the long slim candles stand in them to make super cute candle holders. Details here cherishedbliss
12. Wooden Taper Candleholders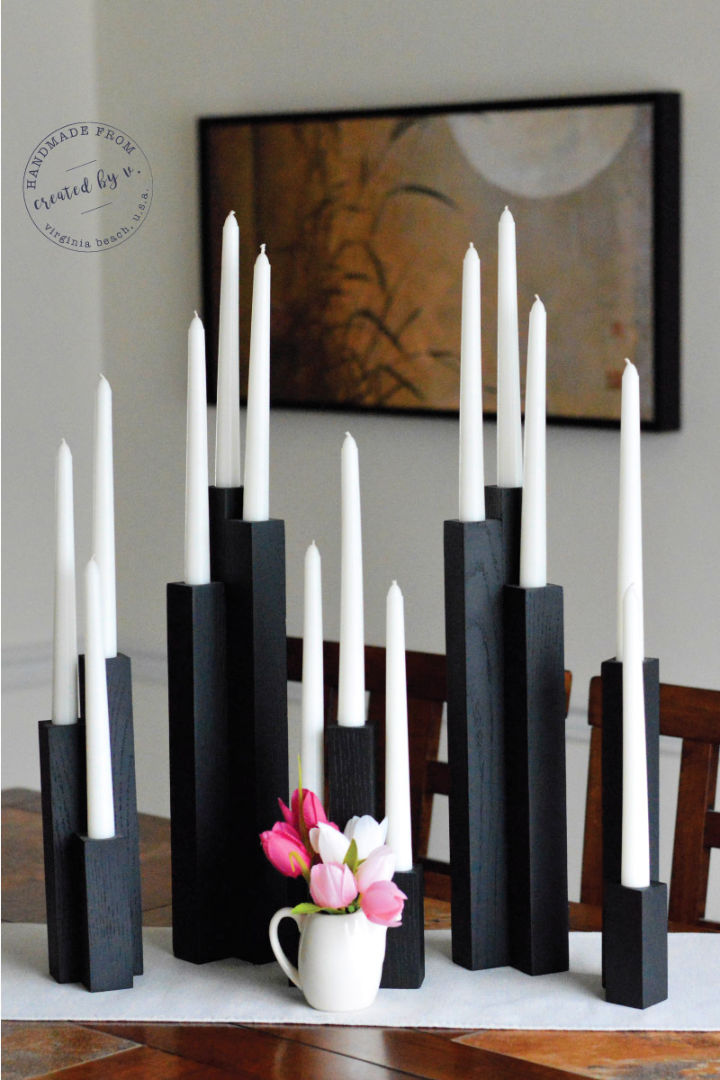 Adorn any shelf or top of a table with the assorted of these wooden taper candleholders, quite inexpensive to make. Use the 2" x 2" x 8′ furring strips and take them to size. Use primer and paint to paint them to match your decors and then drill holes in the top to fit the taper candle holders. createdbyv
13. Scrap Wood Candle Holder
Rock the beach-inspired decor theme of your home with these scrap wood aqua candle holders, quite something cute and inexpensive to make at home. Grab the 2" x 2" wood posts and take them to desired lengths. Drill the holes in their top using a 7/8" spade drill bit and finish with aqua paint. Details here anikasdiylife
14. Wooden Candle Holders
Use the round wooden discs or wood slices to make these lovely wooden candle holders, will surely impress at a very first look. Drill holes in the single or stacked painted wood slices and fit in the metallic candle holders. Make them hold the long pillar candles and adorn more with leather belt pieces. Details here instructables
15. Free Wooden Candle Holder Plan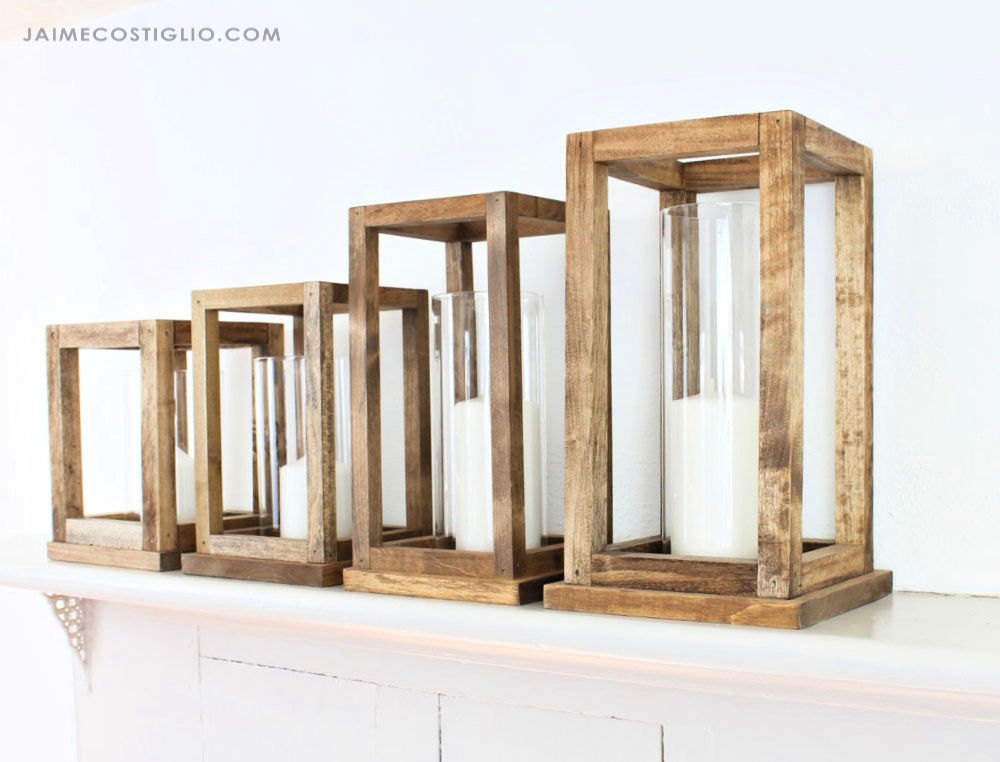 Rock your dining routines with these antique wooden candle holders, super quick and easy to make. Just build the open wooden cages using the lumber and then place the glass hurricanes in them, holding the pillar candles inside. One of the best wooden candle holder idea. Details here jaimecostiglio
We've gathered our favorite 150 small wood projects for you to tackle. These quicky, simple, and easy woodworking ideas are perfect for a fun afternoon.
Conclusion:
Do you love to set up the candle arrangements in your home for a festive mood? Then this will call for raising the candles to decent heights for a mesmerizing display. Let these DIY Wooden Candle Holders do this job. Build lovely candles stands out of recycled wood logs, plywood, table legs, and square wooden pots and put them together in various arrangements holding your candles to make sweet light decor centerpieces. Use faux flowers and greenery to put all around the DIY candle holders for added visual appeal and effect. Taking a round of all these DIY candle holder projects will just fill you up with creative DIY joy.