These 30 decorative and homemade DIY candle holders can spruce up your decor to a whole new level of "classy!" What's the point of buying candle holders from the market or he oh-so-expensive brands? One fall, and there goes your tons of money with it! However, if you choose to DIY, you can always make more informed, more economical, and creative decisions. A DIY candle holder can be pretty much anything you would want it to be. It can be your centerpiece, elevating the entire room or the dinner table all alone. It can be the scent and relaxing bath essential for all those long, salted bathes.
Most of these DIY candle holder ideas below will have you startled! Why? Well, you can buy the (almost) same piece at stores like Pottery Barn for not less than 30 dollars, and in these tutorials, you can learn to make DIY candle holders up all by yourself!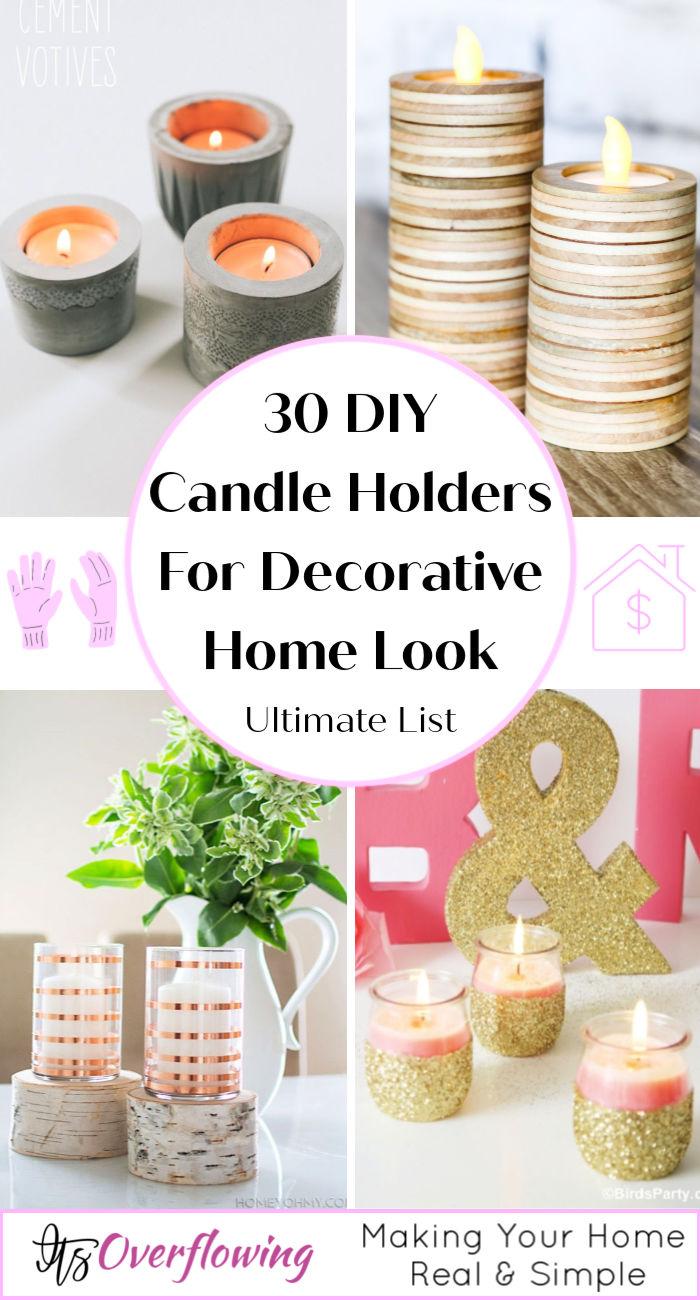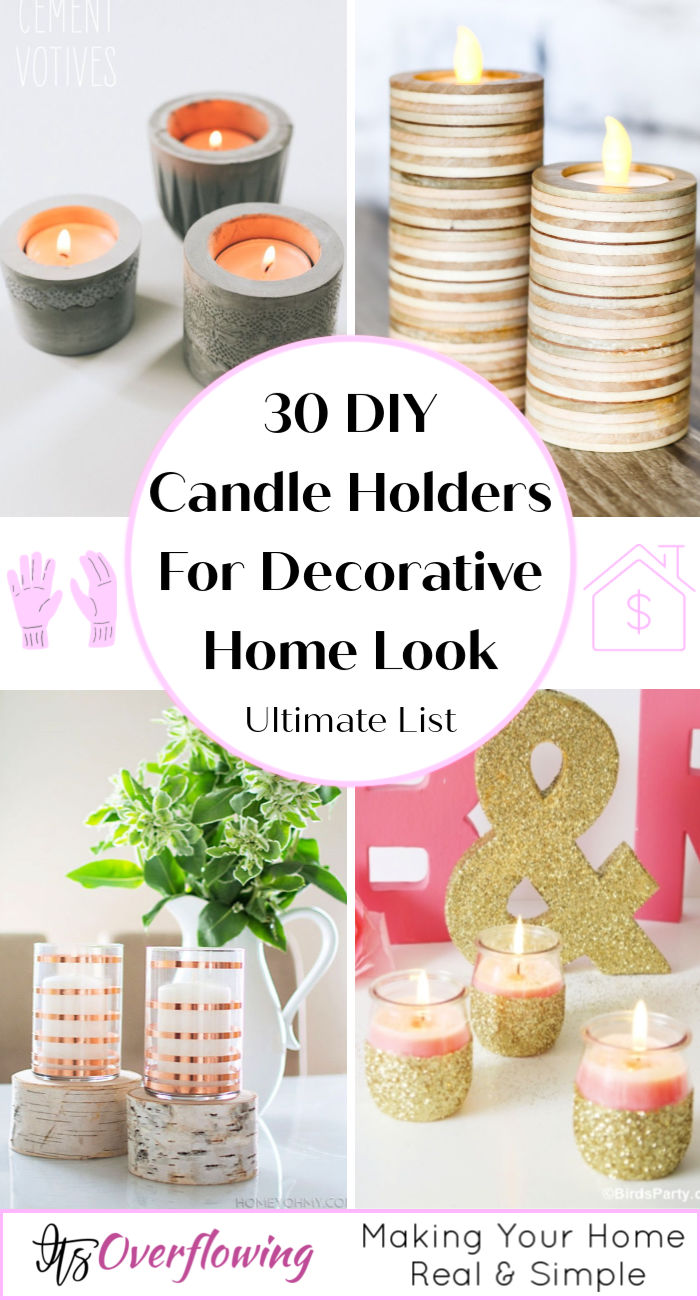 Without any doubt, we are ready to claim that you must have never seen as many exciting options as these 30 creative and decorative DIY candle holders wonders! Best part? None of these tutorials use extra difficult to procure supplies. You can make beautiful DIY candle holders using wood, tree stumps, copper pipes, mason jars, and a few more creative candle holder ideas! It's like raining creativity here.
You can beat a bad mood or a dull day with some snacks, a cozy blanket, and maybe some never-ending Netflix surfing, but it eventually stops soothing at one point or a two! Remedy that by lighting up a bunch of candles you made with your own hands. This will be a life-life reminder to beat the odds and keep going. Let's start making some hopeful decor statements, shall we?
1. Wood Candle Holders DIY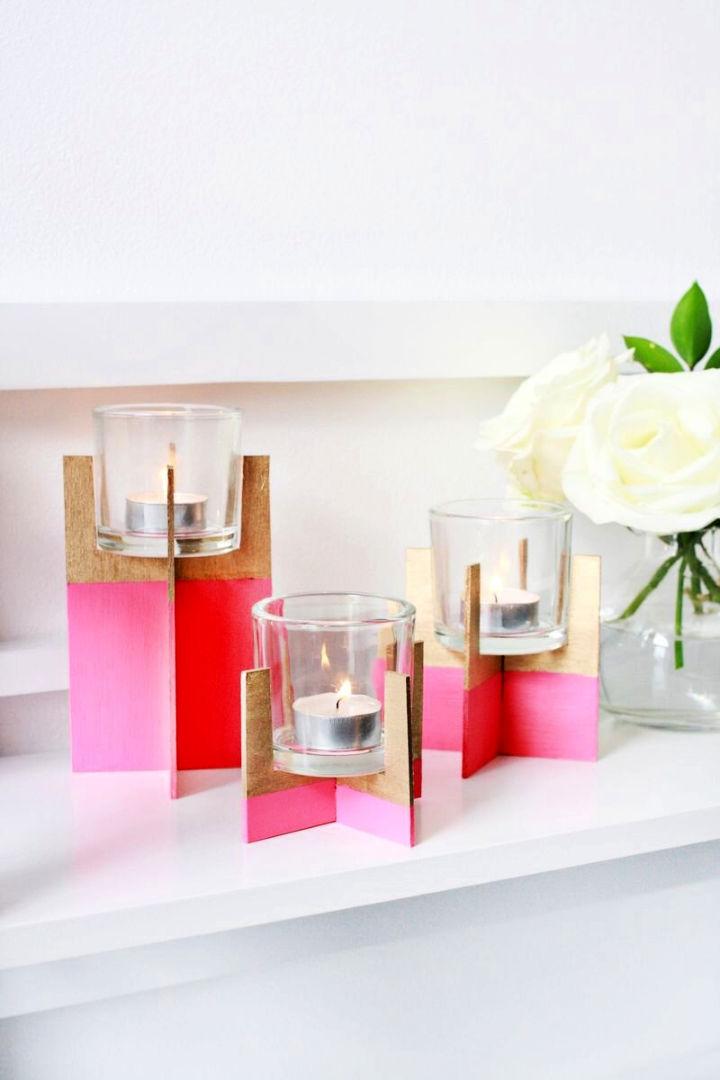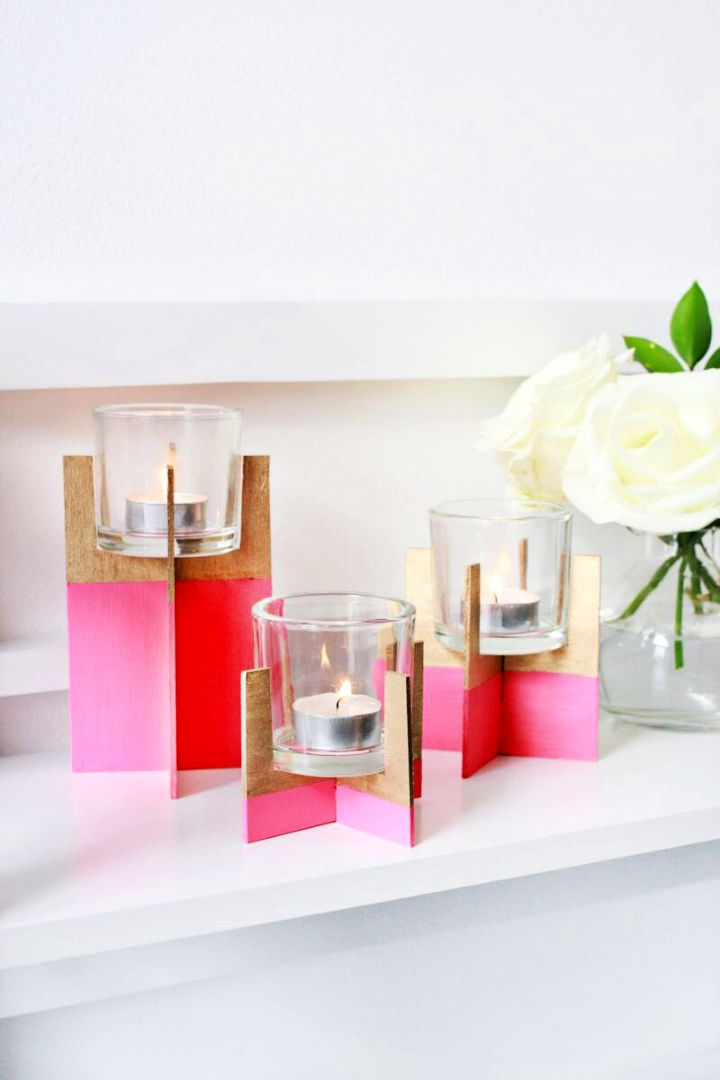 Candles are quick stress-relieving therapy! If you even have a teeny tiny or little bit of interest in woodworking projects, then these balsa wood candle holders are going to be your personal favorite! Get creative using supplies including balsa wood, gold and pink craft paint, painter's tape, X-acto knife, glass votive, and tea lights. abeautifulmess
2. Cork Wrapped Candle Holders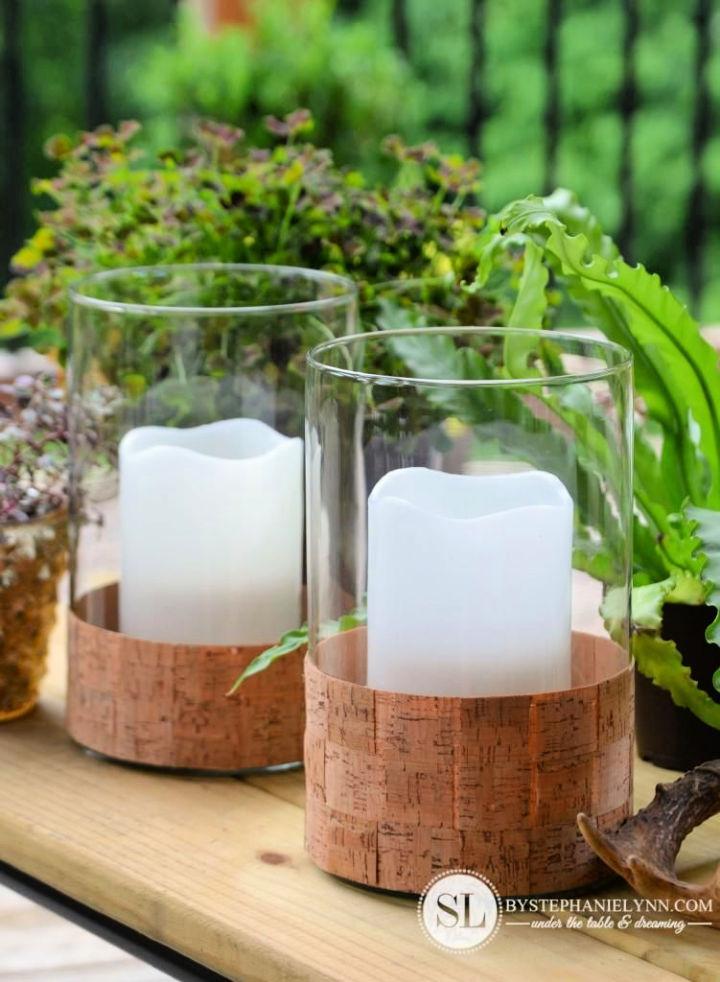 Make your decor the statement of your style match! These centerpieces made with cork wrapped candle holders can bring a minimalistic statement to your decor. Be it indoors or outdoors, a BBQ night, or an event decor in the open. bystephanie
3. DIY Pink Candles and Glitter Candle Holders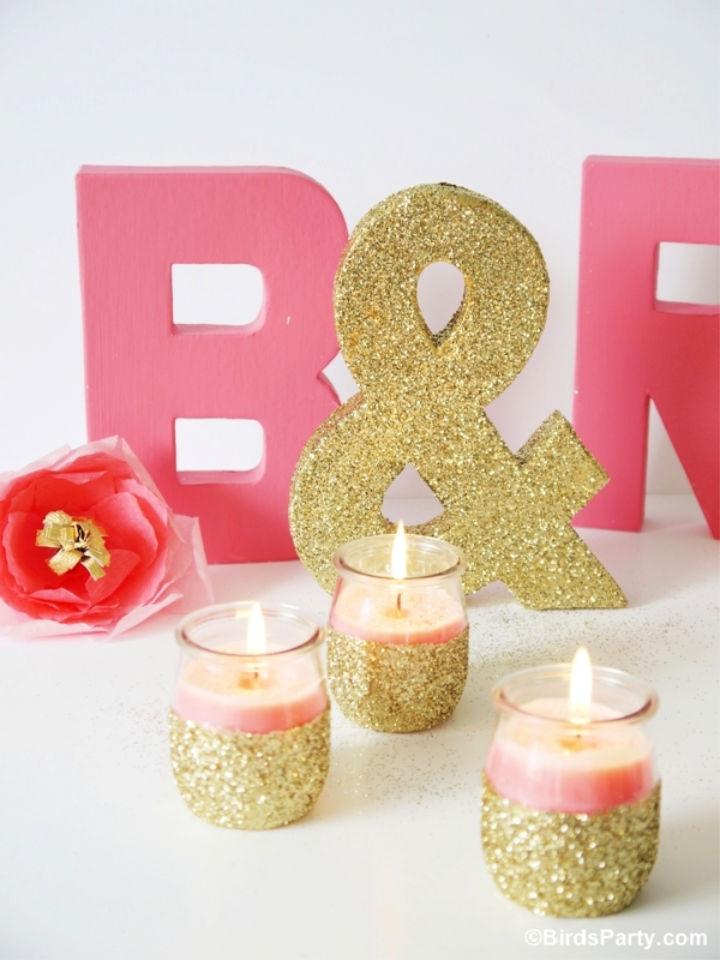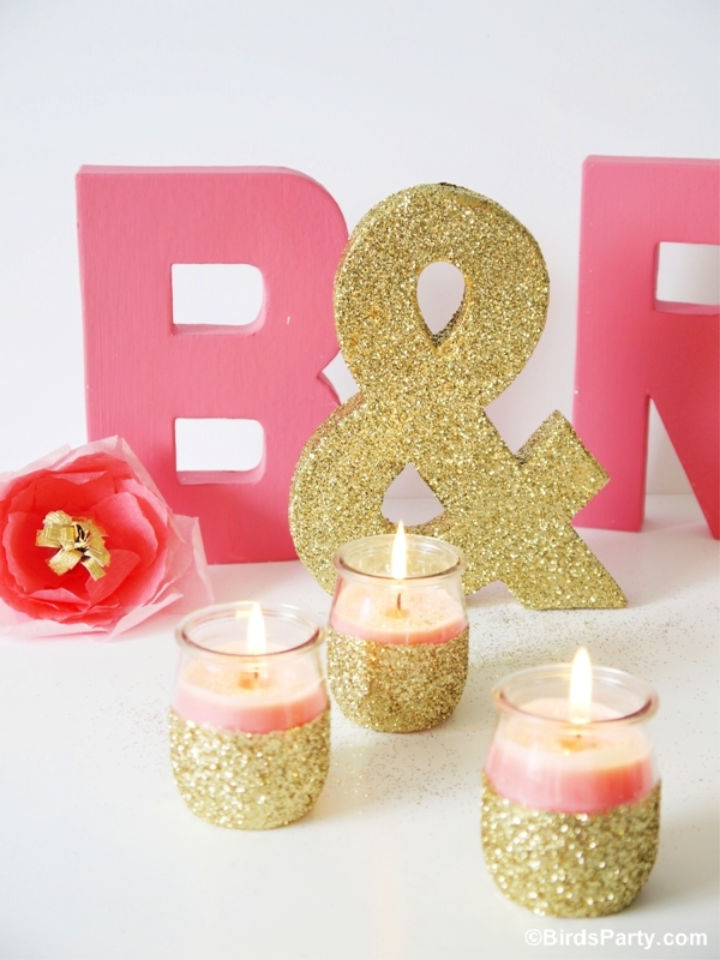 We are loving this super lively and vibrant DIY candle holders! Don't they look just absolutely stunning? A combination of glitter and pink, all in one place. Plus, these are just so easy to make using glass yogurt pots, gold paint, foam paintbrush, glitter baby, and masking tape. birdsparty
4. DIY Log Centerpiece Using Birch and Air Plants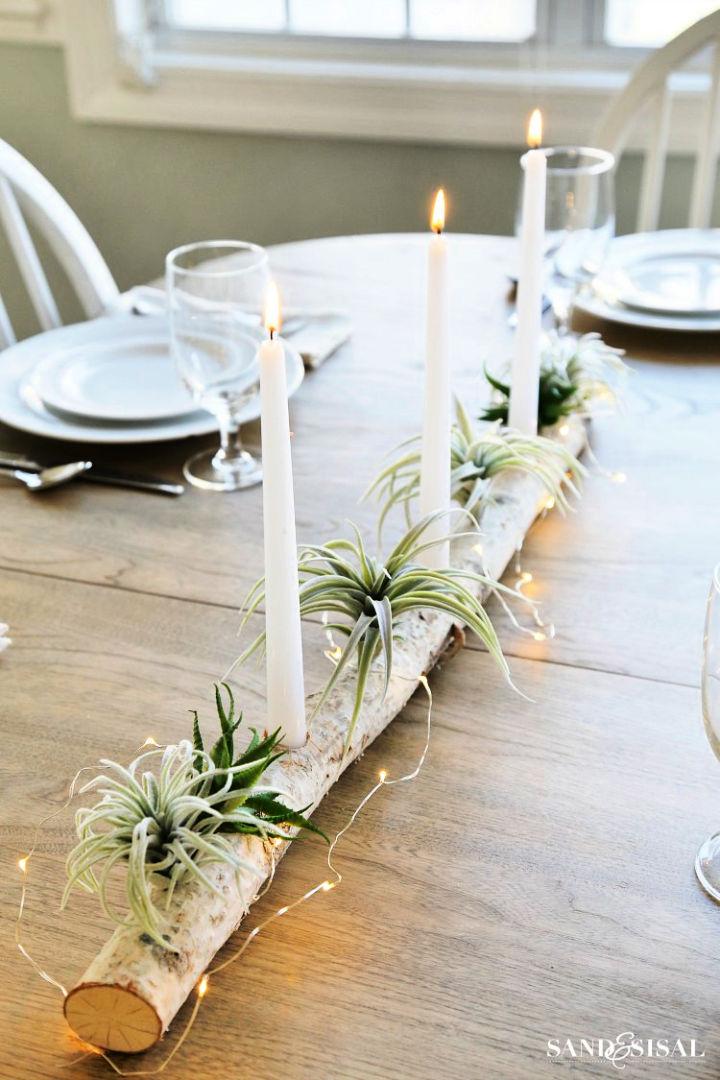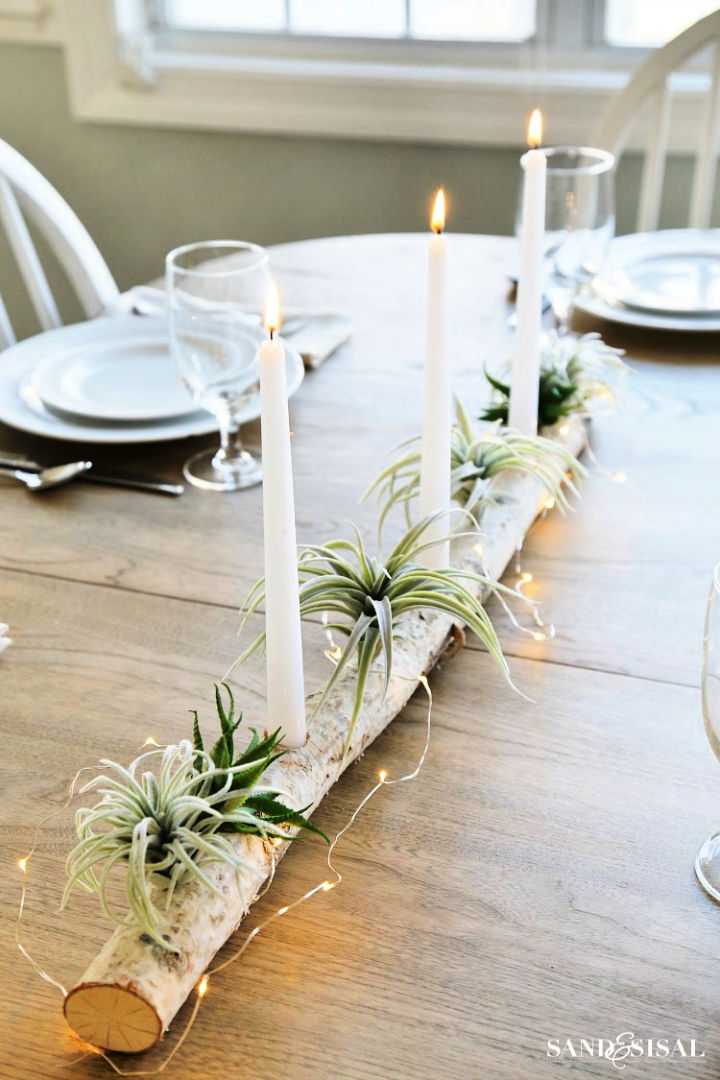 Here's another vibrant, refreshing and pleasing to the eyes centerpiece decor! This birch log centerpiece with air plants and succulents is the most beautiful thing you will see on the internet today. You can find this at Pottery barn for like 30 dollars, and when you DIY, guess what, it's FREE! sandandsisal
5. Moroccan Candle Holders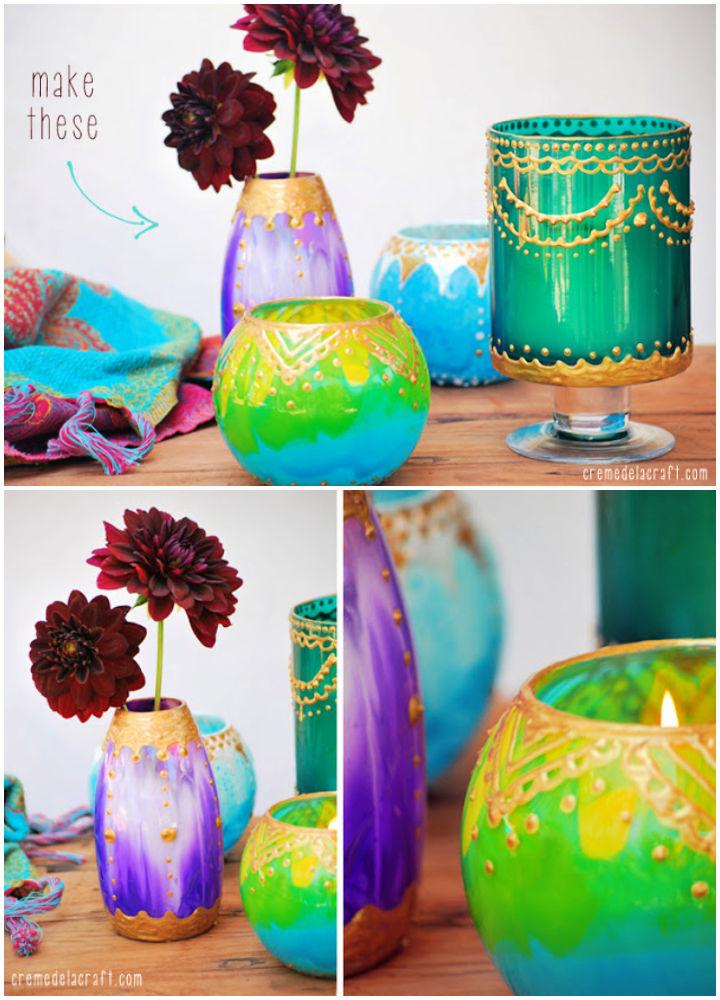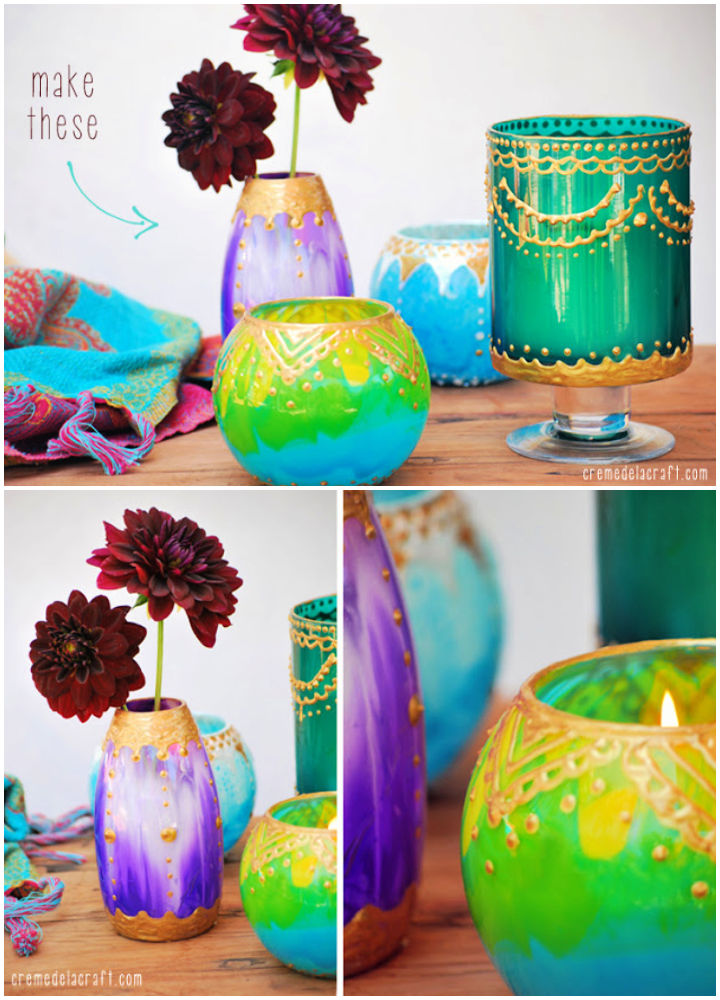 We all have had our shares of getting inspired and in love with the colorful and vibrant Moroccan candle holders! But, sometimes, the price is just too high to get going and buy. Also, why buy when you can DIY? Gather supplies like glass jars, transparent glass paint, puffy paint, paper plate, and oven. cremedelacraft
6. DIY Wooden Candle Holder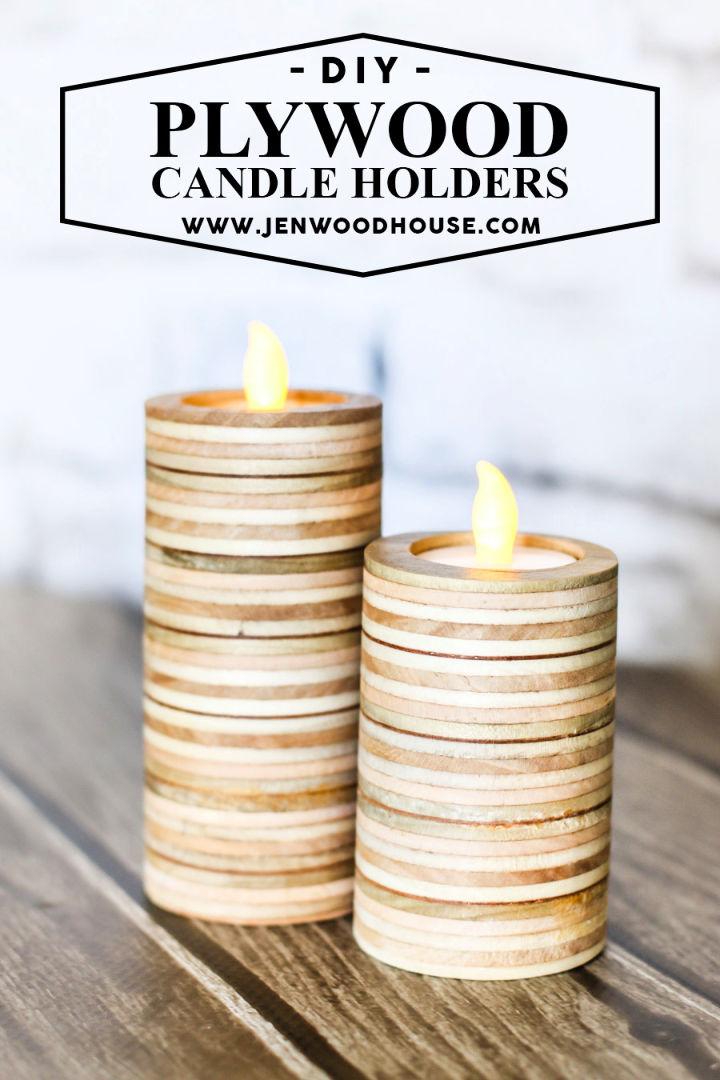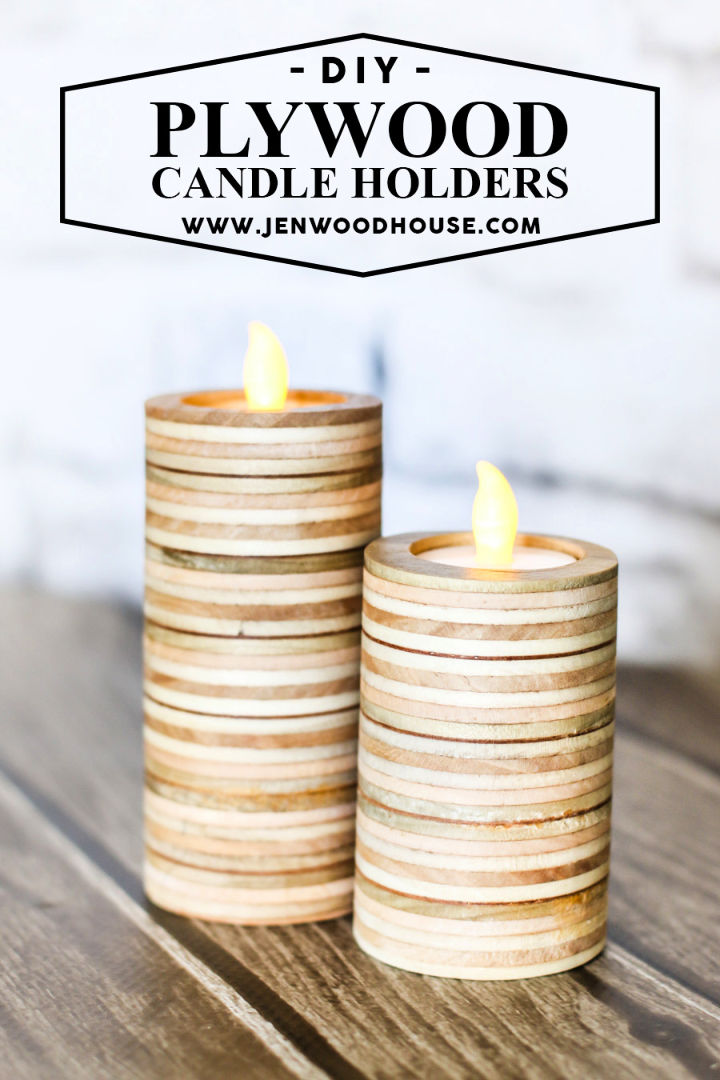 Way to make some beautiful DIY candle holders using scrap wood pieces! Using a hole saw cut little wood circles in about 2 to ½ size, more like cookies. Then join them together using wood glue. As the glue dries, sand the edges and get the next steps here. jenwoodhouse
7. Gold Leaf Candle Holders from Glasses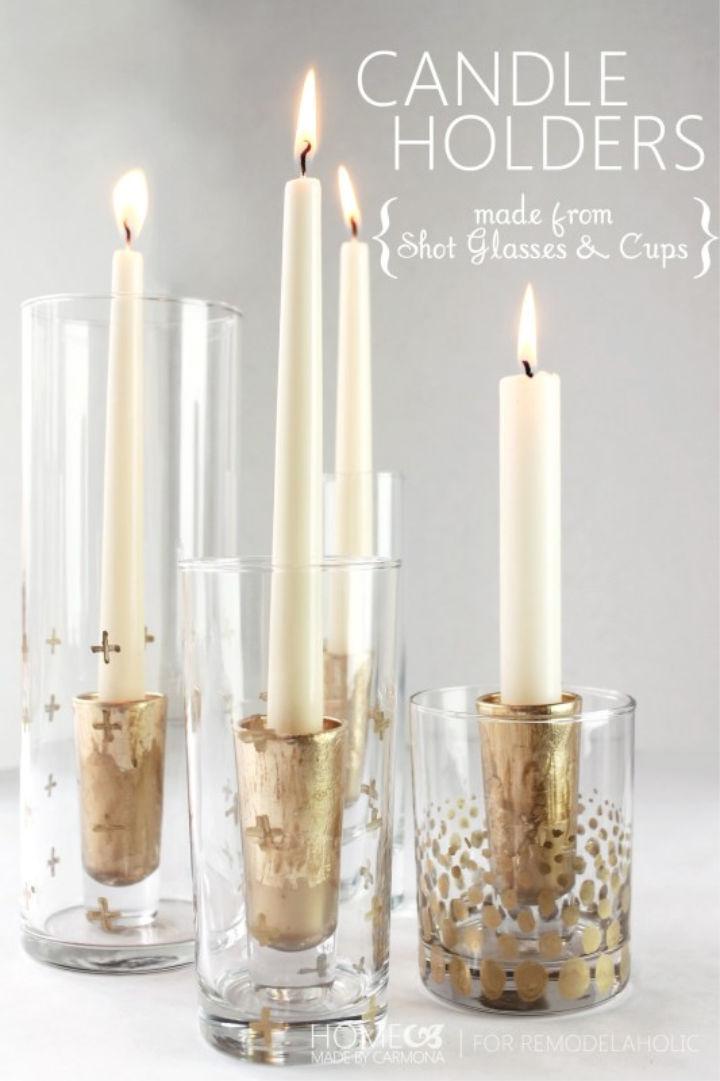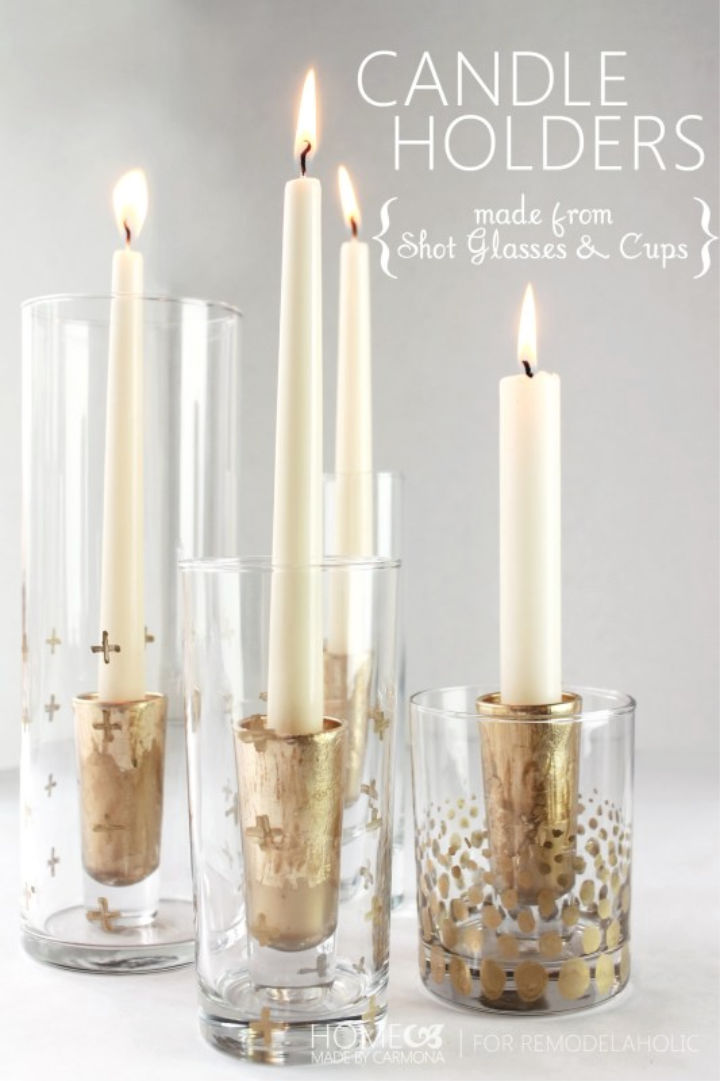 Bring the ultimate royal decor vibes to your place with these DIY Gold Leaf Candle Holders from Glasses! It is really quite easy to make using just a few supplies. Get your hands on tall thin shot glasses, gold leaves, soft bristle brush, and gold spray paint! Don't forget to click the link below for more details. remodelaholic
8. Candlestick Holders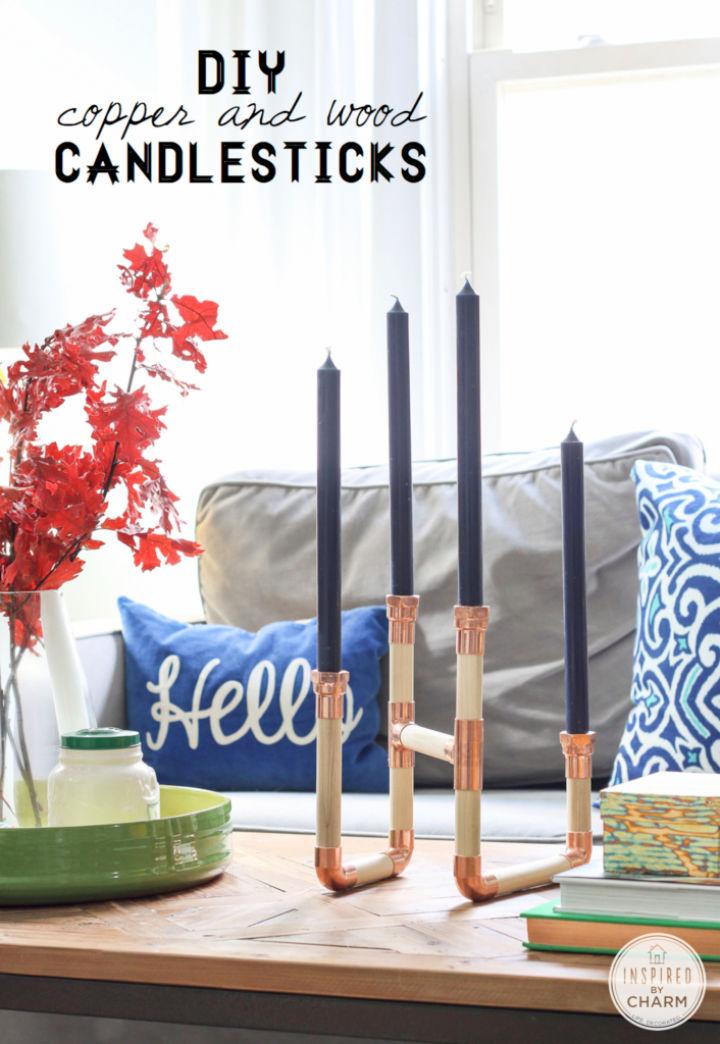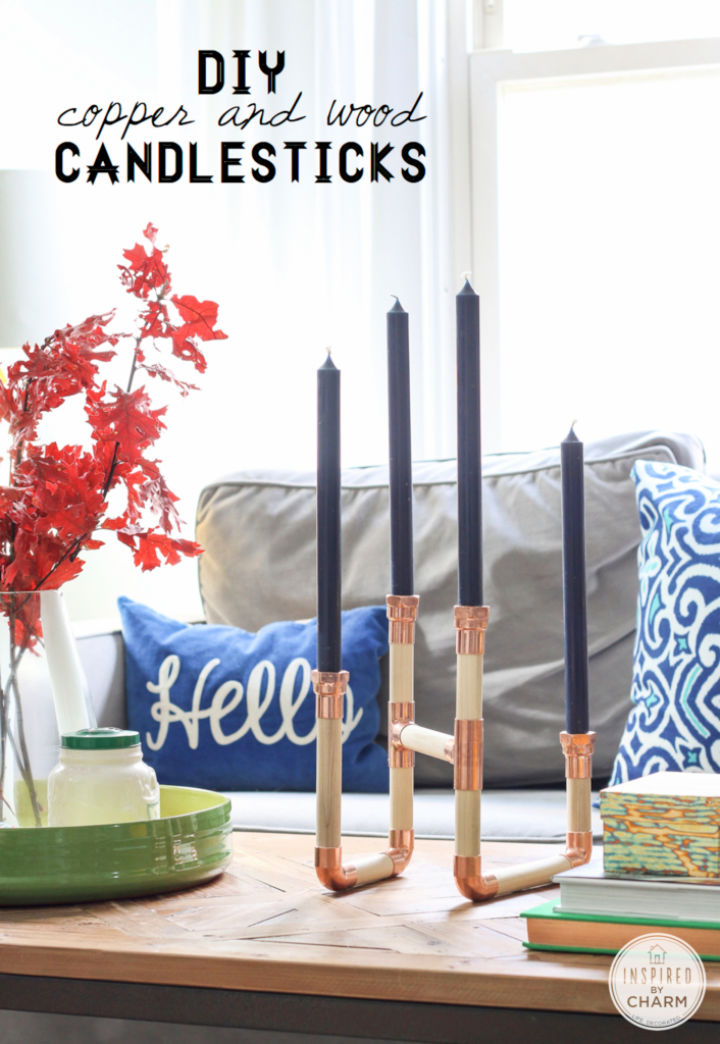 Inspired By Charm has surely got us all inspired by this DIY copper and wood candlesticks. You will need 7/8 inches' wood dowels, copper fittings, circular saw, ruler, and pencil to make these candlestick holders. Also, sandpaper, hammer, and glue. Start by cleaning the copper fittings first and then get started. inspiredbycharm
9. Farmhouse Candle Holder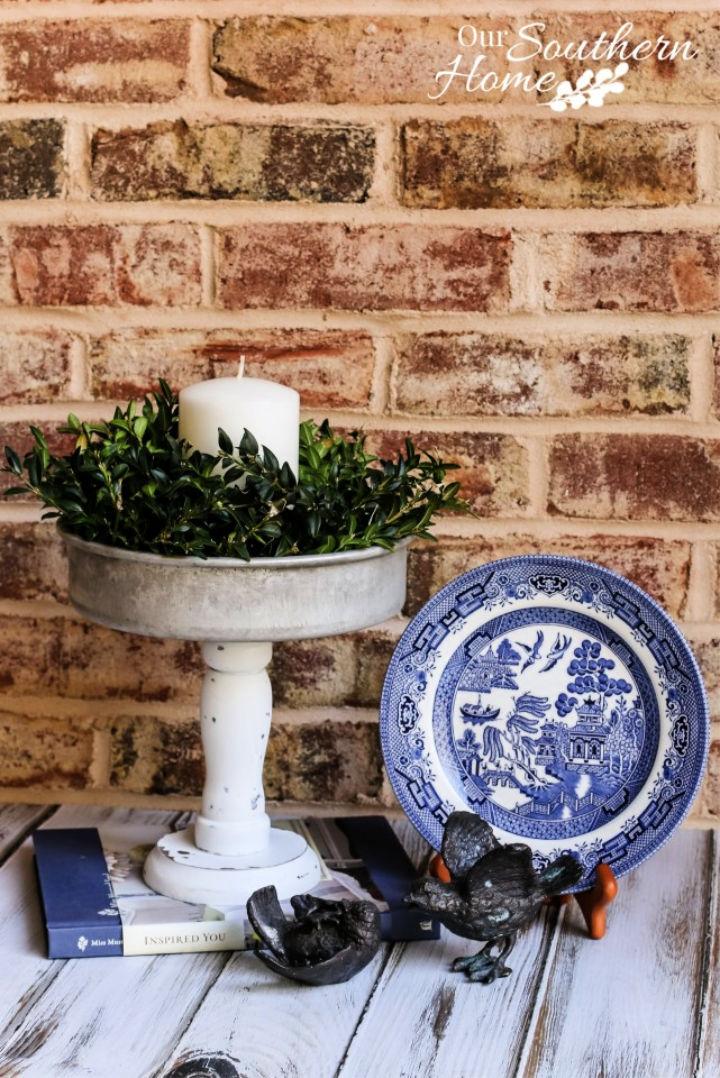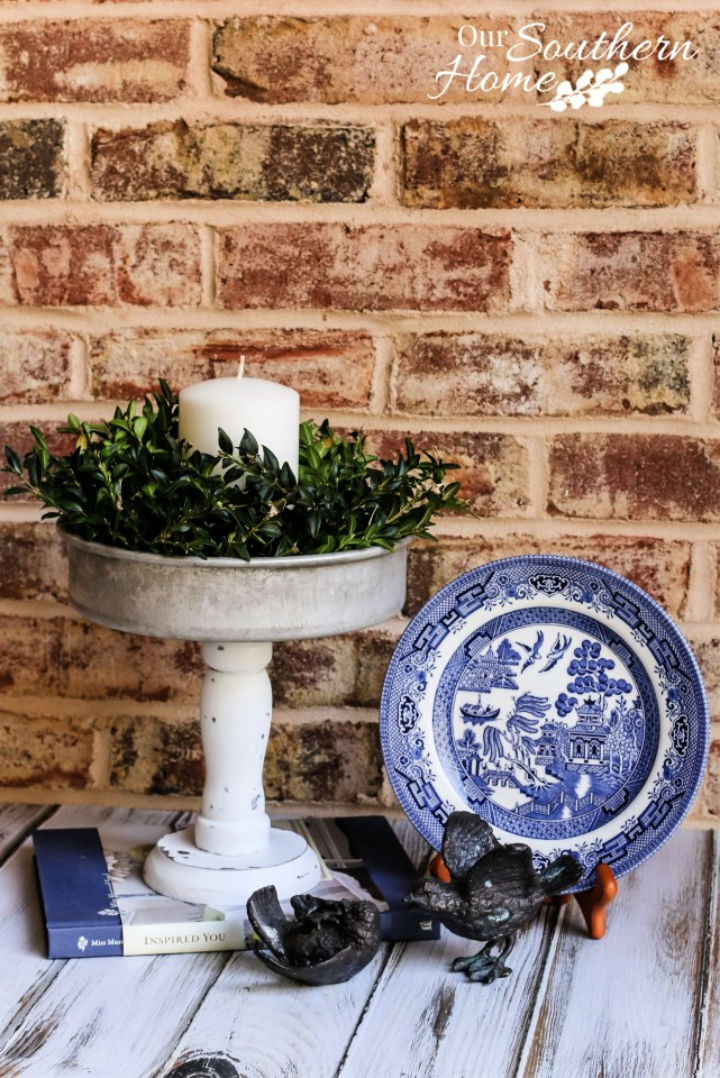 How about some thrift store shopping spree? Get some old candle stands and get creative by transforming them into Farmhouse Candle Holder with Our Southern Homes. Paint the candlesticks with some rust-oleum satin finish to give them the new refined look! oursouthernho
10. Tree Stump Candle Holders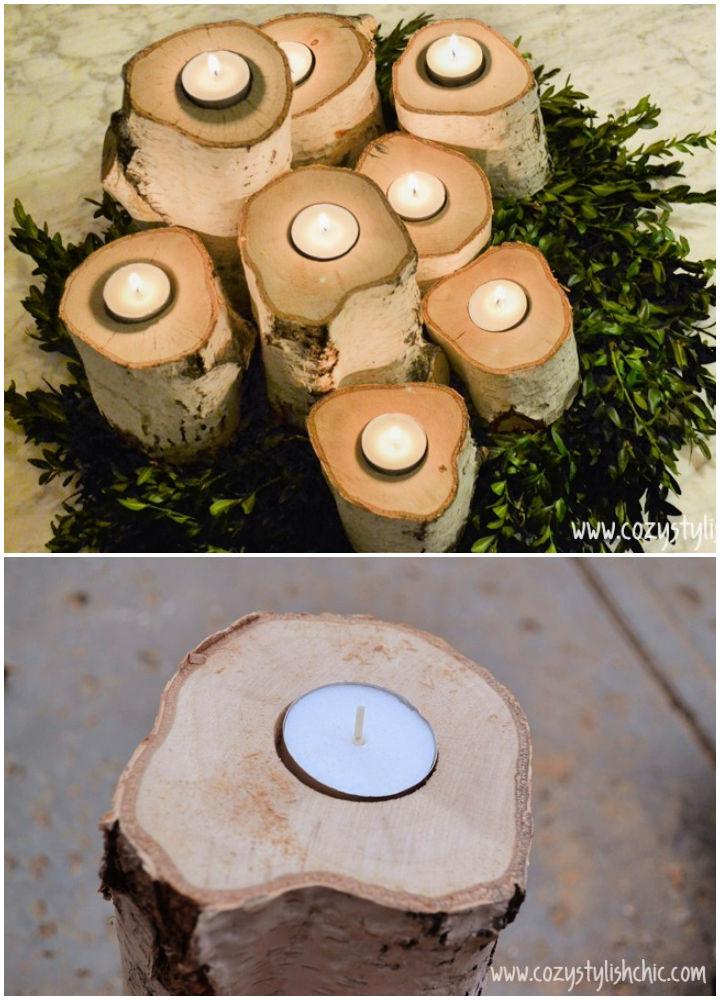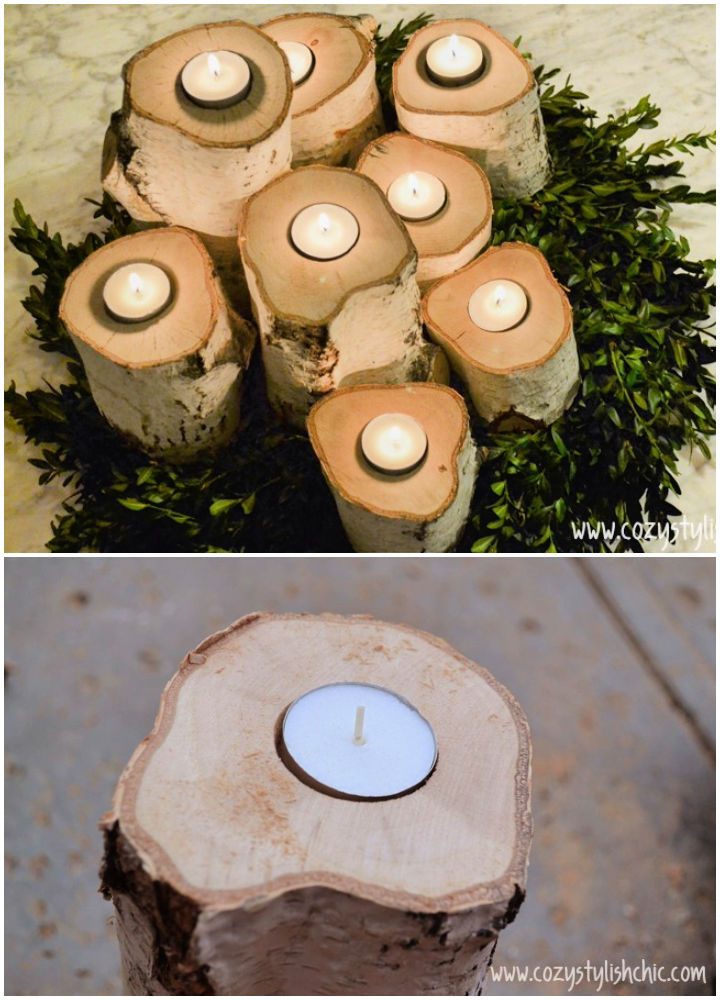 Holidays are the time of the year when the entire family sits together, eats, and make new memories! The holiday decor should be as welcoming and soothing too. So make a set of DIY candle holders using tree stumps! It will be a beginner woodworking project, but it will bring quite the warmth to your overall decor. Find how to make tree stump candle holders at home here, cozystylishchic
11. Driftwood Candle Holders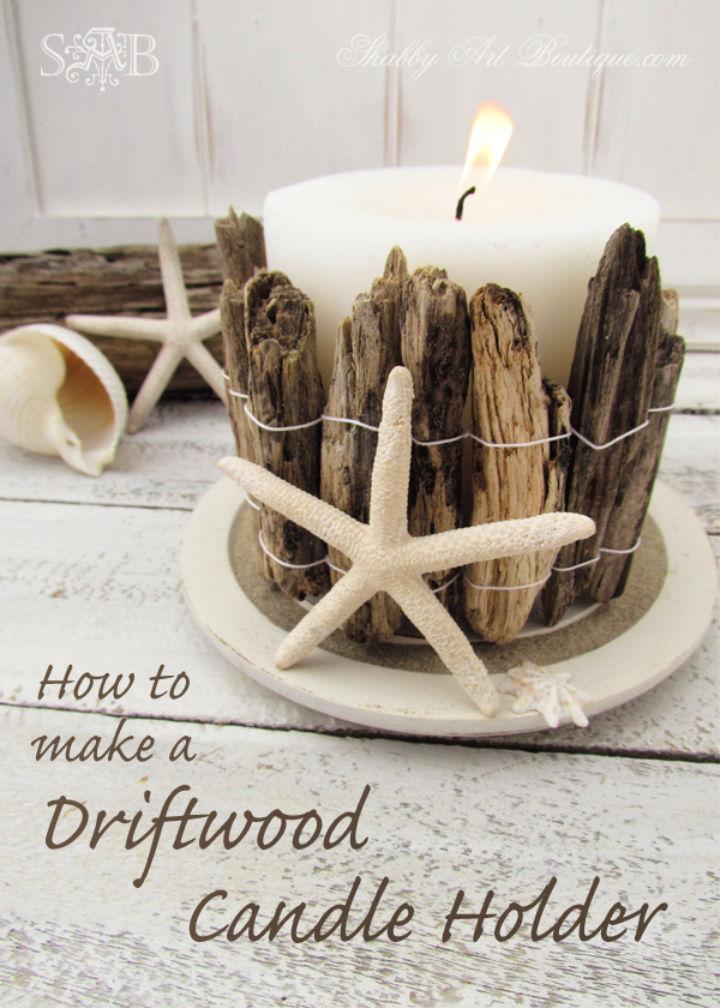 Driftwood is one of the widely available and 100% free craft supplies! You can have a nice walk down the beach and who knows you end up gathering a collection of pretty driftwood pieces. Add some texture and visual appeal to your place with these driftwood candle holders. livecreatively
12. Mason Jar Lanterns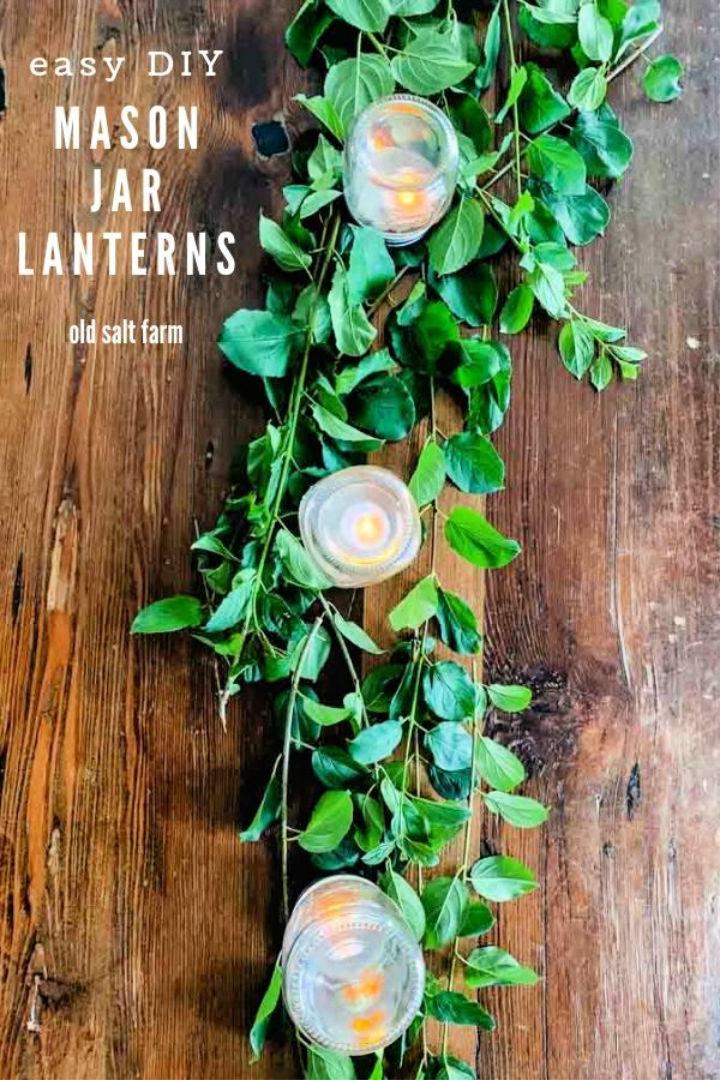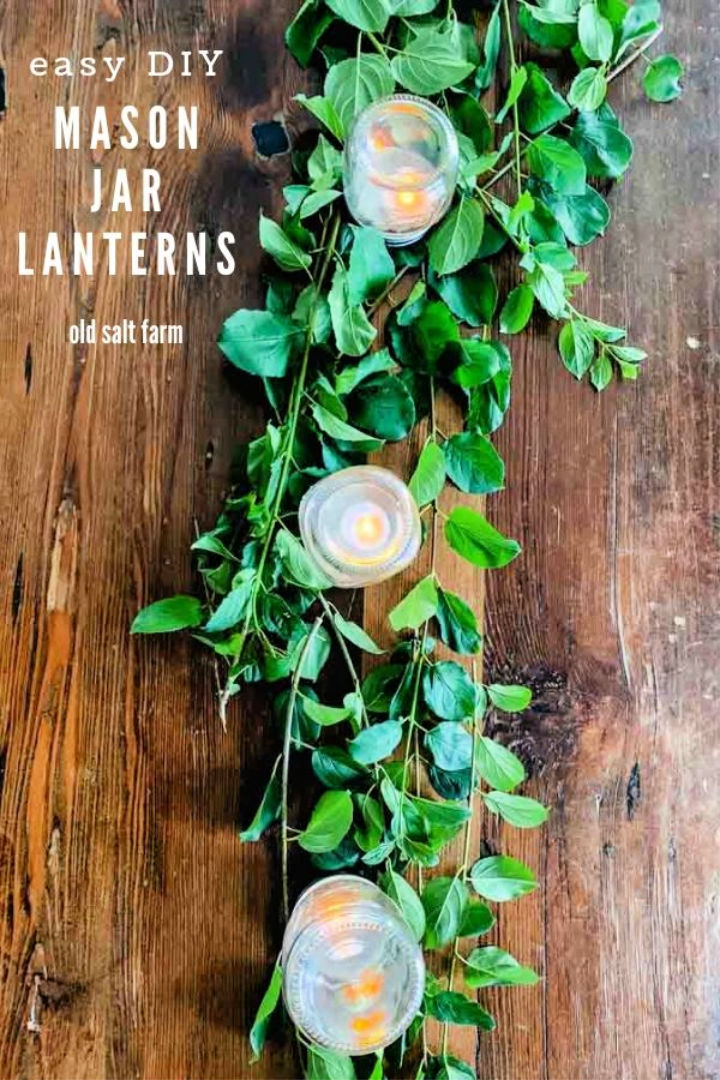 We bet you have been secretly adoring mason jars like most of us here! God, they can bring so much more texture to every place they become a part of! These mason jar lanterns are what you need to spruce up your decor with this year! What you need is half a pint or pint mason jars, battery operated tea lights, and double stick tape. oldsaltfarm
13. Homemade Concrete Candle Holders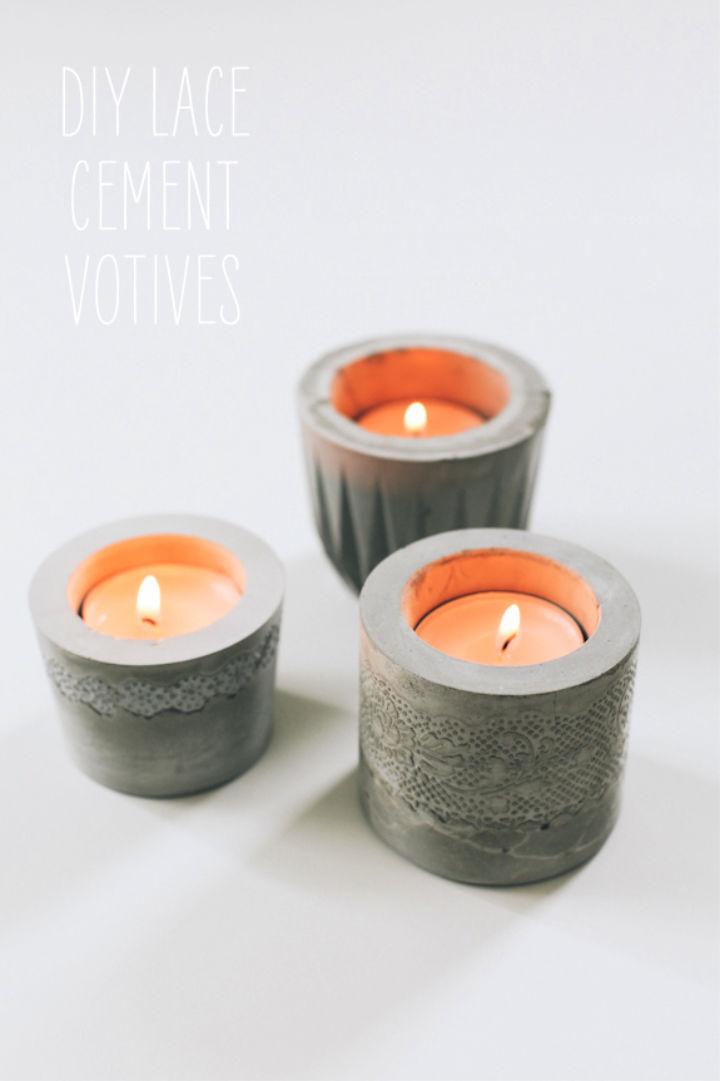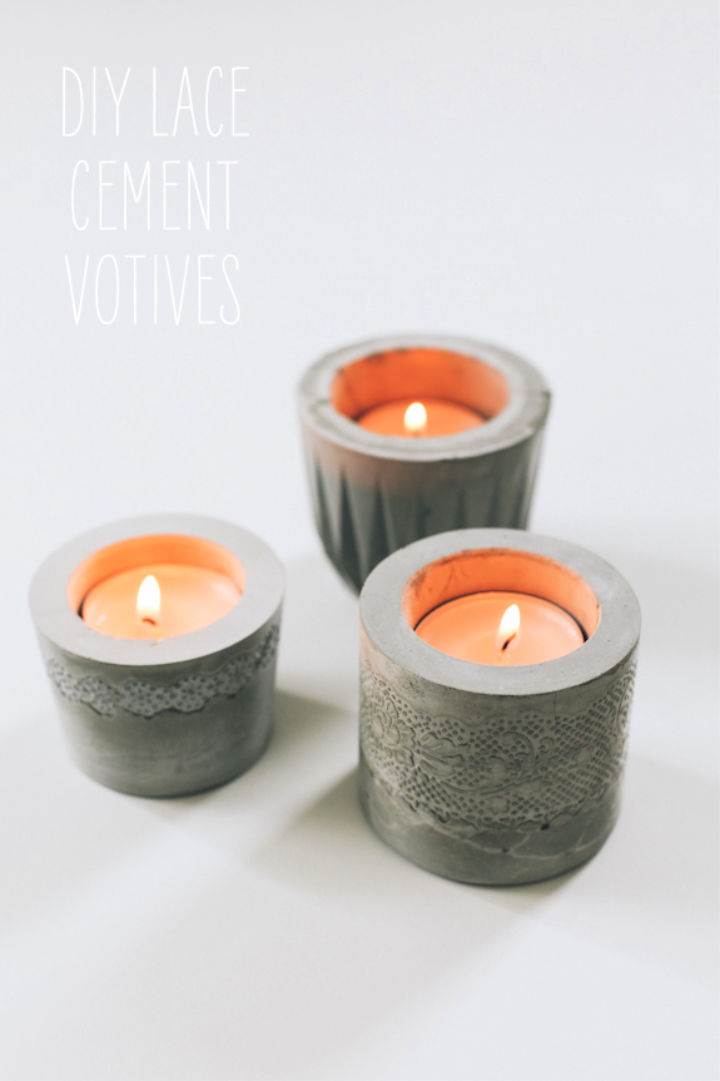 It's not certain until it is sealed with concrete! Make your decor the certain fantabulous style statement with these DIY concrete candle holders, that too – Homemade! You need some cement powder, paper cups, wooden sticks, coins, petroleum jelly, disposable containers, and sandpaper with a few more supplies. sayyes
14. DIY Mercury Glass Candle Holder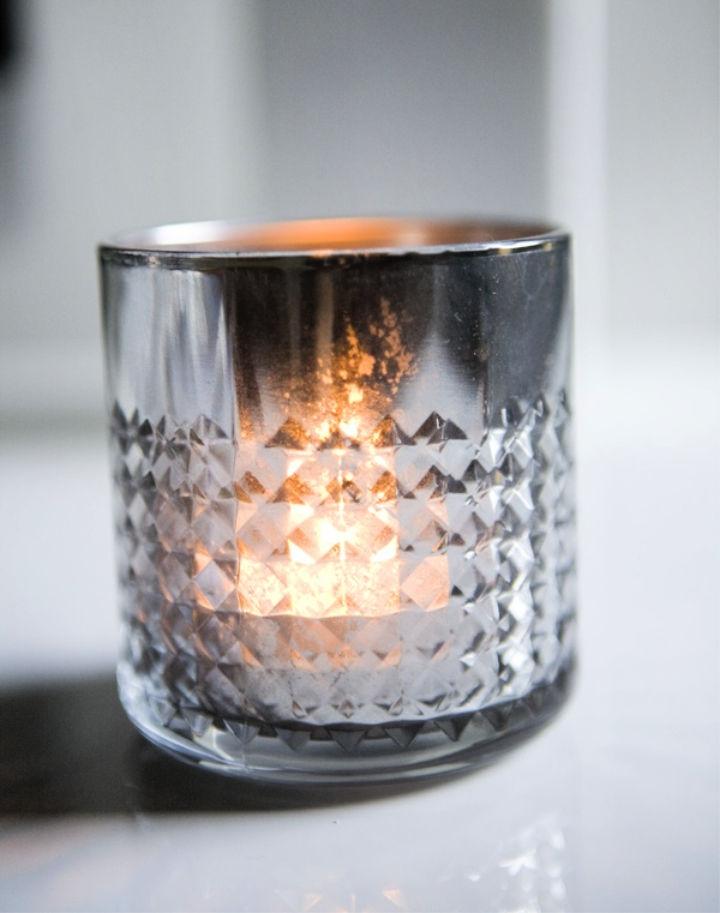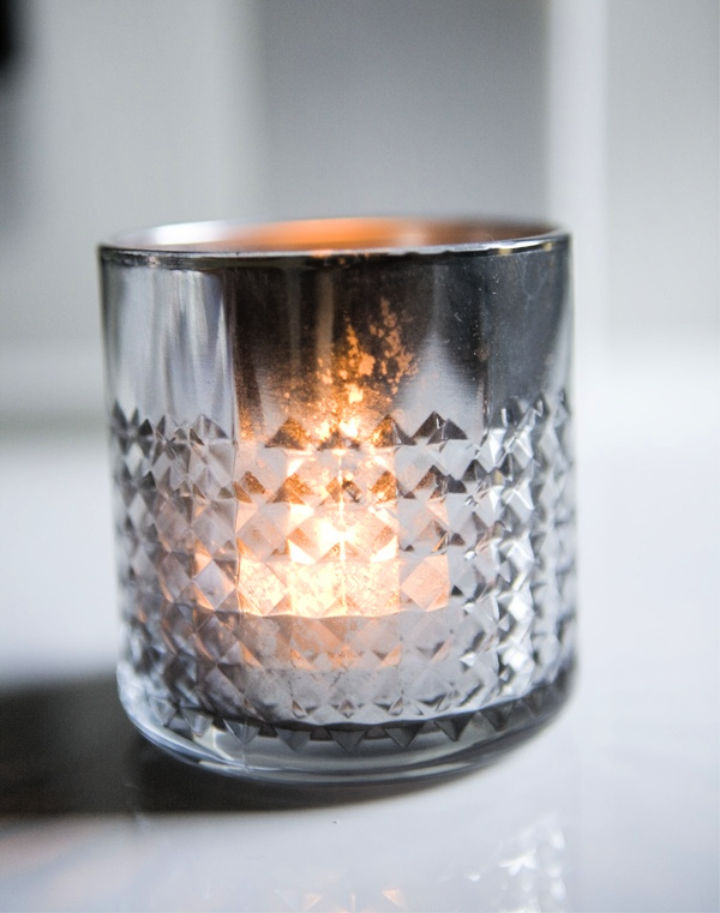 Way to get more creative and add some whimsical pieces to your decor. Give your DIY candle holder a weathered look by applying some mercury paint. Use some vinegar and water spray to get a flawless look. Get complete details here. ruffledblog
15. DIY Frosted Candle Holder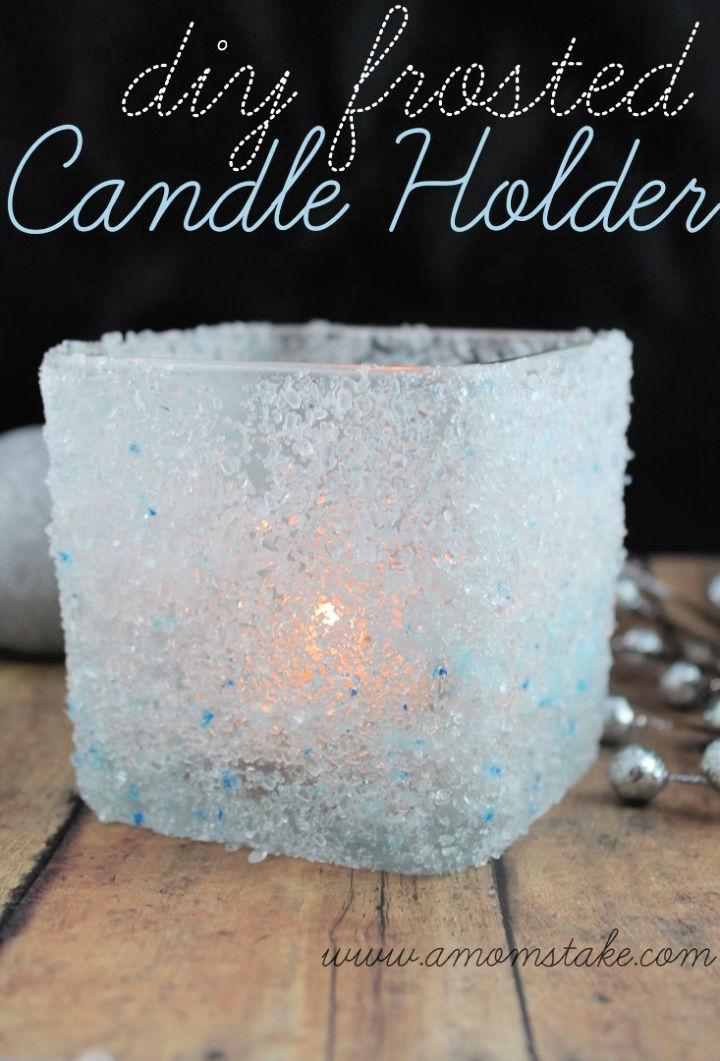 The holiday decor has its own charm! You make something memorable, and it lasts for many holidays to come. Gather your supplies, including mason jar, mod podge, Epsom salt, and food coloring. Light up your place with some uber-beautiful DIY candle holders. amomstake
16. Stenciled Burlap Candle Holders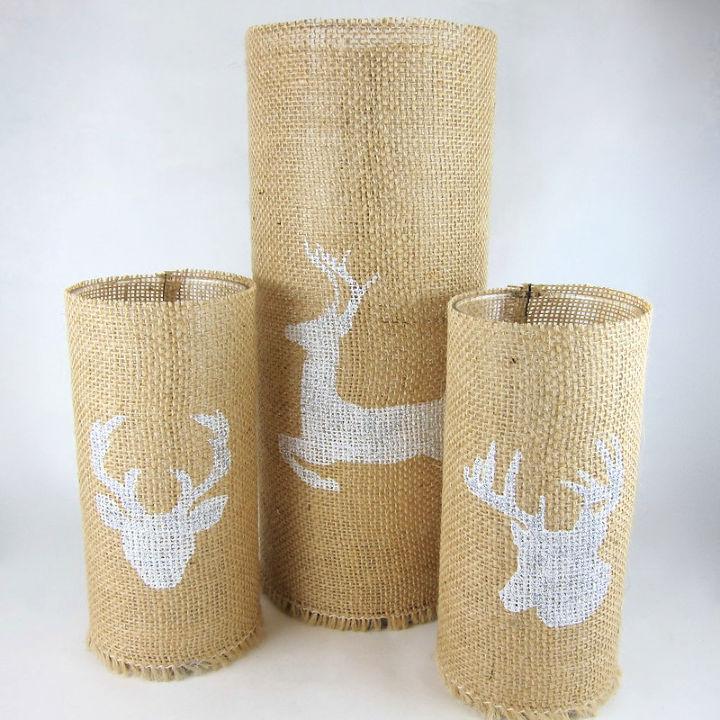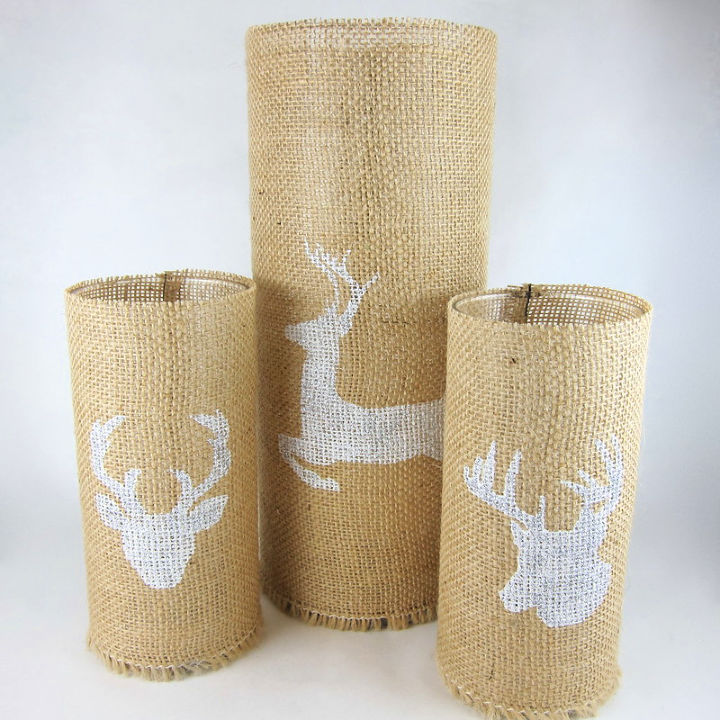 Burlap is one of the most versatile craft supplies! You can use it in many ways. For instance, check out this stenciled burlap candle holders. Use some cardstock or stencil from the store, burlap, some glass hurricane candle holders, tape, acrylic paint, and matching thread. justcraftyeno
17. Glitter Votive Holder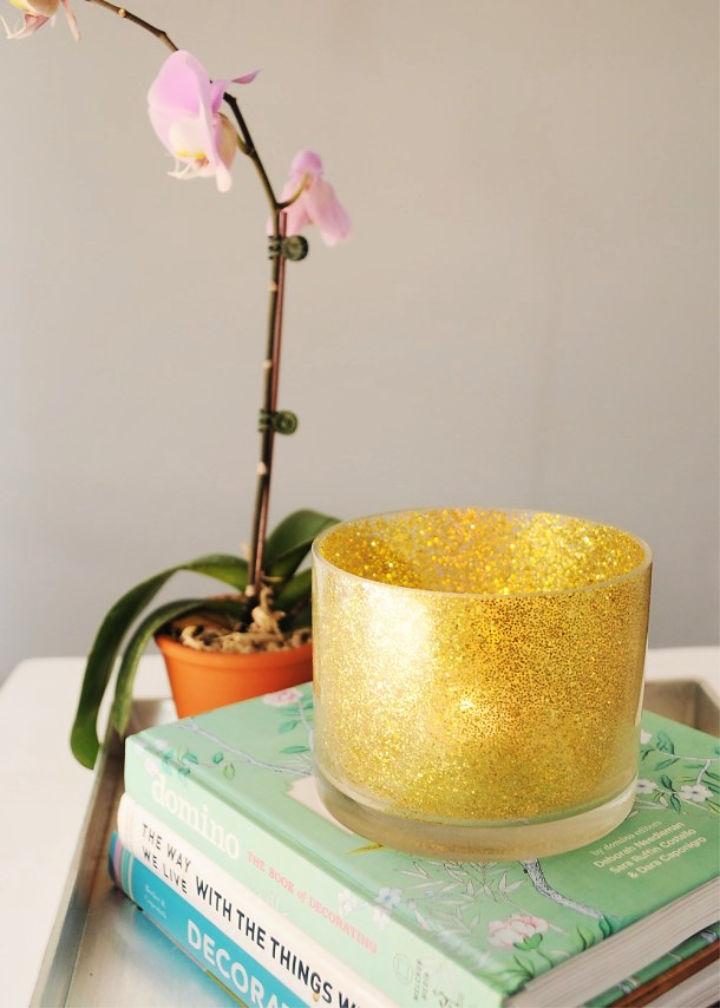 A little glitter can brighten up any dull day! A shimmery and shiny candle holder can automatically make a classy statement of your decor! Use some spray adhesive to spray the inside of the jar with glitter. It is quite an easy and quick project to spruce up! earnesthomeco
18. DIY Candles + Concrete Candle Holders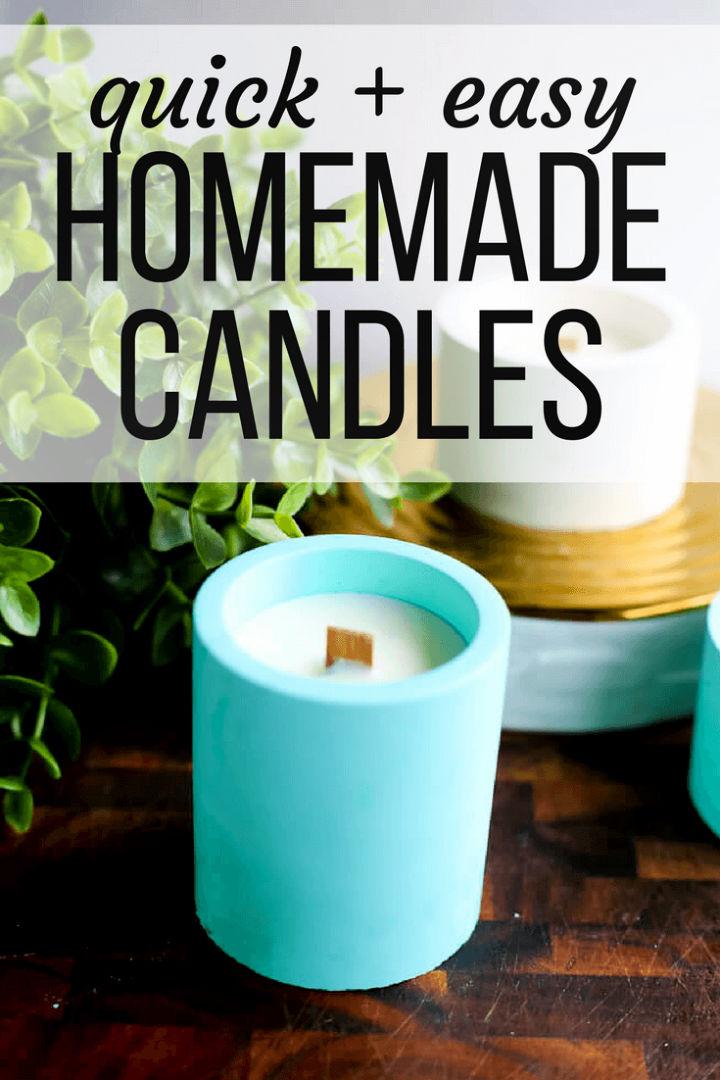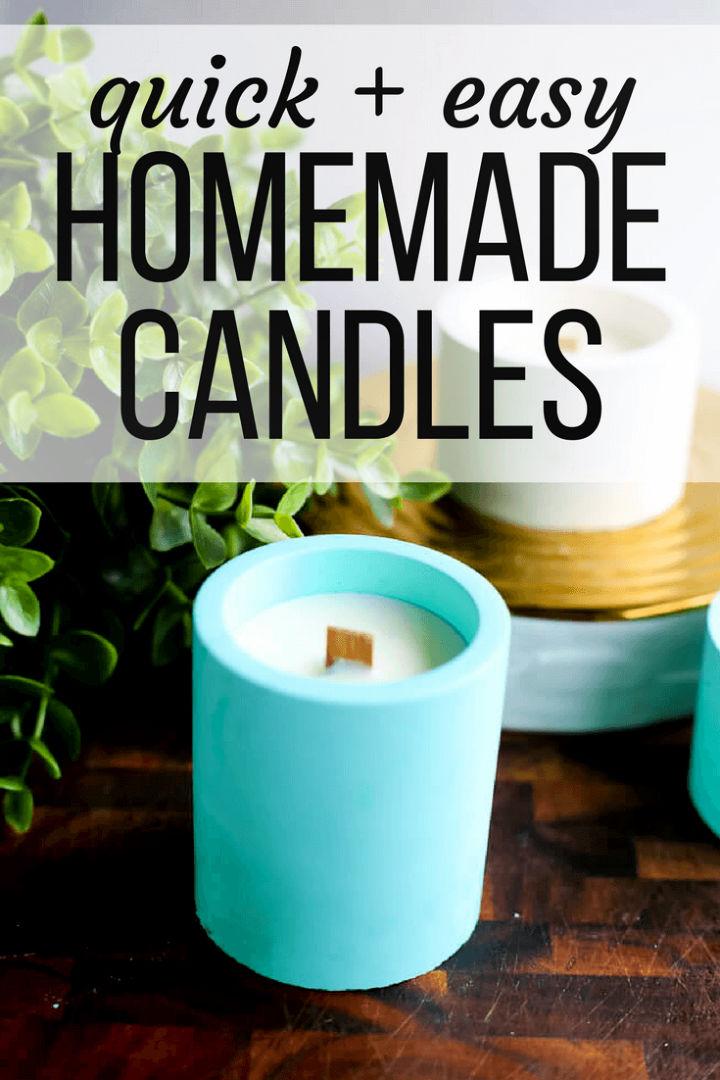 We bet you must have been quite interested in making your own HOMEMADE candle holders by now! A concrete candle holder is not just easy to make, but it also makes a beautiful gift! Plus, you just need a few supplies, including concrete mold, concrete mix, water, and concrete coloring tint. loveandrenova
19. Pottery Barn Inspired Rope Wrapped Candle Holders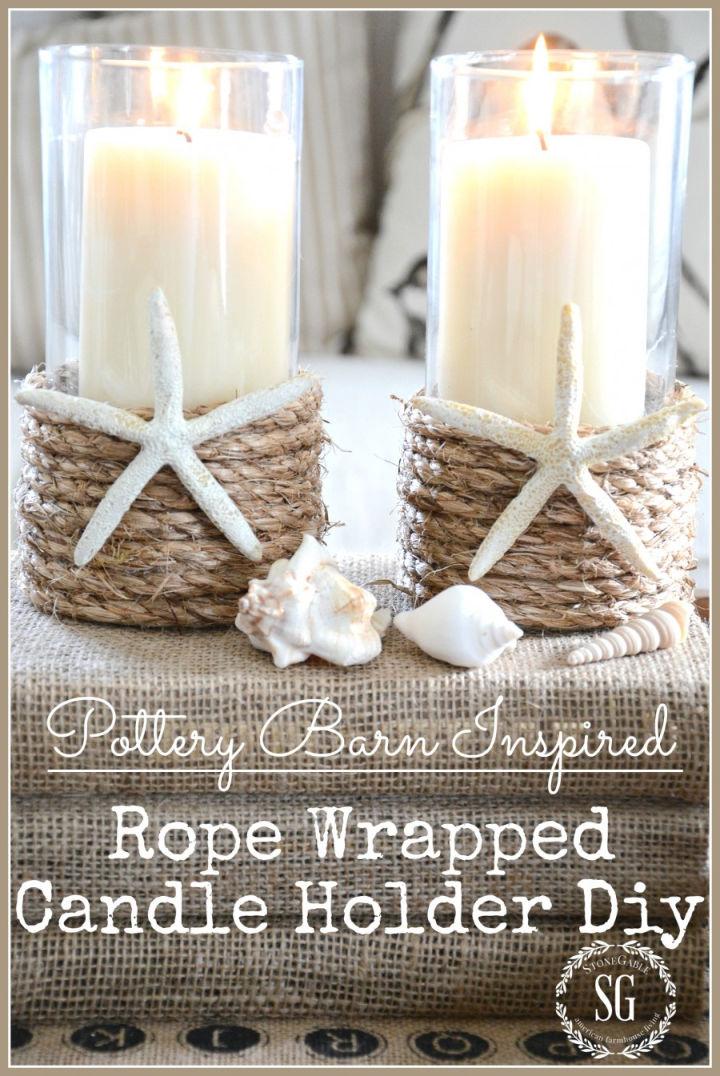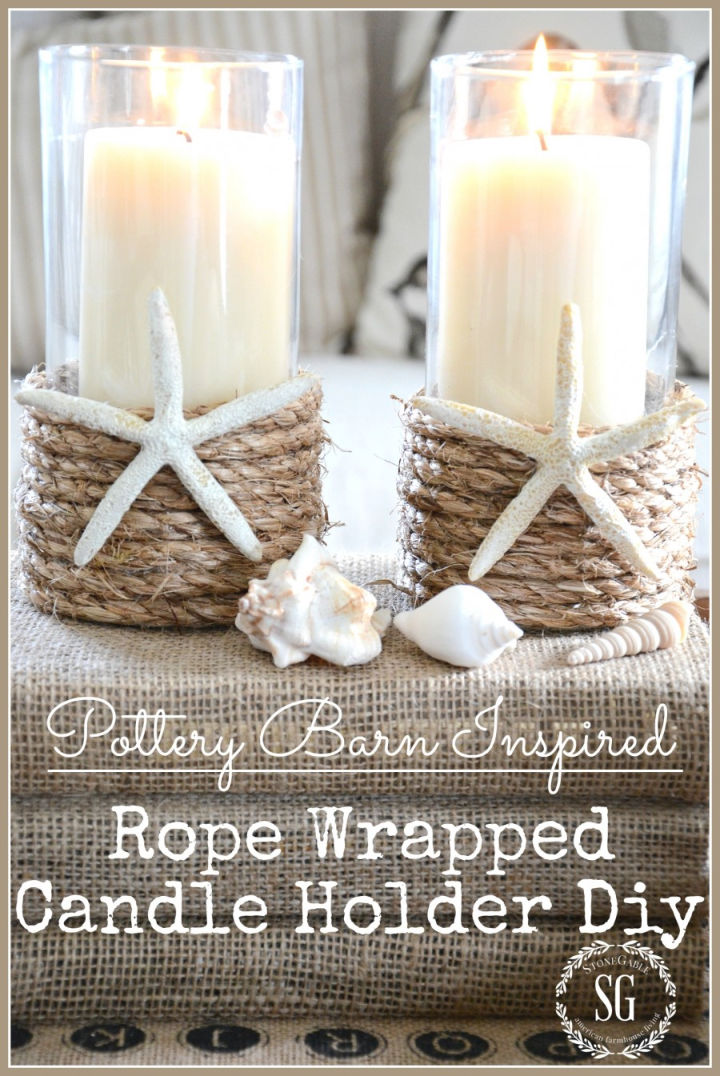 Any room can get a lot of statement decor vibes by simply lighting up a candle! Give your room an instant ambiance with these Pottery Barn inspired candle holders. It is the perfect summers and breezy style decor! Involving a glass cylinder holders, rope, and starfish and adhesive. stonegable
20. Table Leg Candle Holders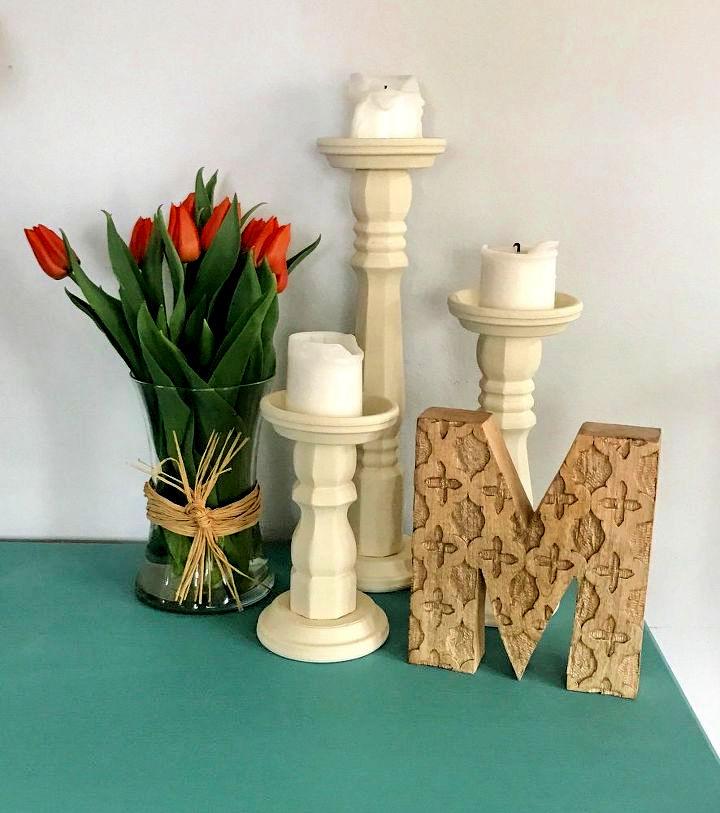 Can you believe that these minimalistic candle holders are made out of table legs! Using a screw, attach some Terra Cotta saucers. The saucers can be attached to the legs with adhesive. Click the link below for more details. hometalk
21. Glass Beaded Candle Holders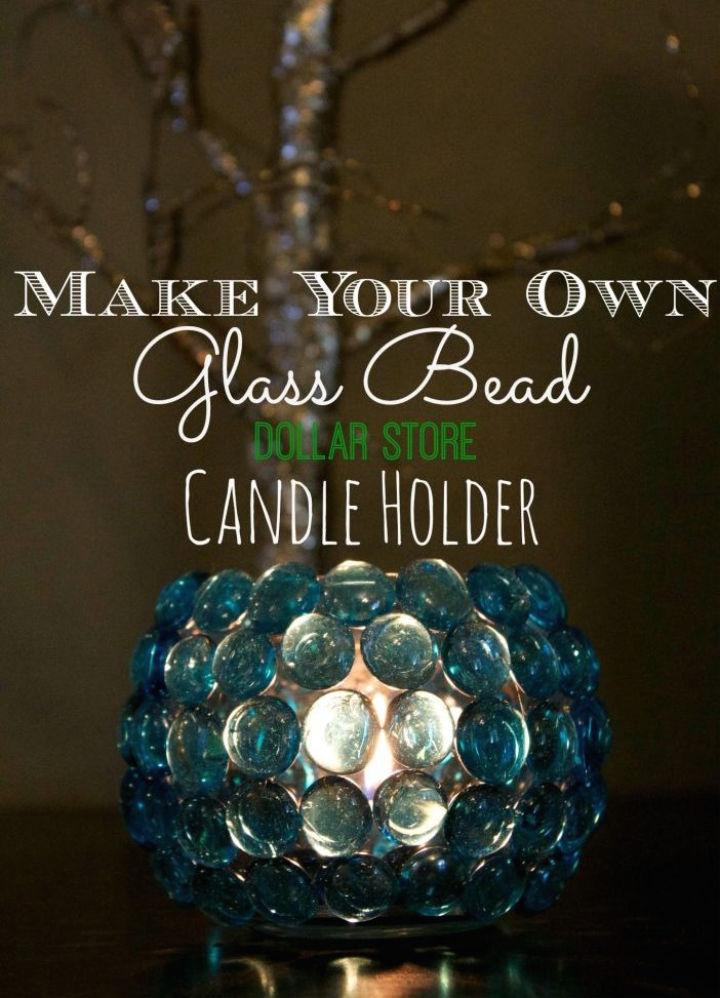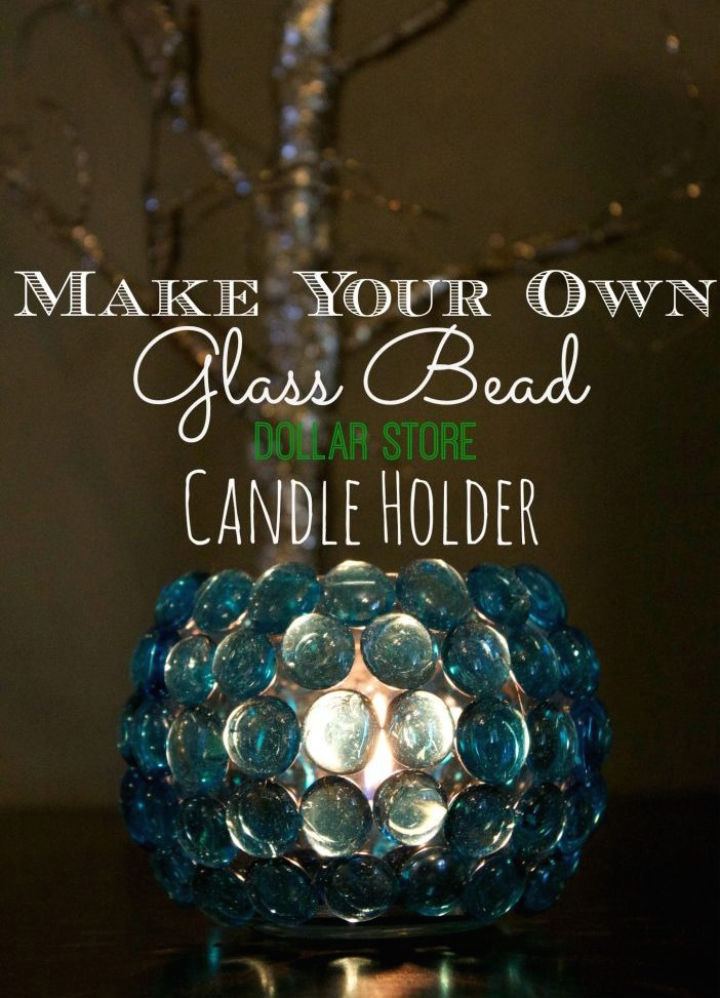 Check out this dollar store wonder! A super eye catchy glass bead candle holder. You may not believe it, but this DIY candleholder will hardly cost you around $2. Make these for your room, for an event or as a lovely house warming gift. momluck
22. Outdoor Terra Cotta Candle Holders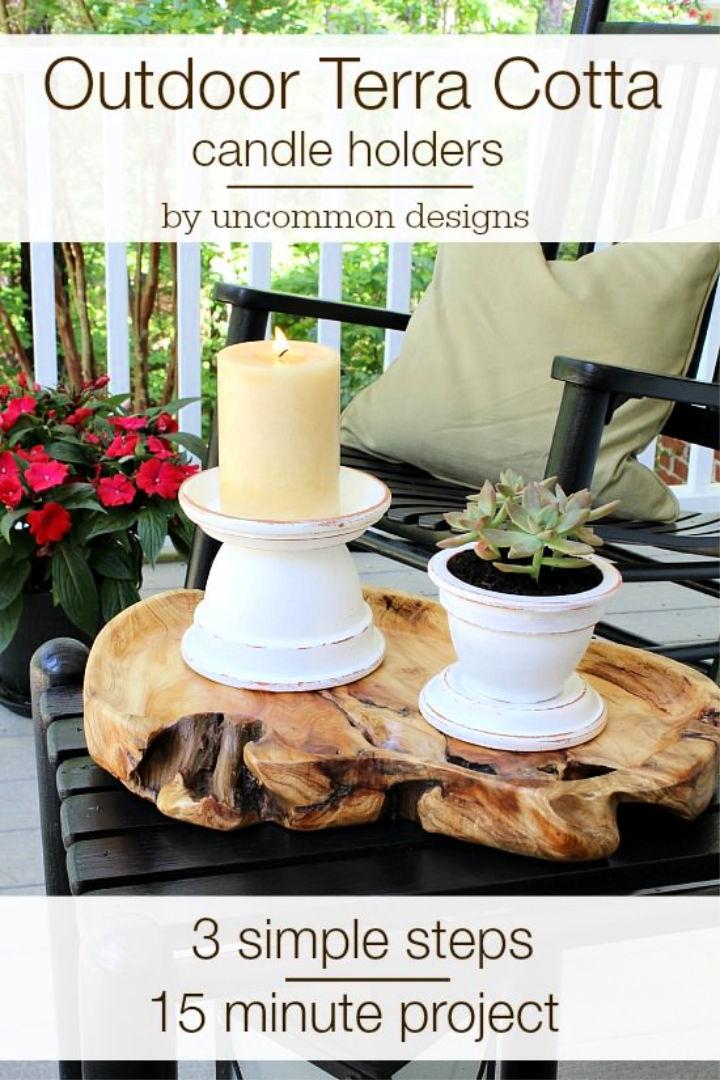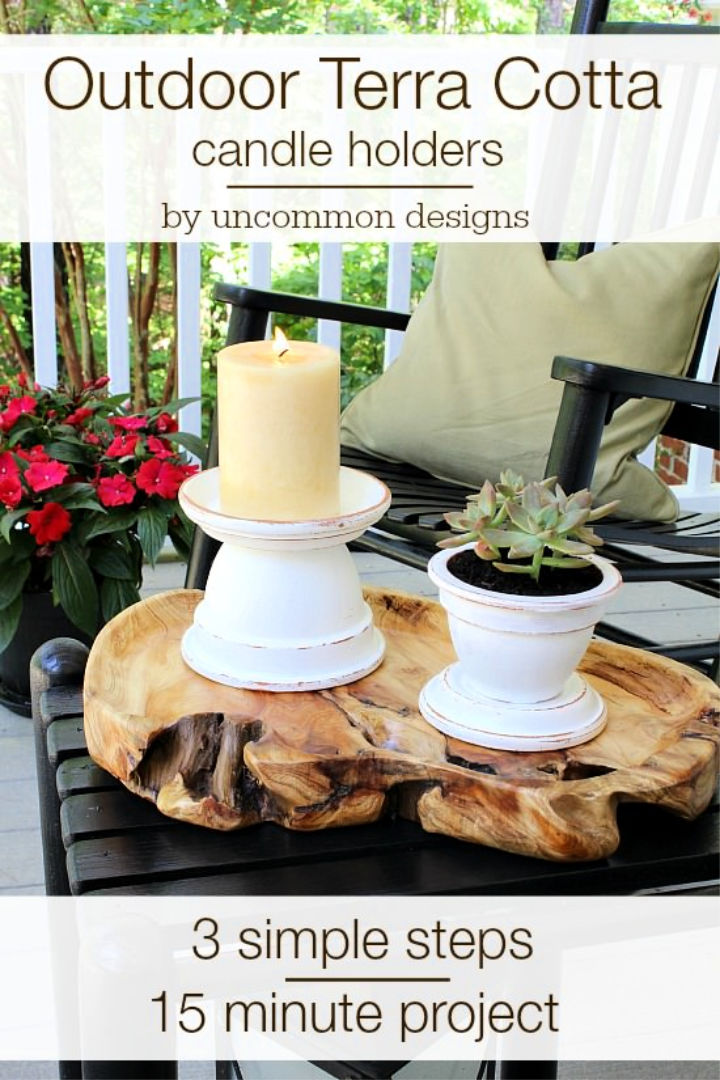 You can update your porch decor in just 15 minutes by just following 3 simple steps! The supplies are easily accessible, including DecoArt outdoor patio paint, Small terra Cotta pot and saucer, e6000 adhesive, grain sanding block, and a foam paintbrush. uncommondes
23. Outdoor Tuna Can Lantern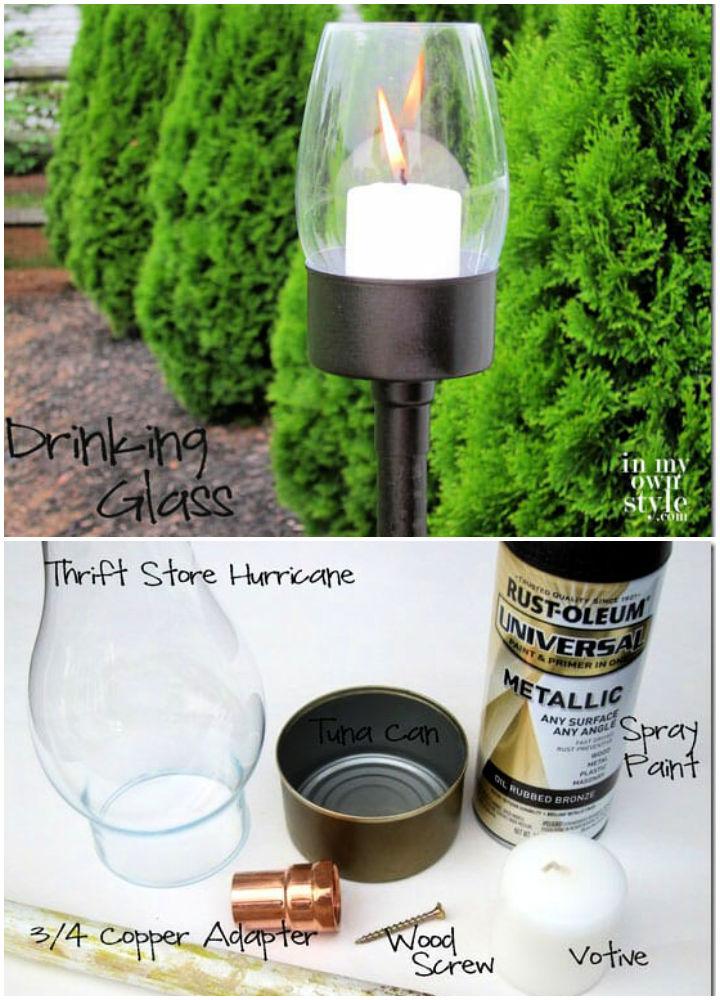 Check out this tuna can candleholder! More like a candle chandelier version. The project is quite simple to make! It merely needs a few supplies and will take even less than an hour. Some copper fitting, wood, and a little bit of drilling can do its wonders here. inmyownstyle
24. Gold Lace Candle Holders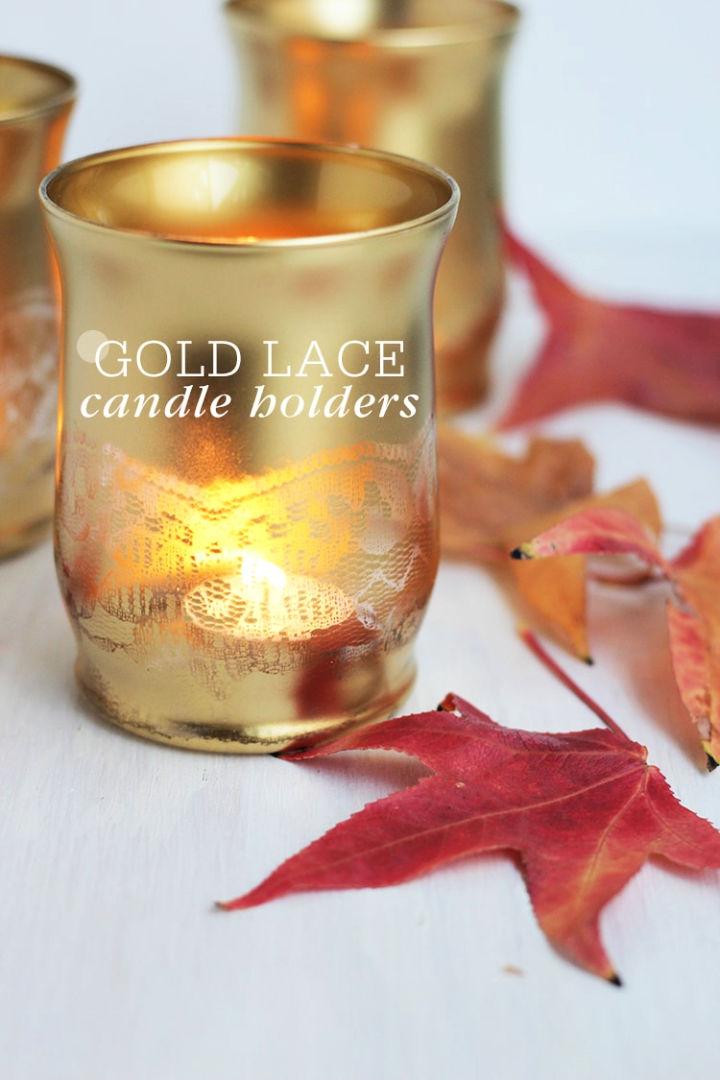 Transform a hurricane candle holder into something extremely whimsical! If you have some glass hurricane candle holders, transform them using some gold spray paint and add in a lace inside to multiply the effect of royal appeal! freutcake
25. Stained Glass Votive Candle Holders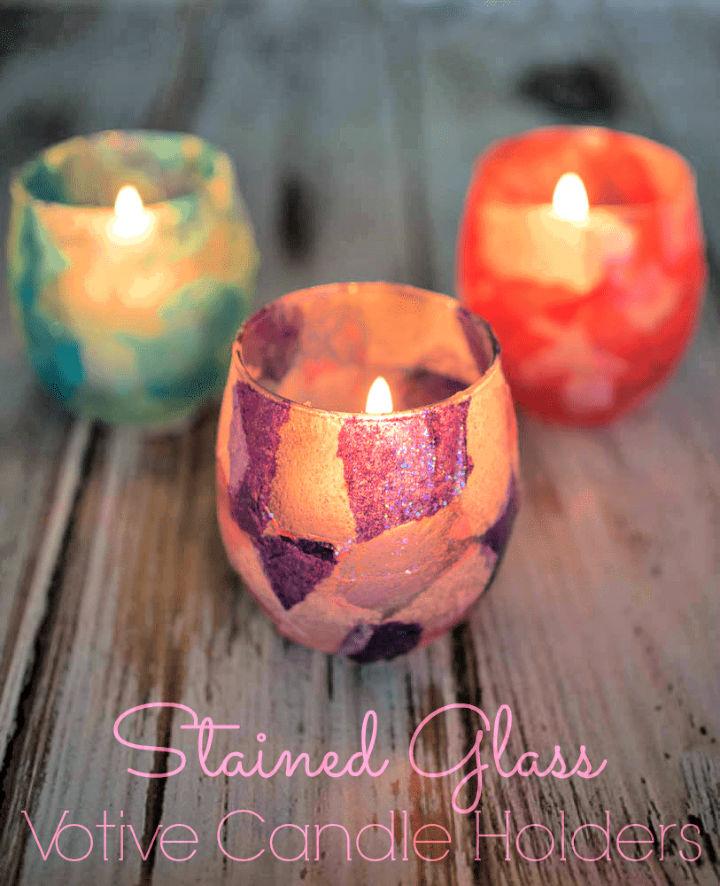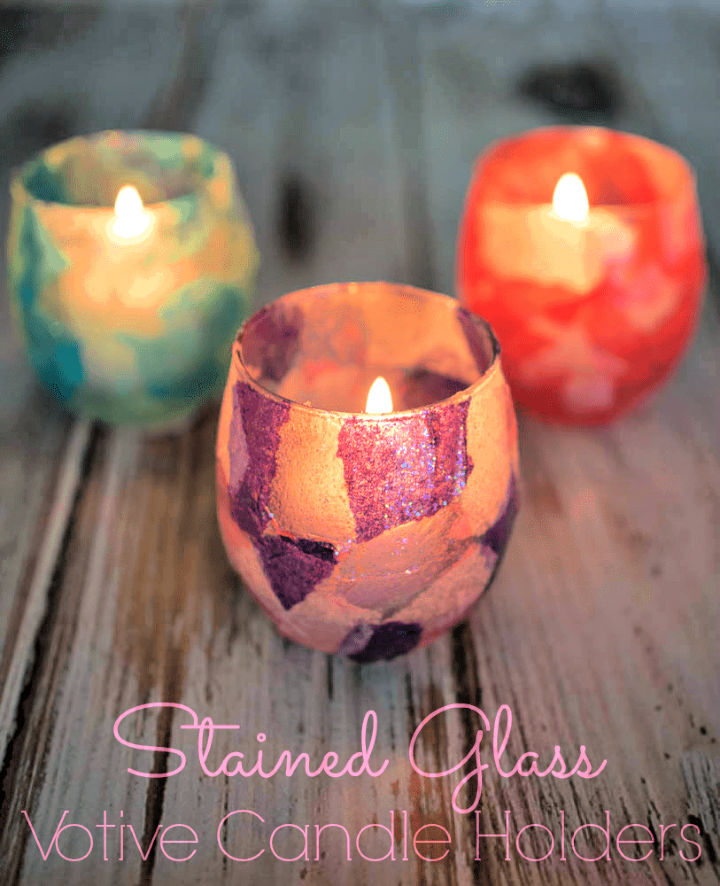 By one look at these votive candle holders, one might feel like they are made up of stained glass! But in reality, that's not the case but just another wonder of DIYing. This faux stained glass look is made possible by using tissue papers with mod podge, paper, and sparkle, both. upstaterambli
26. DIY Copper Striped Candle Holders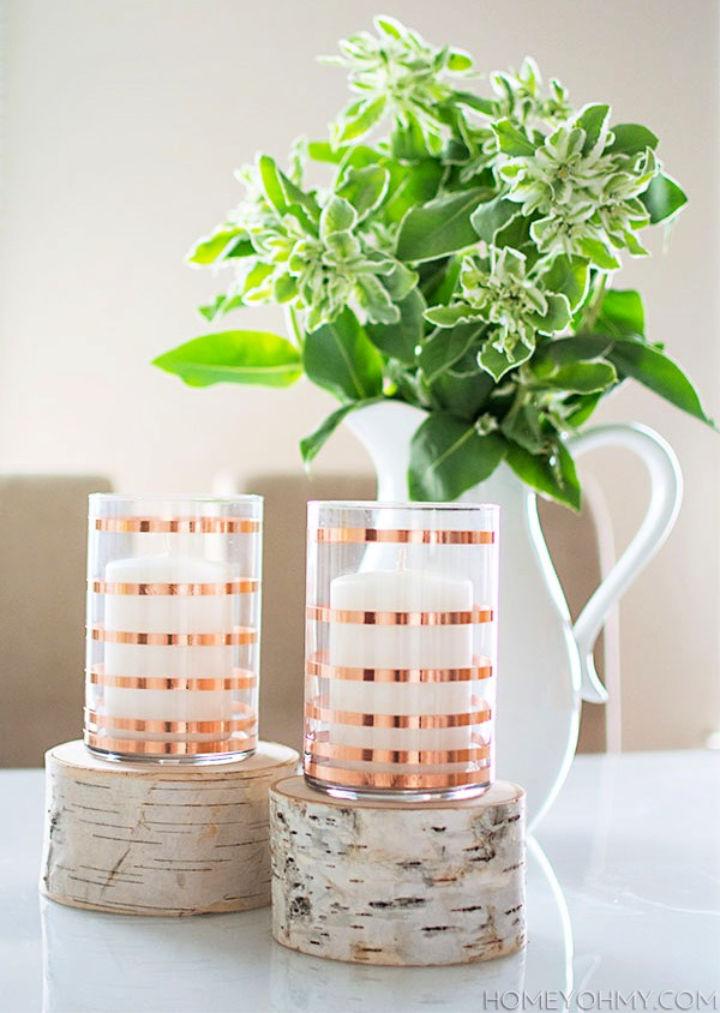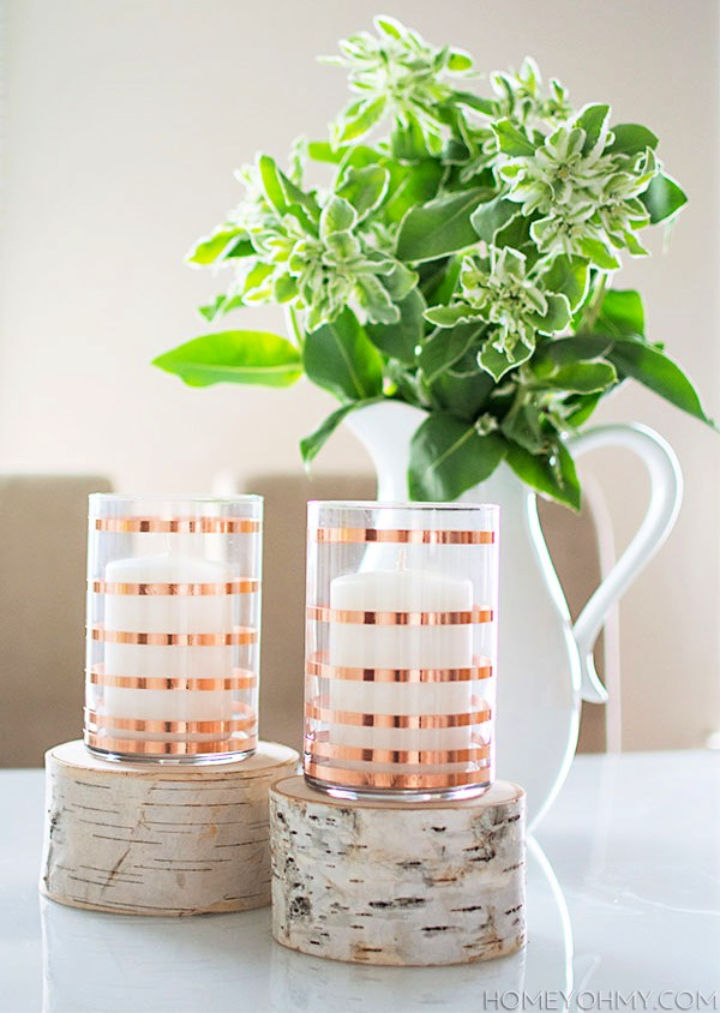 These DIY candle holders are insanely simple to make but will give such a minimalistic appeal that they can spruce up any decor! Just the wonders of copper tape. The tutorial suggests using the ¼" thinner copper tape by Studio Pro, to get the ultimate classy effect. homeyohmy
27. Make Your Own Candle Holders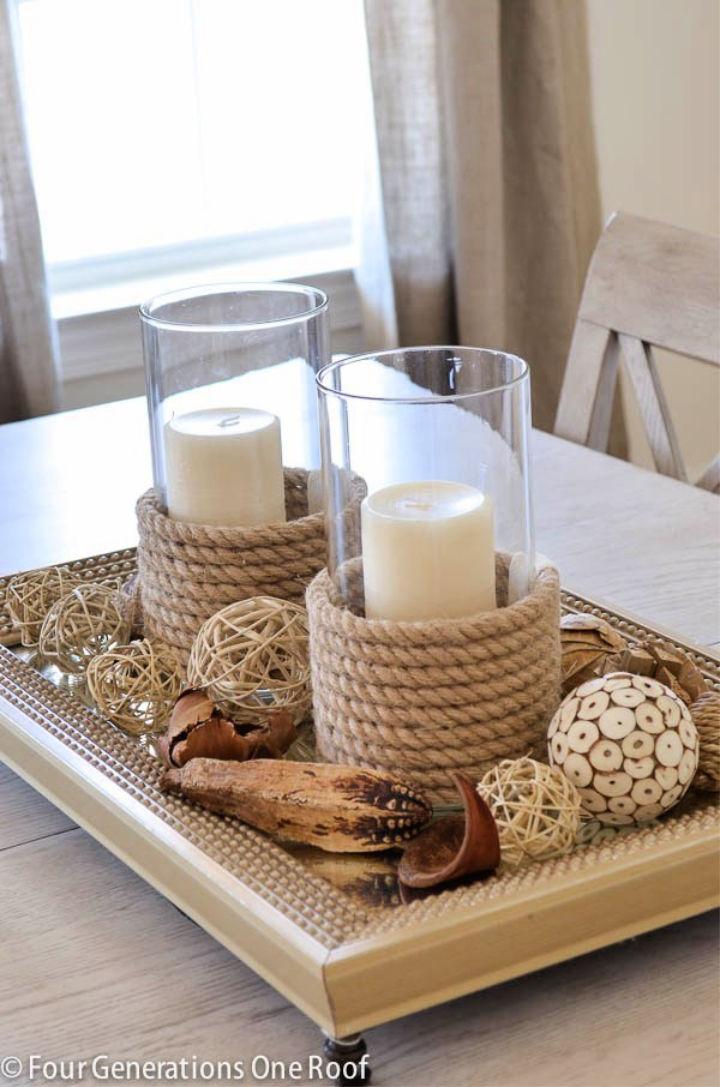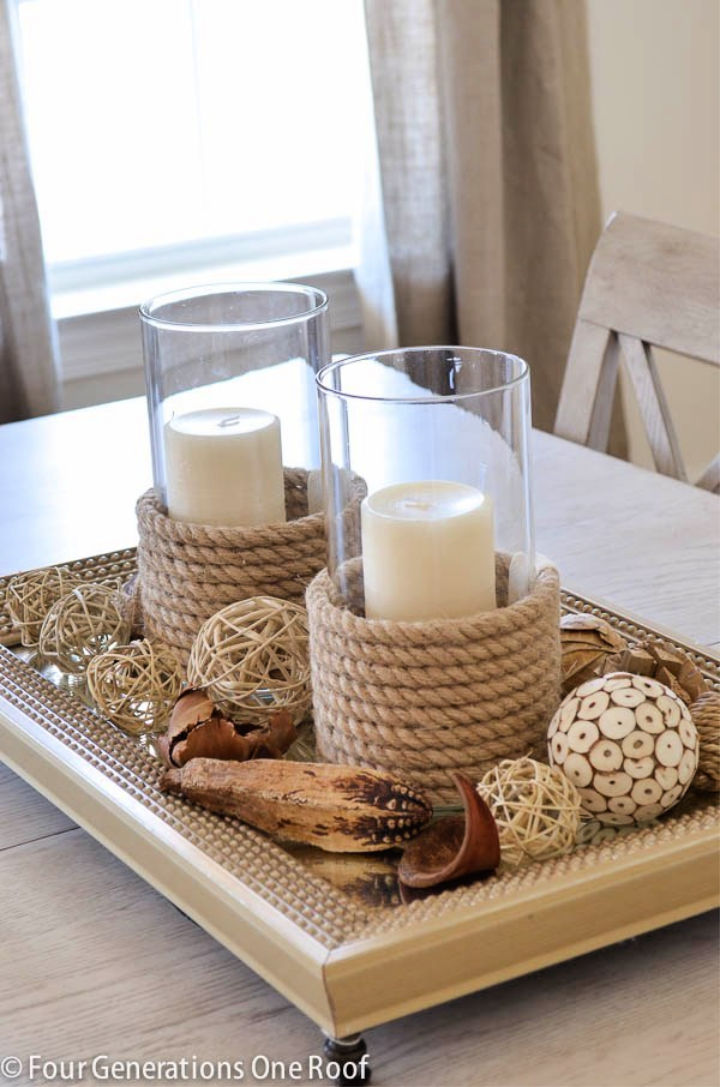 Like we always say, why buy when you can absolutely DIY?! Make your very own candle holders with Four Generations One roof. You can start by selecting your desired size of the glass candle holder and then by using adhesive, rolling some sisal rope around it. fourgenerations
28. Handmade Heart Candle Holder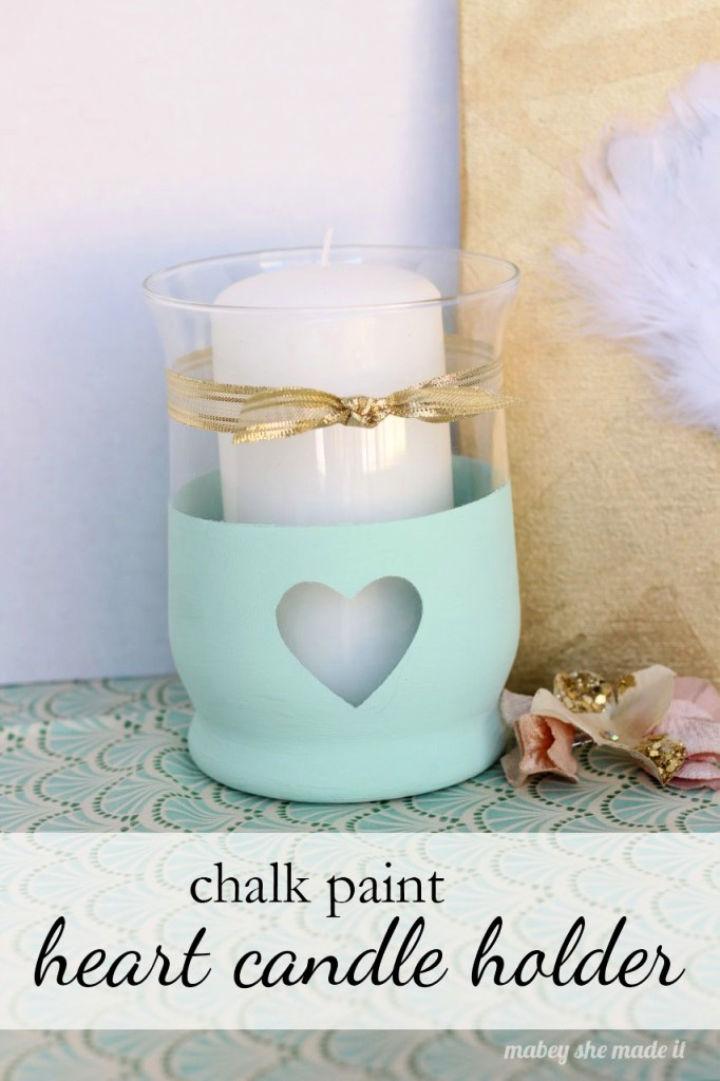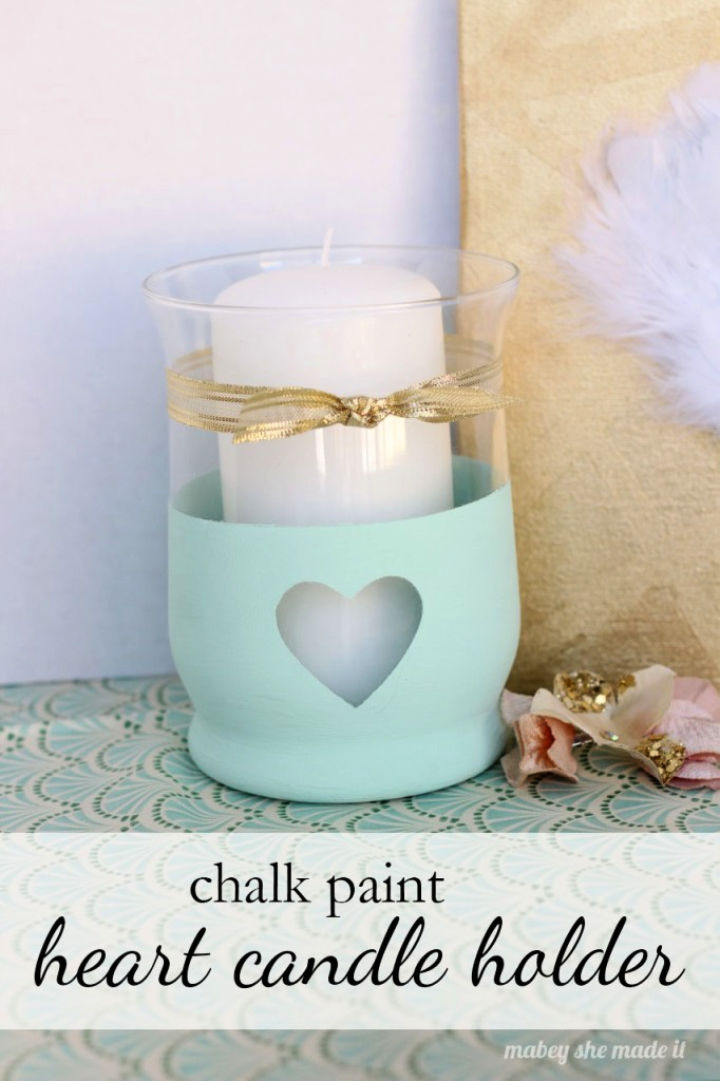 Who doesn't love mason jars? A true DIYer has their first love somewhere roaming around near mason jars! This one has a lovely color block look with a heart stamp inside. Don't forget to click on the link below s=and walk through the step by step guide. thisgrandma
29. DIY Candlestick Holder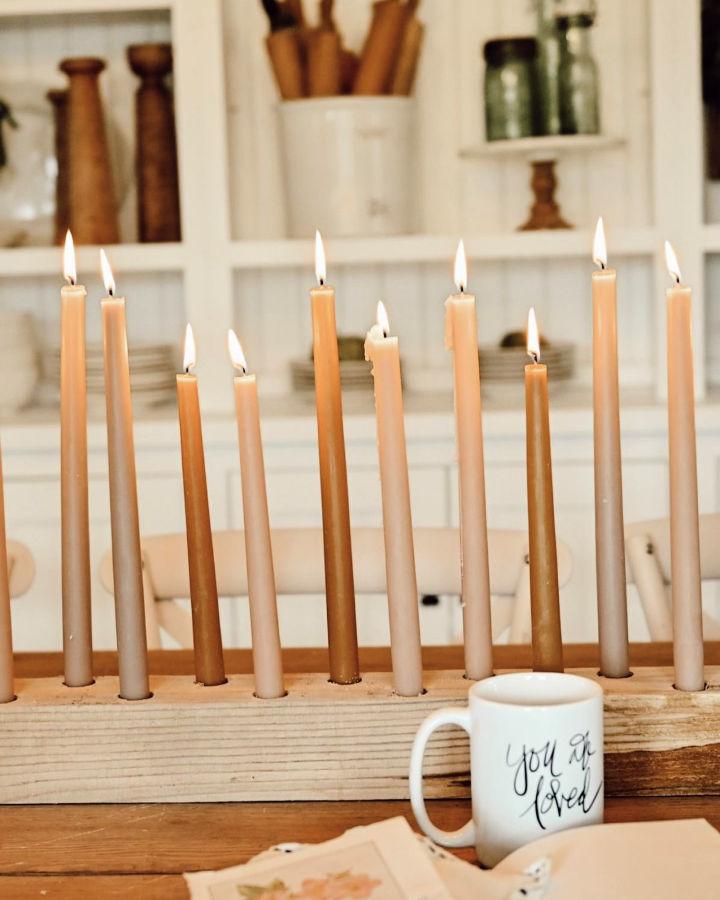 Nothing can amplify your simple decor than an elevated centerpiece candle decor! Use your personal favorite scented candles, and your ambiance around matches your vibes inside. The tutorial suggests using 4 x 4 in about 52 inches in length to use for this long candle holder. lizmarieblog
30. Wood Candle Holder Using An Old Beam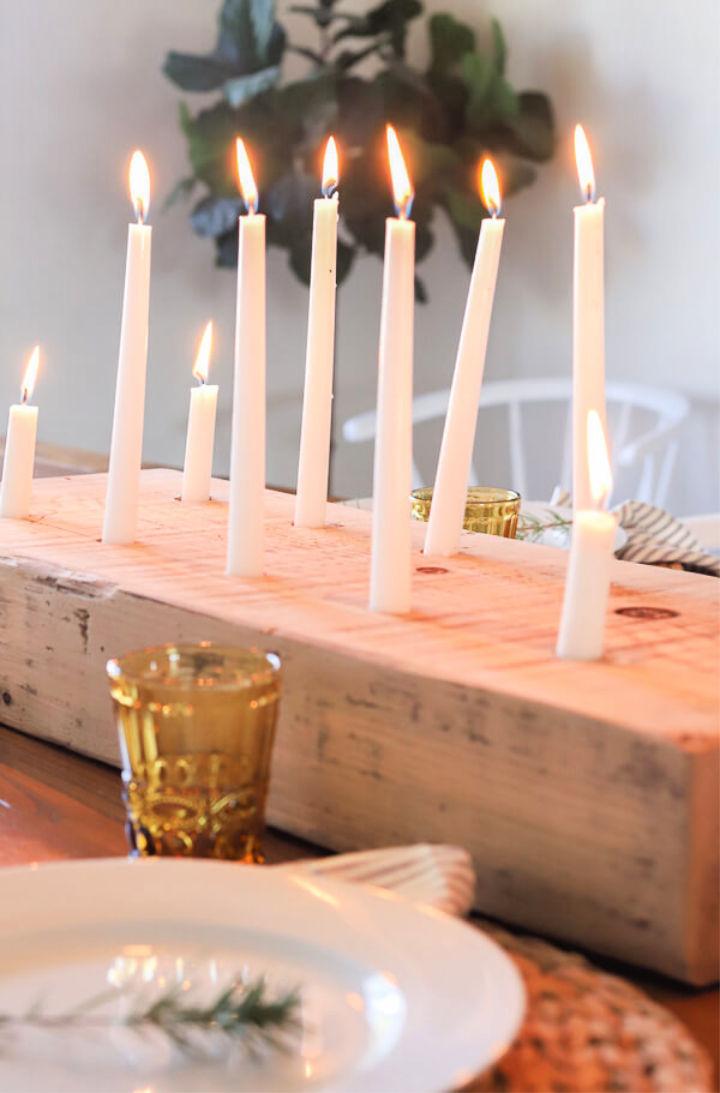 This DIY candle holder is made by refashioning an old beam! Start by cutting a piece of wood to your desired size, drill, drill bit, candlesticks of your choice, and sander. This piece can make a statement decor piece in your place! Get started. twelveonmain
Do you want to make your own candles? just follow these easiest ways to make DIY Candles at home.
You may also like these easy to make related craft ideas:
Conclusion:
Your DIY home decor is made up of pieces of little meaningful things! And no one can deny that these DIY candle holder ideas can bring a pretty enchanting addition to your decor pieces. These DIY candle holders are inexpensive at all and are also super quick to whip up! You don't need a lot of supplies or some complex steps to follow. In fact, you can just make these DIY candle holders in about an hour or two! Or some even in less than an hour. So, get started. Make these for your decor, as a gift for a friend or a new neighbor who has just moved in! Spread the love by lighting up some pretty candle holders.