Birthdays are the life milestones that should be celebrated! Be it your own birthday party, your kids, parents, partner, or friends, a birthday party is incomplete without a happy birthday banner! Complete your birthday with these versatile and easy to make DIY birthday banner ideas. These birthday banner ideas come with free printable templates, so these are pretty simple to make, and you might already have these supplies readily available at your home. Maybe lying around in your craft closet or the scrap leather, cardboards, or scrap paper closets. These DIY birthday banners are easily customizable when it comes to color themes and everything else. Be your own party planner with these DIY birthday banner ideas in your hands.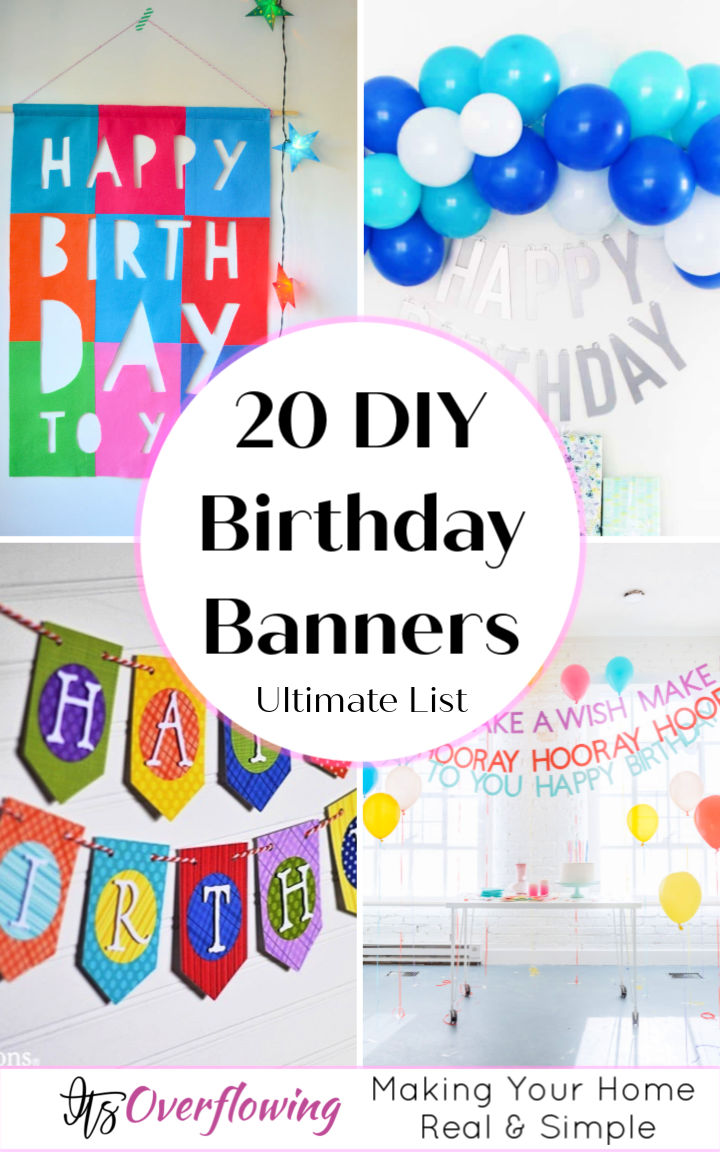 Any birthday party is incomplete without a HAPPY birthday banner! While you can find a lot of birthday banners at the market, ready to hang but they are not as meaningful as a DIY birthday banner. You can find below a great many ways to make the birthday as happening and memorable as it can get. You will love our photo birthday banners, with a series of pictures from infancy to early childhood or whichever age number you are celebrating! Use fabric felt cardboard, ribbon, string, pipes anything can be fitted into these DIY birthday banner ideas. Make the most out of any party by synchronizing the DIY birthday decorations with the birthday cake. Let the festivities begin!
1. How to Make a Birthday Banner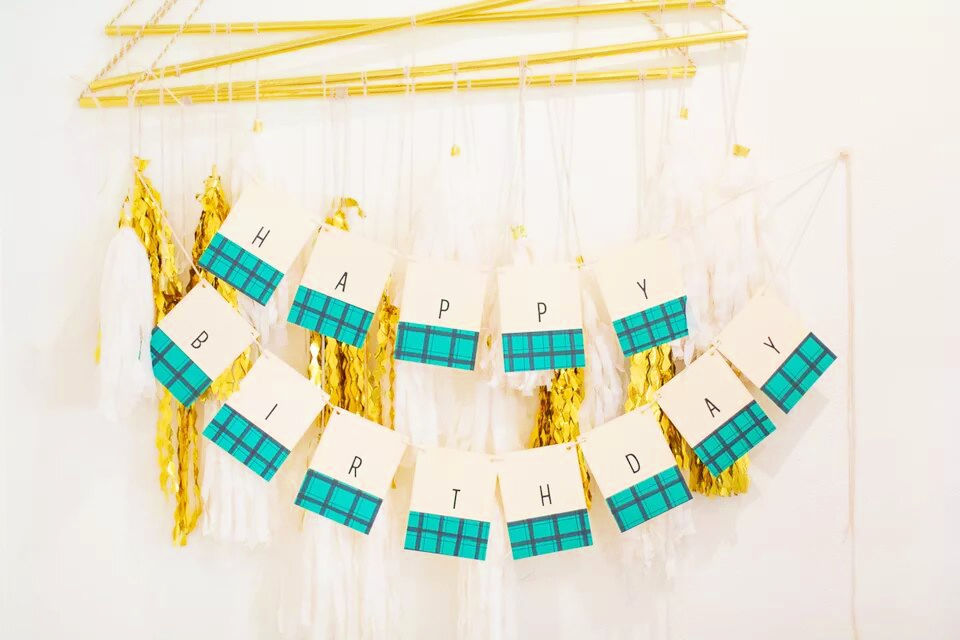 Birthdays are the time of the year to tell someone exactly how special they are in your life! Like this DIY birthday banner here, it is handmade, so conveys the meaning rightfully. Plus, it is super simple to make with just a handful of supplies you may already have. thesprucecrafts
2. Birthday Banner With Patterned Paper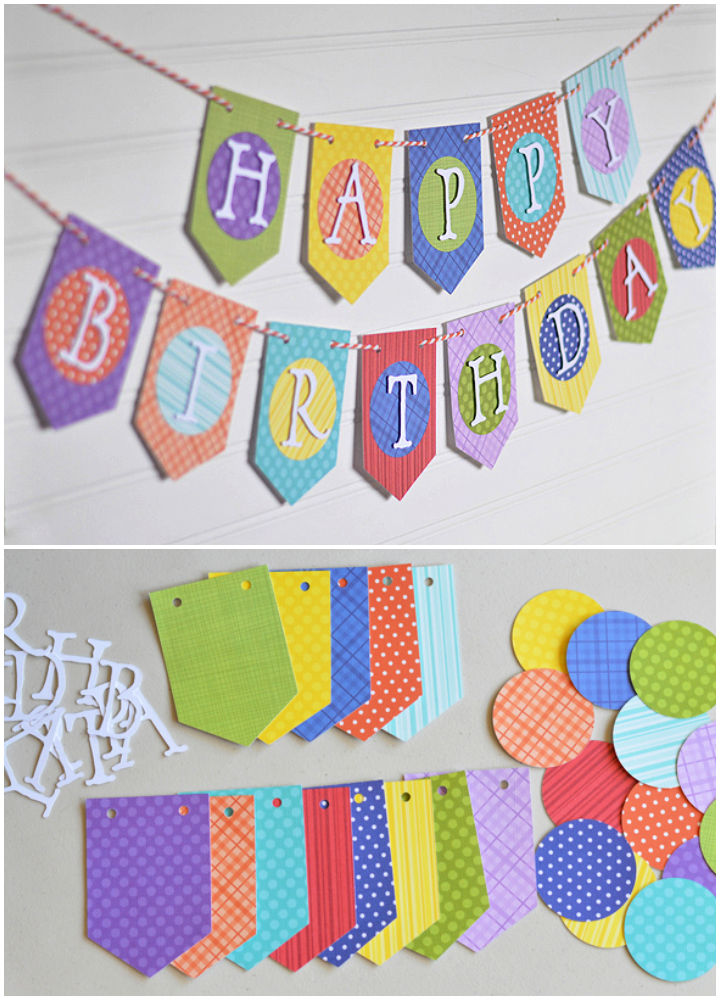 Get your hands on a collection of colorful patterned paper to whip up this festive birthday banner! You can customize the color scheme as per your birthday party theme. All you need is some white cardstock, baker's twine or ribbon, adhesive squares, and digital die cutting machine. darice
3. DIY Happy Birthday Banners
A birthday banner is the essence of any birthday party! Be it yours or your loved ones. Make that essence equally customized and memorable. Check out this uber lively DIY birthday banner with a combination of funky colors and meaningful phrases. thehousethatlars
4. Handmade Happy Birthday Banner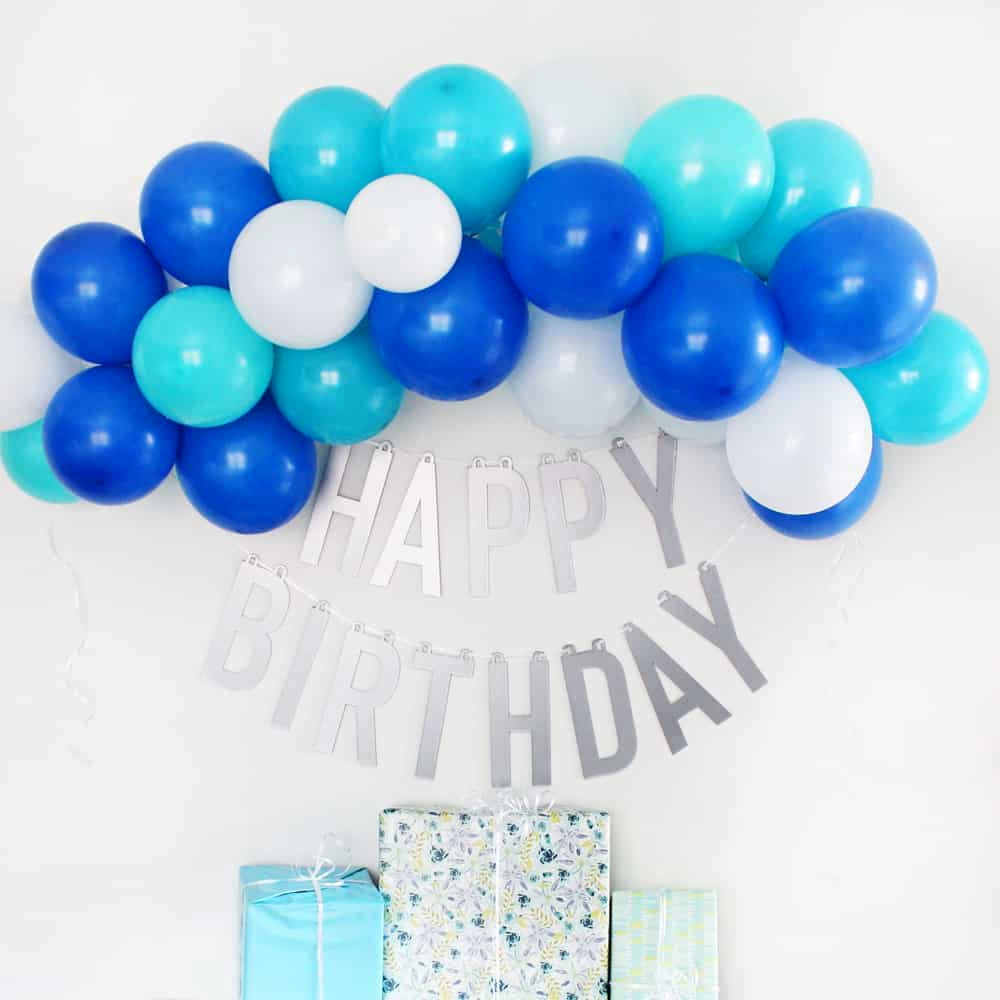 Do you love celebrating birthdays? Then coming up with a welcoming and charming birthday banner must be your forte. You will just need a few supplies, including Cricut maker, a knife blade, grip mat, chipboard, and vinyl with scissors. prettyprovidence
5. DIY Unicorn Birthday Banner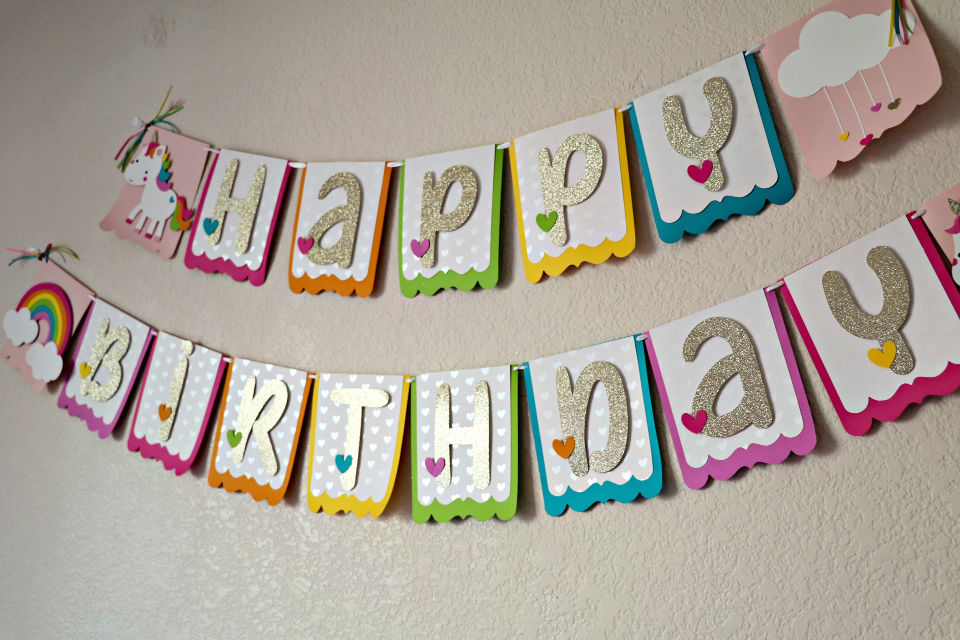 We all love unicorns! They are the universal symbols of hope and life. Regardless if you are a grown-up or a little kid! No one can say NO to a unicorn birthday banner. If you are holding a birthday party anytime soon, choose a unicorn theme and set up this pretty banner along. thedenverhou
6. Felt Birthday Banner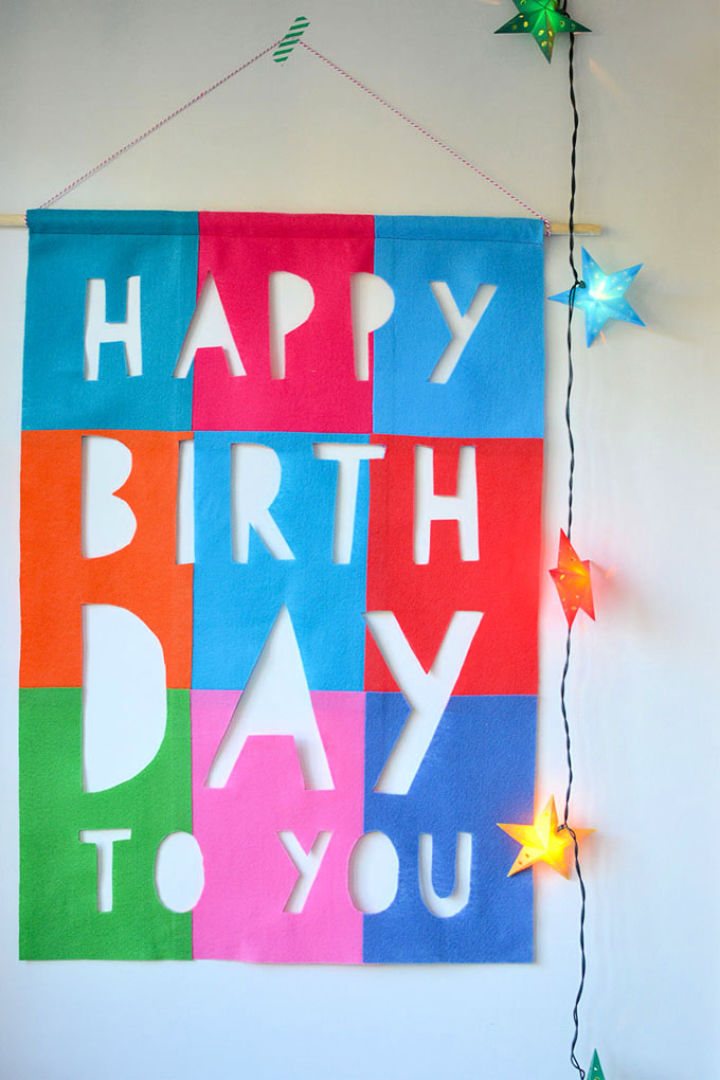 Not everyone is a pro at sewing! But that certainly doesn't mean they have to miss out on all the fun that comes with it. How about we tell you this ultimate guide for making a no-sew felt piece of art birthday banner? Hit the tutorial now for all the details! artbarblog
7. Birthday Banner with PSA Stamps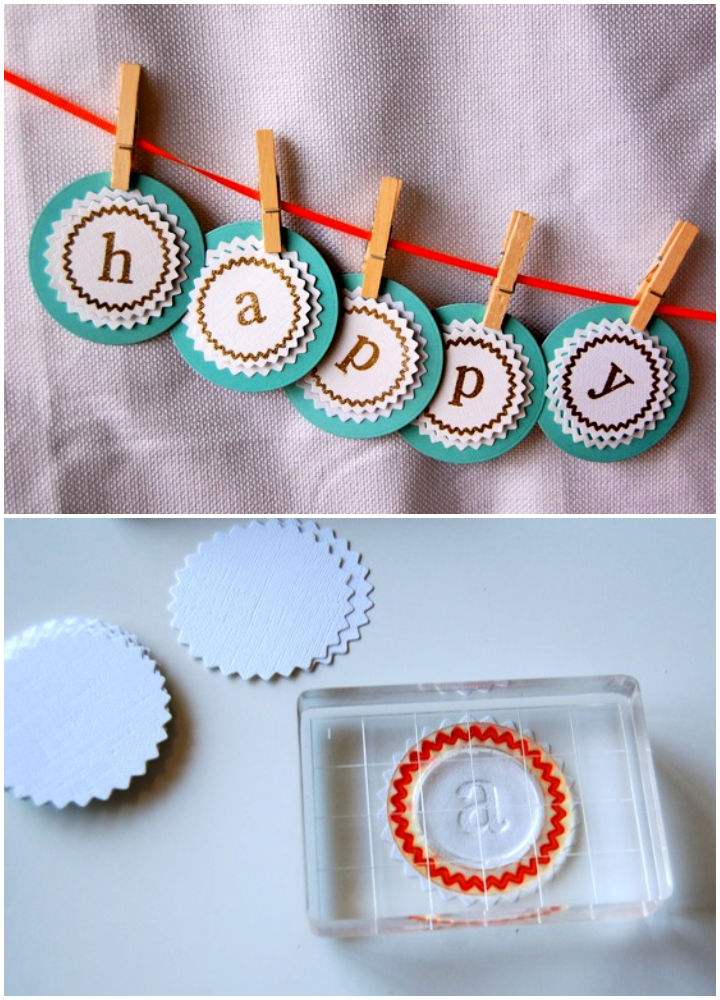 PSA stamps are a versatile craft supply that can bring so much texture to any artwork! Make an appealing and minimalistic birthday banner using PSA stamps. Along with that, you will also need a heat embossing tool, glitter embossing powder, circle cutting dies, watermark ink pad, and orange ribbon with mini clothespins. nobiggie
8. Dinosaur Fossil Birthday Banner With Your Cricut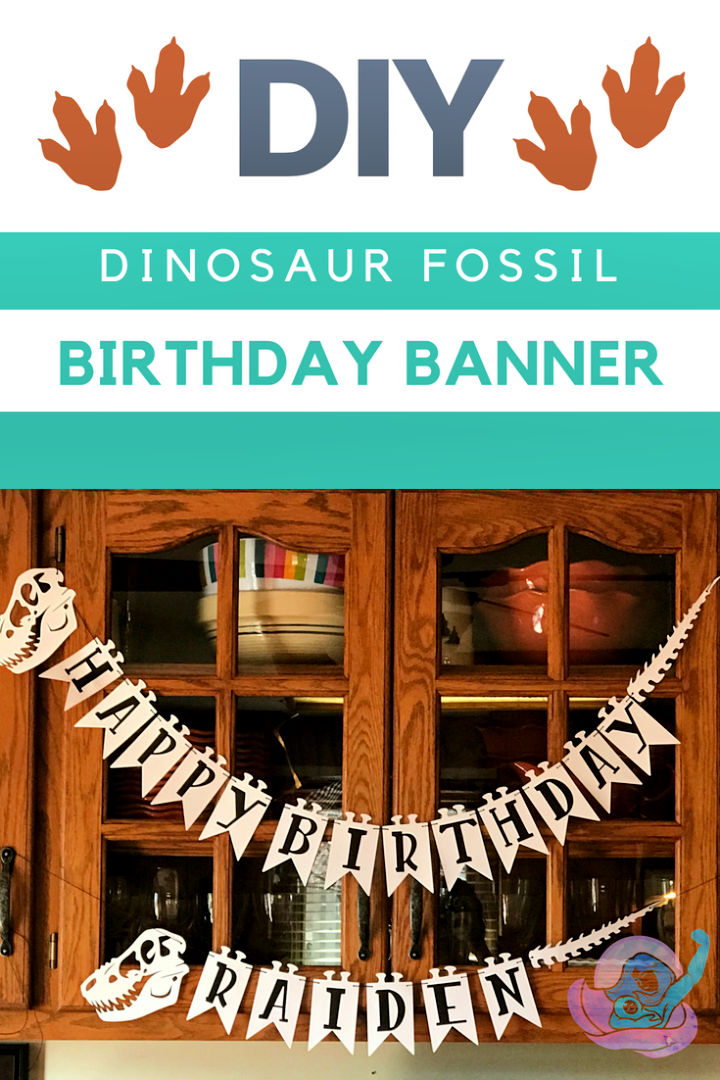 Know anyone as crazy about dinosaurs and fossils as Ross from FRIENDS? This dinosaur fossil birthday banner can be a party booster for the Ross in your life! The whole thing is such a piece of art with the dinosaur skulls at the end and the bone like fossil cards in the middle! Click the link below for all the details. perseveringmo
9. Create a Custom Birthday Banner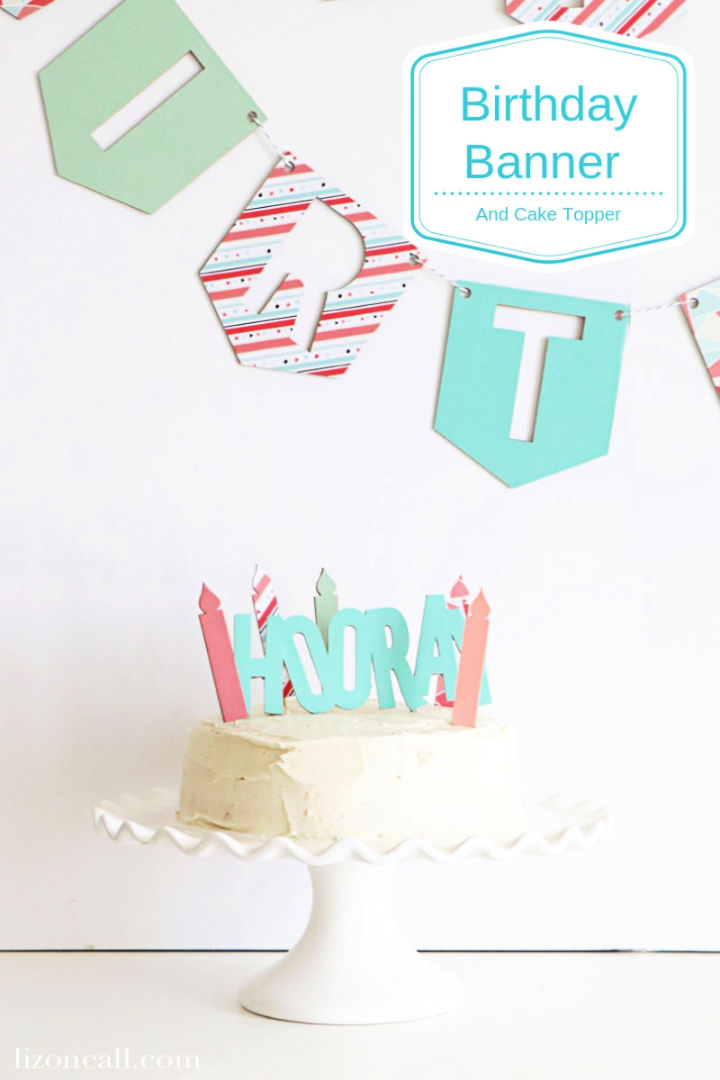 The thing with birthday parties is that everything has got to sync with each other! The flawless synchronization can make any birthday party an unforgettable one! This DIY birthday banner is certainly easy to customize as you will be working with Cricut maker, chipboard and cardstock. Don't forget to grab the FREE birthday banner cut file. lizoncall
10. Handmade Birthday Banner
Time to whip up a super easy birthday banner! Bring back all the old fun memories of coloring things up. The tutorial suggests using Tombow dual brush pens, scissors, pennant shapes cut out of card and string, a pencil with a hole punch. brownpaperbun
11. Easy Birthday Banner – Birthday Decor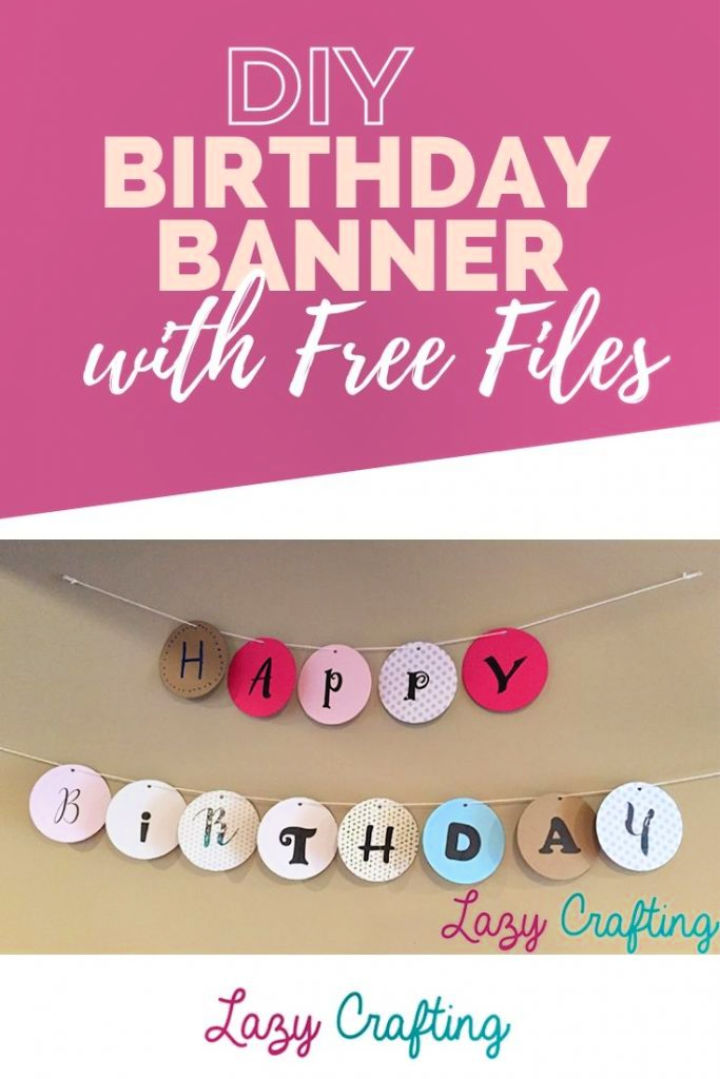 The best part about whipping up your birthday banner is that it gives you quite a lot of room to be as creative as you would like to be! You start by picking up a theme and then deciding the table toppers, banners, etc. The FREE file is all up for grabs to make this birthday banner. lazycrafting
12. Photo Birthday Banner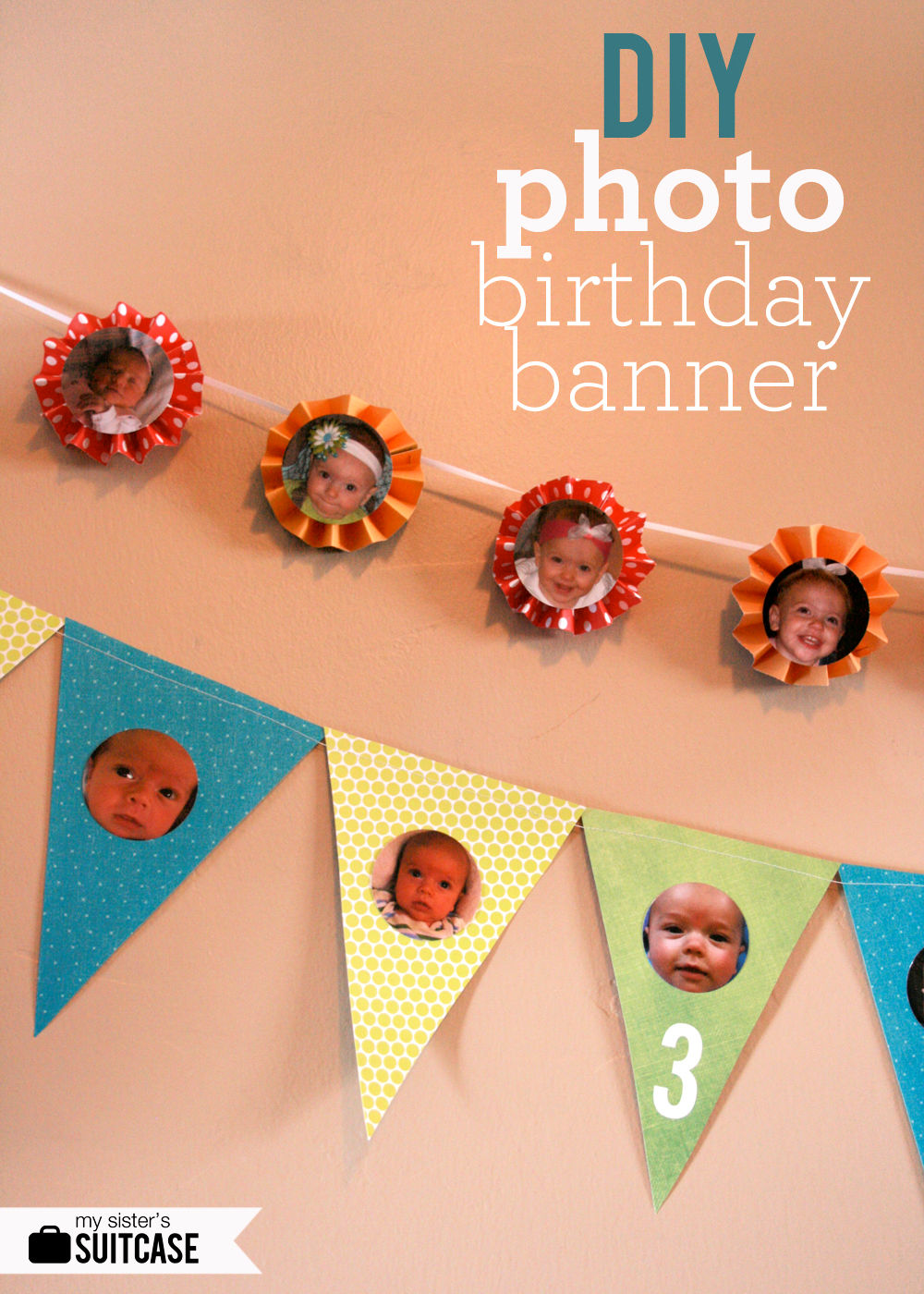 Life is a series of memories! And birthdays are the ideal time to revisit and cherish those memories. This photo birthday banner is a wonderful way to take a quick walk down that memory lane. You can make this for your little one by using 3 x 12 inches strips paper and a few more tricks to fold the paper. sisterssuitcase
13. DIY Happy Birthday Banner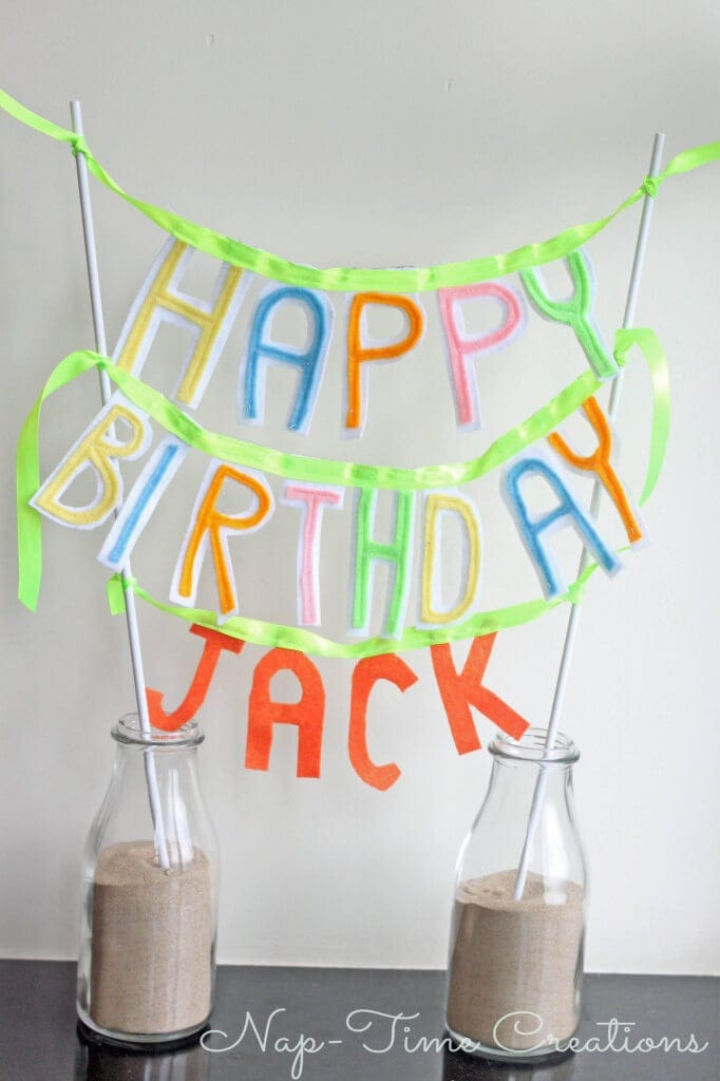 A customized birthday banner can be the key to throwing an impressive birthday party! Set it up differently, too, using two empty milk bottles. Fill them with sand. Use 2 plastic or wooden roads for tying the banner on abridging the bottles. Use ribbon and felt along! lifesewsavory
14. DIY Happy Birthday Banner Box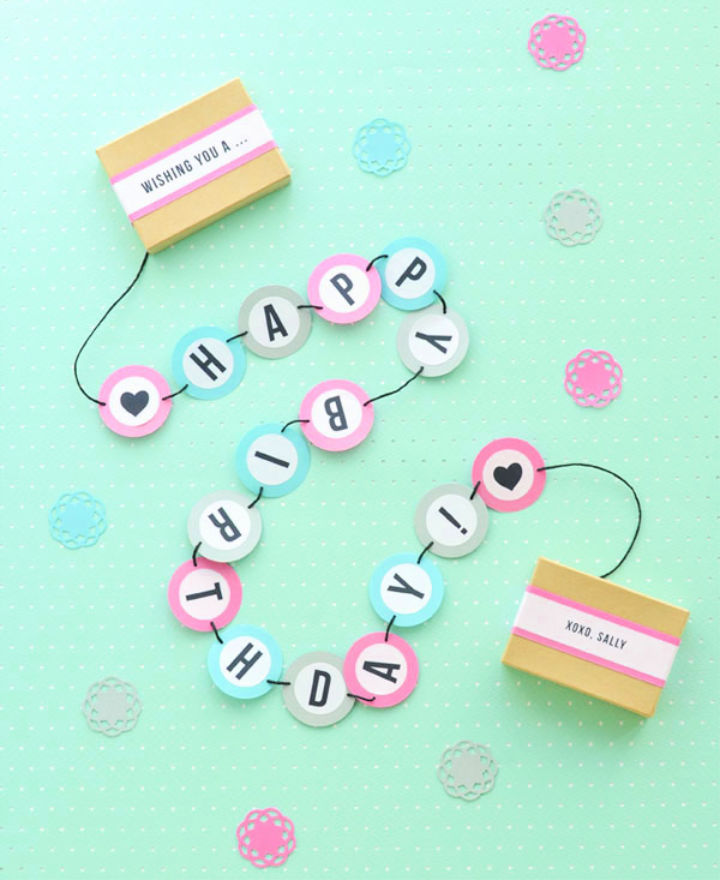 A traditional or straightforward birthday banner is too old style, right? Spice things up a bit with this uber cute box birthday banner box. It is straightforward to make and gives such a cool statement, too! You just need a kraft box, colored text white paper, colored cardstock, white sticker paper, and a few more supplies. ohhappyday
15. DIY Birthday Banner – Jungle Themed Party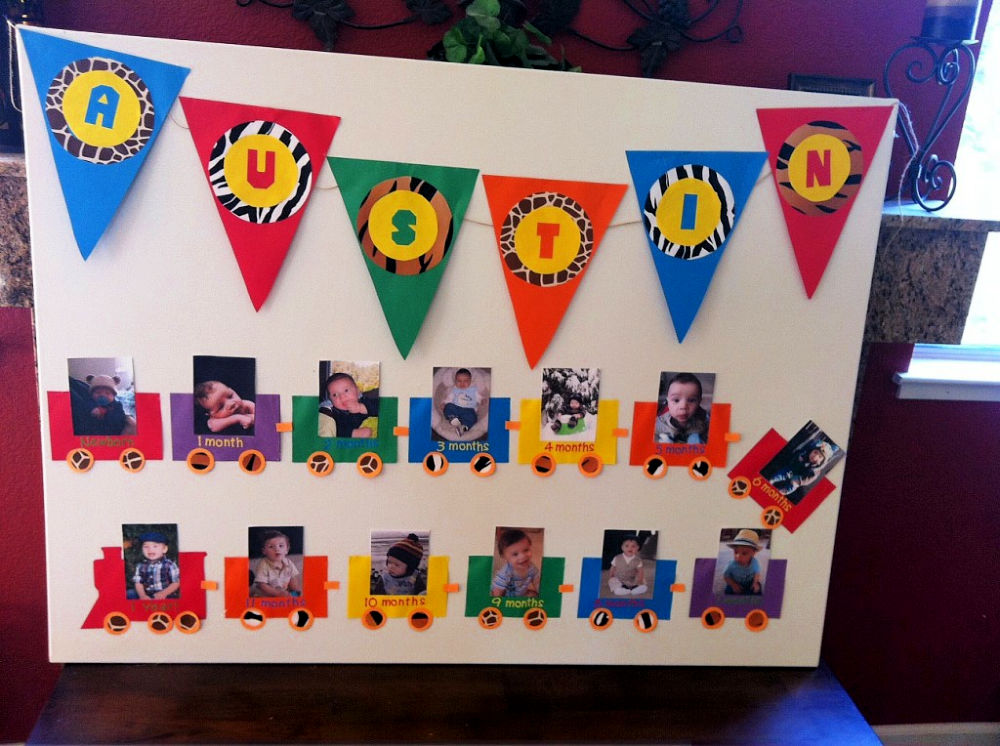 Remember, what was your greatest fantasy as a kid? To visit the jungle or at least see all the jungle related movies. We bet your kids have the same kind of fantasies. So, whip up this jungle-themed birthday party for your kid! By using colored paper pasted on poster board with photos and string! simplyrealmoms
16. Balsa Wood Happy Birthday Banner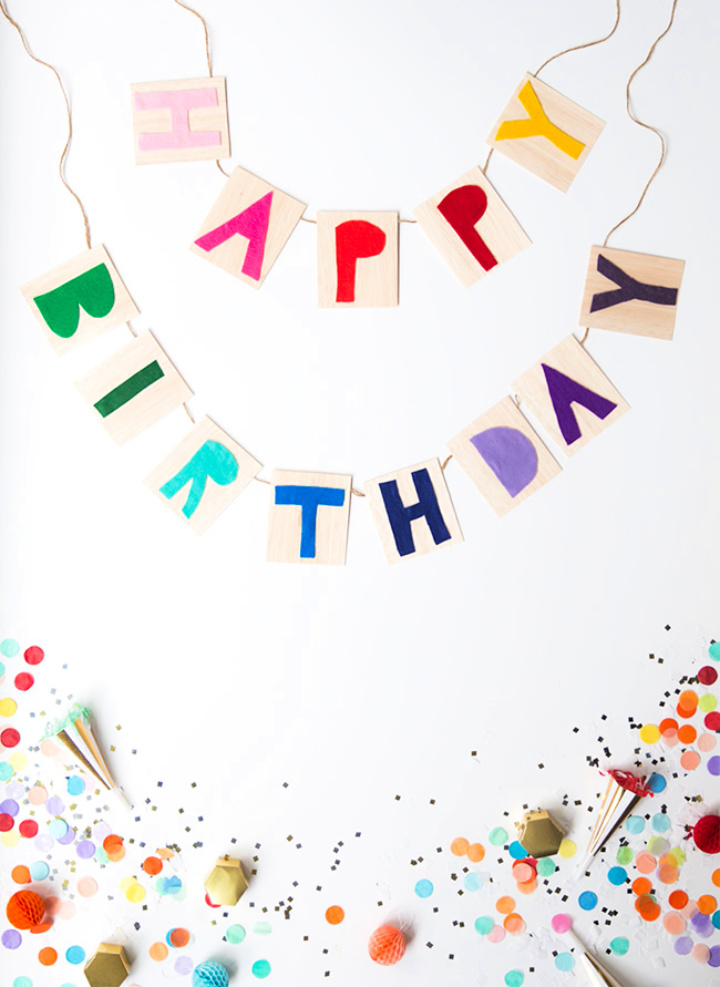 Get your hands on some Balsa wood stripes and make the ultimate epitome of birthday fun! You can easily find these strips at any store. Use some felt in rainbow colors, with fabric glue, string, and scissors. sayyes
17. DIY Photo Birthday Banner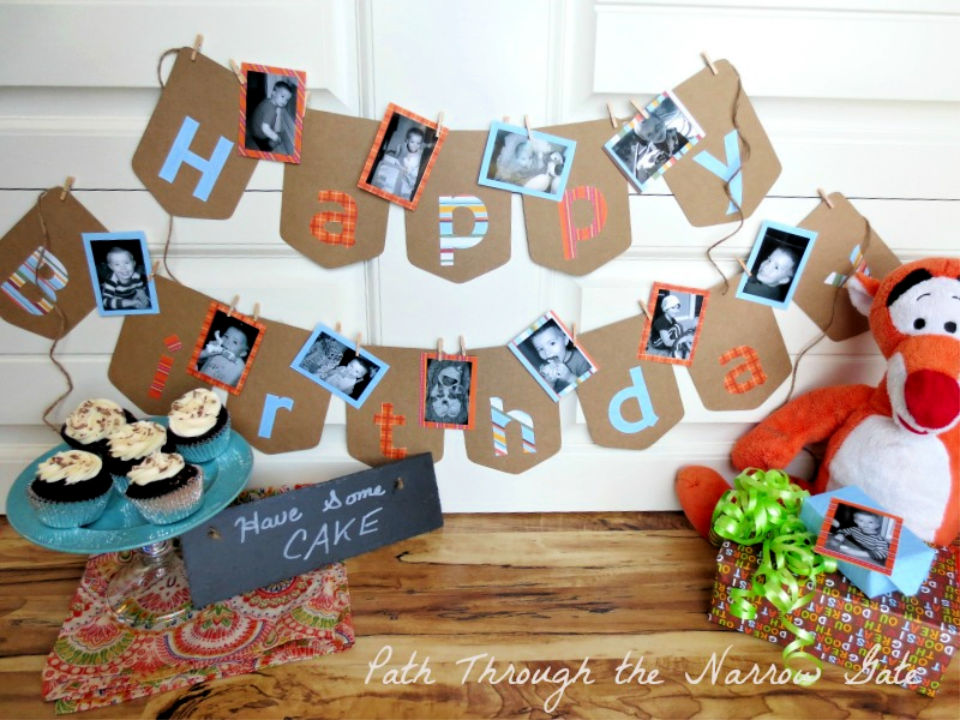 Here's another lovely looking birthday banner with lots of photos which can take you down the happy memory lane. It can be easily made using cardstock papers with coordinating scrapbook paper. The tutorial has also got the Block letters free downloadable file for girl's and boy's birthdays! paththroughthe
18. Felt "Happy Birthday" Banner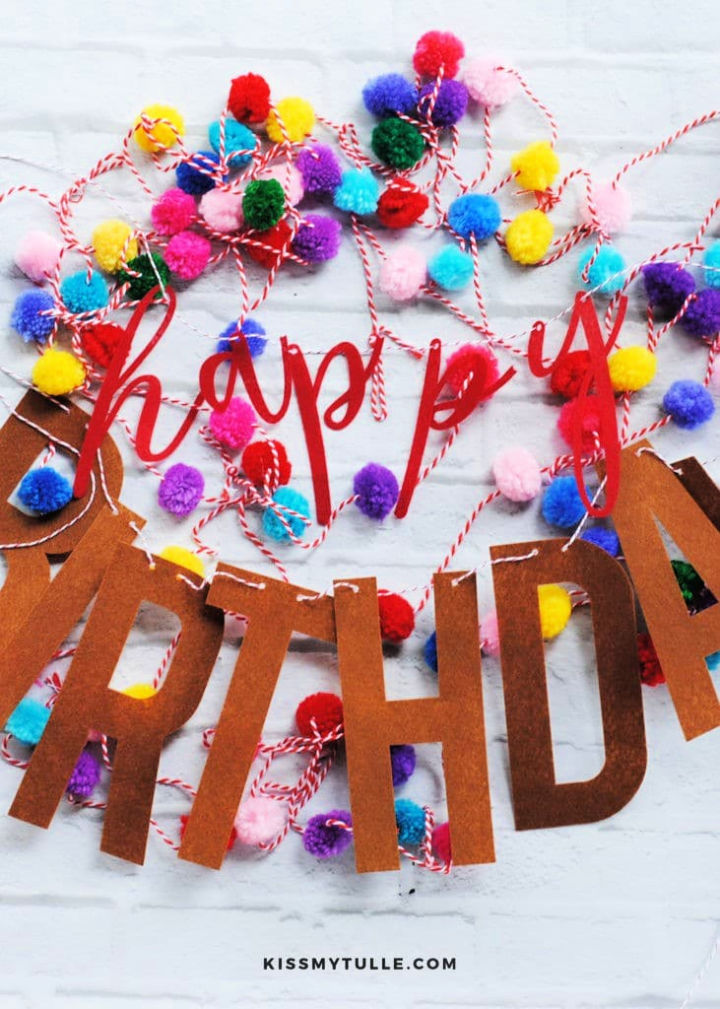 Using felt to whip up a DIY birthday banner is perhaps one of the easiest ways to make a lovely addition to your birthday décor. Plus, you need readily available supplies like felt and some baker's twine. Other tools required include Cricut maker, Cricut design space, and fabric cutting mat. kissmytulle
19. Birthday Banner out of Felt and Leather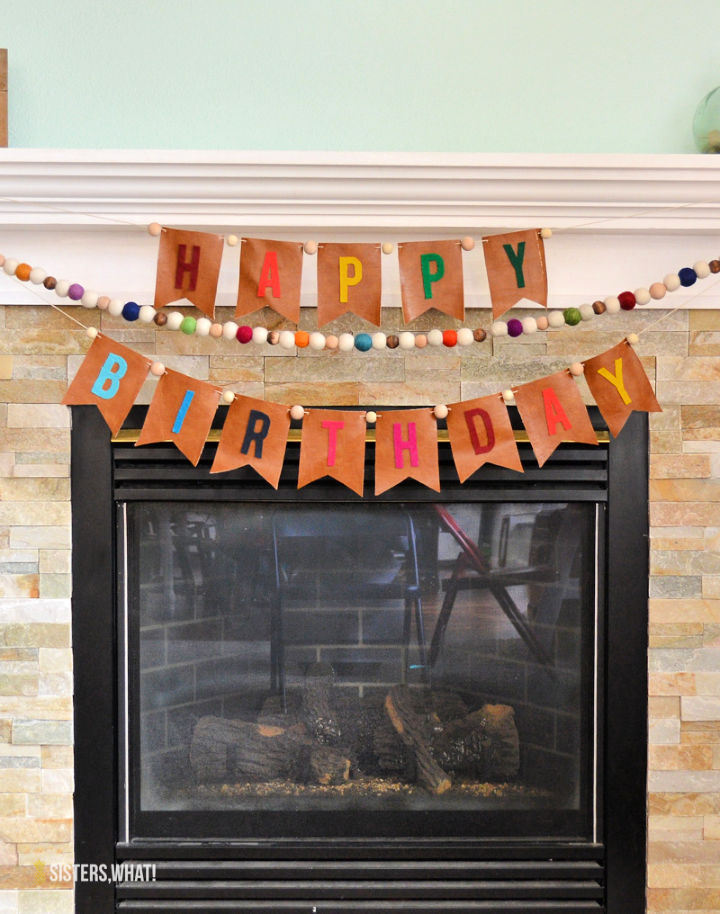 What a charming and whimsical combination of felt pieces on leather back for a birthday banner! The leather cards are giving the whole birthday banner such a subtle appeal. You can make this by using a leather bookmark, that's right! Get the rest of the details here. sisterswhat
20. DIY Fabric Birthday Banner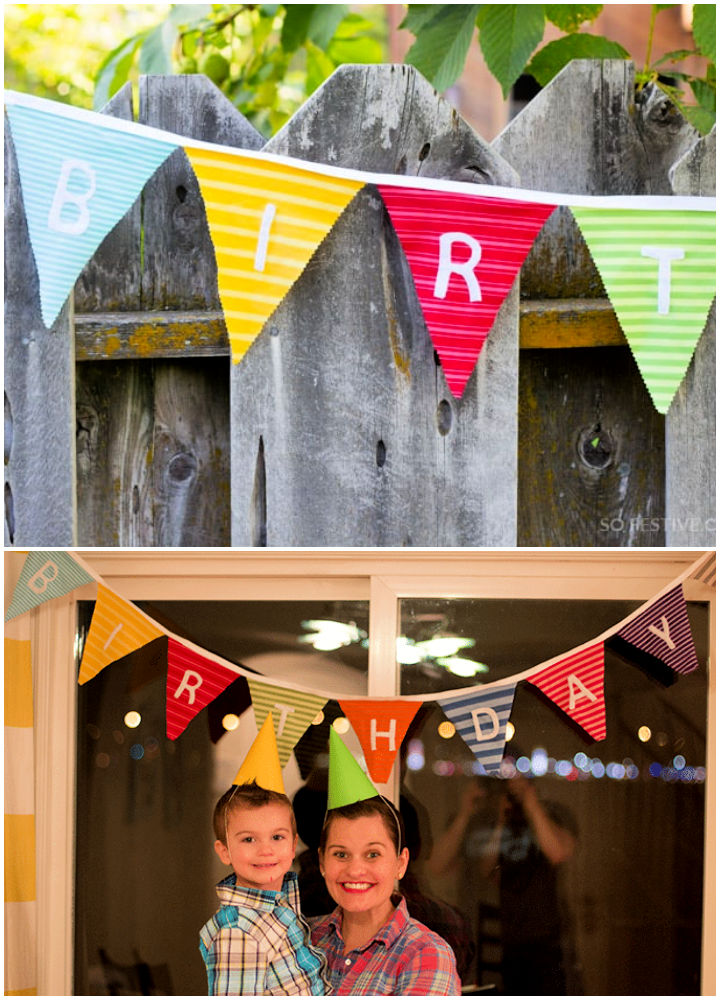 Everything comes and goes, but fabric as one of the most longstanding and versatile craft supplies. So Festive has got the ultimate festive birthday banner for your next birthday party! Made out of fabric. Using pinky shears, banner template, sharpie, bias tape, and sewing machine. sofestive
Conclusion:
A DIY birthday banner will not only save you some buck *which you can, by the way, then spend on buying a gift or something). But, it also conveys the meaning! That you cared enough to make something special for the occasion! Some of these birthday banner ideas are to last longer than others. You can redo the main layer and use the same base. Suit yourself!