A picture speaks more than anything else! You can jot down so many things and yet be unable to convey your meaning. We have rounded up below these lovely 101 best DIY picture frame ideas with detailed tutorials that can be all decor enhancing. And, by decor enhancing, we mean being actually the decor #goals. Or they can also be some really thoughtful gift ideas for your beloved friends and family out there. Plus, if you happen to love DIYing even a little, you are going to absolutely love these DIY picture frame ideas.
All of this photo frame collection is not just easy to whip up, but every idea has this uniqueness that it brings to the table! So, if you are looking for some economical and art healing activities to keep you occupied with. Transform your empty walls with these mind-blowing picture frame ideas!

You might have different versions of perfect wall decor, but with these DIY picture frame ideas, you are going to have so many more brilliant ideas! Such as adding life to the blank wall and, at the same time, bringing texture and character to the room! Be it a minimalistic picture frame inspired by a farmhouse design or a colorful splash of paper mache or glitter.
Moderate the whole look by adding a hint of polka dots or spruce up the look using pom pom trim! We bet it will not be wrong to say that with these DIY picture frame ideas and after this reading, you will have SO many amazing ideas! To flaunt and be the queen or king of decor around the town! So, let's just get started and transform your place into a magical haven with these lovely photo frame ideas.
1. DIY Scrap Wood Picture Frames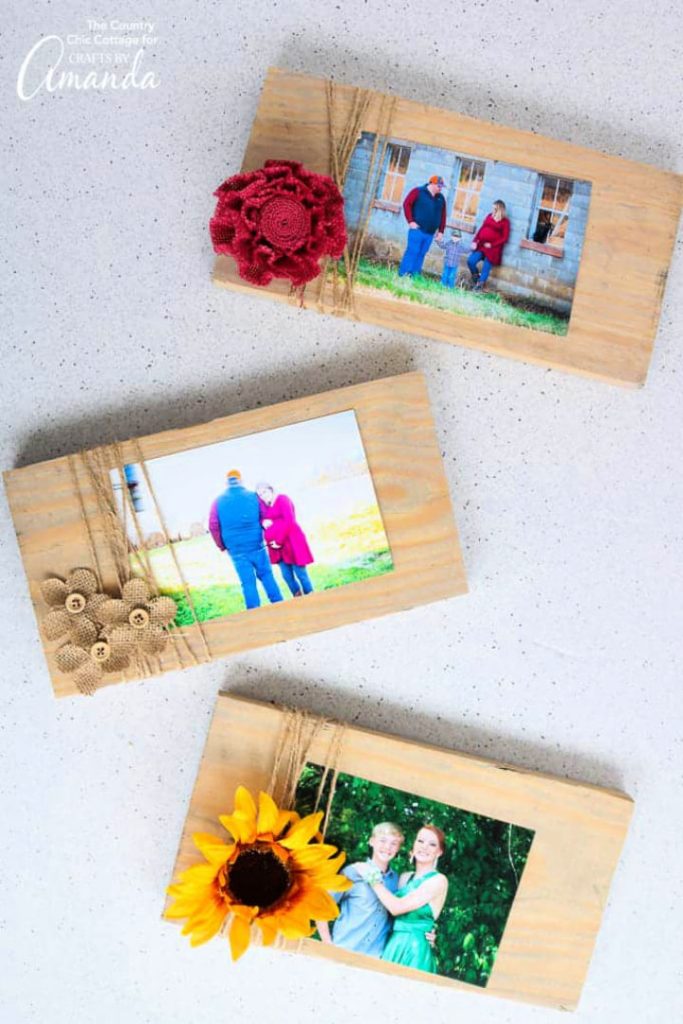 Wood adds quite a darling texture and appeal to any decor. If you happen to have any scrap wood laying around in your backyard or garage, time to make some lovely DIY photo frames out of it! All you need is scrap wood pieces, wood stain, brush, and few embellishments. craftsbyamanda
2. Wooden Wall Art with Cricut Iron On

Empty walls are pretty boring to look at! Plus, it's the walls that make any place liven up more. Hence enter this wood wall art with Cricut to your decor and make something adoring out of it. If you love wood wall art and collages or want to make your own gallery wall, you are in for a treat! thekingstonhome
3. How to Make a Denim Photo Frame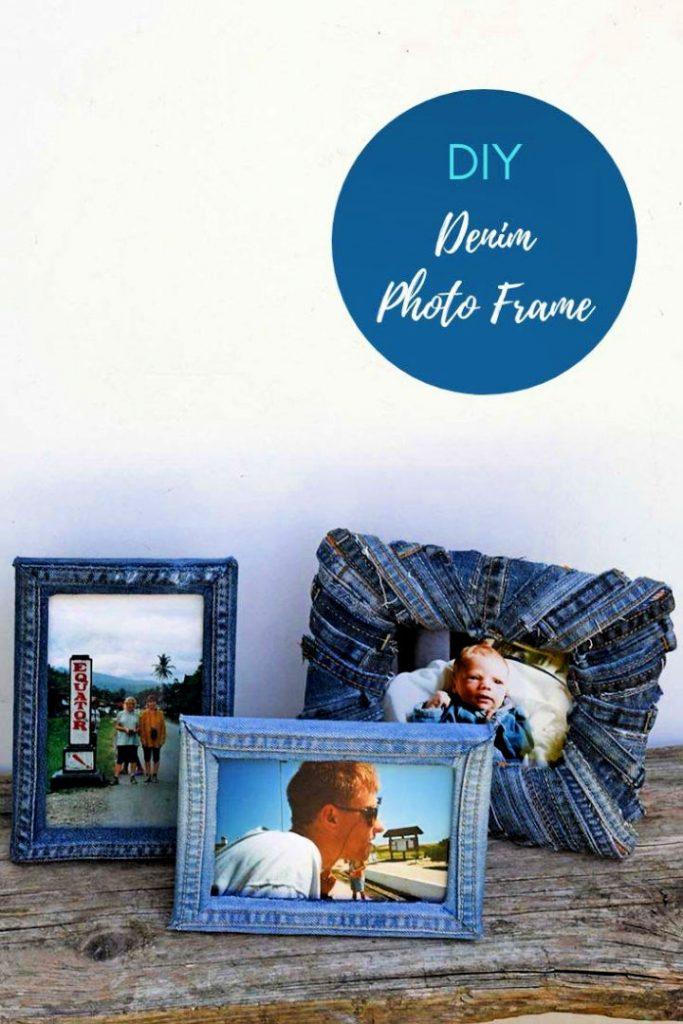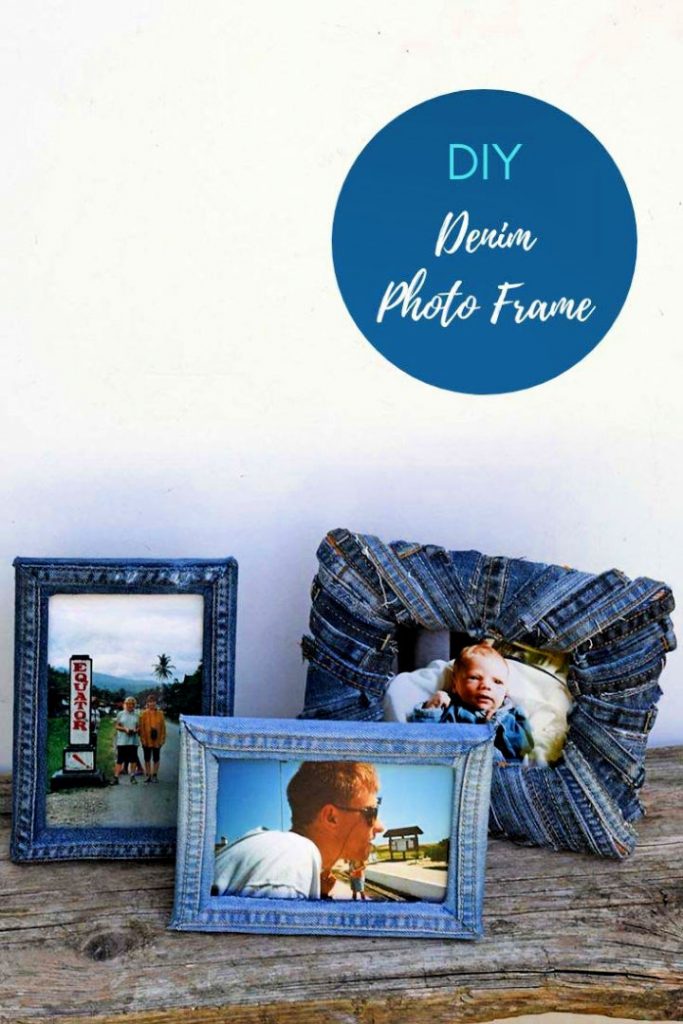 How to make a picture frame using old jeans? Did you know your old Denim could be such a whimsical decor supply? Bored of the old photo frames? Time for a lovely makeover. This no-sew denim wonder can make such a lovely DIY photo frame! Hit the tutorial for the complete guide. pillarboxblue
4. DIY Design Photo Frames for Filling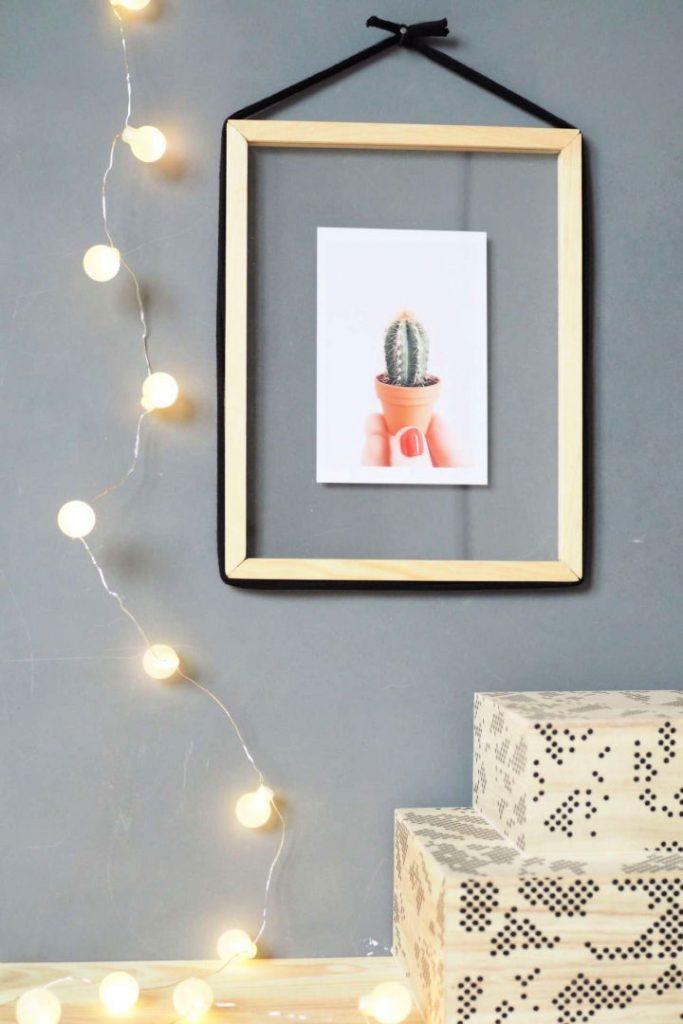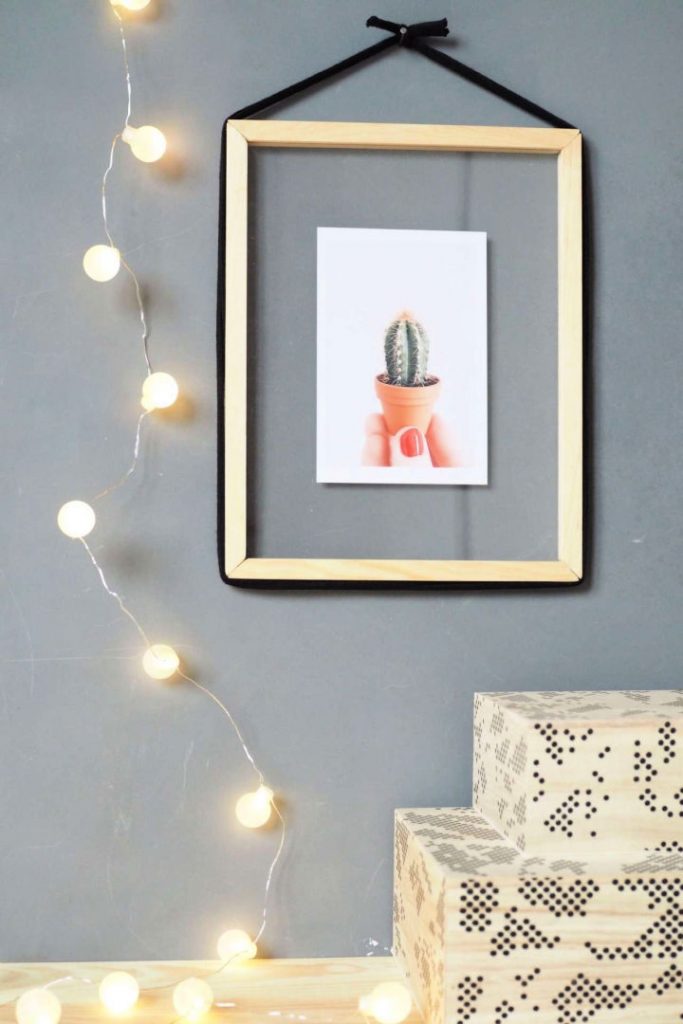 Check out this DIY photo frame design for a delicate filling such as a lovely travel photograph or a magical flower art from a magazine! It certainly is an epic example of minimalistic wall decor. All you need is a Plexiglas pane and a grooved stick! paulsvera
5. Handmade Mermaid Picture Frame

Mermaids are the charm of any sea! And this handmade mermaid picture frame can brighten up any place. Get your hands on a picture frame, some acrylic craft paint, gelato in mermaid color, and modeling paste. Along with these, you will also need a mermaid scale stencil, and the FREE pattern is up for grabs! natashalh
6. DIY Stunning Printed Map Picture Frame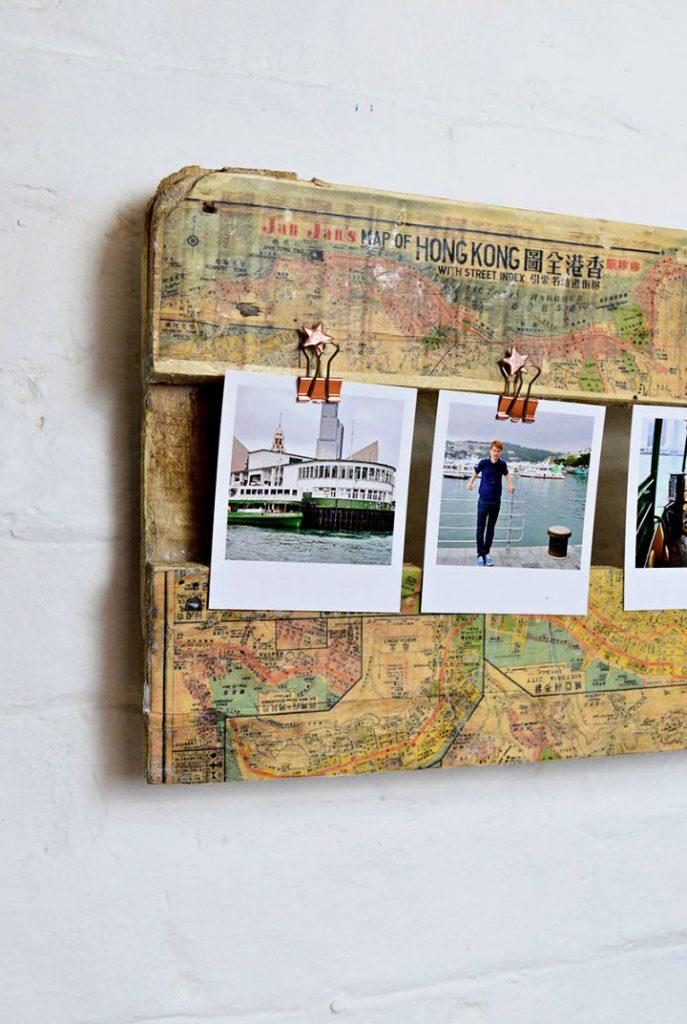 For your traveling lover friends, this DIY photo frame flaunting this vintage world map is a great gift idea. Pair it up with photos of them alone or with you to trip to different places. Use simple paper clips to reminisce the lovely memories with a plank of simple pallet wood as the base. pillarboxblue
7. How to DIY Display Halloween Pictures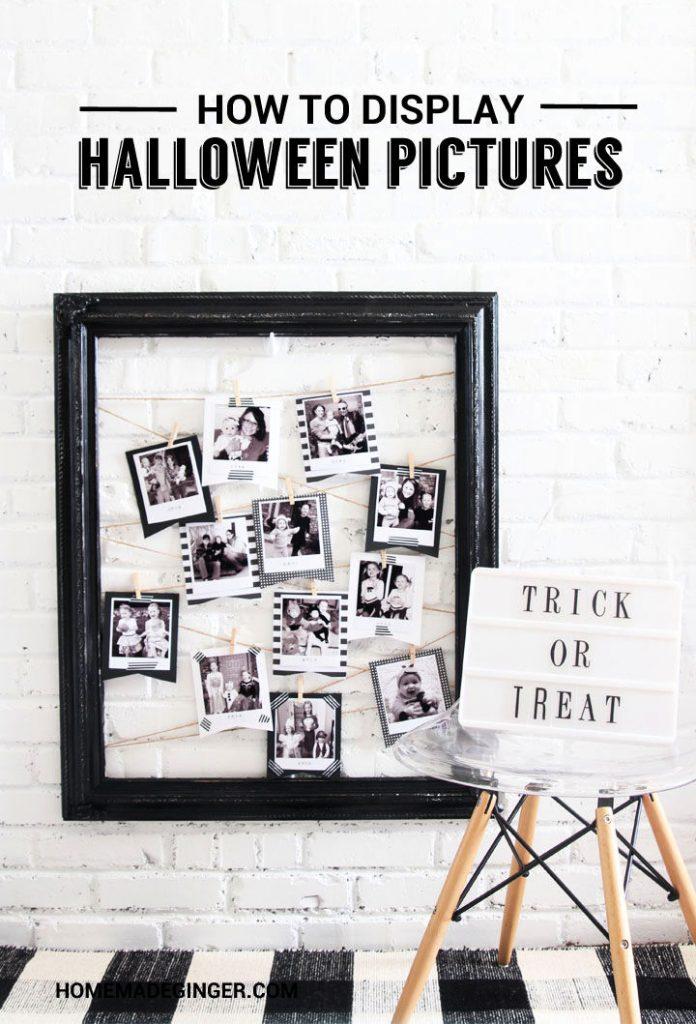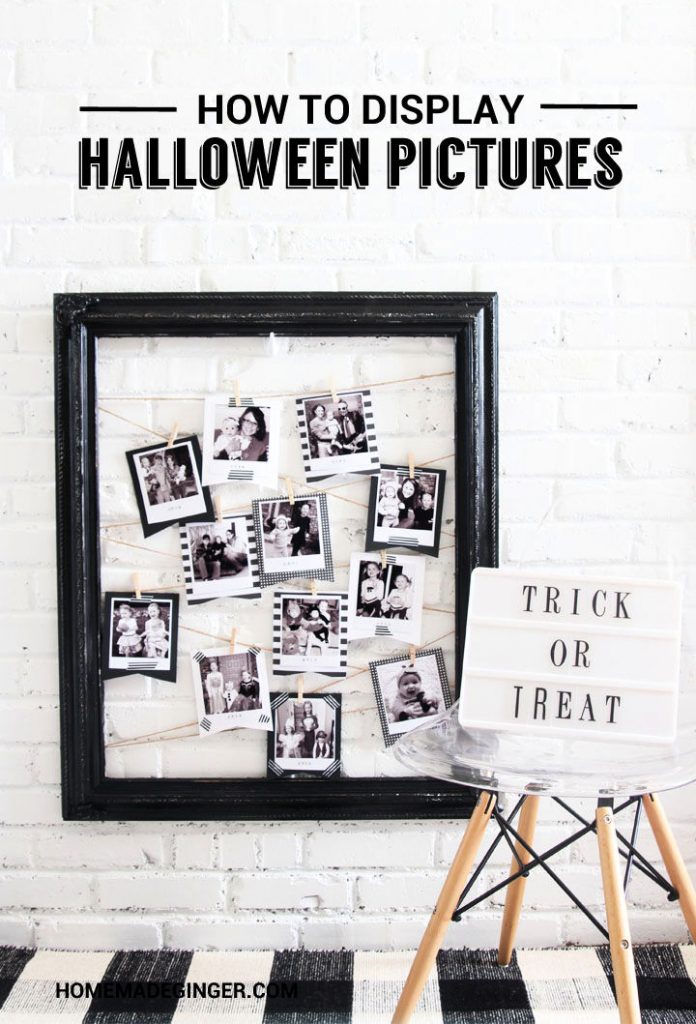 Every house has a Halloween story to tell and cherish! These stories travel from generation to generation. Why not make this Halloween more special than simple trick or treating? Make a lovely photo collage displaying all the Halloween pictures! Get details from the tutorial. homemadeginger
8. Make a Painted Rustic Picture Frame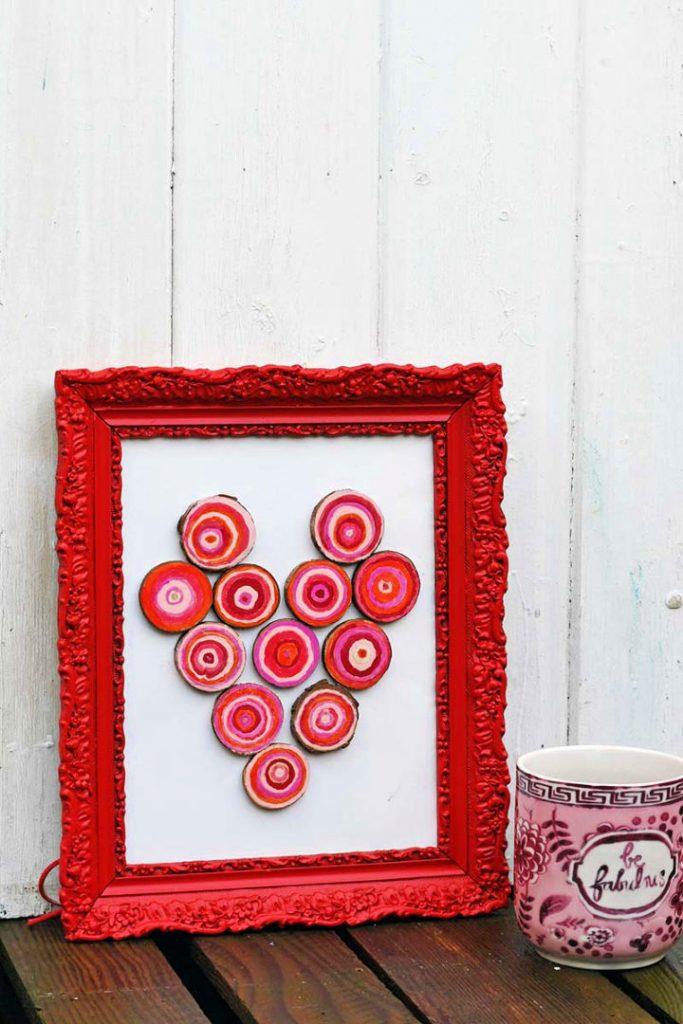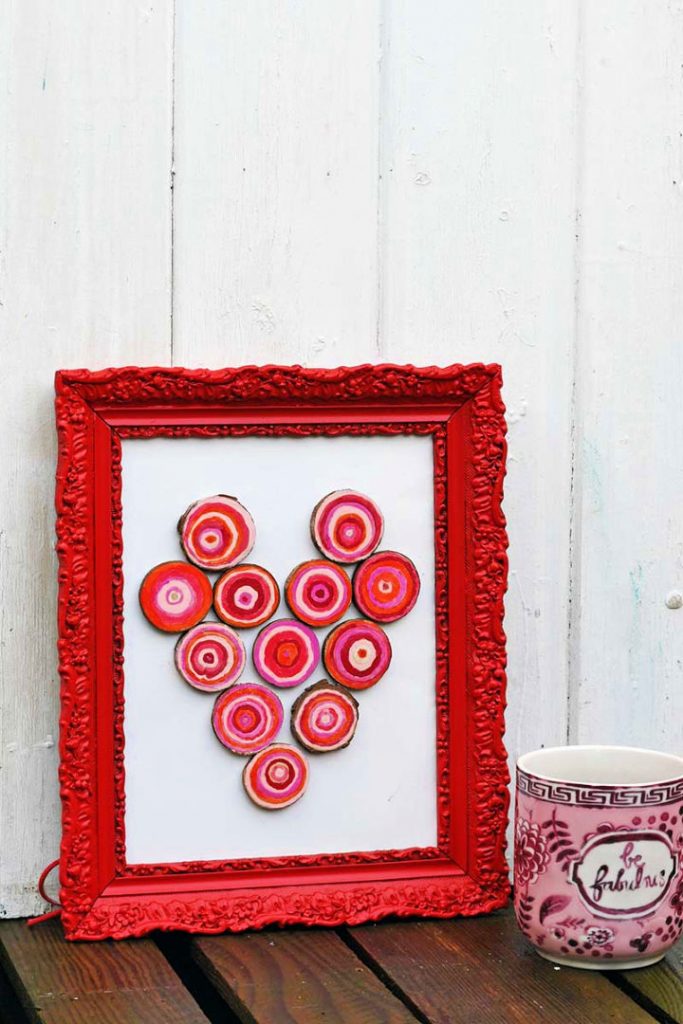 Check out this Rustic heart, perfect for a calm and appealing Valentine's Day decor! If you have any rustic or old frame lying around, turn it into this wonderful DIY photo frame! All you need is some small wood slices and an old frame. With of course some acrylic paint, paintbrushes and a white card or mounting board. pillarboxblue
9. DIY Boho Macrame Picture Frames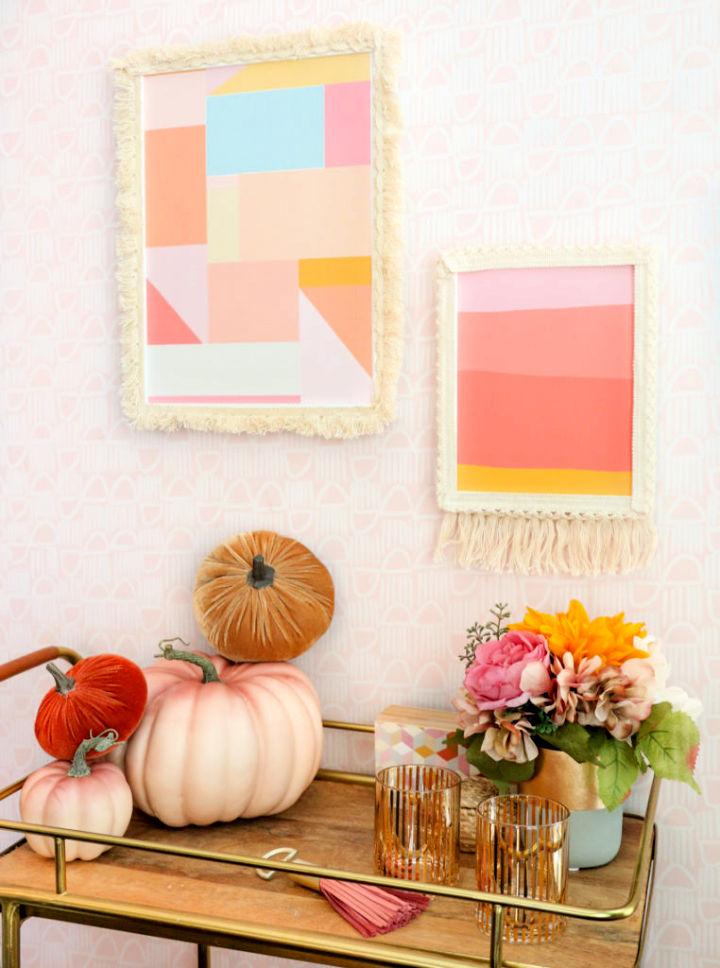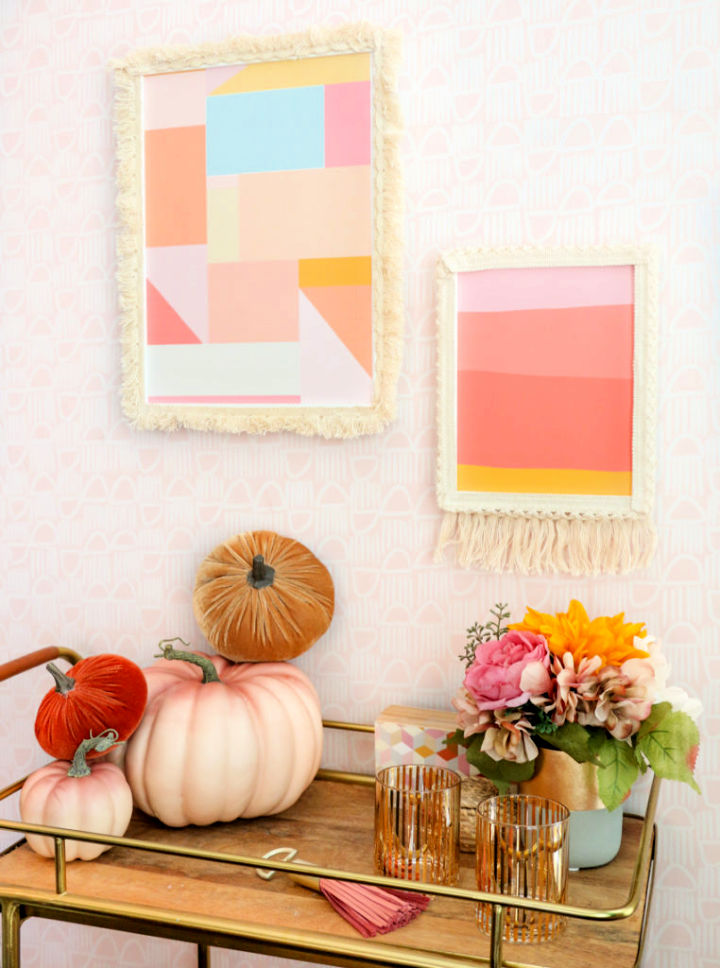 Macrame is quite the trending talk in the town these days! Bring some textural outlook to your artwork by flaunting it with these macrame charmers! The knotwork and the fun fringe look is to die for! Hit the tutorial, grab all the details to nail this beauty. akailochiclife
10. Homemade First Day Of School Picture Frame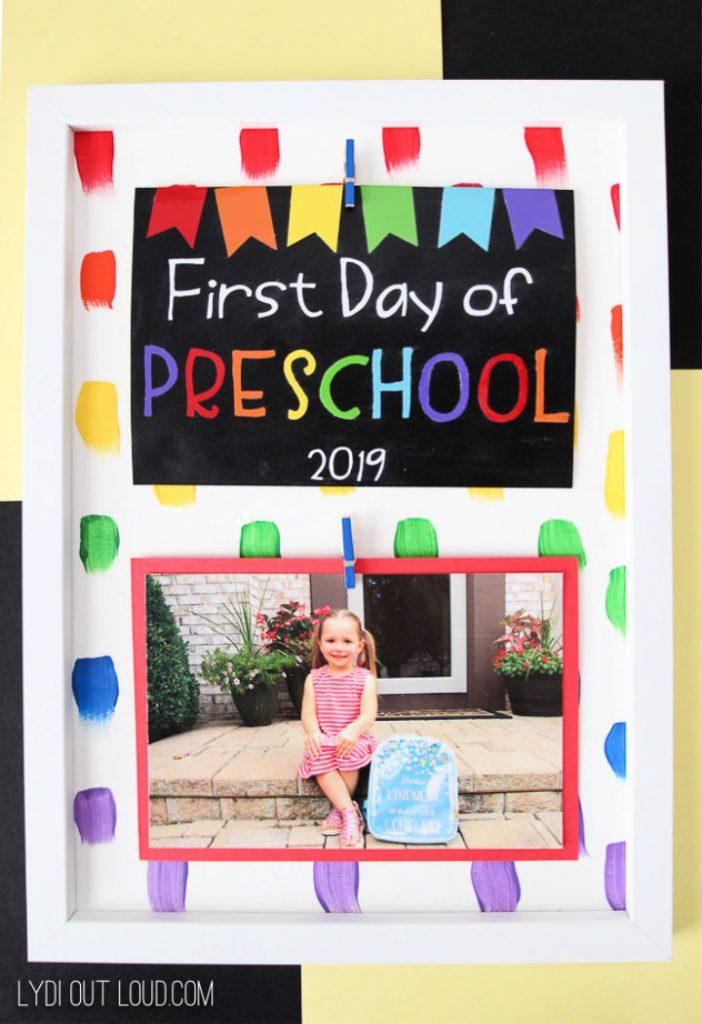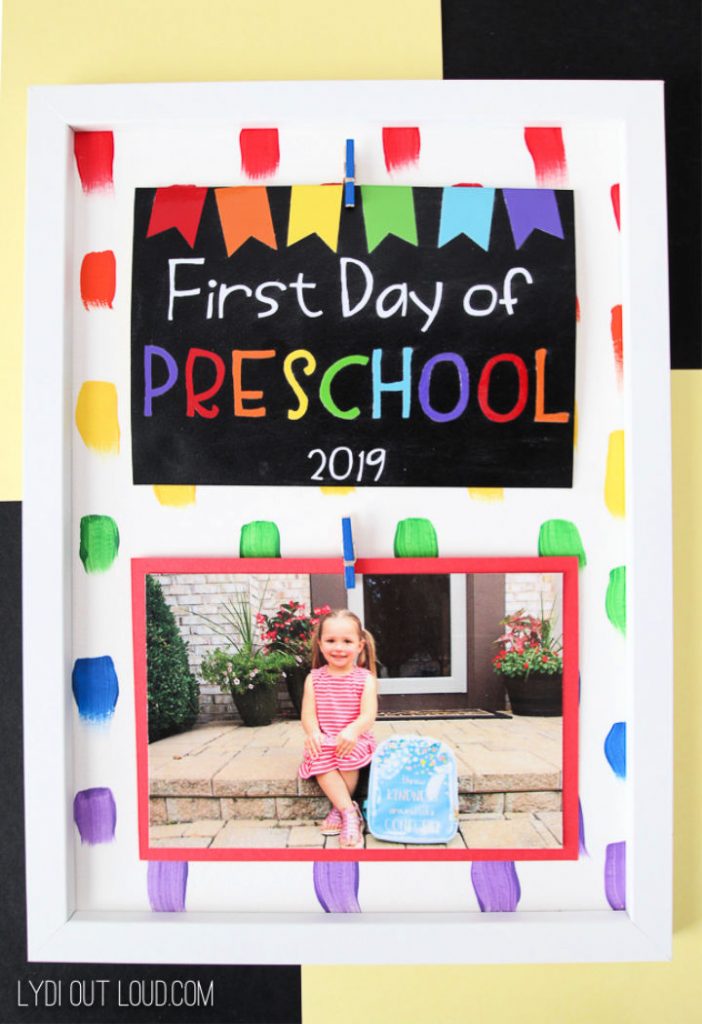 The most important day for any parent is to witness sending off their kids to the first day at school! The DIY photo frame tutorial is going to make that 1st day to school memories so much more special! A lot of colors and some fun artwork combined! lydioutloud
11. Upcycled Old Picture Frames with Decoupage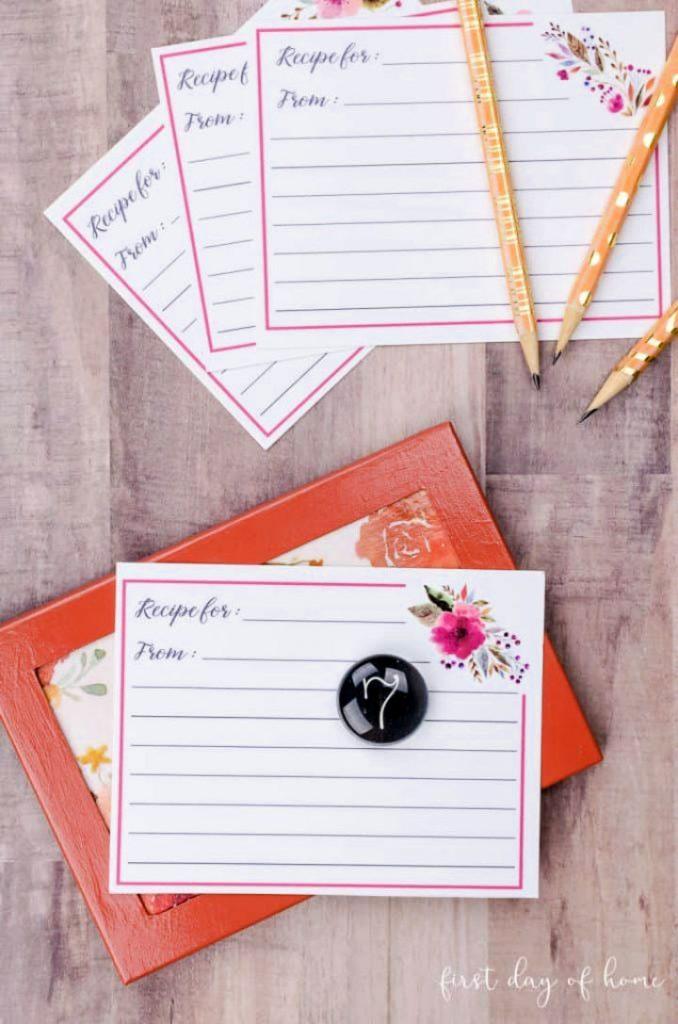 Do you love to believe that the best part of life is "Food"? Of course, what else could it be! This upcycled old picture frames with decoupage are going to make your cooking wonders so much more fun! Redo the ugly and boring old frames by getting the secret idea from this DIY photo frame tutorial! firstdayofhome
12. Easy DIY Pastel Picture Frames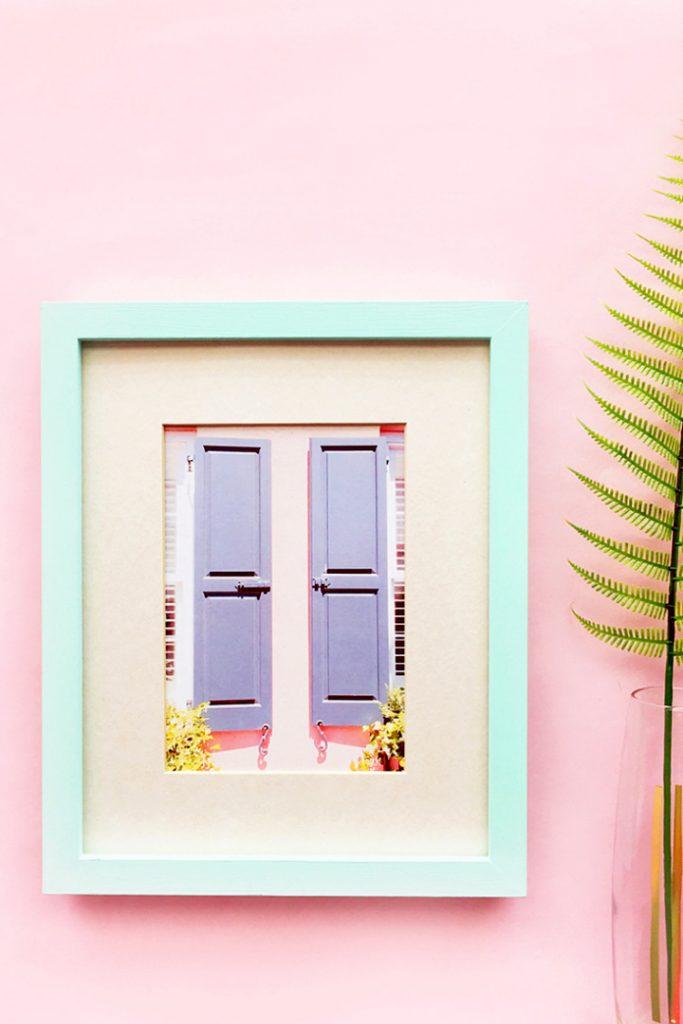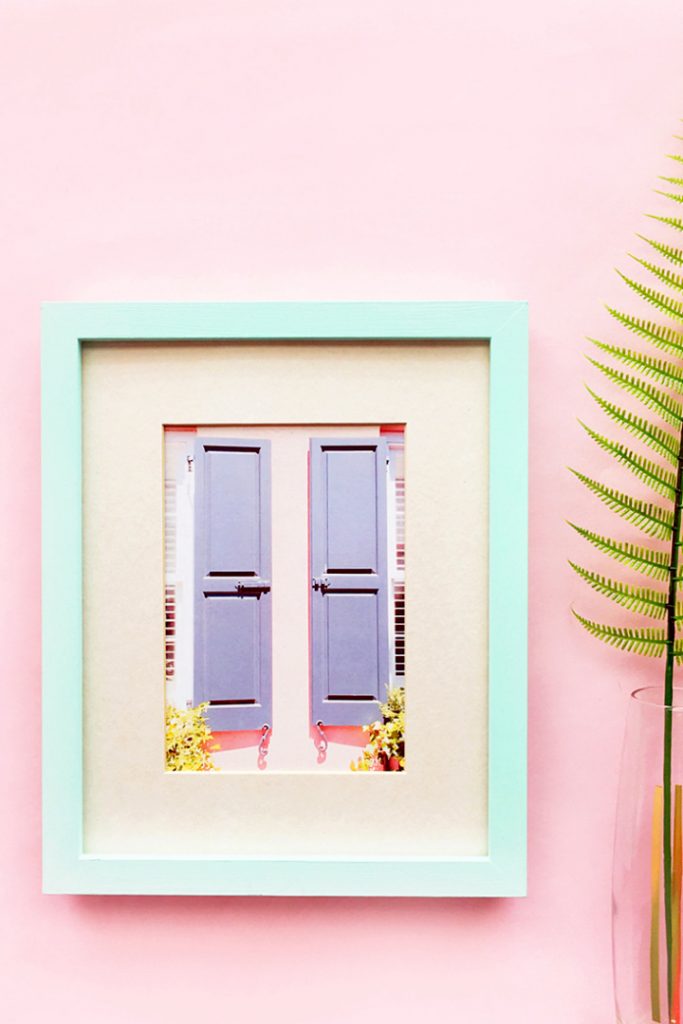 Redo your old frames and give any room the kind of whimsical yet minimalistic decor it deserves! Liven up the meaning of wall decor with this pastel paint wonder! All you need is some pastel chalk paint, photo frames, and a foam brush. maritzalisa
13. Modern Smaller Wood Burning Picture Frame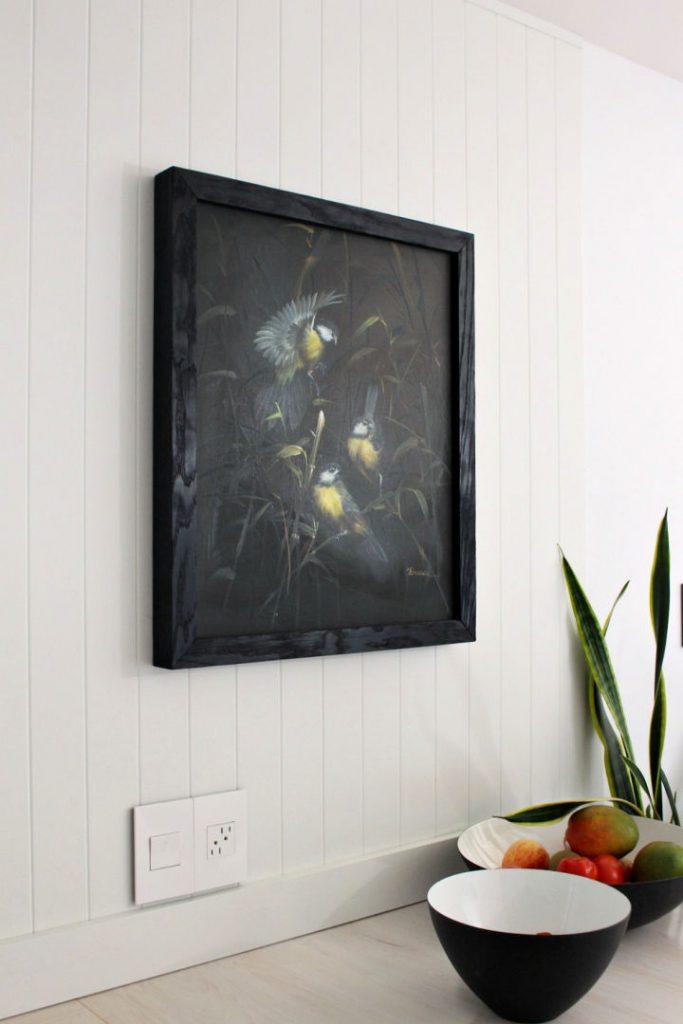 For an all soft hues area or even a simple plain white wall, this wood burning photo frame project idea is remarkable! Start by choosing a complimenting art piece to flaunt in the frame, first! Head over to the tutorial for a complete step by step guide on whipping up a wood-burning frame! danslelakehouse
14. DIY Large Scale Print Wood Frame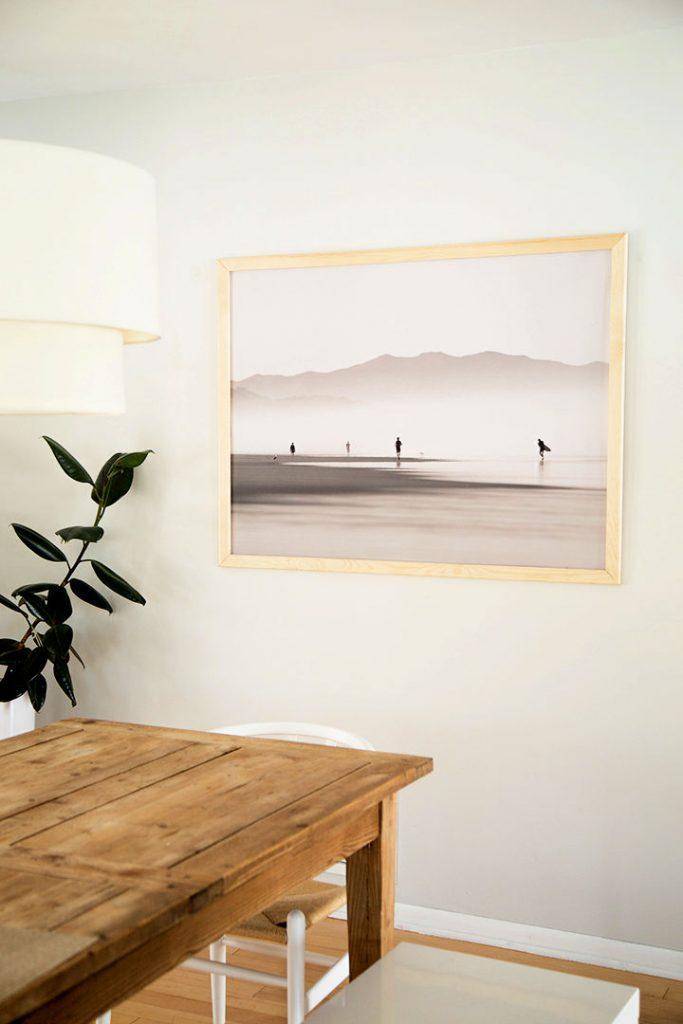 No matter how much versatility and colors are entering the decor world, still, nothing can really beat a minimalistic decor idea! A large scale print wood frame to give life to any boring or empty wall! Supplies required are a high-resolution photo and 48 by 36 inches' canvas stretcher bars. aliceandlois
15. How to Make 2D Color Block Paper Frames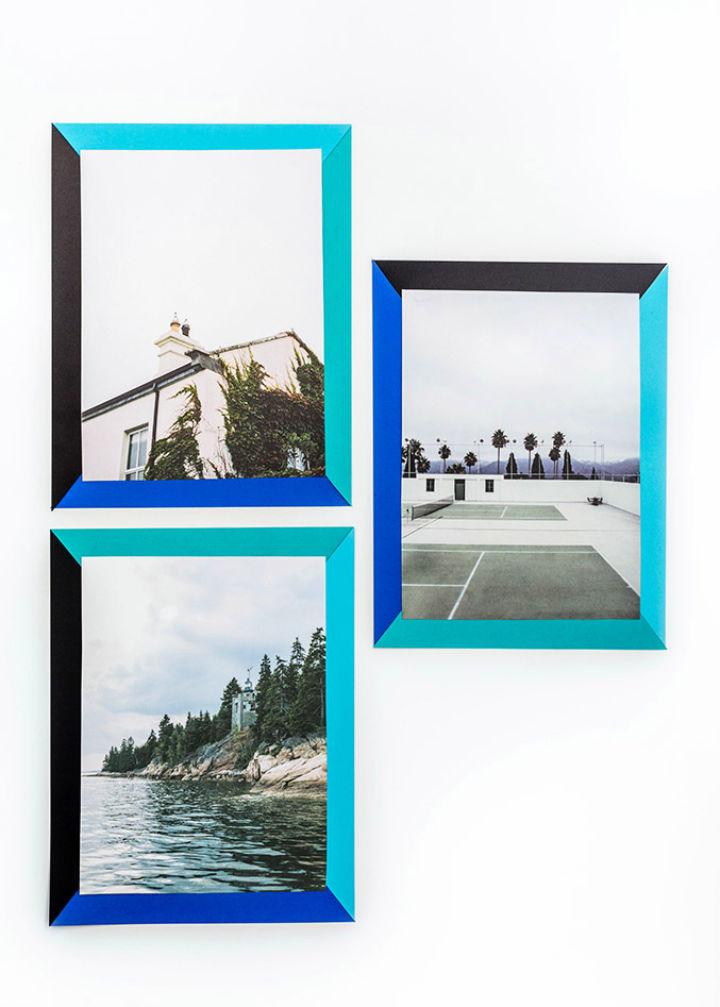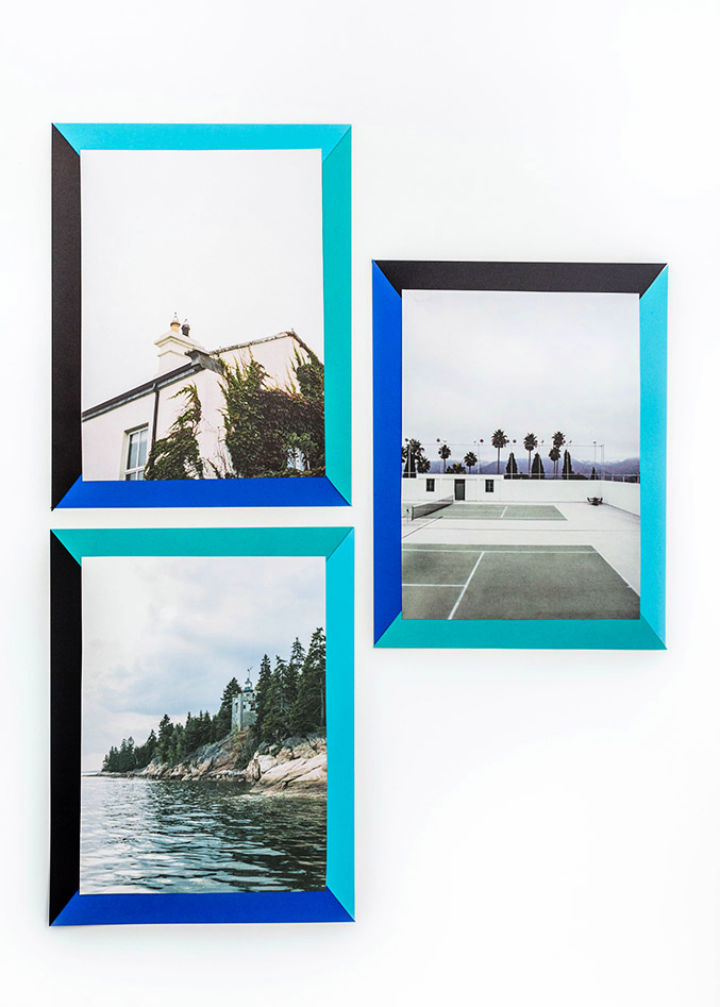 Art is perhaps one of the most liberating feelings you can get! It sets a person free to be as bright or lively as they could wish! This DIY 2D color block paper frames are indeed a charmer! Start by selecting a coordinated color combination and make your own bright place! dreamgreendiy
16. How to Cut Your Own Picture Mats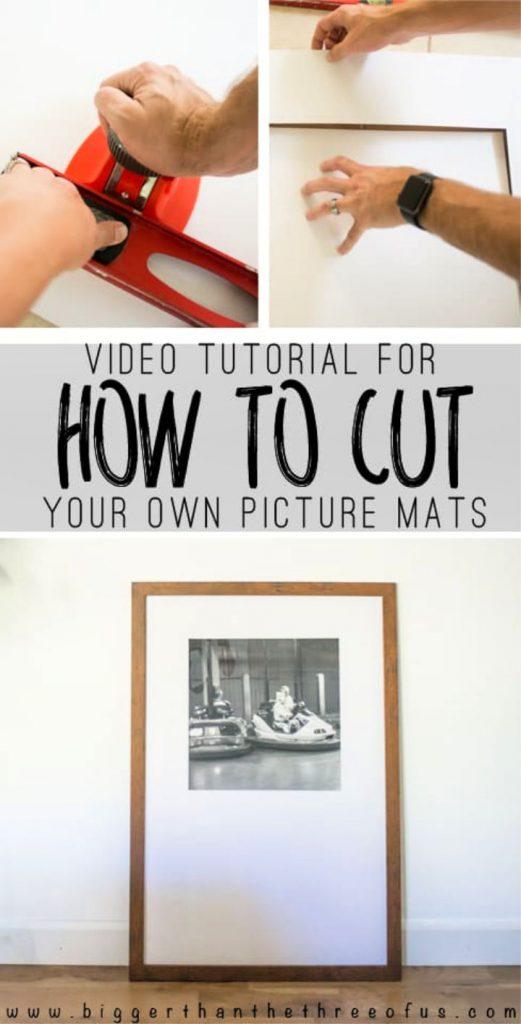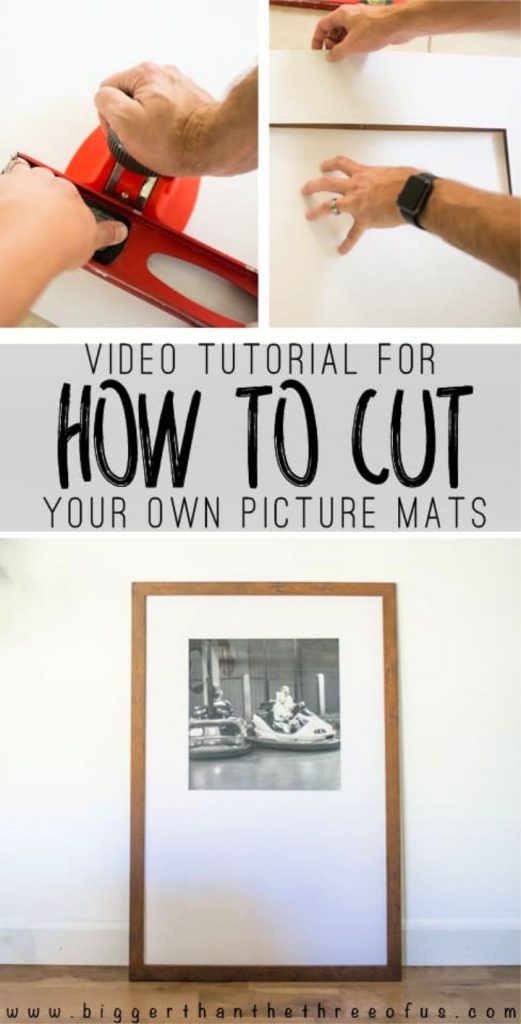 Amidst all the chaos that hovers around our mother earth now, add a hint of calm and peace in your home! With this minimalistic wall decor! If you love traveling and like to remind yourself of your lovely ventures, this picture mats DIY photo frame tutorial is going to be decor #goals for a free soul like yours. biggerthanthethreeofus
17. DIY Paper Easel Picture Frames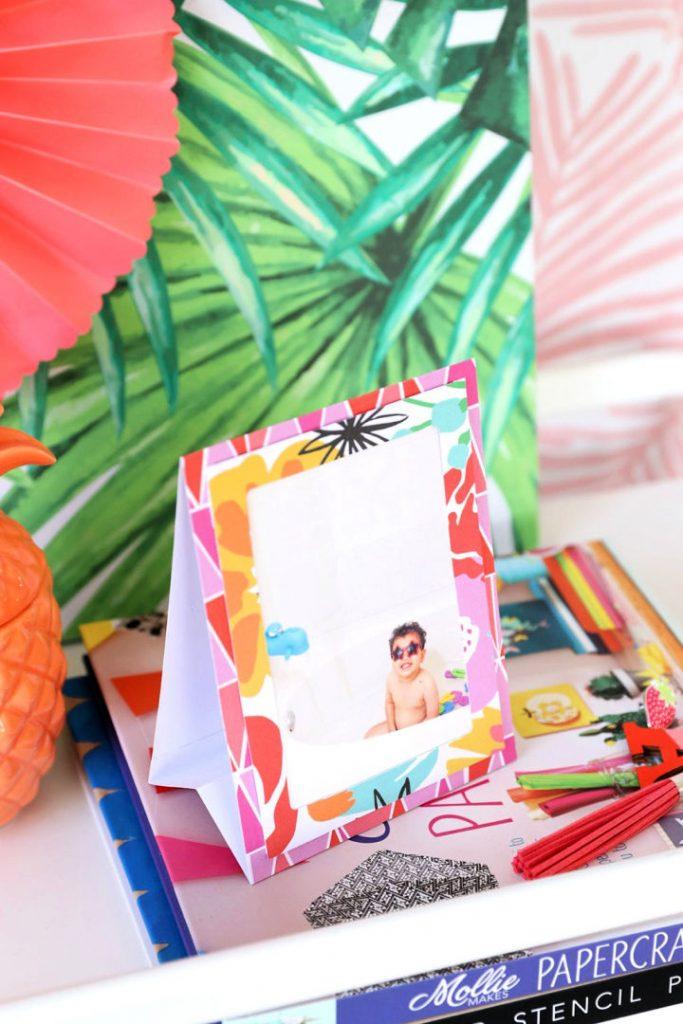 Replace the traditional photo frames with this lively DIY paper easel frame! All you need is a scoring board (hit the tutorial to get one), two sheets of patterned paper, some dimensional adhesive. And of course, printed photos in 3 x 5. damasklove
18. DIY Shibori Picture Frame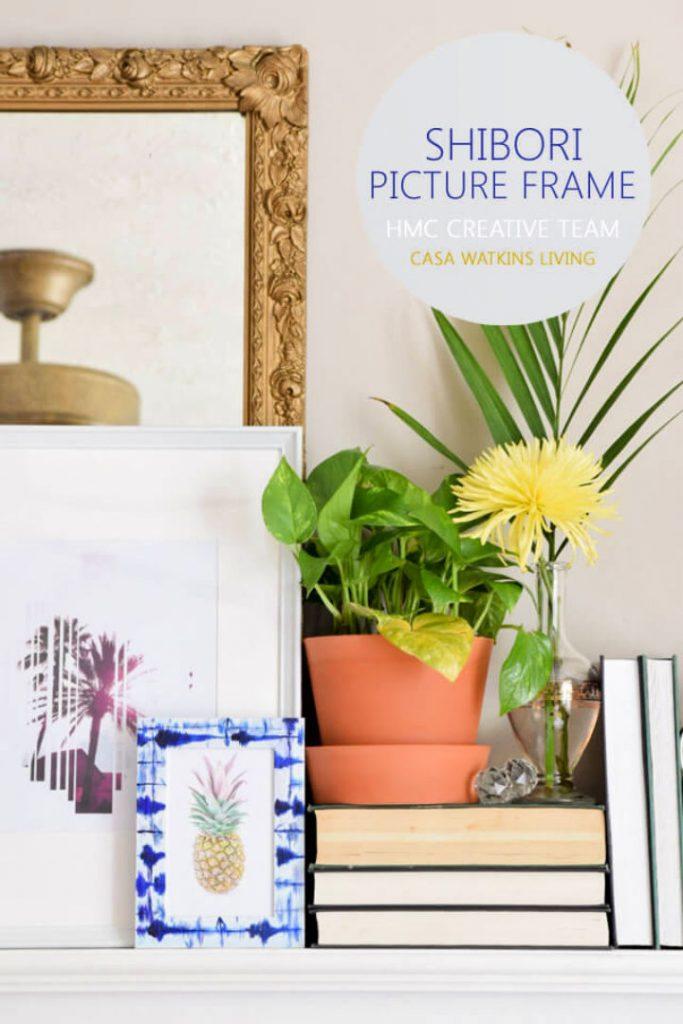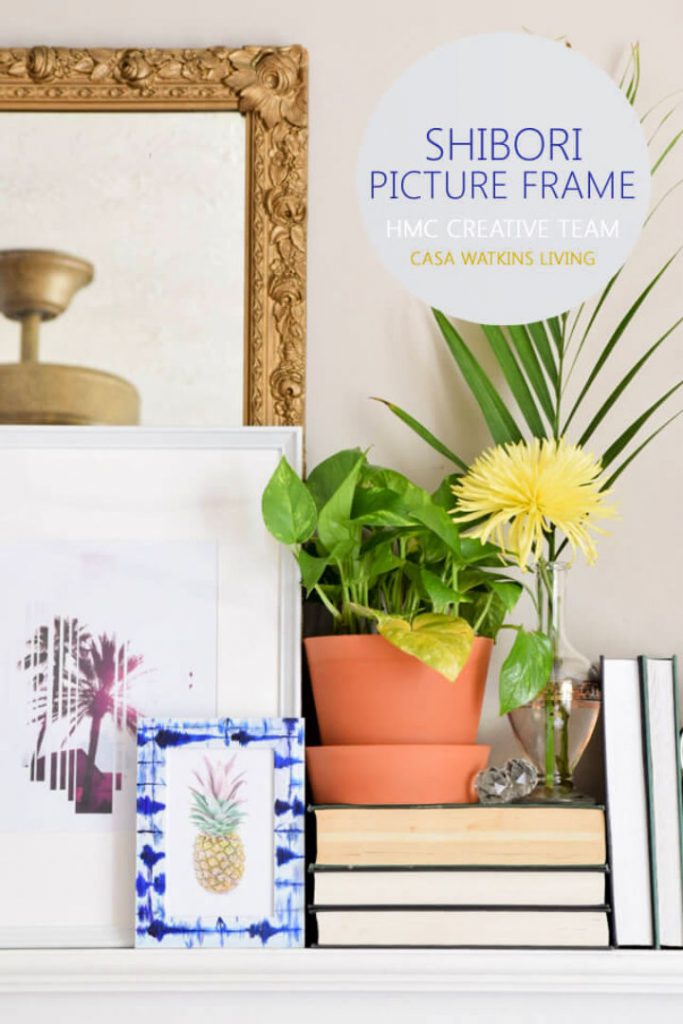 Do you love these beautiful dyed textile textures? These originated from Japan in ancient times, and with this DIY photo frame tutorial, you can whip up a lovely Shibori picture frame. All you need is a white frame, acrylic paint, small flat brush, and water with a paper towel. homemadebycarmona
19. How to Build Picture Frame Ledge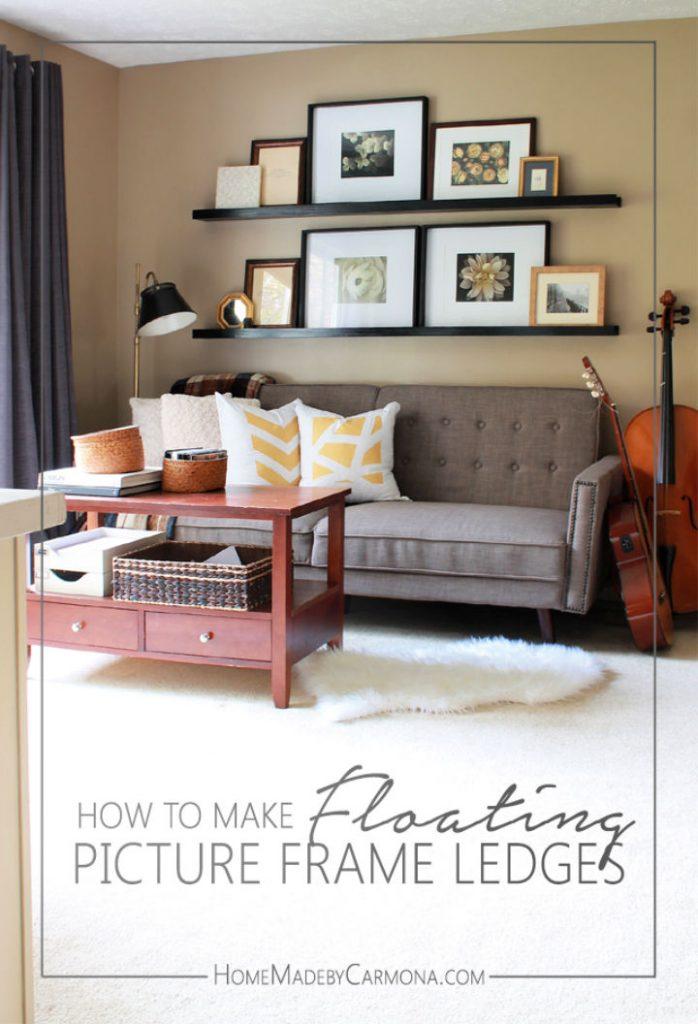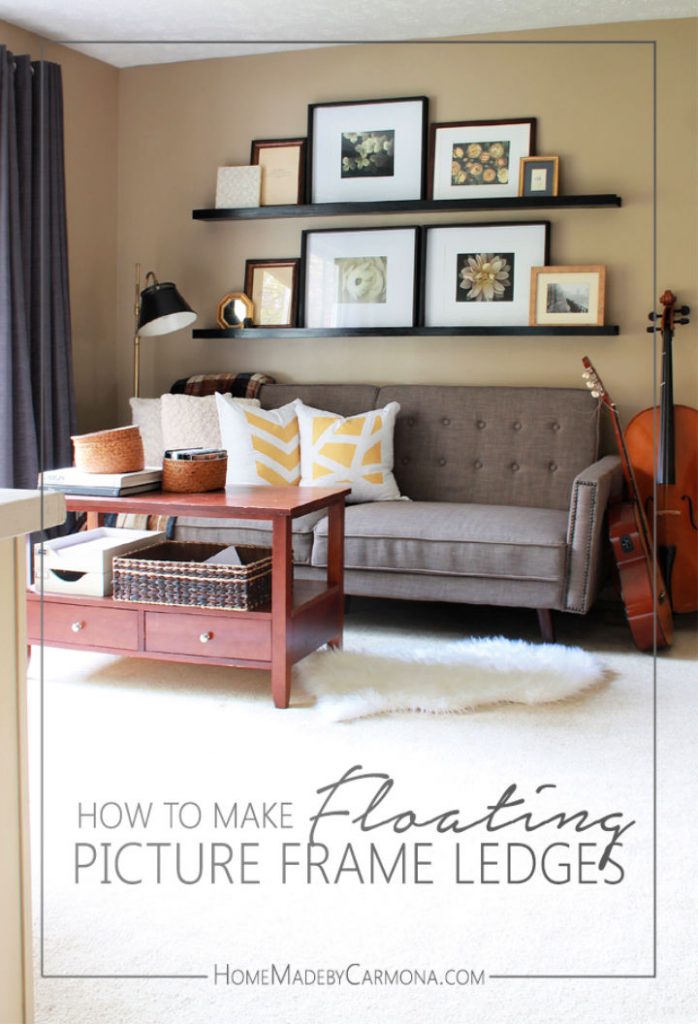 Can you believe that by just using 10 to 20 dollars, you can totally upgrade your living room decor? Check out this DIY picture frame ledge to brighten up the entire look of the place. It will only take one hour to transform the landscape of your room to this much whimsical appeal. homemadebycarmona
20. Rustic DIY Picture Frame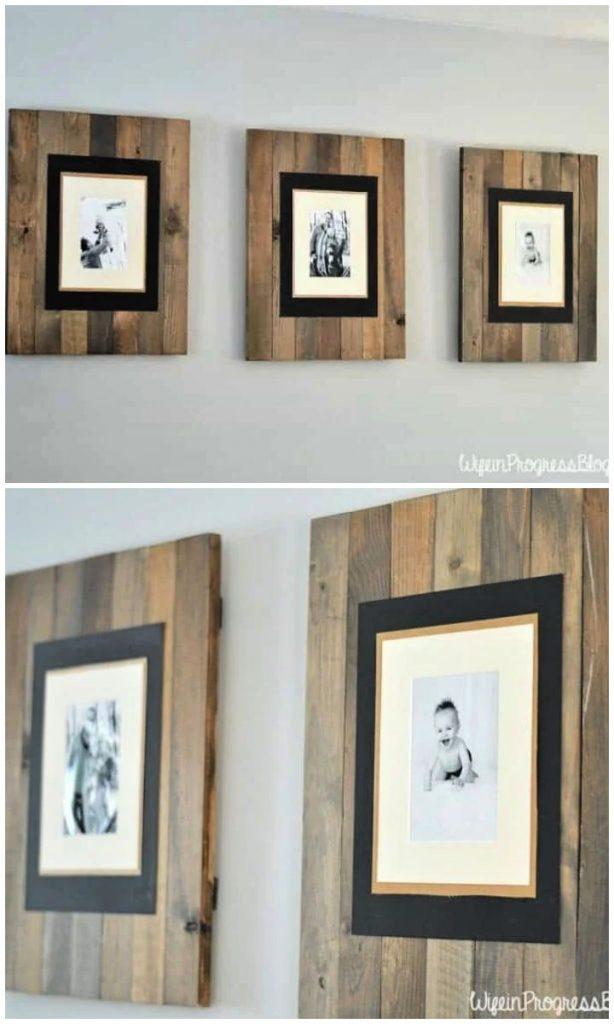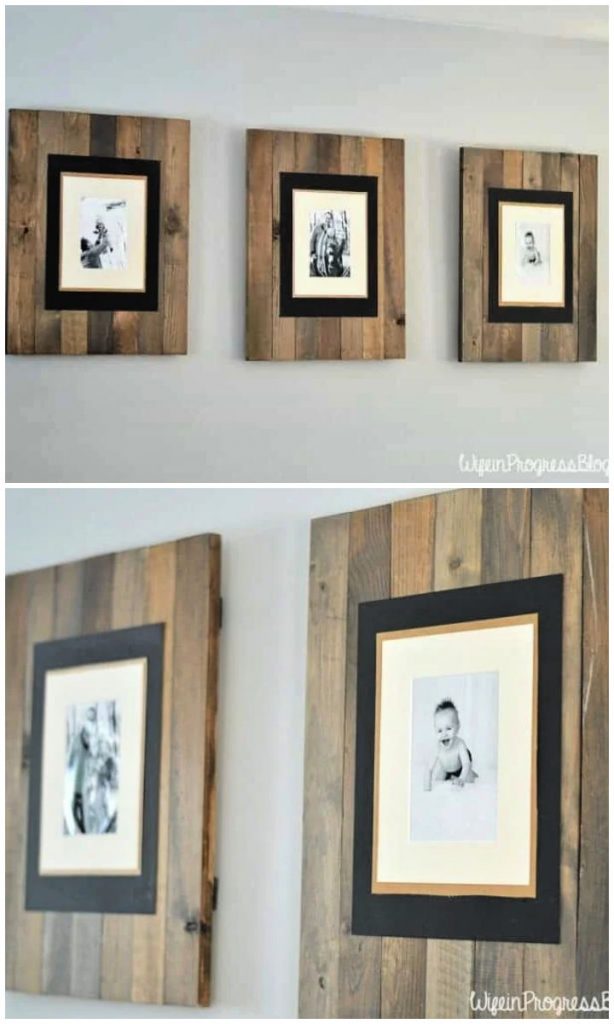 Nothing says flawless like a rustic art frame decor! These reclaimed DIY wood picture frames can add so much character to any blank space. They actually look much like just weathered wooden pallets, you can add a picture mat at the front, and you are good to go! jennakateathome
Do you know more about free pallets? Wooden pallets have recently emerged as a favorite home decor and building material. You can build anything using recycled wooden pallets!
21. Homemade Beach Stone Wall Art Frame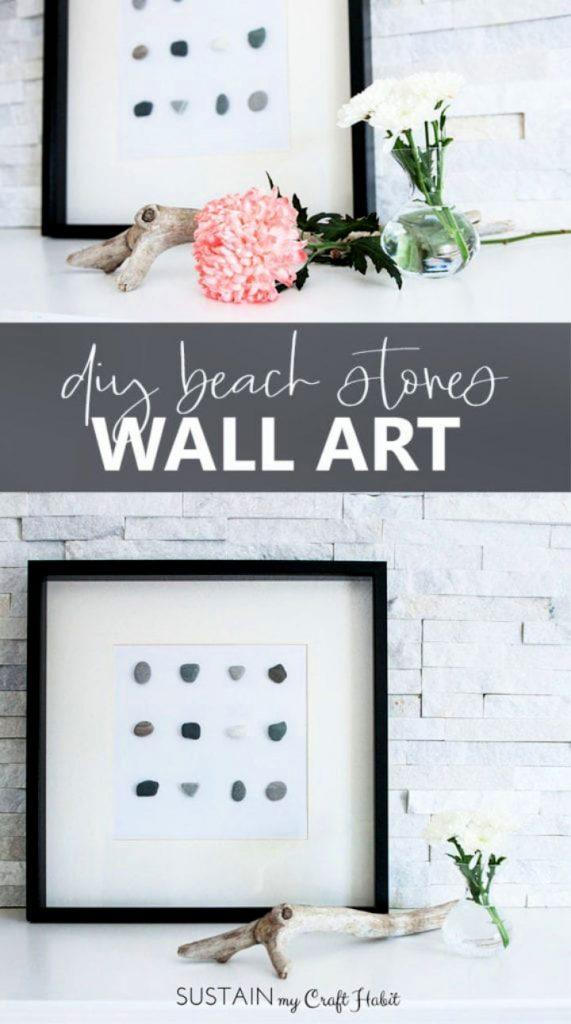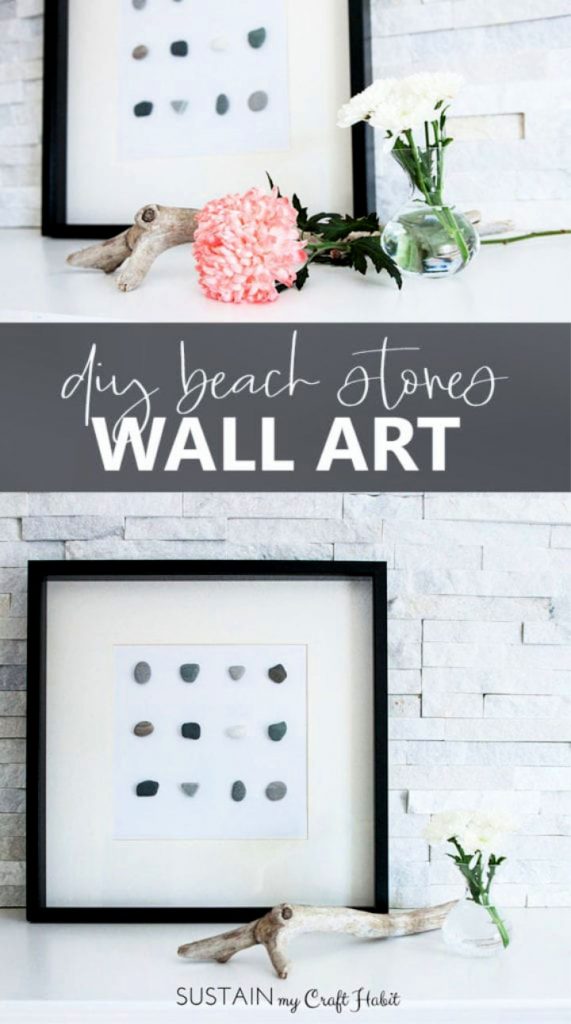 Do you love to collect little packages of breeze and fun every time you are out at the beach? How about framing some of those precious moments with this DIY wall decor with beach stones. You can look at it and recall or connect memories with each of the stones. sustainmycrafthabit
22. DIY $1 Cross-Stitched Frame

Cross stitch is easy to whip up yet one of the most stylish design ideas that you can ever come across! A few criss-cross stitches can make such a lovely photo frame. Gather supplies like a wood frame, scrap yarn, yarn needle power drill with few other supplies. dreamalittlebigger
23. DIY Pom Pom Picture Frames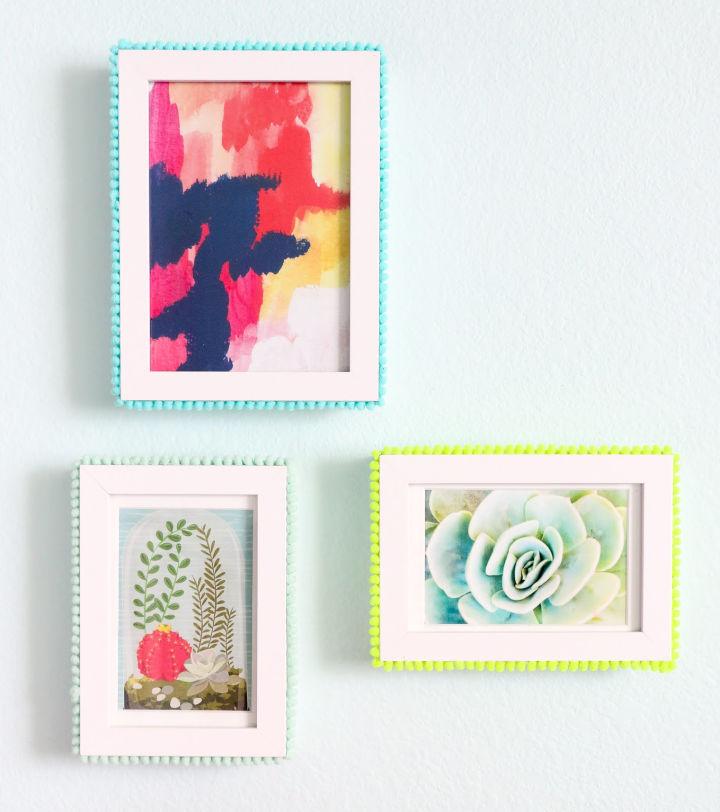 A little pom pom love to brighten up your day as well as your decor! This is certainly one of the simplest ways to whip up a darling wall decor champion! You will be needing some mini pom pom trim, large picture frames, and hot glue. akailochiclife
24. Farmhouse Style Chicken Wire Picture Frame

Love the breezy and free decor vibes of Farmhouse inspired designs? How about whipping up a super easy yet classic DIY picture frame? All it requires is a 1 x 3 board, some chicken wire, and stain to get started. craftremedy
25. DIY Painted Dipped Picture Frame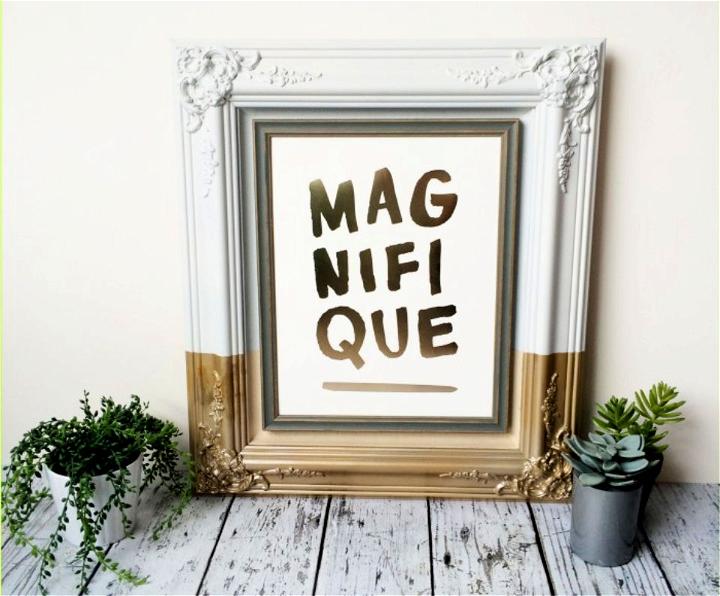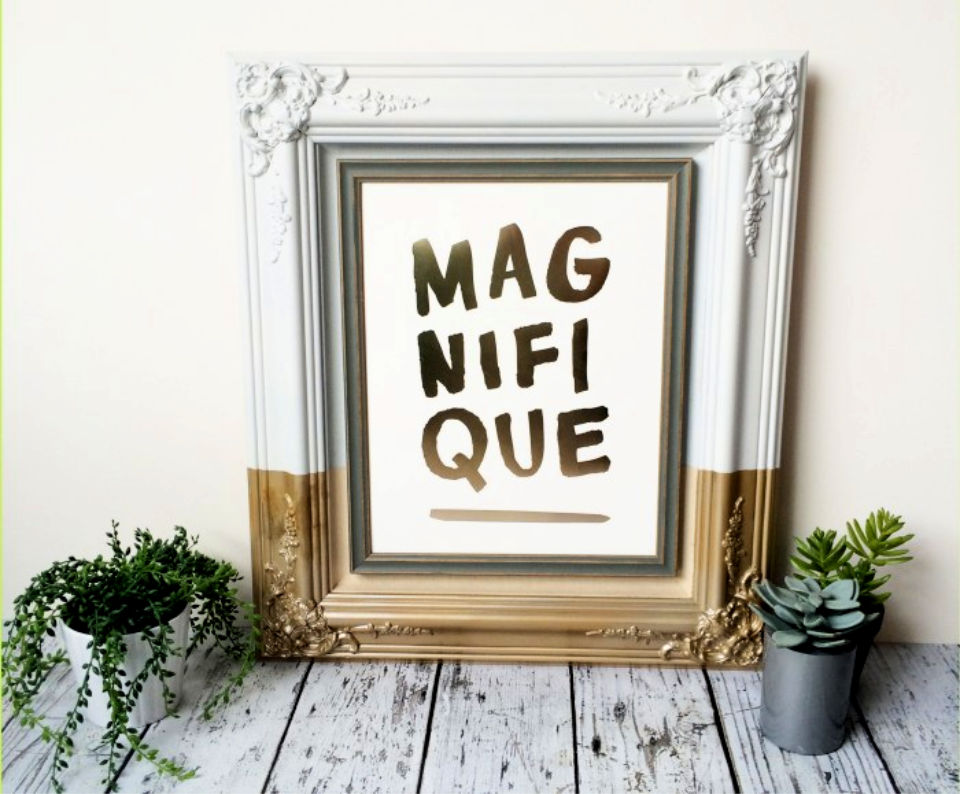 We never really understand the power of a powerfully inspiring decor that can turn the events for us! If you have any old picture frame lying somewhere in the back of your stock closet, time to redo that beauty! Head over to the tutorial for a lovely paint-dipped DIY wood picture frame. brooklynberrydesigns
26. DIY Floating Acrylic Frame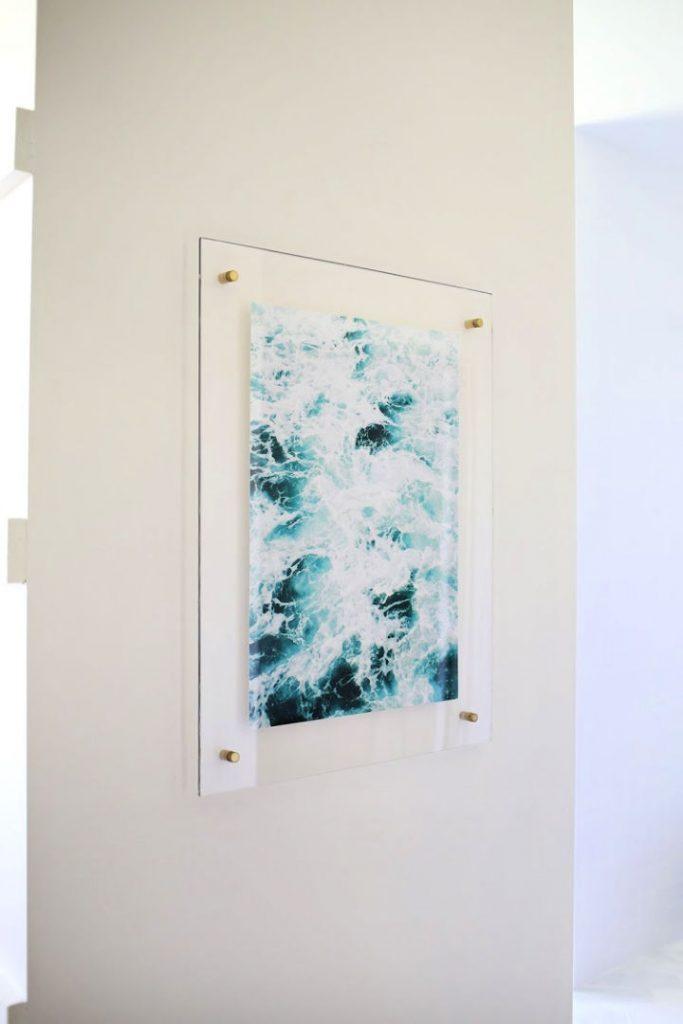 You must have seen a lot of traditional wooden frames or other delights like that. But, nothing really beats a floating acrylic frame! Paired with a whimsical art piece, this DIY picture frame tutorial by A Beautiful Mess is indeed very beautiful! abeautifulmess
27. DIY Valentine Jewel Picture Frame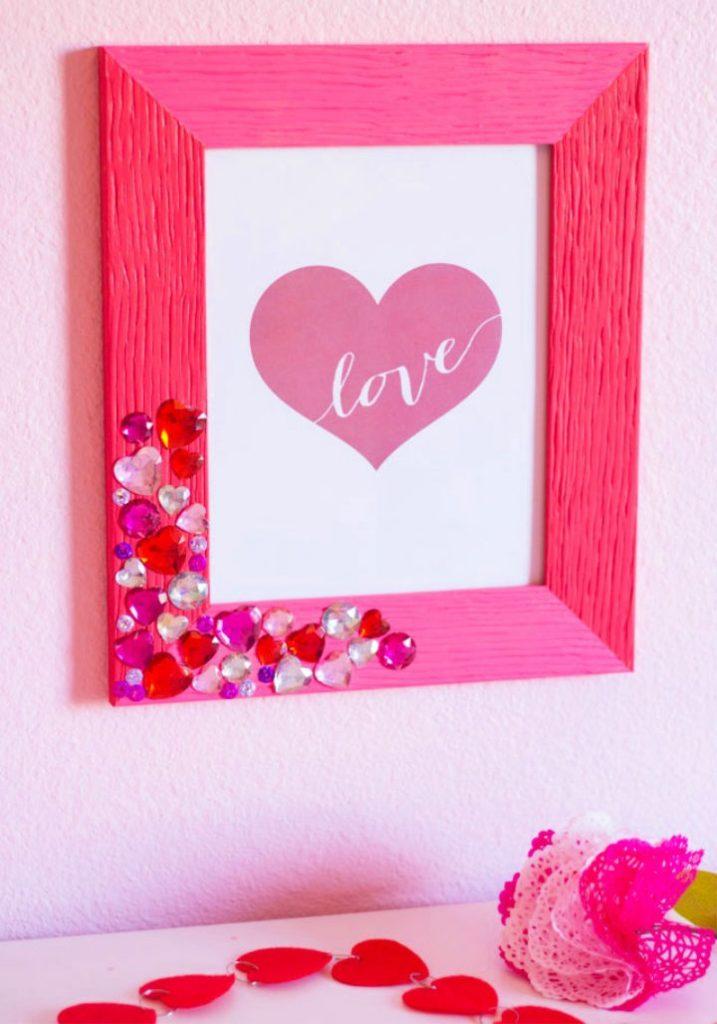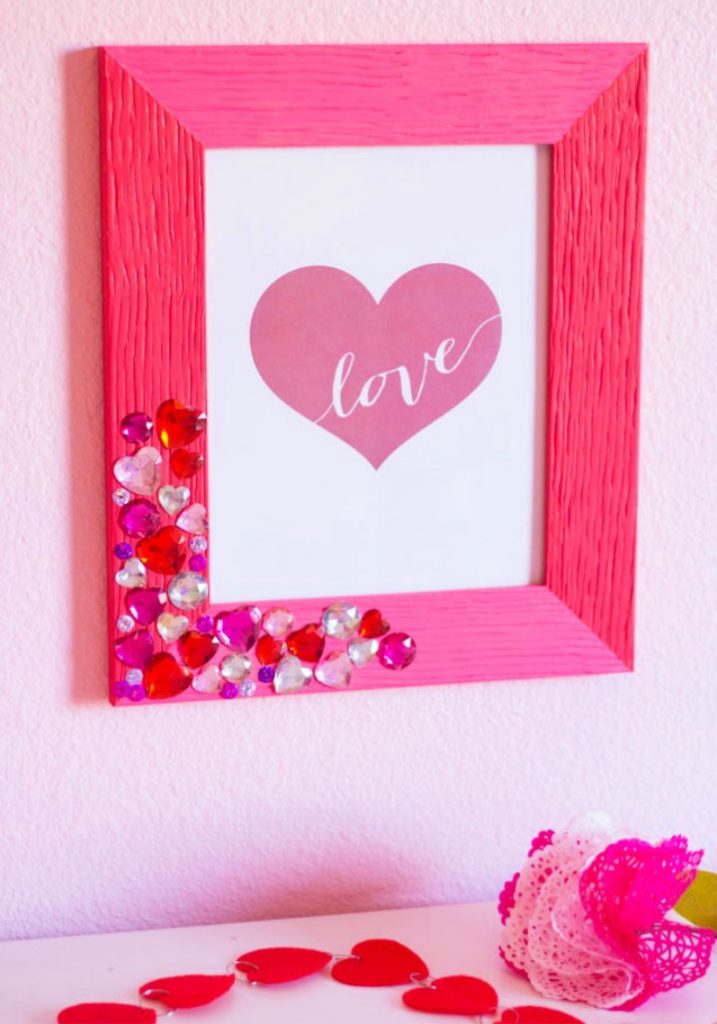 Are you still caught up in this vicious cycle of finding the perfect valentine's day gift for your loved ones? How about putting up something meaningful yet straightforward this year. Like this lovely pink wooden frame paired up with twinkling jewels brightening up the entire look! designimprovised
28. DIY Picture Frame Key Holder

Do you hate losing keys every now and then? Or maybe this DIY picture frame with key holder can be a one really heartfelt way to remind your family to drive safe or be safe while heading out. Because there is this beautiful family, they have got waiting behind! The whole thing is super simple to whip up, too. temeculablogs
29. Glitter Polka Dot Valentines Frame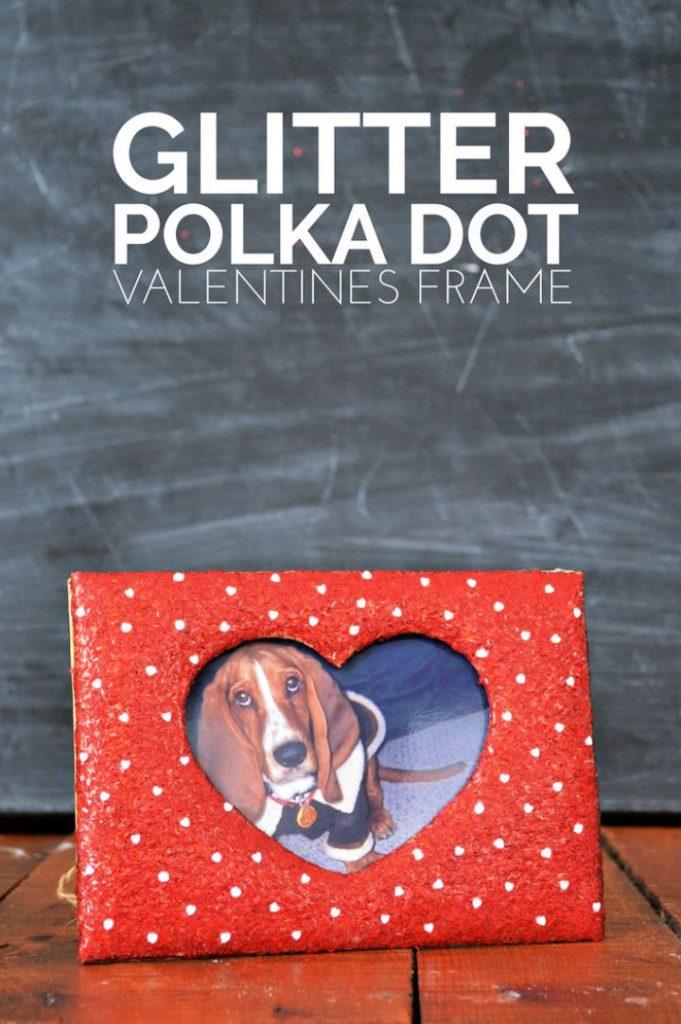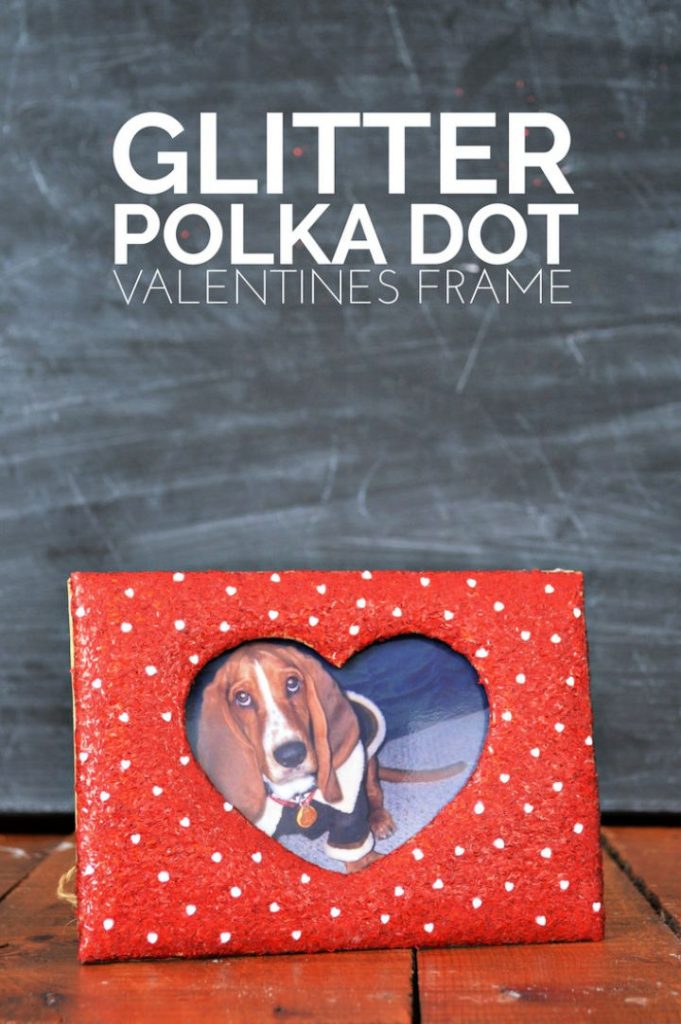 If there is one thing that has never got out of trend, it is the charm of polka dots! And who would not love a sprinkle of glitter to spruce up their day already? With Mad In Crafts, learn how to transform a simple paper Mache frame into a lovely glittery polka-dotted frame. madincrafts
30. Homemade Dyed Picture Frames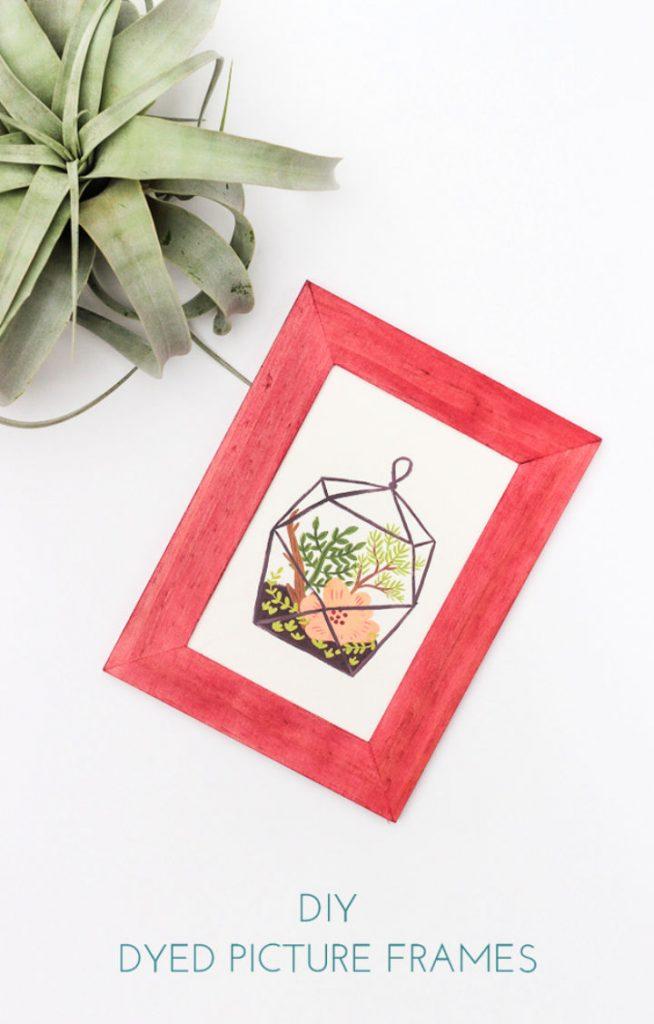 So, here's this new thing to get excited about! How about whipping up some dyed wooden frames? Did you know that fabric dye is equally ideal to spruce up the look of any ordinary wooden frame! Choose your favorite colors and get started! You will need some liquid dye, sponge brushes, and sealer. thecraftedlife
31. DIY Oversized Frame for a Fraction Of The Price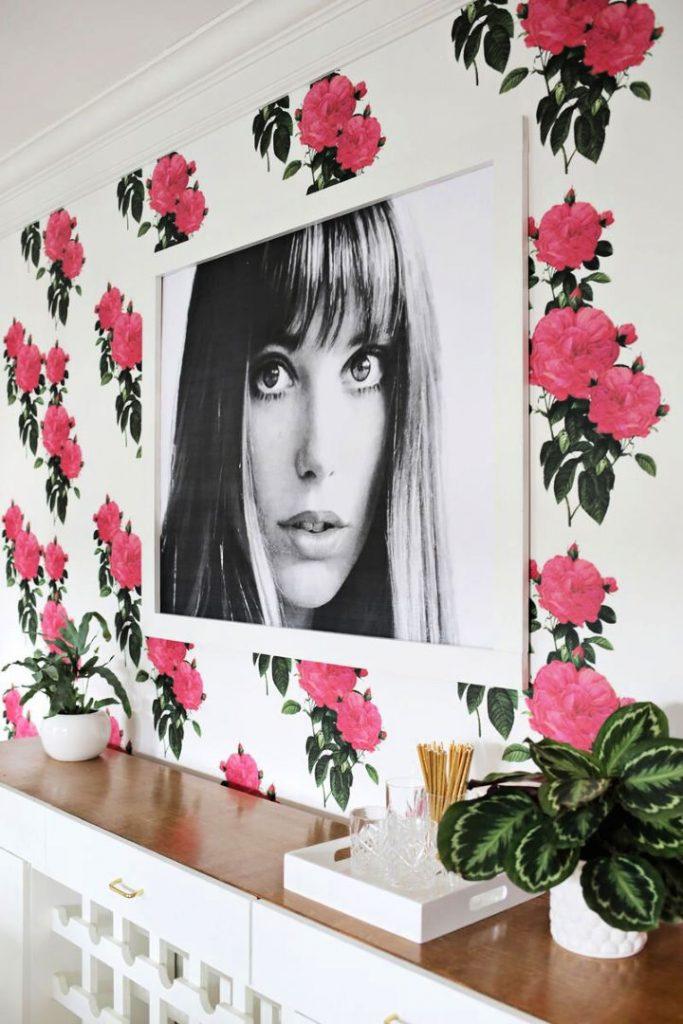 An oversized frame is certain to bring a lot of character to any room! But, at the same time, no matter how inspiring it may seem, it can make you lose quite a lot of bucks at the same time! But, here's how you can dodge that and still get an oversized frame, that too super economically! abeautifulmess
32. How to Make Picture Frames Lamp

This is one of the greatest benefits of being a DIYer! You can transform one product into a photo frame or a whimsical lamp made out of picture frames. That's right! What you need is picture frames of the same sizes, washi tape, and string of lights. Hit the tutorial for the complete guide. nur noch
33. Simple DIY Frames With Gold Hardware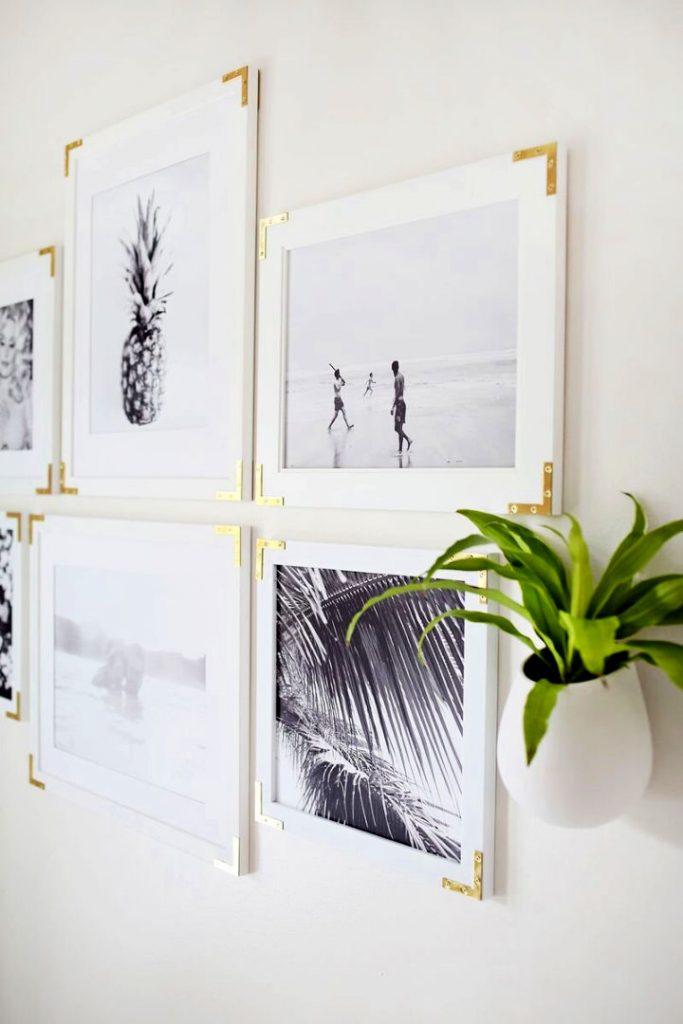 Some simple white frames combined with some charming golden hardware, glued at the edges, can add so much character to any gallery wall! If you are not a fan of tools, you can easily super glue these brackets! Don't forget to watch the detailed video in the tutorial. abeautifulmess
34. DIY Fabric Mats + Frames with Minted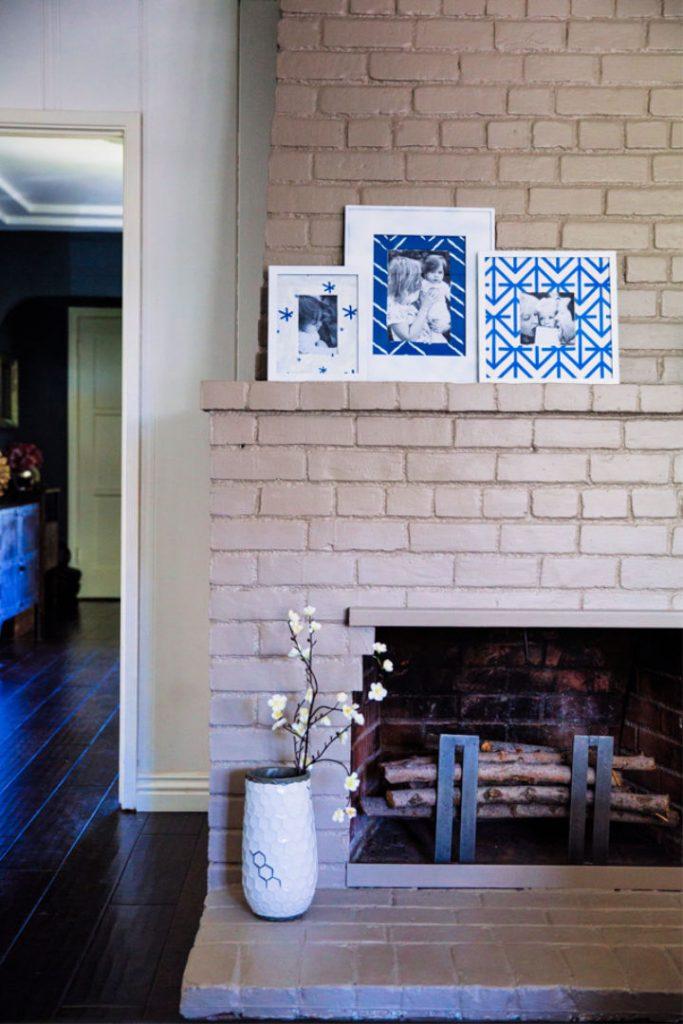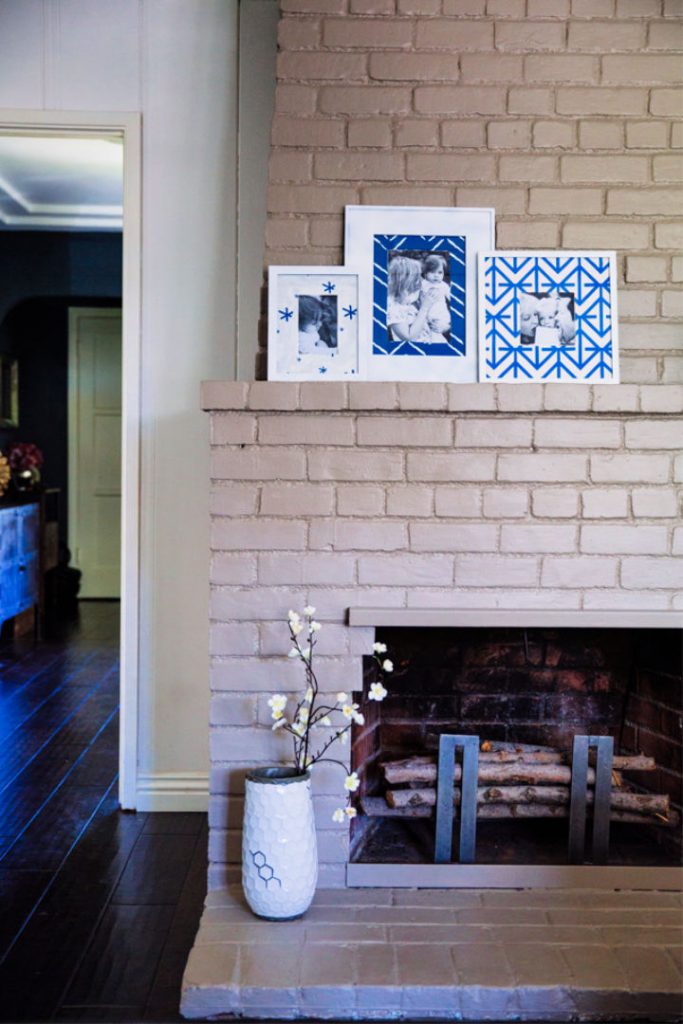 Get your hands on some fabric, picture frames, spray paint, photos, Exacto knife, scissors, scotch tape, and mod podge glue to make some cheap picture frames! These DIY picture frames with mats and minted can be a real decor booster on a plain white or dark background! theeffortlesschic
35. Handmade Instagram Photo Holders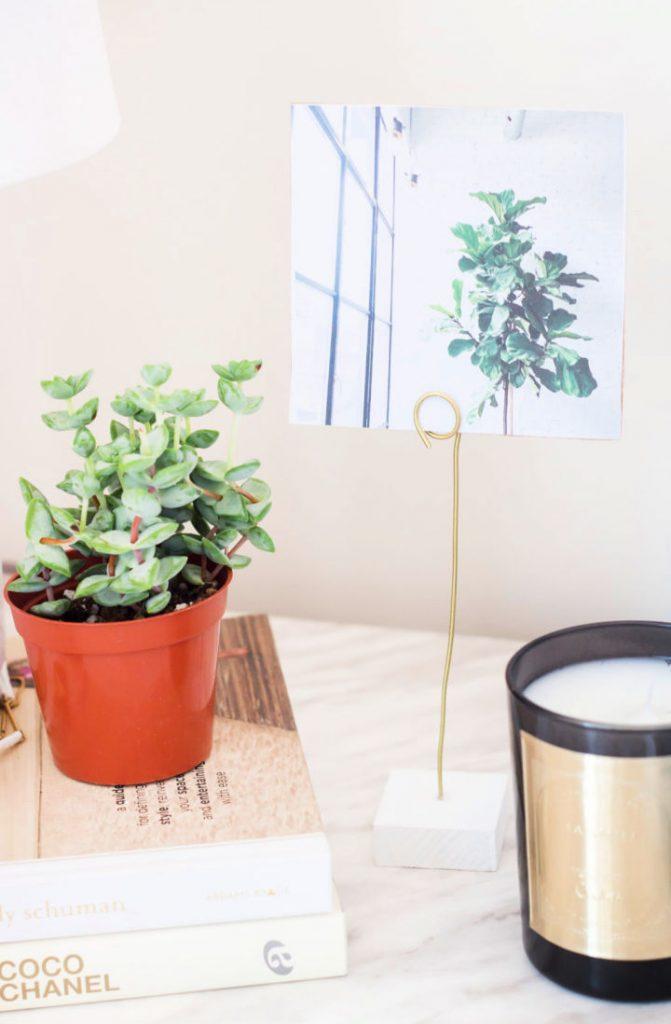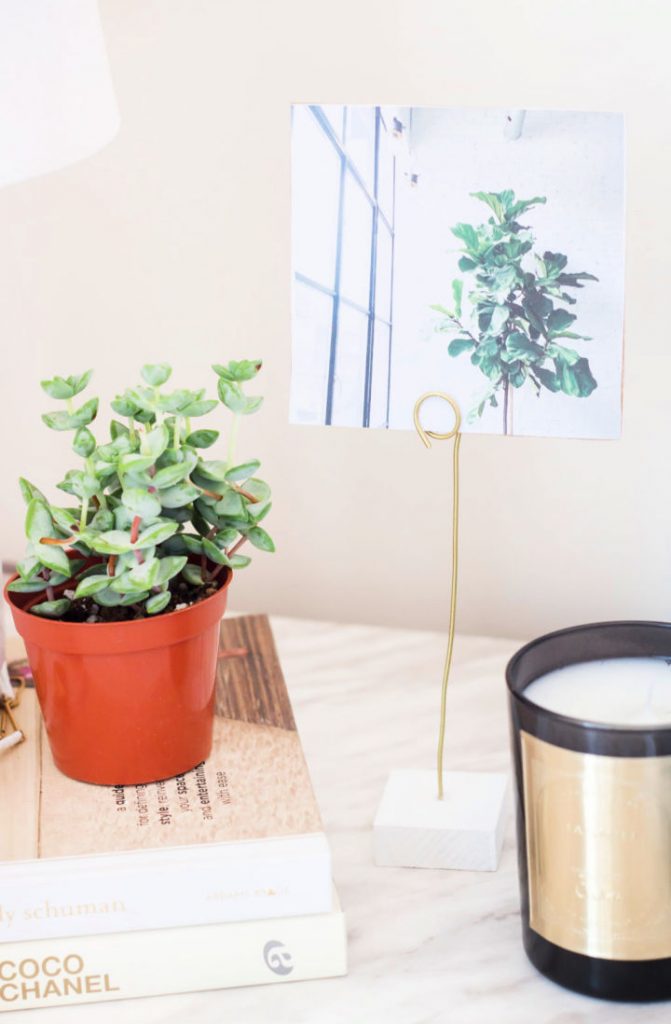 Who doesn't love the perfectly squared Instagram photos? Lately, the trend has also made its way out in the physical decor world. Set up these pretty DIY Instagram photo holders for your office desk or any space at home! The supplies include wire cutters, drill bit, wooden blocks, and a few more things. theblondielocks
36. The Easiest DIY Photo Wall Ever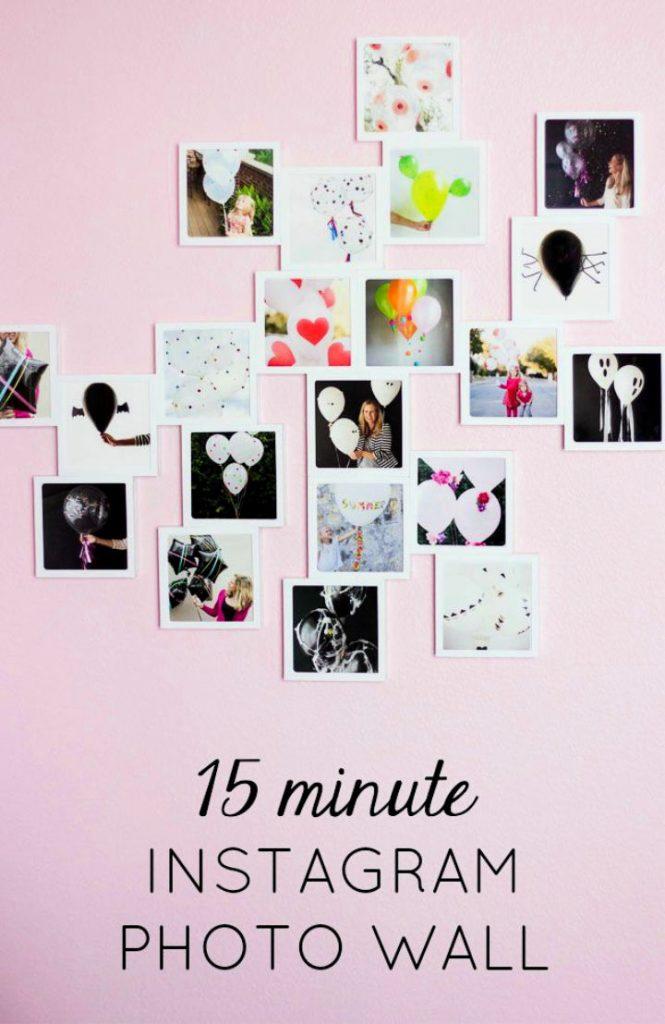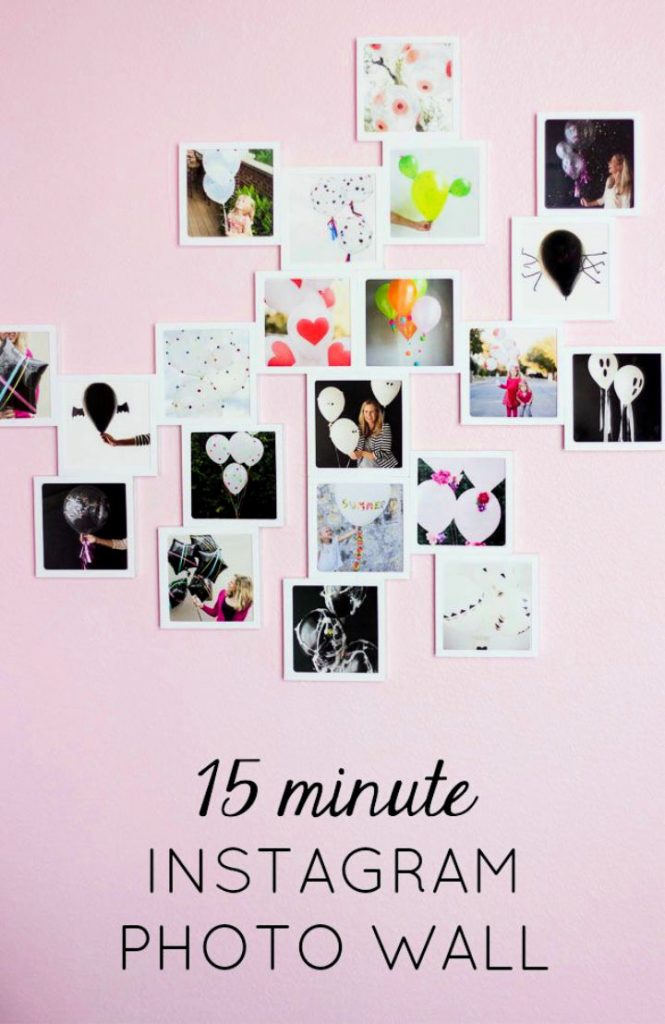 A photo wall can spruce up the entire vibes of any room! If you are not into wooden frames or anything, this simple DIY photo wall can be whipped up in just 15 minutes. The main credit of this beautiful supply goes to Fotobit frames. Hit the tutorial for details. designimprovised
37. Create Braided Clay Picture Frames

Get your hands on polymer clay, clay knife, baking sheet, oven, and glue. This DIY picture frame tutorial is super simple to whip up. Make three strands of the polymer clay and then braid the strands together. Once you have made the braided frames, then attach the picture and put it on the wall using command strips. linesacross
38. From Tray to Display Pictures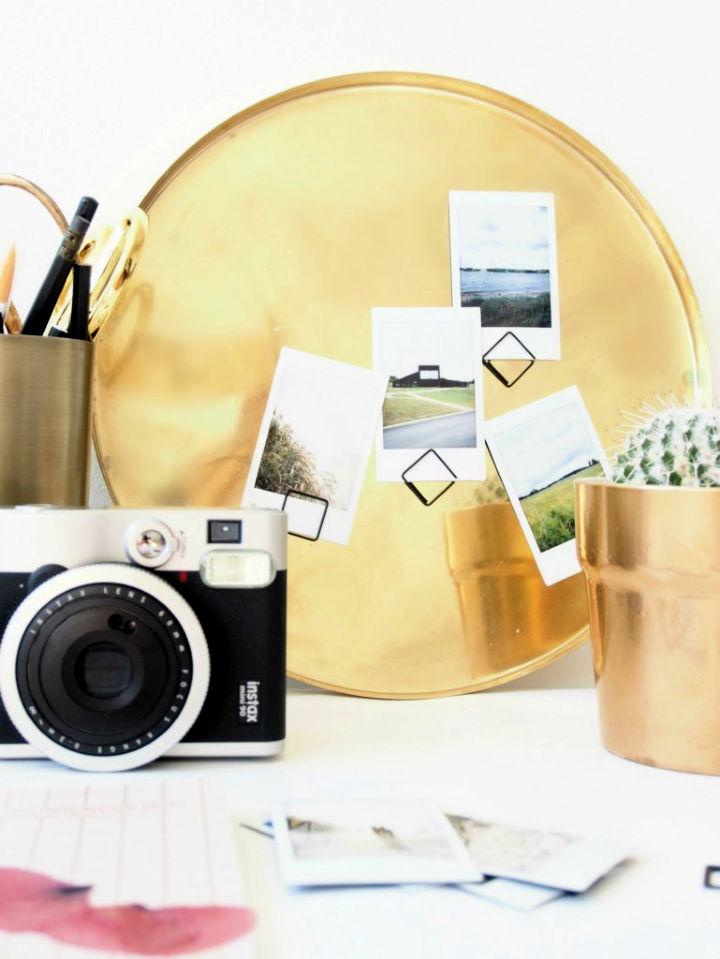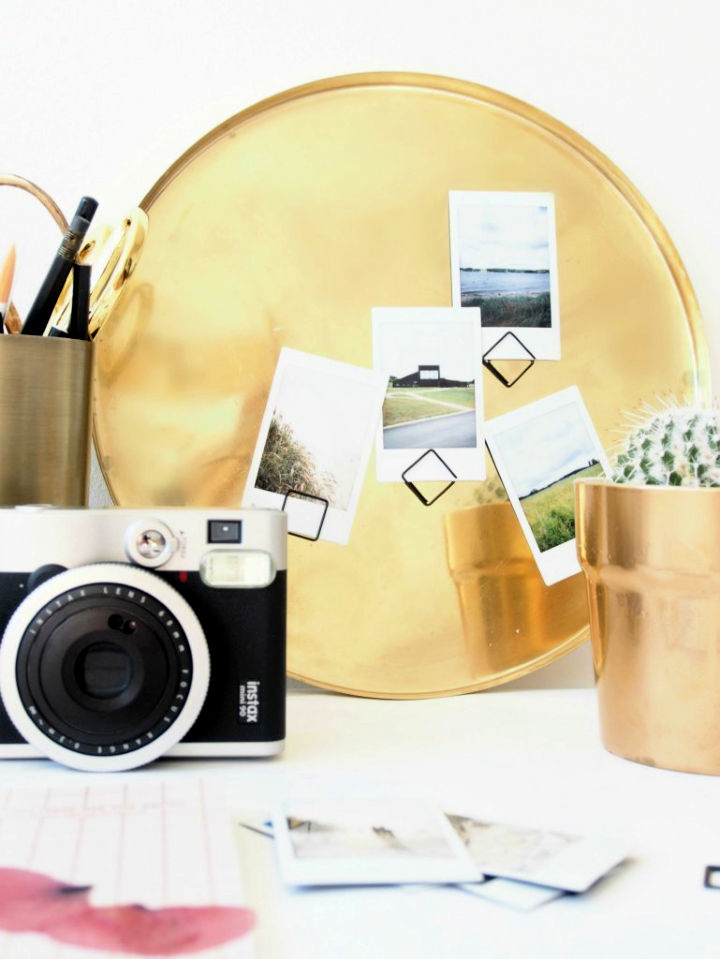 Do you have a brass tray? How about if we tell you that this brass tray can be transformed into this whimsical photo tray. Along with the brass tray, you will need some magnets and paper clips. Select your favorite pictures and then place them in the tray using paper clip and magnets. monsterscircus
39. How to Frame a Picture Professionally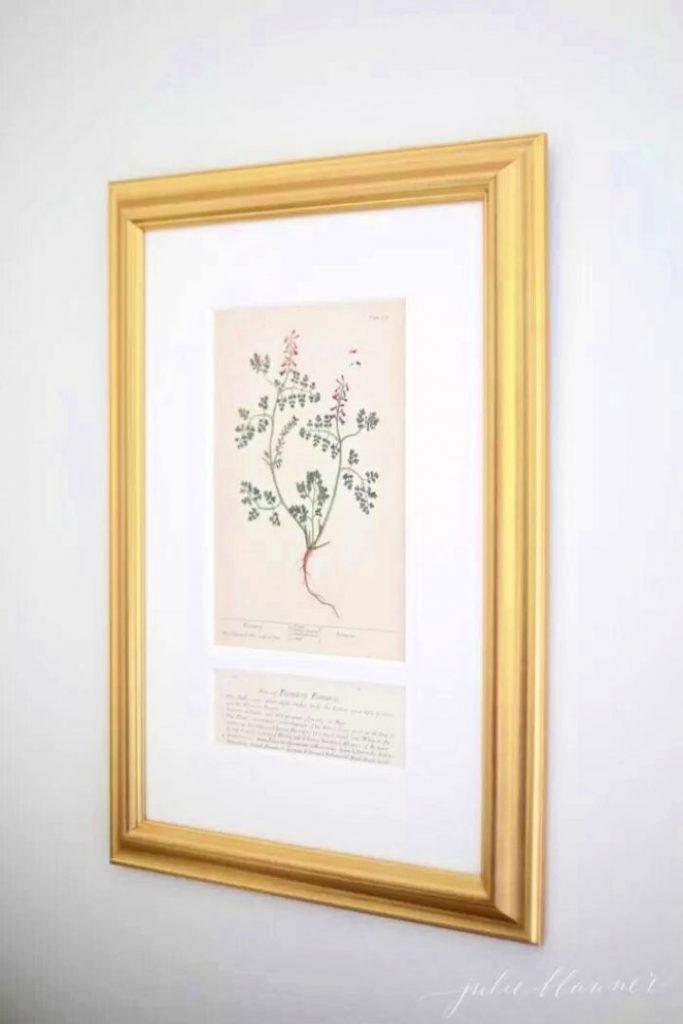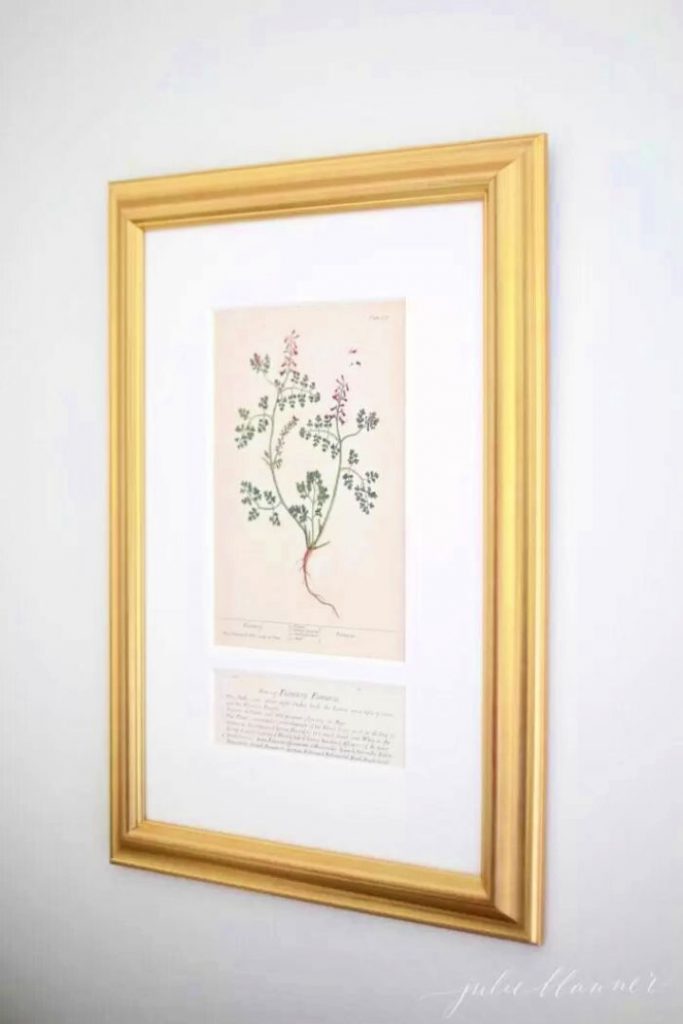 Framing a picture flawlessly might seem pretty easy at the first look, but once you start doing it, there are a few things you need to take care of. Julie Blanner has gathered these step by step details to frame a picture like a pro! Using a picture mat and a picture of your choice. julieblanner
40. Build a Rustic Picture Frames in 20 Minutes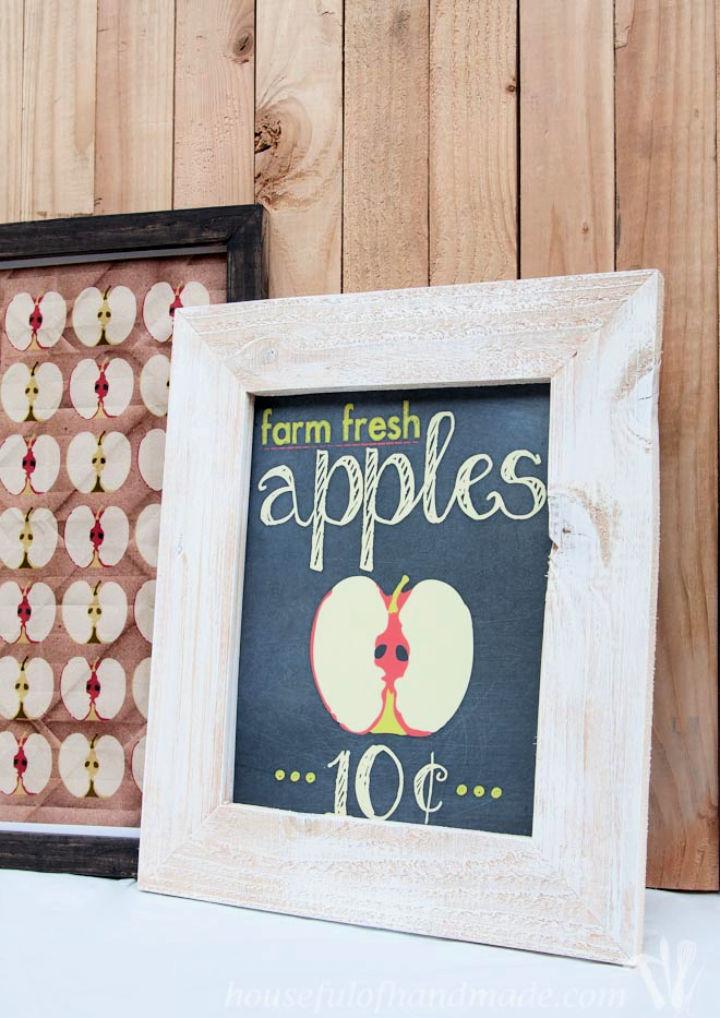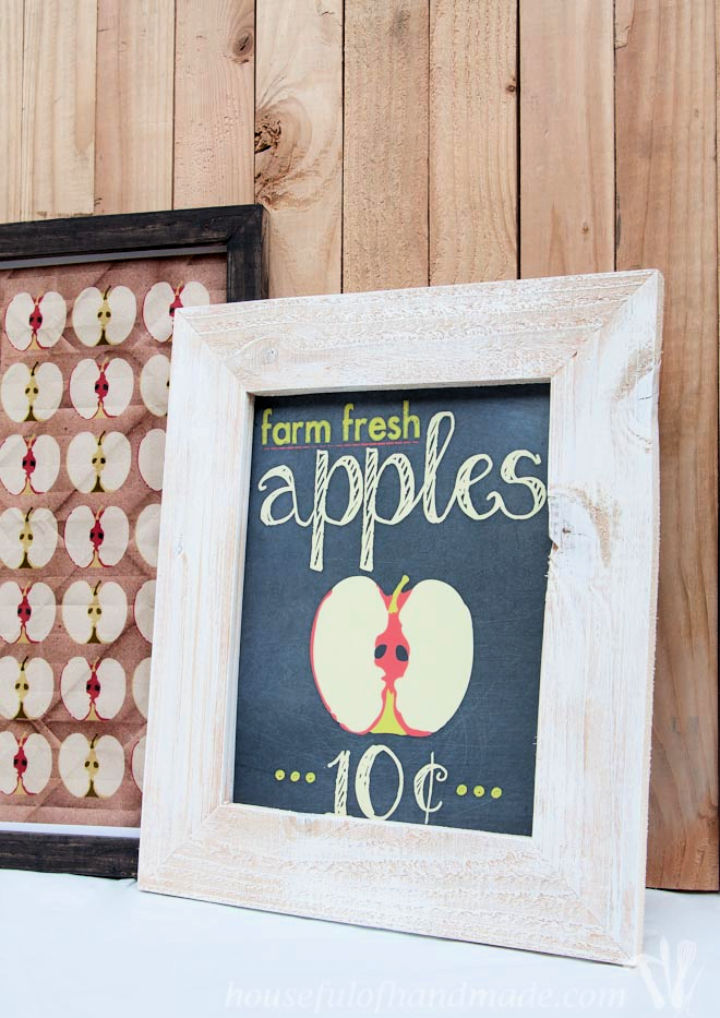 Rustic appeal never really gets out of style! For one thing, it is simple to make, and you can transform any look within a few minutes. Like this rustic picture frame here will only take your 20 minutes to whip up. Pro tip: don't sand the wooden frame for getting an ideal rustic look. housefulofhandmade
41. Photo Frame With a Piece Of Burlap

Burlap is one of the most versatile craft supplies! You can even use it for making a statement burlap picture frame. It will hardly cost $15 and take just 30 minutes! It is a simple project with 5 cuts and construction with wood glue. build basic
42. Build Your Own Wooden Picture Frame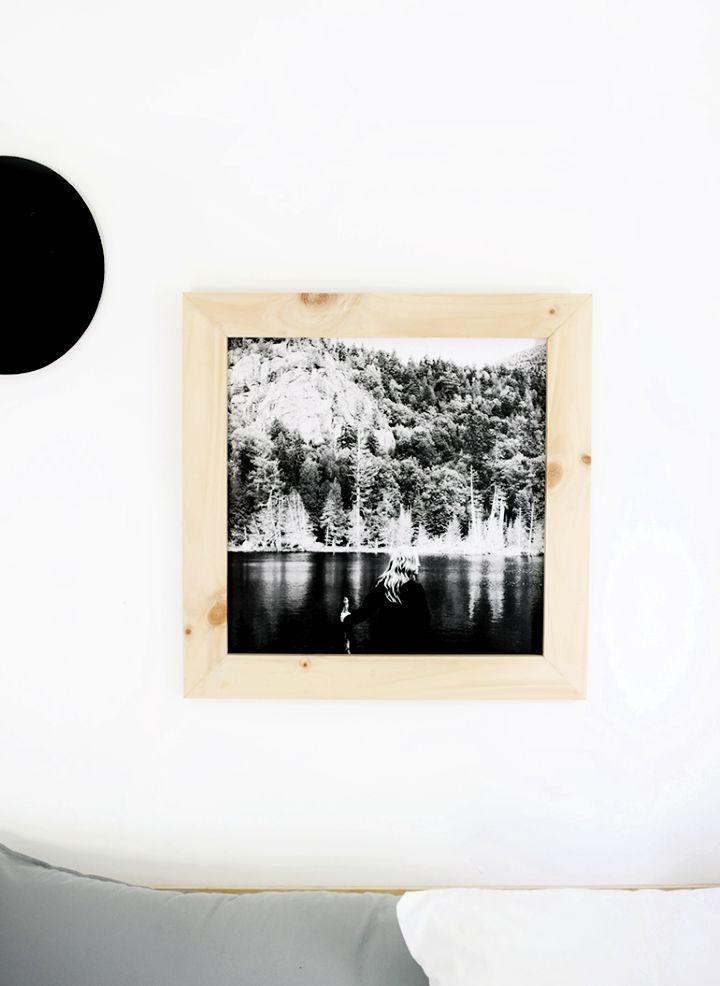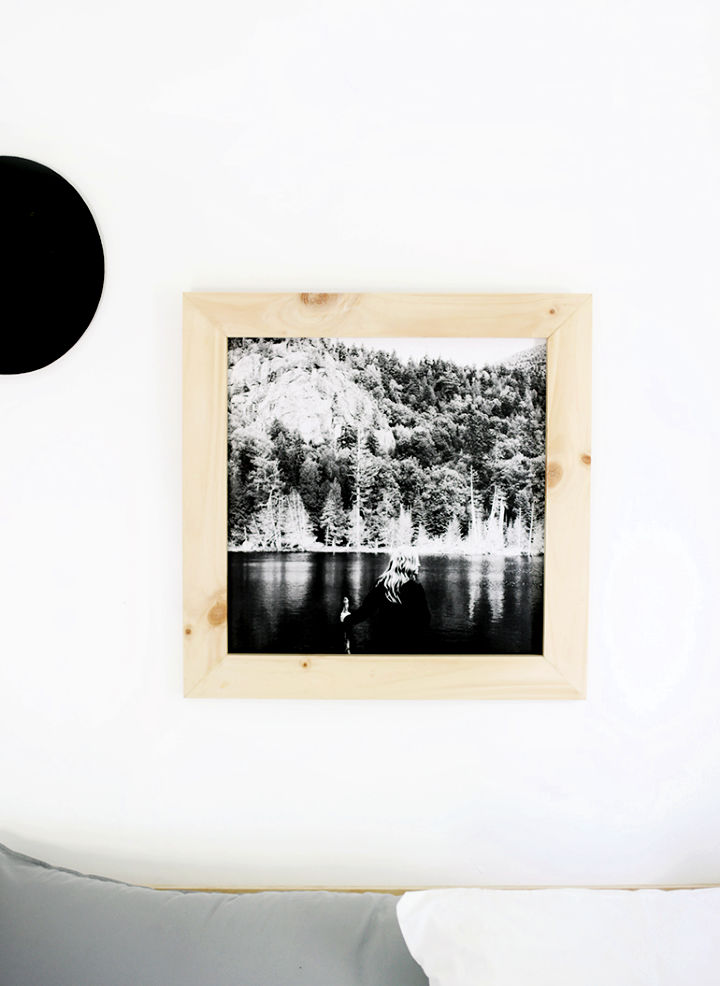 Each one of us has this certain association with some Instagram pictures! If you, too, happen to love one particular shot and want to get it printed and displayed in its full glory. You are going to need these supplies! Including; Wood, miter saw, wood glue, foam board, mod podge, Exacto knife, and a few more supplies. themerrythought
43. Make Picture Frames for a Few Bucks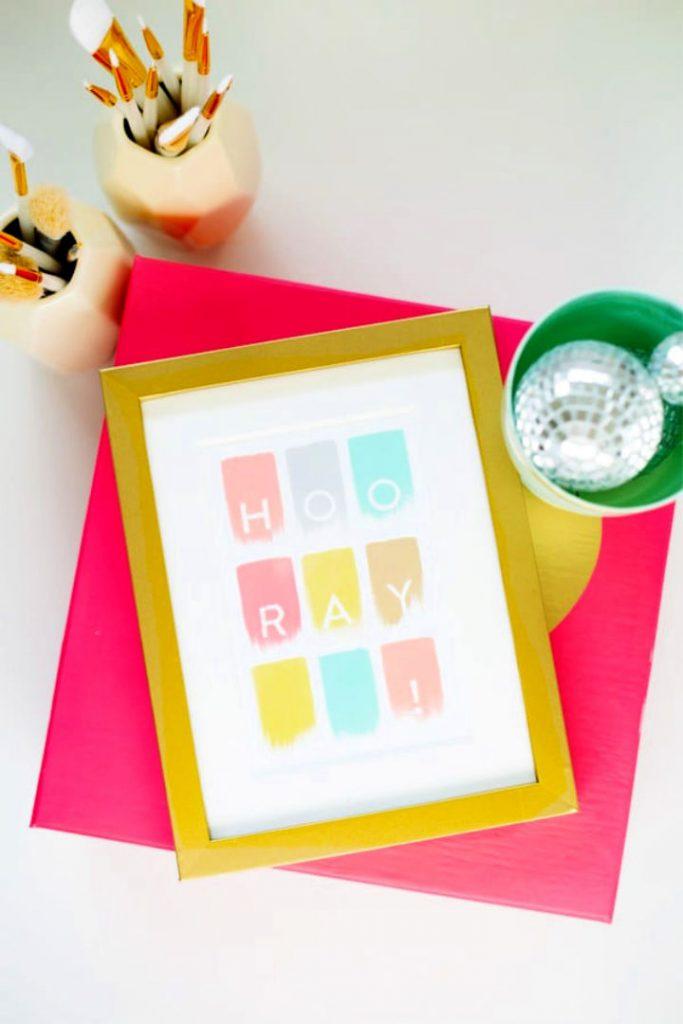 Looking for some cheap picture frame ideas to transform your gallery wall? These picture frames can be modified by spending just a few bucks. All you need is an old picture frame, contact paper or adhesive vinyl, scissors, and X-acto knife. Each frame is going to take just 20 minutes. lovelyindeed
44. Simple & Stylish Circle Picture Frames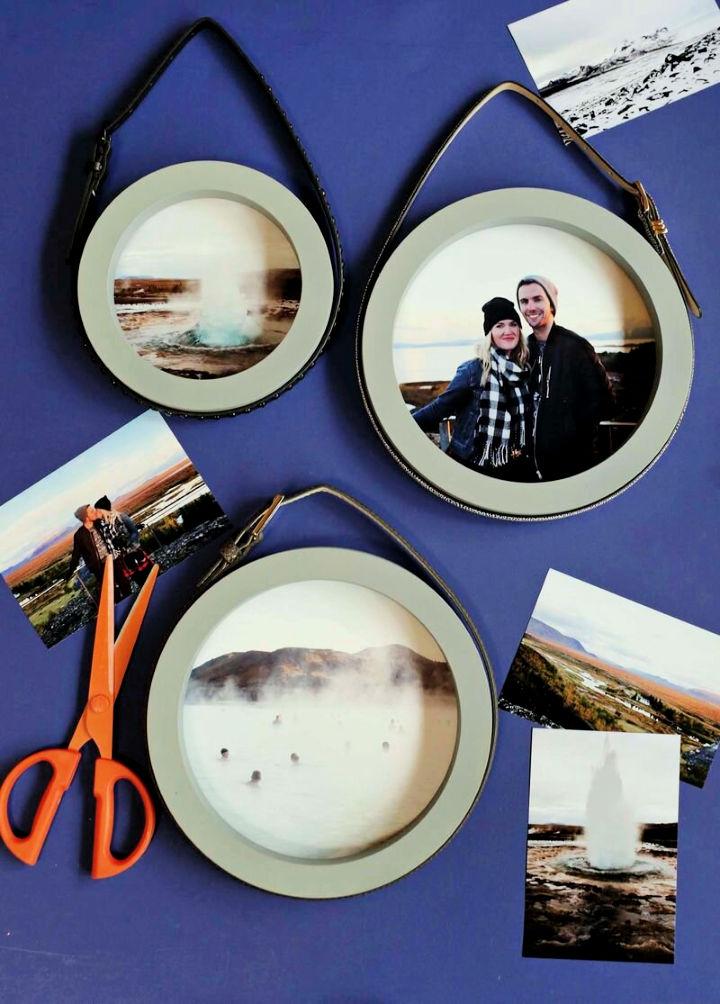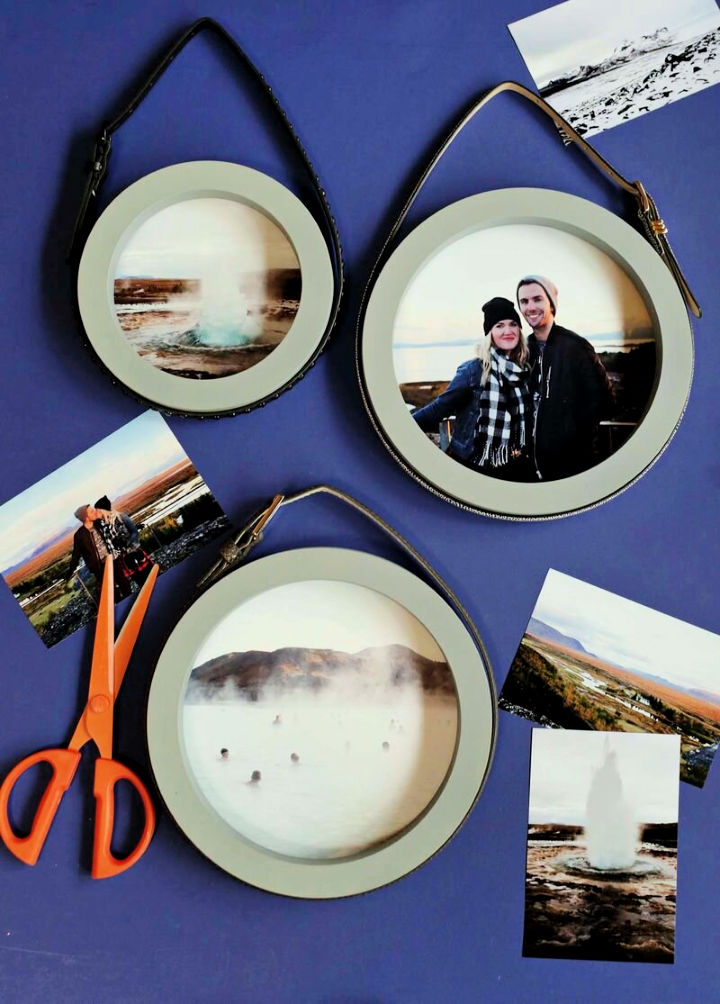 Choose your favorite pictures, and it's time to flaunt them in one of the most stylish yet straightforward ways! The key is to get good prints of the pictures. Choose some circular frames and paint them in this subtle gray. Glue belts around the edges. abeautifulmess
45. How to Make a Plain Photo Mat Pop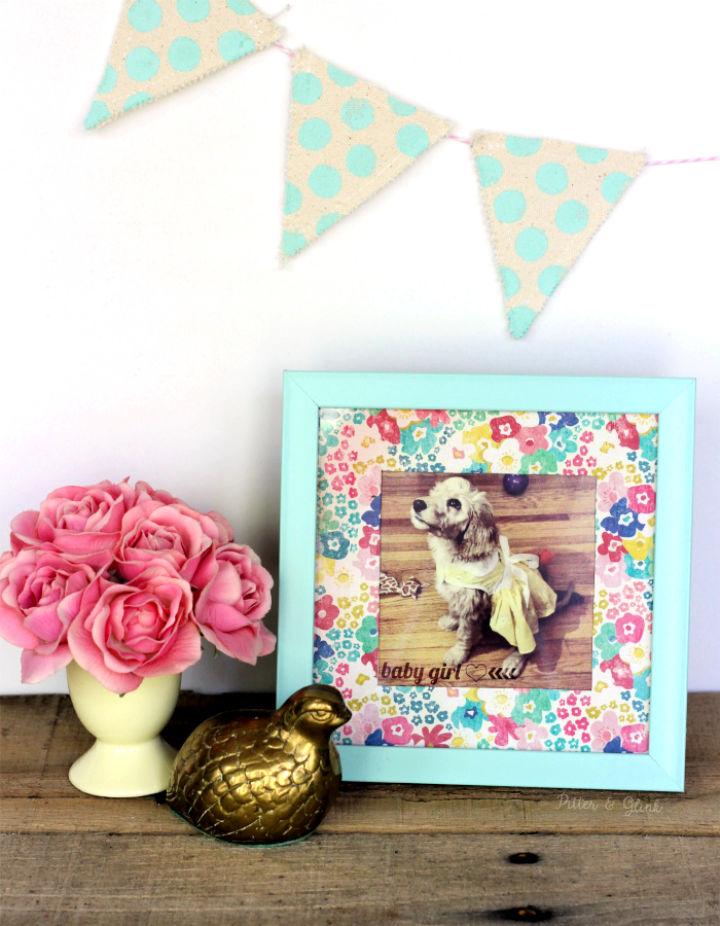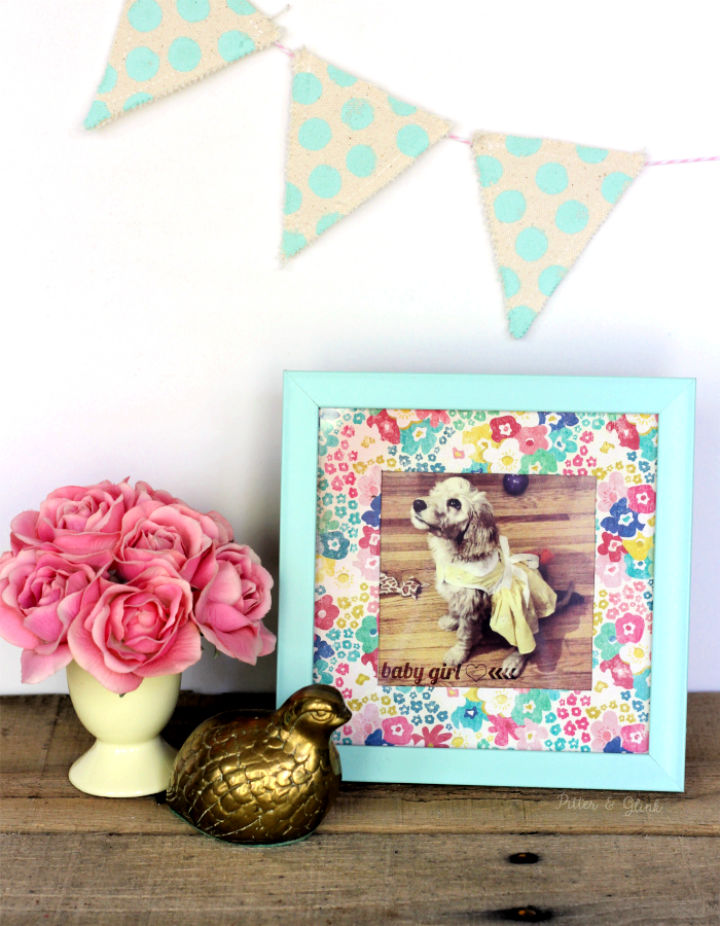 A lively and straightforward photo pop can spruce up your decor like anything! If you are a fan of textures, paints, and colors, this DIY picture frame tutorial is going to be your personal favorite! You simply need patterned scrapbook paper, a frame with a plain mat, scissors, glue stick, and pencil. pitterandglink
46. Clipboard Picture Frame with Beadboard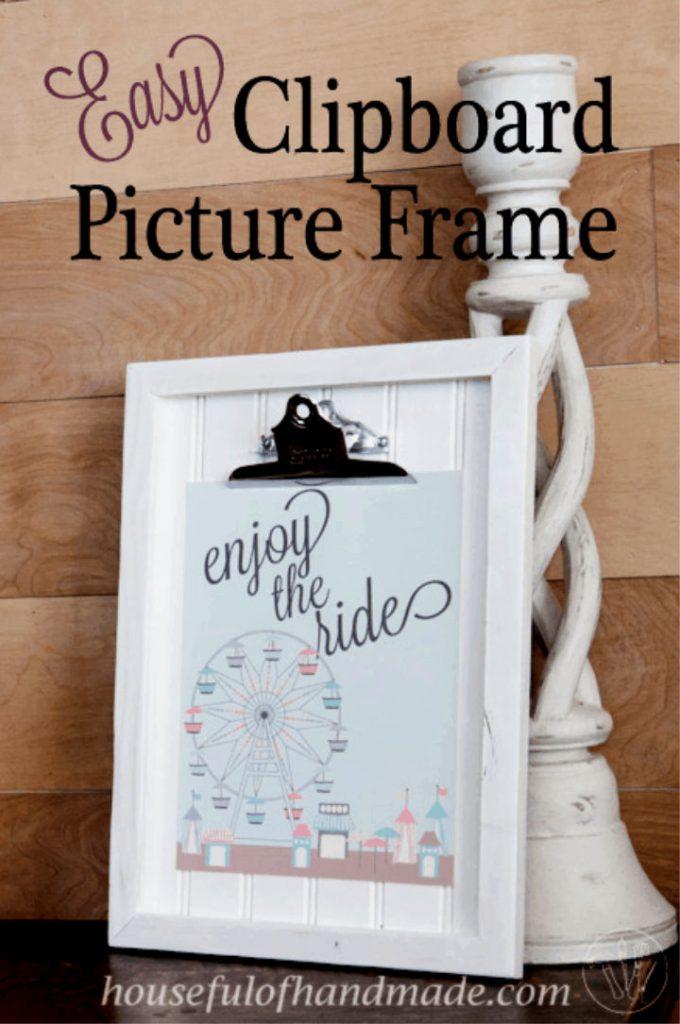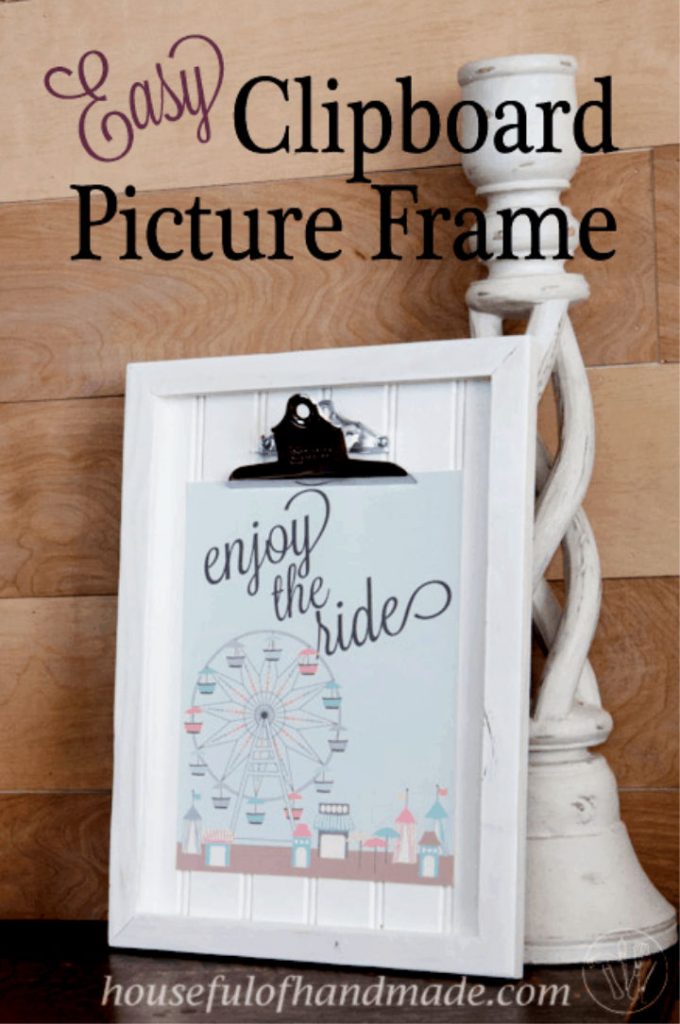 If there is one thing about minimalistic hues, they can never stop adding texture to any place. This simple and all-white clipboard picture frame is certainly whimsical to even look at. Pair it up with a lovely painted beadboard. housefulofhandmade
47. Easy Picture Frame Makeover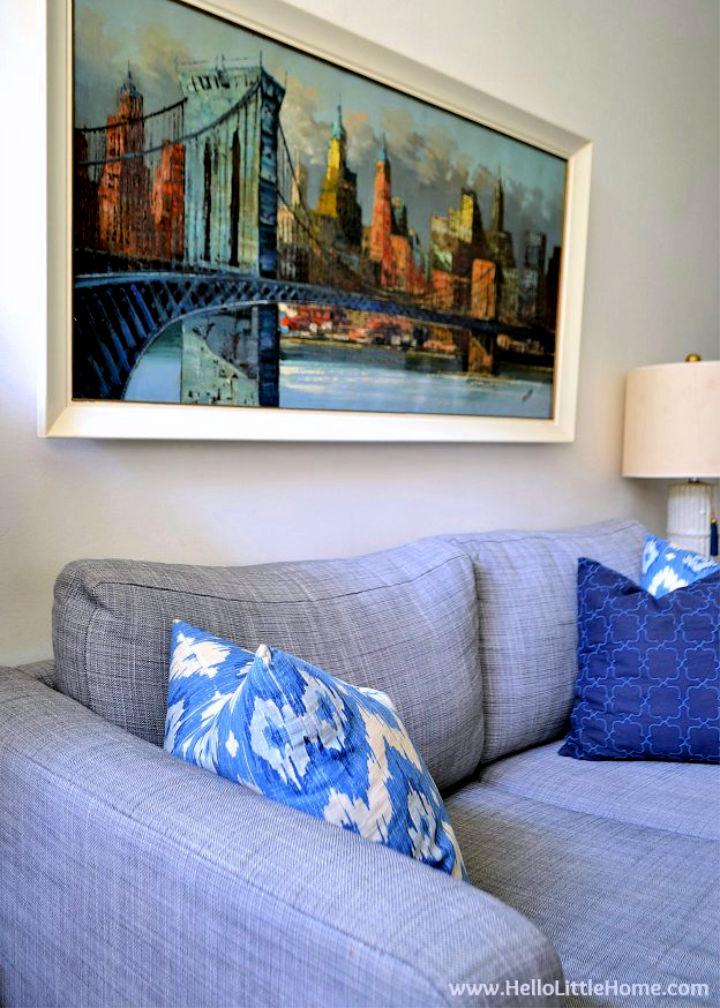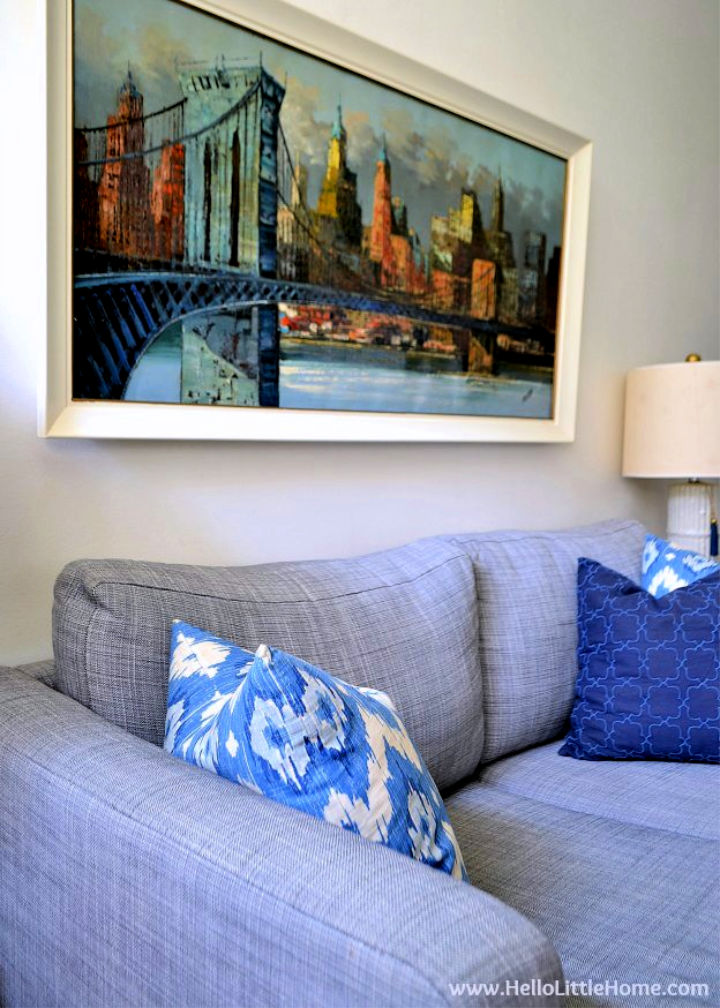 For a smaller space with minimum space to offer for decor, this subtle picture frame is perfect to choose from. For such a space, using lighter shades is more recommended and suitable. Update and an existing piece or start from scratch by getting lead from the tutorial. hellolittlehome
48. Homemade Vintage Window Poster Frame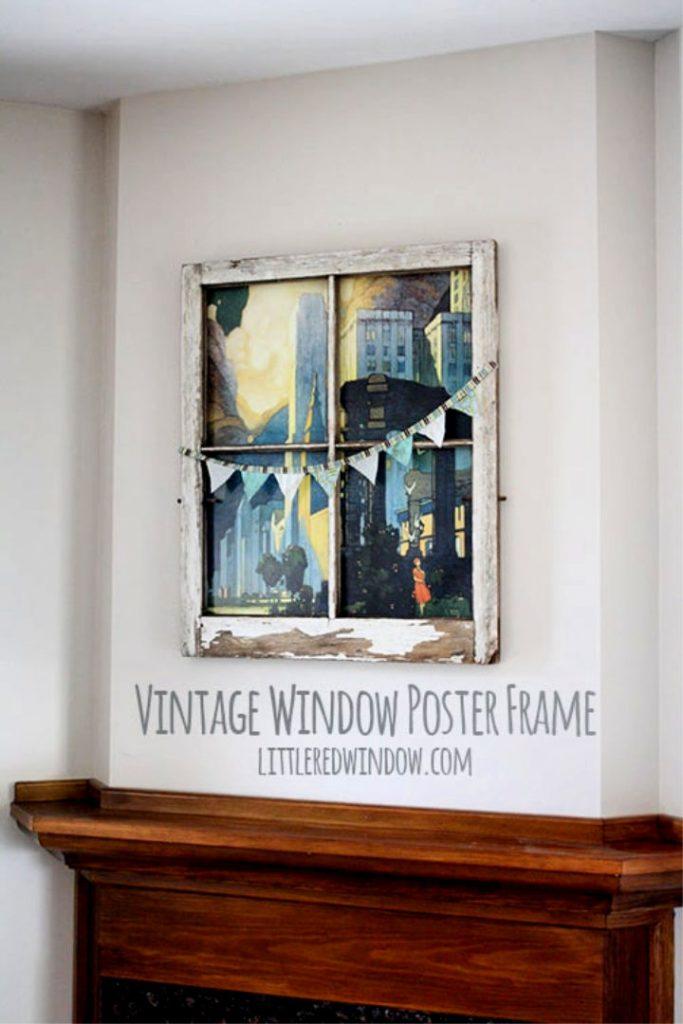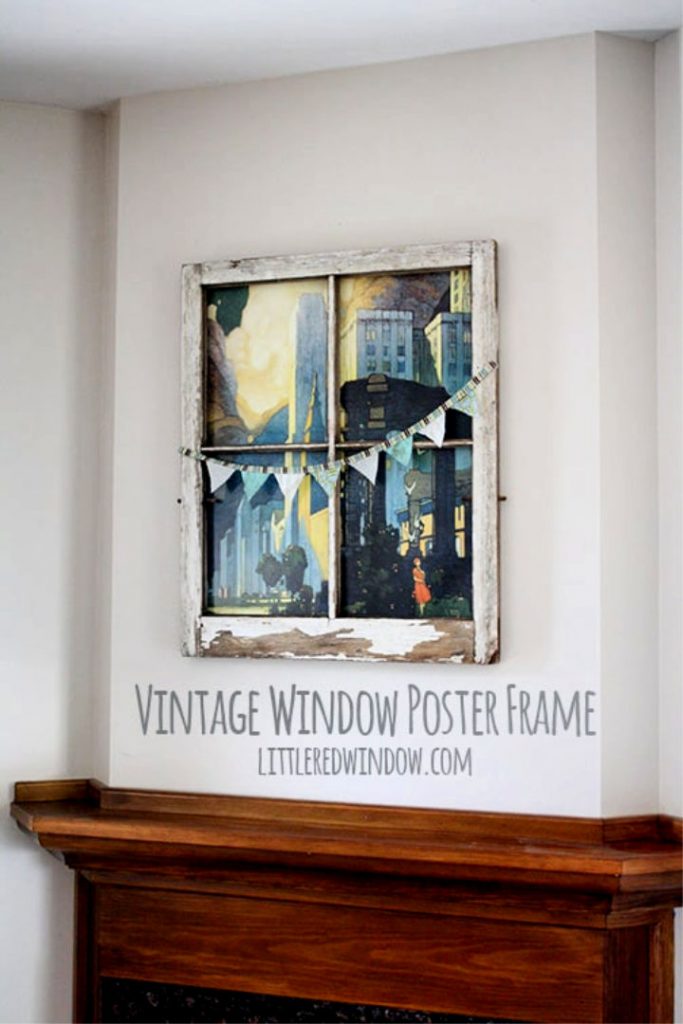 Transform an old window to this vintage DIY picture frame! Choose your favorite poster, lay down the poster underneath it. Mark the dimensions and then make the cut! You will need a staple gun for attaching the picture to the window frame. littleredwindow
49. DIY Hanging Wall Chart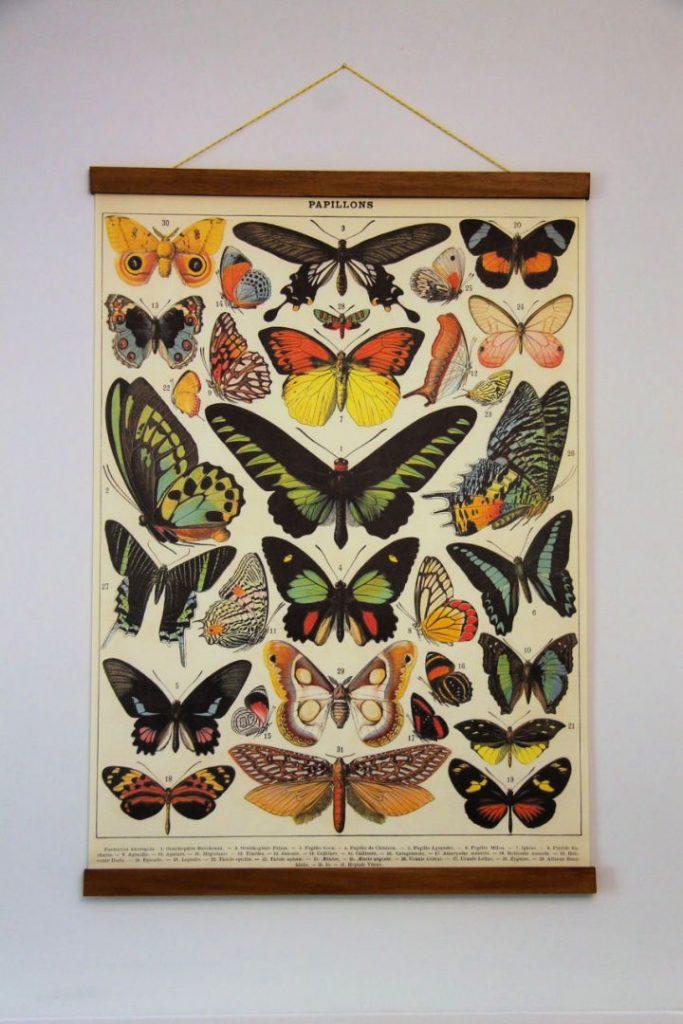 Make a unique and refreshing wall decor piece! Choose a lively poster or wrapping paper. Use double-sided sticky tape and four strips of Balsa wood. Along with that, you will also need a piece of string to attach it! Head over to the tutorial for more details wrappedupinrainbows
50. Kid-Made Picture Frame Vase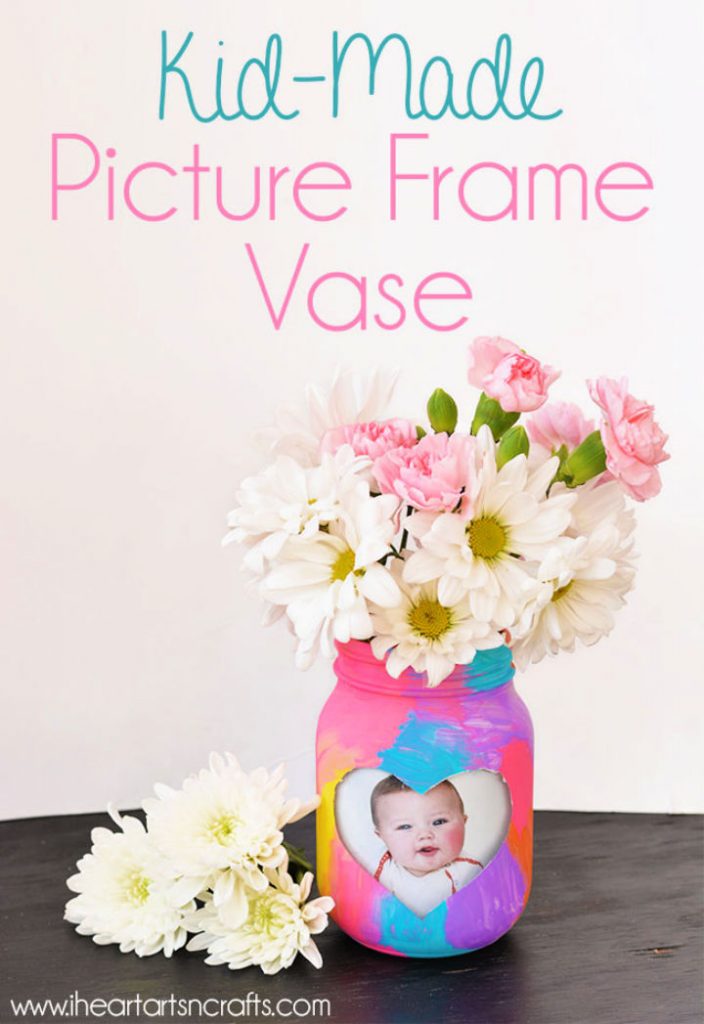 As spring is almost upon us, it is time to welcome it with some lively and vibrant colorful hues. Like this beautiful mason jar vase, which also has this added picture frame in it! It could be one great craft activity for your kids to enjoy making as well! iheartartsncrafts
51. DIY Wood Burned Photo Frames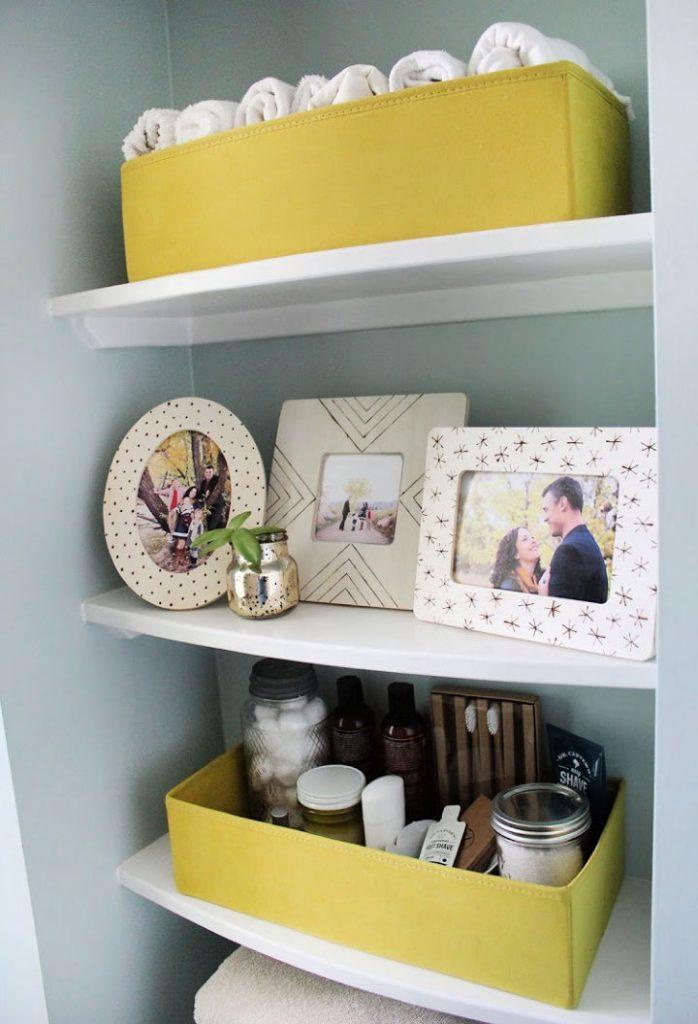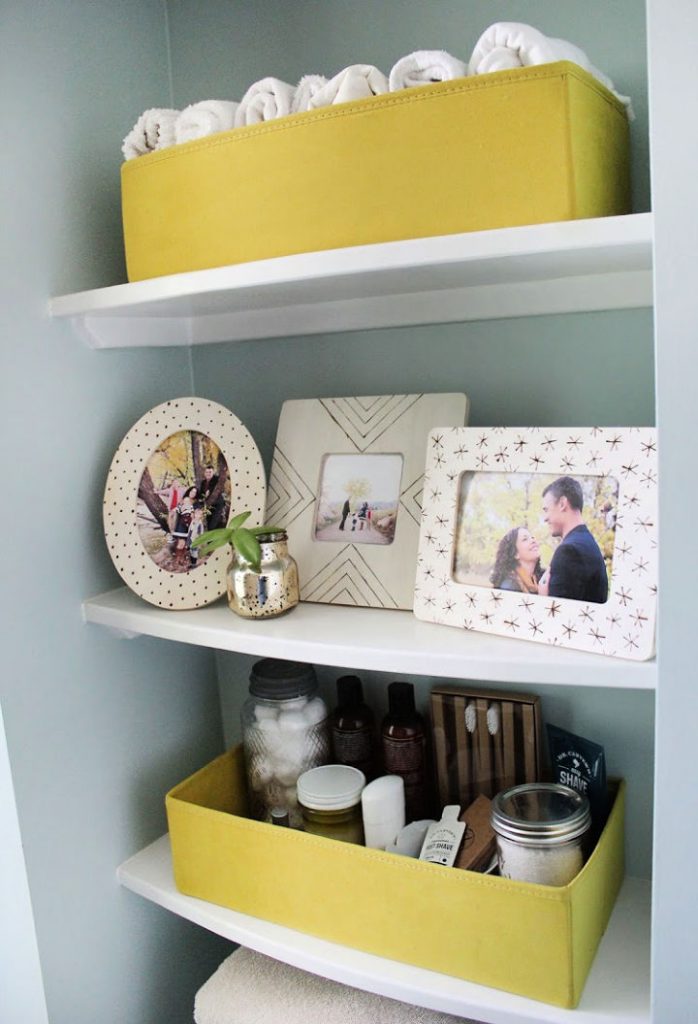 Wood burning is this new technique, and it brings so much texture with it! If you are looking to showcase your family pictures in vintage appeal, this is your hint. Get your hands on some natural wood frames, wood burning tools, pliers, metal ruler, and pencil. abeautifulmess
52. DIY Pedestal Picture Frame Trio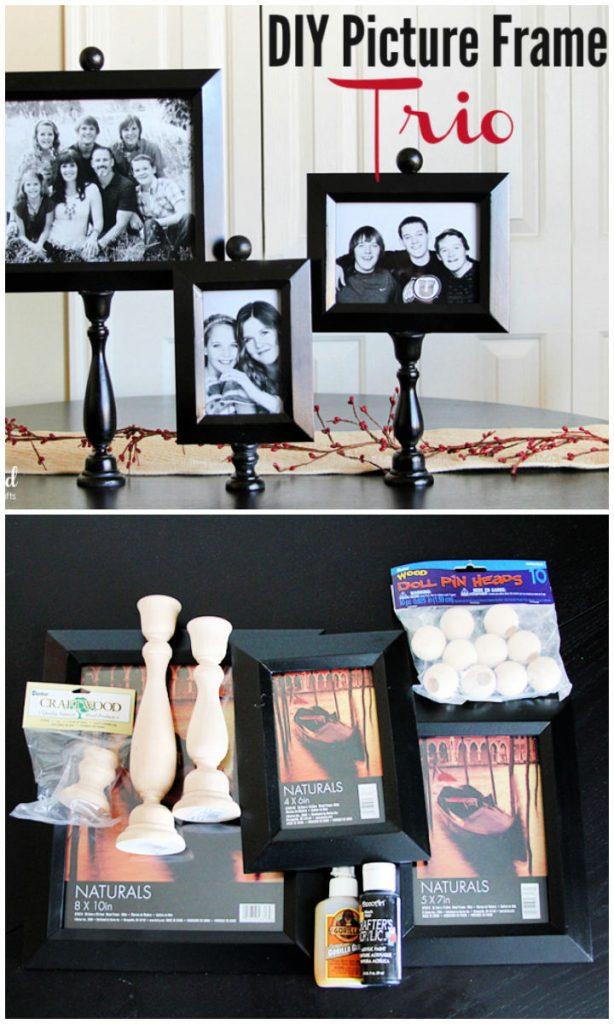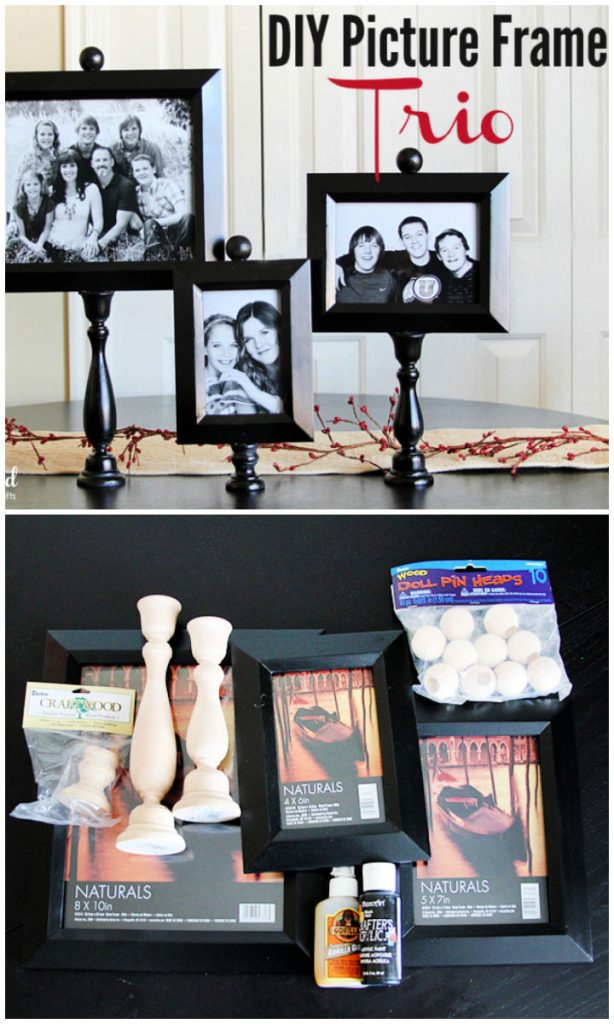 This trio pedestal picture frame tutorial is an ideal decor for holding a family dinner or family gatherings! Add a combination of different sized frames to give a livelier look. The black paint is giving it quite the royal look! consumercrafts
53. Handmade Valentine's Day Picture Frame

Nothing speaks love like a handmade gift gesture! And this DIY picture frame for valentine's day is a great idea you can have this year! All you need is a wooden frame with heart cut out, paintbrushes, acrylic paint, paint pens, and wood or craft glue. simplystacie
54. DIY Copper Picture Frames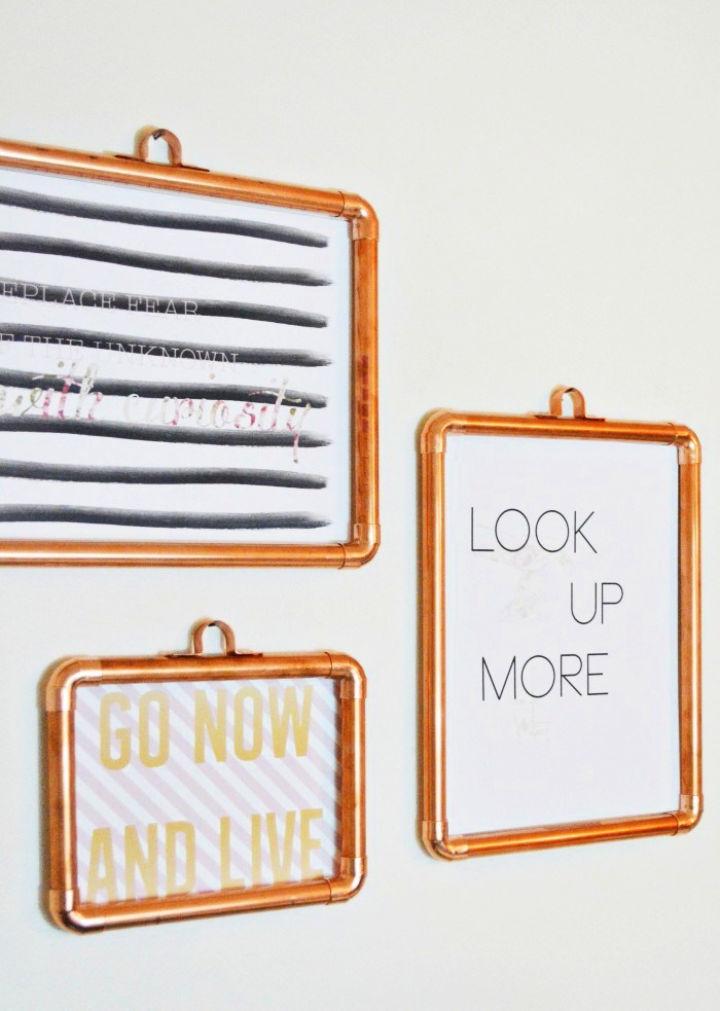 We bet you could have never seen copper pipes as these amazing decor upgraders! If you are bored of the same old wooden frames, take things up a notch by using these simple copper pipe fittings. Choose your frame size, and using gorilla glue, connect the copper wires together. ajoyfulriot
55. DIY Fabric Covered Picture Frame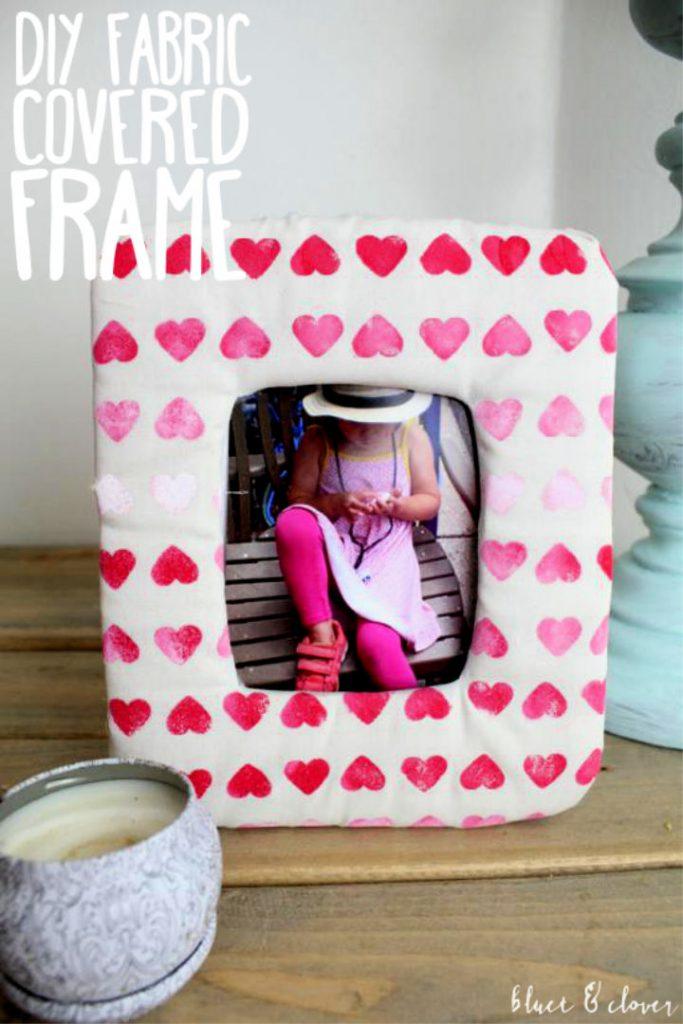 A simple and quick way to redo an old picture frame! Like this super cute fabric cover. You might already have these supplies with you. All you need is cardboard, card stock, a frame template, glue gun, craft knife. Pink and white acrylic paint and small heart craft punches will do the magic. bluetandclover
56. Picture Frames Made Of Paper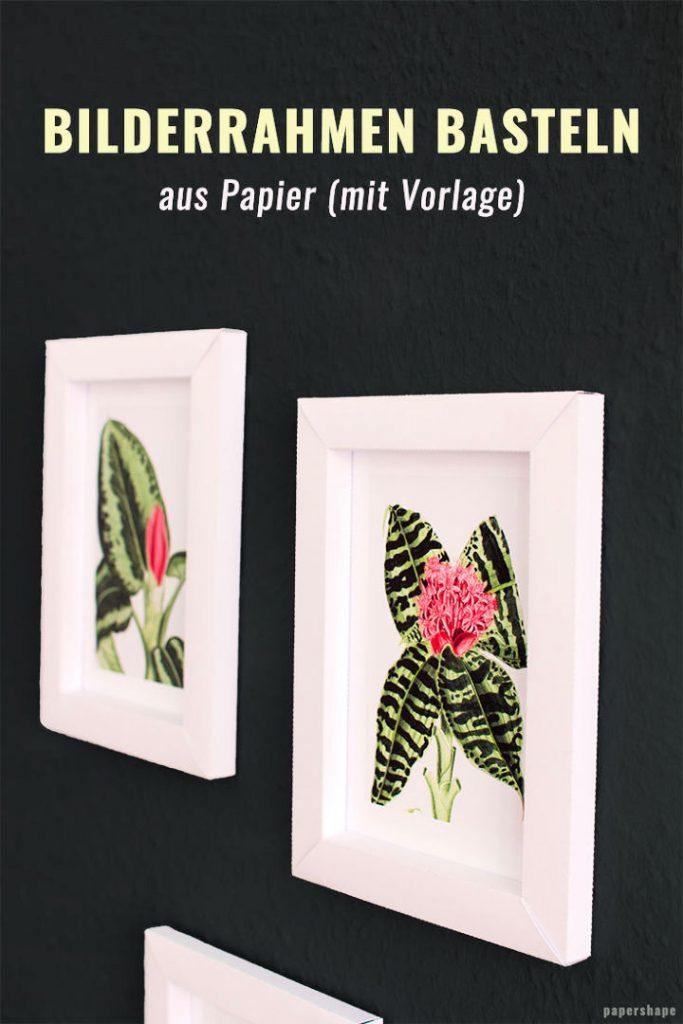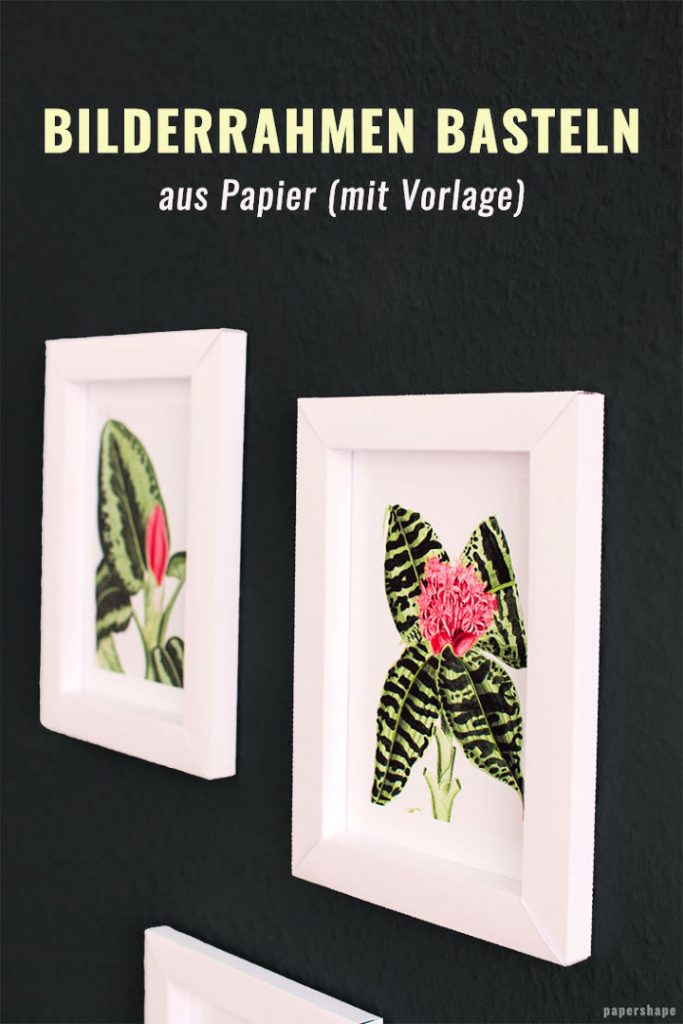 Whip up some simple picture frames using some papers and glue! You will need some A4 papers, use simple or patterned. Double-sided adhesive pads, choose your artwork, and get started. Head over to the tutorial for further details. paper shape
57. How to Make Arrow Picture Frames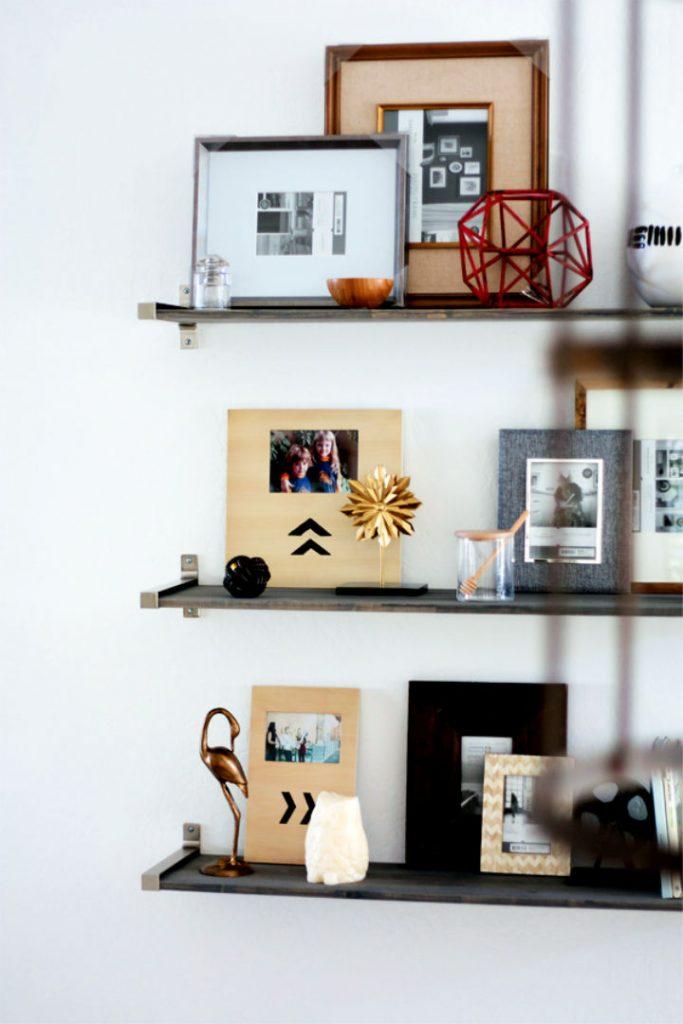 An interactive decor is a great idea to flaunt your area. You will need some frames, black paint, a paintbrush, blue painters tape, and a patterning tape. So, if you are looking for a unique and catchy decor idea, hit the tutorial and get inspired. kristimurphy
58. Create a Gold Skull Picture Frame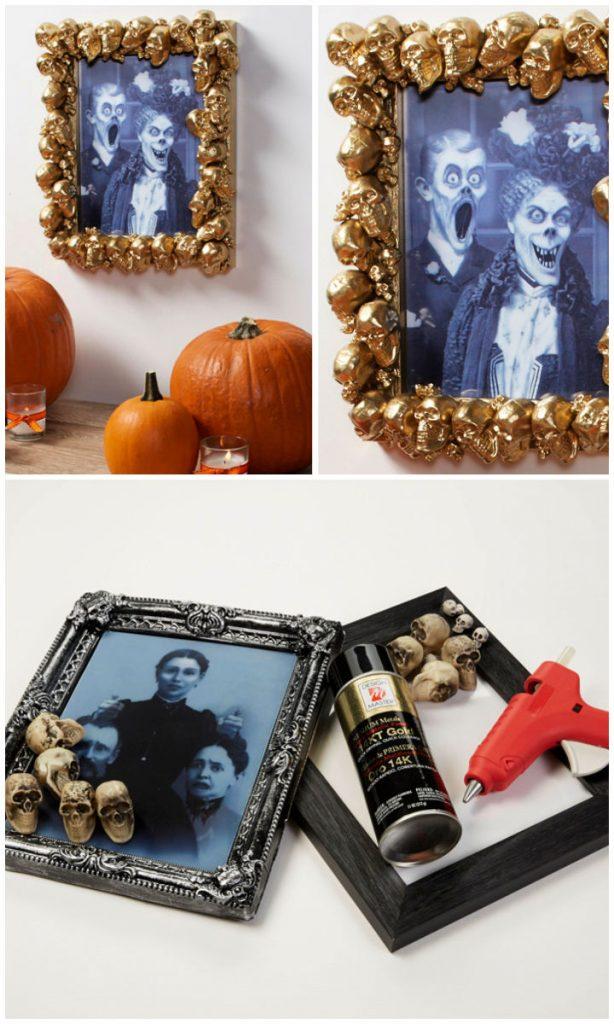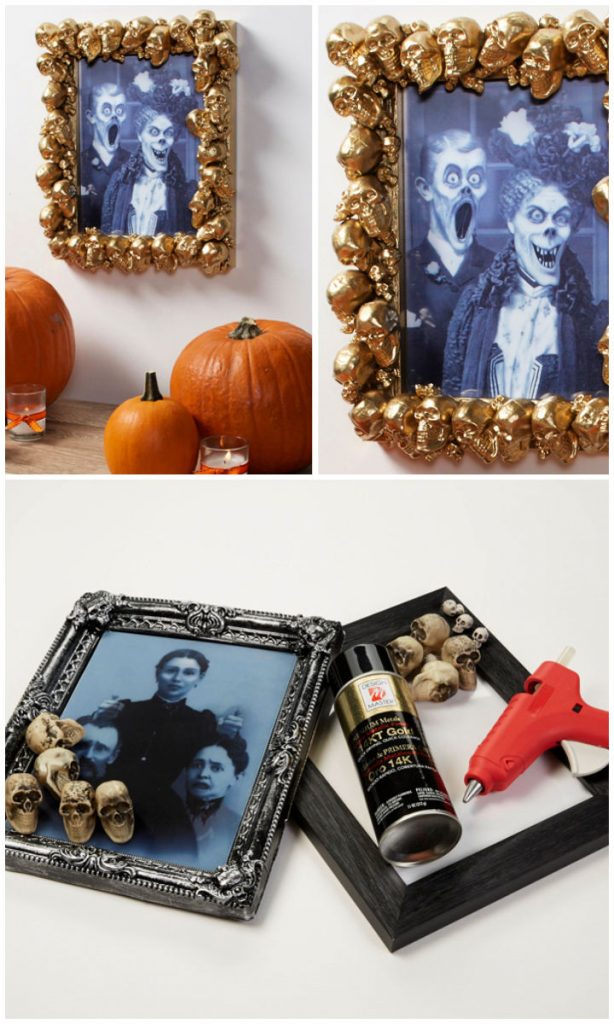 Every year, we bet your Halloween decor must be the same amount of creepy with nothing new to offer. But, with this DIY picture frame tutorial, you can get rather meaningful and make things take an exciting turn! A few golden mini skulls for a change. dmcolor
59. Make a Textured Picture Frame

Who doesn't love pretty textures and soft hues? We bet everyone does. Get your hands on a simple picture frame, some plaster, white paint with primer, and colored or metallic paint for accenting. You will also need a few tools, get the list from the tutorial. abeautifulmess
60. DIY Distressed Picture Frame

Not a fan of simple textures? How about we tell you this great idea of distressing a simple picture frame? You will need some chalk paint. Before you start painting, don't forget to use a sander, so it shows the white color more. hawthorneandmain
61. Picture Frame Refashion Tutorial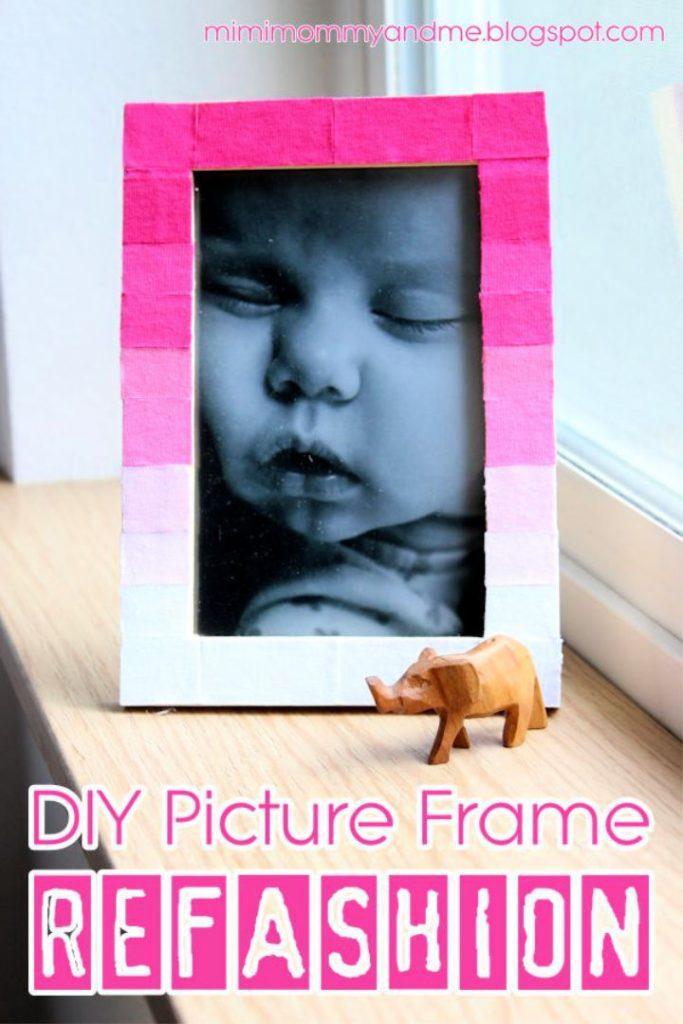 Do you love Ombre and the classy #feels it brings? This DIY picture frame is a recycled wonder made using scraps of fabric. Choose your color appeal, cut and gather the pieces and paste them on the wooden frame! Get a complete guide from the tutorial. mimimommyandme
62. Beachy Style Picture Frames from Fence Wood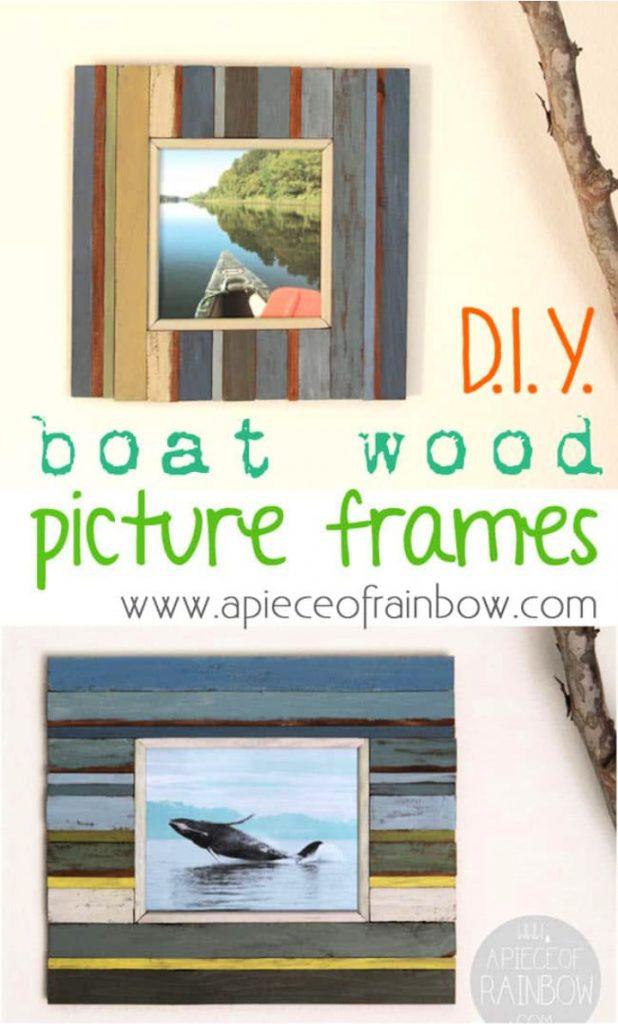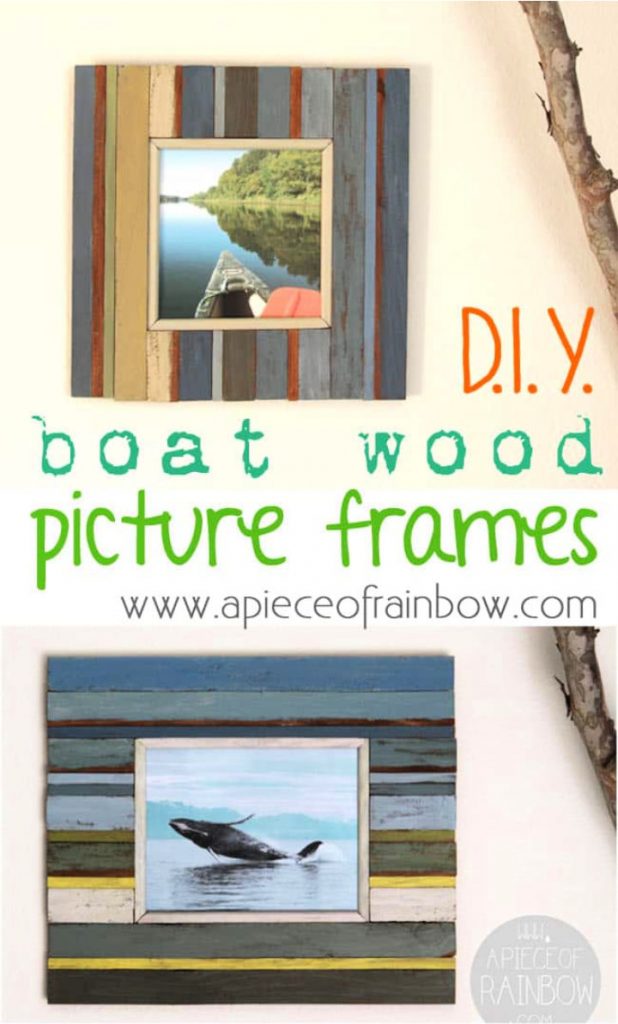 Bring some beach vibes to your decor! This whimsical wall decor is made up of wood fences and painted in these subtle beach colors. Pick a lovely sea picture to put in the frame and add this beauty to your wall. apieceofrainbow
63. Picture Frames Using Creative Duct Tape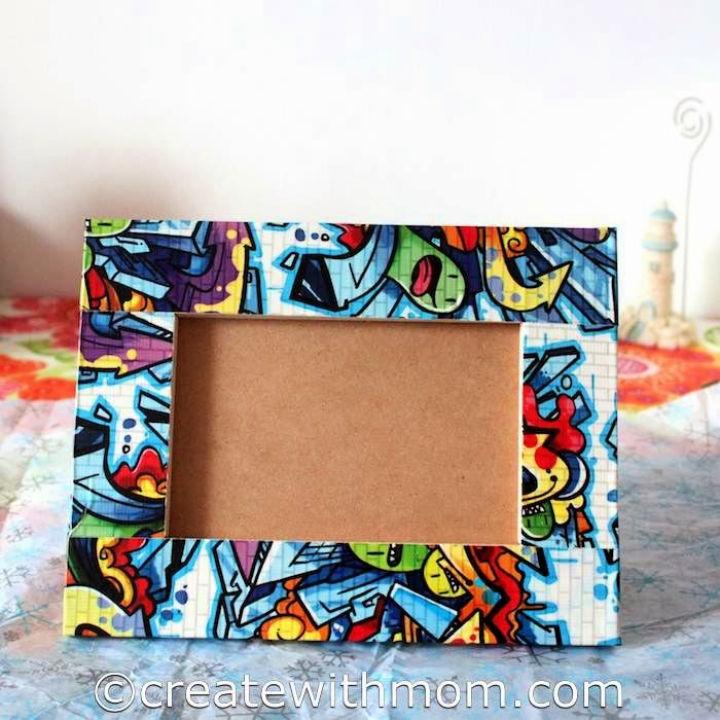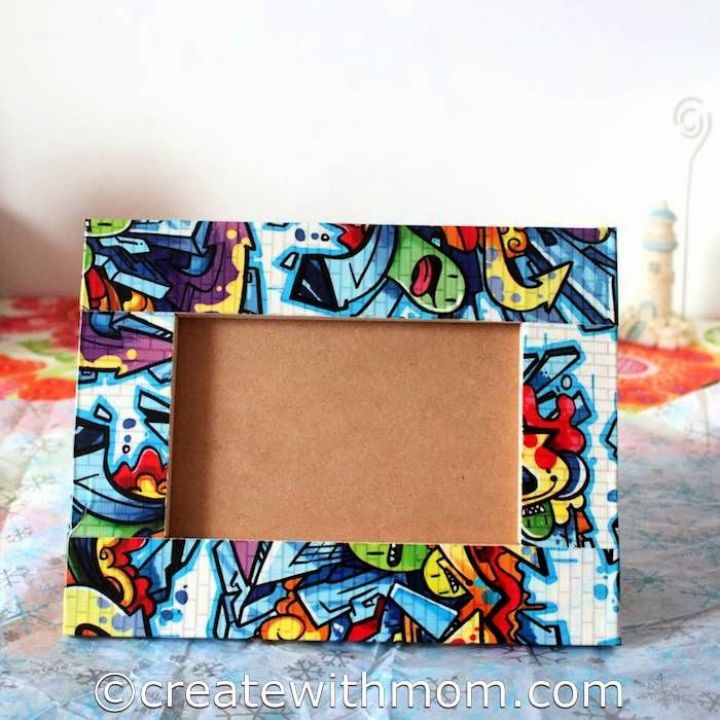 Don't get in the trouble of using glue sticks, or a lot of pieces sticking together. Make it simple yet super stylish using this creative duct tape. Use a craft mat and an old frame for the base of this duct tape wonder world. createwithmom
64. DIY Hashtag Instagram Photo Frames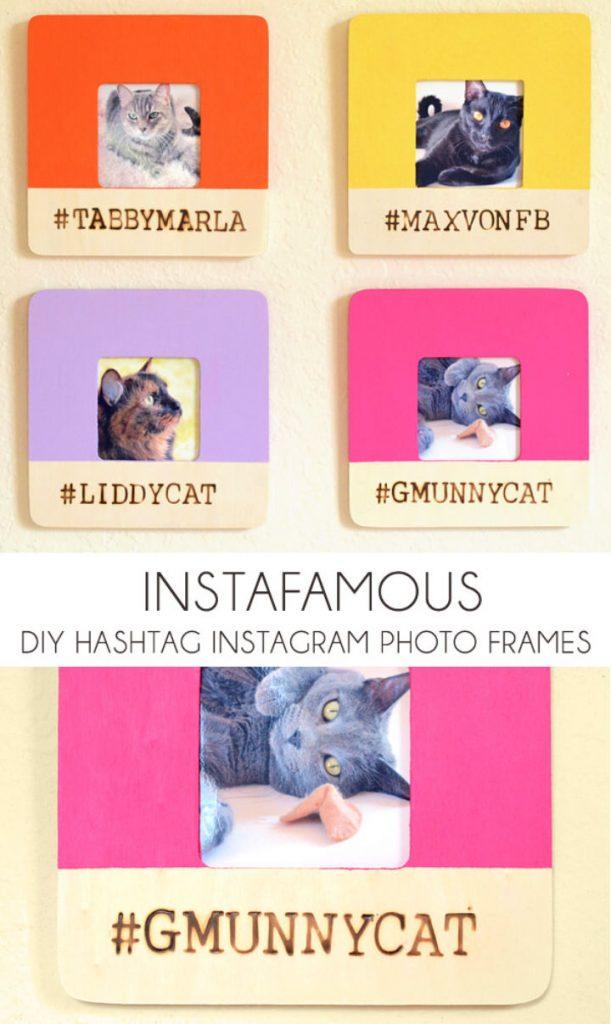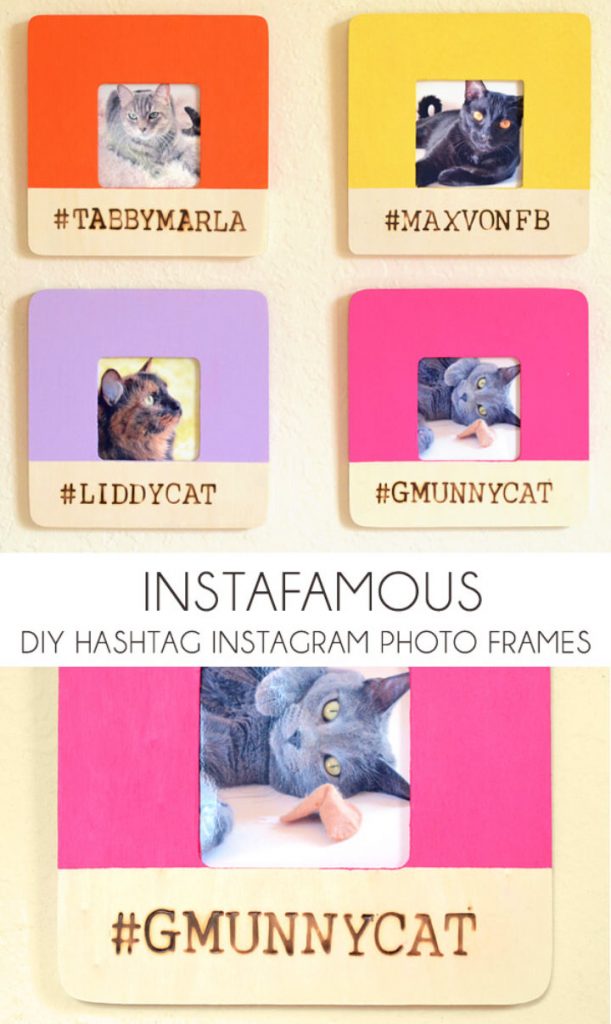 A unique and pretty catchy Instagram inspired wall decor idea! With this DIY picture frame tutorial, you can make a wall of your own wooden frames in these vibrant colors and pictures. Pair it with the whimsical wood-burning pen and flaunt it with acrylic paints. dreamalittlebigger
65. Photo Frame with Mod Podge Peel and Stick Stencils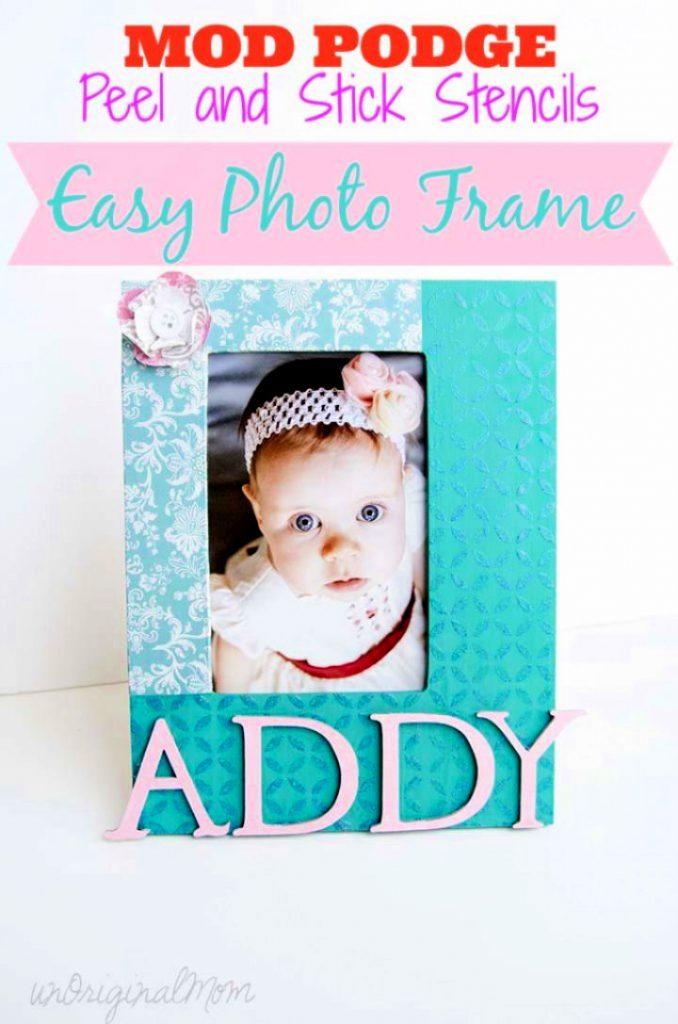 So, the news is that mod podge has got this exciting stencil that you can use and add even more creativity to your crafts! Having said that, why not make a lovely photo frame with mod podge peel and stencils? Know all the details here. unoriginalmom
66. DIY Earring Display Picture Frame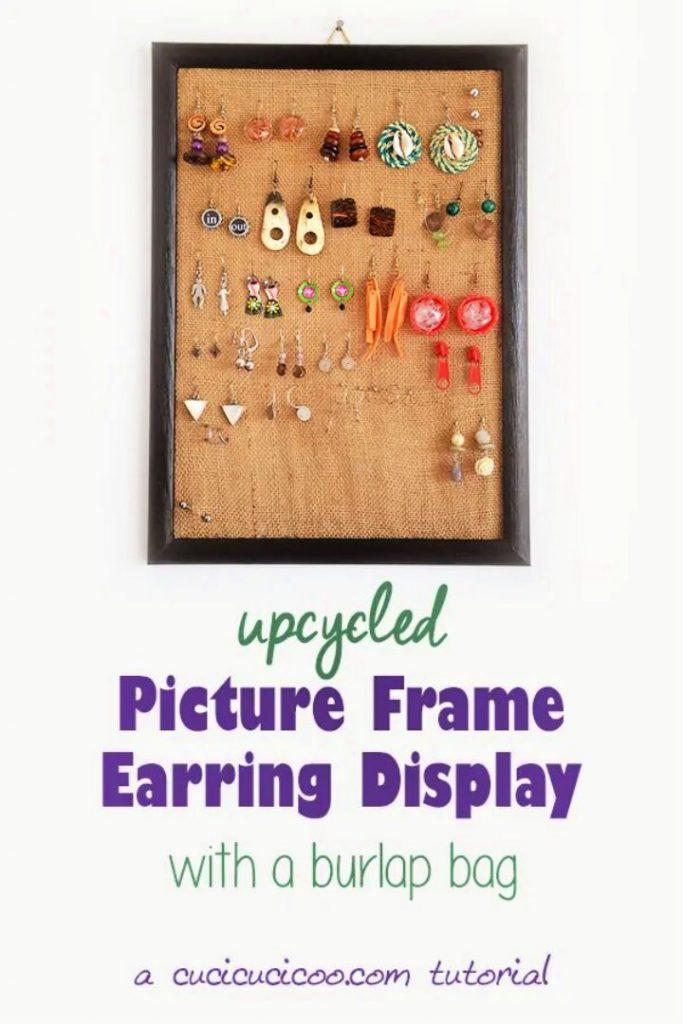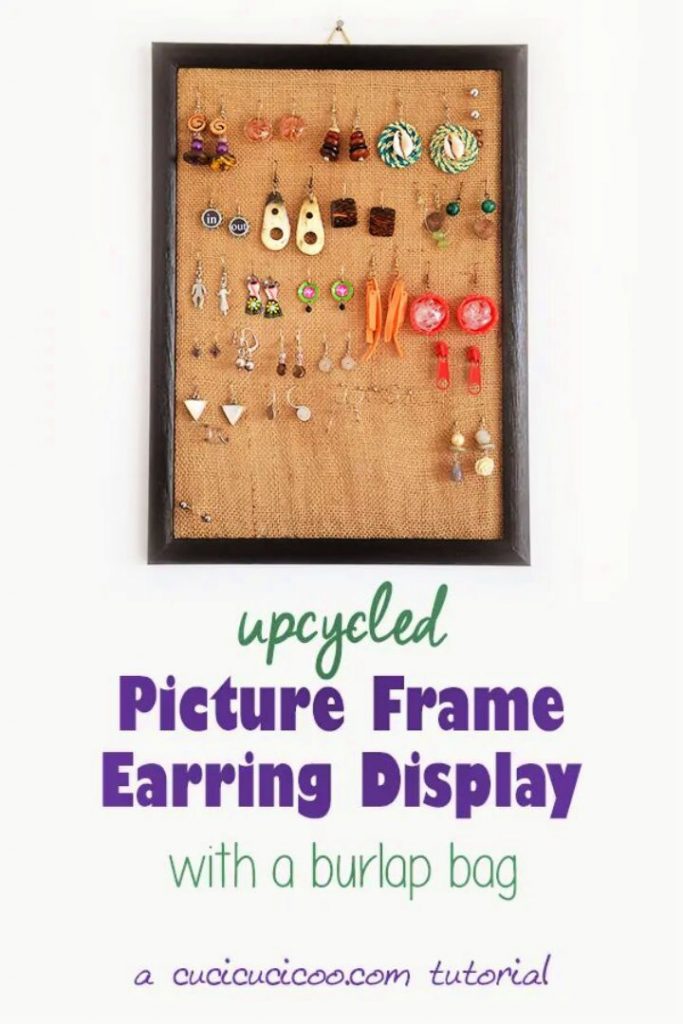 We can only assume all the frustration you might have to go through every morning while finding them matching earrings! This upcycled picture frame is all that you need to not only flaunt your earrings collection but also make your decor look a bit different. cucicucicoo
67. How to Make Chevron Halloween Frame

This Halloween set up this super catchy and perfectly befitting chevron frame! It is fun and easy to make! Also, it complements the occasion. All you need is black, white, and orange craft paint. With one mini frame, a wood plaque for the base. Frog tape and wood glue. craftaholicsanonymous
68. Vintage Picture Frame with Dry Brush Technique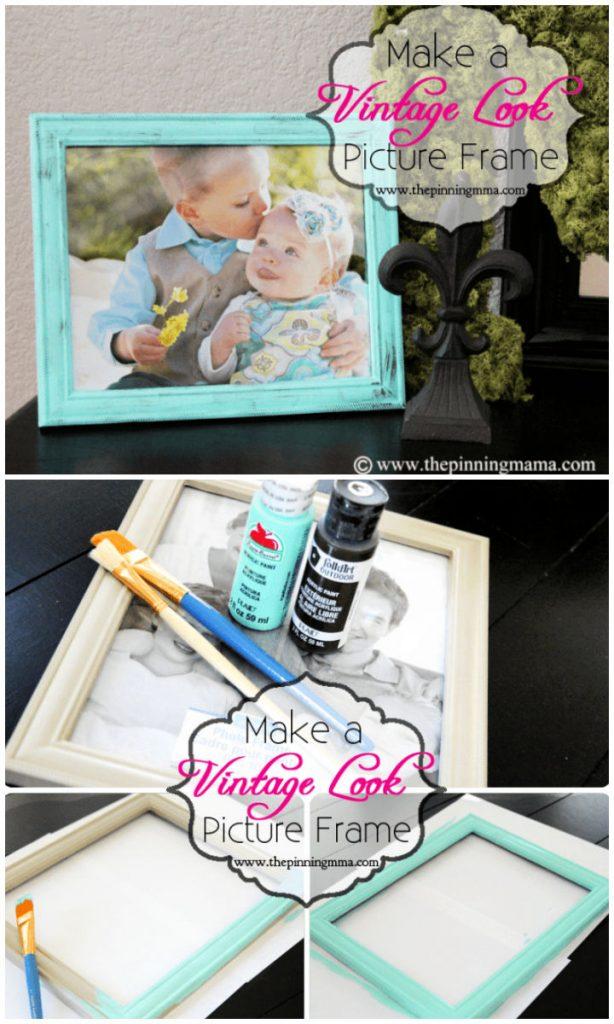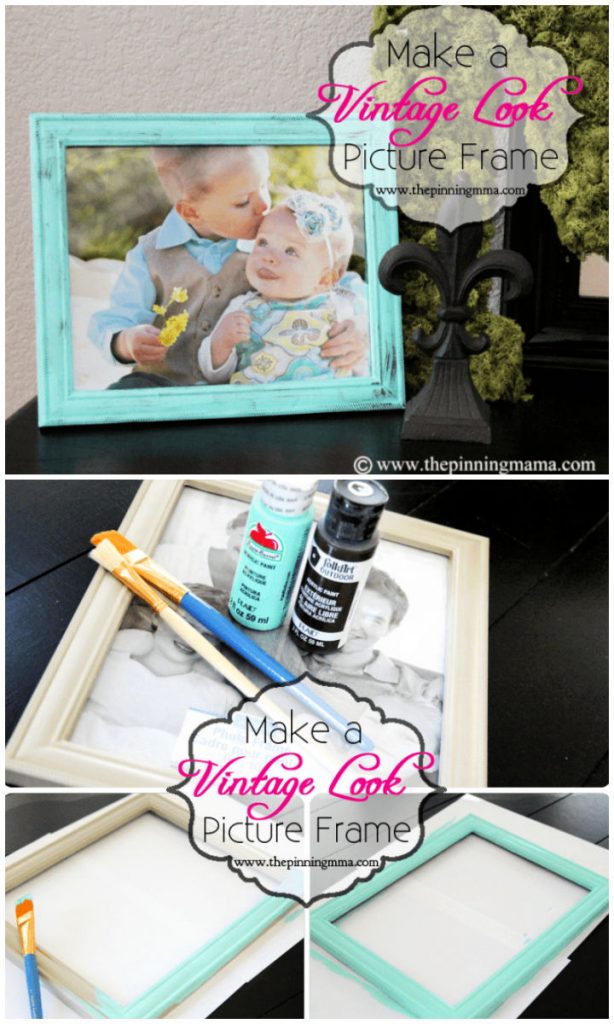 Transform a simple picture frame into a vintage delight! The technique used here is called the dry brush technique, you will need one picture frame, a bottle of acrylic paint in your color choice and one in brown, and 2 paintbrushes. The tutorial beholds the secret dry brush technique! thepinningmama
69. Easy DIY Picture Frame Under $5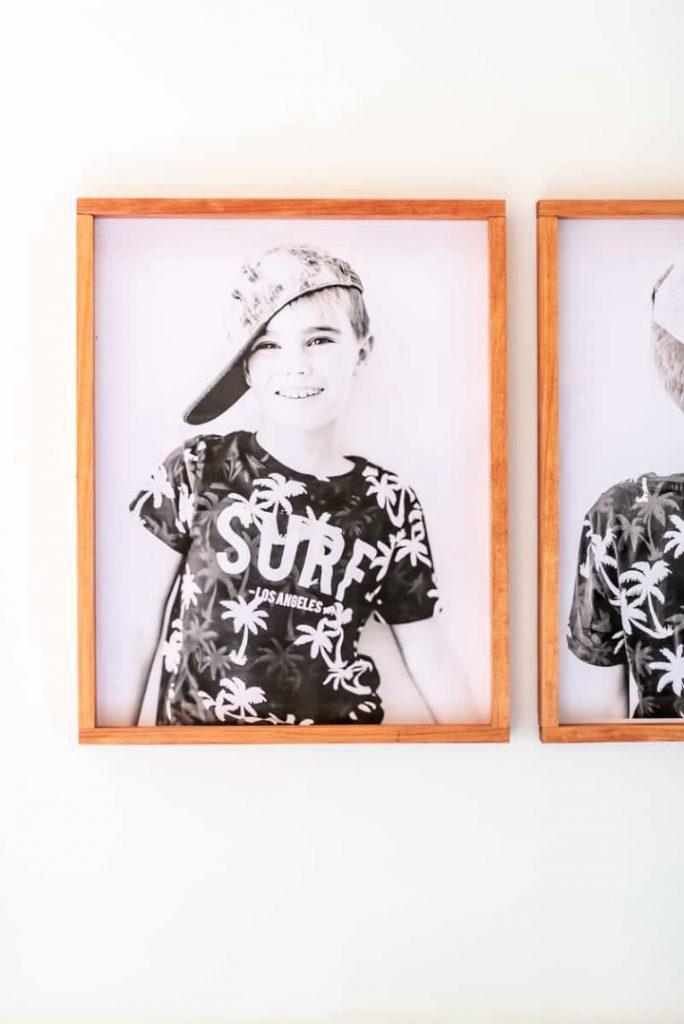 If you have the true spirit of a DIYer, then you must know the essence of DIYing lies in saving the cost! This DIY picture frame tutorial is going to make you apt at making a $5 picture frame. Some pine boards joined together and stained to this subtle final appeal! placeofmytaste
70. DIY 36 x 48 Frame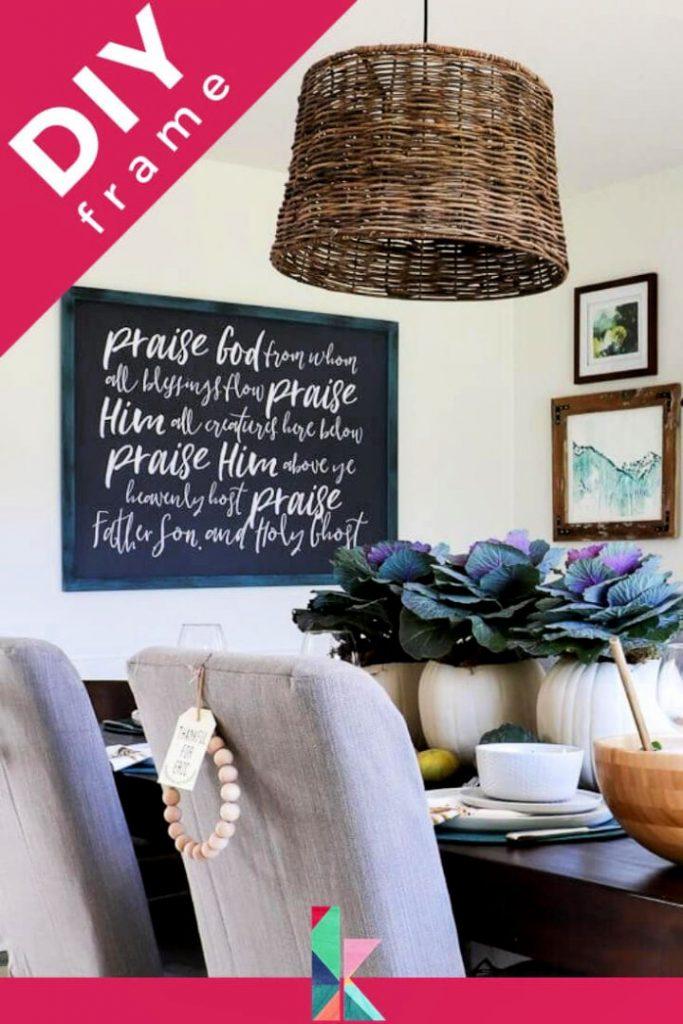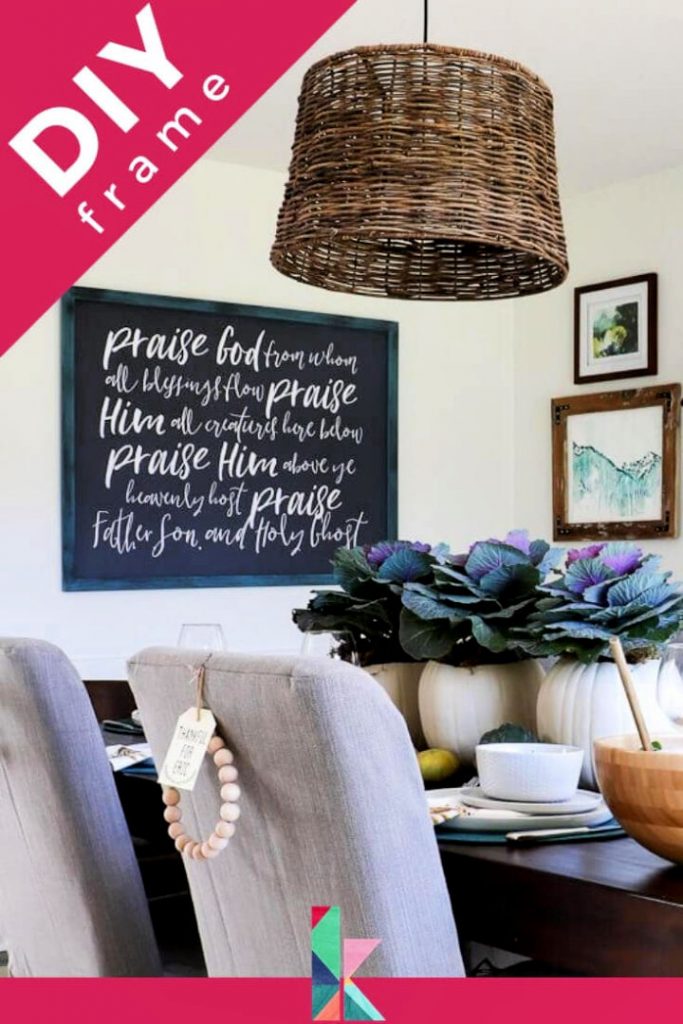 Not everyone is a pro at using power tools! If you happen to be from that clan, here's your answer is this 36 x 48 frame. You just need a heavy-duty stapler, some rapid fuse, paint/stain, and paintbrushes. Combine it with eye hooks, canvas stretching bars, and a picture hanging wire. But start by choosing your art print! designertrapped
71. Handmade Embroidered Photo Frame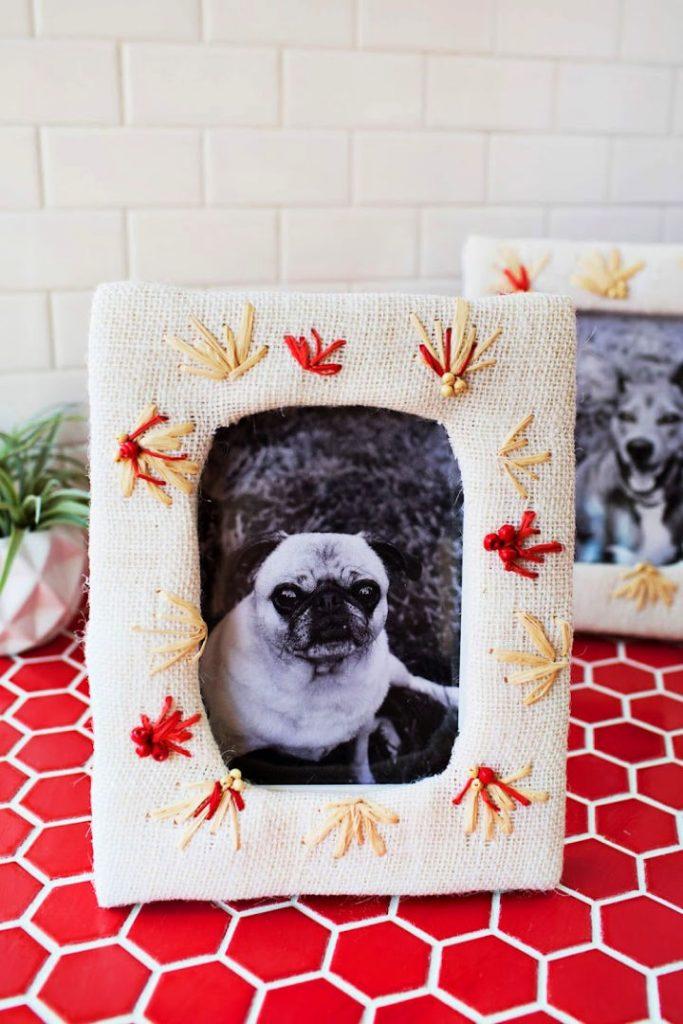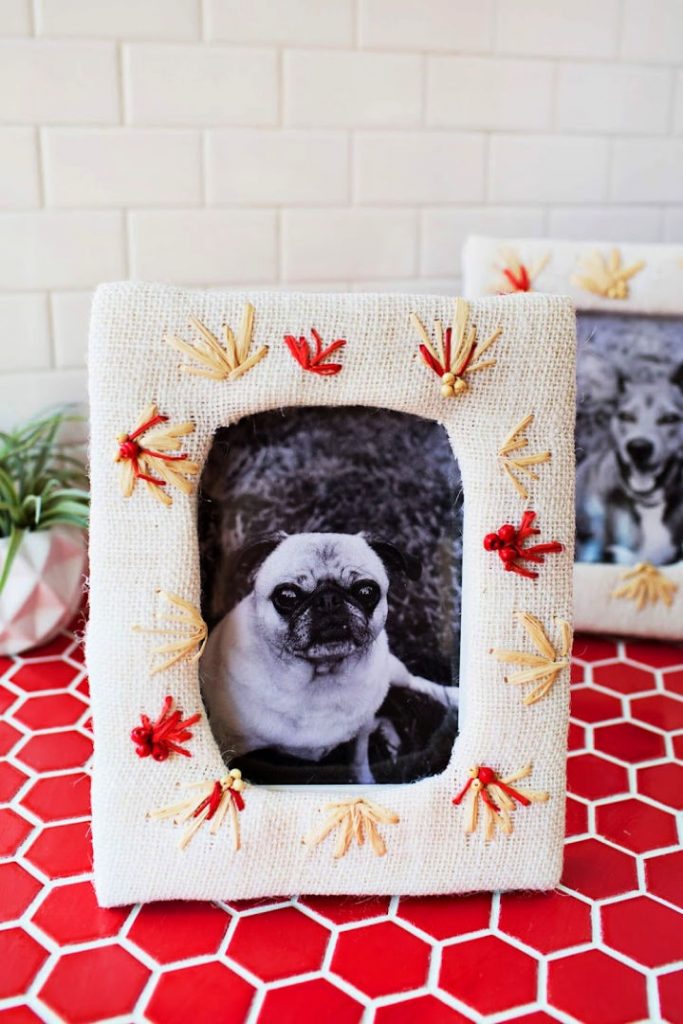 Make your own decor statement by whipping up this handmade embroidered picture frame! Choose a plain frame and a foam board. You will need a burlap for covering the sides of the frame. Add in some wooden beads and sewing kit, making your embroidered pattern. abeautifulmess
72. Antique Window Picture Frame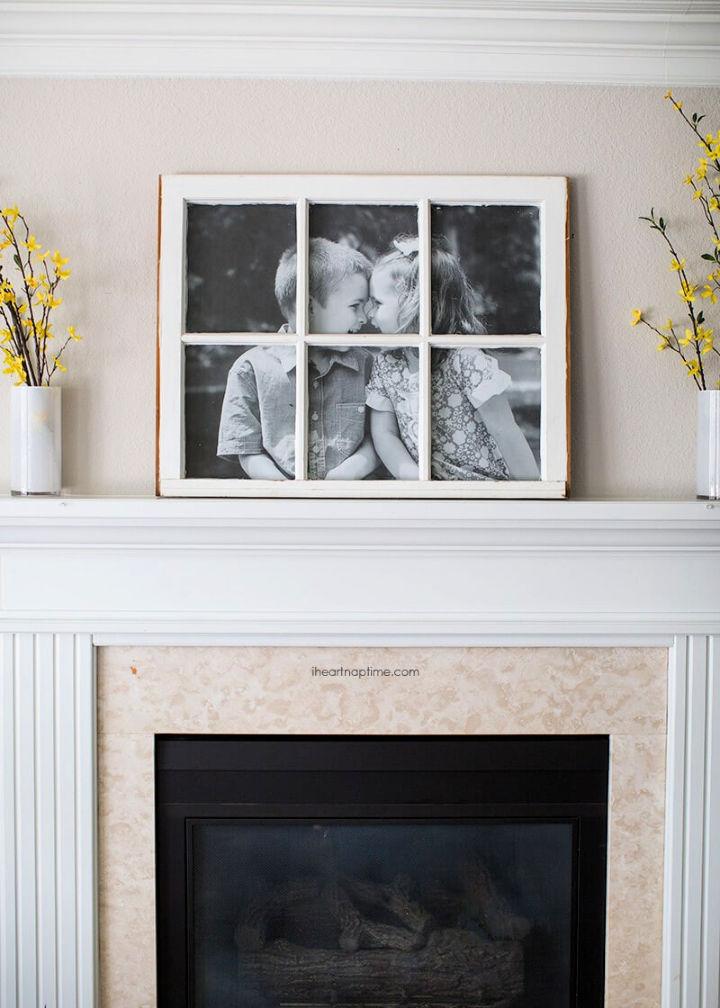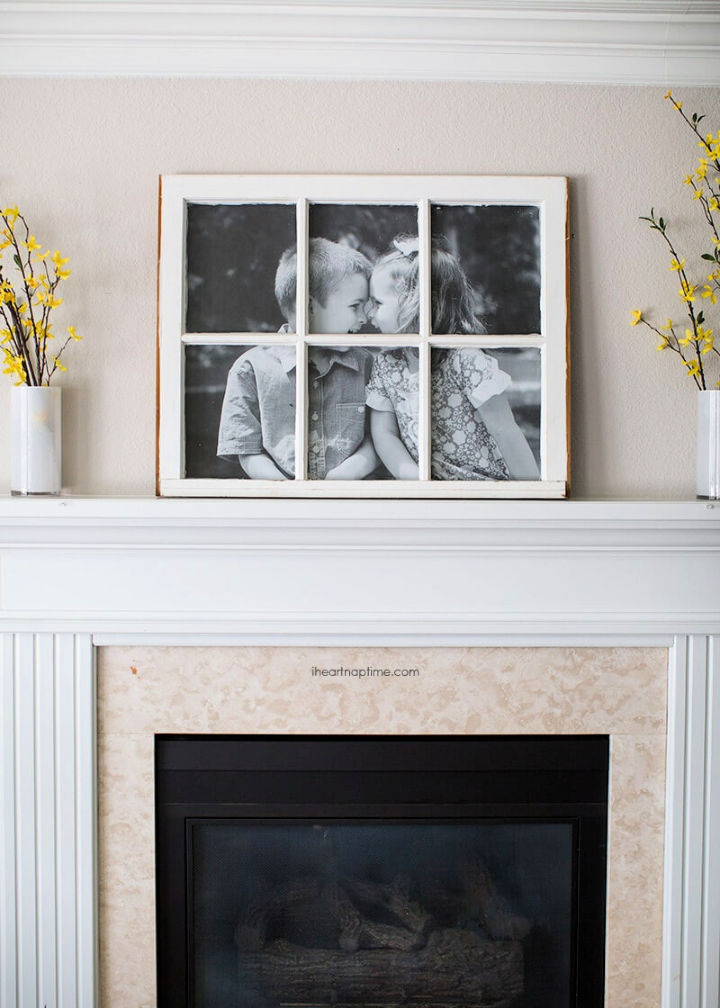 You know, like they say that eyes are the window of the soul! And so is this beautiful picture frame fashioned from an old window. A rustic appeal with each window giving a perfectly homely view of a sensational memory! Learn how to make a picture frame without any powertool at no cost: iheartnaptime
73. DIY $3 Bow Picture Frame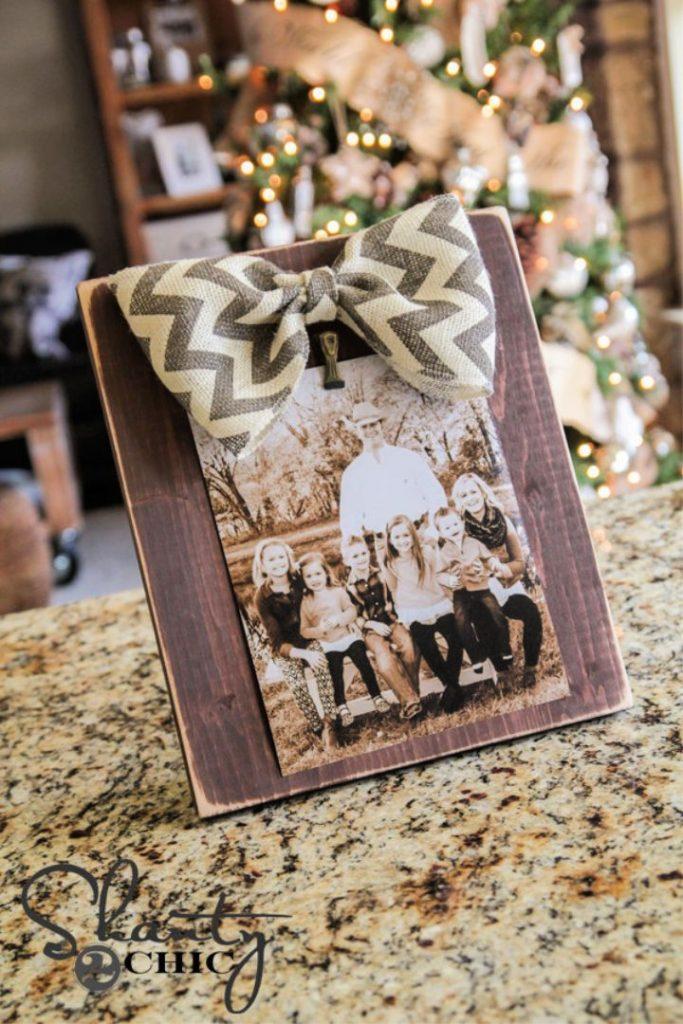 Going too fancy is also a mood! So, if you are not in the mood right now to go fancy, check out this simple $3 bow picture frame. A burlap ribbon bow combined with twine for the gorgeous look. Get the complete list of supplies from the tutorial. shanty 2 chic
74. DIY Origrami Chicken Wire Frame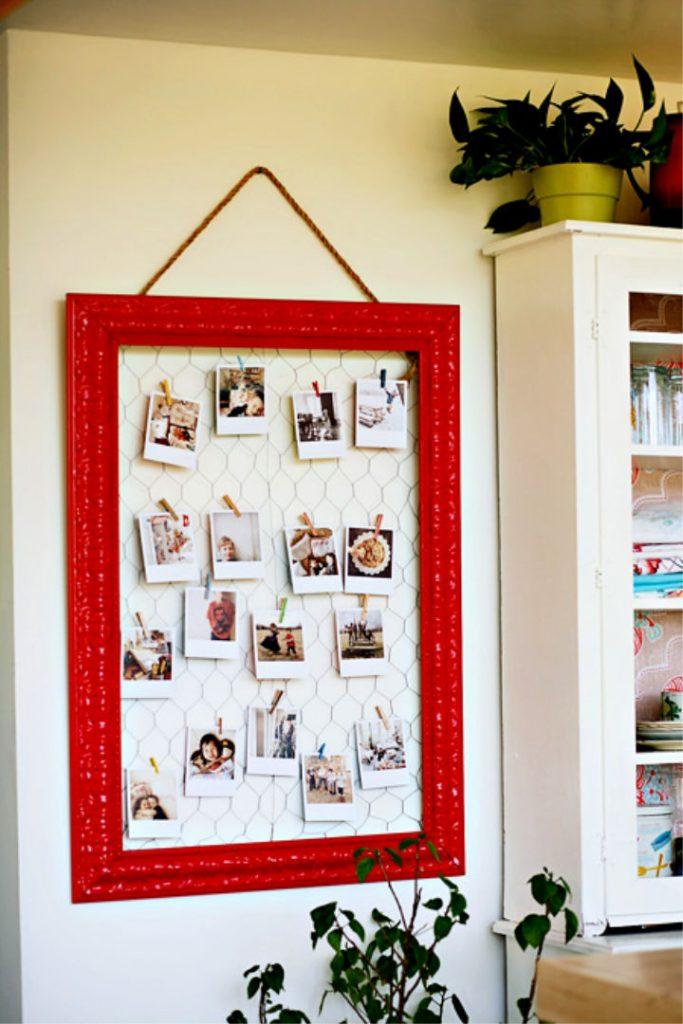 Take a giant frame and paint it all red! Fill the inside with chicken wire, and this will take you one more step closer to a classic picture frame idea. Use clothespin to hang the pictures with the chicken wire. For adding a bit of a classier touch, you can paint colorful paints on the clothespin surface. ashleyannphotography
75. Yarn Wrapped Picture Frames

This DIY picture frame tutorial is certainly the epic example of being simple and quick to whip up! You just need some wooden frames, classic colors of yarn, and glue to make it stick. Start wrapping the frame in the yarn, and you are all set to go! thecraftedlife
76. Upcycled Rolled Paper Frame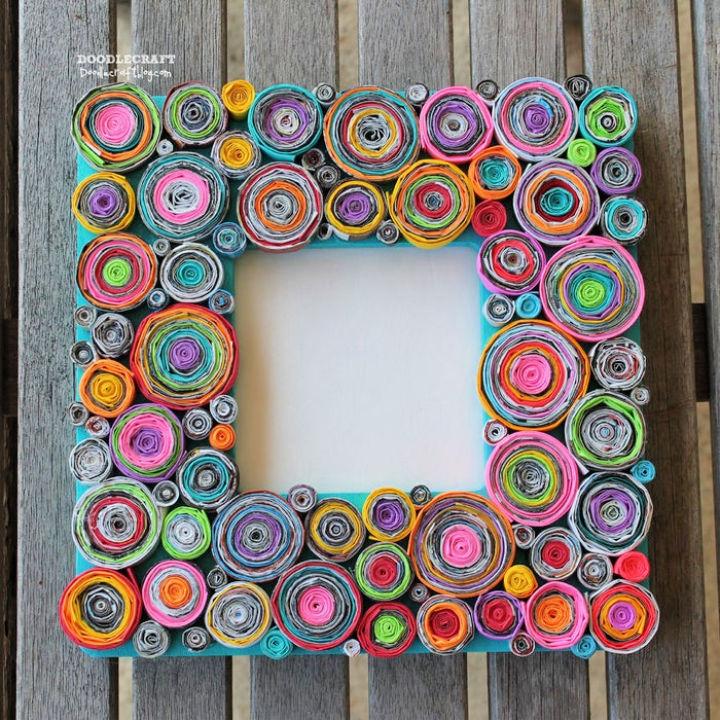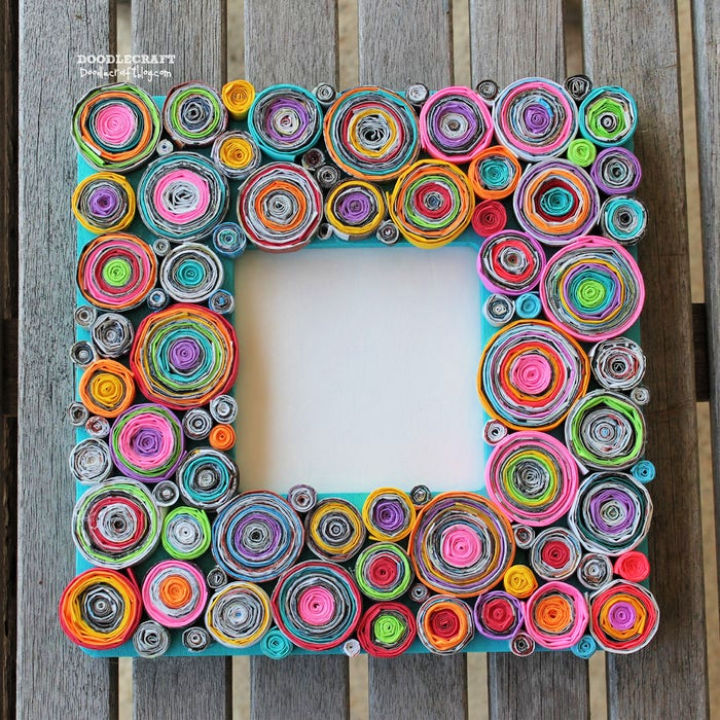 Just because it looks puzzling does not mean it actually is. This project is super fun to make that you can include your other members of the family into making it too. This frame will look visually stunning and make a perfect decoration piece of the table, or it can go up on the wall also. instructables
77. DIY Large Picture Frame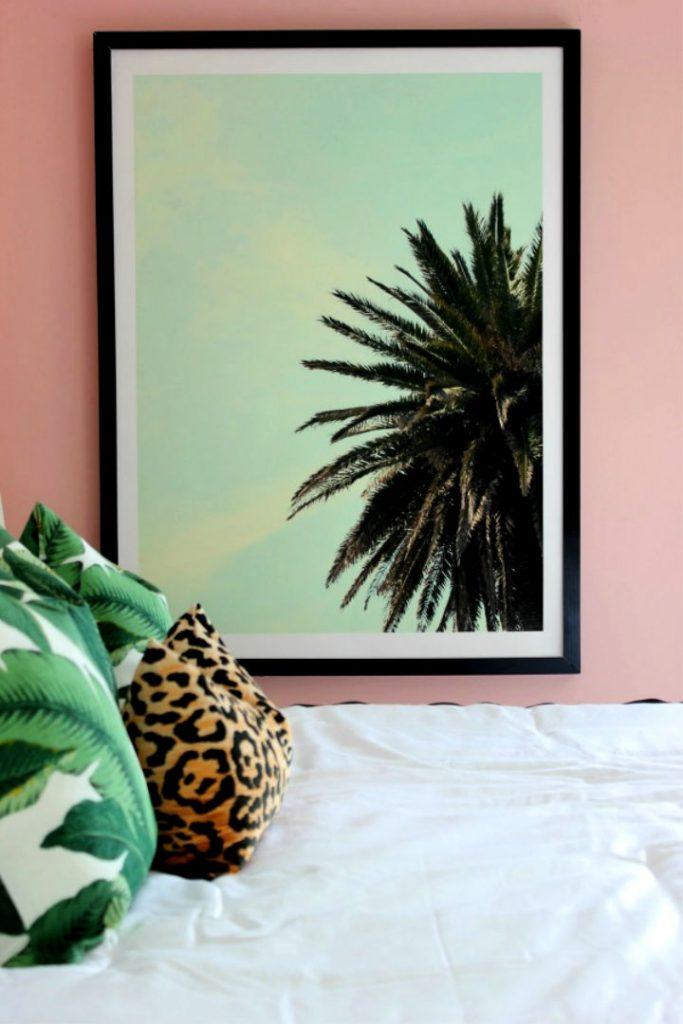 Learn how to make a large frame with an economical budget in check. That will help you to redecorate your bedroom walls with this new whimsical look. The tutorial will help you out, use it for the complete guide. Supplies you will be need are ¼" plywood, furring strips, lattice molding, saw, and tape. rainonatinroof
78. How to Make a Custom Picture Frame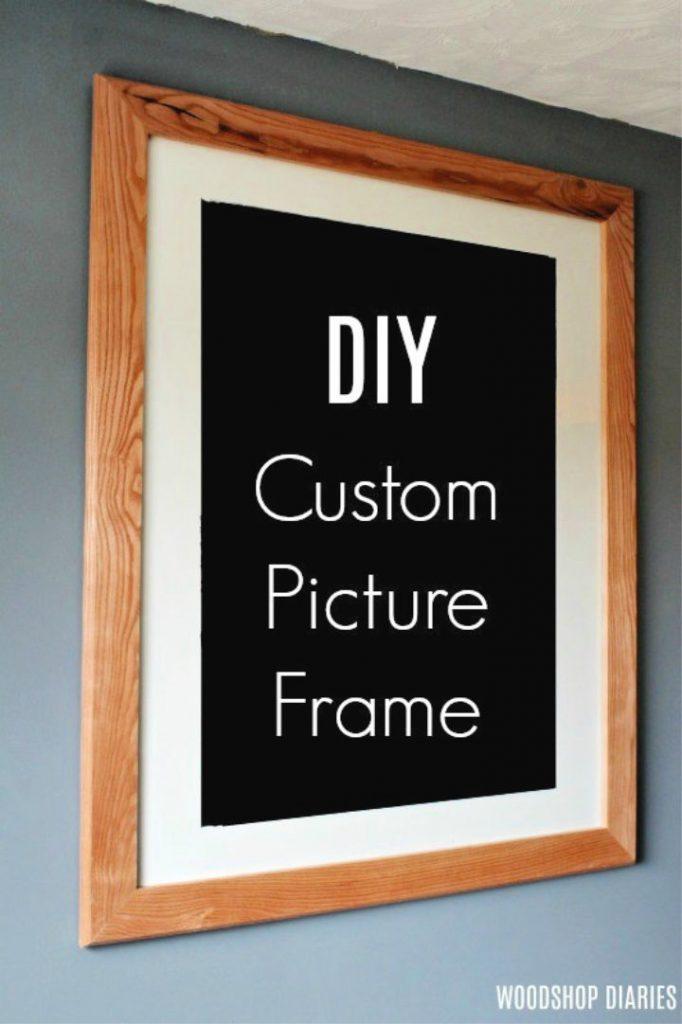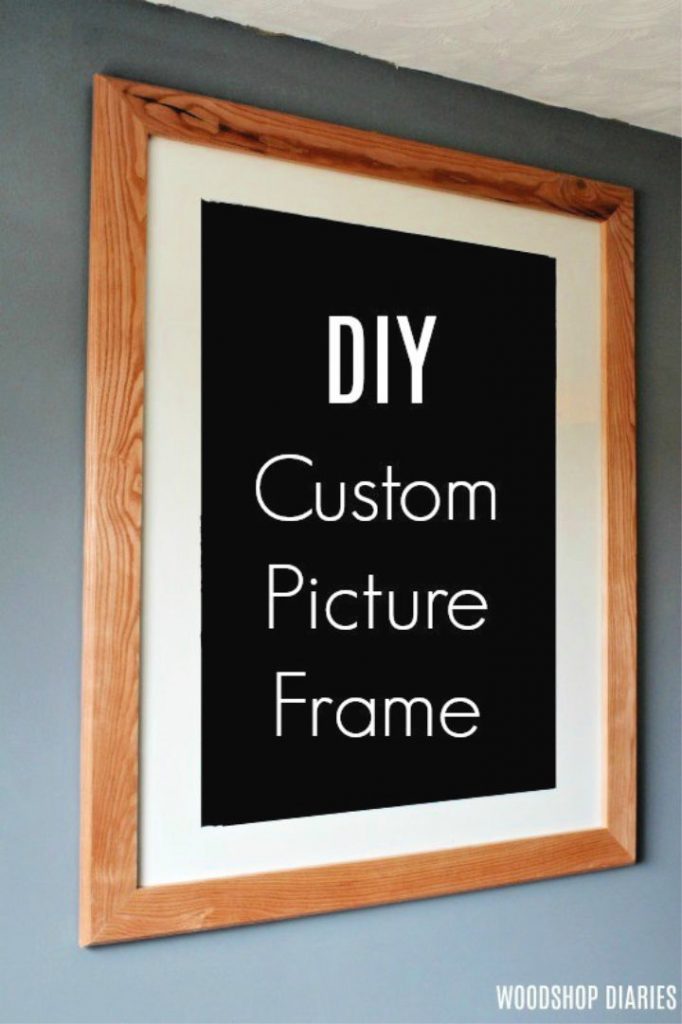 Looking for something that will go up on the wall and make a mesmerizing memory for you and your family? Instruct yourself on how to make a custom picture frame at home. Put it there any of the special event pictures that will give you happy vibes every time you look at it. woodshopdiaries
79. DIY Professional Photo Frame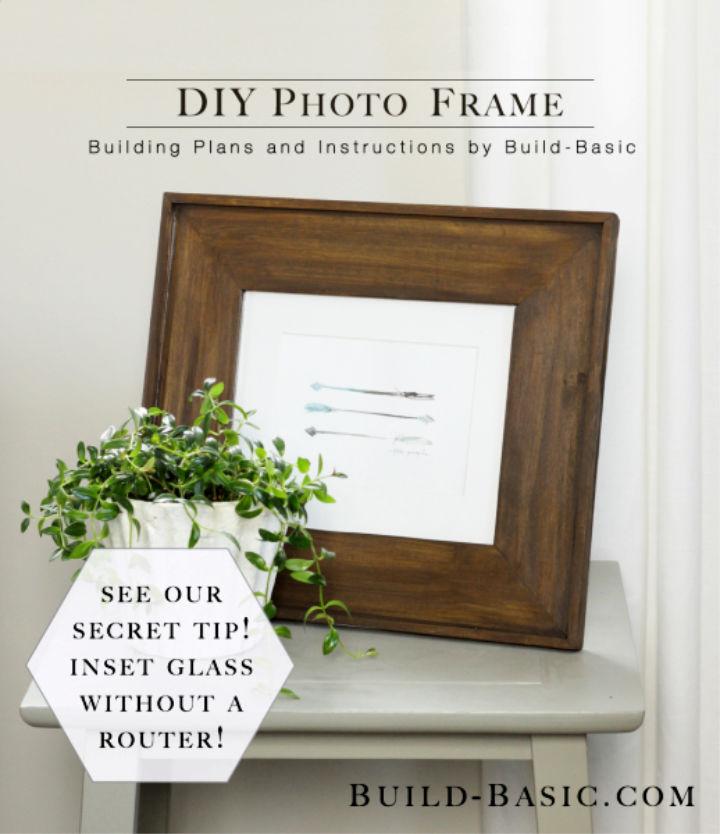 Here comes something special for you to make for some special friends in your friend zone. This DIY picture frame has this super chic look while also flaunting its rustic appeal. Put it up on your desk or your entrance table, it can spruce up any place's decor. build basic
80. How to Make a Cardboard Photo Frame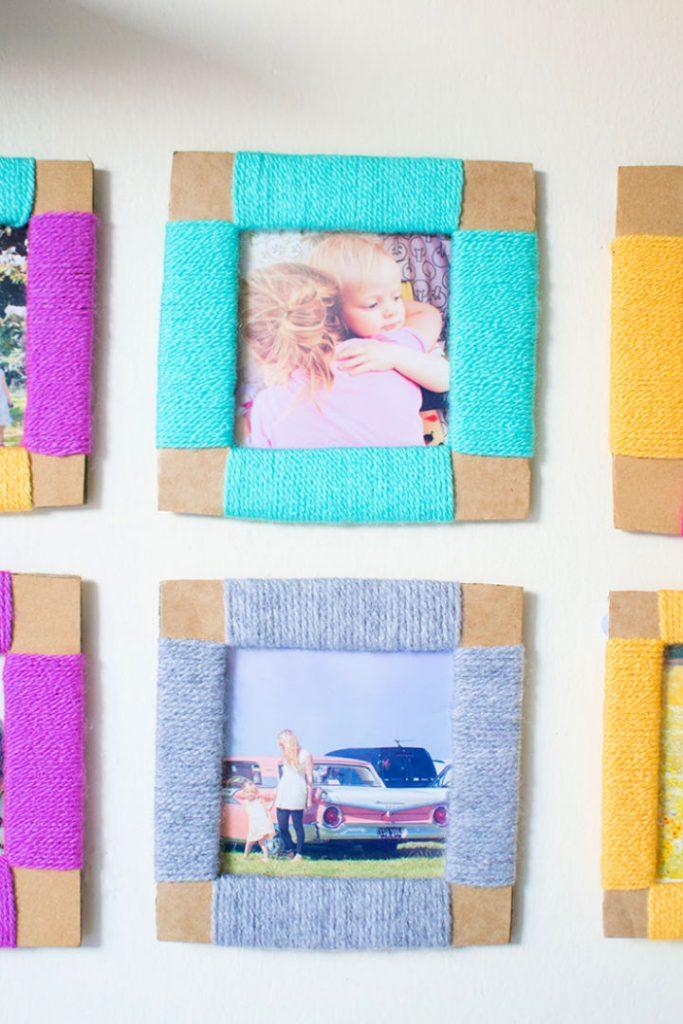 Making cardboard photo frame at home is much inexpensive. You can even alter it and make it according to your choice too. The tutorial will lead you to the best and easy to whip up a picture frame indeed! This project needs just your leftover yarn with a cardboard sheet and your most favorite picture. letsdosomethingcrafty
81. DIY Tea Light Photo Frame

These frames are certainly super simple to make, but you will need just a few supplies to get started. Also, for your ease and comfort, don't forget to hit the link below to get an idea of how to construct these photo frames. Supplies you will need are wood, glue, sandpaper, tape, and tea lights. abeautifulmess
82. Old Window Turned Picture Frame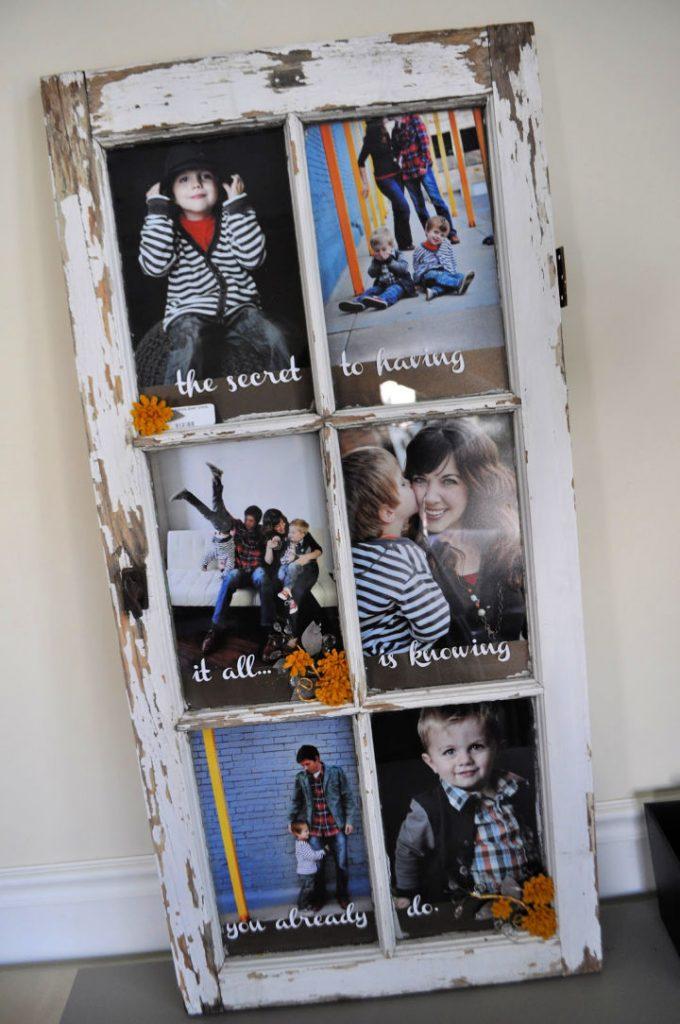 Why throw away your vintage windows when you can turn them into the best DIY picture frames? Decorate the corners with lovely flowers for an even adoring appeal! Take your best pictures and affix it to the window and bring the best DIY large picture frame. iammommahearmeroar
83. Mummu's Bragging Picture Frame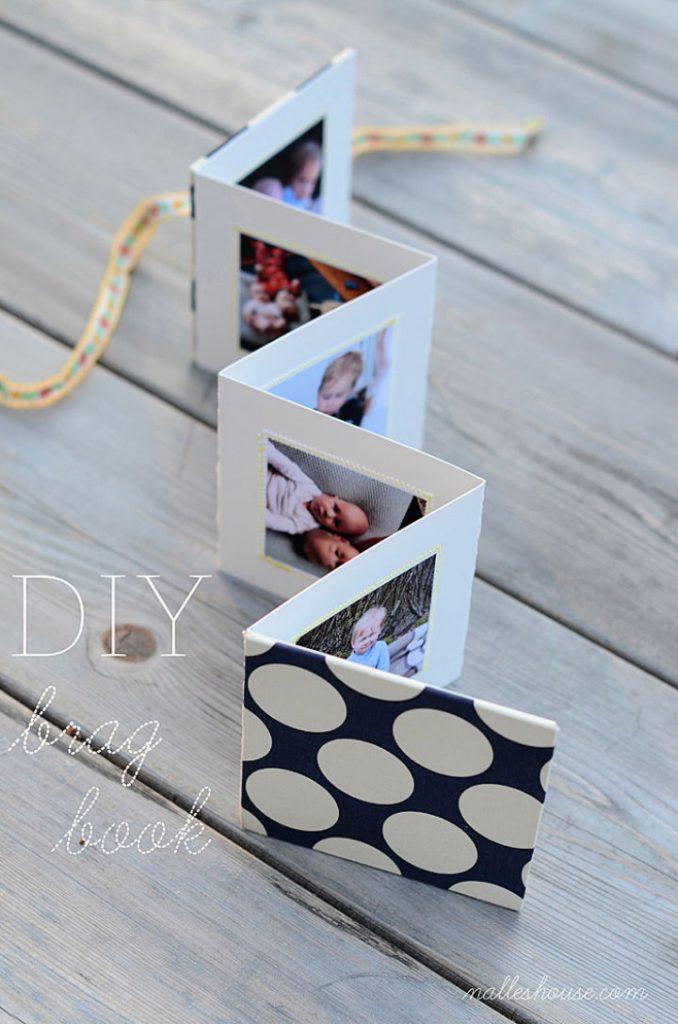 It's always fun to collect the best pictures of any family event. And it is even more cheerful to put them up around for a quick walk down the memory lane. So what about creating a brag book for this purpose? The finished size measures 5", perfect for your developed pictures. nalleshouse
84. Rustic DIY Pallet Picture Frames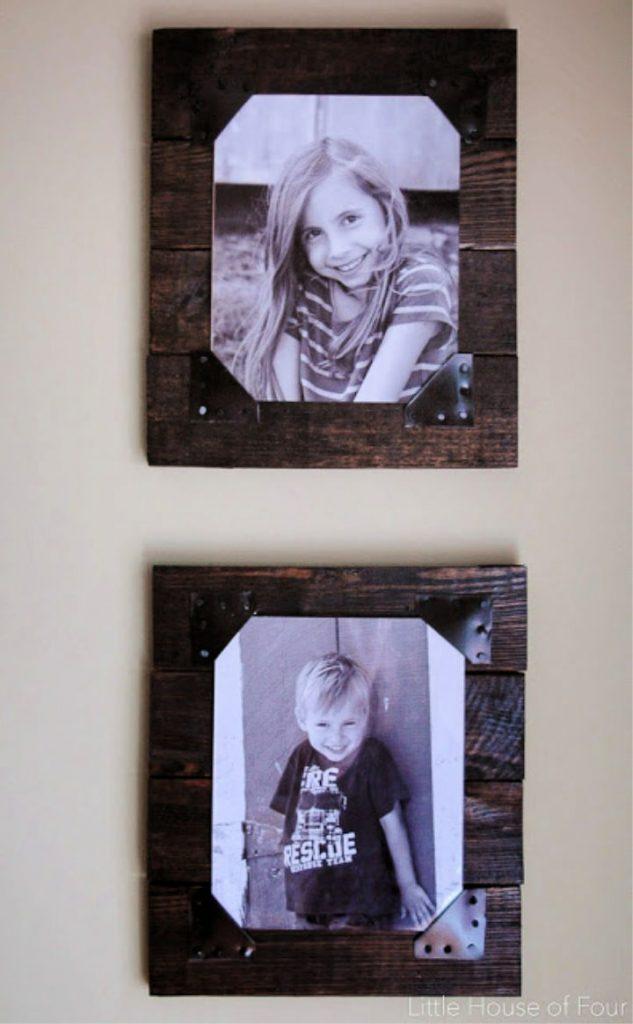 Grab your supplies and start making this amazing rustic pallet picture frame. You will need hot glue, drill, wooden pallet, nails to complete this project splendidly. Furthermore, you will save so many dollars when you make a project this at home. littlehouseoffour
85. Make a Rustic Frame for Dad

Finding a perfect gift for your dad on his birthday or Father's day? Dads do love the rustic things, don't they? Hence check out this rustic picture frame you can make entirely at home and without getting anyone's assistance. Materials you will be need are wooden frame, twigs, glue, and marker. hgtv
86. DIY $15 Wooden Picture Frames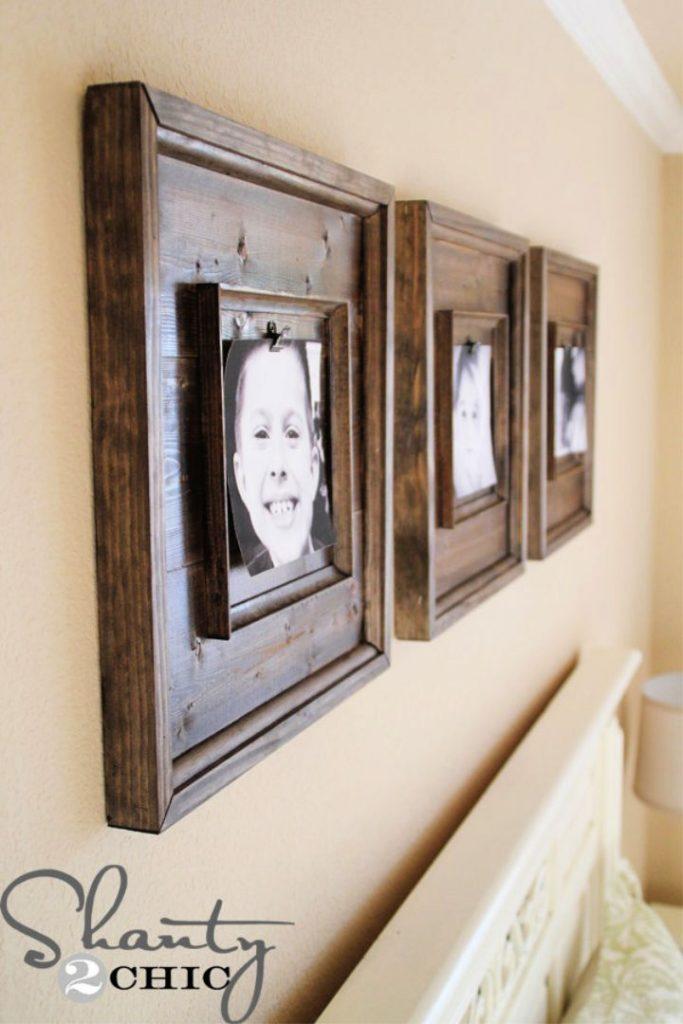 Hello, crafty people! What about renovating your home walls with some worthwhile memories? These photo frames won't cost you more than 15 dollars. Plus, they bring such grace on your walls that the whole place will brighten up. shanty 2 chic
87. DIY Striped Washi Tape Frame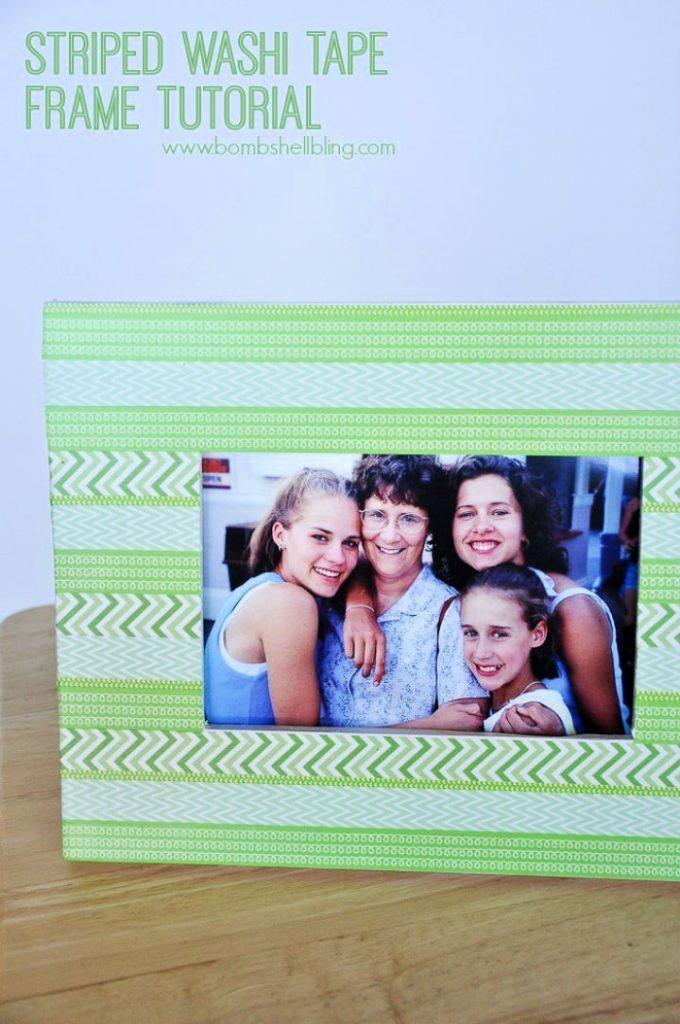 After watching this easy peasy tutorial on this striped tape photo frame, you will be thrilled to try one. Especially when the frame is totally washable and can get an entirely new look after that. How cool is that, really? bombshellbling
88. Homemade Popsicle Stick Picture Frames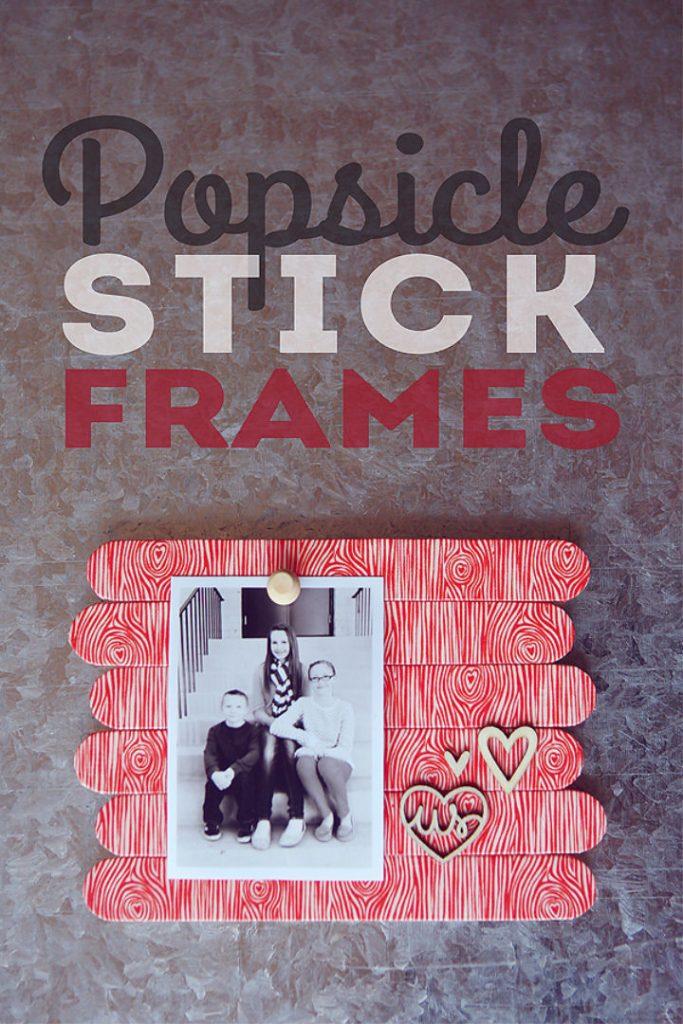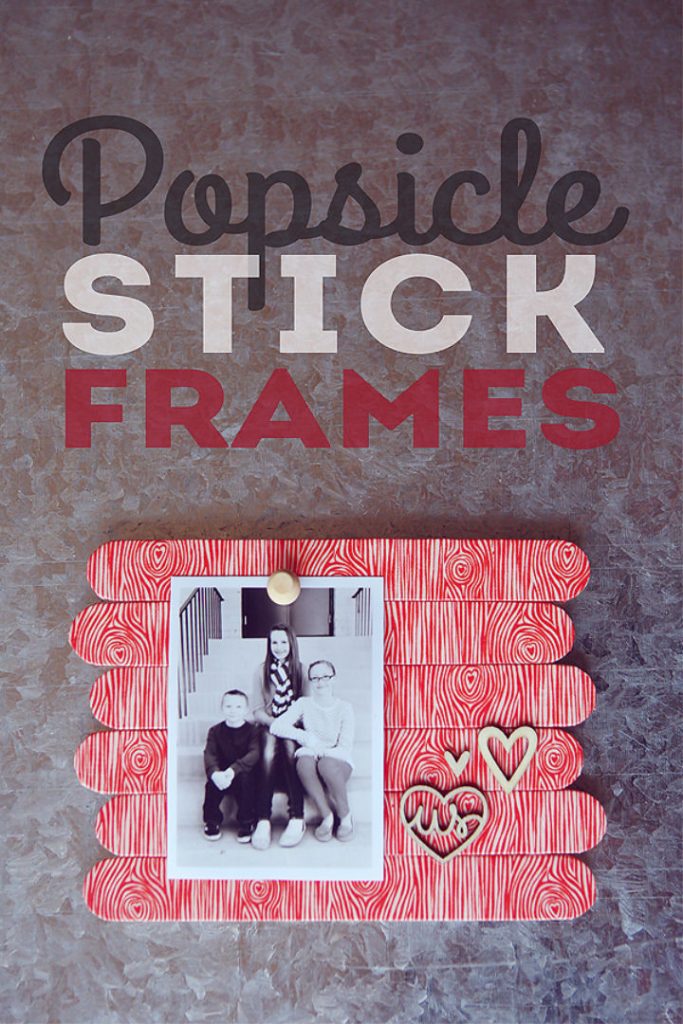 Give this project a super quick shot! You will see how to trouble freely. You can make these popsicles DIY picture frames at home. This project is extremely low-priced, and you can make as many as you want. A perfect Thanksgiving gift for your dear ones. eighteen25
89. DIY Marbled Picture Frames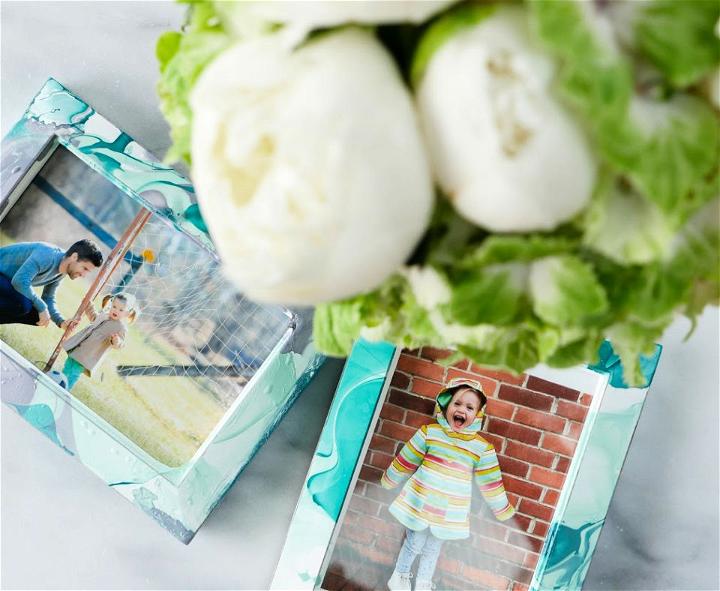 Life moves so fast around us! Why not snap and save some of it by taking a few pictures, print them and throw them into a frame to make sure the memories don't just fly by. For this project, you will need nail polish, warm water, toothpick, and wax paper, and you are all set to make this. happilyevaafter
90. Make a Yarn Wrapped Picture Frame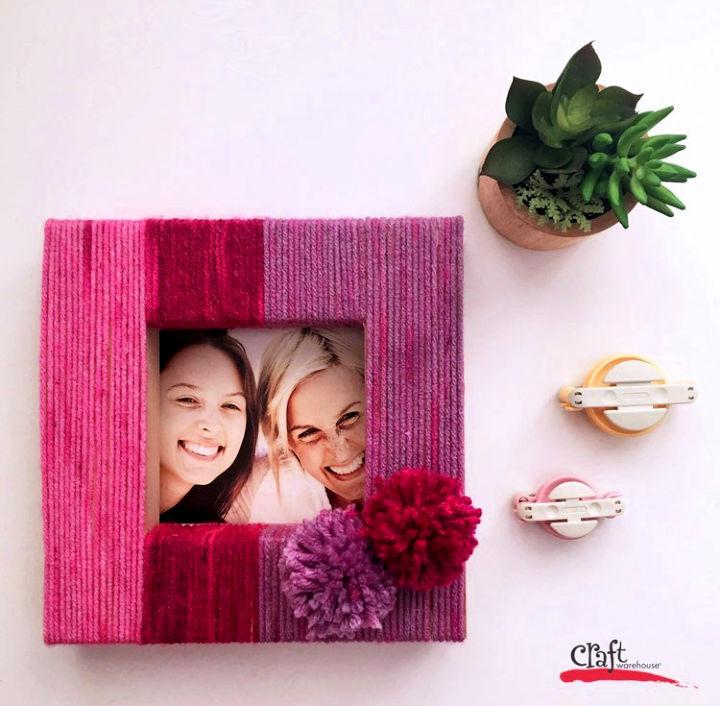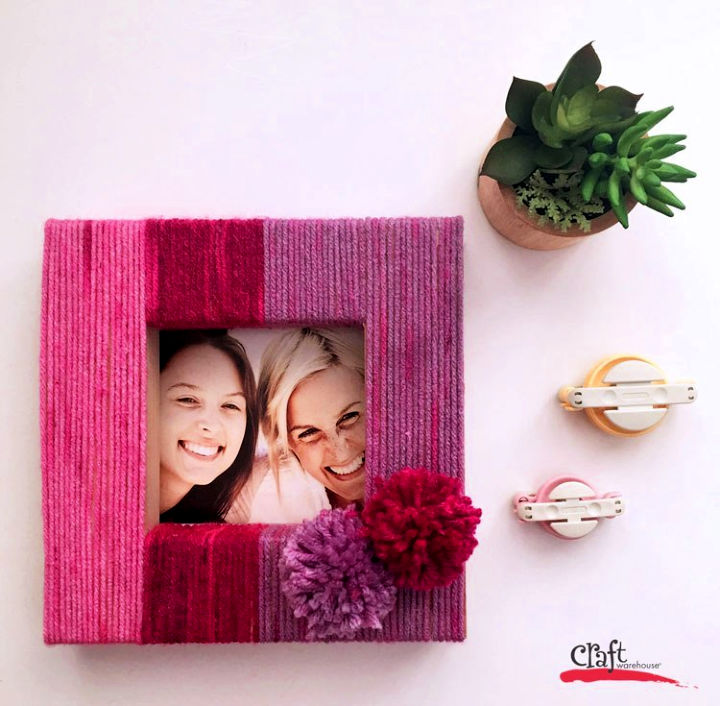 Who doesn't love cherishing moments? Grasp them with something that will make a memory of everything happening good around you. Make this yarn wrapped picture frame for yourself, it will give the frame a cozily fancy look because of the yarn and the pompom. craftwarehouse
91. DIY Gemstone Picture Frame

Recreate your simple frame into something more fancy looking. And in just 40 minutes. That is just mind-blowing! You need a picture frame, e-6000 glue, and ½ cup of Amazonite. And there you are, all ready to make an epic photo frame for your bedroom. poppytalk
92. Easy to Make Picture Frame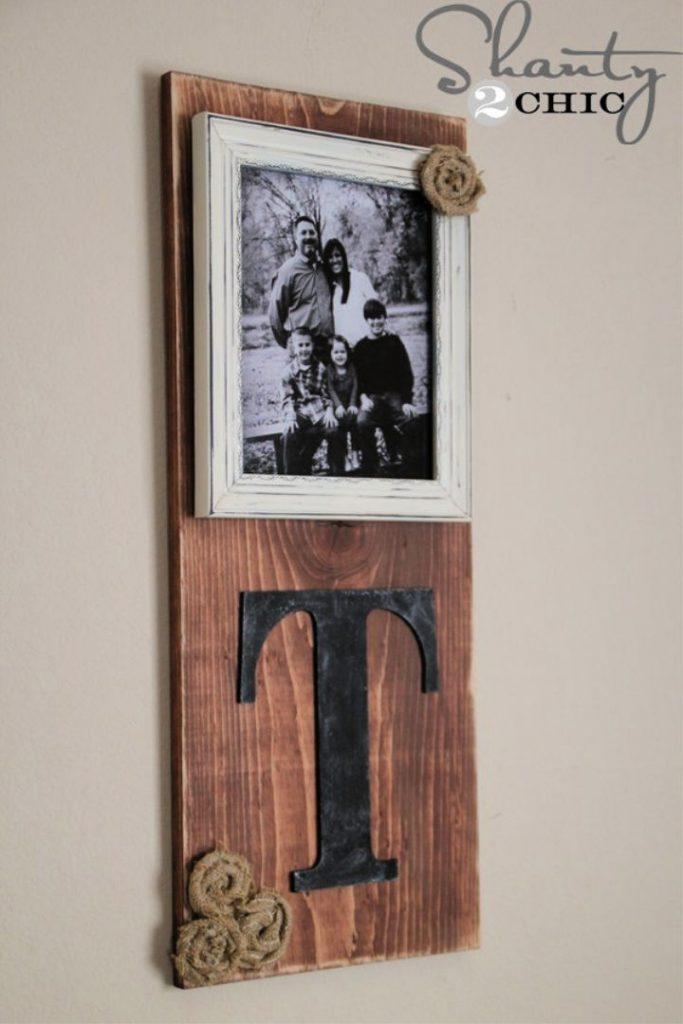 Getting bored? Why not spend your time making something productive that can also embellish your home interior? Get the details from this DIY picture frame tutorial. It could be the best Christmas or thanksgiving gift for your friends or family members. shanty 2 chic
93. Easiest Picture Frame Made With Love

Pour some love while making this picture frame. Show the person what importance he has in your life by giving this picture frame that is purely made with love. You will need plastic gloves, jute, drop cloth, saw, foam brush, measuring tape, sandpaper, and printed photo to finish off this project. cityfarmhouse
94. DIY Custom Picture Frame

It always feels like the walls are haunting unless you put something upon them. To embellish the walls as well as your area around. Also, why to leave them boring when you can let them play with the decor and interior. And, this vintage custom picture frame sure looks like a sight! lambertslately
95. DIY Painted Picture Frame

Spruce up your decor with this painted picture frame. That won't take much of your time and effort, either. All you need to do is to gather your craft materials and get started with a plain picture frame, craft paint, painter's tape, paintbrush, and a screwdriver. thesprucecrafts
96. Build a Large Picture Frame With a Mat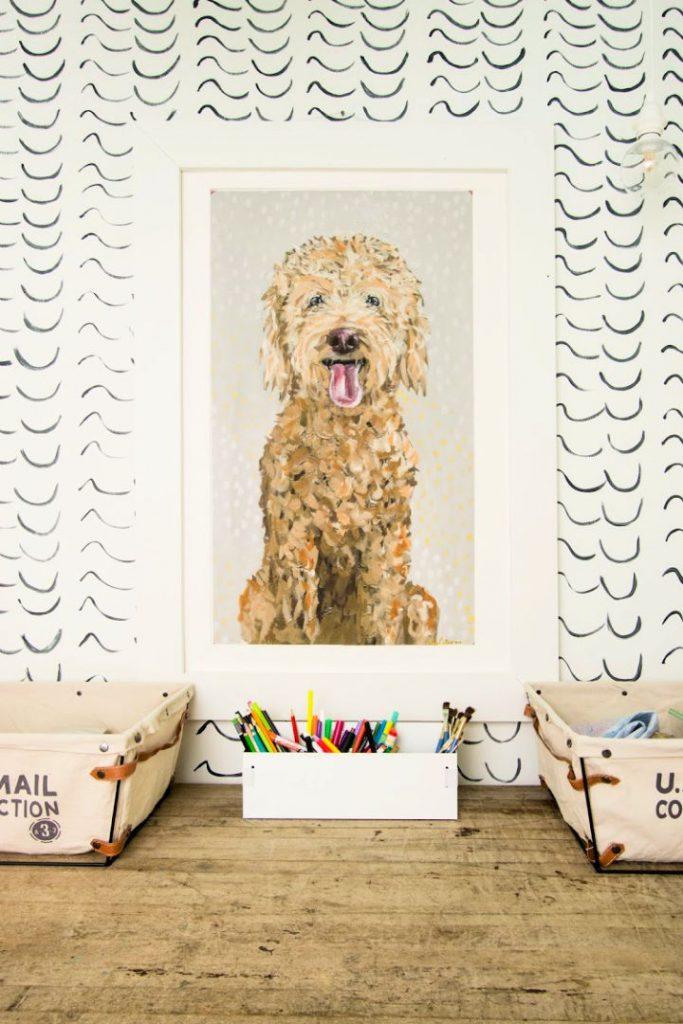 Large portraits or picture frames can add so much character to any room! If you have been getting inspired by this perfect wall decor idea, here is your clue! It will be the easiest and simplest way to create a photo frame out of the leftover matt. graceinmyspace
97. How to DIY Picture Frame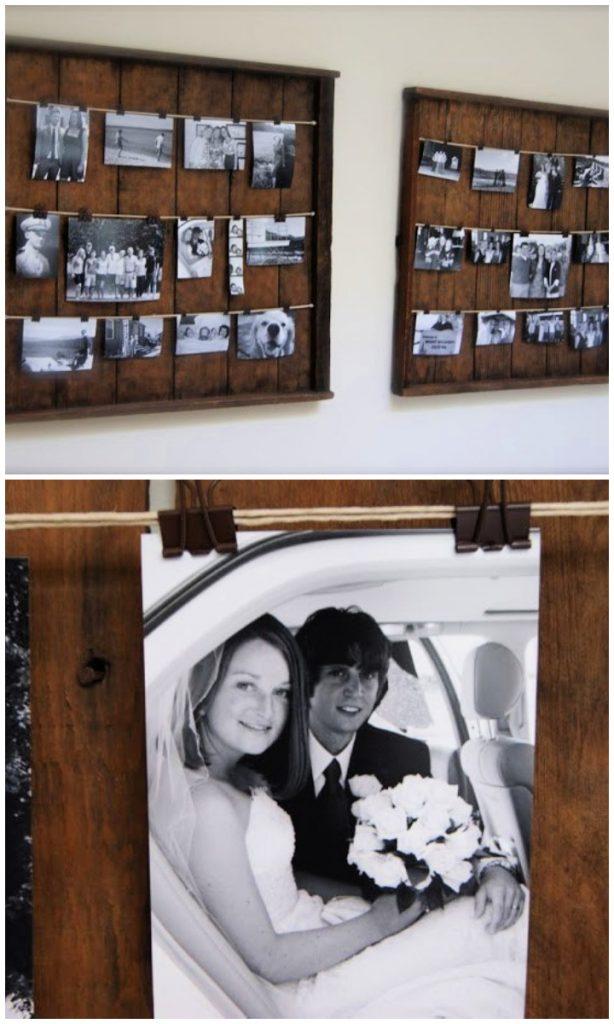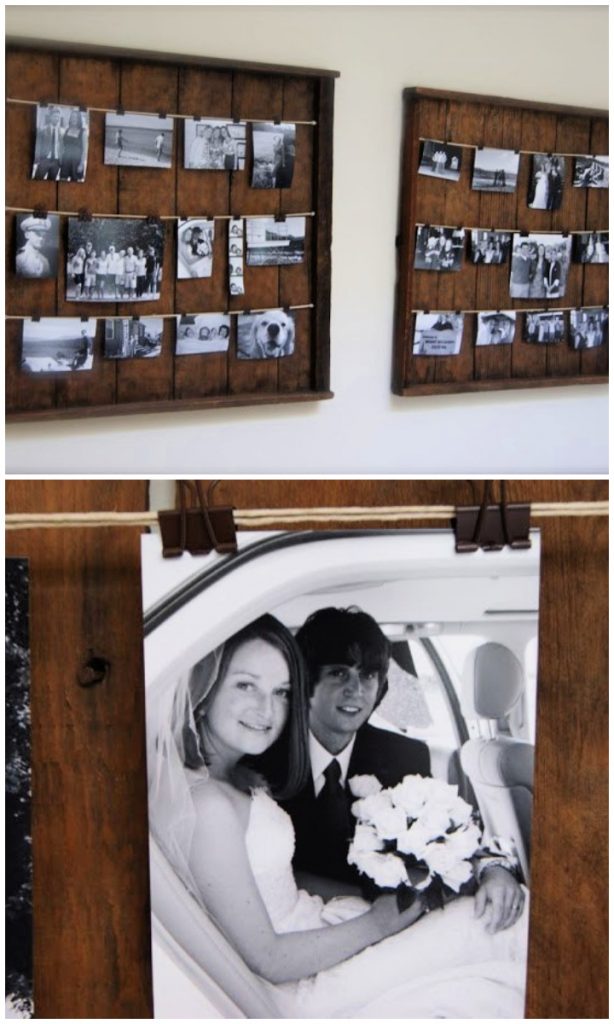 Make an ultra-fun DIY picture frame on which you can replace the pictures with other pictures more often. Hang it in your living room or hallway where everyone can have a look at them. Start off with supplies like a hammer, spray paint, binder clips, supplies-twines, and eye-hooker. kuzakscloset
98. DIY Large-Scale Picture Frame

Have you ever thought of making a picture frame by yourself at home? Because the commercial ones are way too expensive to afford? Especially for such a large one. Hit the tutorial and perfectly make one at home by following the written instruction throughout the end. designsponge
99. DIY New Picture Frame Wall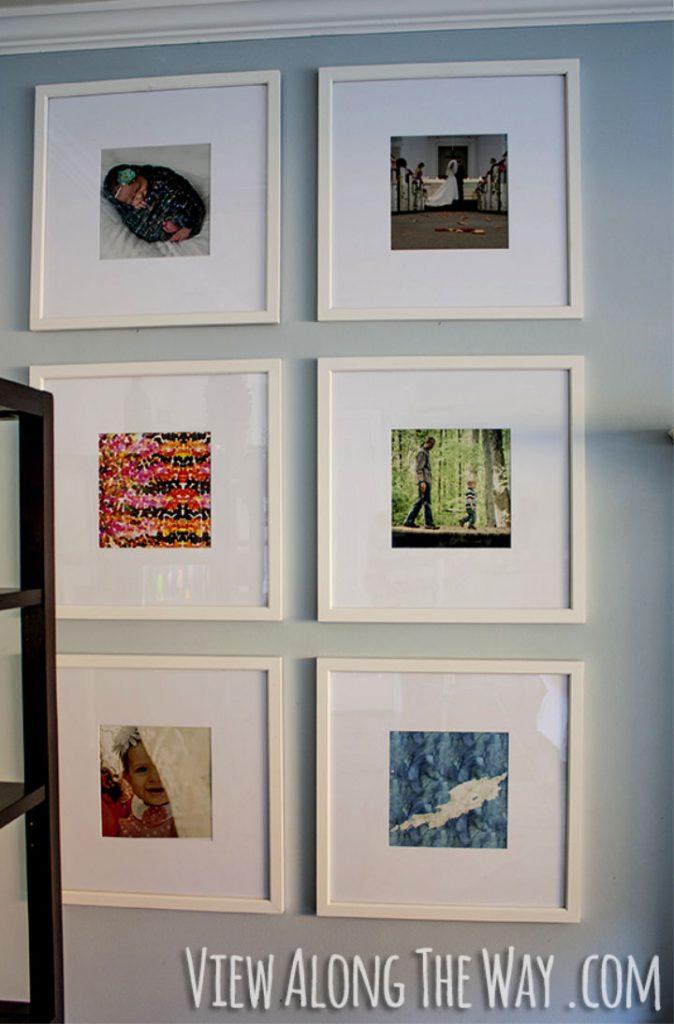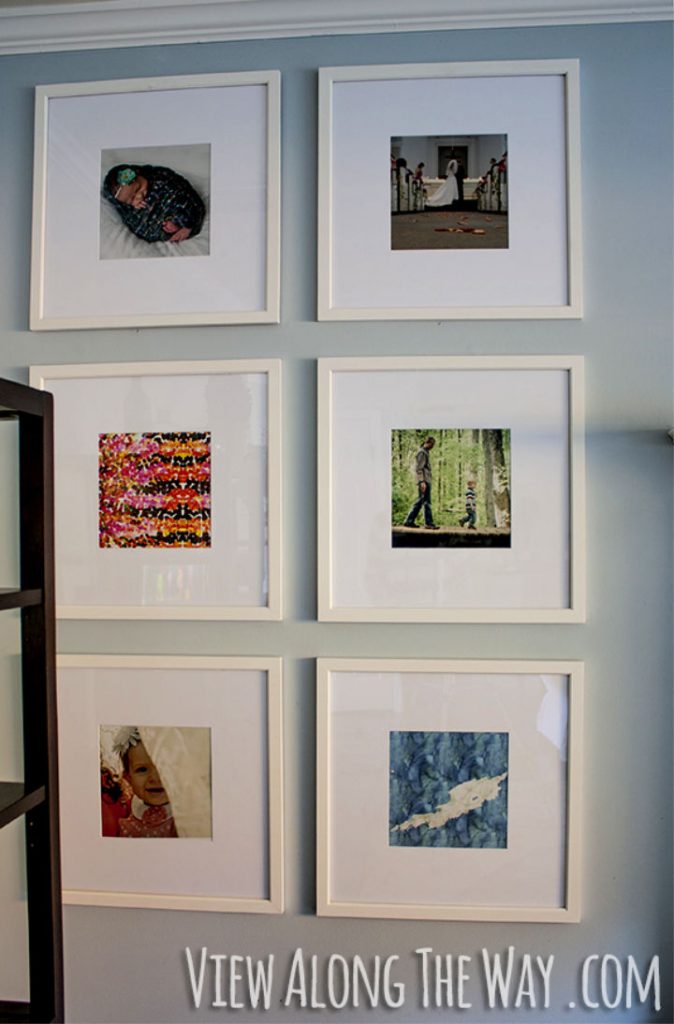 It is contemporary and trending these days to hang so many picture frames on one wall. To beautify the interior to the next possible level. Also, a picture frame wall can be one ideal way to cover all the white space in any room! And so it will look splendidly charming at the same time. viewalongtheway
100. DIY Picture Frame $5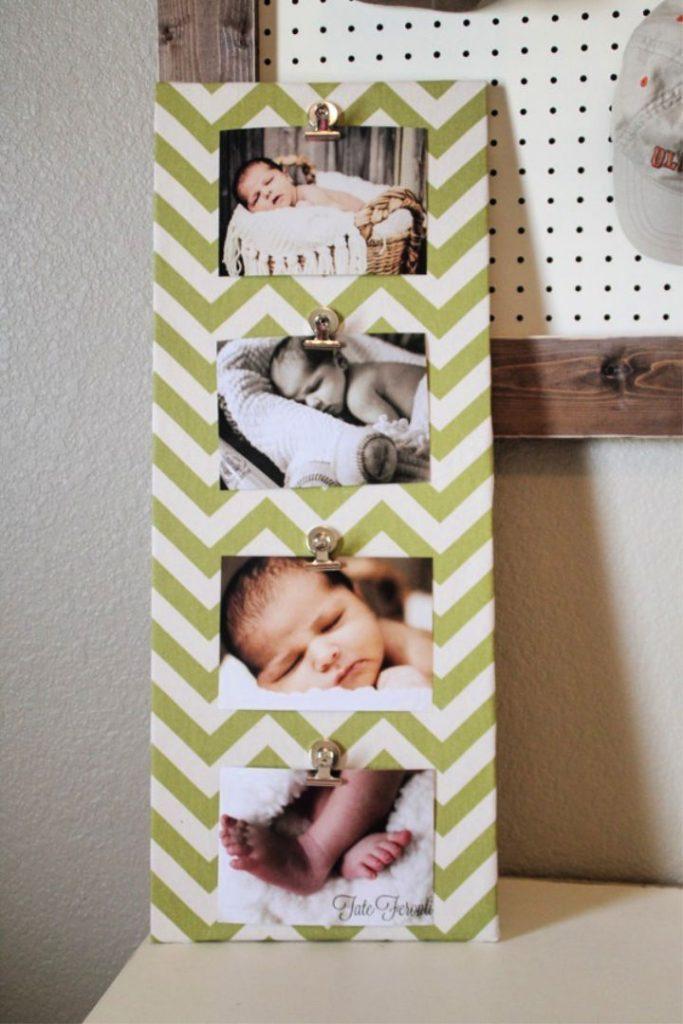 Check out how you can perfectly construct a picture frame in just 5 dollars! You can use the leftover scrap pieces of fabric with cardboard and magnetic clips. Showcase all the important memories in one place and make a catchy sight out of it! shanty 2 chic
101. How to Make a Picture Frames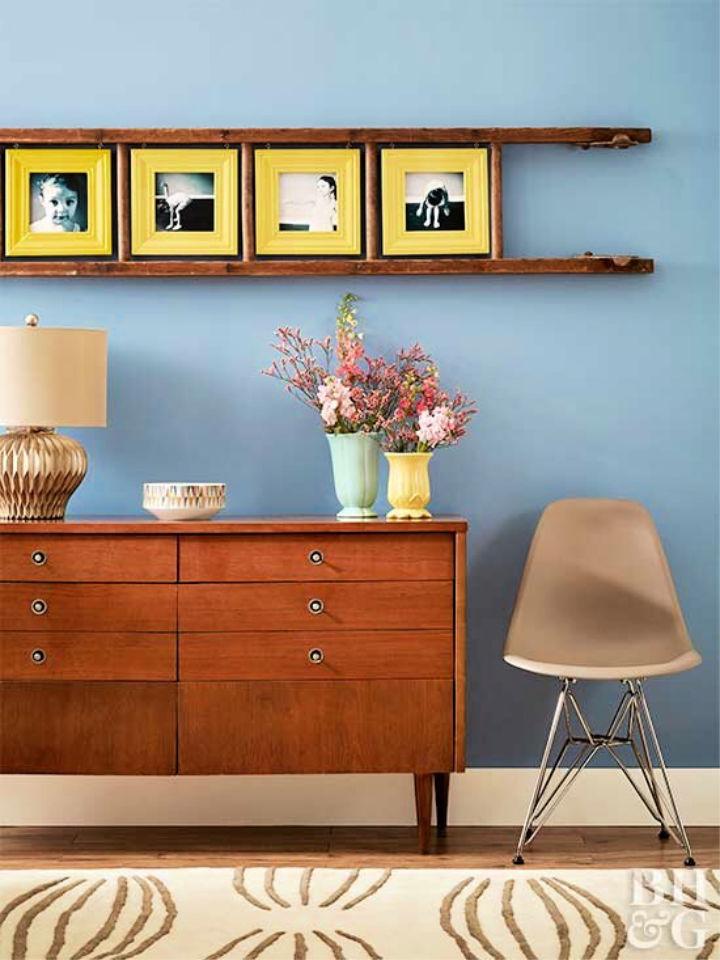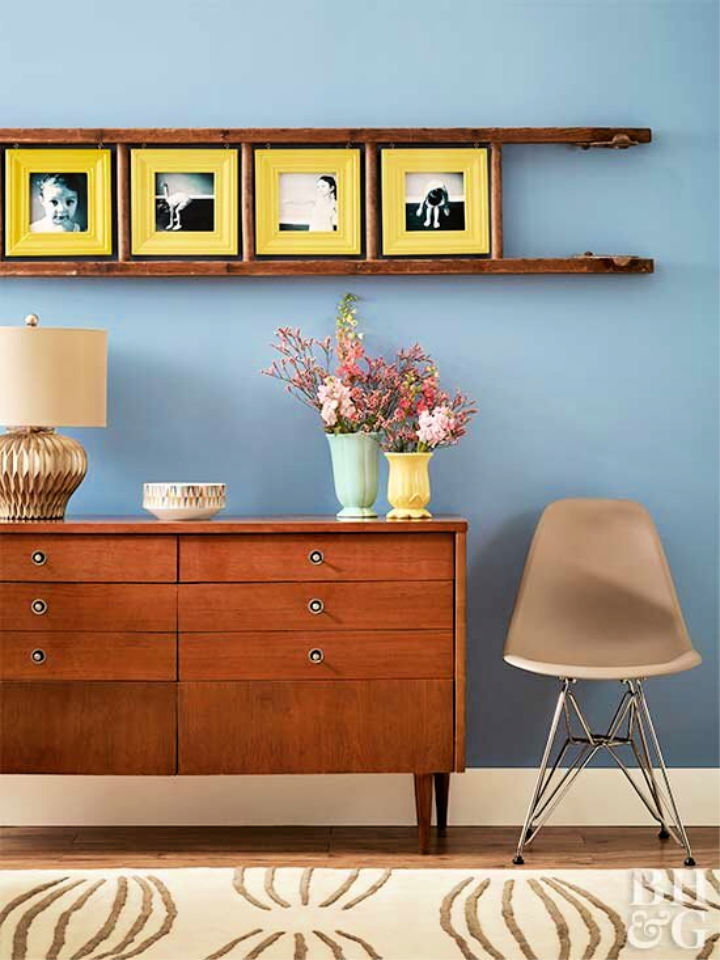 A perfect DIY picture frame that will let you adorn your TV lounge walls. It is totally up to you, what you want to frame, and for how long? The supplies you will need to build this project are a miter saw, ruler, drill, clamp, wooden filler, sandpaper, screws, glue, and wood molding. bhg
With wall decor and gallery wall trending these days, these DIY picture frame ideas can make you a pro at this game. Plus, these are for everyone. If you love traveling, you can find some ideal ways to cherish your destinations. Put up your family pictures, make darling V-day decor plans. It is all in here, like literally! Have fun making your life picture perfect.