Did you ever wonder what all you can make out of an old picture frame? Well, we did. So we decided to make this awesome list of 30 unique DIY ideas for old picture frames. Buckle up guys, and the countdown is about to start. Girls, this one is for you. Use an old picture frame to make adorable shabby chic dangly earrings display. It is a simple project that can be made in just a few minutes, and if you already have an old picture frame, this will cost you almost nothing.
I must say, all these projects can be made quickly, in no time, and for the budget-friendly price. Awesome, right. Next, we have an excellent picture frame organizer. It is also a super easy project that will be done in the blink of an eye, and I must say, the end result is just so cute. And your desk is organized in a matter of minutes.
One of the mine favorites here is the adorable mood board. It's a cool way to display all your memories and emotions in one place. If you always wanted to decorate that empty wall in your living room, and you don't have an idea what to put on it, you might consider our post number four.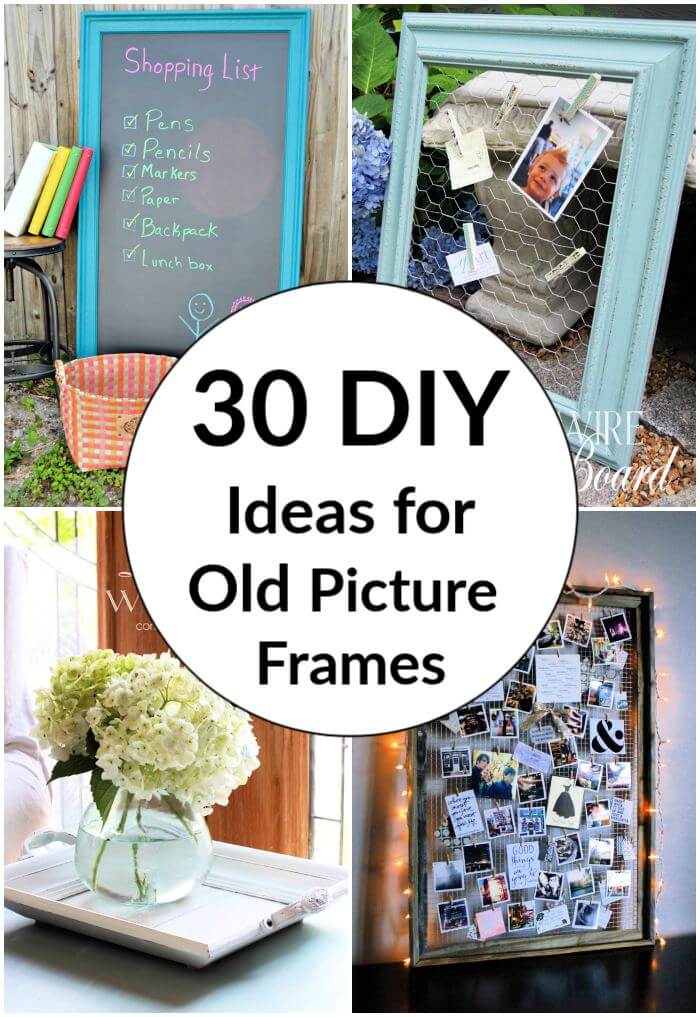 It is an excellent art installation that anyone can make in just an hour or less. And it looks just stunning. Another great way to make your own art is a combination of an old picture frame and fabric. You basically can choose whatever fabric you like, paint the frame, and you are good to go. Or you can add writings on fabric, like Hello spring, Love, Smiley, basically whatever comes to your mind. Another great idea is to make a beautiful tray out of a picture frame. It is easy, fun, and it looks cool and rustic at the same time. I don't want to spoil anything else for you. Scroll down a bit to see what else we prepared for your today.
And feel free to share and comment on our posts with your friends and family members. And if you decide to make one of these beauties, send us pictures of your DIY picture frame artworks, so we can enjoy them too.
Quick DIY Shabby Chic Dangly Earring Display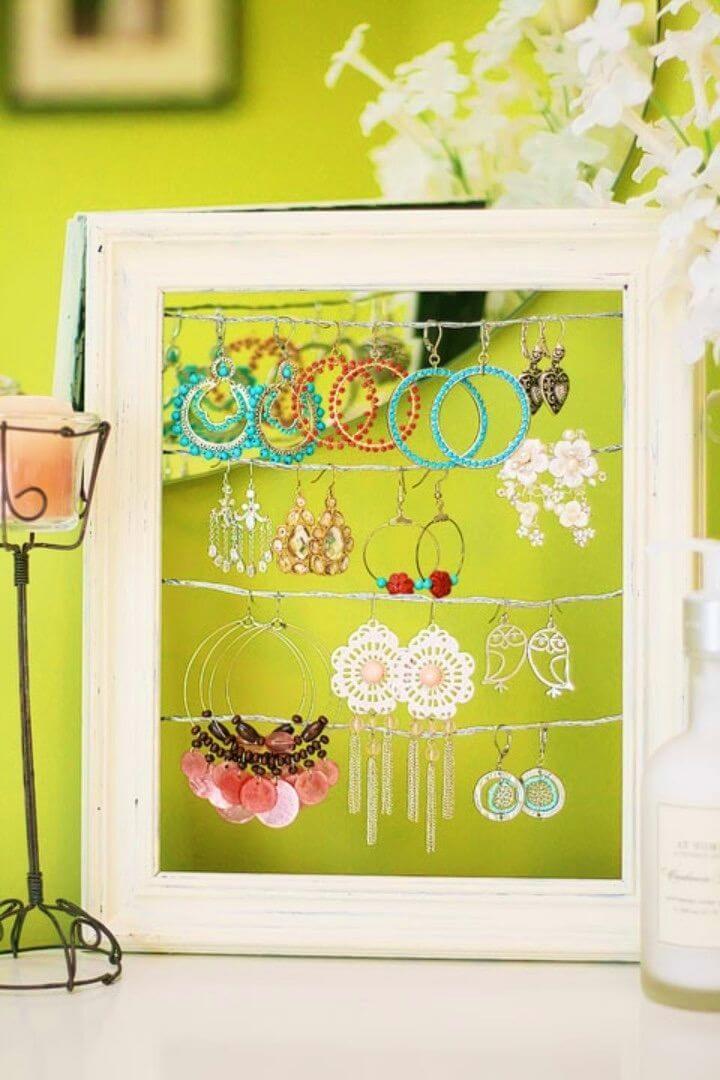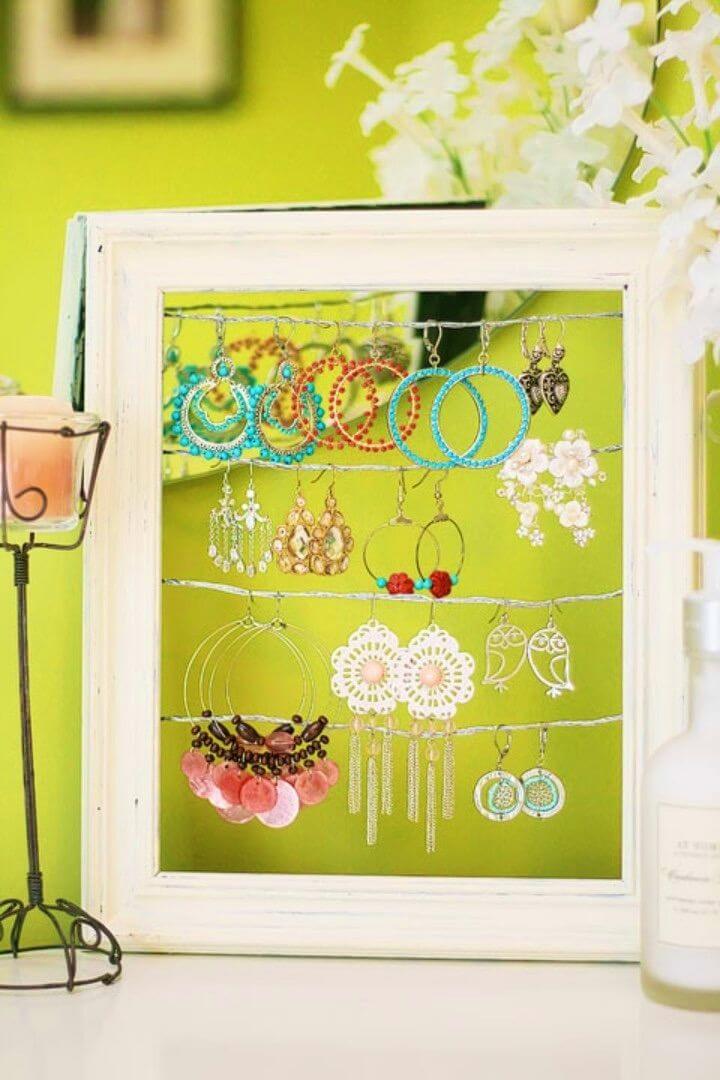 Tangled in jewelry storage issues, extra great solutions from the recycled and old picture frames, and make this shabby chic dangle earring display by adding an old revamped picture frame with metal wire horizontal likes that will hold the lovely collection of your earrings beautifully! Here is how to make it kevinandamanda
How to Make Table Organizer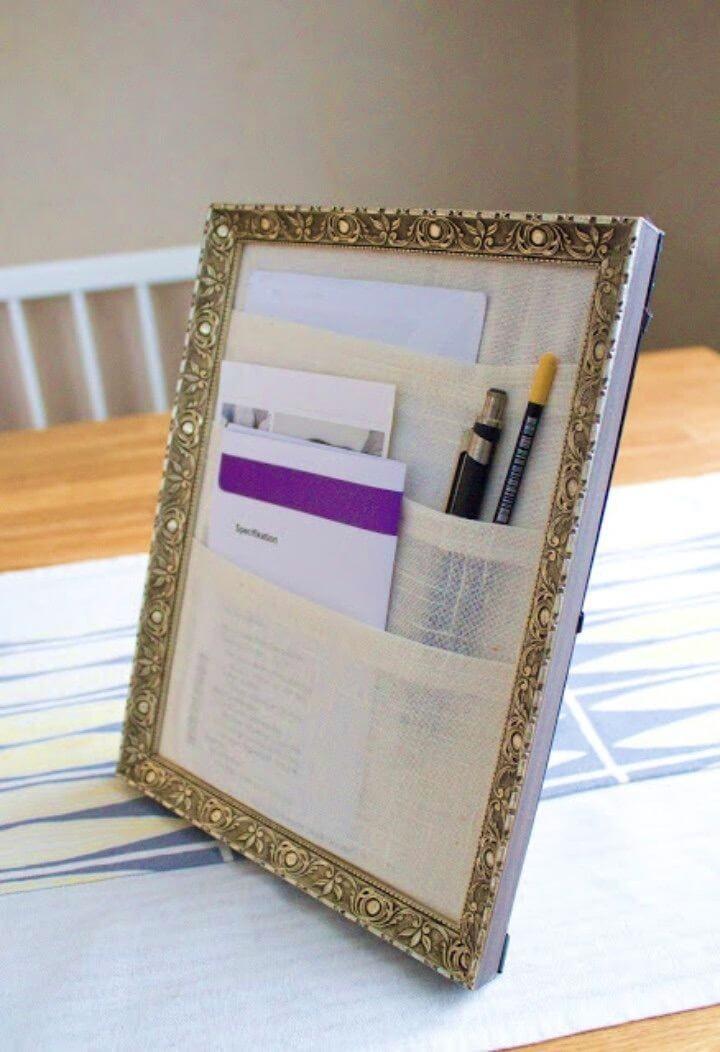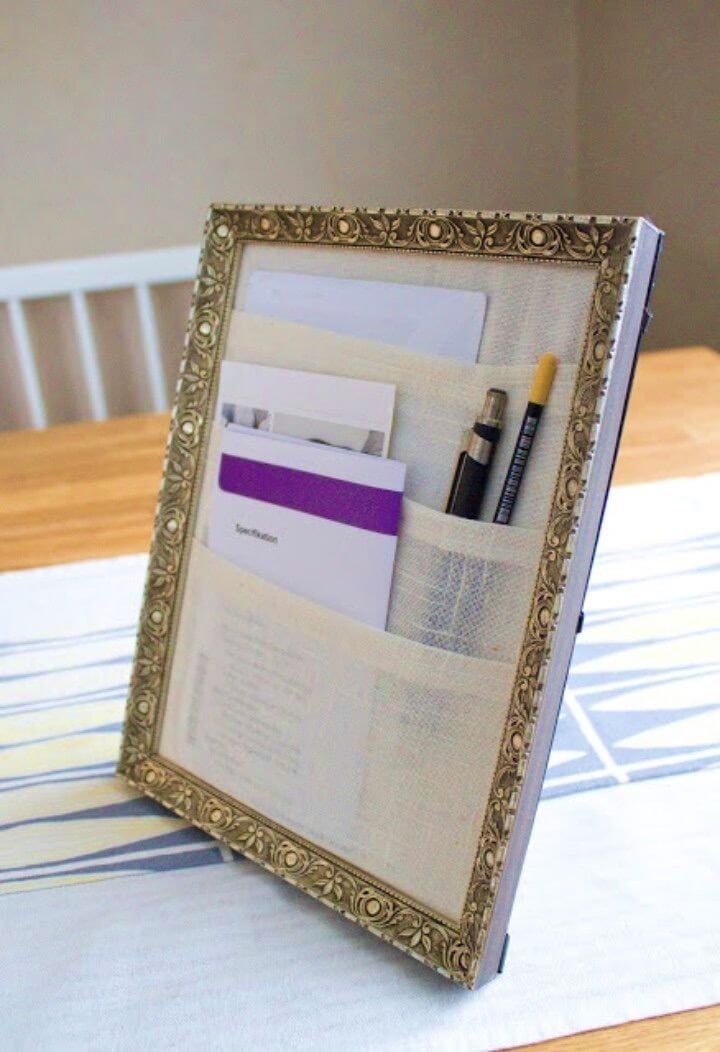 Organize also your desktops and tablets with the no-cost organizers that you can quickly make the recycled and thrift store picture frames! The trick is to reuse the fabric to add the custom pockets to the upcycled picture frame, which will hold your office desk items like mails and stationery with an enchanting display! wishfultinker
Easy DIY Inspiration + Mood Board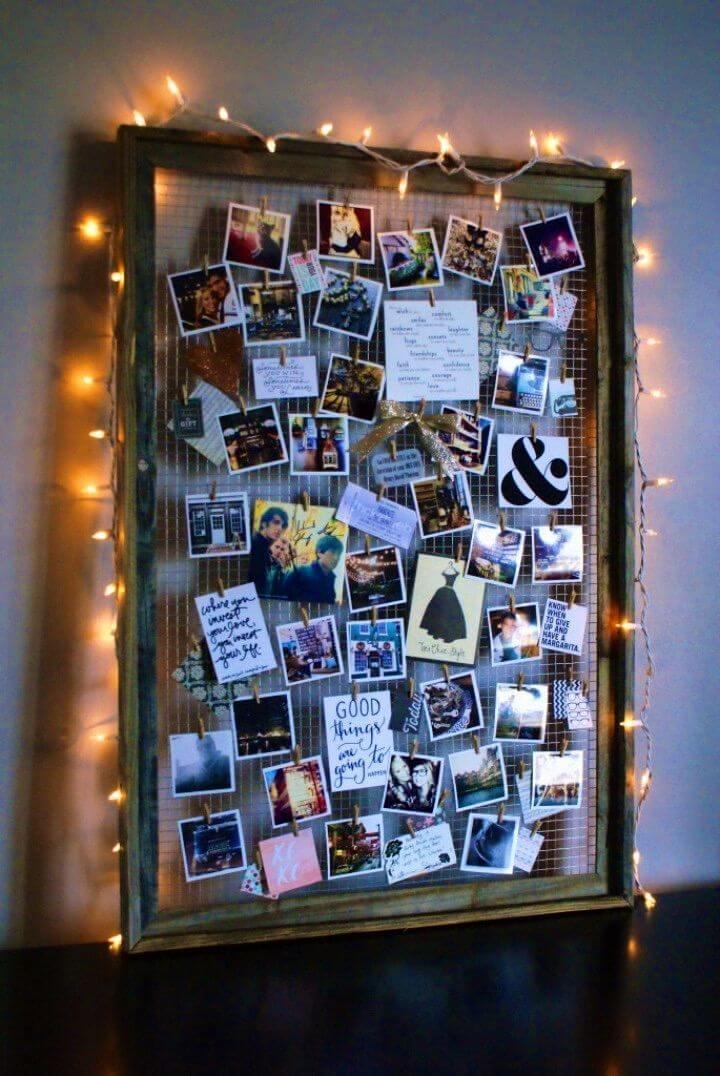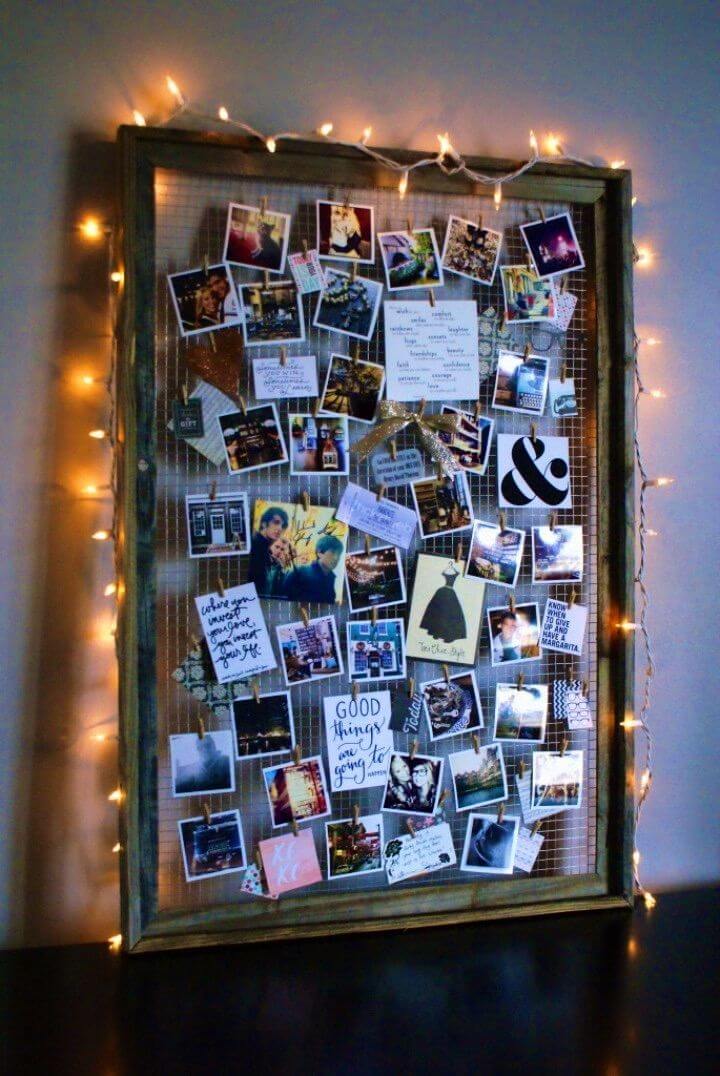 Make also custom display boards out of the large picture frames that you have put in the trash! Just add up the picture frames with the wire mesh and hang your photos and inspirations on it using the clothespins and make a lovely inspiration and mood board! Decorate it more by putting string lights all around! theanastasiaco
DIY Layered Frame Gallery Wall

Striving for alluring demonstrations of your interior wall decors? The do hack amazing geometrical decors out of recycled picture frames! Grab a collection of old picture frames, paint them differently for a charming appeal, and then layer them up on the wall making a precious gallery wall and also a geometrical wall art! makelyhome
DIY Tufted Picture Frame Headboard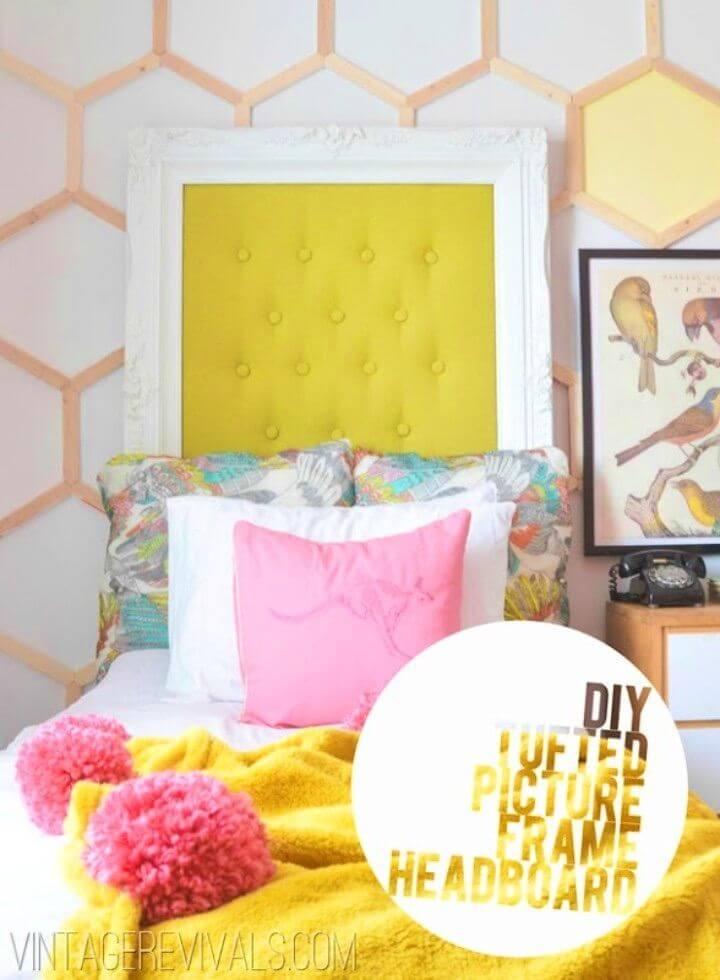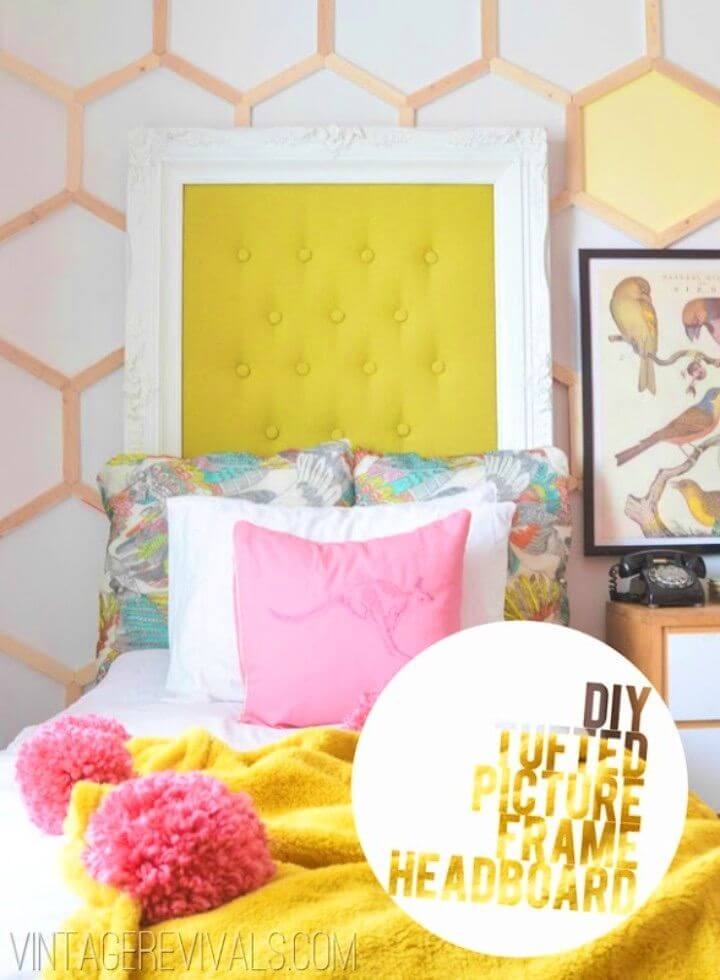 Are you handy at tufting? If yes, then also upholster the large old picture frames to make quick tufted headboards for your beds, a great and no-cost idea to complete and accentuate your bed design! Have a look at this given tufted picture frame that is a breeze to make and can be seen next in your bedroom! vintagerevivals
Easy to DIY Ceiling Medallion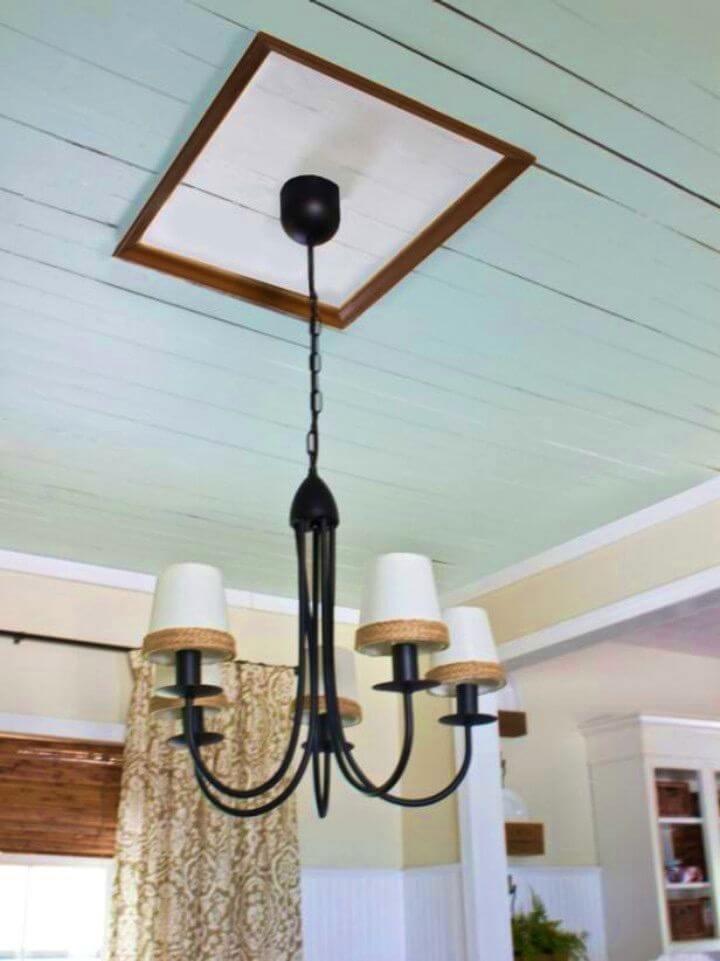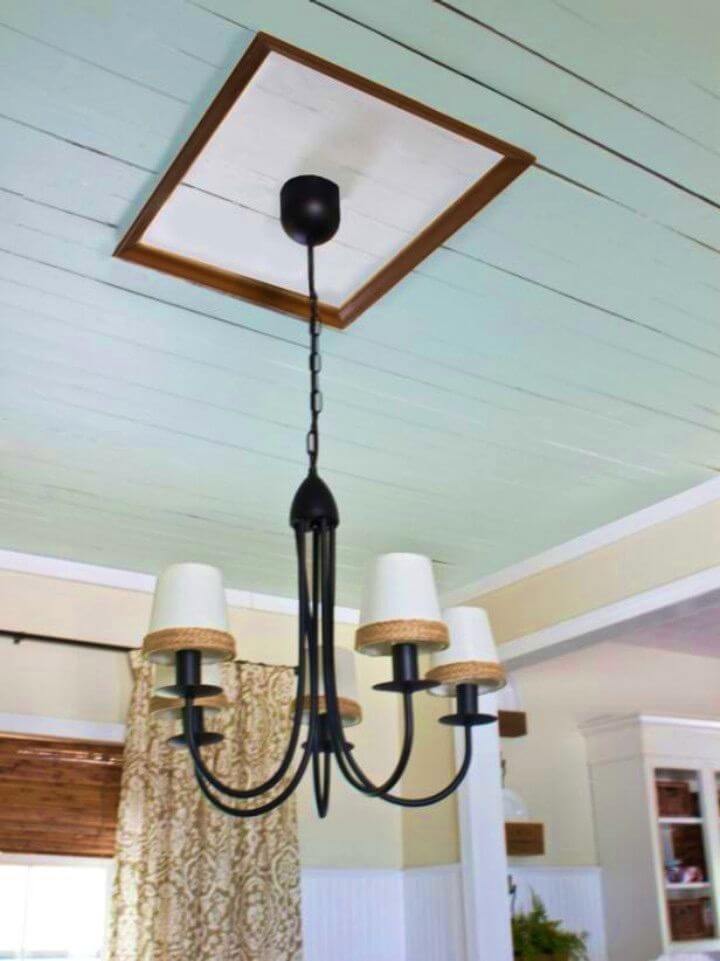 If talking about the room decors, then our major concern is always the room wall decors, but you can decorate the ceilings to establish sophistication to your room! Spruce up your ceilings with this accent ceiling medallion that is made of a reused picture frame! Here it comes around the chandelier fixture! hgtv
DIY Picture Frame Chicken Wire Message Board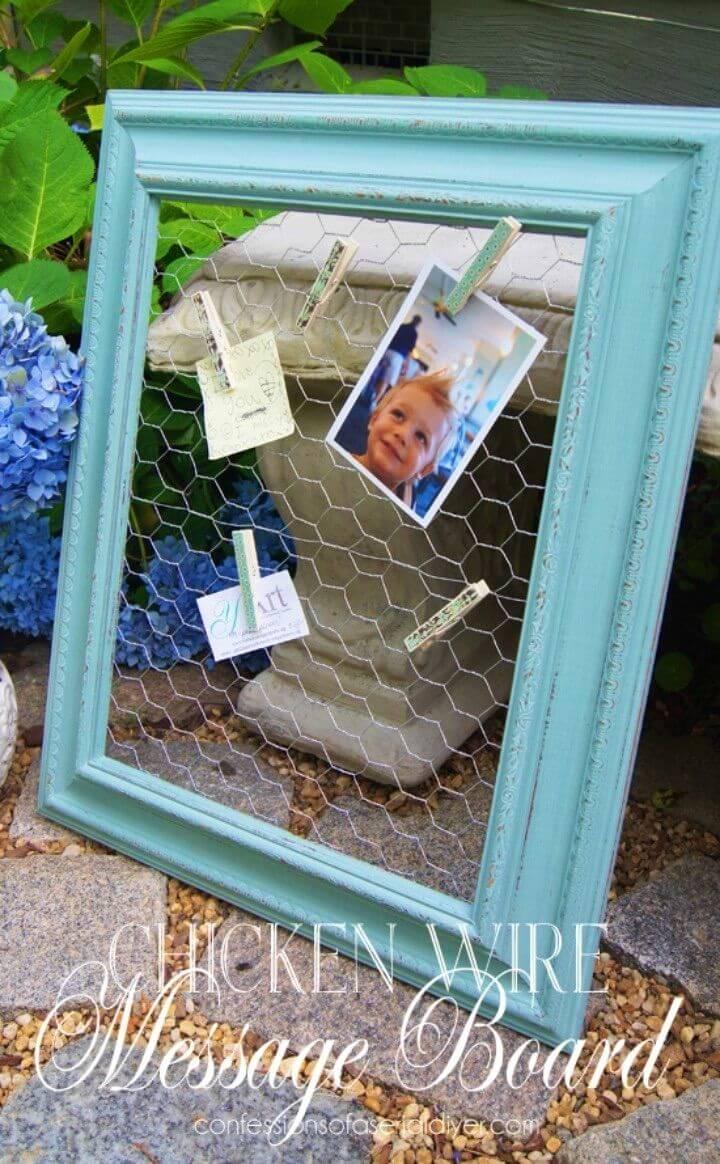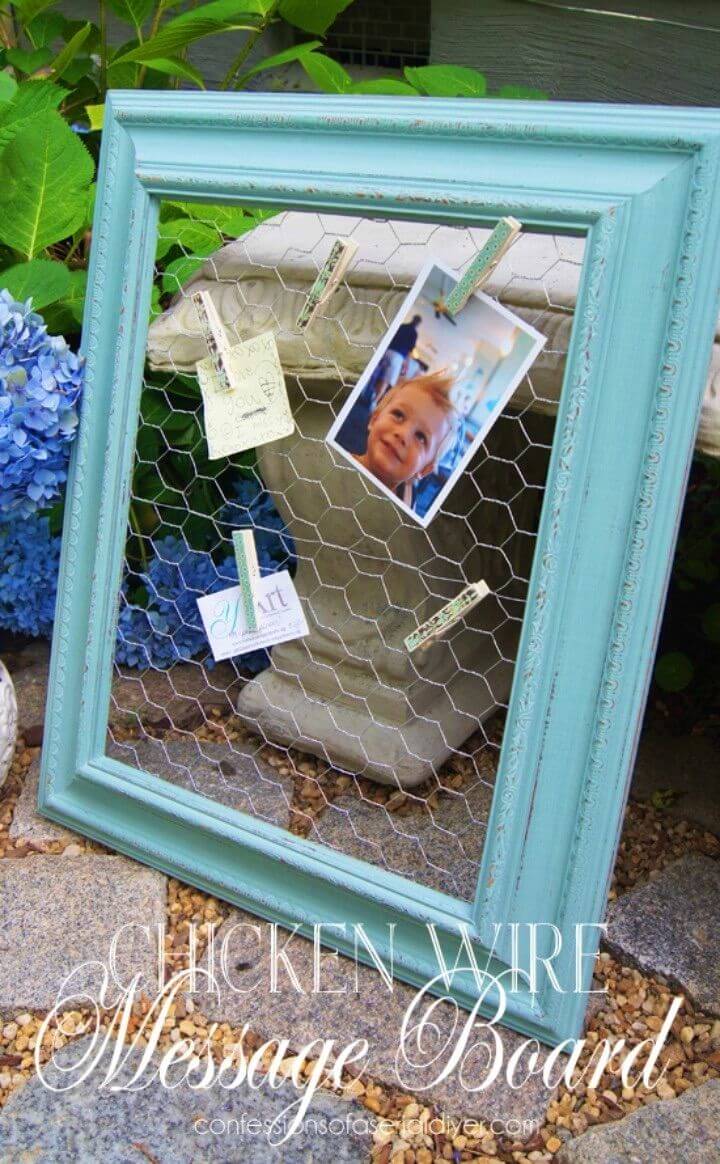 If you are a person who often forgets about the important routine home or office tasks, then you really need to install some quick memo boards to your home or office! So, also make some lovely ones in no time using the old picture frames and chicken wire just like this given one that will hold your photos and custom messages with clothespins! Details here confessionsofaserialdiyer
Turn Picture Frame into Hello Spring Fabric Art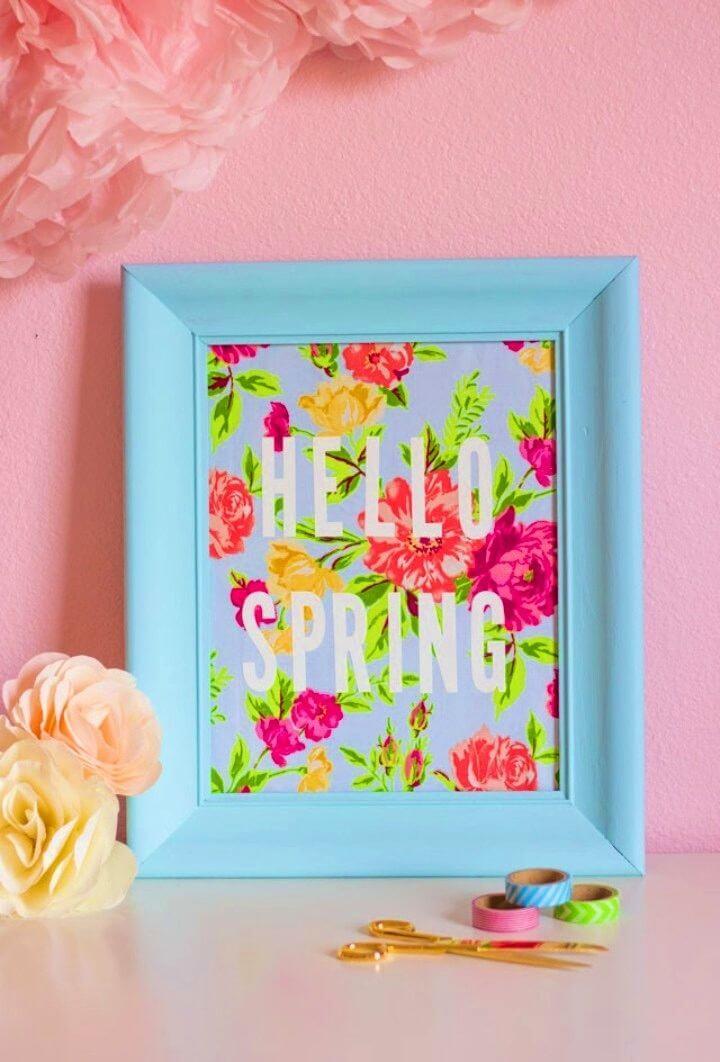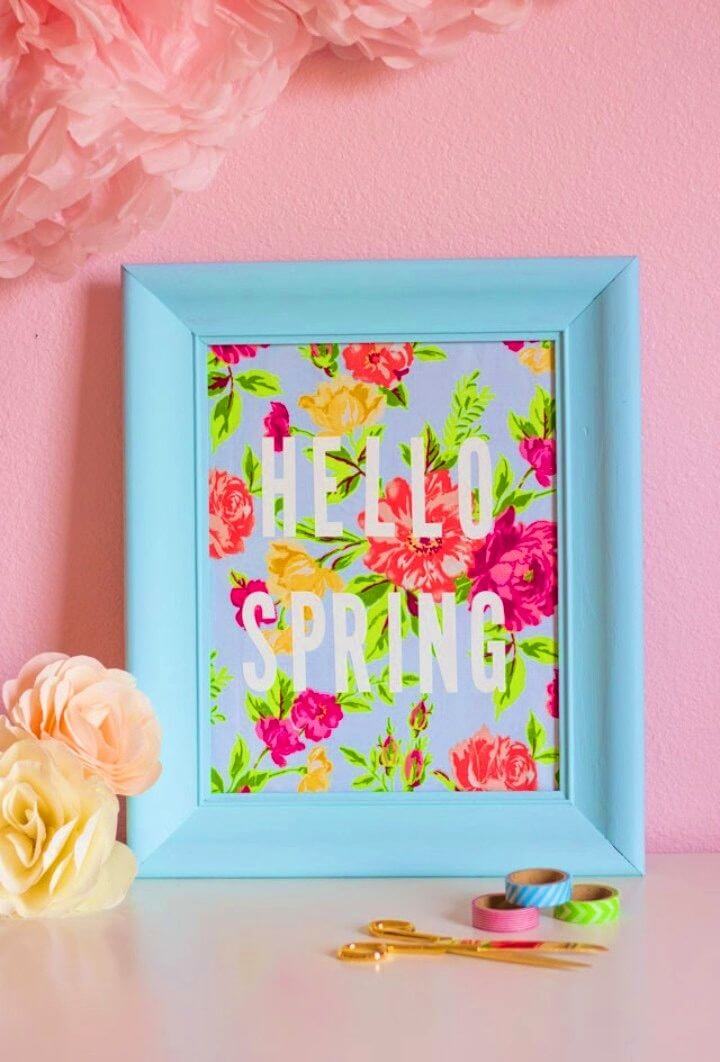 Make also fabulous spring wall art pieces and let your home speak volumes for the spring decors! Grab a picture frame of choice, paint it for a colorful visual, and then cover it up with the fabric having a spring flower print! Next, use the vinyl letter stickers to write the welcoming spring quotes on it, as you can see! designimprovised
DIY Framed Jewelry and Earring Organizer

Are you a big jewelry wearer and lacking of smart jewelry storage options? If yes, then generate quick jewelry organizers using the picture frames that are not in use! Here the trick is to add up the picture frame with chicken wire so you will be able to hang your own selected collection of earrings on it with a beautiful display! martysmusings
DIY Tray from a Frame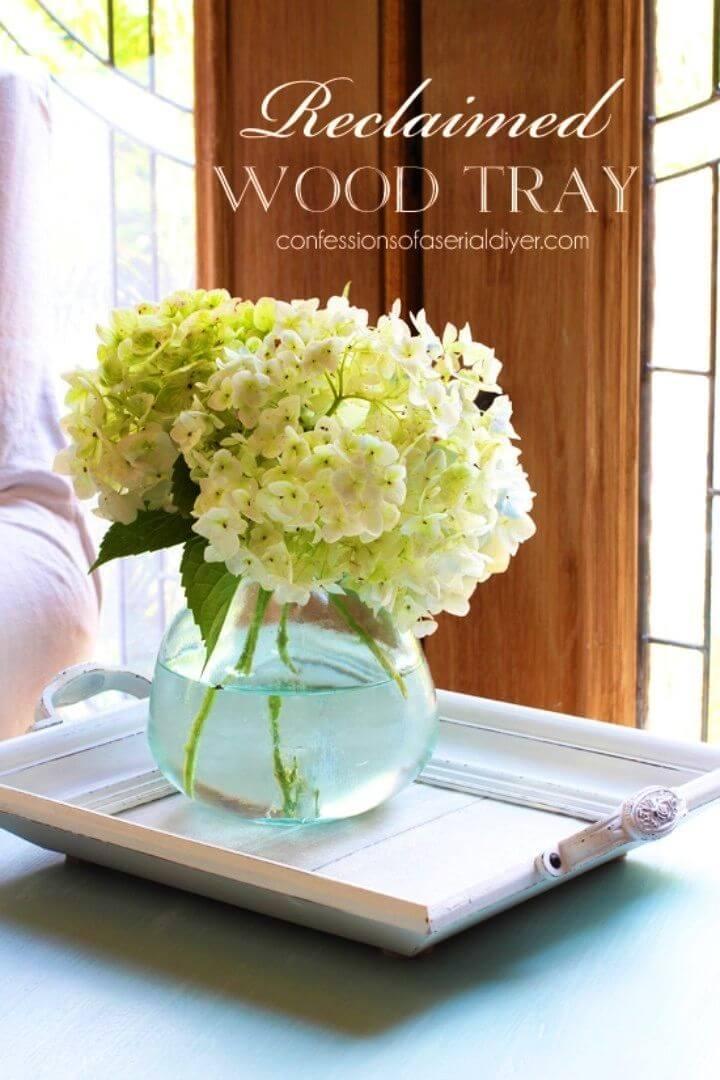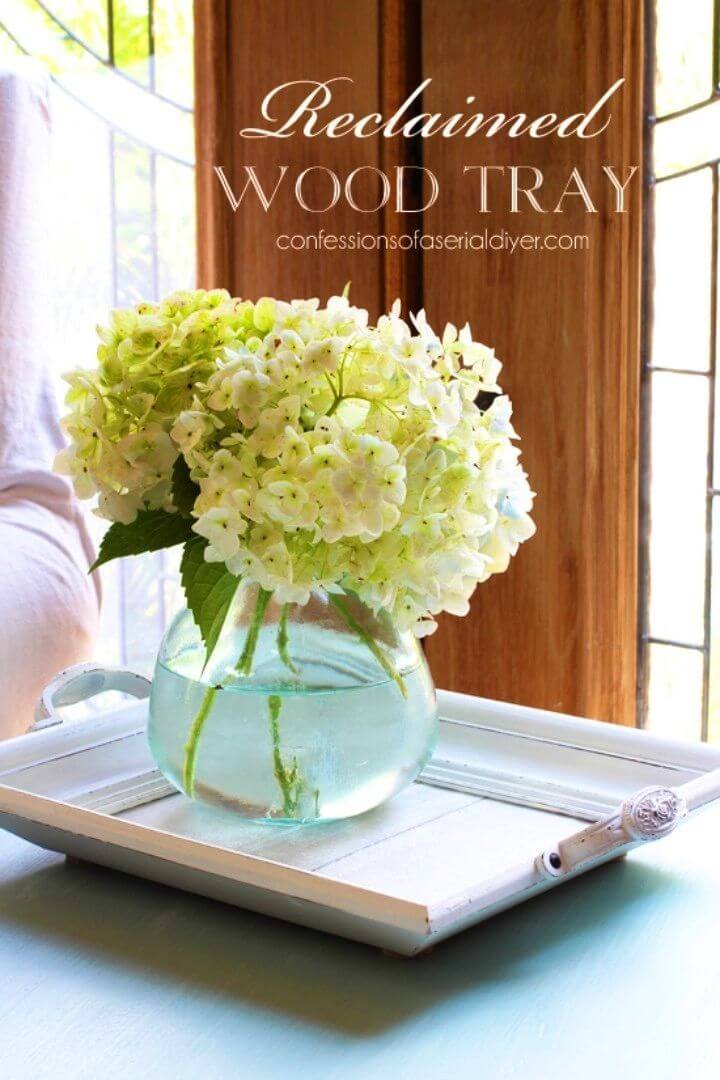 Make also the utilitarian items out of recycled picture frames that you will love to use in routines! Add up the revamped picture frames with solid wood bottoms and make outstanding trays out of them! Here the custom cut planks have been added for a solid bottom, and next felt discs have been added for a lovely finish! confessionsofaserialdiyer
How To Make Picture Frame Tray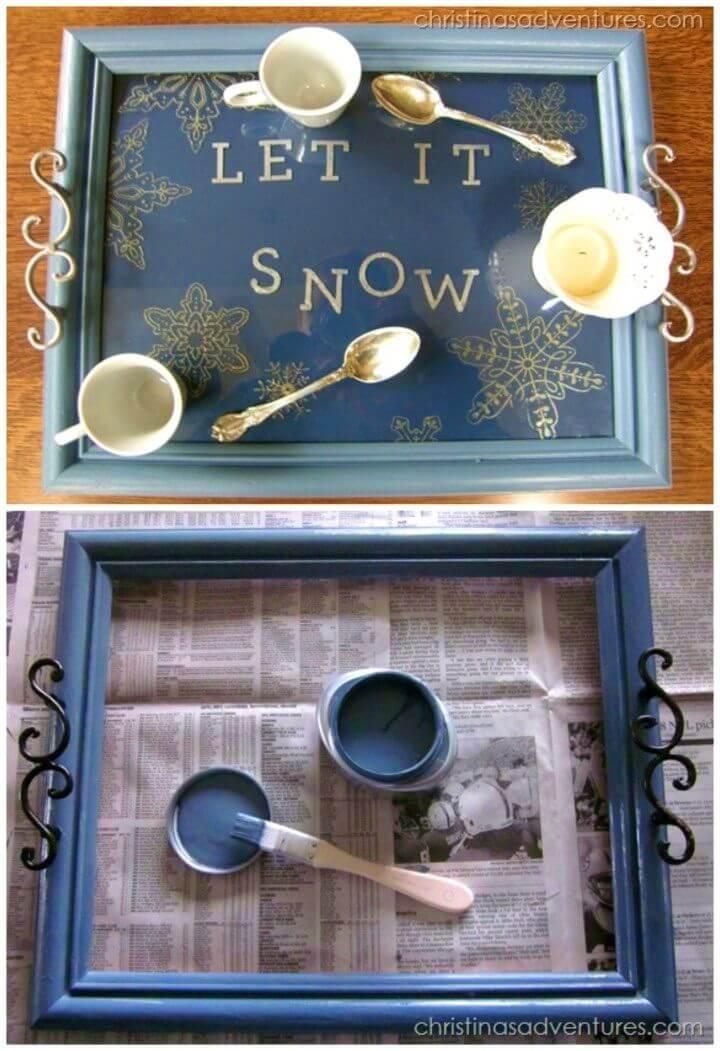 Once again, an enchanting tray is here that is also made of a reclaimed picture frame and has been painted for a custom blue appeal! Here this picture frame tray has also been stenciled for custom letters and art shapes that create a stunning appeal of it! Don't forget to add the accents, the silver gilded metal handles! christinasadventures
DIY Chalkboard From an Old Picture Frame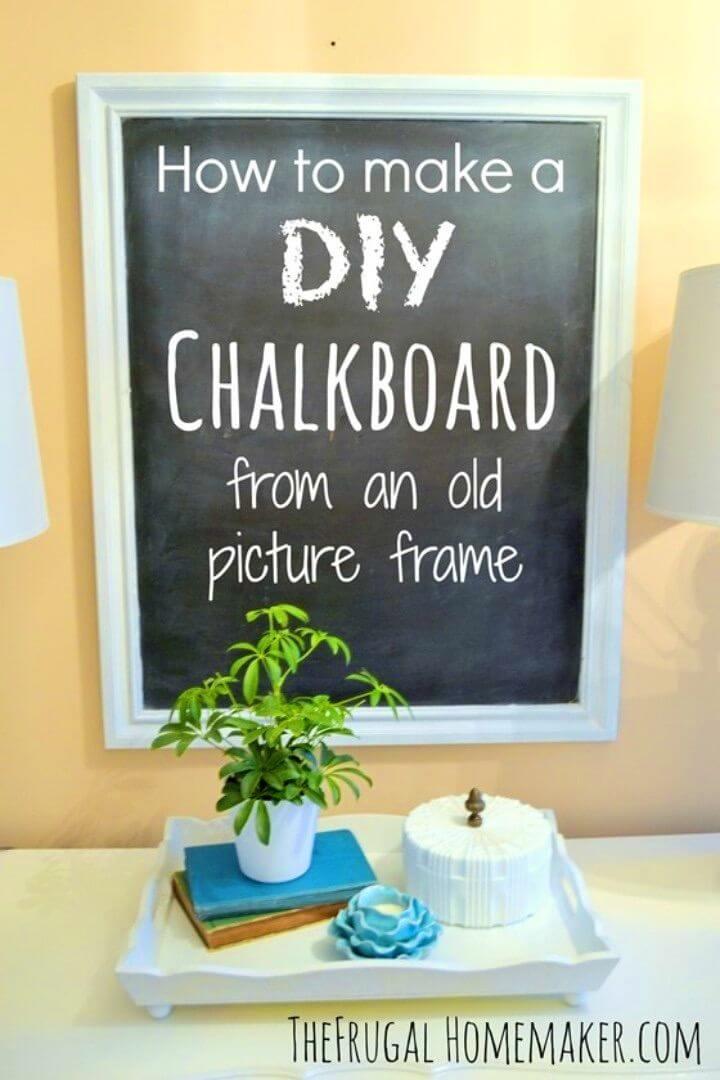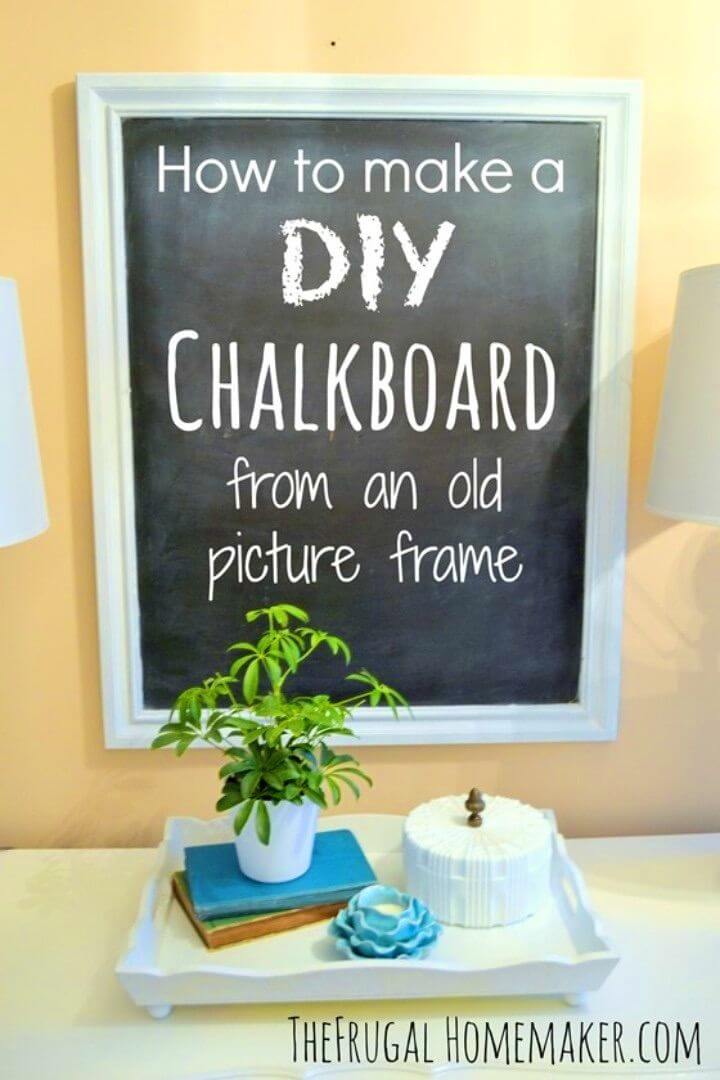 Make exciting things out of recycled picture frames and make life more comfortable with them! Paint the picture frames with black chalkboard paint and make chalkboard frames out of them! Write custom messages, quotes, and custom words on them and use them in home decors!
Build Your Own Frame Shelves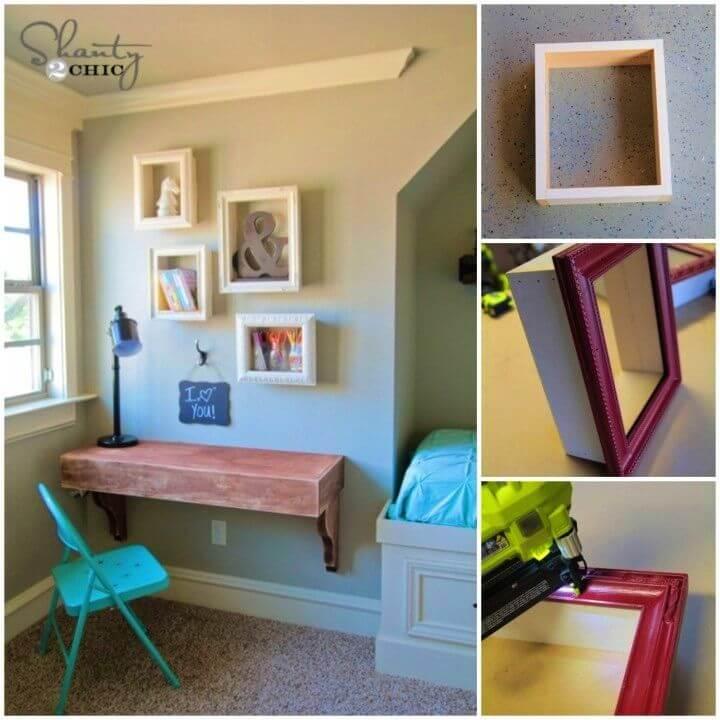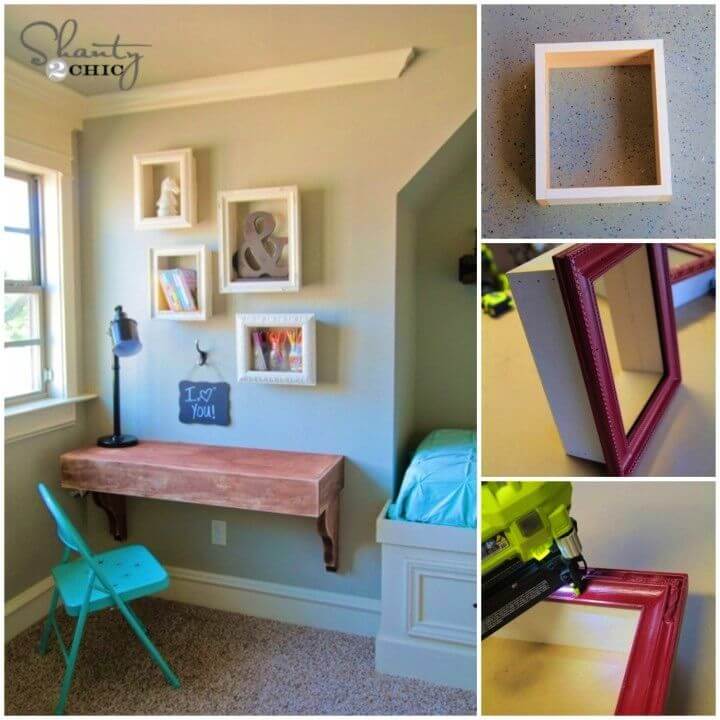 Boost also the decors and storage space of your home using the old picture frames! Just add more wooden boards to the bottom side of their sides and add a little depth in them and then mount on the wall as lovely display shelves will also help declutter the targeted interior! Stare at the lovely given samples, and do duplicate them! shanty-2-chic
Amazing DIY Picture Frame Wreath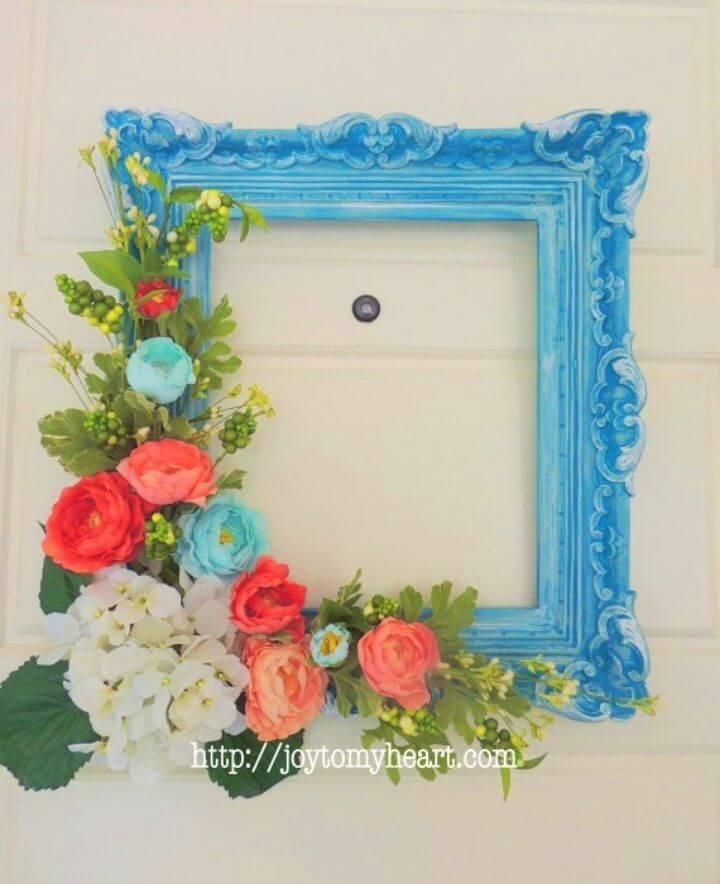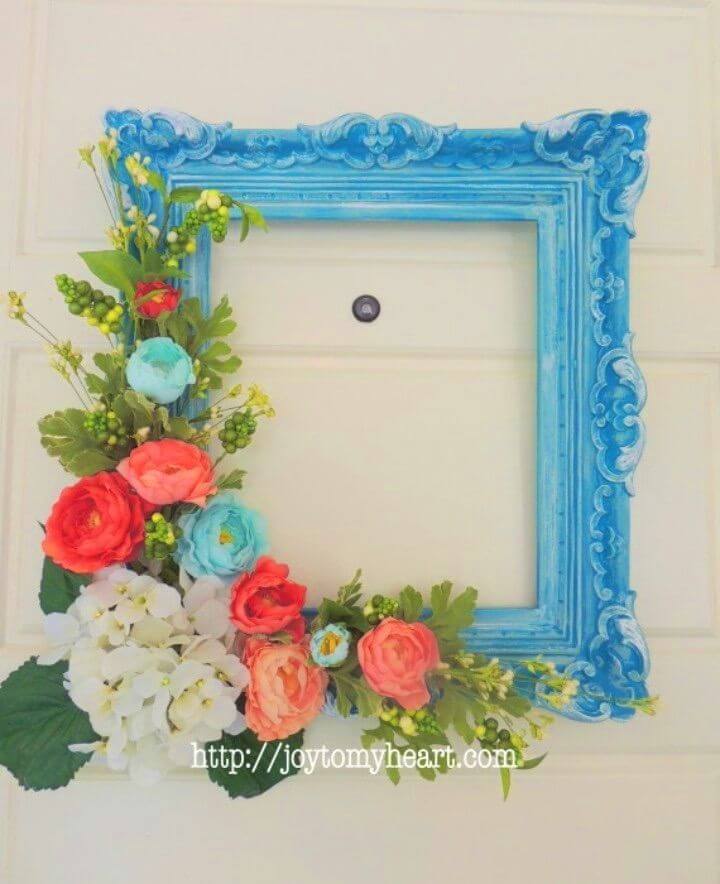 Paint and decorate your picture frames in the way you like and then use as outstanding ready-made reads for different of your festival and party decors! Here a reclaimed picture frame has been painted in blue and then has been decorated with colorful flowers to make a perfect floral wreath! Details here joytomyheart
DIY Framed Dessert Table Trays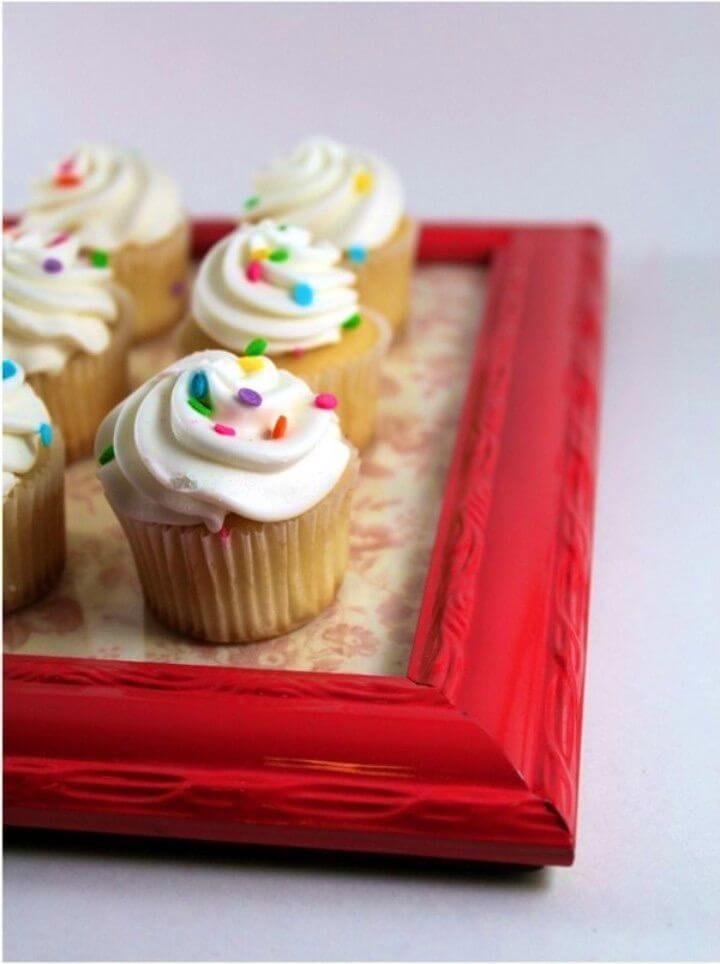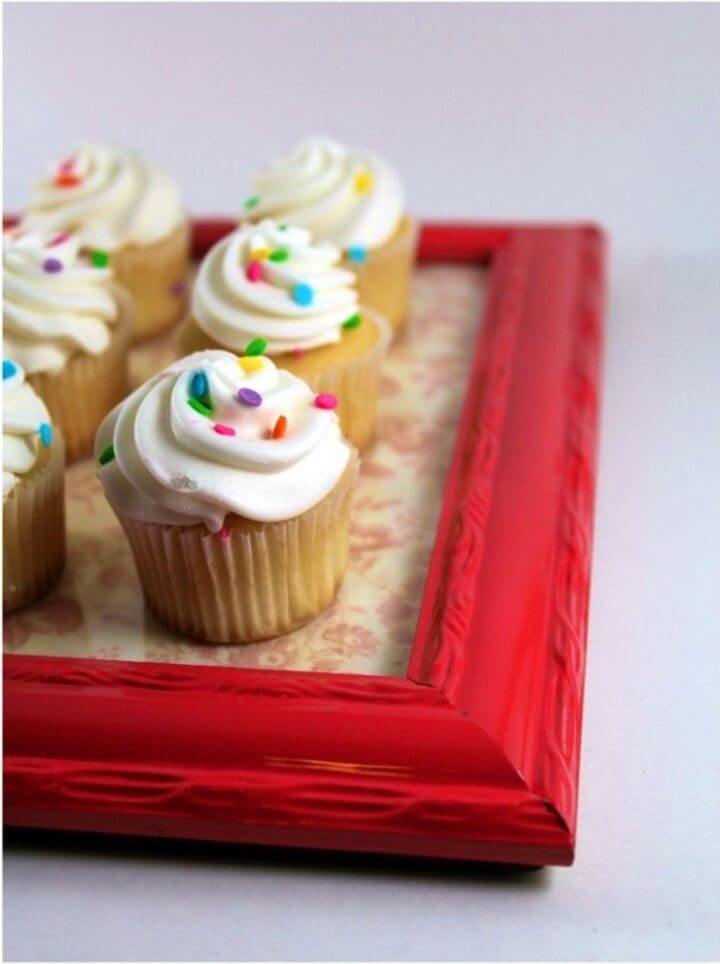 Fill solid the upcycled picture frames and make amusing trays out of them that you can also use on your dessert table to hold the cupcakes, which are you going to display on a tiered cake stand or on a table! Another good use for the old picture frames that are lying useless in your home! Full details here ruffledblog
How to Make a Large Chalkboard

Also, upcycle the old picture frames to make this lovely large chalkboard that will make the best gift to kids who are interested in drawing and painting! Paint the backing of the frame using black chalkboard paint and paint the rest of the frame in any color you like for accent boundary! Add a chalk holder and enjoy it! h2obungalow
DIY Coffee Table Tray with Picture Frame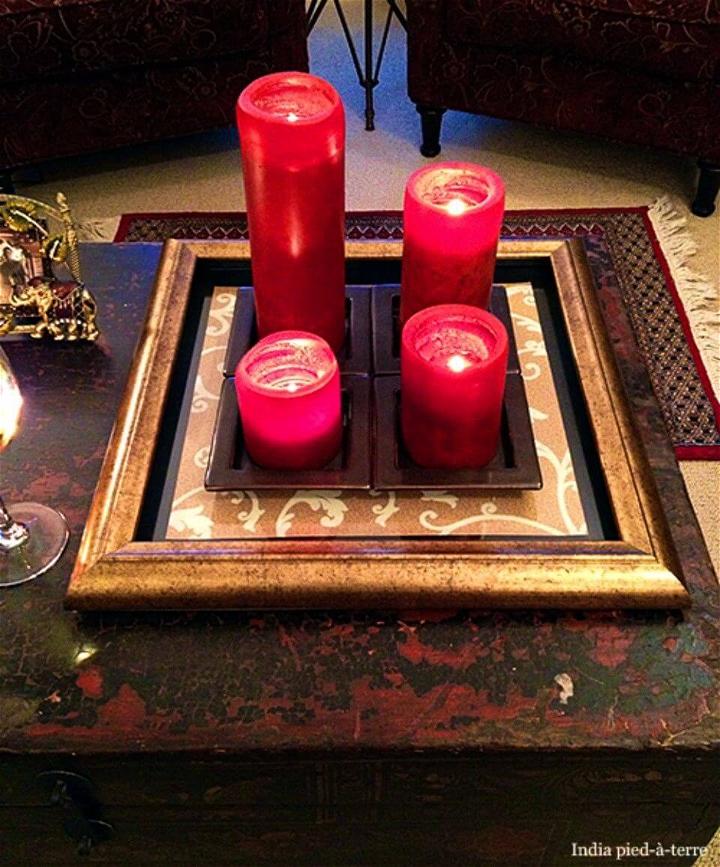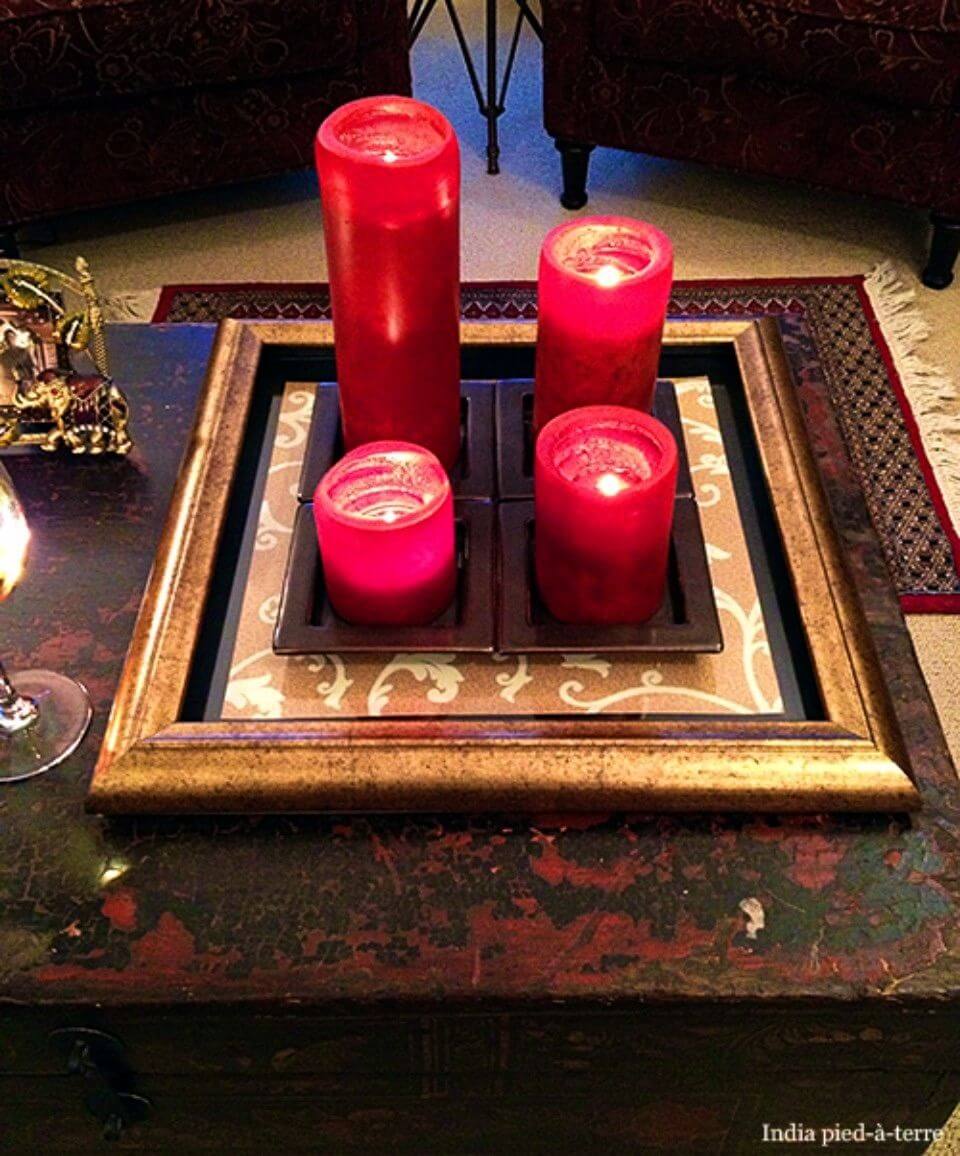 Sitting around a coffee table with a couple of friends is a great pleasure and if it can brighten up your sitting environments if you decorate or garnish your central coffee table beautifully! So, spruce up your coffee table with this lovely accent candle tray that is made of recycled picture frames! Full instructions and tutorial here nomadicdecorator
DIY Old Picture Frame Into Barn Wood Frame

Another smart and genius transformation is here to inspire your creativity! Make also rustic barn wood picture frames for your interior wall spaces that will bring the rustic d?cor vibes there! The trick is to give a rustic barn wood boundary to your old photo frame! The same has been done in this case! Full project instructions here apieceofrainbow
DIY Terrarium Using Old Picture Frames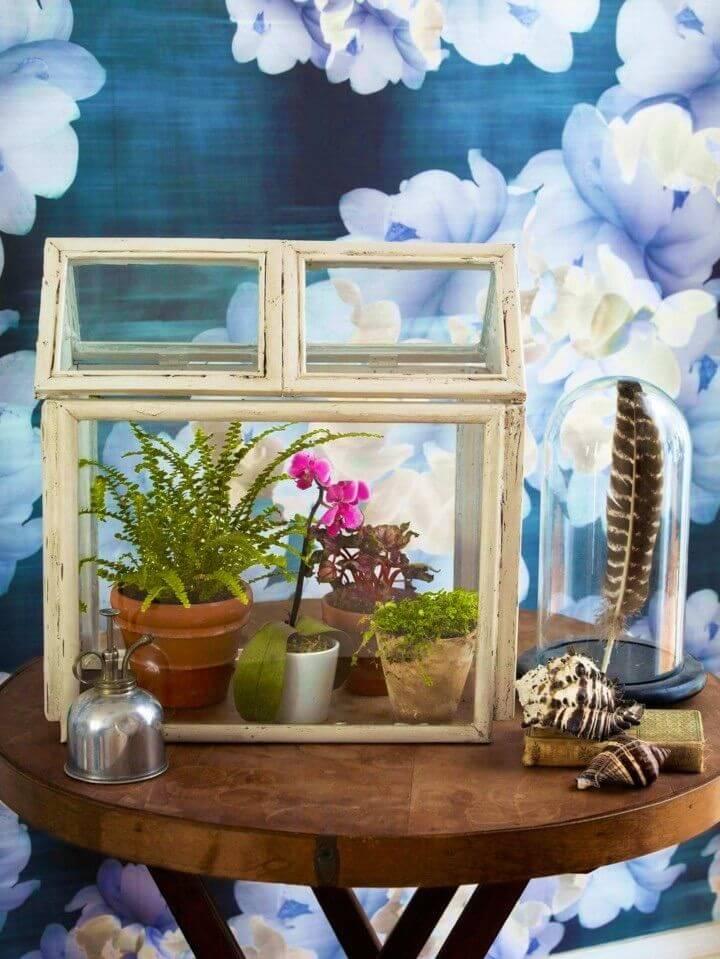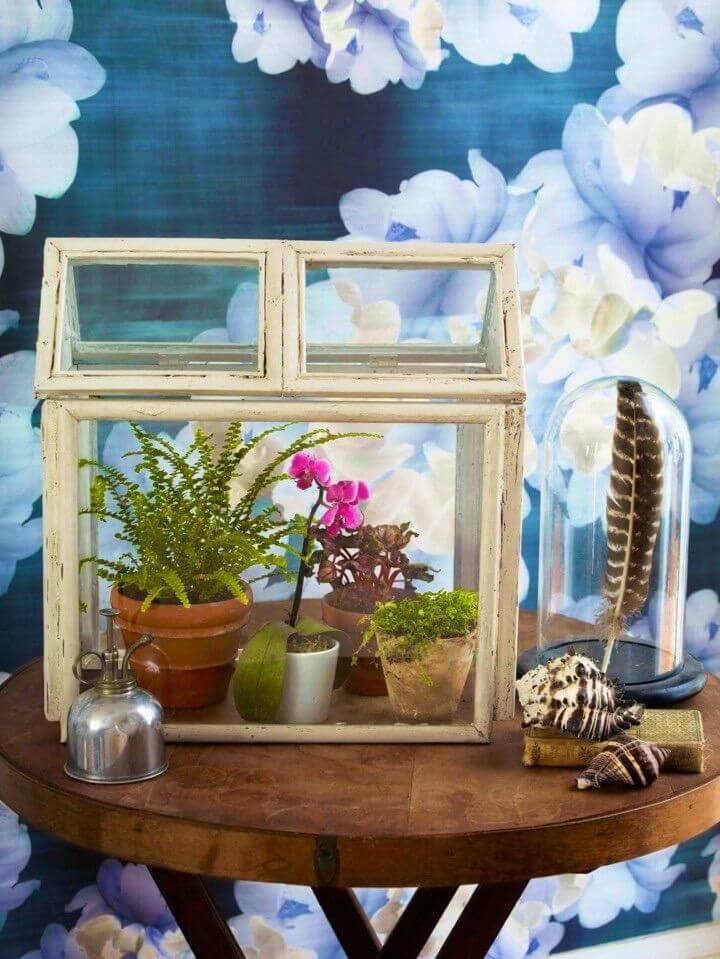 Here is what you can do amazing with old glass-paneled photo frames! Make outstanding home d?cor centerpieces out of them like this super beautiful terrarium that is sure to make a charming home d?cor and also a gift! Put together the picture frames to make a little housing and then put inside the pots and planters! countryliving
Turn a Picture Frame Into a Tiled Serving Tray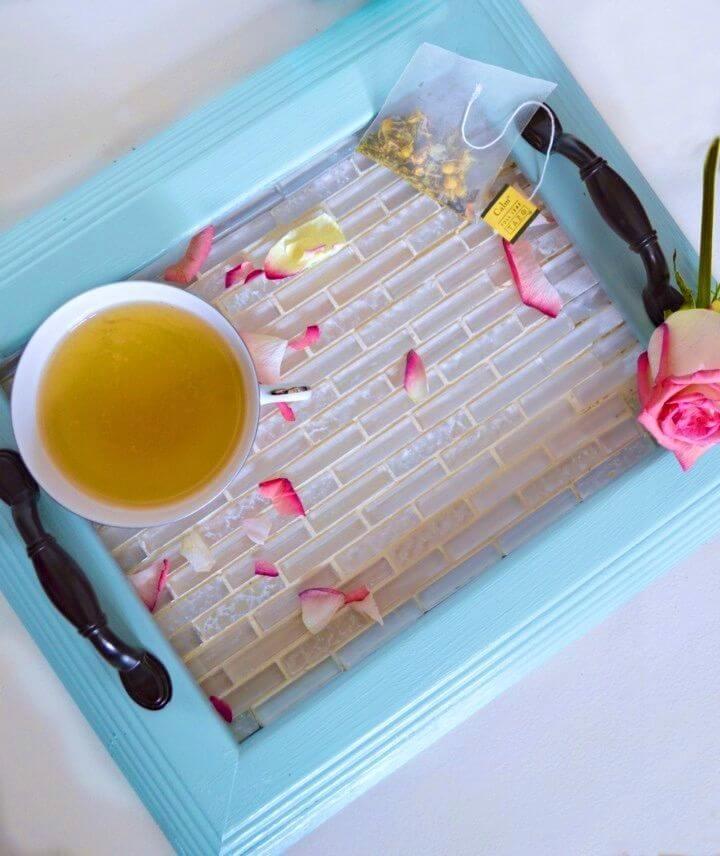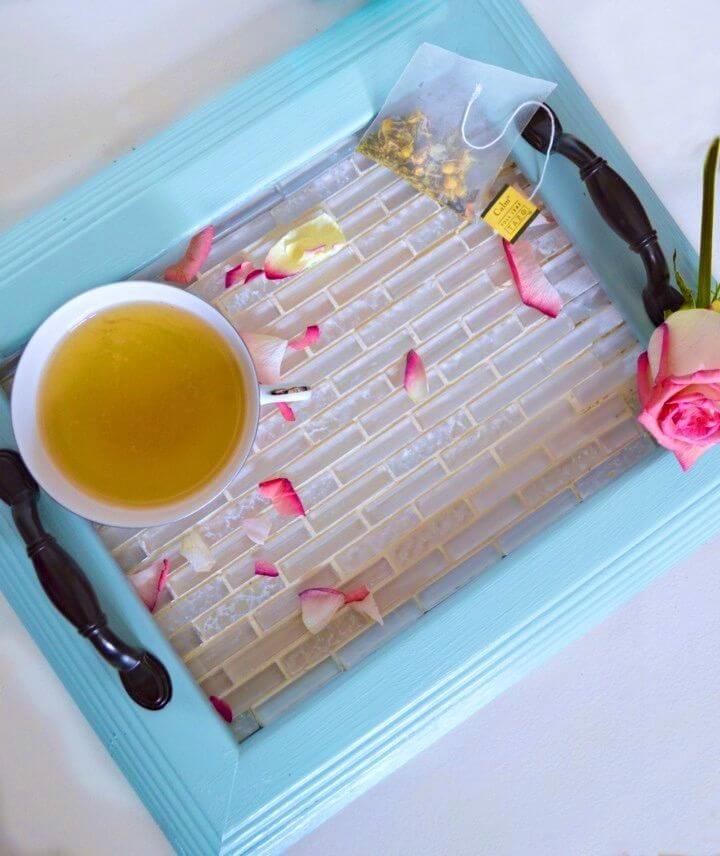 By giving a little creative and decorative treatments, you can easily upcycle the old picture frames to something super beautiful, functional, and gift-worthy! This picture frame tiled serving tray would make both a functional item and a gift! Here the trick is to give your selected picture frame a tiled floor and then to finish it up using grout! myuncommonsliceofsuburbia
DIY Picture Frame Key Holder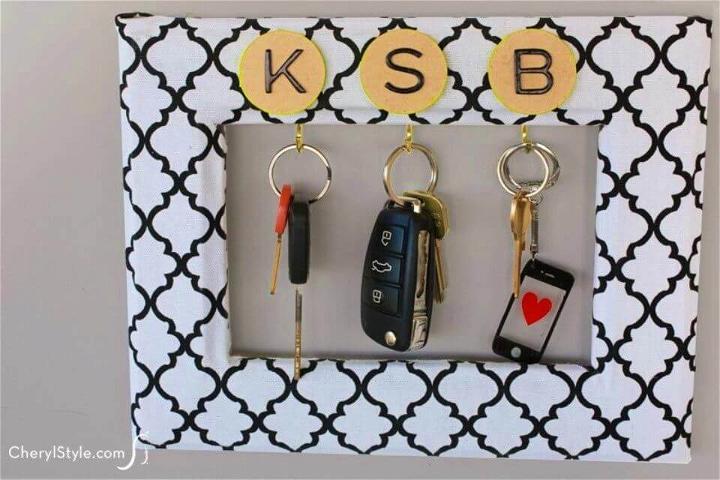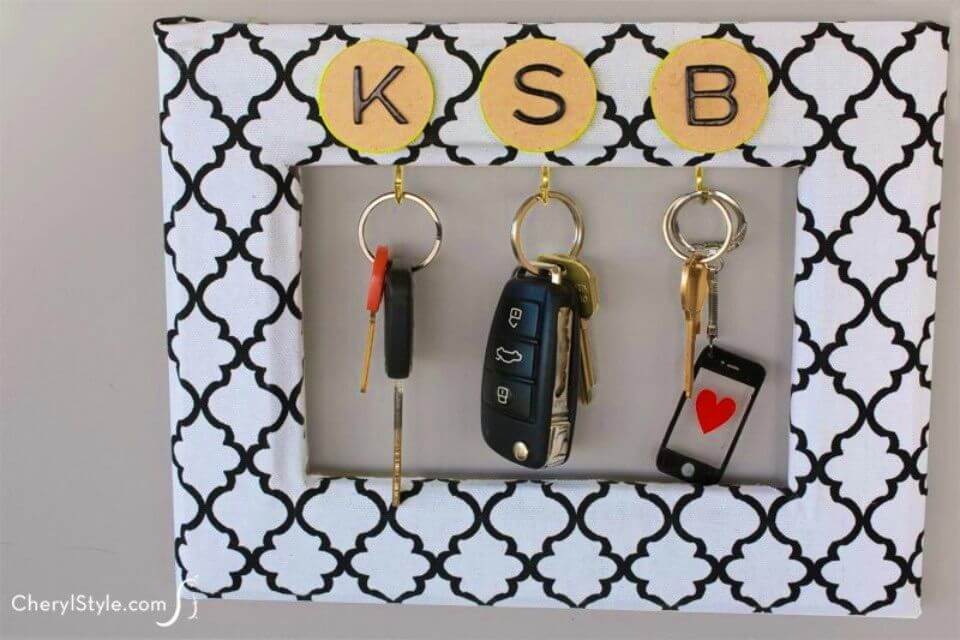 Let the old photo frames also help you to organize your home, yes, you can make instant beautiful and no-cost organizers out of them that will make life easier for sure! A very amazing example, in this case, is this key holder that is made by adding some cup-hooks to the top inside of a picture frame! Instructions here everydaydishes
How to Turn Frames Into Organizers

One more amazing trick is here to transform the old picture frames into smart organizers! Here a lovely tool organizer has been made by adding up the frame with a pegboard sheet backing! Paint both the frame and pegboard sheet in the way you like! Here this no-cost tool organizer will be a great addition to your garage!
bydawnnicole
DIY Chalkboard Serving Trays From Old Picture Frames

Willing to put the old picture frames to some good uses? Then do make interesting trays out of them that will help serve the refreshments to your beloved ones! Duplicate this given chalkboard painted tray that has been gained by adding a picture frame up with chalkboard painted wooden backing! Details here diynetwork
How to Make Confetti Filled Frame

Turn also your picture frames into lovely accents, and this would be a great way to boost the decors of your home! Fill your picture frame having a little depth, with the colorful tissue paper confetti and then decorate it more with your custom embellishments and gain lovely centerpieces for your home decors! apairandasparediy
DIY Coffee Table Display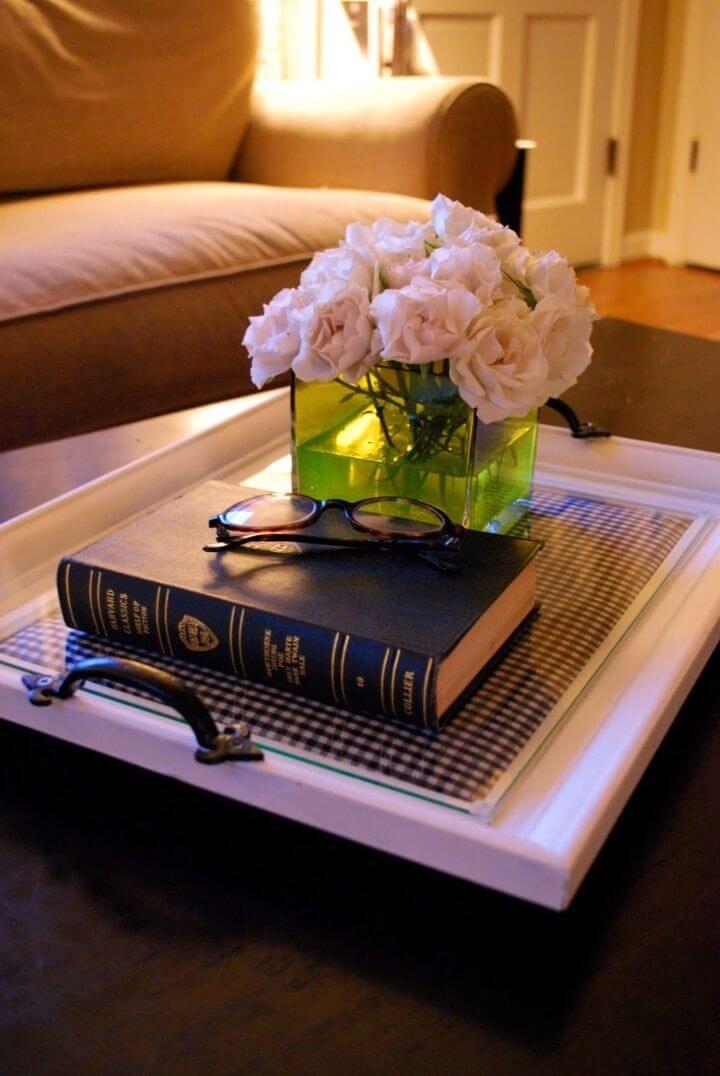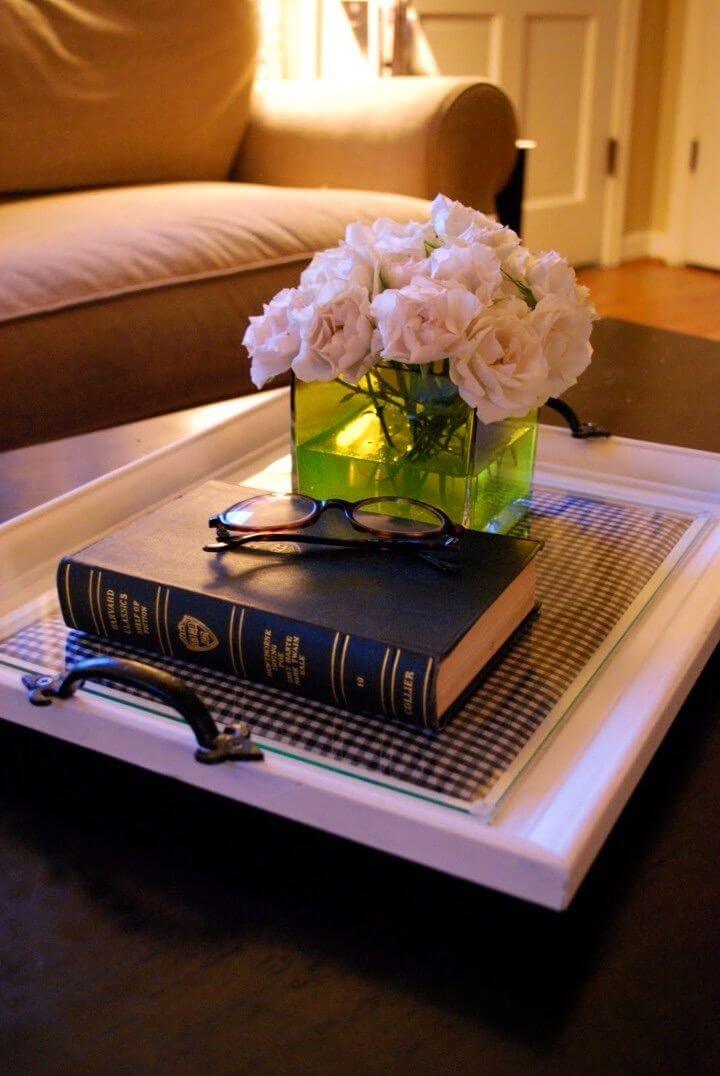 It is super easy to transform the photo frames into lovely looking trays, so also add up your trays with handles and with tufted backings and create amusing coffee table displays, will instantly jazz up your coffee table and hence the entire living room or a sitting plan! Get inspired by the given sample display and do clone it! lemontreecreations
DIY Scrappy Flower Spring Wreath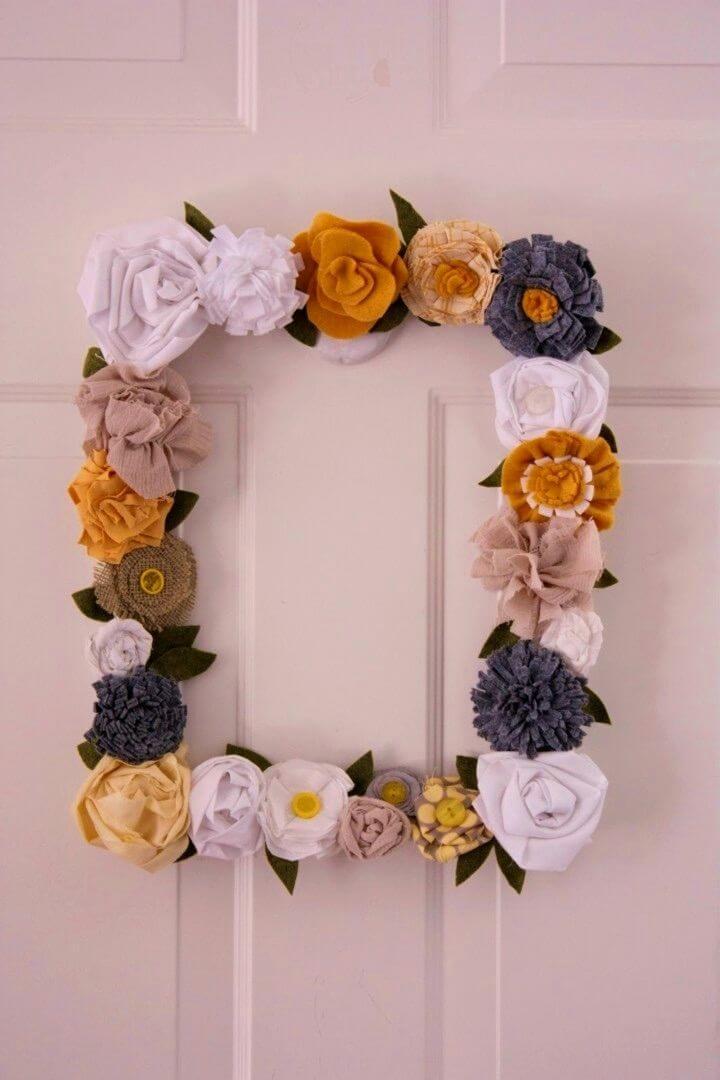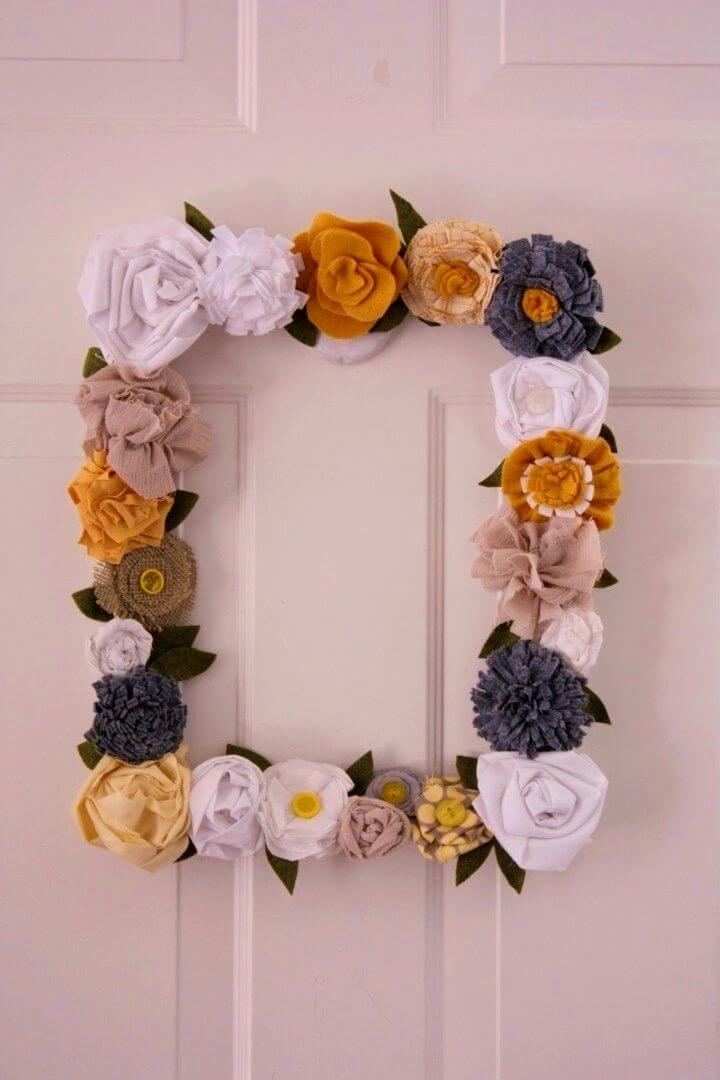 Make the lovely faux flowers out of felt, fabric, and paper scraps and then glue them all around a recycled picture frame and gain a decorative floral wreath that will rock for spring decors! Here you can also experiment with this project with market-bought faux flowers! Another good use of an old picture frame! deliacreates
Turn Picture Frame into Jewellery Organizer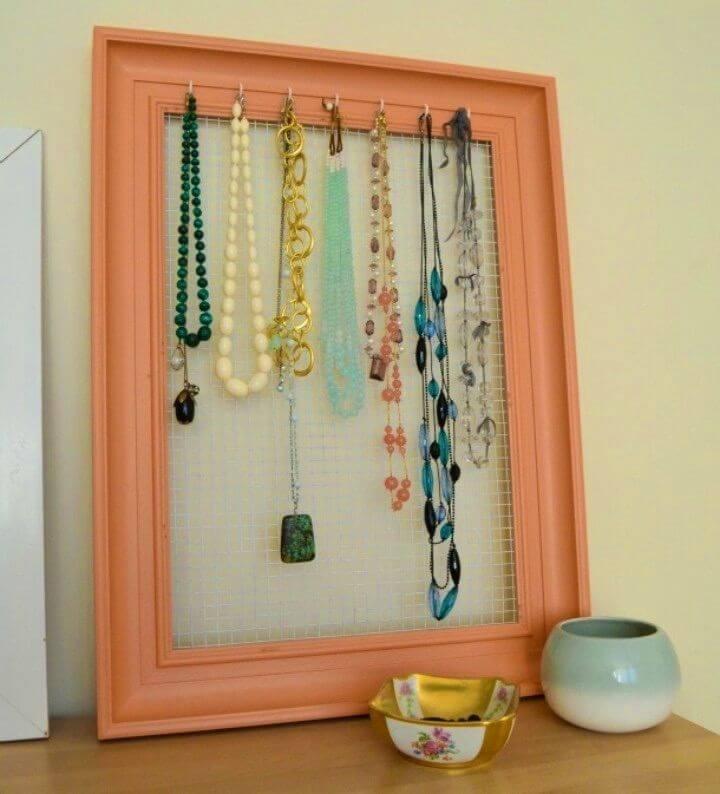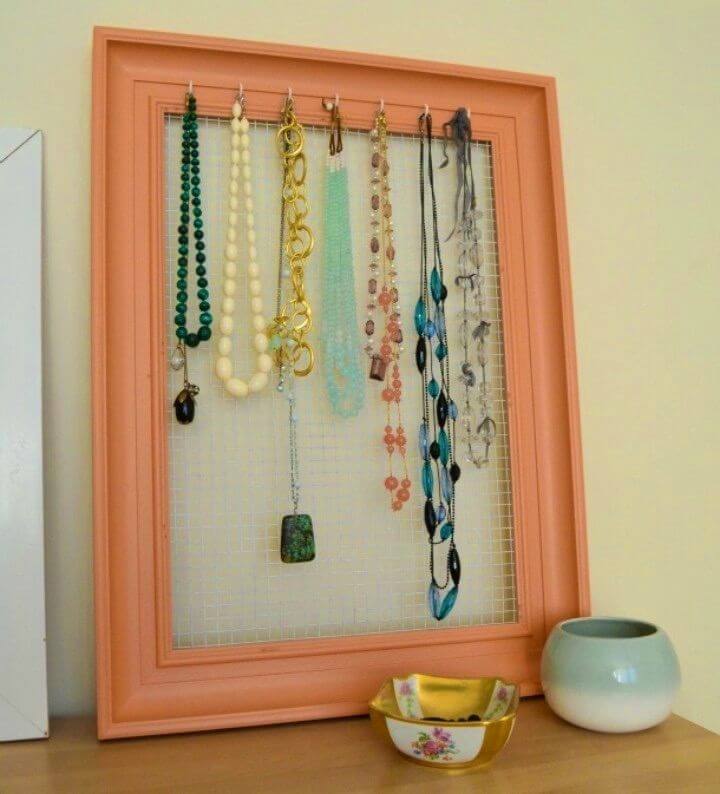 Add up also the old picture frames with the metal wire mesh or with chicken wire and start using them as functional jewelry organizers in your home! Look at this fabulous sample that also comes with hooks to hold the necklace collection while you can easily display your earring collection on the metal mesh! fromchinavillage
Awesome DIY Repurposed Picture Frames

Cover the picture frame solid like a tray using extra wood and then tier them up to multiple levels using candlesticks and gain precious jewelry organizers, cake stands, and accessory holders out of them! Duplicate this lovely given sample that has been painted in turquoise for a beautiful appeal! Details here confessionsofaserialdiyer
DIY Fabric Covered Cork Board Frame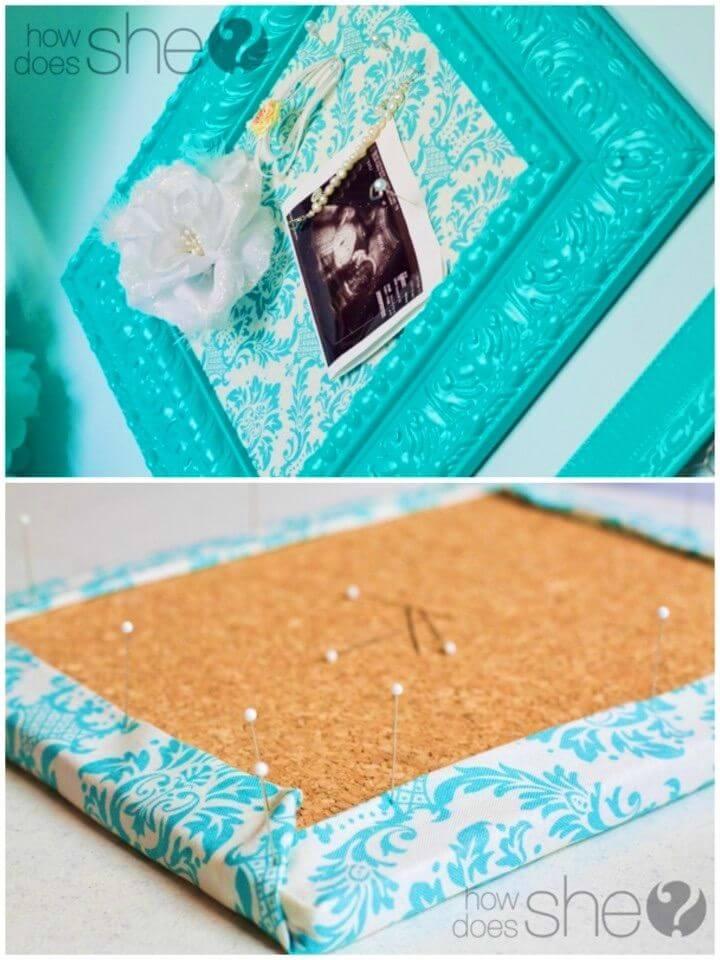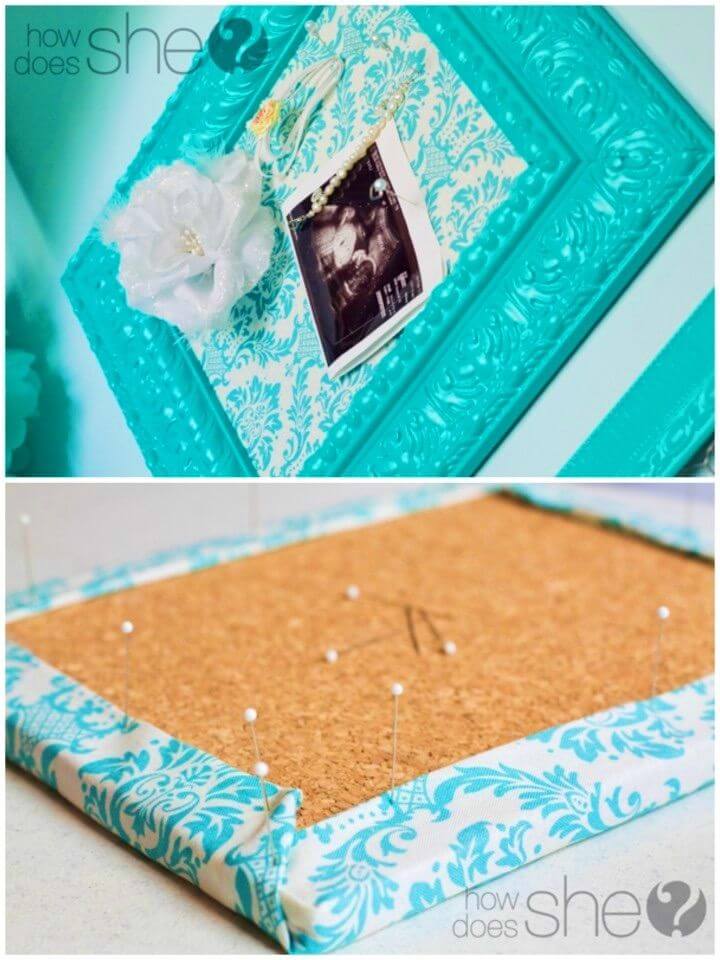 Check out here another great hack to transform the old photo frames into amusing wall organizers or memo boards! Add up your favorite photo frames with the fabric covered cork board backings and the start displaying your things on them using pushpins and or thumbtacks! Another great idea to recycle old picture frames! howdoesshe
Turn a Picture Frame into a Cork Message Board

Make also the outstanding message boards out of picture frames using only a single, smart trick! Pick up the cork sheet piece that will fit best to the backside of the frame and then cover it up in the decorative fabric, next put it in back place of the frame and gain a lovely message board! Use thumbtacks to hang your messages and photos on it! diynetwork
DIY Art Using Old Frames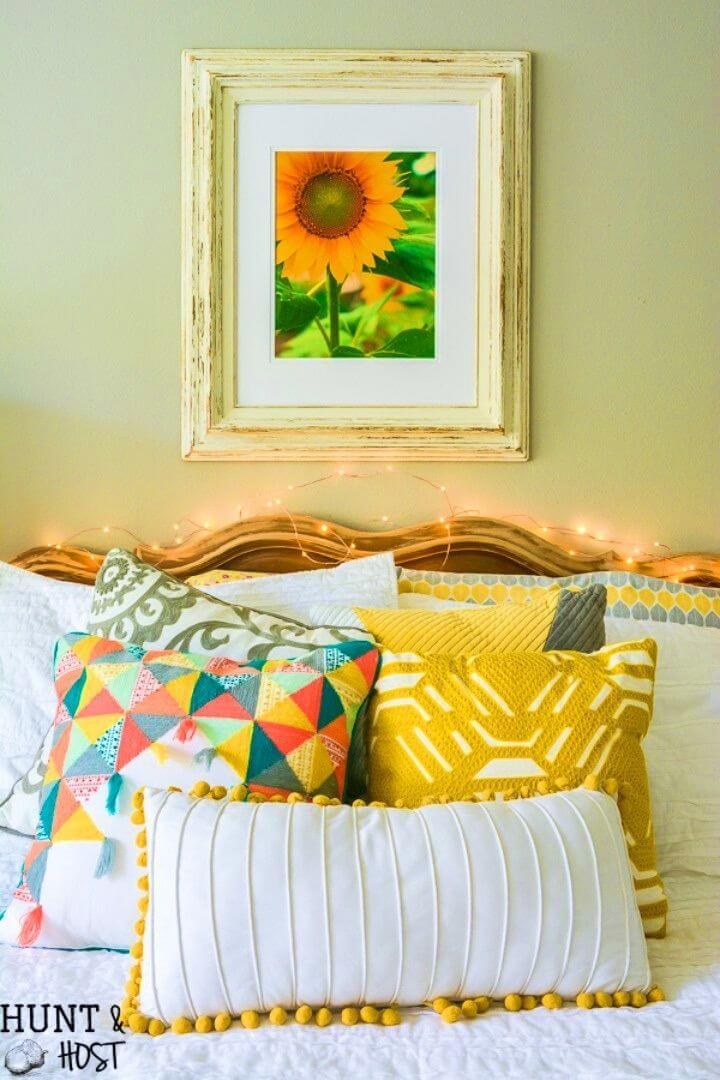 Boost your wall decors, also using the old picture frames in numerous different ways! Redecorate them and put them around the art pieces and decorations that are already on the wall or frame up the new art paintings and photos with them! Check out here the sample art pieces made using the old photo frames! Full project tutorial and instructions here huntandhost