Are you one of those people who has a pile of the book wandering everywhere? If yes, then you need a bookshelf. These small bookshelf ideas can do wonders when it comes to organizing books. Clever storage space in a small bookshelf will occupy all sizes of your books. You can place them vertically or horizontally, as per your demand. Arrange them in alphabetical order or as per size. Either way, all the books in one place will give a tidy look. Place the bookshelf in your library, living room, or kids' room. You will find all the different easy to build bookshelf ideas here. When you're short on space in a bedroom then these unique storage ideas for small spaces help you to organize your home cheaply.
Bibliophiles need to see all these DIY bookshelf tutorials with step by step detailed instructions. These bookshelf ideas come with a detailed step by step guide to make a small bookcase for home cheaply. You can make a horse bookshelf to produce a tidy corner. On the contrary, a modern look can be attained in a room through a mid-century bookshelf.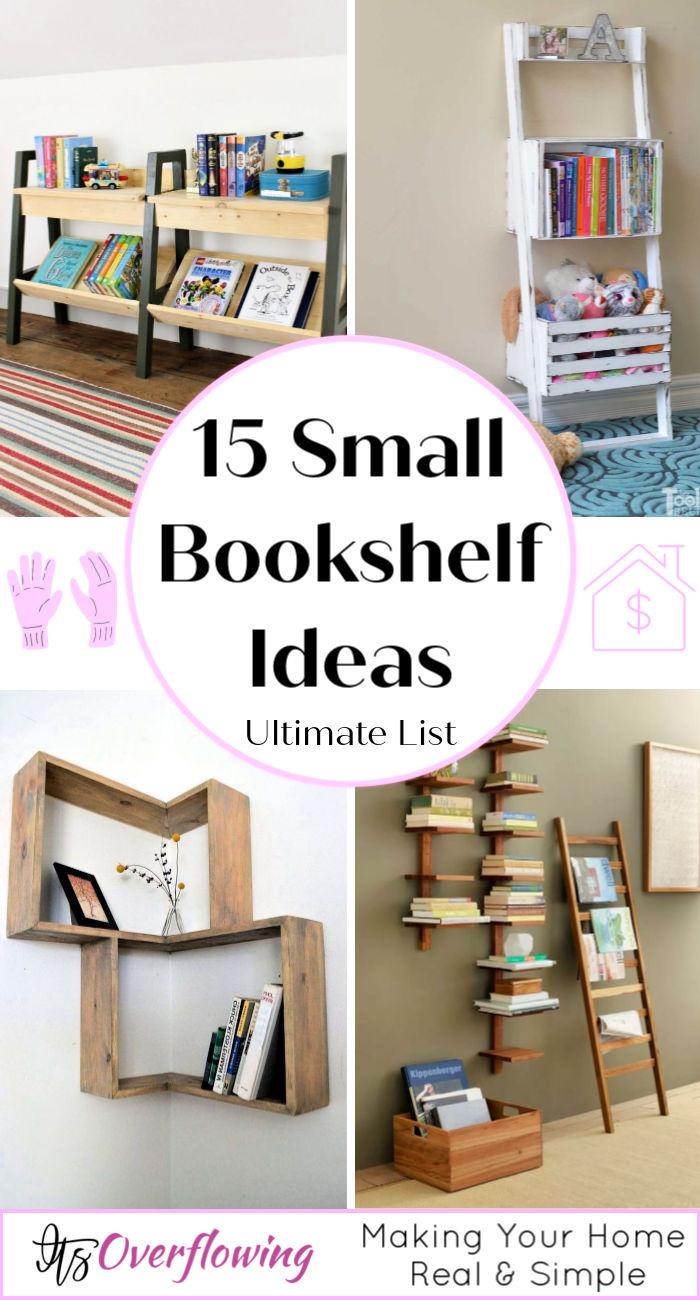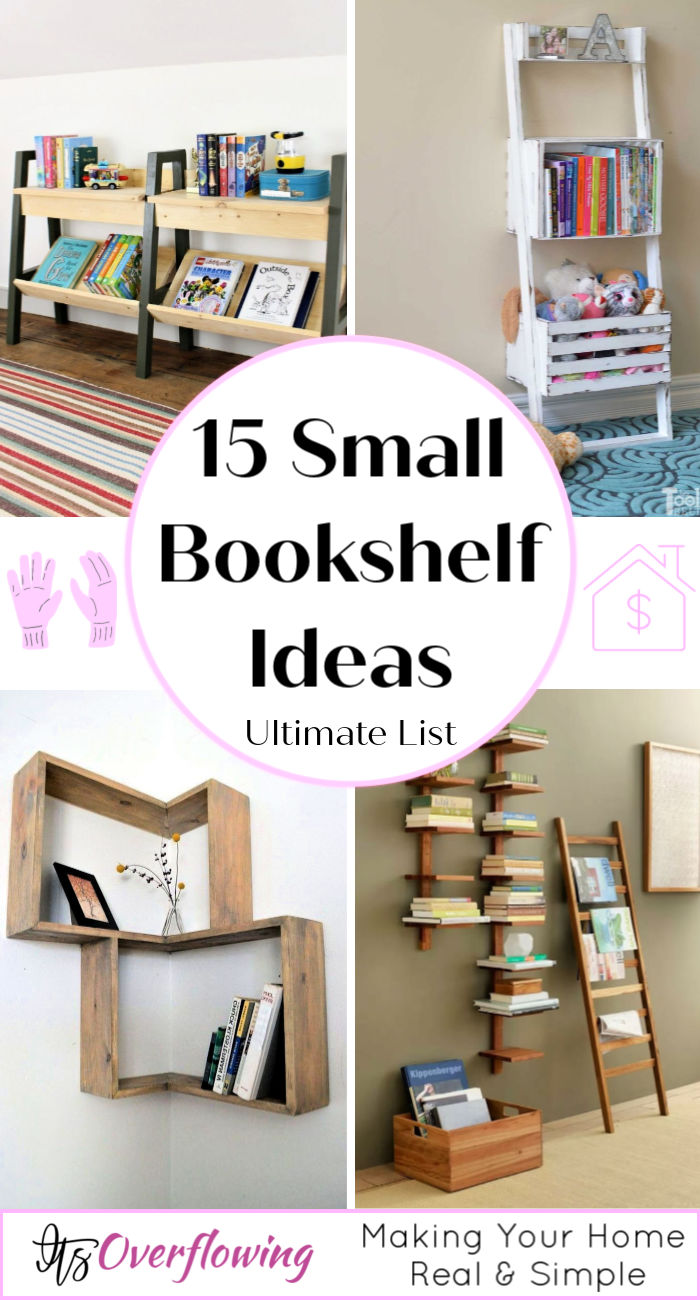 You can make leaning crate bookshelves and small bookshelves for kids. Small floating shelves can be carried anywhere required that you can install in less than 15 minutes. All in all, the life of book worms can get easier with these DIY bookshelf ideas.
1. Simple Small Bookshelf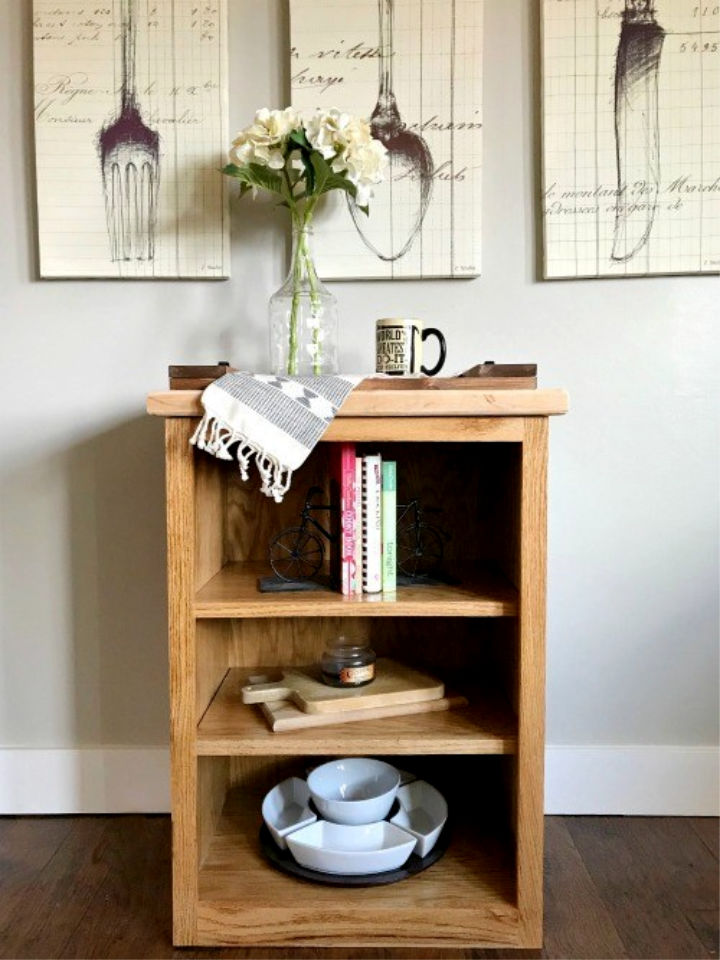 Get your hand son oak plywood, Kreg pocket hole jog, drill, circular saw, wood glue, and brad nails to build this whimsical, simple, and small bookshelf. Decide the size of your bookshelf first and then make the cuts first to get started. woodshopdiaries
2. DIY Mini Bookshelf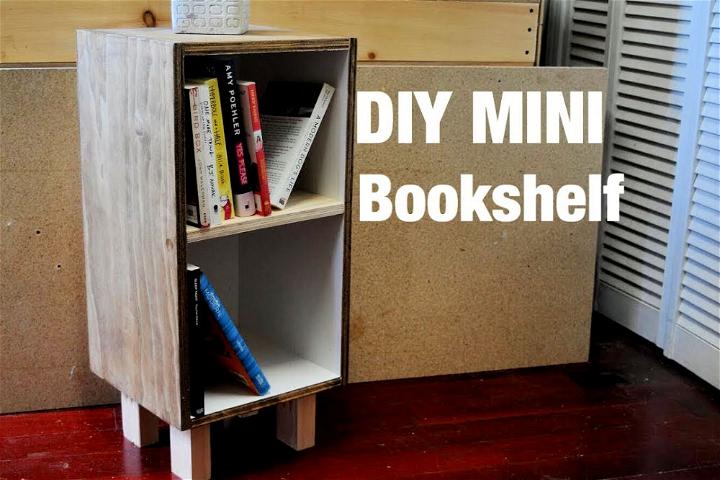 Sometimes all you need to have is a mini bookshelf at the side of your bed. So that you can easily pick a book for a good night's sleep. The video tutorial will escort you throughout the end, leaving you with an amazing DIY bookshelf. DIY it, use it, and chill! youtube
3. DIY Knock-Down Shelves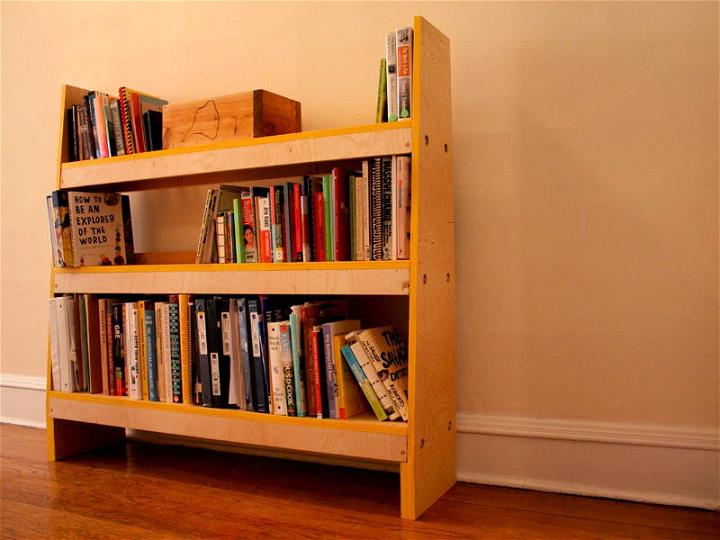 Get yourself a DIY project that is super simple yet elegant and can carry your entire stock of books. This DIY small bookshelf just needs some basic materials to build. Like sheets of plywood, screws, nuts, bolts, washers, dowels, glue, and paint. The small bookcase tutorial will guide you through with illustrations and step by step design. instructables
4. Build a Small Bookshelf In Two Hours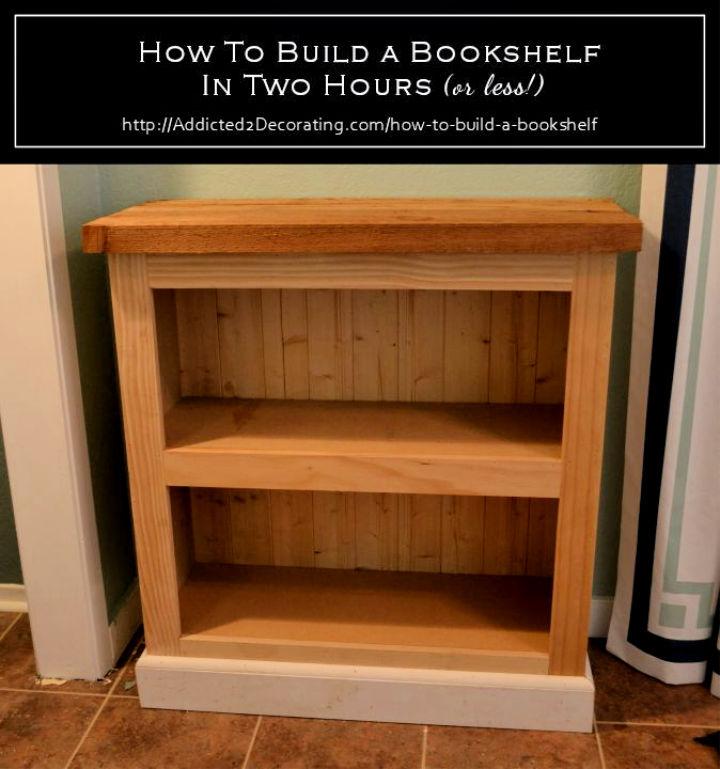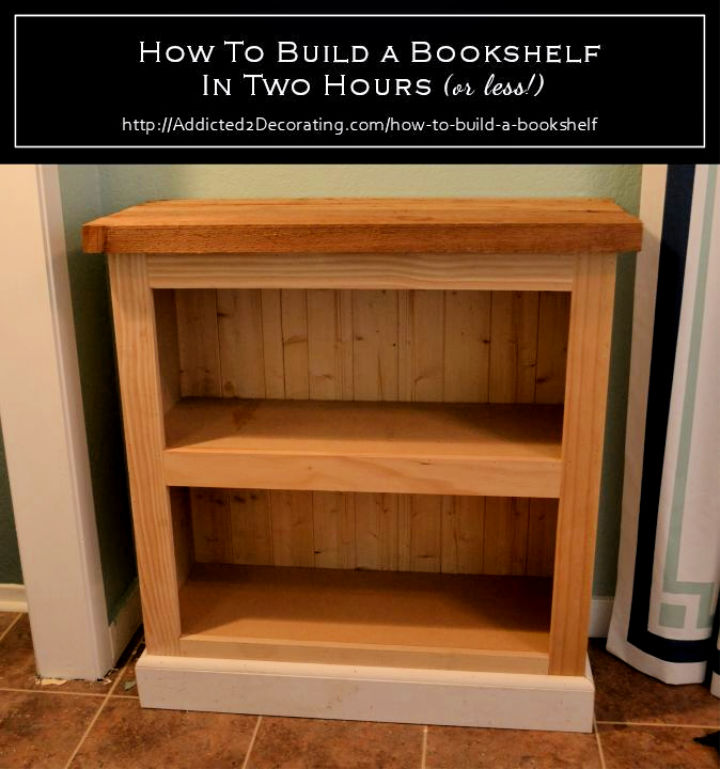 Believe it or not, but this masterpiece and small bookshelf are made out of using scraps. Mainly with some pine paneling boards. Along with thin wood glue, circular saw, and a few more supplies. addicted2decor
5. DIY Horse Bookshelf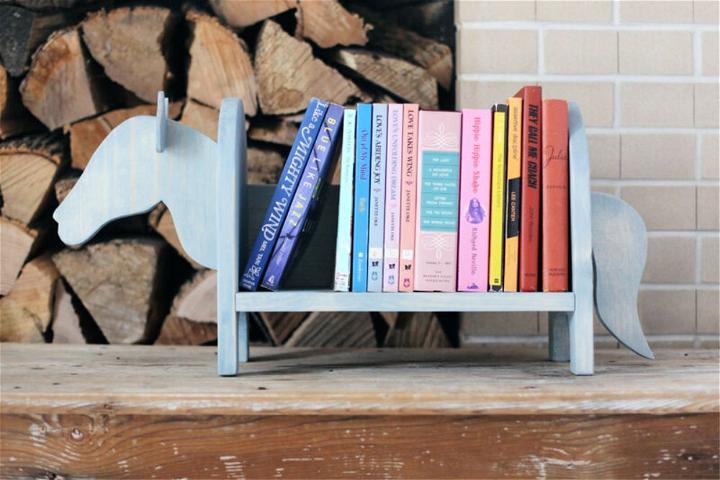 Our short bookshelf ideas are a perfect solution for maximizing your home storage space. With small cash flow & sweat equity, you can have amazing cheap bookshelves, too! Look at this cute little horse! It makes such a spectacular bookshelf without any doubt. Build this mini horse bookshelf by using supplies like a common board, screws, plywood, drill, scissors, steel wool, and jigsaw. The tutorial will walk you through the step by step tutorial. abeautifulmess
6. Small Bookshelf for Kids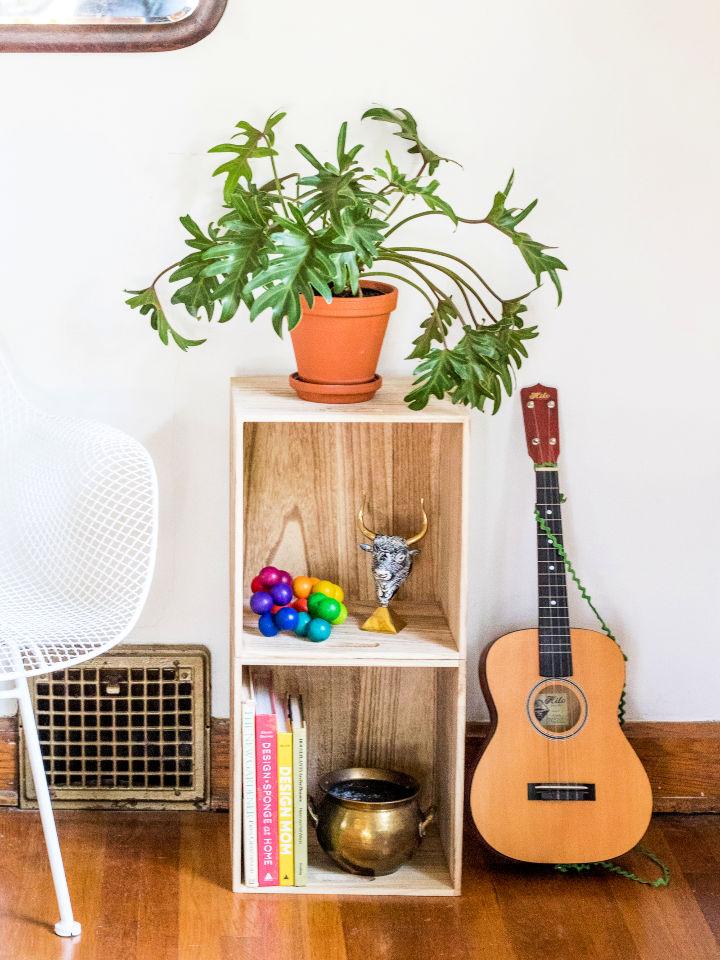 A perfect small bookshelf is what you need to build today for your kid's room or reading library! Needed supplies would be pillow fort wood crates, wood glue, hammer, nails, and clamps. Give it a try at home as commercial bookshelves are surely a bit too expensive. theboozybungalow
7. Leaning Crate Ladder Bookshelf and Desk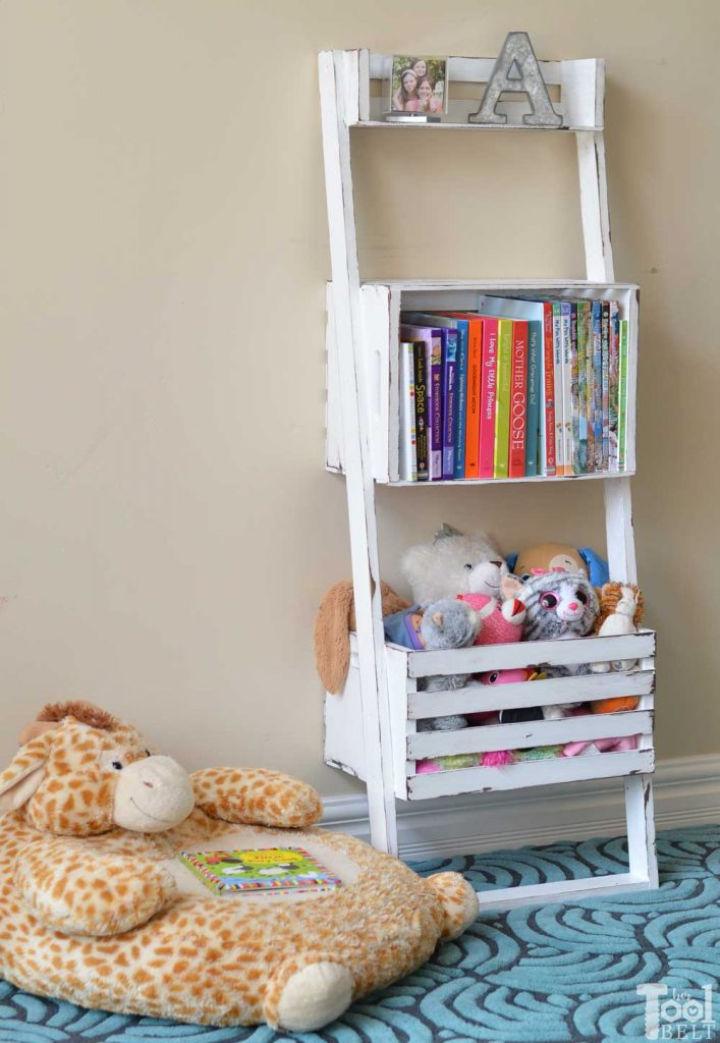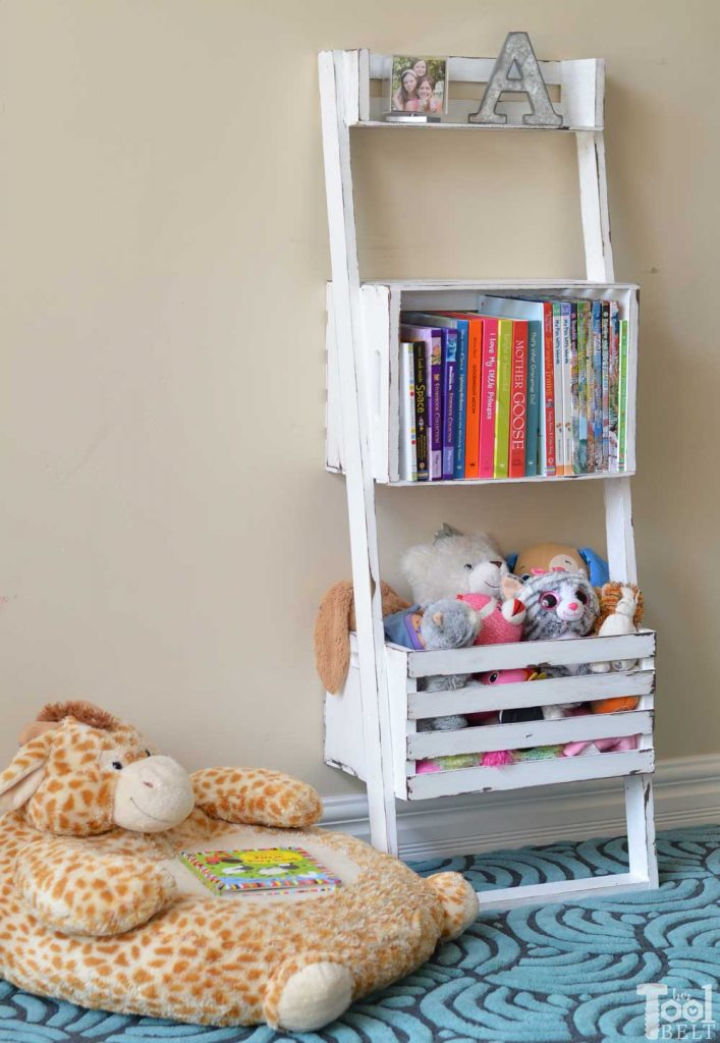 Have you ever thought of making a leaning crate ladder bookshelf along with a desk for your kids? If not, then now is the time to do so! It is super elegant for the decor and will also fascinate your children for reading more. Check out the tools, supplies, cut list, and procedure of making this project to get started. Find short bookshelf here, hertoolbelt
8. Midcentury Modern Bookshelf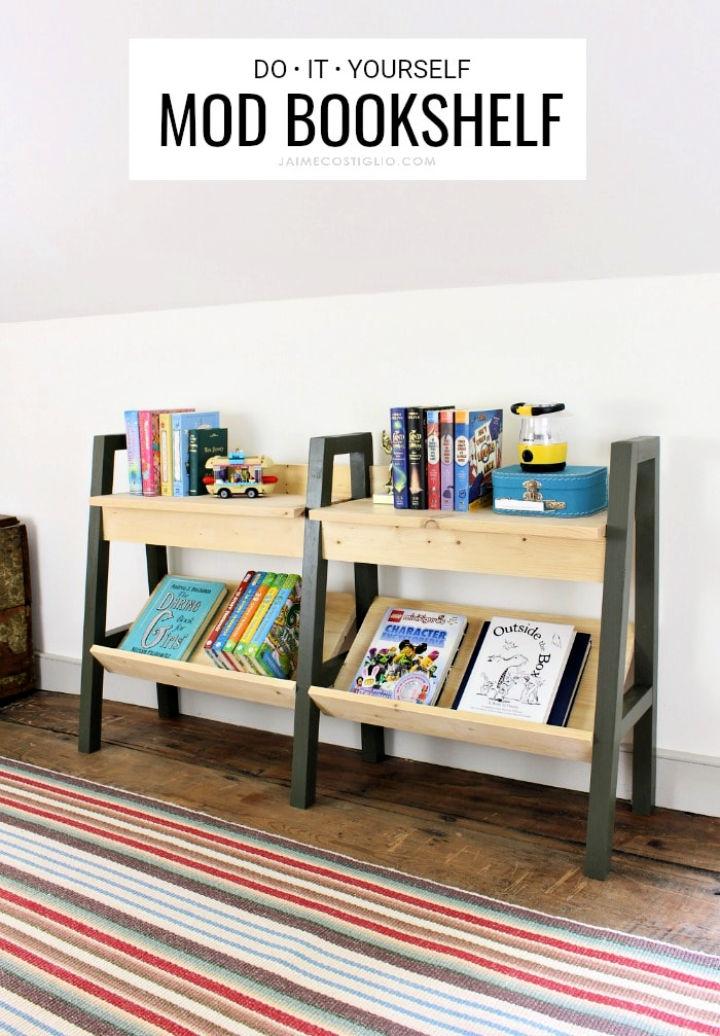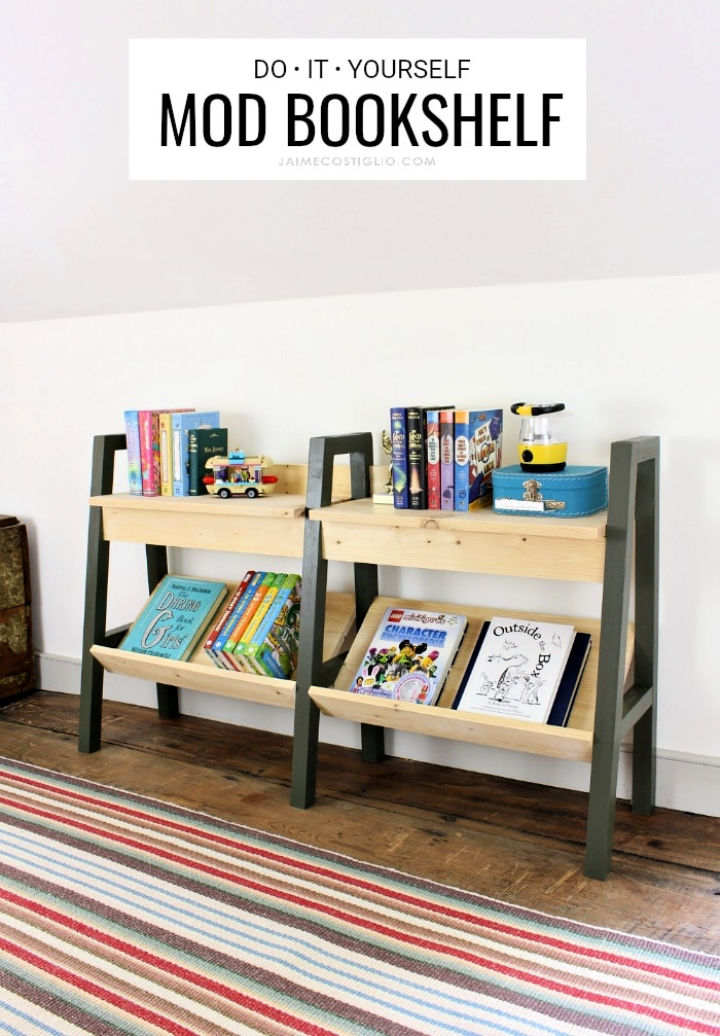 It can be pretty challenging to make your kids learn the art of decluttering. While it may seem impossible to do, but this mid-century modern bookshelf says otherwise. It is of ideal size to help kids keep their books in place and pick them up too! It's an easy build, check here. jaimecostiglio
9. Small Bookshelf Out Of Angle Irons and 2x10s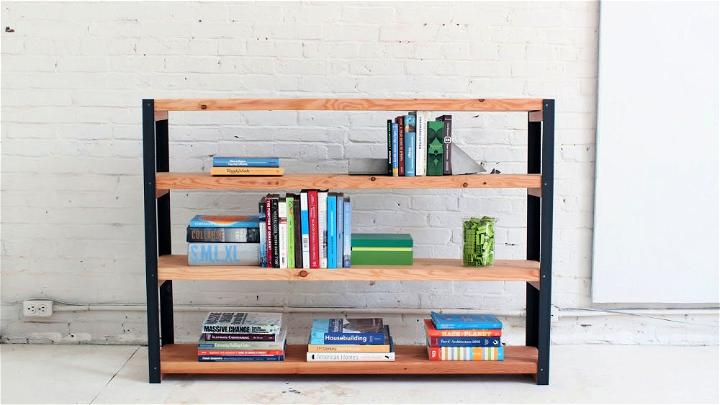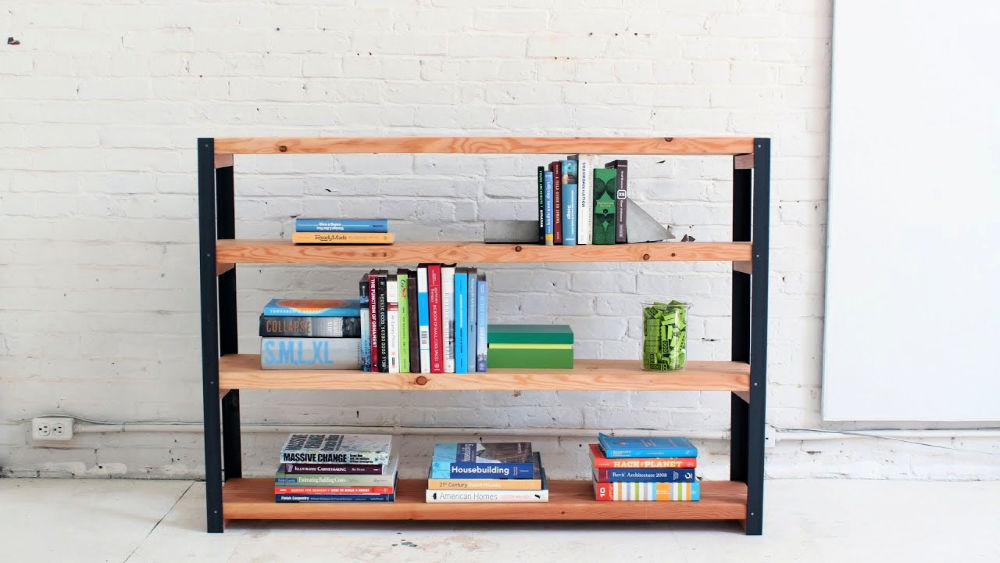 Hop on to this video tutorial to see how you can make a small bookshelf out of angle irons and 2x10s. It is pretty simple to make! So much so it would hardly take up one evening. Certainly, this is an affordable bookshelf with style in check. Build it at home and enjoy it! youtube
10. Easy to Make Small Bookshelf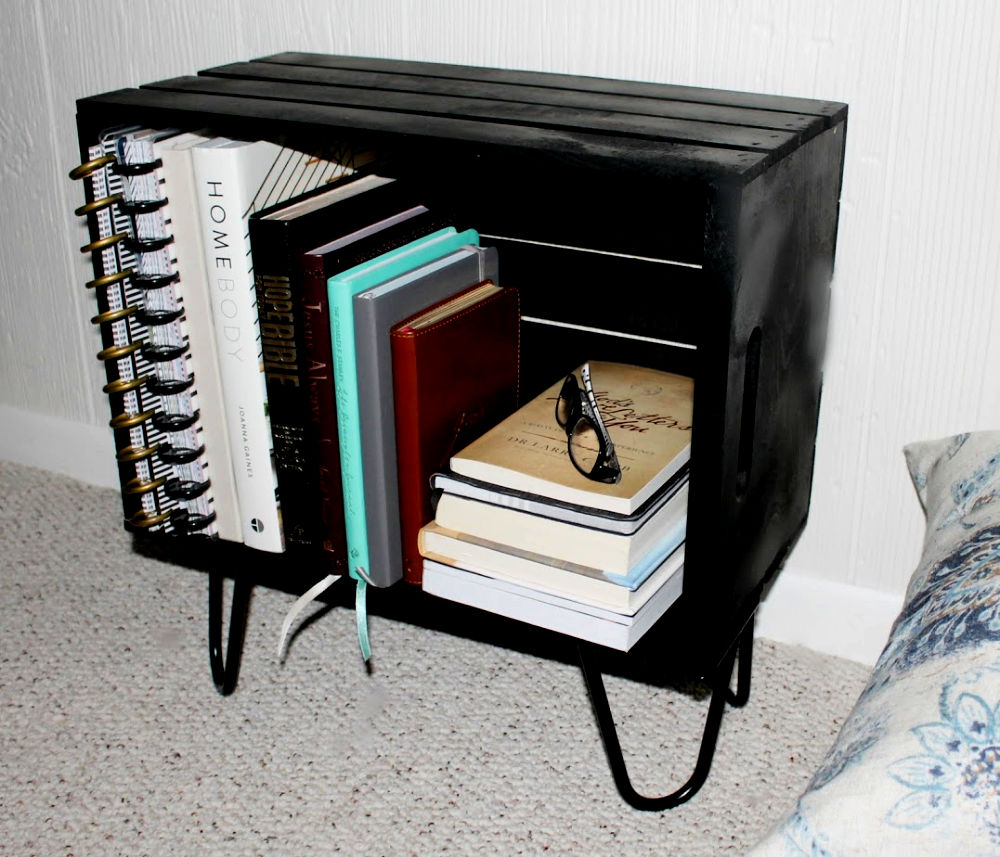 Got an old crate? Time to put it up to a stylish storage idea. Paint the crate and add some hairpin legs to elevate it from the floor. You can buy these hairpin legs online easily. Put it around your favorite chair, books inside the crate, and a coffee cup on the top. lovingmynewsimp
11. How to Make a Vertical Bookshelf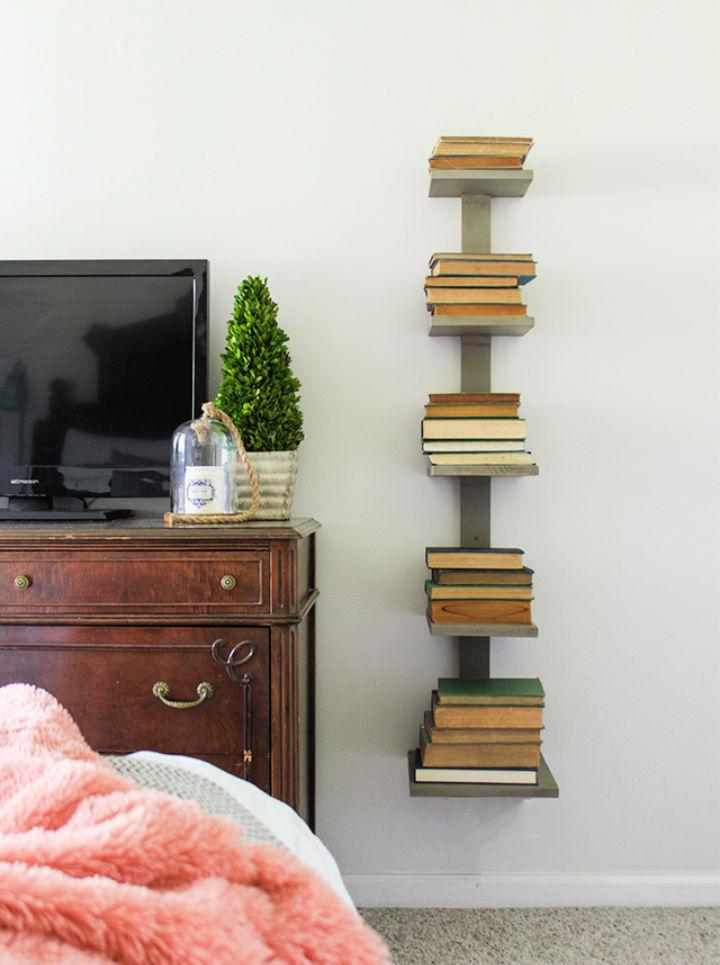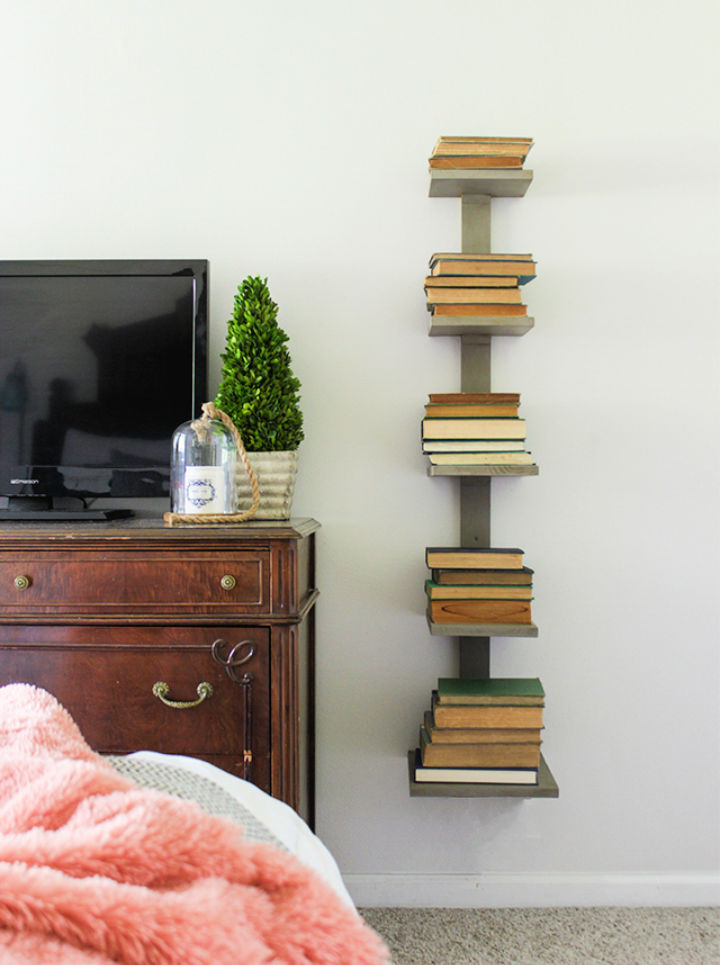 Looking for easy to make bookshelf ideas for that flea market or thrift store find? Here are our 15 DIY bookcase makeovers you have to see. Creating functional and stylish storage for your books in a small space is an ideal decor spree you should be going on this year! Get yourself instructions on building this vertical bookshelf. This five-shelf unit can hold quite a lot of your book collection. Check out the supplies and instructions to get started. ehow
12. Modern Side Table Bookshelf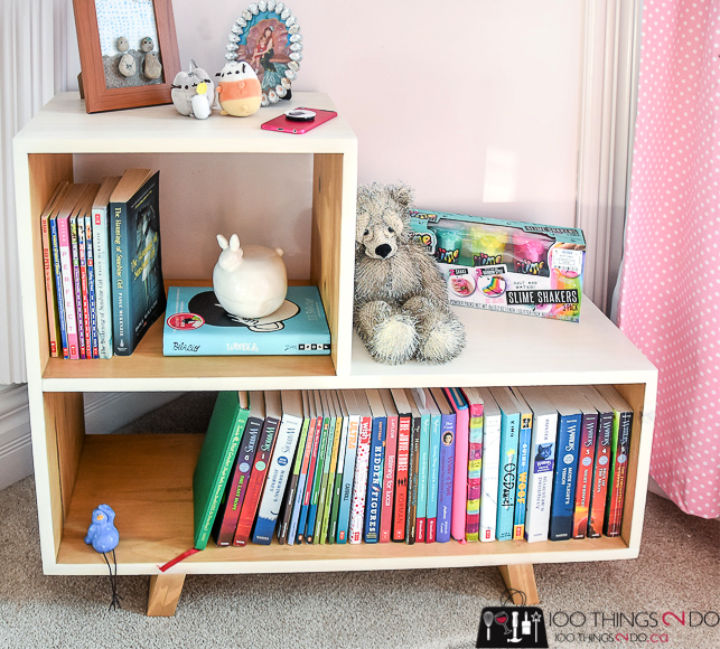 The side table bookshelves are pretty functional. Especially for the lazy people who love bedtime reading. This project will help you out to keep your books nearby. Along with tools and supplies, hit the small bookcase tutorial for a complete construction plan. jenwoodhouse
13. Corner Bookshelves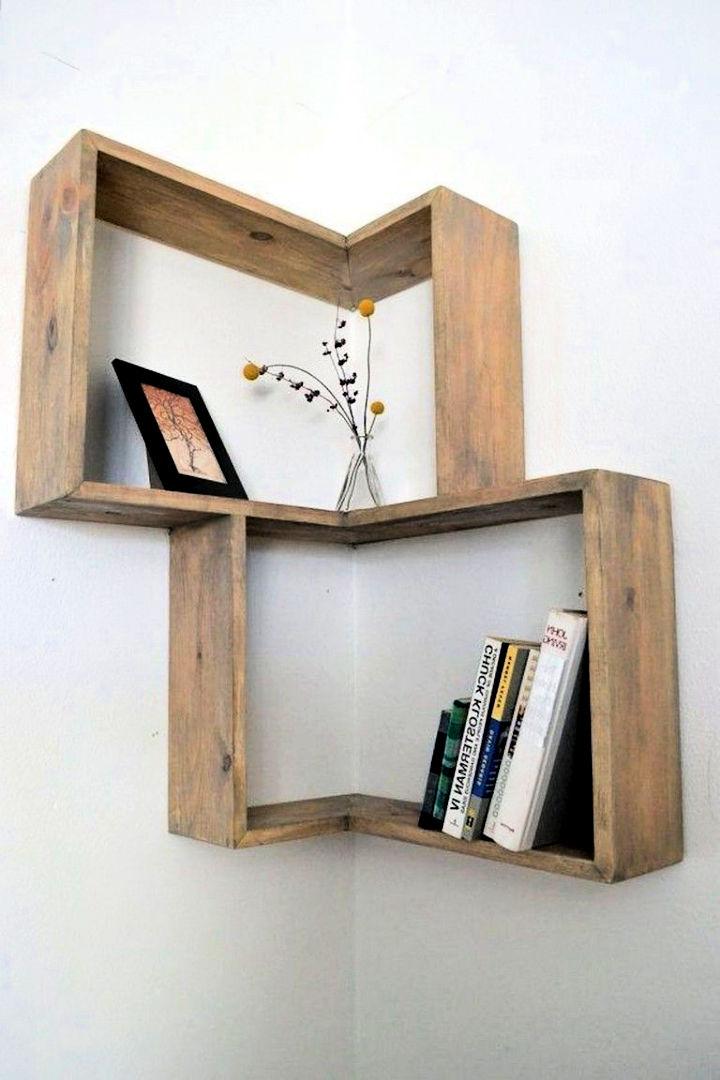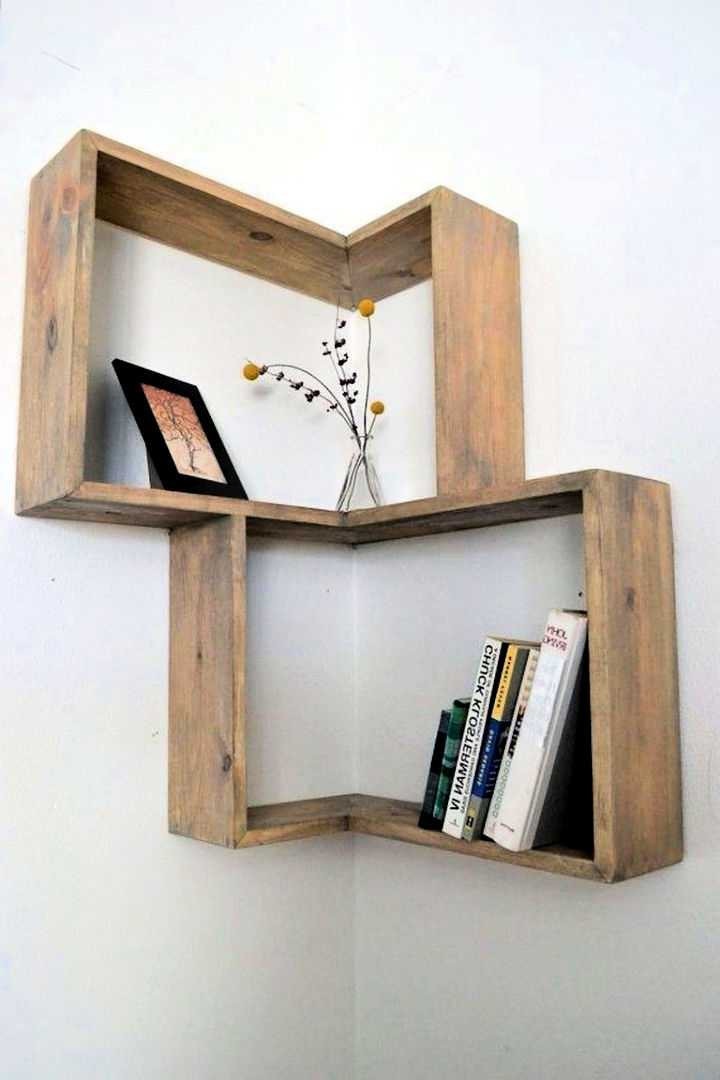 You know how to corner bookshelves can be a perfect interior decor for your home. You can utilize the corners of the wall perfectly well. Plus, it will bring quite the charming decor look to your TV lounge or your bed room's corner. Get started.
14. Floating Small Shelves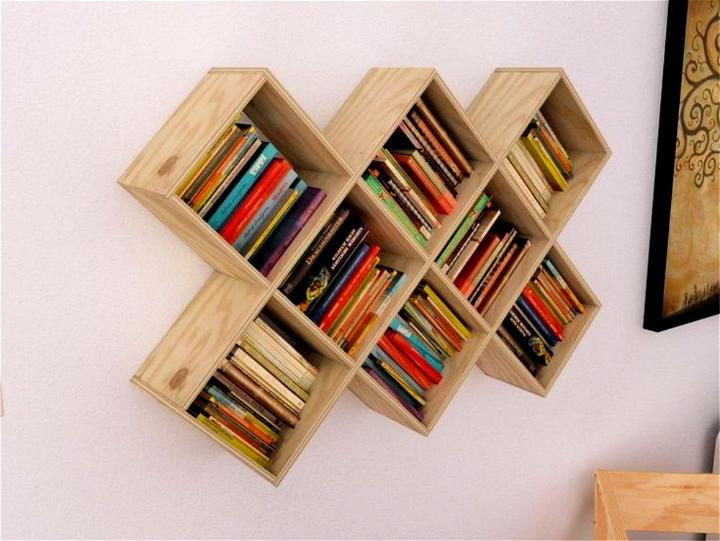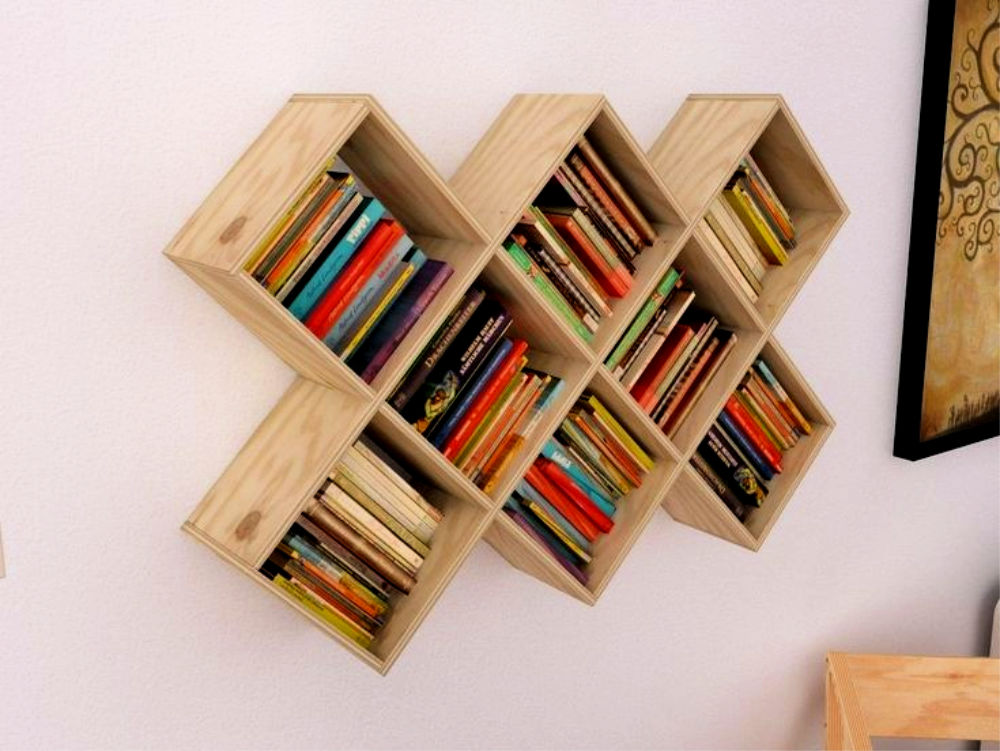 When you are out of floor space, these floating bookshelves will help you out to organize your books in quite a stylish way. This project is insanely economical, as it does not require a lot of supplies and uses plywood! Furthermore, you do not have to be a pro at woodworking. Just the basic skills will do!
15. Inspiring Small Bookshelf Ideas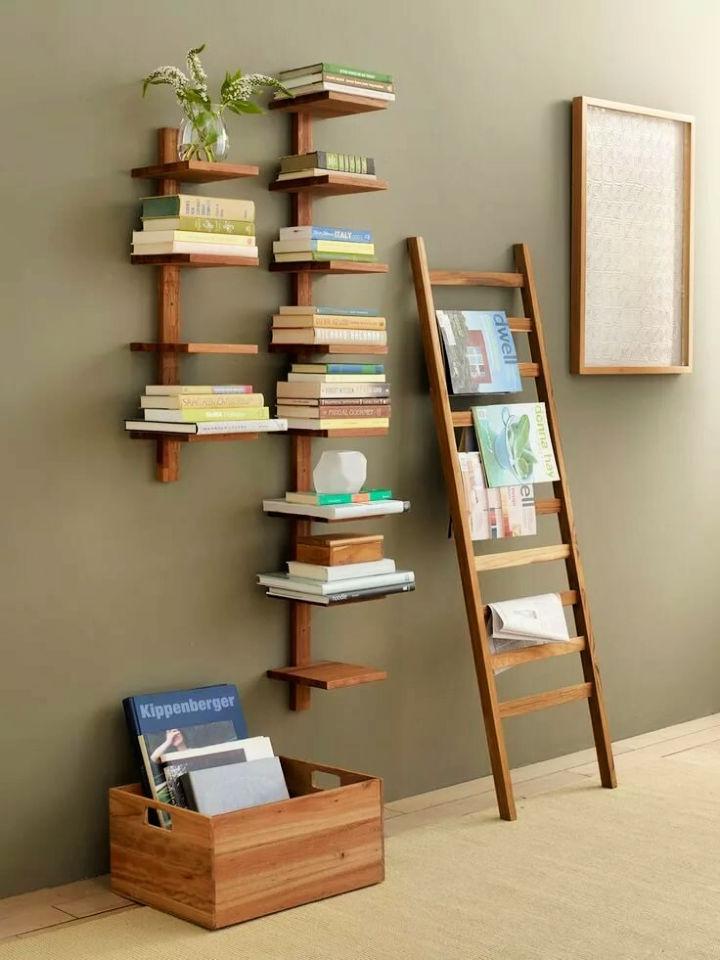 With all the yelling and running of your children going around in your home, you must build this inspiring bookshelf to introduce some peace to your place! It is easy to build and simple to clean. Also, it will keep all the drawings and storybooks of your kids in one place. Check out the supplies and get started.
Conclusion About Making Small Bookshelf:
We are sure these bookshelf ideas will be helpful in planning a DIY project this season. You will turn your lousy day into a constructive one while providing a perfect home for your homeless books. No need to spend extra money to buy an expensive bookshelf. Just gather some basic equipment and start making your customized and small bookshelf as per the requirement of your home. You can color customize your DIY shelves according to your room's theme. Variations are always welcome!