Get more ease in the poultry management by installing these DIY chicken waterer projects that are mostly the automatic chicken waterers to easily serve water to all chickens. This list of DIY chicken waterer will not take much space and will provide water to a lot of chickens quickly at once. The chicken waterer ideas introduce a variety of homemade chicken waterer systems that will suit different needs and will beat the market-bought ones in both price tags and functional behavior.
Let the DIY creativity make you more comfortable, check these DIY chicken waterer roundup that are self-made chicken watering systems and some work on the automatic phenomenon. Major of these DIY chicken waterer comes with automatic nipples waterers that have made the poultry a lot easier. However, you can install those nipples waterers to a lot of objects making lovely chicken waterers in no time.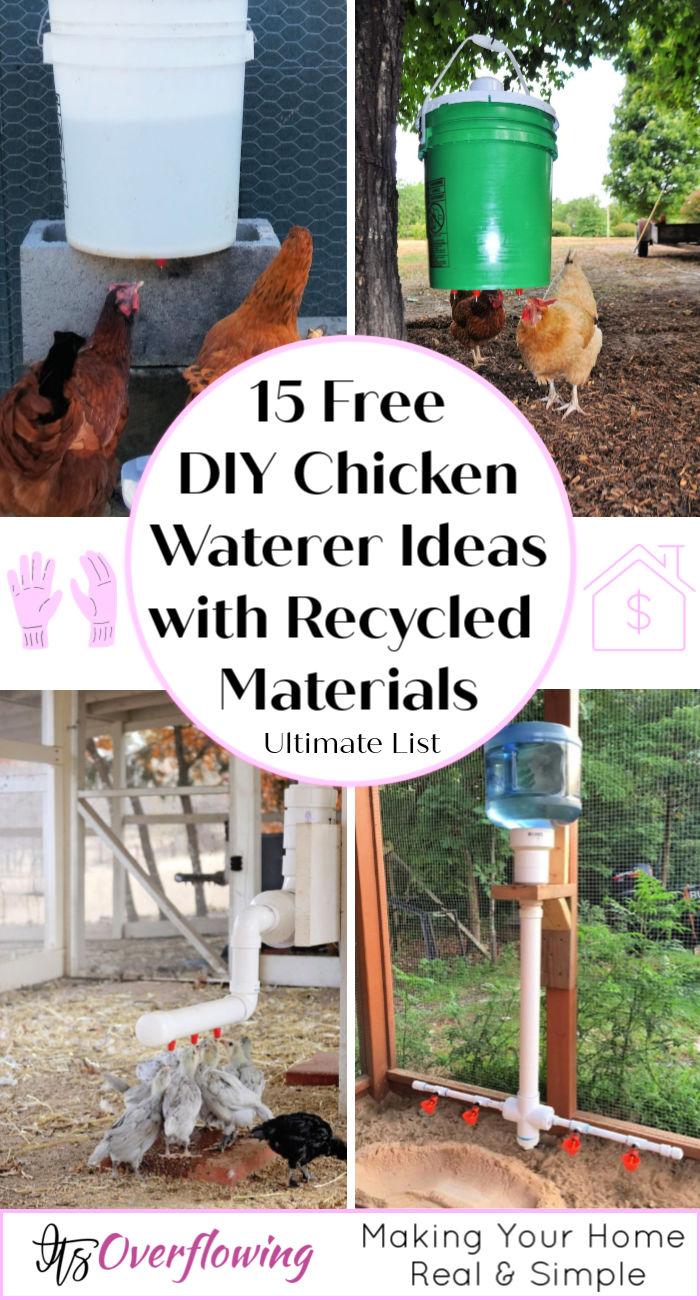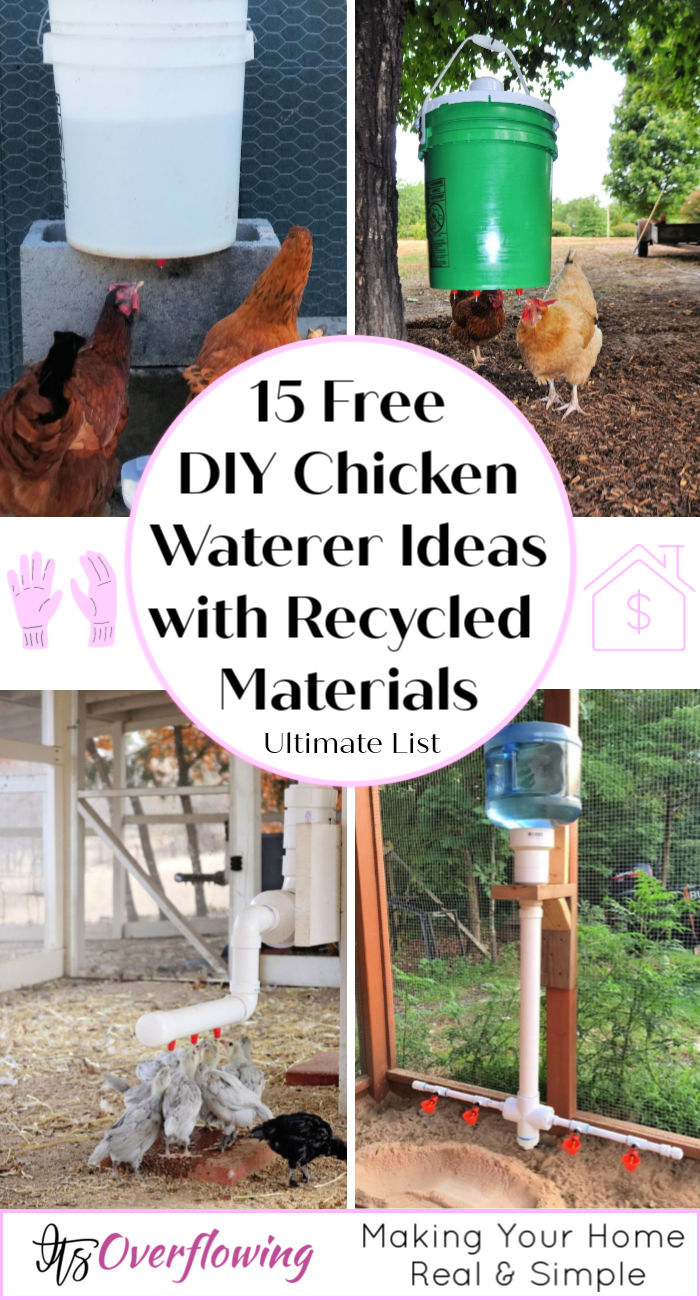 Just install those nipples waterers to the underside of your empty recycled plastic buckets and even to the vinegar cans to make quick chicken automatic waterers. Repurpose a glass jar and a glass bowl to make a whole transparent chicken waterer. Also, make holes in the bottom of a plastic soda bottle and place it in a plastic lid to gain a no-cost DIY chicken waterer. You will love the way these DIY chicken watering systems will serve to your poultry profession or hobby.
Next, just opt for the PVC pipes to build mind-blowing self-watering systems for the chicken that will cost you much less. See a variety of readymade poultry waterer by taking a short tour of the list.
1. PVC Chicken Waterer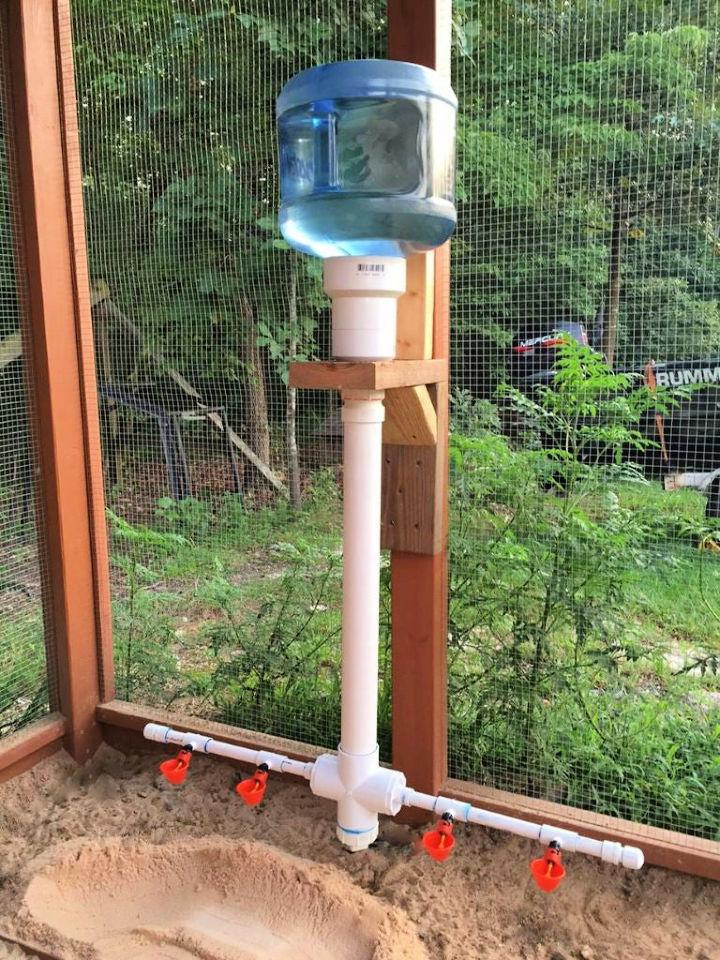 A chicken coop that comes with an attached chicken run must come with this DIY PVC chicken waterer that is quite inexpensive to make. You'll need the PVC pipes, cleanout drain plug adapters, adapter fittings, cross tee, bushings, PVC cement, and a 5-gallon water jug to make it. instructables
2. Chicken Waterer from Beverage Cooler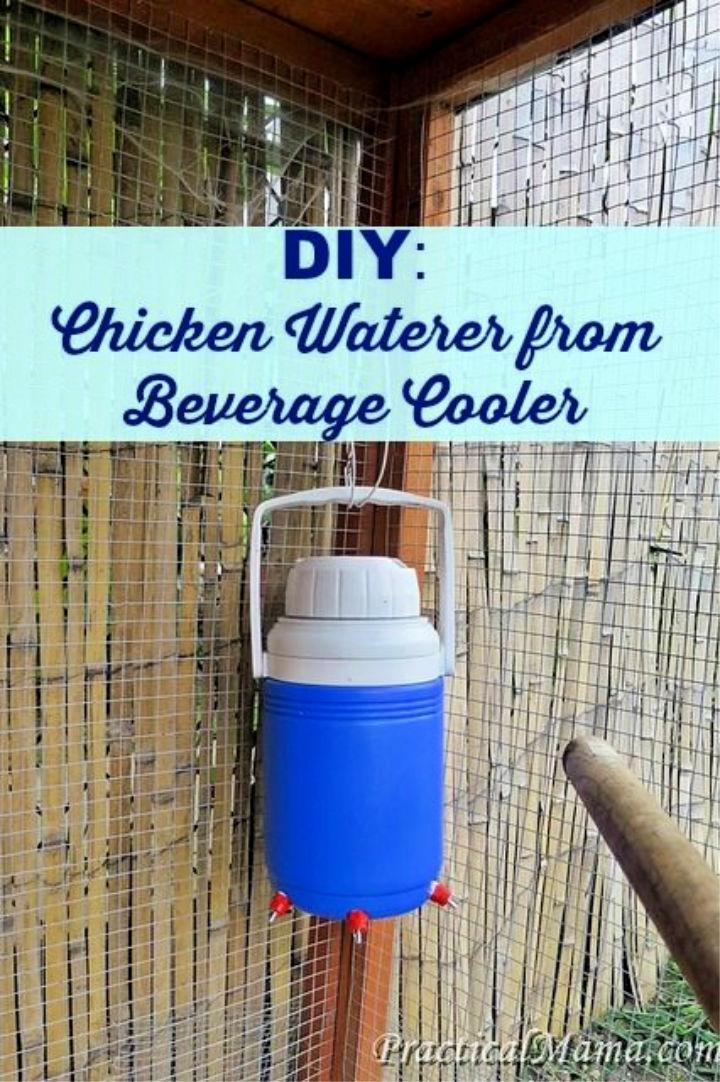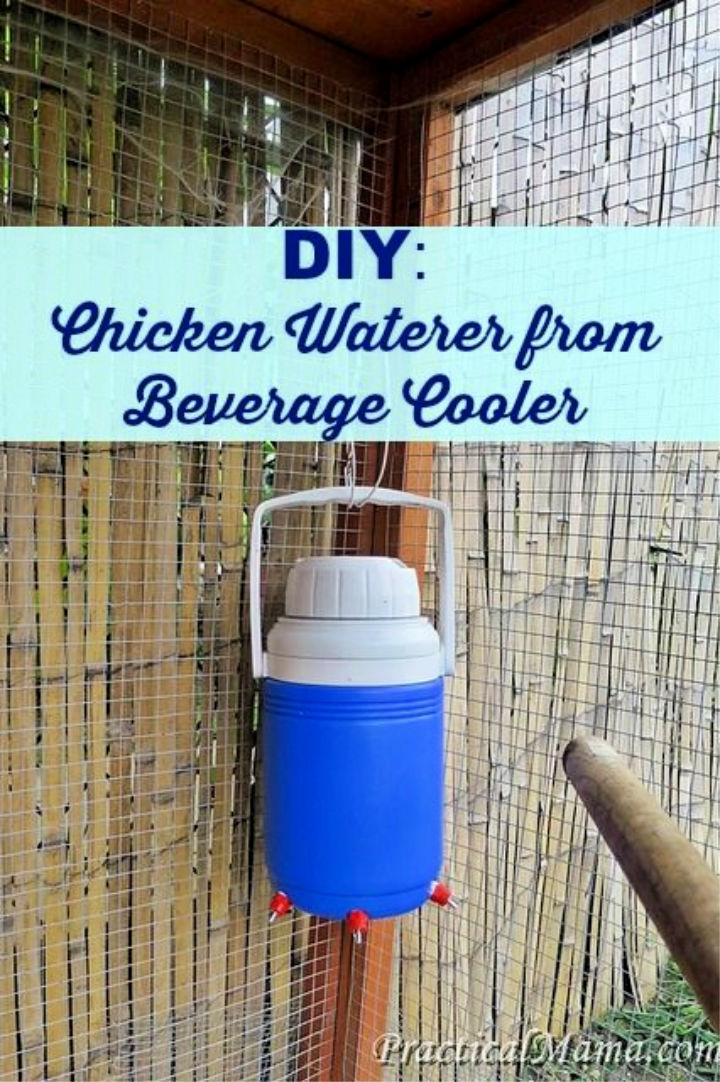 Repurpose also the beverage coolers from home to build a chicken waterer. Get inspired by the given sample that will be a smart addition to a chicken run or hen house. Just properly insert the nipples all around the bottom of the beverage cooler. And make sure they are not leaking even a little bit. Details here practicalmama
3. DIY Chicken Waterer 5 Gallon Bucket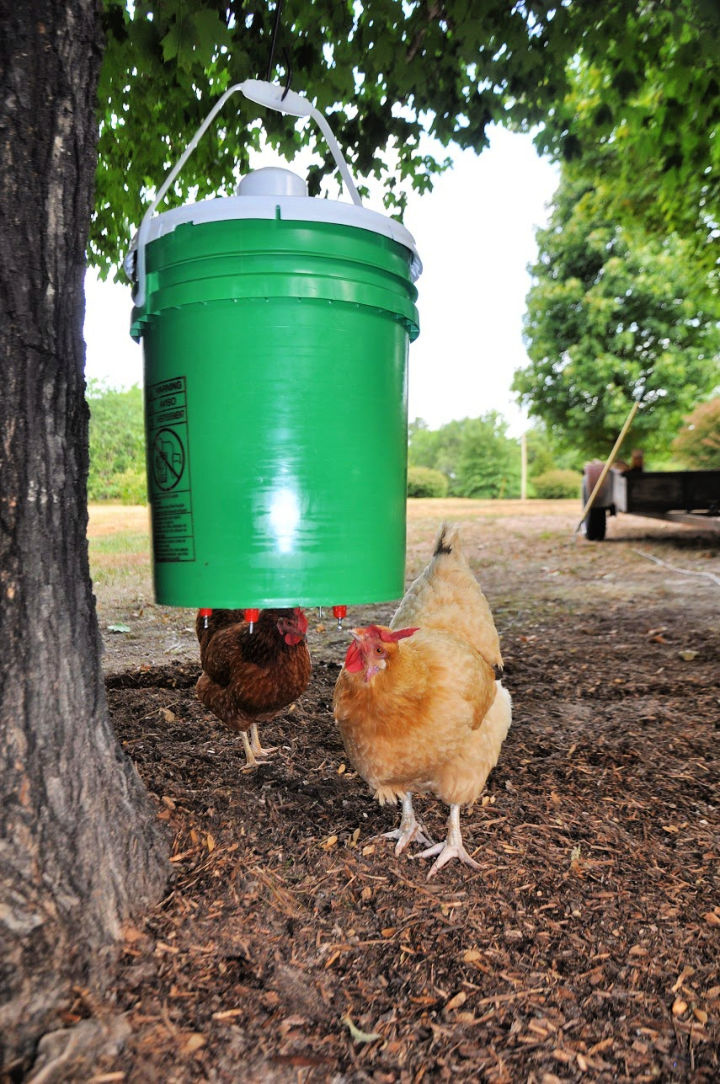 Recycle a 5 gallon bucket to make a chicken waterer at home. Drill the holes in the bottom of your bucket. And just fit in the chicken waterer screw in poultry nipples to make this super-cost efficient chicken waterer. Finish with silicone caulk. This homemade chicken feeder 5 gallon bucket project will cost you less than $12. communitychi
4. PVC + Soda Bottle Chicken Waterer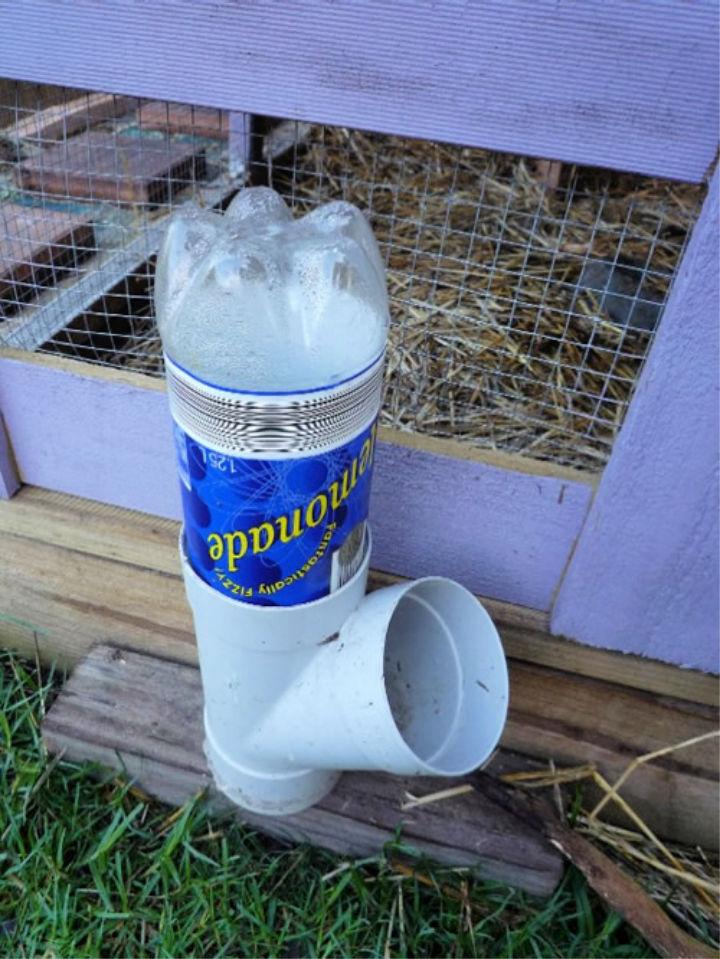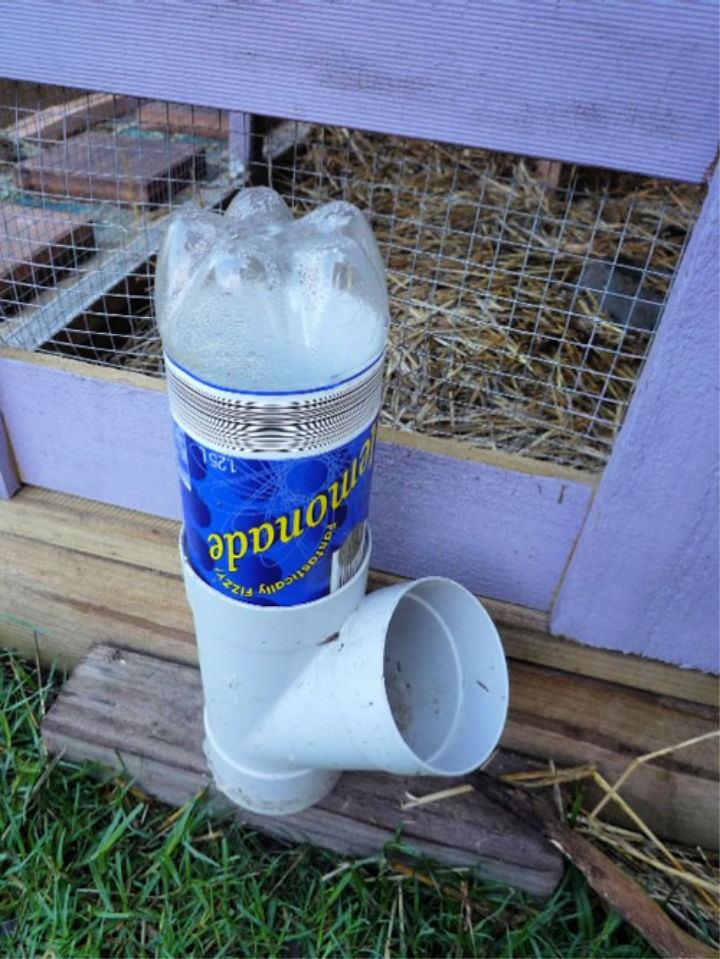 A waterer is a must to add a feature in the hen houses when taking the poultry as a serious obsession. No need to invest a lot in making a fabulous chicken waterer. Just grab the PVC Y fitting, a PVC ap, and some recycled materials like a soda bottle to make quick chicken waterer in no time. Details here homesteadlife
5. Glass Chicken and Poultry Waterer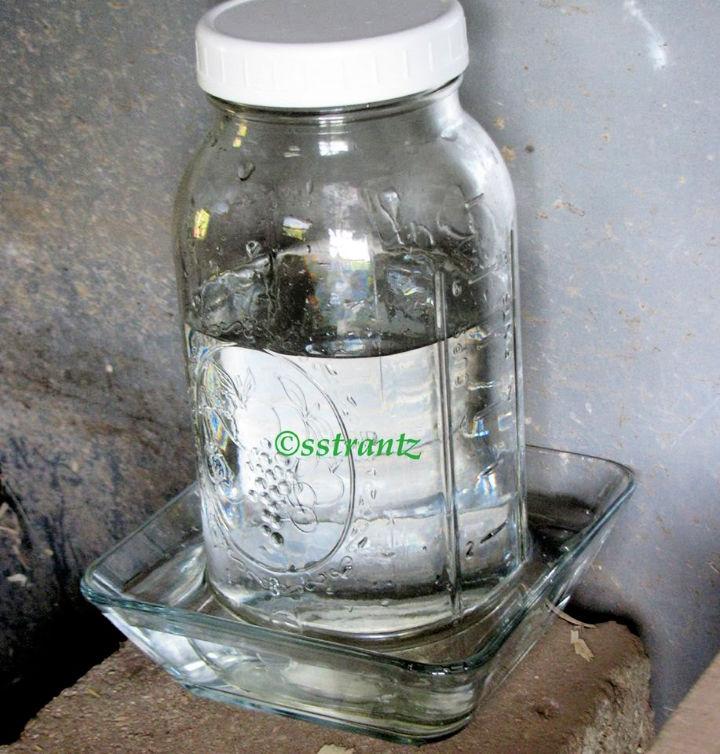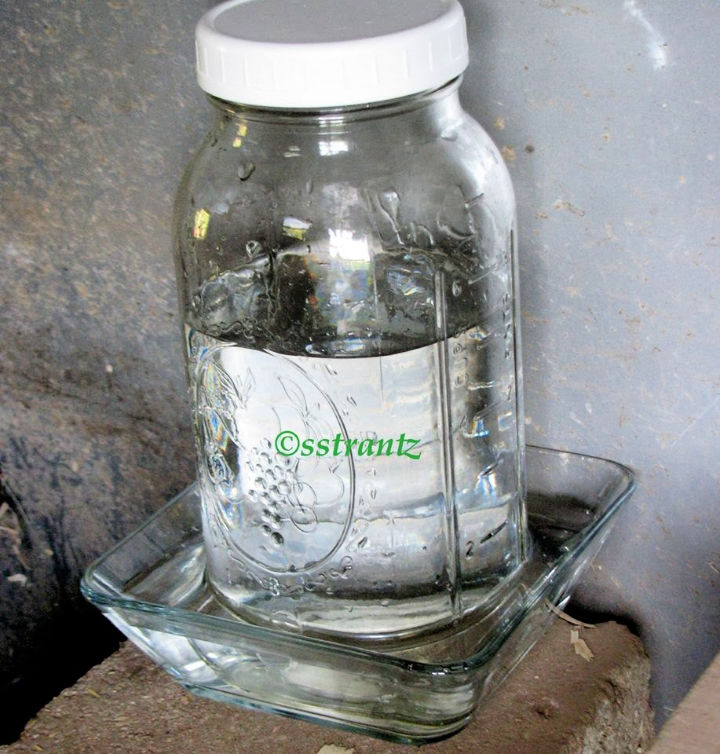 A one of the best and quickest to make DIY chicken waterer will rock for your poultry profession. Here you need a glass bowl and a recycled vintage Mason jar to make this glass chicken and poultry waterer. Just fill the jar with water and put it upside down in the bowl, next pour more water. Details here naturalchicken
6. Chicken Nipple Watering System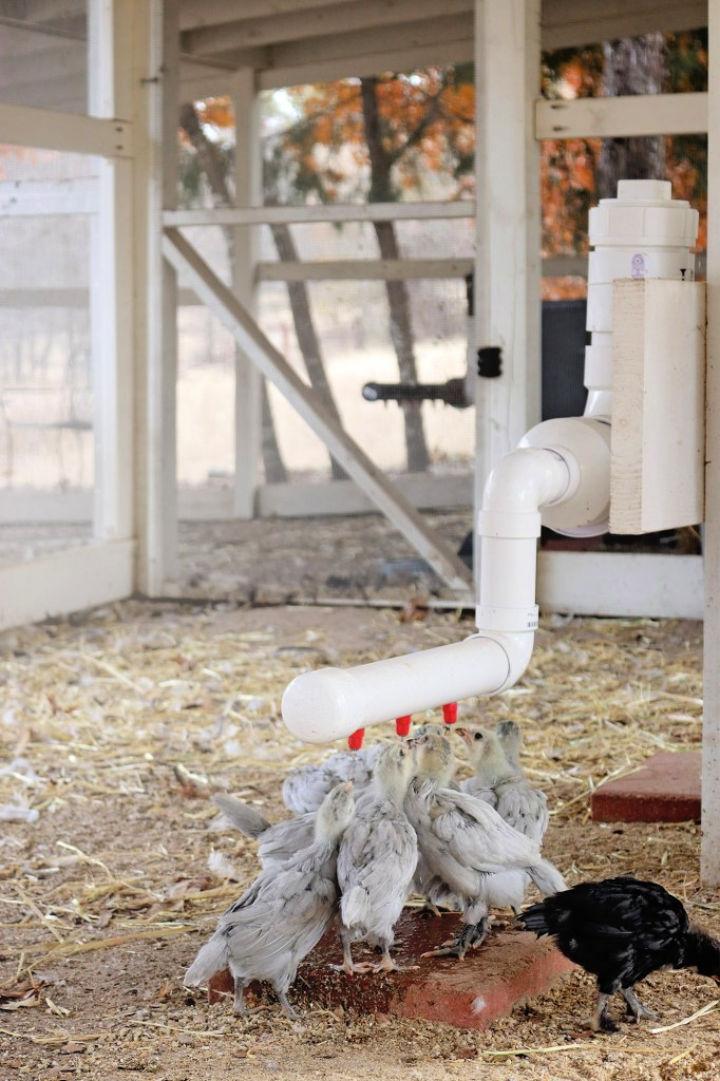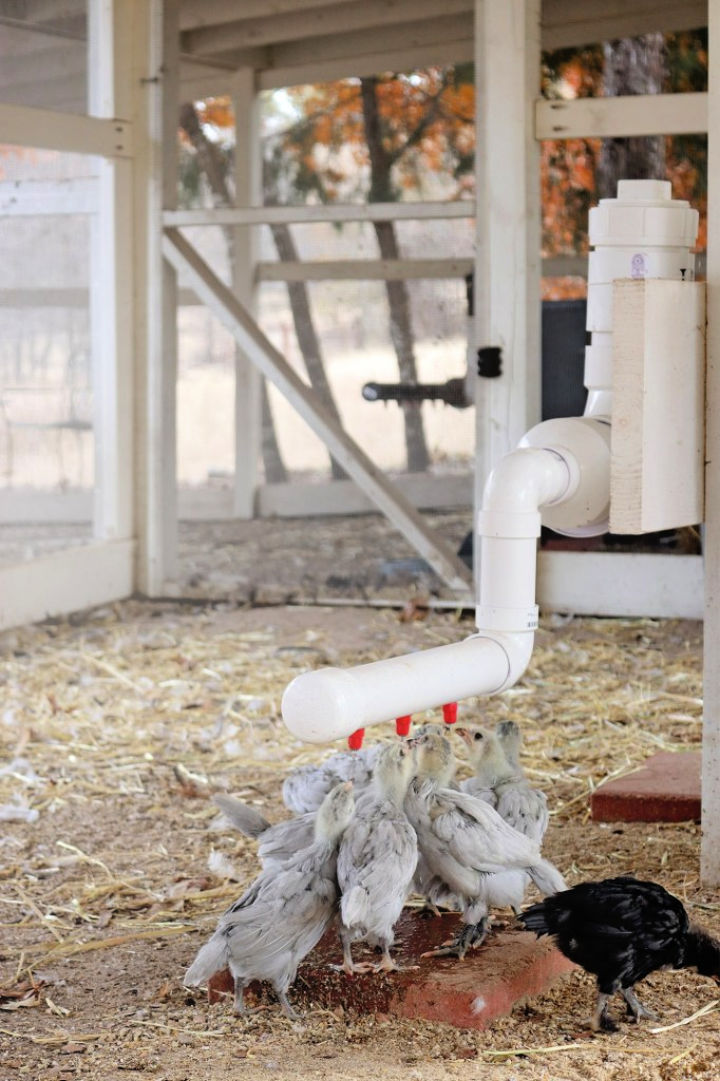 How to make an automatic chicken farm? In poultry, the chicken nipple watering system is highly popular, and you don't need to buy it now. Build this whole system using PVC pipes, couplings, caps, adapter fittings, cleanout plugs, hub tees, and poultry waterer nipples. One of the best chicken watering system ever made at home. threelittleblack
7. 5 Gallon Chicken Waterer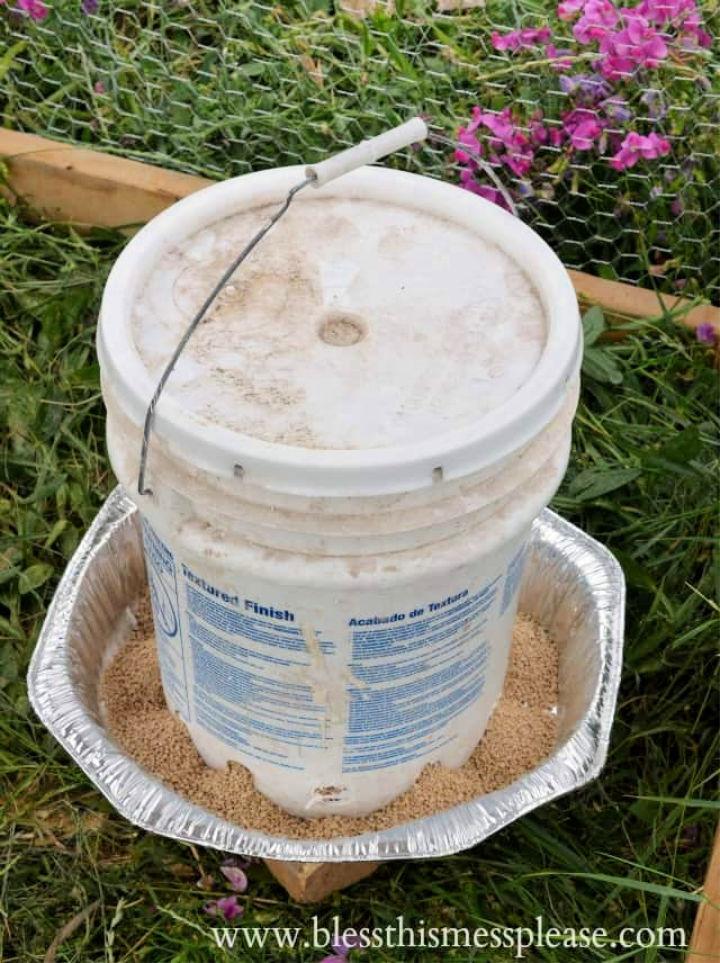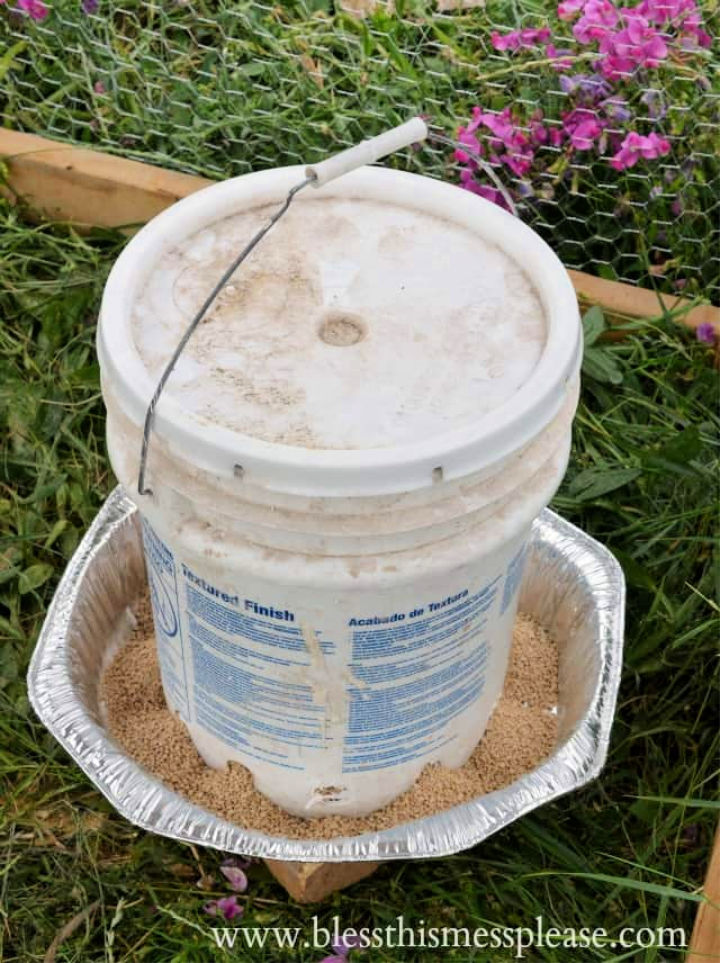 Don't throw the empty 5 Gallon buckets to dumpsters. Reuse 5 Gallen buckets to make no-cost chicken water bucket and DIY chicken feeder will be a smart addition to your poultry farms and chicken coops. Just make holes in the bottom of a 5-gallon bucket, and next put them in the large foil roasting pans. Next, fill the buckets with water. Find 5 gallon chicken waterer plan here: blessthismess
8. DIY 5-Gallon Chicken Waterer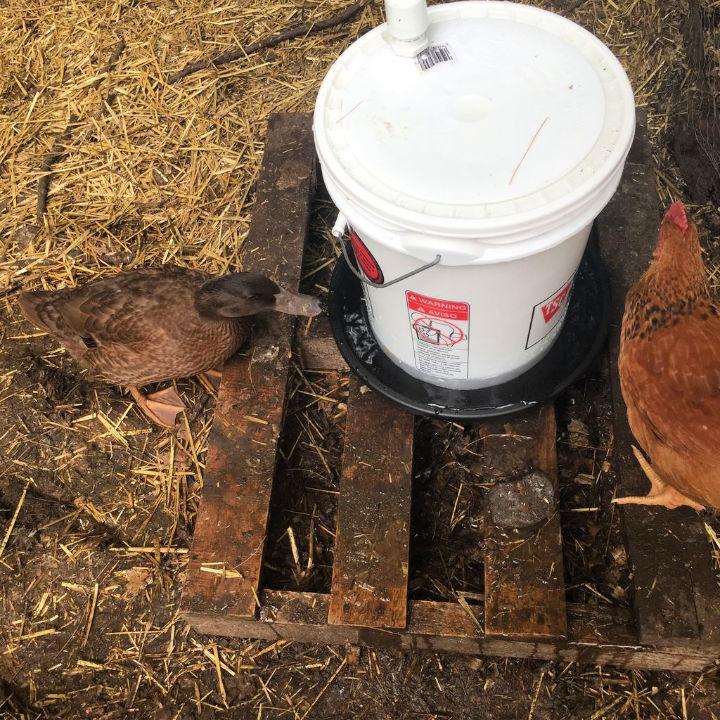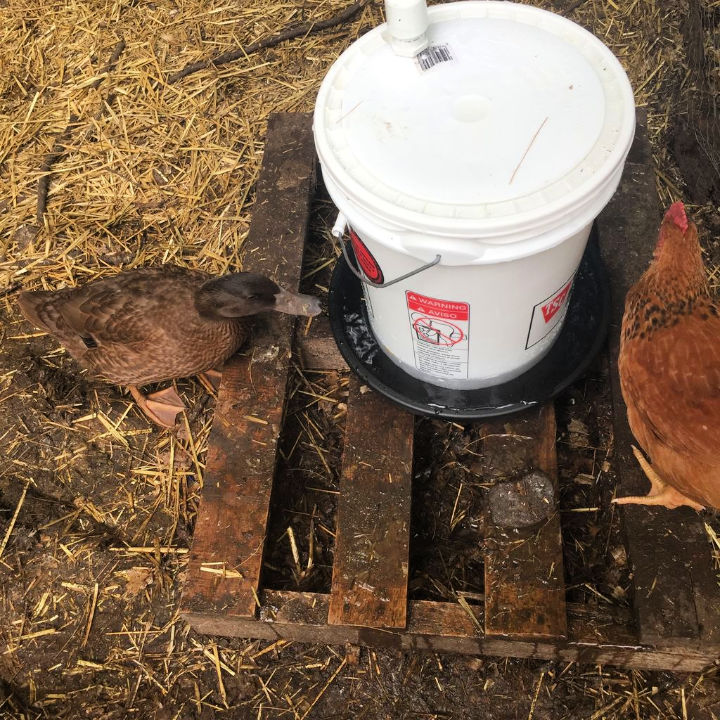 Get here free watering system plans for building a lovely DIY chicken waterer, will complete in no time. This project involves drilling the holes in the bottom of the bucket and then to fit the PVC adapter and caps. Next, just put the completed bucket waterer in a big garden saucer to watering chickens. Details here instructables
9. How to Make Chicken Waterer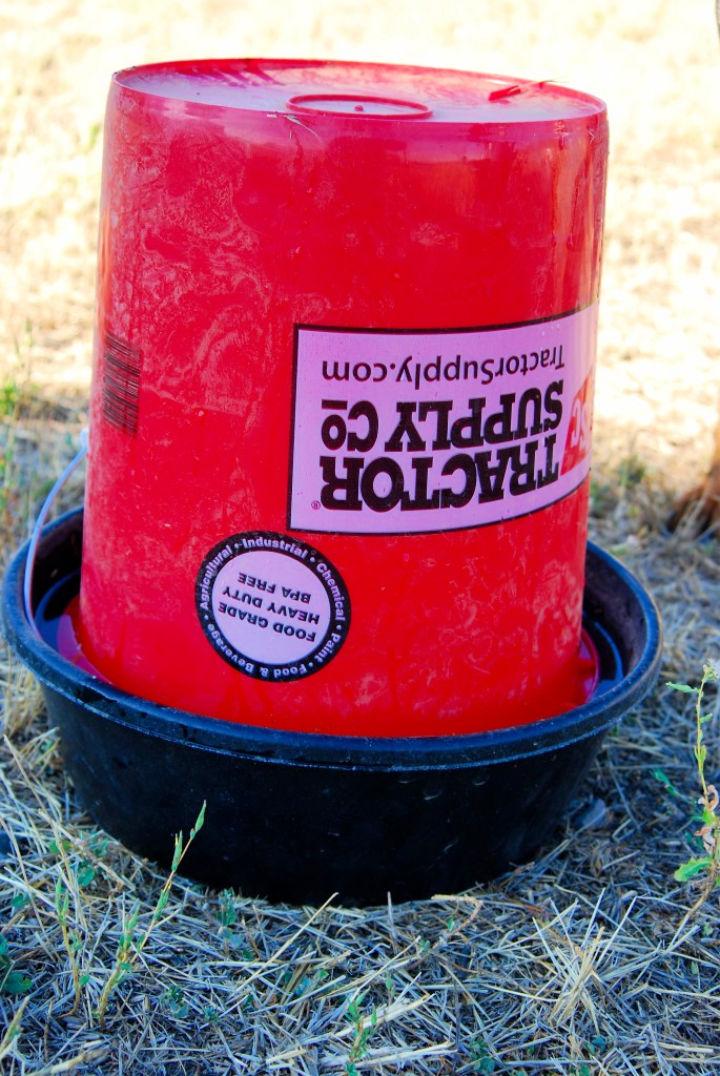 Building this chicken waterer will only demand two things, one is an empty plastic bucket with lid, and the other is a veggie tray. Just drill holes in the bottom of the bucket and then fix the veggie tray to the bottom side of the bucket to hold the water is leaking from the holes. Details here longbournfarm
10. Automatic Chicken Watering System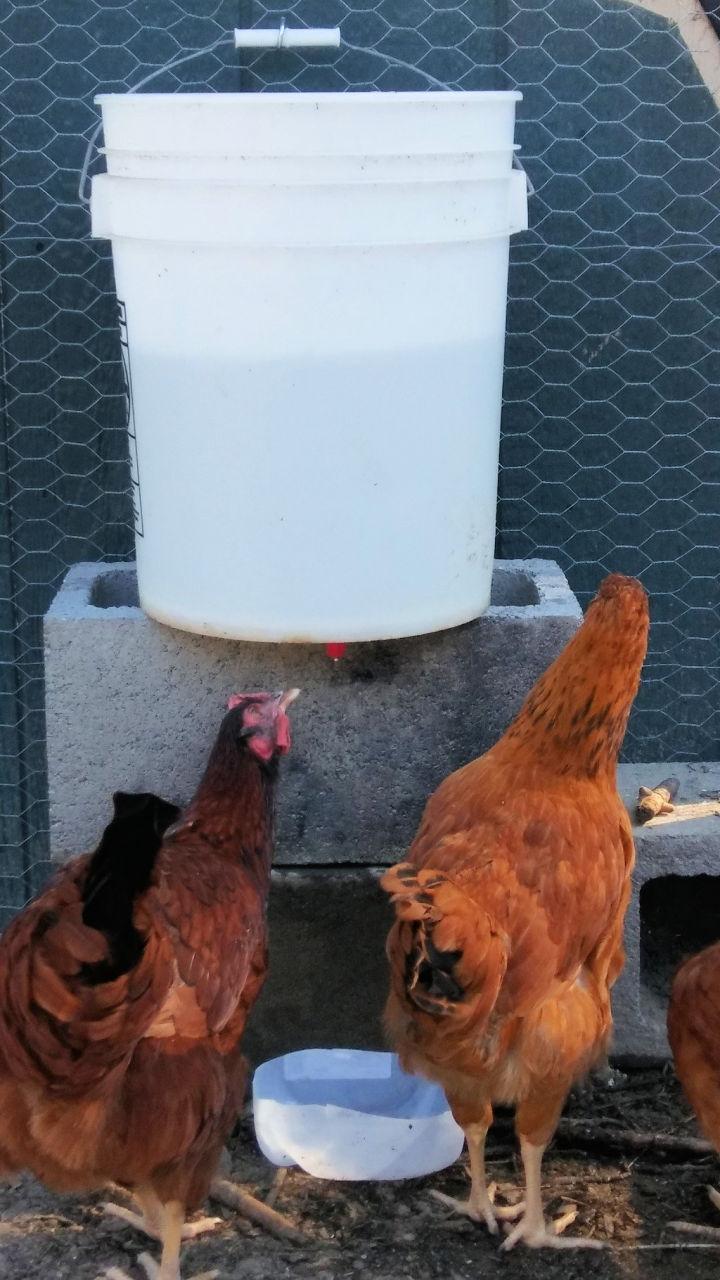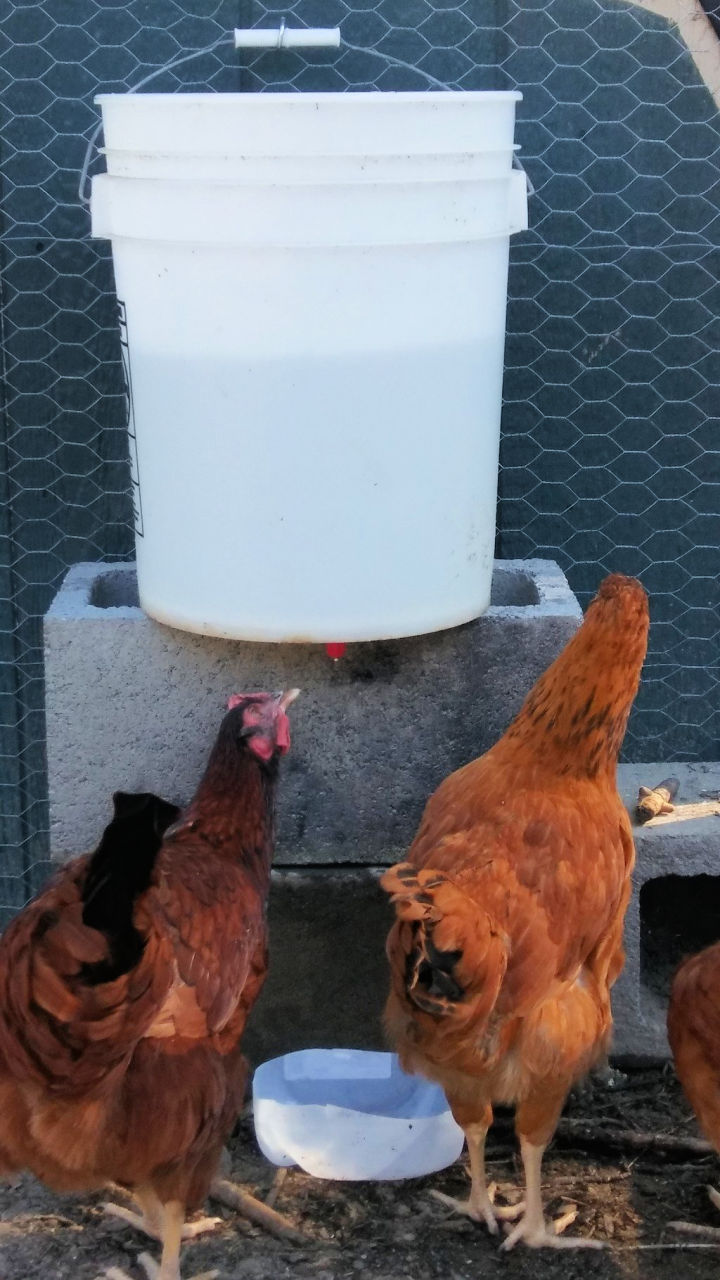 Spend a short amount from your pocket like $10 to build this automatic chicken watering system will work up super quickly. This automatic water dispenser will work up super quickly, and you need a 5-gallon bucket with lid and 4-6 nipple waterers to build this chicken watering system. Details here pethelpful
11. Gravity Fed Chicken Waterer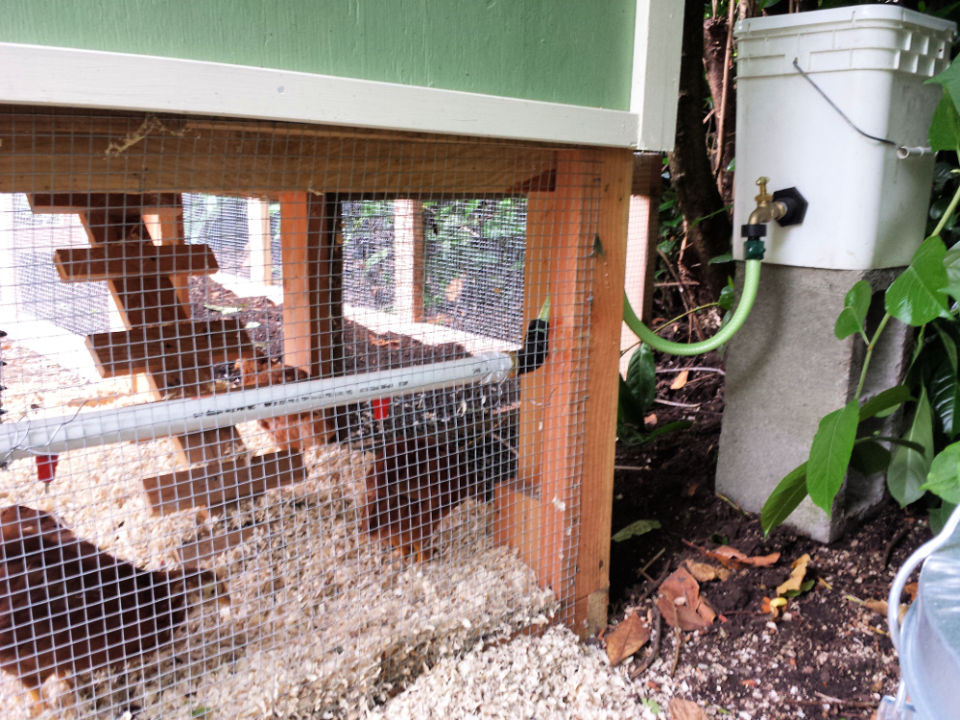 Make this gravity DIY chicken water using food grate square buckets. Here the bucket waterer will remain out of the chicken coop, and it will supply water to PVC pipe inside the chicken coop or run having nipples waterer fitting on it. Further, you need a garden hose, a bulkhead fitting, garden faucet, PVC cement, and a PVC threaded connector. Details here wellinformedli
12. Vinegar Bottle Chicken Waterer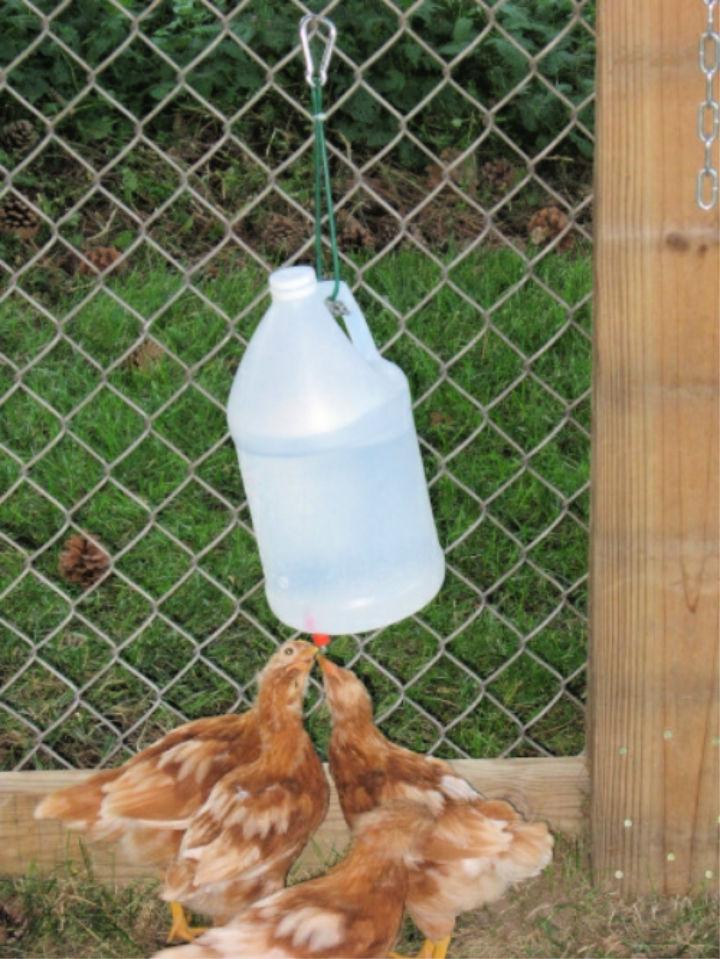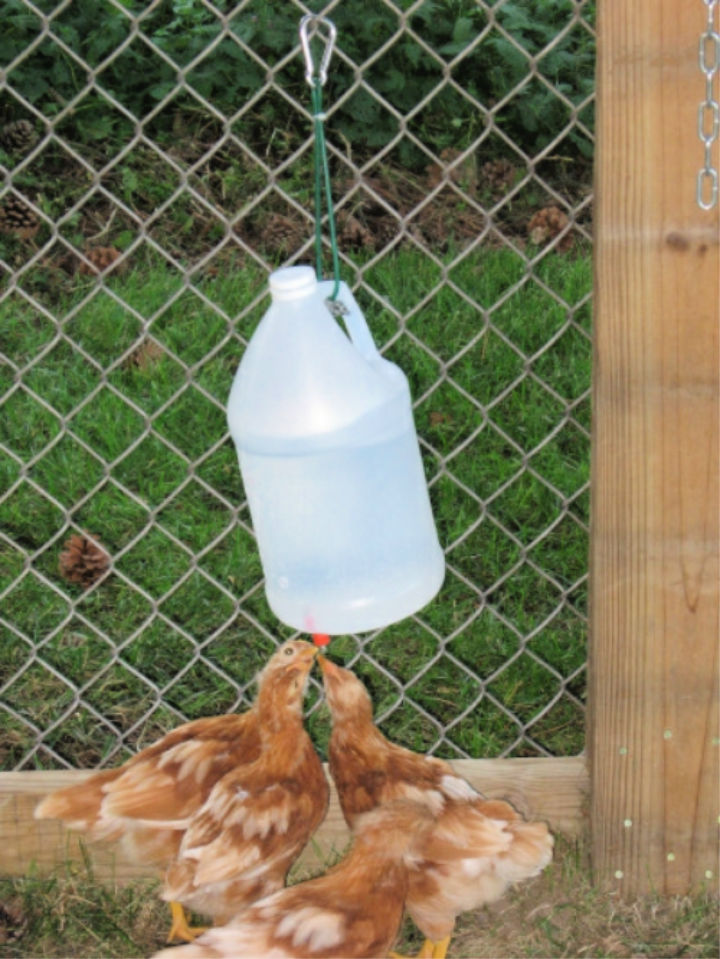 Don't end up the empty vinegar bottles to dumpsters, but make lovely chicken waterers out of them for free. Just tie a rope to handle of a vinegar bottle and hang it on the chicken run fence wall and fit 2 or more nipples, waterer, to the bottom side of it making a lovely vinegar bottle chicken waterer. Details here homesteadlife
13. DIY PVC Chicken Waterer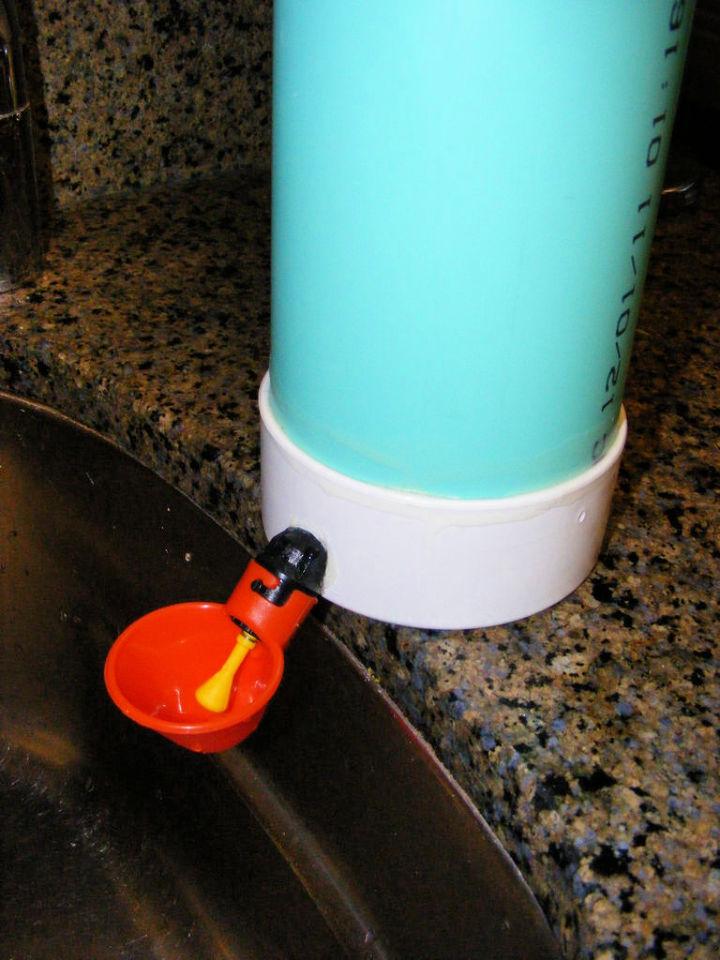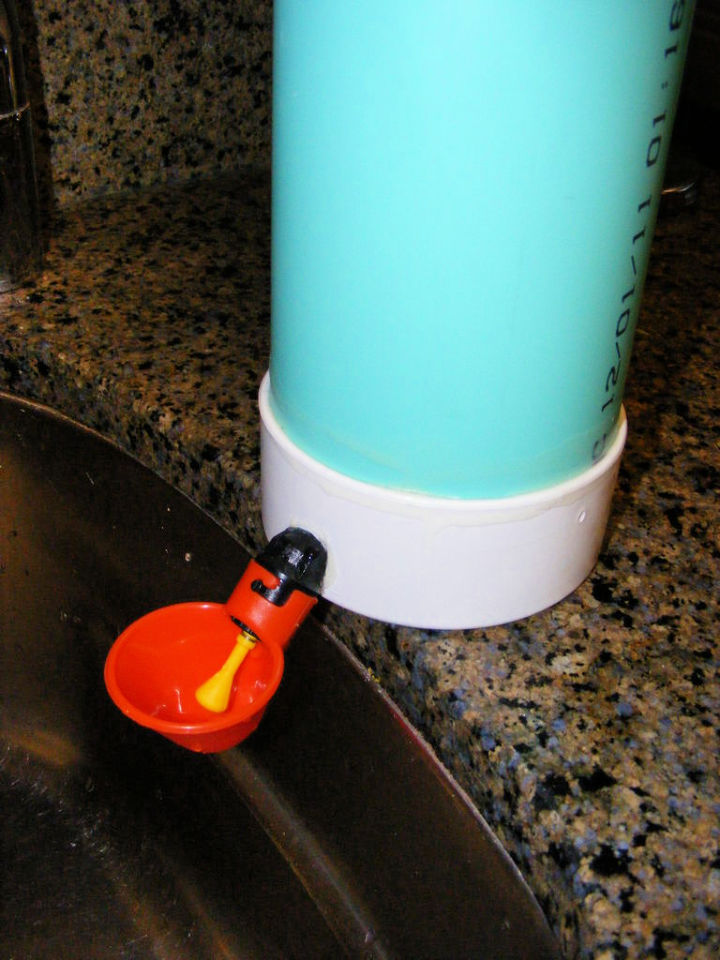 Reclaim the leftover PVC pipe scraps to make this lovely PVC chicken waterer, will complete super quickly. Grab a 4′ length of a 4" PVC pipe, add it up with a 4" female adapted, 4" threaded cap and 4" end cap and also an automatic chicken waterer to make this chicken watering system. instructables
14. Nipple Valve Chicken Waterer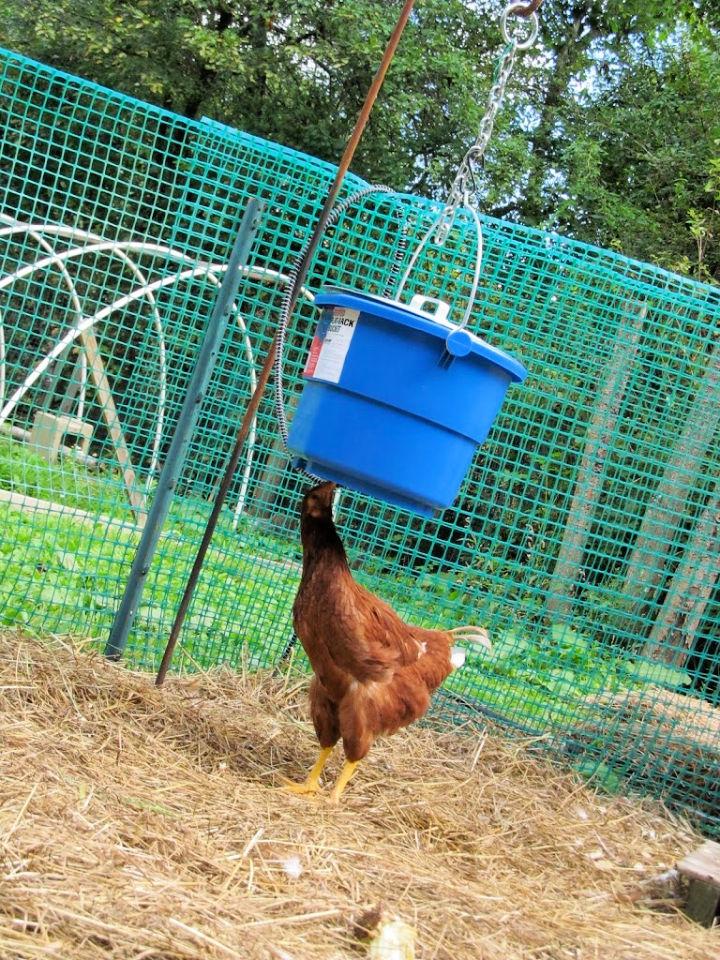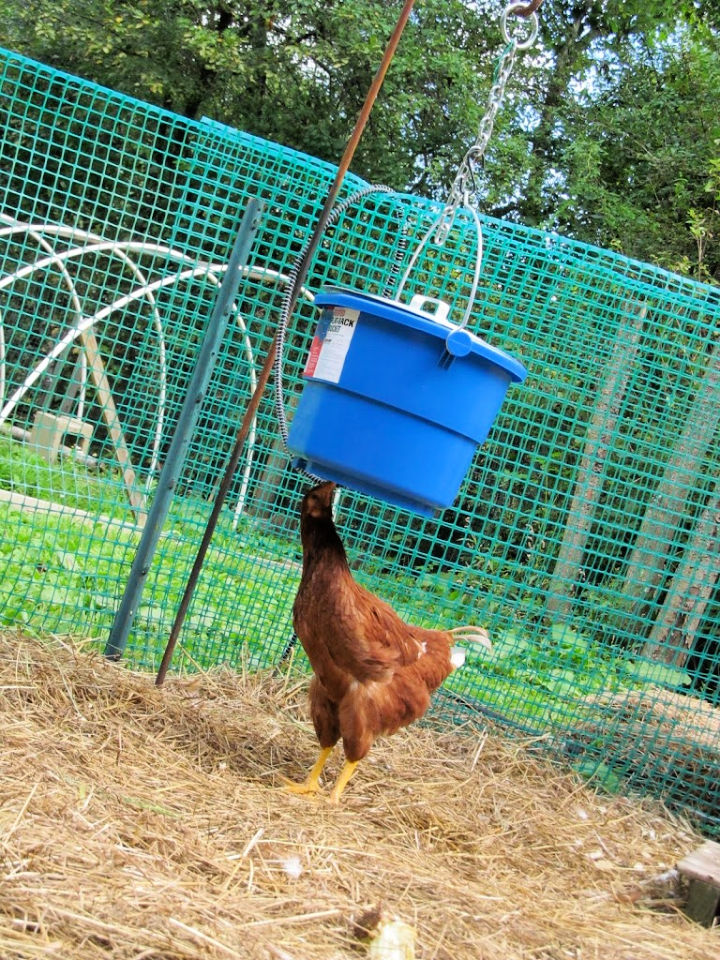 Repurpose the livestock flat backed buckets too make some quick chicken waterer. Get inspired by this given sample, will be a rocking addition to your chicken run, and it is quite easy to make at home. Just drill holes in the bottom of the bucket and then fit the nipple valves in the holes. Details here henbogle
15. Make an Automatic Chicken Waterer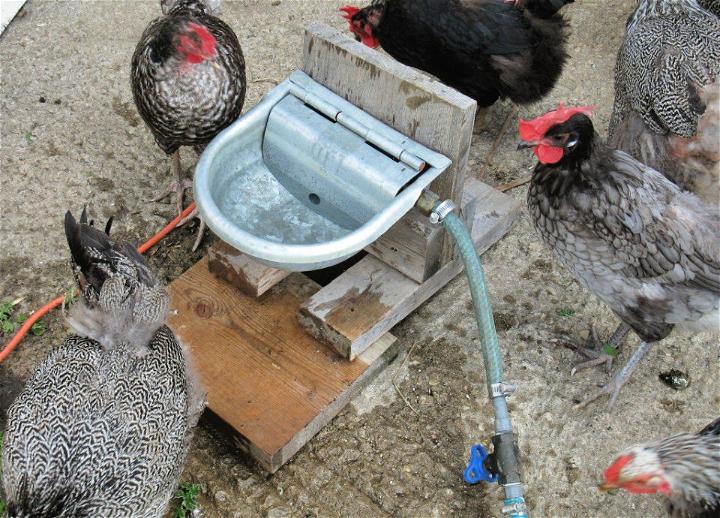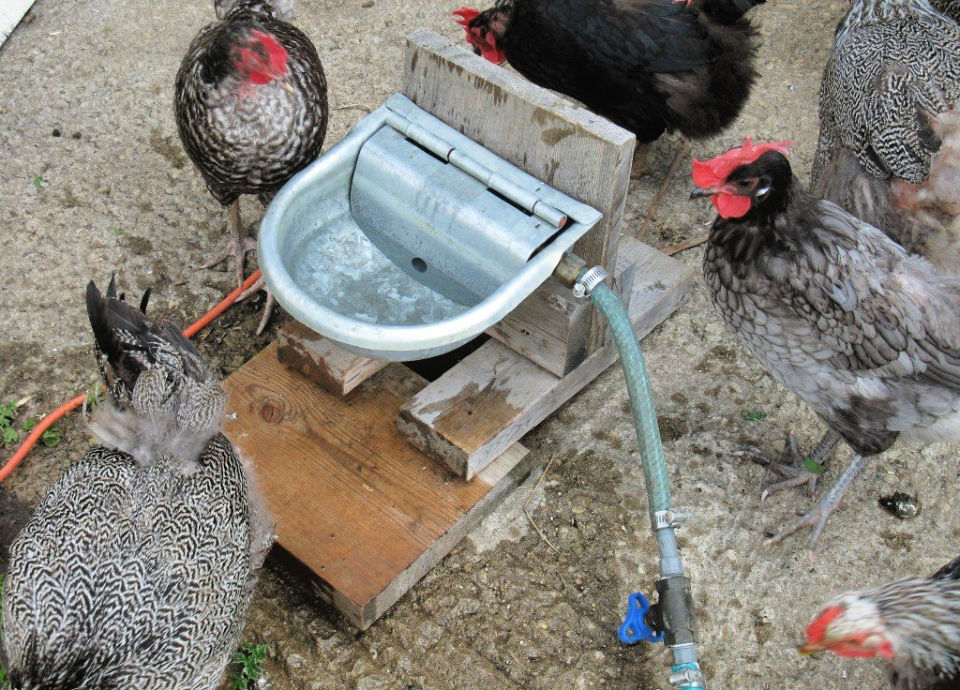 Make this automatic chicken waterer using an old garden hose, automatic animal water bowl, wood scrap pieces, female brass fittings, hold bibs, clamps, hose valve, and fittings. The chicken you are raising will have no trouble in drinking water when having this automatic chicken waterer installed in their house. owlcation
16. Homemade Chicken Water Feeder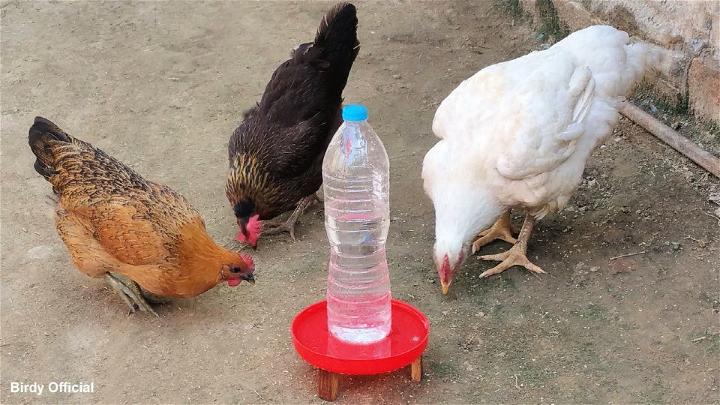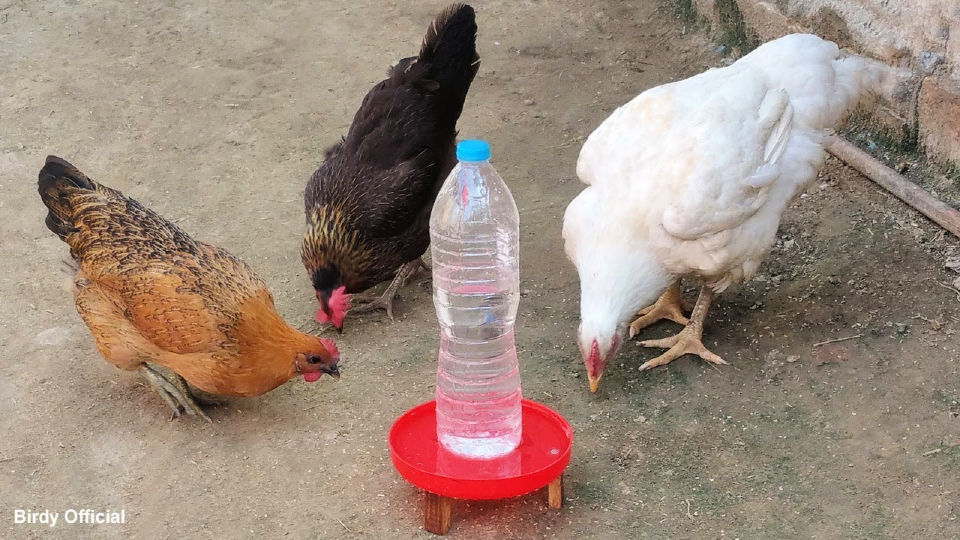 Upcycle the empty plastic water bottles too to make lovely chicken water feeders in just no time. Grab a plastic bottle and then just make holes in its bottom side. Place it over a plastic round lid. Make the lid base a little off the ground by adding some short supports using wood scraps or anything and build automatic chicken feeders. Details here youtube
Conclusion:
While being linked to poultry, we have to feed a lot of chicken at the same time, so it is not that easy to serve waters to lots of chicken at the same time. So, these DIY chicken waterer ideas come for a big rescue, and they are quite inexpensive to make at home. Skip buying expensive chicken watering systems and prefer to build your own custom homemade chicken waterer with this help of these free ideas. These free plans encircle a lot of old materials, recycled items, and repurposed objects to make the automatic chicken waterers will make sweet handmade gifts also to poultry lovers.
Chicken Nesting Boxes:
Nest boxes aren't necessary for chickens to lay eggs, they can (and do) lay where they feel secure. As chickens do so much for you! So, But provide chickens a safe and secure space to lay eggs with these chicken nesting boxes! And cut the cost of building a chicken coop, follow given DIY hacks for making your own chicken nesting box.
Build yourself a DIY chicken house with the given free chicken coop plans that make a chicken coop in just about every size and shape.