Your chickens add so much to your farmhouse. Chickens do so much for you! And so provide chickens a safe and secure space to lay eggs with these chicken nesting boxes! As they add high-quality protein to your food and make you more healthy. Amplify that happiness by adding these highly functional chicken nesting box plans in their coops. Actually, chickens can lay eggs anyplace, but it's a great idea to have a favored place they can feel safe in and return to every time. This article will cover 20 free plans to build some cheap chicken nesting boxes which include step by step instructions, dimensions, materials, and cut list!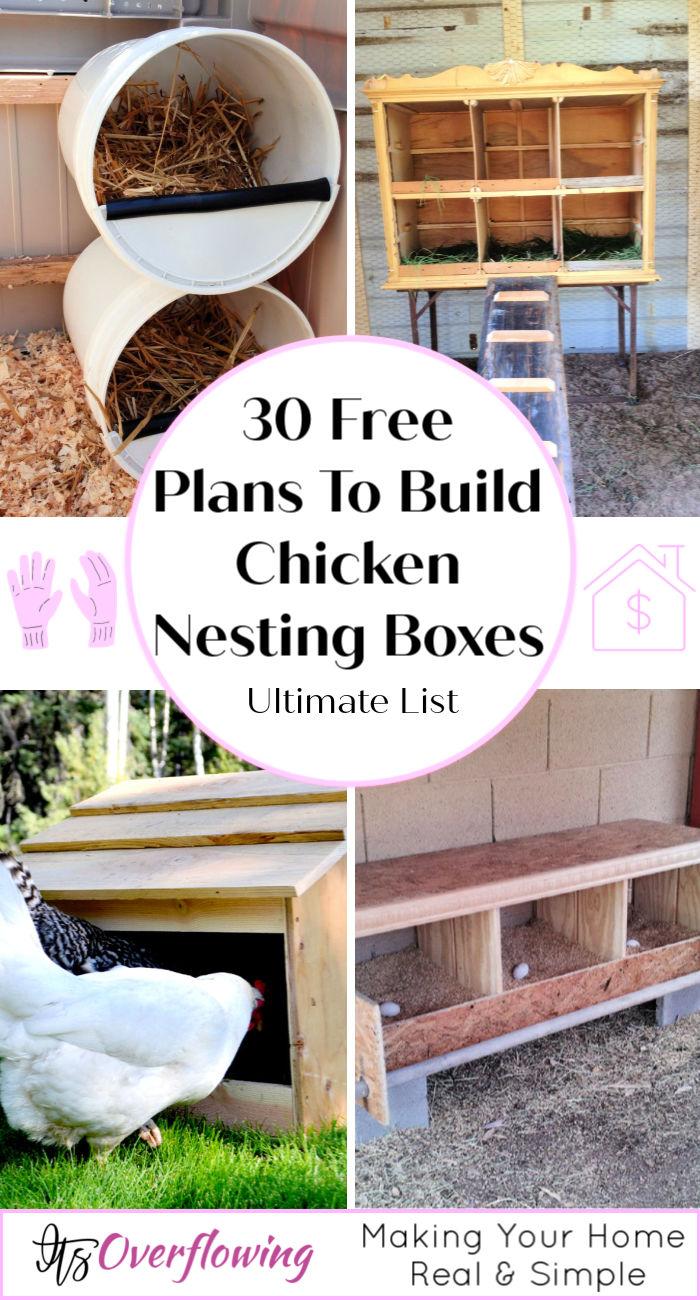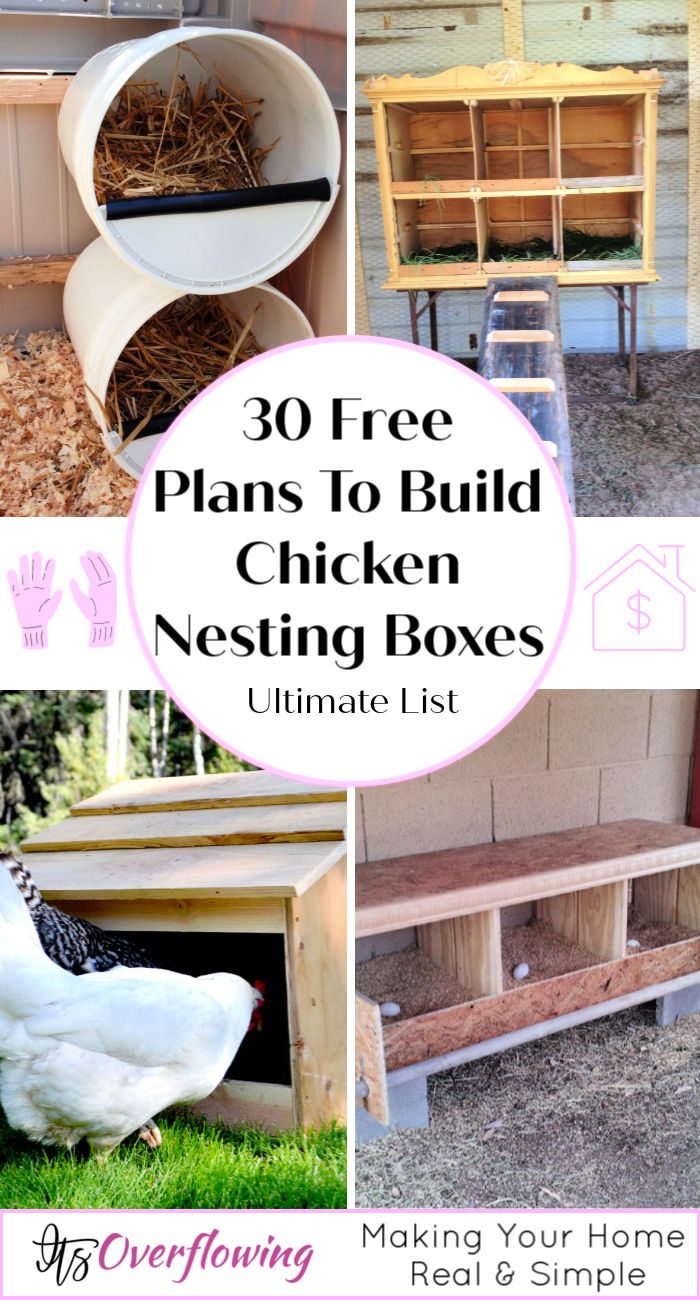 If you are raising chickens for the purpose of having your own stock of eggs then why not improve chickens live by making these chicken nesting boxes! They will not be all over your farmhouse, messing things up and have some improved life quality as well. This article will encourage you to make your chicken nesting boxes! Also, let you have one designated space for collecting eggs easily! It will cover a range of chicken nesting box plans ranging from nesting boxes with a pallet to build with cheap plywood! From A-frame nesting boxes to 5-gallon pail chicken nesting boxes and plastic bowls!
1. Nesting Box from a Pallet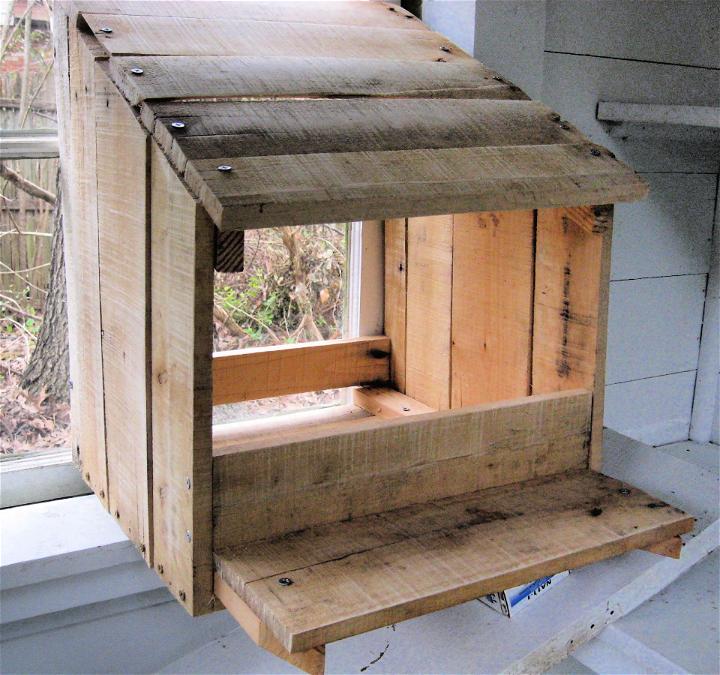 Now you can foster chickens at home for your family. You will be satisfied with your mind, as you will see them growing in front of your eyes without worrying about the quality of their feed. It's a super easy project that can be made within an hour by using just a few supplies, click the link below for details! littlehousein
2. Build a Chicken Nesting Box In 6 Easy Steps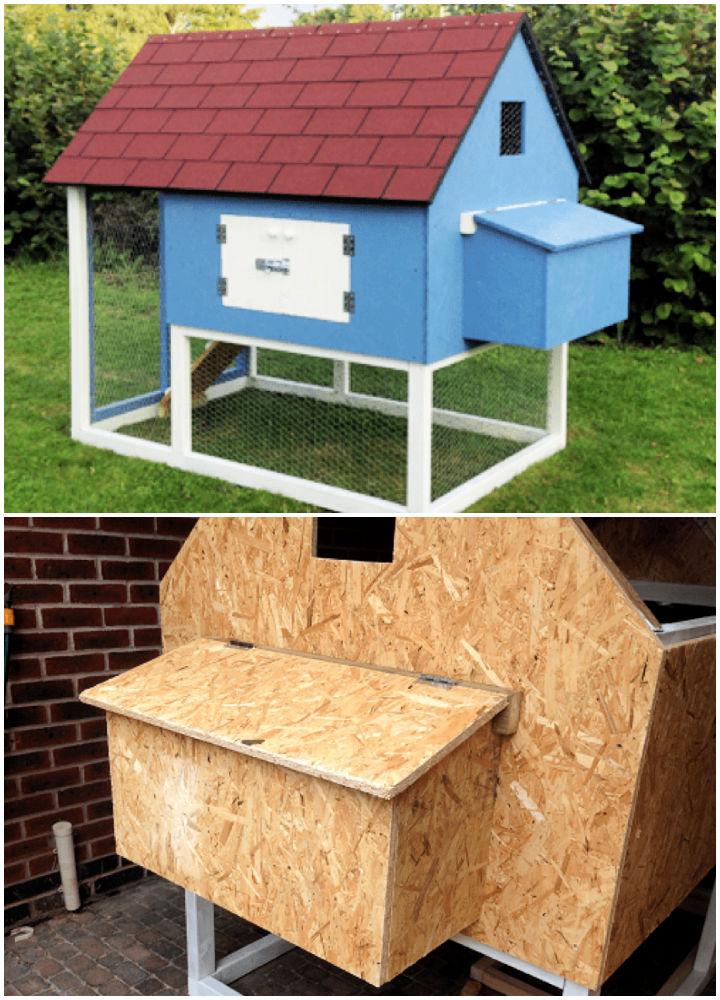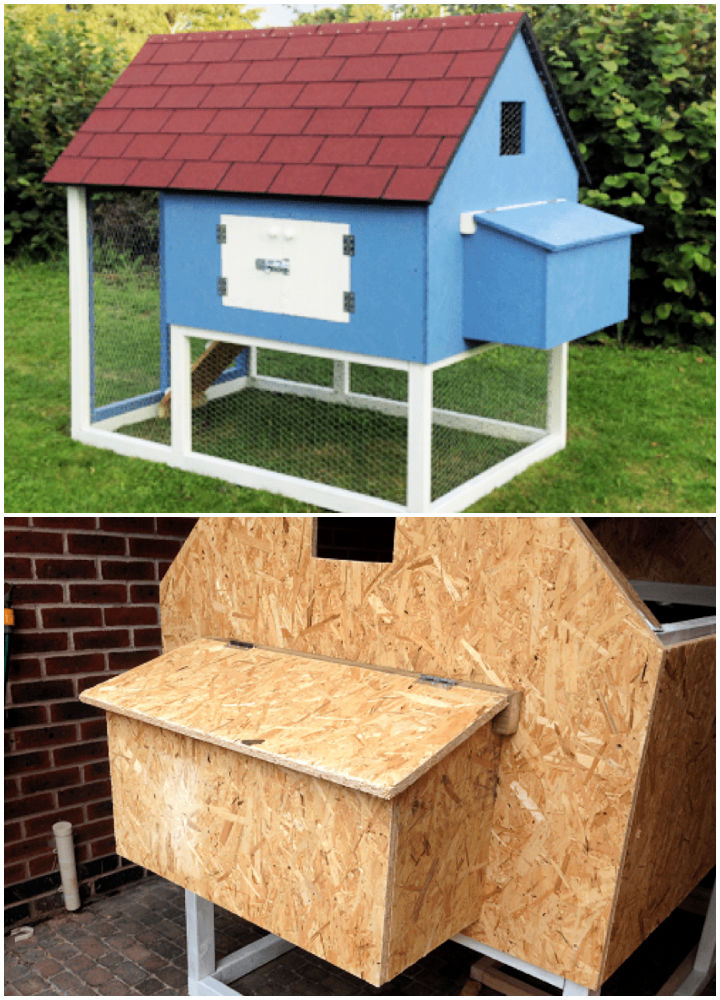 Learn how to build a nesting box for chickens in just six steps! Keeping in mind that chicken needs quiet, dark, and private places to lay the eggs, start off by finding the correct place and size. For this project, you will need pallets, screws, hammer, adhesive glue, and miter saw. theprepping
3. How to Build a Chicken Nesting Box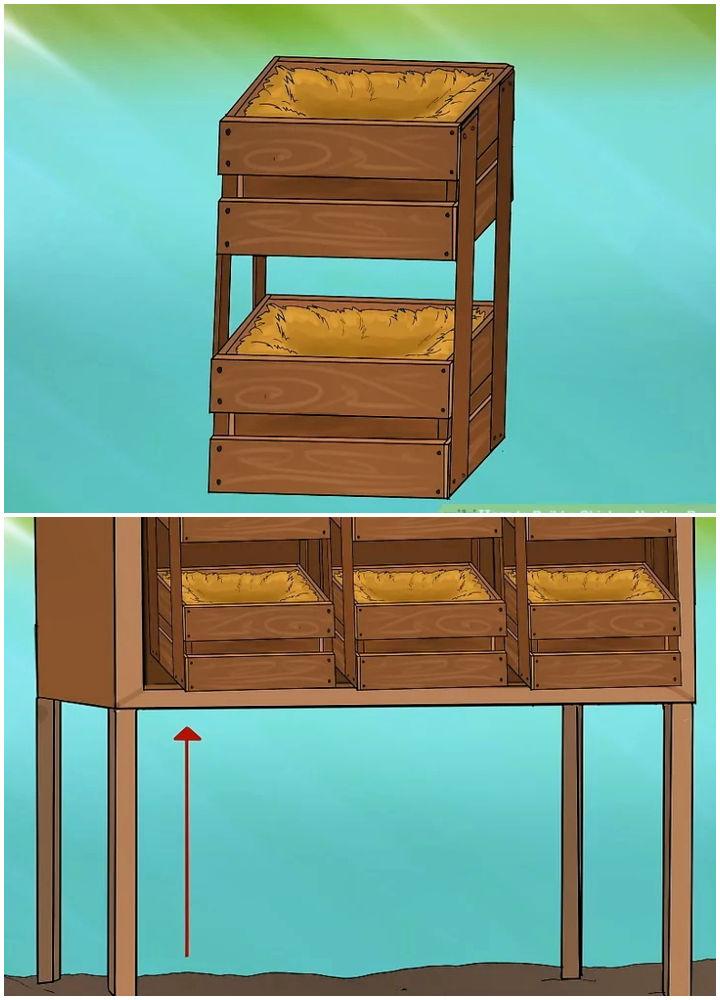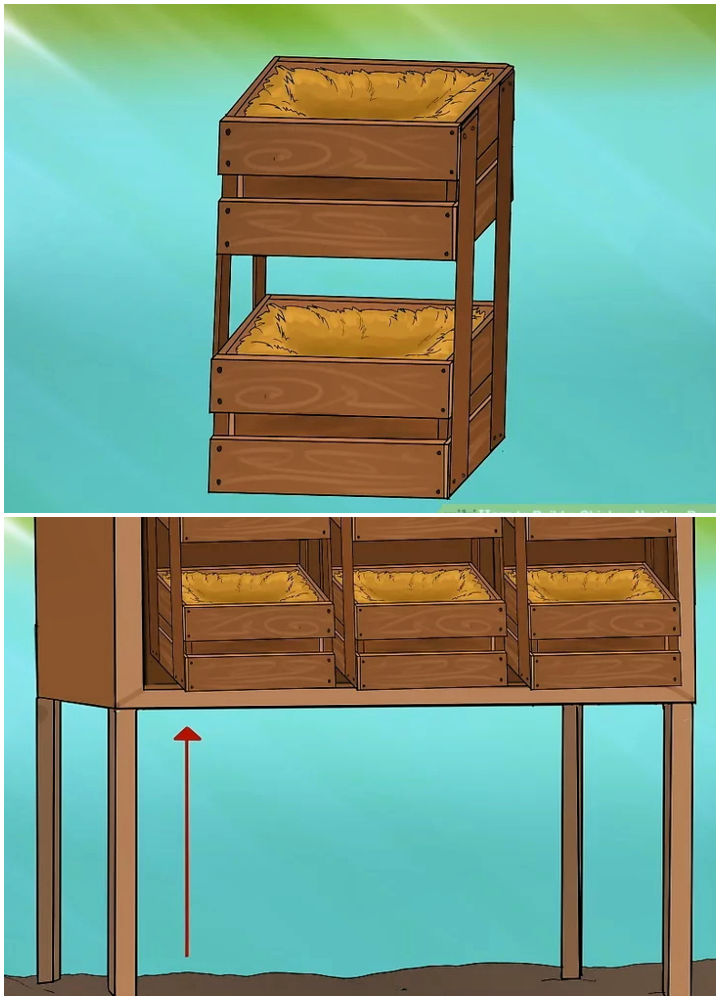 Good news! Now start your micro business by producing eggs and selling them to the retail stores. So, start building DIY nesting boxes at home is quite easy. By following the few basic guidelines, you can make the nesting box inviting, convenient, and easy to maintain. wikihow
4. Chicken Coop Nesting Boxes Plan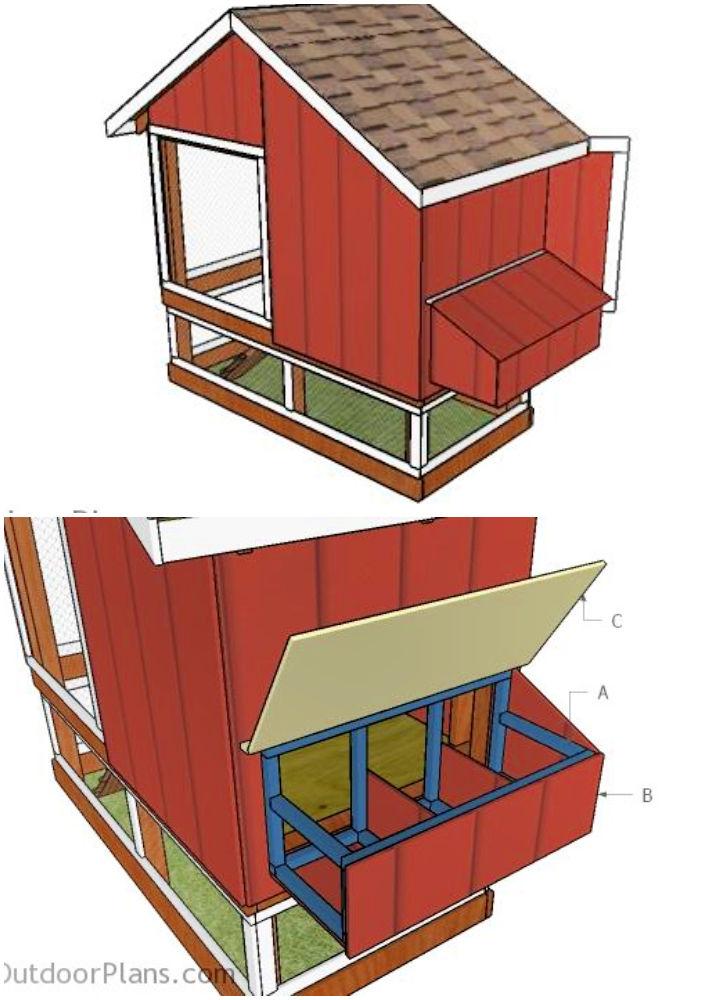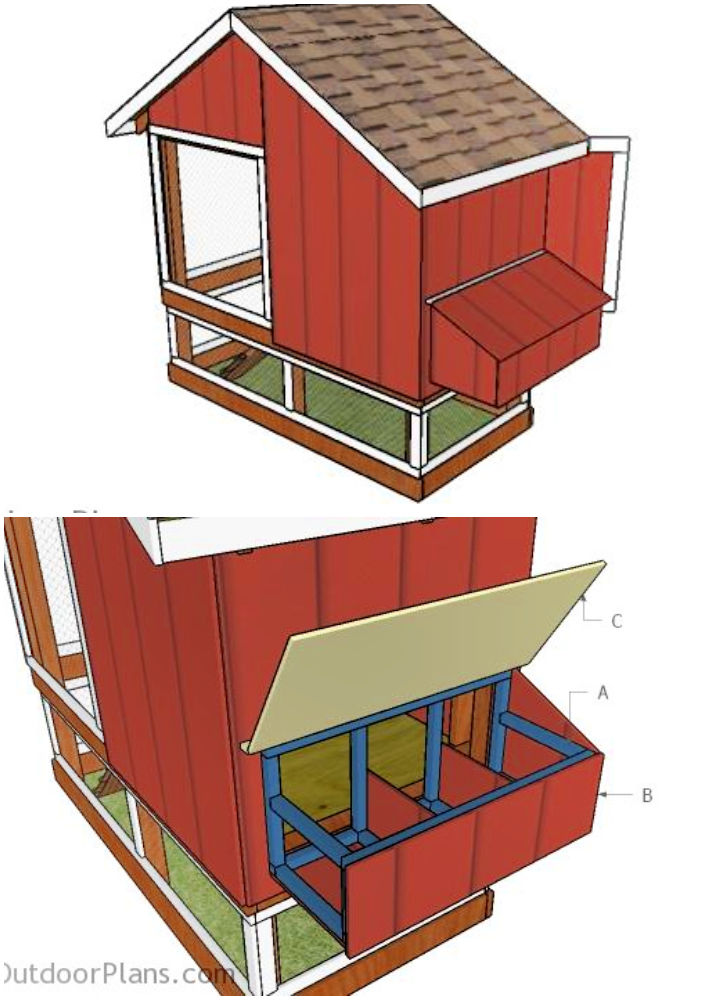 Build a chicken nesting box in your chicken coop to give your hens a warm and favorable place to lay eggs. You can construct it without facing any hard time. Along with the pieces of lumbers, you will also need supplies like a hammer, tape measure, framing square, drill & sander. myoutdoorplans
5. Chicken Coop Nesting Box – Egg Laying Box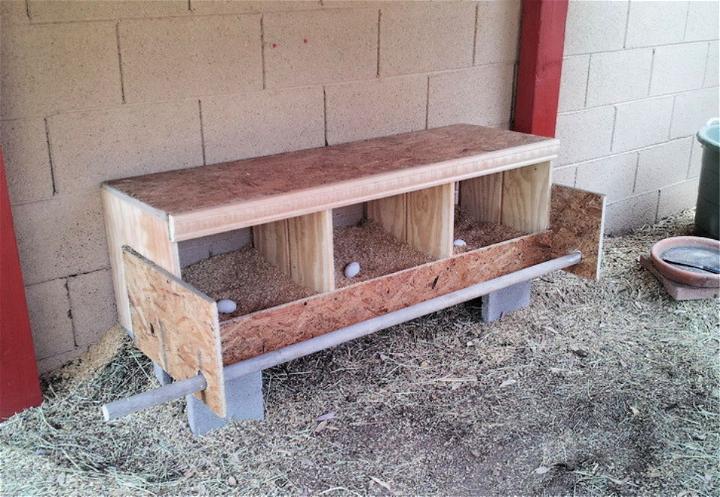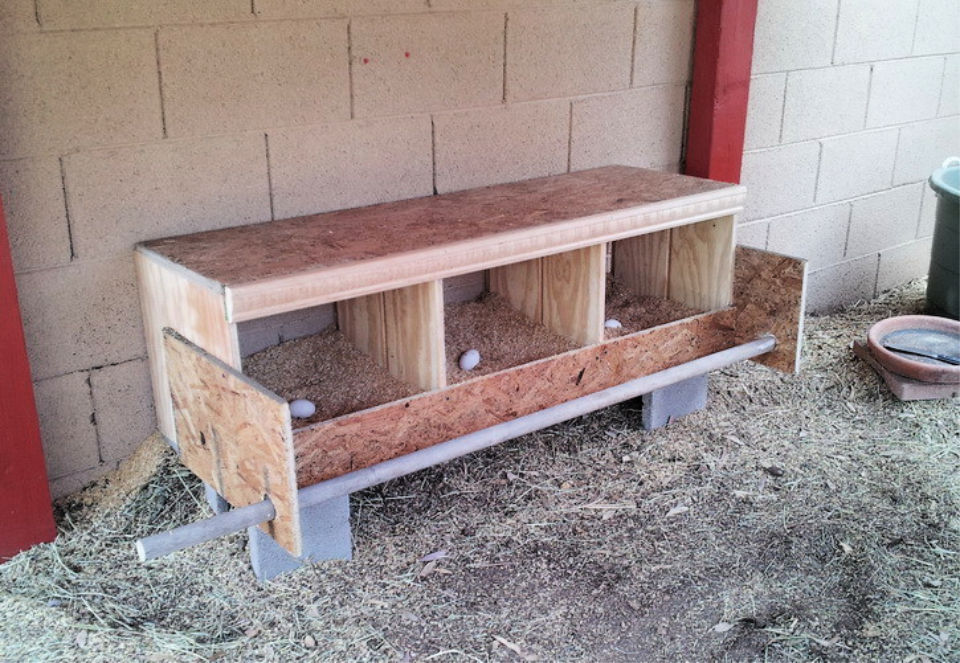 If you want to eat the eggs pure and without any adulteration to it. This chicken coop nesting boxes for egg-laying is an amazing project you can build at your home. It will provide the hens a secure place to lay, and simultaneously, you won't need to hunt for the eggs. removeandre
6. Nesting Boxes Out Of Plywood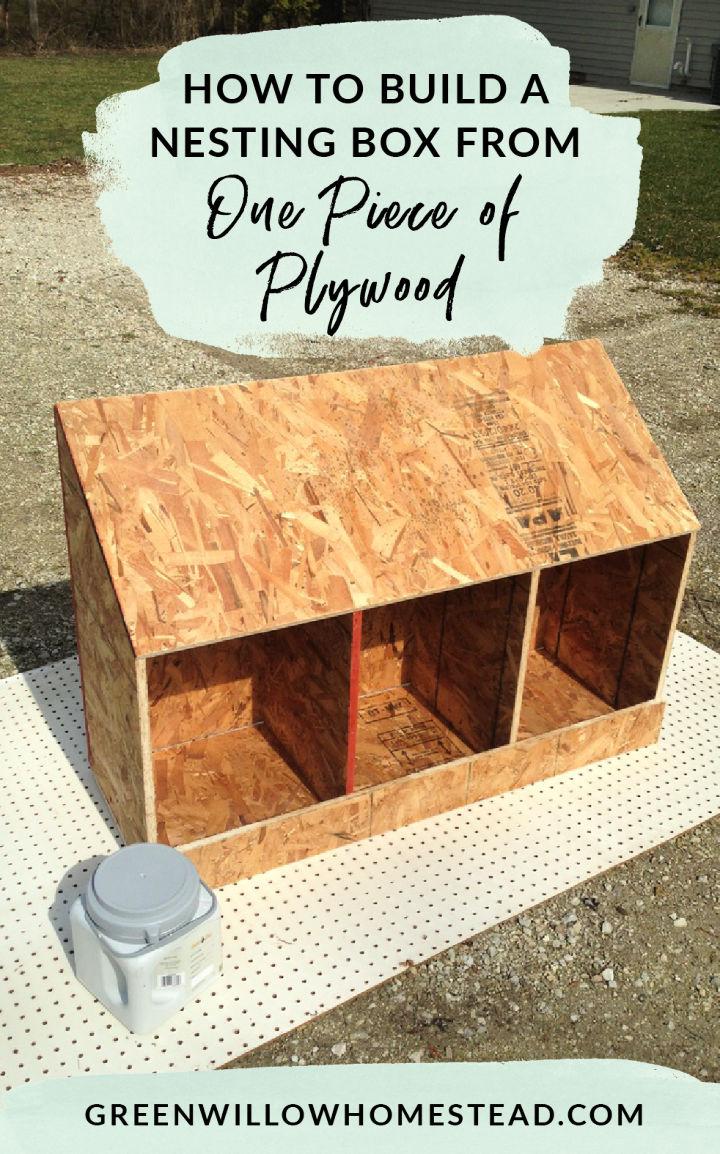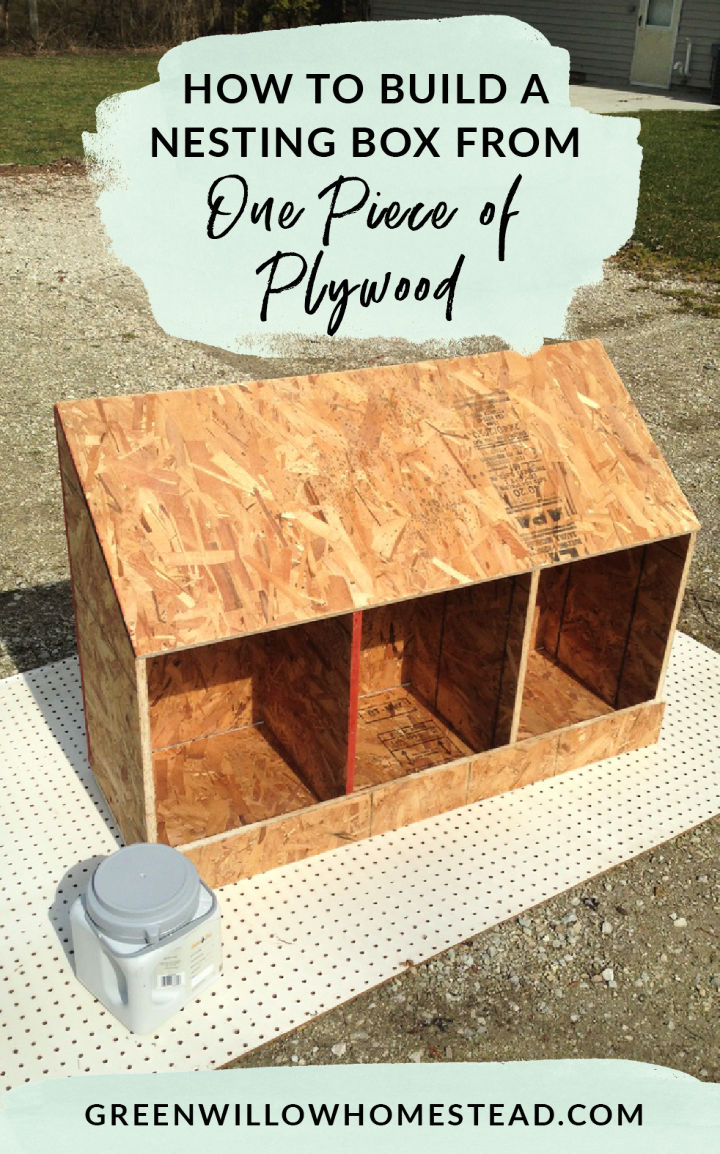 It's time to stop buying eggs from the stores! Start producing them at home! By just following this nesting box plan and instructions to the end, you will be able to get a proper sense of building this project. It's an economical project that will only require the use of one ply of wood and a few other tools. greenwillowho
7. Wooden Half Barrel Chicken Nesting Box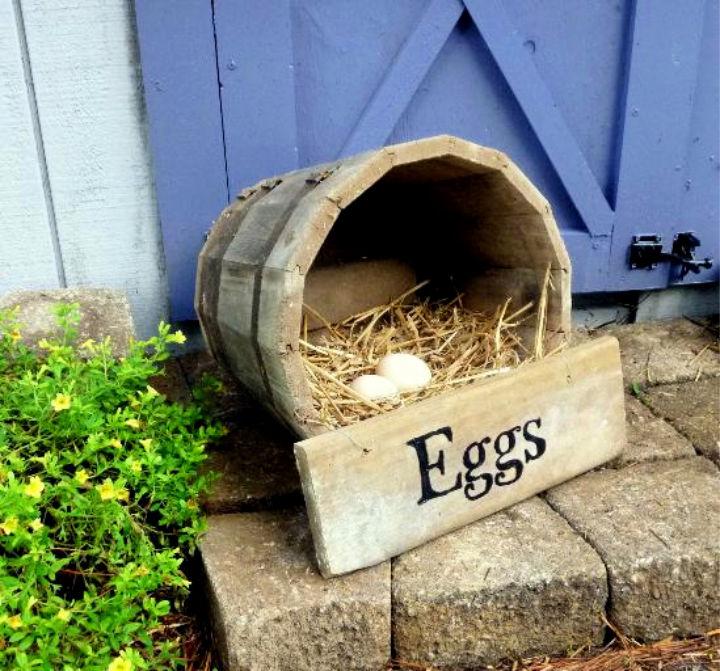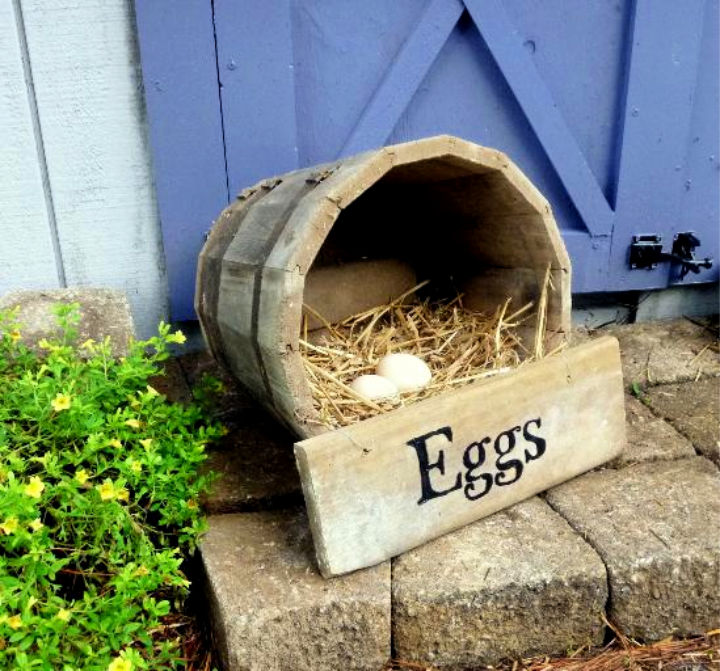 This nest box plan will save your time and effort of hunting the eggs your hens are laying, here and there. Also, it will keep the eggs safe from breaking. Moreover, your hens will get a peaceful place to lay eggs, and they will never have to feel the discomfort of laying eggs where people are looking at them! grit
8. Building Chicken Nesting Boxes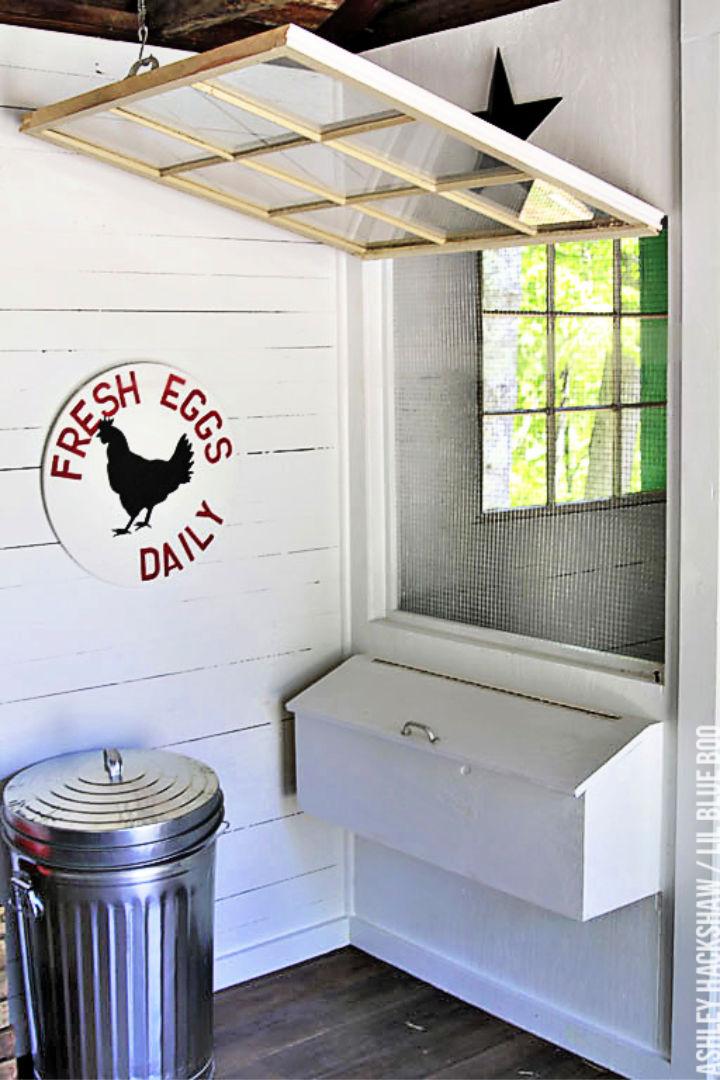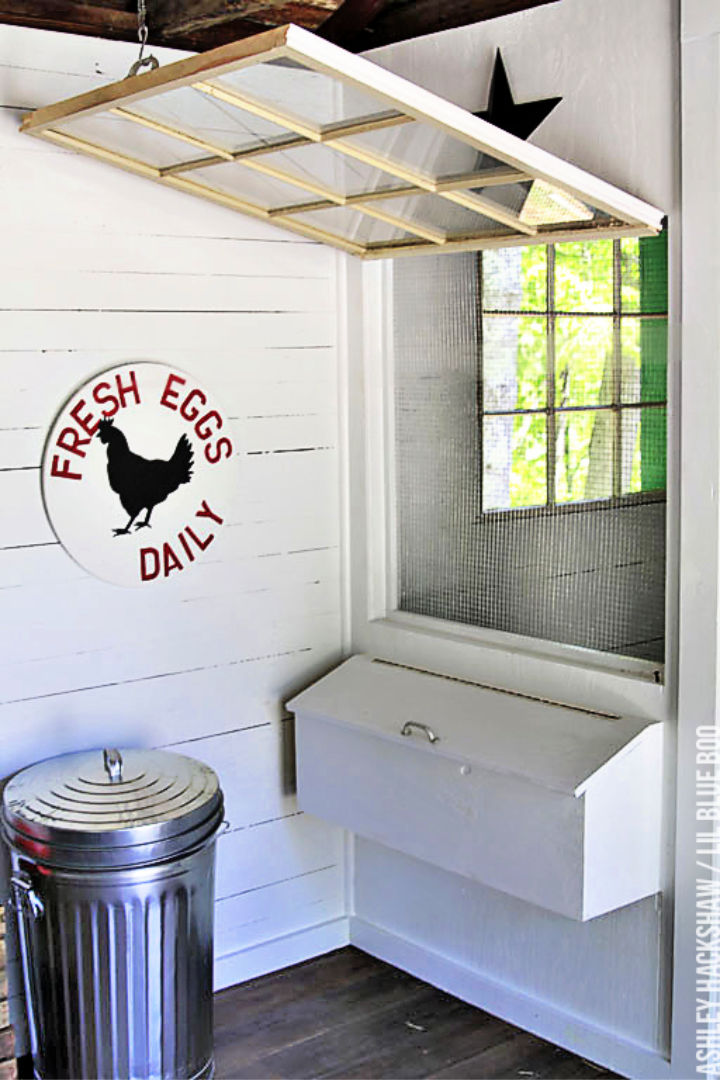 As people are trying to become more self-sufficient and live off the land, they find chickens will be the perfect starter livestock animals. So learn to build chicken nesting boxes here. To run your livelihood by selling or using it for your family. Get all the details from the link below. lilblueboo
9. Nest Boxes for Your Chicken Coop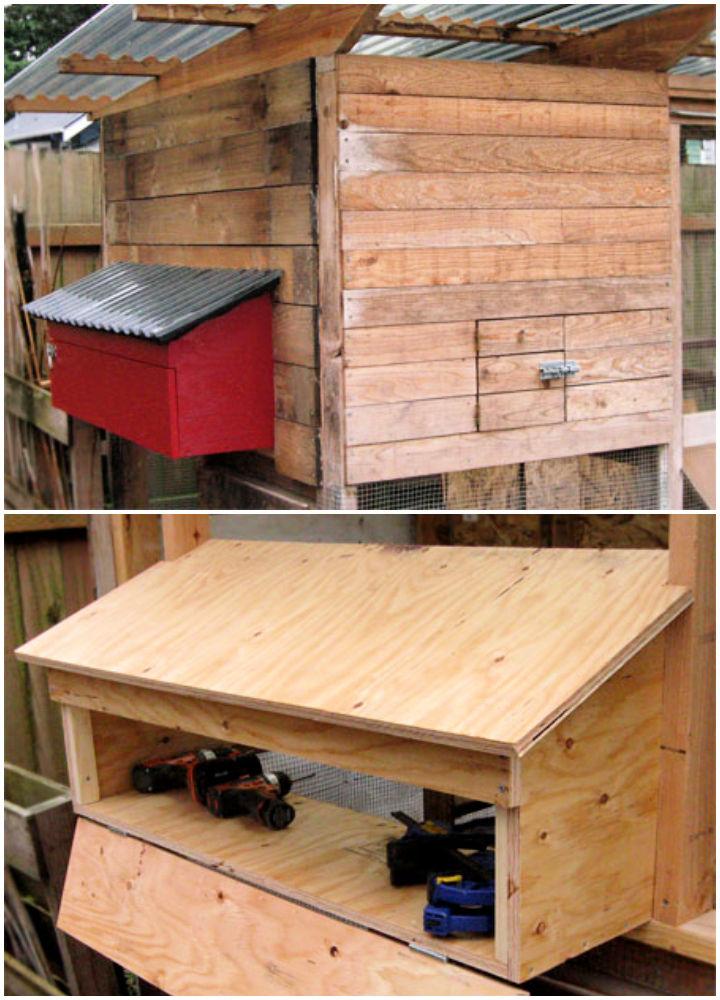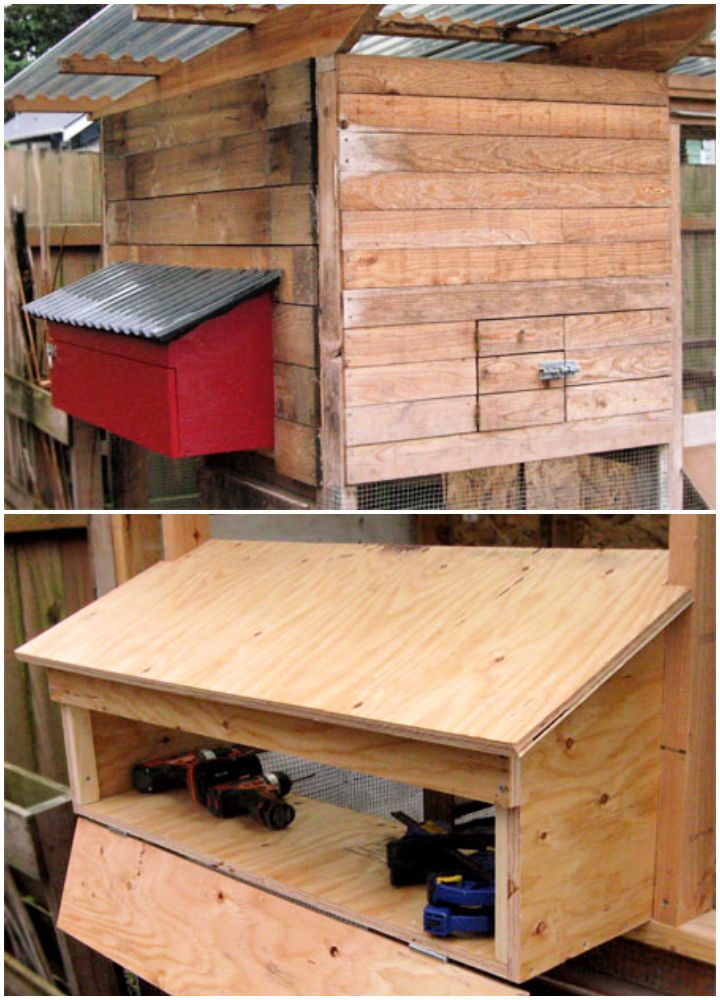 Embrace homesteading to become more economical and self-sufficient. Learn some skills to initiate! These kinds of skills are dying out because the world has become more reliant on store-bought food. But don't let these skills die! Make your chicken coop more functional with an outside chicken nesting box. thegardencoop
10. Ana White Nesting Box Plan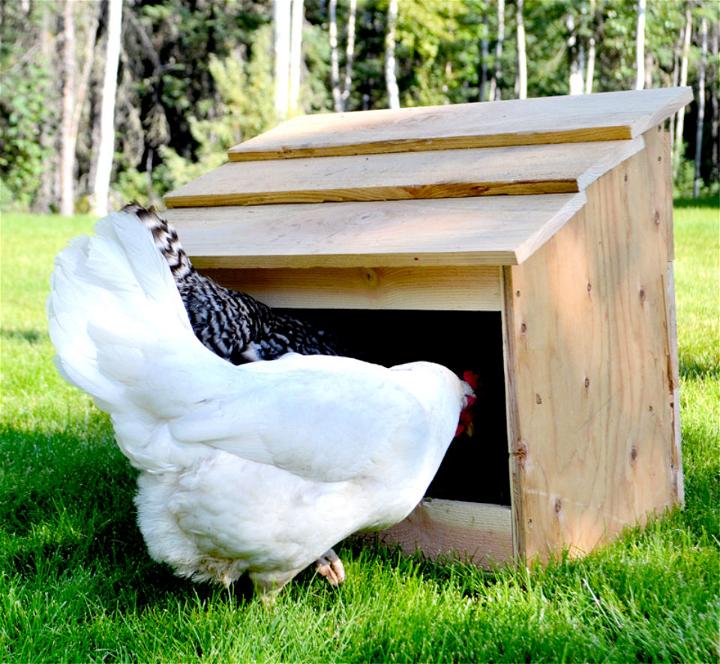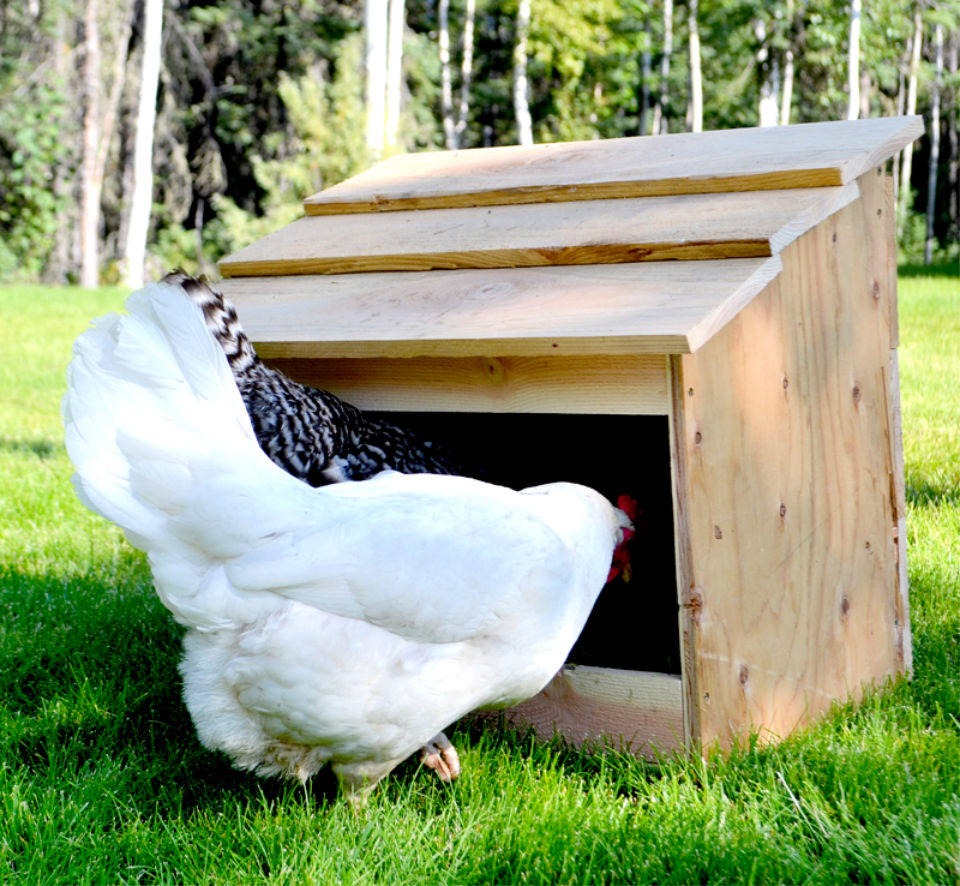 Have you ever considered making your own small scale farm? That will fulfill your family's eggs and chicken needs. Also, breeding in your own house and keeping an eye on their feed will give you peace of mind about the purity of eggs. This Ana White nesting box plan can come in really handy, taking care of that! ana white
11. DIY Chicken Nest Box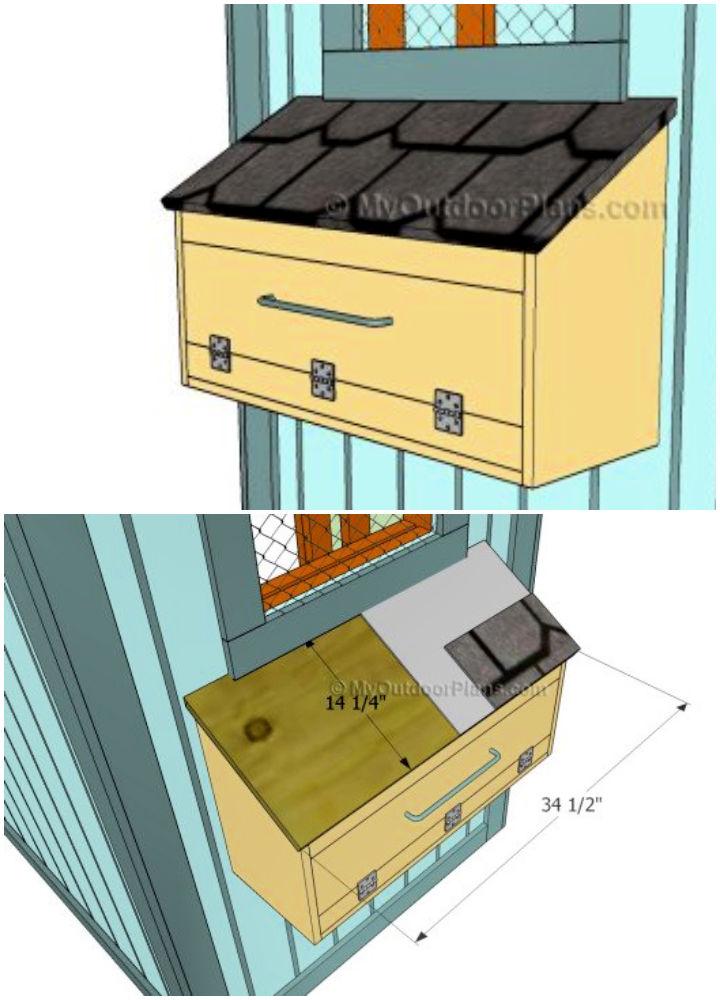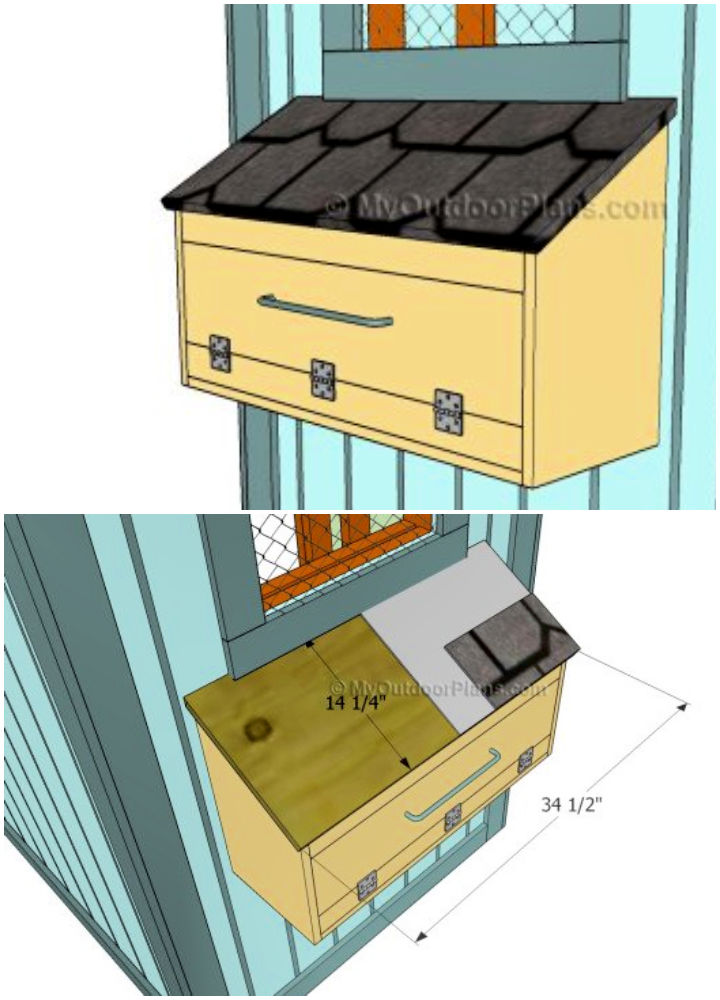 This is certainly the right time to start thinking about your own livestock farming. Yes, you can do this! Have a look at this detailed and step by step instructive project and start building up. You can also change the shape of this chicken nest box or can rely on this one. Up to you! myoutdoorplans
12. Easy & Cheap Nesting Boxes for Hens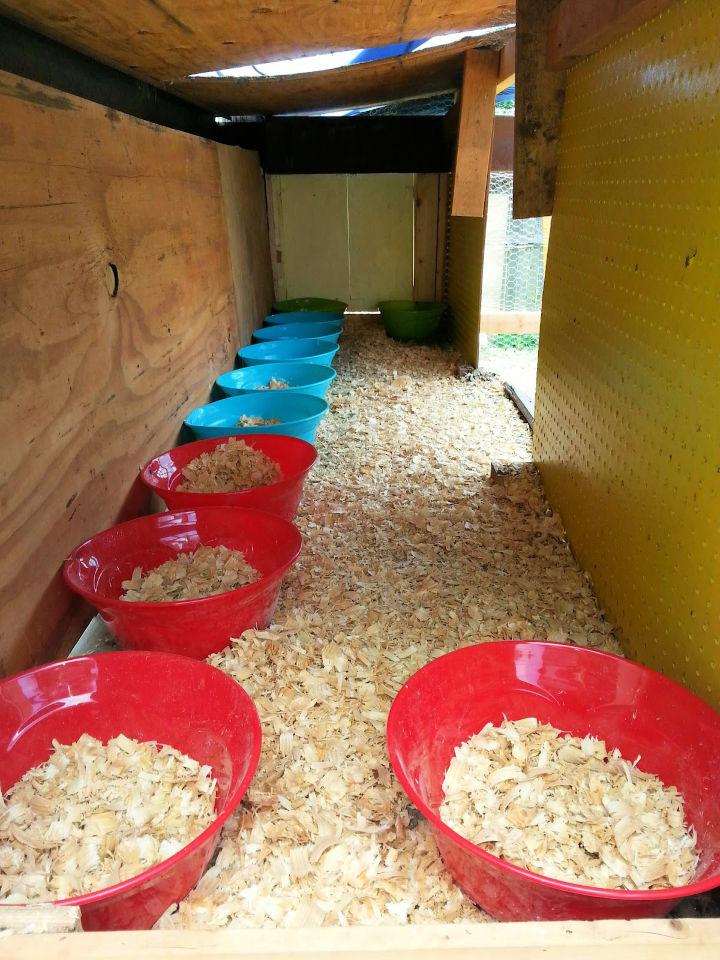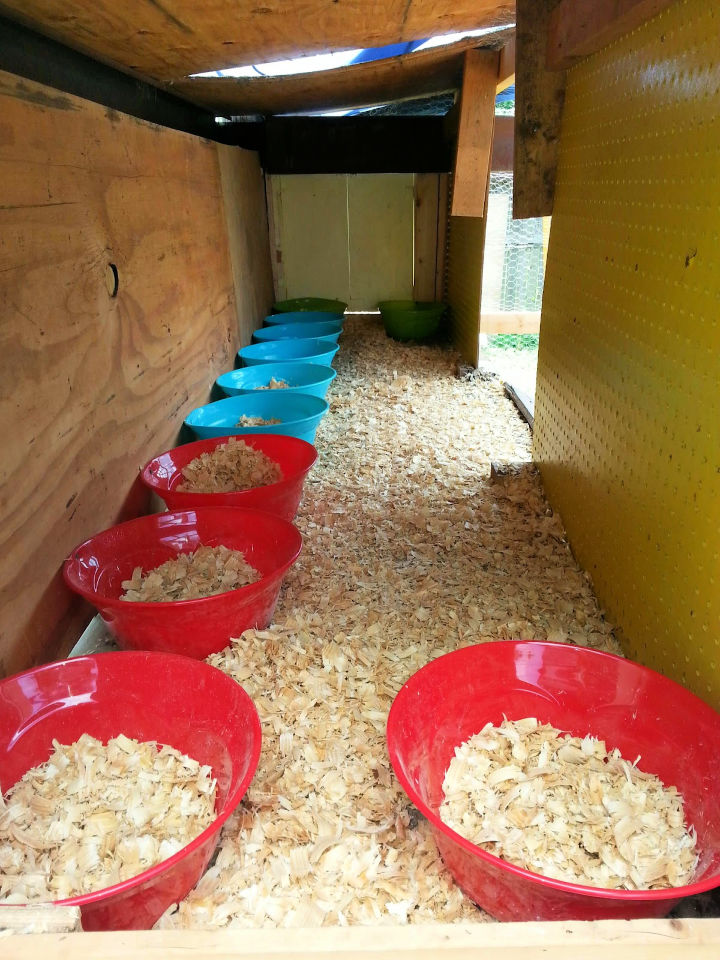 Go for the economical choice and stop wasting your funds on something that won't last long. Instead, adopt this easy and cheap way of making nesting boxes for your hens. By going for securing large plastic bowls using wood screws on the floor! Easy peasy and functional. kraftykritters00
13. A-Frame Nesting Box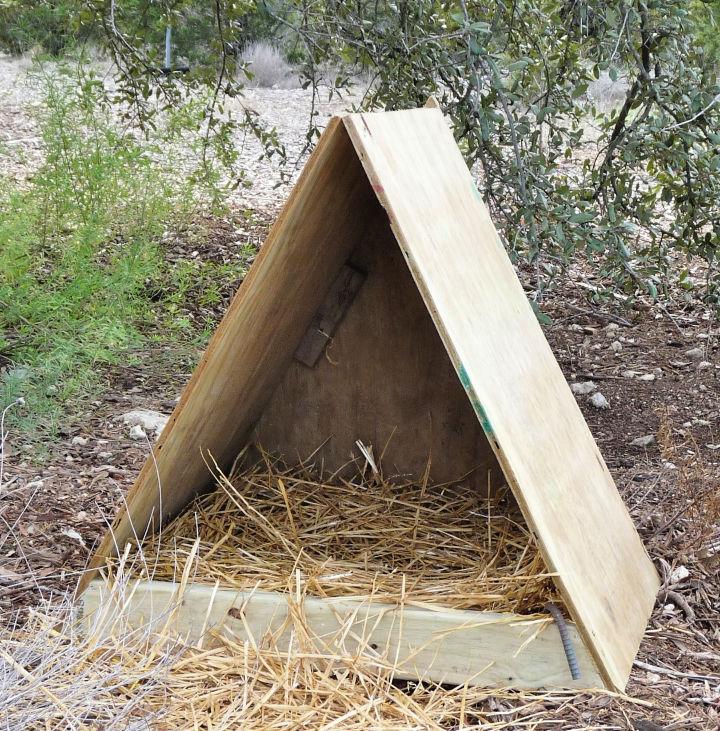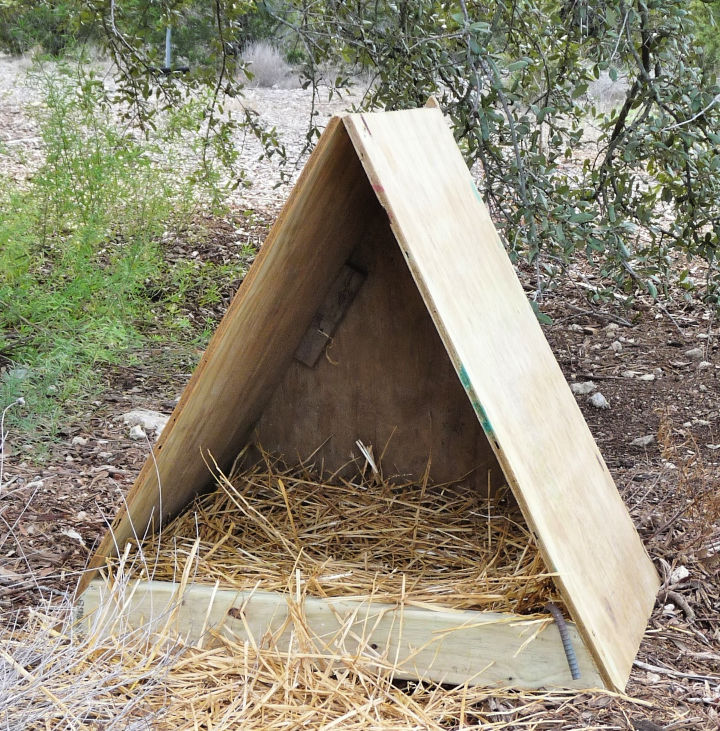 If you are all up for getting benefits from your hens in the form of eggs. Make sure you give them the perfect and quiet environment so that they can lay eggs in peace. Make this A-frame nesting box that looks a pretty simple and quick build! farmnatters
14. Chicken Coop Nesting Boxes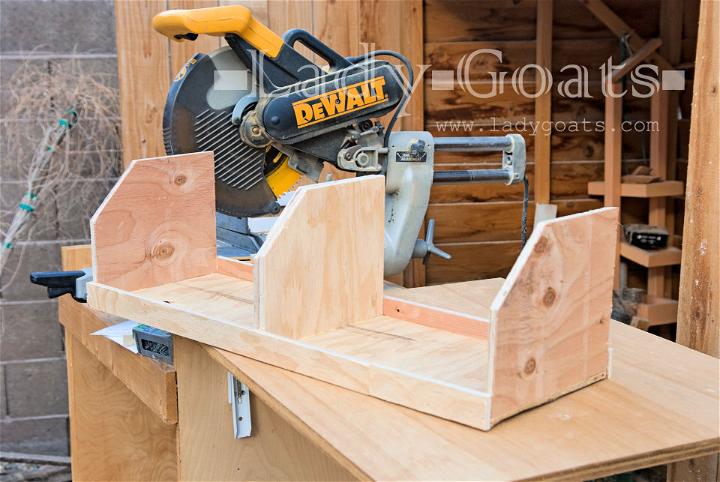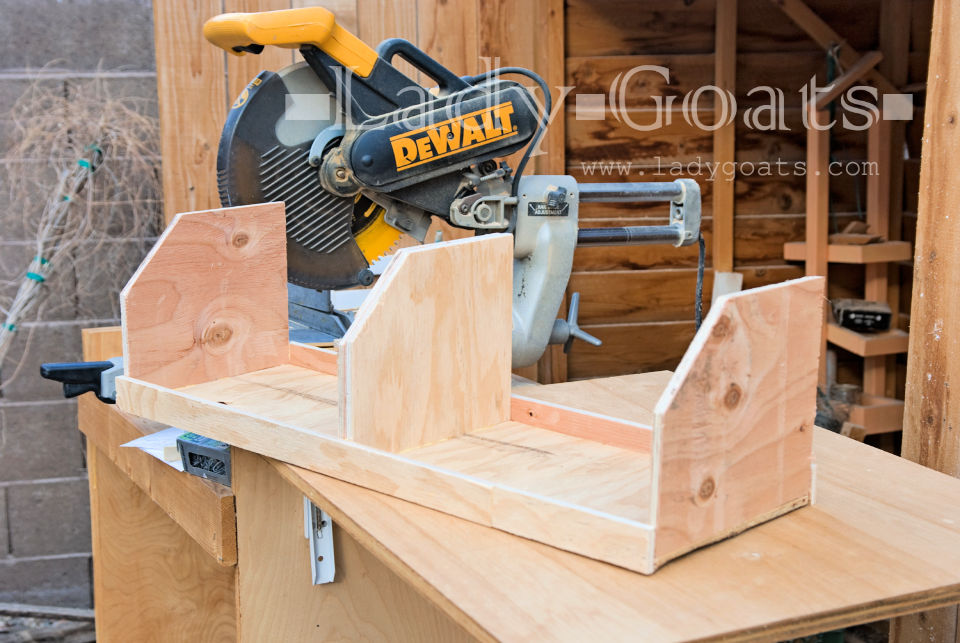 Check out this easy to build chicken nesting box plan! You simply need ½" plywood, wood glue and brad nails to do this ideal project. Add small dividers in between for even adding more privacy to your hen's lives! Get the details of the cut list and nest box sizes from the tutorial. ladygoats
15. Easy to Build Chicken Nest Box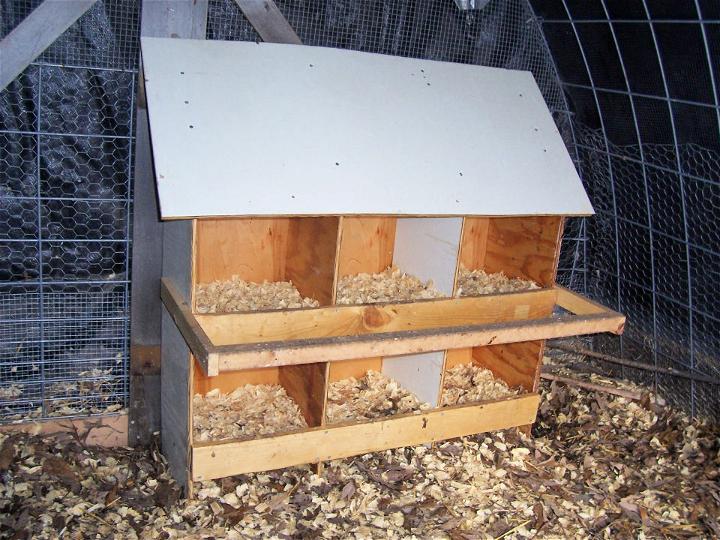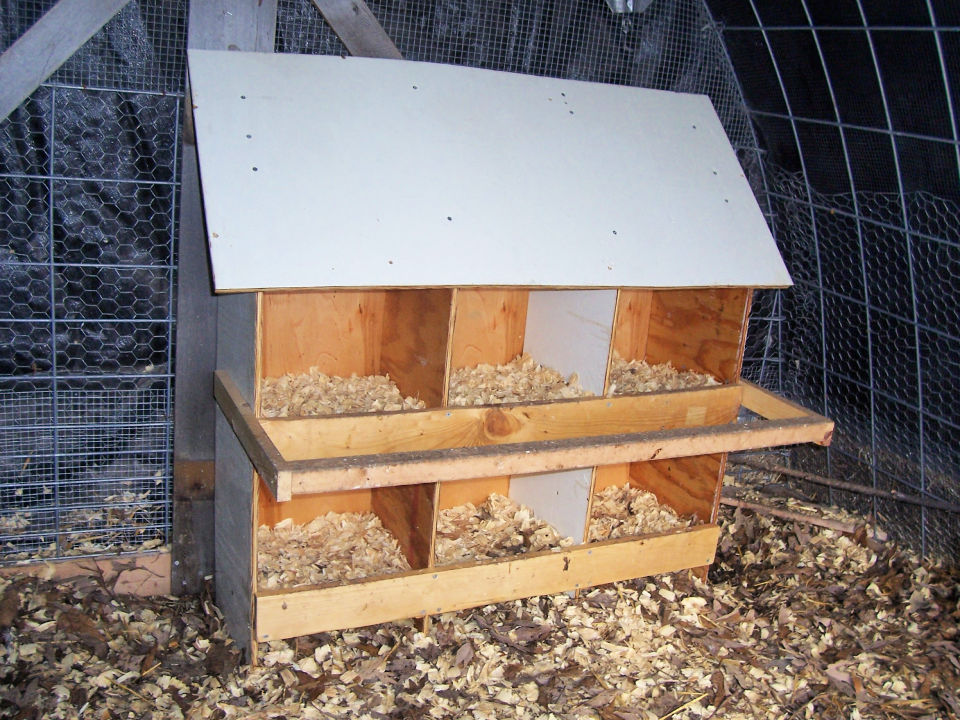 If you don't want to spend your hundreds of dollars on a commercial unit of the coop, you can totally build one at your home. Use the scrap wood and few tools like a miter saw, hammer, screws, and nuts for this project and get going. wholeviewfarm
16. 4×8 Chicken Coop Nesting Boxes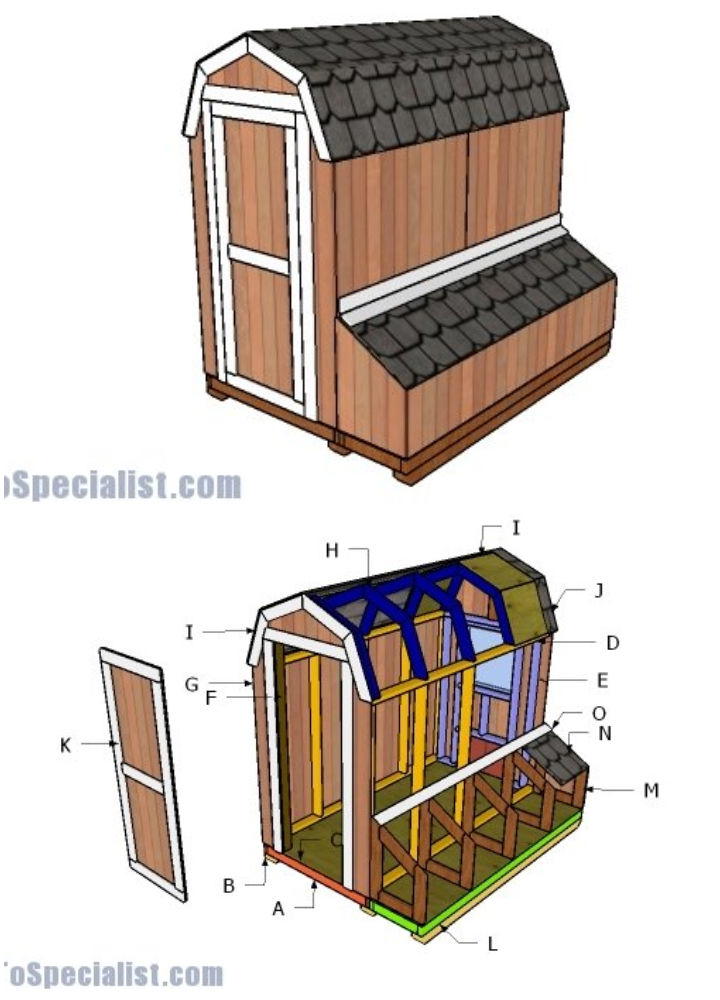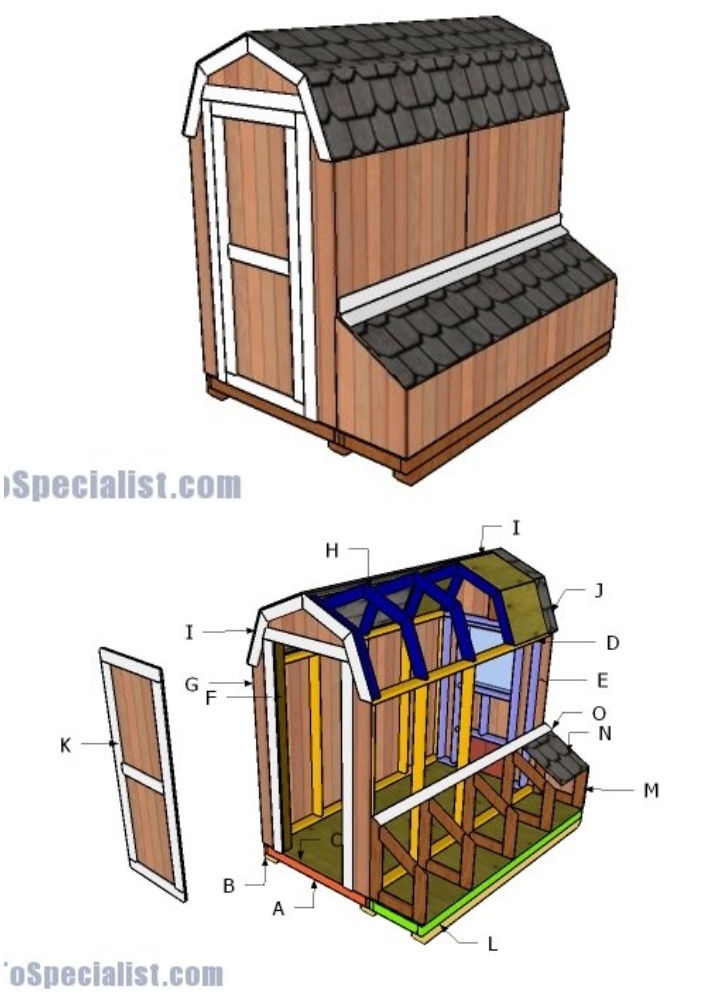 how big should a chicken nesting box be? Make this 4 x 8 chicken coop nesting box within a day, including munching and napping breaks. But you can choose nesting boxes size as you required. This project requires supplies like different sized lumbers and cedar woods. Plus, tools needed will be a drill machine, miter saw jigsaw, spirit level, carpentry pencil, and chalk line. howtospecialist
17. Easy Way To Build Chicken Nesting Boxes!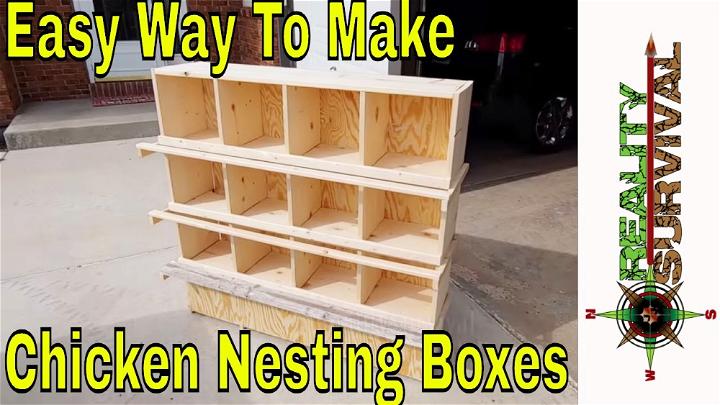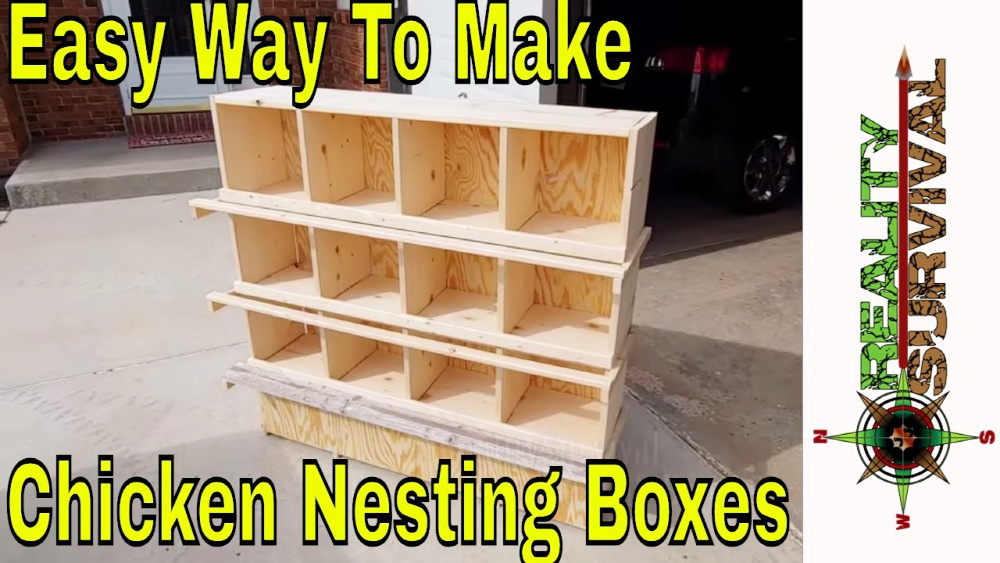 If you do want to make a chicken nesting box at home, here is this easy way to build this project. This tutorial will make you able to construct it without any carpenter's assistance. By using a few materials and tools! The video tutorial will walk you through the steps in detail. youtube
18. DIY Roll-Away Nesting Boxes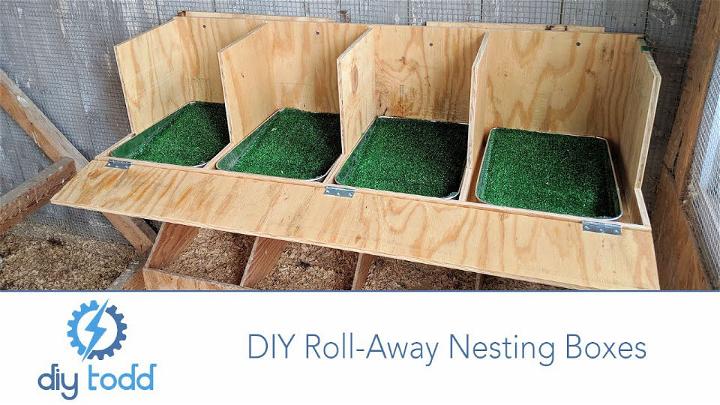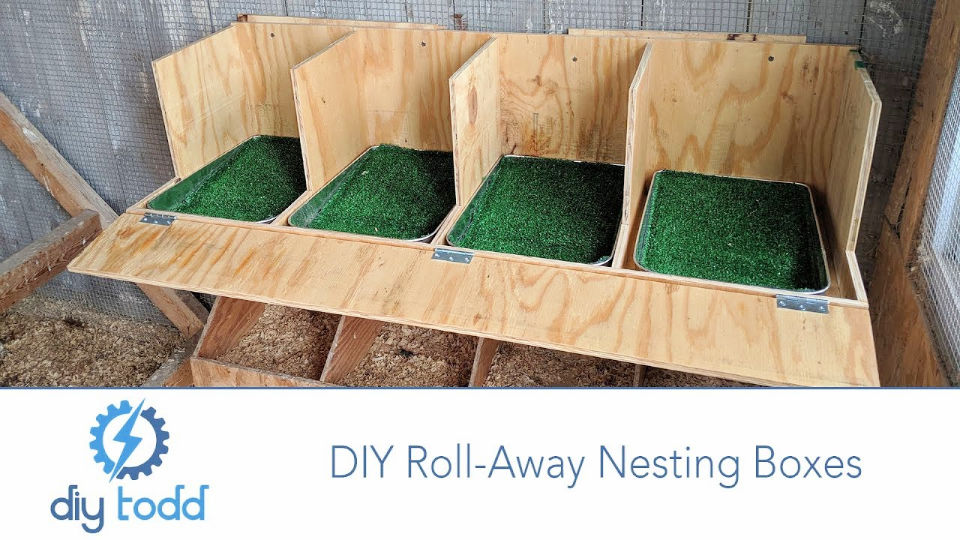 DIY this roll-away nesting box and install it anywhere at your home. The materials needed are paint trays ideally 16" X 11" X 4". Plywood, brad nails, wood glue, outdoor grass, and 3M spray adhesive. These egg boxes can really be helpful in stopping hens from eating eggs! Find more about chicken nesting boxes dimensions and plan details on youtube.
19. Make Chicken Nest Boxes for Under $30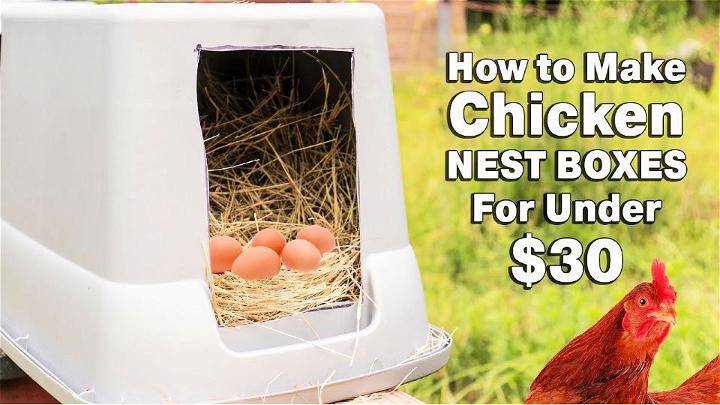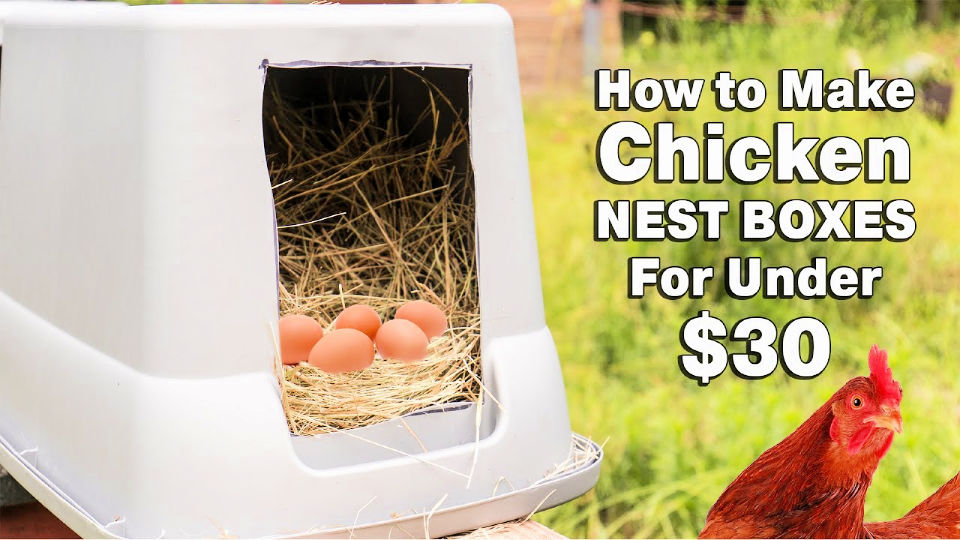 Watch out this easiest tutorial on how to make chicken nesting boxes. It will hardly cost you any more than 30 dollars. So you can make this project super economically. Great, isn't it? Furthermore, these chicken nesting boxes can be easily built in just 2 hours. youtube
20. Chicken Nesting Box Using a 5 Gallon Bucket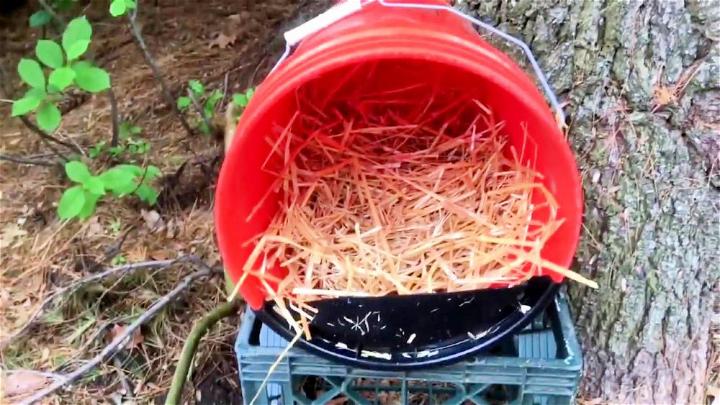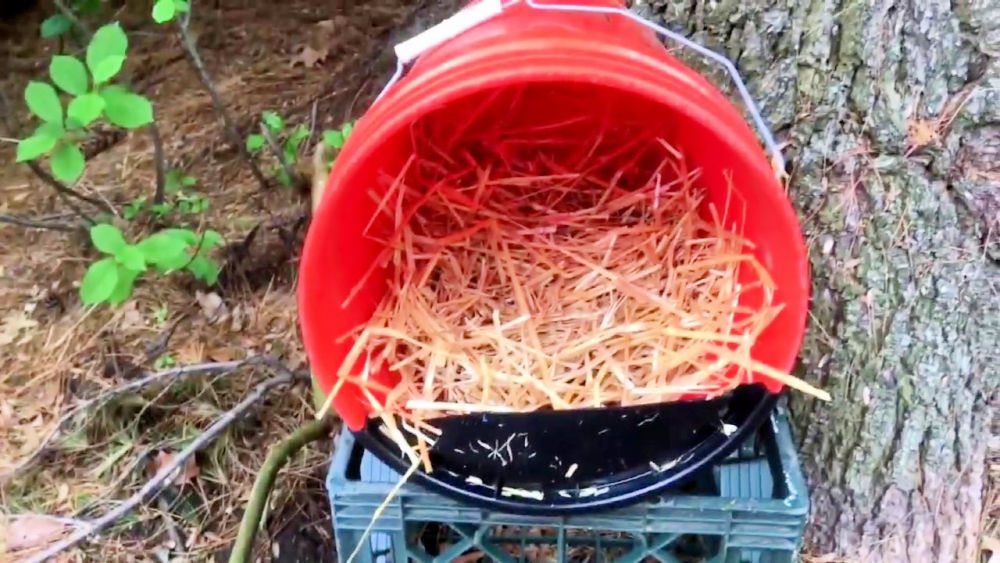 Talk about the wonders of DIYing! Don't throw away your vintage or old bucket if it intakes 5 gallons of water. Use it to make this chicken nesting box instead! How come? Just by watching this tutorial to get all the details. It's a quick build with a super functionality factor added. youtube
Chicken Nesting Box Ideas
21. Dresser to Chicken Nesting Boxes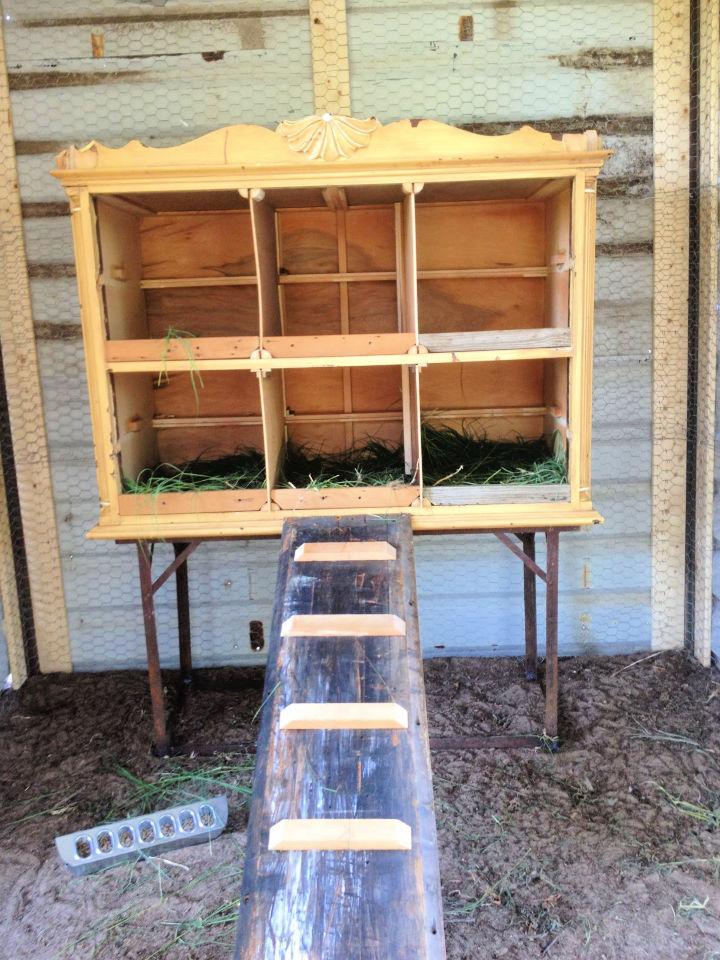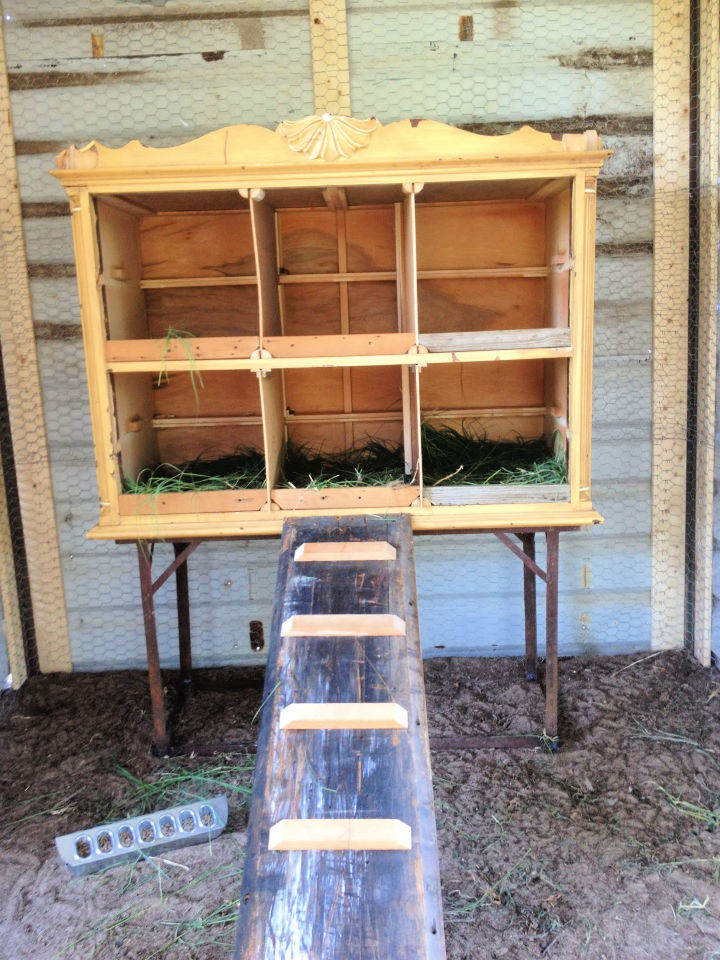 Keep your chickens in these amazing chicken nesting boxes to keep them feeling safe and secure. It has just the right amount of space to provide comfort to the chicken while still covering not a lot of space! Two birds killed with one stone! It has steps on the side, as well!
22. 5 Gallon Pail Chicken Nesting Boxes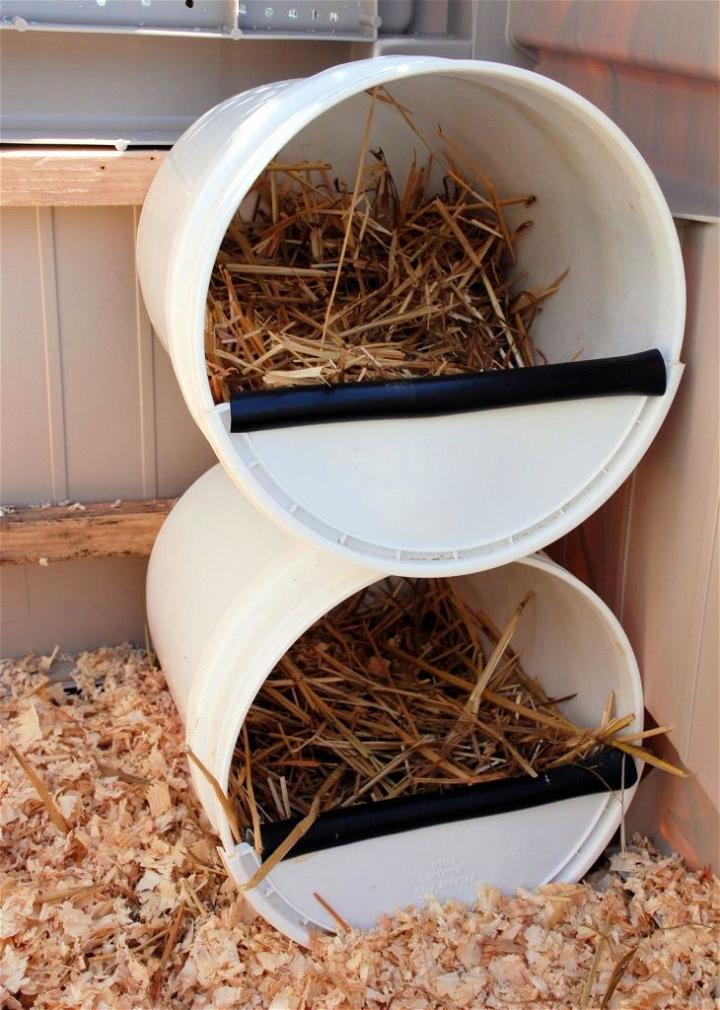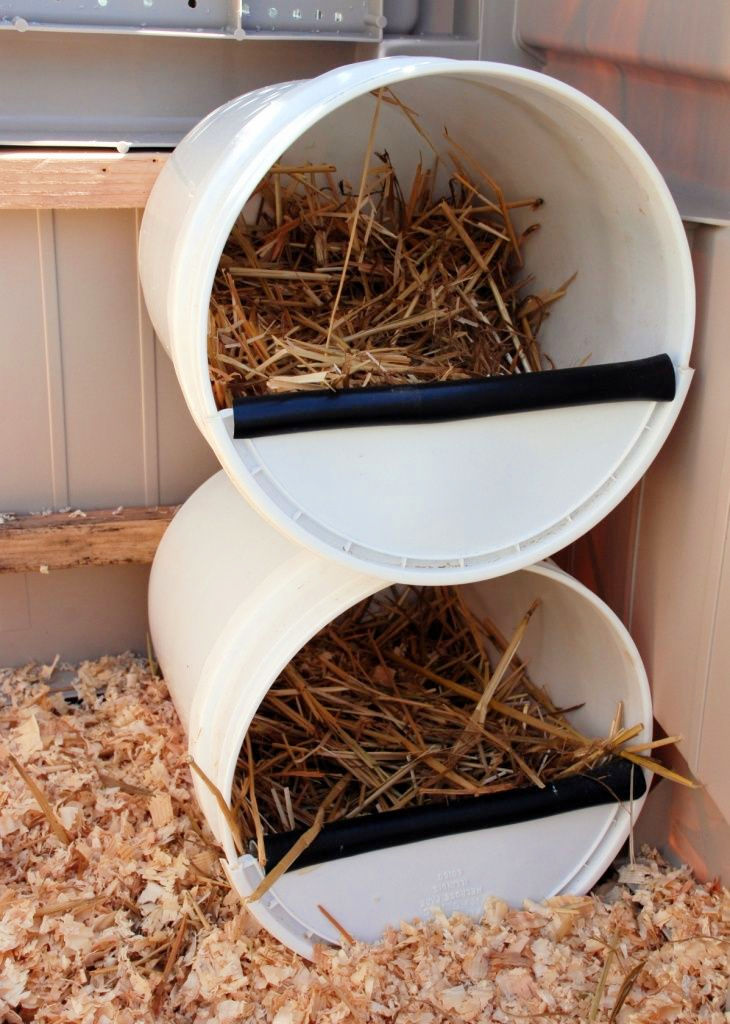 The 5-gallon pail chicken nesting boxes look so comfortable! A chicken would love it there. It will keep them warm and secure. There is a lot of straw inside it to provide the ultimate level of comfort, and half of the openings are covered, so the chickens don't just jump out!
23. Recycling Crates Chicken Nesting Boxes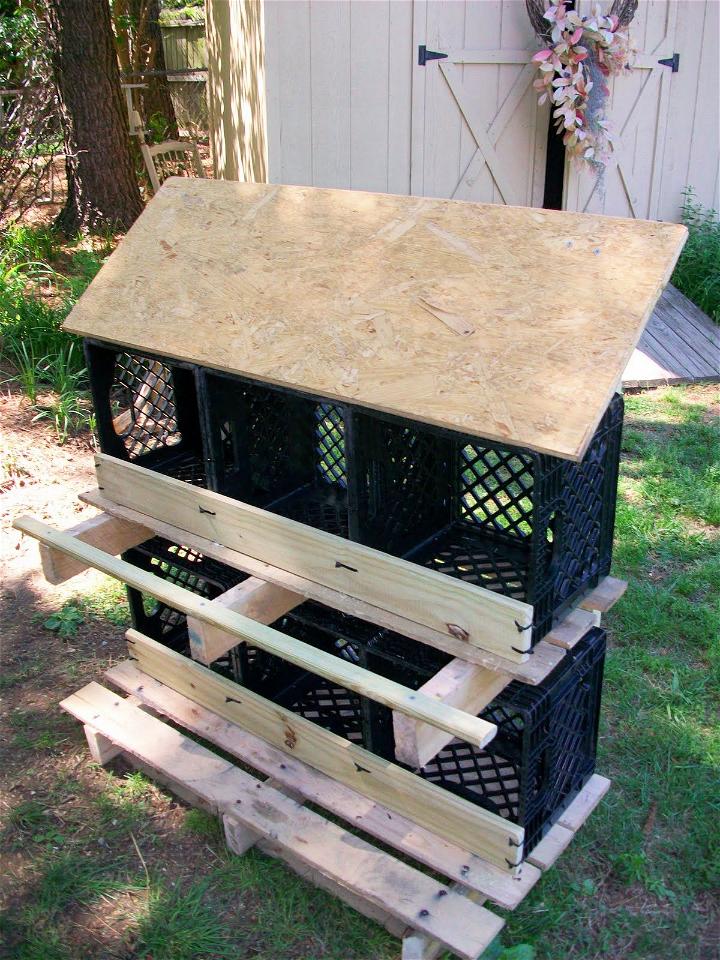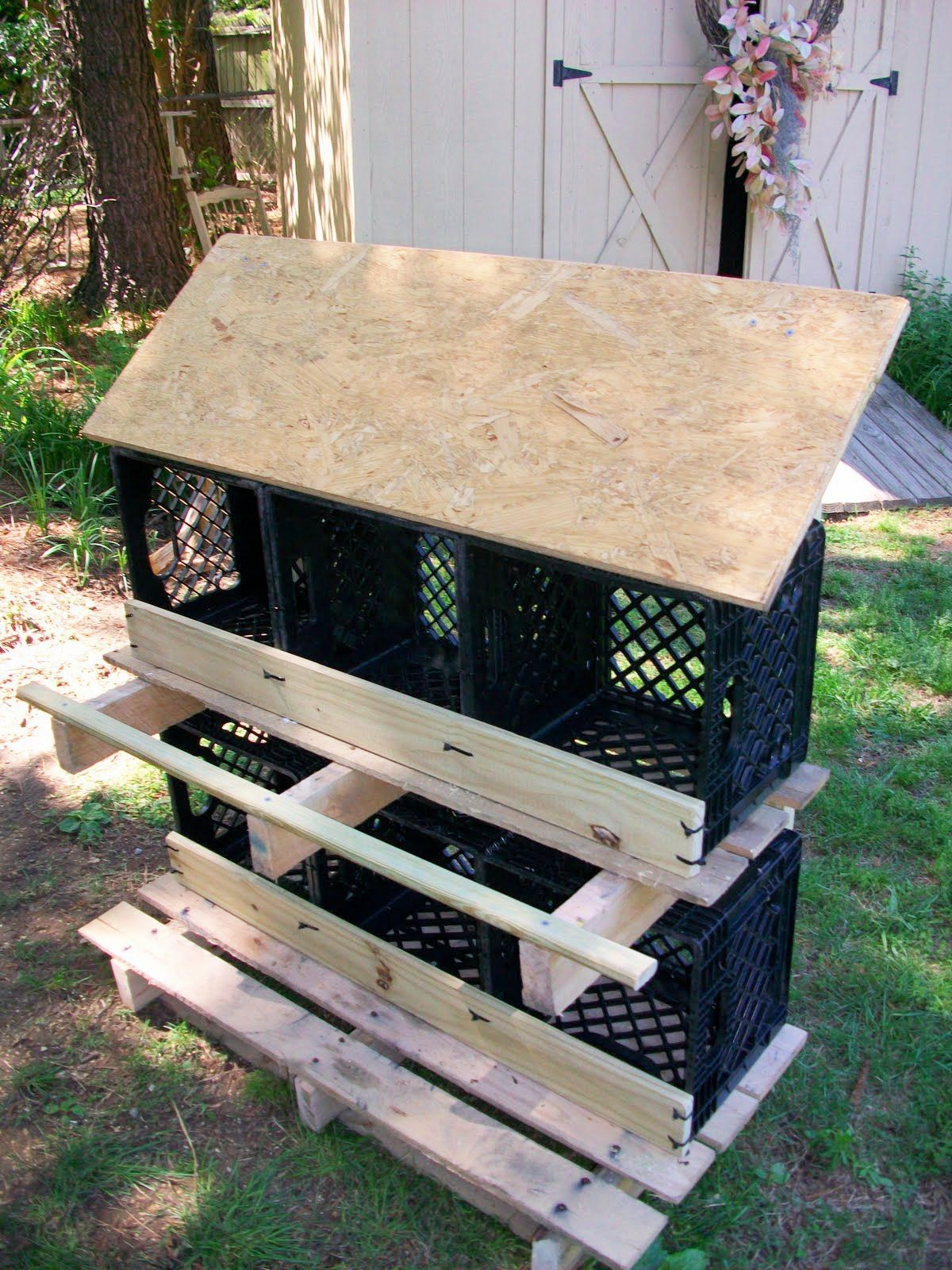 If you have a ton of crates and a ton of chickens, make this to not just help the environment but also save a lot of money! The chickens would love this place as it looks like a tiny house! You can paint it any color depending on the vibe you're going for.
24. Cool Chicken Nesting Boxes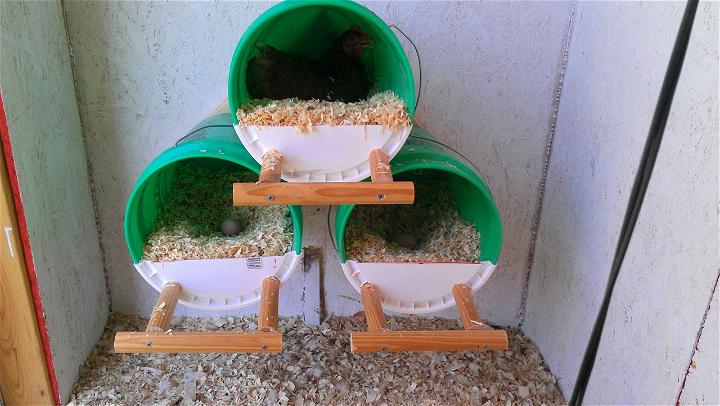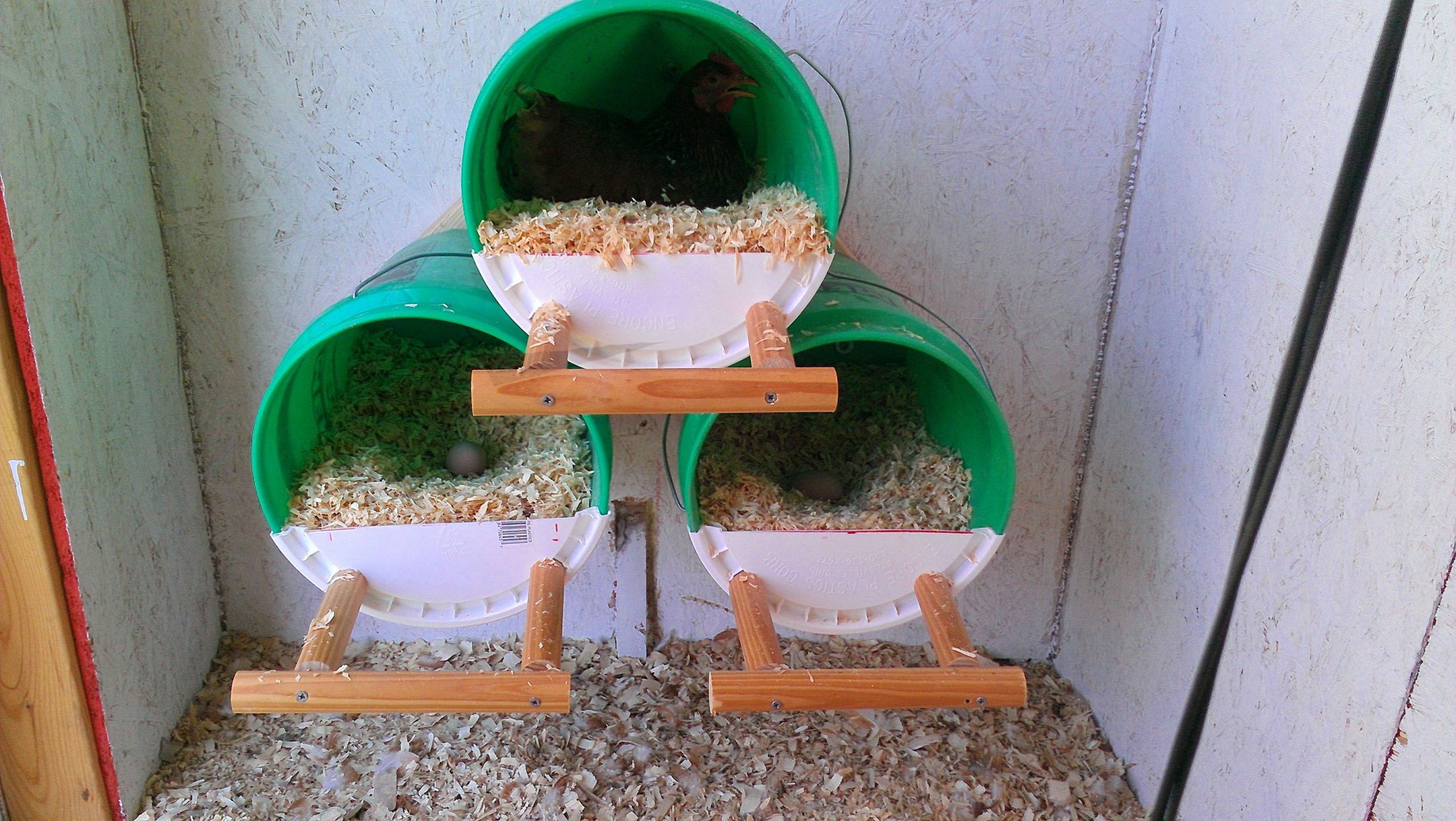 How cool is this chicken nesting boxes out of 5 gallon buckets! It will keep your chickens warm and toasty and make them lay a lot of eggs! Chickens need the right amount of comfort to do so. Put in a lot of straw to provide much comfort and relaxation. Your chickens deserve it!
25. Chick TV Nest Box Solution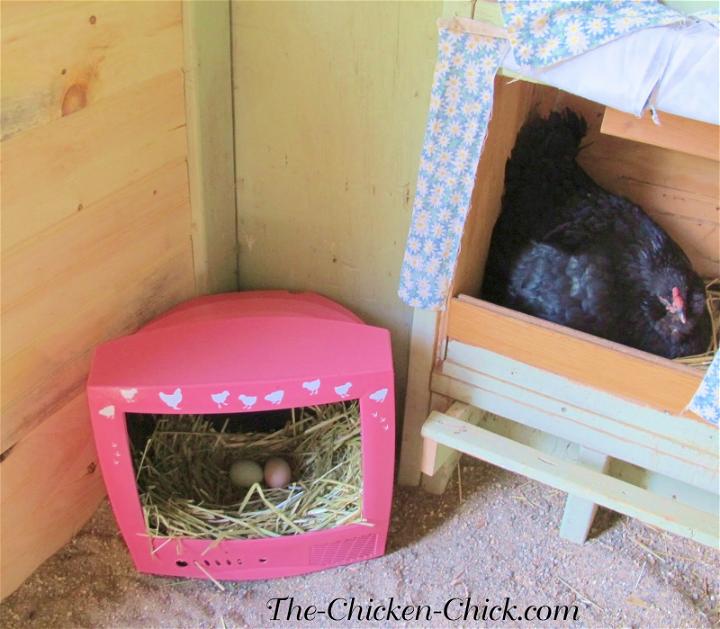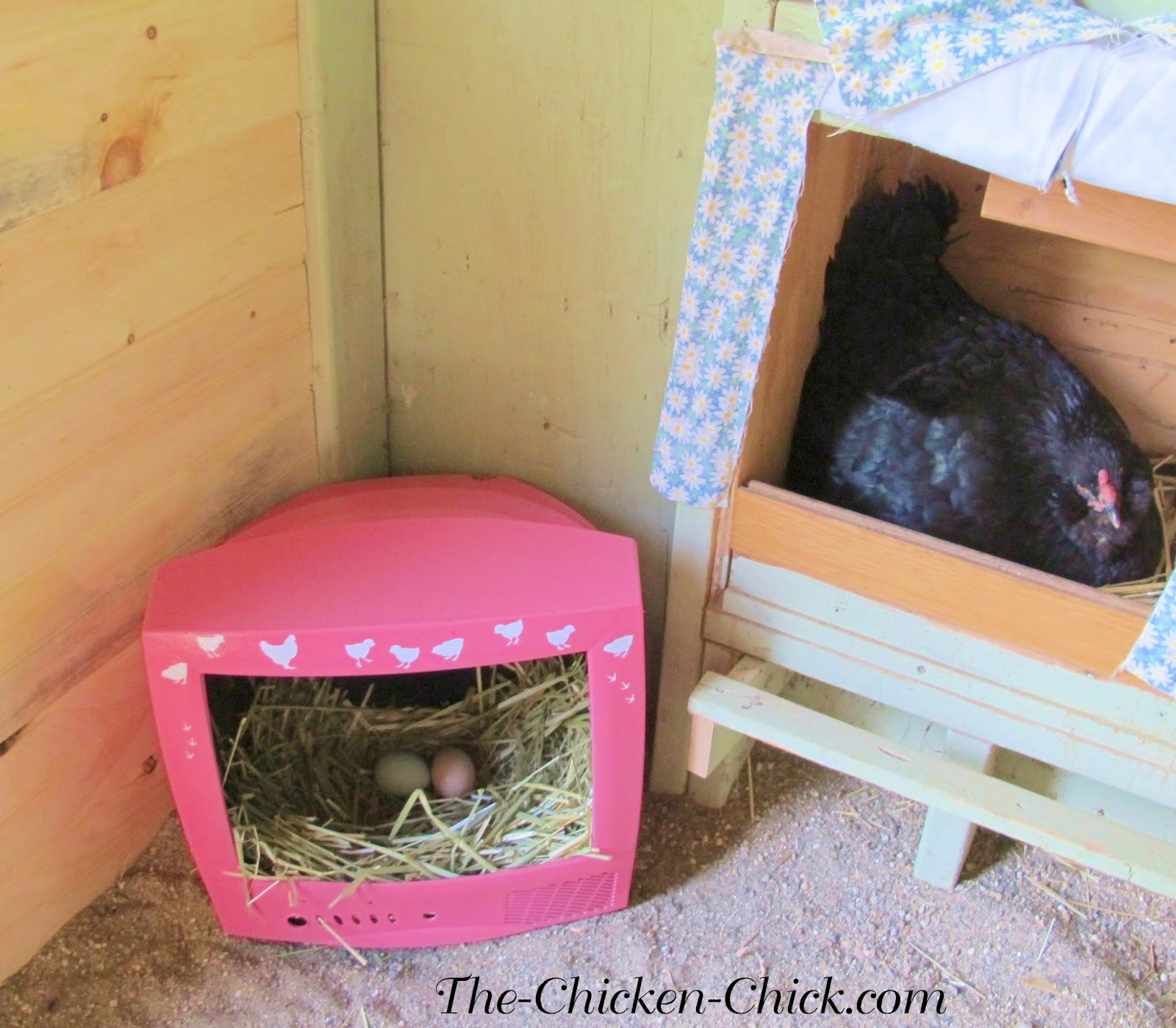 Chick TV nest box solution is perfect for you if your chicken laid a bunch of little chicks! This is super cute with the pink and white details, which makes it look very presentable and can be kept in your backyard, as well! Perfect!
26. Plywood Chicken Nesting Boxes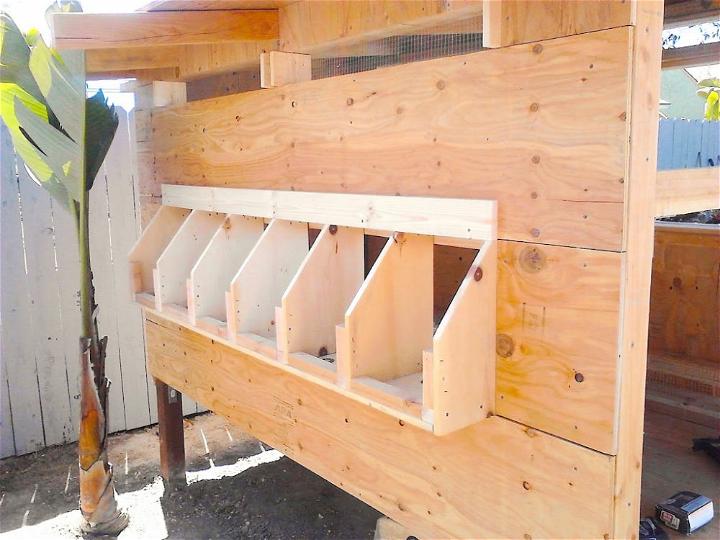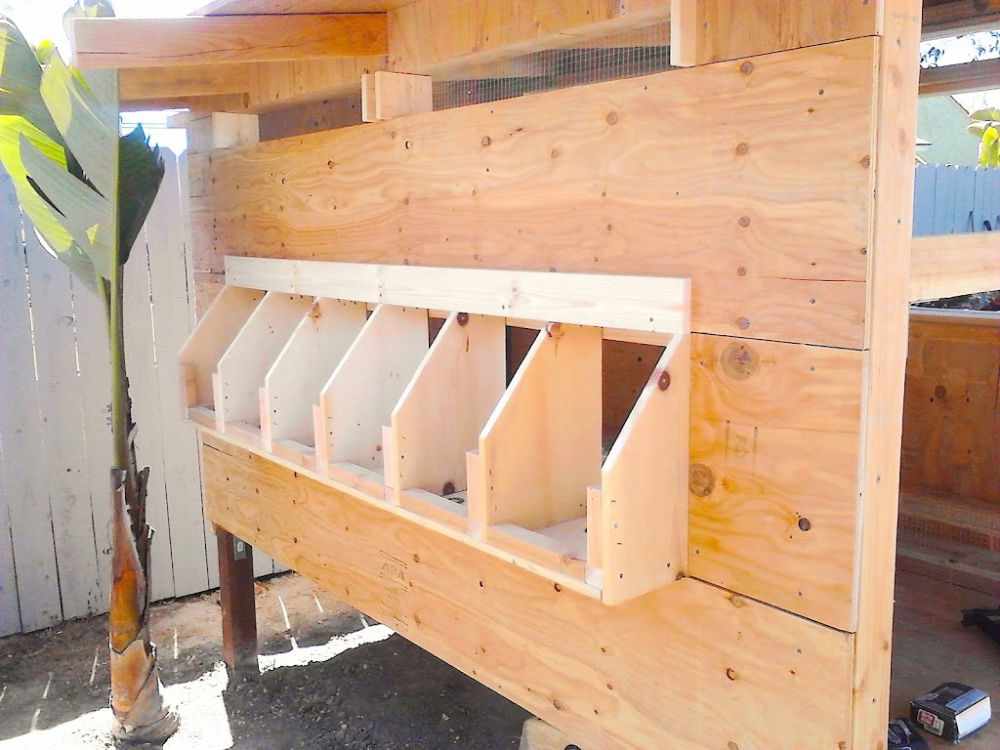 This looks like such a fun little project! On top of that, your chickens are going to love it! It's like a little house for them! This chicken nesting box is just amazing and will keep your chickens happy and warm! What more can they ask for?
27. How to Make Nesting Boxes for Chickens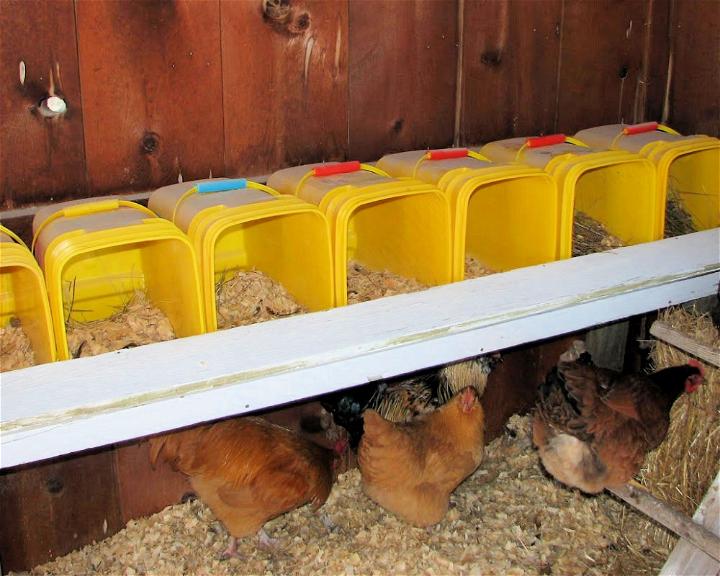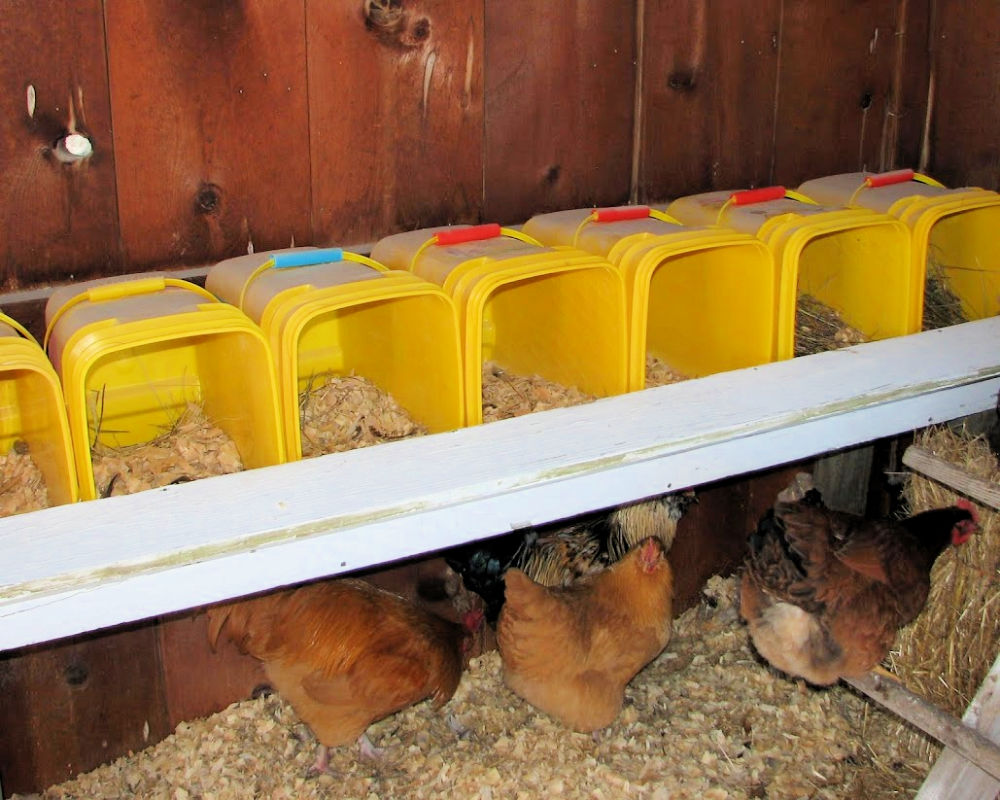 You can use all of those plastic containers lying around your house or farm to make this! Why spend a ton of money on chicken nesting boxes which are likely to break in a few days? You can collect a bunch of containers in the same color and make this!
28. DIY External Nesting Boxes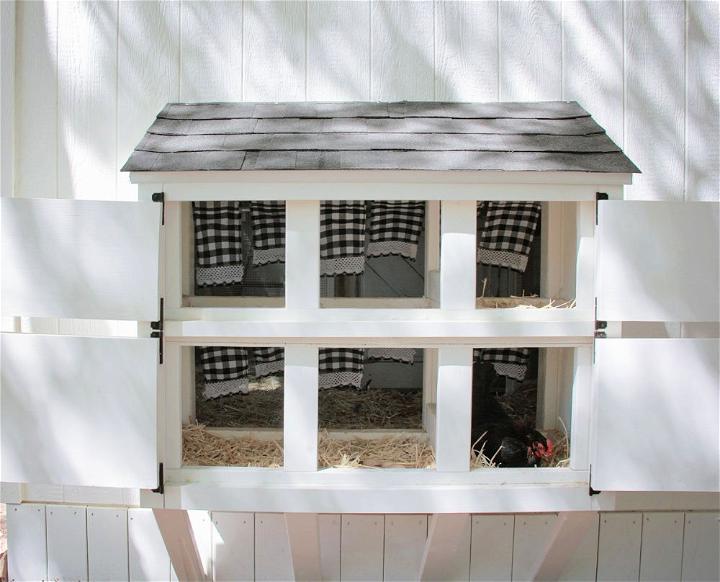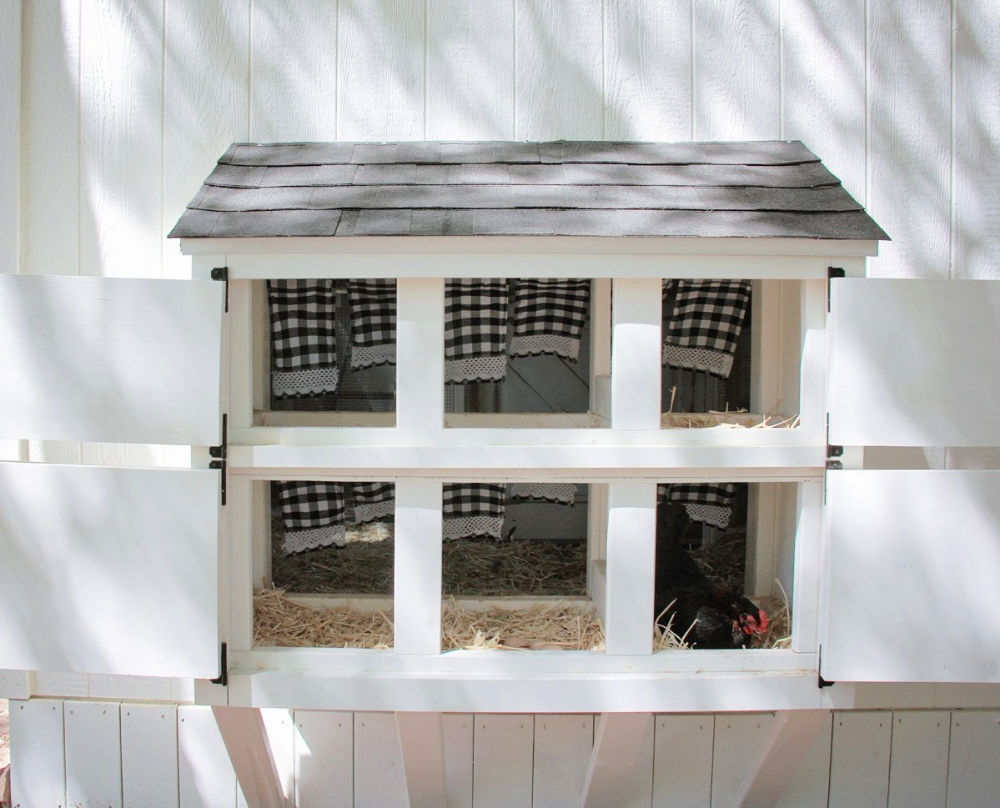 The DIY external nesting box is the perfect addition to your farmhouse. This can be attached to a wall or kept on the ground. It is super beautiful and will make the corner of your house pop, wherever it's kept! Just amazing!
29. Best Chicken Nesting Boxes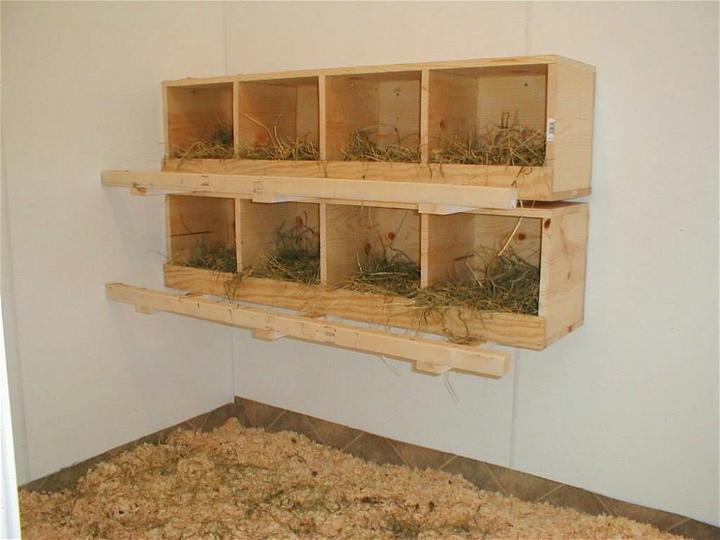 Such a cool chicken nesting box! This has many boxes in it. It depends on the number of chickens you have! Moreover, it has another table underneath it so that the chickens can jump out on it and have some free time!
30. Chicken Laying Boxes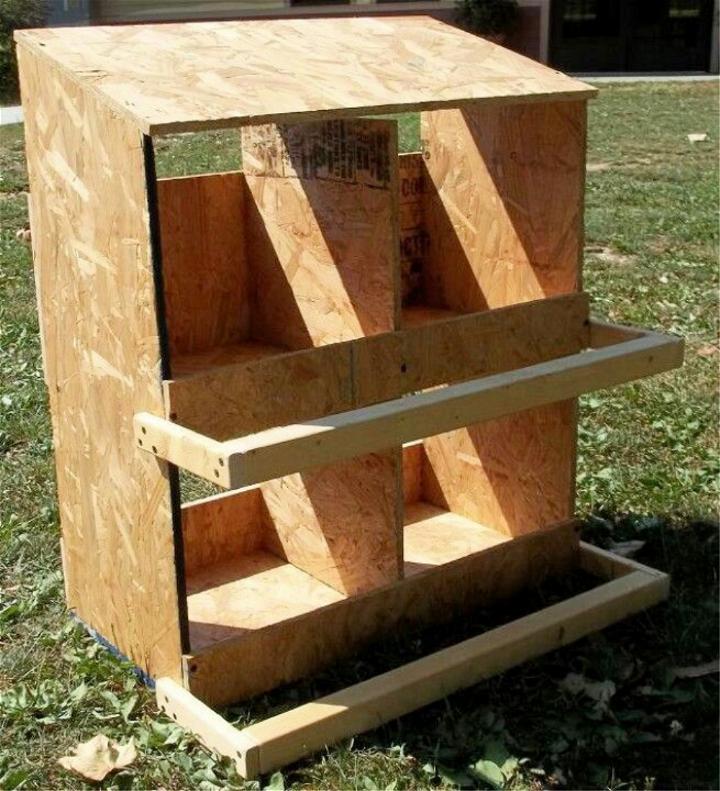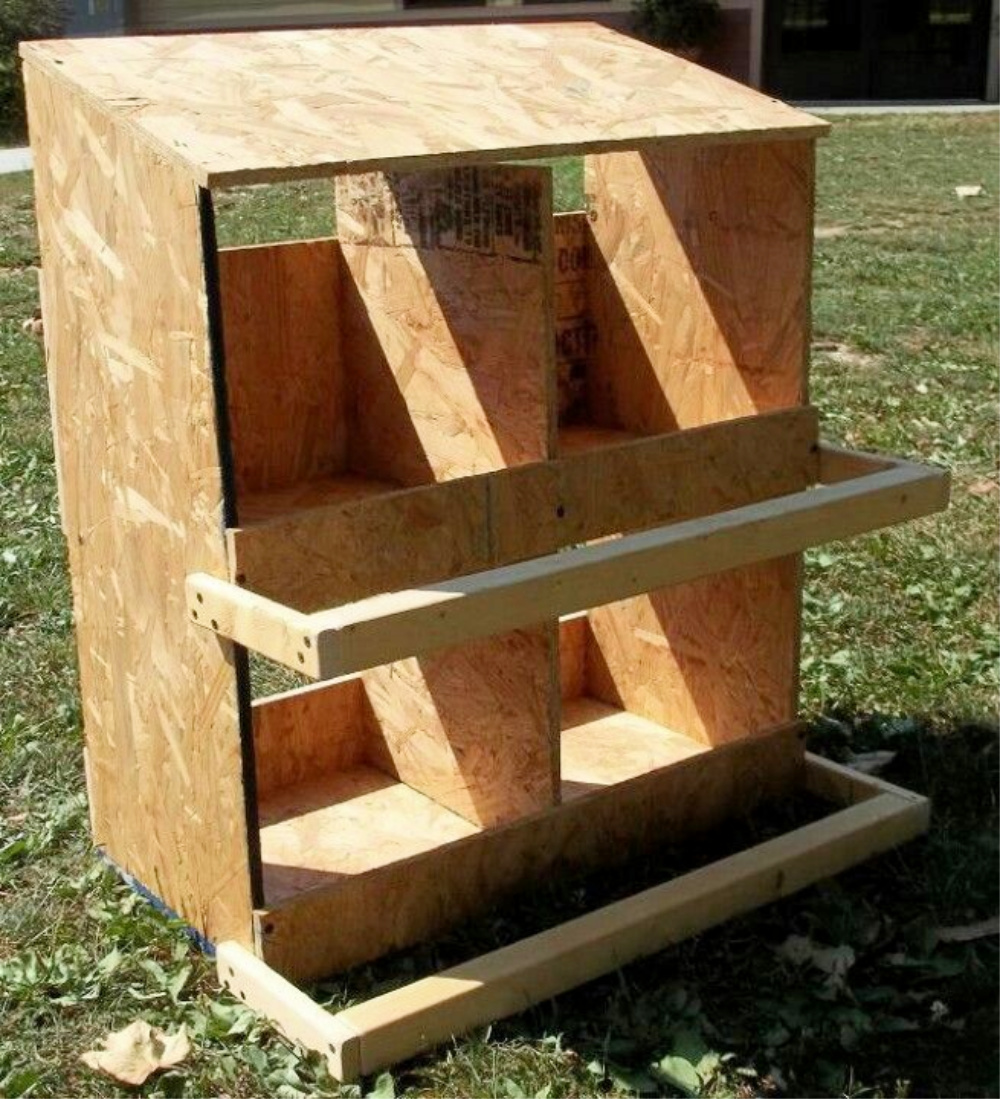 Last but not least! This chicken nesting box plan has a super cool shape to it, which will make you forget about all of those stores brought nesting boxes! It will make your farmhouse look very put together and neat!
DIY Chicken Coop:
Save time and money by building a pallet chicken coop using one of these ideas to provide your brood.
Learn the steps for designing and building a simple portable chicken coop suitable for either laying hens or meat birds.
Conclusion:
Do you feel your chicken coop is all messed up? Go and make them these amazing chicken nesting boxes! Don't feel guilty, no more! Everyone wants a good life – be it your chickens! This will save so much of your time! When you don't have to get every corner of your farmhouse cleaned. As they will stay in one place and not all over the house! You won't have to waste any eggs any more at your farmhouse!