"Home Sweet Home" is a famous quote and is true for your cats too. So, make a cat house with these 20 DIY cat house plans that are much doable. These free cat house plans help you making a cat house cheaply and quickly from recycled and household materials. Follow these quite inexpensive cat house designs, to build one for your feline friend with some great features, and colorful sensation looks.
Actually, they are quite inexpensive to build and mostly involve using recycled and leftover materials. Look at these 20 free DIY cat house plans that come with superb ideas to impress and will be beginner-friendly to build. Again the DIY talent here is ready to wow you, and we can bet that you have not imagined the items that are being used here in building adorable cat houses.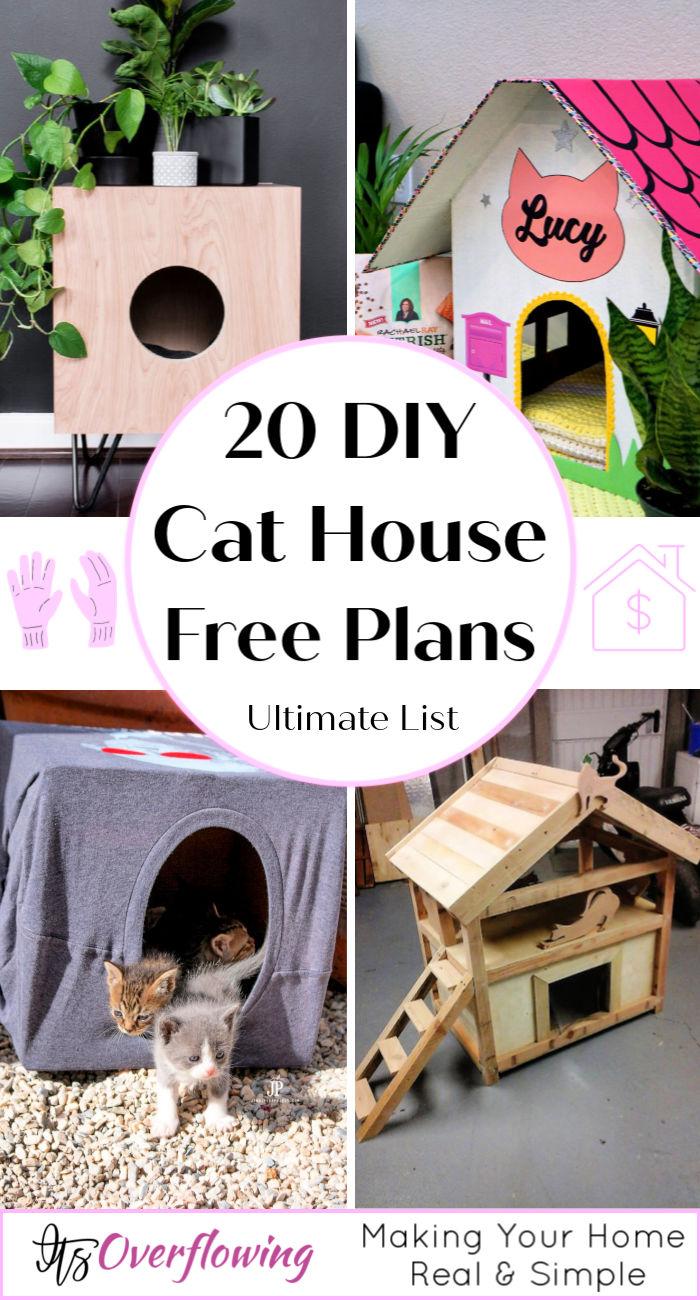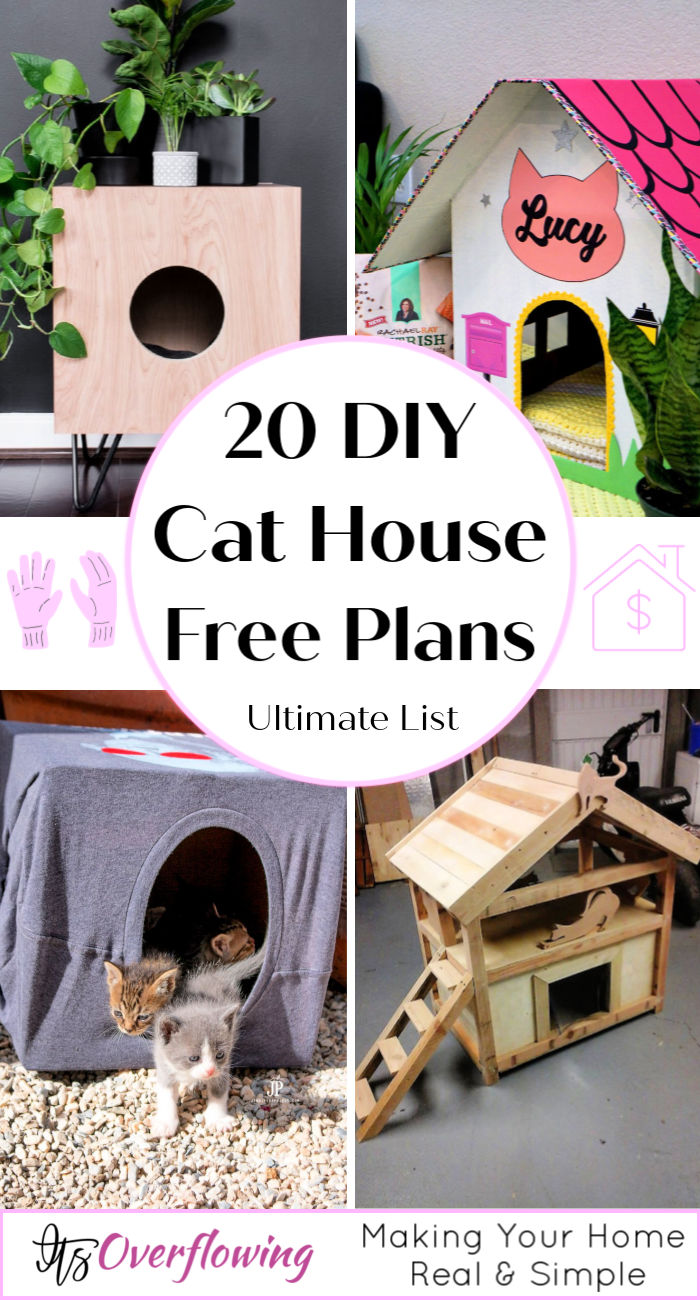 First, just try to hunt the free wood from home and surroundings to build a cat house. Like, repurpose pallets wood to build no-cost cast cat house and beds. Build the plywood cube shape boxes with metal hairpin legs to build a side table cat house. Upcycle the cardboard box and old t-shirts to build adorable looking DIY cardboard cat house in just no time.
Repurpose the IMAC to build instant beautiful cat houses and also build the double-story wooden bungalows for your cats. Browse all the cat house plans to see lots of enchanting designs more. You will get the free step-by-step instructions and tutorials, too, for building each of the listed design like a pro.
1. Indoor Cat House Plan

Build this beautiful wooden cat house using PureBond plywood. The cube-like design appeal is cute like your cat, and entrance is added by cutting a big hole in the front side. This is the best one from all of the cat house ideas. Finish it up with Minwax stain, varathane, and hairpin metal legs. It will make a great side table too. bybrittanygold
2. DIY Cardboard Cat House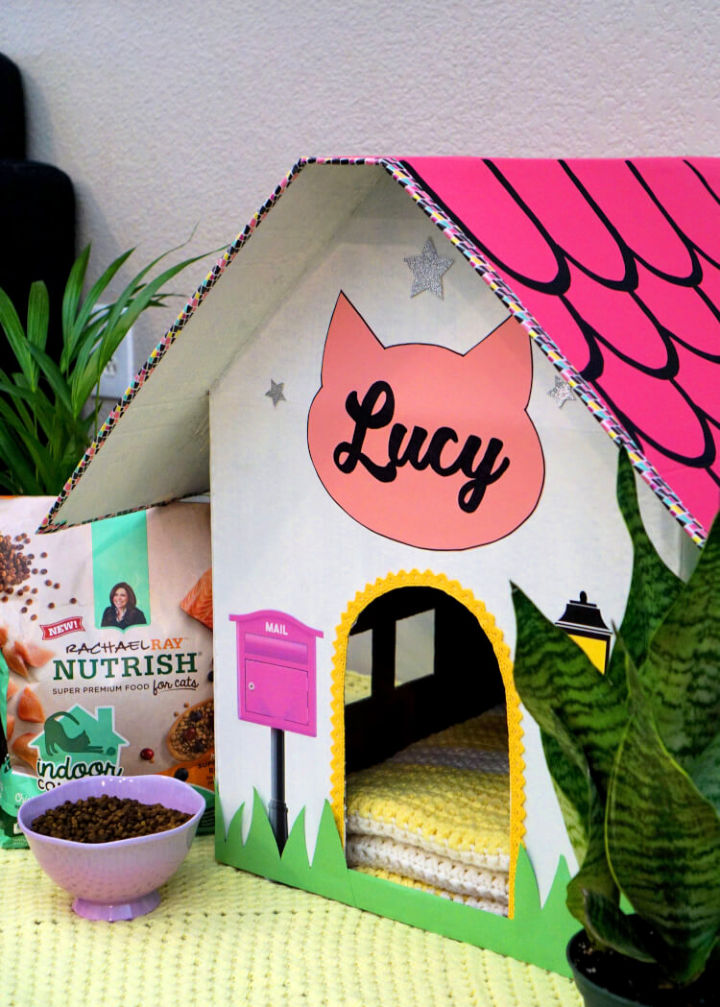 Get here the super inexpensive hack to build a cool and colorful cat house. This time make a cat cave using cardboard. Get here free plans and instructions to build a nice one at home. You need a cardboard box, a cardboard sheet, and custom embellishments to adorn the completed cardboard cat house. happinessishom
3. Cat House out of Cooler

For the chilly season, you should definitely build this homemade cat house for your cat pet. You may also follow other cat house designs by this one that comes with rope lighting installed all around inside the lid. Add up a 100qt, large cooler with a rug and thick foam pad and also with cat food bowls to build this recycled cat house. Finish with 1"x1" mounting bases. instructables
4. Cat Bed Out of Pallets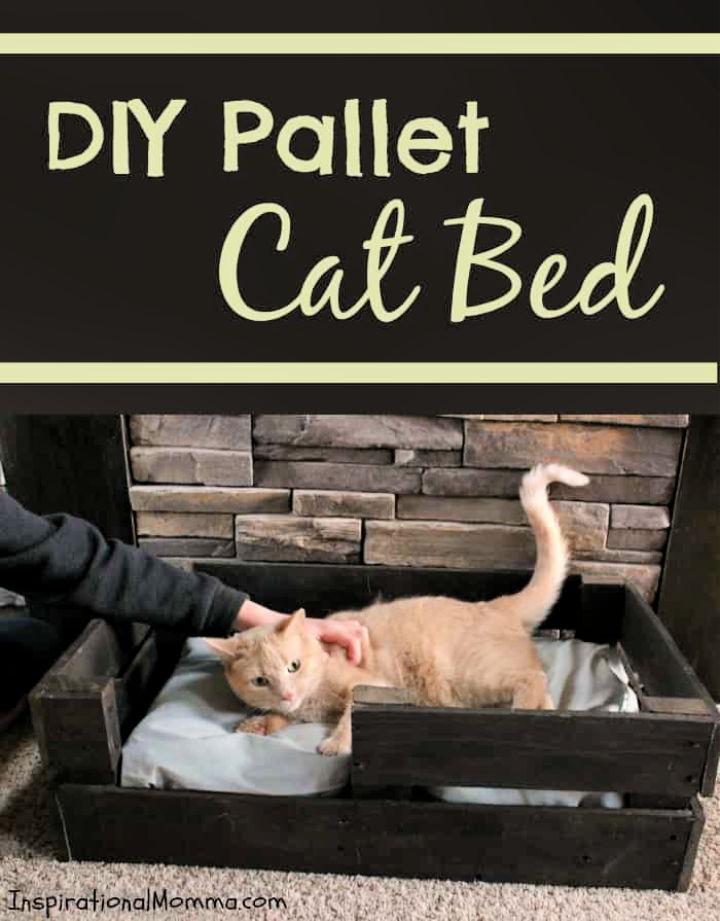 Willing to trim down your expenditure in gaining a cool cat bed? Then head over to free pallets and build a lasting longer wooden bed for your cats. Just put a few slats of pallets together to build a bigger tray, cushion it up to serve as a comfy cat bed. Stain for weather protection and embellish in the way you like. inspirationalmo
5. Plywood Cat House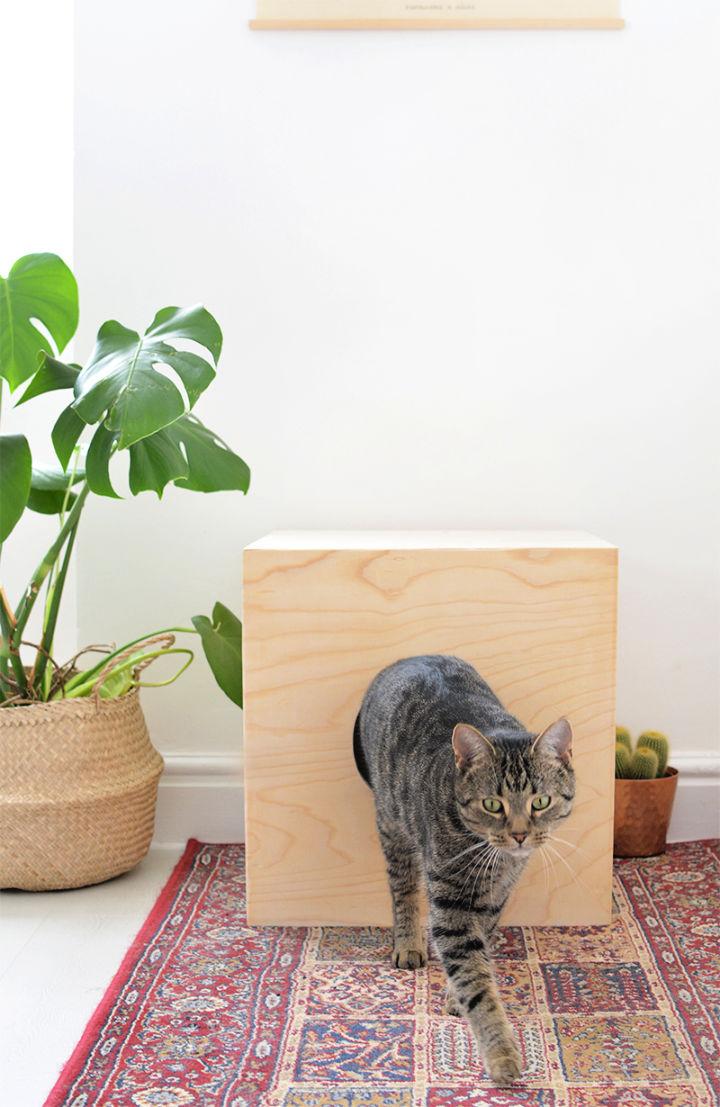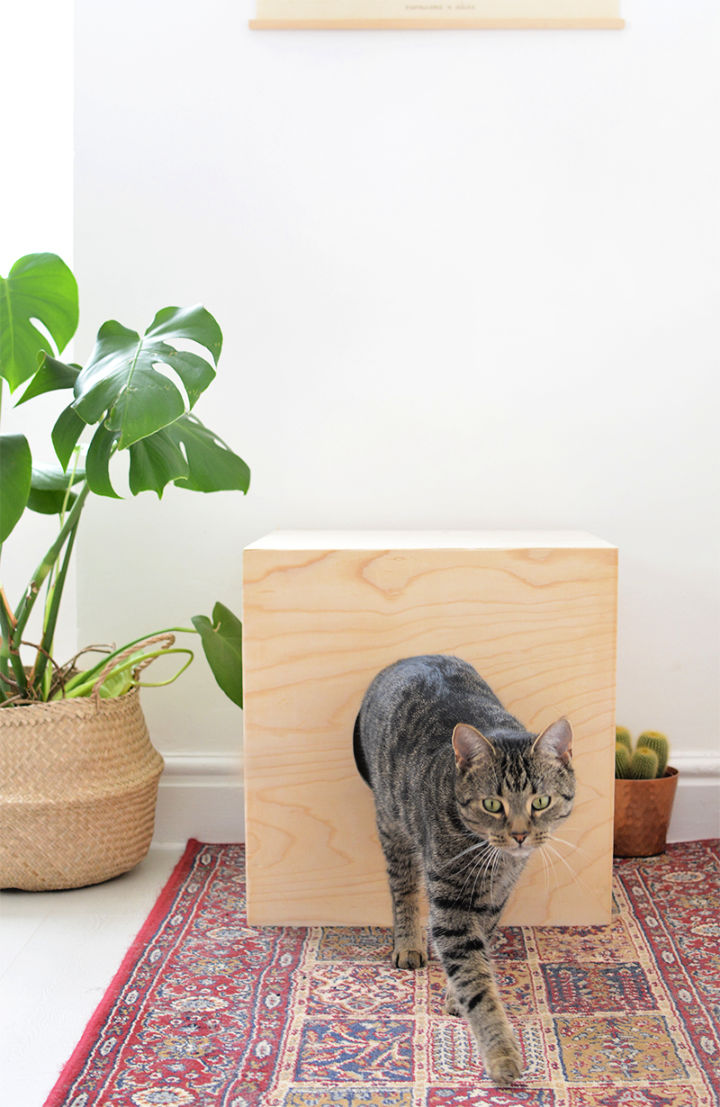 Build a big wooden cube or box and then cut a big hole out in the front side of it to gain a gorgeous cat house. Build this sophisticated cat house using plywood, and it comes with a 40cm x 40cm base. Install a cat bed inside and also the steel cat bowls to bring some luxury in it. burkatron
6. Wooden Pallet Cat House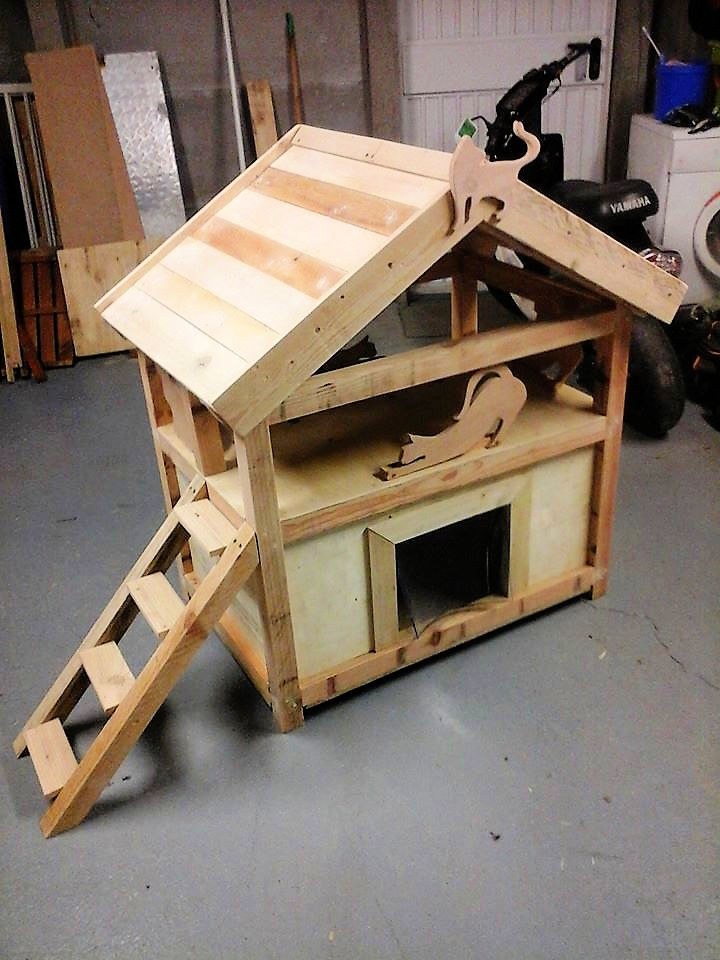 One of the most lovely cat house ideas ever built like a multi-story bungalow. For a cat-specific look, there comes with cat cut out wood symbols that you can make out of leftover wood pieces. In features, it provides to reach elevated story, comes with a chevron roof and also with a comfy house at the bottom side.
7. DIY IMAC Cat Bed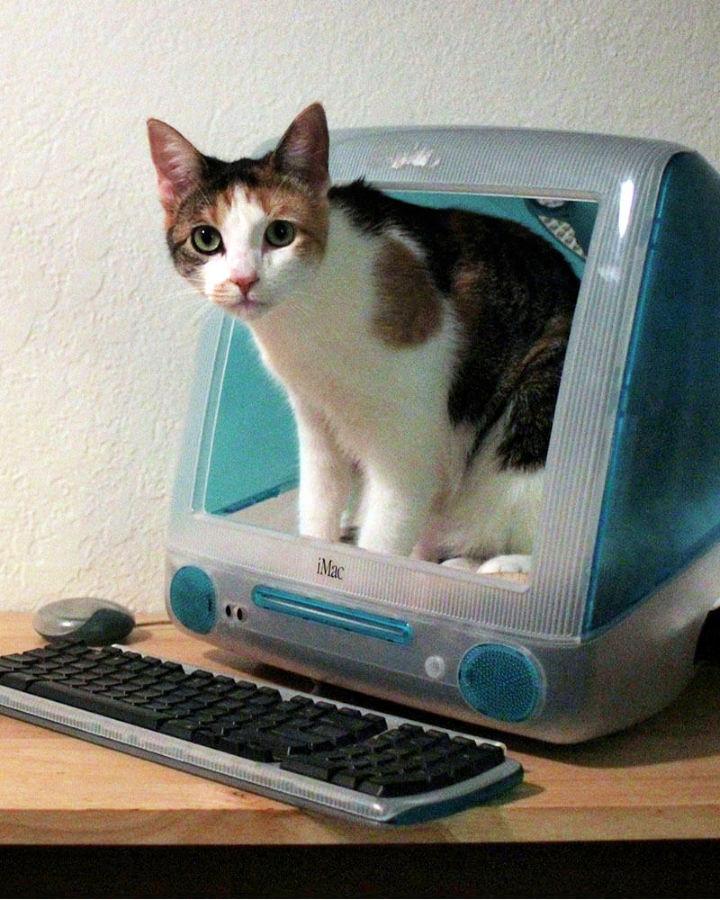 Build no-cost yet functional and comfy cat beds out of recycled items too. This one is made out of a recycled iMac. Just empty out the entire IMAC and then remove the screen for making cat house entrance. Install batting, a rug, or a cushion inside to gain a comfy cat bed. Get inspired by the given sample. andpossiblydi
8. How to Make a Cat Teepee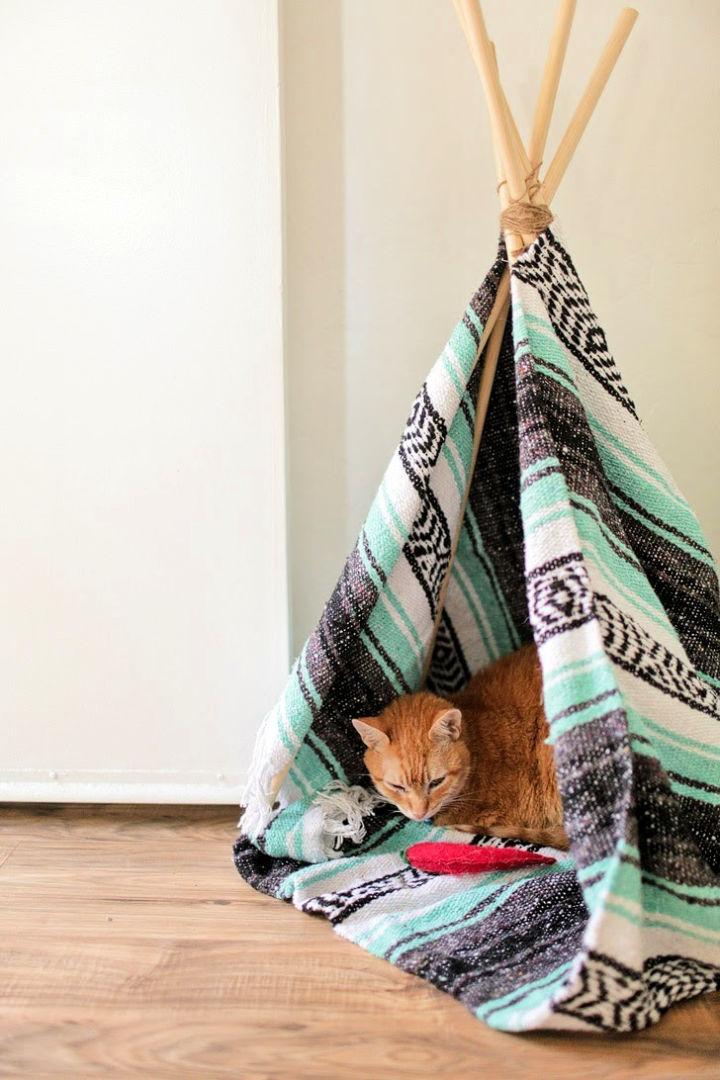 If you are handy at installing tents or teepees, then building this cat house will be a child's play for you. Just install a teepee and let it come with an inside comfy bed to build a comfy cat residence. Install the teepee frame using wood dowels and next cover it up with fabric. Embellish in the way you like. localadvent
9. Cat Tree House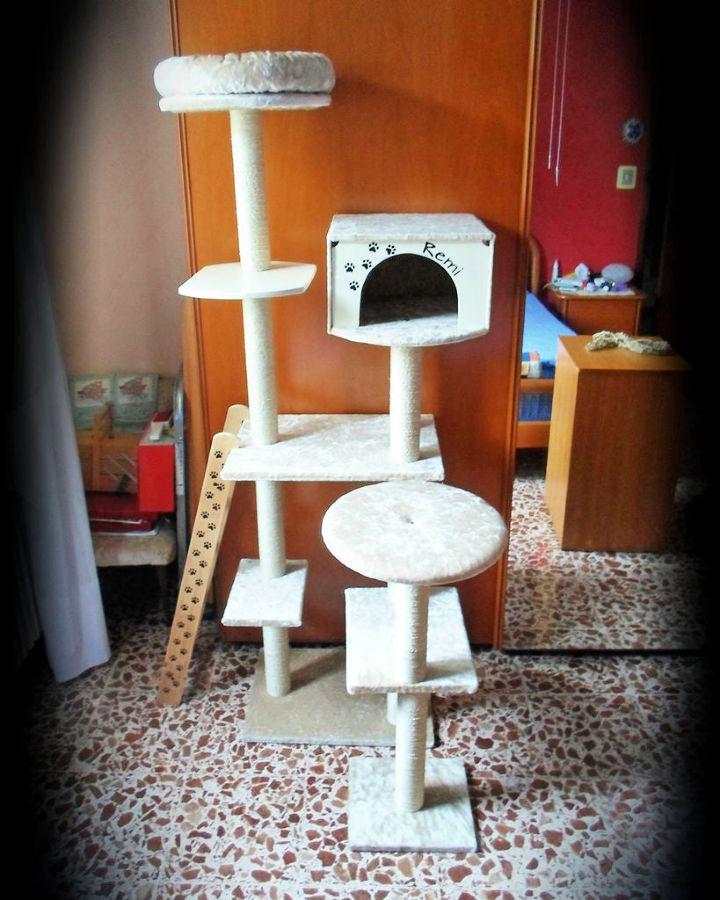 Get here the free plans to build a cat tree house. It will help keep your cat physically fit. Reaching this raised cat tree house every day will be a nice exercise training for your cat. You need wood, hard cardboard tubes, wood curtain rods, fabric, thick Styrofoam, and thin upholstery foam to make it. instructables
10. Pine Wood Cat House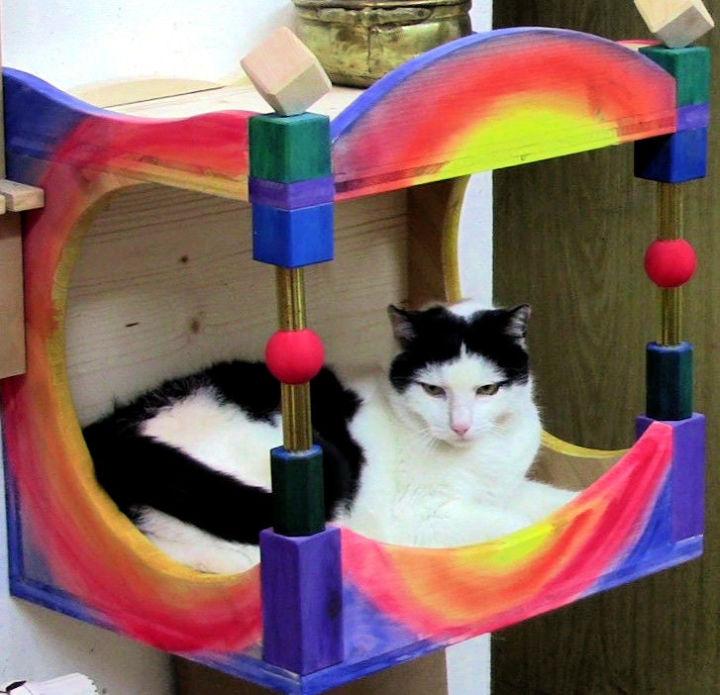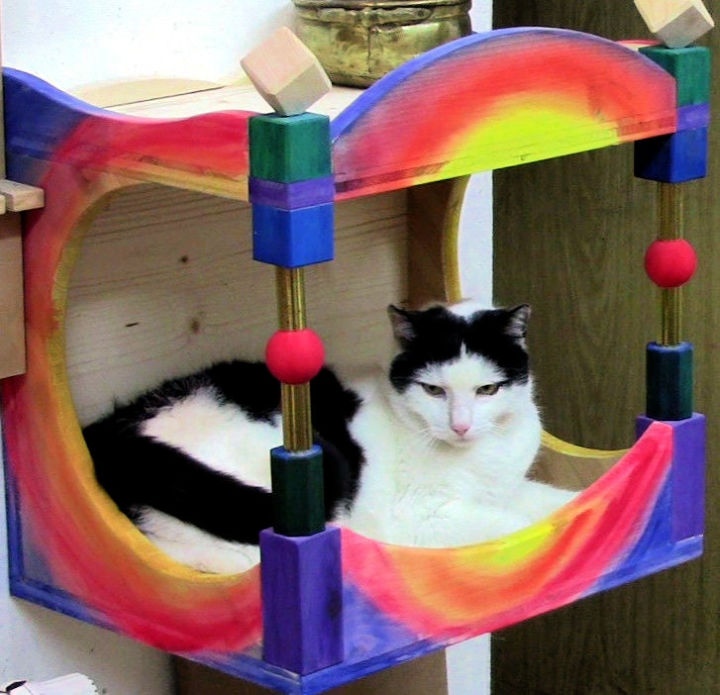 This rainbow-painted homemade cat house comes with 2 columns and is a crazy cat residence adorned in a perfect way. Make it with 3 layers 3/4" pine wood, grab some scrap wood pieces for building columns. Further, you need a 6mm threaded rod, watercolors, and an old curtain rod to make it. instructables
11. Cheap DIY Cat House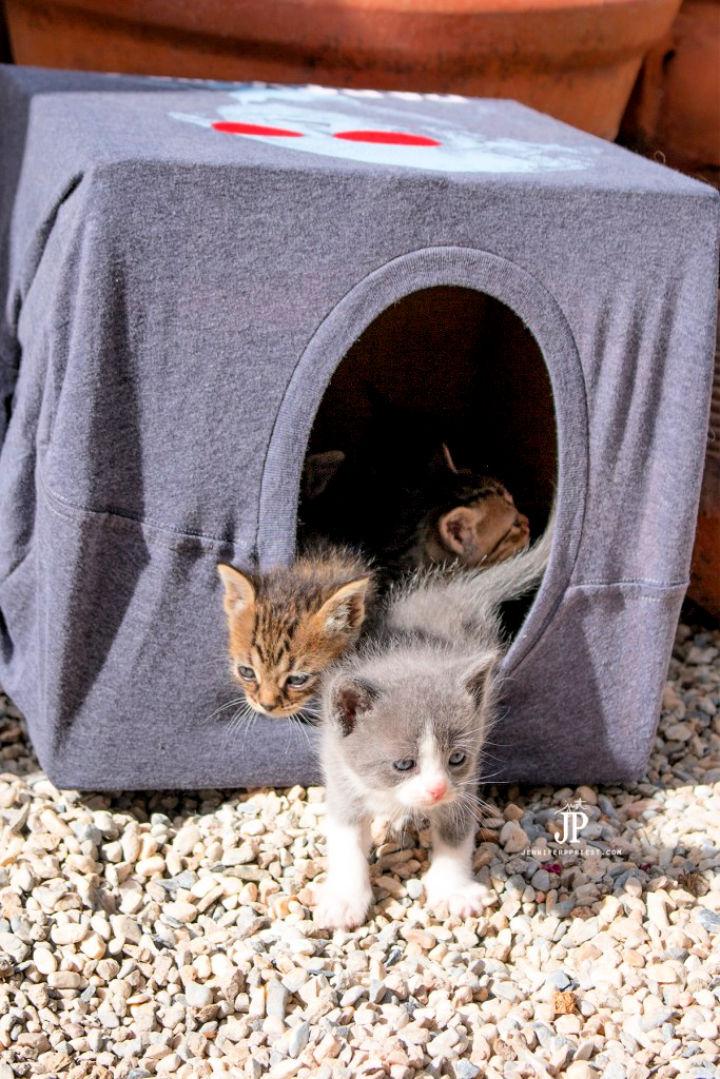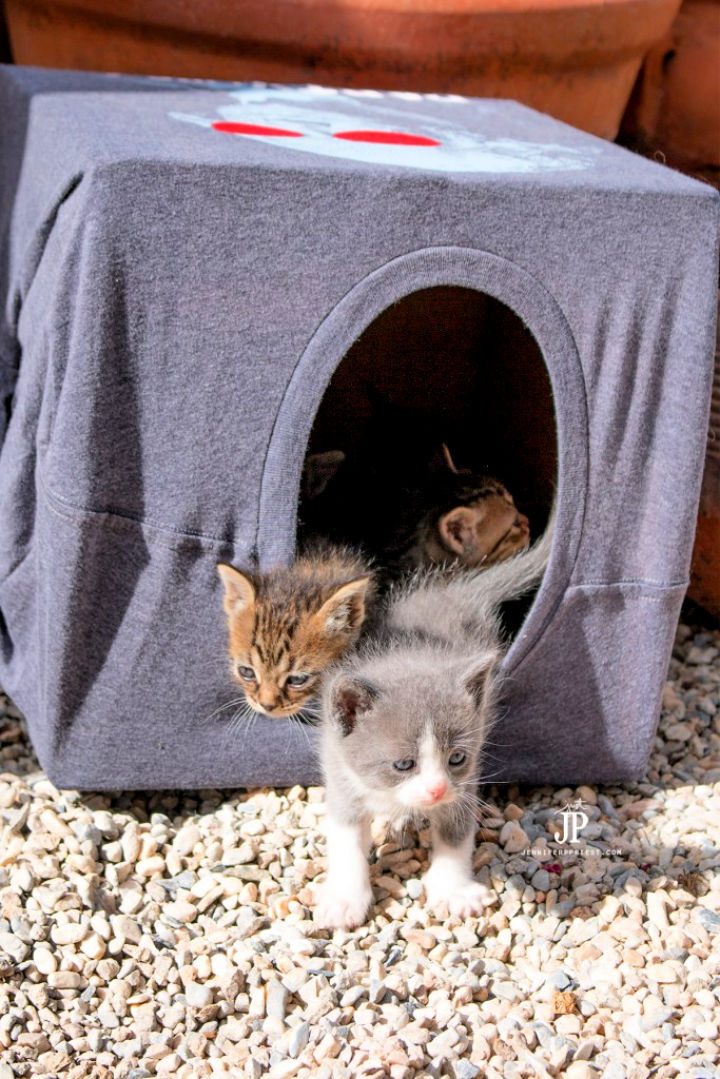 Bring tons of protection to your cat by building this affordable homemade cat house, will make a sweet handmade gift also to a cat owner. You just create a cat house out of recycled cardboard and then cover it up with an old t-shirt and build a cheap DIY cat house. The t-shirt cover will bring tons of coziness to the cat house. smartfundiy
12. DIY Cat Tent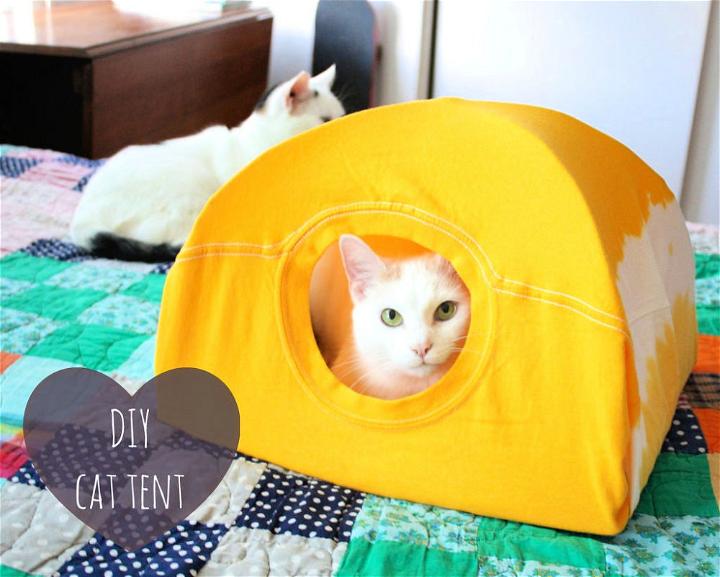 Put your recycled and old items to some good uses. Repurpose your old t-shirts and a 15" x 15" piece of cardboard to build this adorable cat tent. This cat ten will bring tons of coziness to your cat and will be loved dearly by all cat lovers. Here you also need two wire hangers for this project. instructables
13. Palm Springs Kitty Scratch House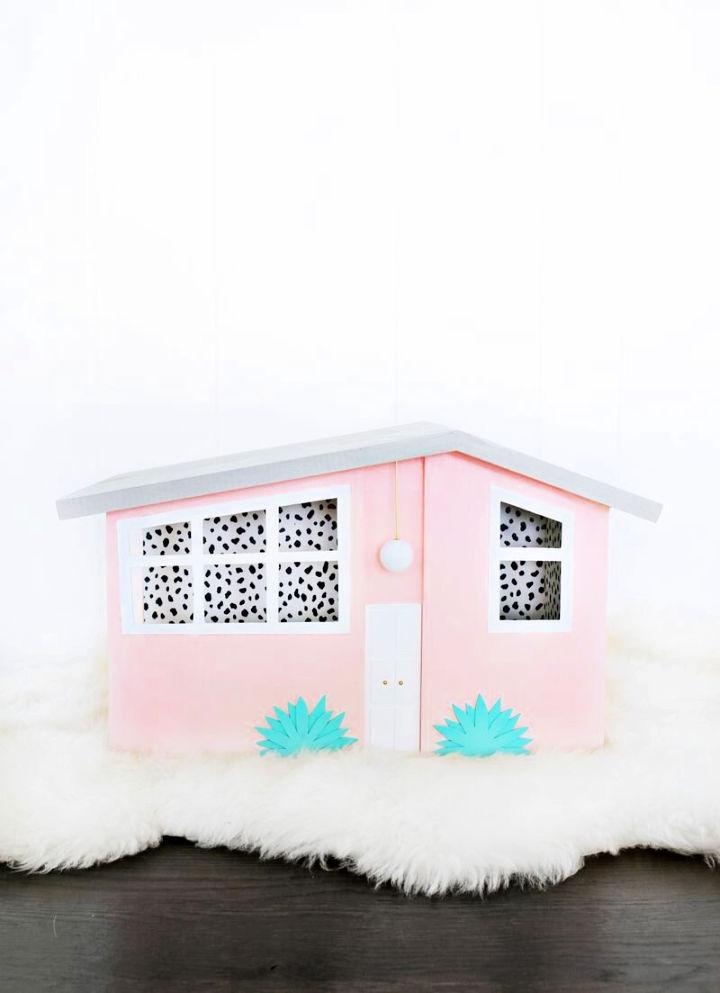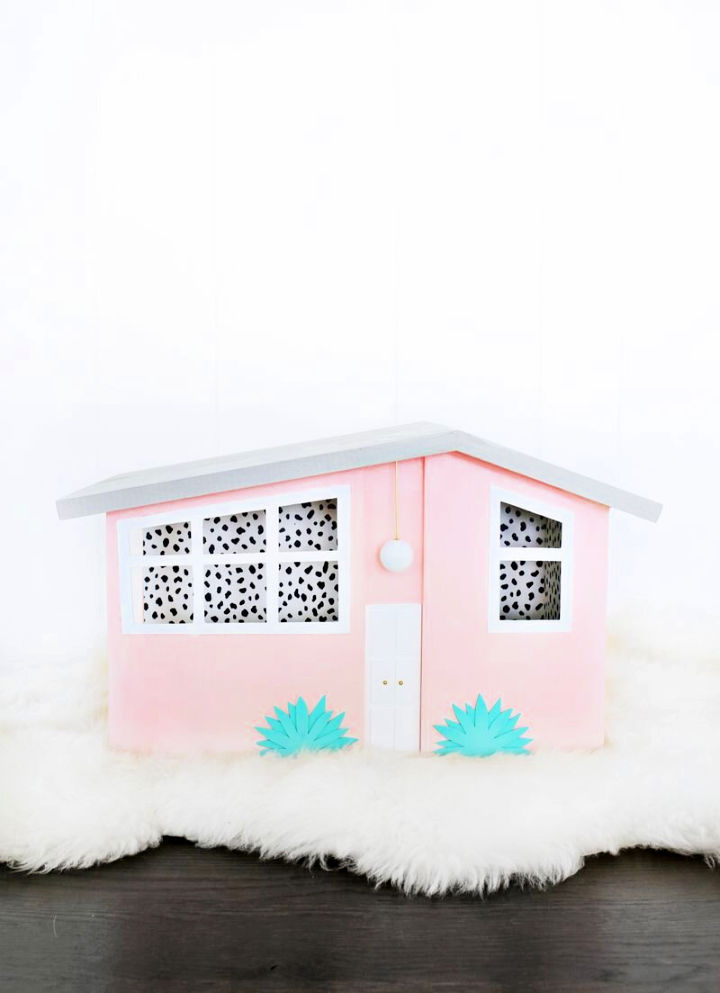 The cats will love to live in this adorable, and sweet kitty scratch house made to rock and inspire. Grab plywood sheets, craft paper, paint of choice, removable wallpaper, scratching pad insert, and paint of opportunity to build this palm spring kitty scratch house. You also need balsa wood, metal wire, and wooden ball for this DIY cat house project. Details here abeautifulmess
14. How to Make a Cat House for the Winter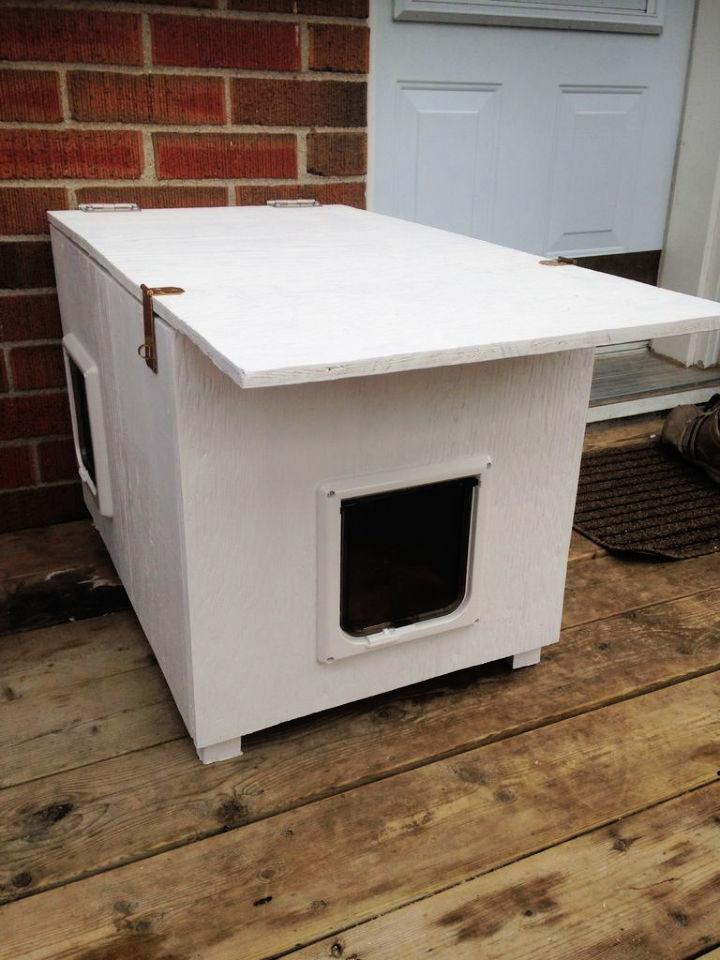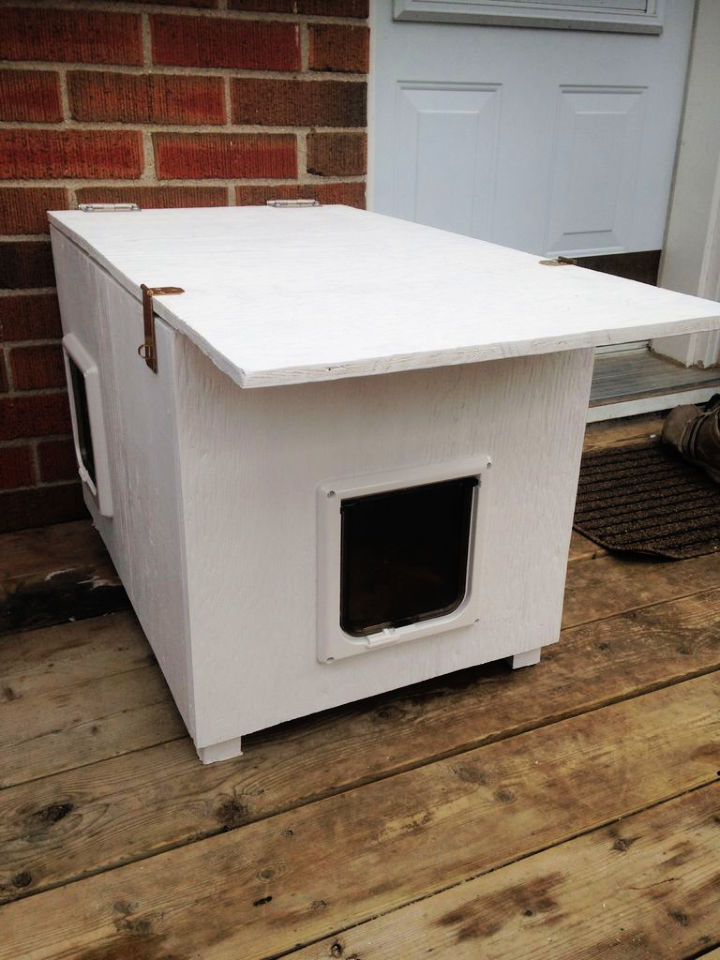 Make your cat live the comfortable by building this mini bungalow-style homemade cat house, a sweet and luxurious house for your cat. how to make a cat house? Make it with 1/2" plywood. Build the frame of it using 2x2x8′. Next, add the insulation and adorn the cat house more by adding solar lights. Further, you need weather stripping and 2 cat doors to make this winter cat house. Find how to make a cat house this season here. instructables
15. Easy DIY Cardboard Cat House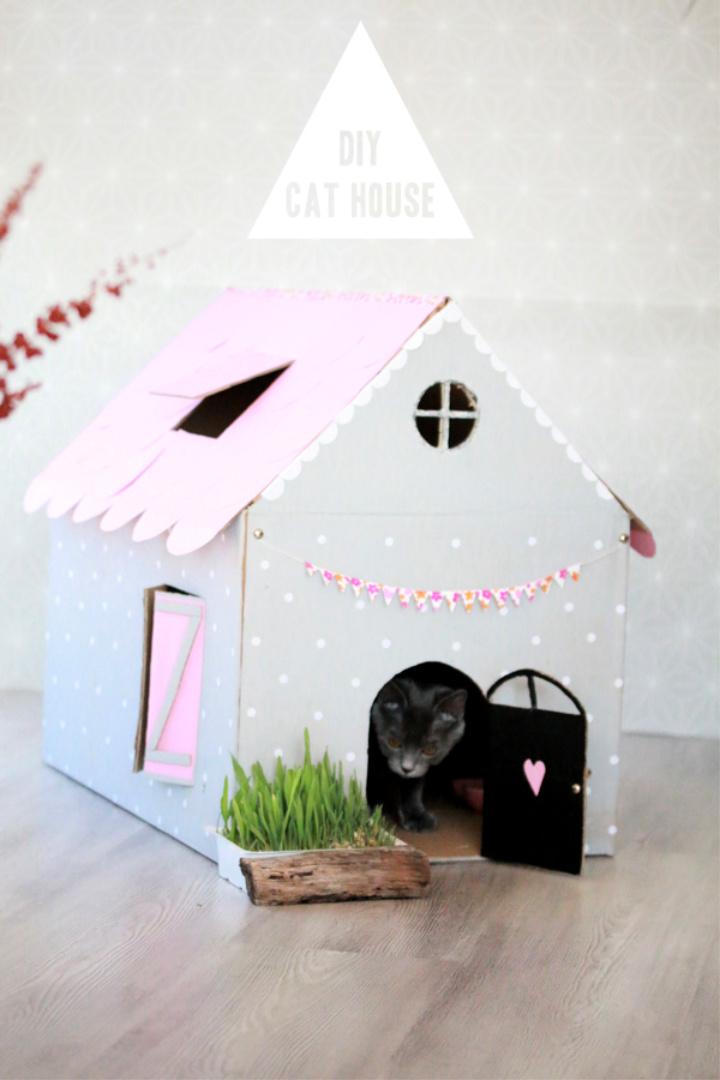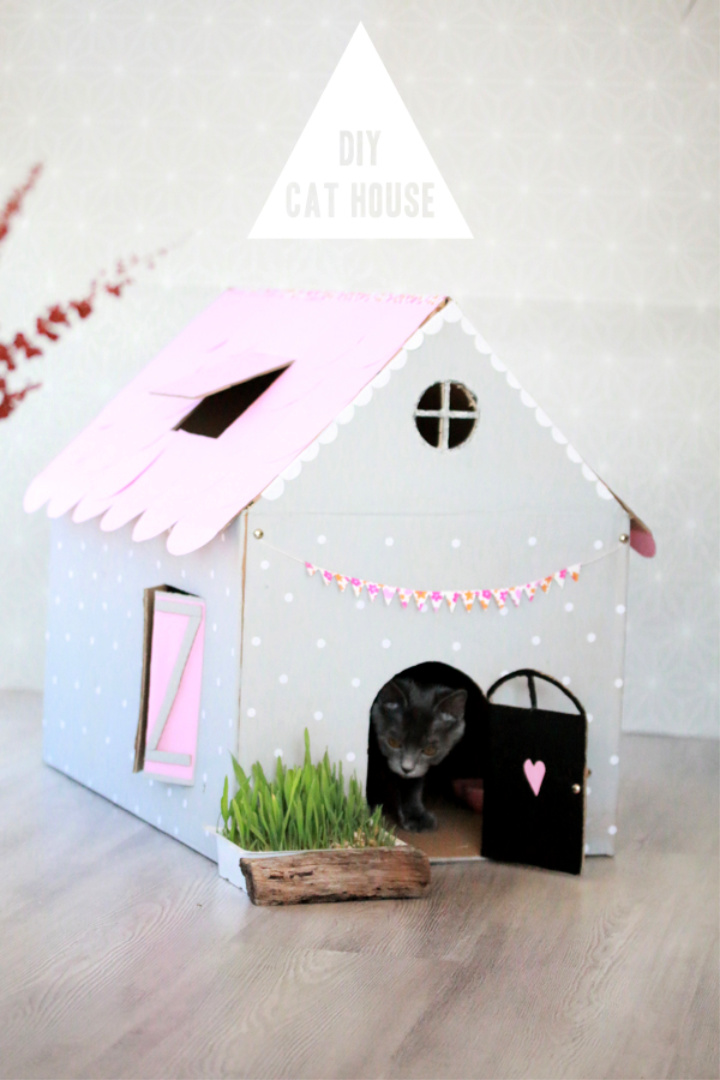 It was never so cheap and easy to build a cat bungalow that will provide weather protection too. You need two pieces of a cardboard box, colorful paper, scrapbook rivets, sticker dots, black chalkboard paint, and grey acrylic paint to build this very outstanding model of cat house. Details here babasouk
16. Cat House Tepee from An Old Tv Tray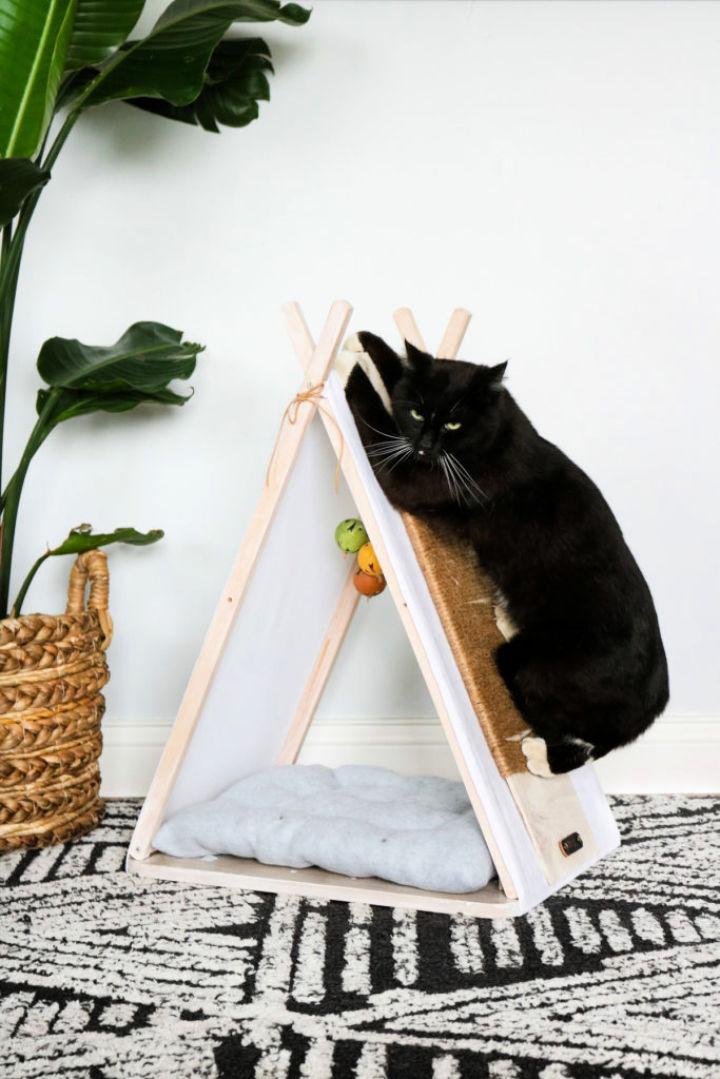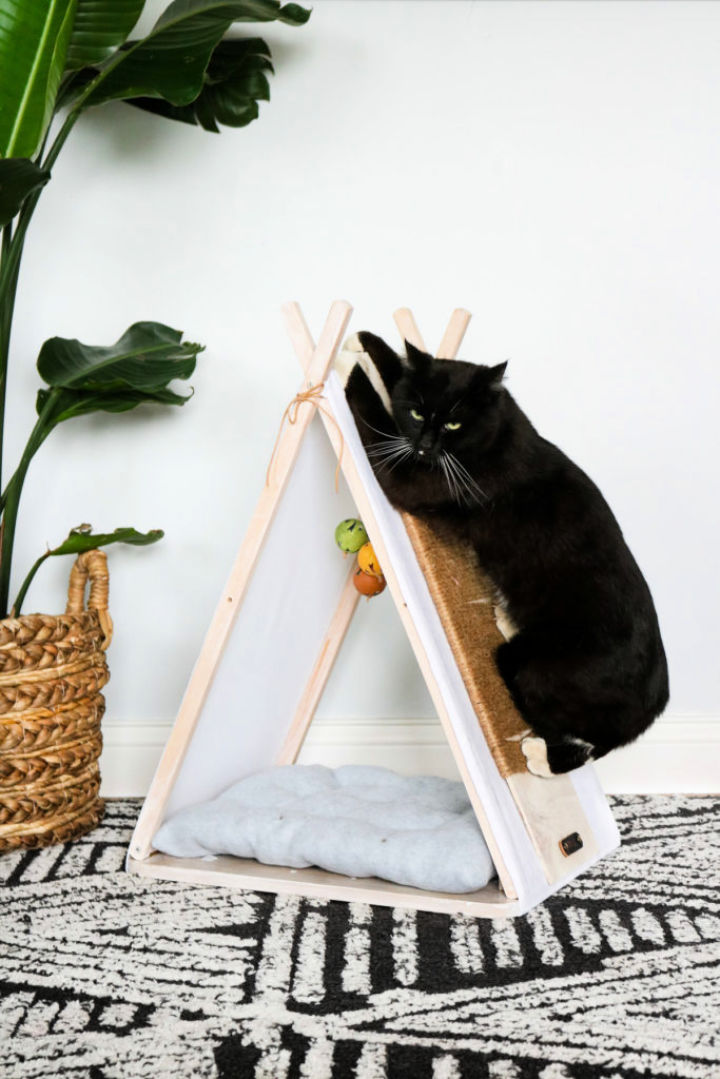 Build also this teepee style cat house that is a creative upcycling of an old TV tray. Here you need a wood dowel, a TV tray, jute, plywood, felt and pillow stuffing to build this whole cat house with a comfy bed. The open style cat house will rock for the hot summer day. Details here lilyardor
17. Make a Cat House In 5 Minutes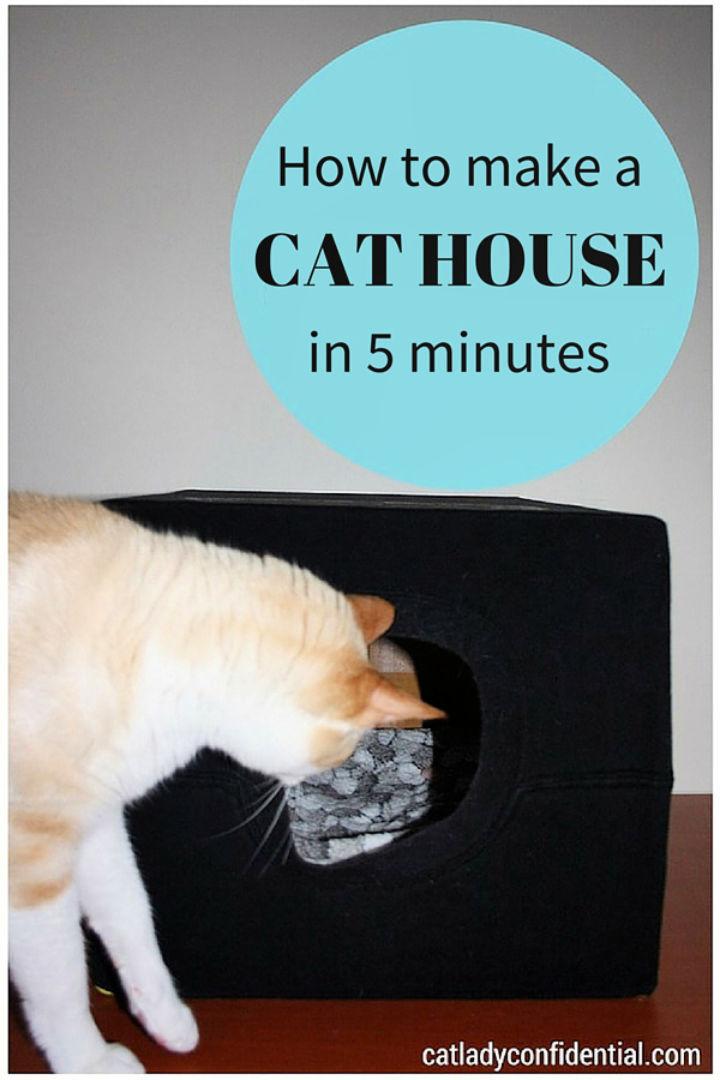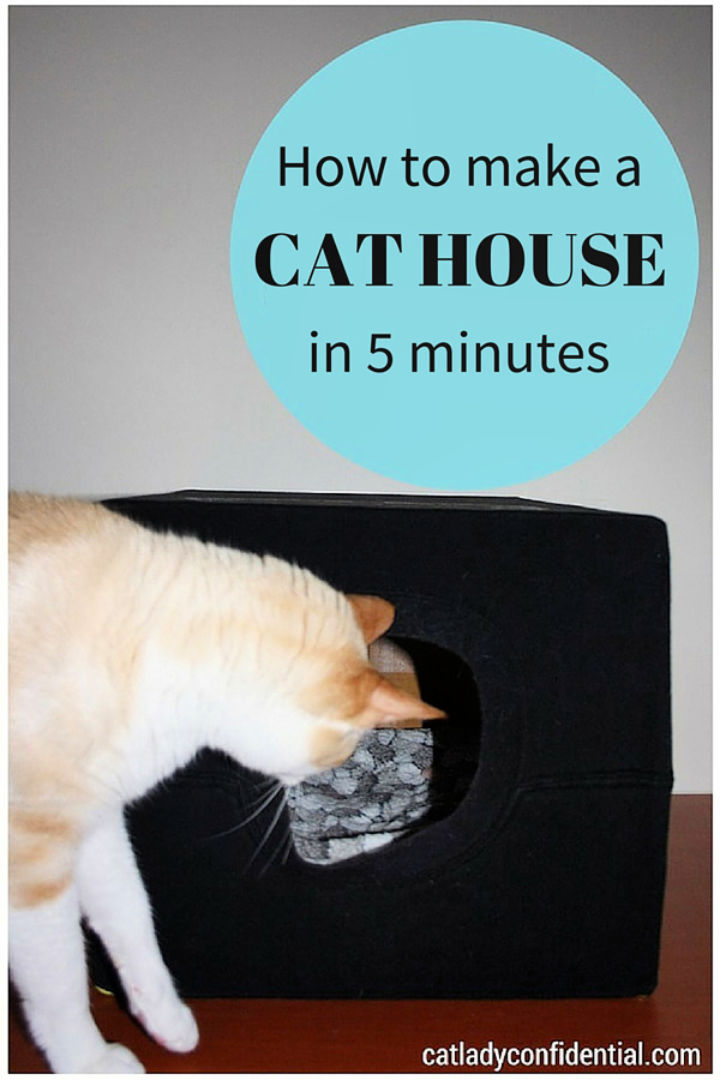 Get inspired by this 5-minute creation, the brilliant cat house, the last 5-minute gift idea for a cat owner. Here you need an old t-shirt, a cardboard box, a blanket or cushion, and a stapler to build this nice and comfy cat house. It will serve your cats best outdoor or indoor and is quite inexpensive to build. catladyconfid
18. Chewy Box Cat Castle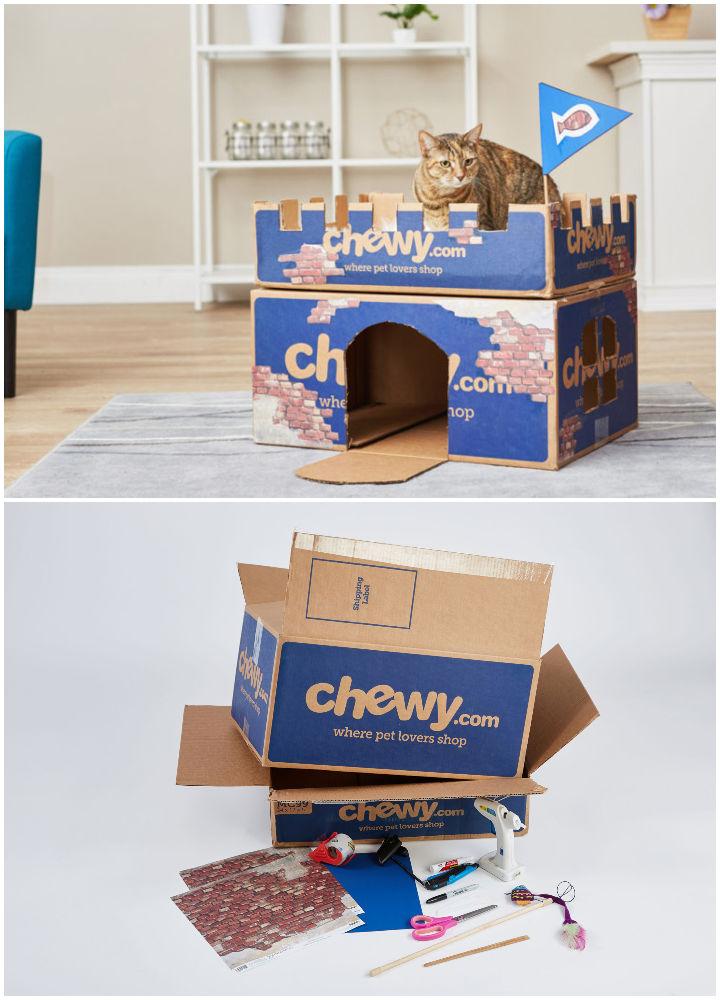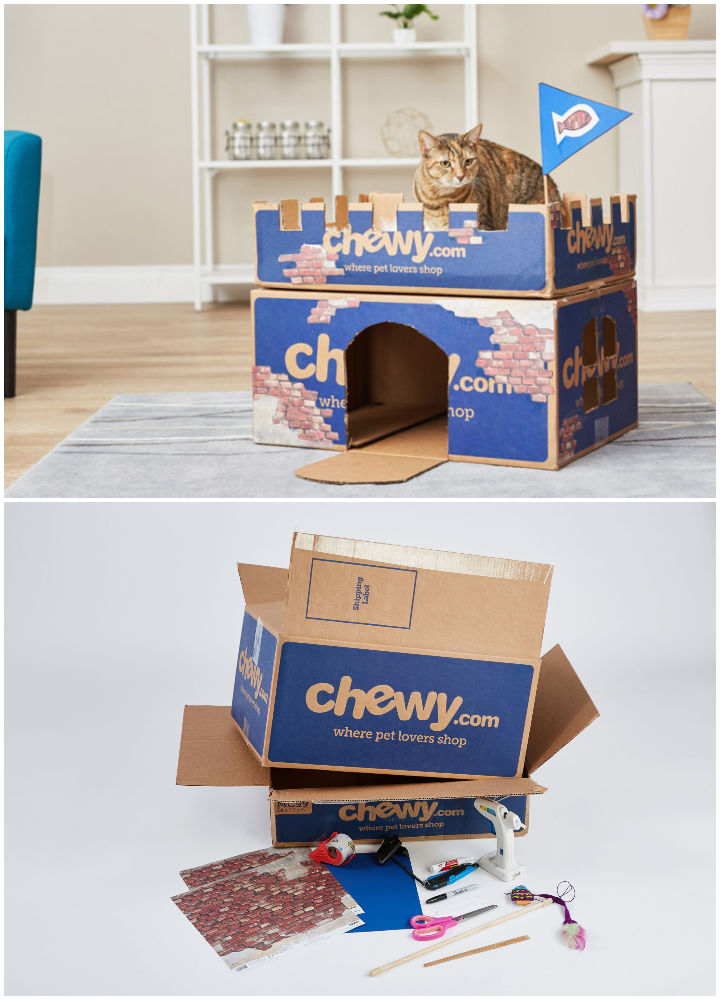 Bring great happiness to your cat by building this chewy box cat castle. It is super lightweight and will be the real comfort for your cat to live inside. You need two chewy boxes, packing tape, brick wallpaper, cat teaser wand toy, wooden dowel, and poster board to build this chewy box cat house. Details here petcentral
19. How to Make a Heated Igloo Cat House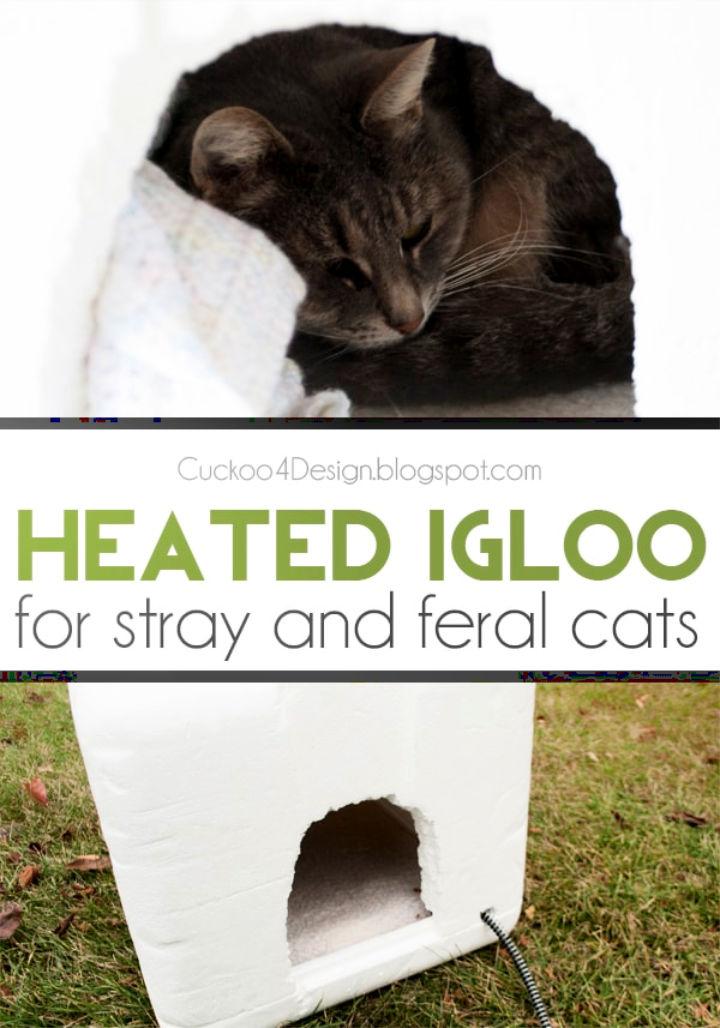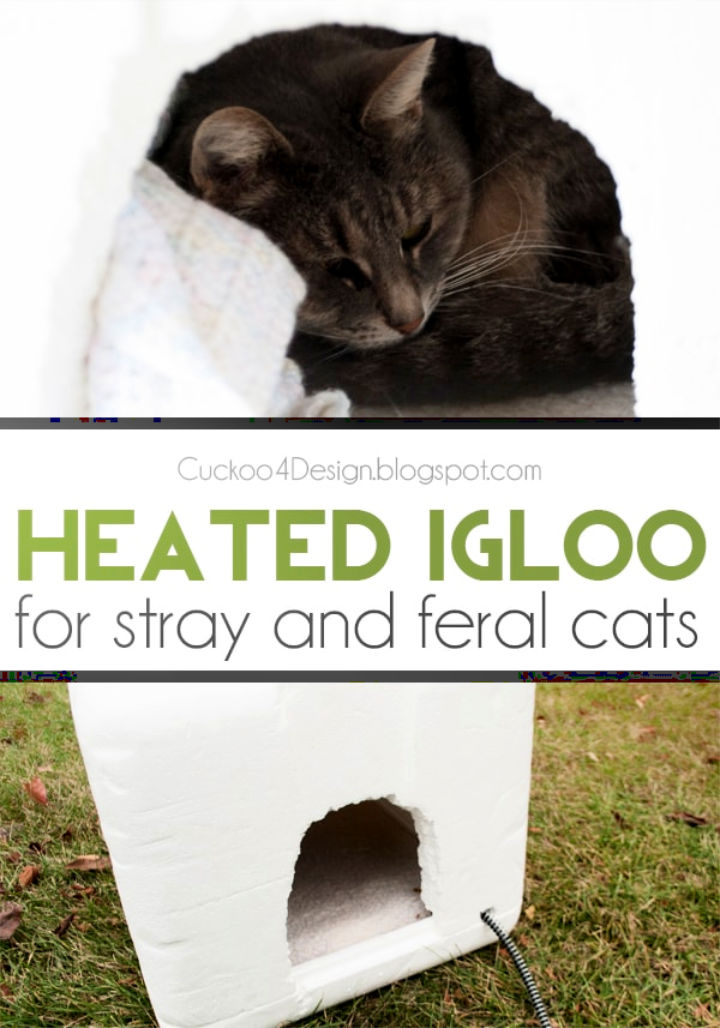 This DIY cat house will rock for the chilly days and have the systems to provide heat inside. Build this heated igloo cat house using a Styrofoam shelter and 12.5"x18.5" extreme weather kitty pad with fleece cover. The best cat house that comes with a heating system, a real gift for cat lovers. cuckoo4design
20. How to Make a Cat House Out Of Cardboard

This cat house design is inspired by a VW bus, and it is another comfy cave for the cat. Build this expensive-looking cardboard cat house inexpensively using a cardboard box and 3 different color films from our d-c fix range. Don't forget to add a cushion or a comfy pillow bed inside. dcfixbrand
Related DIY Ideas for Cats:
Conclusion:
Keep your cats healthy by providing a lovely sleep. This will call for building a separate cozy DIY cat house for them. So, these indoor cat house plans are always there to help you to build nice and gorgeous looking cat houses. Some cat house designs are too impressive to make beautiful home decor. You will get the free cat house plans to build a cat house side table, cat house car, cat house tent, and many more. Reclaim the cardboard boxes and old fabric scraps also to build lasting longer DIY cat house.