Boost the kids activities at home with a simple DIY Teepee that is easy to install and budget-friendly. How to make a teepee? Building a teepee can be a great skill too if your kids love outdoor camping and picnics. So, by following these 20 easy DIY teepee patterns, you will get the step-by-step guides, visual instructions, and tutorials to build a DIY kids teepee like a pro, and construction is going to be a big fun when kids are involved. However, these homemade teepee designs are not outdoor-specific of kids fun projects! You can install teepee or tipi tents indoor, and they will best-readying nooks for the kids, and even the separate fun places to express their creativity.
Browse this collection of 20 DIY Teepee patterns for kids that come with a variety of teepee pattern build in lots of different ways. While playing with siblings and friends in these DIY teepee, they can be a smart way to make your kids learn some great social skills.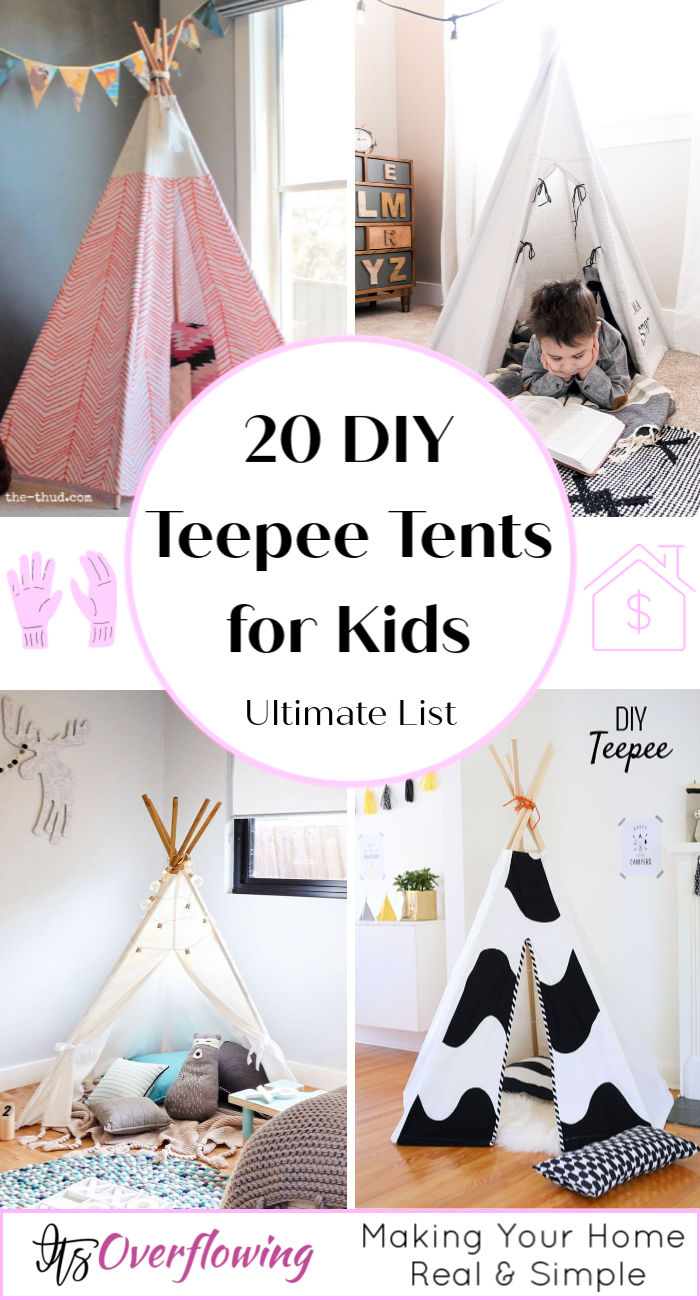 First, you have to build a frame for the teepee tent, and for this, you can use various things like wooden stakes to PVC pipes to wood dowels. Just drill holes in their tops and next thread the rope or twine into them to tie together. Next, cover your pole frame with your favorite fabric, the canvas drop cloth will make an ideal choice as it can withstand the outdoor climates. Try out the lace fabric, white cotton, and even the fabric scraps to make a teepee. You will get both no-sew and sew DIY Teepee patterns while browsing the list. You need the least skills and minimum investments to try out any tee pee design.
1. Make Your Own Play Teepee Tent
Boost the fun and creativity of your kids by providing a separate nook for reading and playing. This teepee will make a smart choice in this case. Just make the pole of the teepee using the 1×2"x8′ pieces of wood. Next, cover the frame with the lace fabric. Drill holes in the top of the wooden poles, weave the rope in to tie them together. abeautifulmess
2. Sew a DIY Teepee Play Tent
Satisfy your kids to pretend play that will help boost their creativity and skills. So, install this DIY teepee play ten that is an easy sewing project. To make a teepee, you need 4 durable wooden dowels that should be 6′ feel and 3/4" in diameter. Next, you need 9′ x 12′ drop cloth, 1 1/2 yard of decorative fabric and 4 yards of decorative trim to complete this teepee play tent. Details here thediymommy
3. How to Make An Indoor Teepee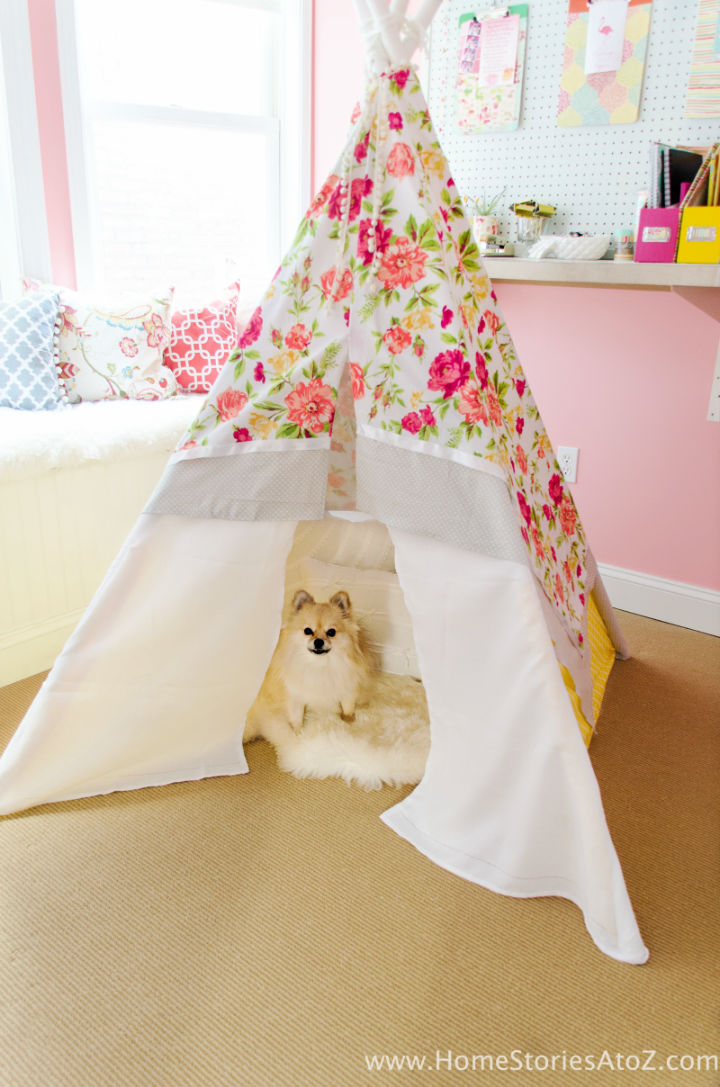 How to make an indoor teepee? You will love creating this DIY indoor teepee that will cost you around $40. Not professional skills are required to build and install this teepee. Just get your favorite fabric, PVC pipes, hot glue, and rope to build this teepee will make the best reading nook for a kid. Details here homestoriesatoz
4. Kids Play Teepee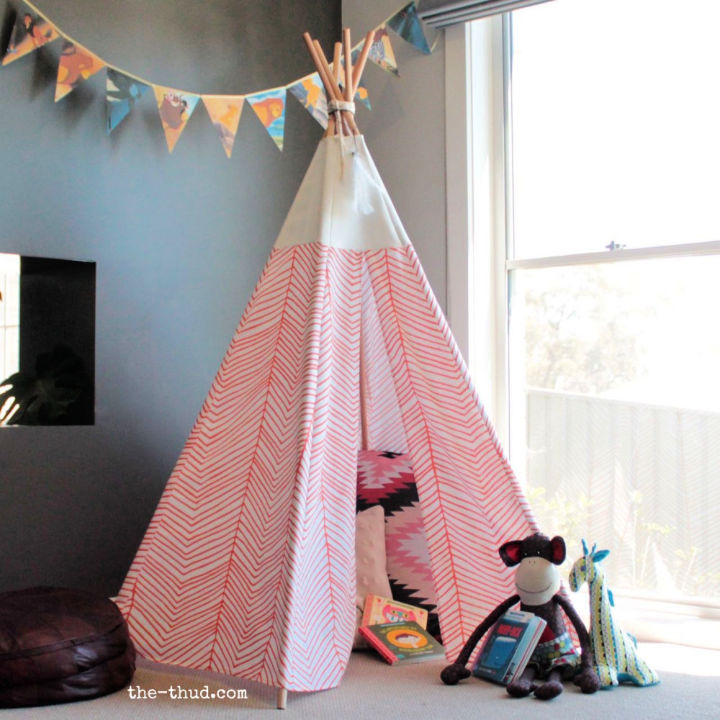 how to make a teepee for kids? Start the never-ending fun for your kids using this kid play teepee, an easy to build a DIY teepee. Build the pole based frame for the teepee using the 1.8m long wooden dowels that should come with a 19mm diameter. Just drill in the top of the wood dowels to thread the rope into to fasten them together. You need 4 to 5 meters of fabric for this teepee project. the thud
5. No-Sew Homemade Teepee
Do you find sewing boring? The must get here free DIY childrens teepee instructions to build a teepee without using a sewing machine. This teepee will work great for outdoor and head over to 10′ PVC pipes having 3/4" diameter to install frame of this teepee. Further, you need, sisal rope, duct tape, wood -grain contact paper and canvas drop cloth for making a tepee project. projectnursery
6. Make a Kids Teepee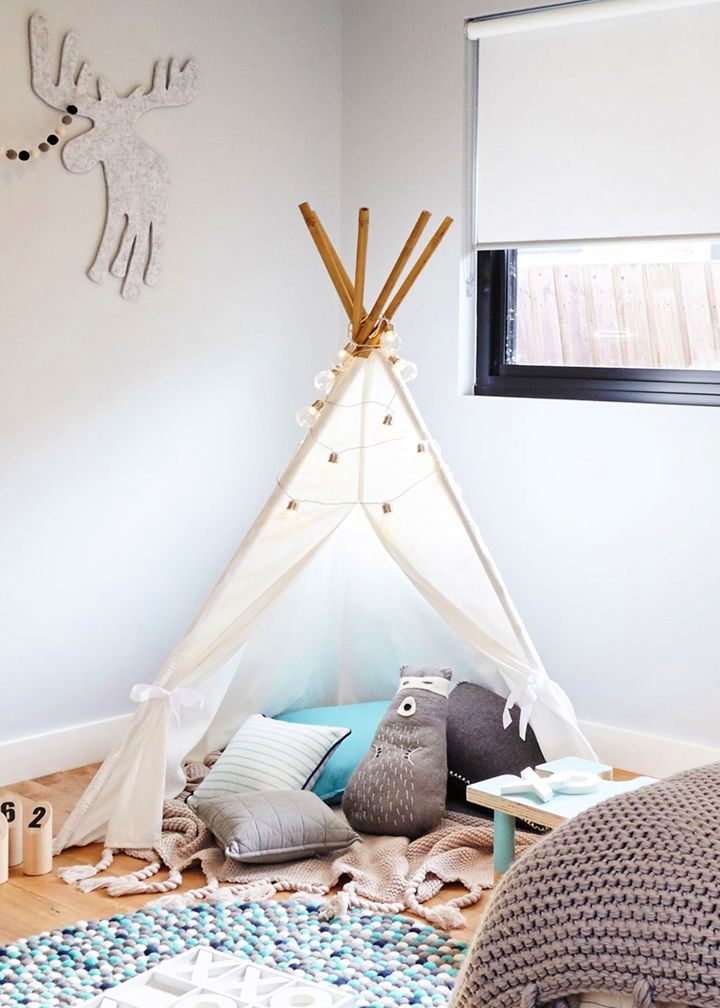 Indulge your kids into a role play and learning some great social skills by building this kids play tent will be the best fun and reading nook for them in the home. Installing this teepee will demand using the 25mm diameter wood dowel that should be 1.8m in length. Use fabric of choice to cover the pole frame and use a rope or twine to weave in the pole tops. Details here bhg
7. Make Your Own DIY Teepee
Get free instructions to build a tepee or tipi . Use the PVC pipe covered wood stakes to build the frame for the teepee and use 3 pieces of tarps measuring the 15'x12 to cover the pole frame. This teepee will rock for outdoor camping and is just a breeze to make. Details here instructables
8. Adorable DIY Kid's Teepee Pattern
This DIY kids teepee is cute and different and comes with poles covered with polka-dotted fabric for added visual appeal. Use the PVC pipes, sticks, or poles to make the teepee frame and next use almost 3.5m of fabric to cover your teepee tent. Use twine or rope to fasten together the poles. Details here andthenwesa
9. The Ultimate DIY Teepee For Kids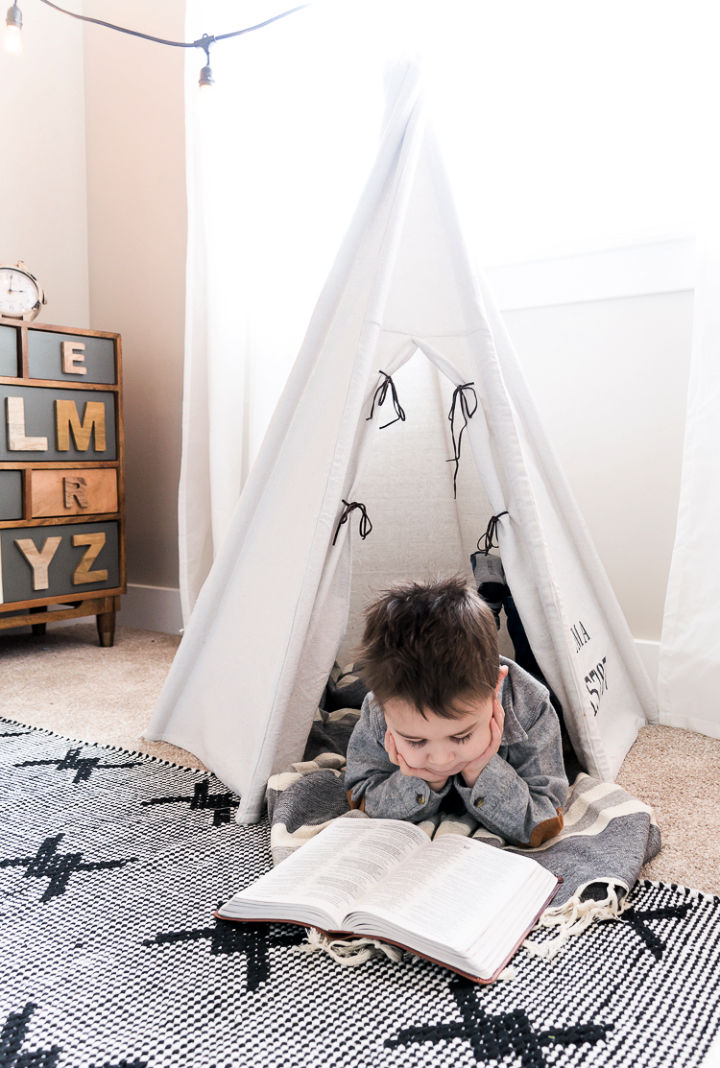 This is an ultimate and small DIY teepee project that you can do with your sewing machine. You need a 6ft x 9ft drop cloth to make this teepee. Use 10′ PVC pipes with 3/4" diameter to install the poles for this teepee, and you need the beginner sewing skills to sew this teepee pattern like a pro. homedepot
10. Lovely DIY Teepee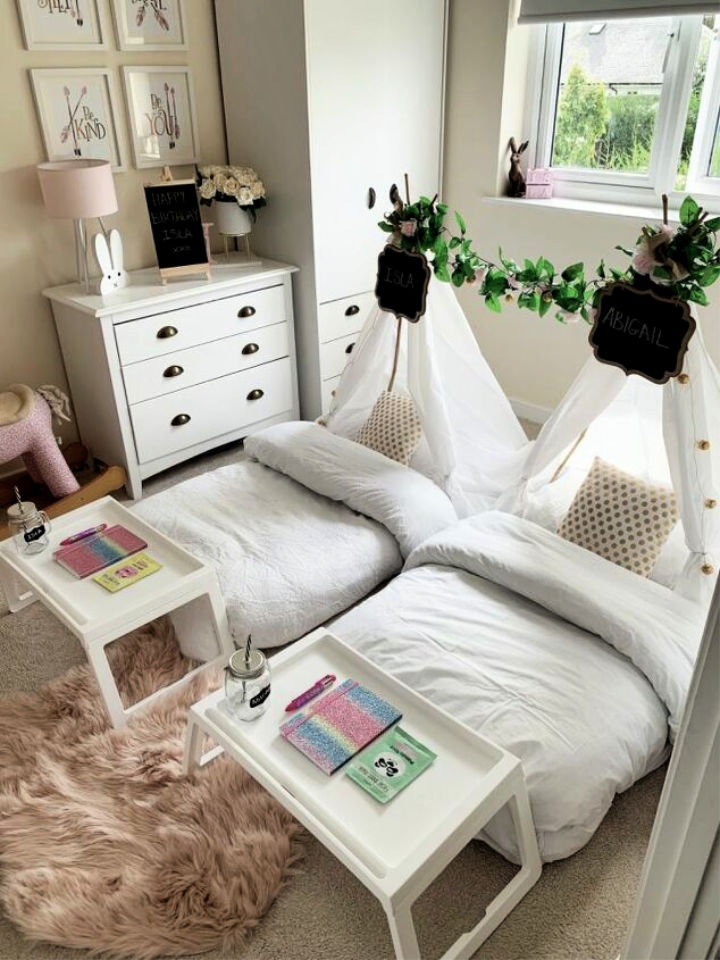 Now you just no need to higher professionals to install a teepee. Just get here free instructions to build and install a teepee. These are here the platform bed teepees that will make a super fun play nook for the kids too. Just use the bamboo canes to install the frame and cover the frame with white shower curtains. hometalk
11. DIY Kids Teepee Without Sewing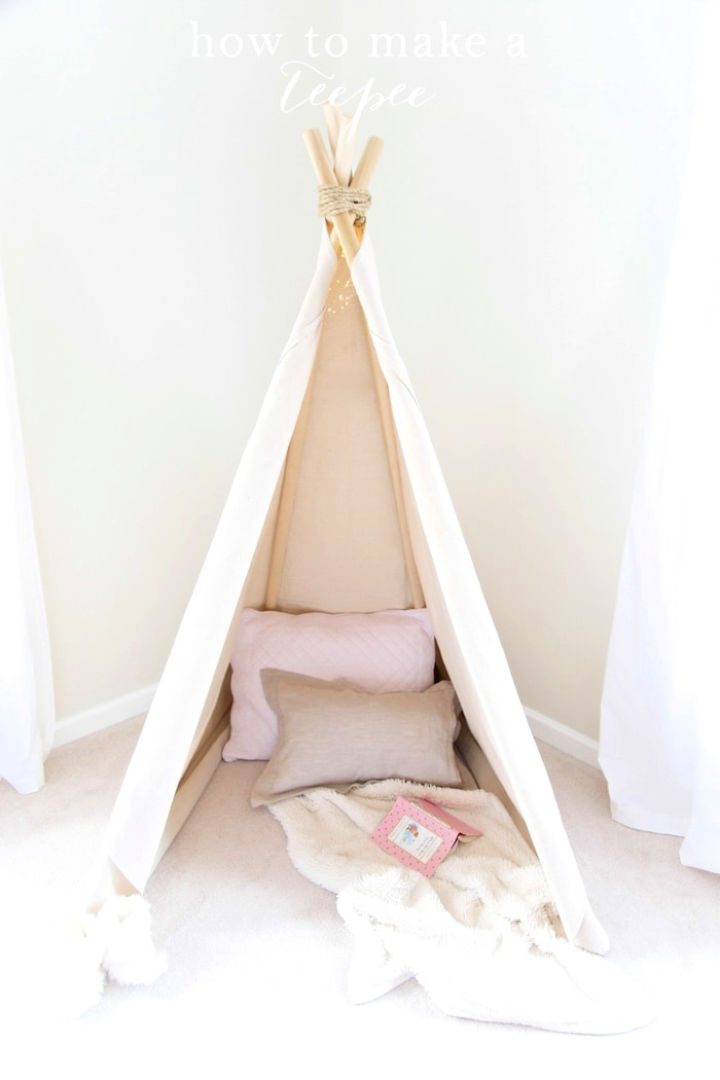 Indulge your kids to indoor play by building this indoor teepee, no sewing machine or sewing experience is required. First, grab the 4 lengths of 1 3/4" diameter poplar dowels that must consist of 6′ long to build the frame for this teepee. Use the 3/8" sisal rope to tie off the pole tops together and finish with 6'x9′ canvas drop cloth to build a kids tent. julieblanner
12. Indoor Teepee Tent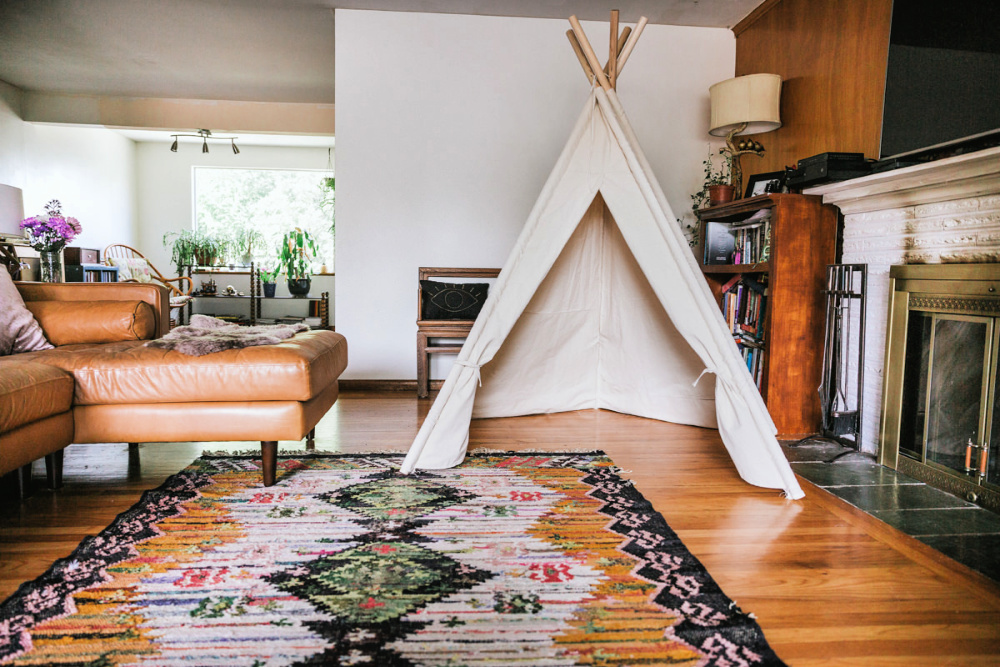 Provide a separate fun nook to your kids inside of a room or bedroom with this indoor tent idea. Build building teepee-style ten is quite easy and will require a handful of supplies. For this project, you need 6 yards of 60inch wide fabric, and you can go with 1" x 8′ long round molding to install the teepee poles. Details here dunnlumber
13. 10 Minute DIY Teepee
It will only take 10 minutes to build and install this DIY teepee. You need 4 pieces of wood cut to 6′ length to build first the frame for the teepee. Next, you need a 6′ x 9′ drop cloth to cover the teepee frame. Tie the poles together using jute or twine and also install lights inside the teepee for a light appeal at night. Details here sweetteal
14. How to Build a Backyard Teepee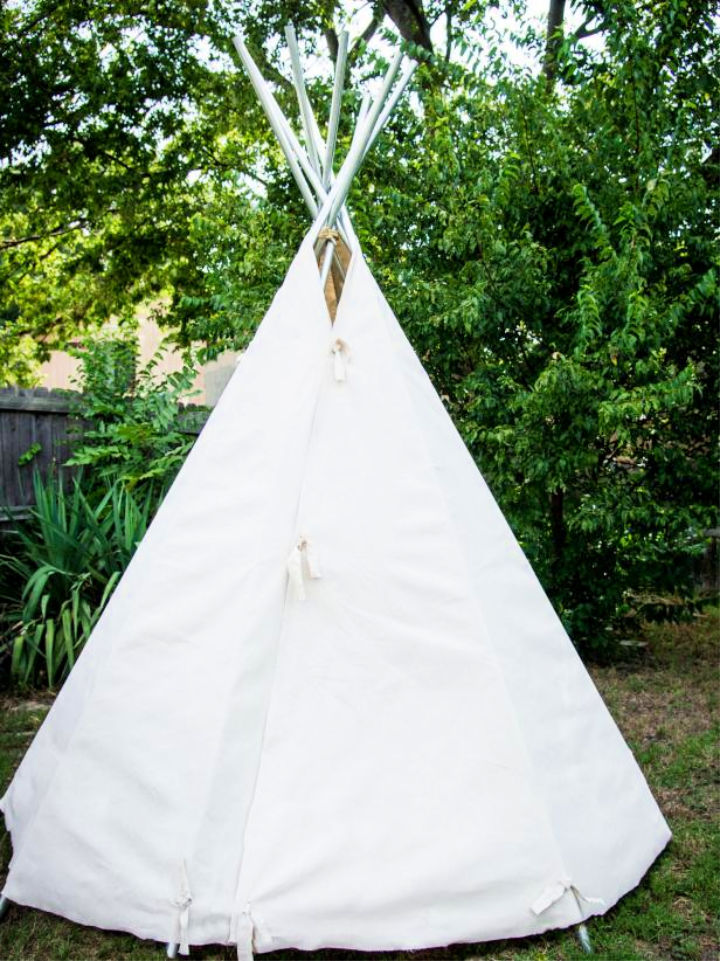 The very first thing you need to install a teepee is the poles. So, grab the metal 10′ feet poles of 1" diameter to build this backyard tent. For this bigger teepee, you need 12′ x 15′ canvas drop cloth. make this teepee a bit more luxurious by adding a light fixture and a pillow inside. Details here hgtv
15. DIY Kids Teepee from a Canvas Drop Cloth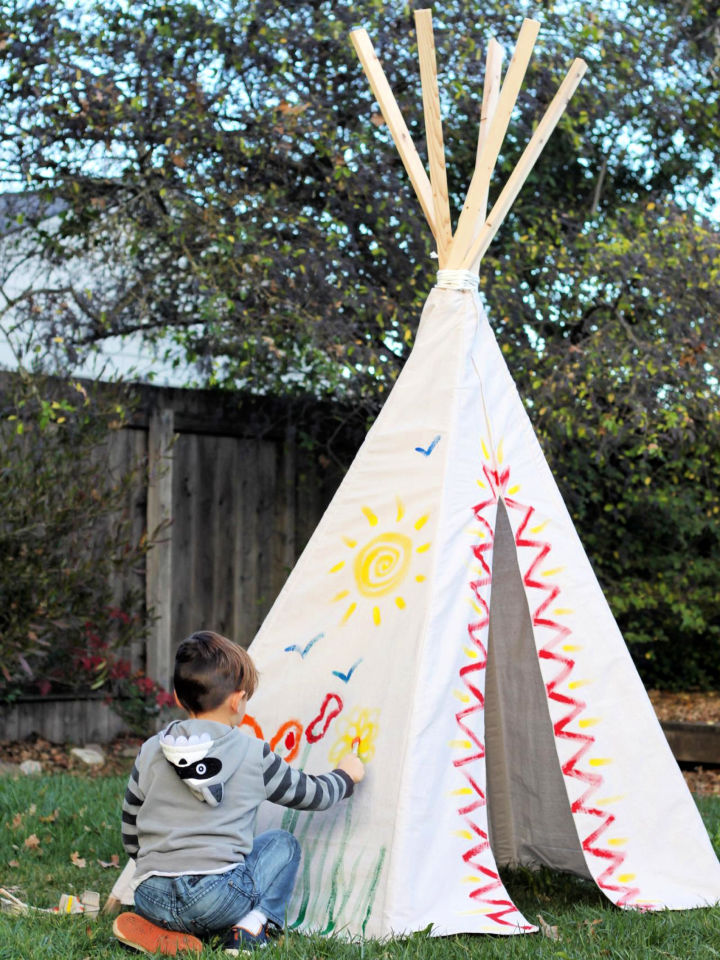 The canvas drop cloth is a durable type of fabric that you can use for the outdoor camping tents. This type uses it to build a kid's teepee. Grab the 1x2x8′ wood stakes and drill holes in their top that you can tie together by threading in the rope to make to teepee frame. You require 9 ' x 12' drop cloth for this project. diynetwork
16. DIY Shabby Chic Teepee Tent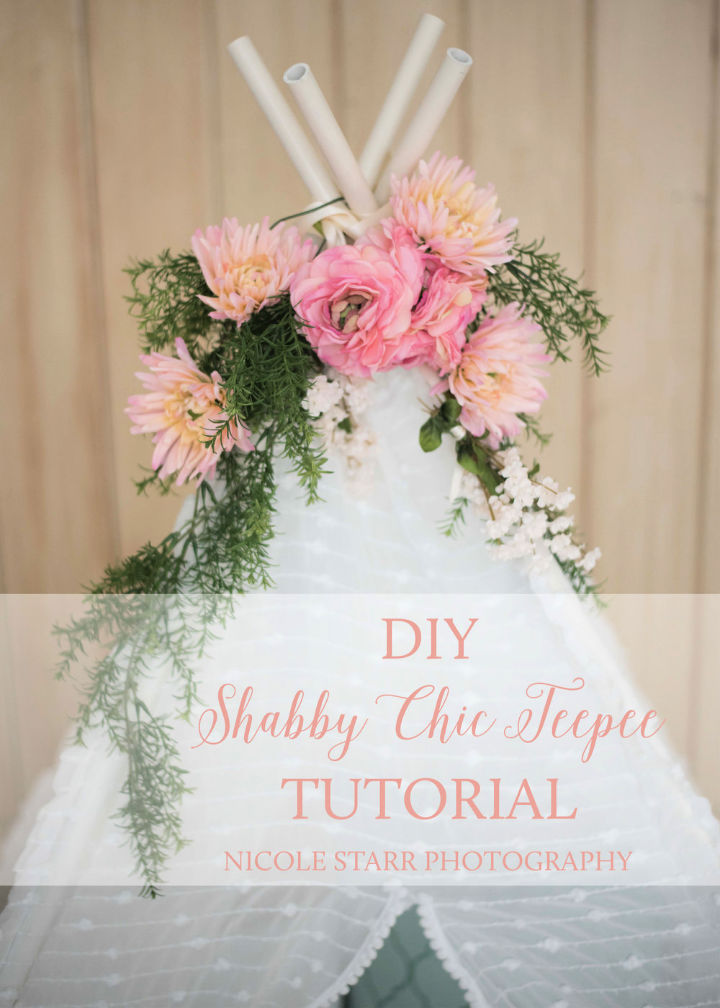 How to make a teepee? Are you a big fan of shabby chic decor? Then must make this shabby chic DIY teepee to satisfy your passion for shabby chic decor! It will make a cute photography backdrop too. Build the poles or vertical frame with PVC pipes that you can cut to decided length. You need 3.5m of sturdier canvas fabric for this kids tent. nicolestarrphoto
17. Dreamy Lace Teepee
This DIY teepee will rock for both indoor and outdoor spaces and is made of lace fabric that puts the extra visual charm in the design. Here bamboo canes or durable wooden dowels will be an ideal choice to make the vertical poles. Add a light system inside and also a lovely rug or carpet along with a pillow for a luxurious appeal. Find kids play tent details on blondebossbabe
18. Handmade Teepee Tent
Put together the 4 wooden rods of 6′ lengths with their tops fastened in criss-cross arrangements to build the overall frame for this DIY teepee. This project involves doing assembling using rope and upholstery tacks. Cover the frame using a large piece of white fabric and decorate the teepee with faux greens and faux flowers. mrkate
19. No Sew Teepee Tent for Kids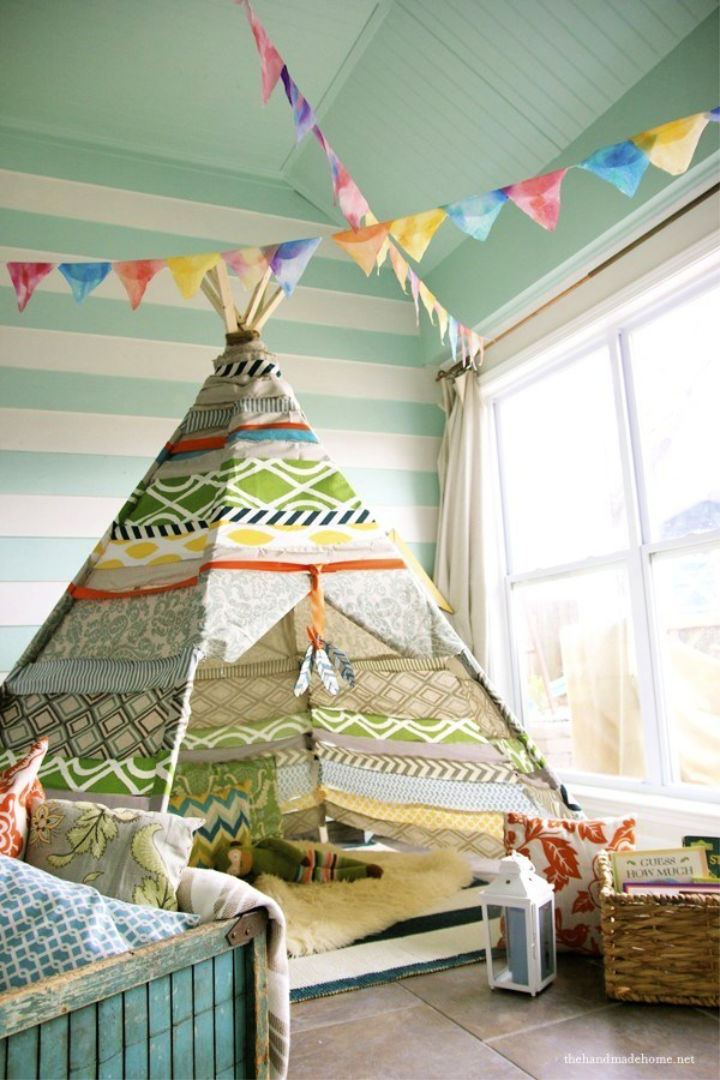 Building this homemade teepee is a no-sew project, and you will love having it at your backyard or in the garden for kids' pretend play. Opt for the wooden stakes or dowels to install the teepee frame, and next, just start weaving the fabric through the poles to complete no-sew teepee tent for kids. Details here thehandmadeh
20. DIY 5 Panel Teepee
A one-of-a-kind teepee design, a 5-panel teepee that is quite something quick and easy to build. For building a tepee, you'll need 5 wooden dowels of 6′ length and 1" diameter and 3 meters of heavyweight fabric for this 5-panel teepee project. Further, you need 1 meter printed fabric, 6 feet bias tape, twine, elastic, and drill for this sewing teepee project. nalleshouse
Conclusion:
If willing to provide a separate private, safe and shaded cave to your kids, then you must make a teepee for them. These DIY teepee patterns for kids will help you to easily build and install a DIY teepee along with teaching your kids some great camping skills. Whether you want a DIY teepee with lights or willing to build a finely decorated design, you will get here all DIY kids teepee instructions. Time to learn some great camping and tenting skills by trying out these kids tent projects.