Make your home a bit more attractive and colorful with these 20 easy DIY flower wall decor ideas that are actually the flower arrangements creating the best floral appeal of the wall. Opt for these flower wall decor ideas to make mesmerizing backdrop for the wedding stages and party tables. Let these flower wall decor be your next inspiration for the floral backdrops you need to add to your studio or party photo booth. Browse these 20 DIY flower wall decor ideas that share all the popular ways to arrange the flowers enchantingly on the walls. However, you can try these flower wall decor with both real or fake flowers. This wall of flowers roundup will just be great in every way you decide.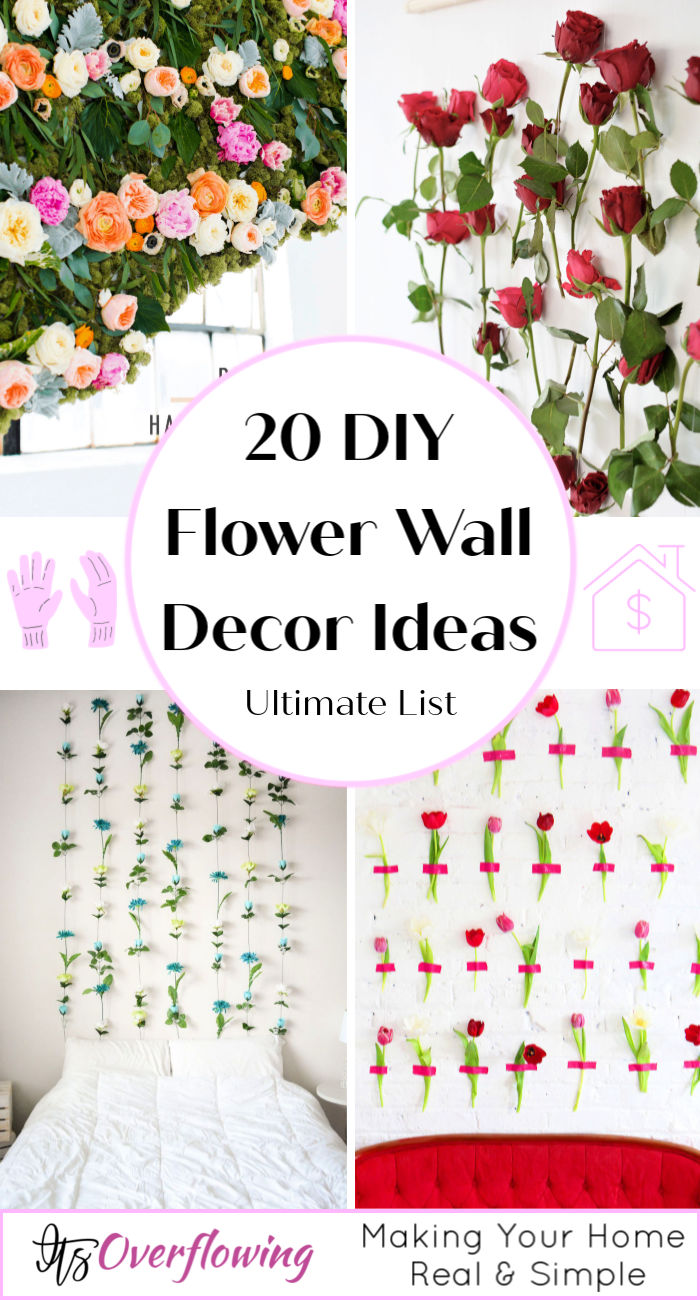 Fresh flower wall decor will have a short life as flowers will wilt after some time. So, for longer-lasting flower wall arrangements, consider using the artificial flowers. Another smart way would be to print out your flowers on a thicker cardstock then to cut them out to hang on the wall. String up your flowers and tie onto the hanging wall branch to make a floral hanging. Put together your flowers along with greenery and fillers on a canvas frame to make floral wall centerpieces. Glue tail of a flower to the head of another flower to make longer floral strands, hang them on the wall for making a wall of flower. Browse all these DIY flower wall decor projects to do much for your home, party, and wedding decor using flowers.
1. How to Make a Flower Wall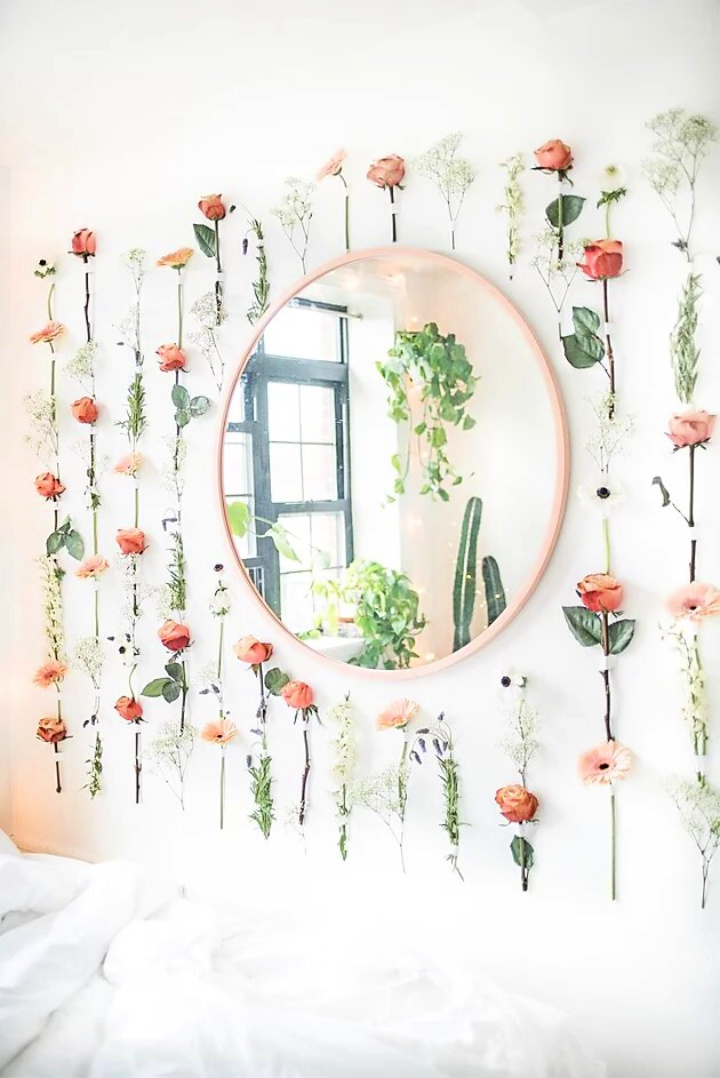 Think of the flowers to give an instant beautiful decorative treatment to your blank white and boring interior walls. How to make a flower wall? Just grab a few bouquets of fresh or faux flowers and untie them. Next, tape them on the wall one by one. Use the gaffer tape to do so and get inspired by this sample flower wall decor. poliproductions
2. Floral Wall Backdrop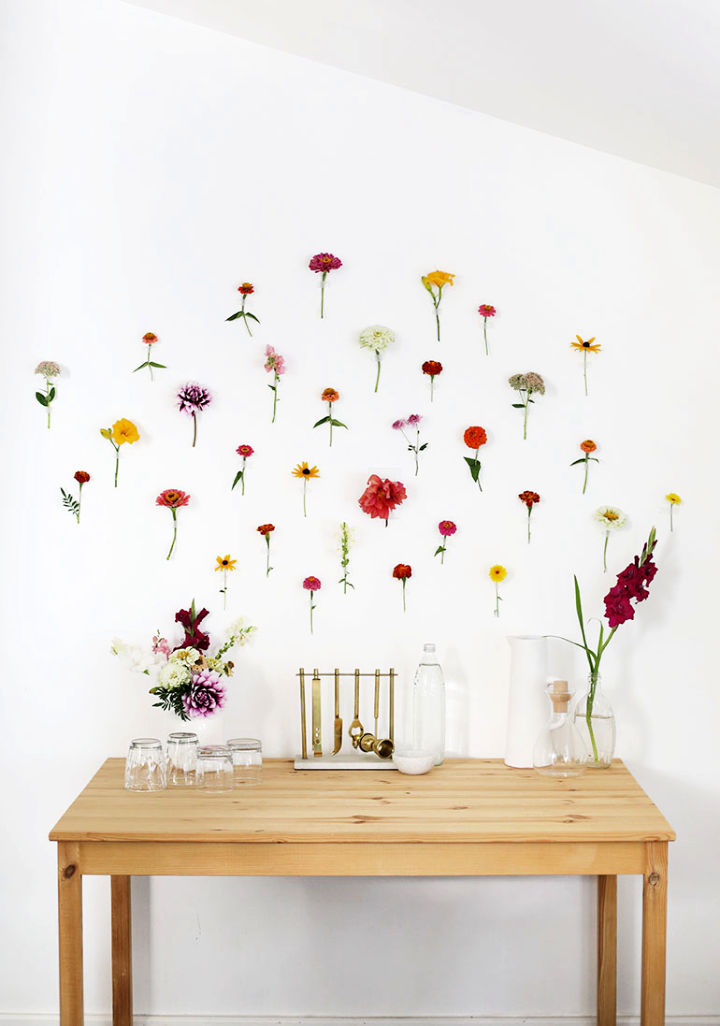 Willing to make a fabulous floral backdrop to take the best snaps at the end of the party? Then do make this floral wall backdrop. Just feature a wall behind the party table using the fresh or faux flowers. Tape different fresh and faux flowers on the wall using tape, and that's it. themerrythought
3. DIY Floral Wall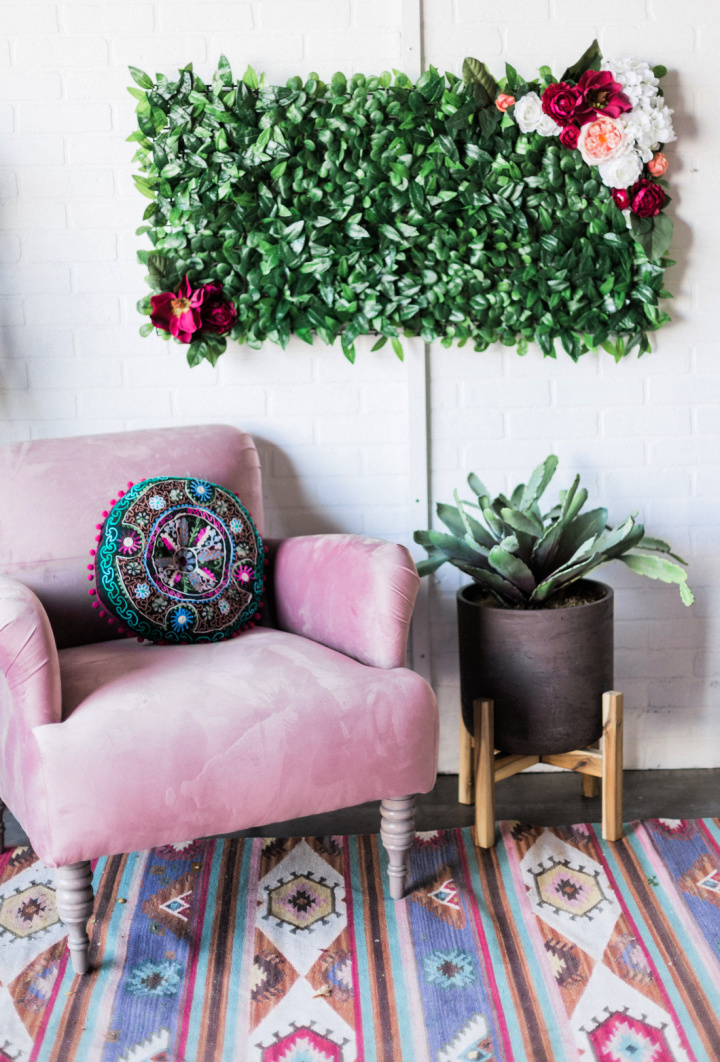 Just check out this homemade flower decoration that can be added to a blank wall for instant charm and grace. You need a hog panel, 12 x 12 foliage squares, accent silk flowers, zip ties, and floral wire. You can surround this DIY floral wall using more flowers for a more powerful floral appeal. Details here eventsbyrebecca
4. Hanging Flower Wall DIY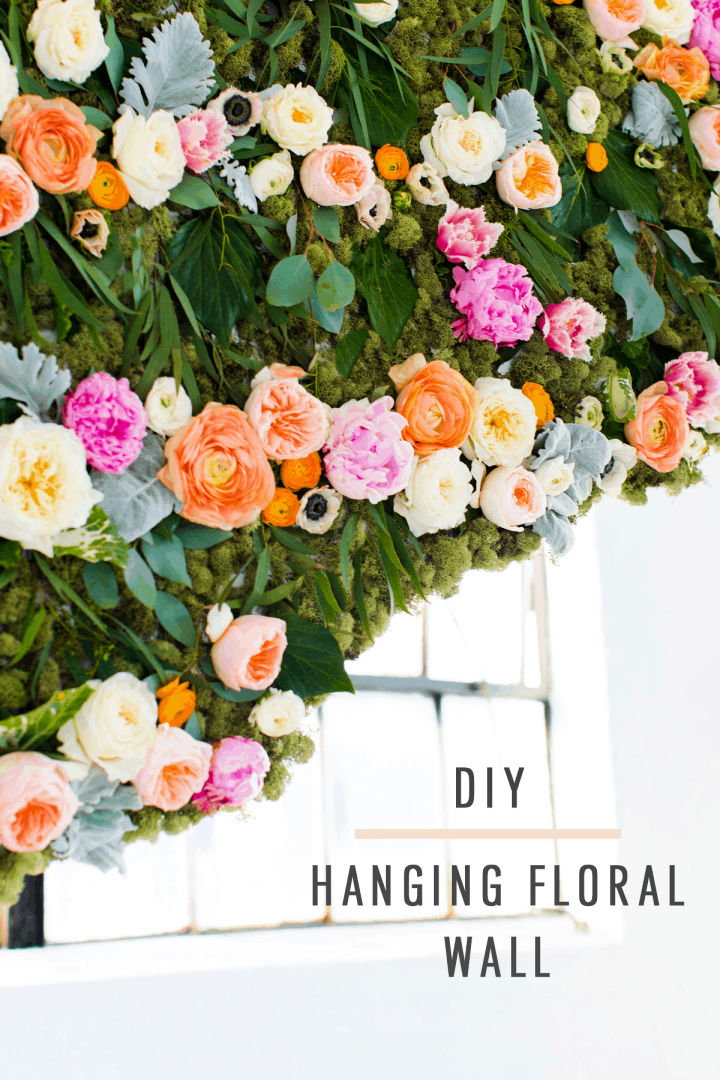 Whether you want to feature a bedroom wall or willing to gain a natural-looking backdrop for a party space, this hanging flower will rock for both purposes. The installation of flower wall DIY will not take much time. You need foam board, picture frame, spray adhesive, moss, flowers, and eyelets. Details about the wall of flower here sugarandcloth
5. Floral Wall Hanging Decor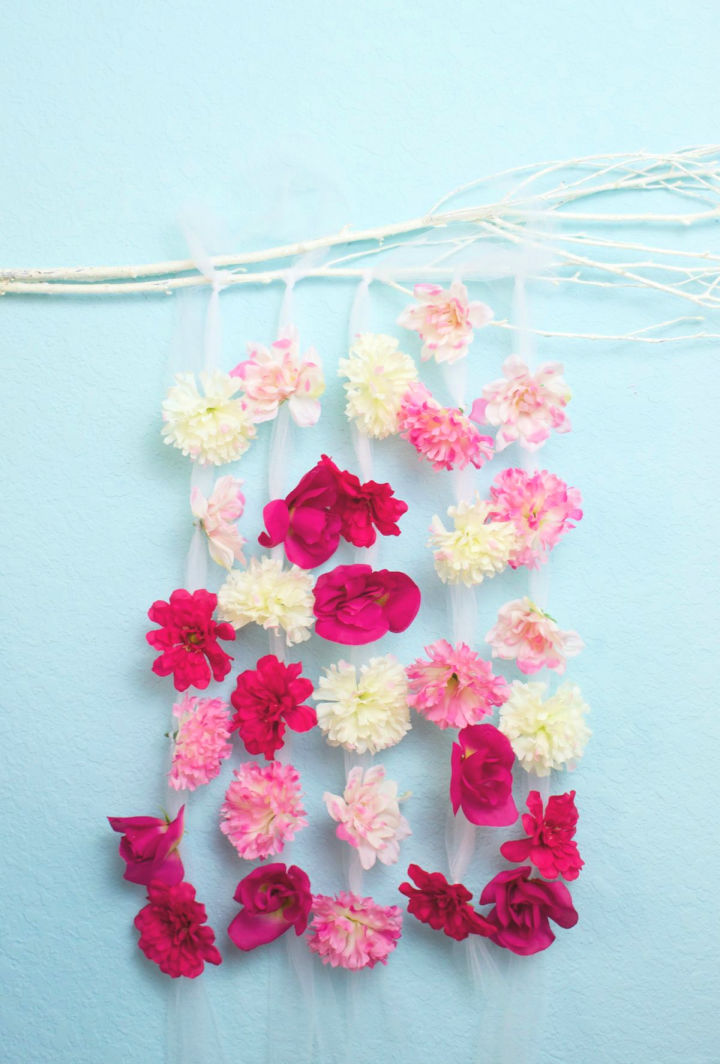 Take your interior wall decor plan to the next level using this floral wall hanging decor. Here the idea is to hang the flower strands on a white accent tree branch that must be mounted well on the wall. So, grab the white tulle, 30 silk flowers, and white decorative branch to make this floral wall hanging decor. homedit
6. Gorgeous Flower Wall
Striving for the gorgeous looks of your blank and boring walls? Then go with this amazing flower wall treatment. This treatment involves taping the 40 flowers on a targeted portion of the wall. Get this floral wall featured in your bedroom to go for bigger decor statements. Details here gwengwiz
7. Flower Wall for Background
Looking for interesting natural backgrounds to take some memorable snaps? Then must make this flower wall backdrop, will rock for the party photo booth and studio too. you large bunch of faux flowers, twine, hooks, nails, and stapler to do this project. Take the flowers on the twine to make floral strands that can be hanged on the hooks. orphanswithma
8. Fresh Flower Wall Backdrop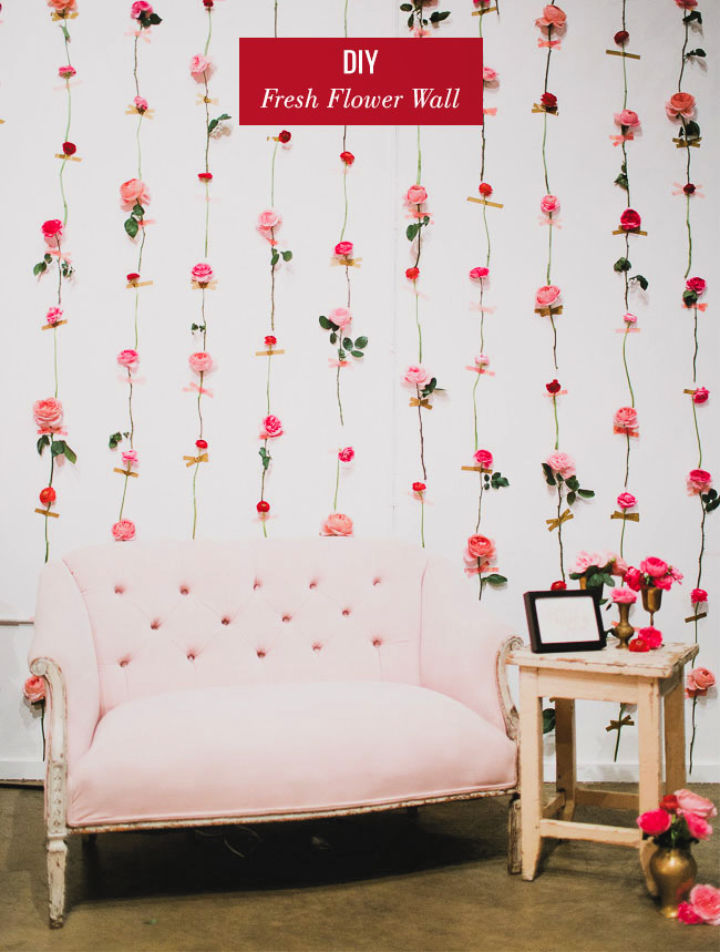 Do you want to make a wedding wall decor? Bring the garden vibes to your home by making this fresh flower wall. Grab the pink ranunculus, garden roses, dark pink garden roses, and dusty pink garden roses to make this flower wall. Simply use the washi tape to tape the flowers on the wall. Details here greenweddings
9. Homemade Flower Wall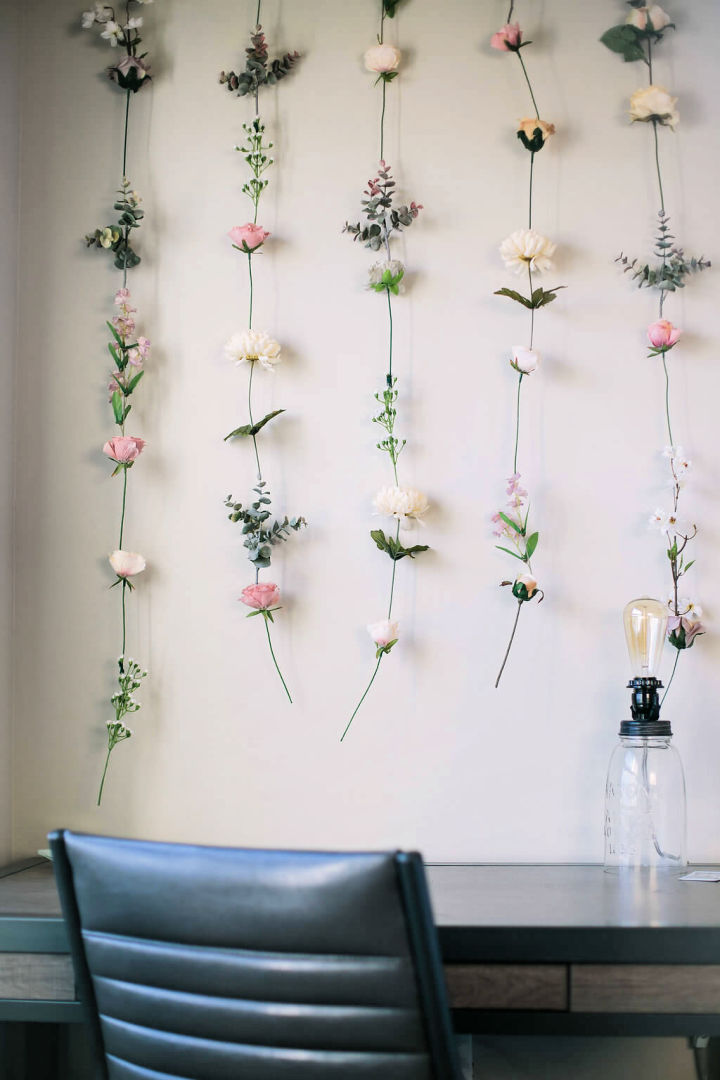 Making this flower wall demands to make the flower strands first. Just glue a tail of flower to the head of another flower until you get enough flower strands to hang on the wall. Do this project with both real and faux flowers. Details here gemmadarr
10. Fake Flower Wall On String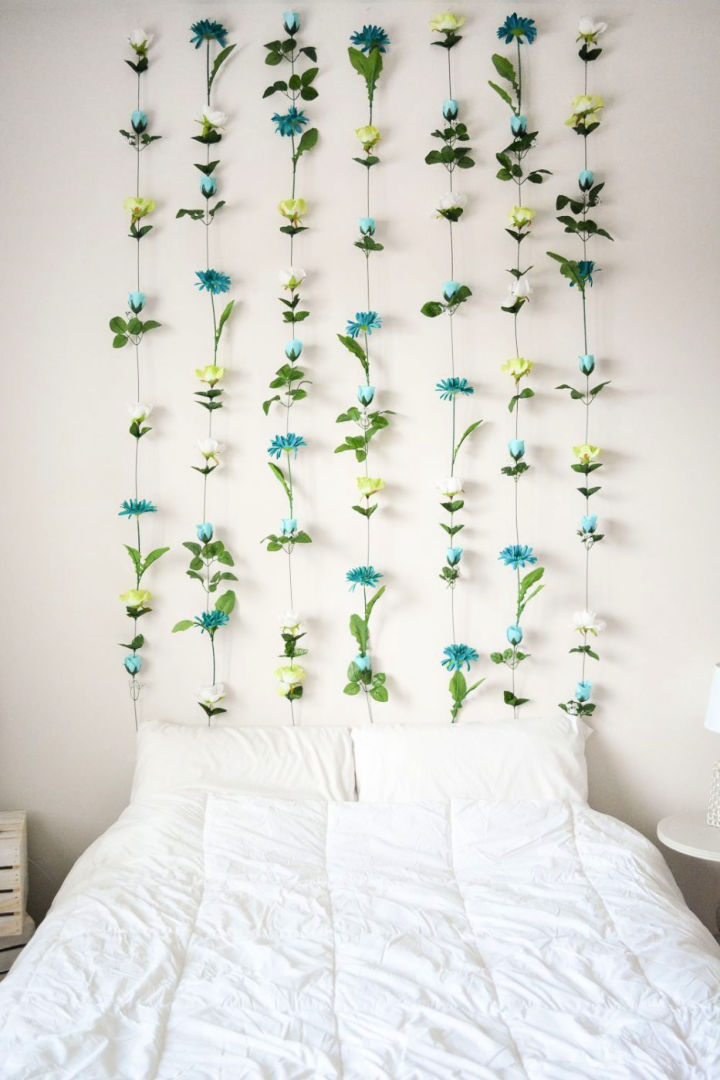 You need almost 6 flower bouquets to make this flower wall. Do this project with faux flowers. Install this fake flower wall to the background of your bed to get an interesting floral background. Again glue the end of the tail of a flower to in the center of the head of another flower until you get the fine-looking strands to hang on the wall. sweetteal
11. DIY Flower Wall Hanging
Does everyone take great pleasure in seeing roses, so how about to display them on your walls? Make this rose flower wall hanging that will bring the love to that targeted room ambiance. String up your roses and then tie the strands onto a wall hanging piece of wood to get the lovely wedding wall decor. burkatron
12. How to Make a Flower Wall
Learn how to make a flower wall at home easily and cheaply! It gives you a lot of happiness to look at the flowers. So, consider making these flower walls that are quite something inexpensive to make. Grab fake flowers, a large piece of fabric, glue gun, strong cello tape, staple gun, and a cardboard box. Cover the cardboard box with fabric and then fill it up completely with flowers. stepinsidemyha
13. Handmade Floral Wall Backdrop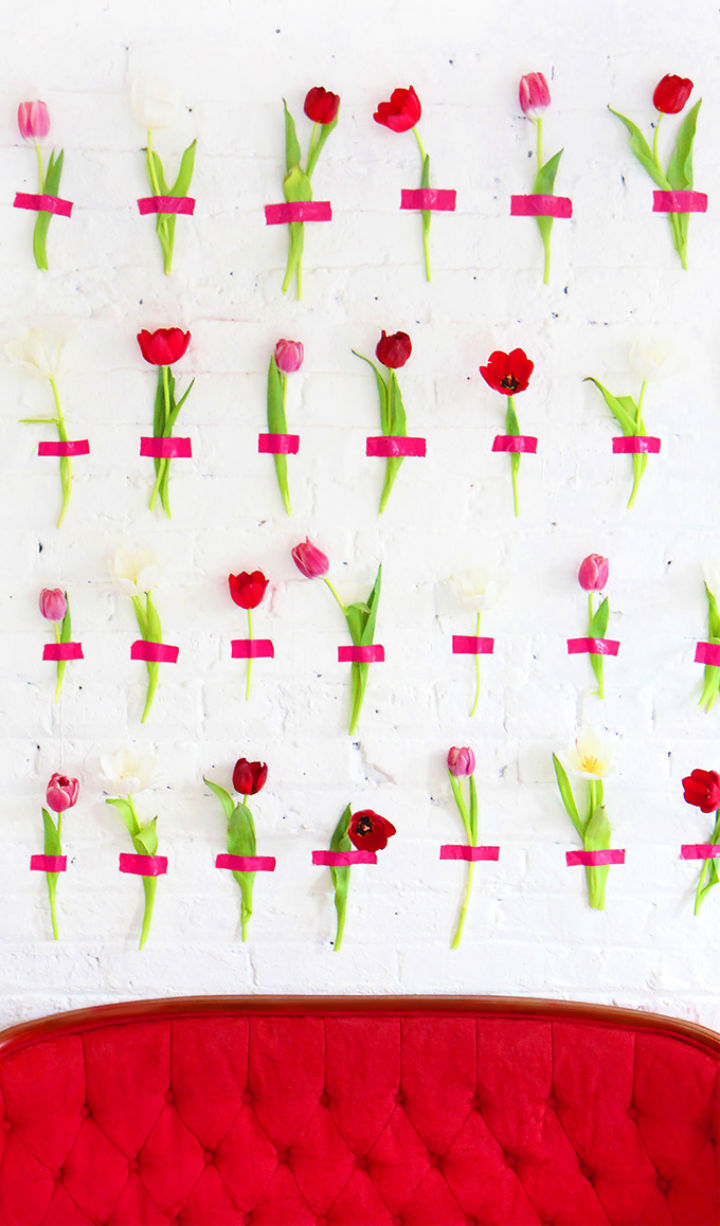 Add this lovely floral wall backdrop to your Valentine's Day party, will surely make the photos memorable. The idea is just to tape off the flowers on the wall, so they make an interesting background. Give the flower equal space intervals on the wall and get into a custom pattern. Details here ispydiy
14. Paper Flower Wall Backdrop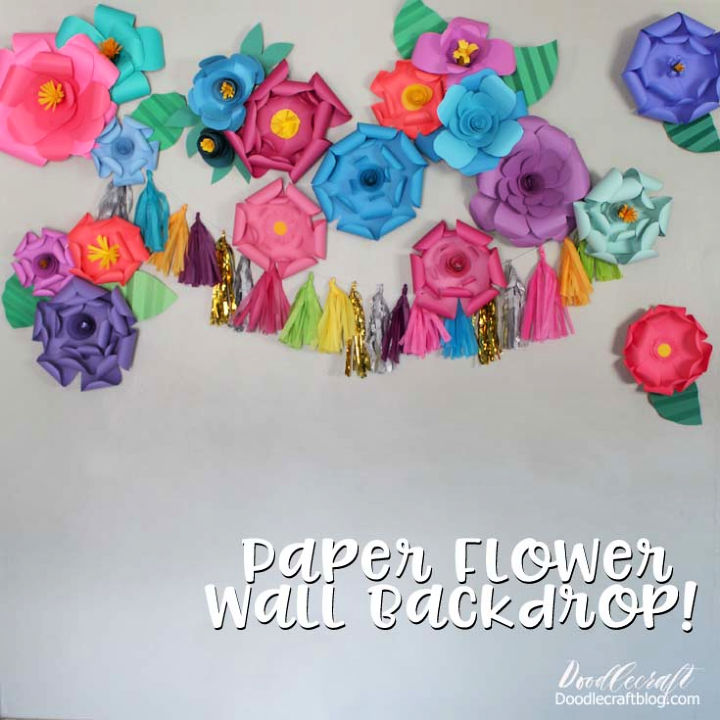 Make your own paper flower wall backdrop at creatively. If you are afraid of making flower walls with fresh flowers that will wilt early, then opt for the paper flowers to make interesting wall backdrops quickly. First, add a tassel garland, and add the paper flowers in all its surroundings, fill light, or dense according to consent. Details of this DIY paper flower wall is here. doodlecraftblog
15. Create a Flower Wall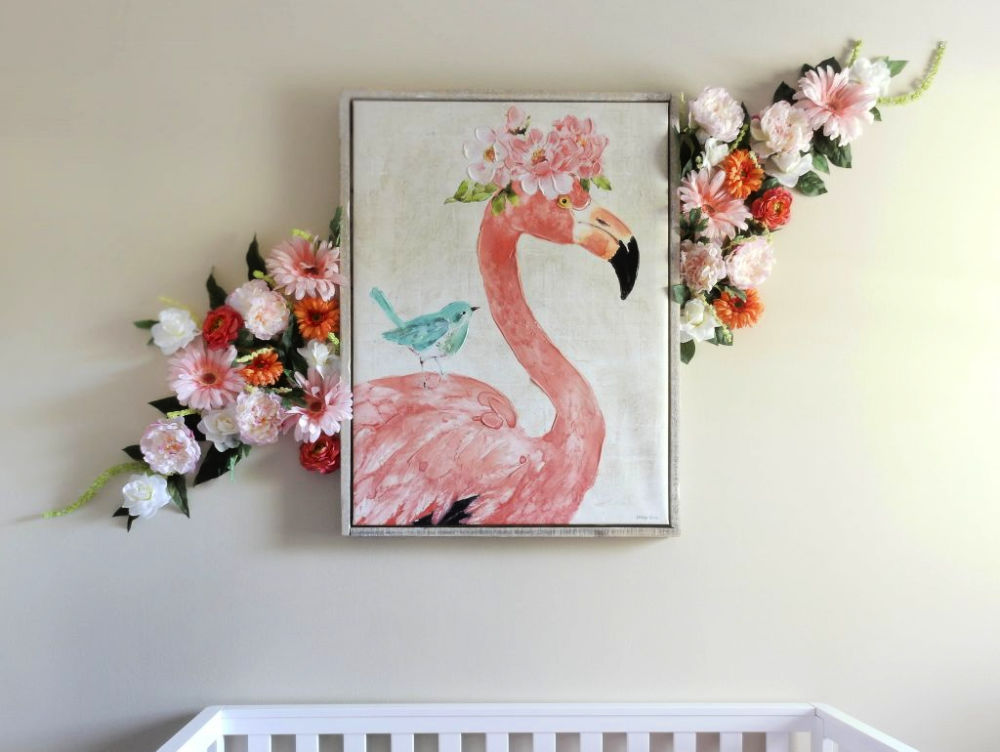 At a very first look, you will become a fan of this floral wall centerpiece. Make it by choosing your favorite flowers that can be added to both sides of a wall mural or picture frame, making a gorgeous masterpiece. Add the flower around the frame in a diagonal line and then add fillers. Details here jshdesigncomp
16. Paper Flower Wall – Photo Booth Decor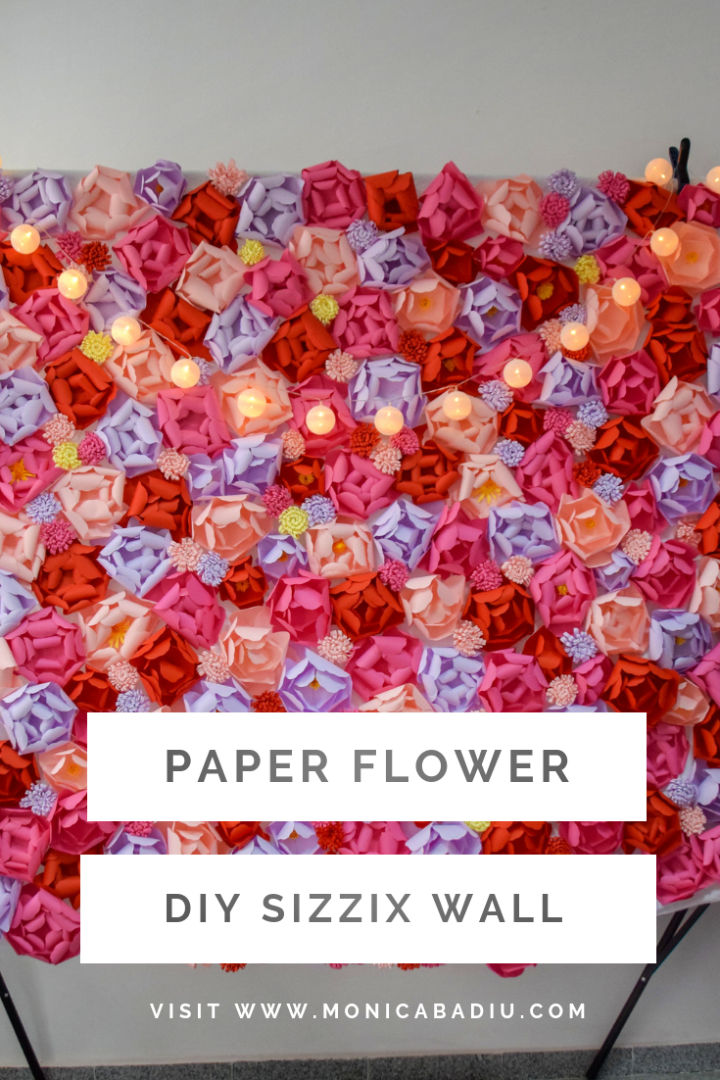 Do you want to make your own flower wall panels? Rock your party photo booths with this paper flower wall, the perfect backdrop to take unforgettable and unique snaps. You need cardstock paper, large rose dies, paper glue, white sheet, stand and crossbar, and spring clamps to install this mesmerizing flower wall. Details of flower wall panels here monicabadiu
17. Flower Wall for Your Next Party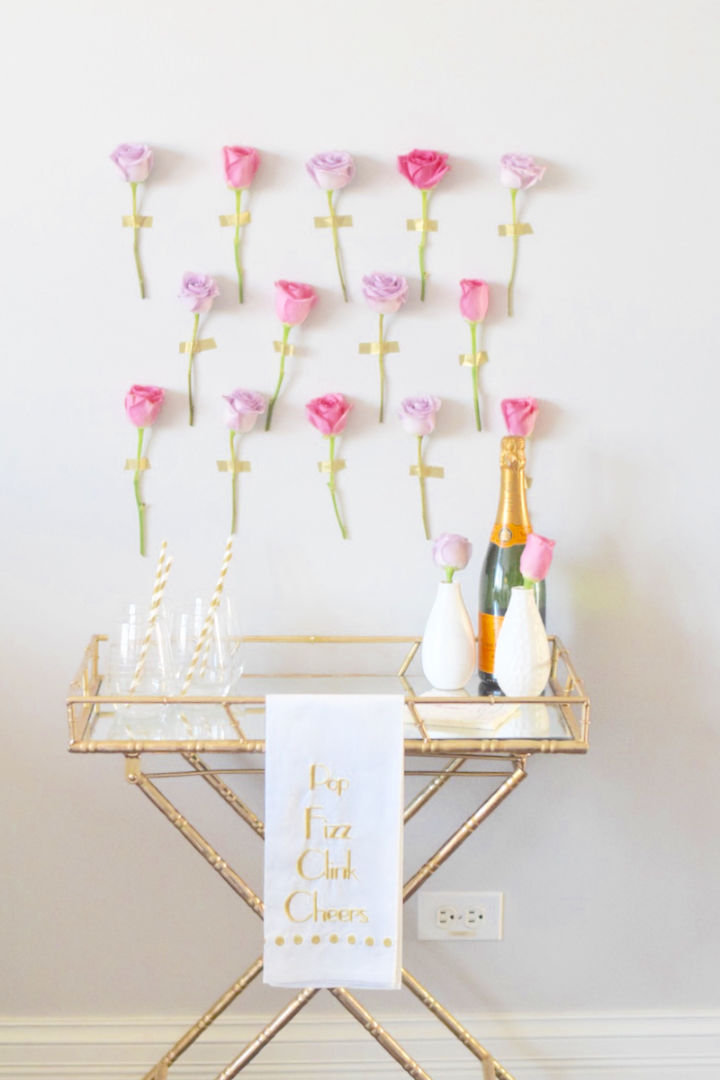 Do you want to DIY flower wall decor? Grab your roses and make them free from the outer petal layer. Keep the stems and then start arranging on the wall in a custom way or pattern. Plan out a pattern first and then go ahead. Next, take 1″ strips of washi tape and mount flowers on the wall durably. Details here aneventfullife
18. DIY Floral Wall Backdrop
Just print out your favorite flowers on heavy-duty cardstock and then cut the flower out. Now, these are your fake flowers to tape on the wall to gain will bring an alluring aura of colors to a targeted space. This project is super cost-efficient, and the paper flowers will not wilt. Details here parkeretc
19. DIY Fresh Flower Backdrop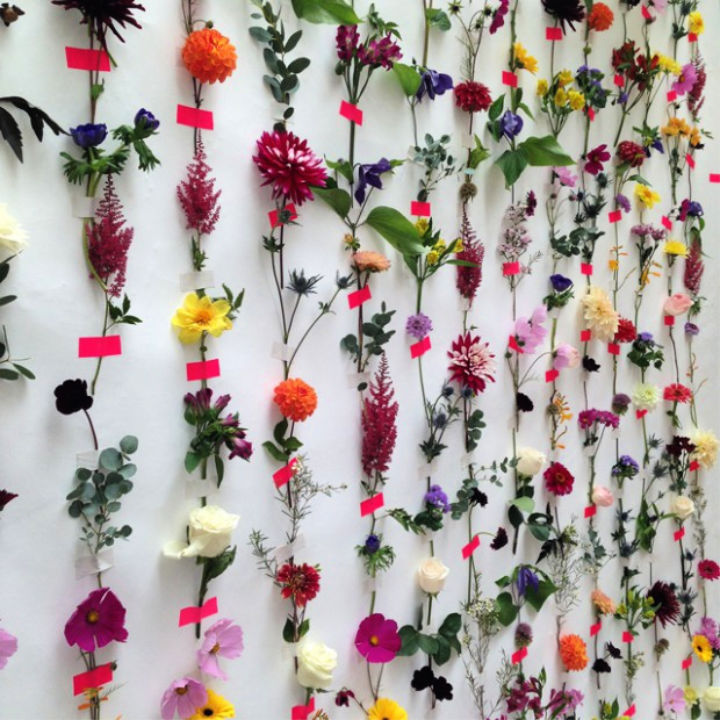 Looking at these fresh flower backdrop every day will bring inner contentment to an onlooker, and you will love the way this fresh flower backdrop will serve as a backdrop in a party photo booth. Mark the space intervals on the paper, next start taping off your flowers on it. Details here thisisladyland
20. DIY Paper Flowers Wall Tutorial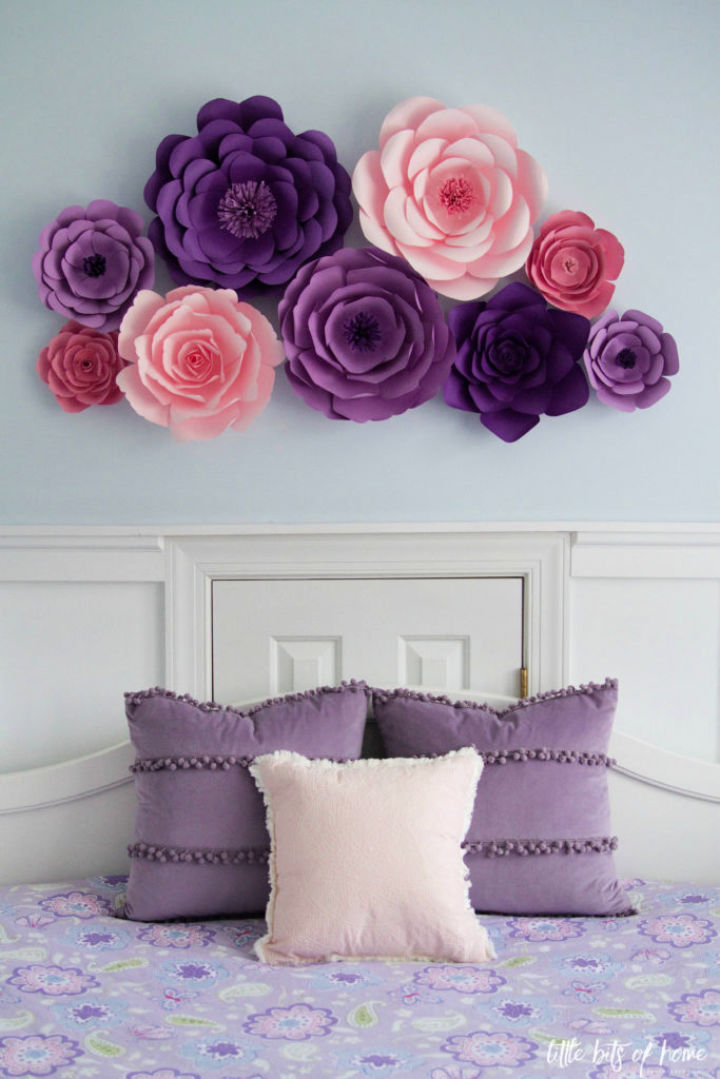 Take your paper flower making to the next level by making an interesting DIY flower wall with them. Put your giant paper flowers on any bedroom or living room background wall so they will make an interesting backdrop. Make the flowers with cardstock paper and then use the Velcro strips and glue gun for adhesive demands. Try to make your own paper flower wall backdrop by following this tutorial. littlebitsofhome
Conclusion:
Looking at flowers it the real bliss and pleasure. So, bring them to your interior home spaces by installing a lovely DIY flower wall. The given DIY flower wall ideas can be a great backdrop for your party photo booth, they will be amazing to feature in a bedroom or living room and will be a smart way to repurpose those old flower bouquets and artificial flower pots. Put together wall decoration flowers on the canvas frames to make a floral wall centerpiece. Add clusters of flowers around a wall mural frame to gain a floral wall masterpiece and also arrange flowers one by one on the wall to get an excellent DIY flower wall.