A necklace is always difficult to store with a minimized risk of damage. If you often find tangled necklaces in the jewelry storage drawers, then organize them with these 25 easiest DIY necklace holder ideas that anyone can make at home cheaply and quickly. You can easily make a DIY necklace holder by yourself using mostly the leftover, scrap, and recycled materials, and wood scraps will be an ideal choice. Opt for the empty picture frames and cord boards to make word's best necklace holders and DIY necklace display, just add them up with the brass cup hooks.
See a variety of homemade necklace holder by browsing this list of 25 most easy DIY jewelry holder ideas that are cool enough to win the heart of a big jewelry wearer in the home. It will also make you feel proud when you will see the scrap items holding your necklaces stylishly. From self-standing necklace organizers to wall mounted necklace holders, you are going to see all in these DIY necklace holder projects.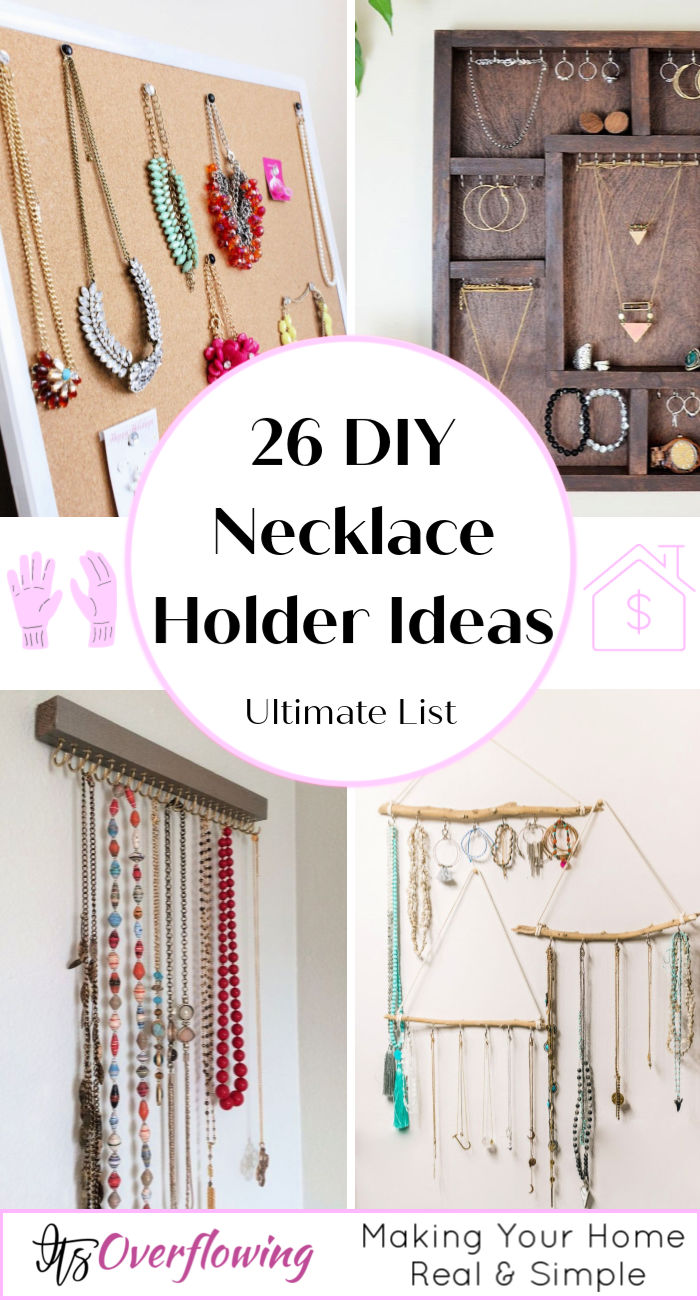 Put together the leftover plumbing pipes to make industrial styled necklace holders quite inexpensive. Get crafty with the wooden dowels and leftover wooden discs to make gorgeous necklace organizers and impress the guests with a mountain-inspired necklace holder. Upcycle the leftover driftwood pieces too to make rustic necklace holders in just no time. Follow our all ideas for hanging necklaces and organized your tangled jewelry.
This not end here, you can learn how to make a necklace holder easily. Follow these simple DIY necklace holder ideas include some amazing IKEA hacks to make a modern DIY necklace organizer cheaply. So, do take a roundup of all to get your creativity inspired.
1. DIY Necklace Holder Out of Picture Frame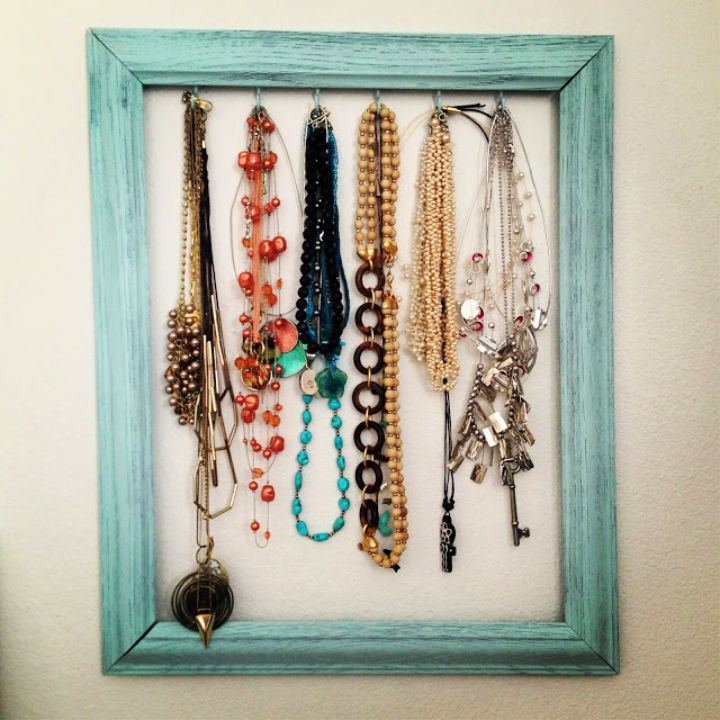 Necklaces are often to get tangled, and they should be organized neatly to avoid them getting damaged. Grab and empty wooden frame of 18″ x 22″ size and add 7/8" brass cup hook to the inside of the frame using a hammer and next paint the frame for a desired painted appeal. Check this DIY necklace holder tutorial
to make your own.
2. DIY Necklace Hanger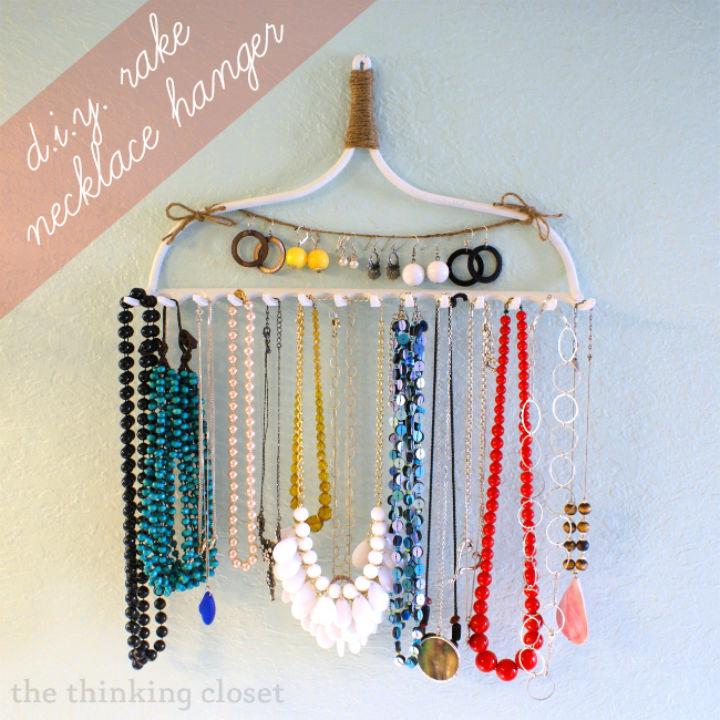 Take a tour of the garage sales and get an old rake from there to craft DIY necklace hanger. Just separated apart from the handle of the rake and hung the remaining metalhead on the wall to make a DIY necklace hanger that will hold your necklaces. It will make a great necklace organizer. Spray paint the head of the rake, finish with a rustic twine for an adorable look and hang on the wall using the durable hanging system. Details here thinkingcloset
3. How To Make A Necklace Holder
Willing to get an affordable and stylish DIY necklace holder? Learn how to make a necklace holder at home! Just take a triangular piece of foam board and then just add lines of clear thumbtacks to all around its edges and adorn it more with cut out gems, and next, just start hanging your necklaces on the clear thumbtacks. Details here instructables
4. Necklace Holder to Organize Your Jewelry
Make this instant beautiful jewelry organizer using a scrap wood piece, just grab a hand drill and drill holes on your decided piece of wood and add the knobs in the holes. Next, just start organizing your necklaces on the knobs, and they will just look great hanging on the knobs. Details here squirrelsofafea
5. Necklace Holder for The Minimalist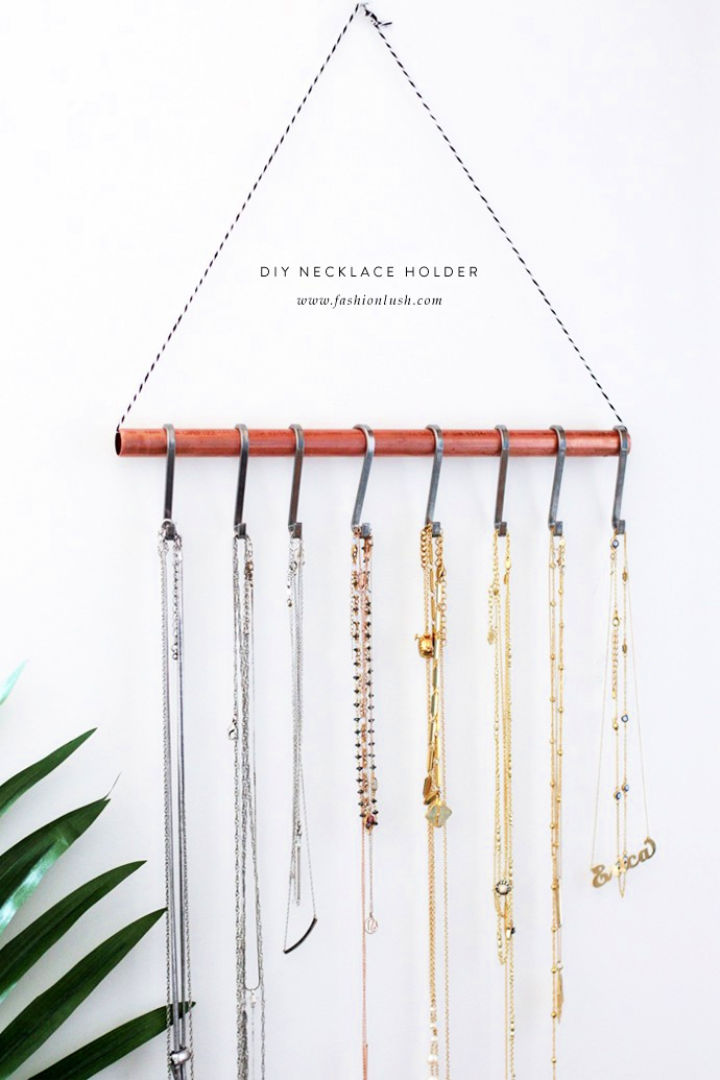 This necklace holder will just rock for a minimalist lover is darn easy and quick to make. String up custom cut a length of copper pipe on baker's twine and then just hang it up on the wall. Next, use the S-hooks to start organizing your necklaces on this copper wall hanging. Details here fashionlush
6. Necklace Holder for Under $10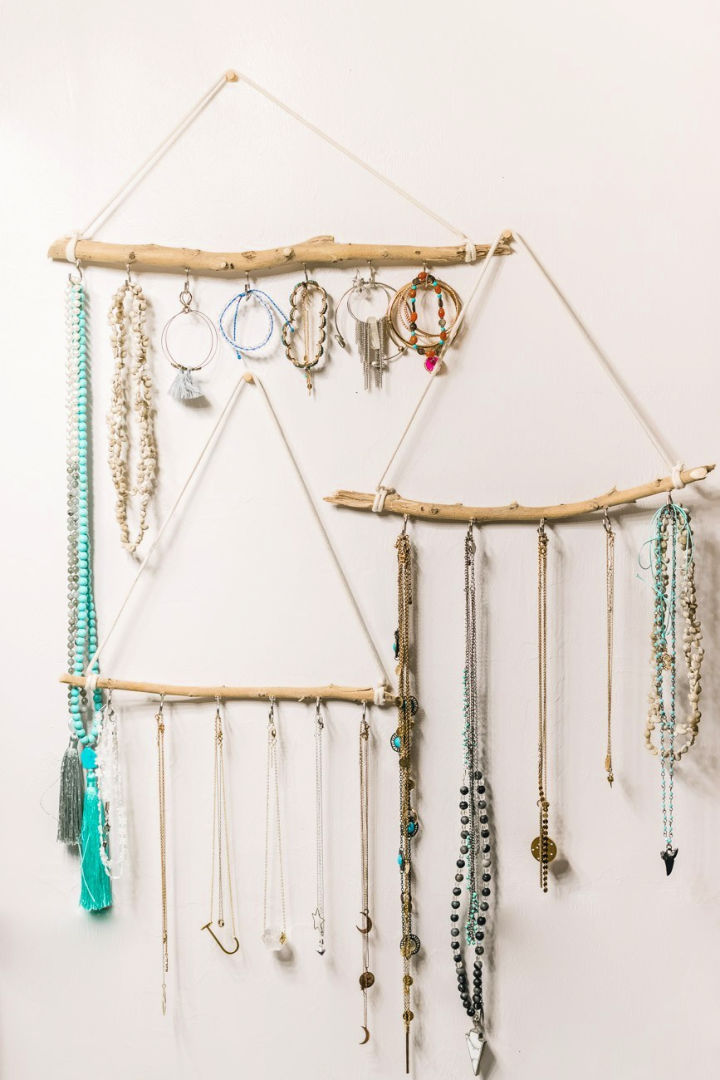 Spend less than $10 from your pocket and get this lovely necklace holder. Make this necklace holder out of recycled sticks. Just screw in hooks in the sticks and then use the macrame cord to hang the stick on the wall. It will nicely hold your necklaces and will surely create a better display of them. Details here sweetteal
7. Make A Simple DIY Necklace Hanger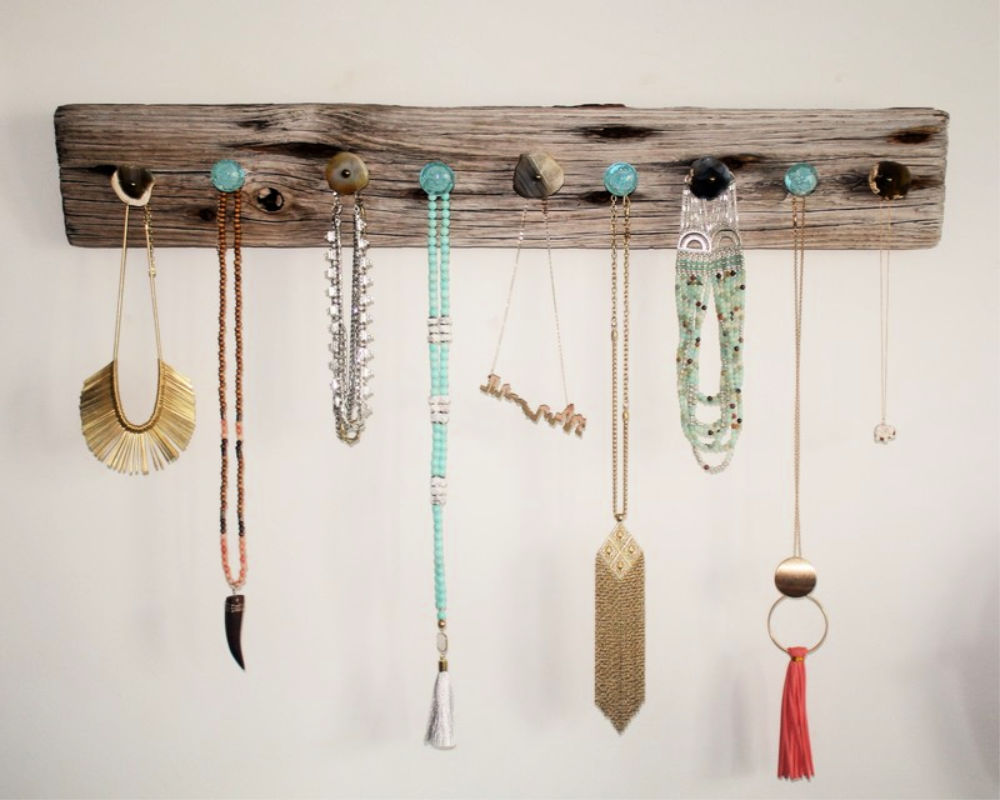 Look at this rustic and antique DIY necklace hanger that is so cheap and quick to build. Repurpose a piece of driftwood or barn wood to make this homemade necklace hanger. Just drill holes in it and then fit the colorful knobs for gorgeous and stylish necklace hanging. This way, you will nicely update your DIY jewelry organizer. scoopcharlotte
8. Make Your Own Jewelry Holder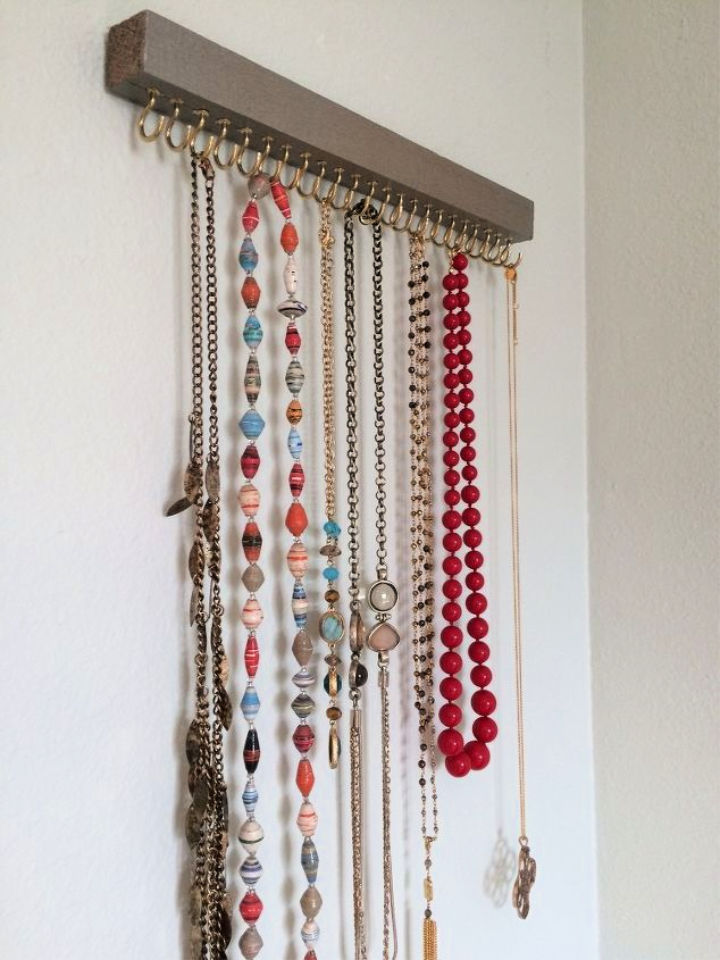 If you are on a mission to organize your jewelry, then you must get this DIY jewelry holder. Grab the thicker pieces of recycled wood, and metallic spray paint them for a gorgeous appeal. Add up with a line of brass cup hooks and start hanging your necklaces on them. Give it as a sweet handmade gift too. Details here hometalk
9. Jewelry Organizer for Tangle-Free Necklaces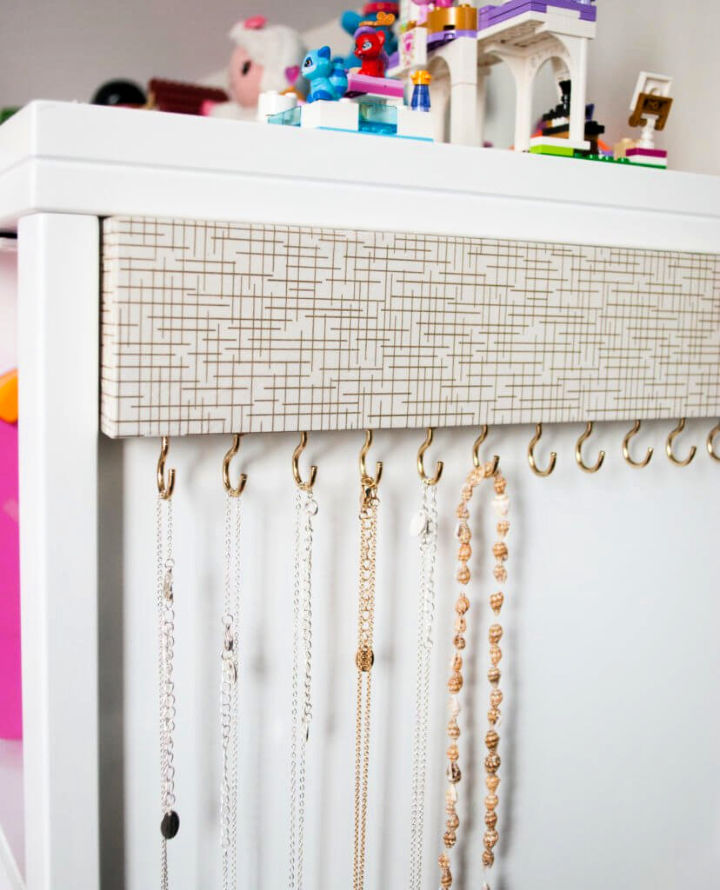 Always get the necklace tangled out of the drawers? Then you must make this DIY necklace holder that will allow tangle-free storage of your necklaces. Again make with a piece of wood that you can cover with decorative paper for a gorgeous and enchanting appeal. Next, add it up with the brass cup hooks to start organizing your necklaces. merrimentdes
10. DIY Wood Necklace Holder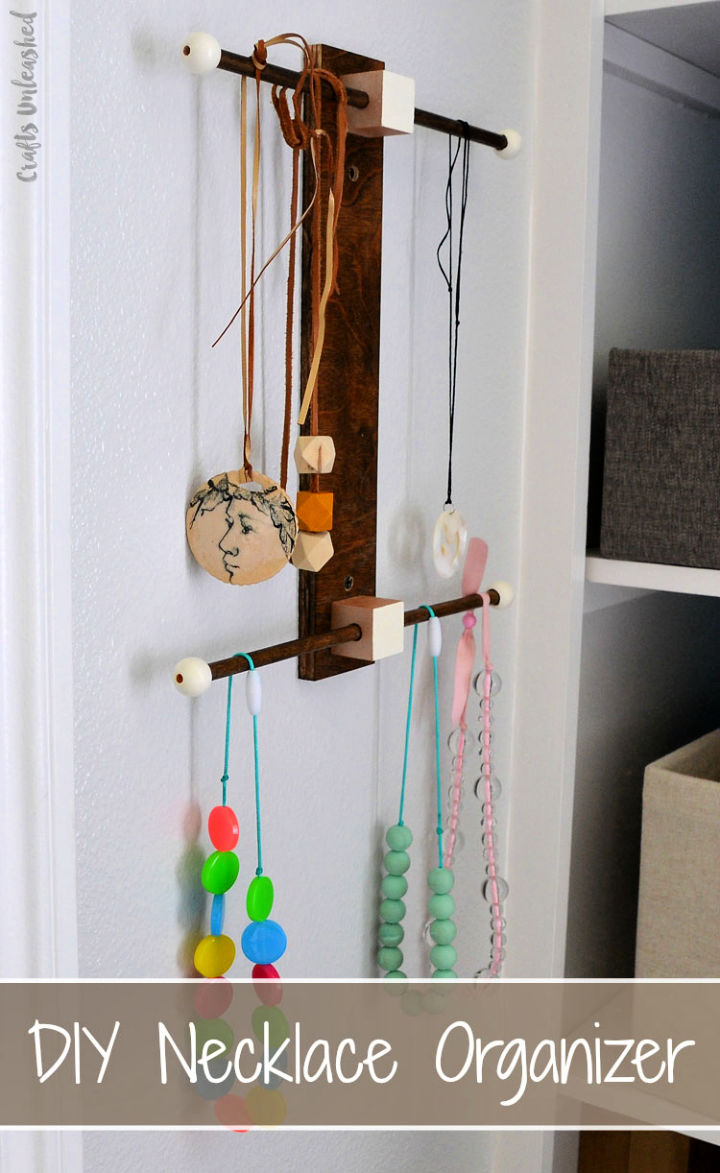 This DIY necklace holder is something beyond your imaginations. Make it using a wooden dowel, plywood, and wood cubes and metallic paint it all for a flawless, gorgeous appeal. Add the wooden dowel ends with wooden beads and get a fantastic jewelry organizer for your jewelry rooms. Details here consumercrafts
11. DIY Wooden Jewelry Holder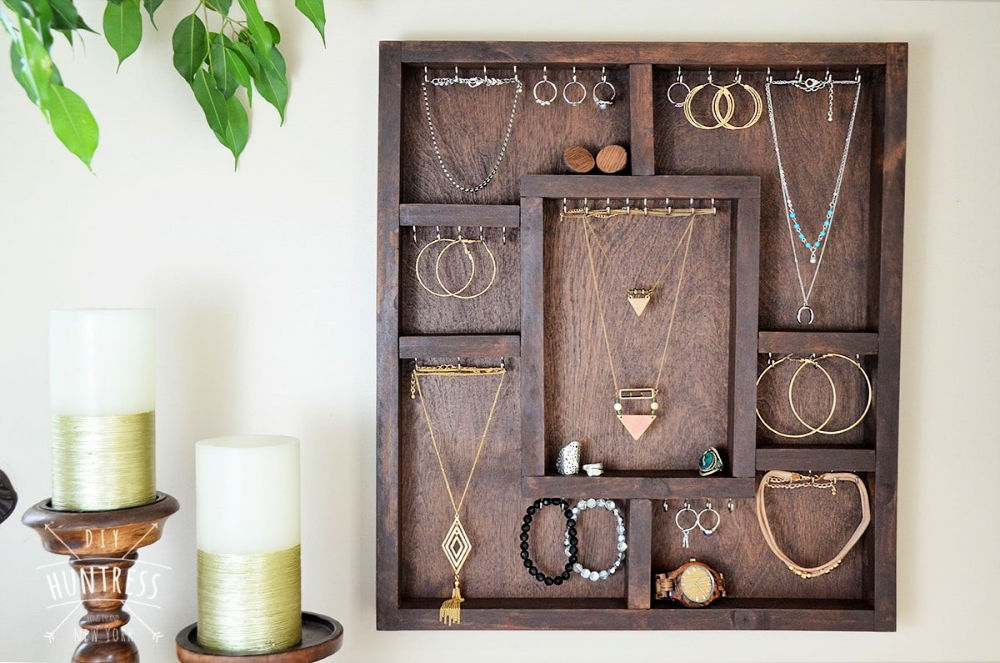 You need a sheet of plywood and 1x2x6′ wood pieces to build this wooden jewelry holder. This DIY jewelry organizer is a perfect square and provides different sections for storing different types of jewelry. Give it a nice wood finished and add small cup hooks inside the sections to start hanging your necklaces. diyhuntress
12. Easy DIY Necklace Holder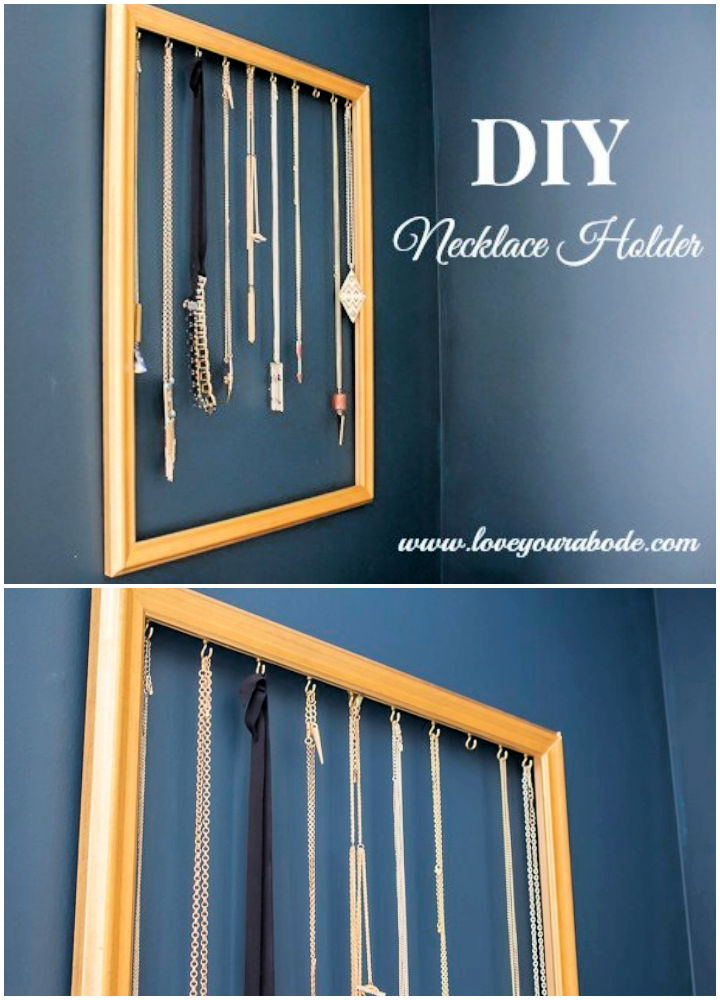 Grab a thrifted frame and just paint it in the way you like. Add the cup hooks inside the frame and then just hang it up on the wall using sawtooth picture hangers and picture hanging hooks. One of the most budget-friendly necklace holder to make at home in no time. Details here orgjunkie
13. DIY Necklace Holder Stand With Copper Pipes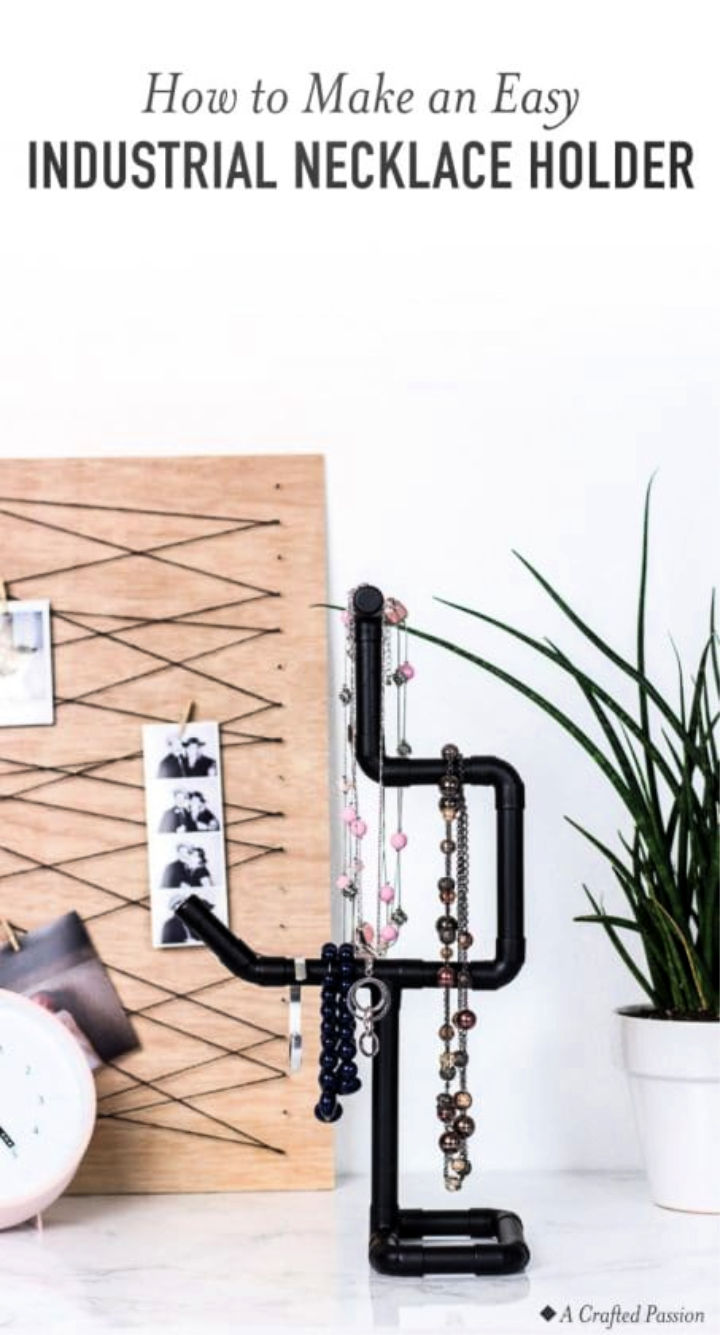 This DIY necklace holder stand can stand alone and will bring a gorgeous industrial touch to your jewelry room. Repurpose the plumbing pipe scrap and just fit them together, making this easy necklace holder. Paint the pipes before fittings and choose metallic paint suiting your needs. Details here acraftedpassion
14. Pretty Jewelry Hangers
Bring a gorgeous touch of the chevron to any of your indoor walls by hanging these pretty jewelry hangers. Just grab the canvas frames of custom sizes and then just cover them up with fabric having your favorite print or design pattern. Next, add the pushpins in the canvas frame to hold the necklaces in an enchanting hanging position. designimprov
15. Quick Necklace Holder DIY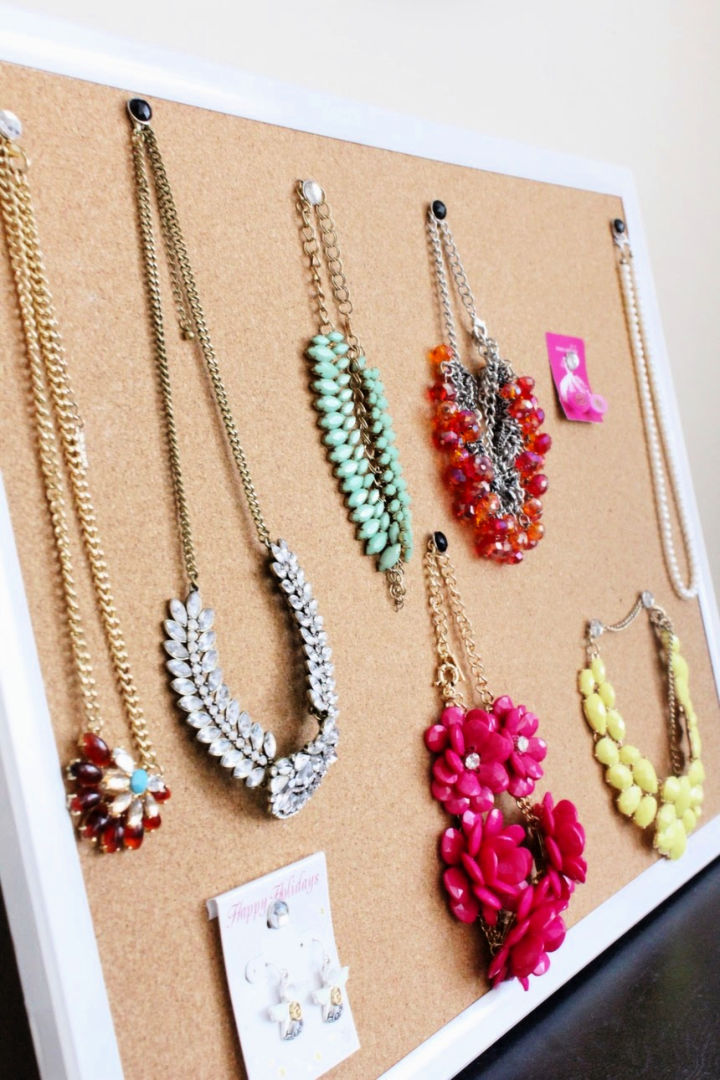 This necklace holder is a smart DIY hack and involves using a 23 x 17 cord board. Just spray paint the corkboard in the way you like and add up with the computer papers. Next, start adding the thumbtacks that will hold the necklaces in a cool hanging position. You will love the way this necklace holder will serve. Details here thehappyflam
16. Window Frame DIY Necklace Display
Do you love solving life problems by recycling the stuff lying around you? Then do repurpose the old window frames to make this sweet and simple DIY necklace display. Just remove the glass panels from an old recycled window and then cover it up with wire mesh or with chicken wire to gain a necklace organizer. lifelovelarson
17. Chicken Wire Jewelry Holder DIY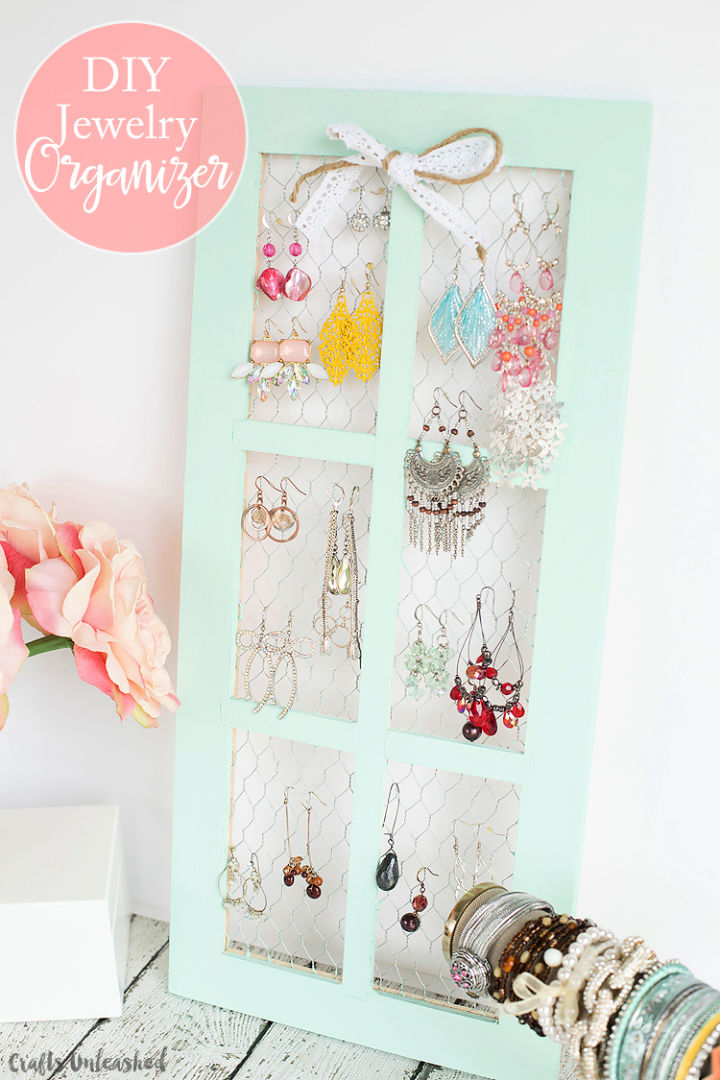 Again add up the back of a window frame with the chicken wire to get this beauty made, a better DIY necklace display, and organize to build inexpensively. Give a chalky paint finish to the frame and adorn it more with a ribbon and jute cord bow. Hang this frame up on the wall using sawtooth picture hangers. Details here consumercrafts
18. Handmade Jewelry Holder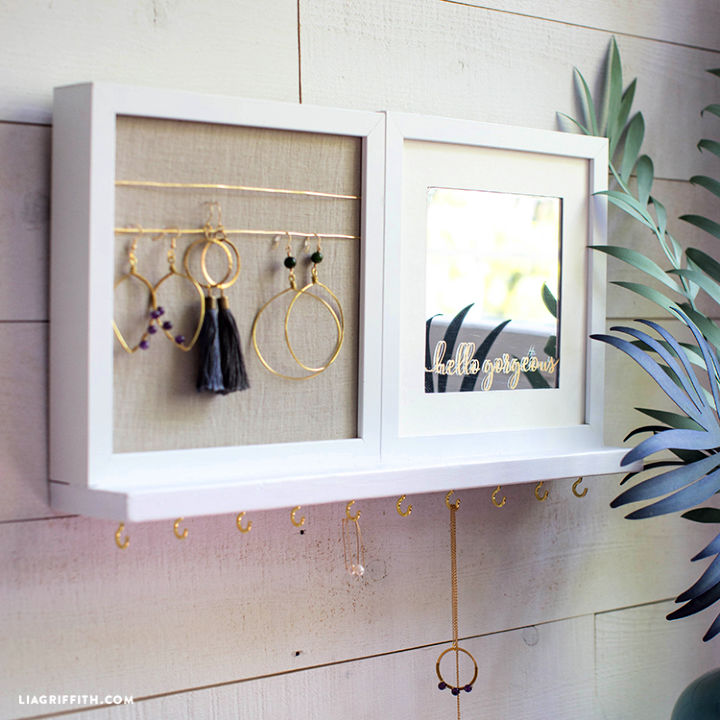 This modern-looking jewelry hold is a creative IKEA hack. Making this jewelry organizing is an easy feat. Grab the IKEA Ribba 29" x 9" picture frames, gold wire, mirror, wood, cup hooks, picture hanging kit, and white paint to make this cute looking jewelry holder. It will make a sweet gift too. Details here liagriffith
19. DIY Jewelry Holder for Heavy Necklaces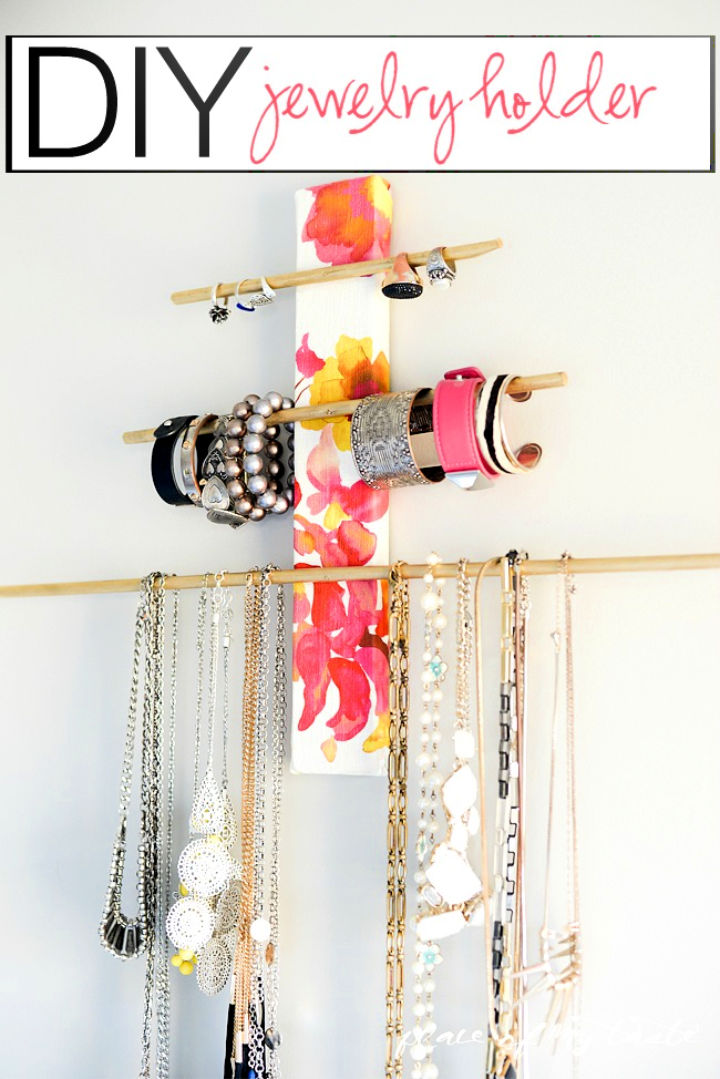 You will organize your necklaces over this DIY jewelry holder, quite something inexpensive and quick to make. To make this necklace organizer, you need a 2×4 wood panel, fabric, metallic gold spray paint, wood rods, and sawtooth hangers. Paint it to match your home decors. Details here placeofmytaste
20. Picture Frame Necklace Holder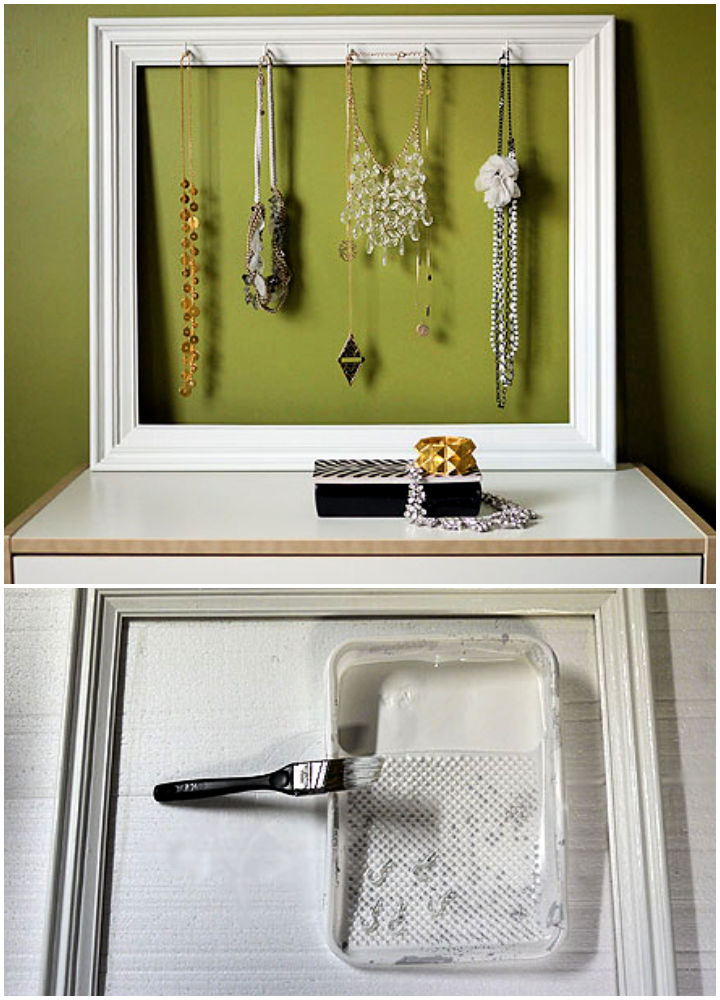 Learn to make a cheap DIY necklace display at home! Grab an old picture frame and just brighten it up more by giving a few coats of semi-gloss white paint. Next, add up the inside of it with brass cup hooks and put it to serves to nicely hang and organize your necklaces. A better way to reuse those old picture frames that are often inexpensive to grab. Details here thebudgetbabe
21. Necklace Holder from Wood Scraps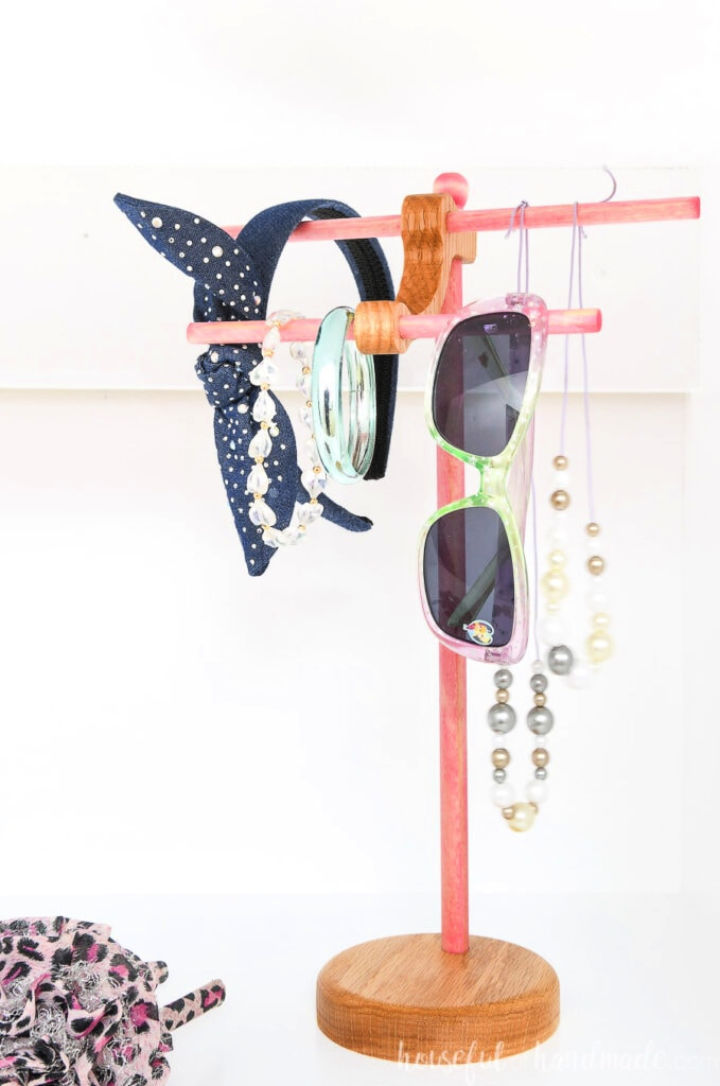 Start organizing your jewelry in style using the wooden scraps. Repurpose the wood scraps to build this necklace holder. Fit a durable wooden dowel in a round wooden disc and then add two horizontal wood dowel lengths on the vertical one. Use an attachment wood piece with drilled holes in it to do so. Now, it will be ready to use. housefulofha
22. How to Build a Necklace Organizer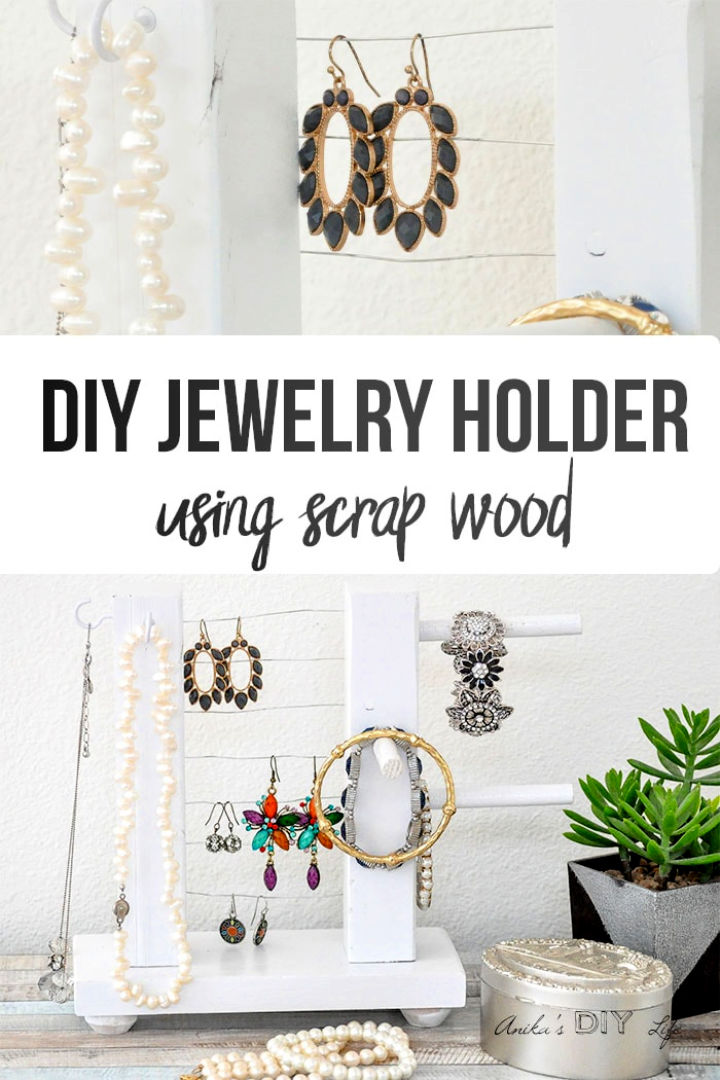 Work with the 1×2, 2×2 wooden boards, and also with 3/4" wood dowels to build this necklace organizer. Next, you need the 22 gauge floral wire and 5/8" cup hooks to finish this DIY necklace holder or organizer. Do most of the assembly using a staple gun and glue. Details here anikasdiylife
23. Cute DIY Jewelry Holder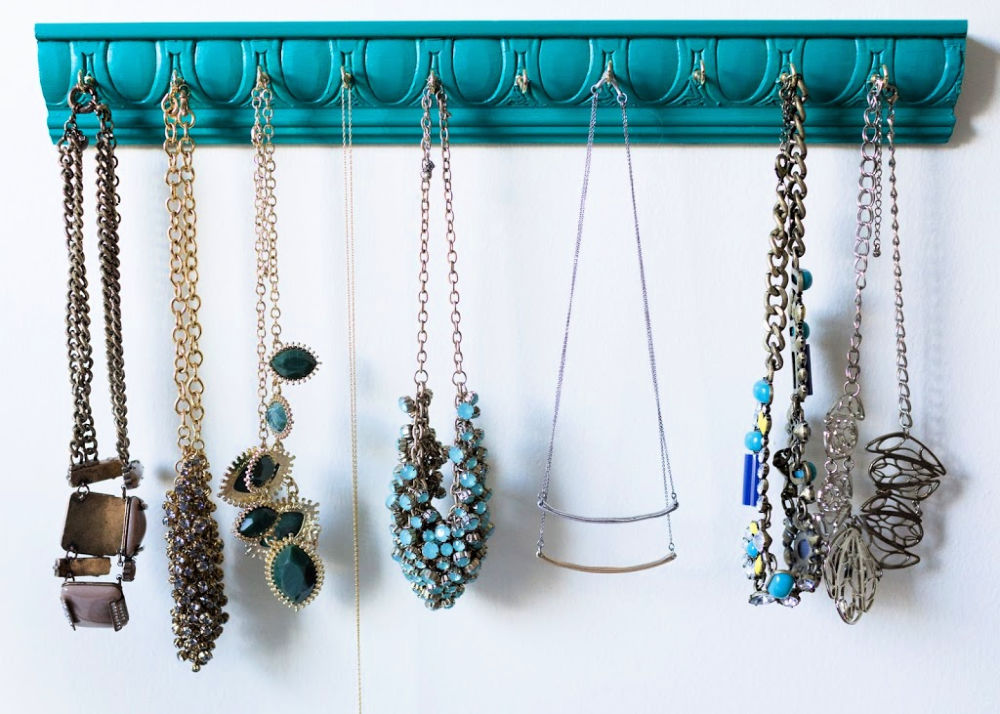 Spice up your jewelry storage game with this lovely homemade jewelry holder. Repurpose a leftover piece of decorative molding to build this jewelry holder. Just paint your molding piece for a decorative appeal and next finish it up with custom hooks like cup hooks. Details here thepioneerwo
24. Wood Mountains Necklace Holder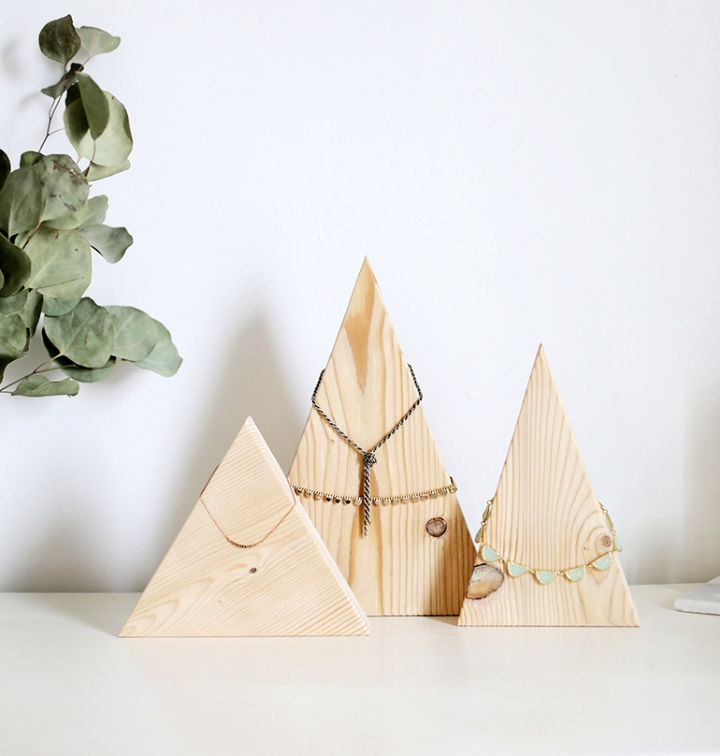 This DIY jewelry organizer will make a stunning piece of art too on your dresser table. Put together two or more self-standing wooden triangles to build this mountain necklace holder. It will be a big show stopper and will nicely organize your chokers and necklaces. Details here themerrythought
25. DIY Necklace Holder for Ages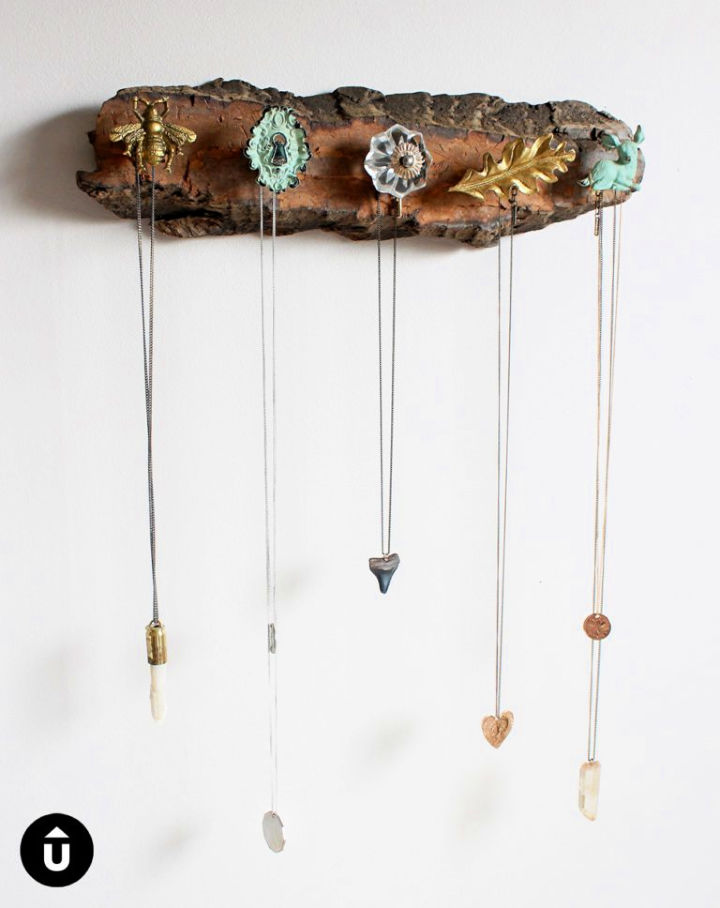 Avoid getting your necklaces tangled by making this quick DIY necklace organizer, the necklace holder for ages. It will bring a rustic decor character too to your decided space and wall area. Grab a piece of driftwood and add it up with colorful accent knobs or hooks to organize the necklaces. Details here upcyclethat
26. Ana White Jewelry Holder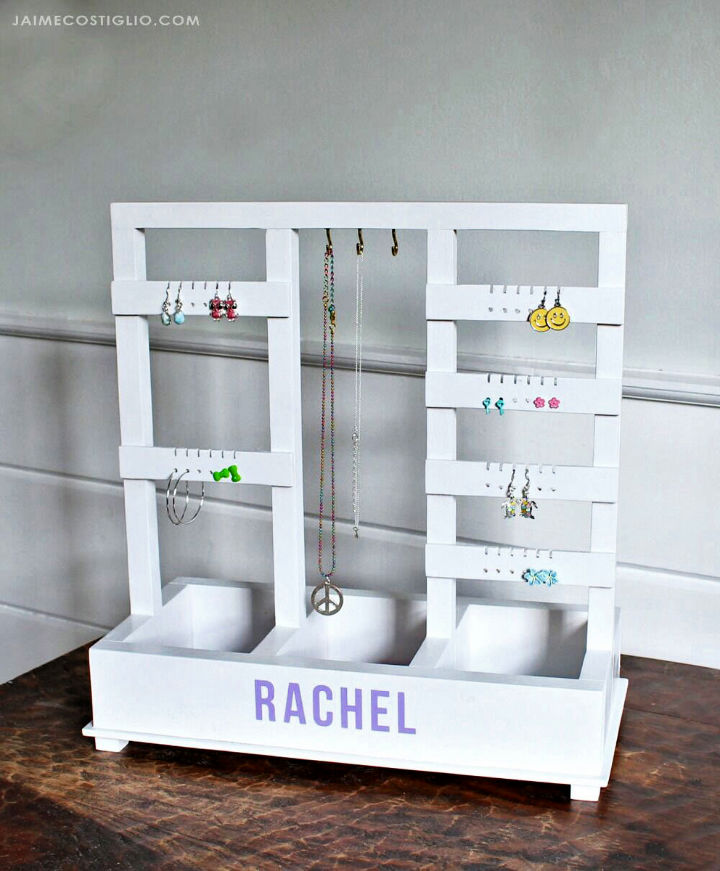 Get free wooden plans and step-by-step instructions to build an all-in-one DIY jewelry organizer. It can stand alone and comes with a base that contains too many storage boxes. Next, it looks great with a raised frame that provides sections with hooks to organize your necklaces and earrings. Details here ana white
Conclusion:
The necklaces are the most loved personal adornment of the ladies. So, every jewelry wearer just loves to have a collection of necklaces to wear on different occasions and events. This calls for a better organization of your jewelry. So, go for tangle-free storage of your necklaces with these DIY necklace holder ideas that are quite inexpensive, easy, and quick to make. These DIY necklace display projects encourage the recycling of old goods like empty picture frames and wood pieces and allow you to organize your jewelry inexpensively.