Learn how to make a boutonniere! On special wedding occasions, we love to dress special, and these 10 easy to make DIY boutonniere ideas will definitely make all men do so quite easily. Whether you are coming back home after a long business life or going to attend a funeral, these ideas will provide so many different designs of boutonnieres for every occasional dressing.
To praise more the art of DIY and Crafts, browse this collection of DIY boutonniere ideas that you can make using a single flower or bud. Attach your selected flower design with a filler and next to a little with foliage or greenery to fit in your buttonhole as a lovely suit accessory. They will rock on the lapel of your coat and will make the cutest handmade gifts for men in your life. Please, your boyfriend, by giving a handmade boutonniere, and they will be a smart gift choice for your hubby too.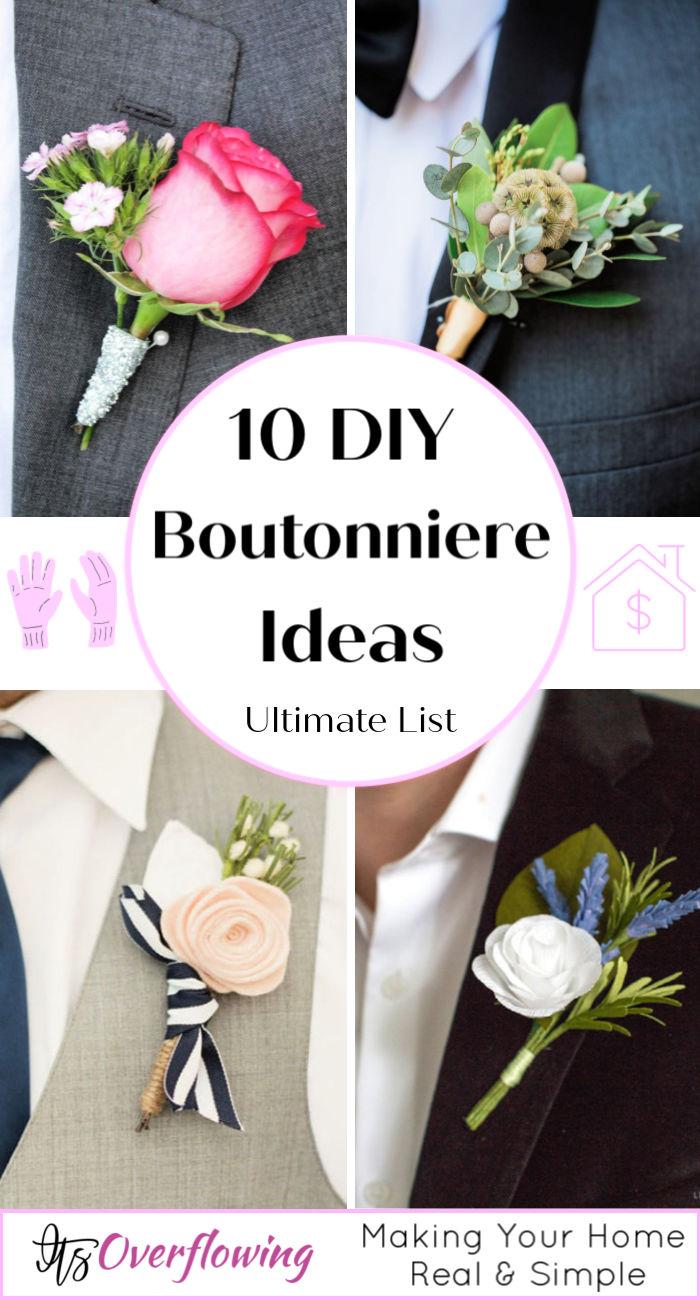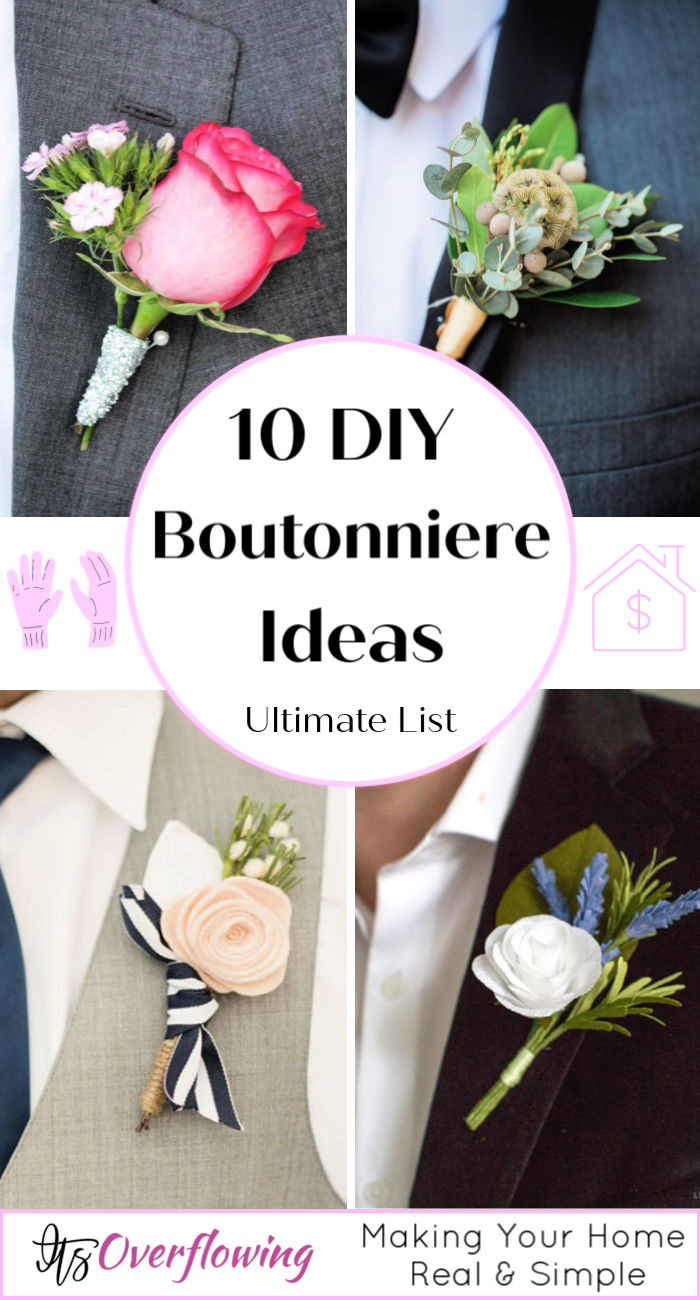 For a groom, this DIY boutonniere will be a must-have accent, and they can be made in lots of different colors and styles using so many different flowers, foliage, and fillers. Finish them up with the corsage pins or add them up custom clips. These boutonnieres will be a smart alternative to a brooch.
Along with amazing your senses with a variety of designs! This DIY boutonniere list will provide step-by-step tutorials and instructions to make a boutonniere and try all these projects that will make you a professional boutonniere maker. Do take a short round-up of all these DIY boutonniere Projects to make a boutonniere.
1. DIY Flower Boutonniere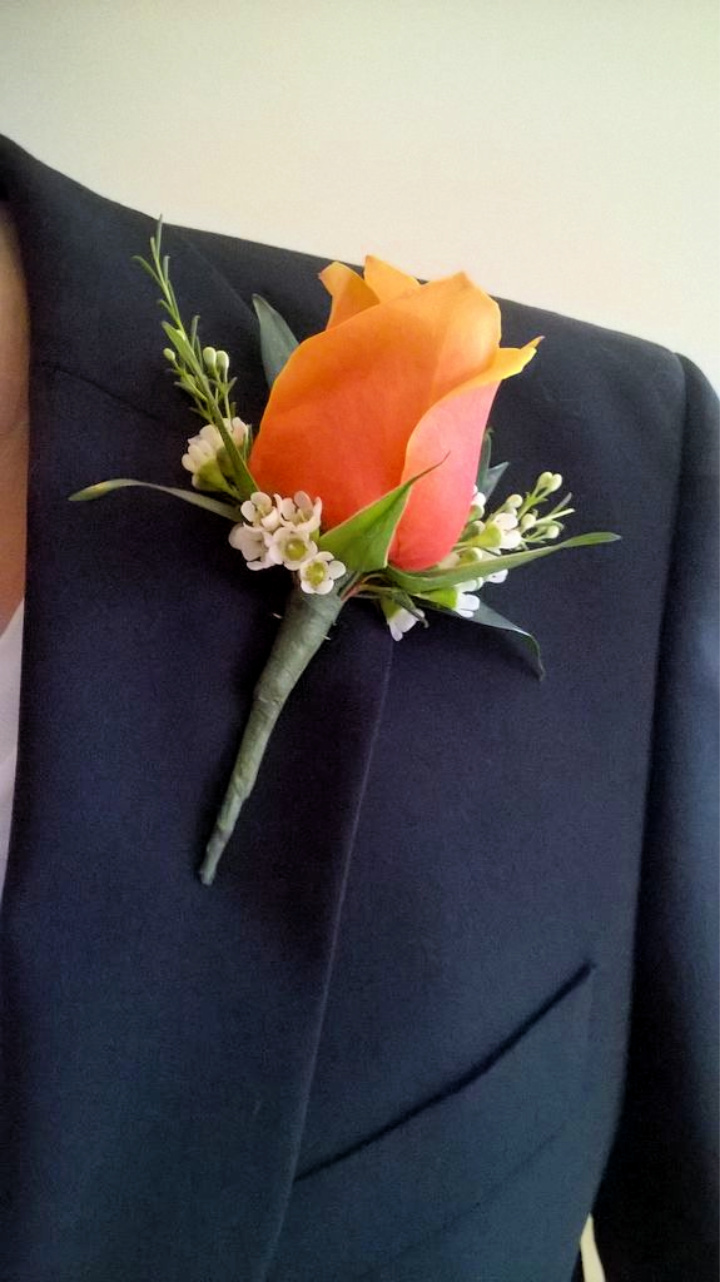 Flowers can have a prominent position in your life of fashion too. Just make flower boutonniere to style up your tuxedo and catch more eyeballs. Make this simple boutonniere using a cherry brandy rose, flora wires, waxflower, and Italian ruckus and also green floral tape. Details here instructables
2. Crepe Paper and Rosemary DIY Boutonniere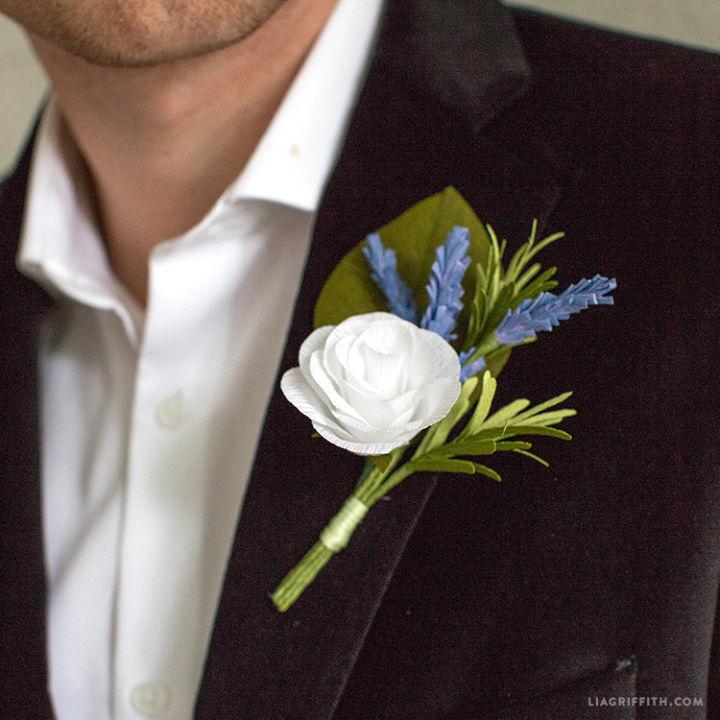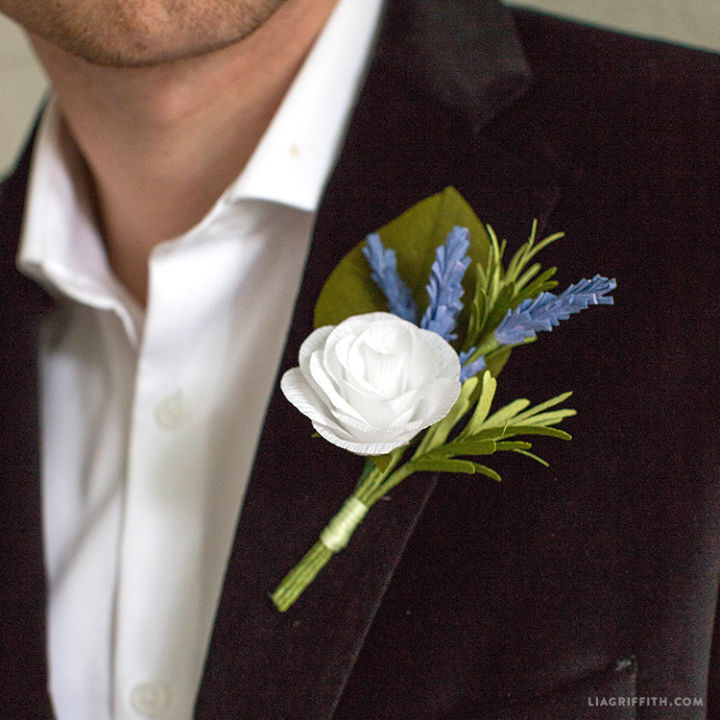 Dress cool at homecoming occasion by wearing this crepe paper and rosemary boutonniere over your coat. It will make you look special and feel special at the same time. Grab double-sided crepe paper, extra fine crepe paper, floral tape, Copic maker, floral wire and green ribbon to make it liagriffith
3. Greenery Boutonniere from Md's Florist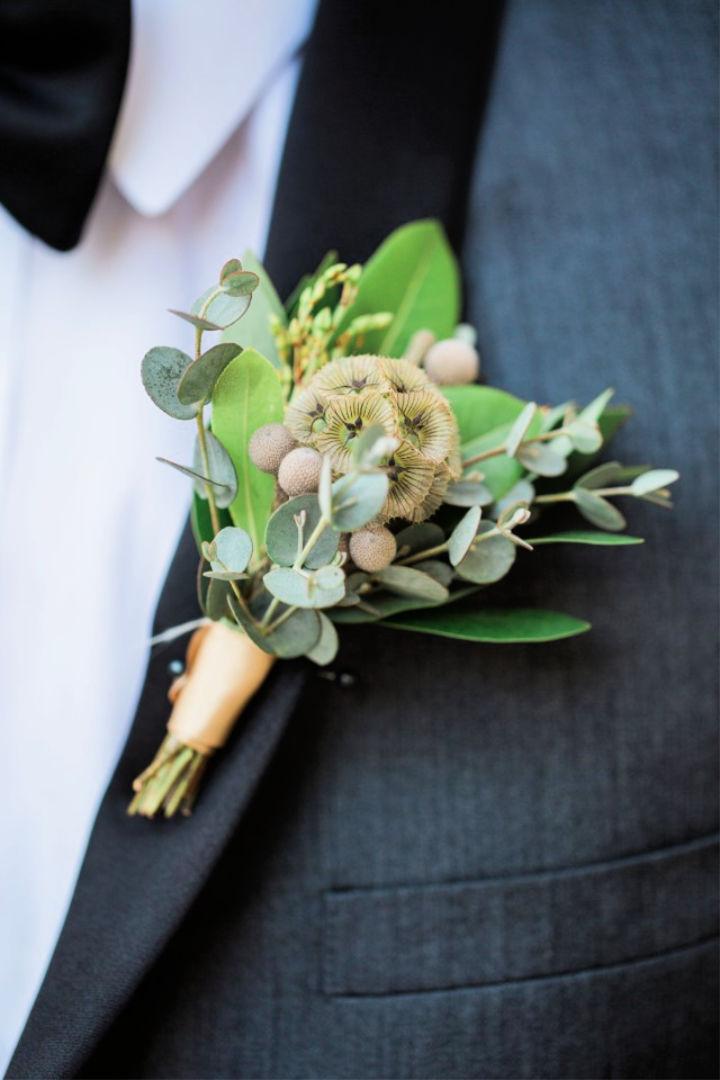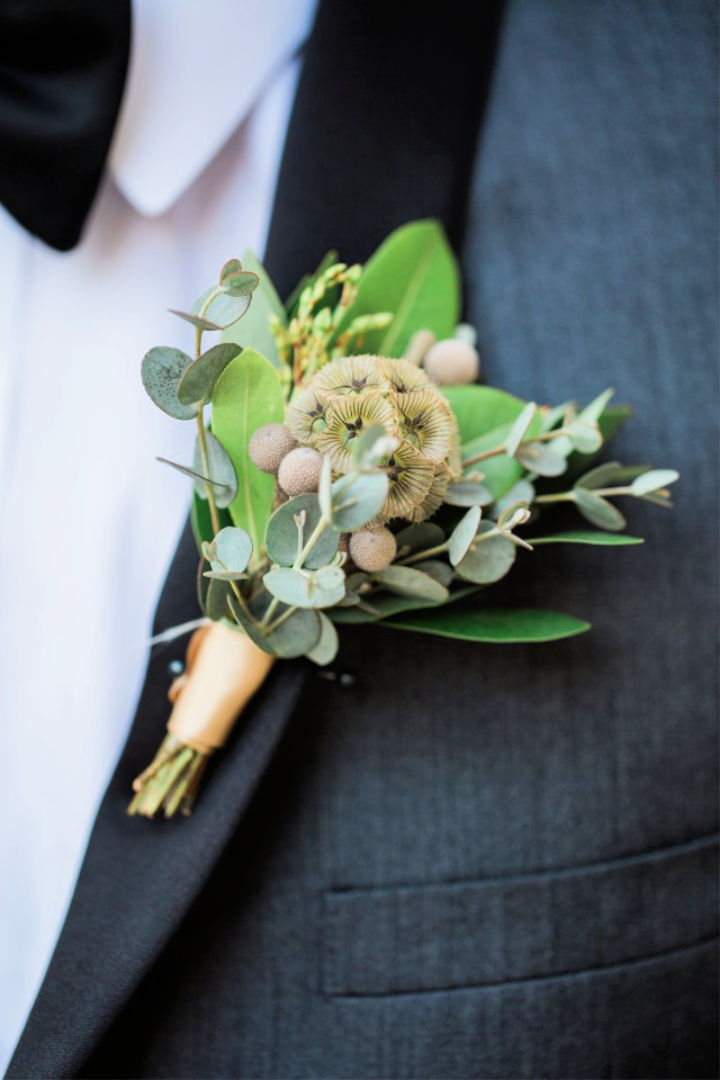 Adorn your suit jackets more by adding this greenery boutonniere on the lapel. This single flower or bud decoration will make you dress well for the wedding and funerals too. Here you need greenery, floral tape, ribbon corsage pin, and ribbon to make this DIY boutonniere from Md's florist. Details here weddingchicks
4. Make a DIY Wedding Boutonniere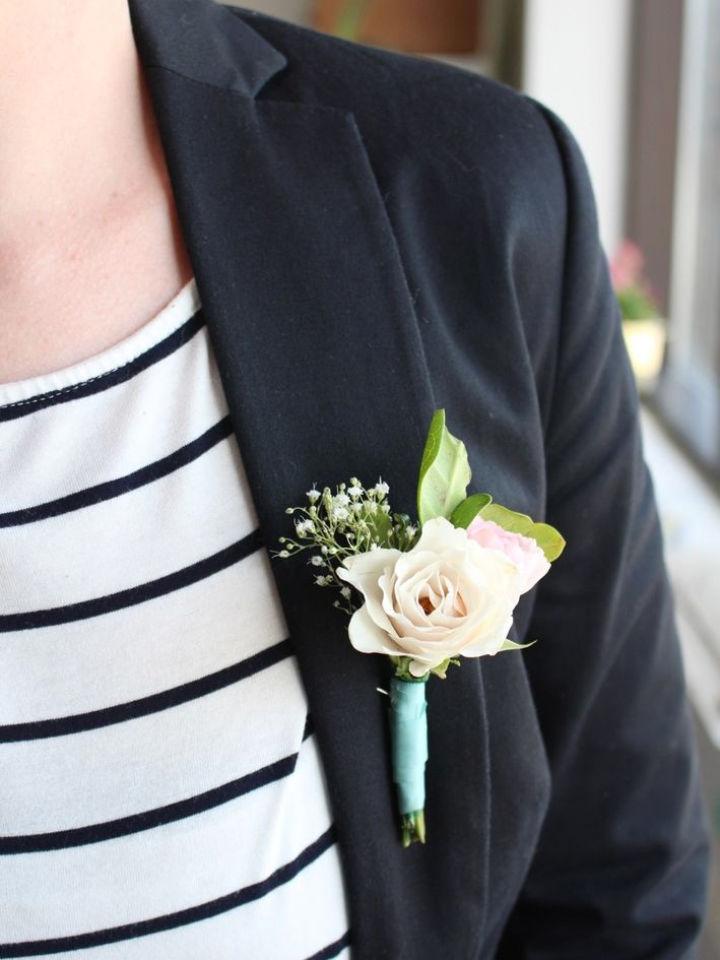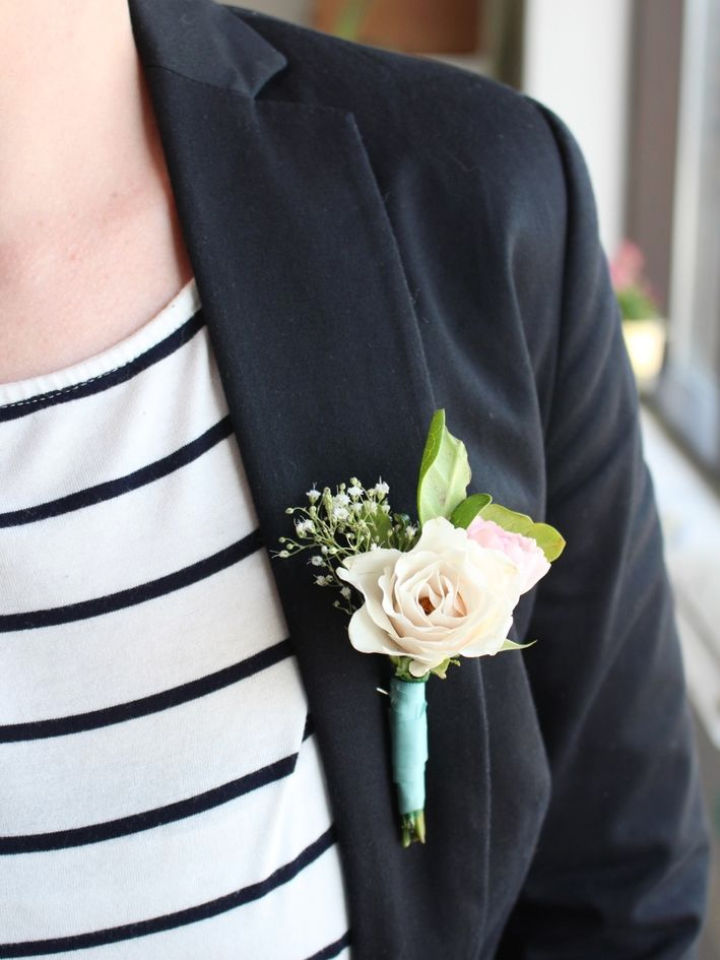 Whether you are attending a wedding or want to dress cool on your own wedding, this DIY wedding boutonniere is a must to add on the lapel of your coat. Making it is pretty quick and involve a handful of ingredients. You need greenery, floral tape, floral wire, corsage pins, and ribbon to make it. Details here curbly
5. Wedding Bouquet and DIY Boutonniere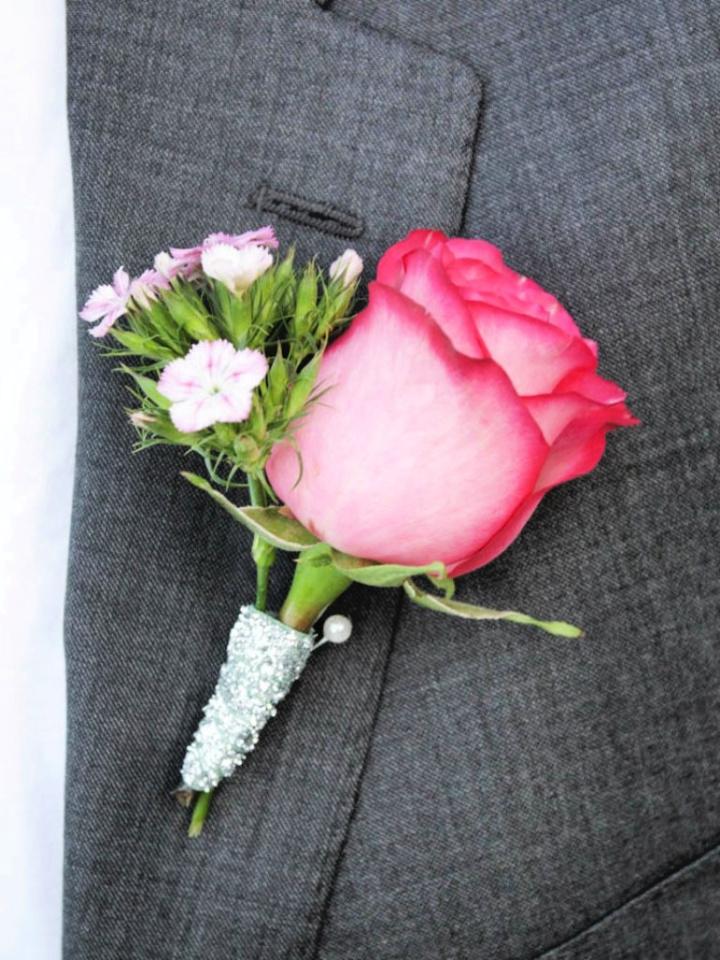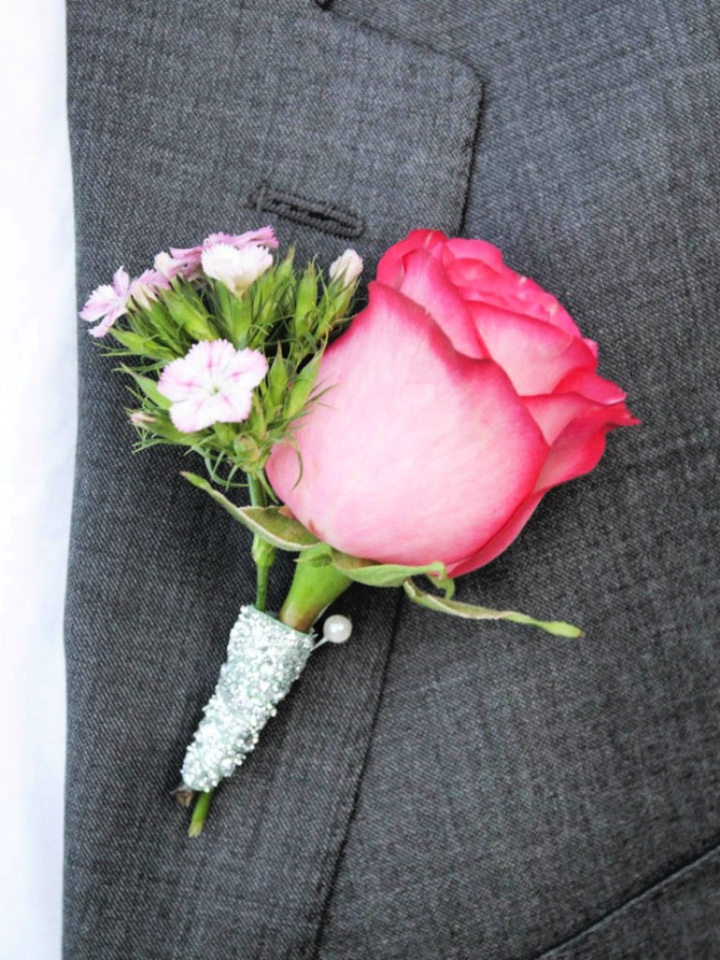 Learn how to make a wedding boutonniere at home. This single flower coat or suit decorations will bring an arresting style to your wedding personality. The project provides instructions to make a matching rose bouquet too that the bride can hold in hand for a perfect match. You need roses and accent flowers, floral pins, floral tape, large and small ribbons to make it. Learn how to make a rose boutonniere here: thisfairytalelife
6. DIY Felt Flower Boutonniere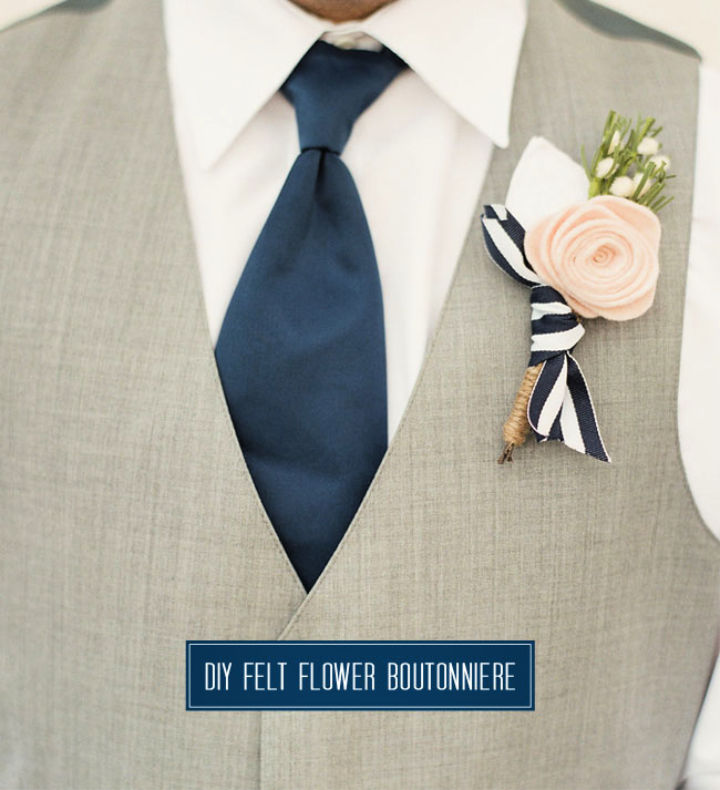 Make a boutonniere with both artificial and fresh flowers. For several times use, an artificial flower is recommended. So, make this felt flower boutonniere with felt, twine, stem wire, fake flower buds, ribbon, and a straight pin. The perfect decorations for your wedding or funeral coat. Details here greenweddings
7. DIY Simple Boutonniere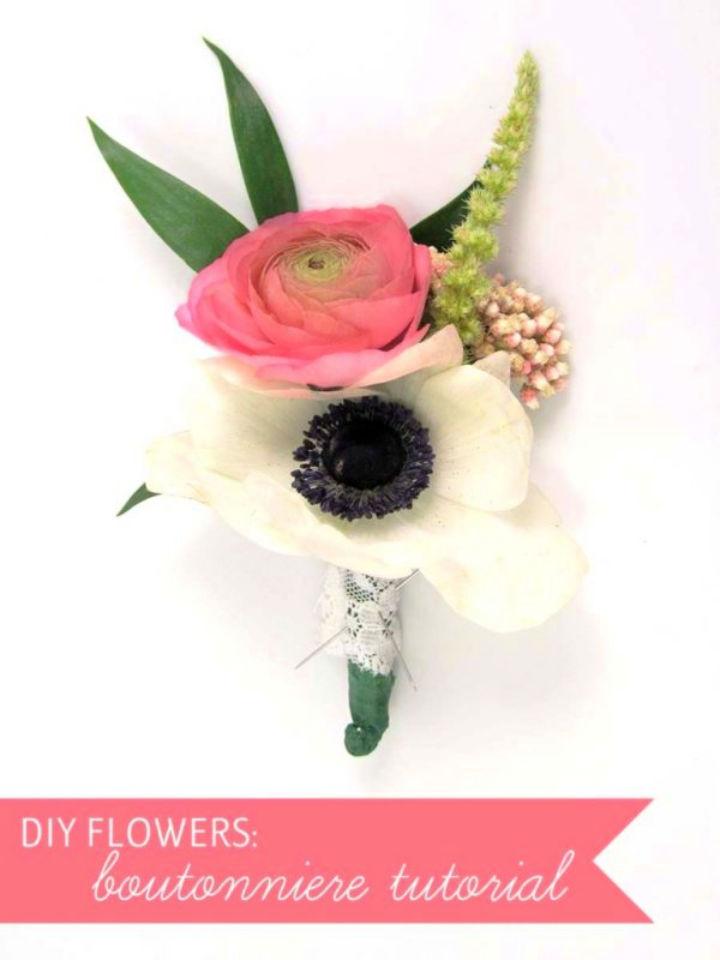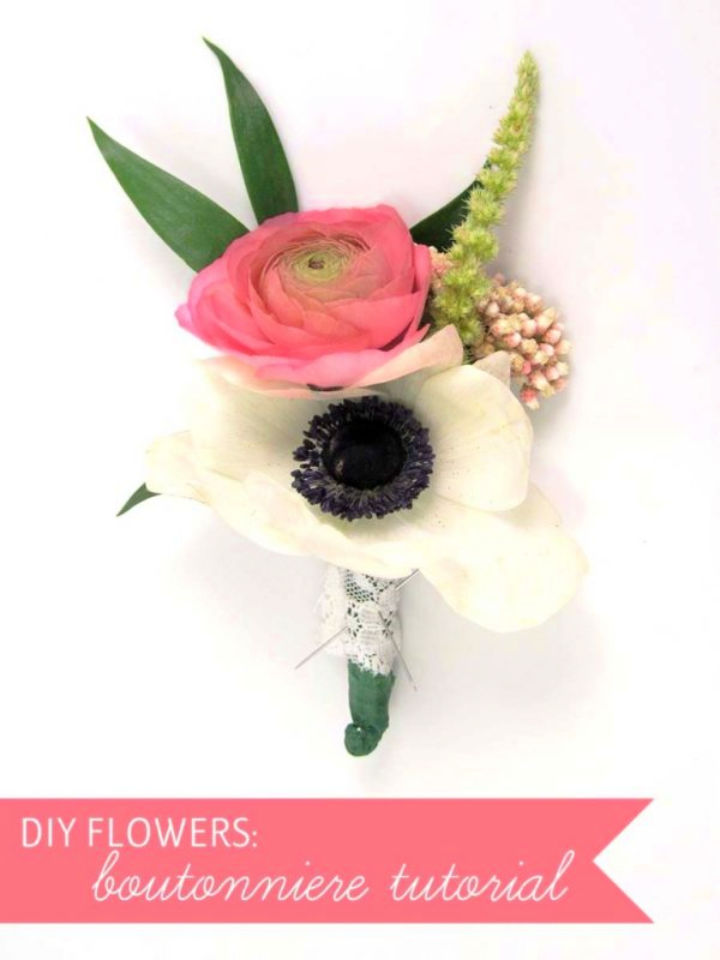 Follow our DIY boutonniere pro guides to make a boutonniere using any flower. Just combine the main desired flower with a focally stimulating filler flower, add some greenery for a balanced look. Next, finish with ribbon, stem wrap, floral tape, and with custom pins. Look at this simple DIY boutonniere sample to get inspired. thebudgetsavvy
8. How To Make A Boutonniere With Flowers

Do you want to learn how to make a boutonniere at home cheaply and quickly? Rock your special occasion by wearing the suits with boutonniere decorations. You just no need to buy them. Make lovely DIY boutonniere at home like this handmade one that features a white rose. Along with white rose, you need, baby's breath, eucalyptus, chlorophytum, pins, and floral tape to make it. You can get a DIY boutonniere in the last minute! floraqueen
9. Summer Floral Boutonniere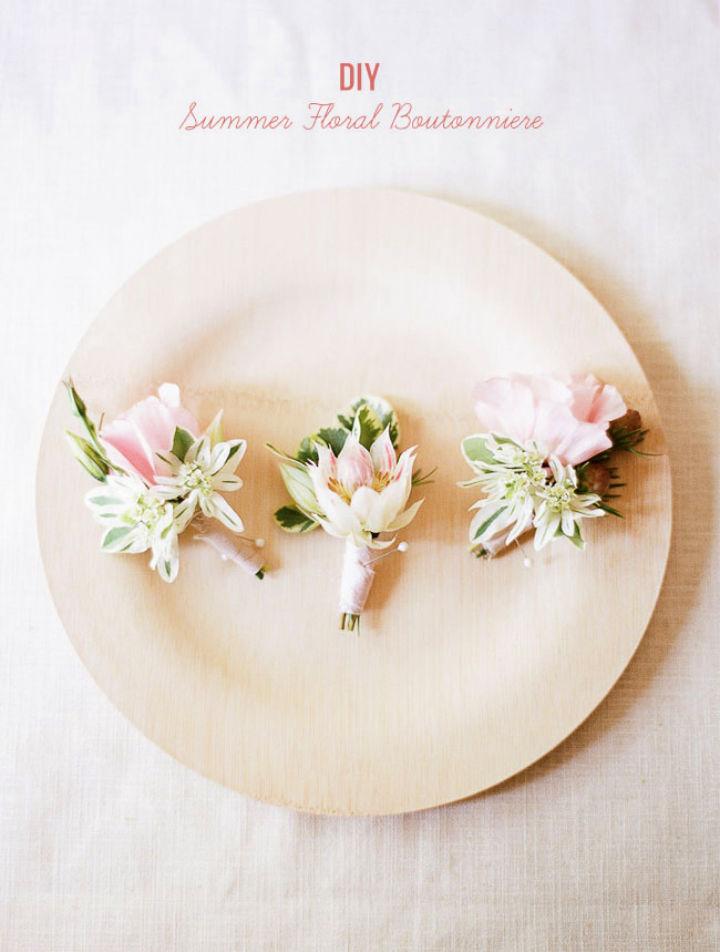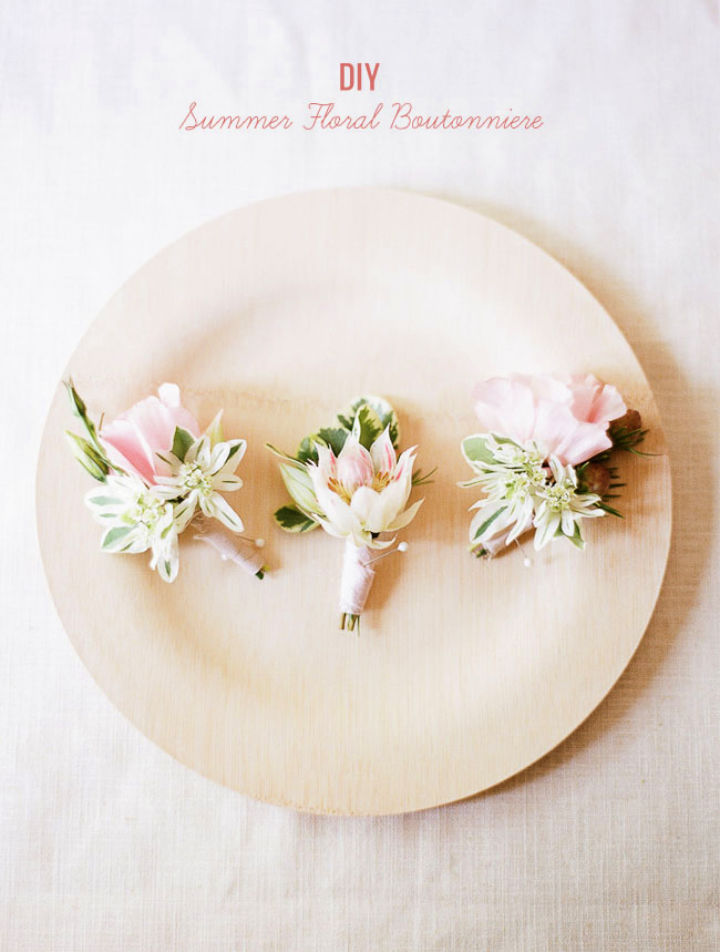 Make this summer floral boutonniere with fresh flowers like blushing bride protea, freesia, lisianthus, pittosporum, snow on the mountain, and leucadendron jubilee crown. Next, you need clippers, floral tape, boutonniere pins, and ribbon. Details here greenweddings
10. DIY Succulent Boutonniere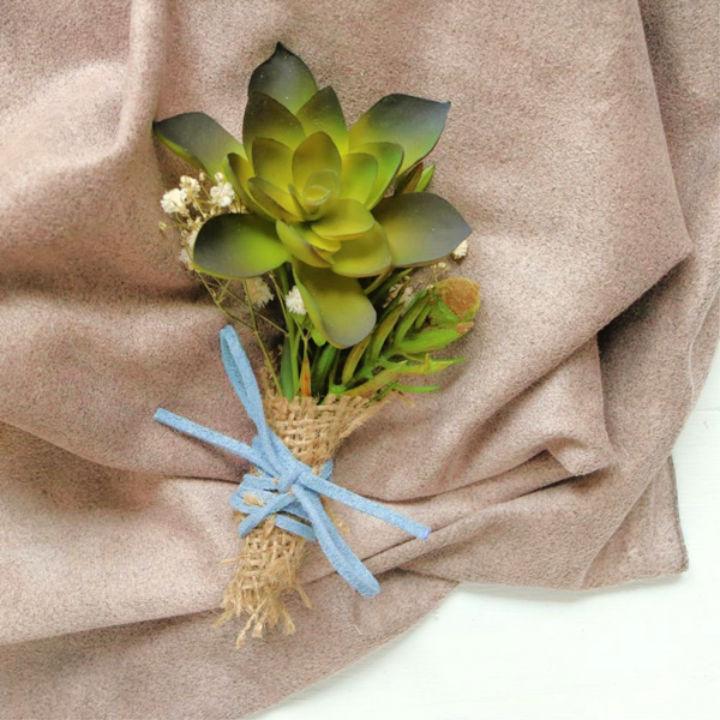 Feature the succulent as an accent accessory on your occasional suits, will definitely create a pleasing personality of you. Make this succulent boutonniere using faux or real succulents, real or faux stems, leaves, and flowers. Next, you need burlap remnant, floral tape, and leather cord to make this succulent boutonniere! It will make a sweet handmade gif to your boyfriend or hubby. weddingbee
Conclusion:
In past days, the boutonnieres were the regular decorative accessory of the men's suits and coats. But they are taken as a specified accessory for occasional dressing. Skip buying them as you can quickly make out of the fresh or artificial flowers. These DIY boutonniere projects will help you make all sorts of popular boutonnieres that can be on the lapel of your coat you are wearing at wedding, homecoming, funeral, or at proms.