Perhaps the most thoughtful and head-scratcher decor voyage is when you decide to brighten up the whole place by working on one or two corners! Also known as the gallery wall ideas! We can bet with all the ongoing trends and the exciting gallery walls Pins across the internet, you must be finding all those features darn intimidating. But that's where we come in! We have rounded up below a huge collection of totally do-able, fun-filled, simple and pretty easy 101 gallery wall ideas. These photo wall ideas are not just budget-friendly, but they can easily make you bring those enriched texture and design gallery wall features to your home!
Did we mention the best part of our photo wall collection? Well, guess what. Our 101 gallery wall ideas have these amazing 101 tips, tricks, and hacks for some pretty easy ways to display your family photos and decorate your home wall at no cost! If you have had a bare wall that has been making you feel blue all this long, the best thing that you can do to it is by adding up this gallery wall layout upgrades! And beating the blues just like that! It's evident to say that the gallery wall is itself a science or a theory!

How to make a gallery wall in a creative way?
You don't just get up one day and randomly start hanging up pretty much every other thing on the wall. It has to be well thought! Usually takes a few mind checks! Like you need to start off with the designated space or wall, the theme you would like around it, the budget, of course, the pictue frames (check this DIY picture frame guide to craft your own picture frame without speding a little penny), artwork or pictures and the layout! But, once you have moved past through these basics, it is so much fun and all so cheery! Let's hop on and walk through our exciting gallery wall ideas.
1. Living Room Gallery Wall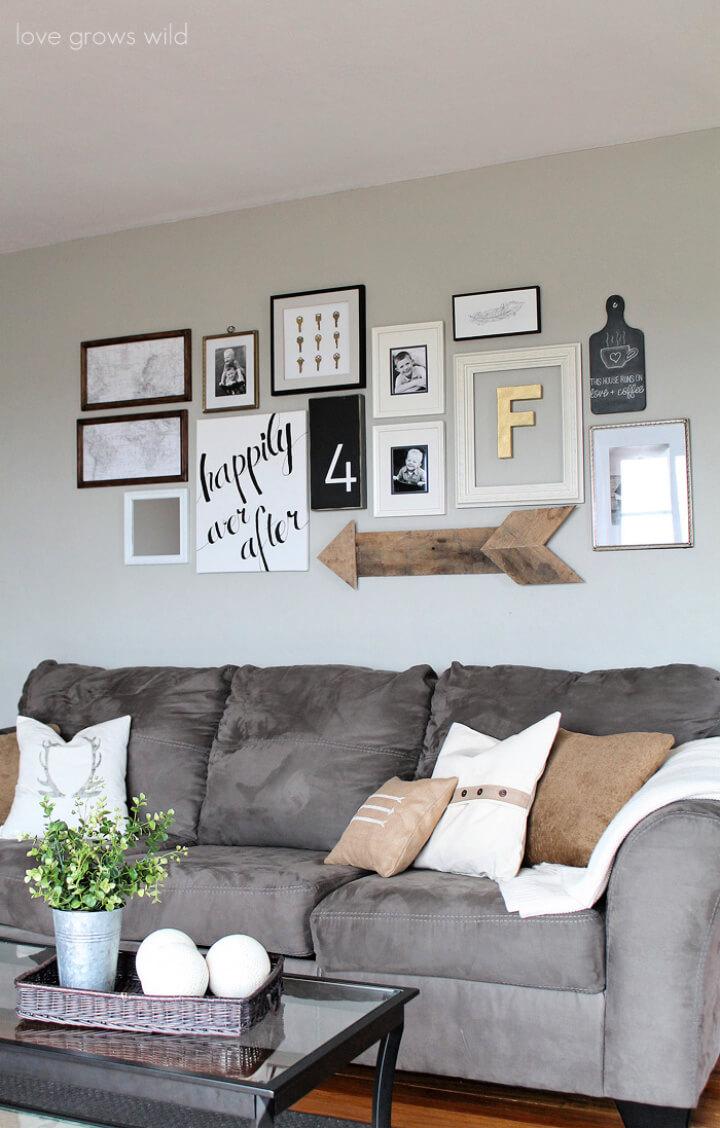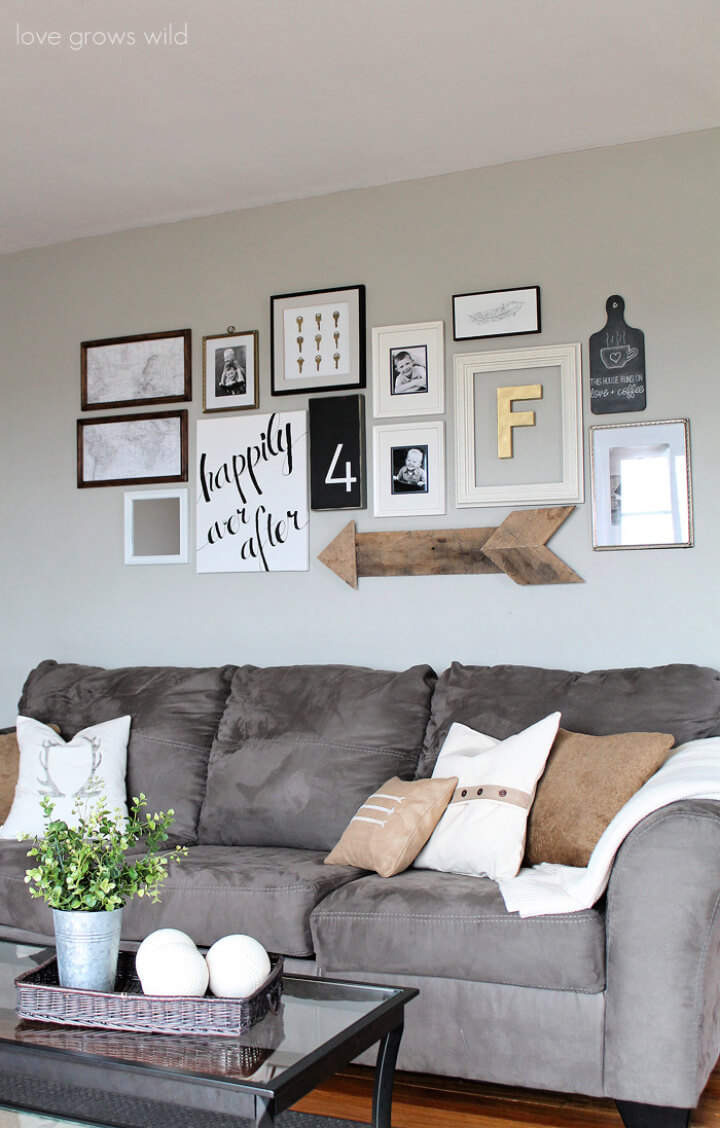 Bring a cheery and lively vibe to your decor game with this 14 pieces' gallery wall! It will be like adding some charming real-time appeal to your living room wall. The whole idea revolves around shopping around in thrift stores and upcycling the things bought. lovegrowswild
2. DIY TV Gallery Wall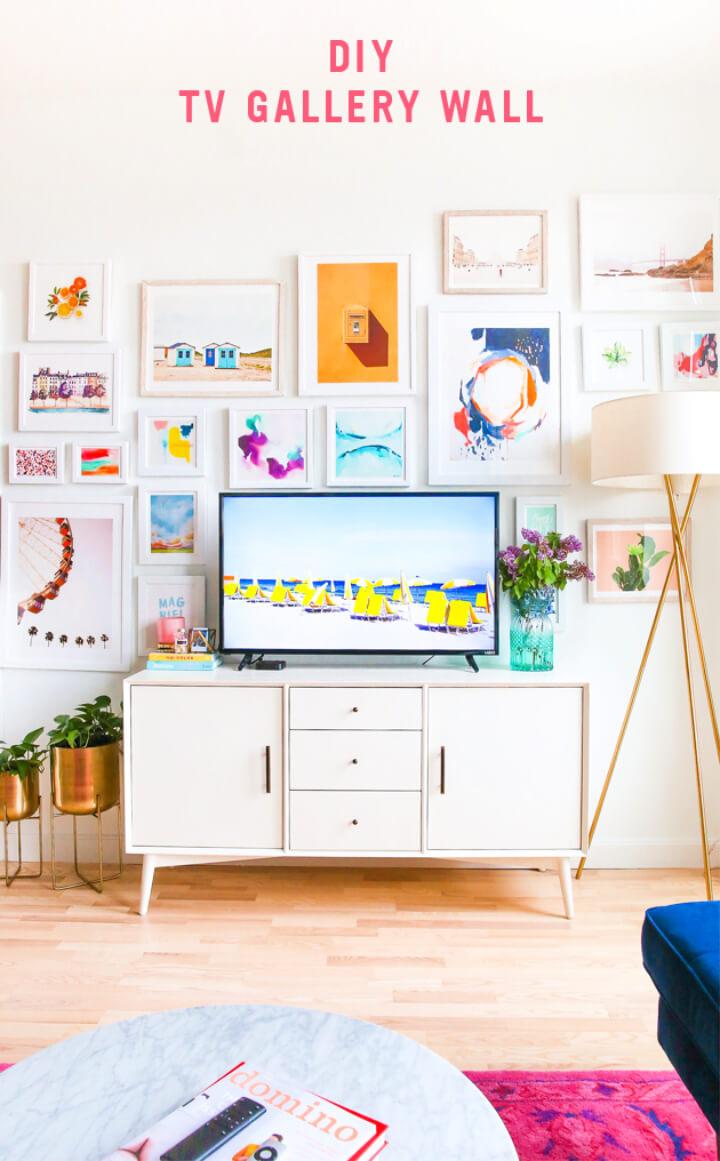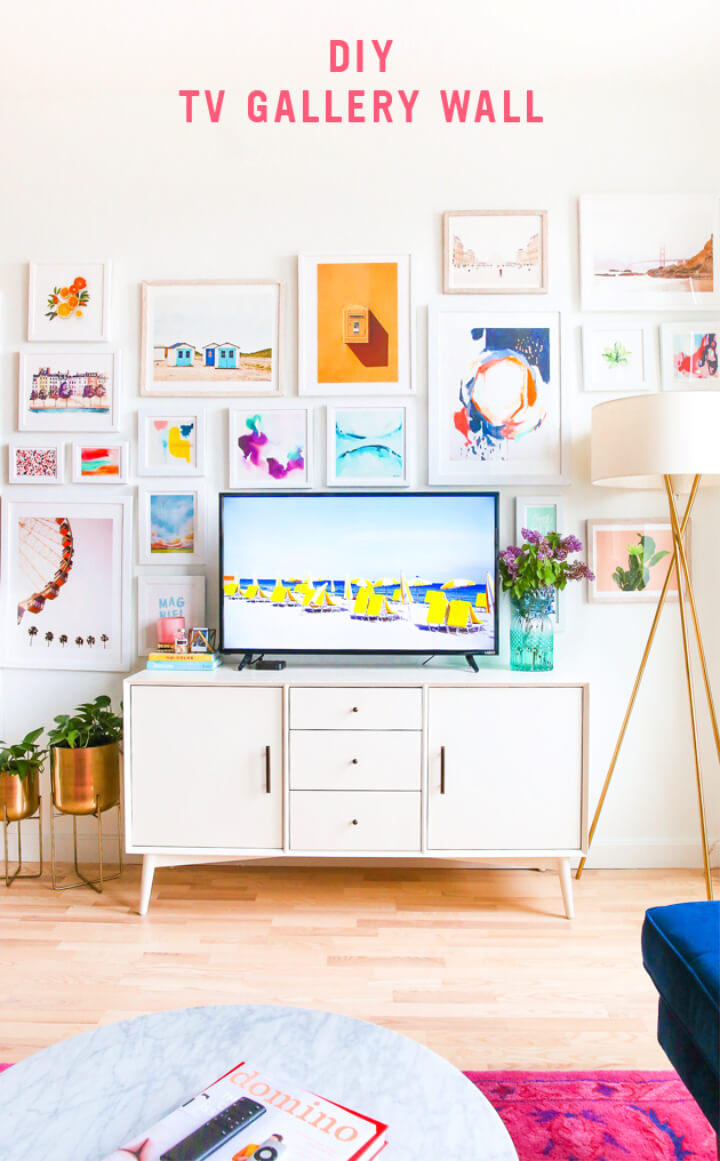 This colorful and cheery DIY gallery wall by Rachel from the crafted life has our hearts stolen! It is evident to say that the whole appeal of the room because of this wall is SO uplifted and bold. Given the fact that TV is going to be the focal point, this is going to be a huge addition to that. thecraftedlife
3. Tiny Picture Gallery Wall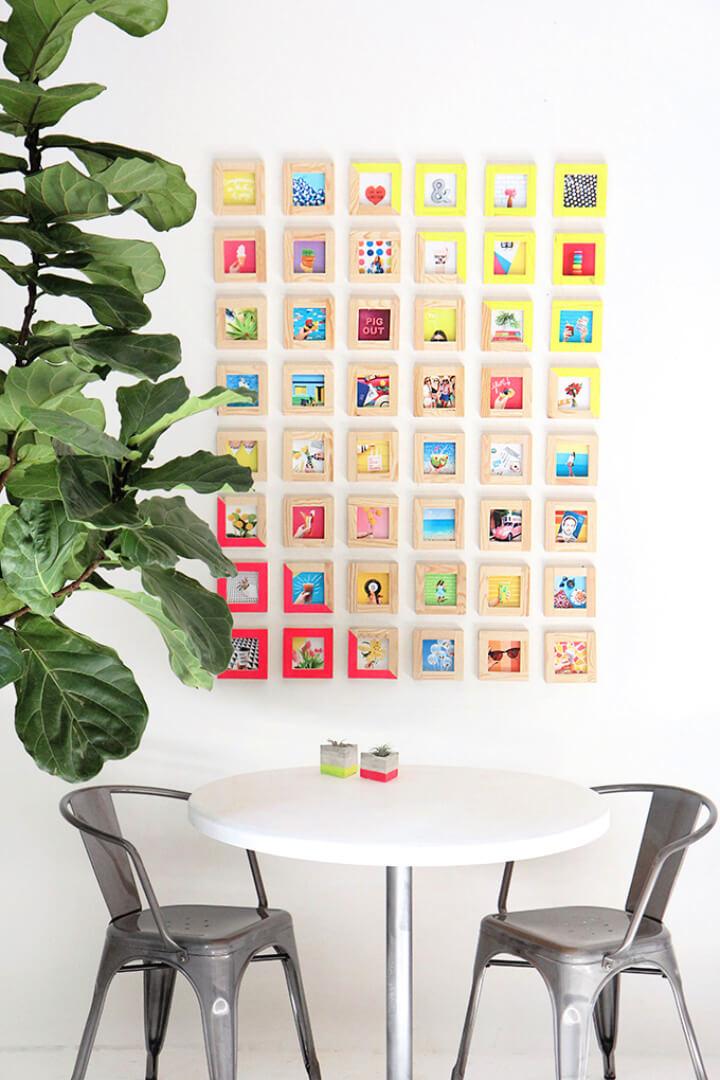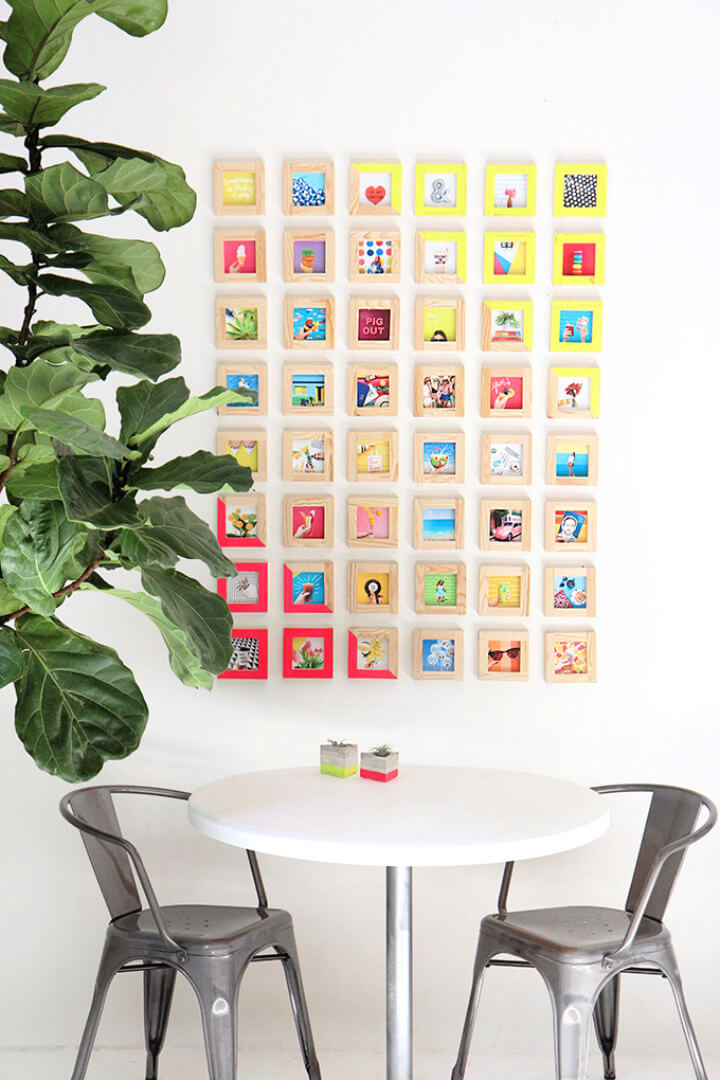 Personalize your gallery wall with unfinished wooden frames and adding cute neon touches to the gallery wall. You are just going to need a few craft supplies like paint, paintbrushes, your favorite snapshots, photo paper, and RealSense technology to pull off the entire magic. ispydiy
4. Rope Gallery Wall

Add a nautical appeal to your living room wall with these ropes inspired photo wall! You will need few major and basic craft supplies like Manilla rope, Ribba or wooden frames, Hot glue gun and rubber bands with nails, tape measure, and other craft supplies. dinaholland
5. Black Gold Gallery Wall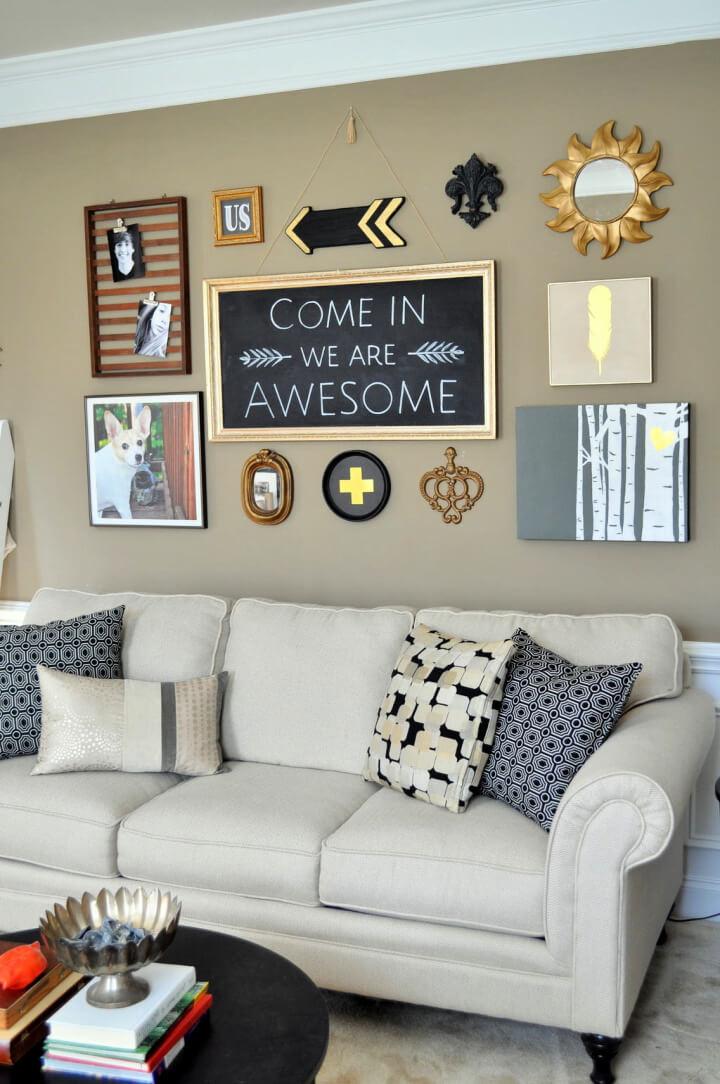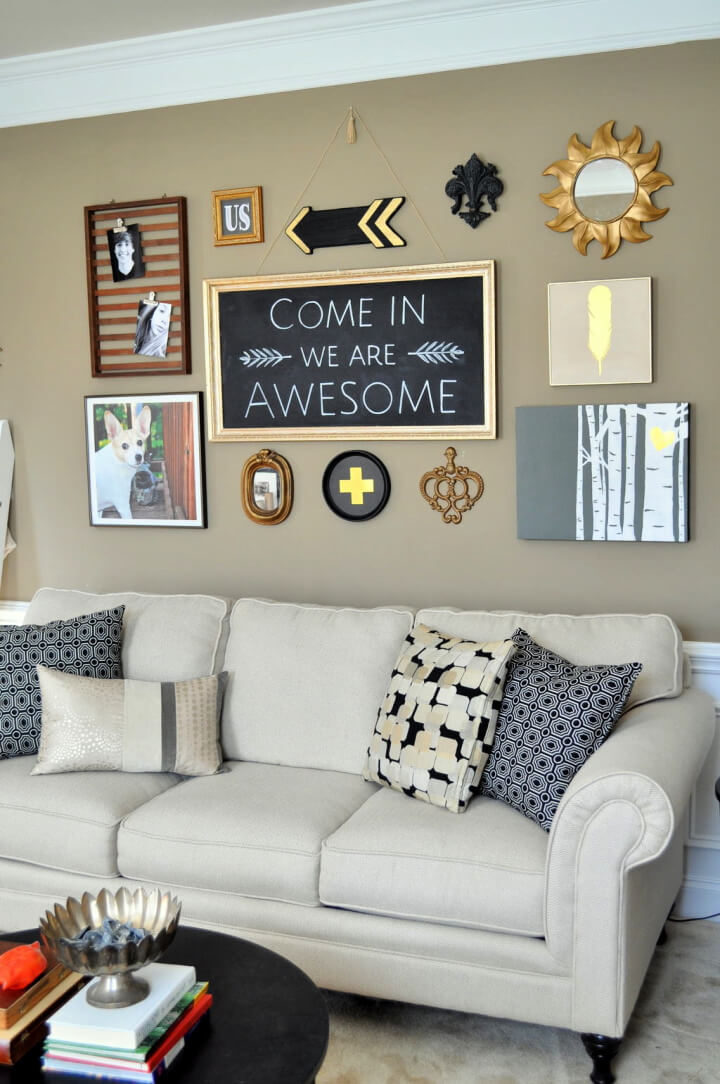 Adding a customized and design enriched touch to your decor is something that no one can deny or pass. Check out this subtle and minimalistic black and gold photo wall. With a super cute note added in the middle to welcome guests in. madeinaday
6. Gallery Wall With Old Family Pictures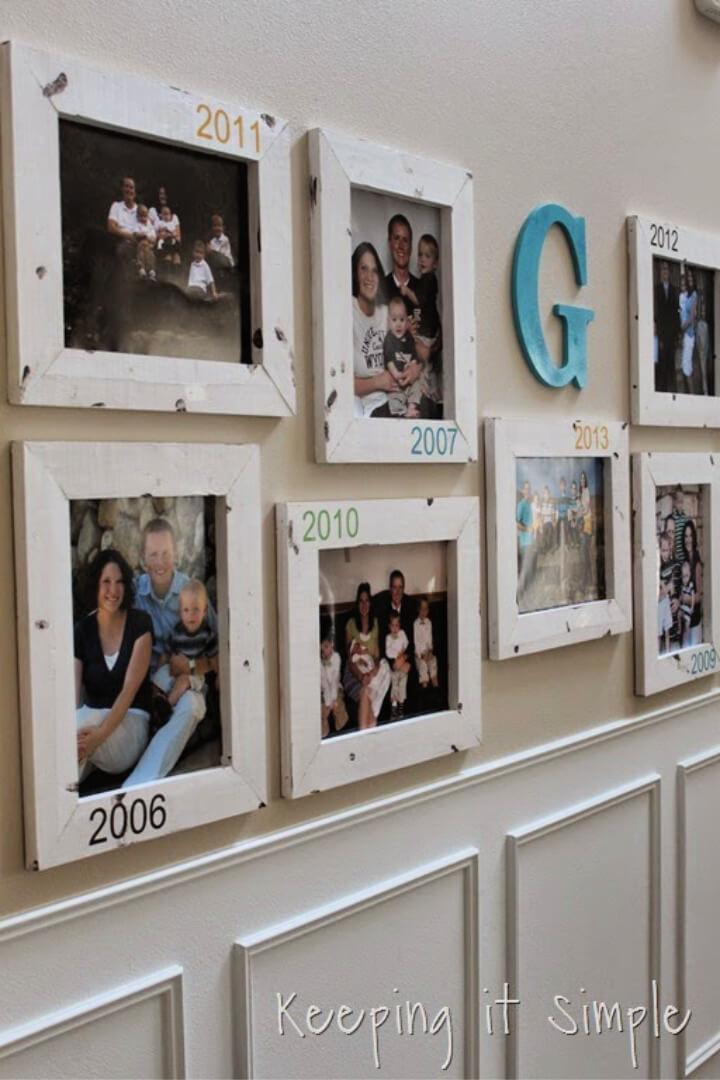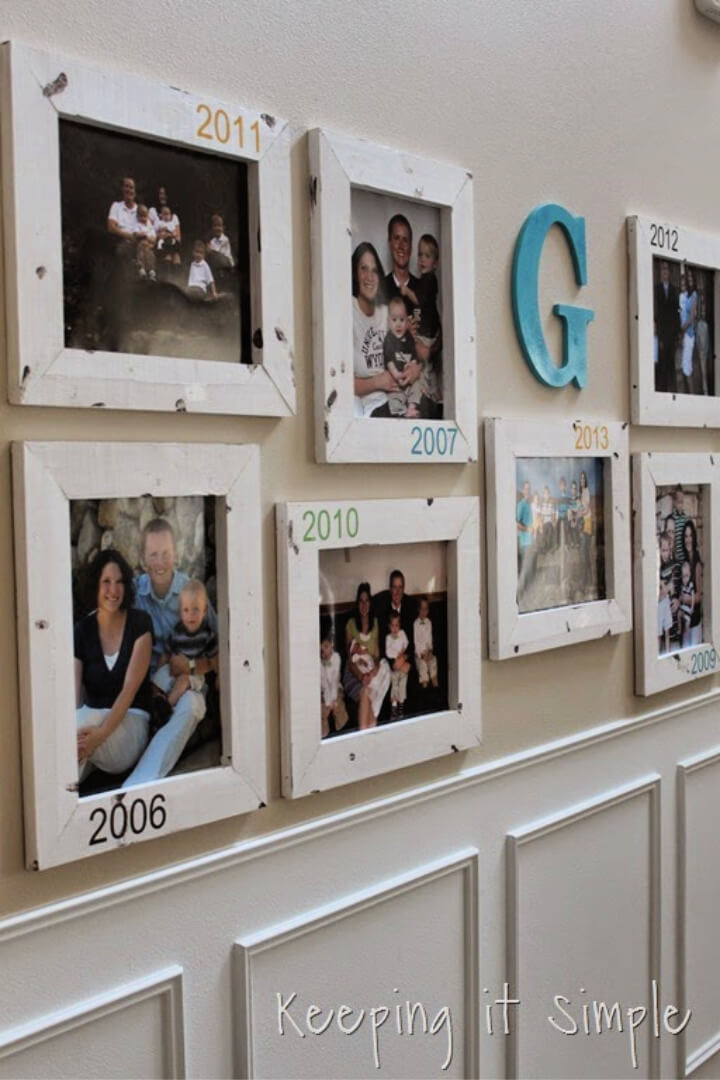 The folks at keeping it simple are all set to share with you a very cozy and warm idea for your family photo wall. How about displaying and celebrating all the milestones you have had with your darling family! Some simple frames with some old and gold family pictures. keepingitsimple
7. Kids Gallery Wall Art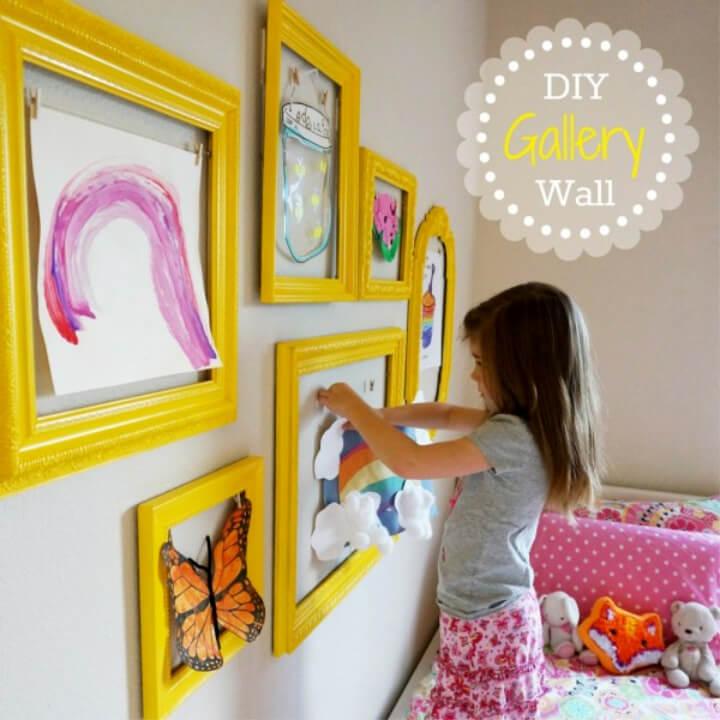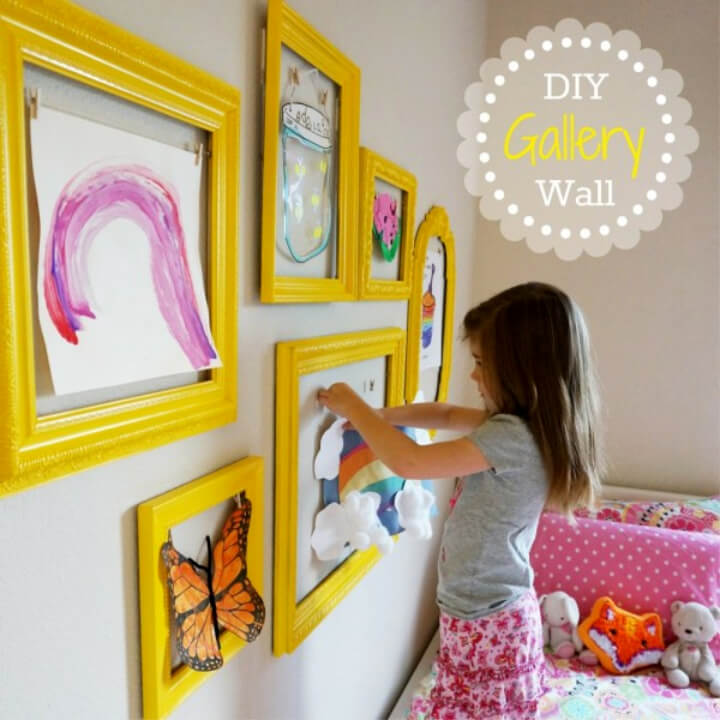 Your kids should have the liberty and the beautiful memory lane visit to decorating their own room! This DIY kid's room gallery wall by the caterpillar years is all about that! Set up super cute colored frames and let your kids put in their magic. Like drawings etc., thecaterpillaryears
8. Picture Frame Gallery Wall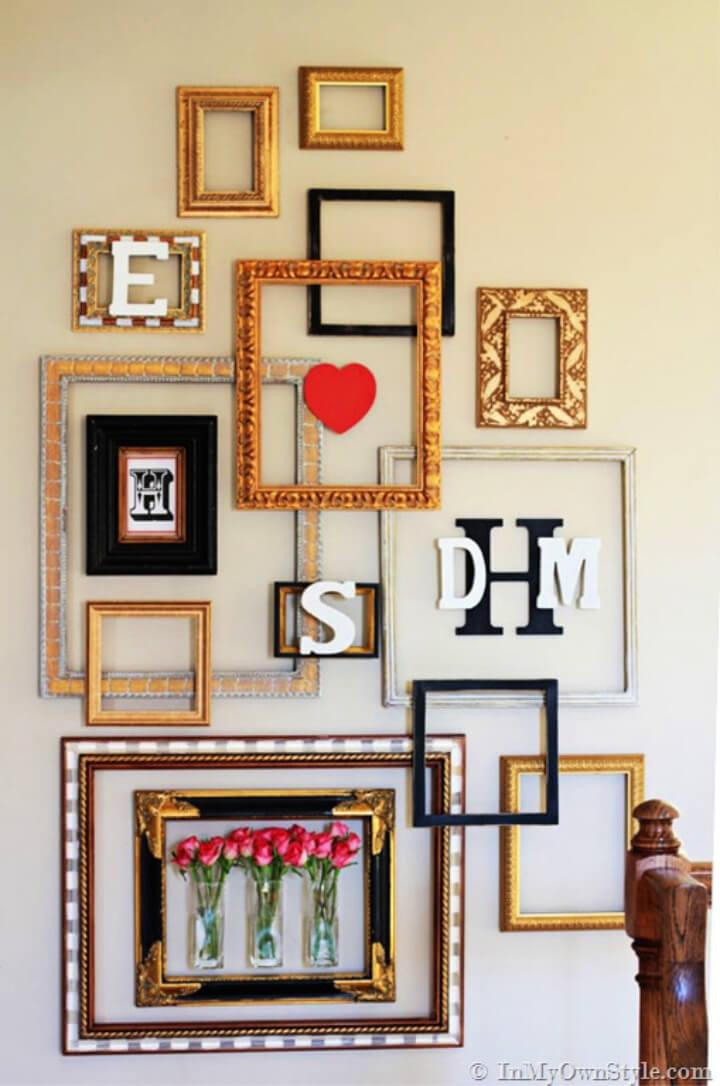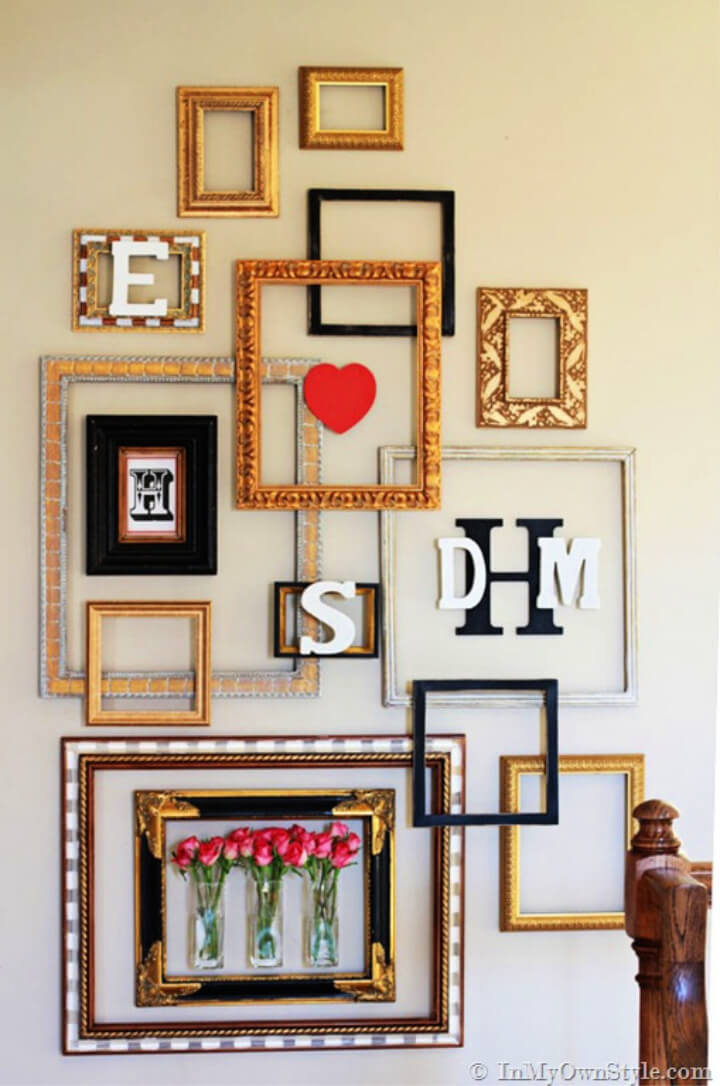 The magic of picture frames! Behold. Do you have some old and rustic picture frames lying around somewhere? Let's put them to an exciting set up in your living room and brighten up your photo wall. Get your hands on the full enchanting idea here inmyownstyle by Diane.
9. Travel-Themed Gallery Wall

If you have a thing for traveling, this DIY travel themed gallery wall is going to be it for you! Put up your destination pictures and other memorable shots along with some catchy and sensational words to make it look all sparkly. livelaughrowe
10. Playroom Gallery Wall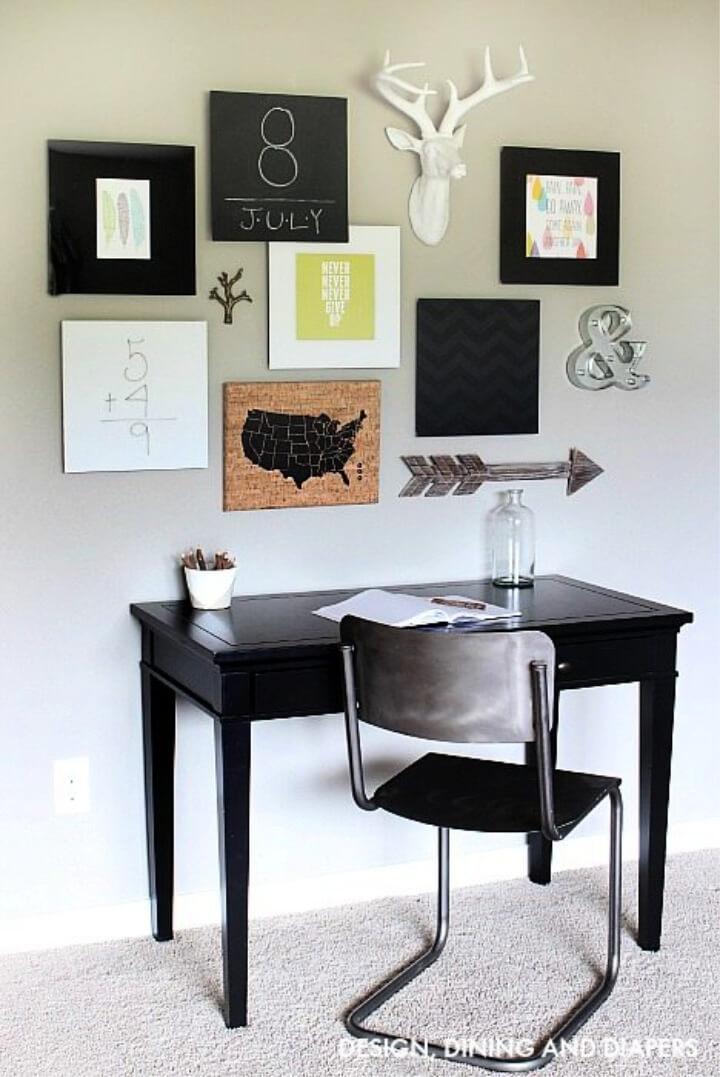 This DIY playroom gallery wall by tarynwhiteaker is going to be a great piece of art to put up in your kid's playroom. We totally second their ideology that your kids should have the feeling of "their own" when they enter their room.
11. Pegboard Gallery Wall for Nursery Room

Get crafty with pegboard! In just $8, get a 4 * pegboard and make a beautiful and catchy gallery wall in the nursery room. A little gallery wall filled with cute photos, typographies, and mixed with art can make the whole place glow up. thisisourbliss
12. Thrifted Wall of Frames

Talk about the color of the year's inspiration? This gallery wall idea is all set to celebrate and cherish the color of the year, which was Emerald! So, let's go shopping down the thrift stores and set up this frame gallery wall with thrifted frames. tatertotsandjello
13. Gallery Wall With Picture Ledges

Check out this sensational and design enriched framework on the photo wall! While it may look so expensive, given all the details. It only cost $12. Yes, that's the right thing! So we totally second with agirlandagluegun that photo ledges are the fun way to go.
14. Instagram Photo Wall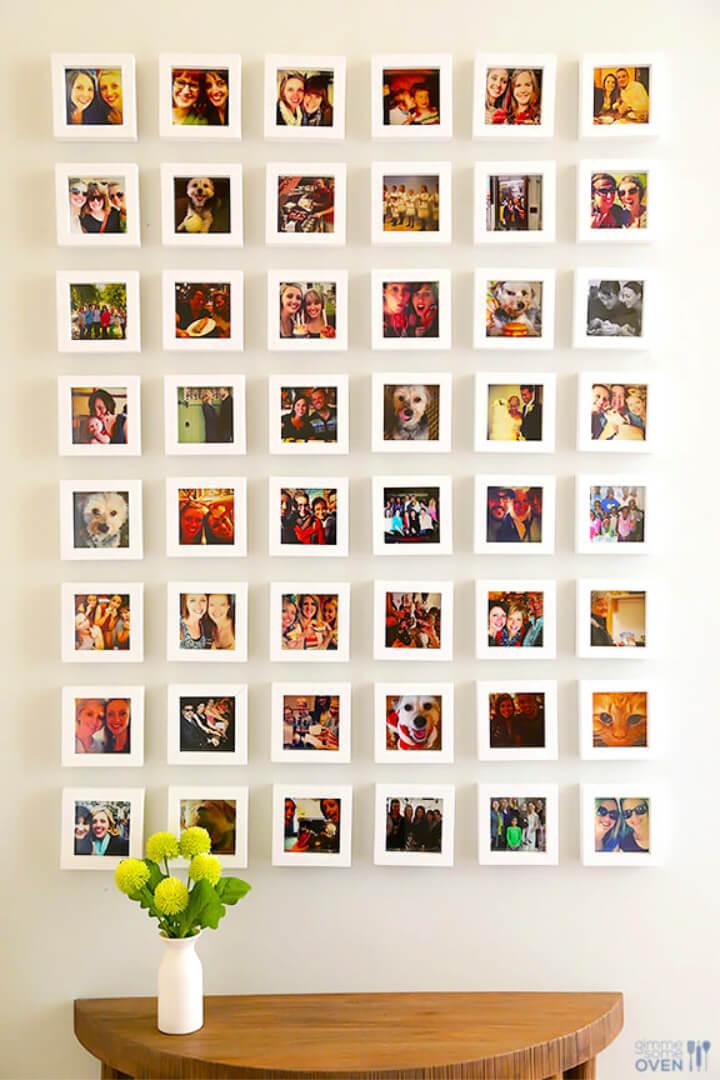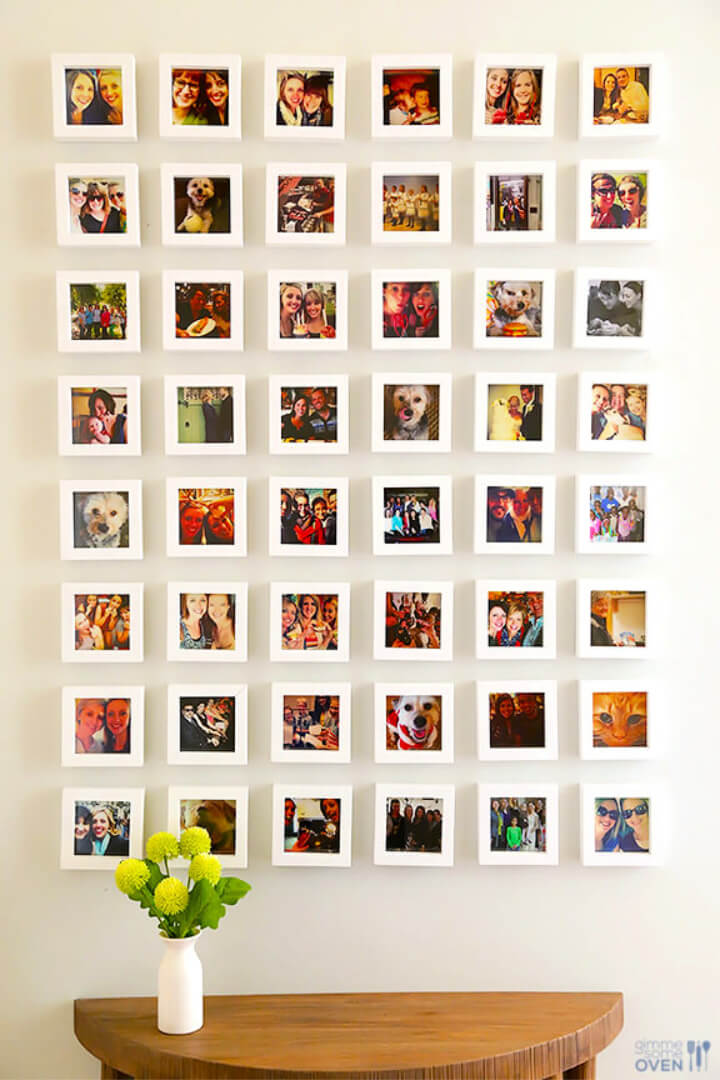 Minimalistic and super pretty! This Instagram photo wall gallery can make any place look way more charming than it already is. Get your hands on some simple white square frames, time to print up your square photos and let's just instagram the wall! gimmesomeoven
15. How to Make a Gallery Wall

Elevate the style of your space with this minimalistic and super subtle photo wall idea! Just choose the right prints with patience and passion, of course. Right after that, find your frames and their color tones. Now, time to get crafty with the layout. laurenconrad
16. DIY Wall for Less Than $20

Setting up a gallery wall doesn't have to be so expensive after all! And Cassie from whole fully is here to make sure of that! All it takes for finding the perfect cheap gallery is to go do a little thrifting! Find some mismatched frames and get creative with them.
17. Gallery Wall for Dining Room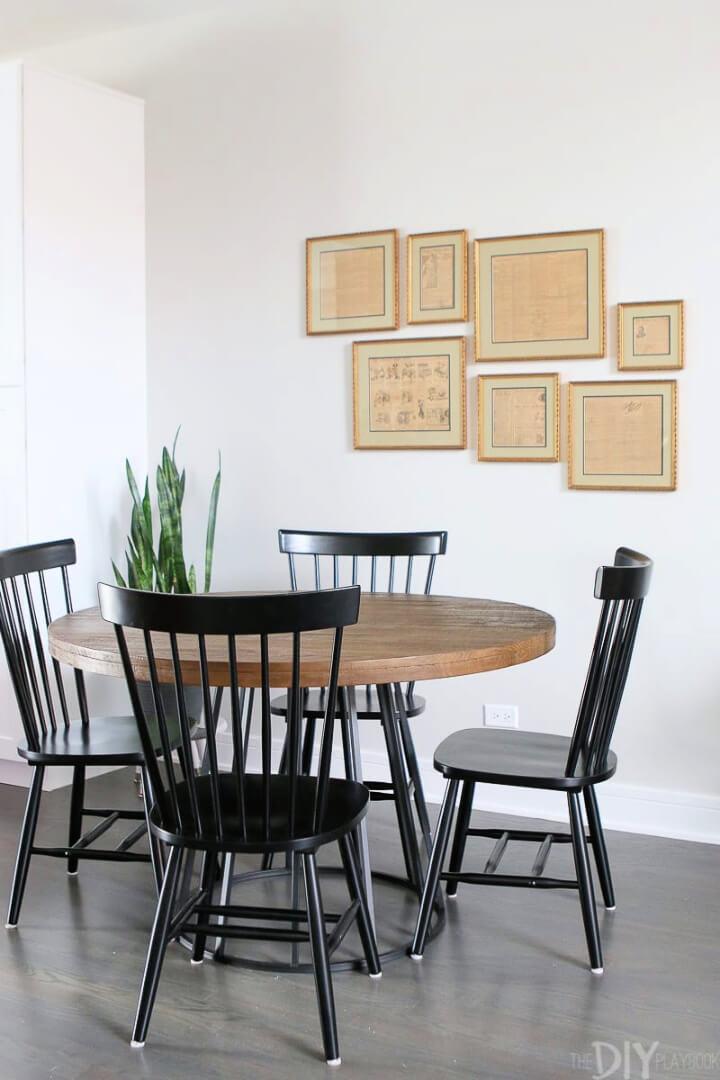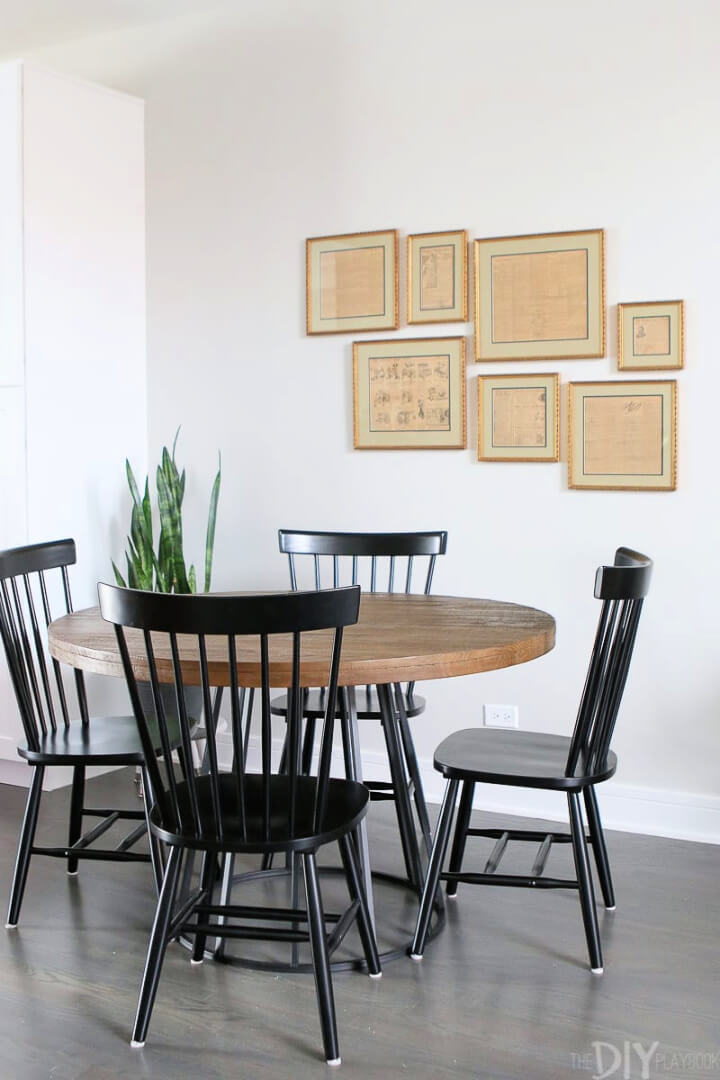 Set up a totally complimenting gallery wall for your dining room! To dine in with a little bit of minimalism in the room can make anyone feel more soothed and relaxed in the room. Frames of different sizes but with the same themes is sure going to make the place glow! thediyplaybook
18. DIY Photo Wall

If you have been thinking of DIY your photo wall gallery, this tutorial is going to be of great help! The tutorial suggests getting crafty with the Canon Inkjet All-in-one printer to get instant results in no time. Put these up in matted white frames, and you're all good to go. twopeasandtheir
19. Gallery Wall with Simple Steps

Create a stunning and eye-catchy photo wall gallery with these simple steps by family handyman. It is a pretty catchy combination of framed photos, heirlooms, artwork, and other stunning hanging decor. All breezy, colorful and cheery. familyhandyman
20. Homemade Photo Wall

If you too are being overwhelmed by a huge wall in your house, this tutorial is here to change your life. Oh, and your wall's decor too. It usually starts with a few steps like choosing your wall space, deciding a theme, and collecting your pictures, frames, and art. livingwellspending
21. TV Gallery Wall

Your TV wall is going to be the most focal corner in your house. Although the main point of focus is going to be your TV, you still can't stand an empty wall like forever. So why not make it a little less empty and a little more attractive with this DIY TV wall idea here. athomewithas
22. Minimalist Gallery Wall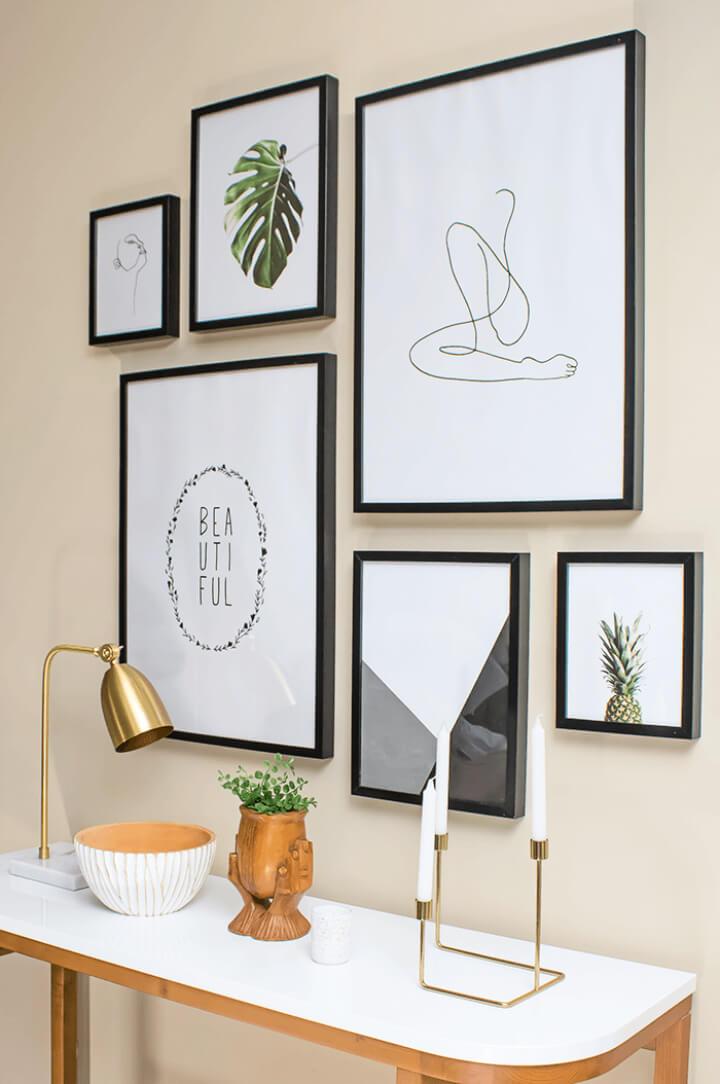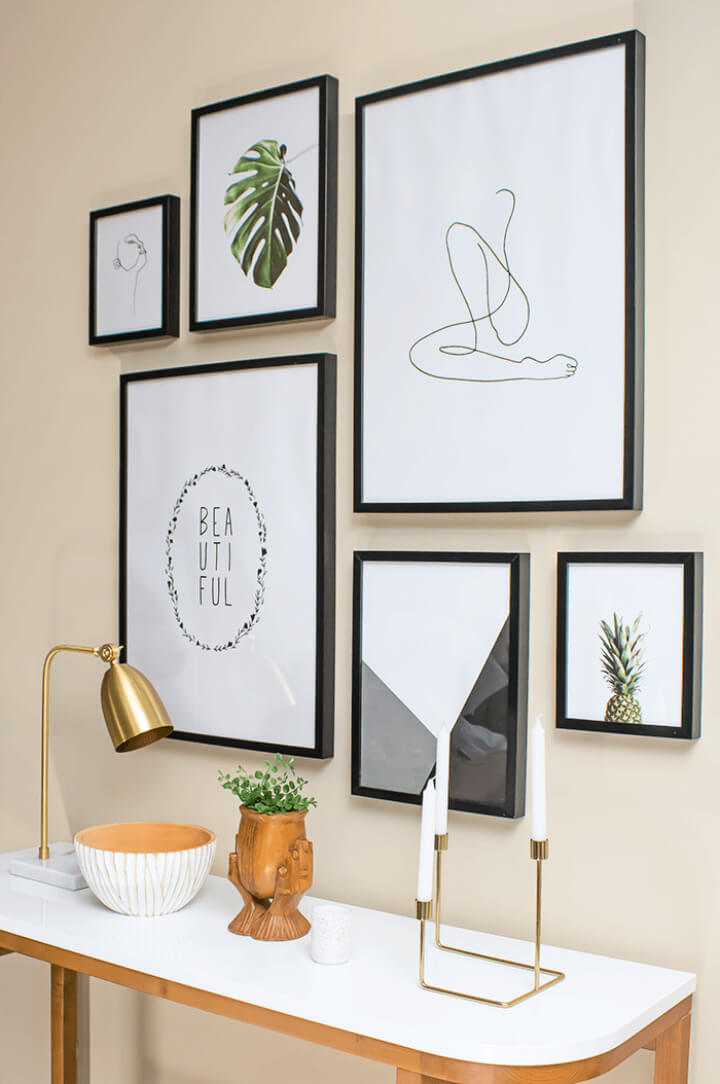 This ultra-modern minimalist gallery wall is going to bring a super catchy appeal to your decor! You will need some white matte frames, printed pictures, 3M hooks, picture hanging wire kit, 3M postal paper and tape, pencil and scissors. aprettyfix
23. Nursery Gallery Wall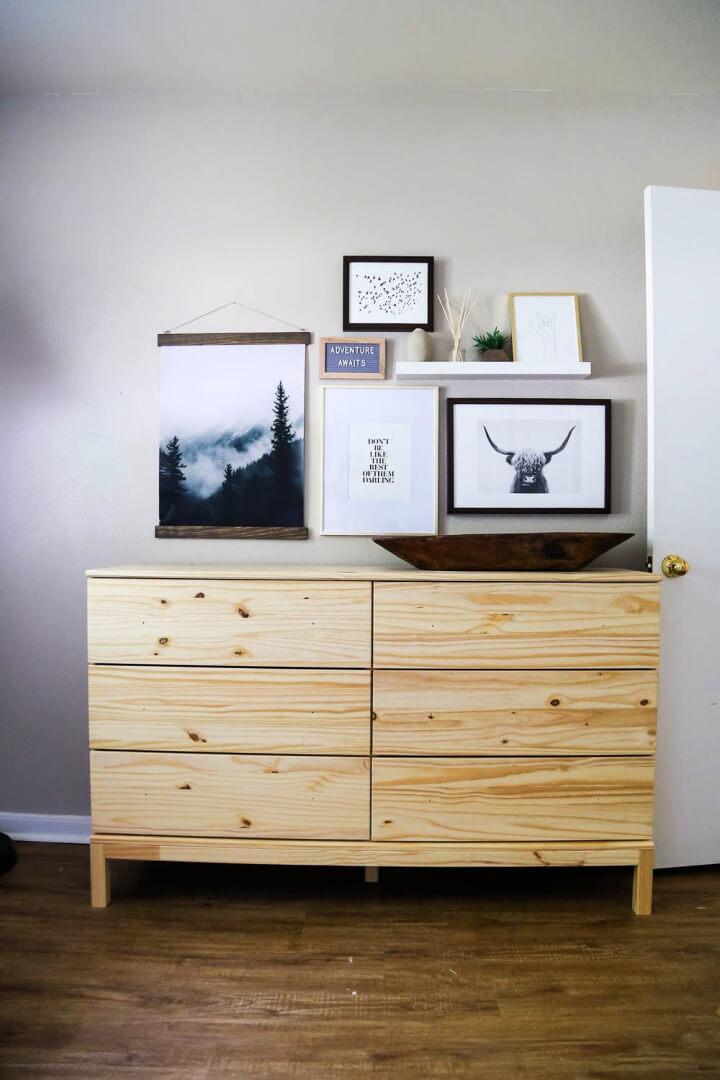 The folks and newbie parents at love and renovation have got the easiest and best DIY gallery wall idea for you here! Start by deciding a theme for the wall paint and then the kind of frames and art you would like to put up. loveandrenovation
24. Rustic Gallery Wall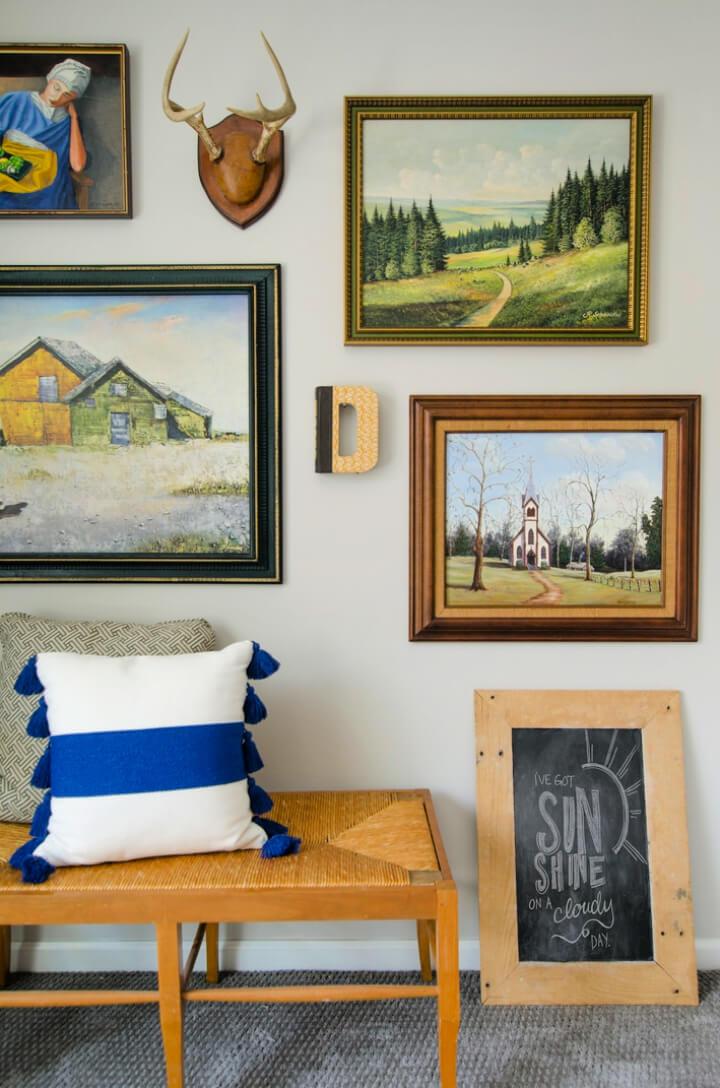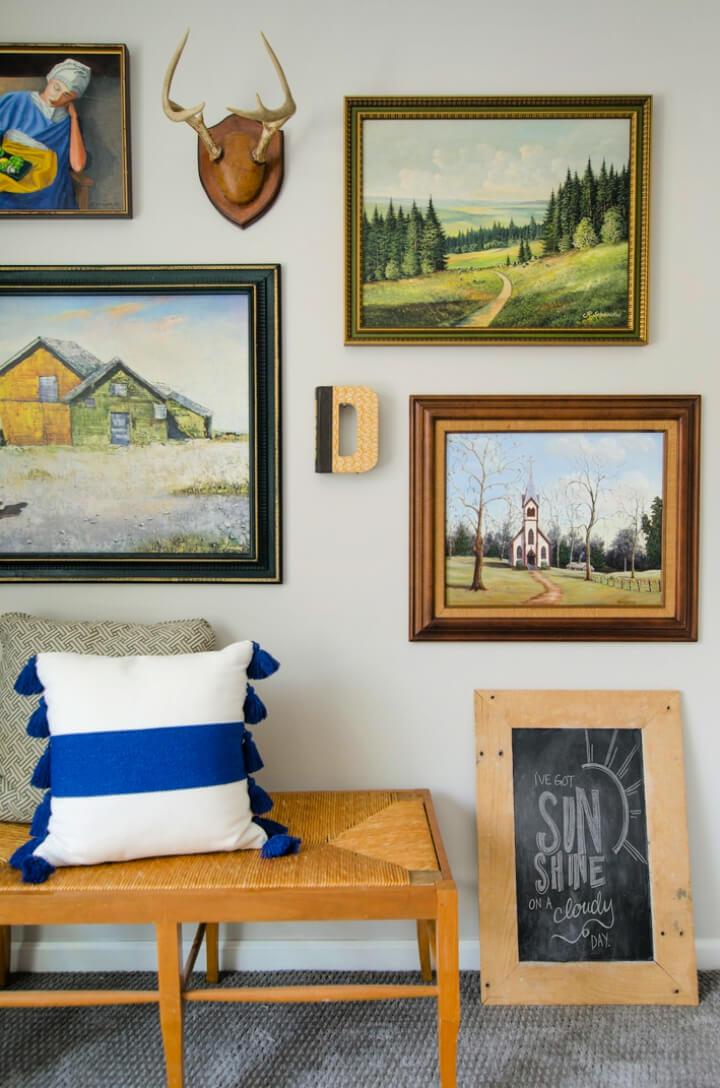 This DIY gallery wall tutorial by curbly comes with all go-to tools for you to set up an eclectic gallery wall with ease and fun! Get your hands on 3M Velcro command strips, nails, and hooks with wall anchors, scissors, your creativity, and passion. curbly
25. Picture Ledge Gallery Wall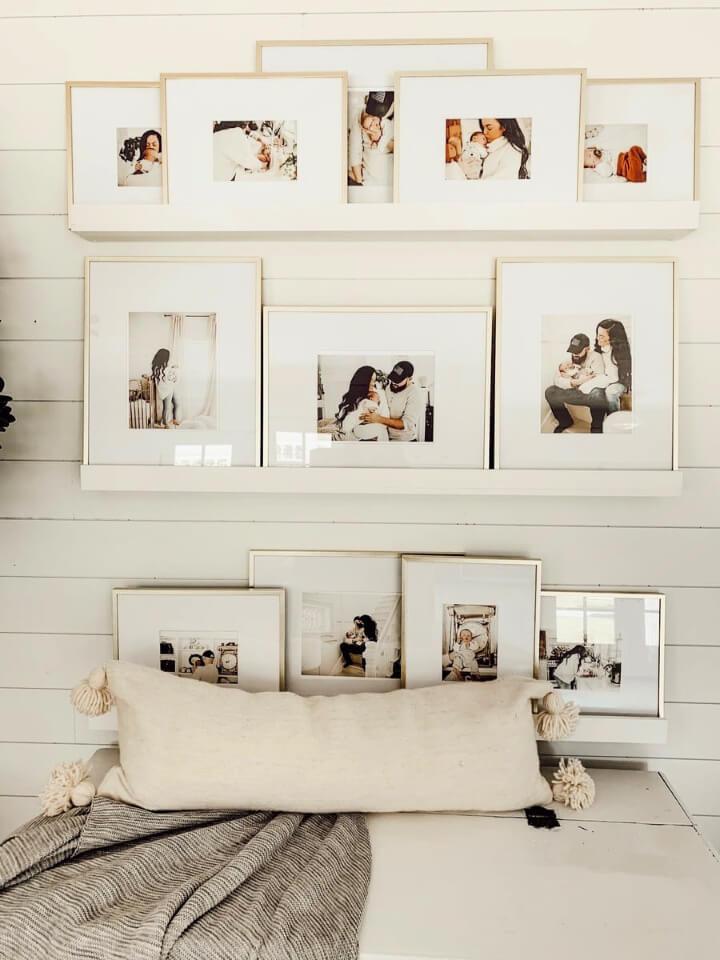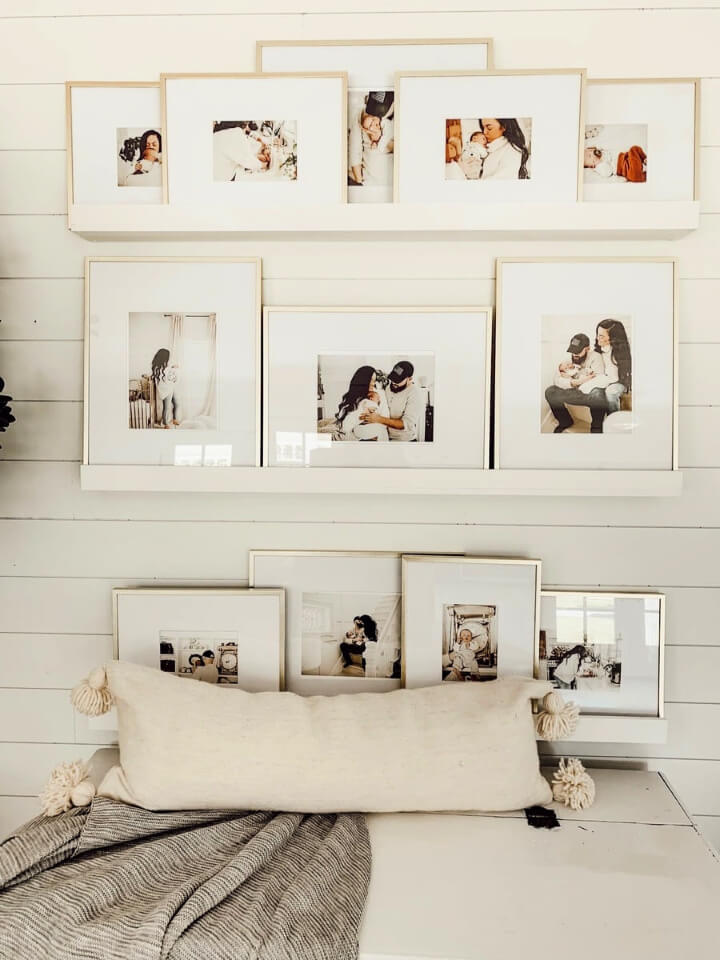 Put up some shelves for creating a perfect picture ledge gallery wall! This super whimsical photo wall is not just simple to make but is insanely inexpensive. Adjust the measurement of the shelves as per your space. lizmarie
Try unique ways to style floating shelves to display your picture frames. We have these 100 best ideas for DIY shelves to decorate your home on bugdet.
26. Gallery Wall from The Pile Of Frames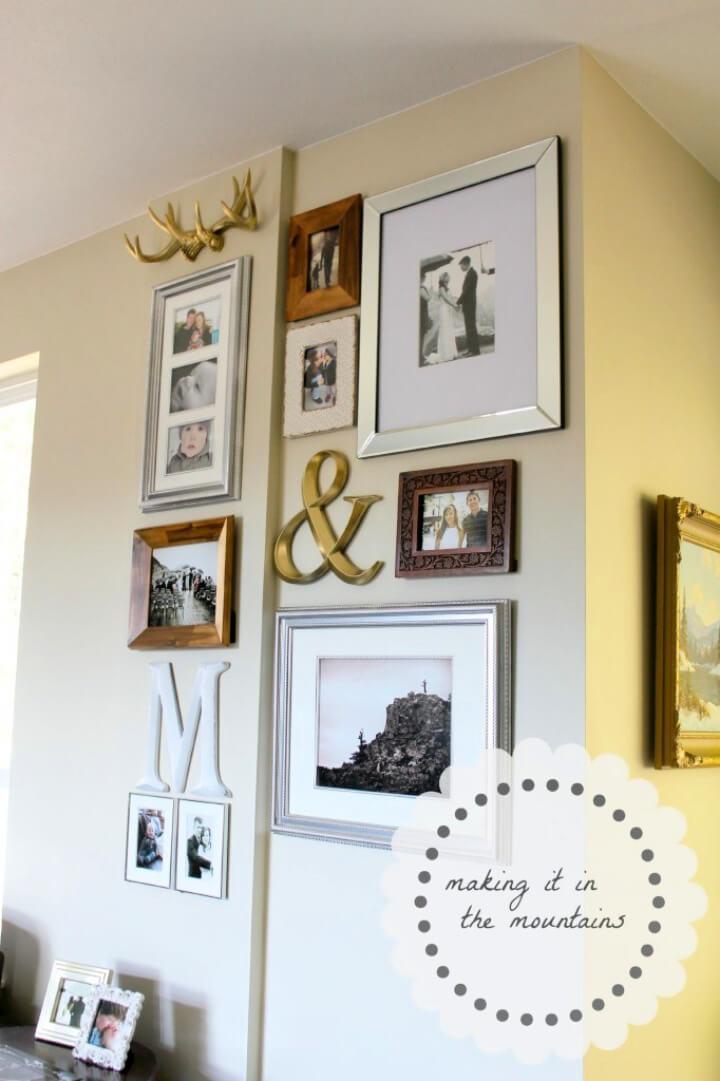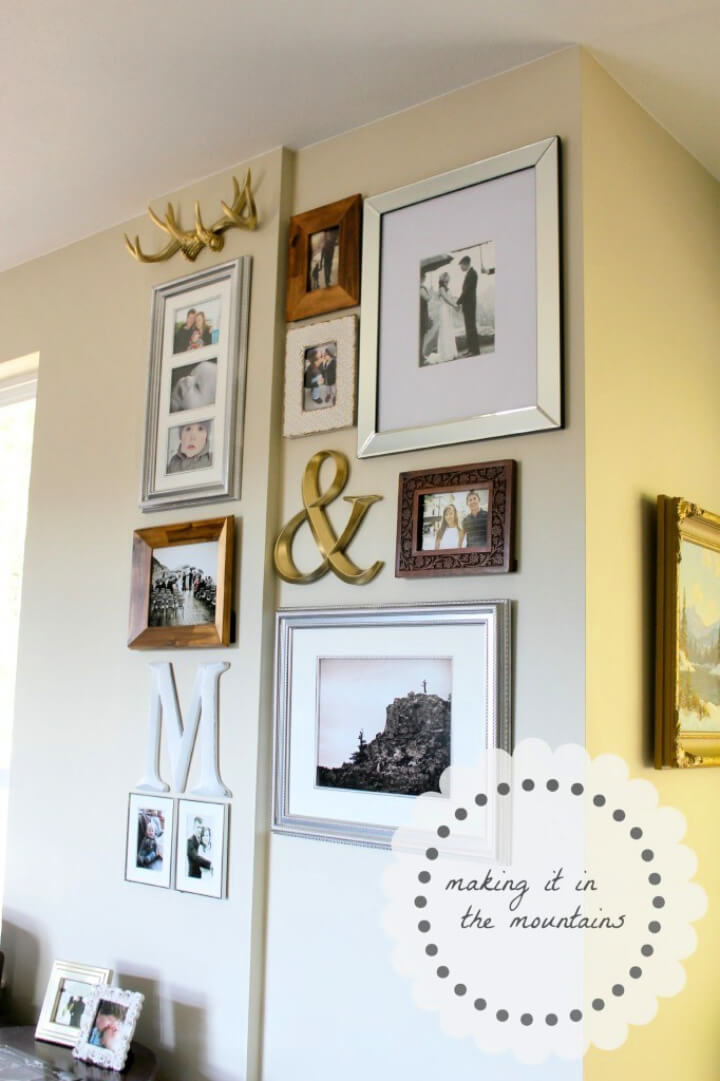 The gallery wall is one of the most versatile ways to spruce up your decor game to a whole new level of catchy and appealing! Whenever you have an enormous wall that you have no idea what to do with, enter the Gallery wall. Get full details here. makingitinthe
27. Striking Mosaic Gallery Wall

Simple to manage, super-duper fun to make and utterly classy and appealing! This mosaic gallery wall is beyond excitement pretty. Make some perfect memories, lock them up in photographs, and cherish the perfect times with this photo wall idea! abeautifulmess
28. How to Hang a Gallery Wall

Tons of photos and a huge wall can make up a perfect gallery wall! But the trick and magic are in the perfect arrangement of these photos. Get your hands on this perfect arrangement at momtastic and make the most out of your space. momtastic
29. Gallery Wall for Beginners

Get together a pair of scissors, tape, pencil, hammer & nails, level, newspaper, paper bag or butcher paper, measuring tape, ruler or sticky notes, and mounting tape. If you are a more asymmetrical kind of person, get the perfect hack for symmetrical gallery wall here. honest
30. Gallery Wall With Repurposed Vintage Frames

Add a versatile and super adorable visual interest to your gallery wall with these repurposed vintage frames! You just need to go through some four simple steps, including shopping for frames, painting them, and choosing your artwork. habitat
31. Washi Tape Gallery Wall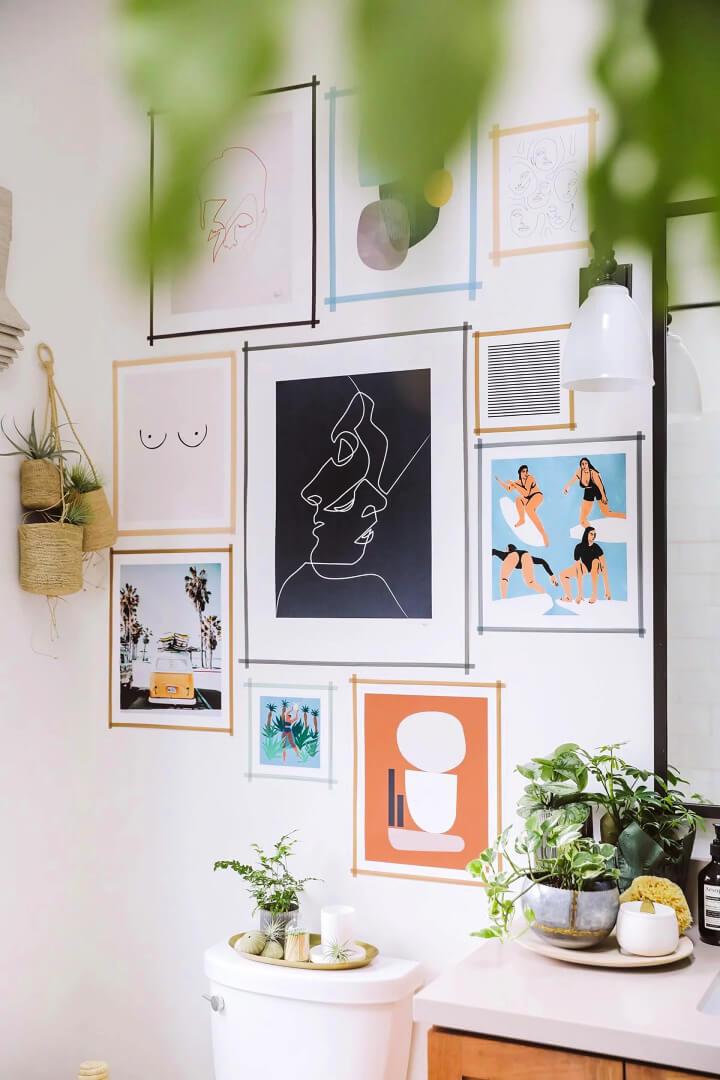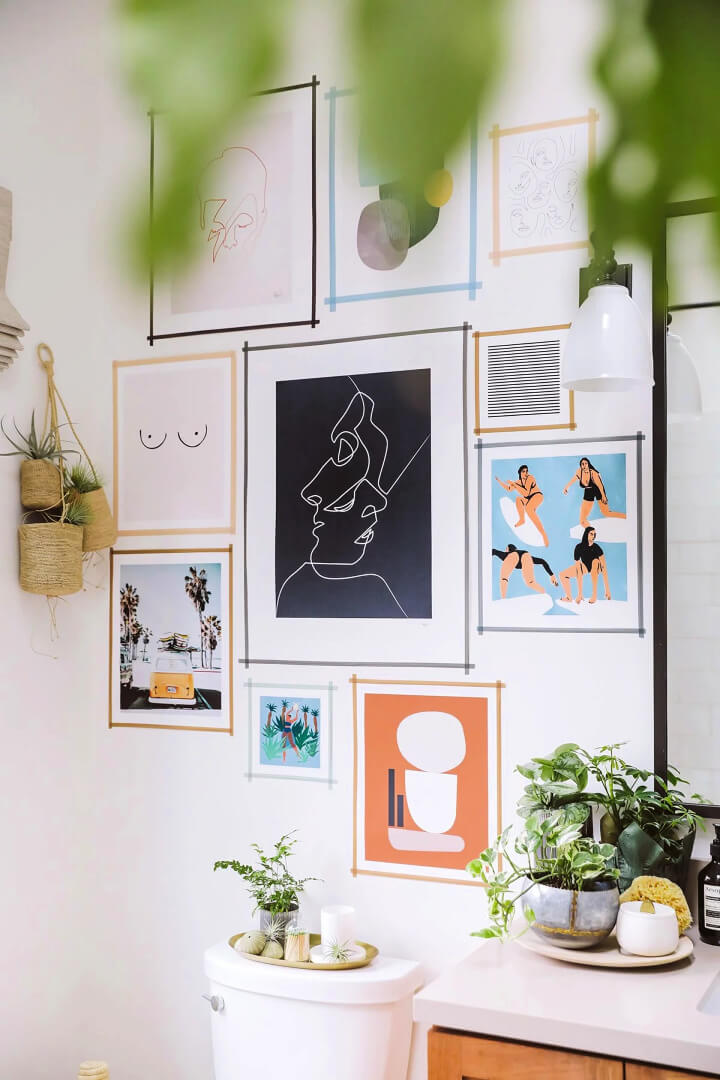 If you think you are not the frame loving kind of person, but you are still totally drooling over this gallery wall ideas, here's your chance to pull it off like a pro! Check out this superb and super cool Creative wall decor idea with washi tape used as the frame boundaries! honestlywtf
32. Linear Gallery Wall

For our travel buddies and destination lover fellows, this linear gallery wall with a travel poster is going to bring a soothing appeal to their decor. For linear gallery walls, there are two main ideas. One is putting the frames in the center horizontally or line up the frames at the bottom. charlestoncrafted
33. DIY $50 Gallery Wall

In just $50, fill your room wall with customized and cheap gallery wall ideas! The tutorial suggests going monochromatic with Ikea's Nyttja frames and then painting them all white. Get full details here. jennasuedesign
34. Perfect Grid Layout Gallery Wall

This whimsical gallery wall is totally bringing a minimalistic appeal to the wall decor. Sarah from the room for Tuesday believes that creating a grid gallery wall is way easier than the traditional random posts, and we happen to second her review totally! roomfortuesday
35. Gallery Wall on Budget

If you are looking for gallery wall ideas, but you have the budget constraint standing right in front of you, check out this super in-budget gallery wall idea! Some enchanting leaf silhouettes to get you going and making this pretty piece of art! housefullofsummer
36. Create Your Own Gallery Wall

Let's walk through the easy peasy process of putting up your own photo wall with homemade! You will just need some framed photos and the artwork you wish to display a hammer, nail, screws, and screwdriver. Brown kraft paper with painter's tape or masking tape! homemade
37. Modern Gallery Wall

If you have got some collections to say n old painting, a vintage piece of art, a memorable photo or a water color-popping painting. Let's put them all up and make this absolutely beautiful gallery wall for your home! classyclutter
38. DIY Picture Wall In Your Home

Call it being random or abstract with rick in design and adding texture to the whole wall! This DIY gallery wall idea by mountainmodernl is totally heart-stealing. The idea is to spruce up your blank space with a well-thought gallery layout. mountainmodernl
39. DIY Foyer Gallery Wall

We absolutely love and adore these symmetrical and in perfect grids gallery wall layout! If you too are drooling over this minimalistic and sensational memento gallery art, you are just going to have $100 of your budget allocated for this. designingvibes
40. Mirror Gallery Wall from Thrifted Frames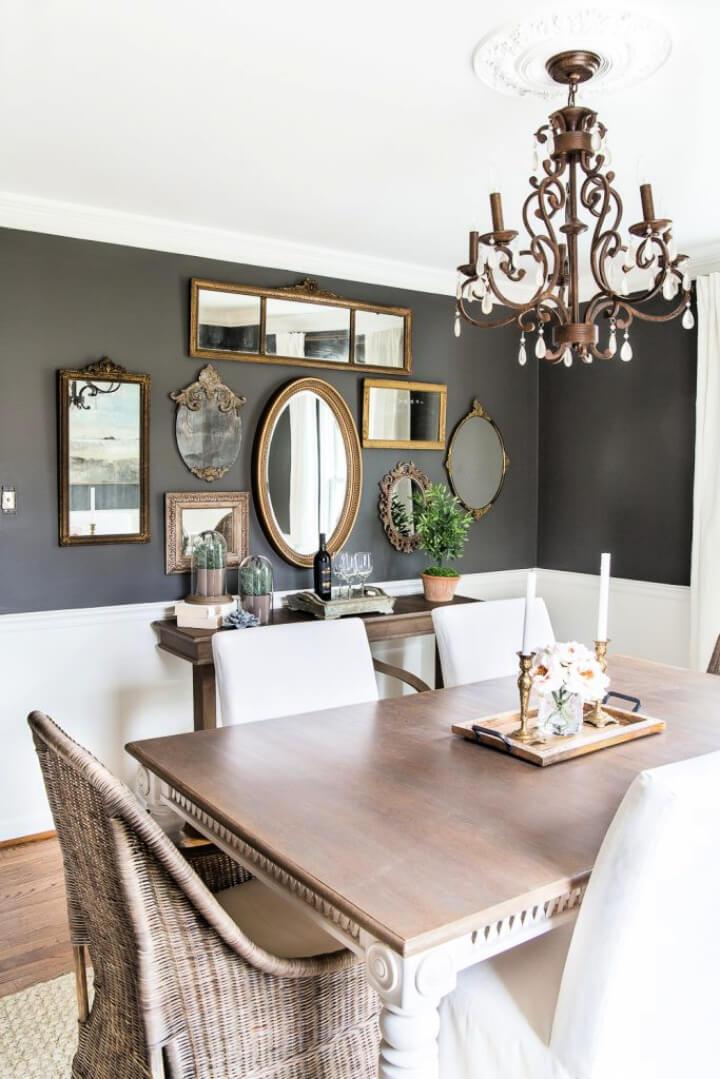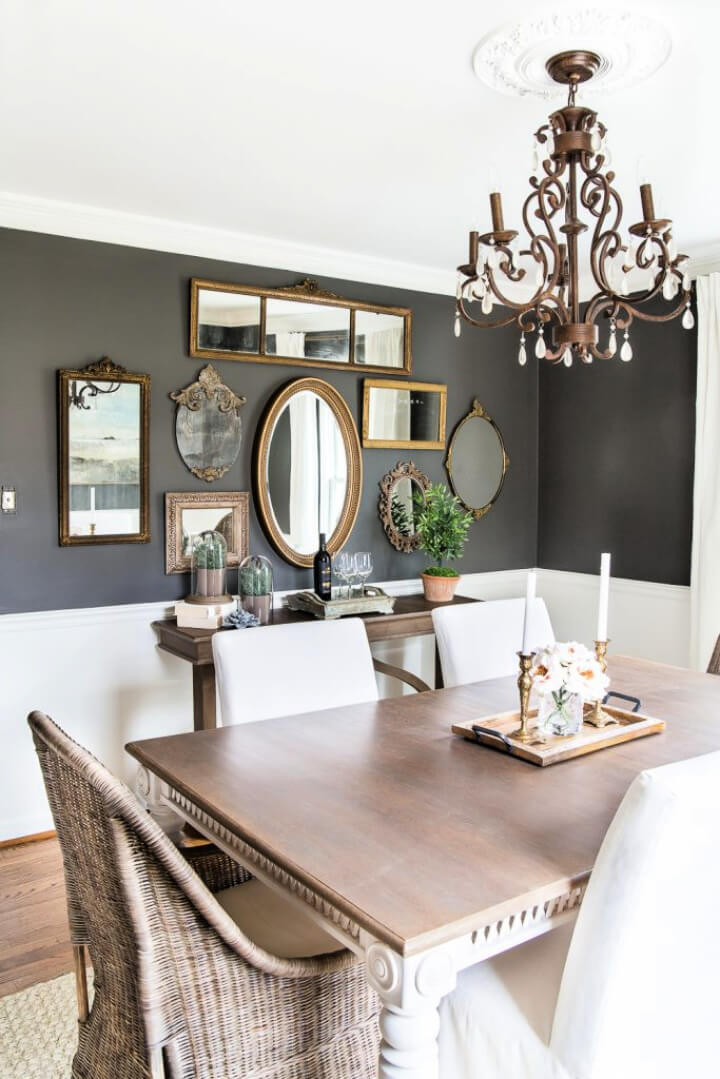 Mirror, mirror on the wall! If you have the heart for mirrors and a glowing gallery wall, you are going to love this totally in-budget idea! It is all about when traditional meets the modern and eclectic dining room! Psst! The magic frames are from the thrift store. blesserhouse
41. Farmhouse Style Gallery Wall for Spring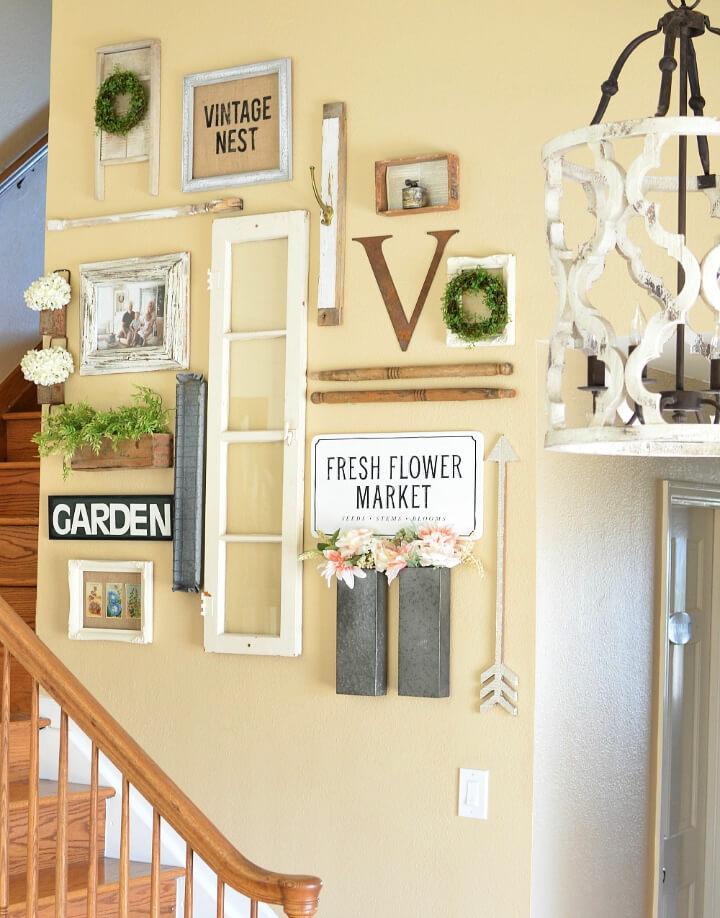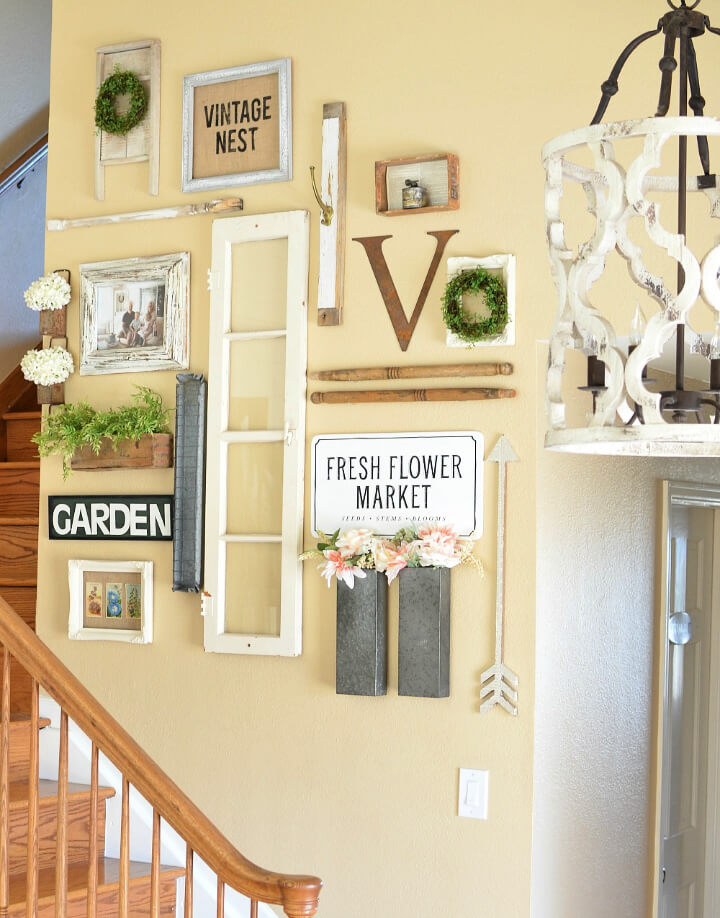 How about welcoming spring inside your home with this floral, dandy, and darling gallery wall idea. Put up some cute vintage signs with floral wall vases and flowers in them. The whole decor layout of the wall is giving it a super-rich look. sarahjoy
42. Gallery Wall Without Holes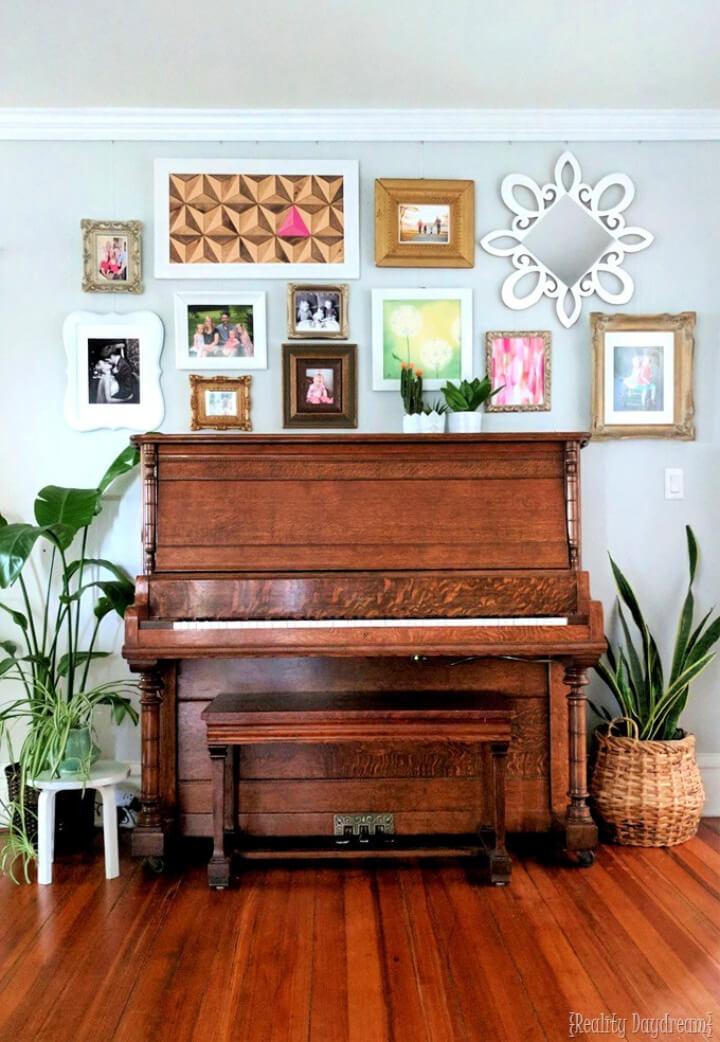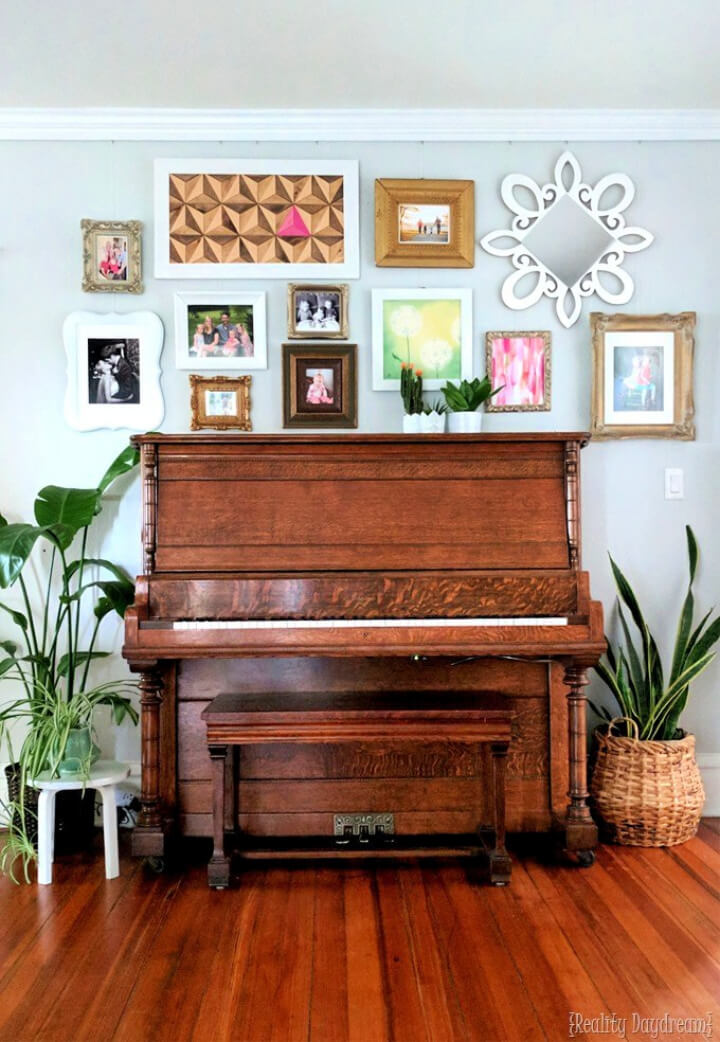 Nick and Bethany from reality daydream are determined to help people with Piano wall problems! No problems though but how do you really decorate a wall with a huge piano in front of it! Let's balance that, shall we? realitydaydream
43. Farmhouse Gallery Wall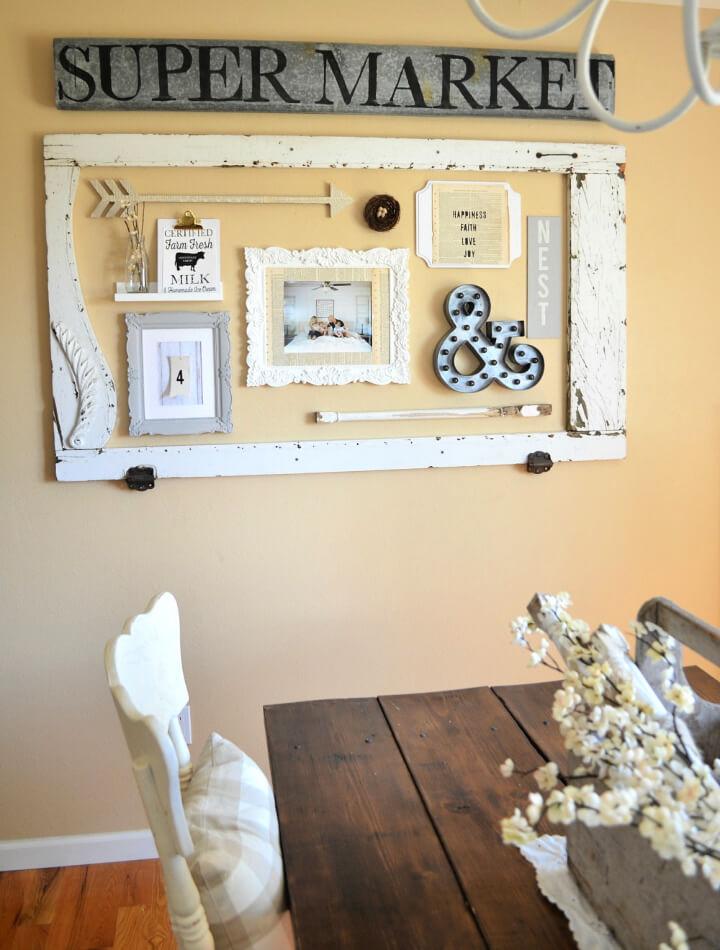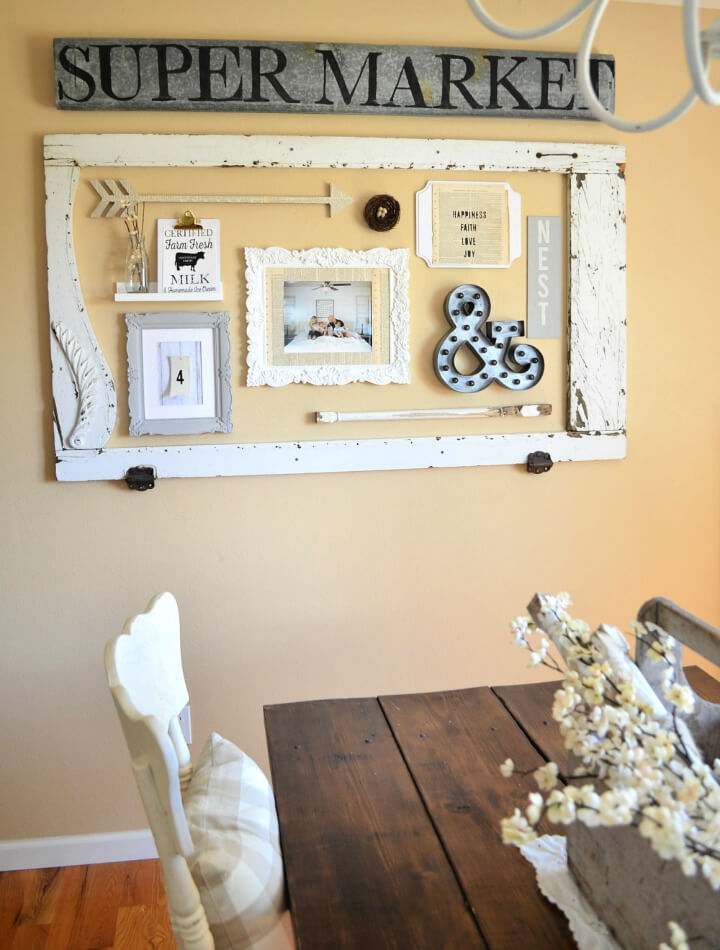 This farmhouse inspired gallery wall is not just picture-perfect, but it looks super catchy with all the pictures and frames stacked up inside a large frame! The vintage artwork is making everything look really appealing. sarahjoy
44. Gallery for TV Wall Decor

We believe out of all the walls that you have to configure the decor for, the TV wall is the tough one to conquer. Since the main focal point is going to be the TV, you don't want something too sharp or too light either. Get the perfect idea with the folks at joyfully treasured!
45. 6 Steps to Create a Gallery Wall

The first and foremost thing with decorating a unique gallery layout for your photo wall is to pick up the theme and hit it off from there. You can then find the artwork or pictures; the tricky part is finding the frames. Which gets easier when you choose thrift stores over any other option. twofeetfirst
46. How to Install a Photo Wall

When you look at this perfect wall art idea, the first thought is it is so easy to pull off. It is only when you actually dig in, you find out the points where things could actually get messy. Let's remedy that with this trick for setting up a perfect gallery wall in the first try. heytherehome
47. Gallery Wall for Living Room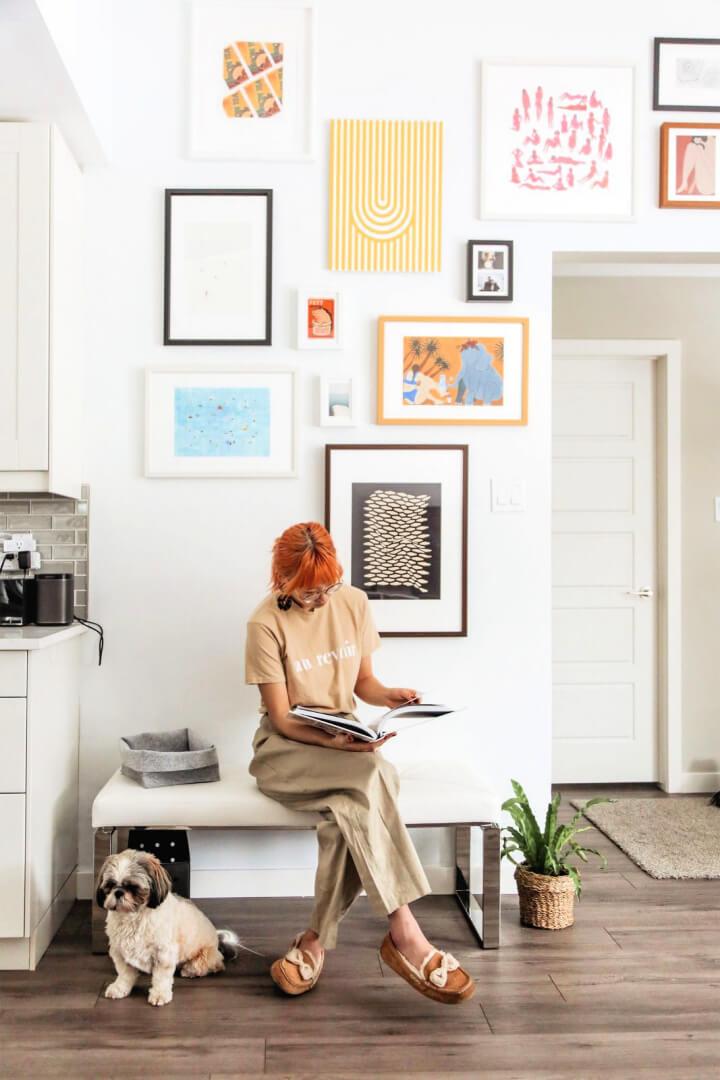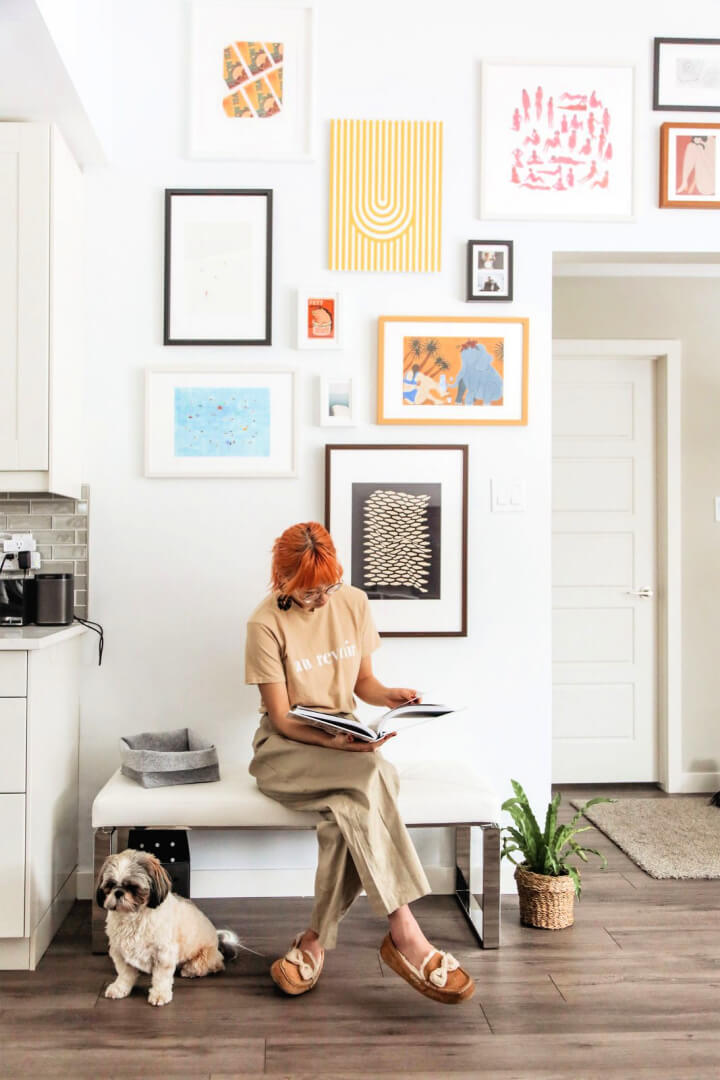 Your living room has to be the most inviting, coziest, and adorable room in the whole house. Too much pressure, yeah? Let's wear it off with this amazing idea for living room wall decor. The thing to keep in mind is that you steer direction by setting up one or two focal frames. society6
48. Budget-Friendly Gallery Wall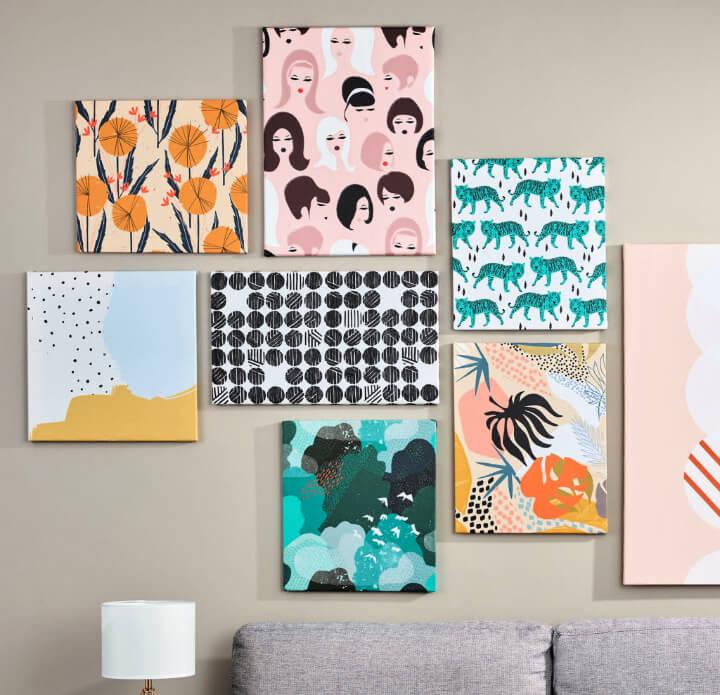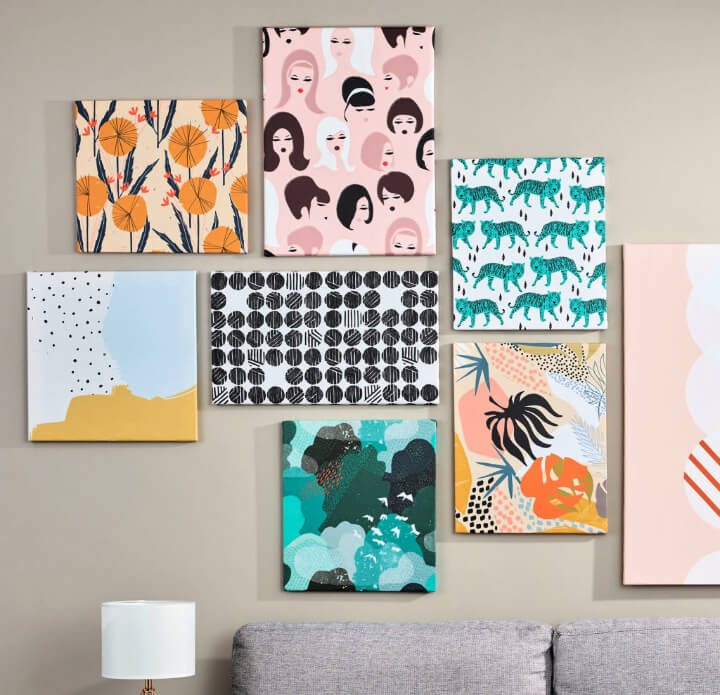 Talk about budget-friendly but equally exciting and design enriched wall art gallery! Spruce up your wall with this DIY photo wall gallery idea. Make your lively wall art with fabric! You'll need q1 yard of fabric, staple gun, scissors, and canvas stretcher bars. spoonflower
49. How to Create a Photo Wall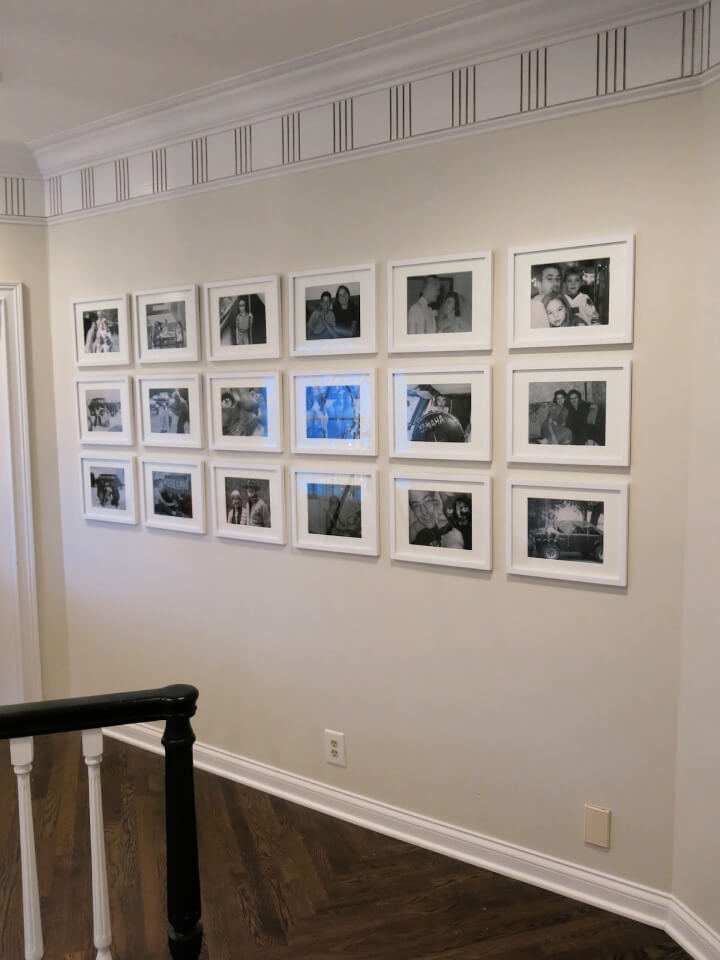 Check out this black and white, minimalistic, and super appealing photo wall gallery idea! Transform all your pictures in black and white and start by putting them up symmetrically in cute little grids on the wall. The whole wall will give such a radiant look. cassiestephens
50. Wall Art Gallery for Kids

Every mom has this cutest habit of keeping her kid's valuable drawings, first writings save. Why not put them as sweet memories on your photo wall. You will just need some picture frames, clothespin, hot glue gun, hot glue sticks, and a picture hanging kit. dollartree
51. Fourth Of July Wall Art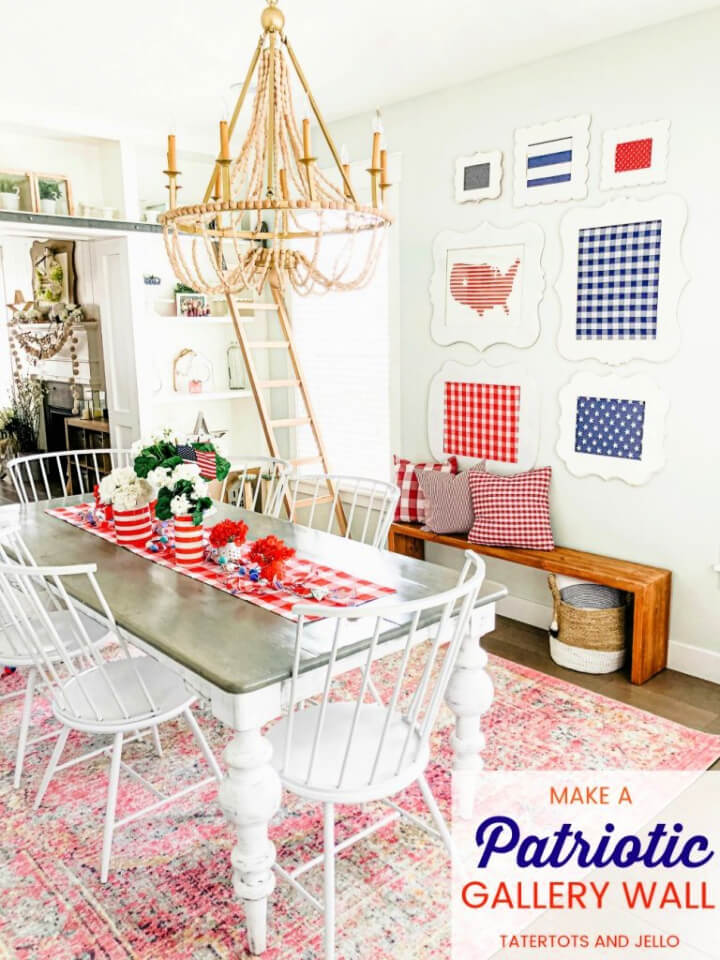 Go patriotic and classy with this 4th of July decor in white and red color. Get your hands on some thrifted frames from the thrift store and let's get crafty, shall we? The idea is to upcycle your old picture frames or buy the cheap ones from the thrift store and stuff them with 4th of July fabric maps. tatertotsandjello
52. How to Create a Gallery Wall

So while all the design enriched and texture oozing symmetrical and random gallery wall configurations made you think that man, this is a tough one. Instructables would like to make you think otherwise. It's totally do-able photo wall! instructables
53. How to Hang a Symmetrical Photo Wall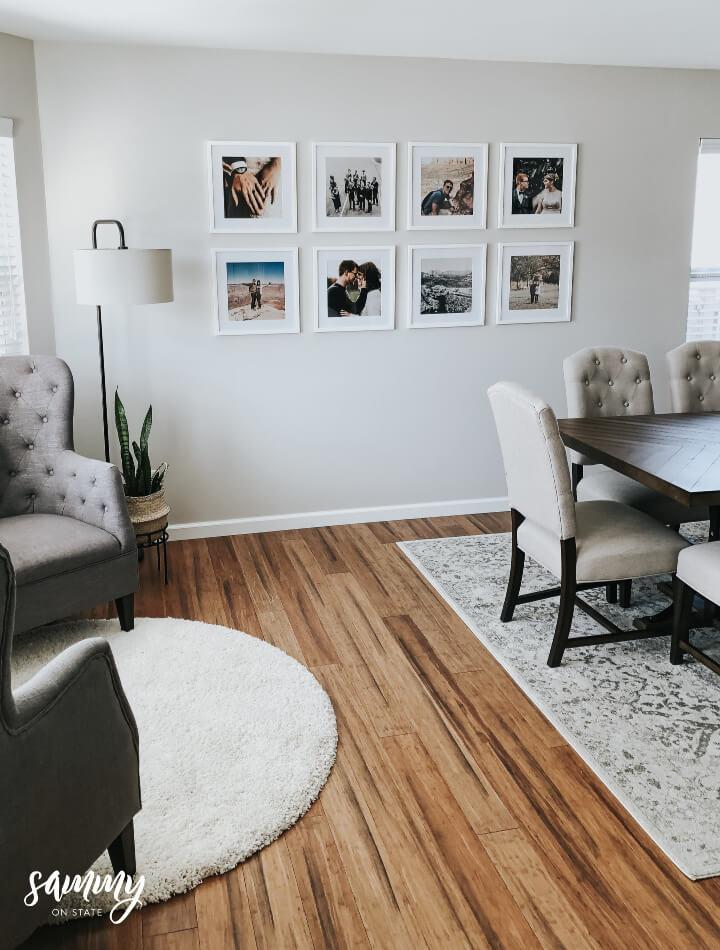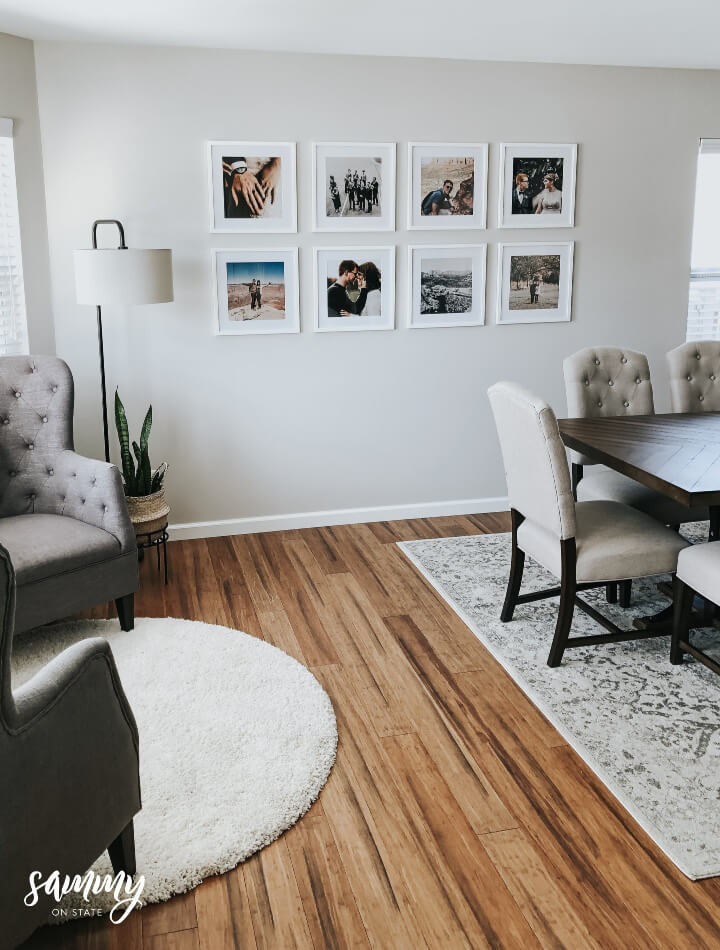 Here is another crazy fun way to hang up a symmetrical photo wall! You will just need a kraft paper or tissue paper, frames, Monkey hooks, and some screws! Your memories are so unique, and all those milestones must be celebrated. sammyonstate
54. Printing Poster Size Images

We bet everybody would love to be greeted with a huge photo wall all set up to make the place look more inviting and cozier! You can get these gigantic minimal frames from IKEA! Once you have got the frames, now it's time to start printing the images. Get full details here. withinthegrove
55. Bedroom Wall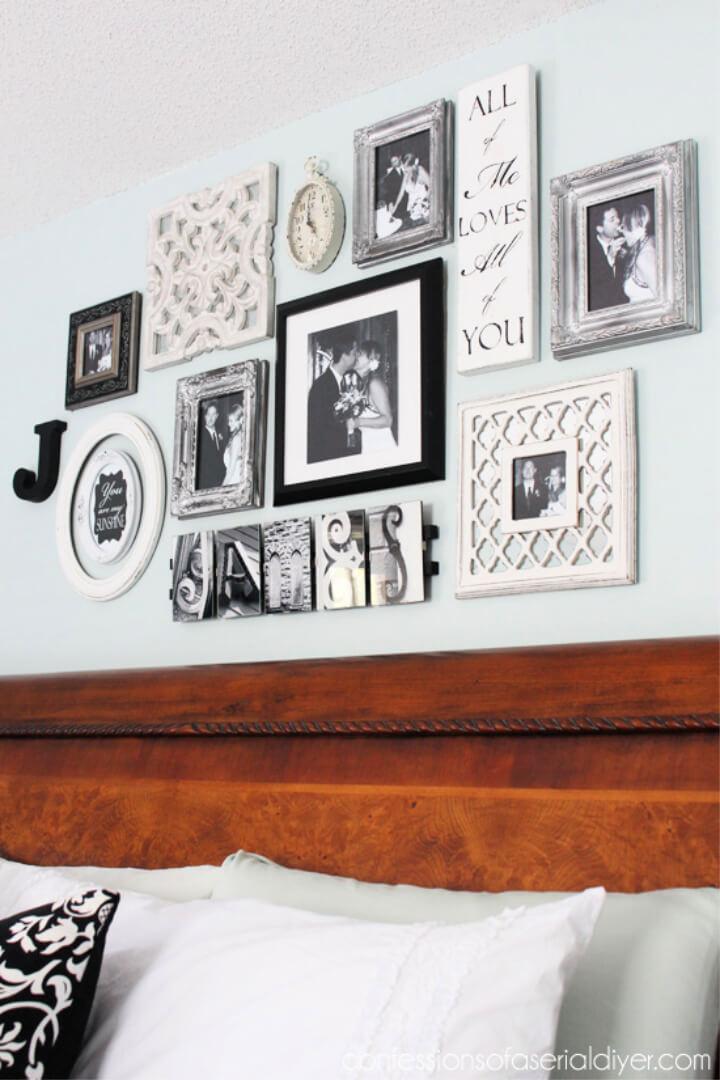 Bedroom photo walls are our personal favorite! Your bedroom is your own customized version of heaven! And with this tutorial, you have the absolute authority over it to make it as personalized as you'd want to! confessionsofaseri
56. Photo Wall to Display Kid's Art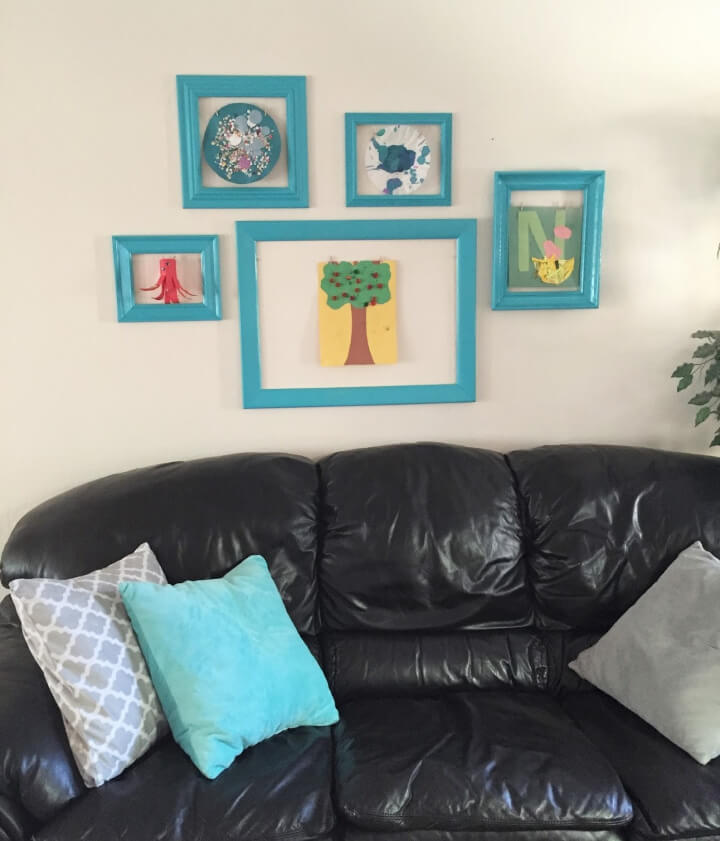 One of the best parenting tips includes to appreciate and flaunt your kid's hard work and efforts. If your kid has hit the age and his inner artist and creativity is now flourishing, appreciate his little efforts with this kid's photo wall gallery. cuppacocoa
57. Hanging Photo Wall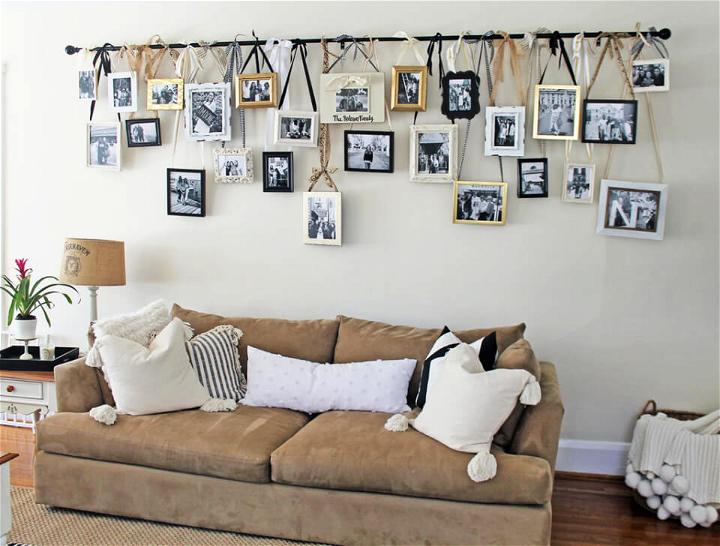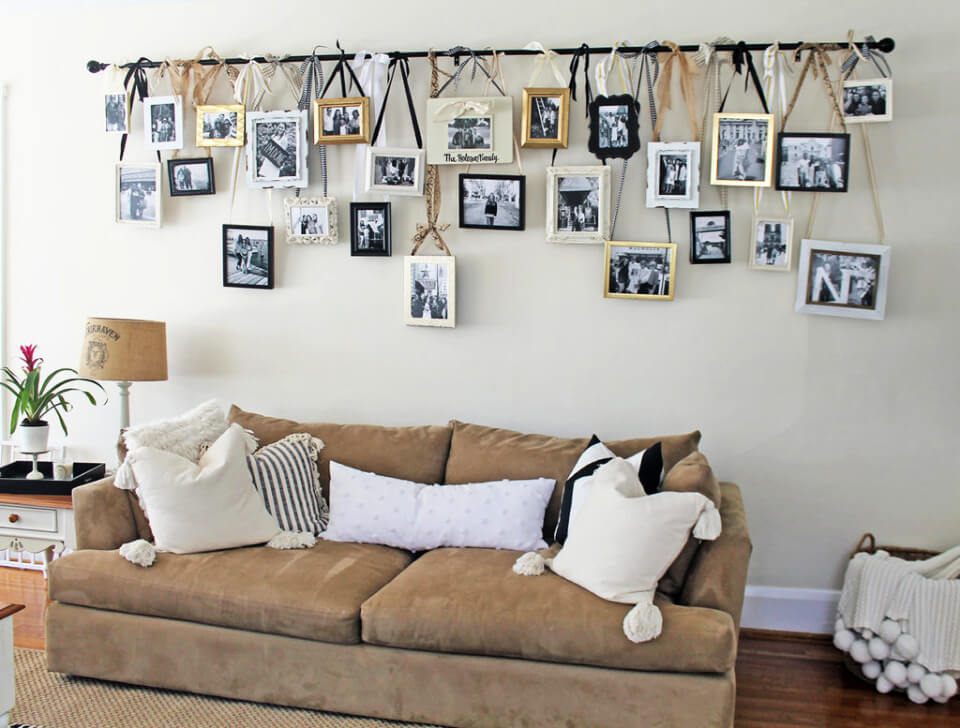 There are just so many ways to get stylish and bring a touch of lively designs to your home! Just like the one here. We totally love the eclectic look of this wall decor. Plus, it's pretty simple. Just hang some frames with ribbons and ropes on a large hanger. polkadotsandpick
58. Wall for Little Girl Room

A little more adorable bit of more adorable and lovely ideas for your little girl's room! Make it look all lively and vibrant with these chunky and adorable darling frames with these charming color patterns. Get complete details from the tutorial. number 2 pencil
59. Art Gallery Wall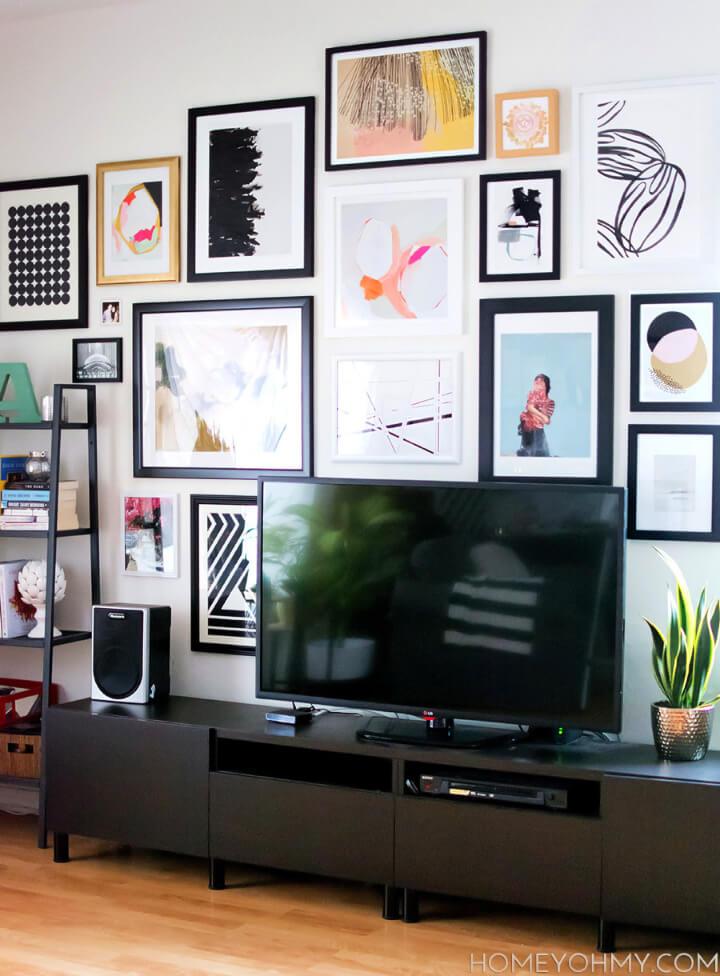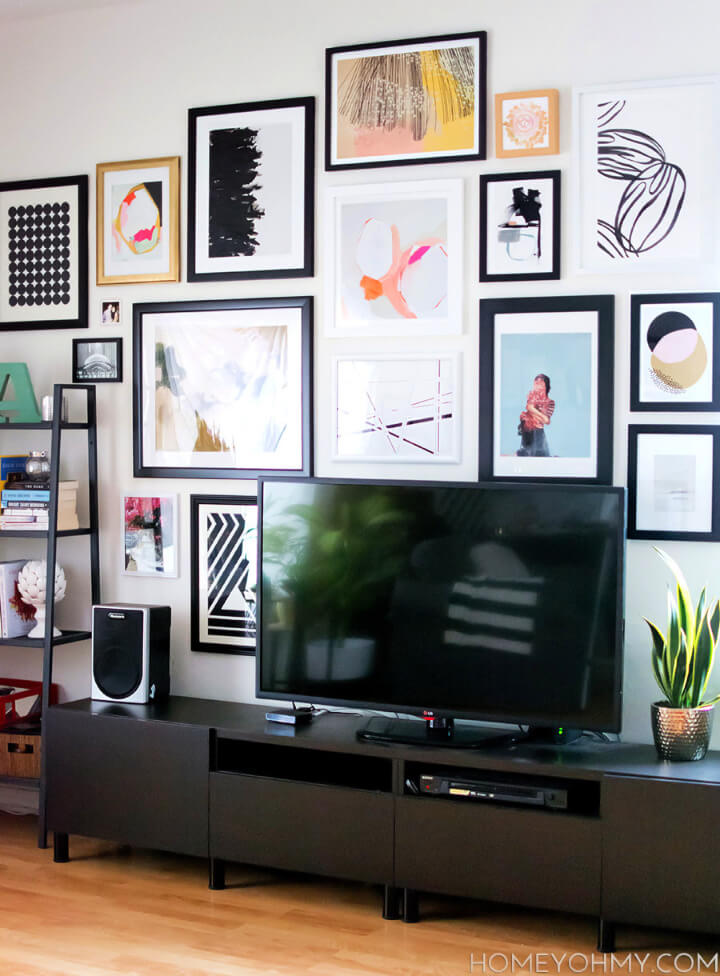 A touch of art to brighten up your place! Here comes another perfect idea for the TV wall! Before you just jump right into the gallery art wall train, you must first consider and clearly lay out your options and choices for colors and complete outlook. homeyohmy
60. Children's Art Gallery Wall

With some copper wires, thrifted frames and a cute shelf added to support more art, you can easily pull off this DIY gallery all idea, flaunting your kid's art all the way down! It will not just brighten up the room but add a fun crafting sense into your little ones. iheartcraftythings
61. Layered Gallery Wall

For the love of layered outlooks! Inspired by the Pottery Barn's frame riser. Layla is this beautiful layered wall art idea to share with us! It comprises on the basic theory that one or two frame risers can make the whole wall give an overall new appeal. theletteredcottage
62. Most Efficient Gallery Wall

One tip for a smooth and flawless photo gallery decor setup is to cut your frames using wrapping paper. Now, mark the nail holes by putting the wrapping paper on the frames and then mark the holes where the nails go in. blesserhouse
63. Hanging a Photo Wall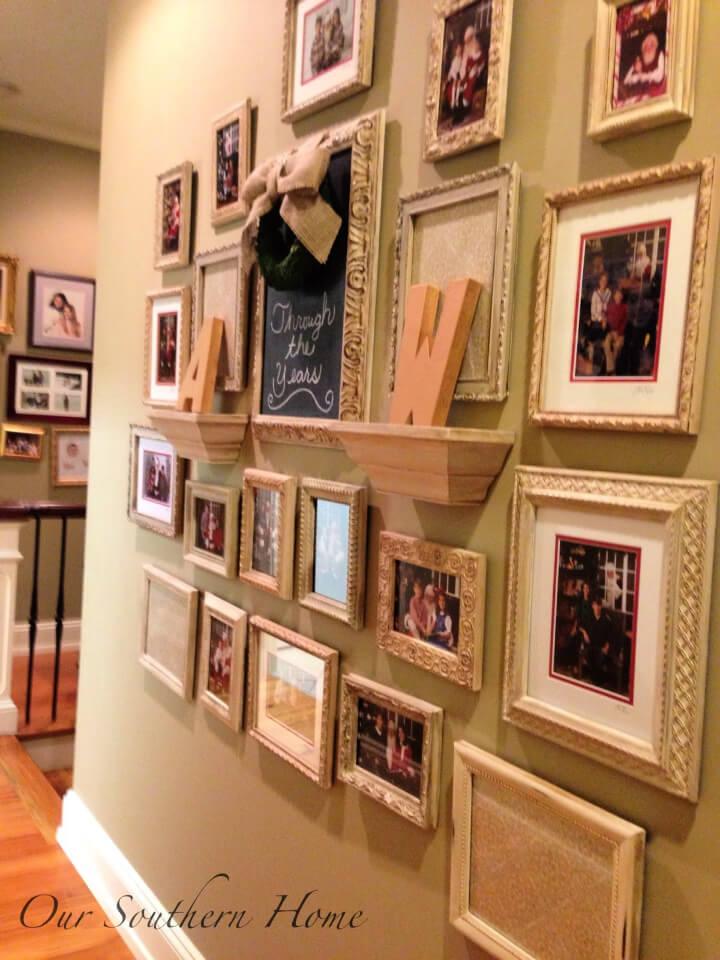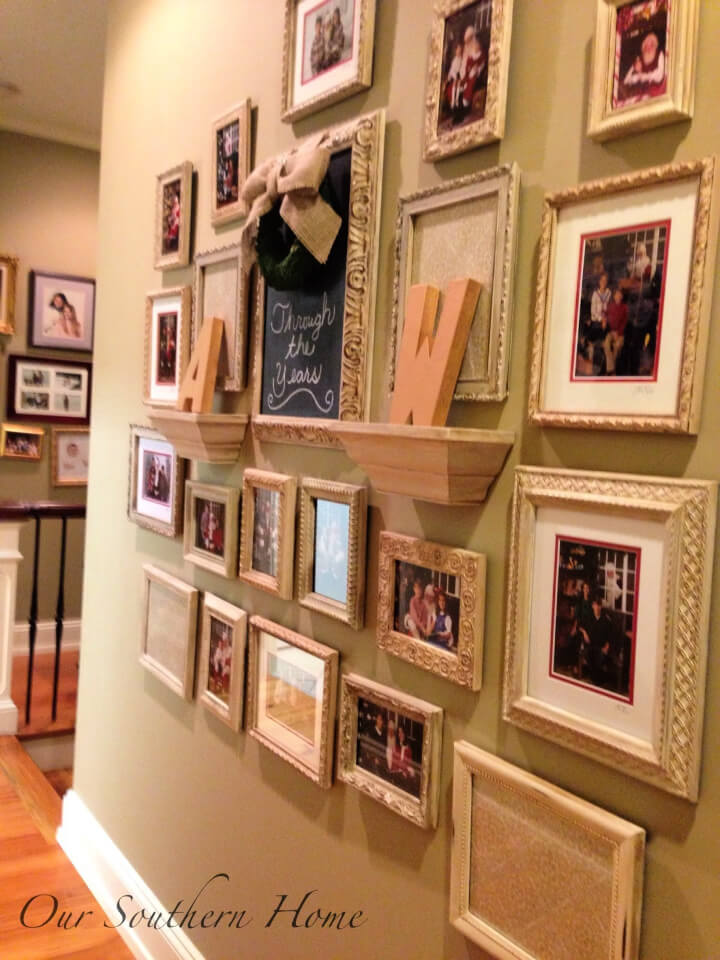 Another helpful tip by our southern home for easily and efficiently putting up the frames on your photo wall layout! First thing's first, you must get your hands on this Hang & Level picture hanging tool and see what a fascinating and helpful piece it is for wall decors. oursouthernhome
64. Wedding Gallery Wall

Your wedding is the most important day of your life and wedding pictures have got to get up on the wall with style and meaning! If you have some old frames of if you happen to go by the thrift store, you can totally nail this DIY wedding photo wall gallery. domesticingen
65. Easy DIY Gallery Wall Frames

Check out this totally inexpensive way to create some a large gallery layout with frames! Mount photos or artwork on foam core from the Dollar store. If you are looking for a clean and modern look, this is your way to go! itsalwaysautumn
66. Coordinating Family Photo Wall

A spot for the family on the wall! This family photo wall with coordinating pictures and contrasting lively colors is such a darling view. The whole transformation starts with a collection of frames that you might already have somewhere or you can go thrift shopping! spotofteadesigns
67. Staircase Gallery Wall Layout

Bring a whimsical appeal to your staircase by opting for this super cute staircase gallery wall layout by Alexi. Make a statement out of your staircase by following the nautical details in the tutorial! Pro-tip; the scone mood lights are going to multiply the effect. seekingalexi
68. DIY Photo Wall

In the case now you are fully determined for a whimsical gallery all addition to your decor, you can start by either walking around a yard sale or a thrift store. The first step begins from collecting some eclectic wall frames. Explore the full guide in the tutorial. 1morethan2
69. Pegboard Gallery Wall

Get crafty with pegboard! This gallery wall idea is to brighten up your little guy's room with a vintage car theme! You can add up some simple and pretty appealing vintage car shelves and artworks to enhance up the place. myanythingand
70. Hallway Photo Wall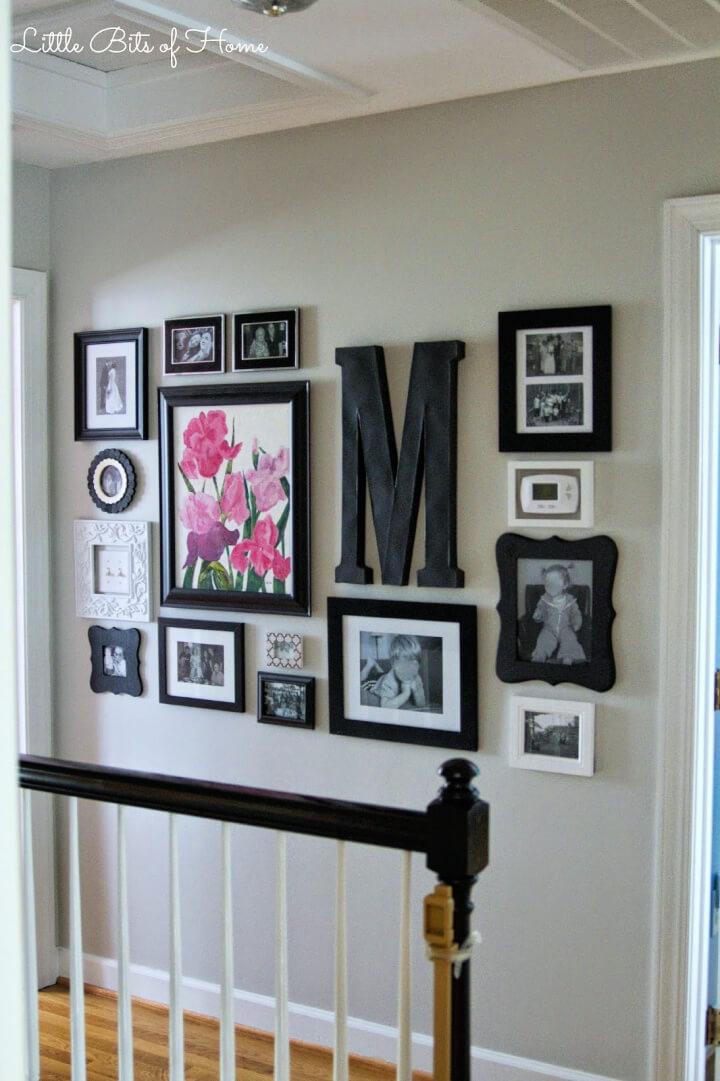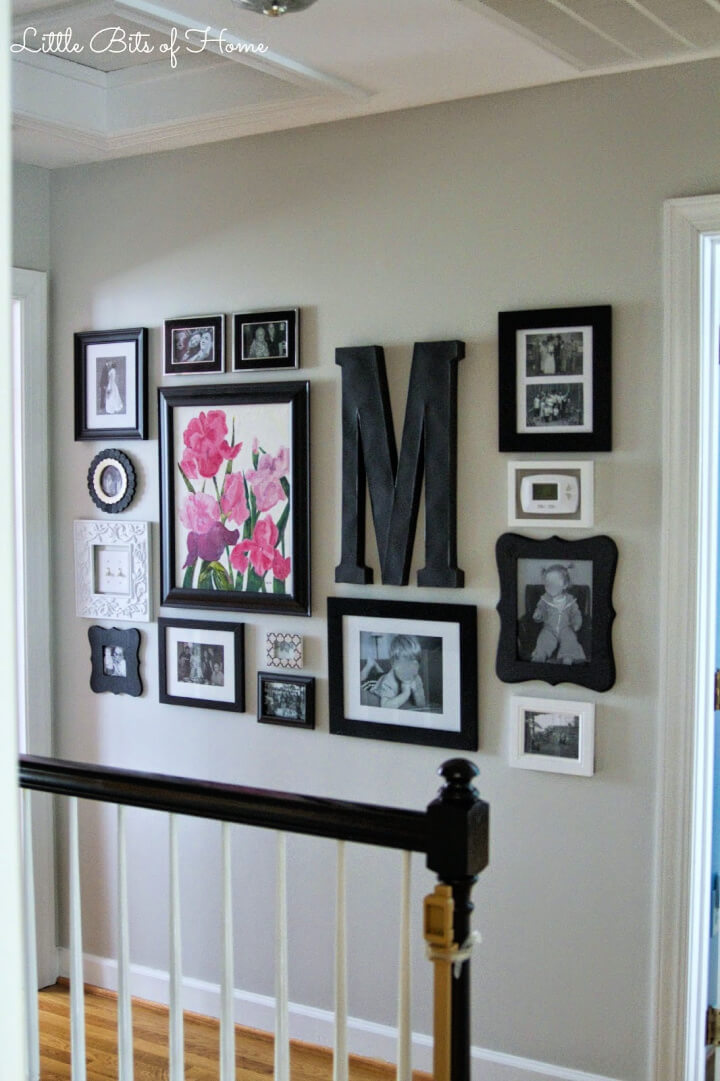 Even if you have a thing for all white and symmetry, still you can't resist this wall decor with basic jet and matte black in a random and abstract layout! The floral paintings are totally standing out in the jet black frames! littlebitsofhome
71. Curtain Rod Photo Wall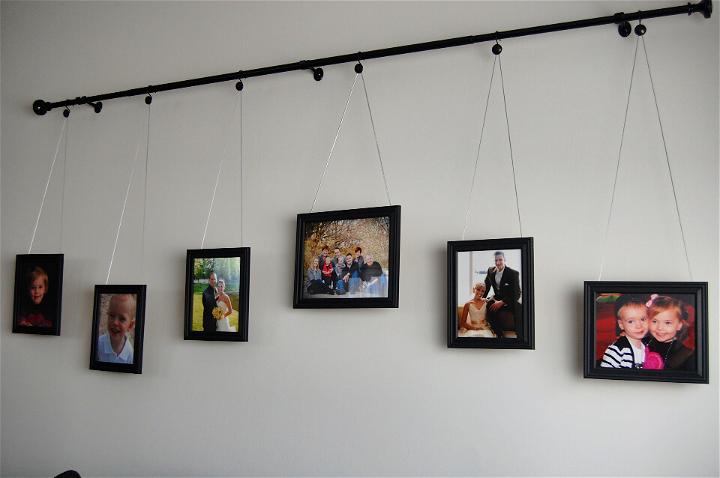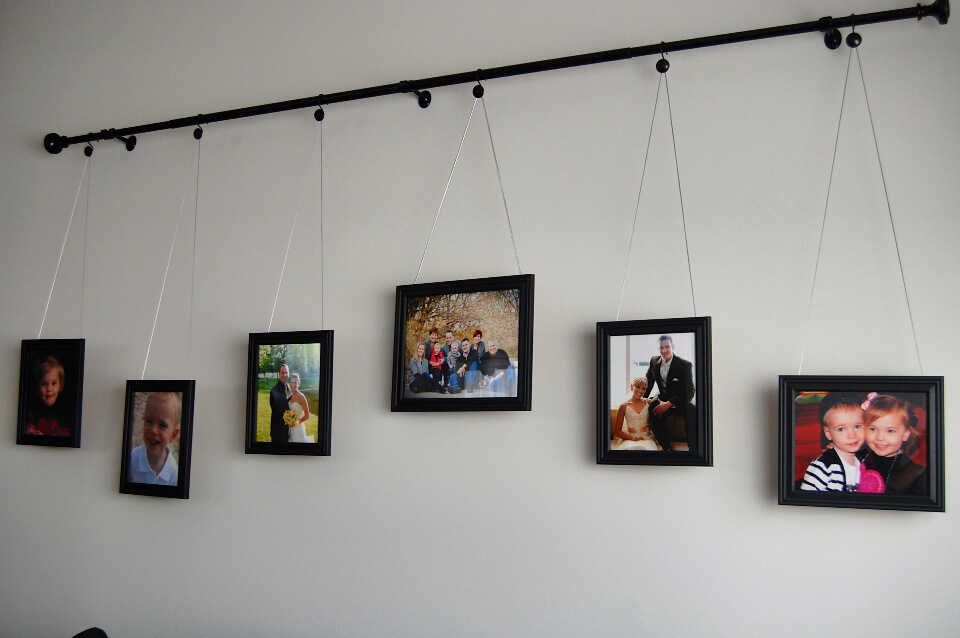 If you are running low on budget but still so heads over heels in love with photo wall ideas, check out this insanely easy and inexpensive one. This idea is pretty sturdy and interchangeable. You can add inspirational holiday decor to it as well. hauteapplepie
72. Photo Wall Hanging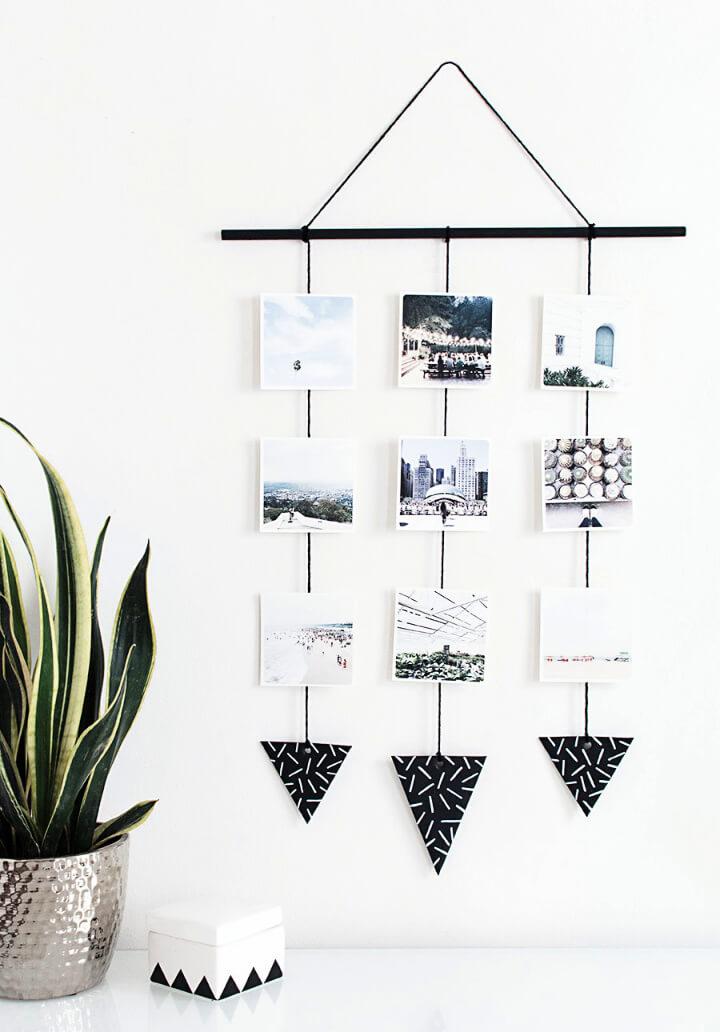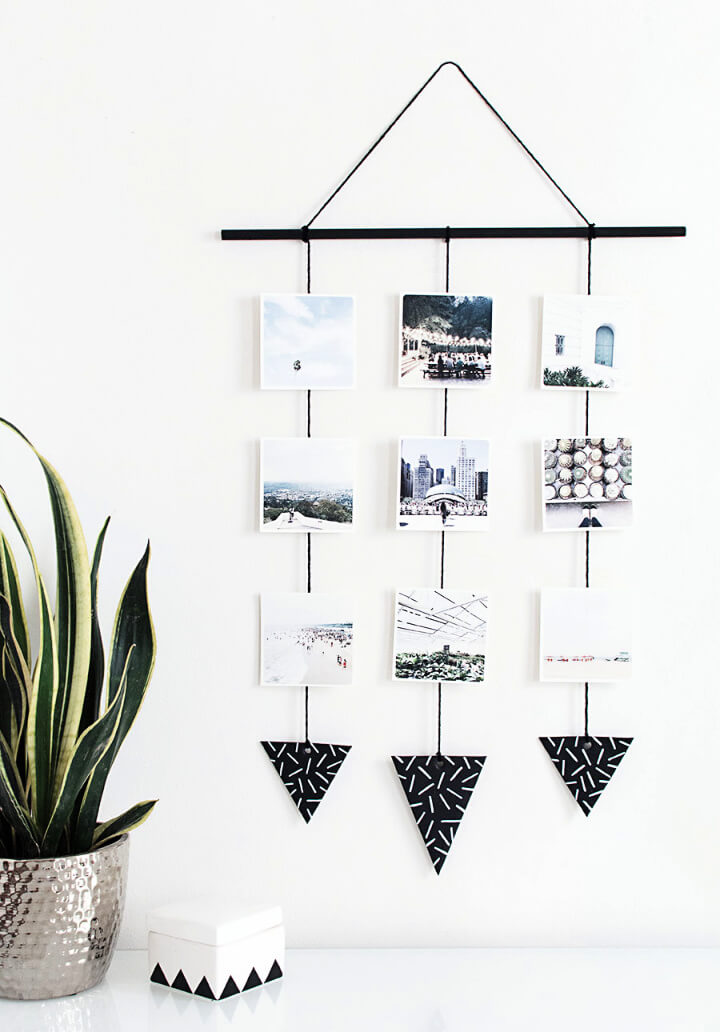 This minimalistic photo wall with this DIY wall hanging is super appealing and enchanting! The black and white details of this piece are ultimately whimsical. You will need photos, wood dowel, acrylic paint, a foam brush, and a few other supplies. Check here. homeyohmy
73. DIY Kitchen Photo Wall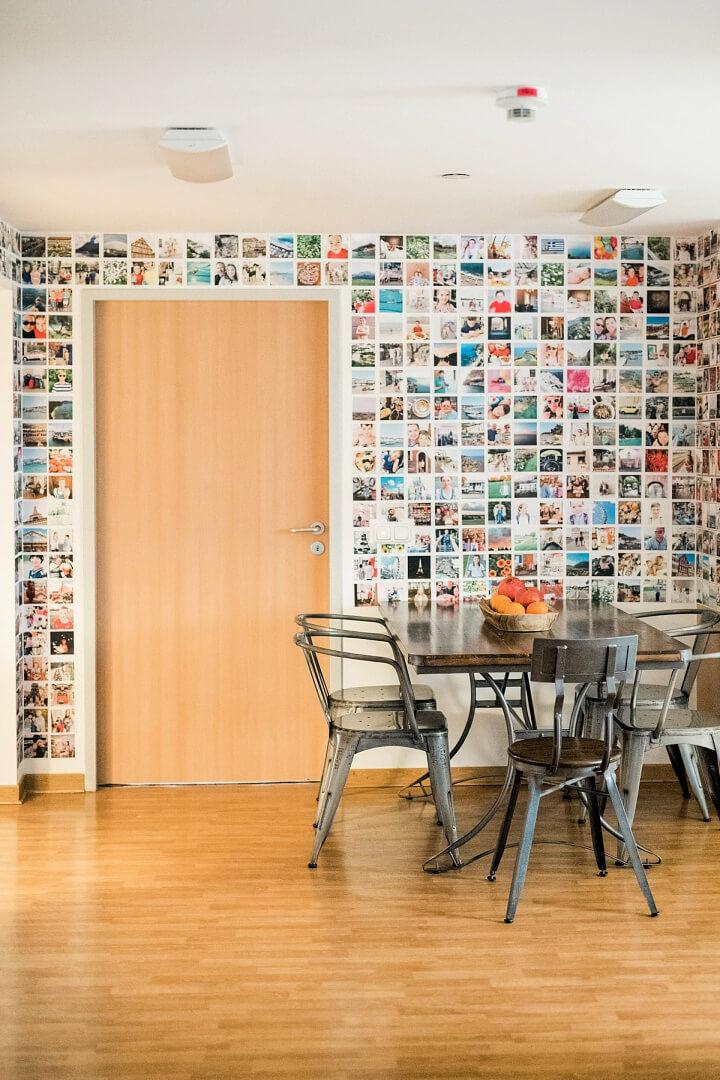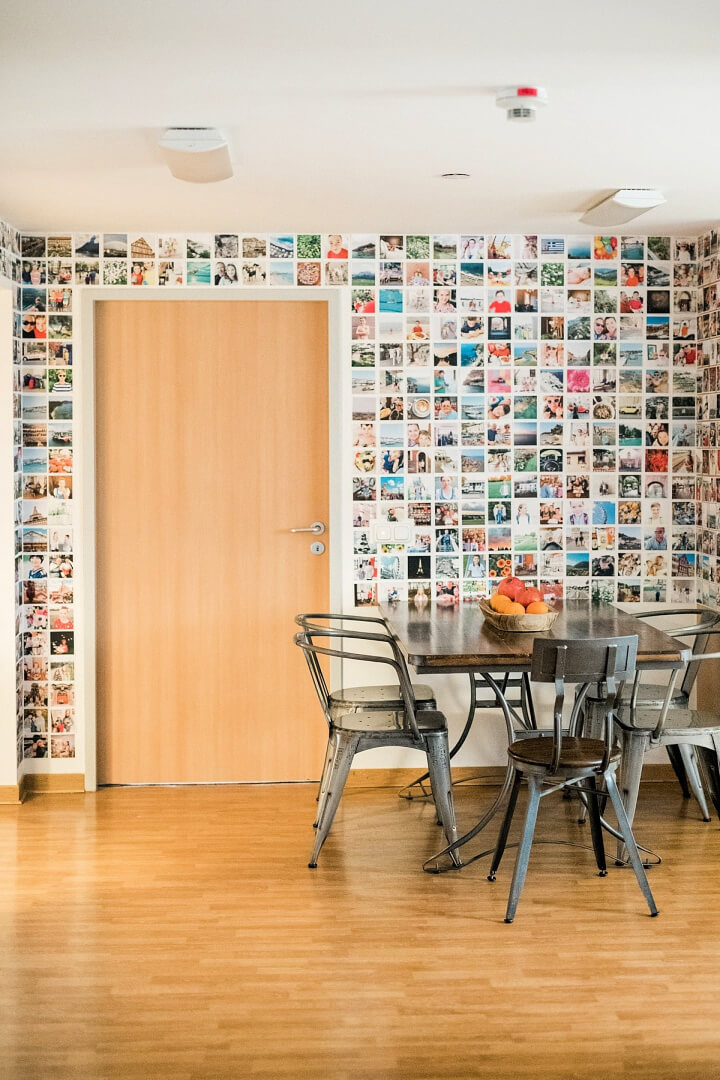 Give your kitchen's wall an utterly exquisite and cheery look with this superb and at the same time simple kitchen wall idea! If you are looking to add some personality and life to your kitchen, this could be it. Plus, eat and cook around with your favorite memories to cherish. bakedbree
74. How to Make Photo Ledges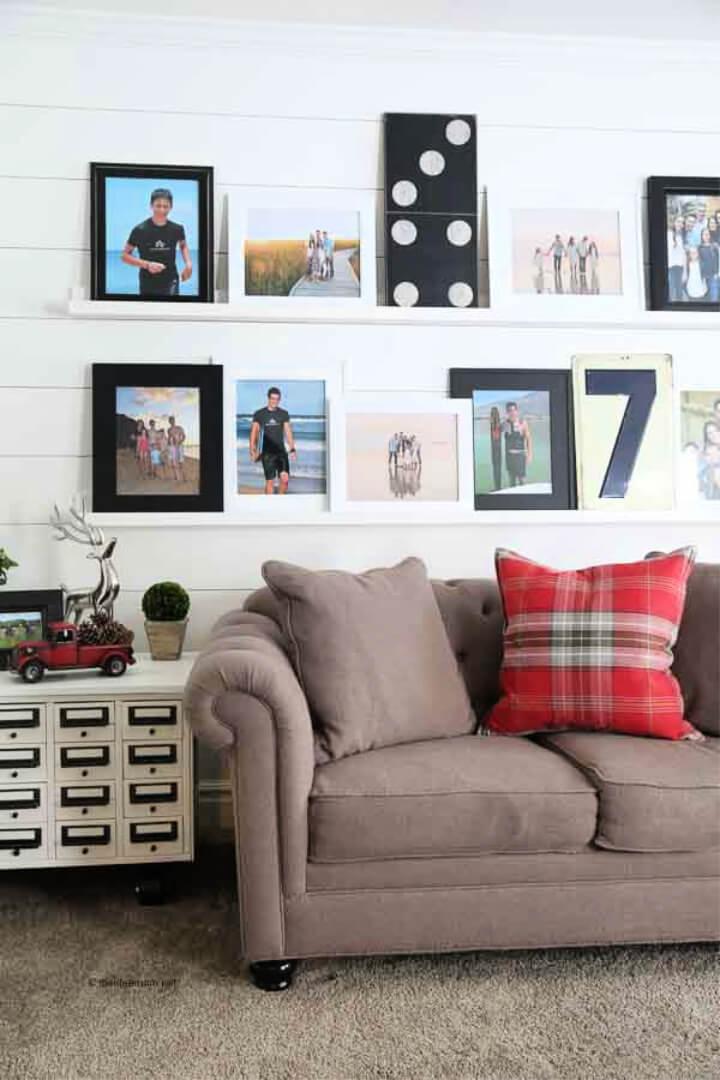 Photo ledges for the win! If you are intimidated to start a DIY photo project on your own, this DIY photo ledges project is going to make it a lot easier for you! For one thing, you can aesthetically fill in the space, and for the win, you can start it off with something simple and easy to pull off. theidearoom
75. DIY Photo Wall Hanging

For this imaginative photo wall hanging, you will need a piece of dowel, a few strings, polaroid or other photos, scissors, and tape with a wall hook to hang the dowel! If you prefer any different color over the natural color of the dowel, you can also use spray paint. dossier
76. How to Make Photo Wall Gallery

In this digital world, most of us are craving for holding the physical prints of our beloved memories! Let's make that happen with this sensational and super easy DIY photo wall project! Gather some scissors, tape, a piece of wood, a few strings, a hole puncher, and your perfect memories. kellimurray
77. Photo Display Wall Art

Create a charming and appealing wall decor with this photo wall display sensation! Set up some enchanting triangle shelves to display photo wall. Complete the look with some hanging photos by a string! Flaunt your family and your passions. thecoralchannel
78. Instagram Photo Wall Display

The famous and tempting Instagram display has stolen many hearts over time! With classy clutter on your side, you can actually get the Instagram wall out of the digital realm into your physical world! That's right. See for yourself in the tutorial. classyclutter
79. Family Photo Wall Hanging

Because family is just oh-so-special! Make this absolutely spectacular and splendid with love, warmth, and memories DIY photo wall hanging! Just get some photos printed from CVS.com, twine or string, a wood trim or dowel, paper cutter, and wall hooks. thesweetestoccasion
80. DIY Teen Fairy Light Photo Wall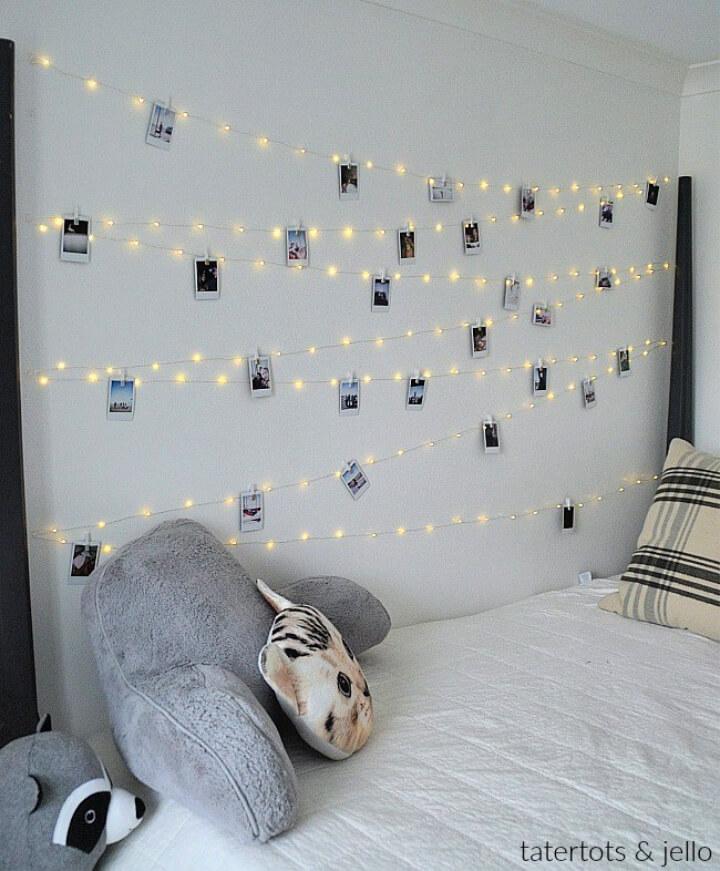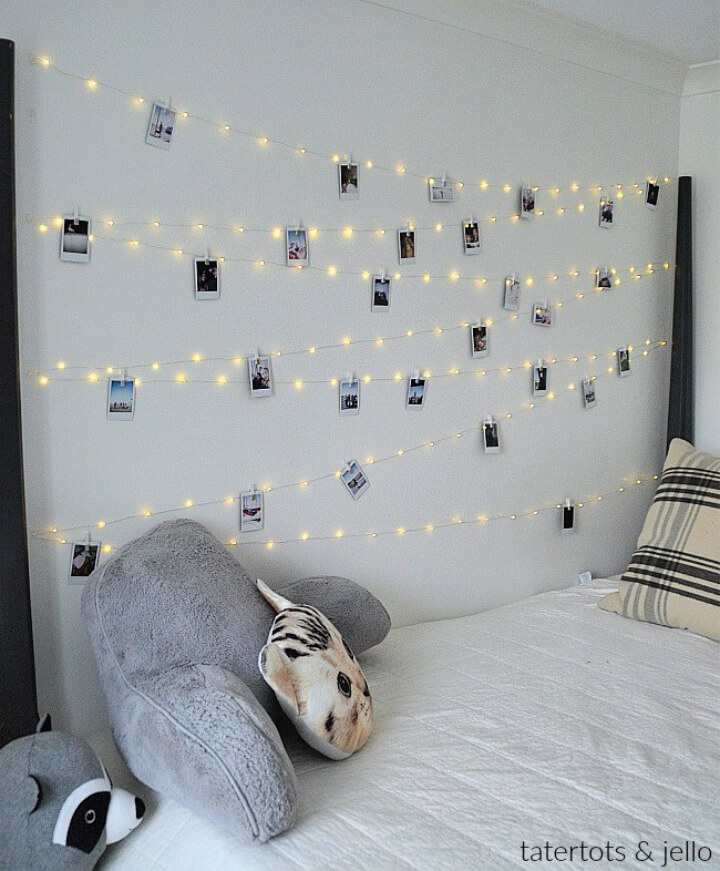 Name any better combination for room decor other than fairy lights combined with adoring photo memories! And taking as well as brightening up the wall space. Make your girl's room her dream room with these enticing photo wall ideas! tatertotsandjello
81. Make a Personalized Photo
Wall Mural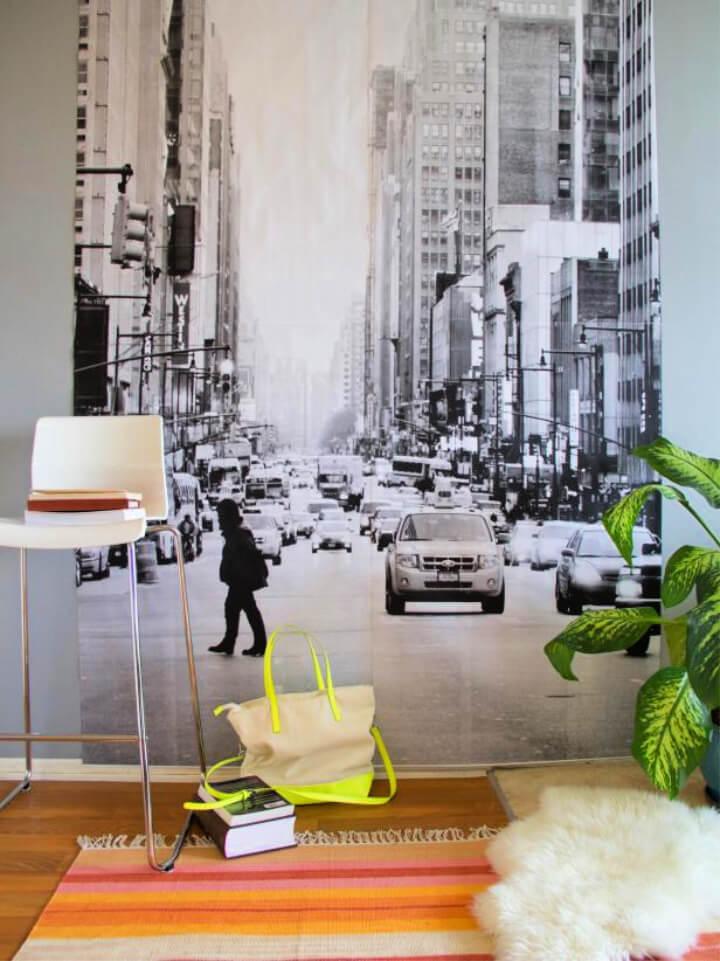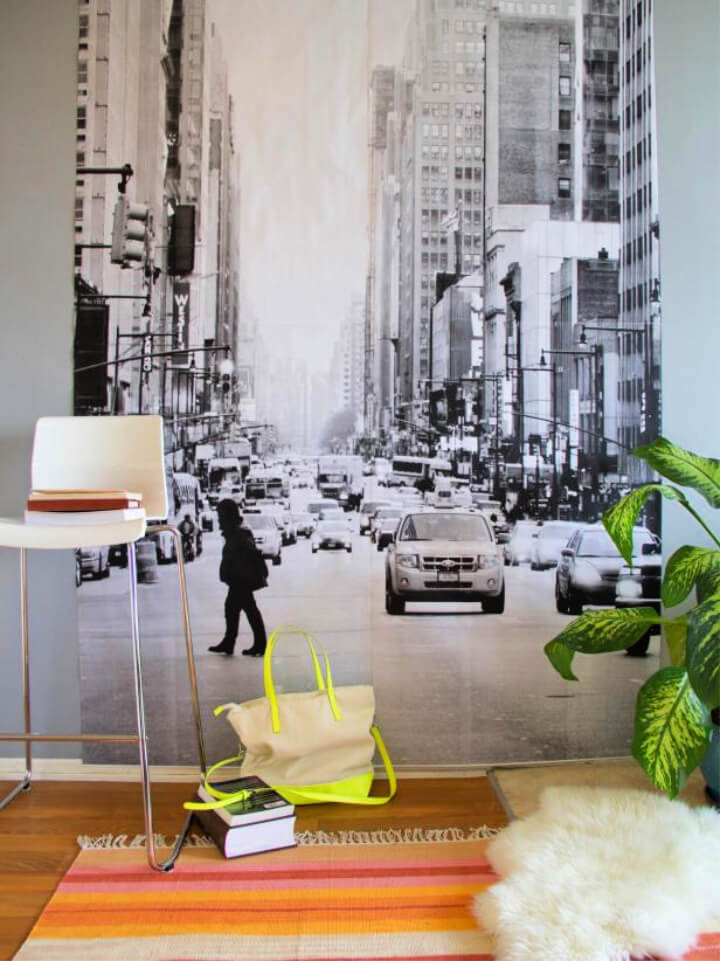 Make a bold statement with this printable photo mural. It is an easy to-go option for walls other than choosing for wallpapers or paint! You can nail this by Editing a photo is a good photo editor software. And use a double-sided tape with adhesive to put it on the wall. hgtv
82. Photo Wall Pocket Organizer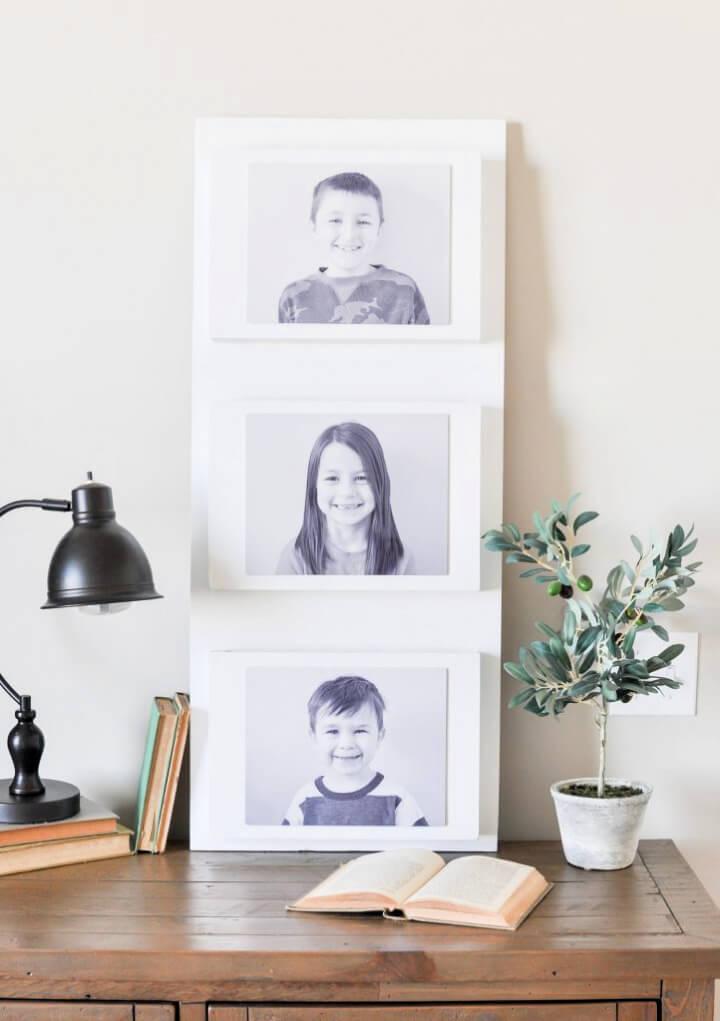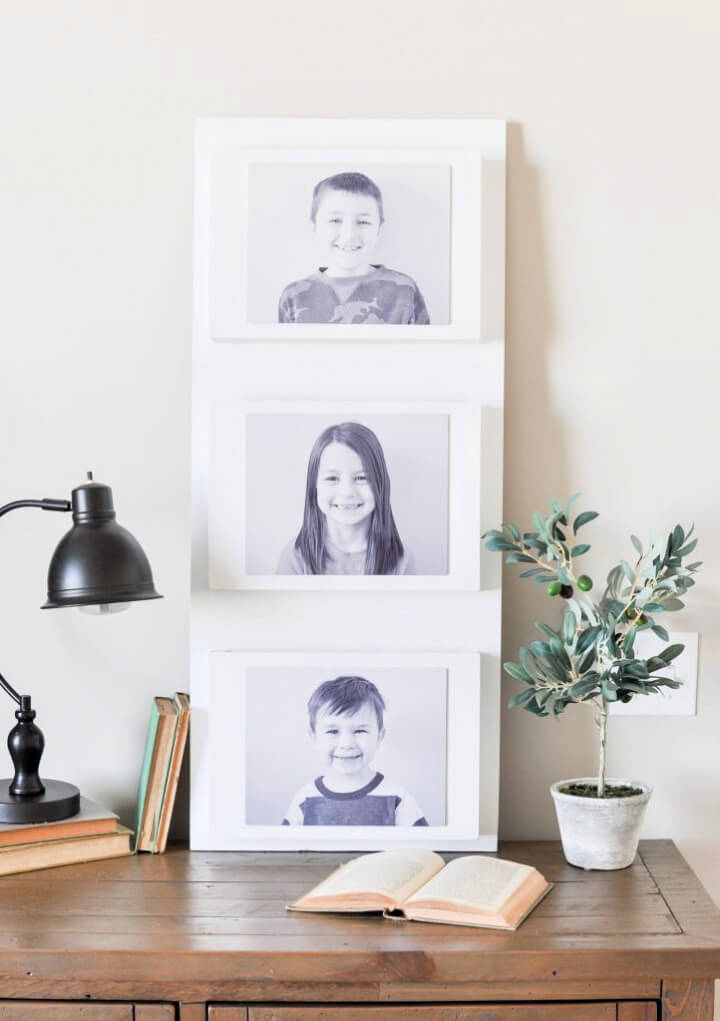 This DIY photo wall pocket organizer is a beautiful parenting gesture by Cherished bliss. To acknowledge and appreciate your kid's creativity, you can set up this photo wall organizer with everyone's pocket assigned. For them to put up their work and make mom and dad proud! cherishedbliss
83. Large Photo Wall Clock Gallery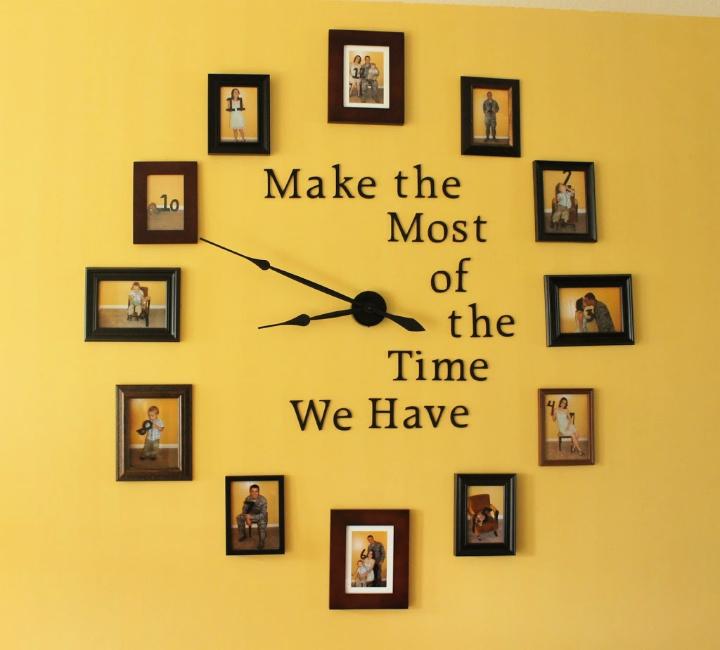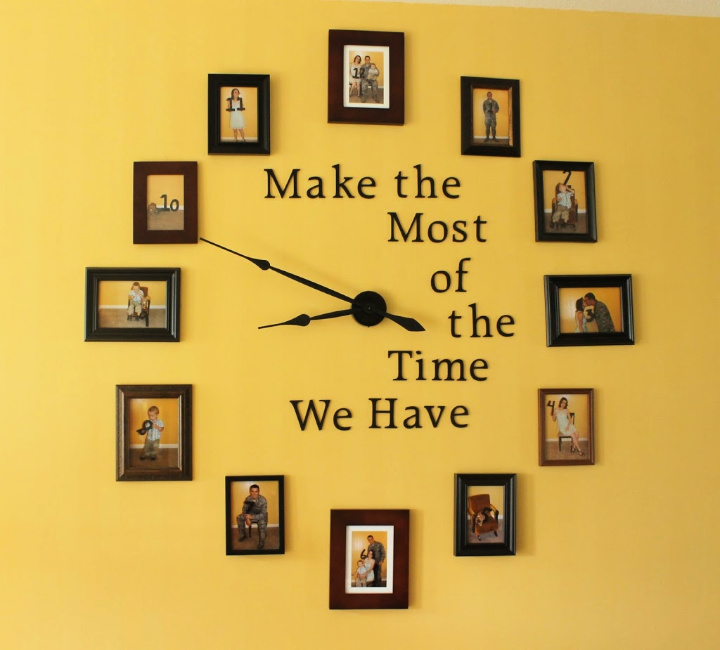 As time goes by, so does our chance to make the beautiful memories! And our chance to make most out of time goes by too! This huge wall clock, combined with the photo wall gallery is gorgeous and sensational in all terms! You'll need large clock pieces and some photos in frames to pull this off. artscrackers
84. Photo Booth Picture Wall for $10

By just spending $10 you can make this absolutely funky and life of the party open-air photo booth! The few supplies needed are a large board of plywood, picture frames, wire, and a wallpaper. Pro-Tip; Don't make the board so large and heavy that your guests can not pick it up! construction2
85. Photo Display Gallery

In just a few minutes, you can make this super easy and insanely cheap DIY photo display! Flaunt your favorite memories with this one. No frames needed! Just some command mini hooks, ruler, scissors, twine, and mini clothespins. hellolittlehome
86. Photo Wall Cut it Out Frames

These cut it out frames are a perfect treat for a true DIYer! They come unfinished, and you get to be crafty with the stain, paint and the final finished look! Plus, you can choose different shapes and bring a bright and cheery appeal to your decor. cherishedbliss
87. Photo Wall Without Nails

How about hanging them artworks and pictures up without using any nails? Sounds like a tough one, eh? Not if you have the hanger photo ideas! Or photo wall ideas. Set up a wooden base, aesthetically perfect, and hang your favorite artworks using hangers.
88. Gallery Wall Out Of Frames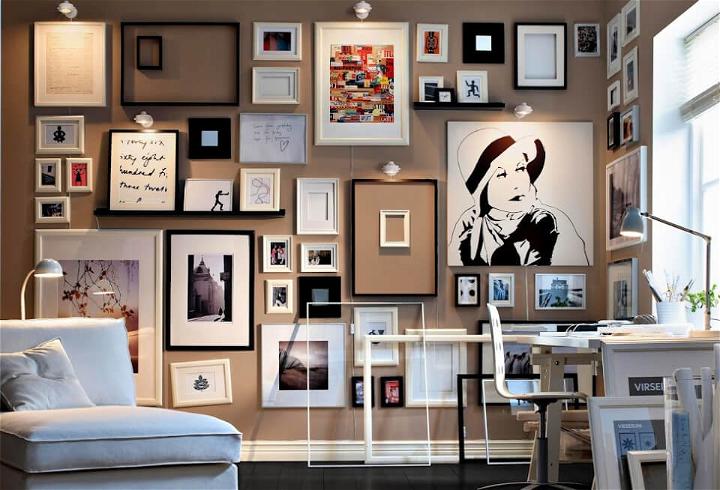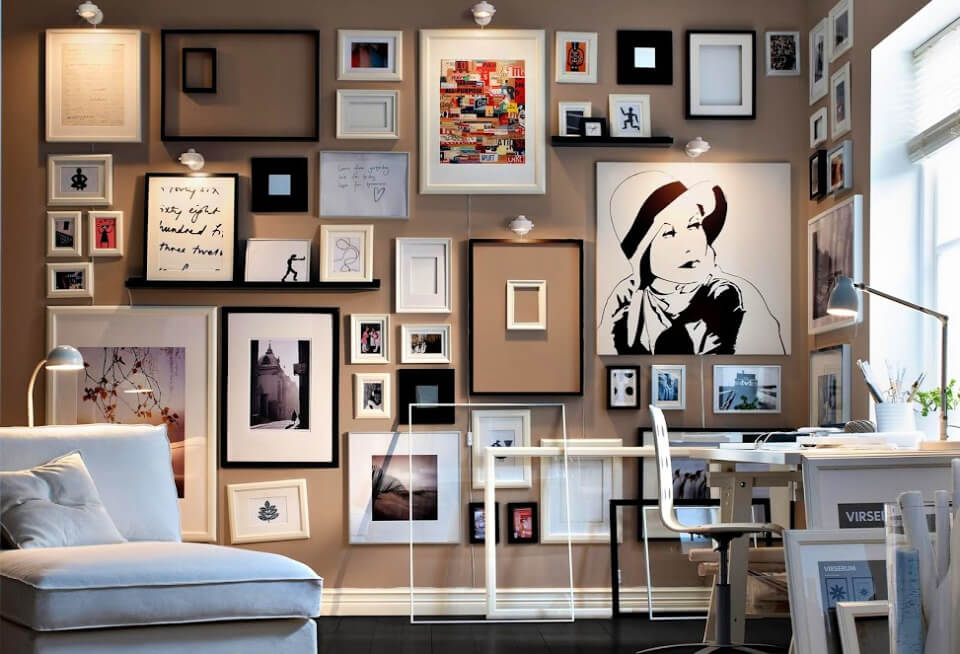 A random, cluttered and design enriched wall art gallery is going to bring a classy tempting appeal to your room! Using simple photo frames with white paint and some typography, the artwork is going to make the whole gallery wall layout configuration look stunning.
89. Living Room Wall Art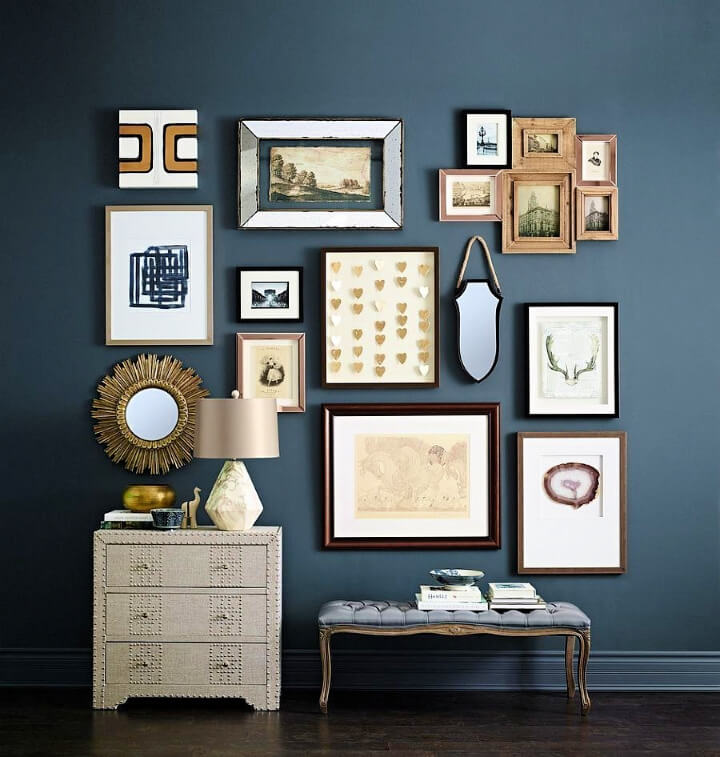 A combination of vintage and ultra-modern frames and artworks are making this living room wall layout look super subtle and exquisite. Especially the base paint is totally making the whole arrangement worth it!
90. Wall Gallery for Beauty Home Space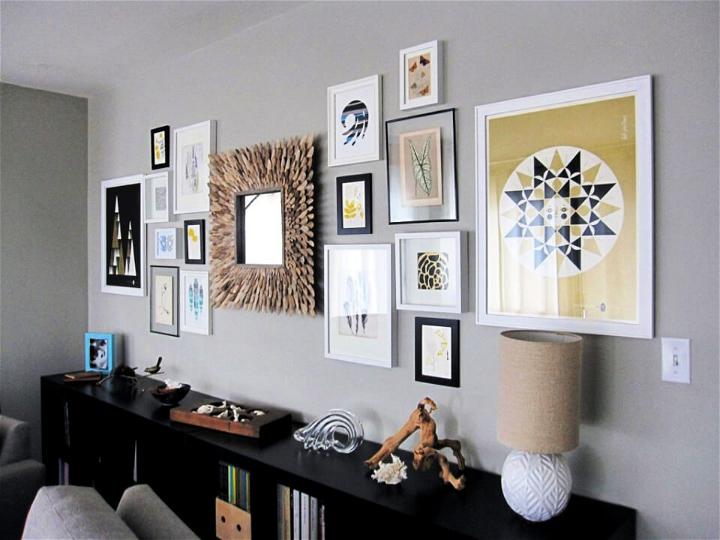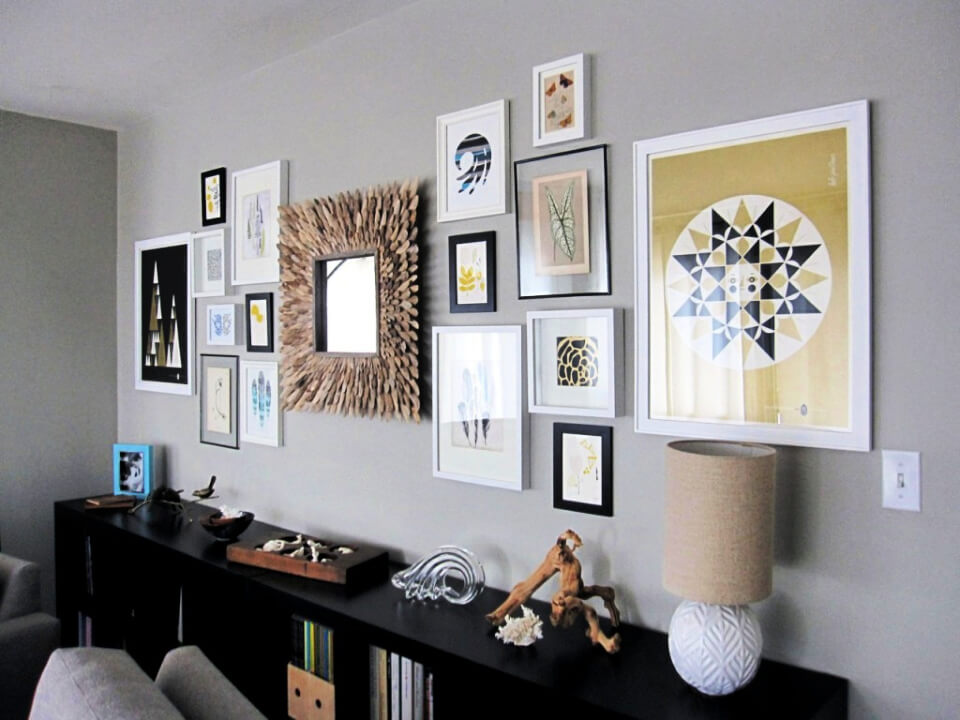 If you have this huge wall which is totally overwhelming even with a mirror in the between, time to remodel its look! Give it a delicate look such as the mirror is not overcrowded with the frames! Some abstract artworks with white frames are going to brighten up the look of your wall art.
91. Photo Wall With Mirror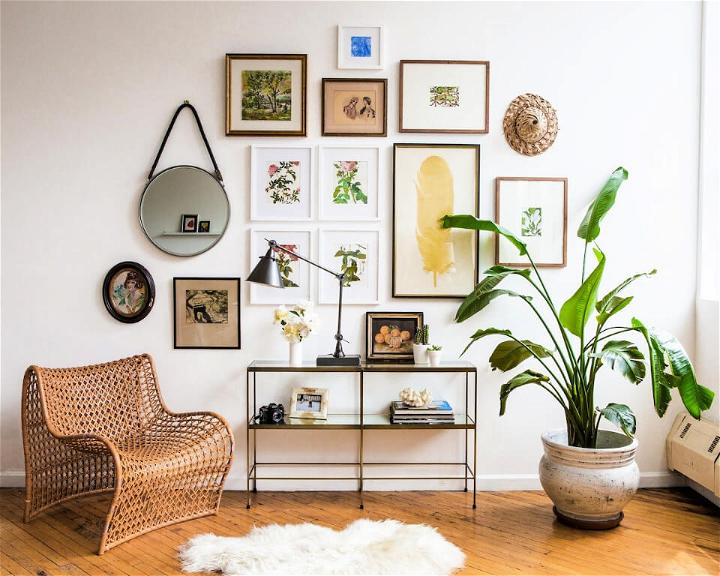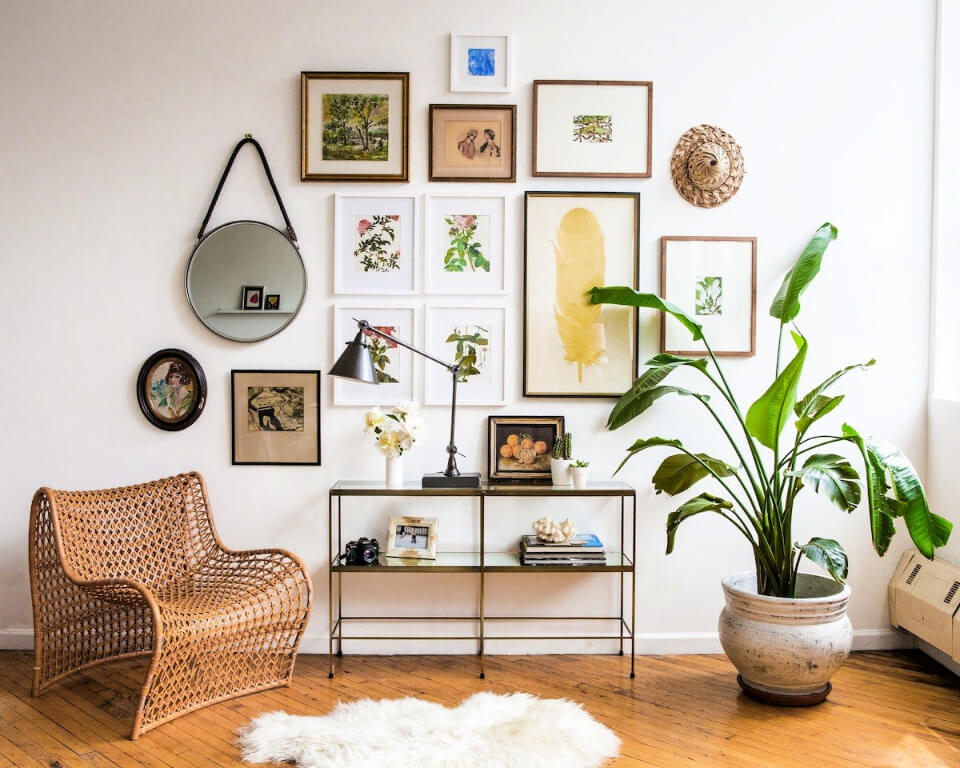 Here is another option for setting up a photo wall with a mirror! In this layout, the mirror has been kept at the top left corner to give it a more focused and isolated look. The rest of the picture wall is aesthetically made with white frames and vintage floral artworks.
92. Creative Gallery Wall for Perfect Decor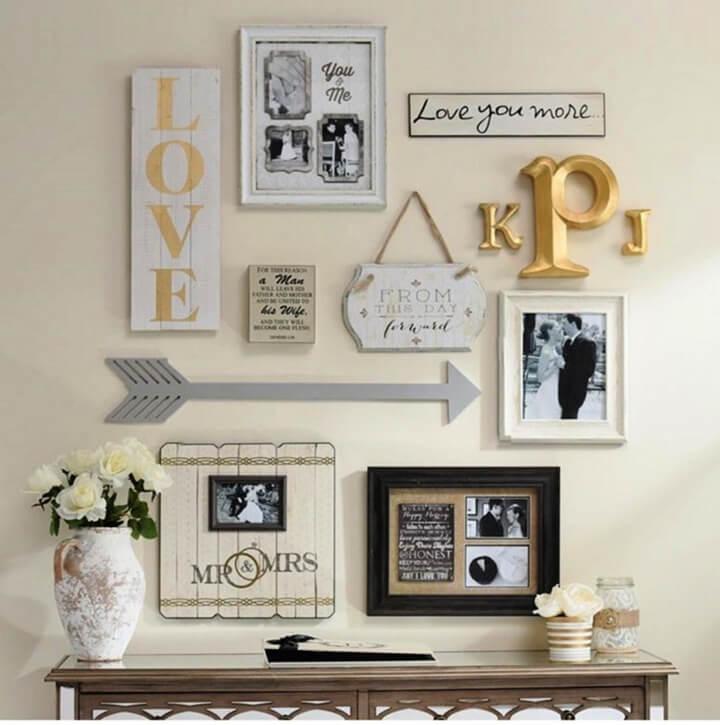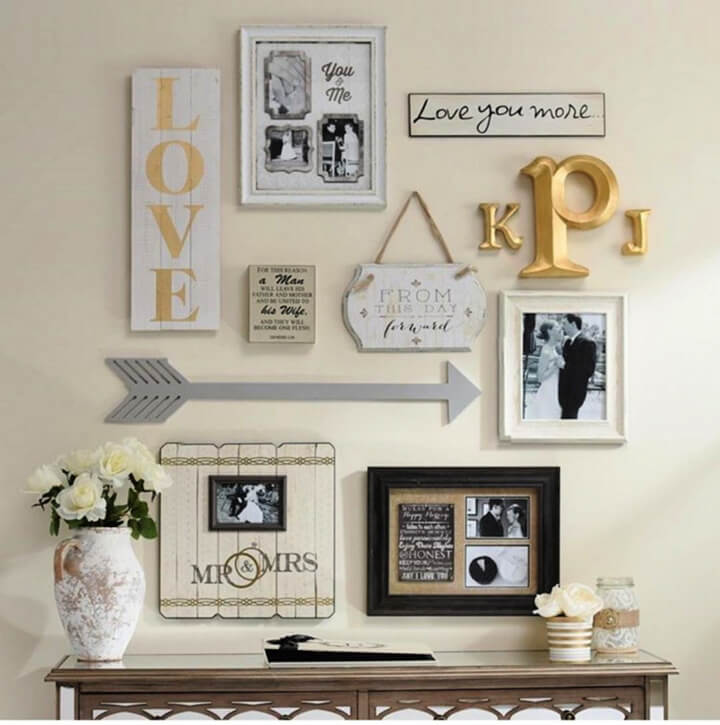 Make your own wall art gallery interactive! Or something more meaningful than a bunch of frames just hanging up there. That is if you like meaningful decor inside your house. This one, in particular, is a love-filled, sensational layout for a wall.
93. Wall Gallery Frames to Display Artwork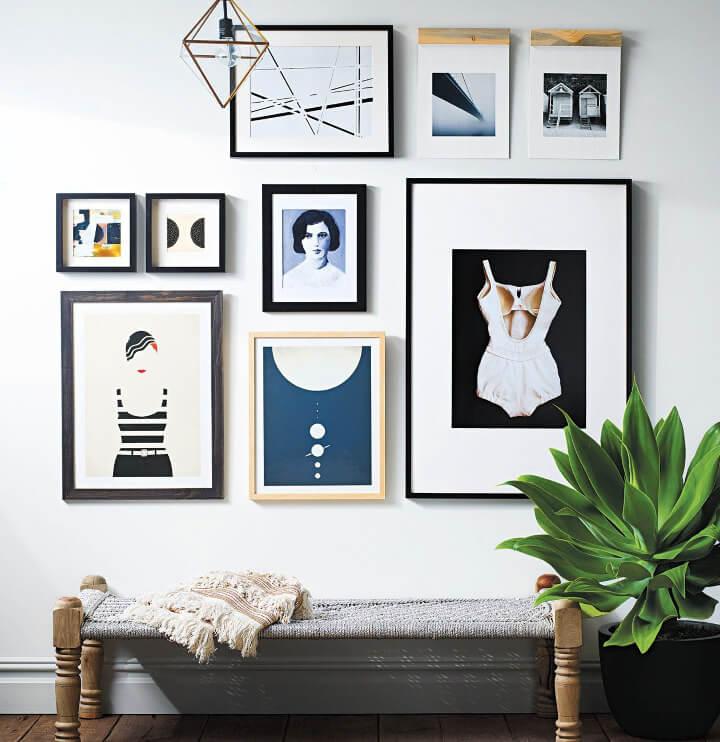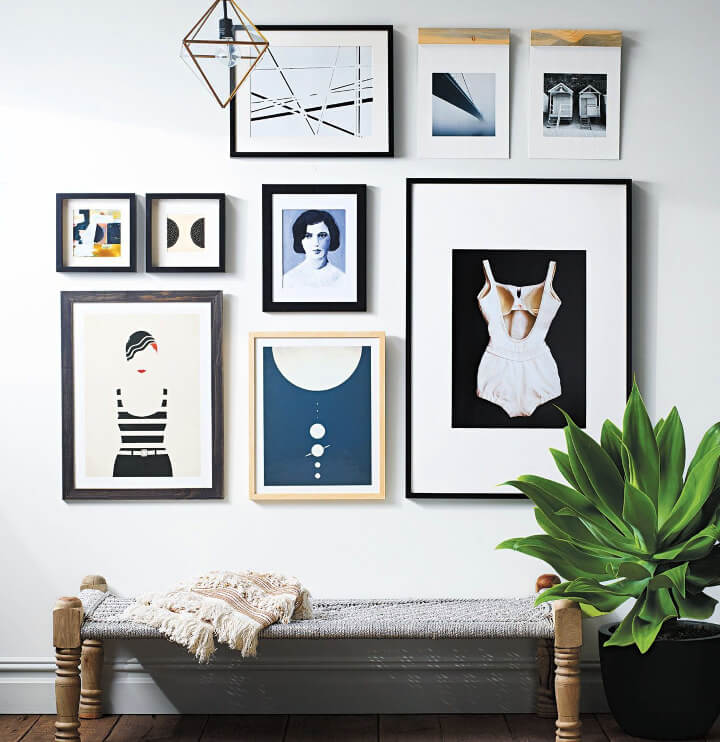 Do you have a thing for classics? Abstract or meaningful artwork. We bet even if you don't, after having a look at this tempting and exquisite gallery wall frames, the felling is going to change! Bring minimalism to your walls with this whimsical layout.
94. Wall Art
Pictures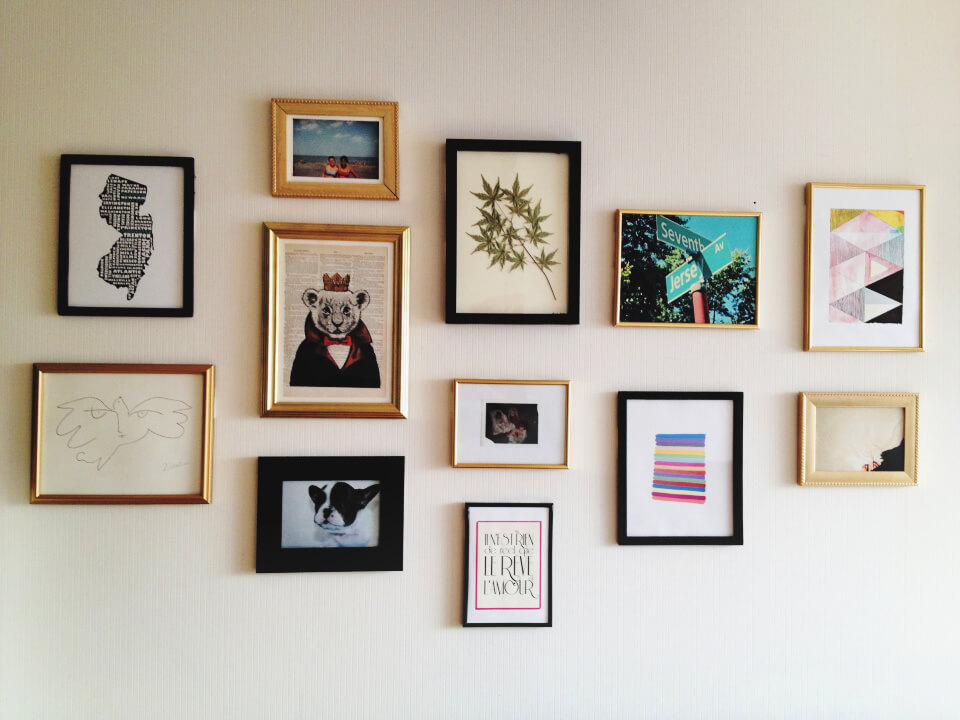 Just a bit of taste of in artwork can do absolute wonders! A combination of ultra-modern, vintage and classical artwork in vintage and rustic frames is brightening up the hall wall art with a stately appeal!
95. Photo Wall for Tumblr Dorm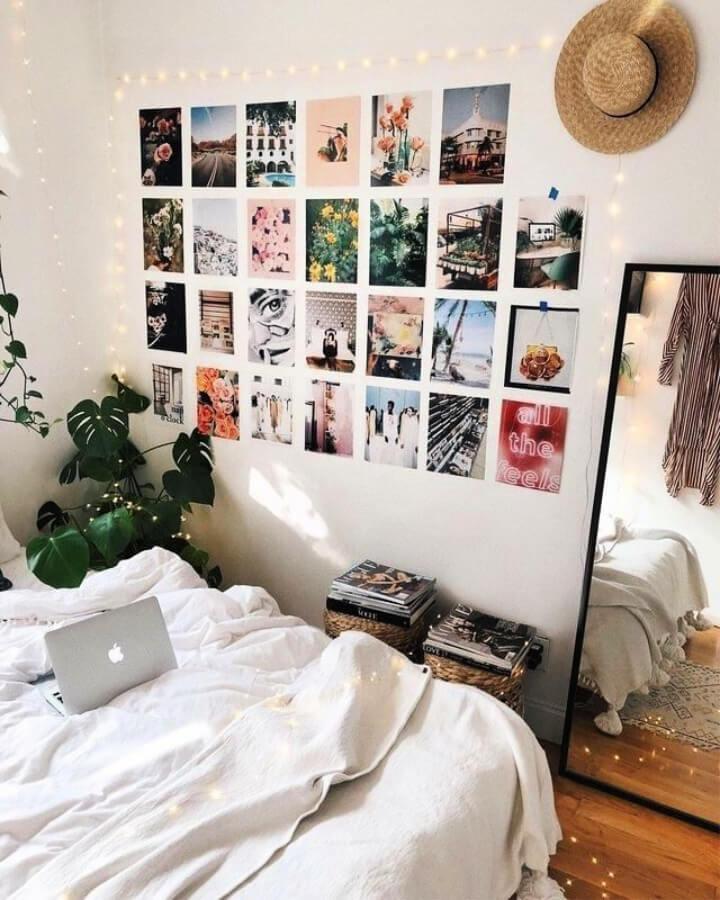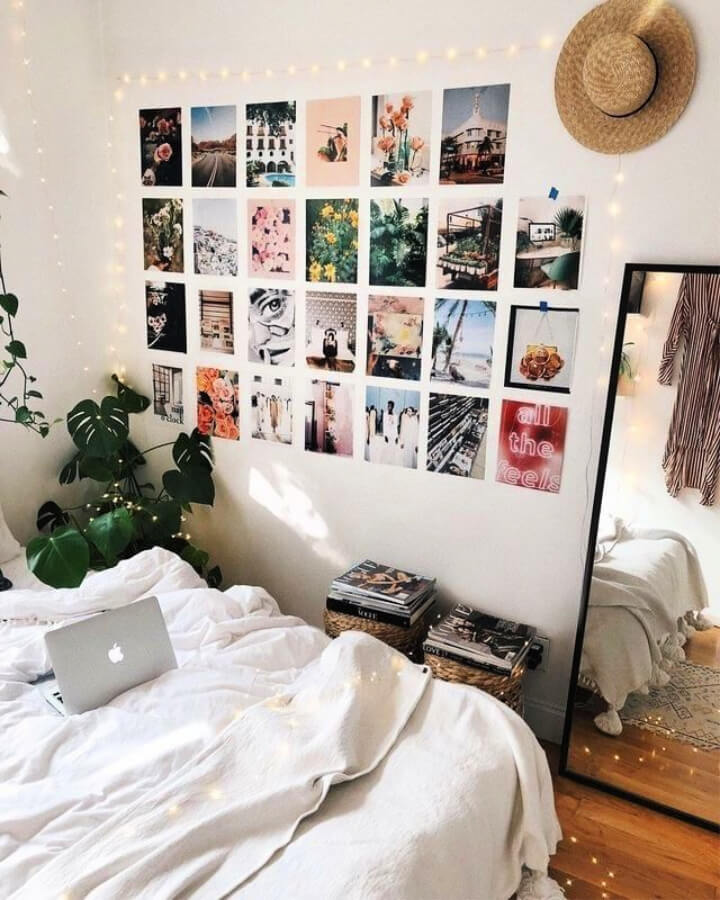 Inspired from Tumblr, you can easily decorate your dorm wall vibrant and cheery photos instead of opting for paint or wallpaper. Just get printed some of your favorite memories, be them destination photos or something else.
96. Jewelry Display Wall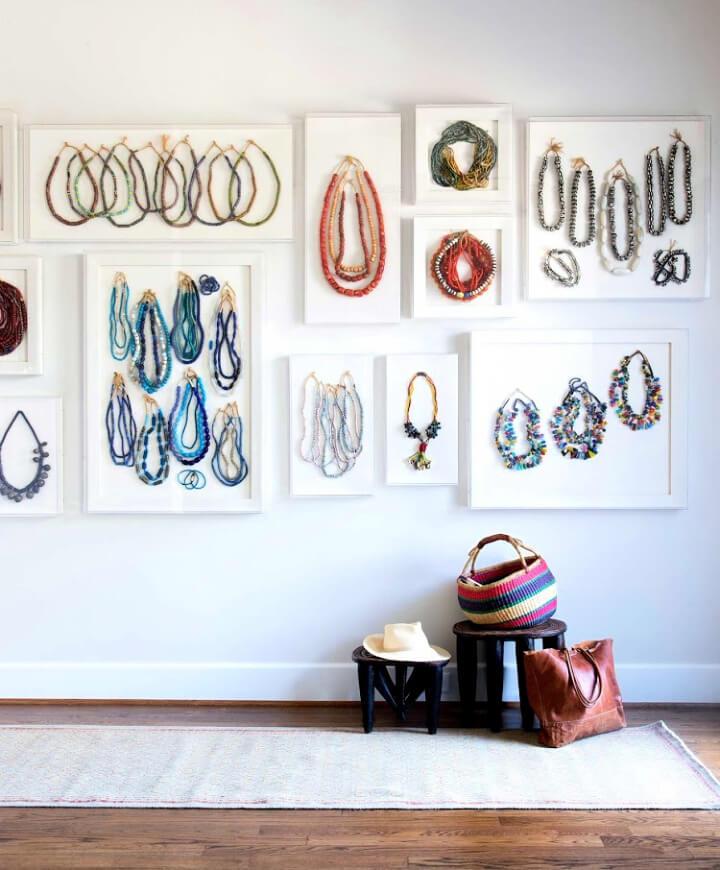 Now, this one here is a big winner! We have always adored and loved the two in one idea. How about getting to organize your jewelry with maximized ease and at the same time setting up an utterly stunning jewelry wall? With minimalistic whiteboards and hooks.
97. DIY Botanical Picture Wall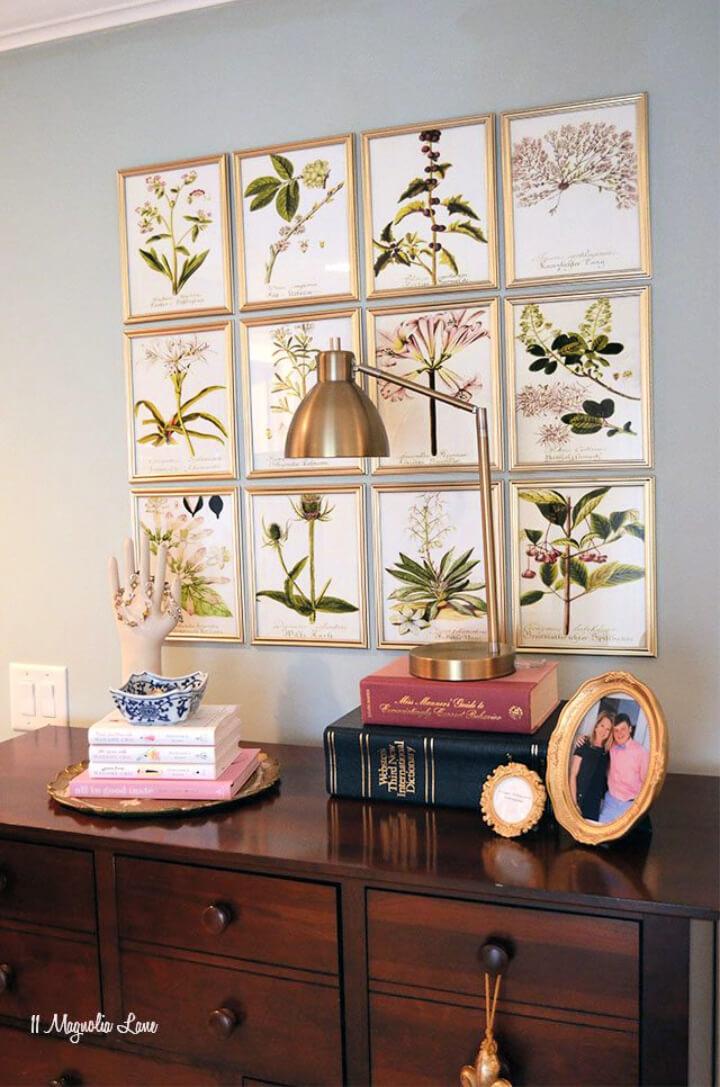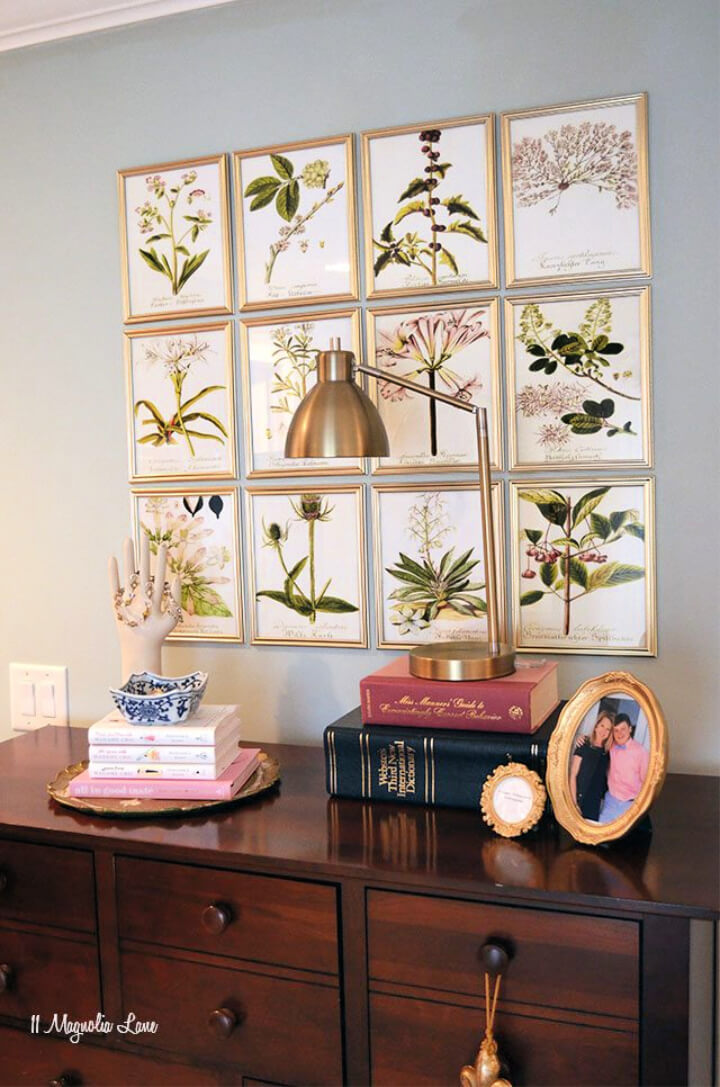 A simple and subtle botanical gallery wall frames to bring a breezy and flowy appeal to your decor! You can buy the same sized frames from a thrift store and stain them with a themed up color that will go best with your wall's background.
98. Customizable Display Wall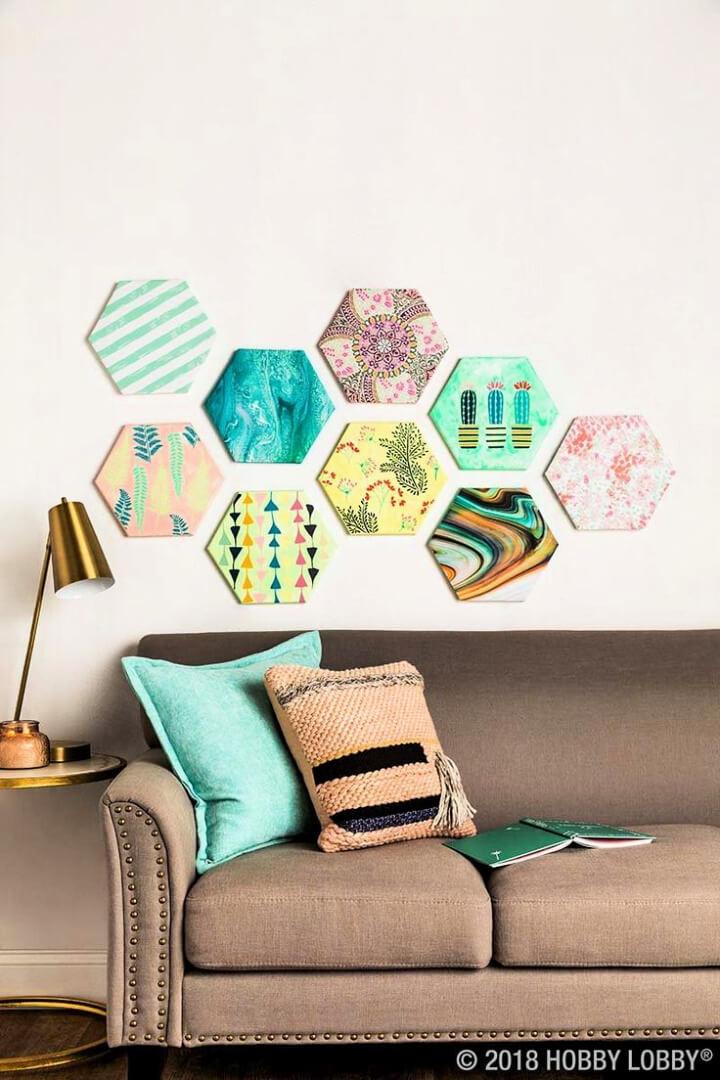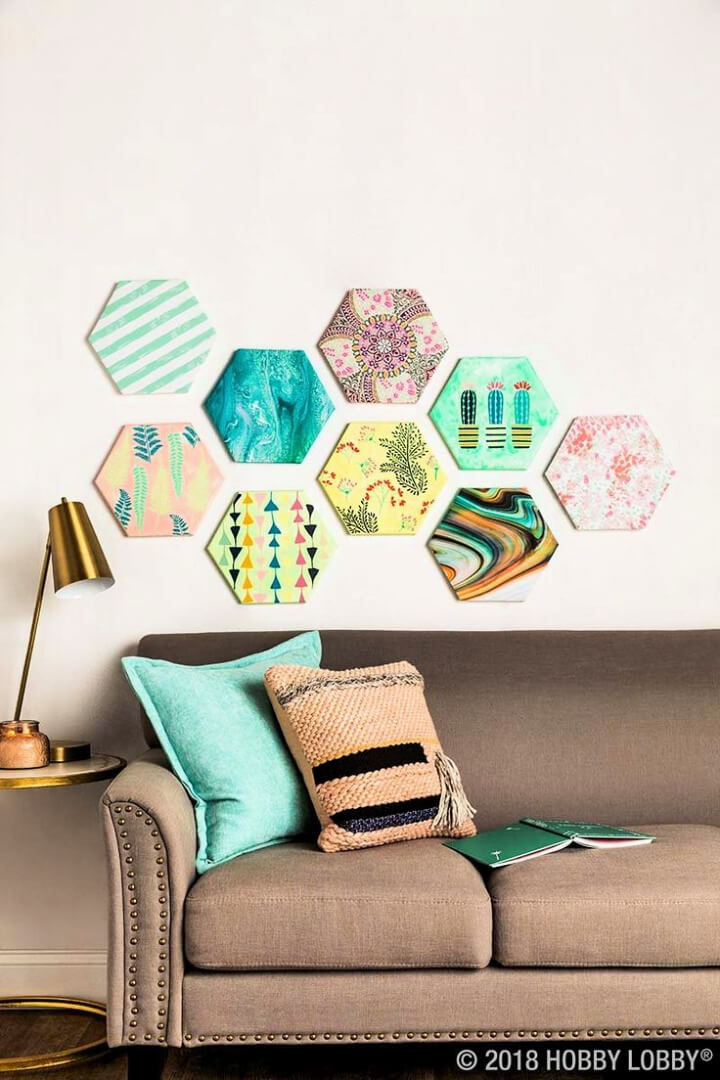 Simple yet so beautiful! Try putting up some pretty touching, and eye-catchy hexagonal or other shaped canvases themed up on a wall! Some simple striped designs or the cheery canvas paintings are brightening up the whole aura of the room.
99. Framed Art Collage Wall for Under $30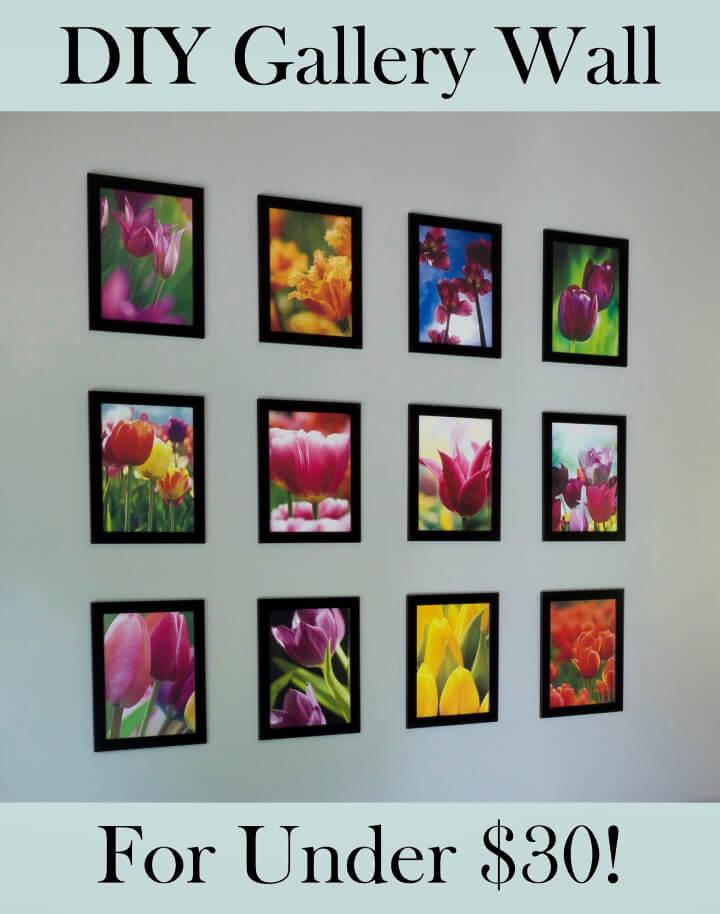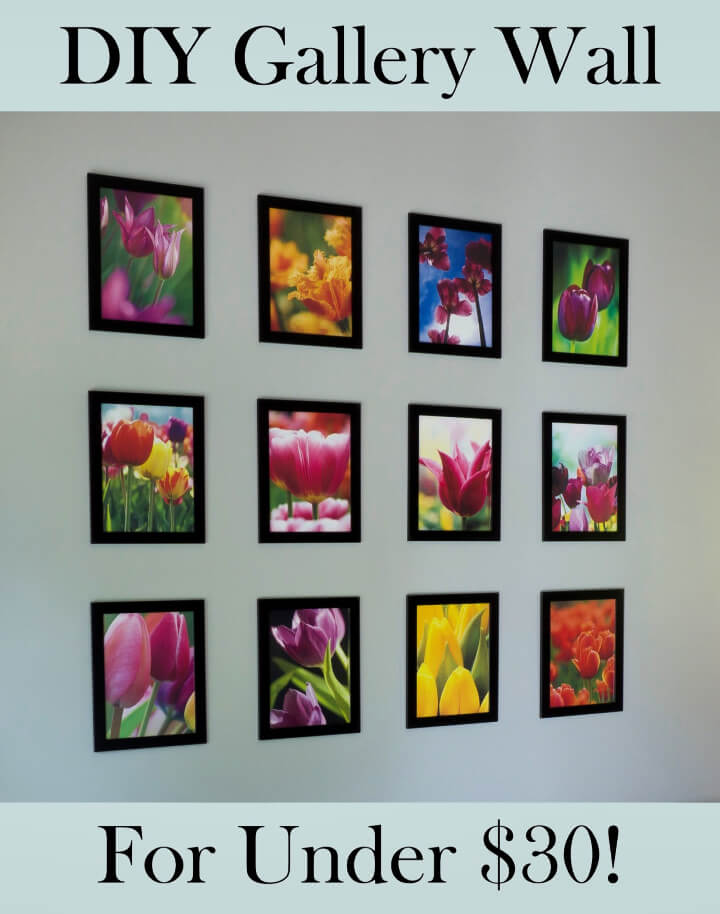 Pick some bright, bold, and vibrant floral art! Frame it up in a beautiful dark black-bordered frame and let's make this pretty enchanting and mesmerizing framed wall cottage! It is hardly going to cost you under $30.
100. Farmhouse Wall Layout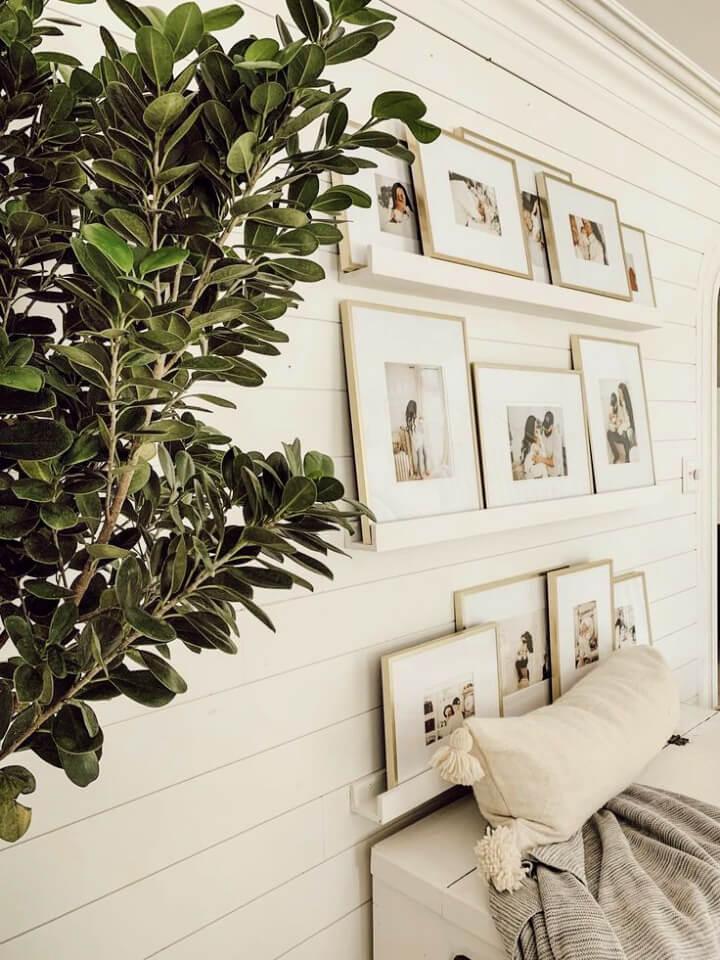 This farmhouse inspired photo wall layout is bringing a minimalistic and whimsical appeal to the decor! With some wooden shelves painted all white and the similar themed up white and stunning frames are adding up to it.
101. Office Wall Layout With Paper Flower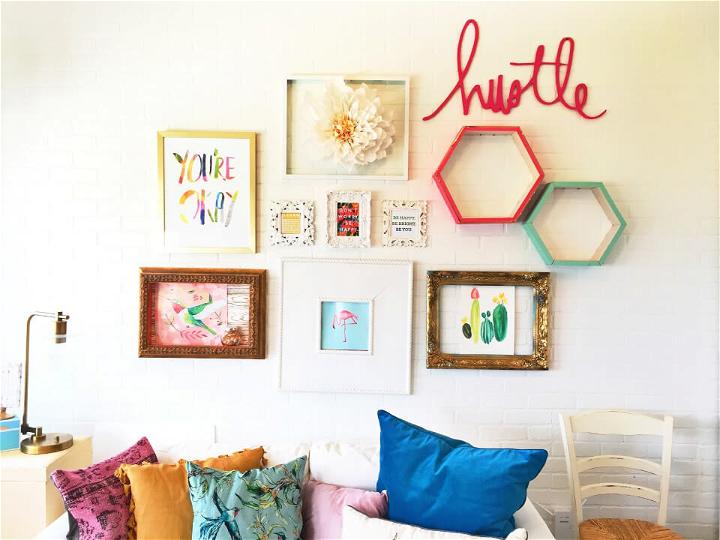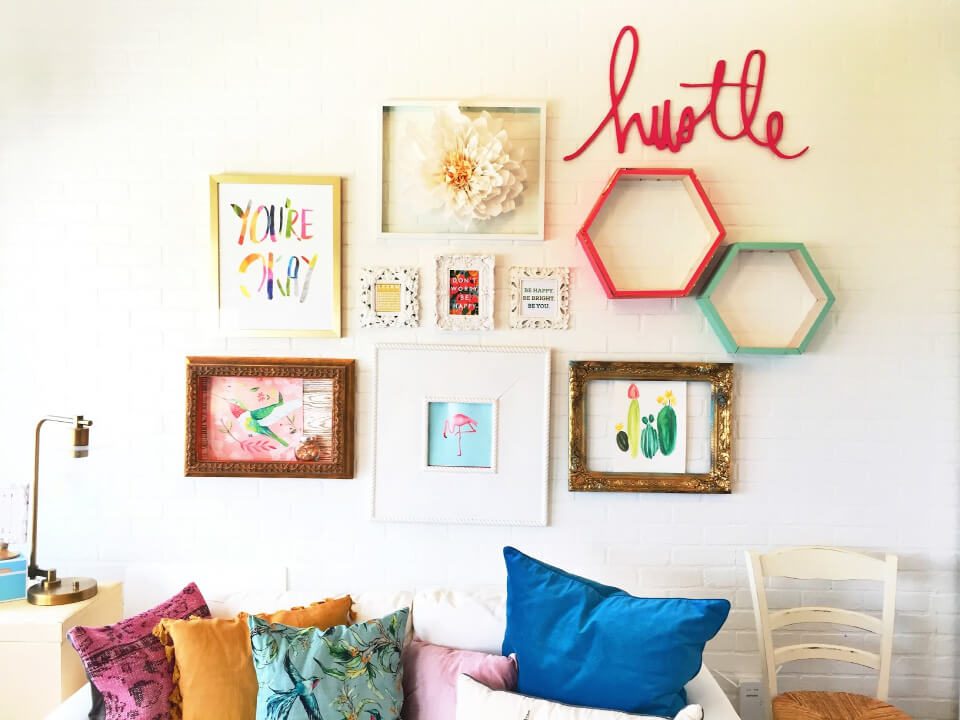 Because you are going to spend most of your time in the office, it has to be motivational, inspirational and at the same time pleasing with an inviting appeal! This photo wall layout with a huge paper flower and the light-toned frames is all up for grabs.
Do you love to reuse and recycle old material for your home decor to save your money! We have these DIY projects out of recycled materials that creative and easy to do.
No necessary to waste big bucks on photo backdrops when you can DIY your own for at no cost! Try these Backdrop Ideas for Photography that will help you shoot the best photos of your life!