Art in its every form is therapeutic! Given the stressful days and the ultimate race for meeting ends, everyone needs a free space. Free to be as creative as they would want! And nothing says creativity more than Origami! It is quite a trending Japanese tradition that involves folding paper into different shapes. Personally, I love origami flowers, and as spring is here, I decided to whip up a pretty mood-boosting easy origami flower. Now, my aim was to mix and match all the lively colors of spring together in one easy origami flower. This might look intimidating at first, especially if you have never tried it before. But, trust me, once you get hold of how to make an origami flower, you can make a bouquet all by yourself!
I decided to make my spring decor a bit more long-lasting this year! Hence, I am sharing with you these detailed origami flower instructions that can be quite helpful and are oh-so-thorough too! Let me first walk you through the background first! My origami flower is basically leading to make a Kusudama. Now, what exactly is a Kusudama? It is when some identical origami shapes are glued together in the form of a paper ball! They make custom gifts or decor pieces. You can make a collection of a colorful or single tone flowers ball too using this origami flower tutorial! But, first, let's grab the supplies.
Supplies Required
Paper pieces cut into squares, about 60 (the size is customizable as per your requirements)
Craft glue
Step by step easy origami flower tutorial
Now, let's have a detailed look at the most basic shape first! The main things to keep in mind about the final origami flower are:
You can make as many flowers you want, but each of them will have 5 petals, or these shapes (as seen below) glued together.
This will make in total about 12 flowers.
This means that there are actually 60 petals in total!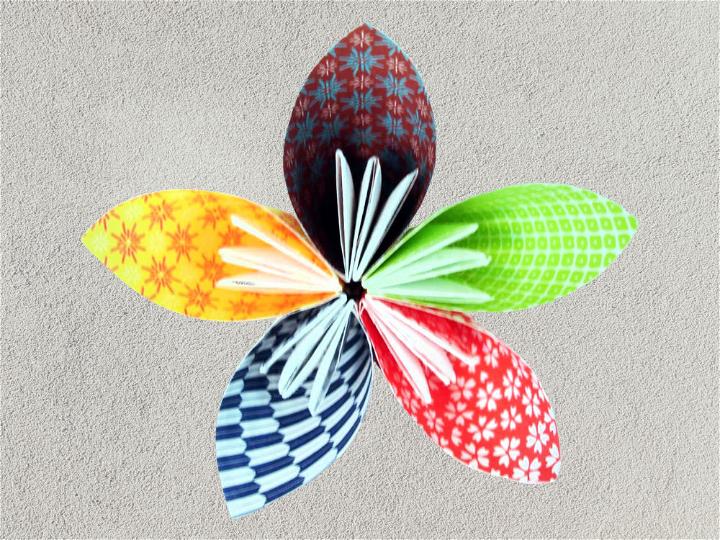 This may seem quite a lot to handle, but it's really just a game of getting a hold on the shapes. Once you know how to fold and go, you can easily make a charming origami flower following these instructions. I am going to share with you each folding shape detail, separately, below.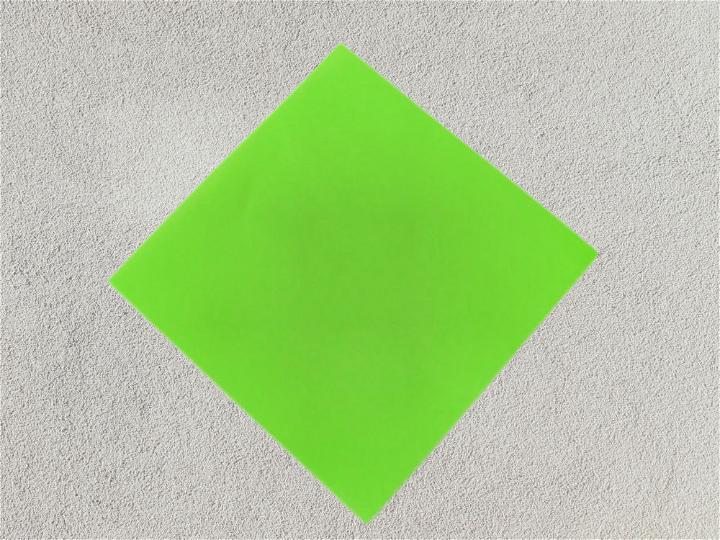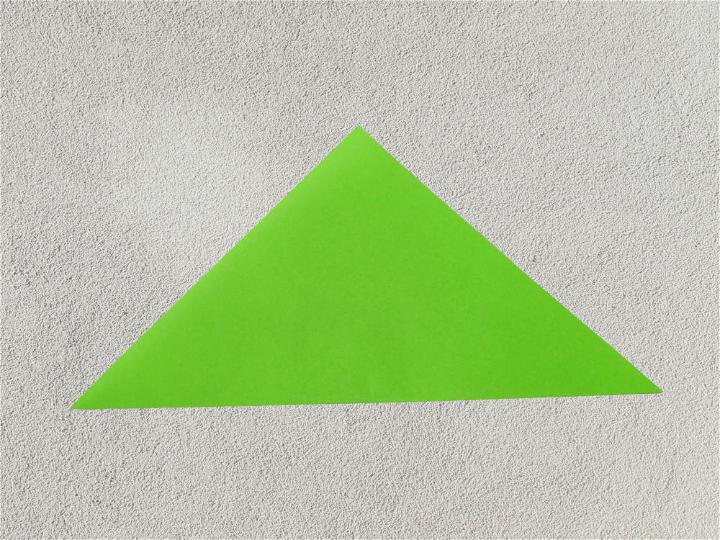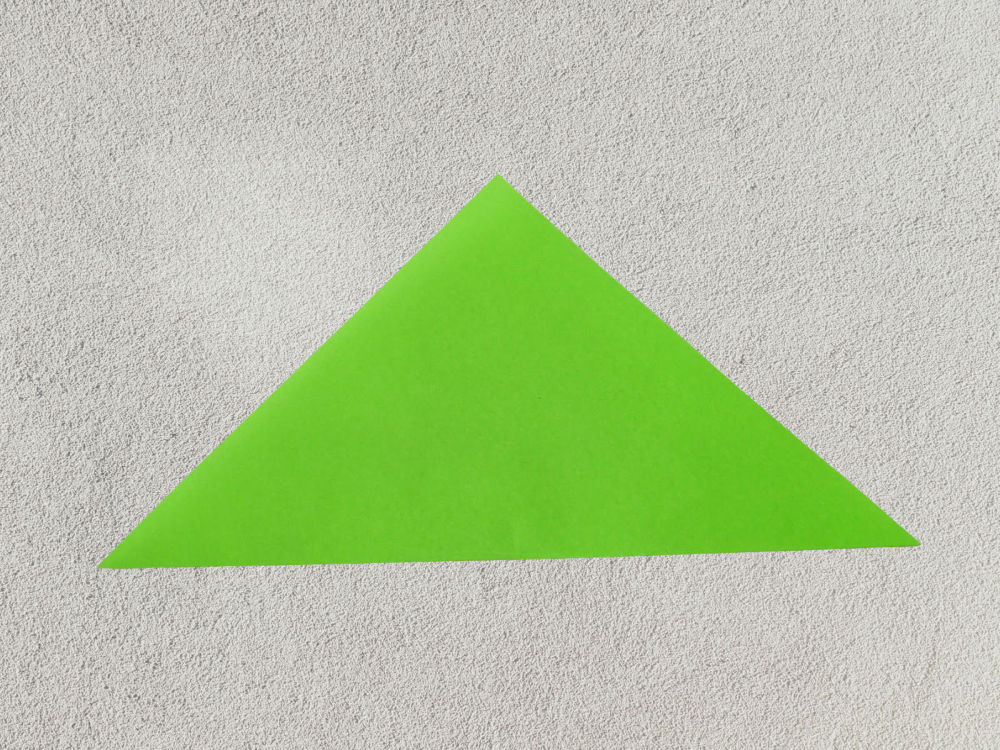 Firstly, make a simple triangle by folding from the bottom and taking it to the top.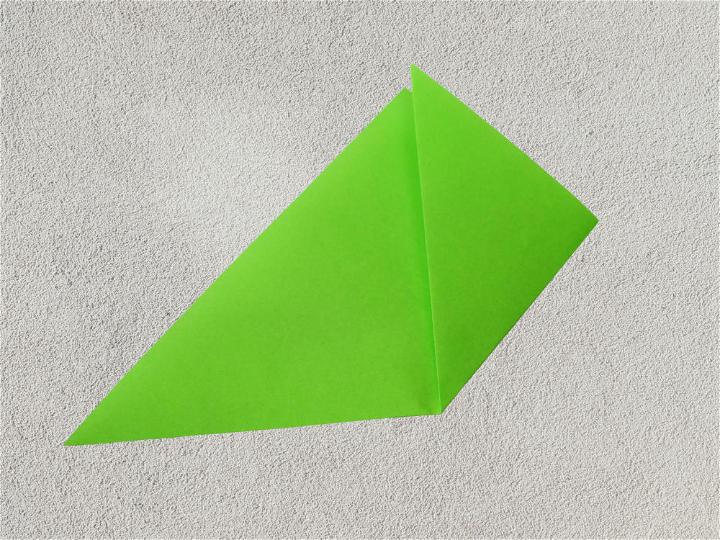 Next, now fold the side corners from the right and left sides to form a square. As shown in the image.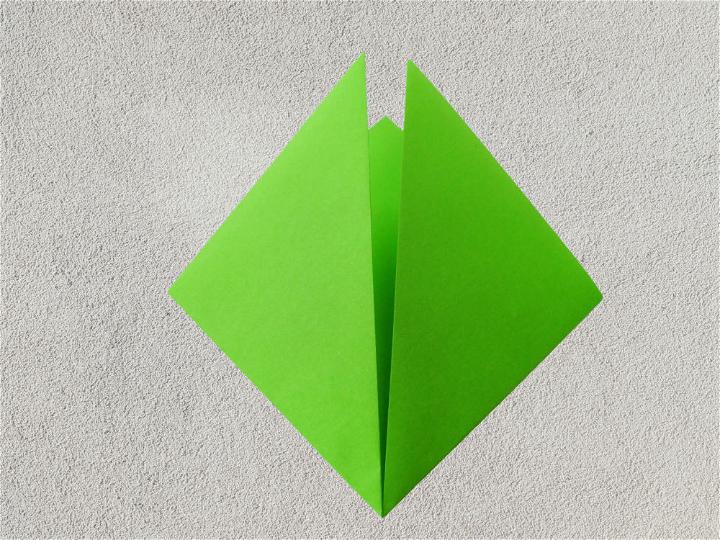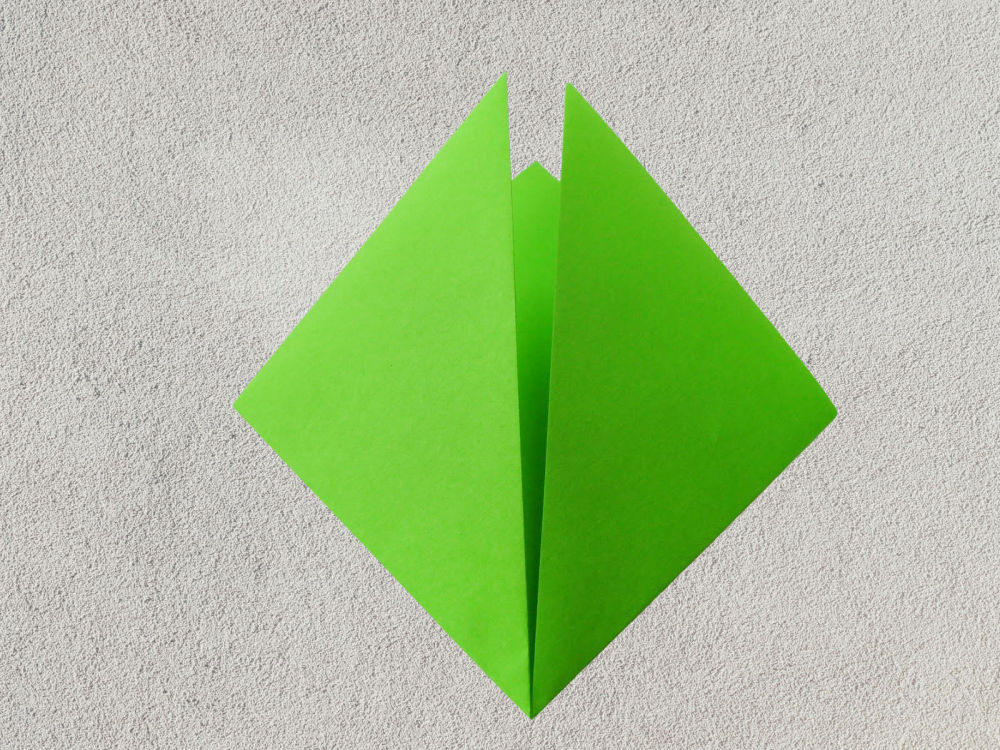 Now, by folding the same points, line them up with the outside edges of the square. It will look something like this.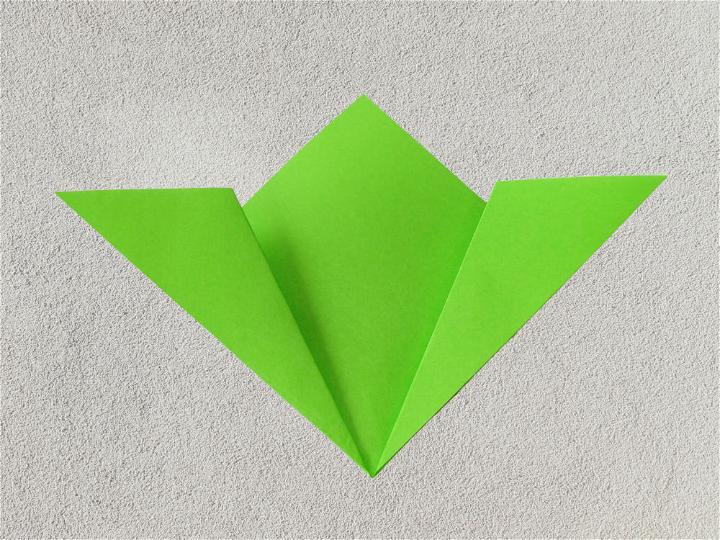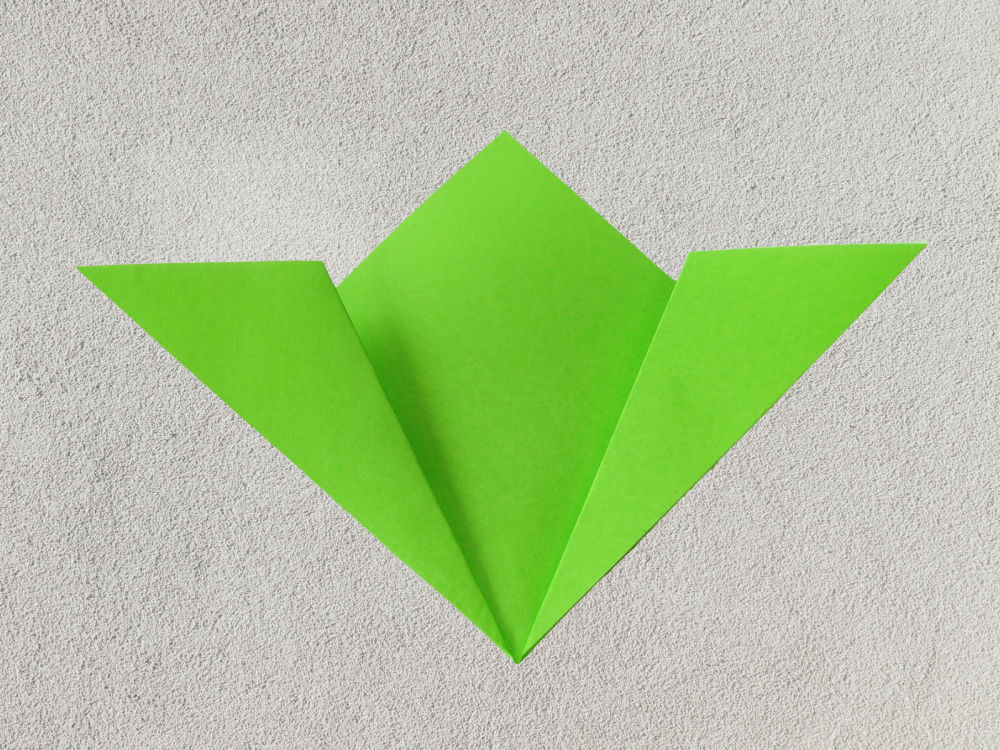 This might seem a bit tricky here, but let me walk you through. Now, you just need to open the folded edges you did in step 3. Flatten them by opening up the flaps at both ends. Pull out the folded parts by separating the papers.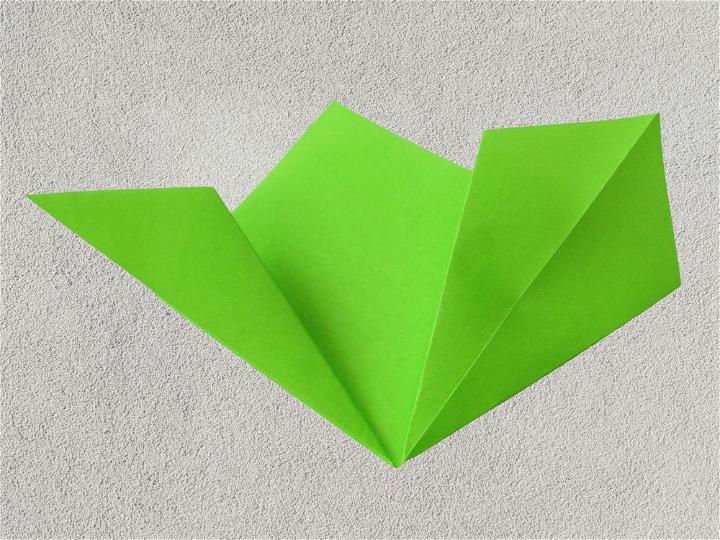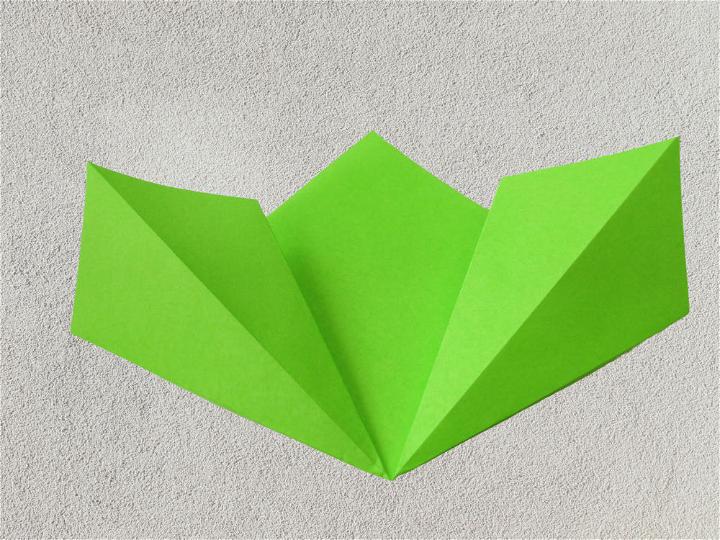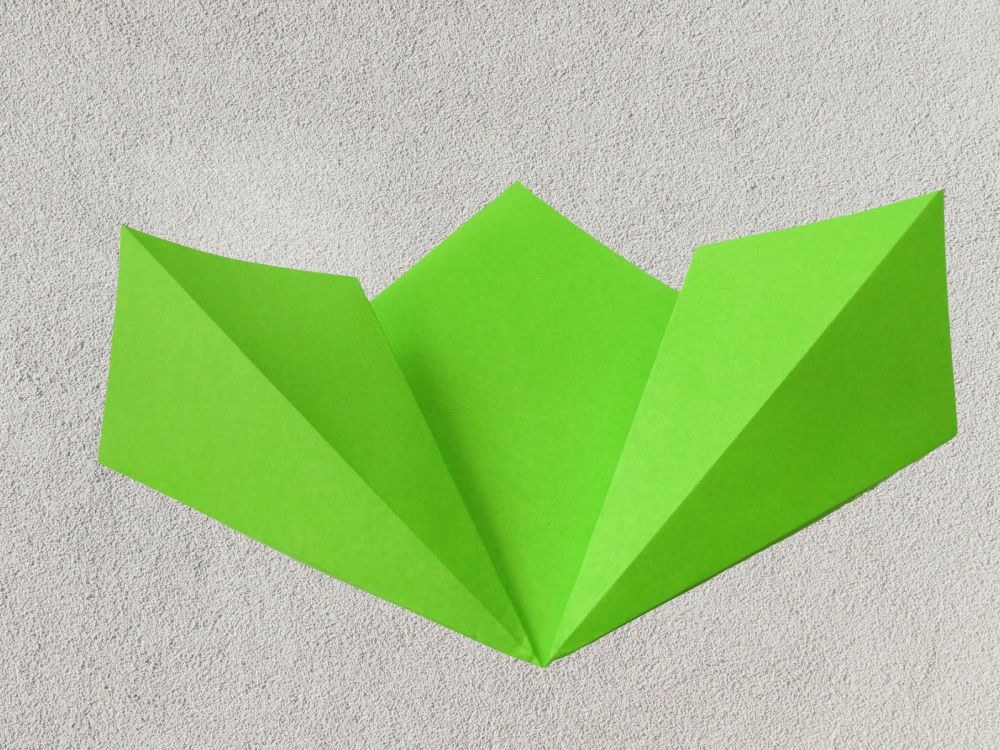 Don't worry about how it looks from the back! However, just for reassurance, if it looks something like that in the image below. You are doing great so far!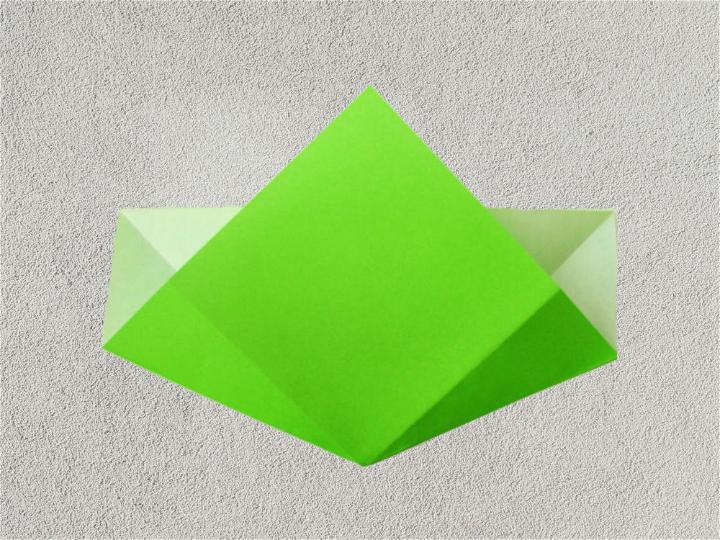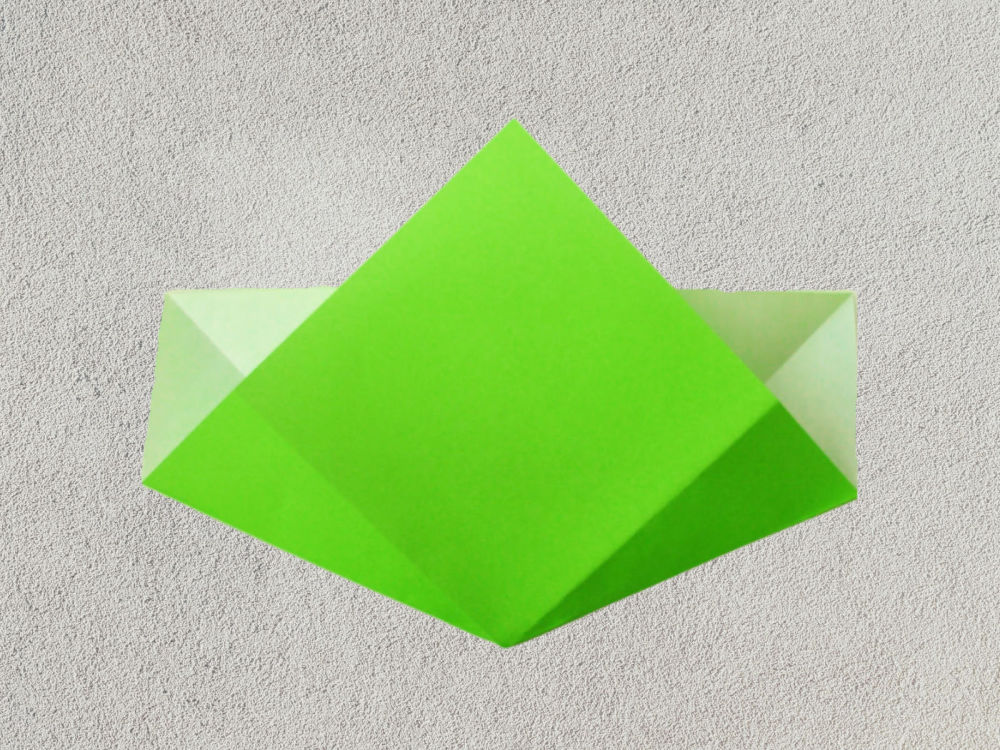 Now, coming back to the front side. Level the edges of the front side by folding the flattened flaps downwards from the extreme top.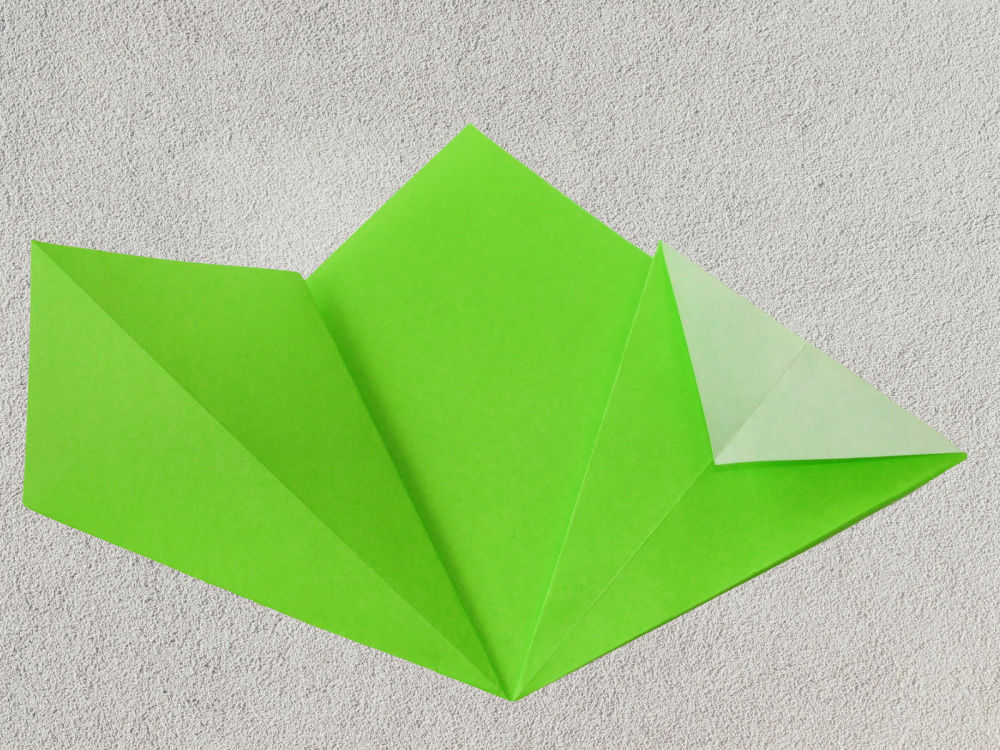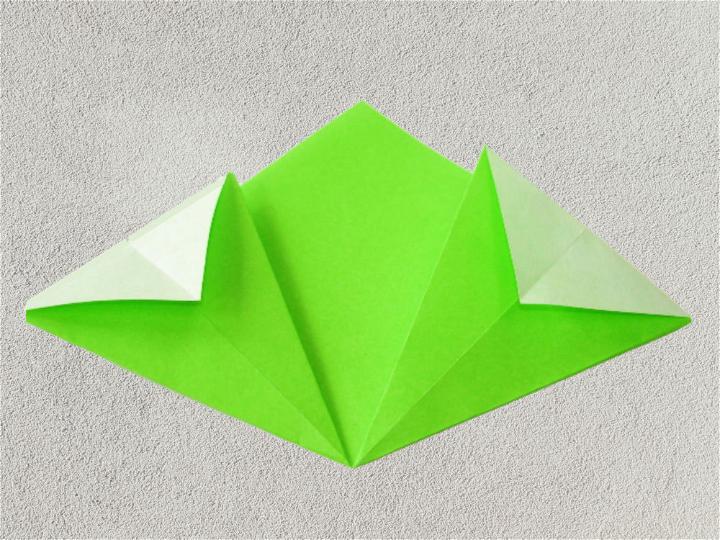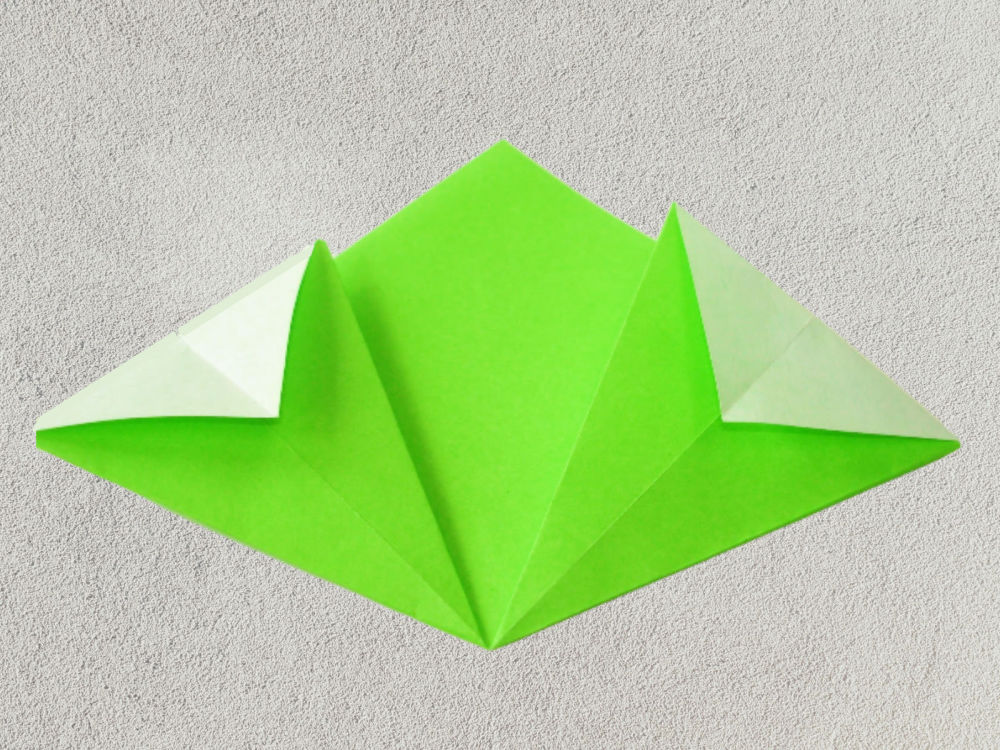 Working around the crease that you made before now, fold the triangles together and glue the outer ones forming something as below.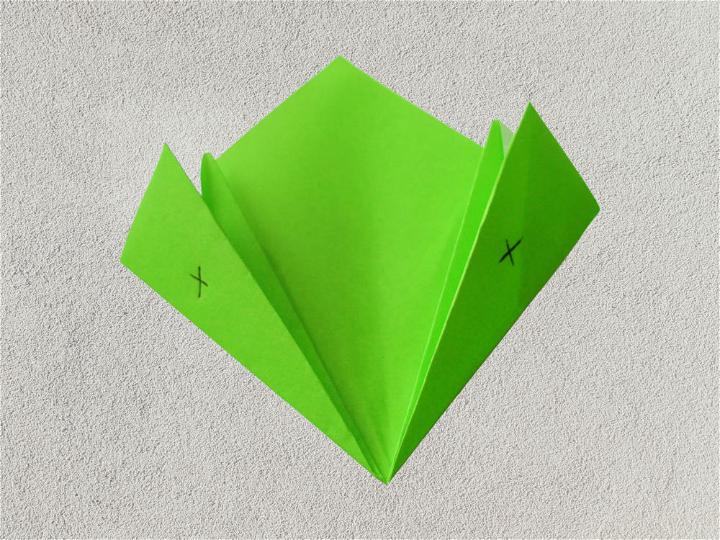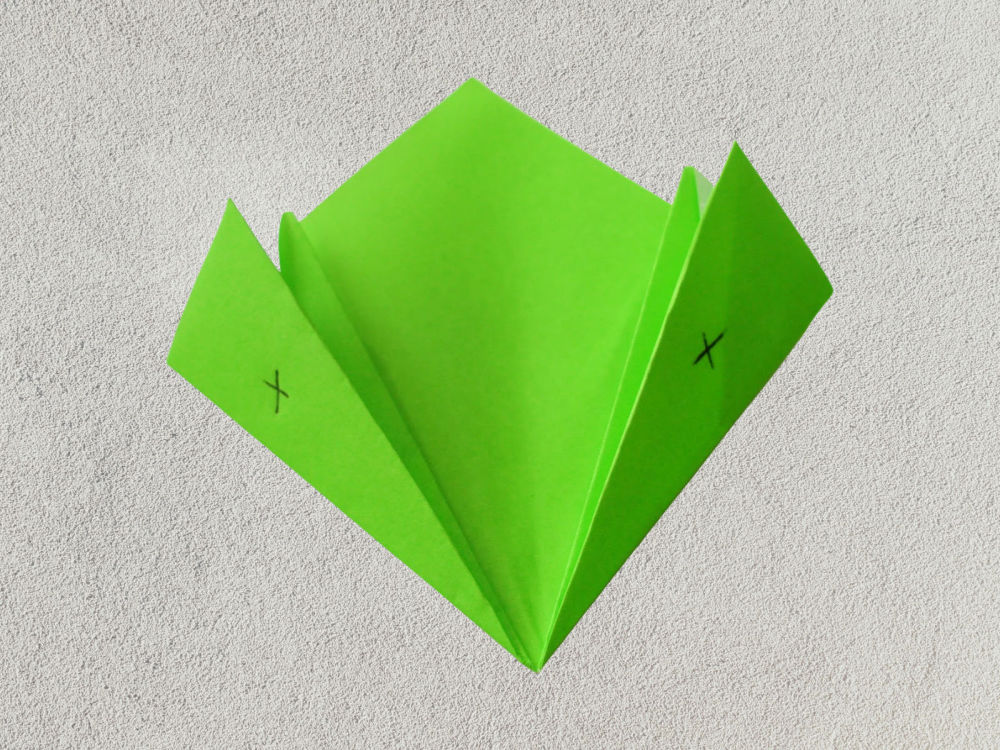 Here you go, your one petal is all complete! Just make five more of these to complete a whole flower.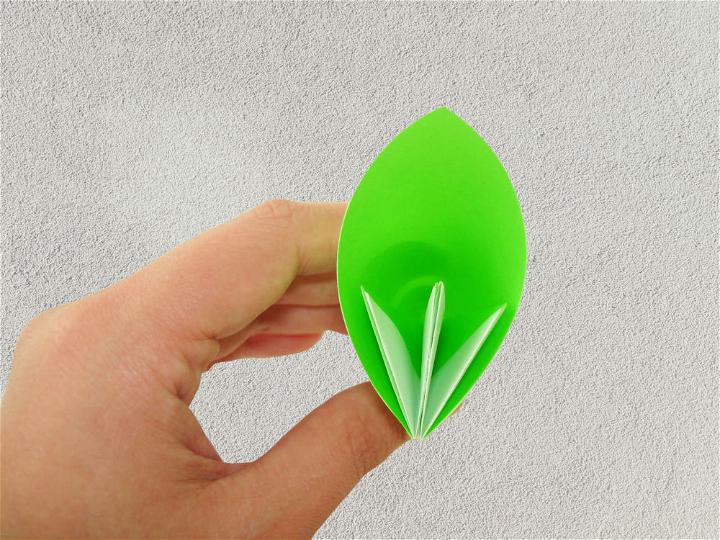 DON'T rush into gluing them together until the inner glue is dried 100%.
You can also use colorful or patterned paper to make these and eventually make a super funky and colorful Kusudama ball. Remember to make a Kusudama ball. You need to make at least 12 of these origami flowers!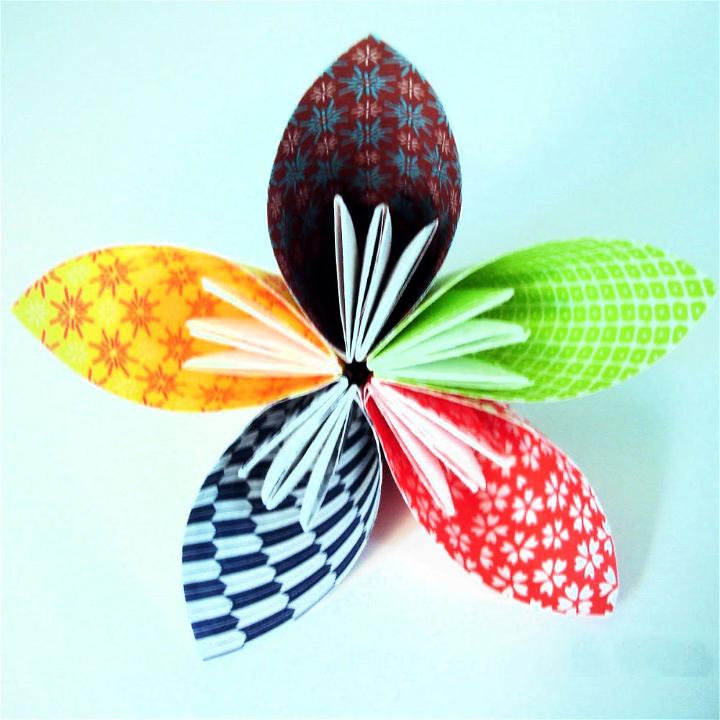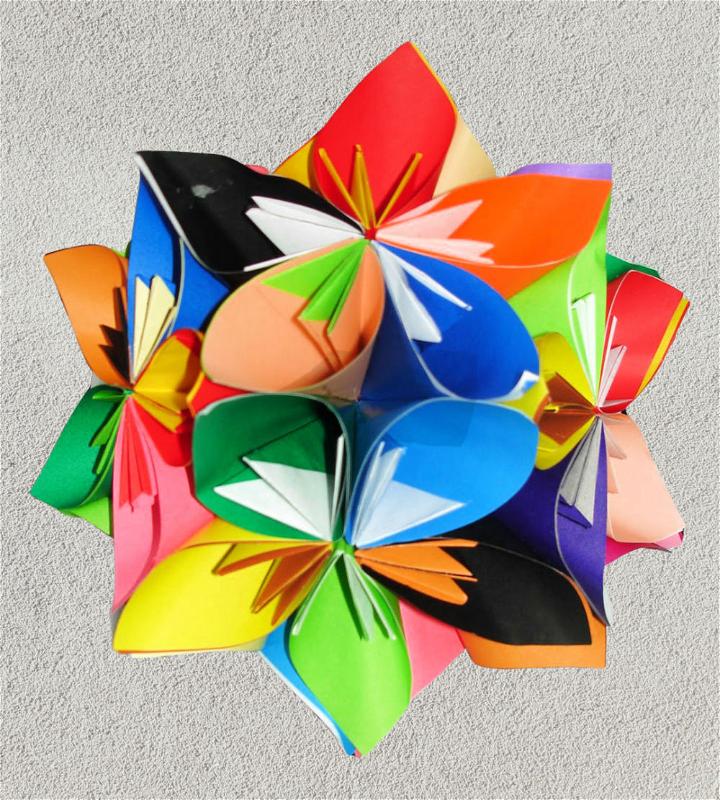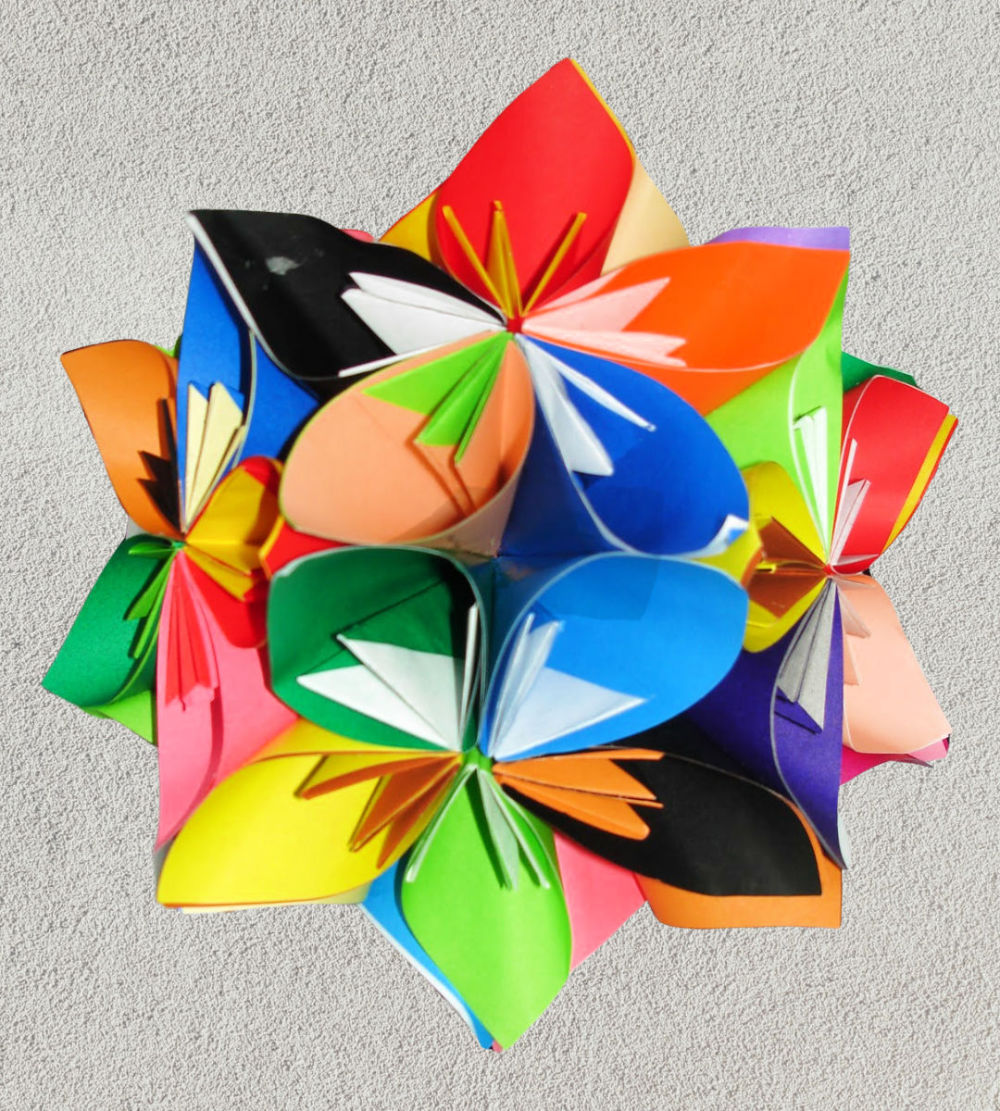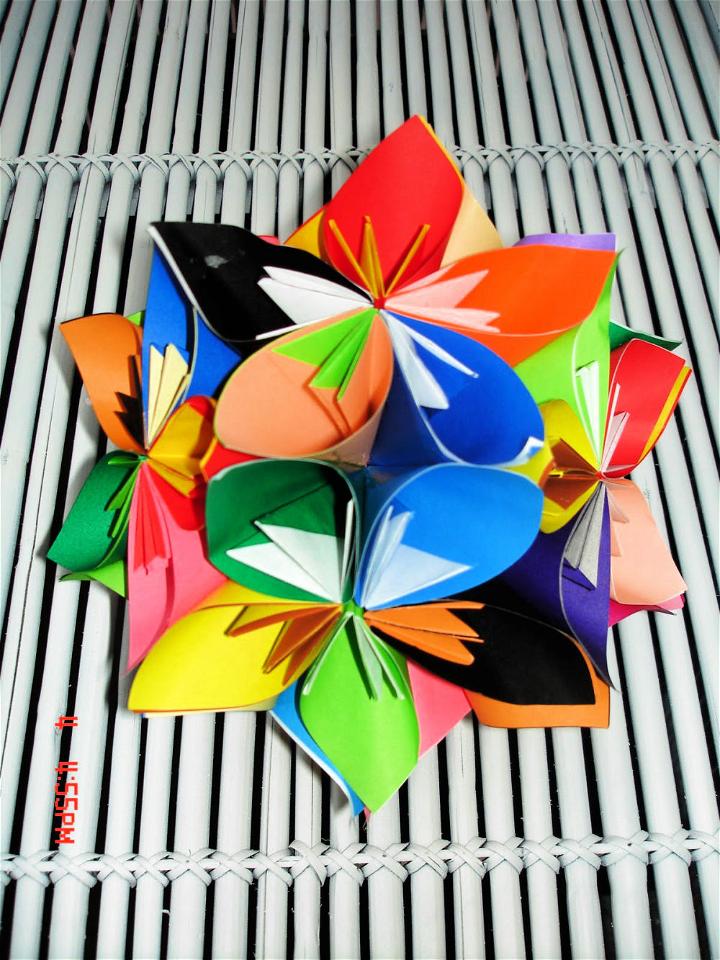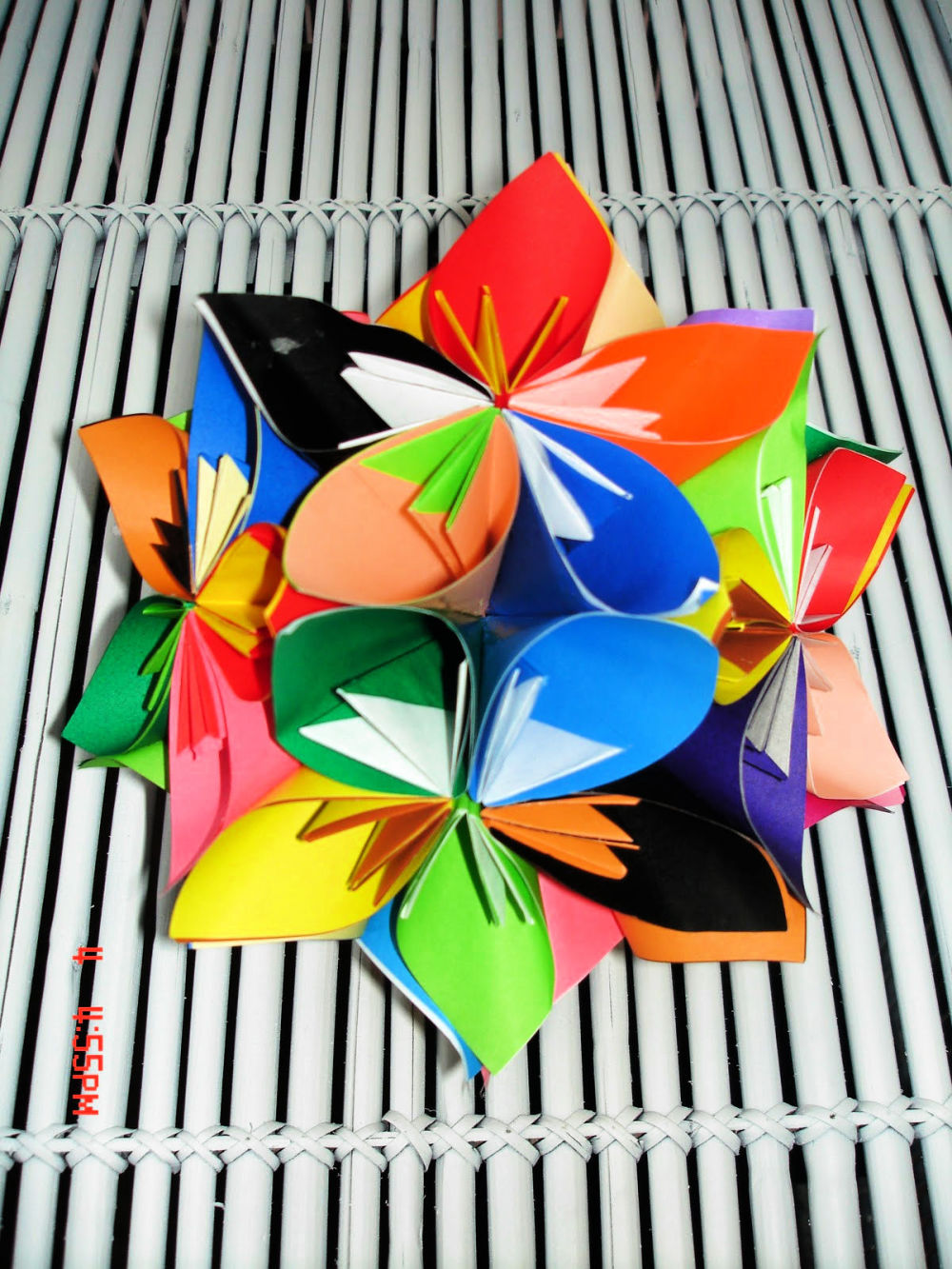 If you want it as your decor delight, add in a string in between the ball and hang it up anywhere you like! Enjoy making this super easy and uber-delightful origami flower.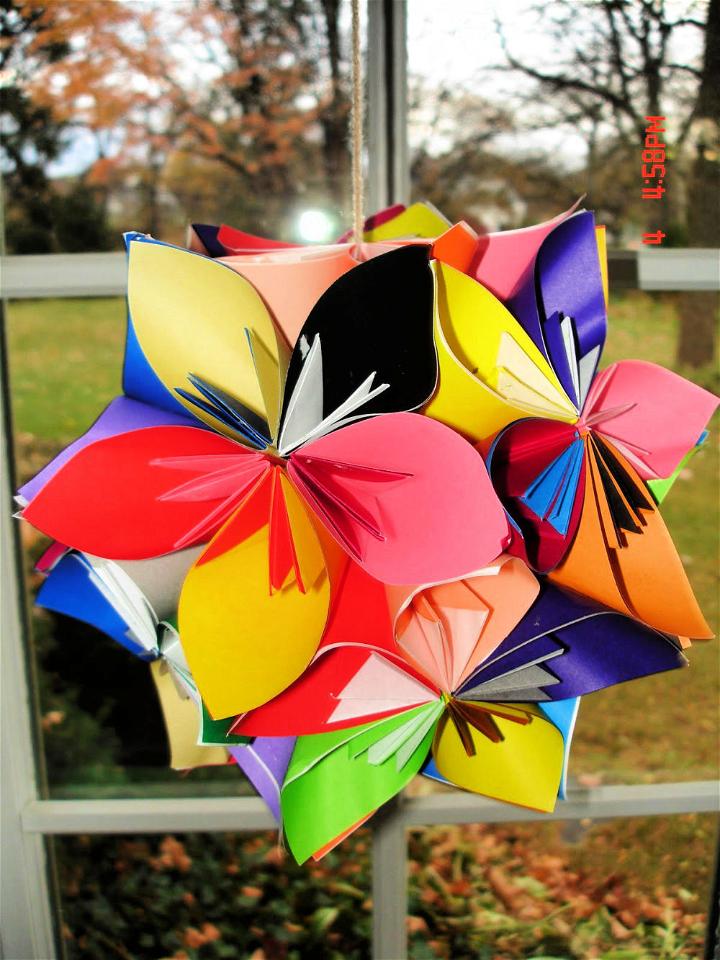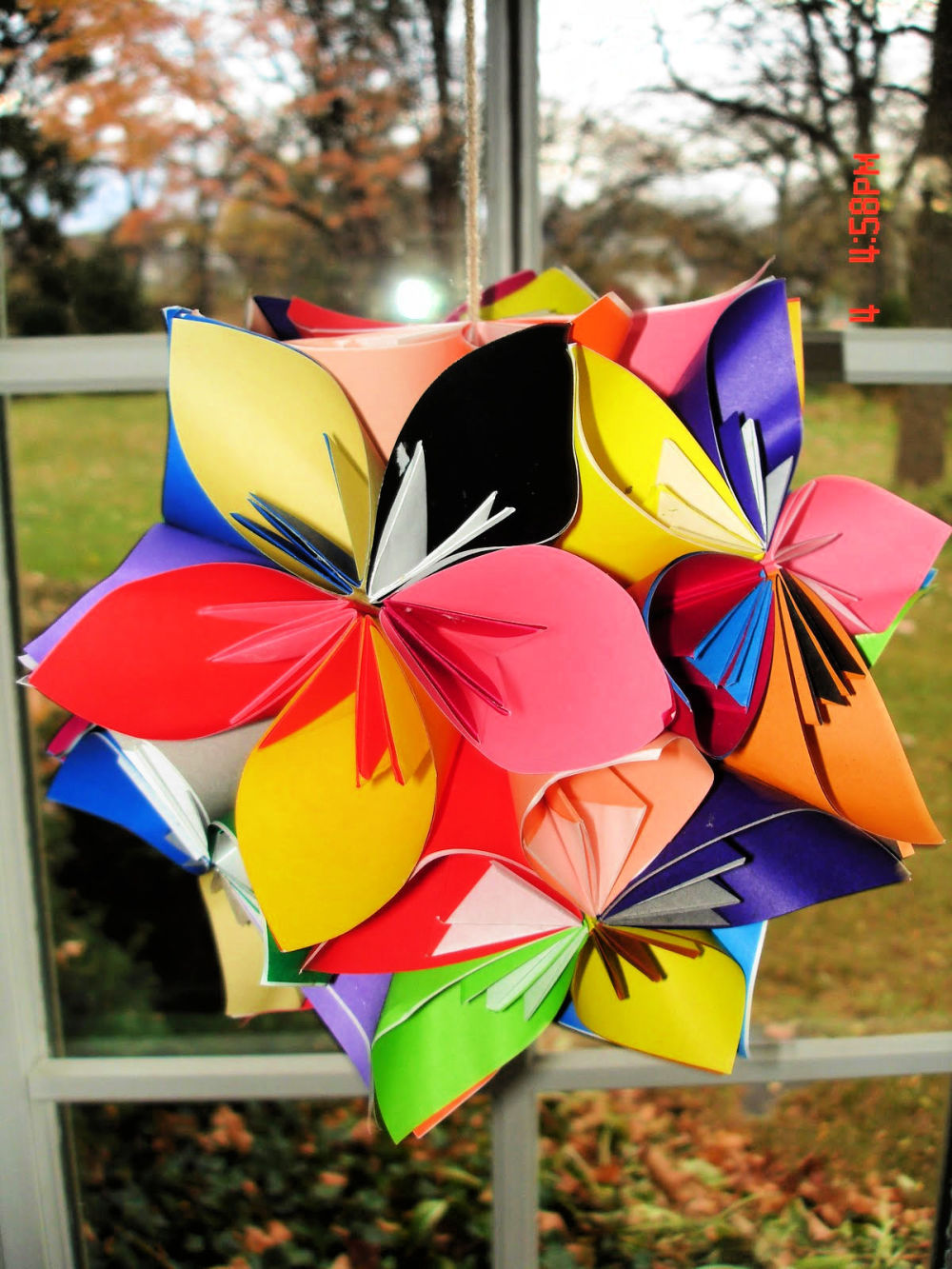 Using different colors can already bring spring inside your home with origami flowers. And hence all the good vibes too! Happy origami-ng, folks.