Keurig K cups are the go-to beverage brewers for both home and commercial usage. The most famous and widely used of these K cups is the Keurig's K-cup pods or the single-serving brewing system or containers. A morning without coffee is no morning! While you can find many K cups options in the market, but with this guide, we can help you shortlist the cheapest K cups of them all. Or to be more précised, the Keurig K cups – cheapest range! We totally understand that whenever anyone is making a buying decision, the choice revolves around two key decisive points:
Quality of the product
Budget constraint
A Keurig K cups can make your morning much less messy! No need to get into the annoying grinding process first and then whipping up a cup of coffee! Followed by the cleaning up later on. It is no hidden fact that Keurig's K cups are everywhere! They are the talk of the coffee town.
Mostly, because they are widely available everywhere! They can be re-used as well. Moreover, the licensed vendor list of K cups is wide! From Starbucks to Dunkin Donuts and McCafe or DeCafe, there's a choice for everyone to choose and start the day with their favorite and freshly brewed cup of coffee!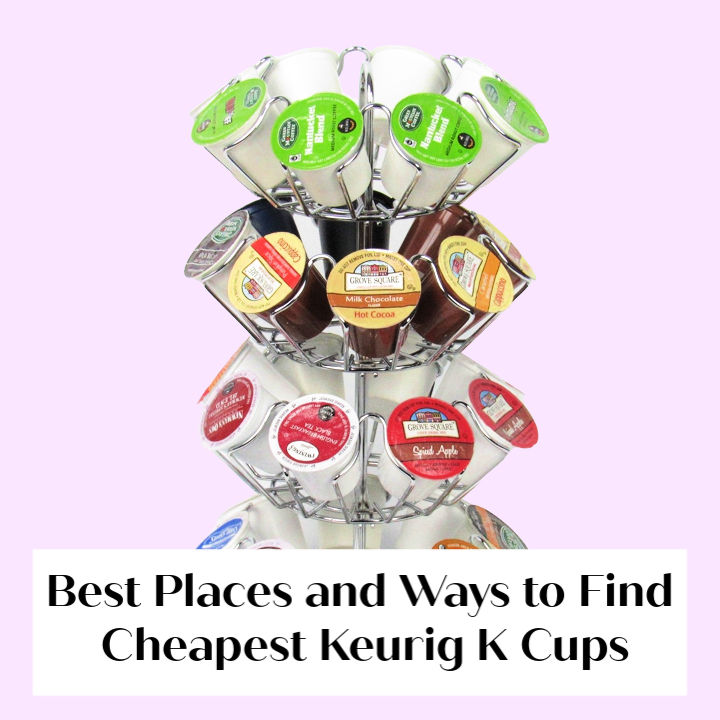 What are K cups?
Even though you have a little bit of idea about these famous K-cups, but have you thought what are they really? It is basically a sealed individual pod of ground coffee, hot chocolate, tea, or even apple cider. At the outside, a K cup has a tinfoil lead. It is moisture, heat, and light-resistant in its basic properties. All of this hence ensures that the product or beverage inside stays fresh!
You will be surprised to know that K cups are actually also recyclable or biodegradable. At the inside, a K cup has a filter (made of paper), affixed using adhesive and some ground coffee.
The entire mechanism of a K cup is to ensure a perfect cup of coffee! The inside structure makes sure that when the beans are out inside the cup, the air doesn't go bad, and the coffee has no spoilage!
How Do K Cups Work?
This is another interesting process that you need to know about a K cup! Just buying it because of its pretty impressive insides and outsides is not enough. How it works is even more exciting. So, what happens is water gets inside the machine from the water reservoir. Next thing you know, the machine heats up the water and pushes it to the K cup chamber.
The K cups chamber has two sets of needles! One of them works to puncture the top of the foil of your K cup. While the other one punctures the bottom of the K cups (where the coffee beans are) to start the brewing process! Now, the hot pressurized water gets pumped into the K cup, and needle number two does its magic.
The next question that must come to any buyer's mind is if I am buying K cups and a Keurig machine, do I need to be more specific with the two compatible versions of these? Well, this part answers that question. The shortest way to figure out if this K cups will work with your Keurig version is to look out for a "Keurig brewed" seal.
It is usually printed on the outer edge of every K cup. For instance, if you have recently upgraded to the Keurig 2.0 machine! And you are wondering if the K cups will work for both the older model and this new one, the short answer is YES, it will work! The only thing to keep in mind is to be sure to check the seal first and then buy it!
How Long Do Keurig K Cups Last?
The answer to this question can be a bit tricky! As you can see that there's an "expiry" date mentioned on the cup. However, in reality, a K cup can even last a year or longer than the expiry date mentioned. Given if it's seal is not punctured.
However, it cannot be ignored that as time passes, the taste starts to decrease. If you store them properly, and you are just using them in your single brewing machine that they can last quite a long time. But in case if the seal has been punctured, then the moisture can get in, and the wet cup can make mold grown in it.
Roughly or ideally, a coffee K cups can last for about 3 to 8 months. Whereas Tea k-cups can last for about 6 to 12 months, easily. These are the pantry expiration ideas, not as per the shelf expiration dates.
Where To Buy K Cups?
If you have a Keurig, then your most convenient option must be to go for Keurig K cups. However, it's not that economical or ideally affordable to always buy Keurig K cups! You can still take care of that by either buying K cups on sale or lookout for some cheapest places to buy K cups in bulk. To name a few cheapest places to buy K cups are Amazon or Costco K cups.
You can easily get a box of 100 CT ranging between $30 to $50. As for Amazon K cups, because they are the ideal option to just order online and get them delivered on your doorstep! We have dedicated the next section to Amazon K cups!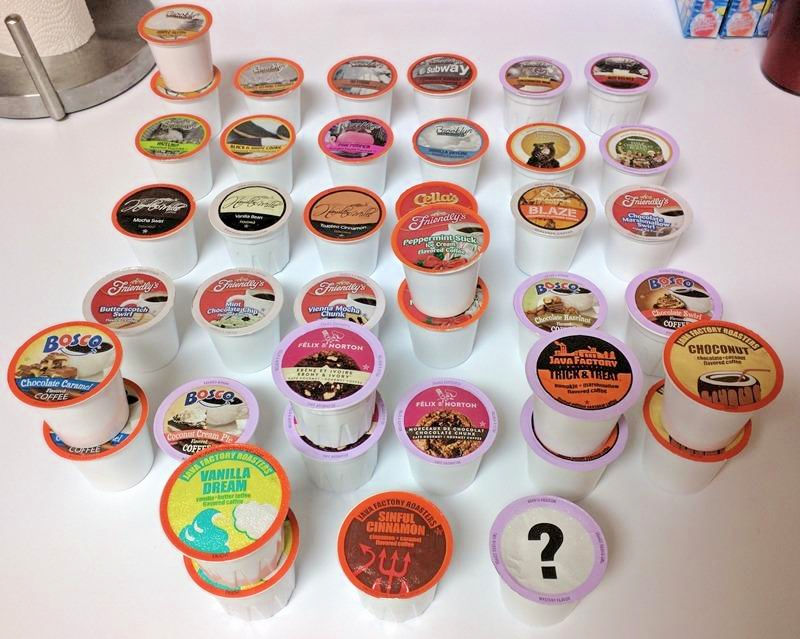 Amazon K Cups
If you go for Amazon K cups, the best thing is that you can find almost every brand available there! Secondly, it's no hassle at all. The order gets delivered at your doorstep, and if you place an order for more than 25 dollars, the shipping is absolutely free too!
This brings us back to the cheapest Keurig K cups option, at Amazon you can ideally buy the branded Keurig K cups from 0.30 to 0.50 dollars, each. And this is just for the Keurig branded K cups. For other brands, you can buy the cheapest in bulk with each cup even less than 0.30 dollars.
Best Place To Buy K Cups In Bulk
The best and wise decision to buy K cups, which can make them pretty affordable is to buy them in bulk. The best places where you can find the cheapest K cups in bulk can be Sam's Club and Costco, as well as Amazon K Cups. Other places also include the Caza Trail Coffee, Donut Shop, Green mountain coffee, revival roster, and Starbucks pile place coffee. The next section holds a pretty detailed collection of K cups brands, which you can try to get the best beverage out of your Keurig machine.
Starbucks K Cups
You can find a refreshing collection of Starbucks K cups on Amazon and buy at the cheapest rate as well! The most famous of Starbucks K cups are the pike place roast coffee. The aroma, flavor, body, and acidity all are at their ideal level. These Starbucks K cups are perfectly ideal for getting along with your Keurig machine. One cup in the morning or in the afternoon can kick start your day with some new positive and energetic vibes! Ideally, one box has 24 recyclable K cups pods. One K cup will cost you around 0.51 dollars. You can also buy in bulk like 4 boxes with 96 pods in total on Amazon. Find Here
Dunkin Donuts K Cups
The Dunkin Donuts K cups are the ideal to pair with your Keurig brewing wonders! You can choose from medium roasted to mixed roast variety on Amazon K cups versatile collection. One K cup will have cost you nothing more than 0.43 dollars. You can either get 6 boxes of 10 K cups or buy in bulk. The Dunkin Donuts K cups feature the 100% Arabica coffee. The utmost taste of a premium coffee blend! Find Here
Espresso K Cups
You can find Espresso K cups either on Target or on Amazon! On Amazon, you can find 100% pure Cuban coffee. It can give you exactly the ideal energy you need to kick start your morning with! You can buy in bulk the 96 K cups pack or either the less in either 12 pods or 24 K cups count. Each of these available at Amazon has the Keurig seal imprinted, and so they can work perfectly with your Keurig machine.
Tea K Cups
Not everyone is fond of coffee! Or not every hour is the coffee hour. If you love sipping a hot cup of tea, the good news is that your Keurig machine can also whip up that hot cup for you in just a few minutes! Stack up these Tea K cups and make tea anytime without any hassle. All of the cheapest Tea K cups available at Amazon are Keurig approved and are completely compatible with your Keurig machine. You can either go for the Twining English breakfast tea or the Celestial seasonings hot tea. One K cup will cost you around $.30 to $0.54. Get a one-time purchase or subscribe and save for more.
Cafe Bustelo K Cups
If you are a huge fan of Dark roast coffee or like to start your mornings with con chocolate, con Leche or even unflavored! Then Cafe Bustelo K cups are going to be a must-have for your pantry! It has the most authentic Espresso style coffee taste, and for a true coffee lover, there's nothing as precious as anything like this. The per count price is around $ 0.44. You can either make a purchase for single 60 or 72 count K pods or buy in boxes of 96 pods.
Victor Allen K Cups
If you have recently upgraded to Keurig 2.0, the question of which K cups will go for it must be hovering around! This Victor Allen coffee pods by Donut shop blend are perfect to use in your Keurig 2.0. The box has 80 single-serving pods, and the price per count is also very nominal. It is merely $ 0.33 per count. It has a complete 100% Arabica coffee blend taste and can make the perfect fresh cup of coffee for yourself in the mornings! You can choose from Morning blend, Kona Blend, or Italian roast. Get the Price
K Cups Coffee
As it is said that Variety is the spice of life! If you are the kind of person who gets bored by the same taste each morning, then these coffee pods variety pack is for you to spice up your mornings! Here, you can find about 40 exciting flavored and unflavored pods of different mixes. Including salted caramel, chocolate, death by chocolate, and a lot more. The per count price is about 0.60 dollars, which is totally worth it! You can expand your coffee tasting experience to a whole new level! The best part, there are NO duplicates of any flavor in these K cups, and all are compatible with your Keurig 2.0!
Gevalia K Cups
Gevalia K cups are promised to deliver you the ultimate smooth and the medium-bodied blend! It is not only 100% Arabica coffee but has quite the different blends to offer as well. One box has 100 K cups in total and also has the Keurig compatibility seal imprinted on it! The Gevalia signature blend's price is about $33.98, and the per count price for each individual K cup will be then $ 0.34! You can either buy single boxes of 100 or 36 in the count or go for the 4 boxes with 18 K cups each. The boxes are a combination of used and new K cups! Get the price here
K Cups on Sale
If you are looking for coffee K cups cheapest or K cups on sale for a fresh yet economical morning coffee/tea experience, check here! The list of branded K cups all compatible with Keurig 2.0 or others with the imprinted seal of Keurig can be found here. From the Donut shop brand to Amazon's own brands, there is quite a list of refreshing and 100% premium or Arabica coffee brands listed here. The price range is also between 50 dollars to 30 dollars or even less for a box with used and new K cups! These K cups on sale are bound to give you the taste of coffee that you get and adore at the restaurants.
Folgers K Cups
Buy the Folgers classic roast K cups coffee for a 72 count starting from $ 41.98! The medium roasted Folger K cups in 144 count can be purchased at the ultimate economic price of $75.96. Each K cup has flawless packaging. It completely restrains light and air to get in, so there's no place for humidity to make way through! Get Price
Hot Chocolate K Cups
Stock your kitchen with over a month full supply of these Swiss milk hot chocolate K cups! These are made with premium cocoa powder and contain non-fat milk. The price range is starting from 8 dollars to 31 dollars. Either buy the K cups in bulk, i.e., the 2 packs with 16 count in total or the 12 K cups. Get Price Here
Decaf K Cups
Buy the custom variety pack full of different flavors and mixes of Decaf K cups! You can find the perfect 40 K cups counts with a variety of different and exciting K cups flavors. You don't even have to buy different or multiple boxes. The starting price is from $29.99 and has the ultimate decaf love oozing out of it! The K cups in it are repackaged, and they work perfectly well with all your brewers! Including Keurig 1.0 and 2.0 brewer as well. Get The Price
McCafe K Cups
Buy the ultimate McCafe K cups, here! With the 100% Arabica coffee beans delight, offering a balanced and smooth cup of coffee to win the day. Buy the K cups in bulk with 84 pods in one box, this will cost you 32.15 dollars. With 0.38 dollars for each count. Buy a pack of 1, pack of 2, or a pack of 3 or 4. If you are not looking for buying a lot of pods at once, you can go for the 36 counts pod as well. It will cost you nothing more than $16.59! Price here
Swiss Miss K Cups
Bring the ultimate soothing and warm hot cup of chocolate therapy to any dull day! Buy the Swiss Miss K cups at a very economical price ranging from $ 16 to $ 34. Buy in bulk like 2 boxes with each containing 16 pods or go for a single box 16 count pods. Each pod serves a perfect blend of a single serving hot cup of coffee! Get them here
Green Mountain K Cups
How you start off your morning is the most important vibe that defines your whole day! Now, if you are a coffee person, then these Green Mountain K cups can make your mornings way more exciting and better. Buy in different flavors, including breakfast blend, breakfast blend Decaf, caramel vanilla cream, dark magic, country blend Decaf, and many other exciting flavors!! They are all some of the exciting and vibrant tasting coffee joys. Either buy in 50, 24, or 72 counts and enjoy the ultimate coffee experience! Each pod comes with a Keurig logo and hence is bound to give you the flawless taste. Find Price Here
Walmart K Cups
This collection of Walmart K cups can be the personal favorite heaven for any coffee lover! You can find a sampler variety package full of different flavored cups. Find coffee, hot chocolate, or cider all in one place by getting your hands on Walmart K cups. From Donut shop, Gevalia, Cafe Bustelo, Starbucks, and many other bestsellers and top brands of K cups!
Get medium roasted coffee K cups or go for iced tea K cups, there are quite many exciting flavors awaiting. Buy in bulk and enjoy a nice cup of coffee with much less pressure on your wallet.
Green Tea K Cups
Make yourself and an exciting and ravishing cup of green tea! Using your Keurig machine, whip up a refreshing cup with green tea Keurig K cups. You can either brew it in 6 oz. or 8 oz. The twining of London tea is full of a wholesome green tea experience and can bring you a freshly brewed cup of green tea! Aromatic and refreshing at the same time. Buy a pack of 6 with 12 counts or a pack of 1 with 24 counts. Also, don't forget to check for the celestial seasonings hot tea variety in single-serving packs! Buy Here
Maxwell House K Cups
Maxwell house K cups have to offer the ultimate 100% Arabica coffee beans taste! Get a pack of 1 with 100 counts, price starting from $40.26! These Maxwell house K cups are perfect to use with your Keurig machine, be it 1.0 or 2.0. Not just that, the seal imprinted on the bottom left corner can also be a big relief to see that these pods are compatible with all Keurig's! Purchase Here
Biodegradable K Cups
With environmental problems getting bigger each day, play your role, no matter how small it looks, to make the biggest difference! No need to say no to coffee if you have recently become more inclined towards environmental health priority. Instead, change your Keurig to these biodegradable K cups. They can really make a difference by making the environment fewer pollutants free. Make great coffee with absolutely more less plastic involved in it! You can either buy the Faro roasting house compostable variety or other brands as well. The cost is also quite affordable under or in the range of 40 dollars. Buy Here
Half Caff K Cups
Get the half-caff K cups for making yourself exactly the kind of coffee you need to start your day! Buy the Green mountain coffee roasters in Half caff with single-serving pods in just 1.15 dollars per each. Or the Skinny girl half-caff coffee in single-serving cups. Hit the two birds with just one taste! A great cup of coffee but with much less caffeine. Buy Here
Cappuccino K Cups
Nothing says coffee truly like a Cappuccino K cup! Now, no need to rush to Starbucks or other coffee places to get the ultimate coffee taste. Whip up a smooth and blended cup of coffee using the cappuccino K cups. Go for Twisted pine in French Vanilla flavor with 0.54 dollars per each count. Or buy the Gevalia cappuccino K cup pods, with 3 packs in 18 count total. And only at a price of $1.54 per each count. You can see many other exciting flavors here, including caramel, French vanilla, or French vanilla latte. Buy from Amazon
How To Recycle K Cups?
Now that you have got all the things you need to know about K cups!! Moreover, all the exciting ways to make your coffee, tea, and hot chocolate experiences more vibrant! It's time to get a bit more informed about recycling your K cups. That's true! Apart from the recyclable and biodegradable K cups, you can still recycle your K cups by going more smartly! It can help you with your budget, and you can also contribute something to the environment. While coffee machines like Keurig have made our lives much easier but the amount of surmounting coffee pads can be big trouble sooner or later! As they fill a huge amount of landfills.
A Keurig K cup can be reused or recycled depending on the kind of K cups you are using. It has mostly to do something with the number of plastic it is made of (which ranges from 1 to 7). However, you can try to recycle K cups by peeling off the foil first and then removing the paper filter and grounds. You might need to look out for the special K cups cutter too.
Reusable K Cups
These reusable K cups are ideal to use with the classic brewers' series. They have an easily removable lid for refilling and definitely cleaning. If you don't like going out and or even ordering online a variety of K cups, then reusable K cups is your savior here! Plus, it can be your way of contributing positively to the environment. These can be easily filled either 4 to 12 ounces, depending definitely on the size of your brewer. They are also dishwasher safe! Either buy the four Keurig filter cups by Brewslang at $8.45 with 2 new and 2 used K cups! Or go for 12 used and new from $14.60 K cups. Find more
Conclusion
To conclude, K cups bring a more personalized and more freedom-oriented coffee, tea, or hot chocolate approach to your life! However, you have still got to play smartly while buying these K cups. By play smartly, we mean to buy in bulk – to save money. Go for a small package first and try new flavors this way! The most important of them all is to look out for the Keurig seal imprinted on the box to make sure it is compatible with your Keurig! Try opting for reusable and recyclable K cups to not just have a perfect cup of coffee but also do that with responsibility and a really cheapest K cups option ever.