For whatever reason, we all have been there, liking and then letting go of a very expensive cat tree! And, not just a very expensive but like unreasonably expensive. Hence, we have rounded up below these lovely and super easy to whip up, 22 DIY cat tree plans to build for your cat. In reality, they might seem so overwhelming at the store with their flashy prices and everything, but actually, they are pretty easy to make. Plus, this cat tree plans roundup that we have here is a combination of pure construction from the start to just fixing up some reusable materials!
From a multi-platform DIY cat tree to wall attached platforms, our collection of these DIY cat tree plans is really fascinating at so many levels. Also, to mention the best part, these are all perfect to not mess with your décor. Like our Saguaro cactus cat tree is, in fact, a very bright green scratching post with blooming flowers!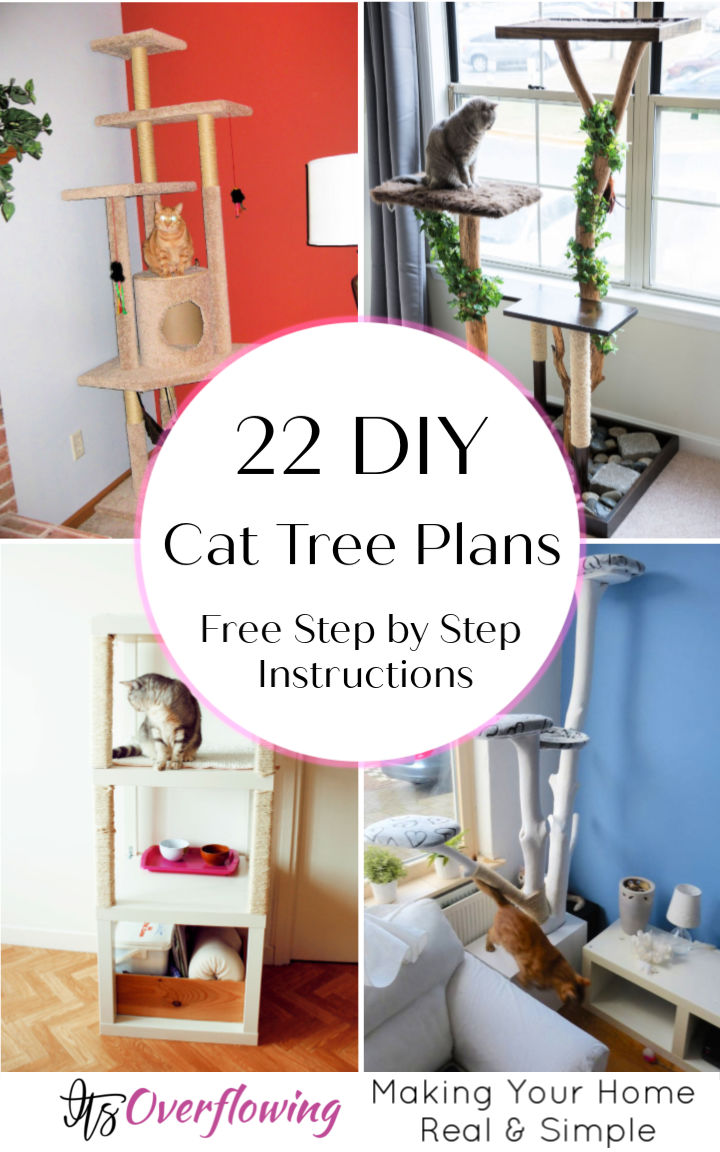 Or, for that matter, how about some live edge tree decor, which can also serve as a cat tree? You would love our quick to assemble IKEA cat trees, and especially our nature-loving readers can bring in the freshness of real branches inside the house. So, there's literally best DIY cat tree ideas for EVERONE down here.
1. How to Build a Cat Tree
Who says that the perfect furniture is only for humans? Your furry fellow also deserves a purrfect home to scratch and nap! And this DIY cat tree has all those things, so basically, it's a cat haven, cat condo or you may say sweat home. Make this ideal home for your cat by using wooden boards, carpet, bolts, sisal rope, and some other supplies! The Experimental Home
2. DIY Cat Tree Using a Real Tree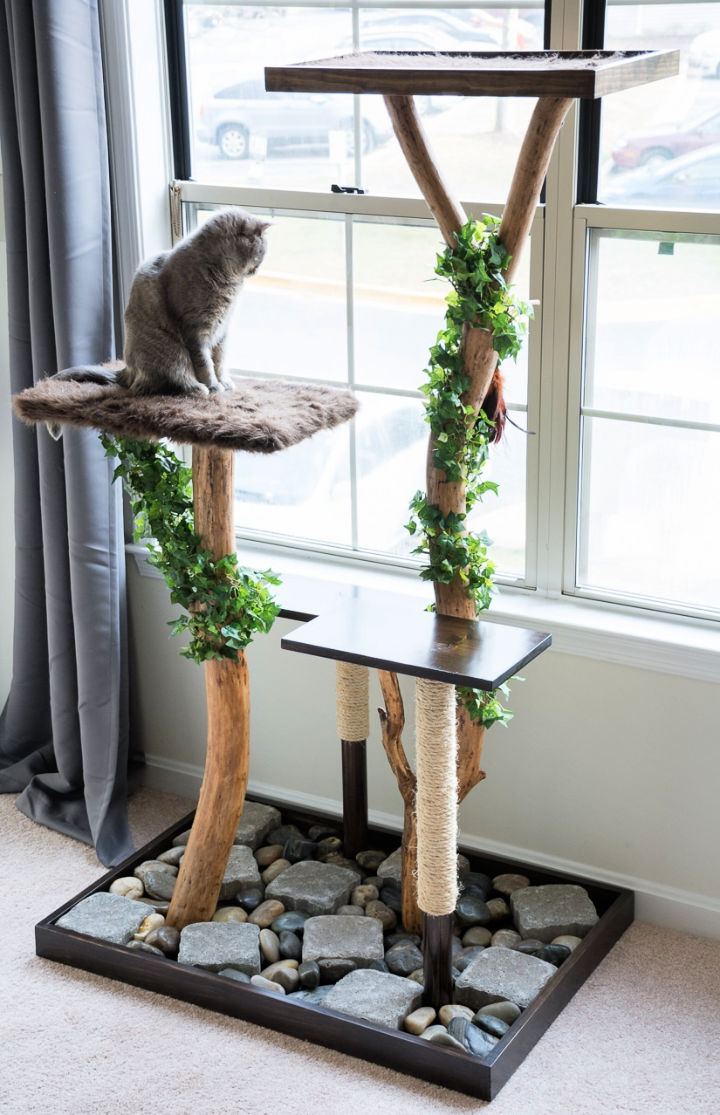 Have you too been dreaming of building a cat tree with real branches? Well, if yes, then you have landed in just the right place. What you need is a pair of branches, one big and one small. Stain, sisal rope for the scratching post, and some other supplies. bybrittanygold
3. 6 Feet Tall Cat Tower Plan
If there's one thing every cat owner is worried about, it's how to get their furry friends down from those tall spaces, they keep jumping on! The fear is relevant as for inside cats, you can't really say if they can make it safely down. But, with 6 feet tall DIY cat tree is ideal for both you and your pet. They can jump on and off easily while not giving you a heart attack every time! imgur
4. How to Make a Cat Tree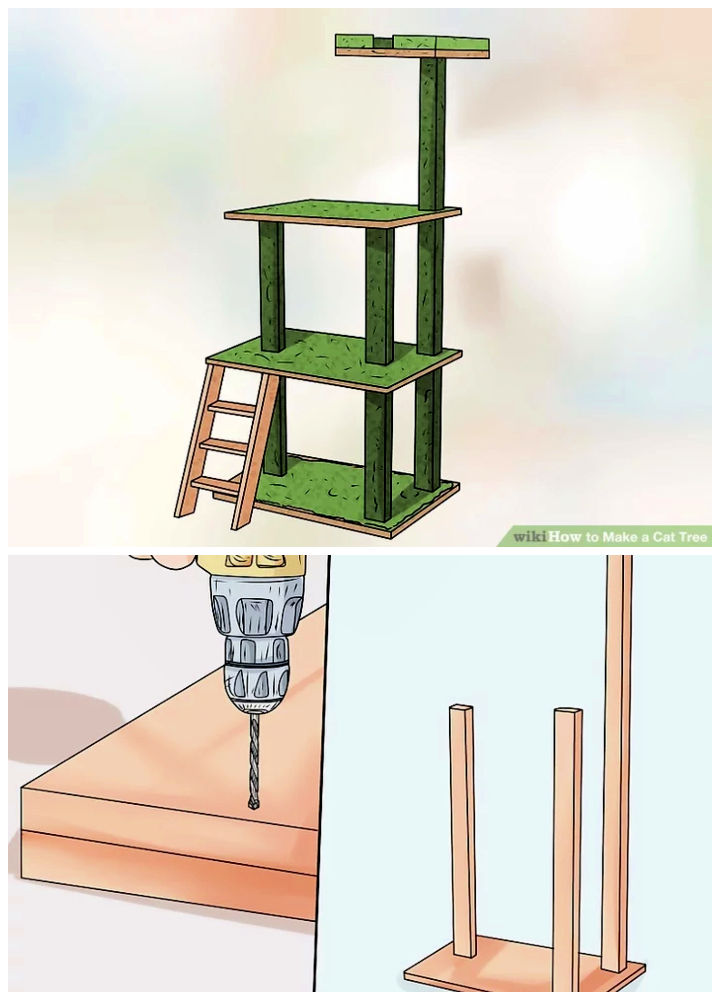 If you are also one of the people who, whenever go out, get super excited by cat accessories, you are going to love building cat furniture by yourself! Save yourself some cash and build your cat a lovely entertainment spot! Get the detailed step by step guide from here. wikihow
5. Build a Sisal and Carpet Cat Tree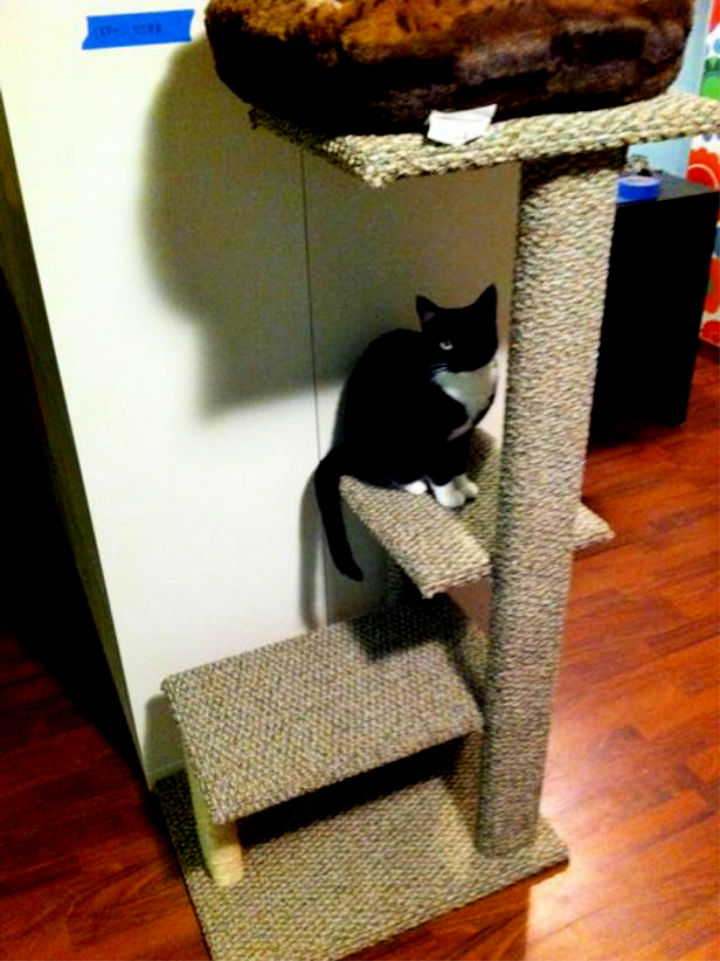 Check out this lovely cat tree with so many places to jump on to and purr! This DIY cat tree will hardly take half of your day. You will need tools like a table saw, drill, and pocket hole jig. Whereas the materials required are sisal rope, chemical-free carpet, and 2" screws. diynetwork
6. DIY Cat Tree House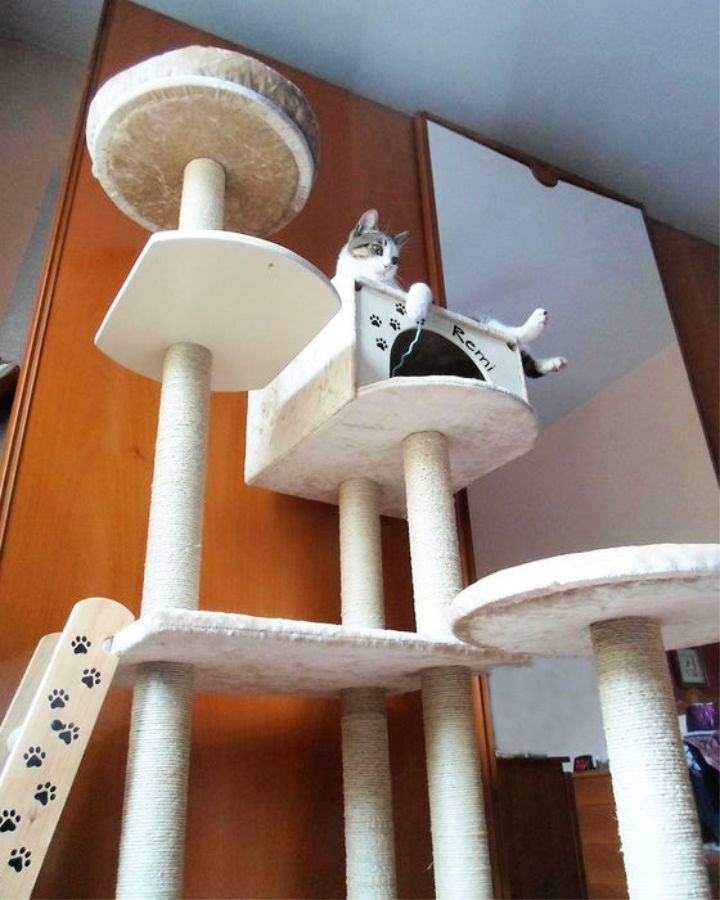 Who doesn't love getting their furry fellows a big cat tree house to enjoy themselves in! But buying a kitty condo from the market is too heavy on the pocket! Hence, make one by yourself by outing some reusable materials to good use! Like cardboard tubes and wood! Hit the tutorial for details. instructables
7. Handmade Cat Tree Play Tower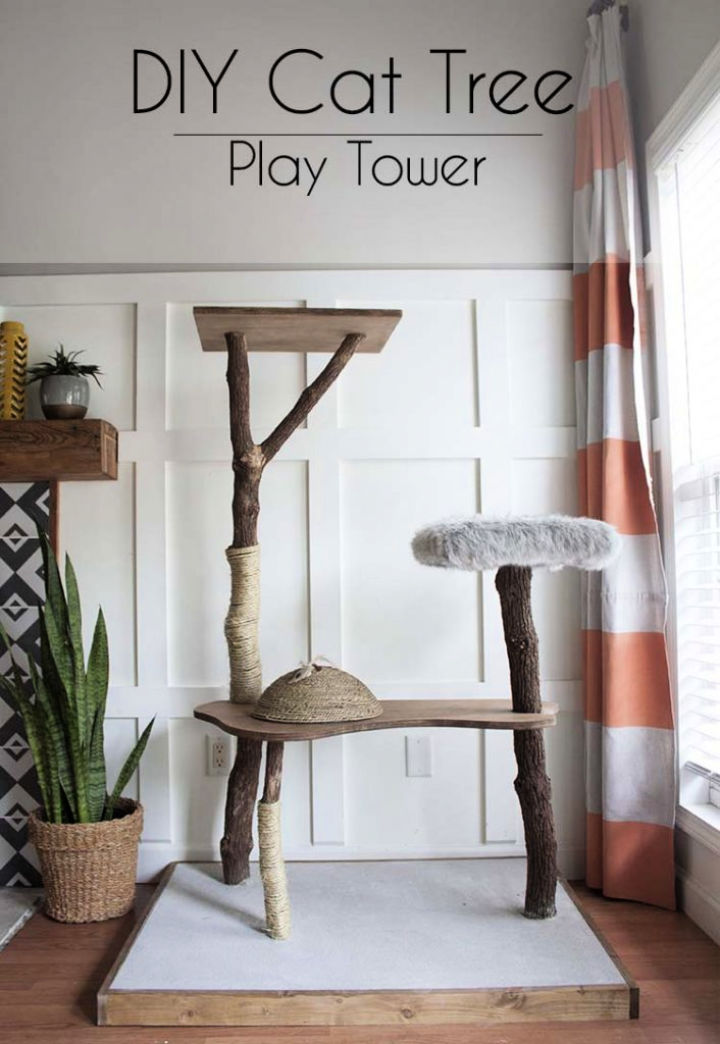 Get your hands on some plywood for building the base of this homemade cat tree! Along with that, you will need an 80lb bag of concrete, real branches, screws, wood glue, jute rope, and other basic tools. Start off by cutting the base and setting up the plant platforms. southernrevivals
8. Saguaro Cactus Scratching Post for Cats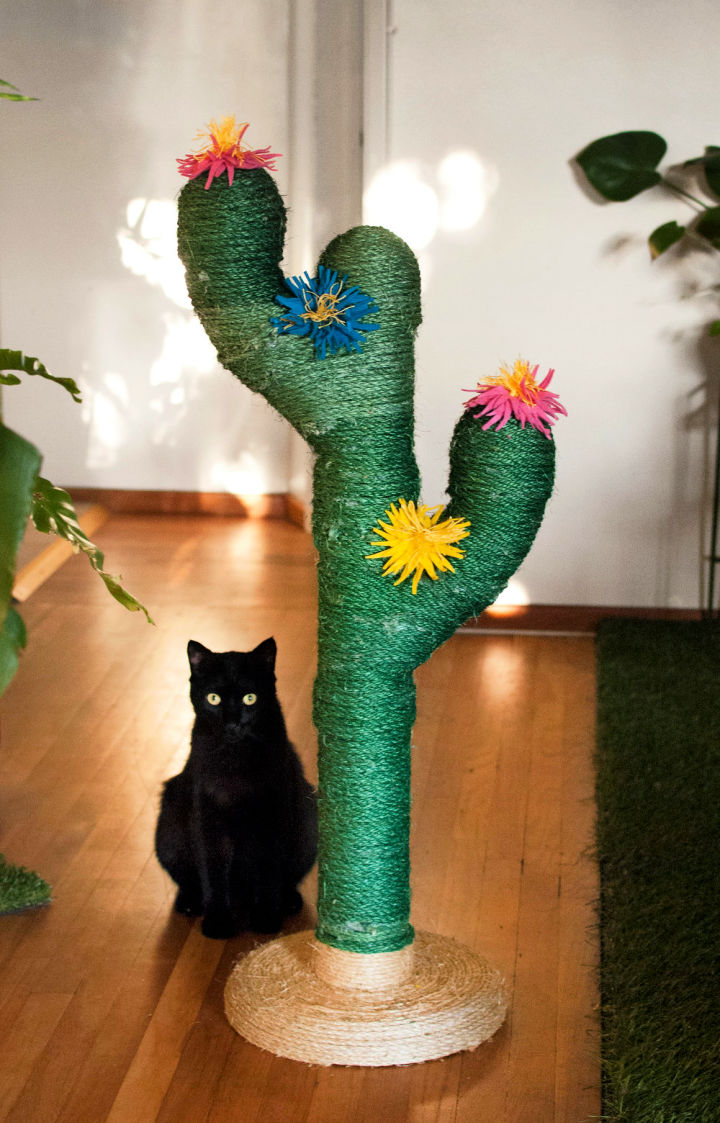 We bet every house with cats has this one epic problem! You can either have cats or scratch-less furniture. Remedy that with this lovely cactus scratching post. Which, by the way, is also looking so vibrant as a decor item too! With those lovely flowers. fairytaleslavery
9. How to Make Kristen's Cat Tree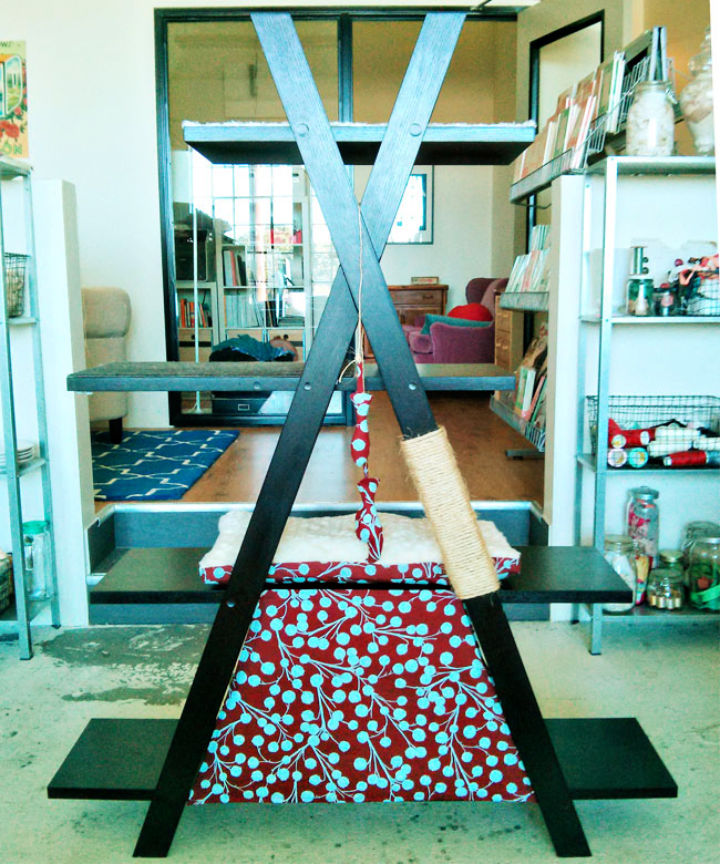 Now, this may seem unreal, but this DIY cat tree is actually made from a-frame bookshelf! That's right. This one, right here, is a standing example of the custom cat tree. You just need some faux fur and quilting cotton, batting, Velcro, rope, and a hot glue gun. colettehq
10. DIY Cat Tree for Not Much Money at All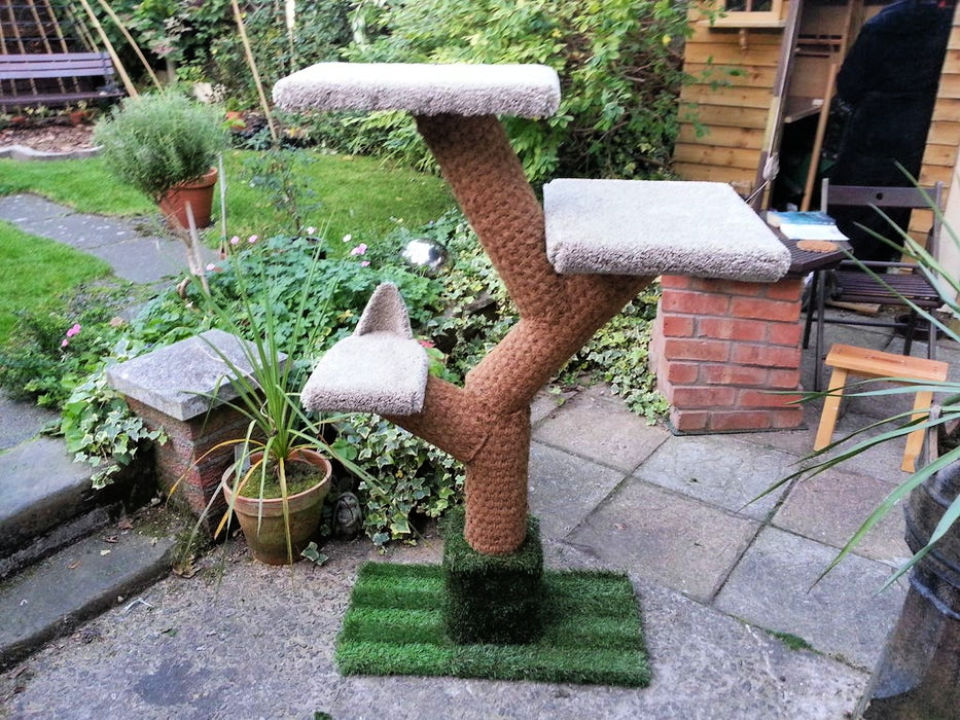 Because you already have to spend so many bucks on their (oh-so-expensive) food, why loose more on the cat tree, too? Hence, check out this DIY cat tree by Instructables and make it by not spending that too much money AT ALL! Hit the tutorial for details. instructables
11. Faux Sheepskin Rugs Cat Tree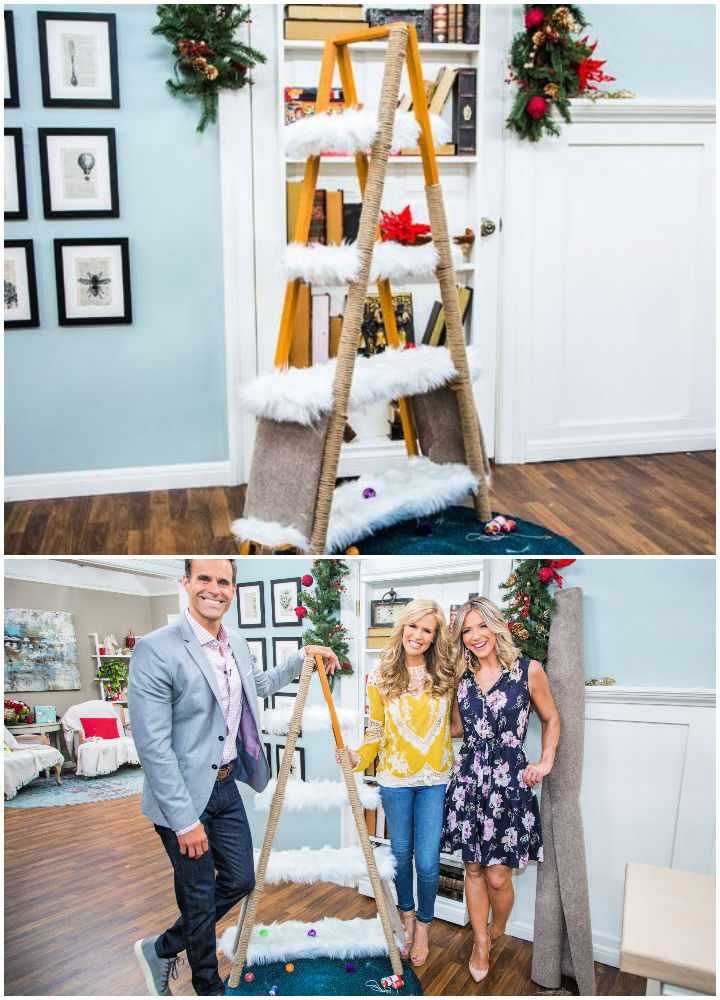 Make it comfy, super dreamy, and even a lovely decor piece for your furry fellows! Check out this faux sheepskin rugs cat tree. If you have more than one cats, they can easily fit in! All you need is identical wood ladders, faux sheepskin rugs, twine, carpet, straps, and a hot glue gun. hallmarkchannel
12. Make Your Own Cat Tree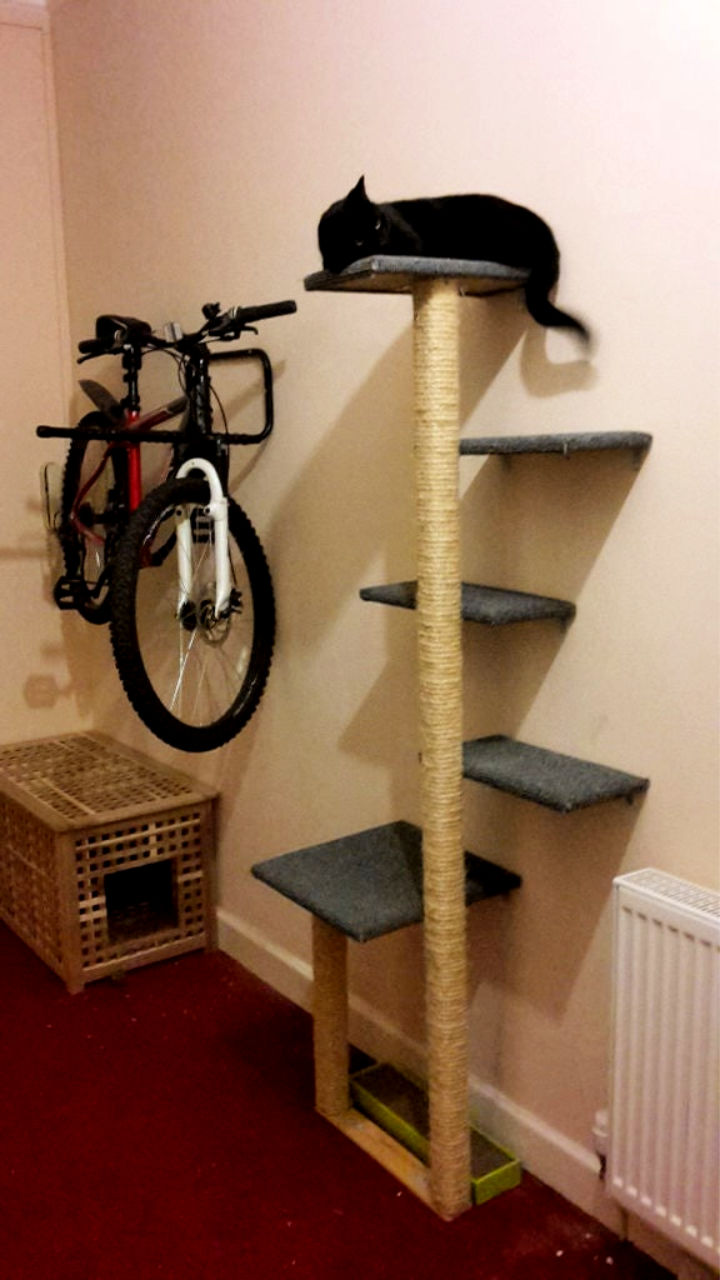 Let's take the DIY cat tree fun to a whole new level like this one here! With the fixed platforms on the wall and the portable cat tree place by their side. Isn't this brilliant? All the dimensions will work well for any cat in 5kg weight! instructables
13. Build an Incredible Cat Tree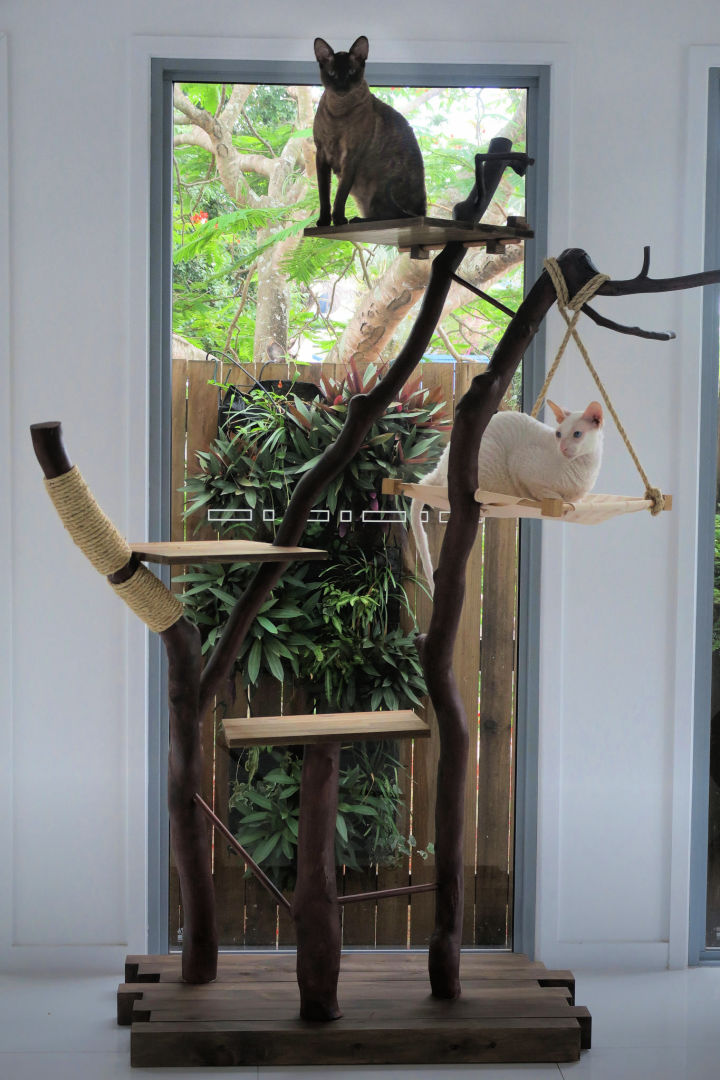 Here's something to cheer up your moody fellows! Check out this marvelous cat tree with so many platforms to jump on, scratching post, and place it next to a window. Perfect view! It even has this pretty swing added into! Adventure Cats certainly has so much adventure promised for your cats in this cat tree! adventurecats
14. DIY An IKEA Cat Tree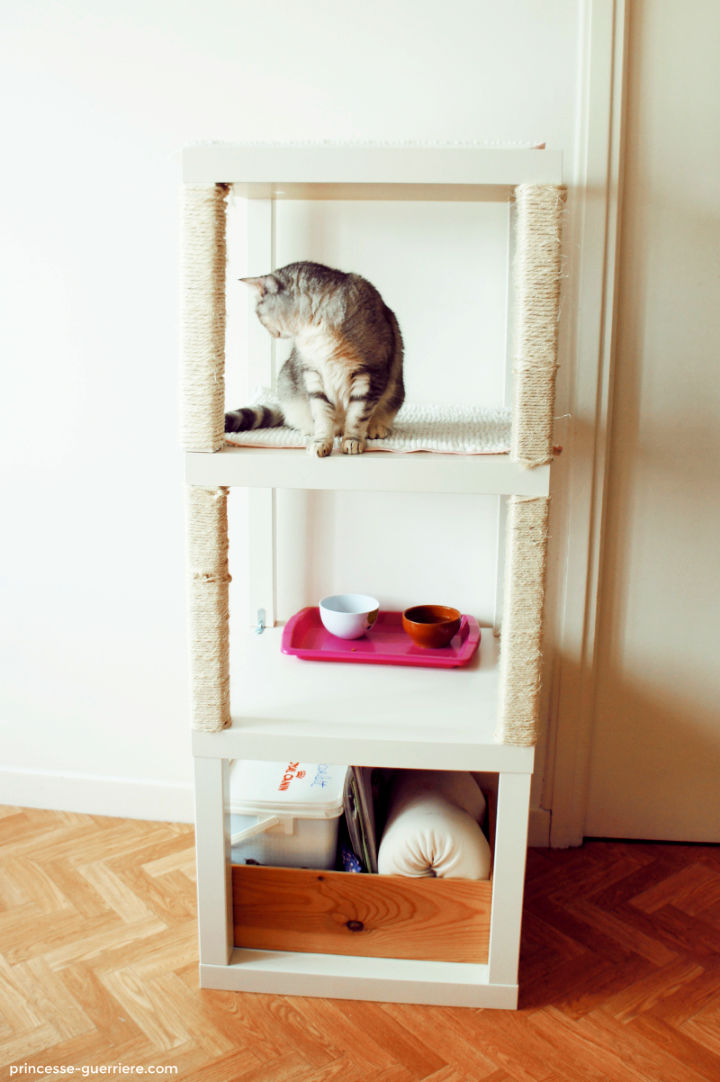 This DIY IKEA cat tree is literally the whole world you can put together for your cat! With the last open cabinet like a place for your own good, store all the cat stuff there. It really is just the wonder of 4 lack tables joined together using 12 chair brackets. chatterie
15. Cat Tree Using Real Tree Branches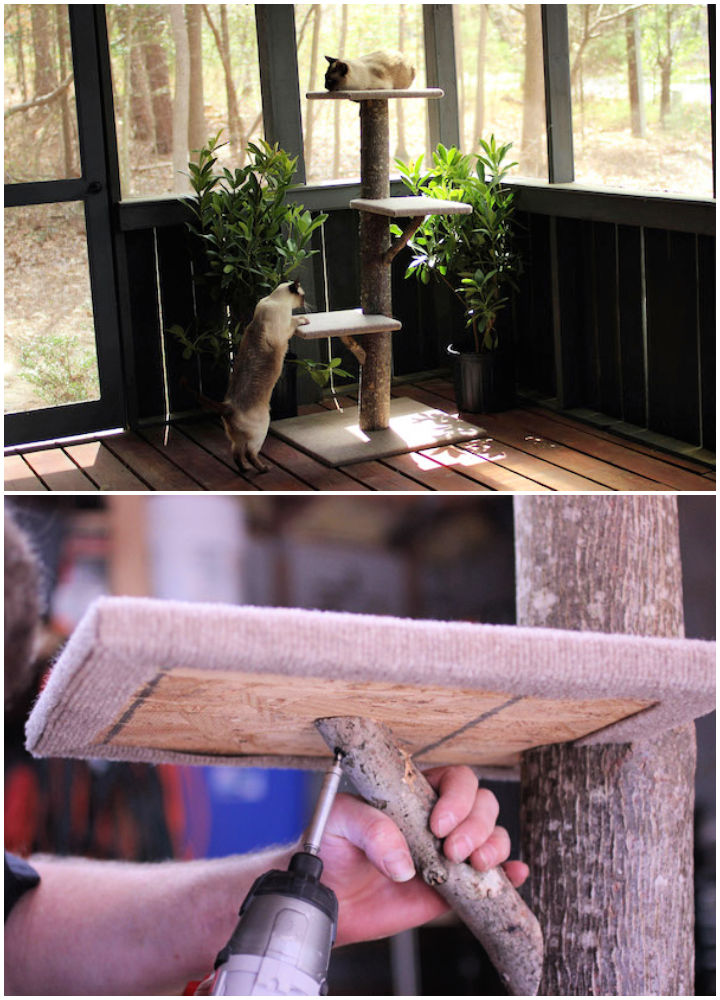 Each and every one of our feline friends have this natural instinct to jump higher, and they love staring outside! So, let's bring the outside feels inside by making this lovely cat tree featuring real tree branches. Find a fallen branch to start off and click the link below to lead your way! youroldpalmick
16. Cat Tree, House and Scratching Post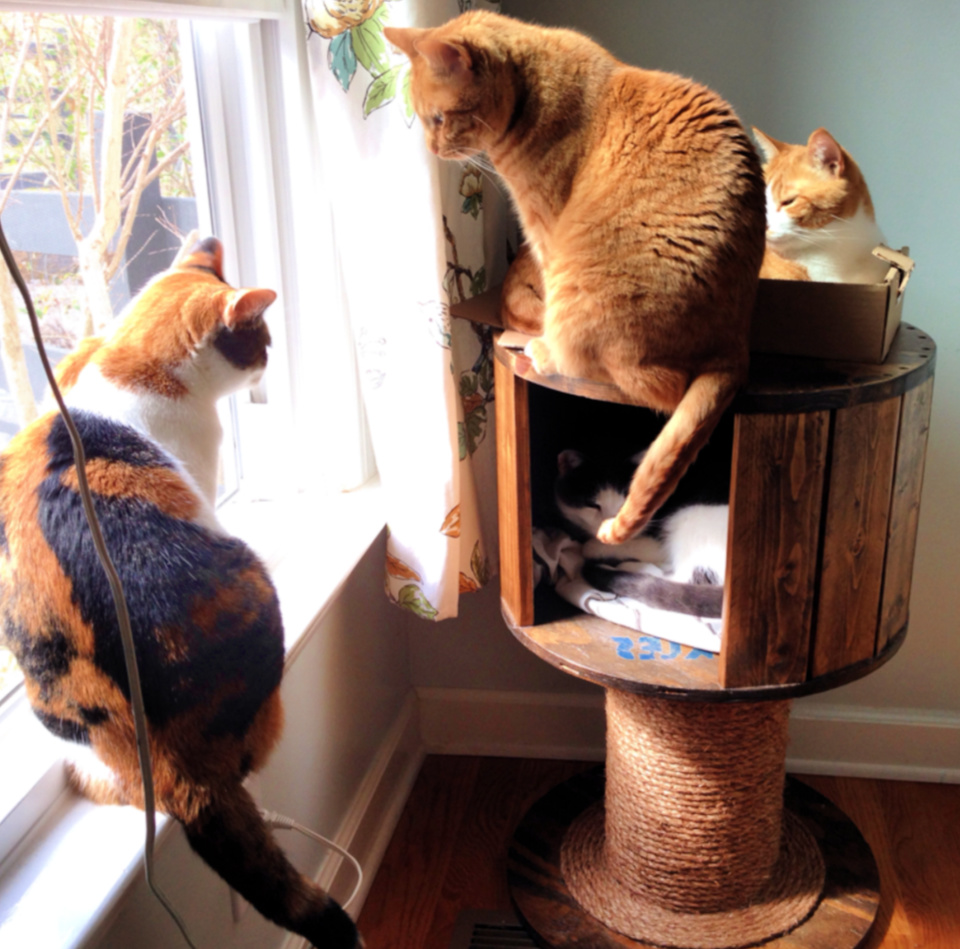 This one here is pretty simple, but it serves the purpose! A tiny little treehouse, with a top platform to sit on and peek outside or an inside platform to have a good nap. Oh, and also the most needed scratching post at the bottom. Get the full plan and details here. atkokosplace
17. Star Trek Cat Tree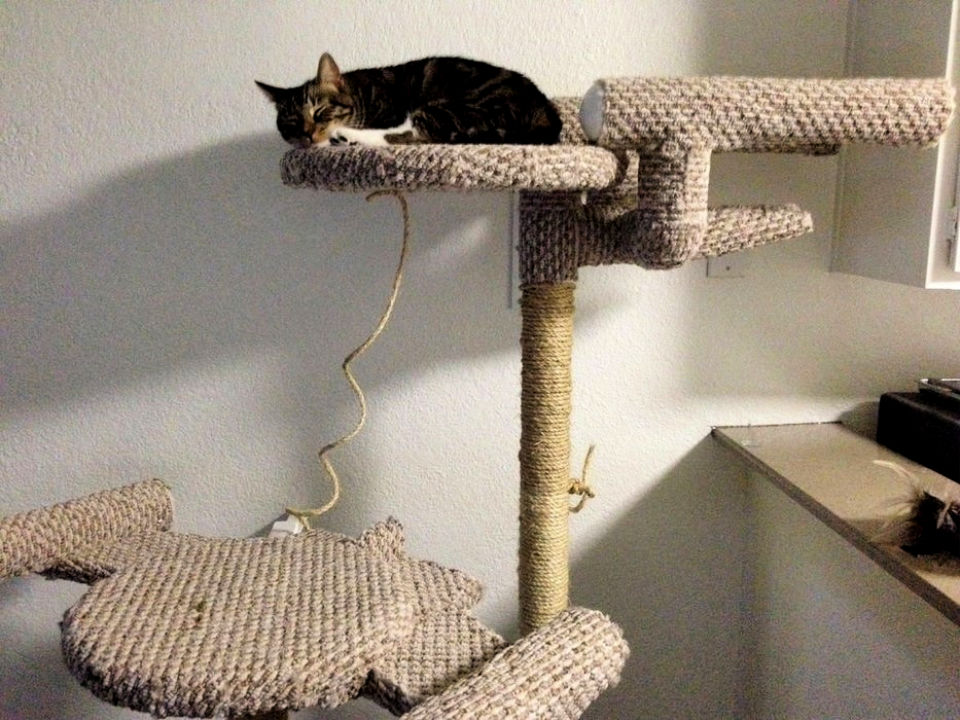 If you happen to be a big fan of Star Trek, and we bet your furry fellow must also accompany you while streaming it always, here's your win! Check out this Star Trek inspire DIY cat tree, something both you and your cat can enjoy. instructables
18. How to Make Cat Tree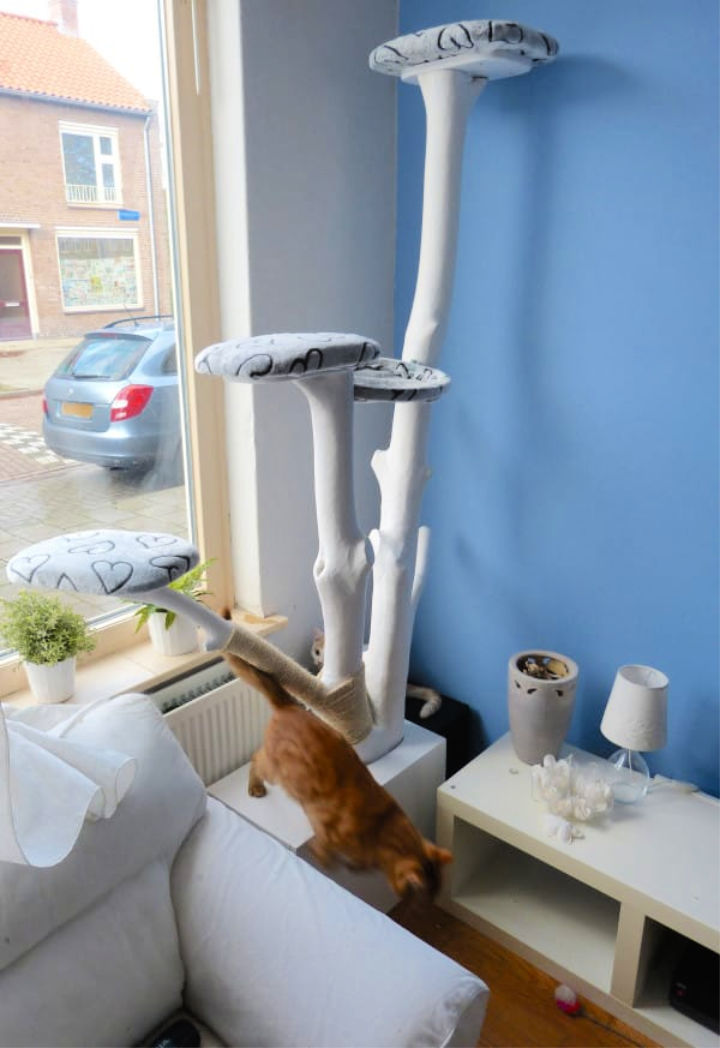 If you are not fond of the natural tree look, then you will truly love this all white and graceful wonder. It's really a magical transformation of a broken tree into a flawless cat tree. Start by removing the bark of the tree and then paint it all white! Get the rest of the details from the tutorial. littlethings
19. DIY Cat Tree with Hammock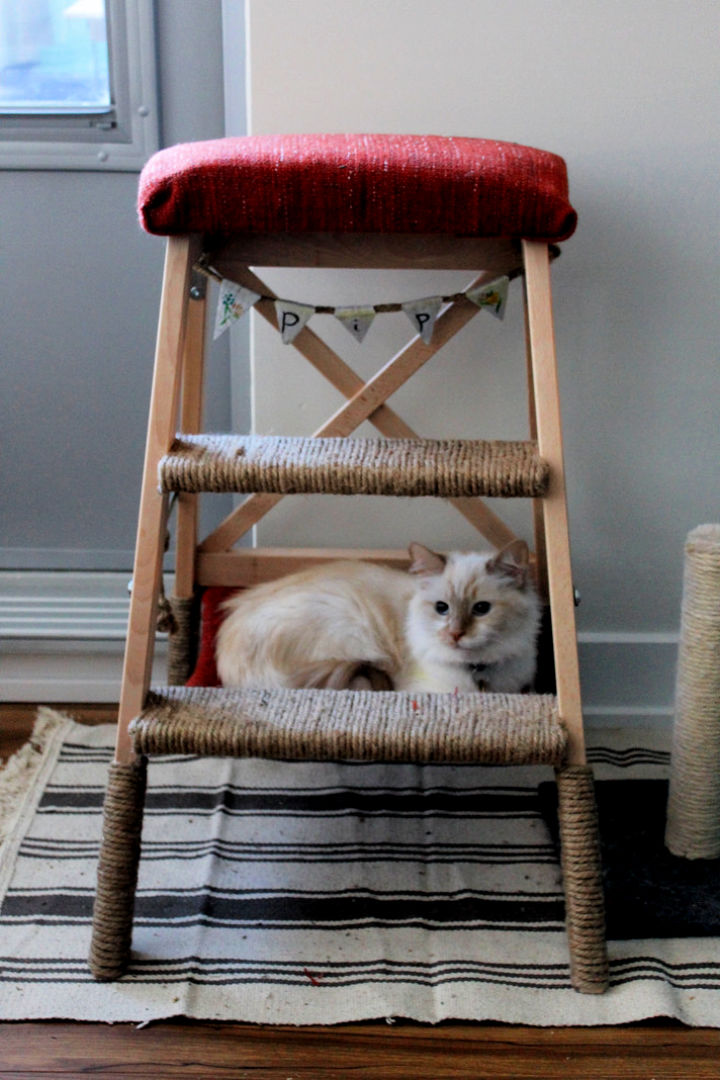 Did you know there are so many ways to make a cat tree? Like even using a 3 step ladder as the main base?! Add in some warm and comfy blanket, drill, flower pot, fabric, scissors, and mat. And also some foam which you can put on the top of the ladder for a smooth jump! ikeahackers
20. Cat Tree Less than 30 Dollars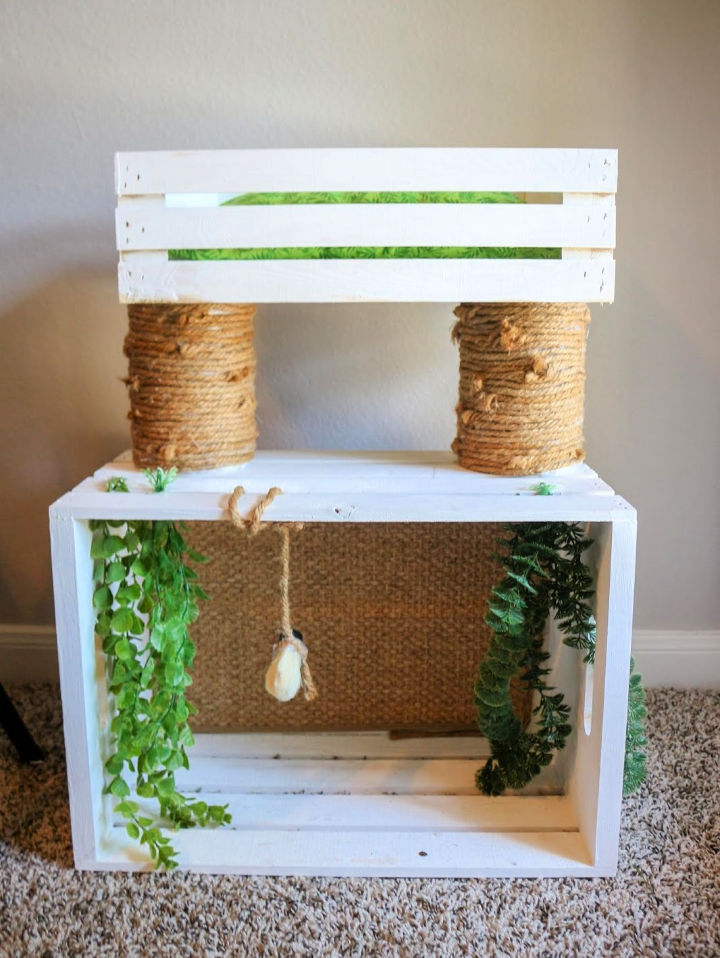 Like we say, you are already spending a lot of money on all those hefty vaccinations, food, and treats! Save some by making these cat furniture that less than 30 dollars, but lovely look, DIY cat trees. All you need is 2 crates, fabric, some pillow stuffing, cans, rope, placemats, and cat toys! cherryblossom56
21. Live Edge Wood Shelf Wall Cat Tree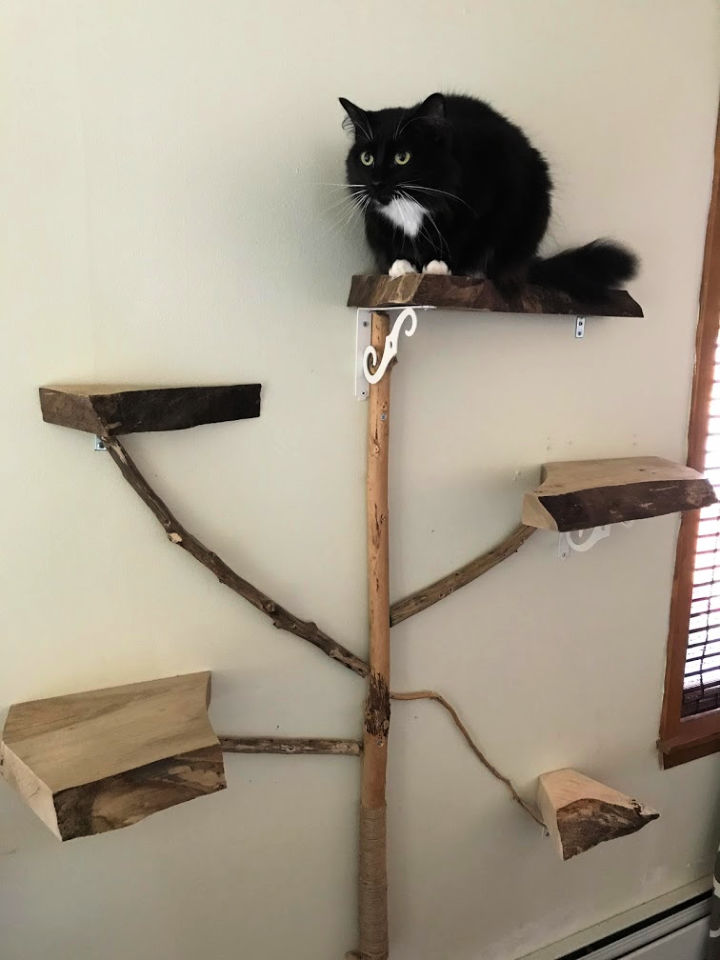 A live edge wood décor is ideal! For a lovely décor addition as well as it serves the purpose for an ideal cat tree. So, if your cats don't approve of it much, use the shelves for display. Such a win-win, right? Head over to the link below and get all the details. imgur
22. How to Make Cat Tree in 7 Steps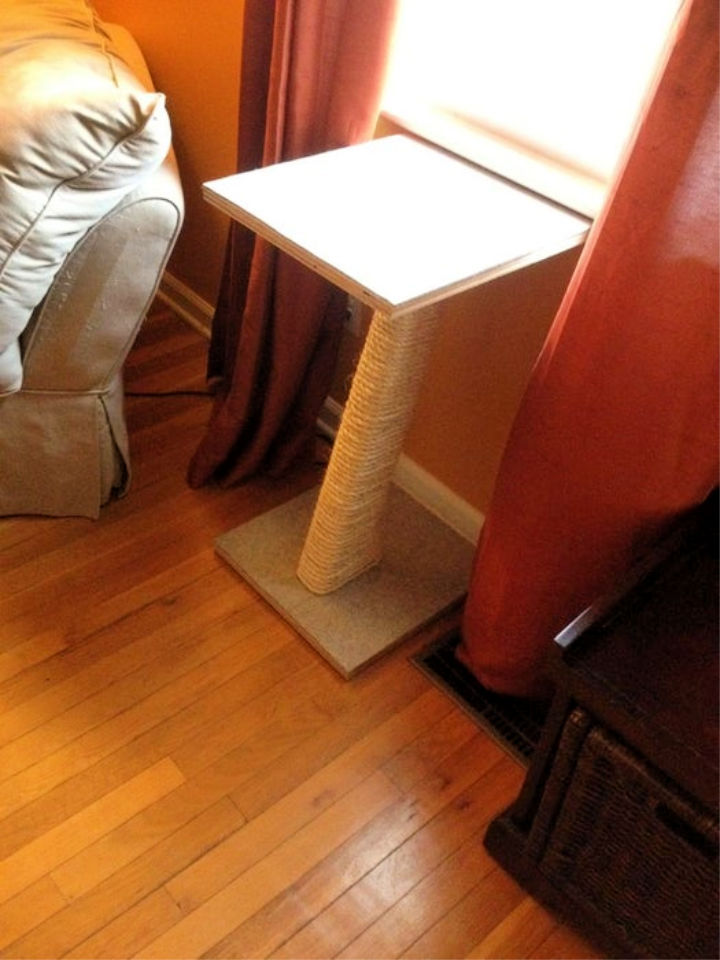 This very simple and easy to whip up a DIY cat tree uses just 7 simple steps! The base is just a platform of plywood, all of it is laminated and joined together. Start by working on the pillar, then move to form the platforms next! Finally, add felt and sisal rope. instructables
With these free DIY cat tree plans, save money, and never worry about your cat scratching off the essence of your furniture. It happens slowly, which makes it even worse. Remedy all that and be the purrfect caretaker of your lovely feline friends by serving their natural instincts. Which mostly include jumping, napping, and scratching. All of them are well handled above!