You will probably be feeling sorry for your cat, who has struck an accident and has lost her mobility. How would you feel if a disabled kitten walks again? Yes, you can do it with these Cat Wheelchair Ideas that will bring back your paralyzed cats to life. Building these wheelchairs involves using mostly recycled items like PVC pipes, and they are super cheap to make at home. On the other hand, the manufactured pet wheelchair can be too expensive to afford for lots of cat owners. Just browse this list of 10 DIY cat wheelchair ideas, sharing the world's best and lightweight home-built designs that will be super easy for a cat to drag.
Just put together the PVC pipe along with custom fittings and joiners and make the frame with the rear on wheels. Add it up with a cat harness, and quick help is ready for the disabled cat or kitten.
These DIY cat wheelchair hacks will make you skip buying those expensive cat wheelchairs, can't fit your cat disability situations and needs. So, these hacks will allow putting the leftover PVC pipes together, building the best wheelchair frames, most serve great for the disabled back legs of your cats. So, you must go with these ideas to help the cats live life again who are missing one or two back legs. Try out different types of harness and wheels to give amazing variations to these cat wheelchair projects that are sure to be a pleasing episode of DIY projects for the cat lovers.
1. DIY PVC Cat Wheelchair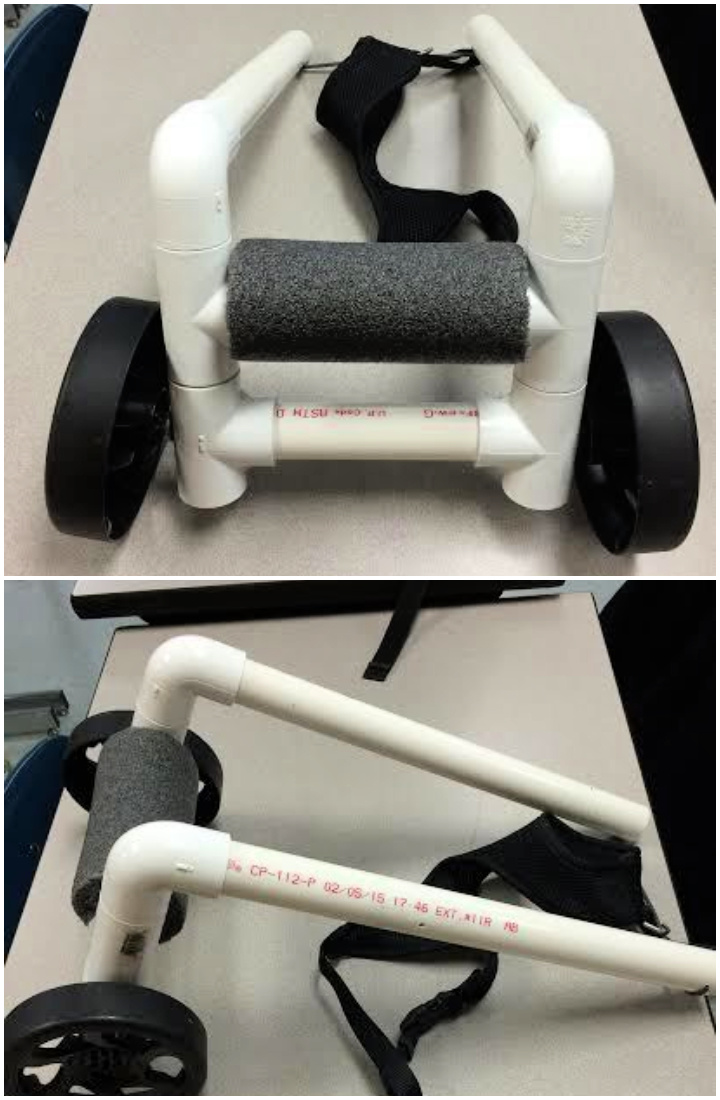 Build this cat wheelchair with the PVC pipes, cat harness, PVC cutter, PVC cement, bolt and washers, wheels, drill foam, and sweatshirt string to build this PVC cat wheelchair. It will be a perfect comfort for the cat who is missing out on one or both of their hind legs. Details here instructables
2. How to Make a Cat Wheelchair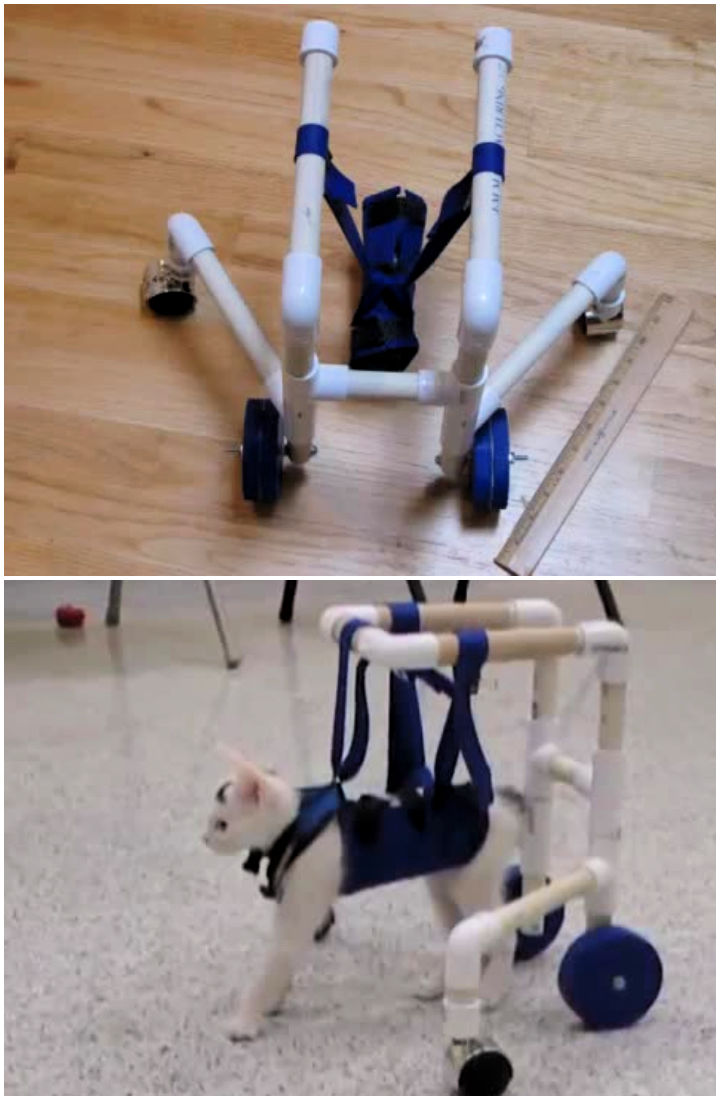 Just build a cat wheelchair frame using metal pipes and fittings. Raise both the rear and front legs of the wheelchair on wheels and then fit this wheelchair to your cat having some leg problems, using a cat harness. The best wheelchair for a paralyzed cat will make a sweet handmade cat gift too. youtube
3. Homemade Cat Wheelchair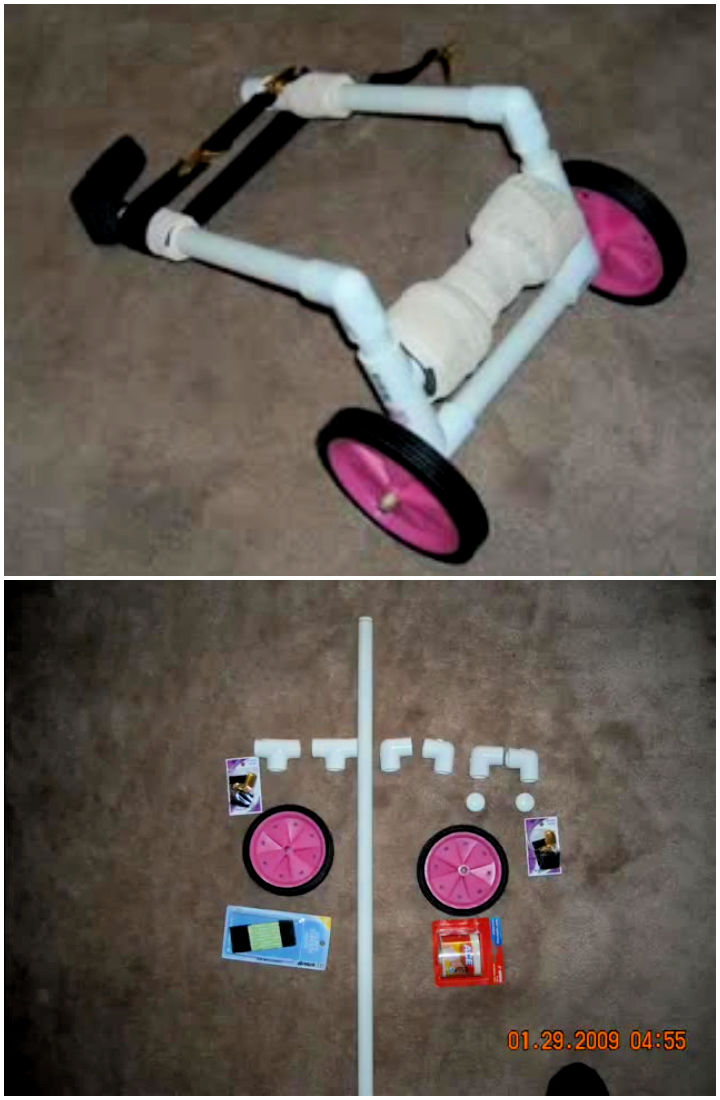 Help your cat live a normal life using this homemade cat wheelchair. It will work best when she is too weak to walk on the rear legs. You only need some kind of PVC pipes, giant plastic wheels, a cat harness, and other custom PVC fitting to build this DIY cat wheelchair. youtbe
4. DIY Paralyzed Cat Wheelchair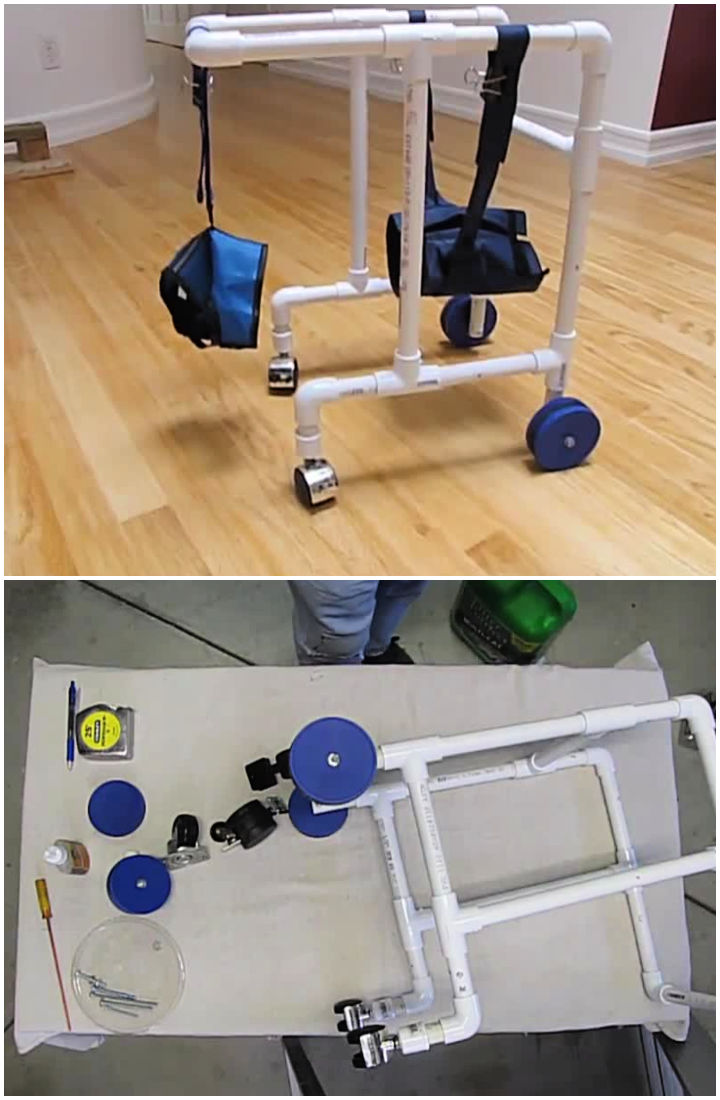 Has an accident paralyzed your cat? Then get her in this wheelchair so she can live comfortably again. Just fit together the PVC pipes using the PVC pipe joiners and fitting and a build supporting wheelchair frame. Do some measurements according to the size, weight, and height of the cat. Next, finish with a cat harness and caster wheels. youtube
5. Cat Wheelchair Plan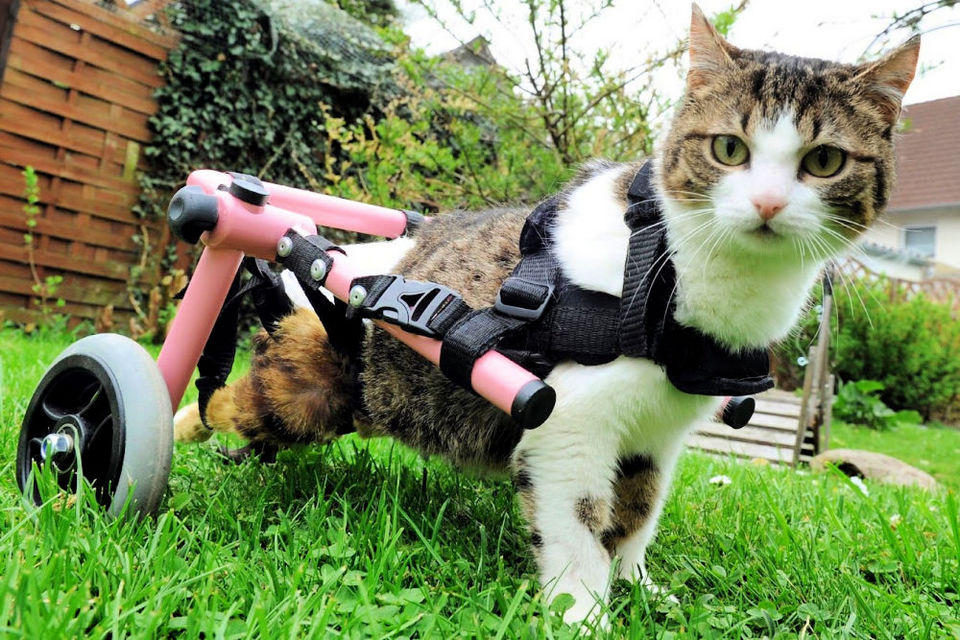 Construct this perfect wheelchair for a cat struck by accident and have problems with the back legs. This PVC wheelchair plan will really work for a cat who has lost the ability to walk. Just grab some PVC pipe lengths, fittings, joiners, and custom plastic wheels to build this cat wheelchair. Details here youtube
6. Paralyzed Cat Wheelchair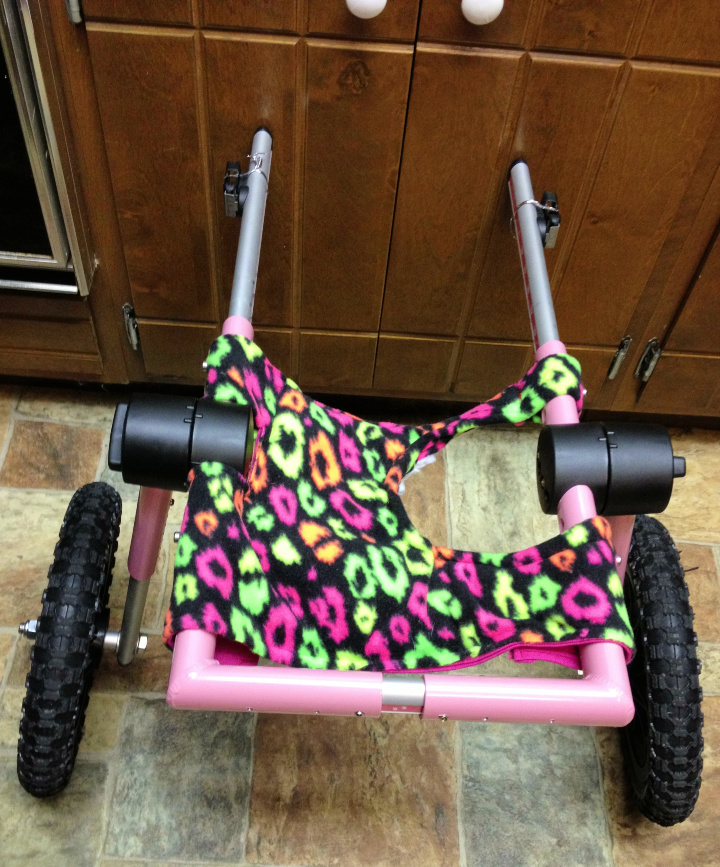 Check out here a more appropriate and good looking version of a wheelchair, built to inspire. This wheelchair comes with stronger arms and legs and looks great with the giant wheels. Make your own cat harness using felt and fabric of choice will go soft to the body of the cat.
7. Cat Wheelchair for Back Legs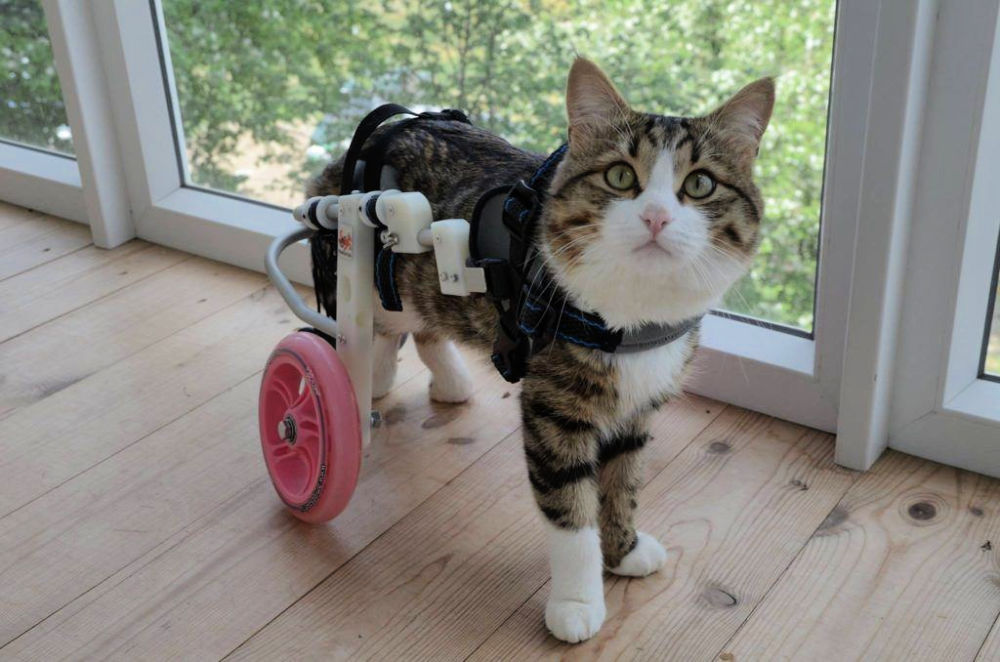 Get this wheelchair for a cat who has lost her back legs. It will make her walk normally without too much effort. Put together the PVC pipes with custom joinery and fittings and build a PVC pipe frame on wheels serving as rolling back legs of your cats. Installing a harness is a must.
8. Cat Wheelchair Cart
Next in cat care, is this lovely looking DIY cat wheelchair design that is again for a cat having back leg problems. Get the durable mechanism on wheels. It will look like a cart. Next, make it hold the back legs of your cat in such a way that wheels will serve as back legs of the cat. Best to make for a paralyzed cat.
9. Paralyzed Cat Walks With Wheelchair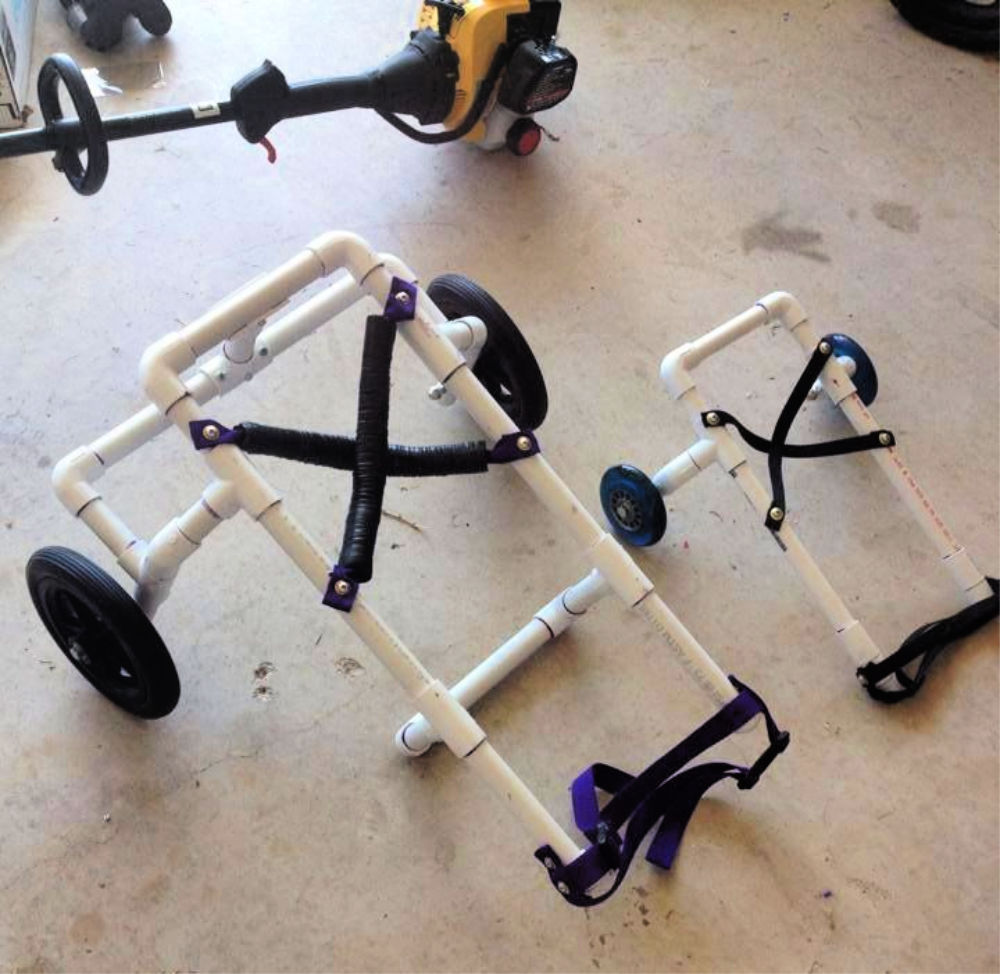 Make some efforts to make your paralyzed cat live a normal life again. I really want to take some smart steps in this case? Then build this lovely wheelchair using the leftover PVC pipes and fittings. Make the fame that will fit nicely around the cat and then install the cat harness. Details here
10. Cat Wheelchair Plans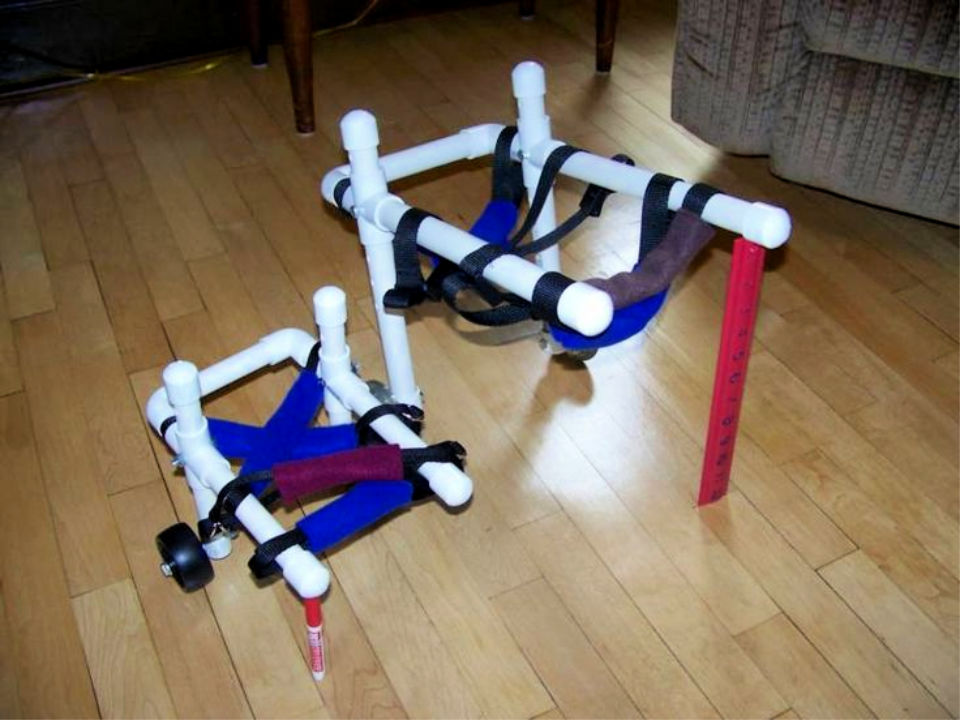 Bring tons of comfort to your paralyzed cat using this cat wheelchair, will work up super quickly. Just put together those leftover scraps of PVC pipes and fittings and build this cat wheelchair. Grab the durable PVC pipe lengths, end them up with caps, install wheels and harness, and that's it.
DIY Cat Furniture:
Do You love cats? We've shared a lot of DIY cat furniture ideas Your cats will really love:
Conclusion:
You can't leave the cats disabled. Just bring them a new hope of life with these DIY Cat Wheelchair projects that will share the best pro-tips, step-by-step guides, and tutorials to build a custom wheelchair model a custom disability case of your cats. These projects mostly involve using PVC pipe, custom fittings, and joiners. First, just build the wheelchairs and then raise them up on custom wheels, and here you go. Don't worry. All these cat wheelchairs are super budget-friendly and beginners can easily make.