Are you a cat person? Then your foremost focus must be on keeping your furry fellows happier! Cats have this undeniable instinct of jumping over higher and higher places! An outdoor cat tree can be a lovely and pleasing addition to your cat's life! As you must take care of them properly by addressing and maintaining everything! From their meal-time to their play-time. It's no hidden truth that if one thing our feline friends are consistent at, then that's jumping over things and places to explore! A DIY cat tree can be one great way to keep your cat closer to nature and away from jumping anywhere else! This roundup of 15 best DIY outdoor cat tree ideas and plans can be a real delight for a true cat lover! Pick the one you think will be perfect for your house and for your kitty or even kitties.
Furthermore, buying cat accessories, be it scratching posts, houses, or cat trees from the pet store, can be a real bummer! For starters, they are usually insanely over-priced! And mostly not as durable as you would want them to be. Setting up an outdoor cat tree all by yourself is not that big of a deal, really! It's just a bunch of supplies and a few basic tools or adhesive materials to nail it! Though these cat tree plans may take your few hours once you have aced them, they will last much longer on account of their durability. Secondly, you can always customize them as per your cats!
1. Inexpensive Outdoor Cat Tree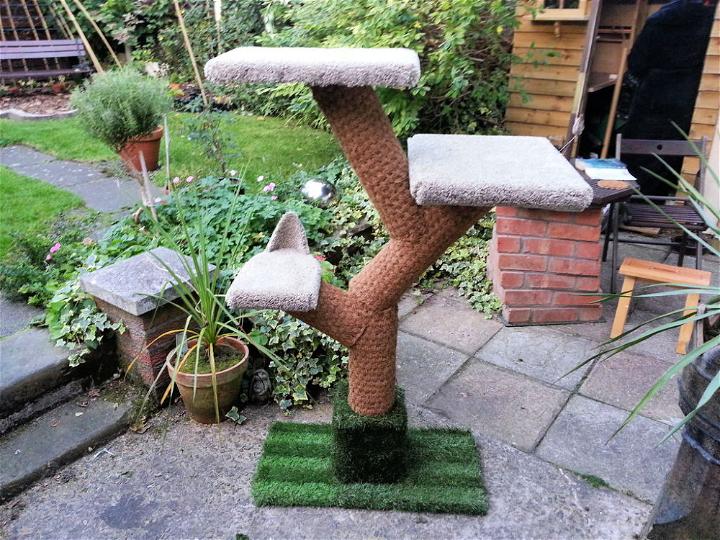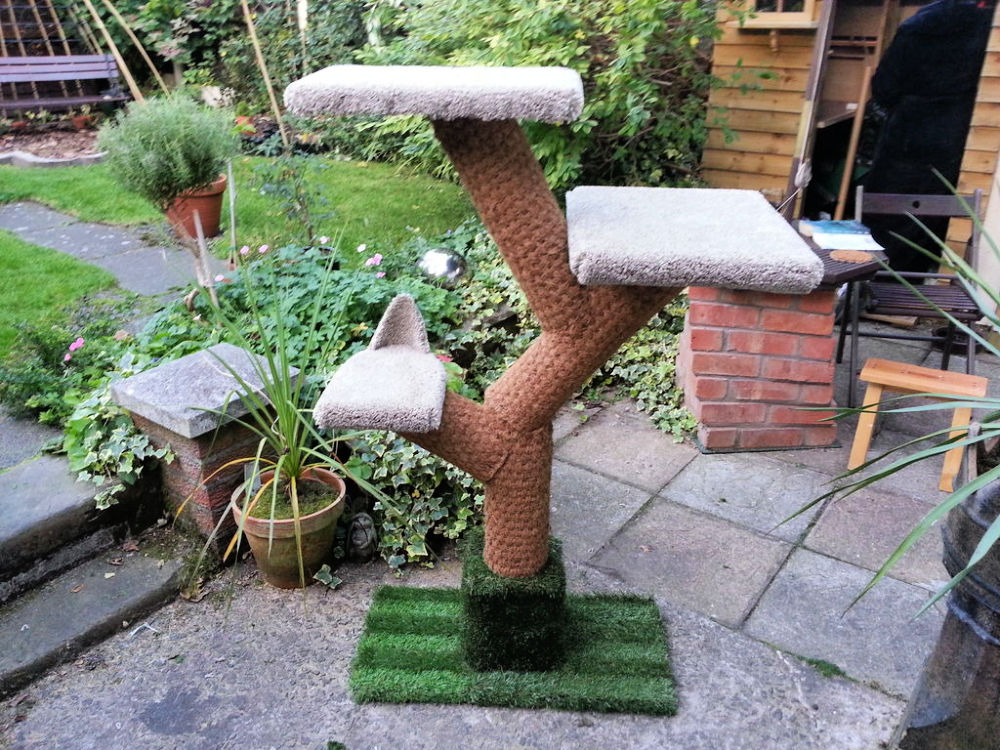 Who doesn't love cats? They are adorable fluffy balls of fur that can elevate anyone's mood! So if your cat is doing so much for you, why not you also ensure the same love and pleasing life? By making this outdoor cat tree? It is a simple build and also makes a great décor addition, get the complete details here. instructables
Got more than one or two feline fellows? Make more spots! Using baskets. Driftwood, real tree, or birch. There are quite many purrfect cat tree ideas below. So what are you thinking now? Rush to your nearest hardware stores, grab supplies, and just get started!
2. Outdoor The Survivalist's Cat Tree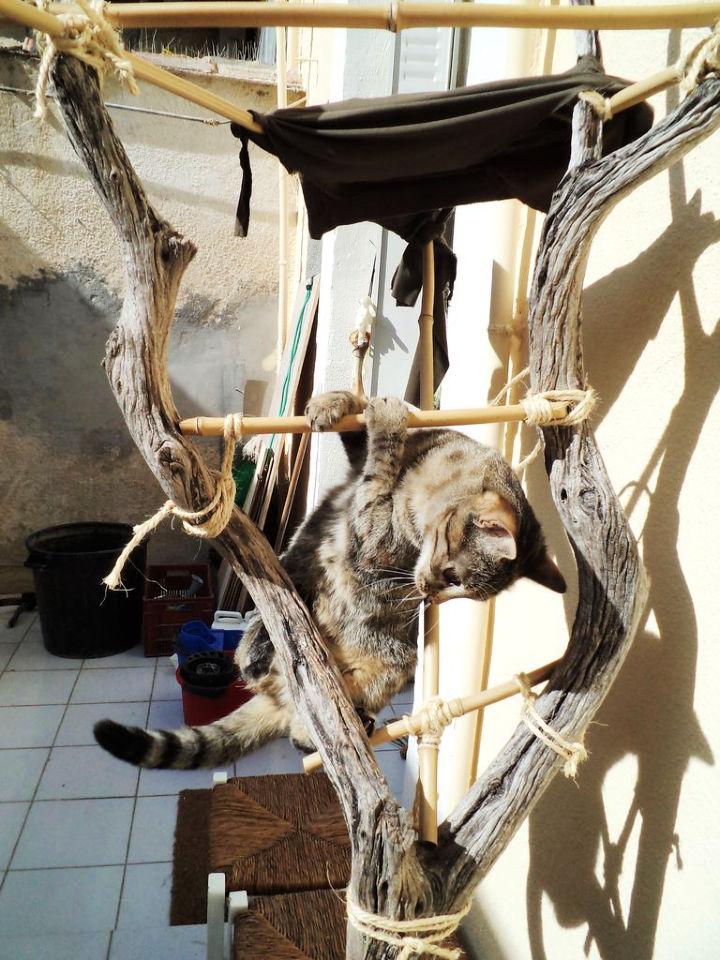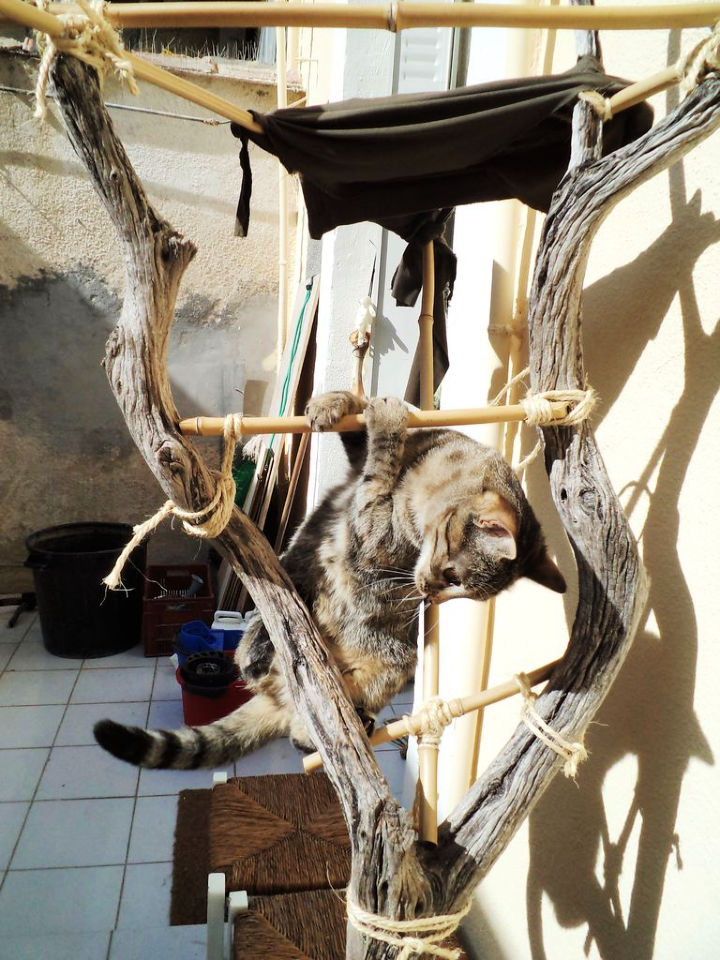 Raising a cat is much more fun! You can always find them doing something either absolutely crazy or mind freakishly funny! This survivalist cat tree is going to be your feline fellow's personal gymnastic zone! Such an easy build using pieces of bamboo on an outdoor tree. instructables
3. Outdoor Cat Tree Using Real Tree Branches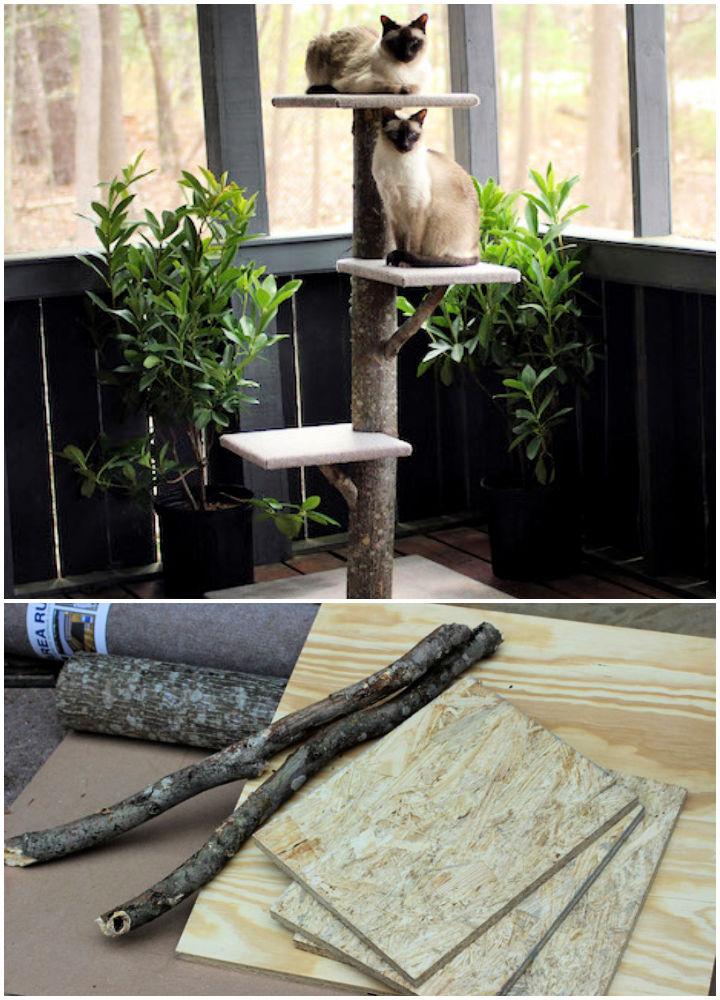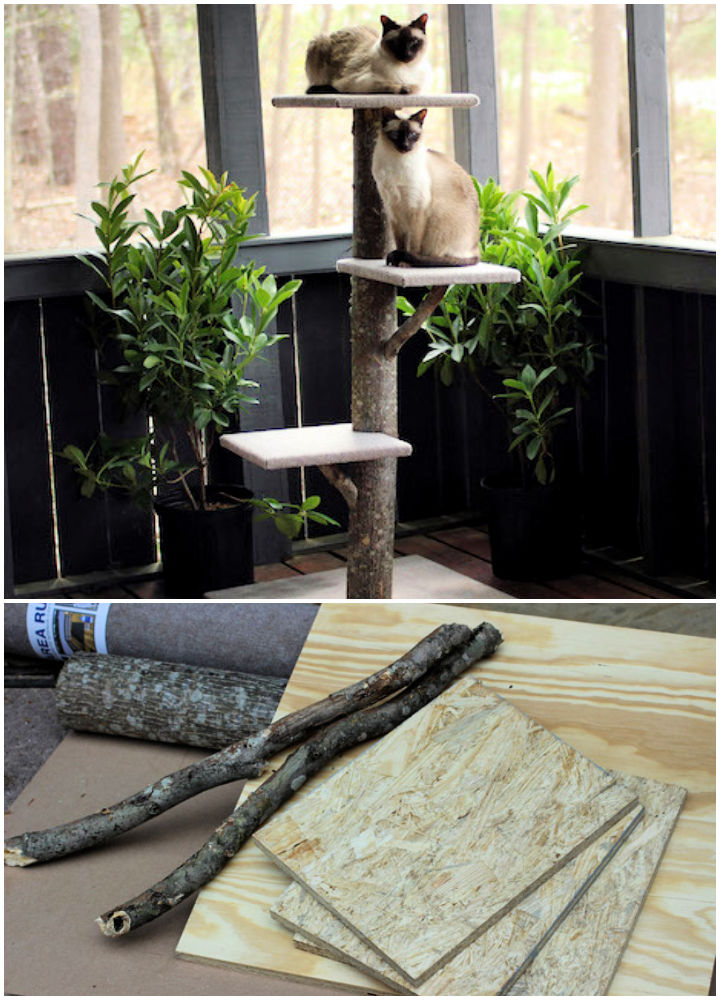 Build a cat tree using real tree branches! You know it will cost you like literally nothing. But instead, if you go for a commercial cat tree, you are going to lose some pretty heavy bucks! For this project, you will need plywood, jigsaw, screws, bolts, three pieces of carpets, adhesive spray, and a utility knife. youroldpalmick
4. How to Build Outdoor Cat Tree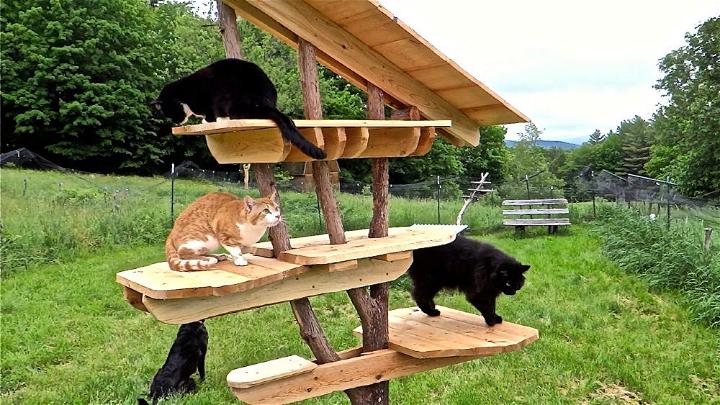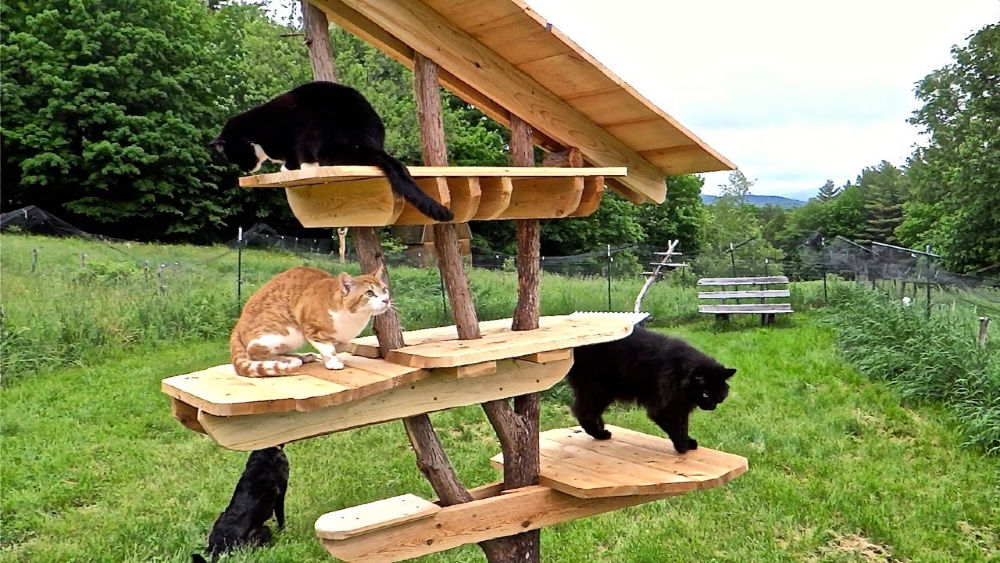 Way to bring some ultimate excitement to your cat's life! Your cats are going to love jumping and exploring on this outdoor cat tree! This project is made totally using cedarwood. It has multiple floor joints. Hence an ideal option for someone with more than one cat! Give the video tutorial a quick look and get started. youtube
A cat exercise wheel is a perfect way to give your indoor cat all the exercise it needs! Check these DIY cat wheel plans to craft one for your cat and save your money right now!
5. Outdoor Cat Tree Out Of Driftwood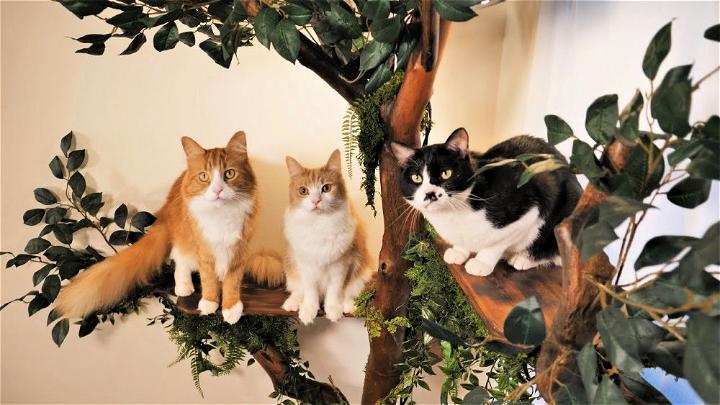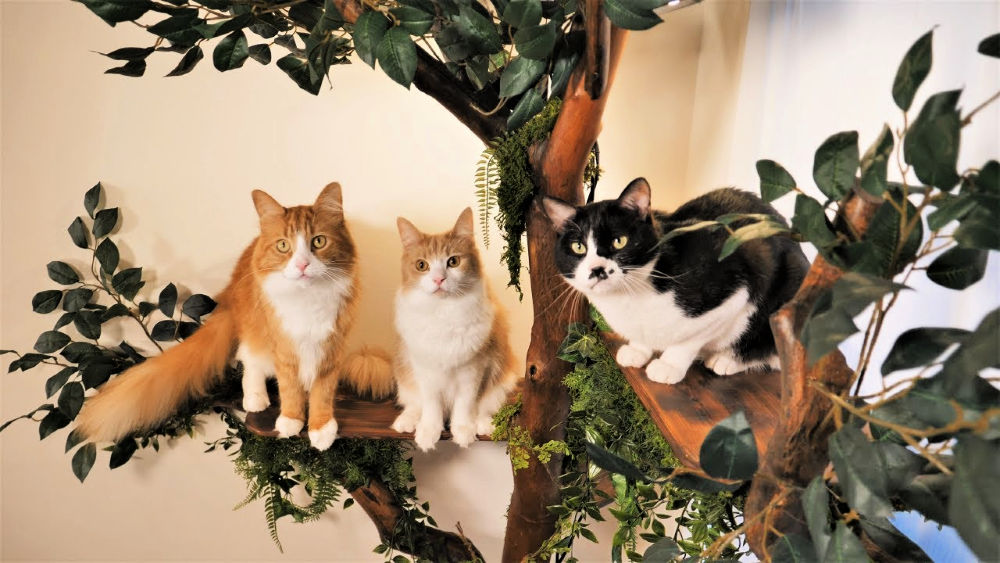 A cat person clearly knows the constant worry with indoor cats! Since they are not so apt at jumping at higher places, there's always a risk of them falling the bad way down. Remedy that by building this lovely looking and enticing driftwood cat tree. It's economical for you and ideal for your feline friend. youtube
6. Outdoor Cat Birch Tree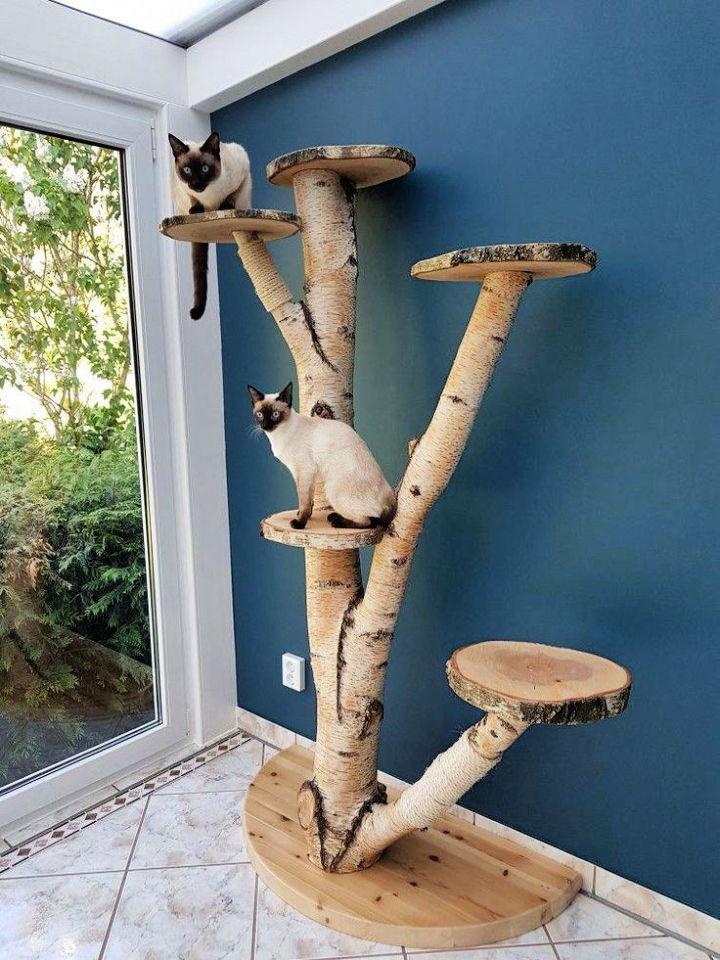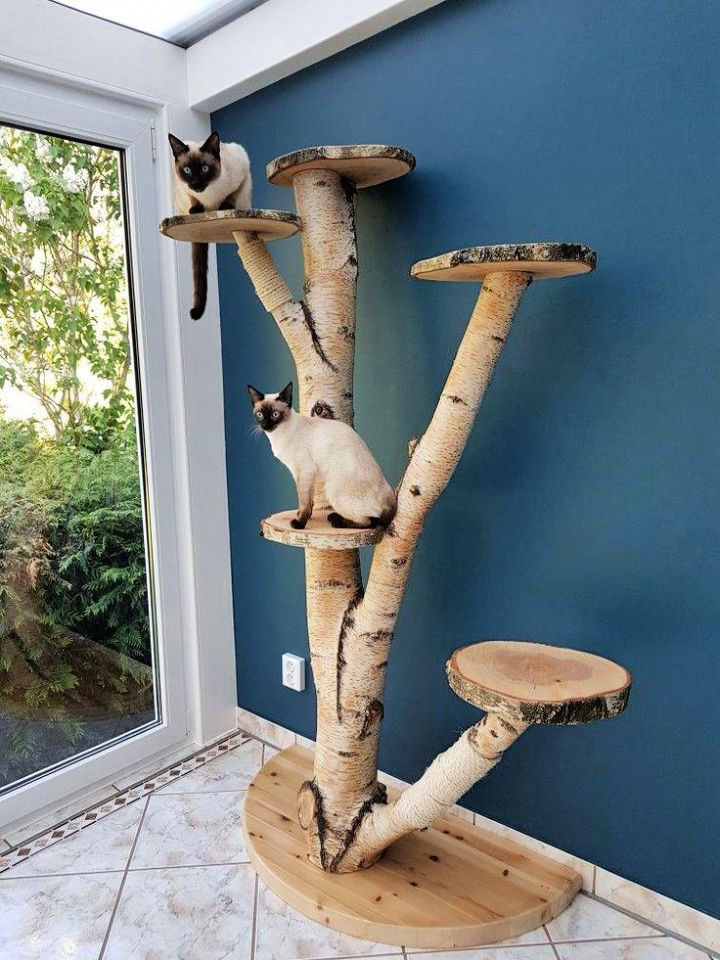 Are you hesitant to bring a major changer like a cat tree into your place? Because it will impact your décor! A minimalistic birch tree with multiple floor joints, a subtle and straightforward overall appeal is an ideal way to tackle the cat tree situation! Throw in some sisal rope and make a scratcher post too around any branch.
7. Best Outdoor Cat Tree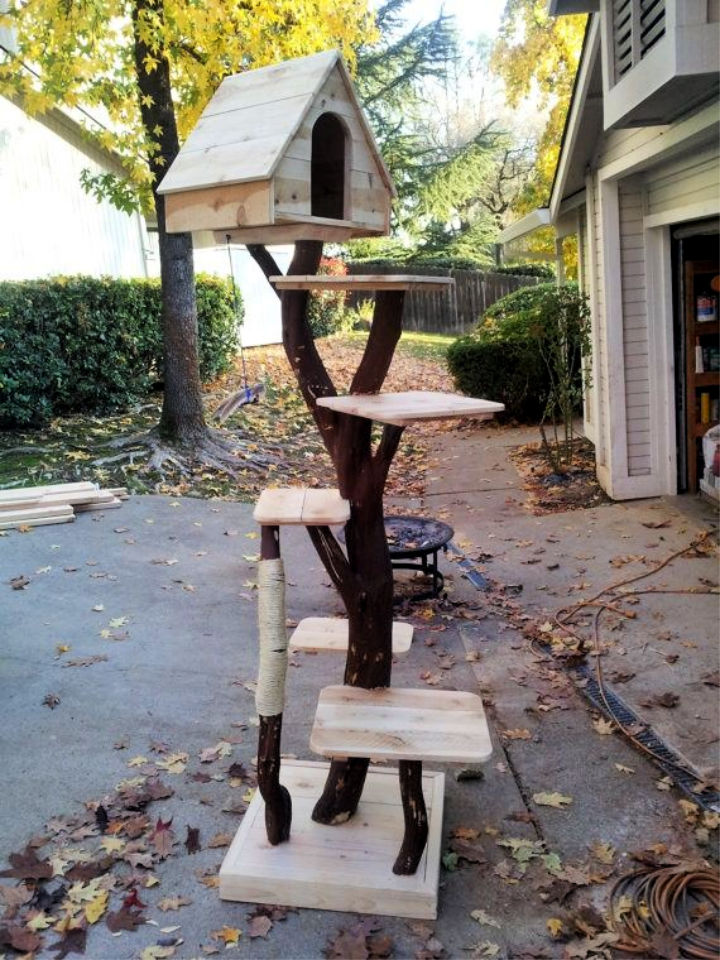 Upgrade your furry friend's playtime with this outdoor cat tree! Because they love to enjoy hopping and jumping all day long. The little house shape floor at the top will be their personal favorite sanctuary to explore! Gather supplies like wooden pallets, drill, screws, and adhesive to get started.
8. Homemade Outdoor Cat Tree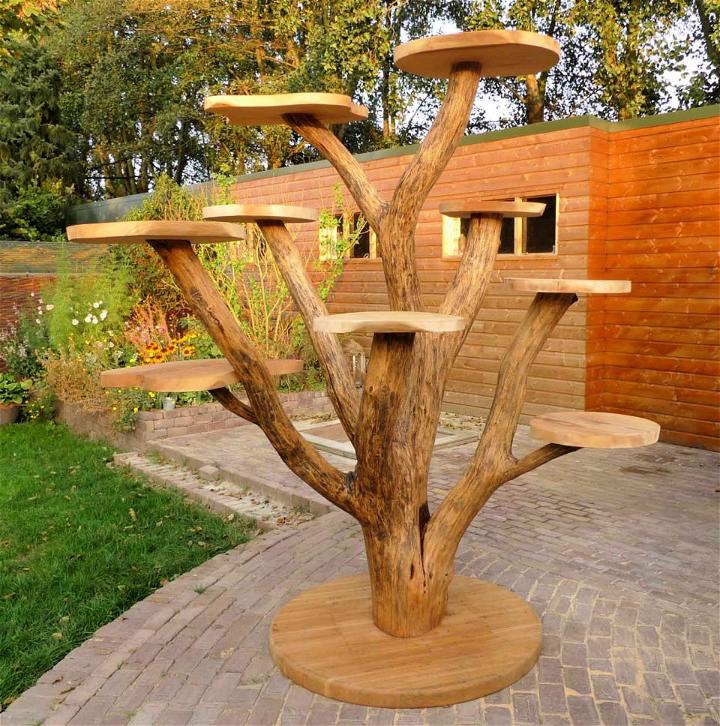 An outdoor cat tree is your way to ensure a perfect life for your feline friend! Because your cat needs some absolute space to be themselves! It not only makes a perfect cat tree but also makes a beautiful décor item! You can set it up in your patio, backyard, or even in your front yard.
9. Outdoor Cat Tree Using Baskets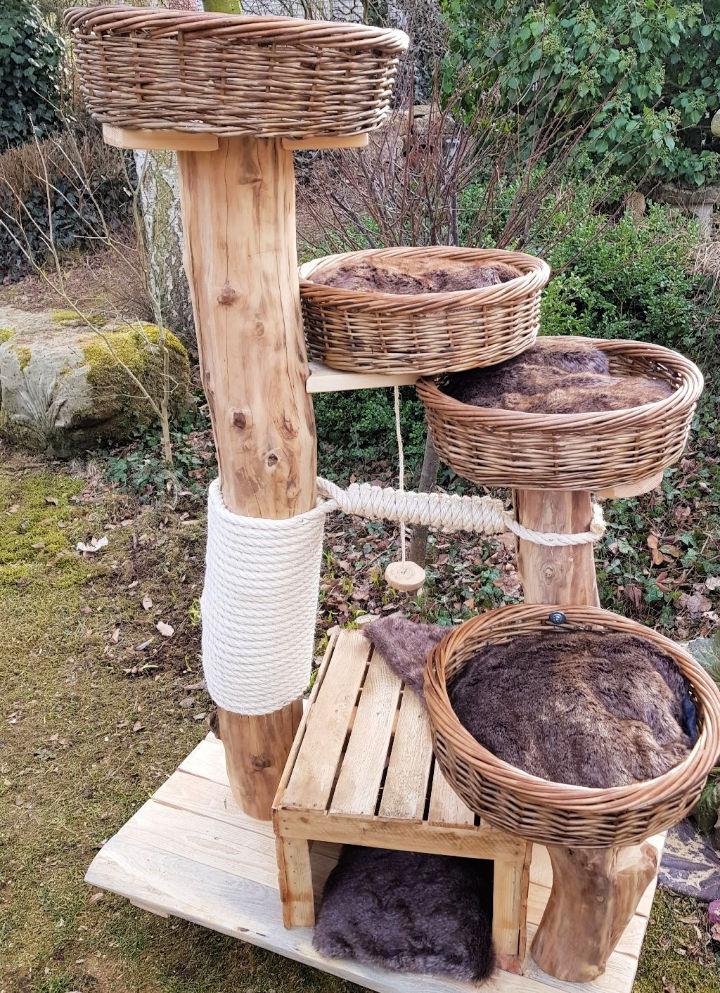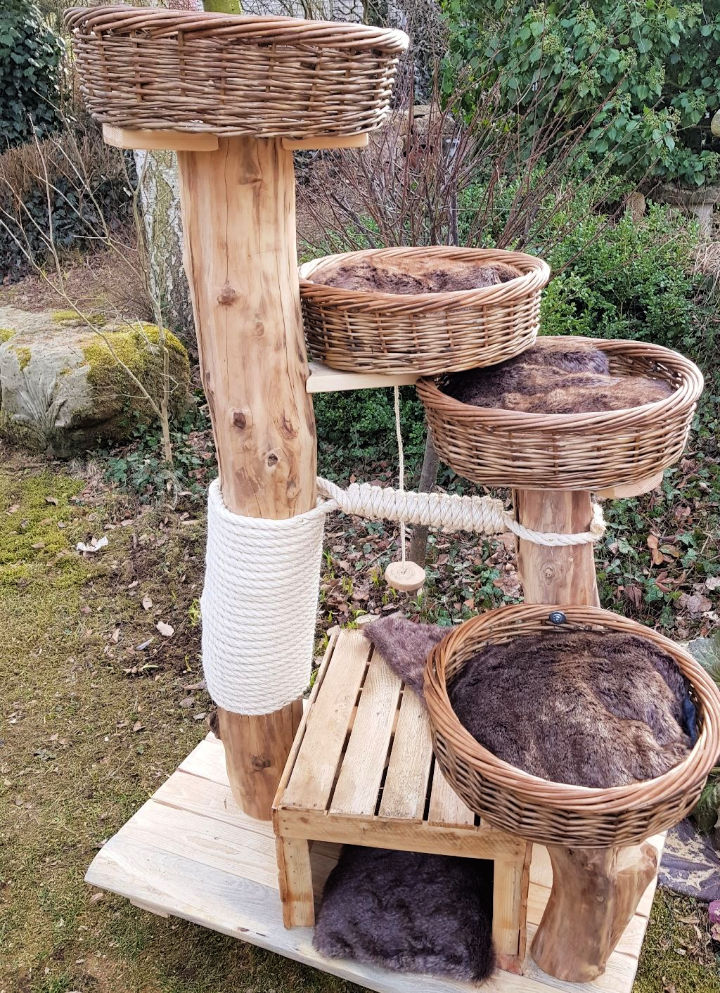 We know every cat person's first priority is to make their cat's life as comfy and happening as it could get! It can be spruced up by using just a few baskets on a tree! Add some sisal rope also to make a complete scratching post! Fill in the baskets with some comfy blankets, and there you go!
10. Elegant Driftwood OutdoorCat Tree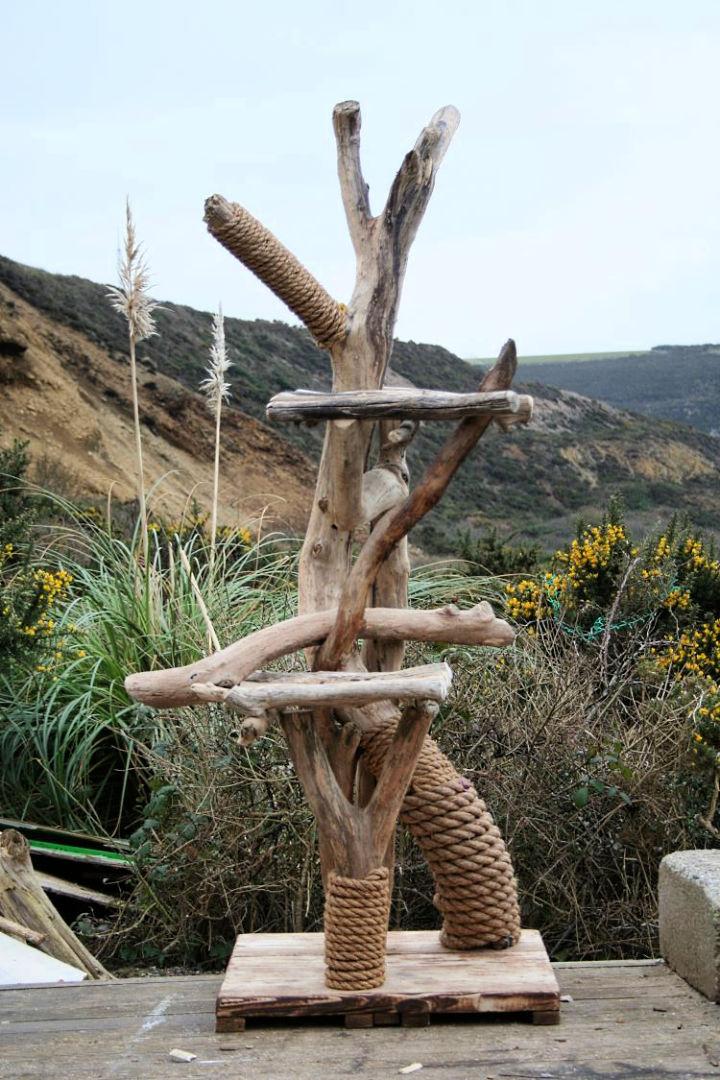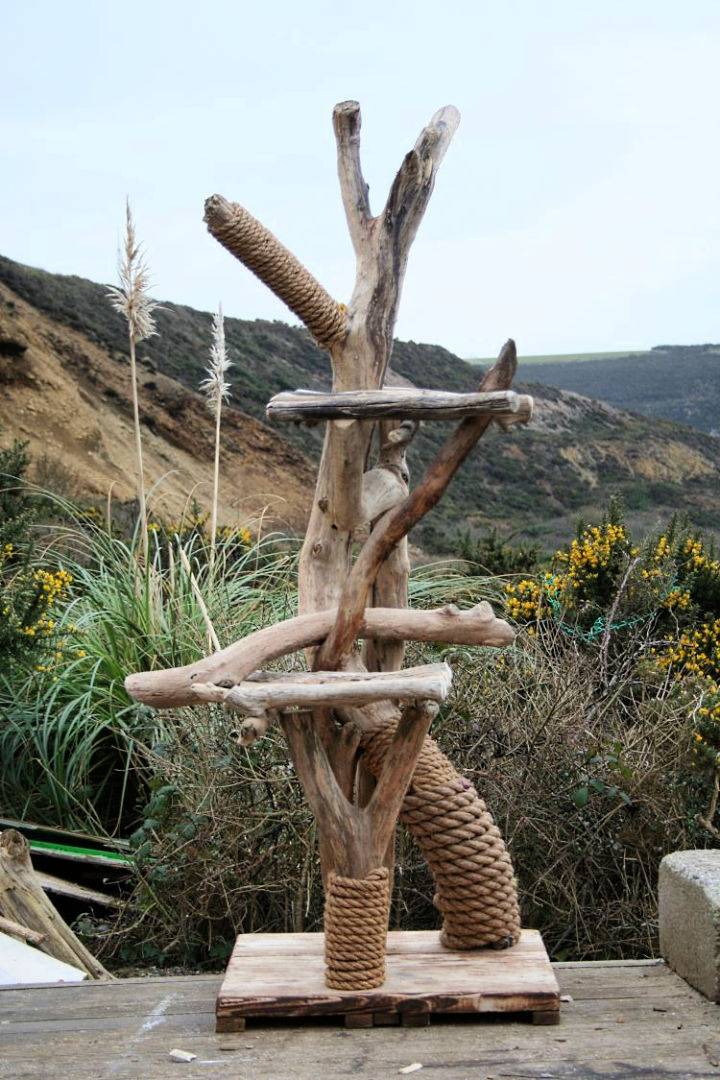 An elegant cat tree made out driftwood can be your way to add some fun to your cat's life! While at the same time make another subtle and whimsical décor addition to your place. Using a driftwood cat tree can be insanely easy. Not much hard work required either! But so many branches for your kitty to jump onto and explore.
11. Outdoor Wooden Cat Tree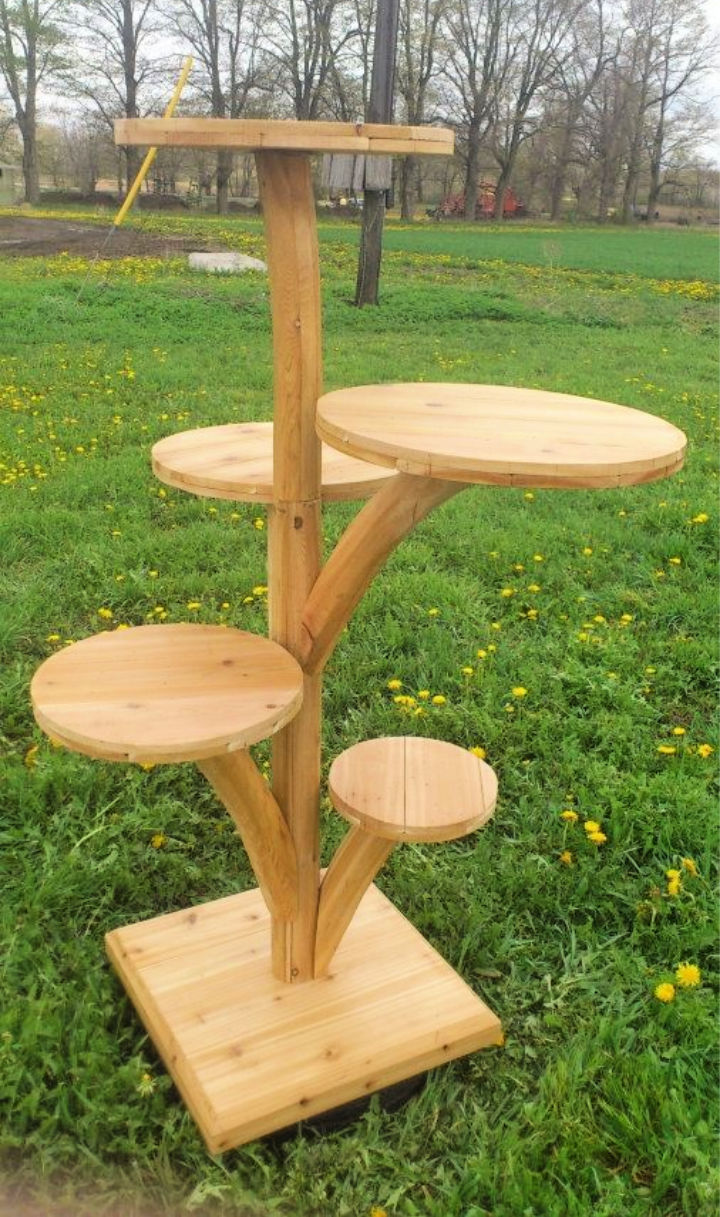 Let your cat go all crazy with this outdoor wooden cat tree. That will also keep your cat happily caught up in its own business, leaving your life in peace for a while. You will need just a few supplies, including some wood, drill, nails, sander, and a cat-loving spirit!
12. Outdoor Cat Tree Made from Real Trees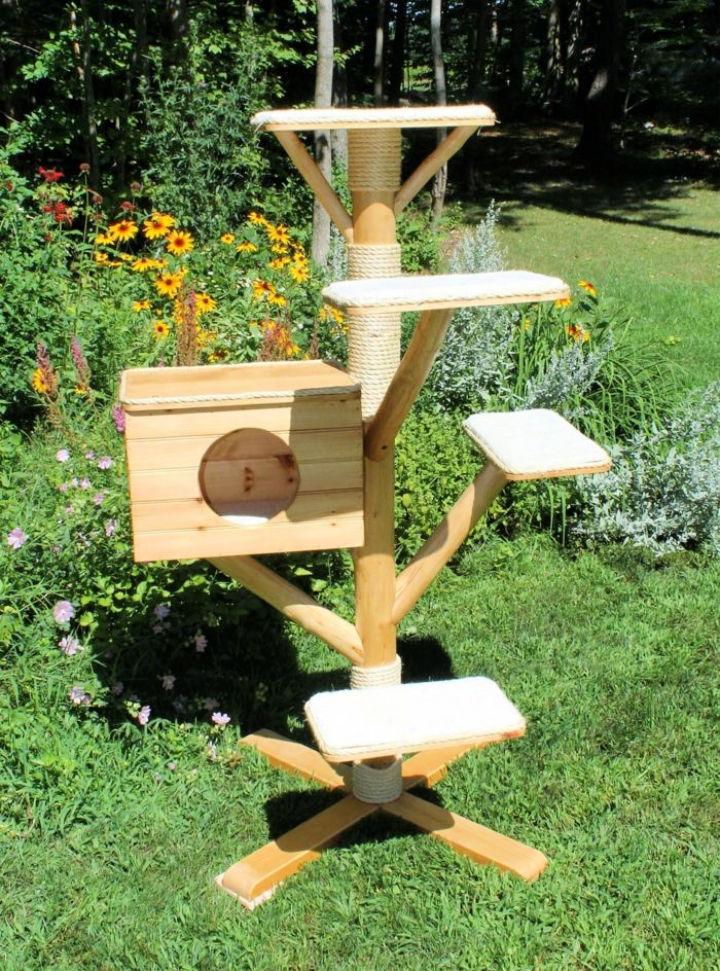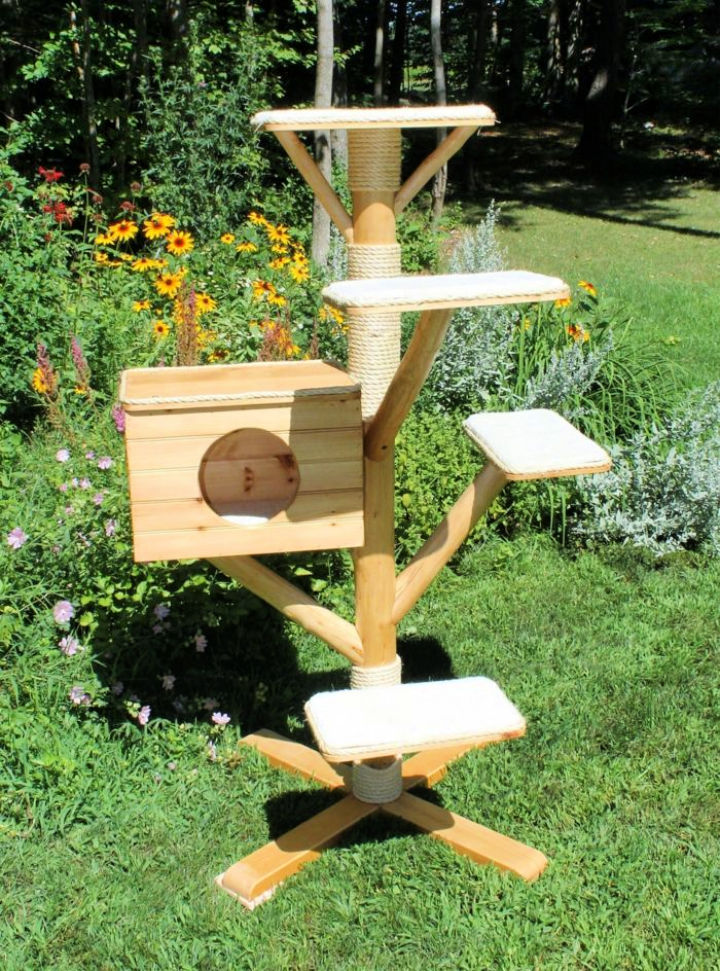 If you find your cat getting really clingy sometimes, get them something exciting to be occupied in by building them this outdoor cat tree. This project is made up of real trees! The floors can either have carpet on them using some adhesive, or you can also use some sisal rope for whipping up a scratching post too, along! It's an easy peasy build.
13. Outdoor Pet Tree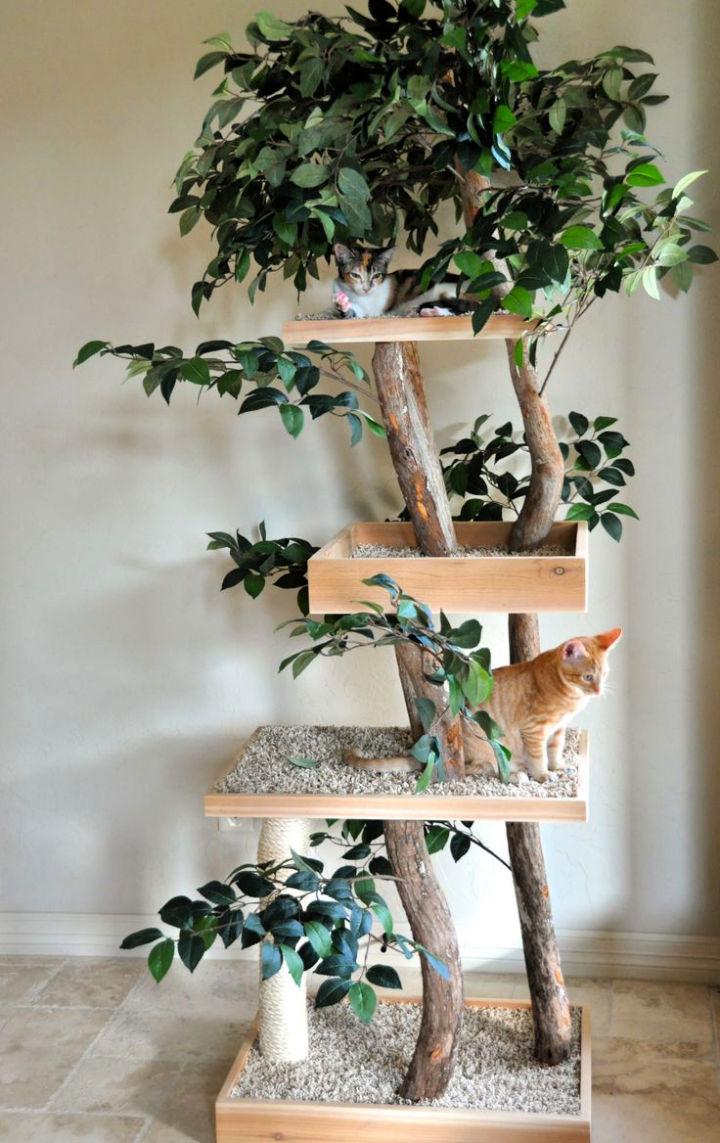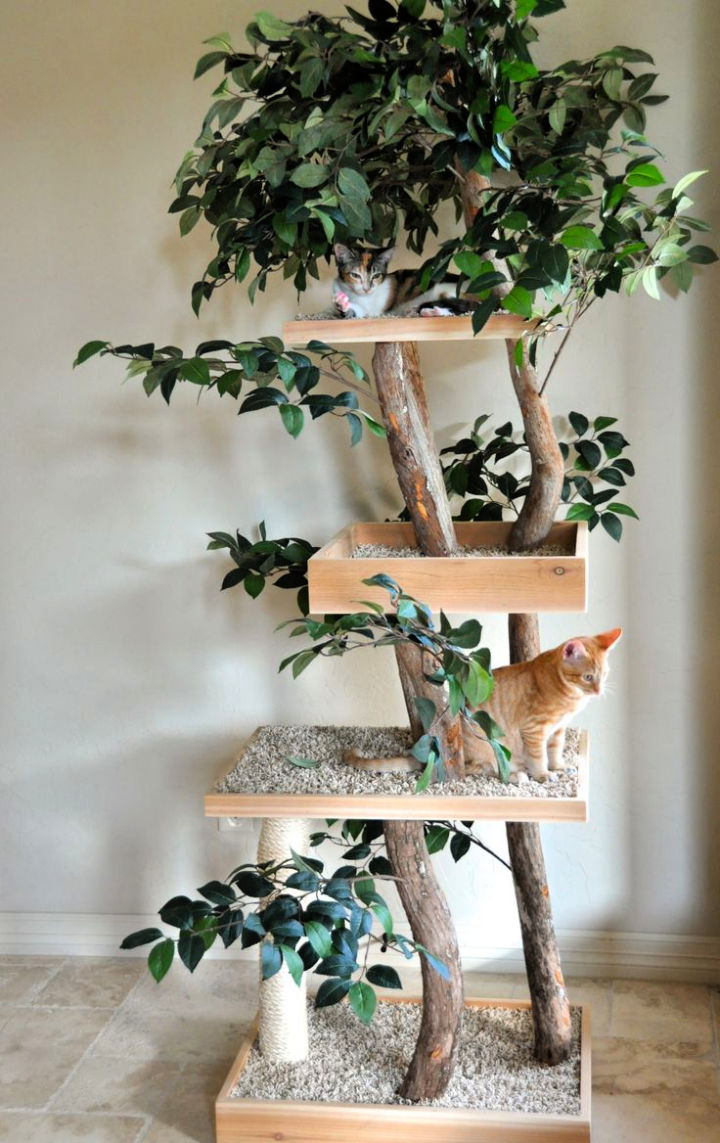 If your cat is happy, you will be happy too! So what should you do to make your cat's mood pleasant? Check out this outdoor pet tree project, perfect for embellishing any corner of your house. Also, your cats can have some great time even napping in here amidst all the green from all the up and above floors!
14. Outdoor Cat Climbing Frame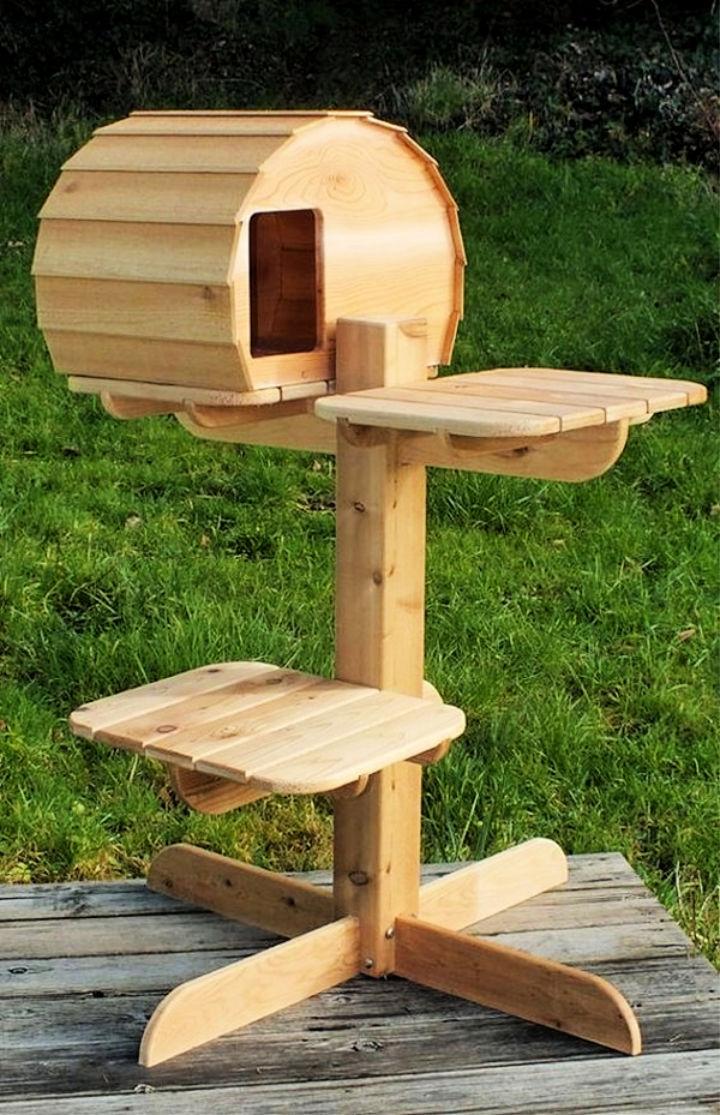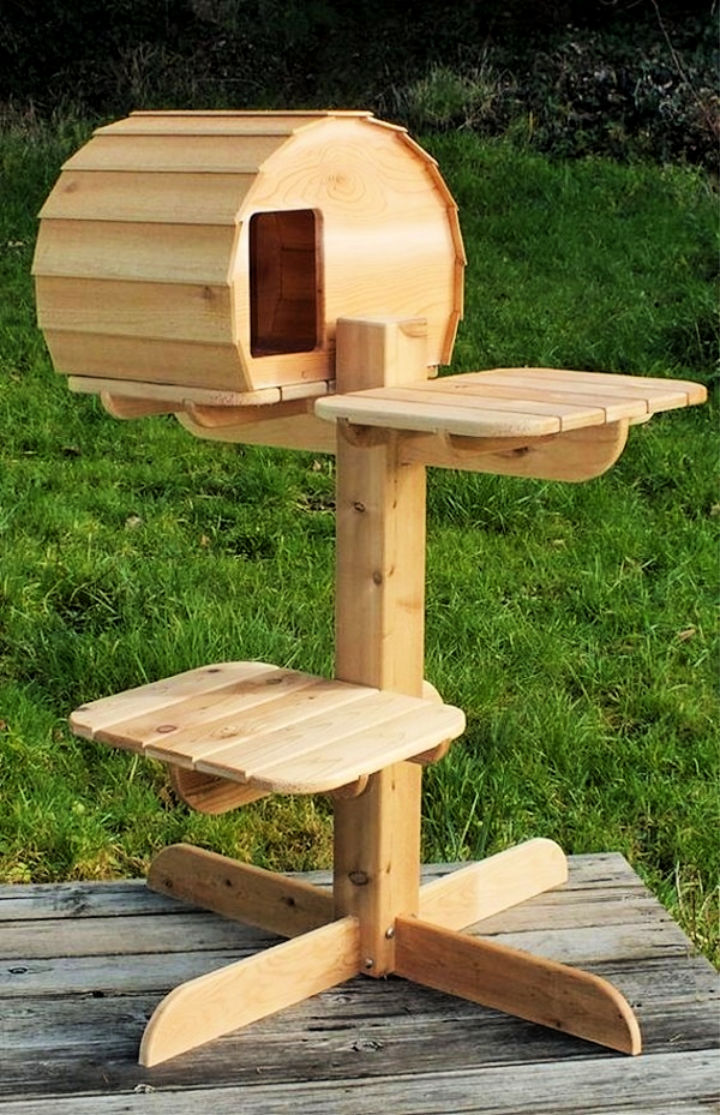 Cats can be synonymous with jumping, hopping, and exploring! That's all a cat does, really. And oh also napping. Add in scratching too. IF anything, this cat tree is nothing but a complete provider for all these cat-ly needs. A box to explore, floor joints to jump at, and enjoy!
We have shared plenty of DIY outdoor cat house ideas to choose from and build cheaply by yourself.
15. Easy to Make Cat Tree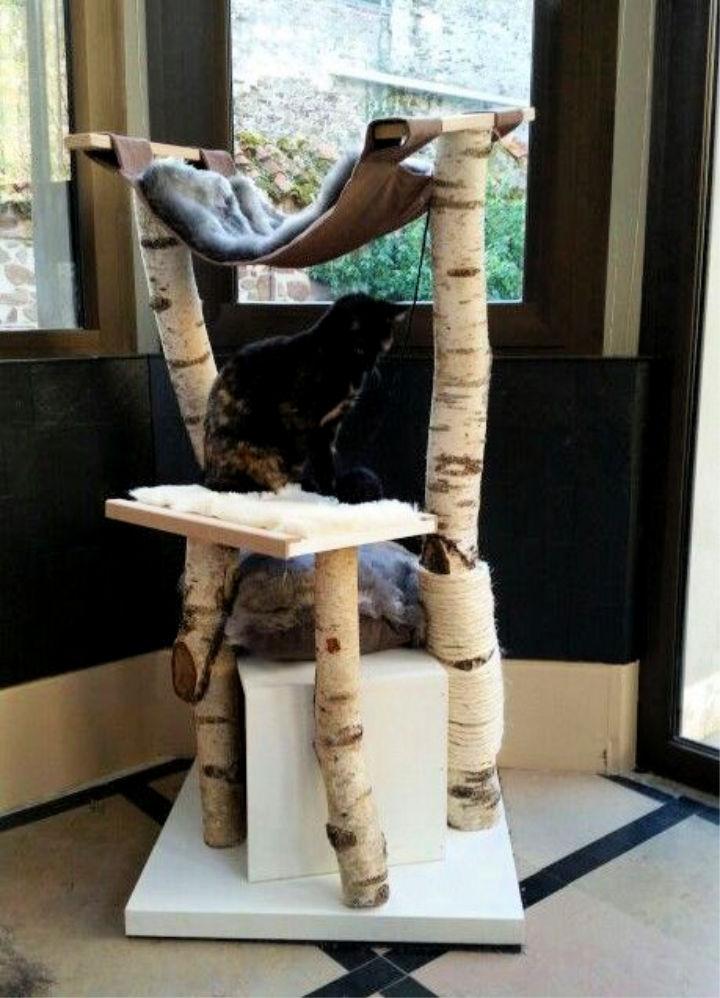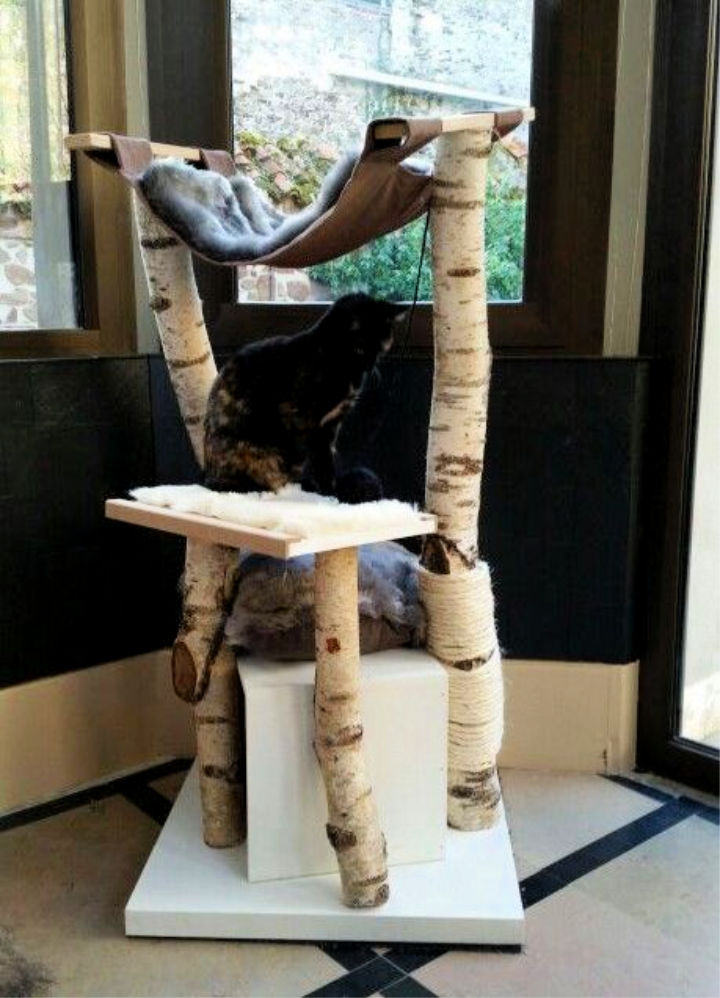 Don't have a lot of time at your hands to whip up an intricate project? Say a cat tree? What if we interest you into something rather simple-build but equally functional? Make this easy-peasy cat tree for your furry fellow and make a perfect spot for their napping, playing, and scratching!
You may also be looking for a new cat perch or cat shelf for your favorite kitty? We've shared a wide selection of easy to build DIY cat shelves with step by step instructions.
Your cat also need a comfortable sleep! Find the right DIY cat bed and make your own at home without spending a single dollar.
A happy cat means a happy life! Give them minimal space to act like who they really are, and you can totally mess up their mood, make them clingier, and, of course, noisier. An outdoor cat tree or a cat dree with a high altitude means more space to peek out from and more space to explore. Be the ideal and perfect cat person with these outdoor cat tree ideas and plans!