Cats are like the kids of the house! If you have kids, we bet you must be addressing your cat as the other kid in the house. They need love, care, and pampering like that. This roundup of these 20 best DIY cat bed ideas is your ultimate guide to making your cat's life as comfortable and ideal as it could get! While at the same time making your life a bit less expensive in maintaining the DIY home decor and cat accessories. Therefore, DIYing is always the ideal choice to go for when you want to make an economical and equally stylish addition to your decor.
Cats love to curl up and snuggle in a cozy place! And we all know that they mostly like to sleep all day long once they have grown up especially. Why not make the cat's sleeping experience so much more fun and cozy for them? So, how to make a cat bed? a DIY cat bed is an answer to all your questions.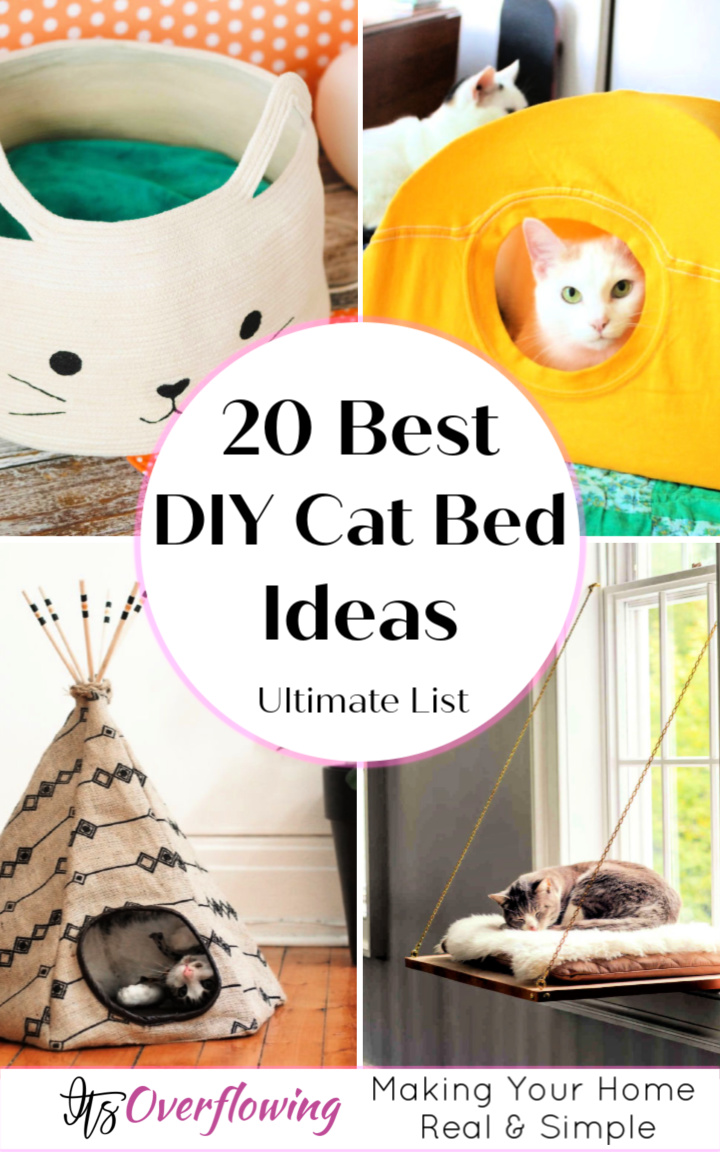 Our selected DIY cat bed tutorials are purrfect in many ways that are cheap and help your cats sleep instantly! They use most of the recyclable materials. Which might already be available at your homes. Call it a fun crocheting night or day, whipping up a cozy home for your cat. Or make a pretty and chic cat bed out of any vintage suitcase. You will need some stylish fabric pieces, some of these DIY cat bed ideas need basic sewing skills, and some need basic woodworking skills.
How to make a cat bed quickly?
Most of these DIY cat beds are a straightforward build requiring just 30 minutes or an hour at max! If you have two or more cats, you can even make pretty cool and comfy bunk beds. So, hop on to your creativity, and let's make some perfectly cozy beds for your furry fellows!
1. No-Sew DIY Cat Bed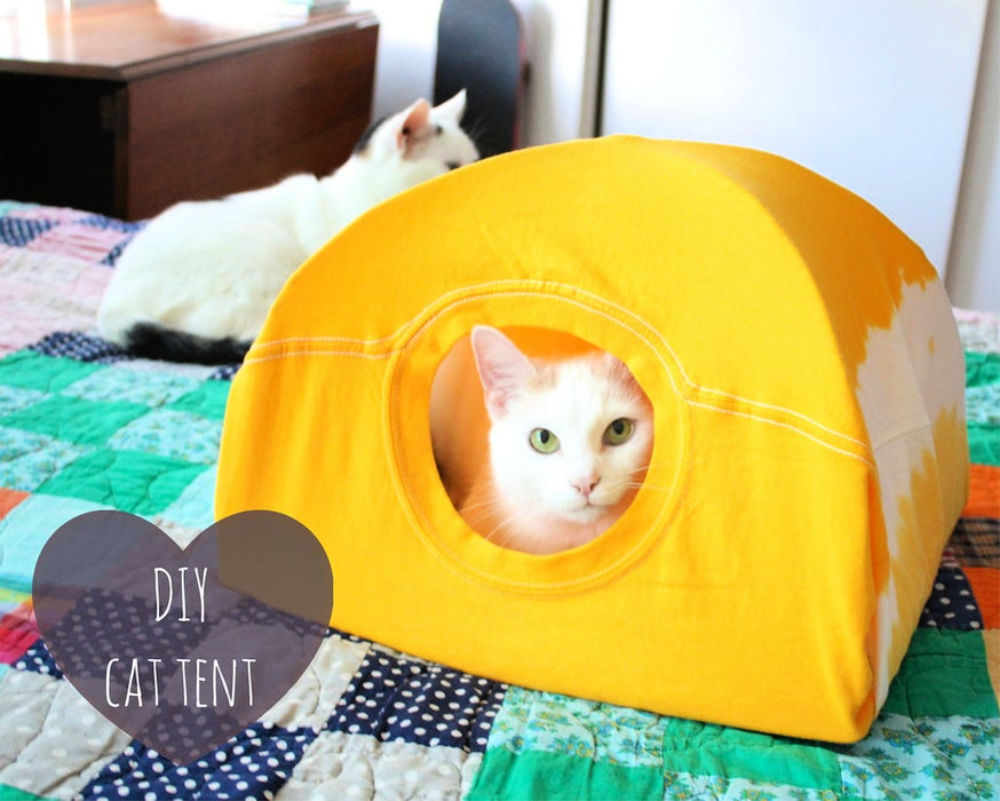 Your cat needs an uber-comfy space to sleep in or play around! Make this cat tent for your furry friend! It is insanely easy to whip up and super comfortable for your cat to sleep in. All you need to have is a t-shirt, wire hangers, piece of cardboard, and the step by step guide in the link below to nail it. instructables
2. How to Build a Cat Bed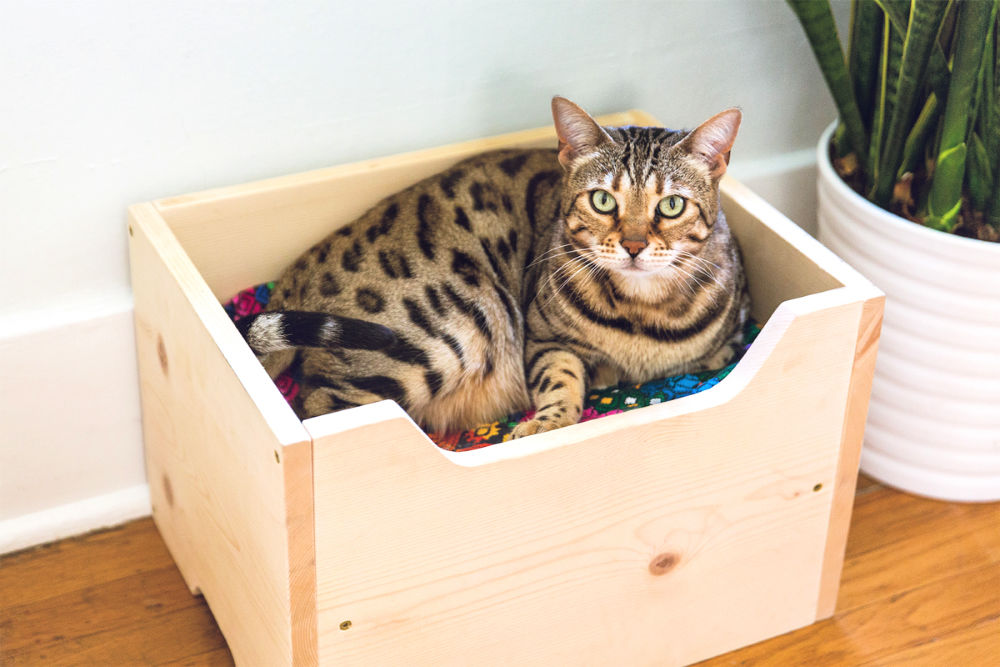 Some cats are usually reluctant to rest in a closed space! This DIY cat bed is comfy and open too! Makes such a purrfect bed for your cat. This is just a 30-minute build. Along with this step by step instructions, you will also need supplies like saw, drill, jigsaw, clamps, speed square to work this up. dunnlumber
3. Free Cat Bed Sewing Pattern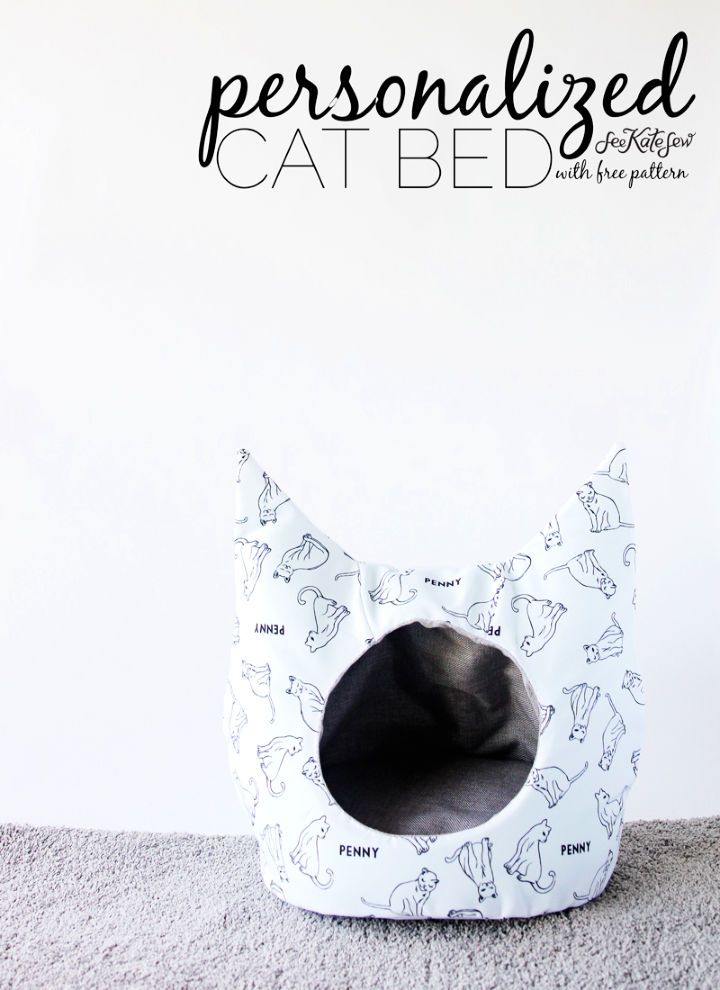 Get a free homemade cat bed sewing pattern from the link below and start making this kitty shaped bed for your kitty! Honestly, it will make an ideal cat bed! And your cat is also going to adore it. Gather supplies like 1-yard fabric printed, 1 yard of lining fabric, seat cushion, thread, needle, and scissors to get started. seekatesew
4. How to Create a Cat Tipi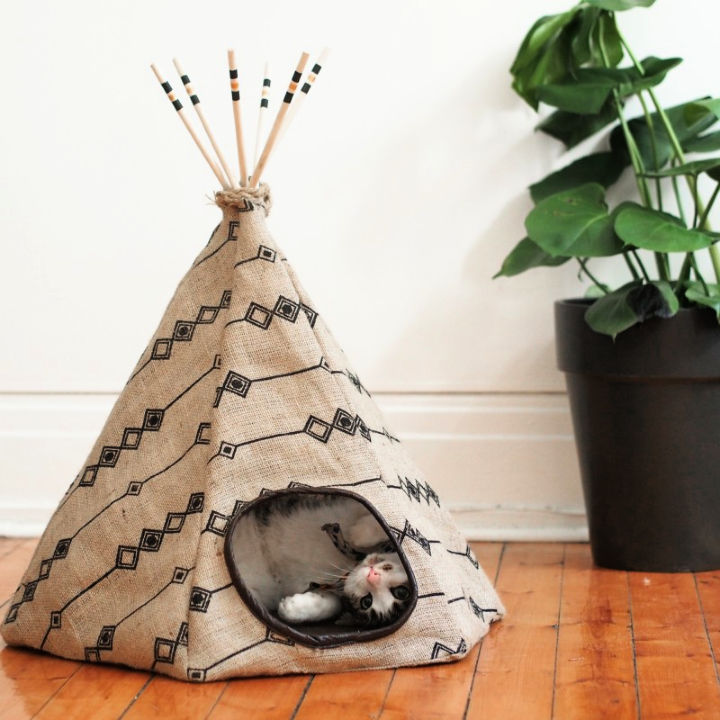 We bet you have never seen anything as cuter as this cat tipi for your cat. You can whip it up in short little breaks from your daily routines! It will look absolutely lovely complimenting your decor, too, by fitting right into it! Because it has a small opening entrance and we all know cats love exploring these little areas A LOT! dentelleetfle
5. Turn Cardboard Box Into a Stylish Cat Bed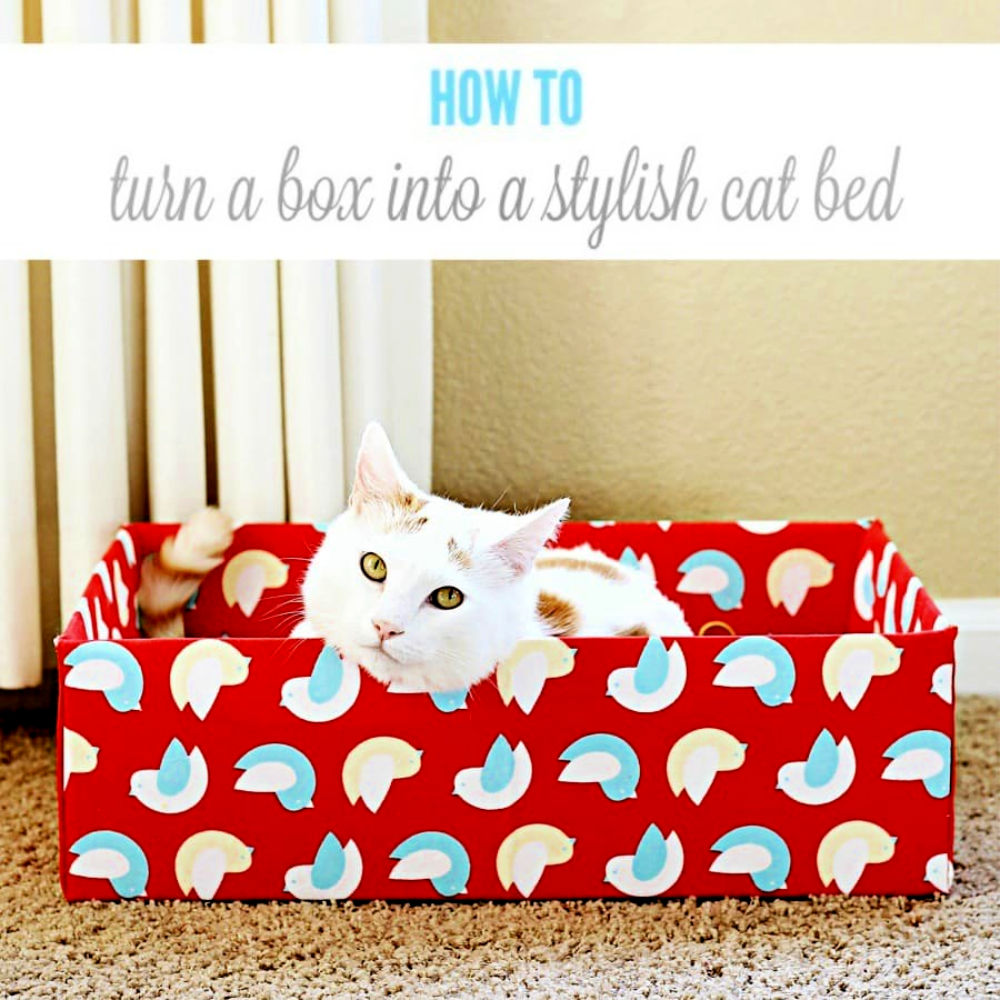 Well, you can now transform an ordinary cardboard box into your cat's new contemporary home! So next time, when your postman brings a package, save it to do this amazing project. Grab just a few inexpensive materials and start doing this homemade cat bed project for your kitty. theantijunecle
6. DIY Coastal Cat Bed
Just because you find a cat bed at the store too expensive doesn't mean your cat can't have one. Now you can smartly whip it up all by yourself with supplies like a wood crate, starfish, glue gun, white paint, paintbrush, 2×3 wood board, and 2-inch screws. gina michele
7. Make a Copper Pipe Cat Bed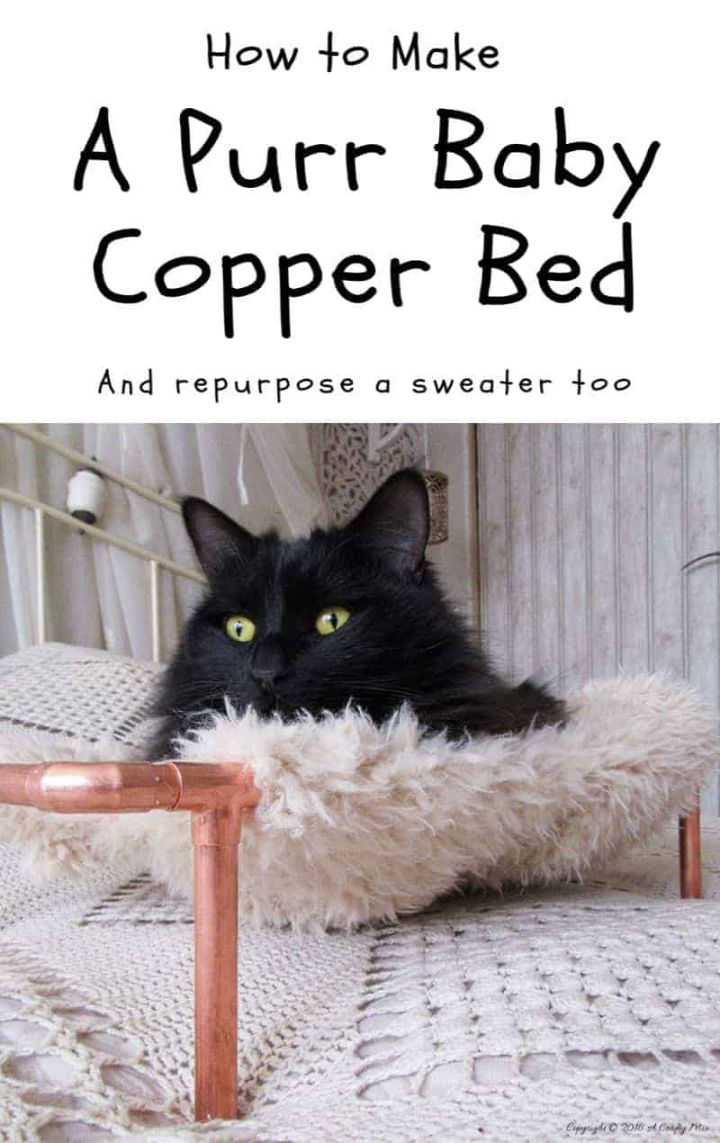 If your cat is getting bored or clingier day by day, just divert its attention to something amazing and fun. Use an old sweater to make this copper pipe bed for your cat. This project will be a real cuddle and snuggle for your kitty. Give the instructions here a little peek too! acraftymix
8. Turn Suitcase into Cat Bed
Now you can turn your vintage suitcase into a lush DIY cat bed. Because your cat needs some purrfect space too. So let it be this one! It makes an absolutely lavish and welcoming bed for your kitty! camillestyles
9. Rope Bowl Cat Bed
Crafting your cat bed is literally just a piece of cake. Use the techniques mentioned in the video tutorial and make this bed like a pro. You will need tools like a sewing machine, pins, scissors, fabric marker, and materials like thread, craft paint, quilt batting, and fabric to spruce up this project. liagriffith
10. Cat Bed for Your Sweet Kitty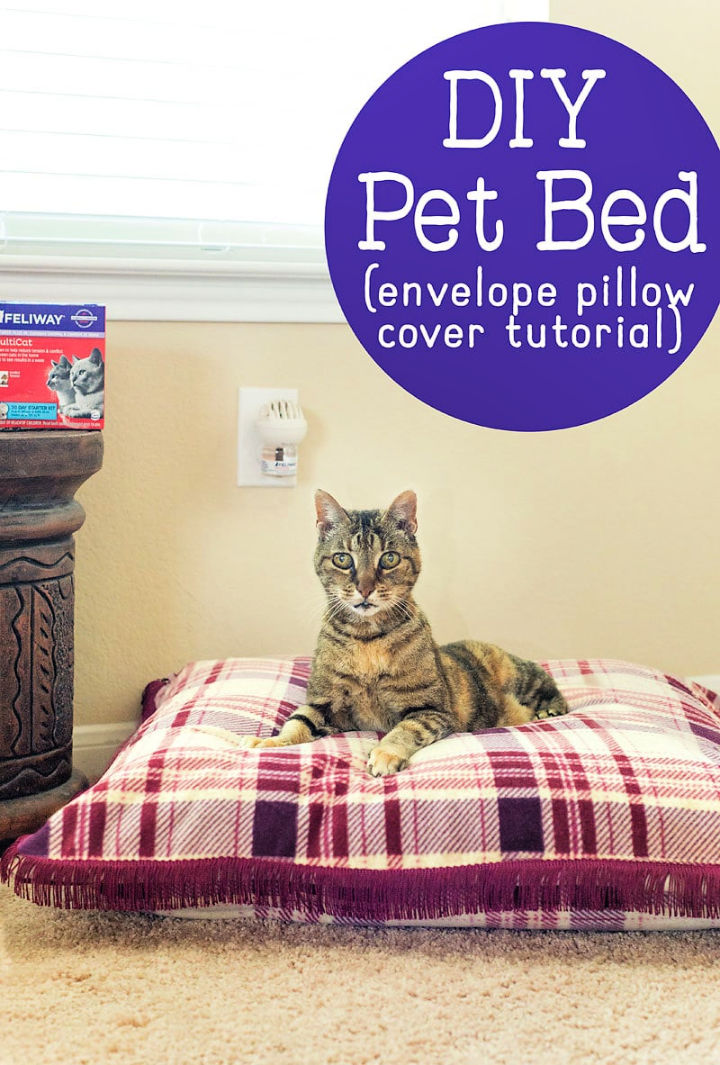 You know cats are usually more of a free spirit! Why not respect their privacy and freedom as much as you can! Check out this cat bed for your kitty made from the envelope pillow cover. This project will take your few minutes, and you can end up seeing your cat happily hopping on it. scatteredthou
11. Cat Bed that Cost Less than $8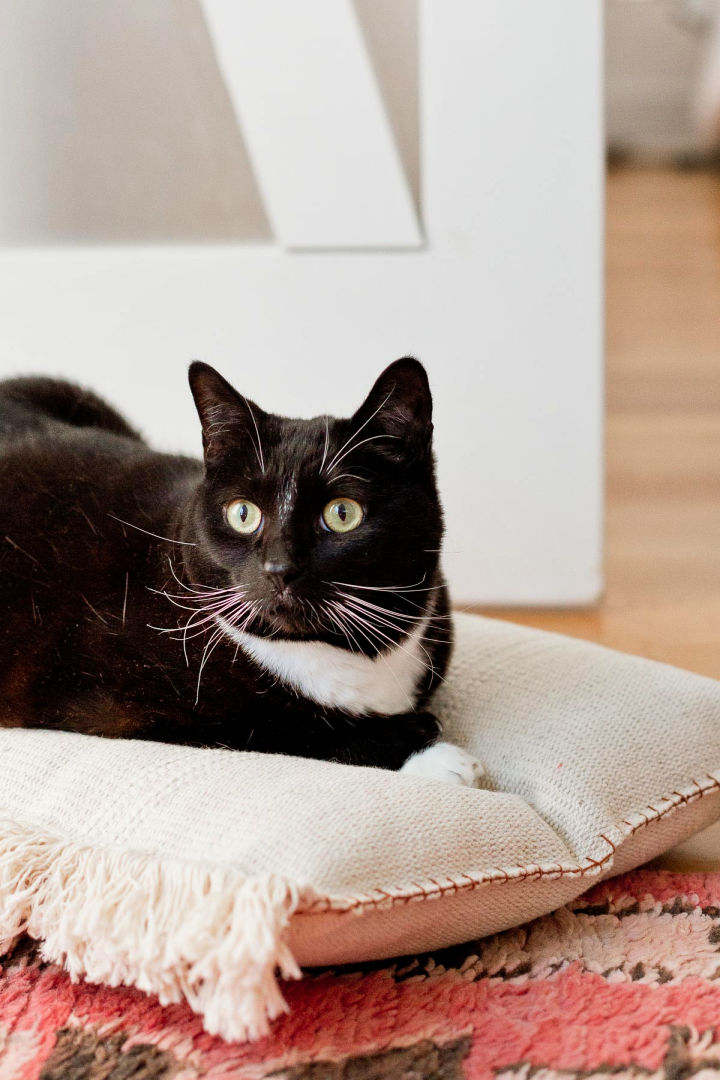 Don't go for an expensive DIY cat bed for your cat when you can easily whip up a cat bed cost-effectively at home. This project will surprisingly cost you even less than 8 dollars. Also, it is super easy and fun to ace in just nick of time. papernstitch
12. Free Crochet Cat Bed Pattern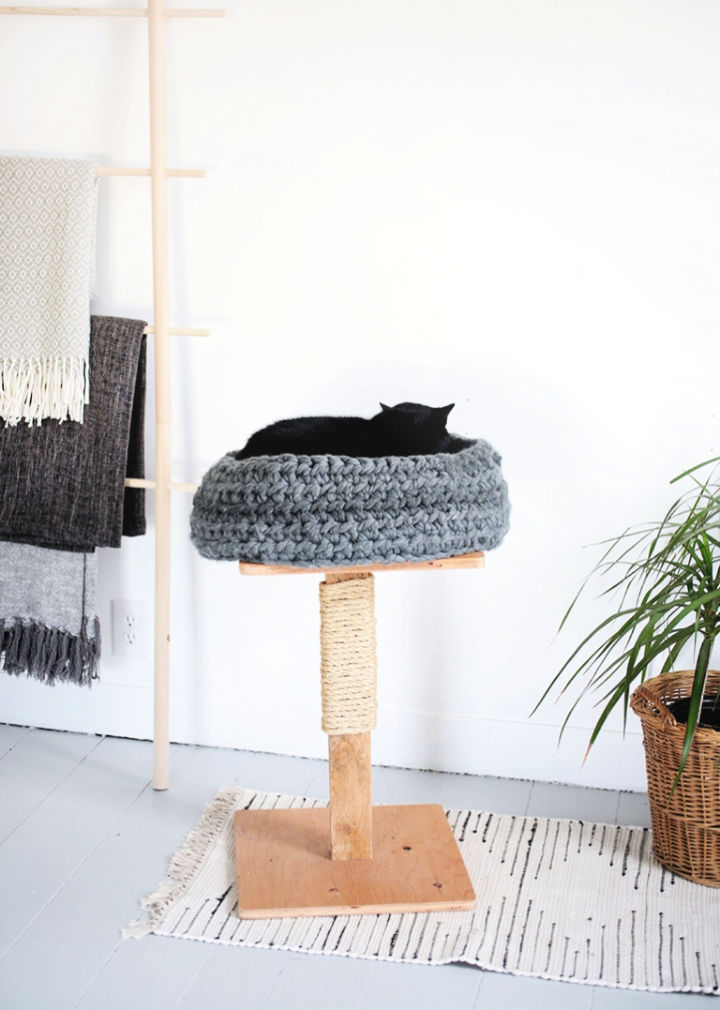 Hello, ladies! Who loves crocheting and knitting! Here is this easy-peasy project that you can use to make a perfectly cozy cat bed for your furry friend! Most importantly, so that you can, and your cat can live in peace. Grab supplies like 9 skeins of loops and thread, scissors, crochet hook, and a tapestry needle. themerrythought
Do you also want to give your cats more area to play and fun? Then you must have look at these free DIY cat tree plans for your favorite feline friend!
13. Stylish DIY Cat Bed
Hunting for a stylish cat bed for your cat? Stylish cat beds are still a thing! Don't get carried away by the commercial boring and expensive cat beds! Bring your supplies from the nearest store. You will need fabric, yarn, scissors, pencil, ruler, sewing machine, fabric marker, and a yarn needle to make something such exciting. designlovefest
14. Moon Cat Crib From Pallets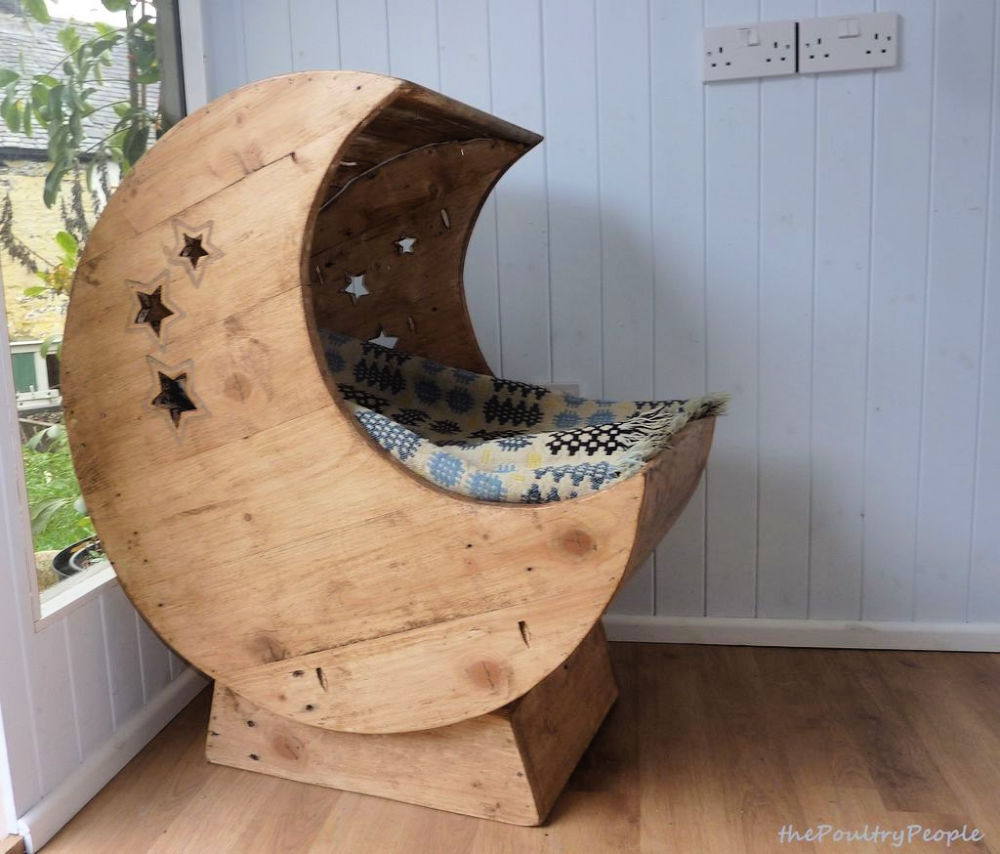 Do you want to make a cat bed that would be an amazing addition to your home's decor as well? Build this moon crib for your kitty and make your furry friend feel special! Supplies needed for this DIY cat bed include jigsaw, hammer, chop saw, nails, screws, string, and pencil. instructables
15. Wooden Cat House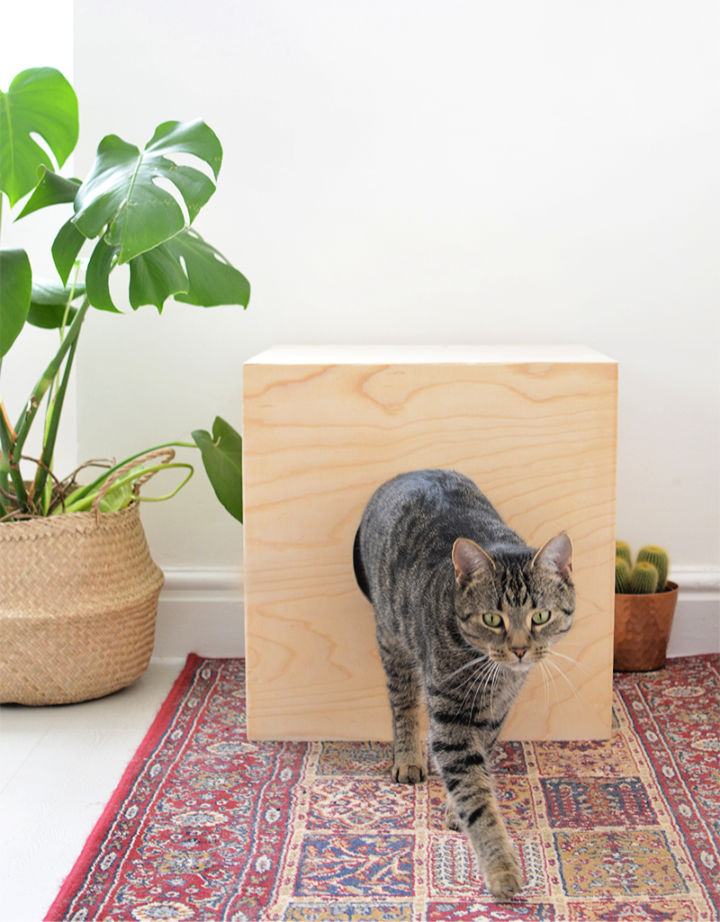 Make a cat house out of wooden panels. This is quite a fun and easy craft that can be whipped up in just an hour. It is a beginner's project that will not even require any advance level of skills. You can nail this project by simply following the instructions in the tutorial. burkatron
16. Vintage Suitcase Cat Bed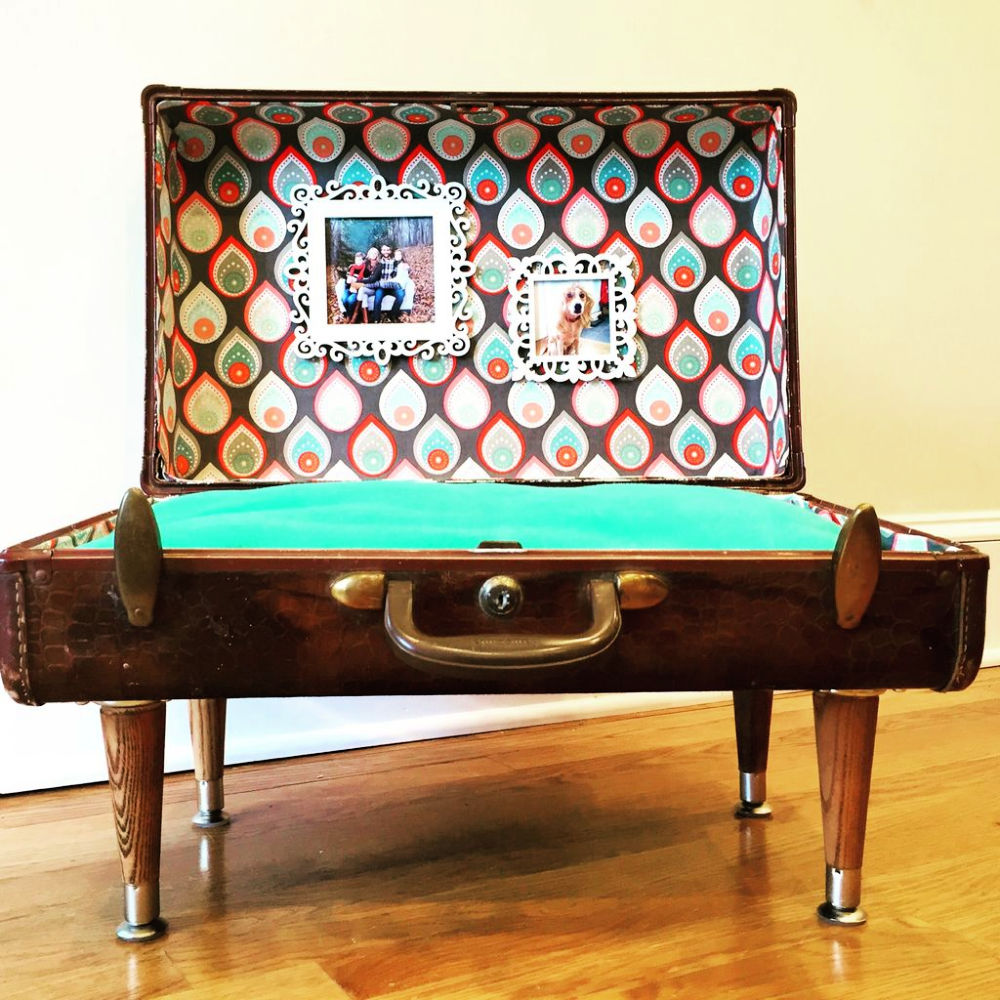 Every house has a storage space door that leads to the world of vintage suitcases. You can definitely turn one of them into a perfect cat bed for your kitty. Hence the materials like a suitcase, furniture legs, angle brackets, screws, nuts, fabric, stuffing, and also an adhesive. instructables
17. Cat Window Perch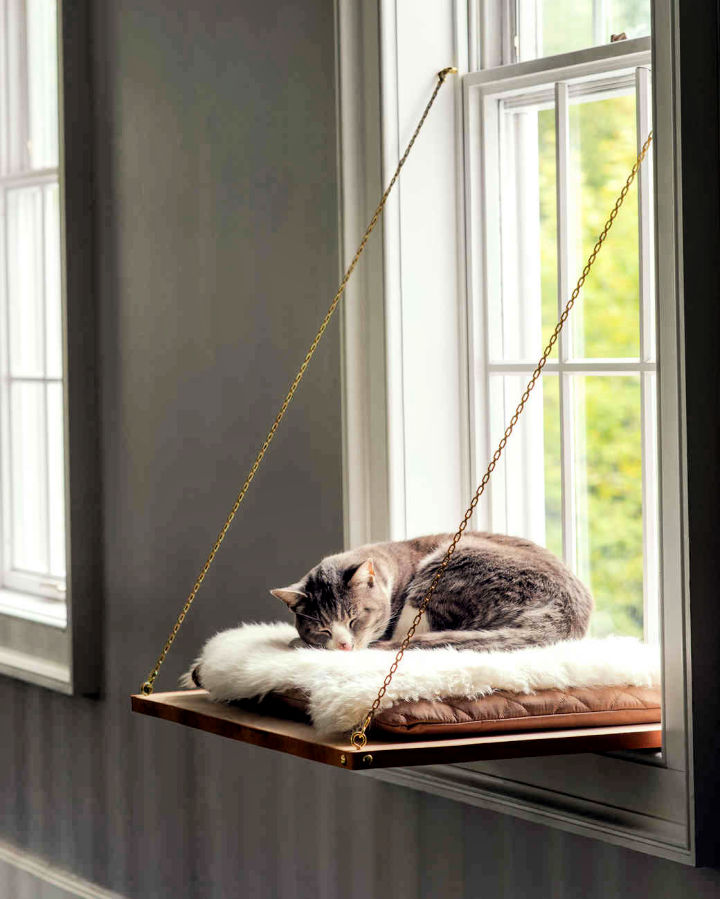 As cats love to sleep all day long, almost so why not give your cat a comfortable space to sleep and also an excellent view to peek outside? Two of their favorite things to do for sure! All you need to do is follow the three steps! Make the seat, hang it tight, and make it cozy. You will love creating this homemade cat bed project. marthastewart
18. DIY Cat Bed to Match Any Home Decor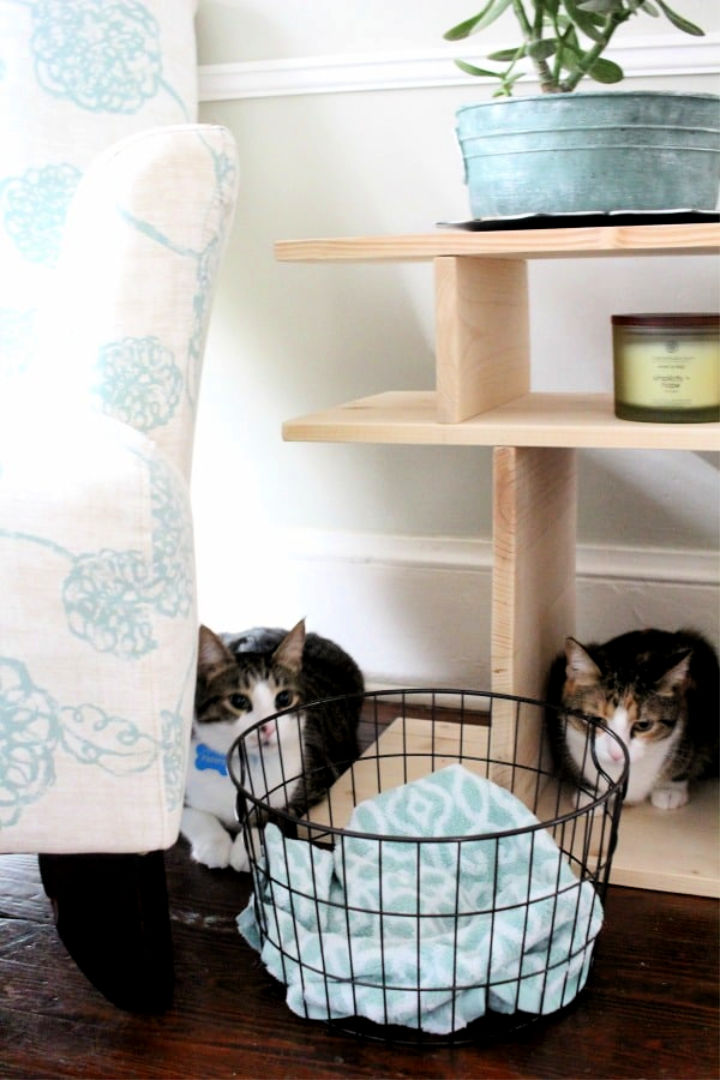 How to make a cat bed out of a blanket? When it comes to maintaining a home interior and, at the same time, adding a cat bed into it! A customized DIY cat bed is certainly the way to go! You must check out this simple cat bed that can be customized as per the theme of your home decor. So stop worrying and take the big and thoughtful step for your cat's comfort. Hit the tutorial for details! soeasybeinggr
19. Make a DIY Pet Teepee
Not a fan of complex and detailed DIY projects? So how about we interest you into a stylish and super easy cat teepee. This teepee is customizable; you can set it according to your kitty's size. Pick a fabric and start off with cable ties, scissors, and cotton rope. bhg
20. DIY Cat Suitcase Bunk Bed
If you have got 2 cats, then the struggle to making them not hate each other is certainly real! As they usually want what the other one is having! This bunk bed is your solution to handling that problem to an extent, at least. It will also look amazing at any corner or in the middle of the TV lounge. The homemade cat bed tutorial has a comprehensive video to walk you through the steps! hallmarkcha
You may also check this DIY cat shelves guide to give your cats more space to play in an inexpensive way!
Just like your kids, your cats also need the perfect place to take a nap, play, or sleep! Even if you are not up to making an intricate bed, you can simply go for a cool teepee or just a bunch of little tiny mattresses collection! With these DIY cat bed ideas in your hands, it seems like you can never get out of ideas to make your cat's life more happening and fun. After all, they love exploring everything. A new DIY cat bed is equal to a new area to explore!