A fully featured desk is the main item to put in your office or workspace for amazing productivity. Finding modern desks expensive to buy? Then build stand out designs of modern IKEA desks at home with these 25 most unique IKEA Desk hacks that throw light on using the IKEA components to build a durable, storage-friendly, and stylish looking desk. Whether you need a modern desk for your study room or home office, the IKEA desk hack will make a smart choice. Browse this list of 25 IKEA Desk Hacks that will amaze your senses at a very first look. From miniature computer desks to kids' office desks to studio desks, you are going to see all designs to build with the IKEA components.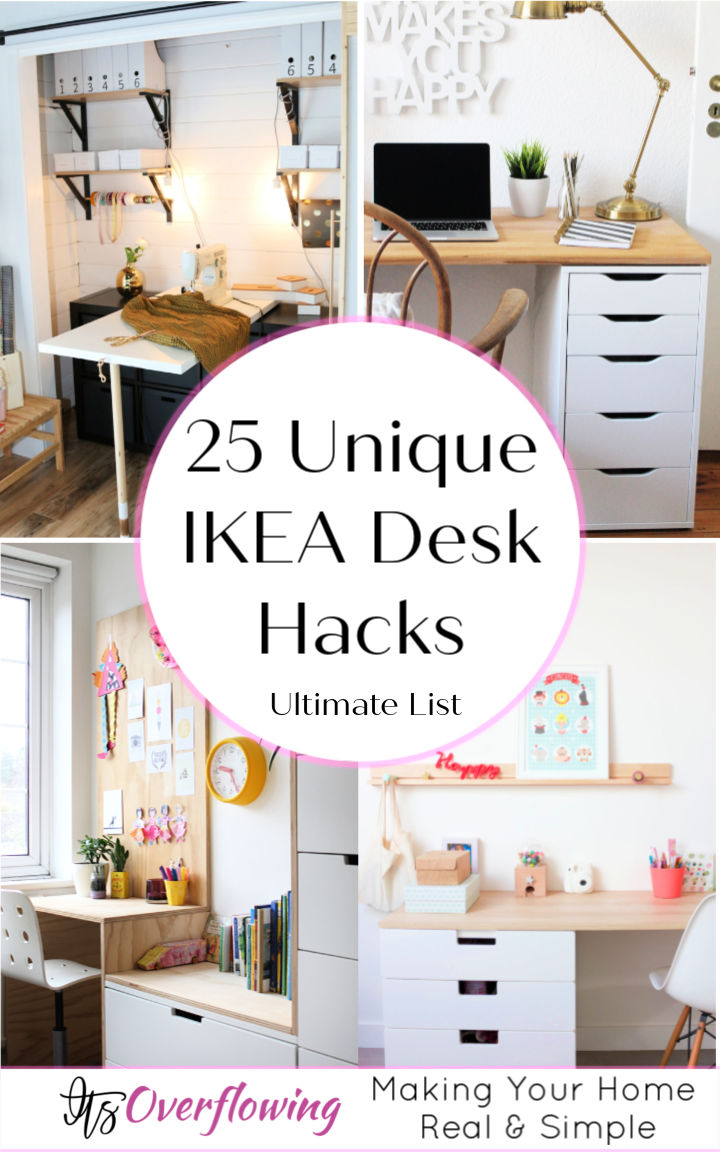 Raise the IKEA Linnmon tabletop on custom IKEA hair or Lerberg legs to build stylishly modern desks. If you want some super storage-friendly desks designs, then install the IKEA dressers and bookshelves in place of legs. Grab the IKEA Micke desks and replace their drawers with keyboard trays to make lovely computer desks. Install also the IKEA A-frame legs to an IKEA LACK TV unit to build a modern standing desk. These IKEA hacks are an inexpensive bypass to reach to ultra-modern and multi-featured desks.
Put together IKEA Expedit units too to make adorable desks and save a lot of space by installing wall-mounted desks on twin tracks. Explore the entire collection of these DIY IKEA Desk Hacks to check a lot more interesting desk designs, will hold your attention at a very first look.
1. IKEA Desk Hack for Home Work Space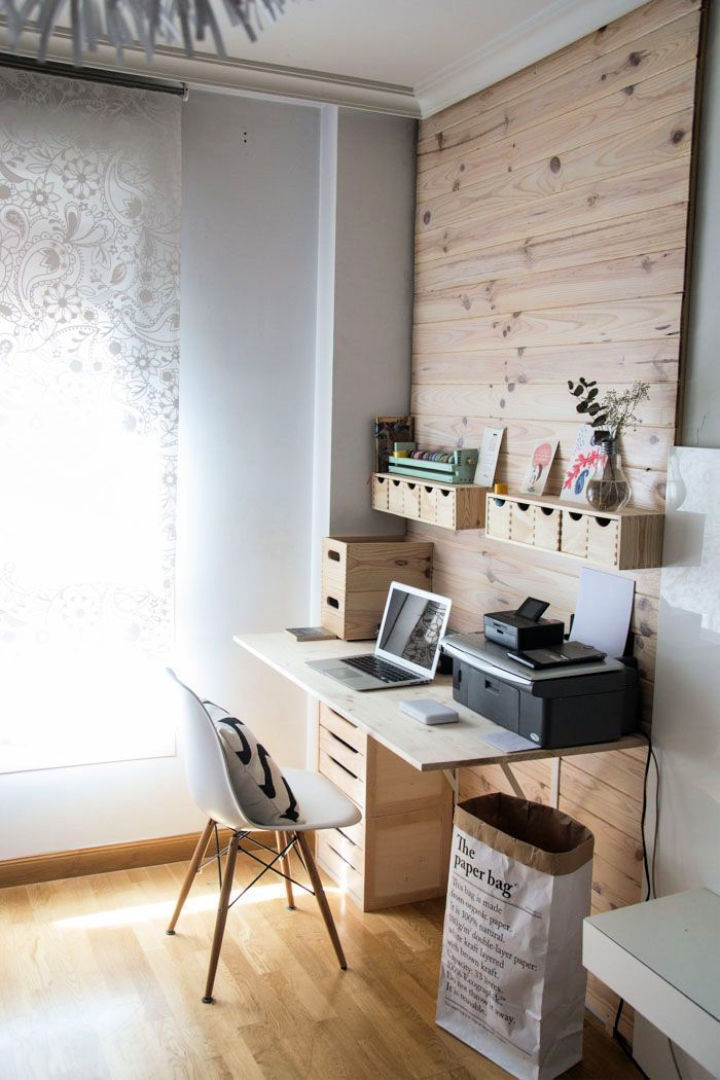 If you need to organize your home workspace, then you must go with this creative IKEA hack that allows you quickly step up a home space with a hot wooden appeal. This workspace contains a lovely wooden desktop, accent shelf with built-in hidden storage options. Details here hadasycuscus
2. DIY Plywood Kid's Desk Area and IKEA Hack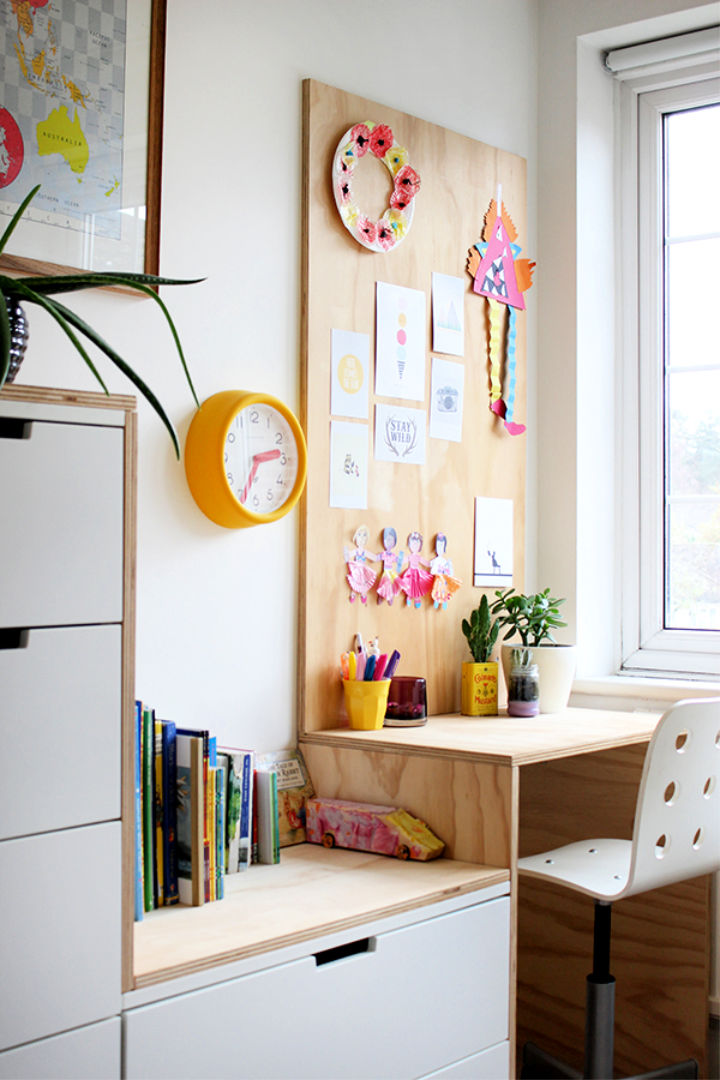 Bring a great decorative character to kids' bedroom by featuring a hot touch of wood. The ideas is to build an IKEA desk that comes with a tall raised back panel. To add storage in the room, grab the IKEA storage units and simple clad them with plywood like they are part of the desk. growingspaces
3. Functional Child Office Desk Hack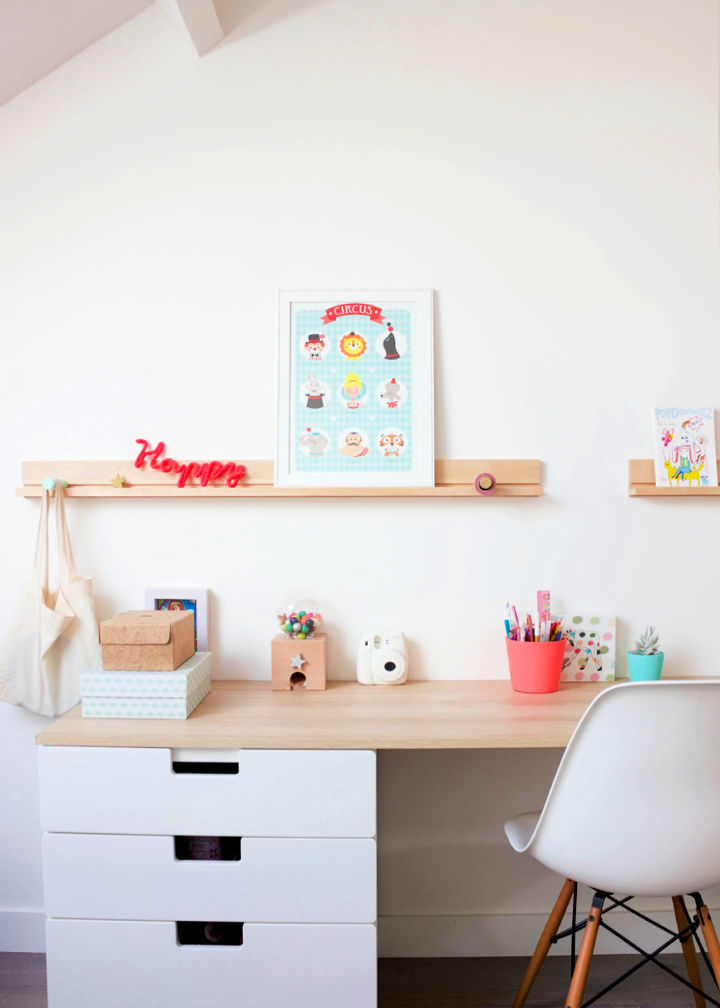 Organize the home workspace for the kids using this IKEA hack. It will help create a modern look of child office along with bringing a big functional character. You need 1 Stuva Module 3 drawers, 1 Stuva cabinet, 2 Stuva fronts, 1 melamine board and 1 adhesive roll of color to make it. peekitmagazine
4. Eye-catching Home Office Desk Hack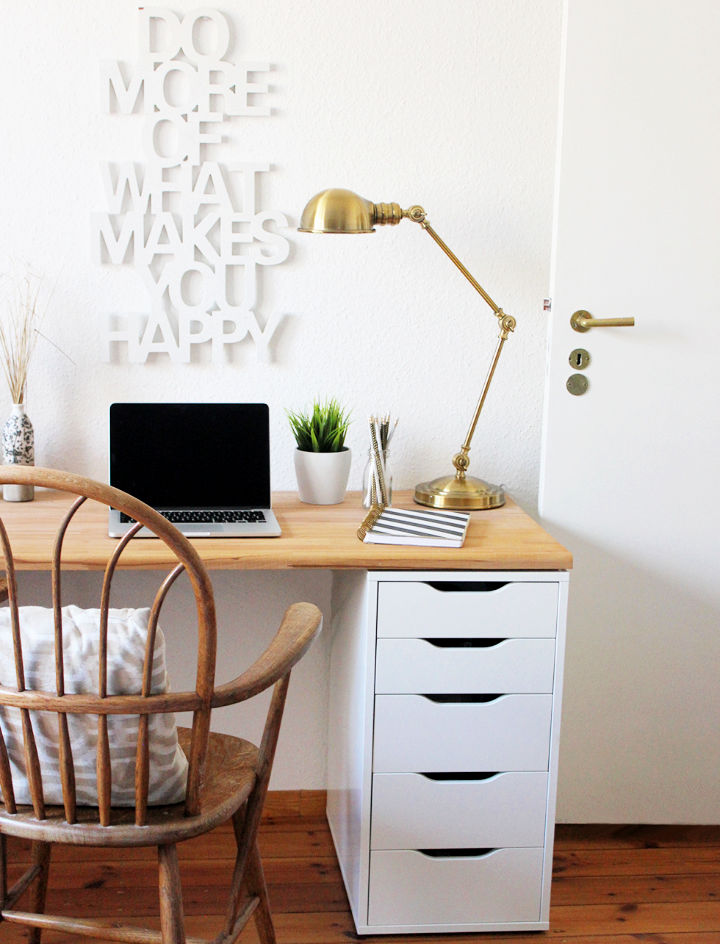 Update your home office with this eye-catching home office desk, will surely impress at a first glance. Grab a kitchen work or countertop from the hardware store, wood stain, two Alex drawer units, a table leg and a cable basket to build this office desk. It is functional and beautiful at the same time. beautyressort
5. Full-Length Workspace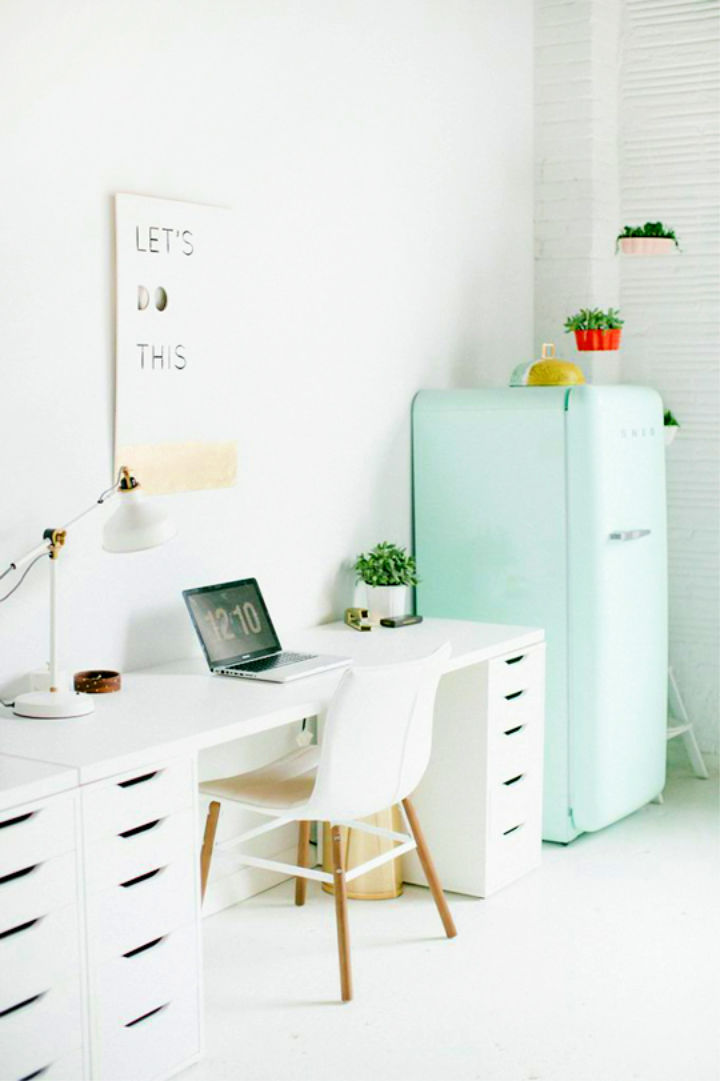 Willing to build a home office? Then get here a free hack to build a full-length workspace. Here you need the white IKEA units with multiple drawers and the fine-looking wooden or melamine countertops to build this full-length workspace, allow multiple users to work at the same time. sugarandcloth
6. DIY Color-Blocked Storage Top
Update your workspace or any home office desk with this color-block storage top. Make it using a miniature IKEA drawer unit that you can paint in the way you like. Paint it half diagonally in apricot pink using your favorite paintbrush and masking tape. An IKEA for modern organization of your workspace. livethemma
7. IKEA STUVA Printer Cart Hack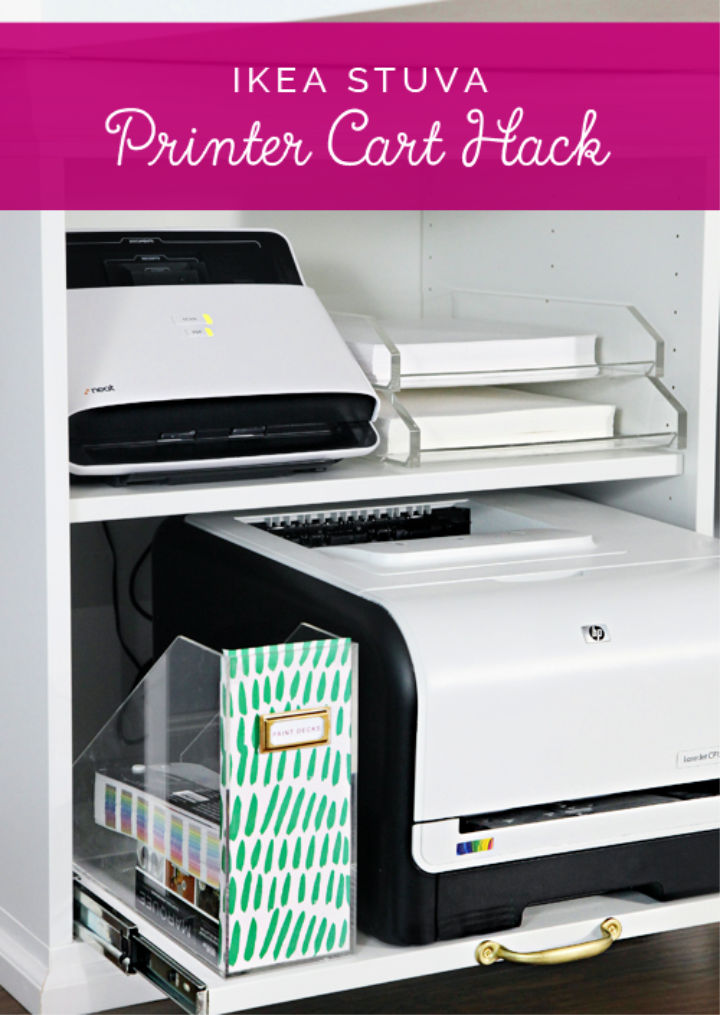 You will definitely appreciate this IKEA hack if you need to organize the printing section. Go with the IKEA Stuva and let it organize your printer and pages. It will offer shelves to hold a print in place and will organize the rest of the supplies too with great ease. Don't forget to get the drawers on metallic railings. iheartorganizing
8. IKEA Studio Desks Hack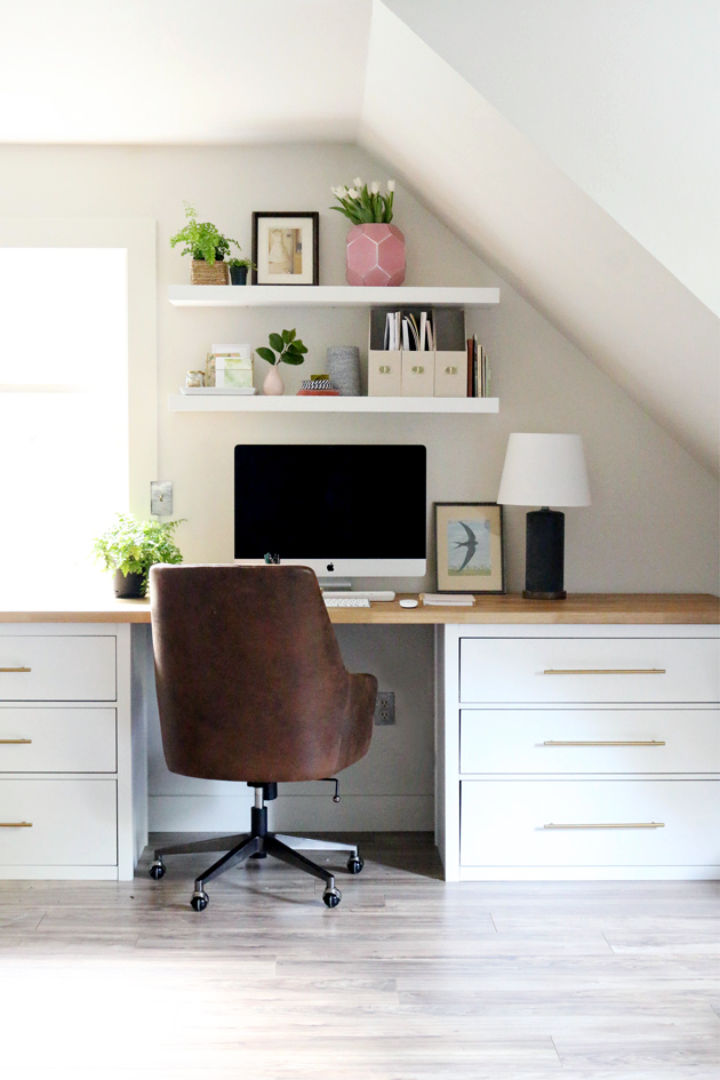 Everyone will love this IKEA hack wishing to gain a modern home workspace. To build this IKEA studio desk OR IKEA computer desk, you need to have an IKEA dress, brass pulls, and wooden countertops. You can install as many IKEA studio desks as you want. The whole project will cost you much less, and everyone can do it easily. jonesdesigncom
9. DIY Nailhead Door Desk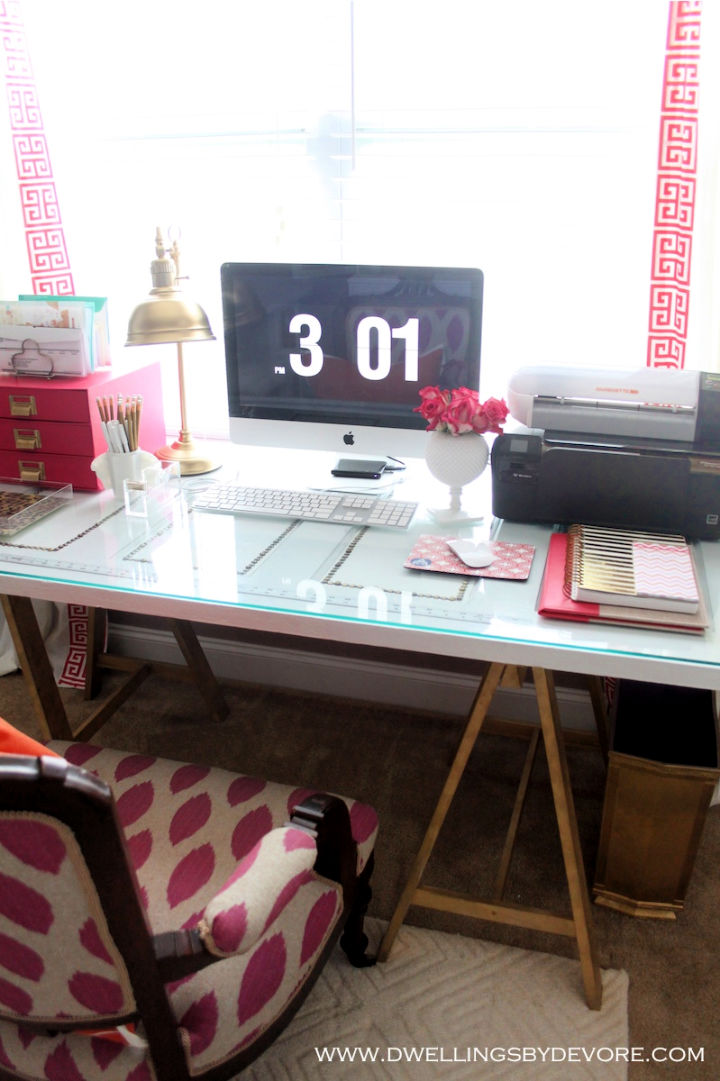 Grab an old door and cut it to the size you want. Prime and paint it for a glossy white look. Layer it up with the foam board covered with white fabric and finish with IKEA trestle legs to gain a lovely modern desk. Finish with up with the accent nailhead trim and also with a glass top if possible. dwellingsbyde
10. IKEA Hack Slim Desk
Are you deeply in love with minimalism? Then you must make this slim desk that provides enough storage space inside for a gorgeous appeal. Build this desk using IKEA Ekby Alex Shelf that should fit in a wooden housing. Build the wooden frame using wood planks of choice. Finish the desk than with hairpin legs. undeclaredpana
11. Craft Room Desk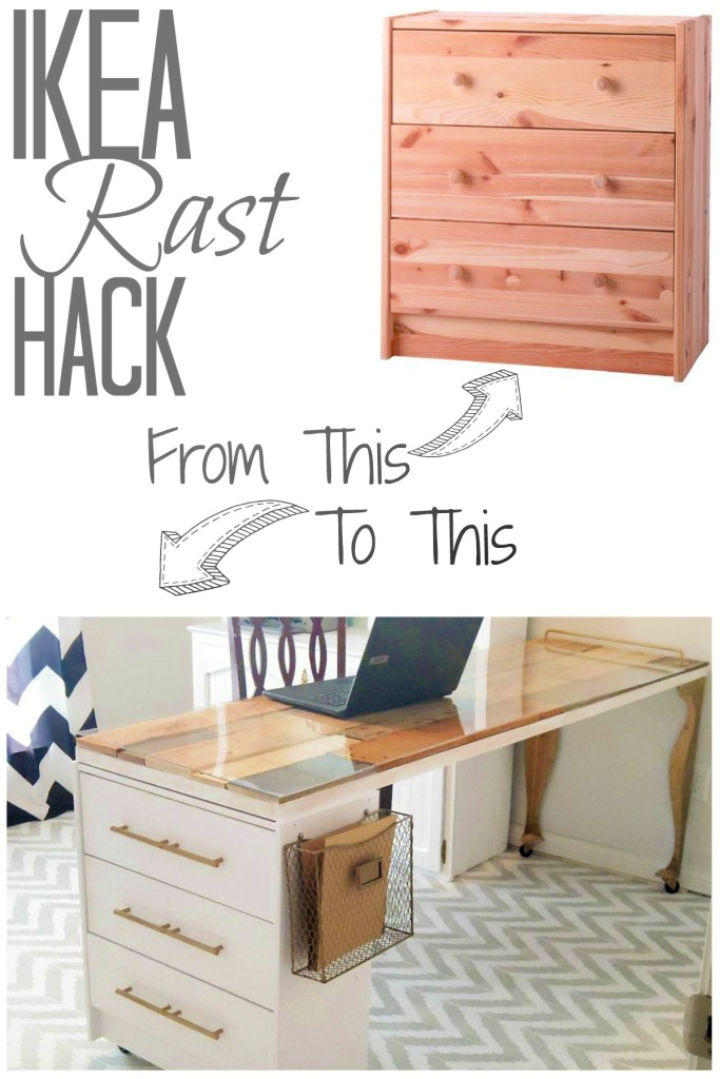 You find the creativity at peak here. An IKEA Rast Dresser has been transformed into a modern looking craft room desk that looks extra graceful with a glass top. Take the Rast dressers into pieces, and build the whole desktop with them, use extra pallet wood to make the solid top. Install IKEA legs and finish with wheels. Give a modern plexiglass finish for a modern appeal. addisonmeadows
12. Homemade Mounted Wall Desk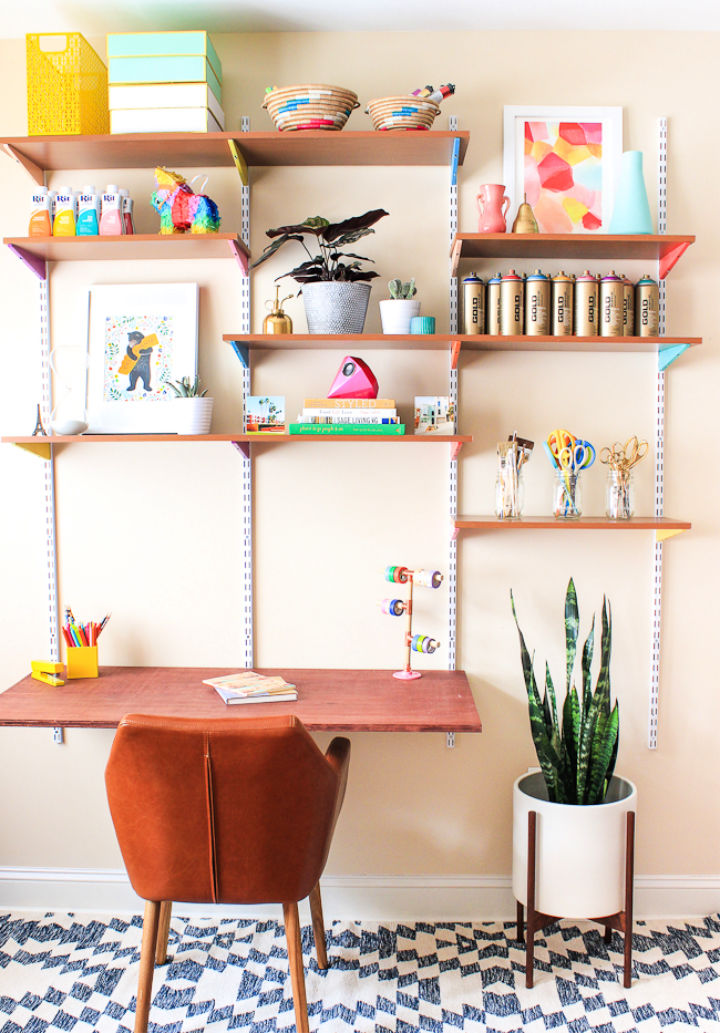 Grab the IKEA twin tracks, twin-track brackets, plywood and laminate board shelves to build this homemade mounted wall desk. This wall desk allows you to move the shelf up and down, and they can be removed easily too. Make use of plywood to build the desktop. Details here thecraftedlife
13. Computer Desk With Kallax Shelves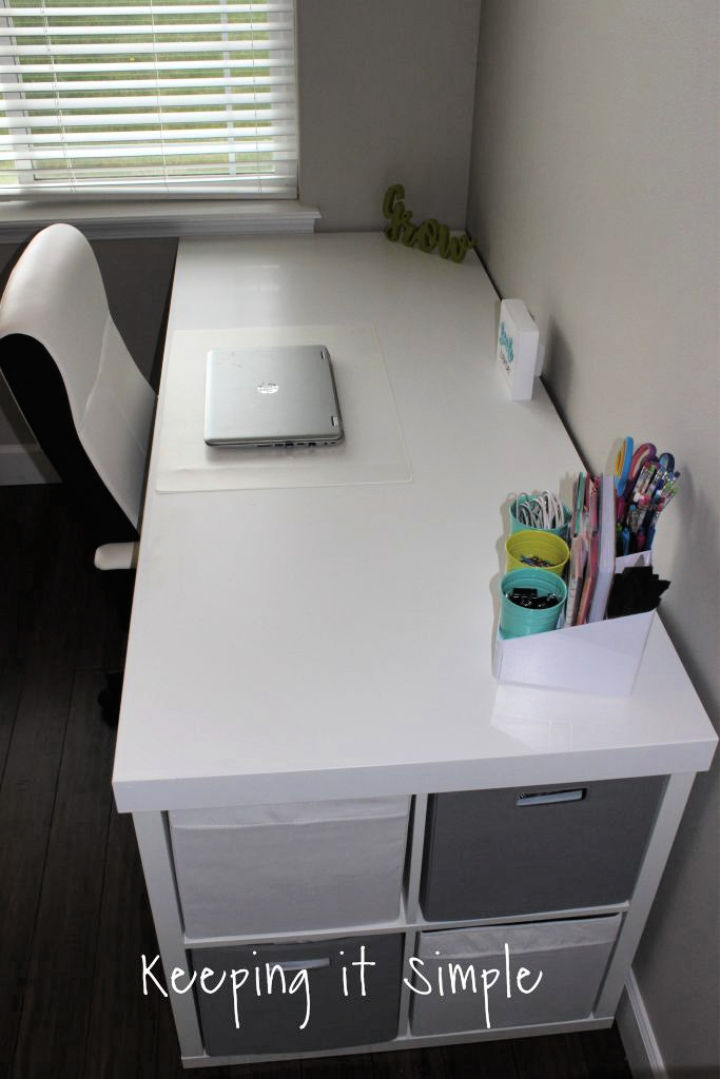 Get busy with the IKEA kallax shelves to build this phenomenal computer desk that is super gift-worthy. Grab an IKEA kallax unit that must look like a desk. Raise it on wheels if possible and also start storing your items inside. Look at the given chic white sample that will rock for modern home offices. keepingitsimple
14. IKEA Desk Hack for Under $56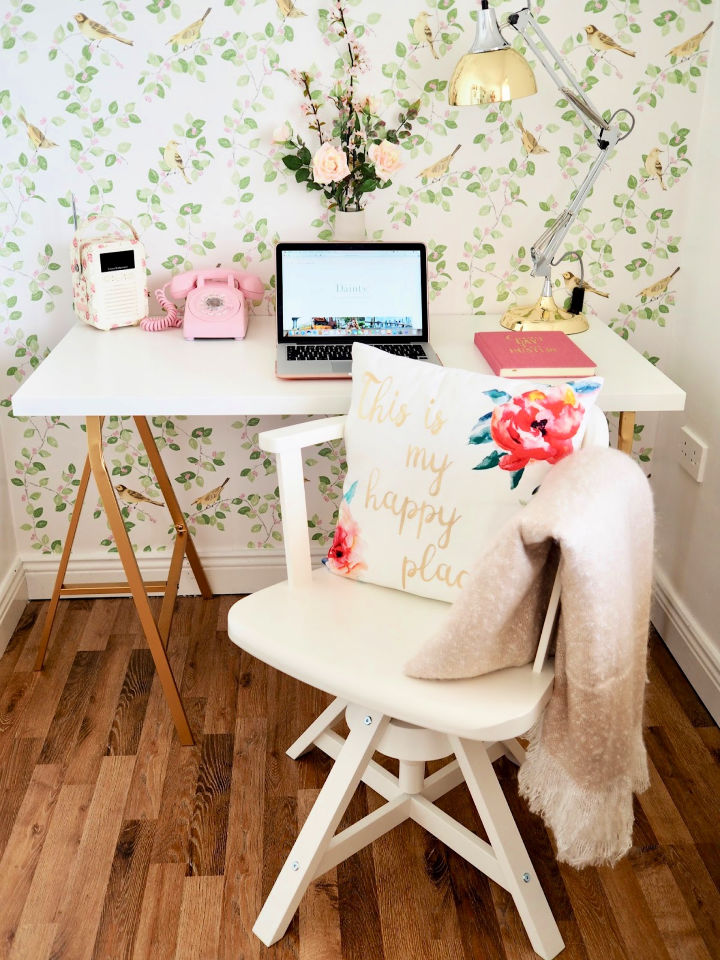 Get crafty with just two IKEA components to build this very modern and stylish looking desk. It will be a rocking addition to a home office. Gab the IKEA LINNMON tabletop and Lerberg IKEA legs to build this gorgeous looking desk, it will cost you less than $56. Paint the legs with a Rust-Oleum bright gold spray paint. The finished size of the desktop is 120cm x 60cm. Details here daintydressdia
15. IKEA Desk Hack using Spray Paint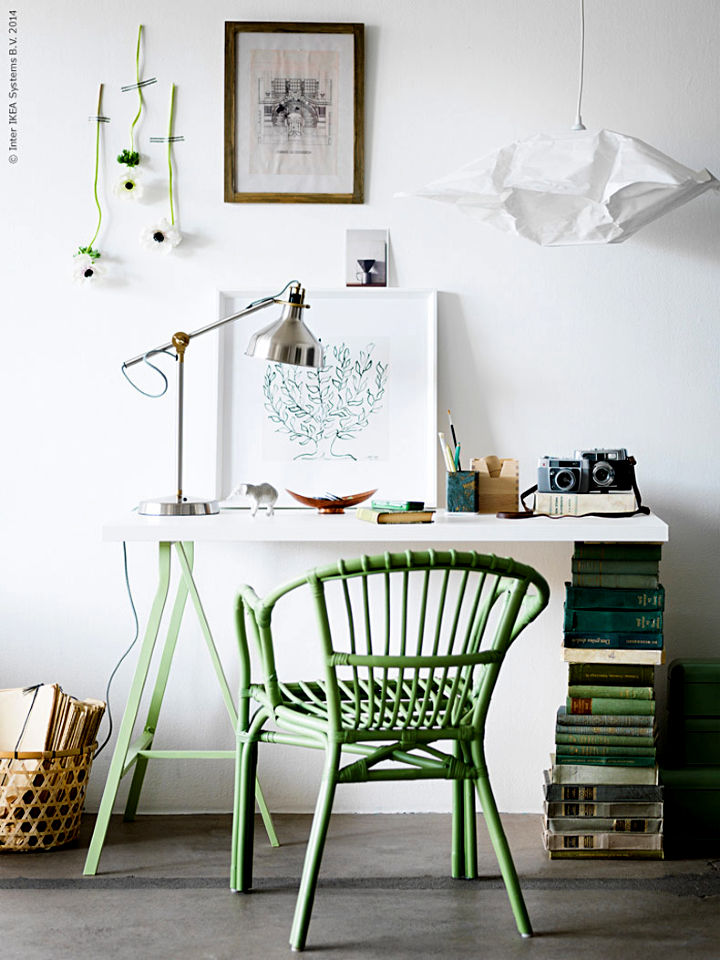 Another great and modern looking IKEA desk that comes with a graceful appeal. To build your own desk just grab a Linnmon IKEA tabletop and finish one side of it with a Lerberg leg and another side with a book stack tower. Install a lamp on the top and finish with a custom organizer. Details here livethemma
16. Kate Spade Inspired IKEA Desk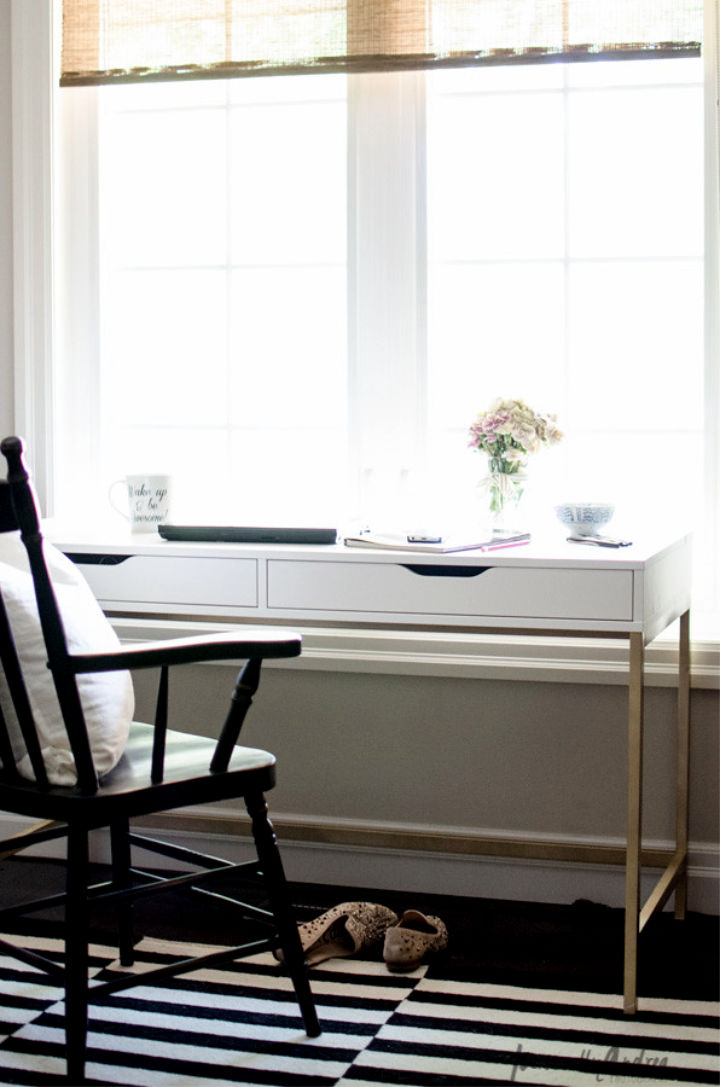 Organize your workspace with this Kate Spade inspired IKEA desk that is amazingly gorgeous. Grab an IKEA desk and then get a Kate Space inspired appeal of it using metallic paints, spray adhesive, and wrapping paper. Next, also get a matching chair, carpet, and vase. Details here personallyand
17. Modern IKEA Desk Hack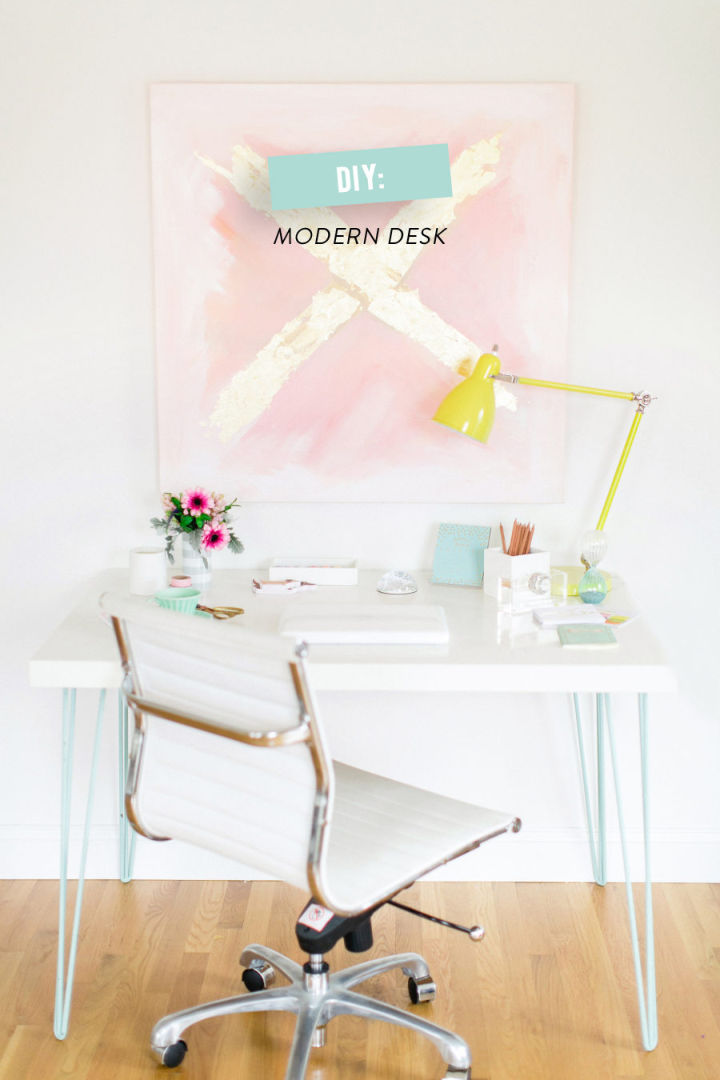 To build this modern-looking IKEA desk, you need an IKEA coffee table, hairpin legs, and mint spraypaint. Use 1/2″ screws for durable assembly and work with an electric drill to make holes. This modern desk comes with a top lamp and will be a smart addition to your kids' study rooms. Details here stylemepretty
18. Build Your Own IKEA Desk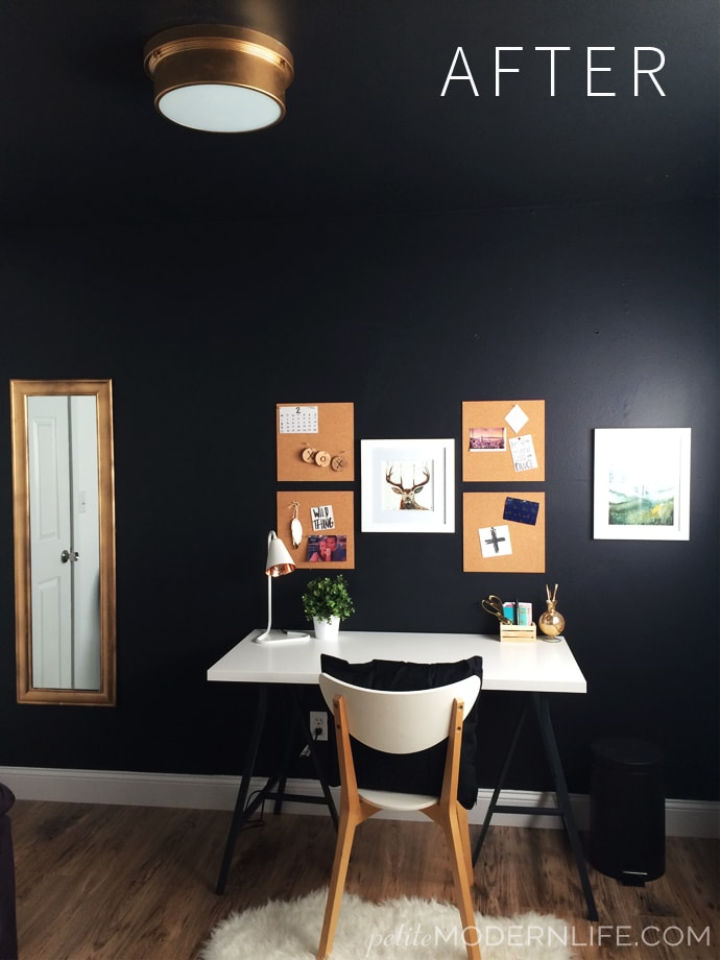 The black and white appeal of this desk is super impressive and modern. Grab a Linnmon IKEA tabletop and finish with up with black painted Lerberg trestle legs to make this IKEA desk. Install a lamp on its top before you use it. An ideal desk design for a modern home office. Details here petitemodernlife
19. Live Edge Desk for Under $20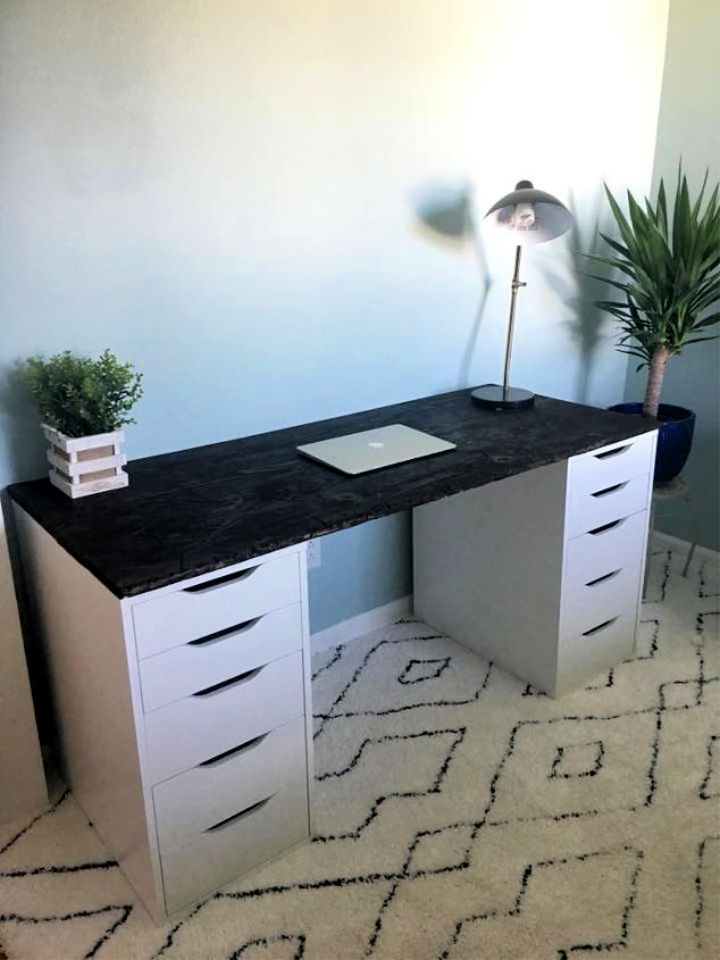 Feature the live edge of the wood in your modern home offices for an amazing rustic decor touch using this live edge desk. Building this live edge desk that is a creative IKEA hack, will cost you less than $20. Grab the 3/4″ pine boards, 120 or 220 grit sandpaper, and IKEA cabinets to build this live edge desk. Details here hometalk
20. DIY Desk Under $60 – IKEA Hack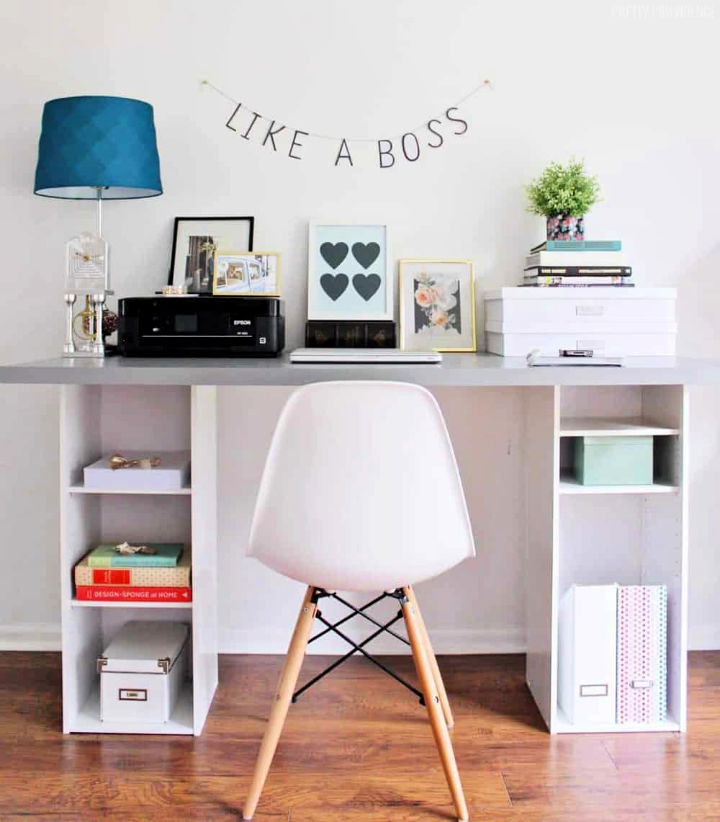 The desk is 32.5″ tall, and the bookshelves are 31″ tall. The IKEA desktop is 1 3/8″ thick. Grab the two small IKEA bookshelves and a Linnmon tabletop to make this gorgeously modern and storage-friendly desk. It will cost you less than $60 and will offer a quick construction that even a beginner can do. prettyprovide
21. Expedit Standing Desk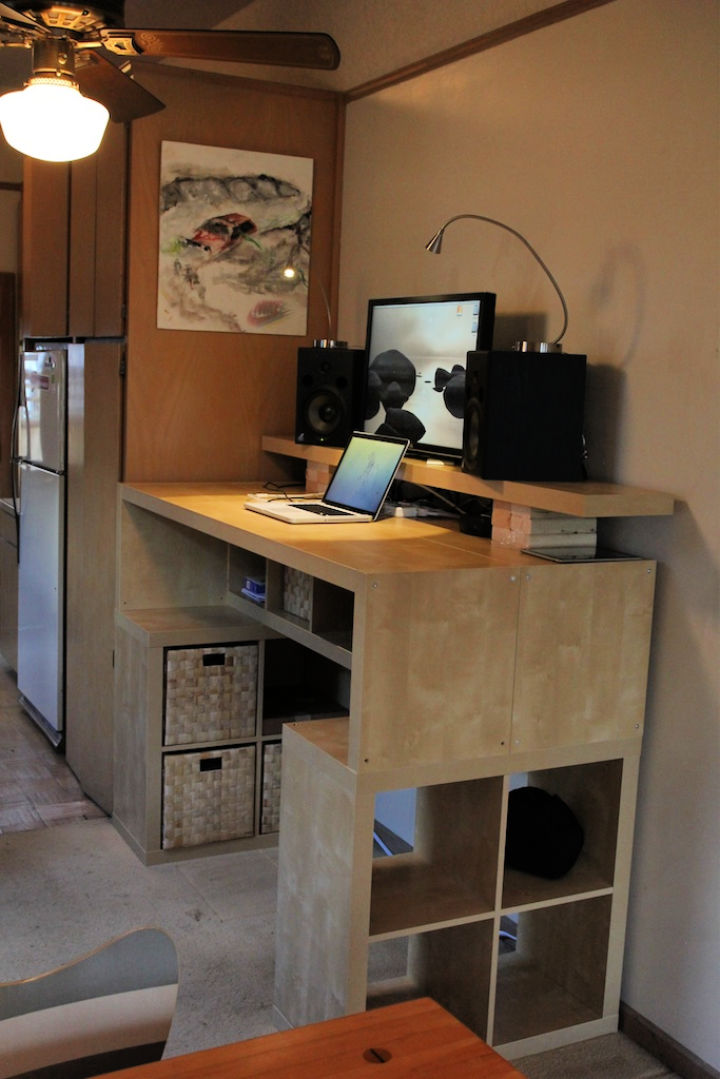 Grab the IKEA expedit units and a lack shelf to build this standing desk that is looking amazingly beautiful and modern. Next, you need metal braces, and custom shelving supports to complete this standing desk. This is one of the most beautiful modern desks that provide ample storage space. ikeahackers
22. TV Console Hack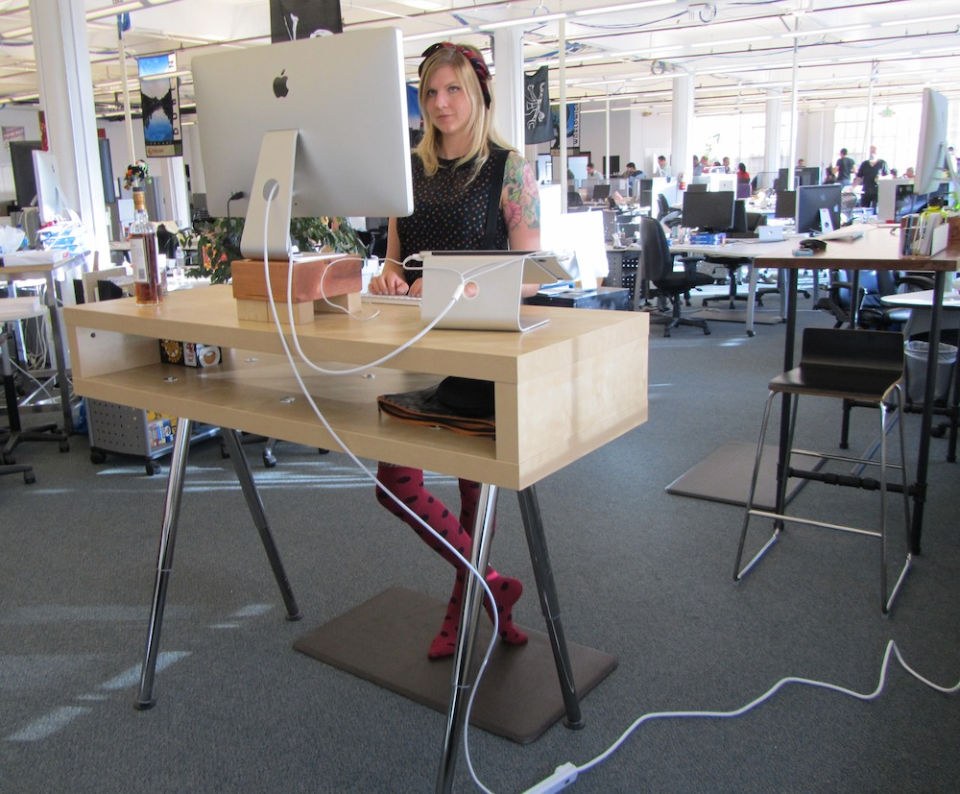 Get crafty with the IKEA LACK TV unit, IKEA GALANT adjustable A-frame legs, and a base frame, to build this TV console desk. This desk allows you to work in a standing position too. Next, you need 6 nuts, 6 bolts, and 6 washers to assemble this desk durably. This IKEA desk will cost you $140. spacekat
23. DIY No-paint Colorful Drawers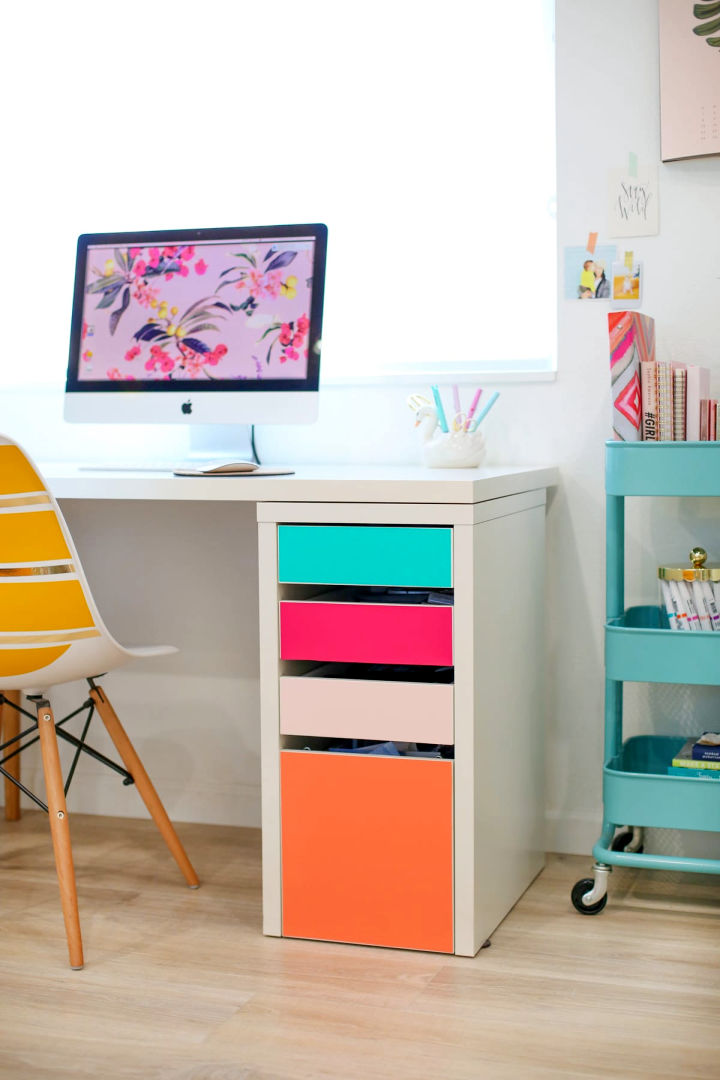 Are you looking forward to some cool way to jazz up the drawers of your IKEA desks? Then go with this no-paint hack to bring colors to drawer fronts. Go smart with the adhesive vinyl, and then just adhere them to the front side of drawers. The best hack to bring colors to IKEA desks. lovelyindeed
24. IKEA Micke Desk With a Keyboard Tray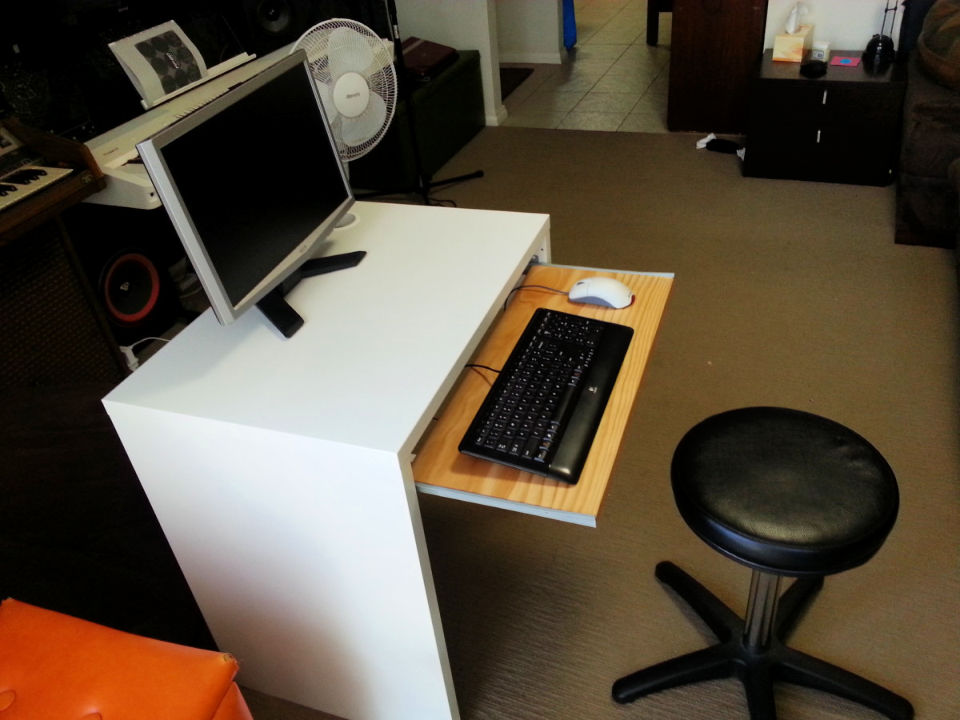 This project involves doing a smart makeover of an IKEA Micke Desk to gain a lovely computer desk. The idea is to install a keyboard tray to the underside of the IKEA desk in place of the drawer. Remove the drawer, but keep the IKEA drawer metal track. Fit a piece of pine in these tracks to gain a keyboard tray. ikeahackers
25. DIY IKEA Desk Hack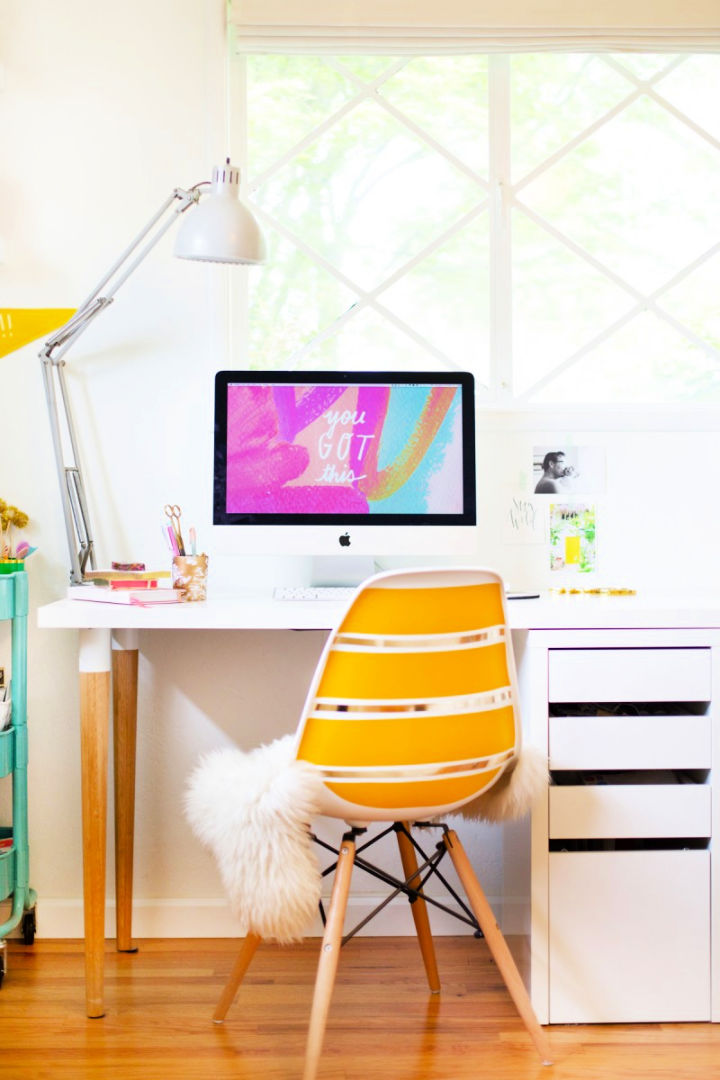 Making of this DIY IKEA desk requires 2-3 hours. Grab 2 IKEA Hilver Table Legs, IKEA Linnmon tabletop, IKEA Micke Drawer unit, and industrial strength velcro to make this IKEA desk. This desk is modern and storage-friendly. So, do get it for your office, home workspace, and for kids' study rooms. lovelyindeed
Conclusion:
In this age of inflation, one can't withstand the high priced furniture. A desk is a big need, and it always costs you big, especially when selected with all features along with a luxurious design. However, the majority can't withstand those sky-high prices. So, These unique IKEA Desk Hacks come for a big rescue. They help build your own modern desks using readymade IKEA components. No manual constructions, just put together pre-fabricated IKEA panels and components to build instant modern IKEA desks. One can try these desk hacks with zero woodworking experience.