Remember how the evil stepmother of Snow White had a special magical mirror to keep her beauty in check? Well, more or less but just like that a girl's biggest asset and point of importance is her vanity mirror! Hence, enter our rounded up collection of these 15 DIY vanity mirror ideas to keep your mirror learning on point. So, what is it really with a vanity mirror and girls' obsession with it? A vanity mirror can also be said as the most sacred or special place for any girl to keep her grooming and personality! Girls you can't be away from your mirrors! It'll be perfect, with a clear cut view, a clean glass, and the appropriate amount of light and space to hold your stuff all in one place!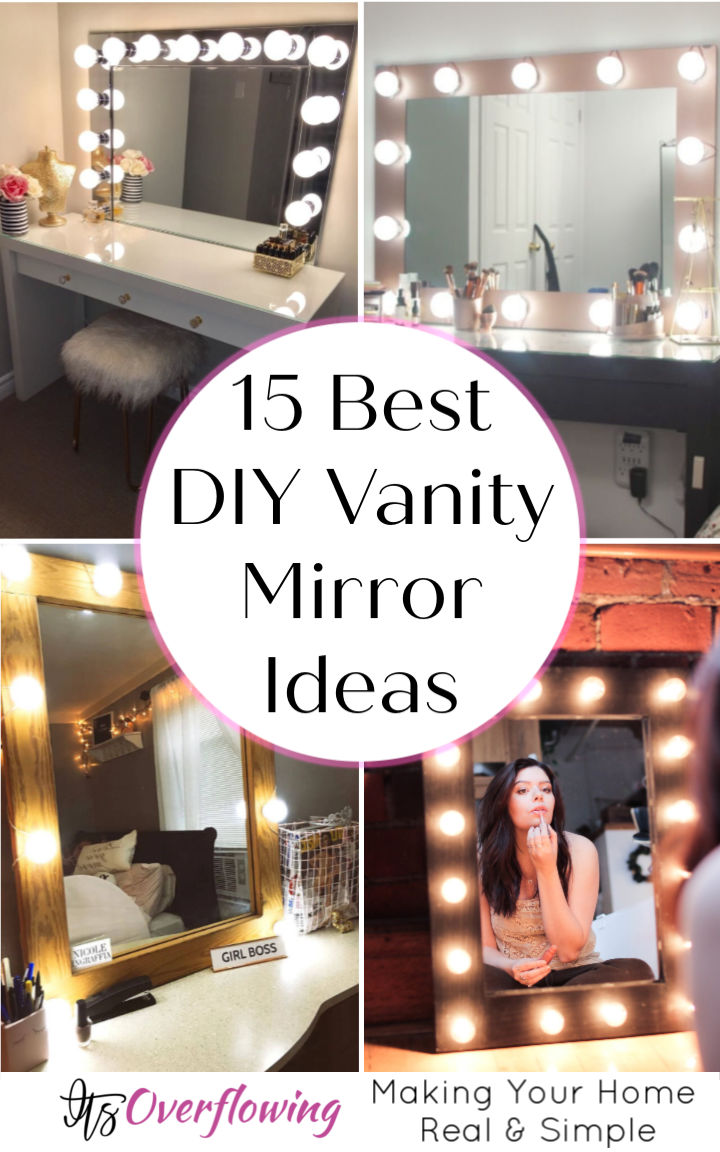 With us, learn the best 15 DIY vanity mirror ideas to keep your style game at its best. Learn with us to add some perfectly wide and clear Farmhouse styled vanity mirrors or laced with the perfect lightening bulbs to keep it all brighter and shinier! You'll really like to see our unique and different concrete holding vanity mirror ideas too! Even learn how to transform an old mirror or desk into the dreamy and perfect vanity mirror place for you! Because we know there can be no compromises on a vanity mirror. Nah-uh. So, girls. Gather around your beauty products and learn with us to stack them up in an utterly dreamy and whimsical space with these DIY vanity mirror ideas.
1. How to Make Vanity Mirror
An appropriate mirror with luminous lights is needed the most for perfect makeup. You can make this beautiful DIY vanity mirror and decorate it with simple things at your home according to your style and theme. Supplies needed: frameless mirror (30*40), 2 LED vanity lights, 4 mirror clips, painters tape, brown craft paper, clear fish spray, and rose gold spray paint. instructables
2. DIY Farmhouse Style Vanity Mirrors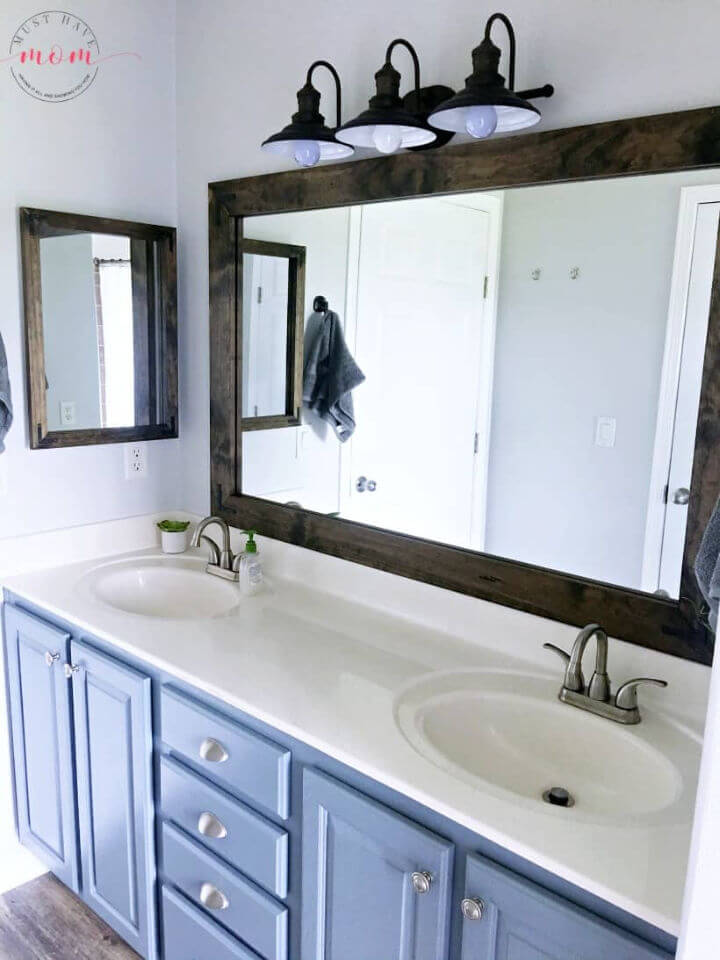 Are you eager to give your bathroom a farmhouse style? That too in just $50? Hop on to this tutorial and learn how to fantasize about your living with just a simple mirror. What you need: 4 1"*4" pine boards, wood glue, finishing nails, rag, corner brace, Minwax Jacobean stain, bronze spray paint, and a mirror. musthavemom
3. Make Concrete Vanity Mirror
A morning without a hurry is never a morning. You always need an extra mirror in the room to get ready on time (if your partner is not leaving the washroom early!). Well, this concrete DIY vanity mirror will be a perfect fit in your bedroom on the Chester table. A mirror (any shape), concrete, packaging container, ruler, sharpie, cutter, glue gun, masking tape, and sanding paper is the material required. sugarandcloth
4. Easy DIY Minimalist Vanity Mirror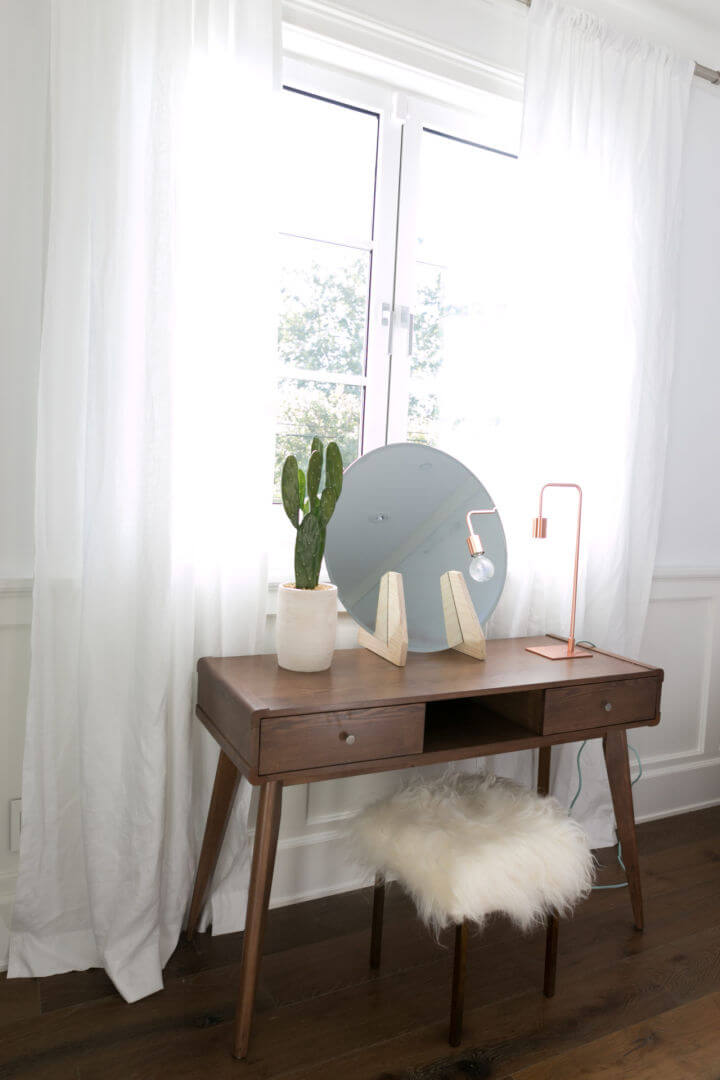 Small DIY vanity mirrors, kept on the table of room or lobby, are perfect for patching up your face while roaming in the house. This DIY vanity mirror with a wood-look can be placed anywhere. No long lists for the preps. You just need a marker, sandpaper, table saw, 1"*1.5" thick wood, and a mirror is needed. mrkate
5. DIY Vanity Mirror with Lights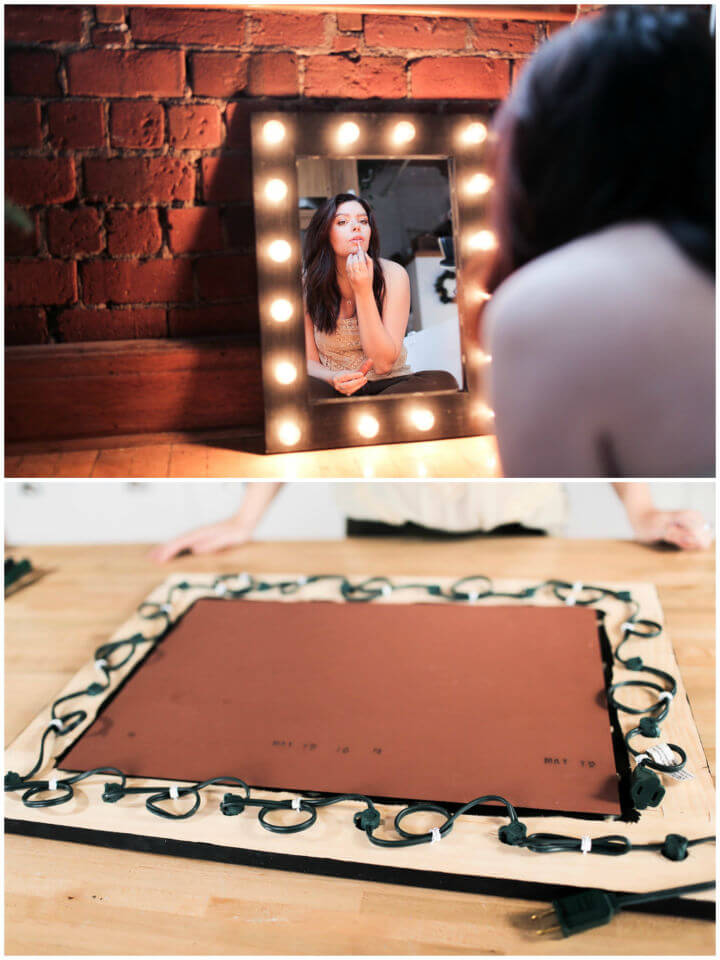 This classic DIY bulb vanity can be achieved with a mirror, globe string lights, and an 8-foot piece of pinewood with a thickness of 1"*4". This mirror can be placed in the dressing area where you can get ready with an on-pointIf you want to give a glamorous look to your room, you must have this vanity mirror along with a desk in your dressing area. You can glamorize your desk by putting beautiful decoration pieces on the desk. All of your beauty products can fit in the drawer of the desk, while the mirror will give you a full spectrum of your makeup and outfit. makeup. thesorrygirls
6. DIY Makeup Vanity Mirror with Desk and Lights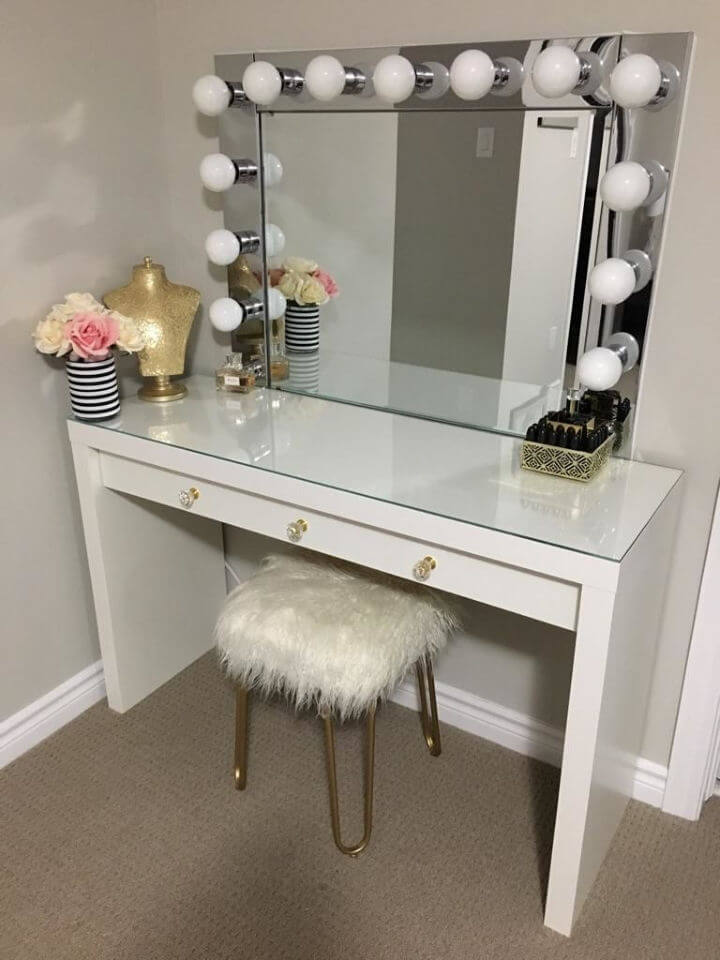 If you want to give a glamorous look to your room, you must have this vanity mirror along with a desk in your dressing area. You can glamorize your desk by putting beautiful decoration pieces on the desk. All of your beauty products can fit in the drawer of the desk, while the mirror will give you a full spectrum of your makeup and outfit. instructables
7. Vanity Mirror Using Wooden Dowel Rods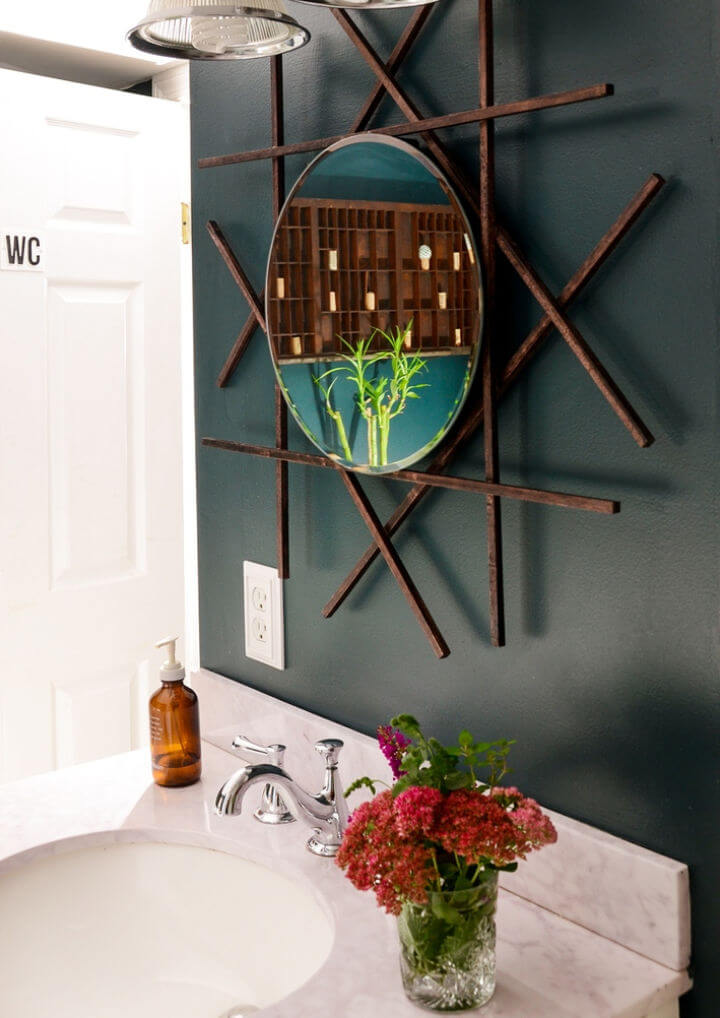 Are you bored of plain straight mirrors in your bathroom? If yes, then you are in the right place. This utter piece of beauty demands 8 square wooden dowel rods, 14" diameter beveled edge mirror, stain, 4" long wood. Measuring tape, trash bag, 8" long wire piece, wire cutter, wood screws, wood glue, E6000 glue, paintbrush, picture hanger, electric drill/screwdriver, and rubber gloves.
8. Vanity Mirror with Lights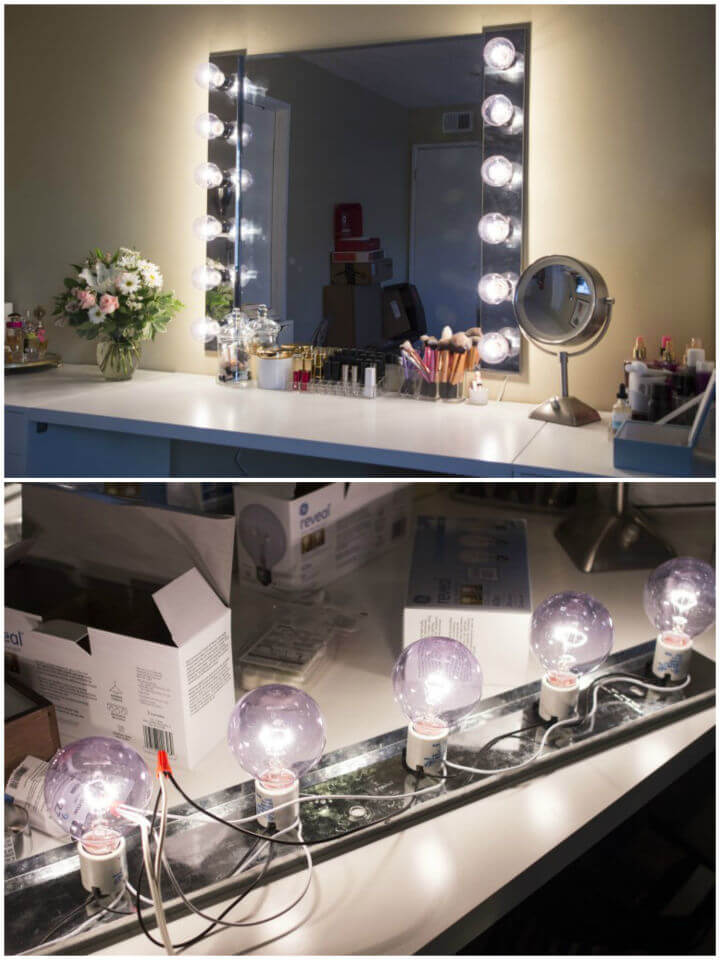 Turn your simple mirror of the dressing area into a DIY vanity mirror with lights by following these simple steps. The best part of this mirror is that you can control the lights with remote control (optional). You need a mirror, vanity light bars, light bulbs, picture and frame hanger, extension cord, screwdriver, extension cords, and remote lamp control. aloveaffair
9. Make Your Own Vanity Mirror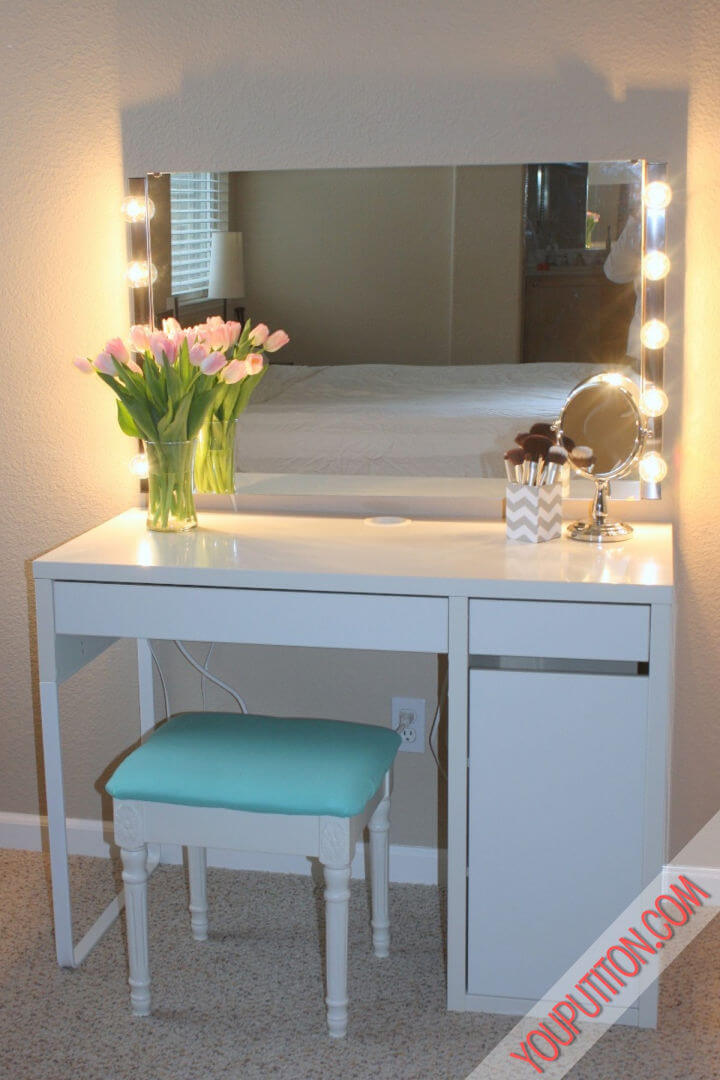 This vanity mirror costs $399 from the market. What if we tell you can make this vanity mirror with lights in less than $80? Yes, believe me, your DIY skills can help you save bucks by making this mirror at home. Along with other essentials, you need 2 sets of music wall lamps with a mirror. youputiton
10. Affordable DIY Vanity Mirror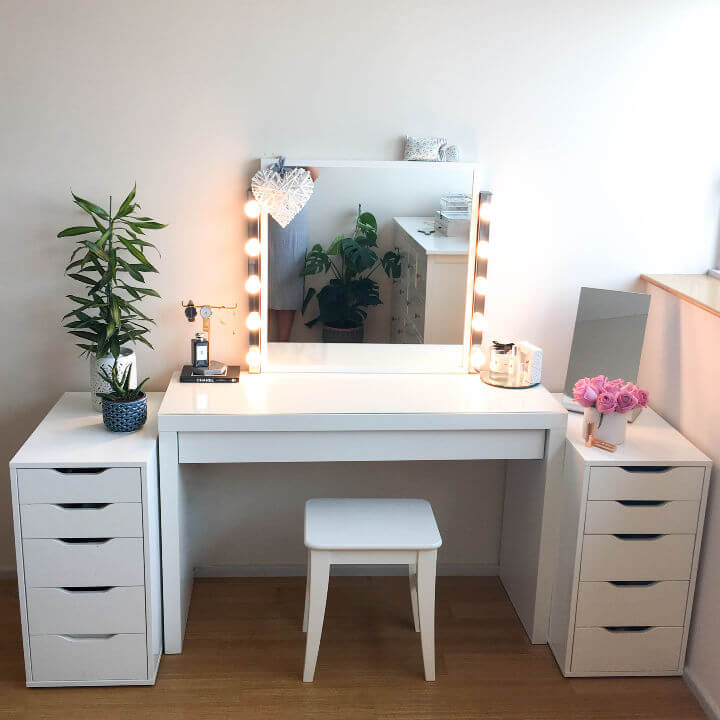 A lightweight vanity mirror, which can fit on a small table or dressing area, is the most important wish of every girl. Every girl wants to live the fantasy where a makeup artist is working on models in front of mirrors with light bulbs. Well, this DIY lighted vanity mirror is not a big deal to make. This luxury mirror requires a mirror with 6 pieces of lamp sockets, a mirror, and a plywood sheet. No Source
11. DIY Hollywood Vanity Mirror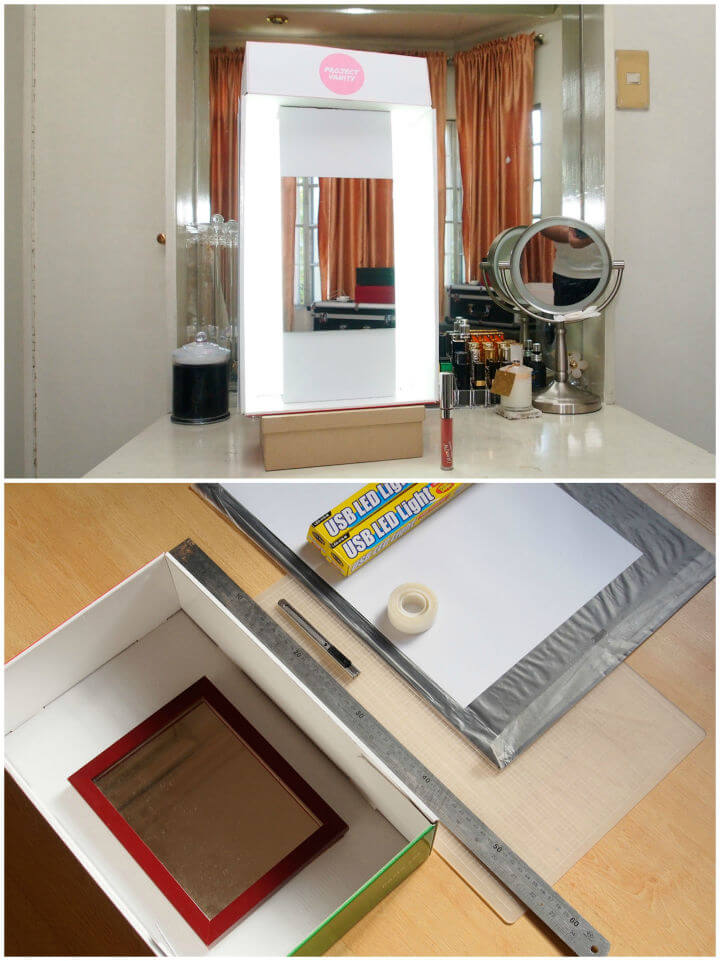 Live the life of a Hollywood star by making this Hollywood style DIY vanity mirror. You can make it according to the size of your dressing area. Materials required: Mirror, LED lights (USB powered), power bank, magic tape, illustration board, outer case, pencil, cutting knife, steel ruler, and cutting mat. projectvanity
12. Easy to Make Cement Vanity Mirror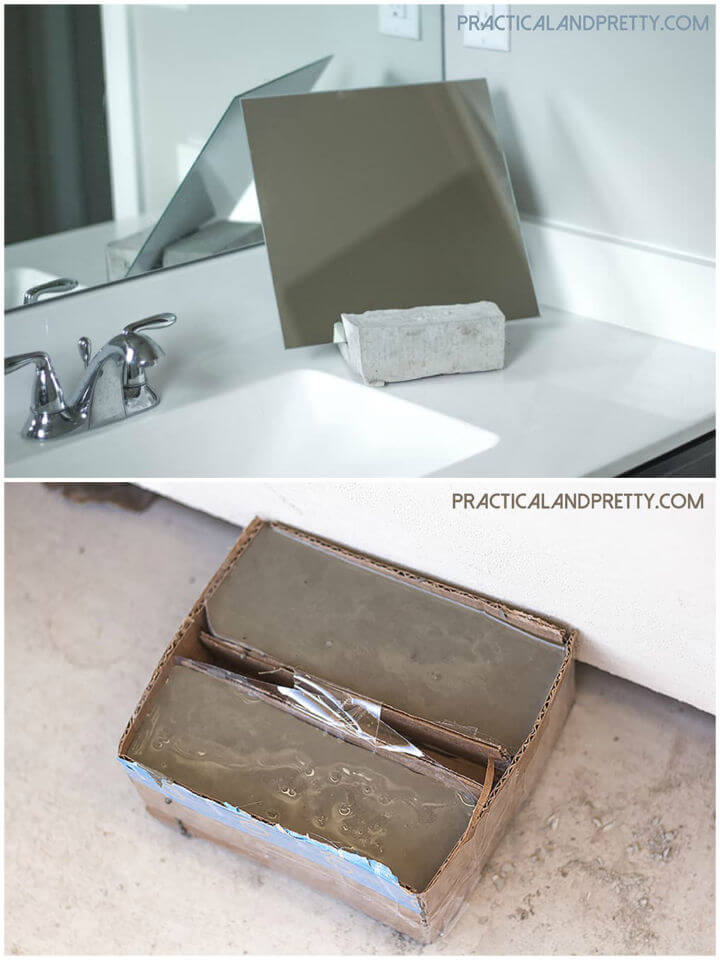 Do you believe that grace lies in simplicity? Affirmative! This cement vanity mirror will make you a firm believer in simplicity. Along with a small mirror, you need fast setting cement, cardboard, strong tape, water, mixing bowl, large spoon, and rubber bumpers. prettyprovidence
13. Cheap and Easy DIY Vanity Mirror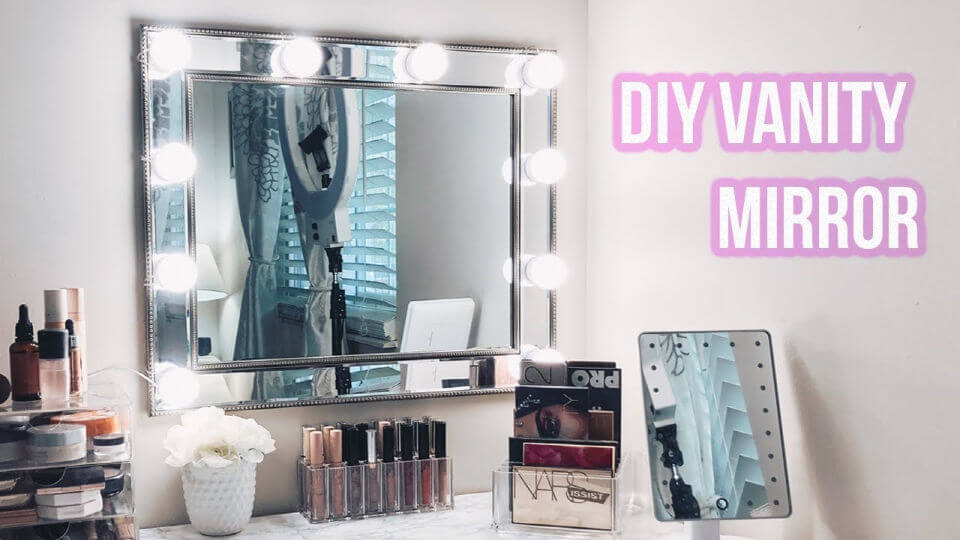 Vanity mirror, along with a table is a perfect solution for messy makeup table. These DIY vanity mirror with tables not only keep your things organized but also provides adequate light for your makeup. You can make this vanity mirror within your budget as you can save 70%. The vanity mirror costs nothing more than $50. youtube
14. Make Vanity Mirror Under $25
Be your own stylist and dream girl by setting up a perfect and flawless DIY vanity mirror in just $25. You must have an old mirror lying around somewhere, now is the time to put it up with illuminating bulbs at the sides. unknown source
15. DIY Vanity Mirror with Sconces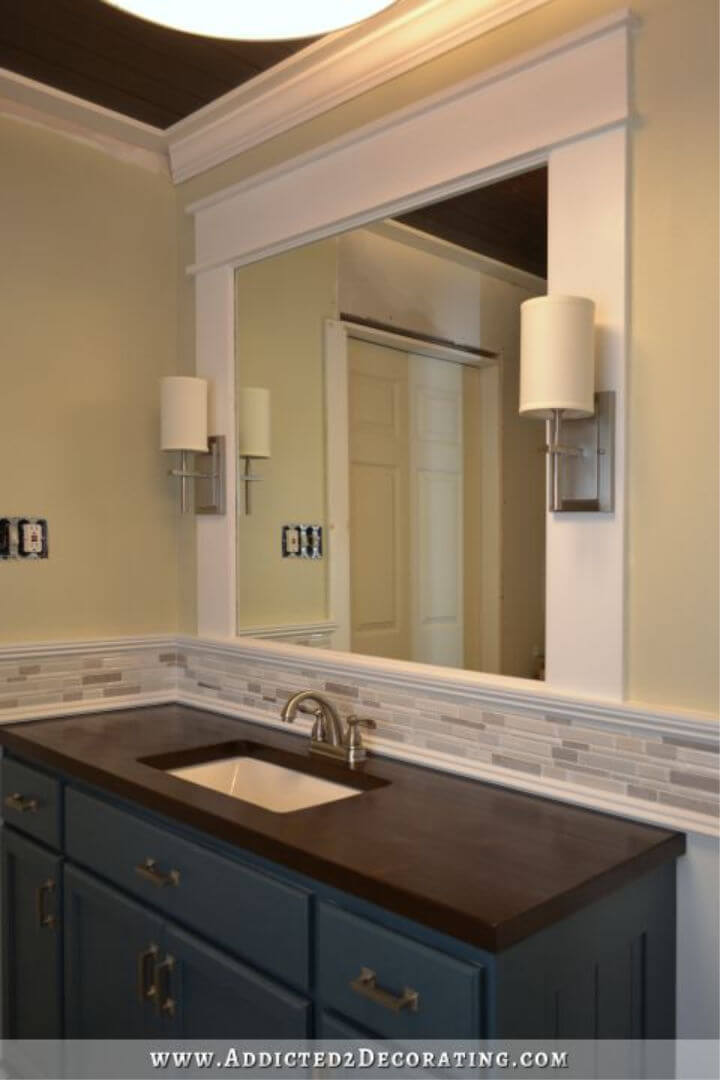 Here's another unique idea to light up your vanity mirror using scones to light up the place! All you need to do is using your jigsaw, cut down two holes in the wall before putting up the mirror. Add the scones by following the detailed step by step guide, and you are all set! addicted2
Using a mirror is just not it! With your makeup and all other things here and there, put them all together in one place. It will more be like your own kingdom, set it up with these lovely and perfect DIY vanity mirror ideas!