Do you love the unconventional ways to organize, store, and display your stuff? Then go with these 25 simple DIY ladder shelf plans that are a whole interesting solution for adding storage and style to an interior home space. Build the self-standing ladder shelves that will be portable book stacks holders and can be dragged to any location to display your items of decors. Make the wall-mounted ladder shelves that will be a whole beauty station for a room and choose the leaning ladder shelves also to bring a great functional character to a targeted home space. See this big list of 25 easy to build DIY ladder shelf plans and see a variety of designs to choose from. These ladder shelf ideas will give so many design inspirations, and you can check them out all to come with unique variations.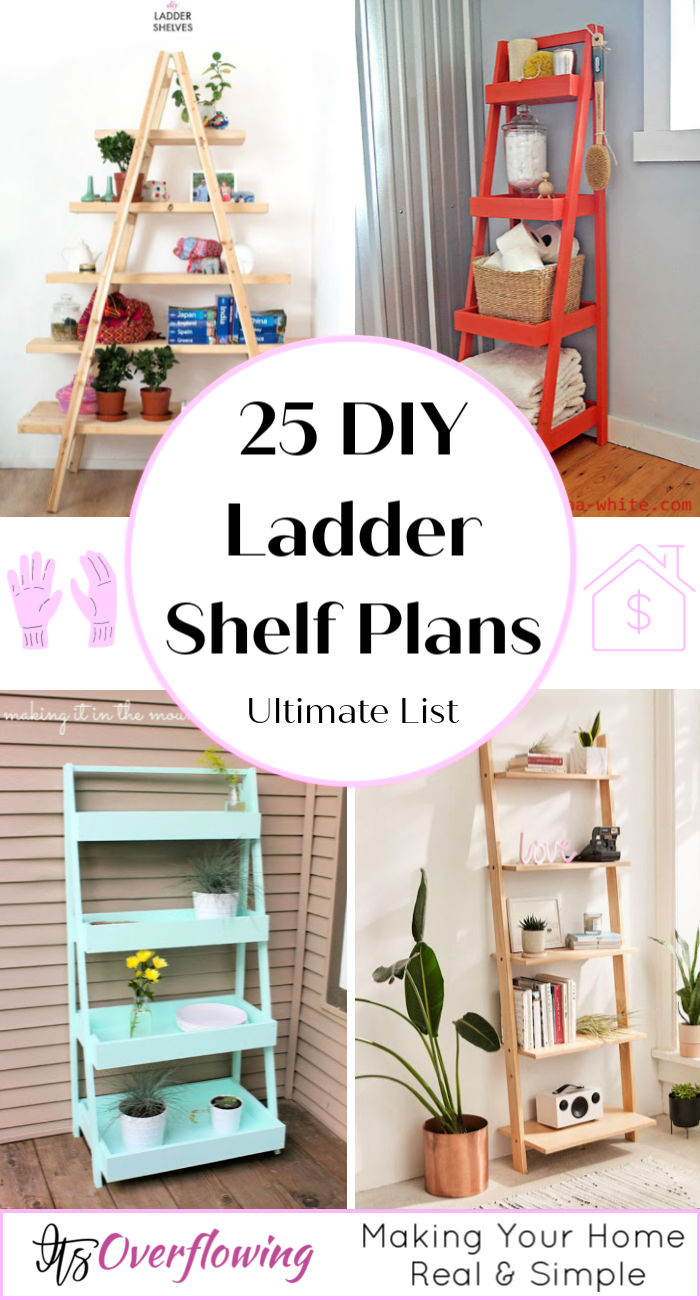 If you have old ladders at home, then building a DIY ladder shelf will be a child's play. Just make them stand vertically alone and add the flat wooden shelves across the steps. If no having any, then build first a ladder and then install the shelves.
There can be too many different design options for the DIY ladder shelf, like make them in tray shape, add them in ascending size order to a DIY leaning shelf. You can build a wooden ladder shelf also in a box shape for safer storage of things. Learn how to build a ladder shelf by taking a look through all these 25 free ladder shelf plans that will surely amaze your senses.
1. DIY Ladder Shelf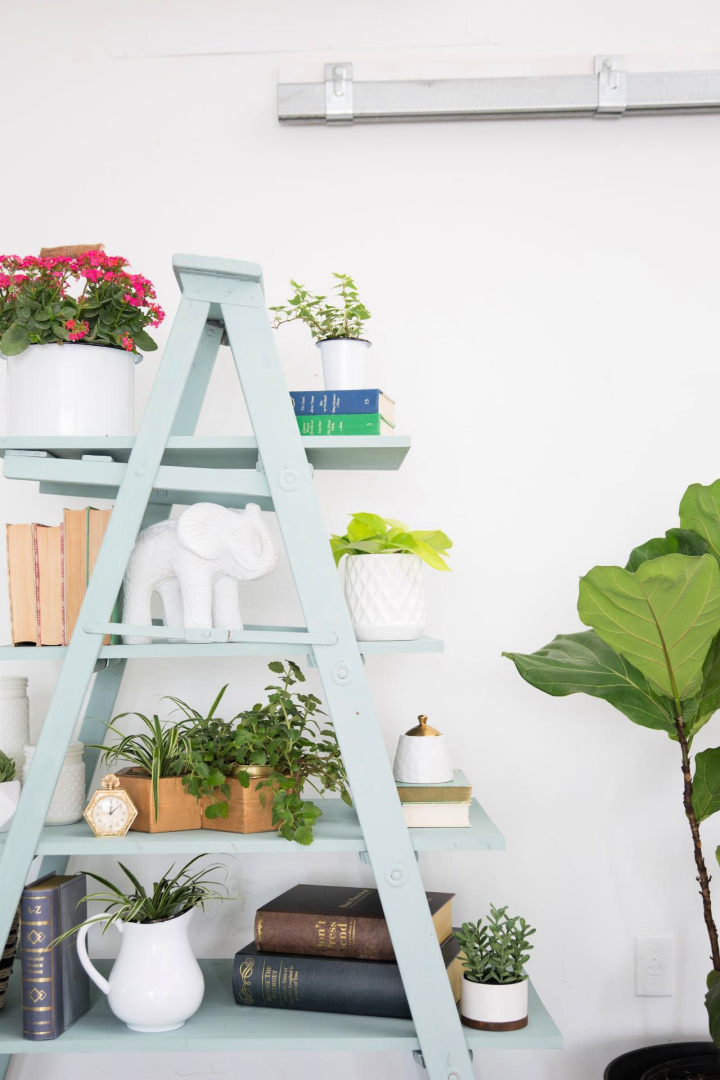 Accurate wall and display shelving is highly in demand when you need to bring the necessary elegance to a particular interior. They make you organized too undoubtedly. Start displaying and storing your items using this ladder shelf, made of a wooden ladder and wood planks going straight across the ladder rungs. hgtv
2. Sturdy Leaning Ladder Shelf Unit
Building this sturdy DIY leaning shelf is an easy project that will complete in less than a day. The perfect wood leaning shelf for display and to hold your towels and toiletries in the bathroom. Go with 2×4, 1×4, and plywood to build this leaning ladder shelf that is sturdy. The project will cost you $20 – $100. familyhandyman
3. DIY Leaning Ladder Shelf
You can easily store and organize your things in an ideal way using this DIY leaning ladder shelf. How to build a ladder shelf? Make it stand against any wall to start getting the services. Let it store your books, display your art, and hold your centerpieces on a decent height. You need 2 lengths of 1x4x6′ pine boards, 6 pieces of 5" x 2.5" x 3ft' pine boards, 3/4" plywood and 3/4" trim for the front of each shelf to make it. brepurposed
4. DIY A-Frame Ladder Shelves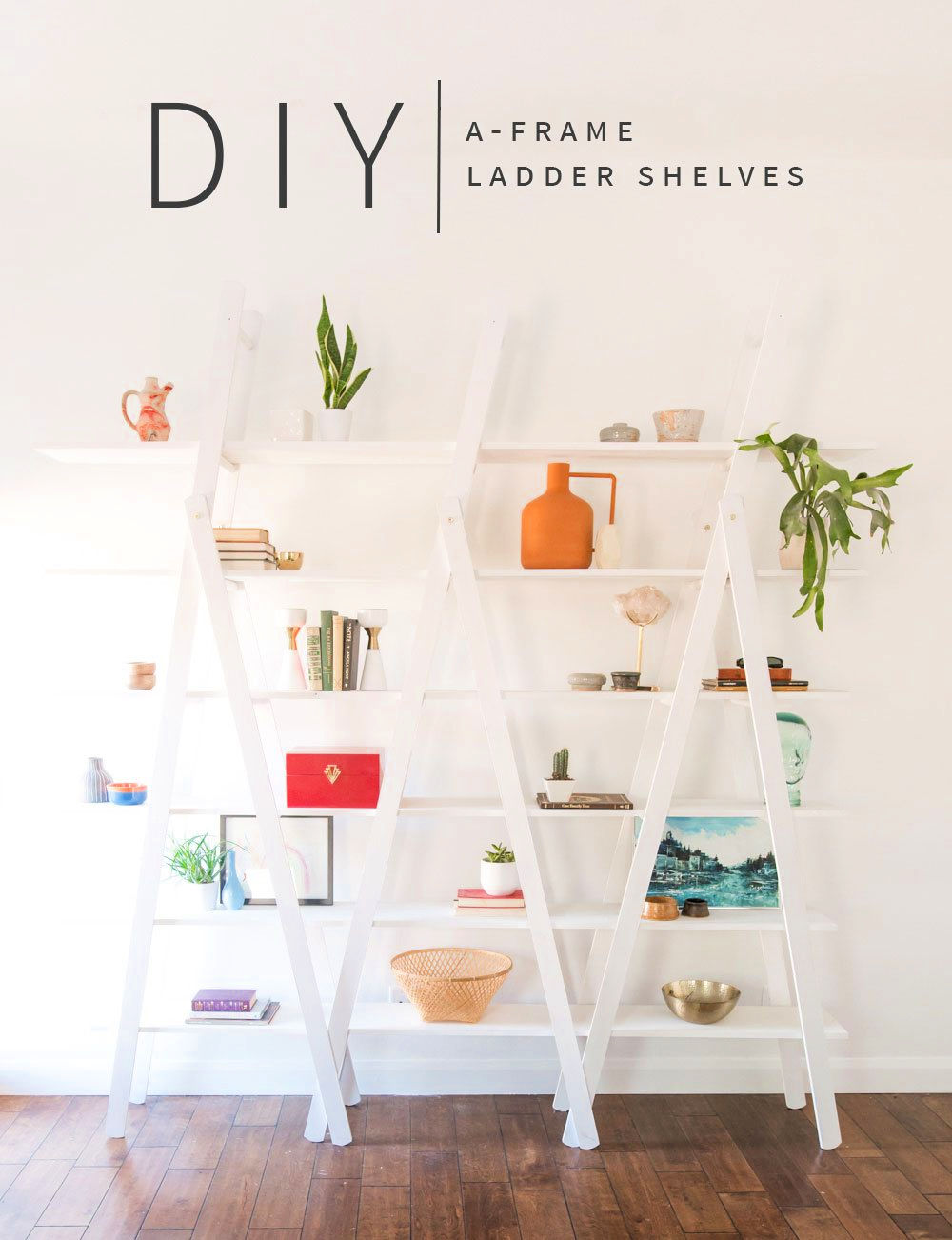 Get organized in an ultimate stylish way by adding these A-frame ladder shelves. These shelves are a hot combination of 3 ladder shelves that have been combined through straight plank wooden shelves across the steps. The white painted appeal creates a modern chic look of these shelves. Make it with 1 1/4 wood dowels, 1×3, 1×12, and trim head screws. vintagerevivals
5. Ana White Painter's Ladder Shelf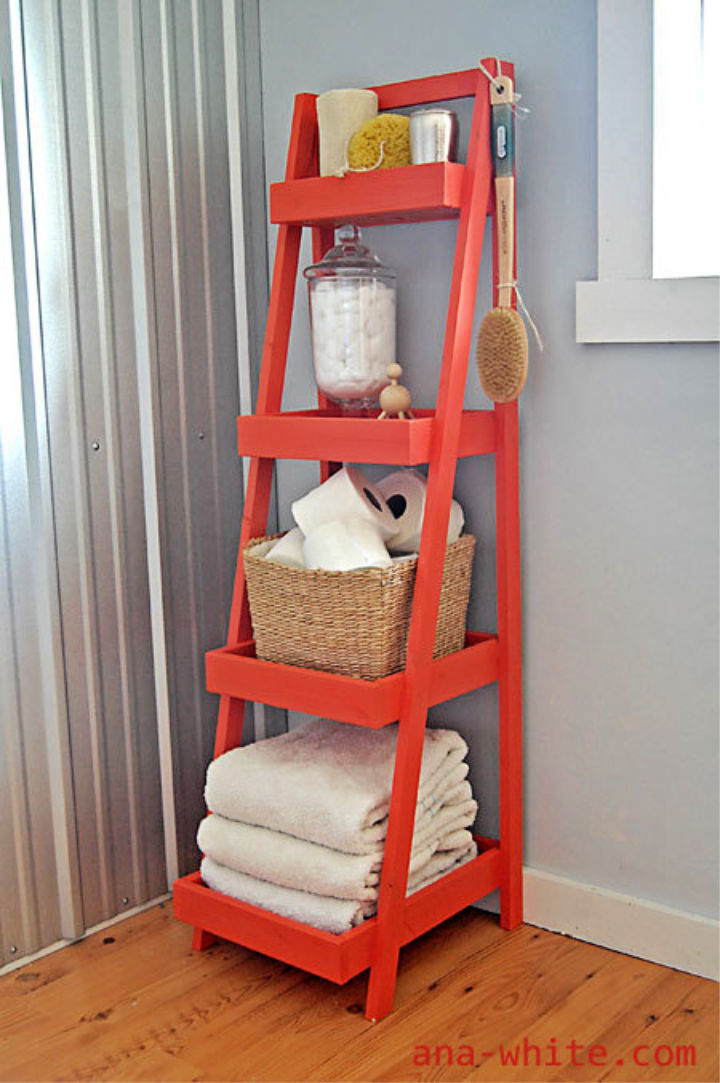 The completed shelf is 54" in height x 24" in width x 16" deep. Build this ladder shelf using 1/4 sheet of plywood, 1x2x8′, 1x3x8′, and finishing supplies to make this ladder shelf. This shelf will hold your decorations with care and can be painted in any color to be an enchanting part of your room. Details here ana white
6. DIY Ladder Bookshelf
You need 2 pieces of 1" x 1.25" x 7′ for building the vertical uprights of the ladder bookshelf. Next, use the two pine boards 1″ x 2.5″ x 27.5" and 5 pine board lengths for the shelves with gradually increased widths, to build this DIY ladder bookshelf. Paint this shelf or leave blank in a natural tone of the wood. Details here fishandbull
7. Homemade Sawhorse Bookcase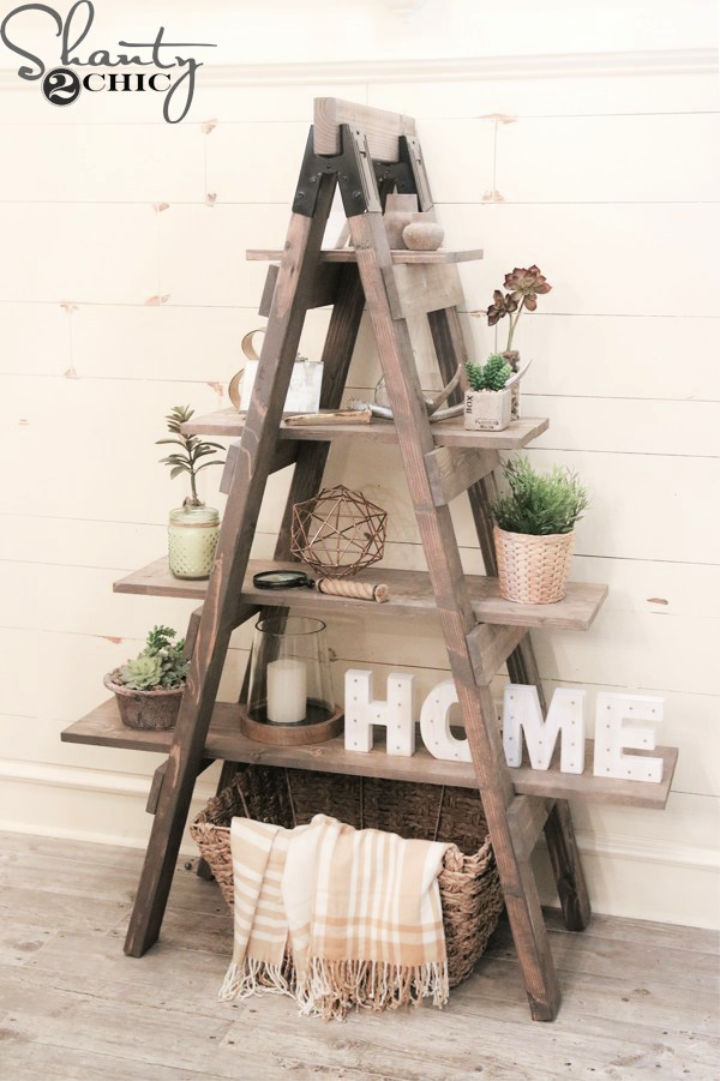 This ladder bookshelves project involves building a sawhorse bookcase manually and like a pro. Build the rungs and nail the shelf pieces on them. Finish each top end of this ladder bookshelves using the metal sawhorse brackets. Make this ladder bookcase stand vertically in an upright position and install the shelves. shanty 2 chic
8. DIY Floating Ladder Shelf with Plan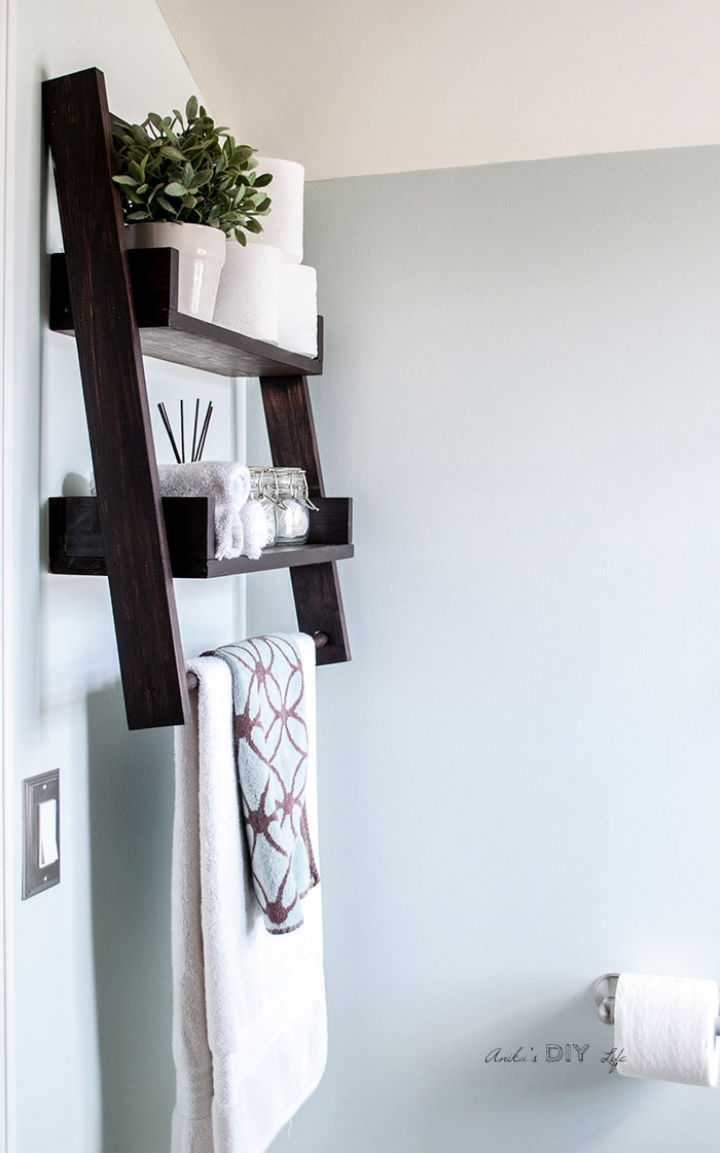 Bring a big wow factor to a particular interior by adding a floating ladder shelf. Just build a ladder shelf with 2 or more shelves and just mount it on the wall to hold your decorations and items of need on a decent height. Make it using the lumber and a wood dowel that will fit in the bottom to give a towel rack. anikasdiylife
These are the perfect floating shelves to build in small or narrow spaces in your home. These DIY Floating Shelves are really easy to make with options for every skill level.
9. DIY Wood and Metal Ladder Shelf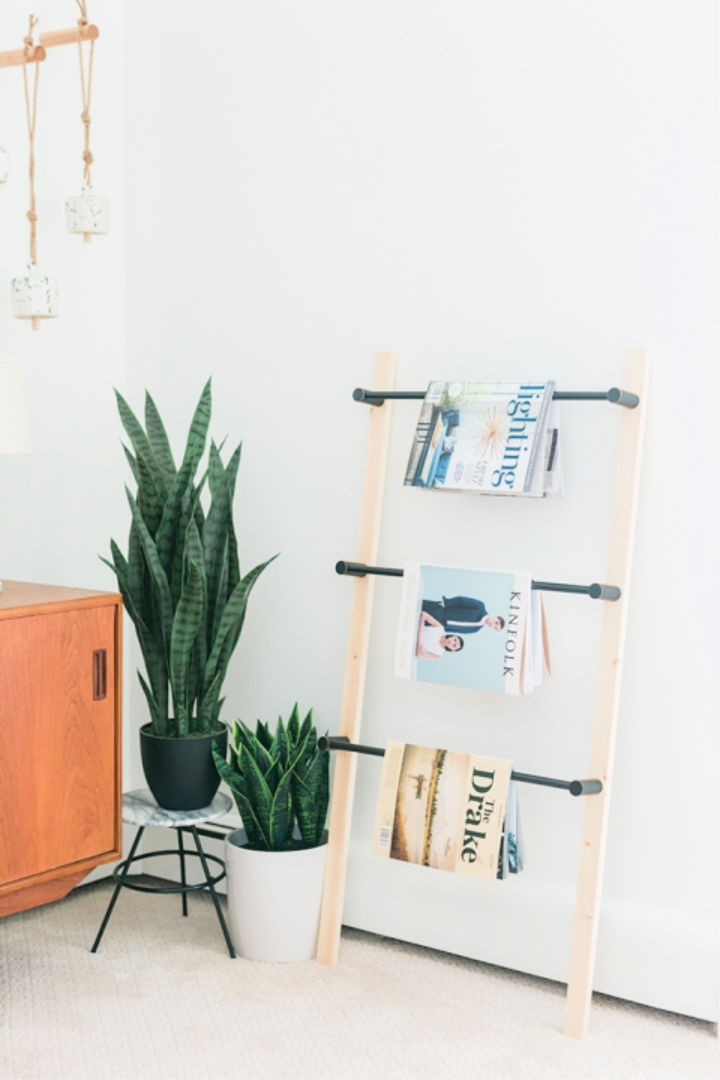 This DIY ladder shelf is a hot combination of wood and metal and can be added to any interior even to a bathroom to organize books, towels, and various other things. Just grab two lengths of wood to build the ladder uprights and then add them up with equally spaced metal towel holders. Details here dreamgreendiy
10. Simple DIY Ladder Shelves
Willing to get a lovely display station for your home? Then this easy to make DIY ladder shelf will make an ideal choice. Make it using a self-standing vertical ladder and pine boards. Use drill, screws, and L-bracket for the overall assembly of across the step shelving boards. Step-by-step instructions here collectivegen
11. Simple and Neutral Ladder Shelf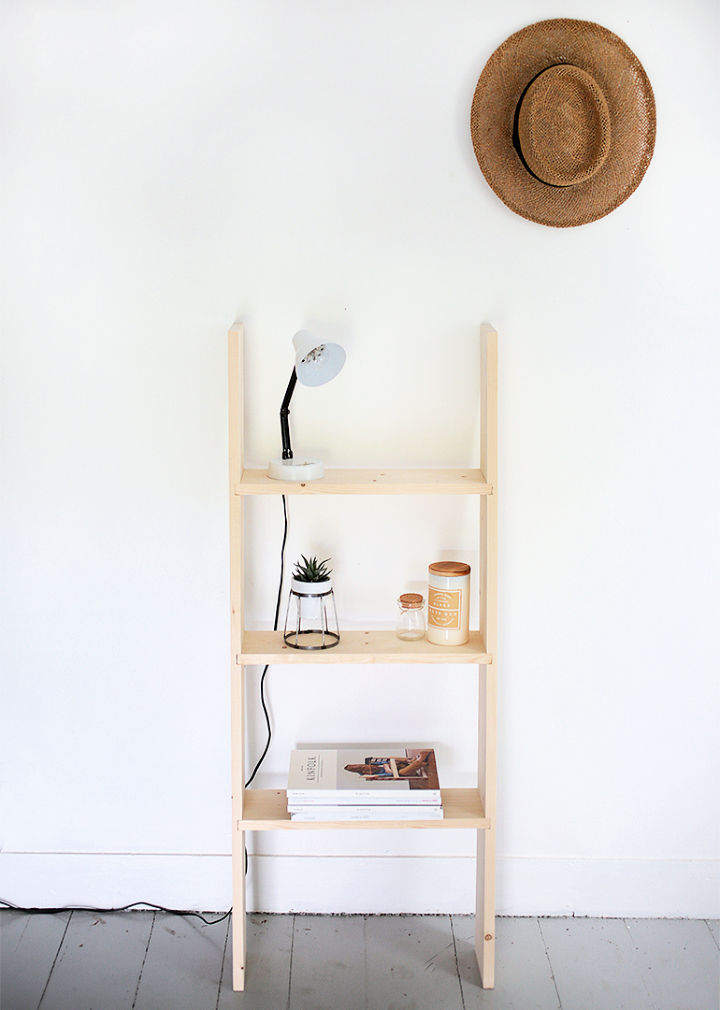 Build this simple ladder shelf using 2 lengths of 1 x 6 x 8′. The project required fine cuttings and to cut the dados in the uprights at a 7.5-degree angle. Make sure the dados are equally spaced as they will hold the shelves in them. Paint this shelf or leave blank in a natural tone of wood. Details here themerrythought
12. Bathroom Storage With a DIY Ladder Shelf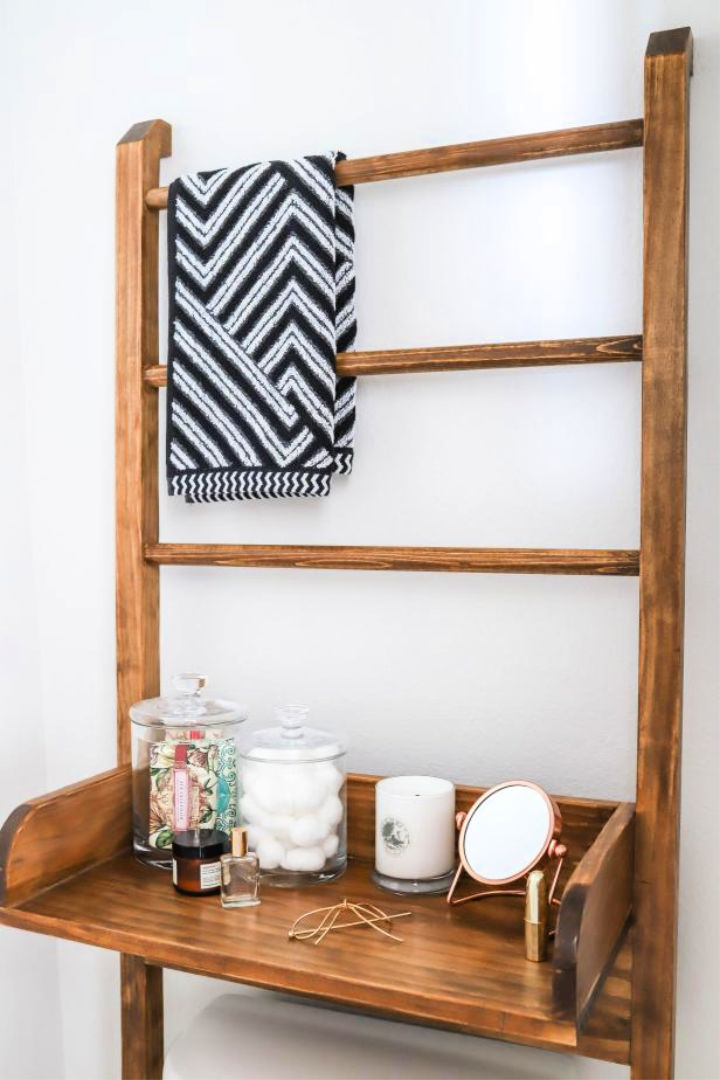 Lacking storage space in your bathroom that is causing problems? Then must update bathroom storage with this homemade ladder shelf. Make it using 2×2, 1×6, 1×4, 1×12, and wood dowels. Along with nails and screws, you need keyhole brackets too for overall assembly of this ladder shelf. hgtv
13. DIY Ladder Shelf for Shoe Storage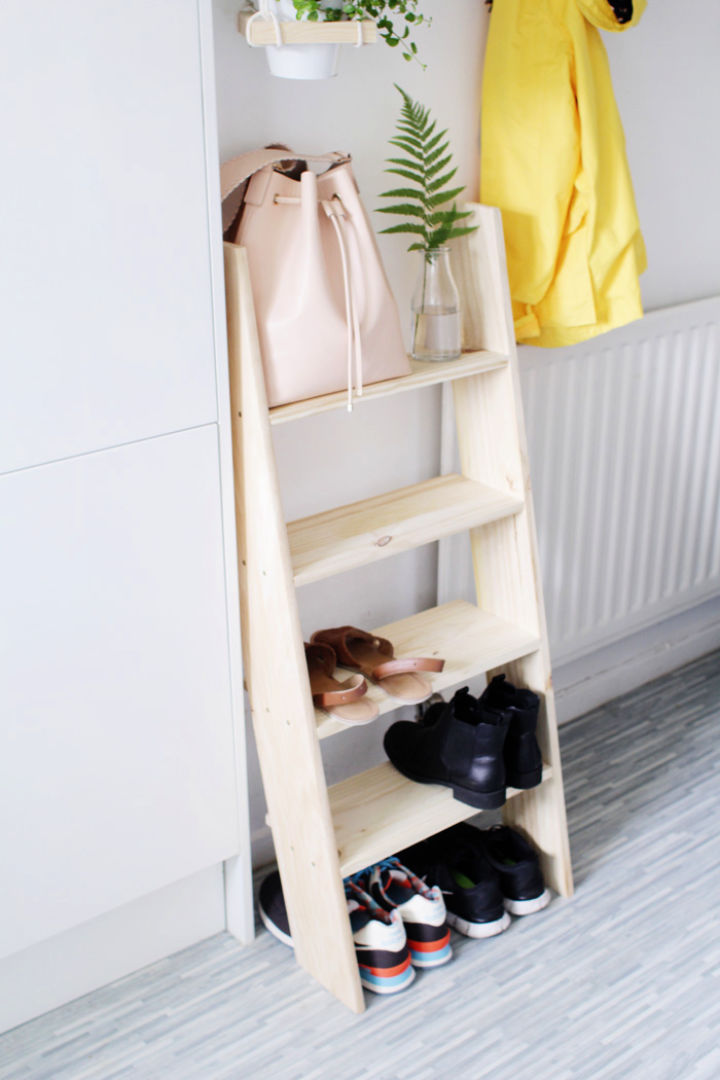 Update your home storage options, too, with the self-made DIY ladder shelf. Build this ladder shelf that will nicely organize your shoes that are always tough to store. Grab the pinewood boards to make this step shelves and do the assembly with wooden screws. Details here designsponge
14. Outdoor Ladder Shelf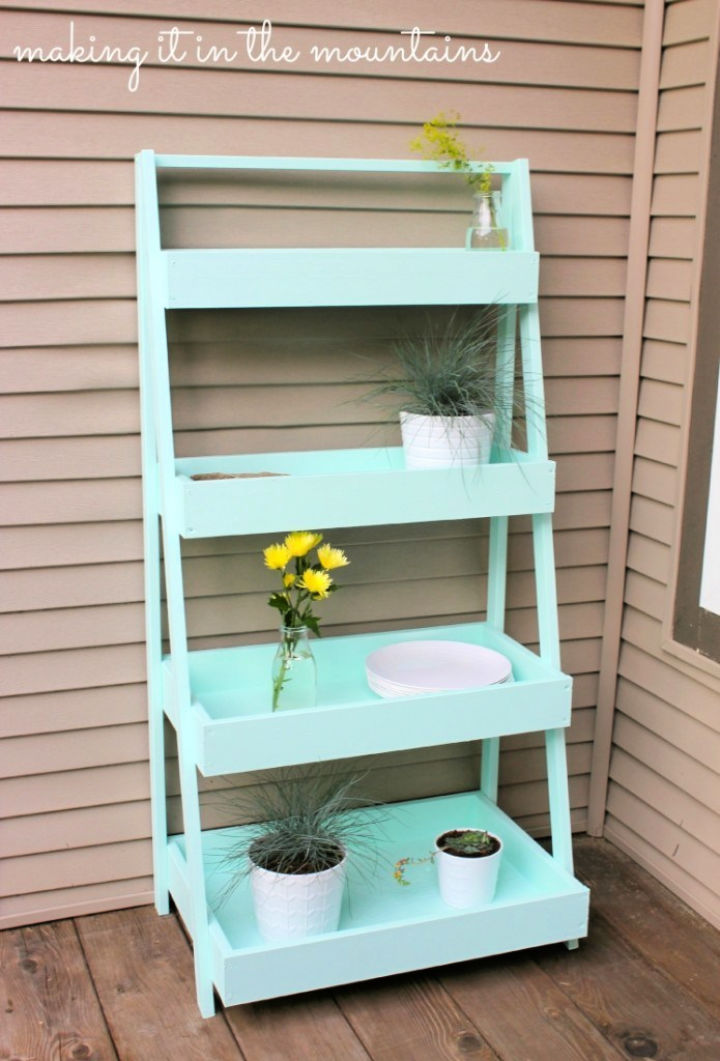 You are mostly to use the 1×3 and 1x4s to build this outdoor ladder shelf. Use DIY ladders to organize your planters and pot. It gains uniqueness from the tray like shelving levels that will safely hold all the items inside. Paint this shelf in color you want like turquoise. Details here makingitinthem
15. DIY A-frame Ladder Bookshelf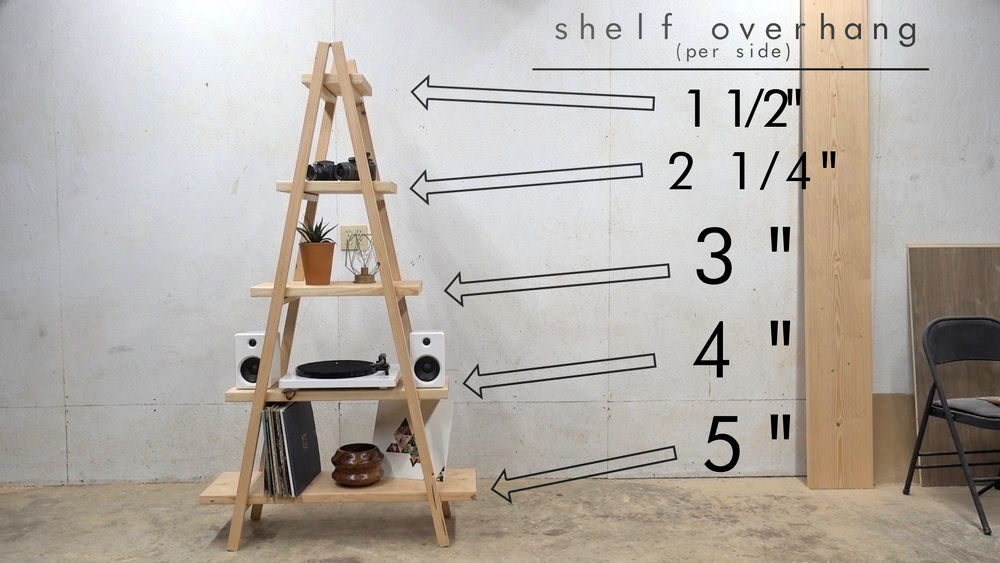 Get an impressive beauty station for your home using this A-frame DIY ladder bookshelf. It will nicely hold your home decor centerpieces, book stacks, and other items of decoration with an enchanting display. Make this portable bookshelf using 2×12, 2×4, and 1×2 wood slats. Details here modernbuilds
16. Modern Industrial Ladder Shelves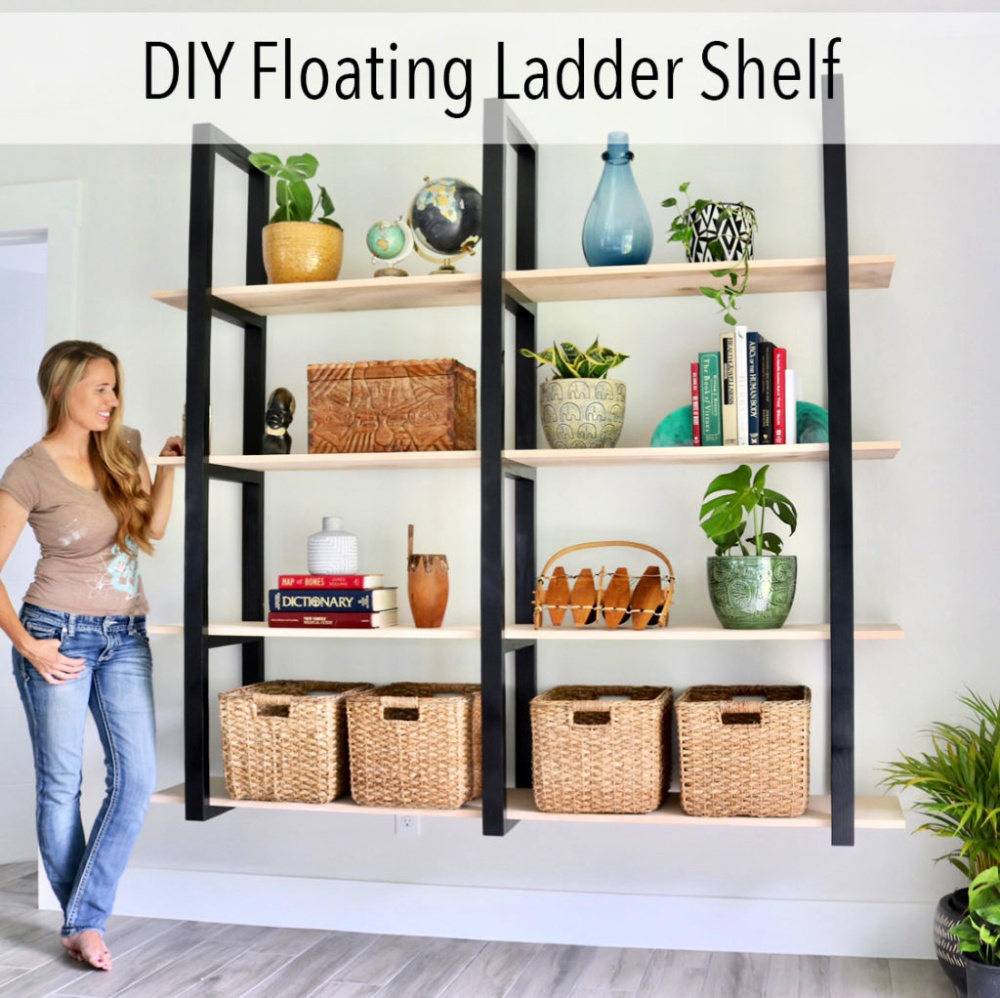 At a very first look, you will fall in love with these modern industrial ladder shelves, nicely mounted on the wall. 3 black painted rectangular loop style shelf holding frames are the whole beauty of this ladder shelf model. You need 1 sheet of 3/4" birch plywood, 7 lengths of 2x4s to build it. buildandcreate
17. Leaning Ladder Wall Bookshelf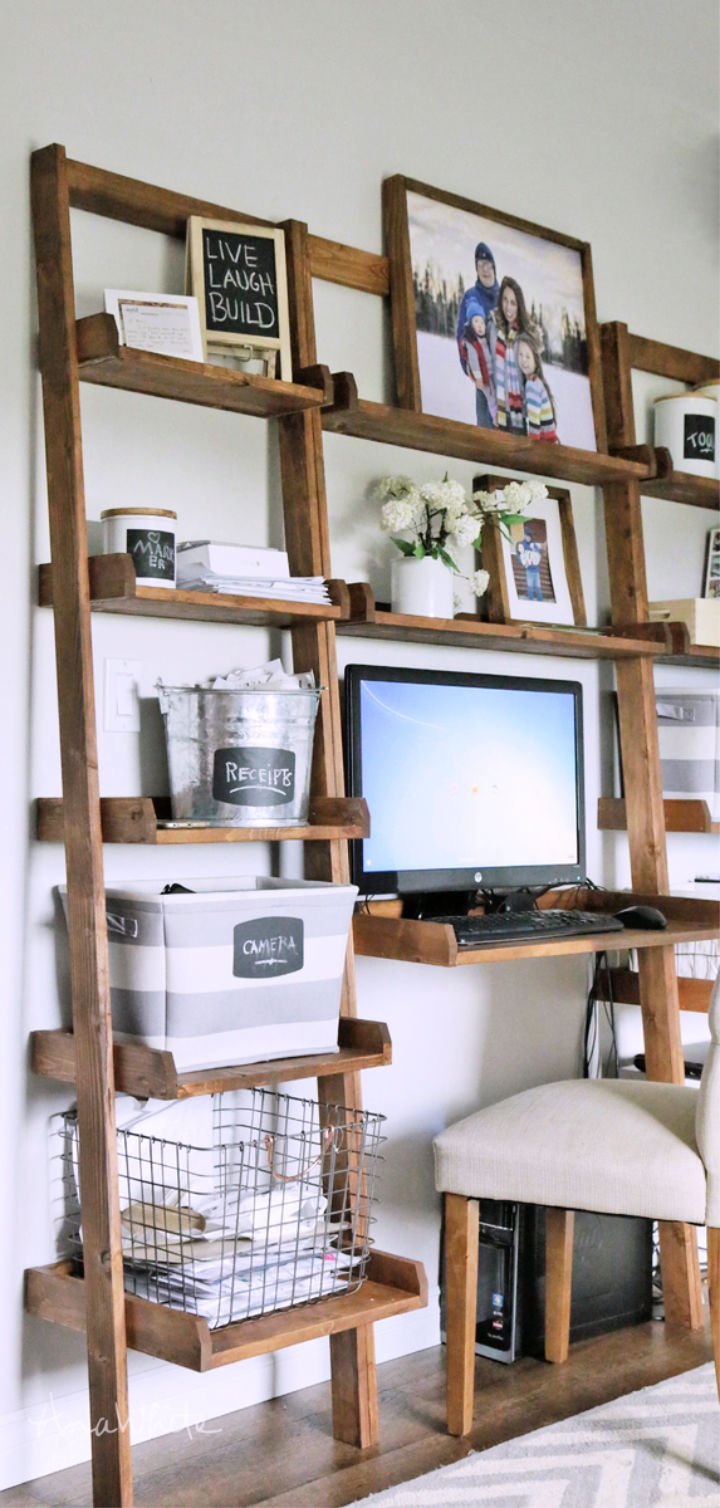 Here you need 1×3, 1×6, 1×8, 1×10 and 1×12 wooden lengths to build this leaning ladder wall bookshelf. This shelving scheme is just perfect for organizing those book stacks, mural frames, and centerpiece. It comes with a floating computer desk in the center, a super smart and space-savy bookshelf, and a computer desk idea. ana white
18. $10 Ladder Shelf Planter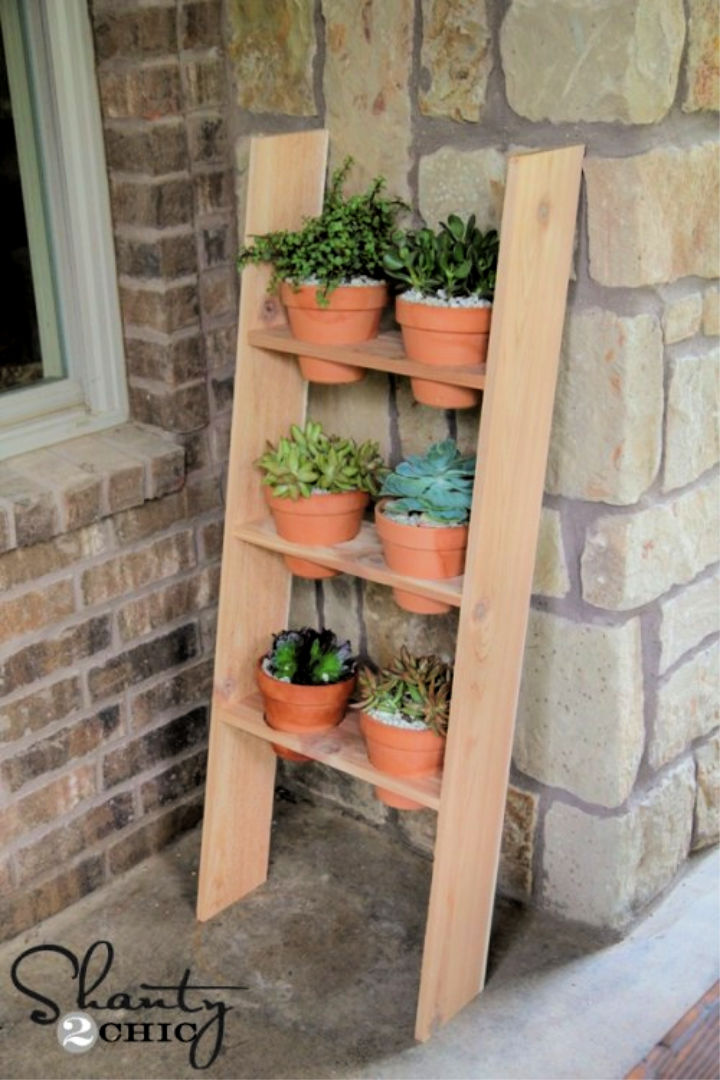 Spice up the ladder shelving game by building this ladder shelf planter too. It will cost you $10 and is quite something quick and inexpensive to make. The creative twist is to cut out bigger holes in the ladder shelves or steps to fit the planters or pots in. Build the ladder with the wood of choice. shanty 2 chic
19. Copper Ladder Shelf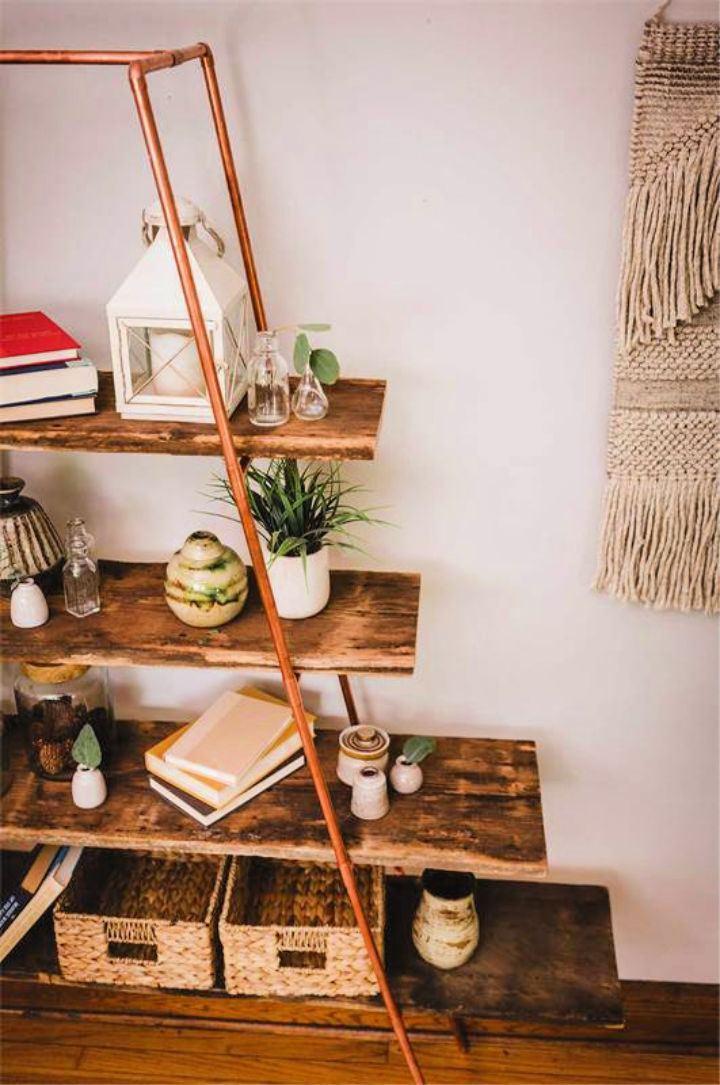 If you strive for the stability and style in everything, then you will be a big fan of this copper ladder shelf. First, build the ladder using copper pipe lengths and fittings. This one comes with 12" rungs and 18" bottom legs. After you complete the copper ladder shelf, finish it by installing the wood shelves across the steps. fiskars
20. Rustic Ladder Shoe Shelf
Do you love to be unique in everything? Then start organizing your books and displaying your decors in an unconventional way using this rustic ladder shoe shelf. Build this rustic ladder shelf using 2" x 6″ x 8′ and opt for the 1″ x 8″ x 4′ wood lengths to cut the individual shelves. Details here buildsomething
21. Mini Ladder Shelf for Serving & Organization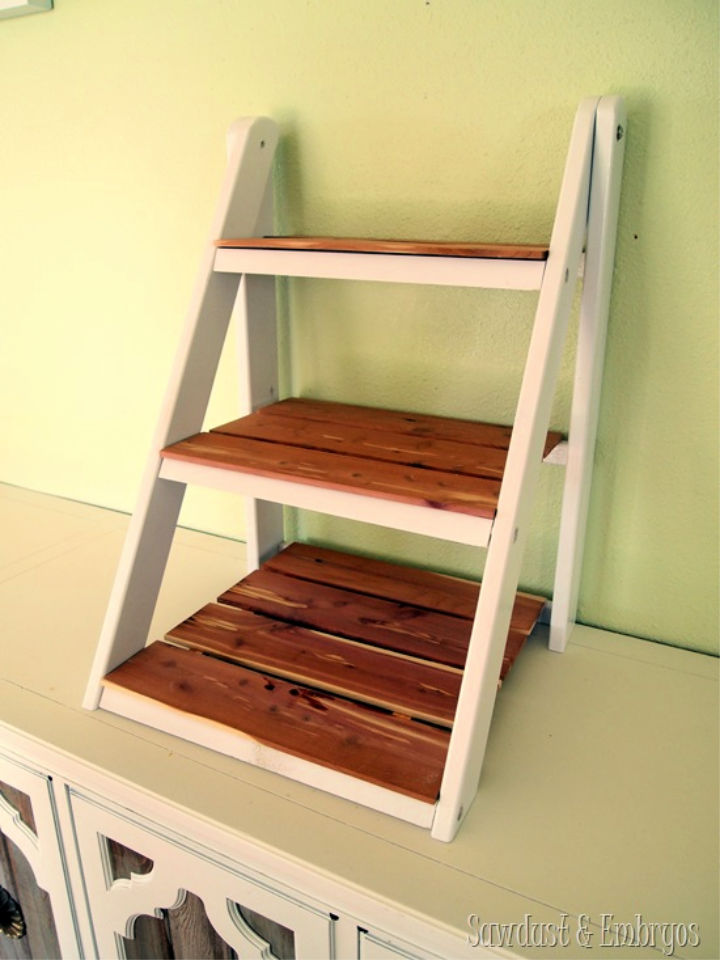 What will impress you the most in this mini ladder shelf, is the miniature design and fine roundness of top edges. How to make a ladder shelf? build most of this ladder shelf using 1x4s and opt for the 1×1 to build the rungs that will hold the shelves over them. Complete the design by setting the shelves on rungs. Details here realitydaydr
22. Ladder Shelf Perfect for Small Spaces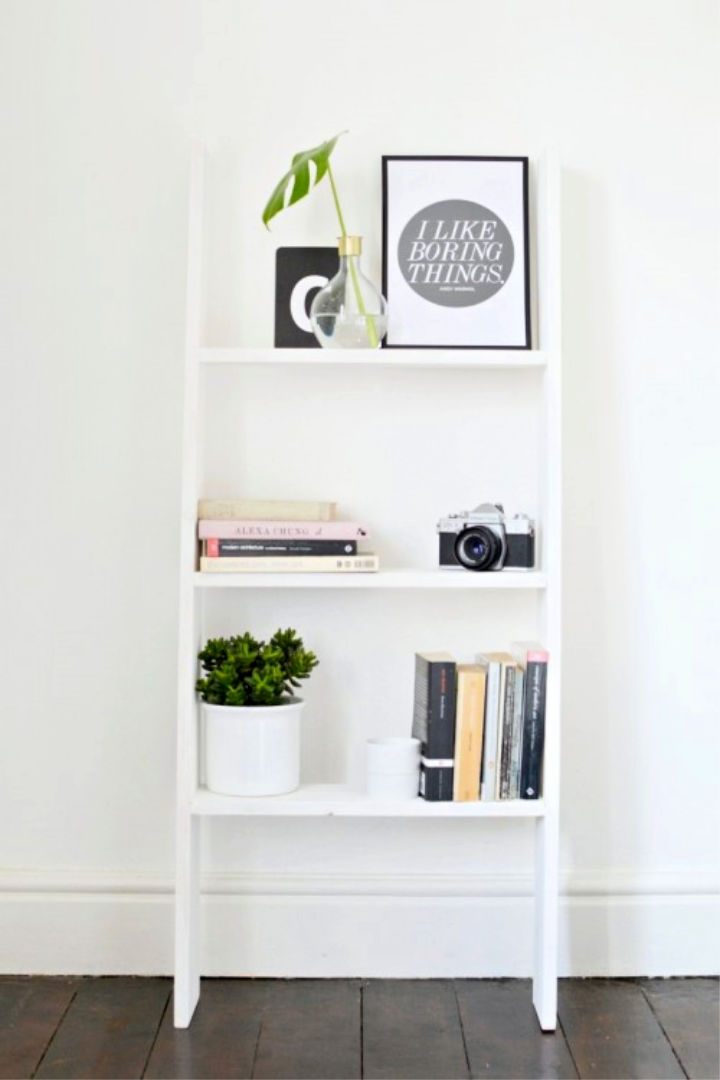 If you are living in small spaces and willing to update the storage possibilities there without using too much floor space, then this ladder shelf is for you. Grab the wood boards of choice like 1x4s to build this ladder shelf. It will be an ideal candidate for storing your books to displaying your decors. burkatron
How about building a bookshelf or two and adding more storage to the rooms that need it? These clever DIY bookshelf ideas are simple and easy to build.
23. Made To Measure DIY Ladder Shelf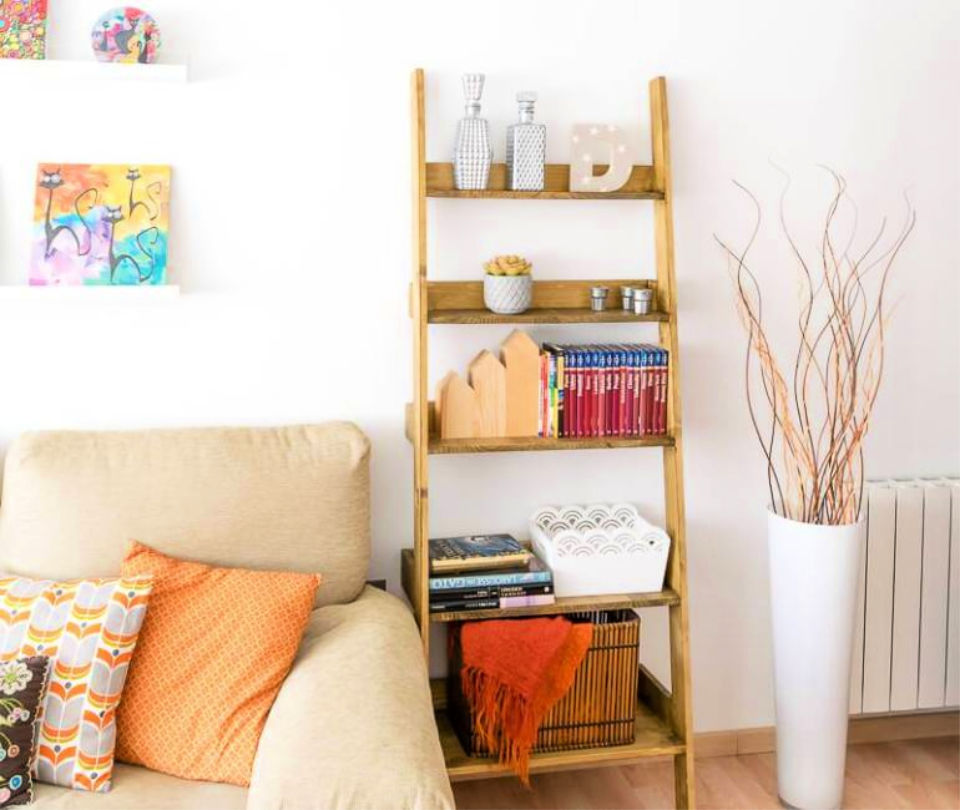 Build this ladder using 2 wooden planks having dimensions 70 x 1800 x 18mm and panel of wood measuring 2000 x 600 x 18mm. Use the wood glue and screws for the overall assembly of the ladder and finish this ladder shelf with oak varnish. The size of the tray shelf gradually increases while coming from top to bottom side. manomano
24. Build Your Own Ladder Shelf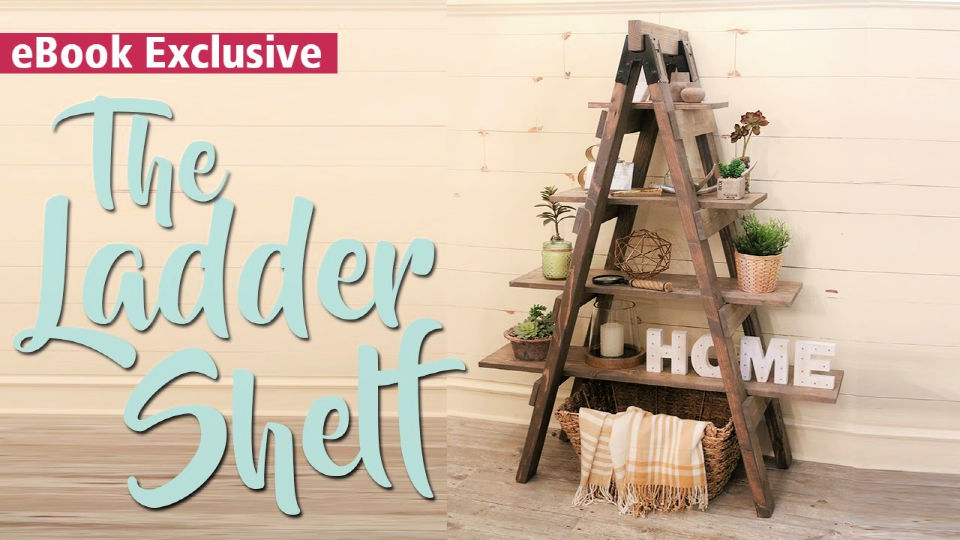 Get here the visual instructions to build a ladder shelf like a pro. The projects include using 2x4x8 and 1x6x8 and 1x4x8 lengths. This trestle ladder shelf will make a better home organization and display station, and it will be an idea to organize your book. Details here youtube
25. How to Build a Ladder Shelving Unit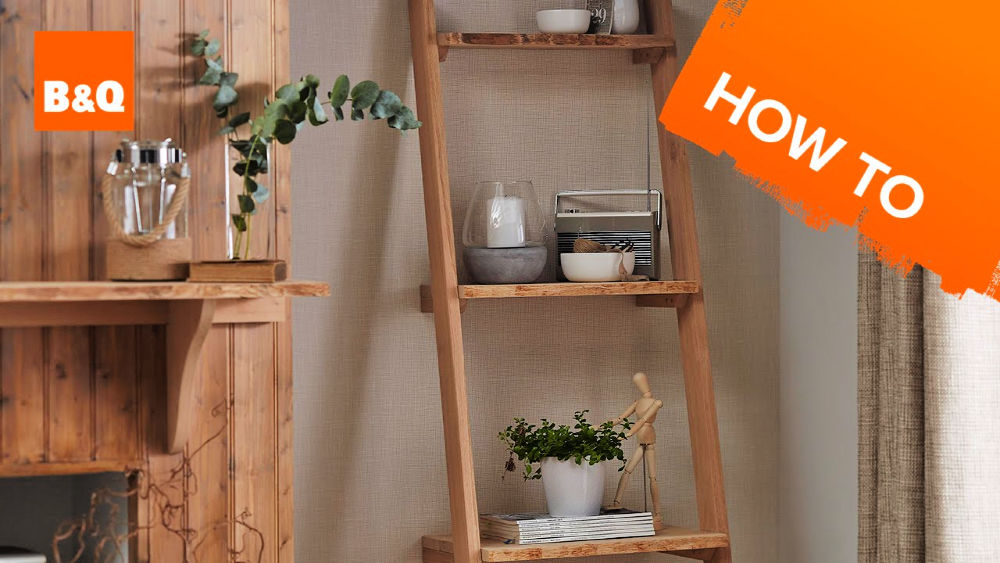 This wooden ladder shelf project uses the oak wood to build a shelving unit, but you can go with pine or even with the MDF board to duplicate this ladder shelving unit. From storing your to display them enchantingly, this ladder shelving unit will be all in one solution. Let it hold your pots and planters too. Details here youtube
Beginner woodworking projects without power tools:
Check out these easy woodworking projects for beginners to build today. Find the best tutorials, pick your favorite design, and start building your own wood projects.
Conclusion:
Willing to update your home storage options in a modern and unique way? Then follow these ladder shelf plans that will impress with a variety of designs that involve self-standing, wall-mounted, and against the wall standing ladder shelves. These DIY ladder shelf ideas are super budget-friendly and will help save a lot of money. They are ideal for holding books, centerpieces, and also the planters or pots with an enchanting display.