Learn How to build free standing wooden steps! The summer season is almost here, which means that you will be spending a lot of your free time on your porch, soaking up the sunlight! You will also be having many barbeques and gatherings on your porch. This is why it is a good idea to switch it up and make your porch look a little more stunning. The main thing to change up can be the wooden steps! Usually, the carpenters spend the least amount of time on your garage, and it may be the reason behind those small and narrow steps!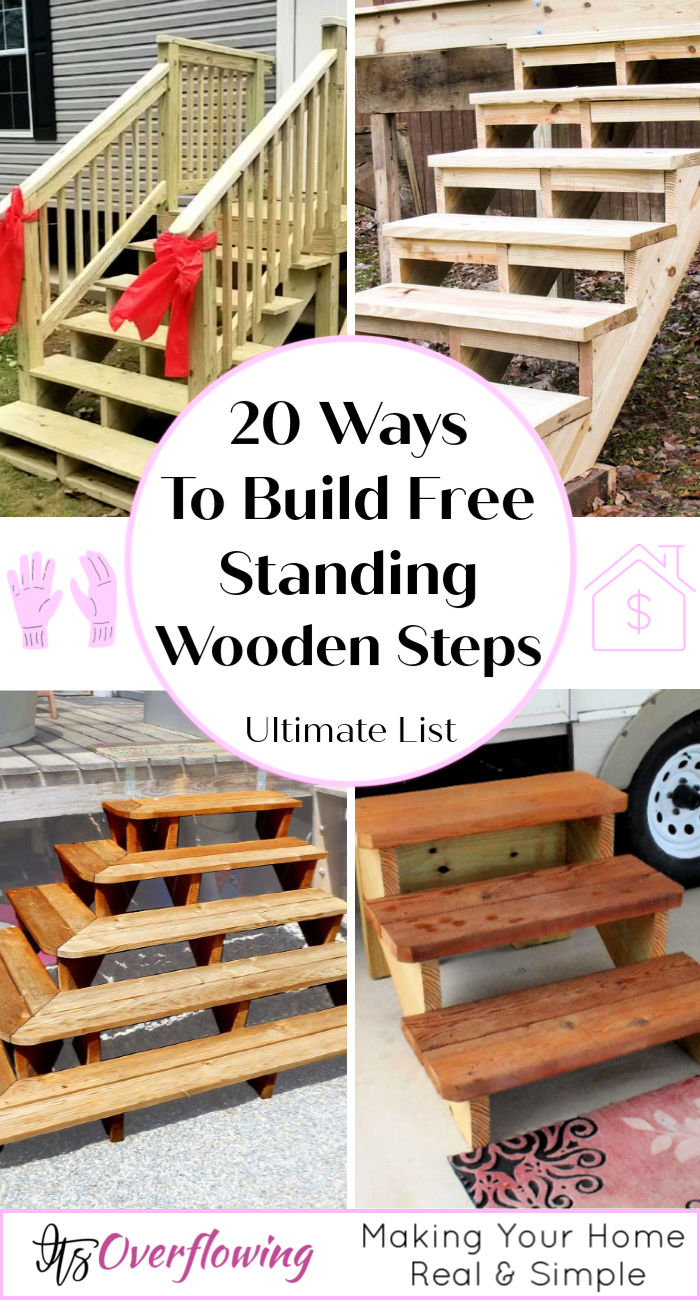 Those wooden steps can be quite frustrating. Especially if you have little kids or pets in your house! You don't have to tolerate them anymore. You can make some high quality and super sturdy stairs. This way, you won't have to worry about your kids falling over on them. What is high quality? The quality of the stairs can just be improved by making them a little wider and thicker. Use some good materials, and you're good to go. This article will cover a range of outdoor wooden steps from outdoor to pet steps, from heavy-duty to deck stairs!
1. Free Standing Stairs for Travel Trailers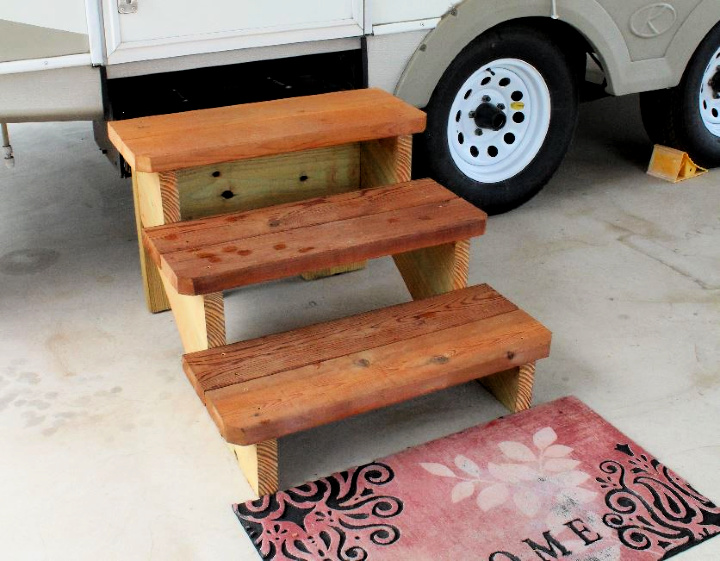 Are you a beginner? Don't know where to start? This RV stairs guide will give you a good idea of where to start and what steps to take! This wooden RV steps tutorial has step by step instructions, diagrams, dimensions, and a lot of detail! You won't feel lost again. mycarpentry
Here are 20 of the best DIY RVs and van guide we've seen. (If you're looking to do some DIY upgrades on your own camper.)
2. How to Build Wooden Steps/Stairs
One of the most important characteristics of some good stairs is that they are super sturdy and strong. These stairs have all of those characteristics! Hand Saw, hammer, 16d Nails, and a few other tools will be needed for you to nail this project! instructables
3. How to Build Deck Stairs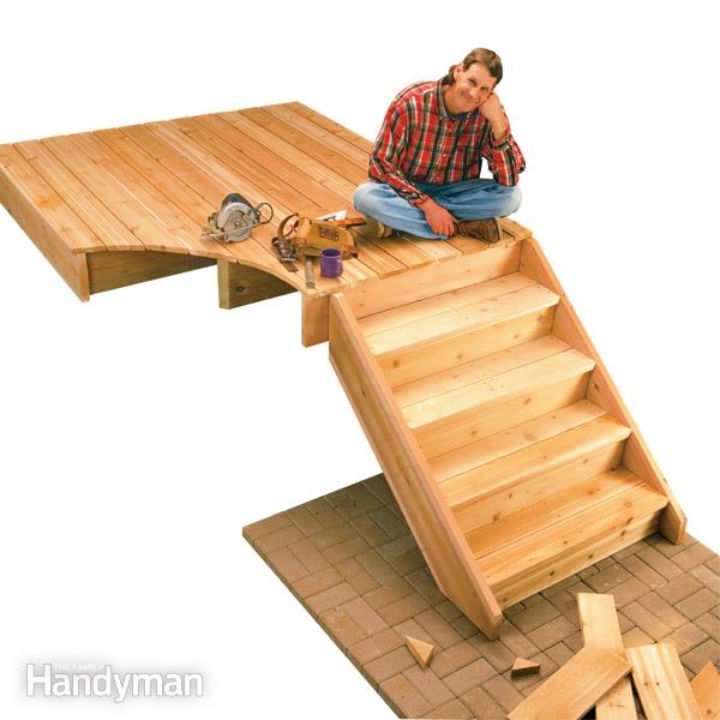 You may be confused by now. Where to start? What is the first step? What materials to get? Building free-standing wooden steps can be a little tricky. However, this guide will make it all easy for you. It has the whole process broken down into smaller steps! familyhandyman
4. How to Build Stairs
The most important thing when building stairs is that the rise and run should be the same on every step! Read these wood steps for stairs guide for some more advice and instructions. It will give you all of the information you need to build some good quality wooden steps. instructables
5. Wood Stairs and Stair Railings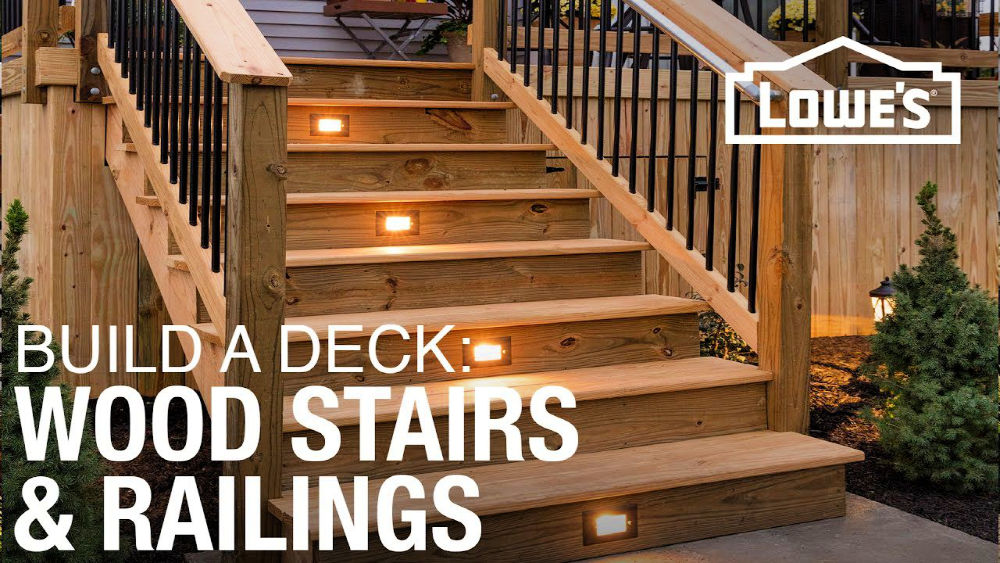 Building stairs can take some maths and a basic understanding of some mathematical operations. However, not everyone is good at maths! This guide will make you understand all of that! You will be motivated to make some wooden steps after reading this. lowes
6. How to Build Outdoor Wooden Steps / Free Standing Stairs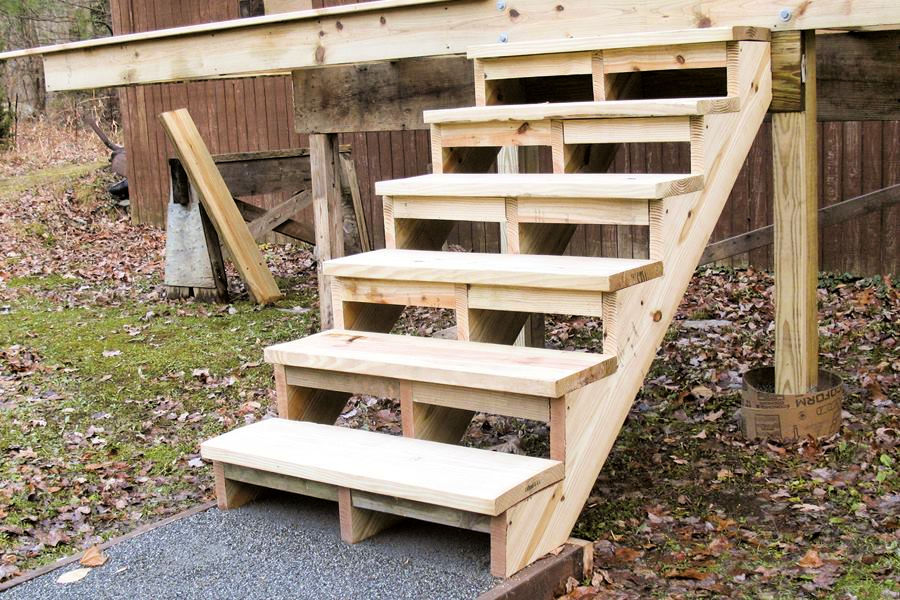 We all want our garage to look beautiful! You can do so by making some wooden steps Or free standing stairs. They have to be sturdy and larger in size to make it easier to step on them. A super detailed outdoor wood steps guide with real-life images to make it easier to understand. deckmagazine
7. Outdoor Timber and Pea Gravel Stairs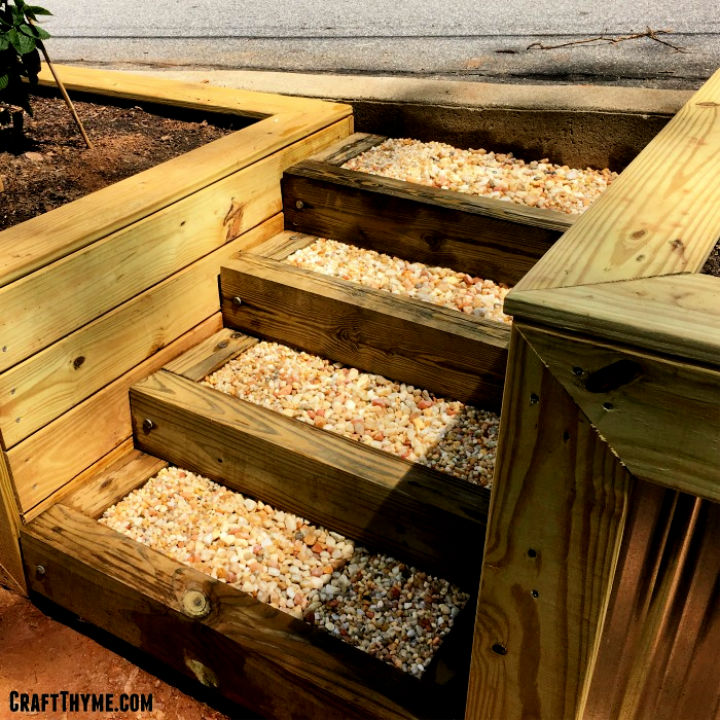 Timber and pea gravel! This will make your steps more compact and long-lasting. This is because timber is a very strong material and will not break down easily. The best part is that they look very pleasing to the eyes. Super stunning! craftthyme
8. How to Build Entry Steps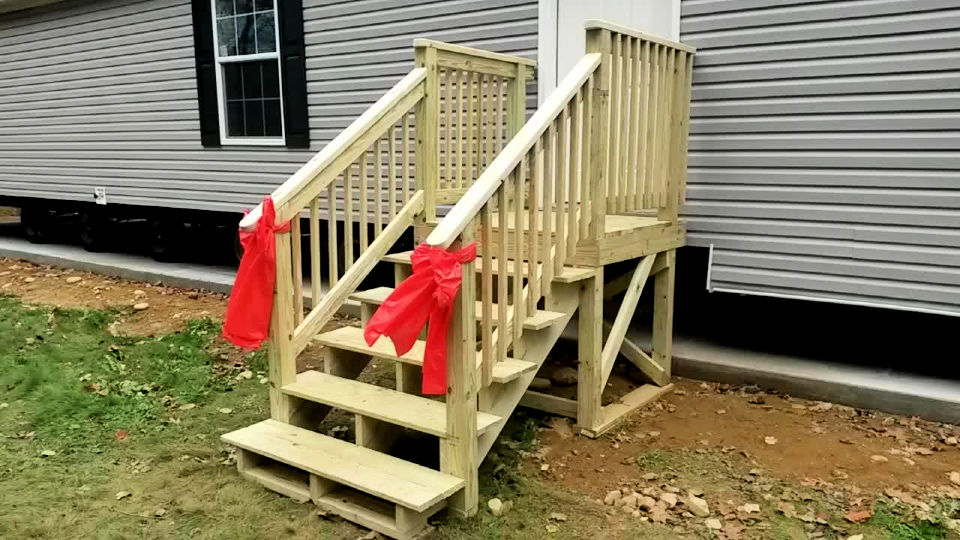 How to build free standing wooden steps? The process made it easy with this amazing guide! You can achieve these stairs by using some basic tools as a table saw, miter saw, and a drill! No need to spend money on some expensive or complicated tools. youtube
9. Building New Front Porch Stairs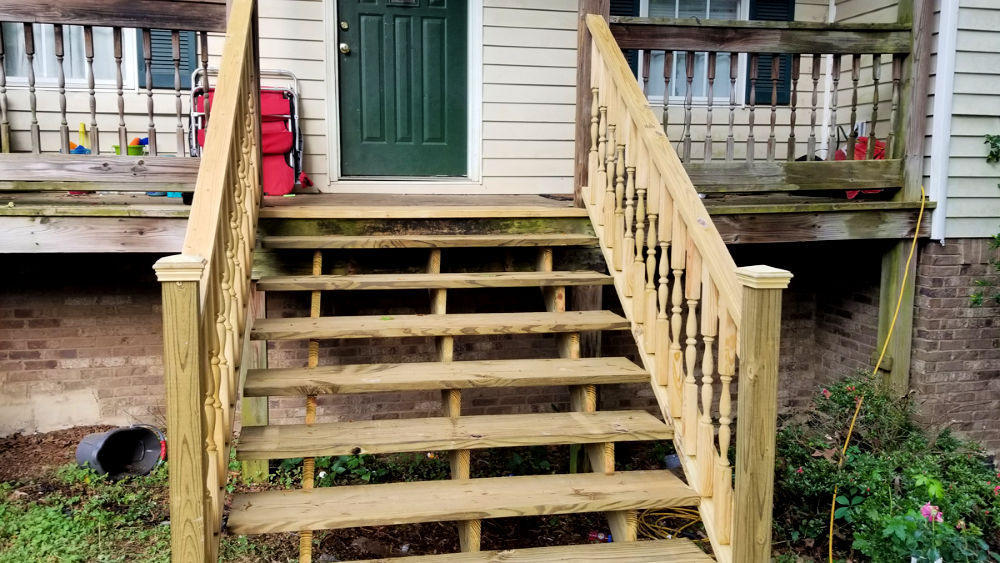 Some good porch stairs can really make your life easier. Wider and more sturdy stairs will not make you worry about your kids falling over them, all the time! It is very important to think about safety first. It is a great time to build some good quality stairs! homebrewdad
10. How to Build Outdoor Stairs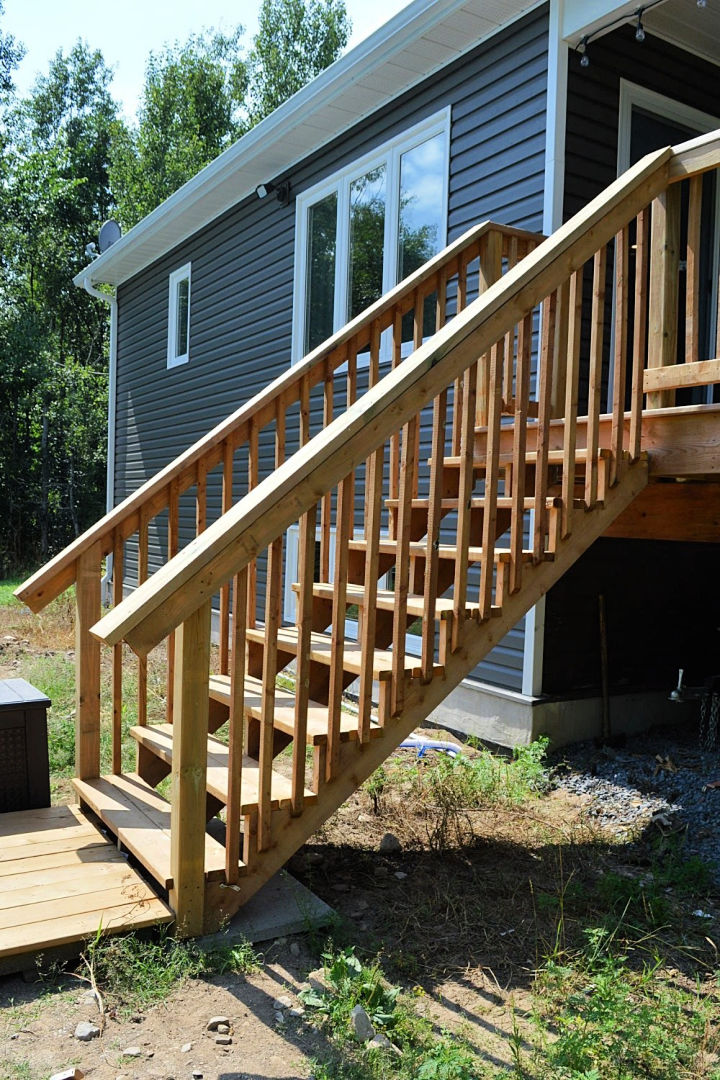 Here's how you can build some stairs for your front porch. They are good quality, sturdy, and can take heavyweights! Those are all the things needed in some compact stairs that will last you a long time! Basic tools required for this project. thevanderveen
11. Outside Stairs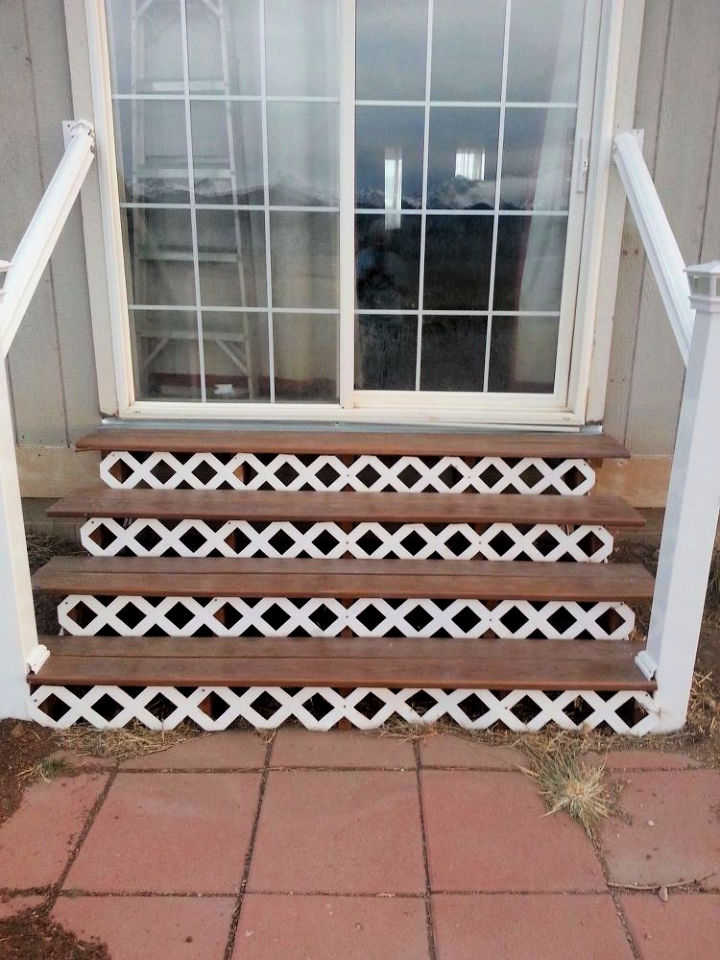 Do you have some crazy cats or dogs and little kids in your house? Then, it is a good time to change the stairs of your house. For some reason, the stairs made the carpenters are always small and narrow, which is not safe at all! Make your own stairs! hometalk
12. How to Build Pet Steps
Give your puppies a chance to do some adventures by making them these amazing DIY dog steps! You can keep them by your bed so they can climb into the bed easily. This way, you won't have to pick them every time. Basic tools and materials will help you ace it. build basic
Build your dog a home of their own with these free DIY dog house plans that include diagrams, photos, building instructions, and materials/cut list.
13. How to Build Outdoor Wood Steps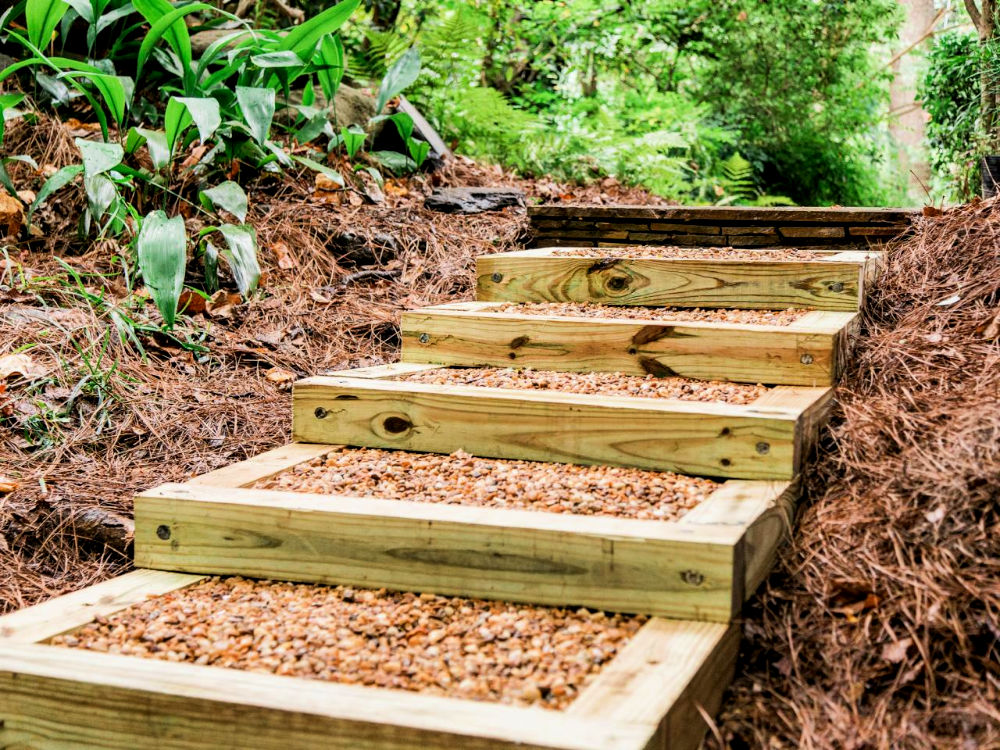 If you're looking for something aesthetically pleasing to the eyes, these are the stairs to go for. They are so pretty! It will make your garage look very beautiful. On top of that, they are very compact and good quality. Isn't that what we all want? diynetwork
14. Outdoor Wood Steps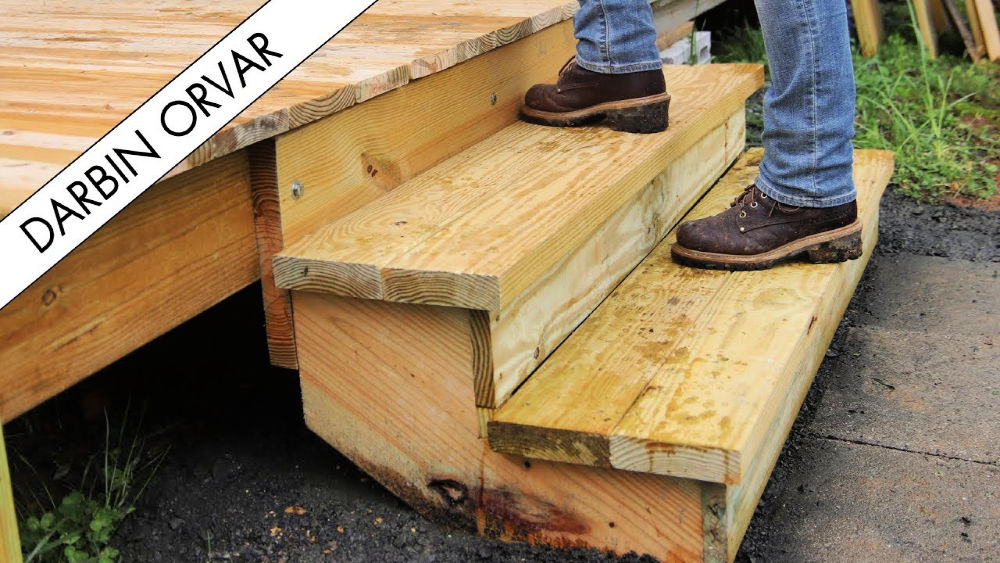 How to build free standing wooden steps? How long will it take? There can be many questions. Well, it may depend on if you're a beginner or a professional. If you're a beginner to woodwork then you must follow these 150 easy woodworking projects to learn more skills. However, for someone intermediate, it will only take around a weekend to complete this outdoor wood steps project. youtube
15. How to Build Outdoor Wooden Steps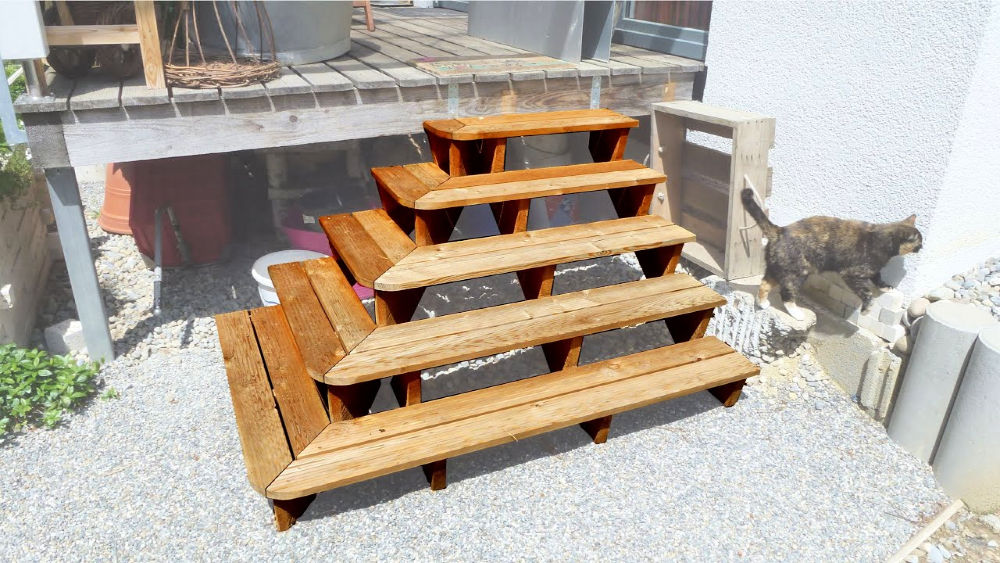 Don't want to buy some complicated tools and spend a ton on money on them? Well, you're in the right place. This guide uses some basic tools and basic materials. You may even use some leftover lumber from previous projects. youtube
16. How to Build a Simple Deck Step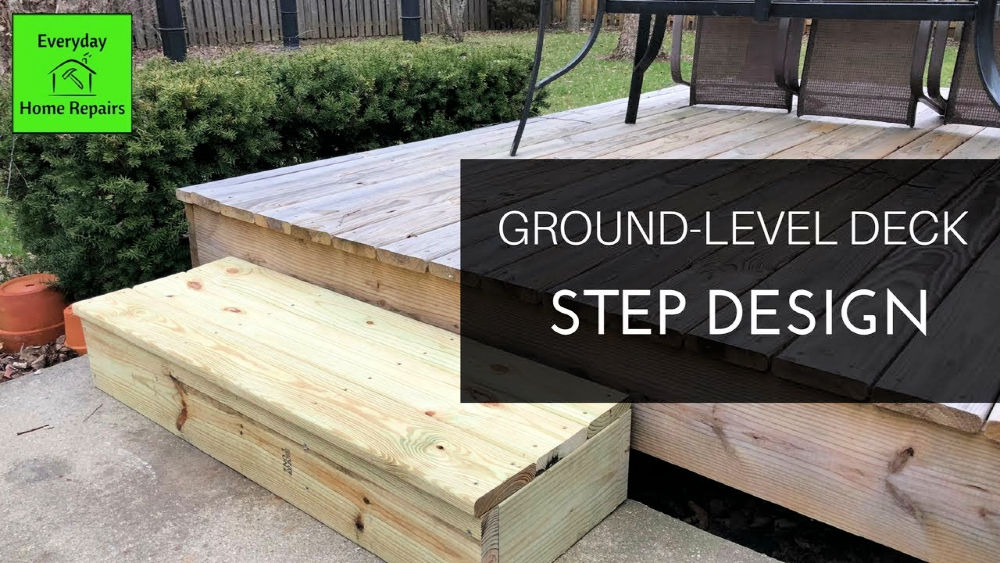 These wooden steps scream, " less is more!". It is a very true saying in this case. The stairs may be very simple to look at, but they still add a lot to your porch. These are perfect for all the minimalists reading this article. youtube
17. Build Three Step Heavy Duty Plywood Stairs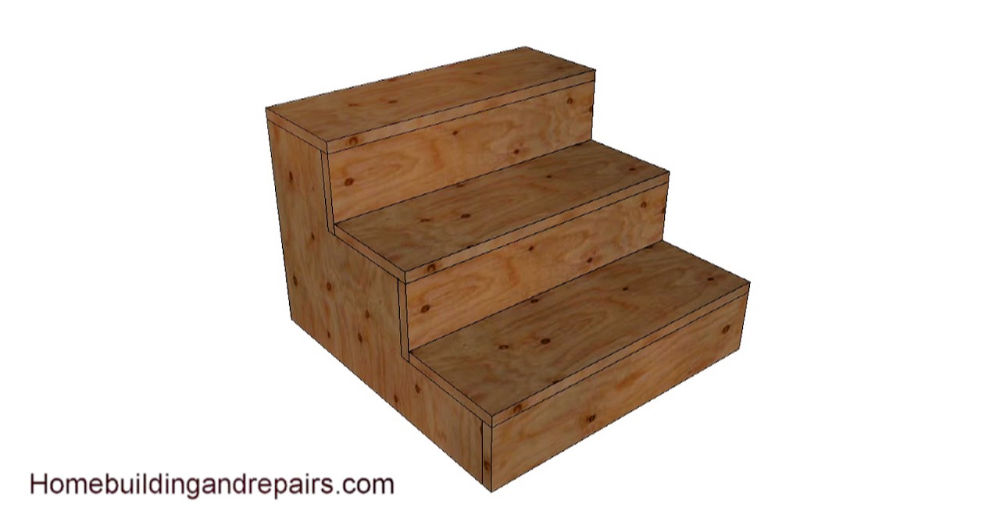 Plywood is a strong type of wood. A great material to use for some excellent quality wooden stairs. This guide does not involve many steps. A simple and easy three-step guide to making them! Miter saw table saw, a drill, and a few other basic tools required. youtube
18. Building a Large Staircase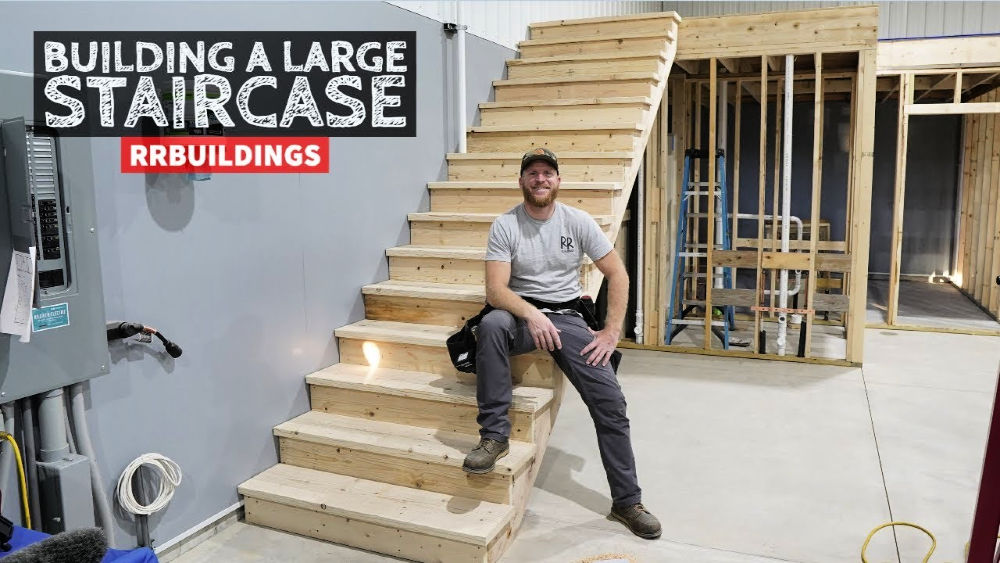 A large staircase can be required for many things. Maybe you are trying to connect two floors of your house. Whatever the reason may be, this is a guide for it! A great video tutorial guide to make it easy for you to understand the whole process. youtube
19. DIY Outdoor Wood Steps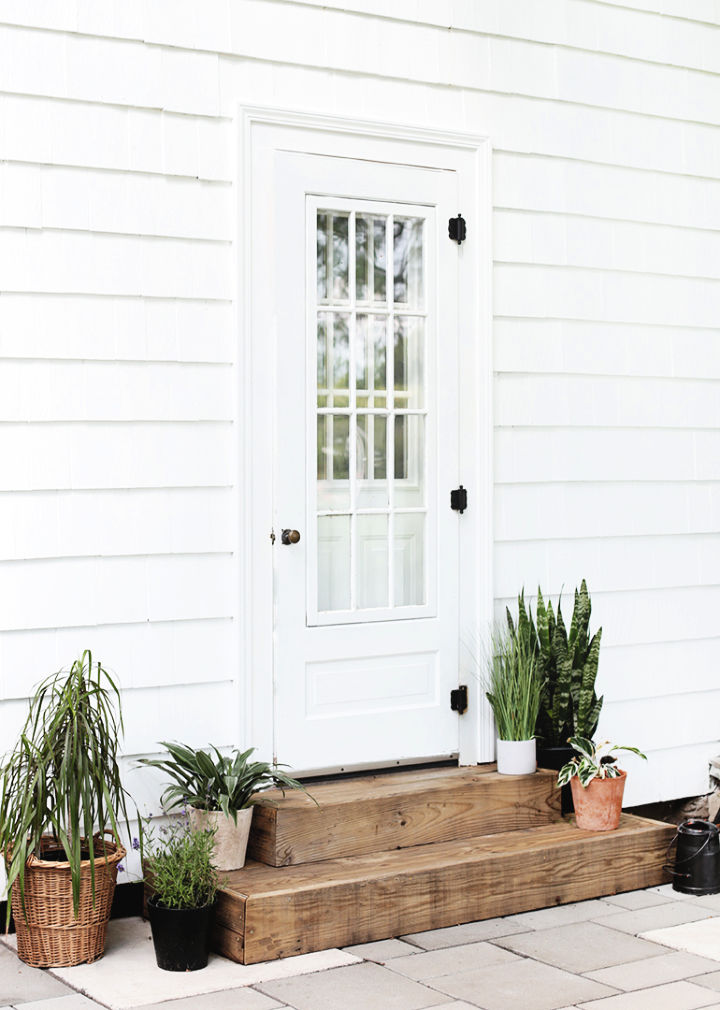 Have you ever thought to yourself, why are my steps so small and hard to step on? Want to know how to build free standing wooden steps? Well, you're in the right place! Two – 2x8x8, two – 2x6x12, and a few other materials will be needed for this project. themerrythought
20. How to Make Wooden Stairs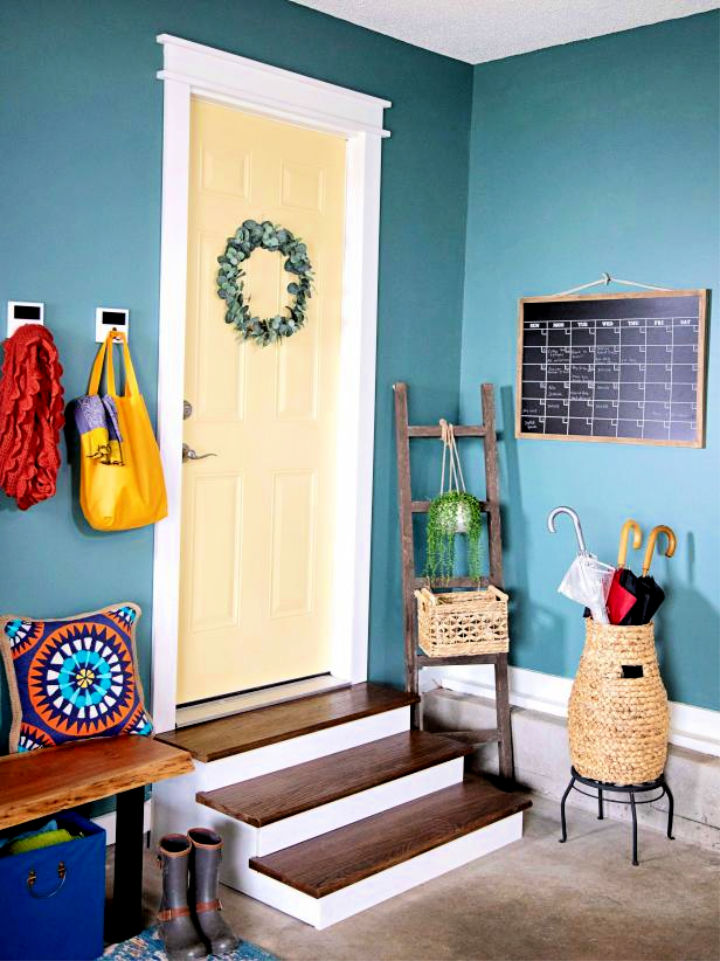 Want some ways to make your home look beautiful? Why not make some stunning wooden steps by following this guide! By having better quality steps, it will be safer for you as well. 4×8 sheet of plywood, with three 2×4 x 6′ pine boards, and a few other materials required. hgtv
Conclusion:
If you're about to jump into any of these wooden steps, make sure to do some research. If you have a lot of leftover lumber from a previous project, you may be able to use it and save some money. However, you will need to do a lot for measurements and scaling. Learn How to Build Free Standing Wooden Steps with these tutorials! Something really important is to have the rise and run equally for every step! It is recommended to take the measurements accurately and noting them down on a notepad. The most technical and complicated part of this whole project will be the measurements.