Willing to save a lot of camping time when going from place to place? Then go with these 15 best DIY roof top tent ideas that will come on the vehicle roof, will be high enough to be safe from the varmints. Having a DIY roof top tent installed on your vehicle will be like you are living the camping luxury, it will instantly pop-up to give you the camping bungalow loaded with all amenities. You have to be an expert in both sewing and woodworking to do most of these DIY roof top tents, and knowing a little about the engineering will help you to easily set up these tents on the roof of your vehicle.
Browse this collection of 15 DIY roof top tent ideas that provide easy to follow guides, blueprints, illustrations, diagrams, step-by-step instructions, and visual tutorials for building safe and luxurious rooftop tents. Time to enjoy the next level camping without breaking the bank using these rooftop tents.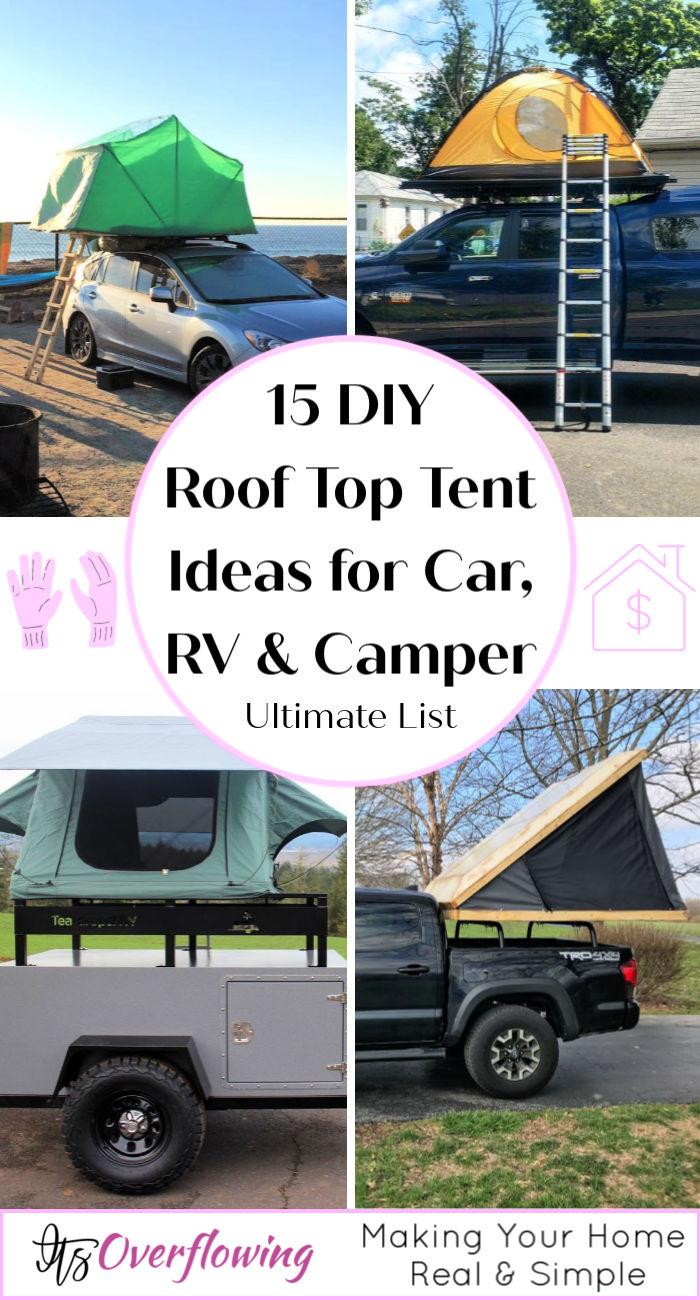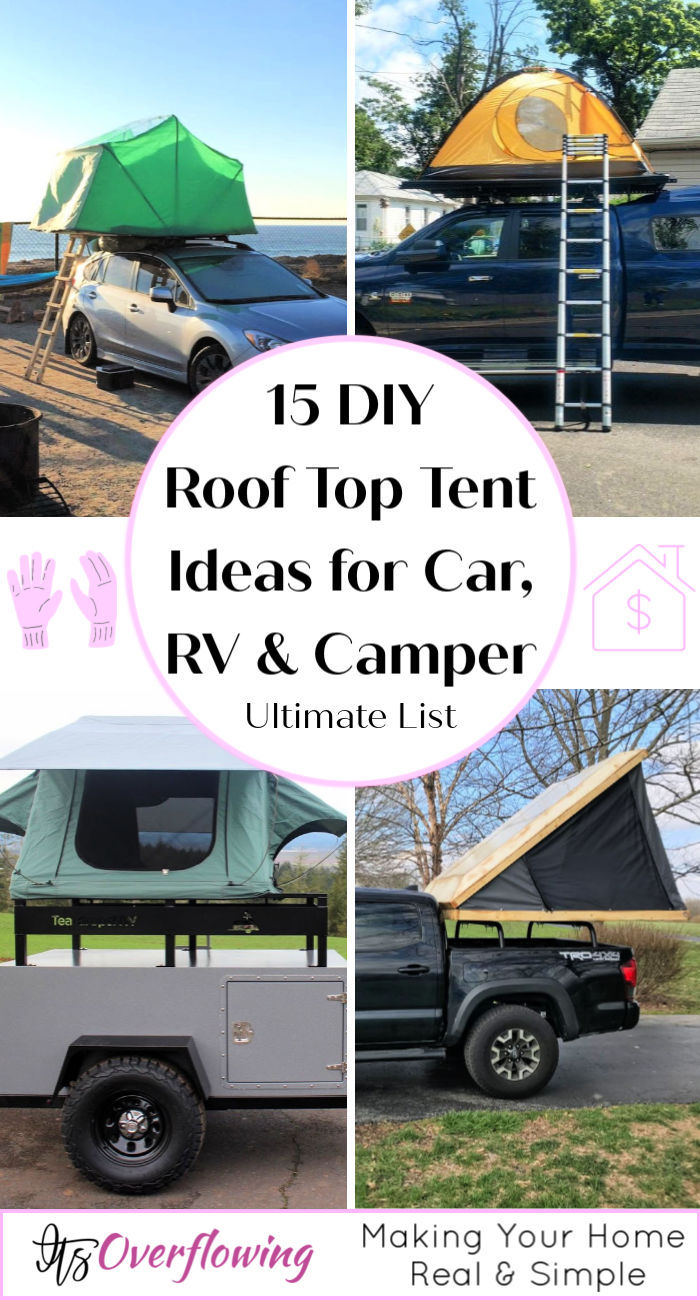 From simple A-frame rooftop tents to incredible double folding home-like rooftop tents, you are going to find the directions to build all sorts of DIY rooftop tents. The plywood will be a great option to build the base of most of these tents, and due to evenly flatness, it can easily be set balanced on a vehicle roof. For building a tenting frame, choose the wood planks, aluminum tubing, and even the square metal tubes. However, if you love to sew the tents, you can come with more tenting fabric than the wooden frame. Take a short tour of all these homemade DIY roof top tent ideas and see a lot of graceful samples to choose from, will surely spice up your camping.
1. How to Build Roof Top Tent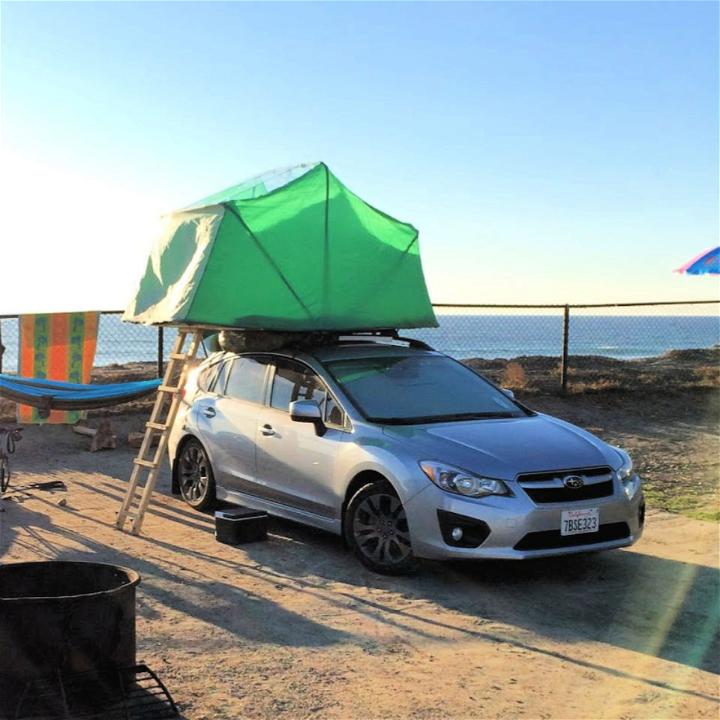 Check out the height of DIY creativity here, get the plan here to build your car rooftop tent. Building this DIY roof top tent will simply cost you $100. Build the base of the tent using 4′ x 8′ plywood sheets. Next, build the tent frame with conduit and choose the best fabric for the tent portion. The DIY roof top tent will pop up to provide a camp on the top of your vehicle roof, so no pain to install a separate tent and It really budget-friendly to leave home depot canopy tent. Details here thosethingsido
2. DIY Roof Top Tent – A Frame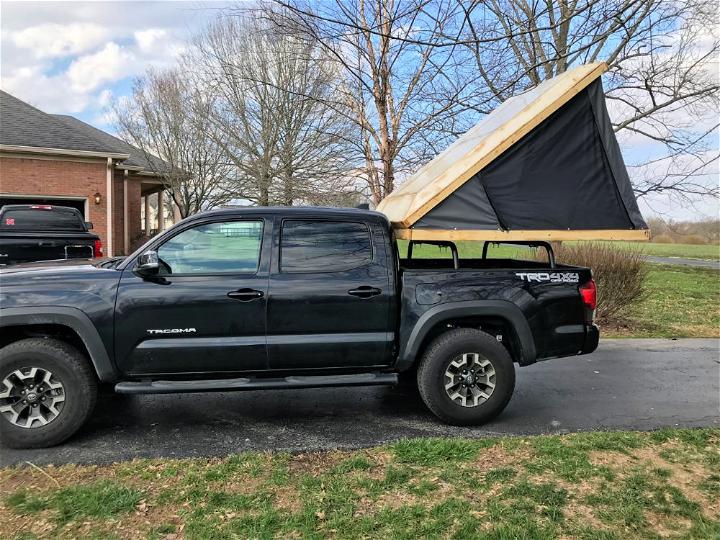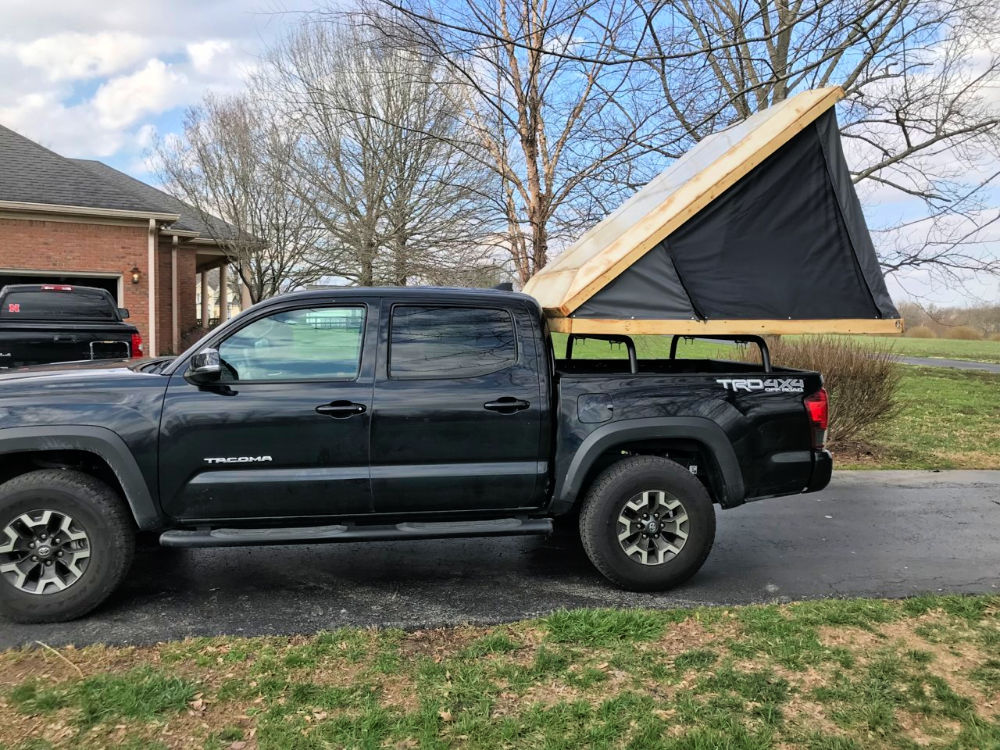 You will feel crazy about this creative DIY build of the DIY roof top tent. The design will complete in approx 8 hours and will last long. Use the plywood to build the base of the rooftop tent and go with the 1x4s wood boards to install the raised side boundary or bottom lips. Next, cut the top folding frame, install the roof rafters, vertical supports and finally cover the top frame with 1/4" plywood. The final step would be sewing the fabric for a tent and to install it, it can be a little tricky. Details here tacomaworld
3. Plywood Roof Top Tent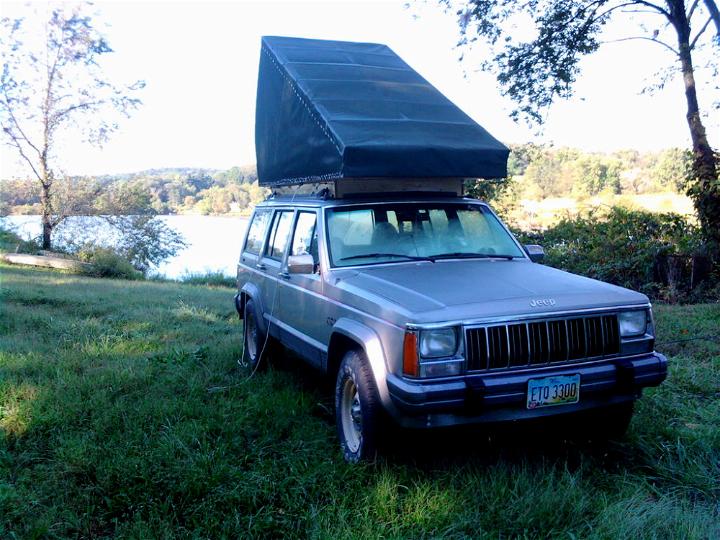 Take your camping to the next level by installing the rooftop tents on your vehicles, will keep you away from the insects and varmints. So, this is going to be a smart step toward the more safe camping. use the 4ftx8ft plywood for building the evenly flat base. Choose the 1x4s wood slats for building A-frame of the tent and opt for 1x6s to build the vehicle mounting frame. Seal all the wood pieces with polyurethane. Details here instructables
4. DIY Rooftop Tent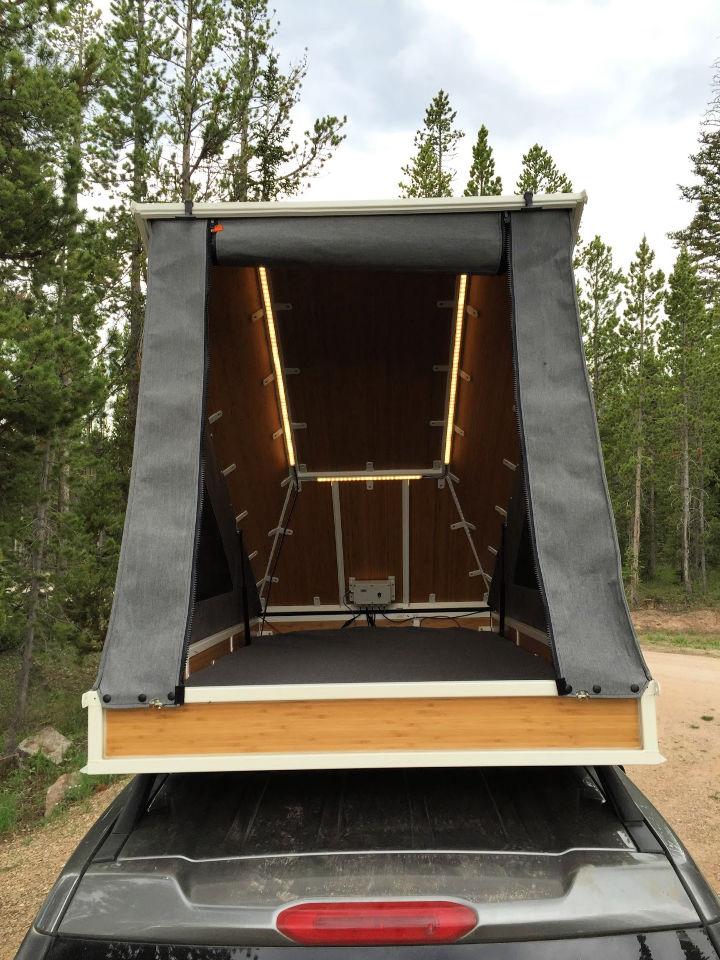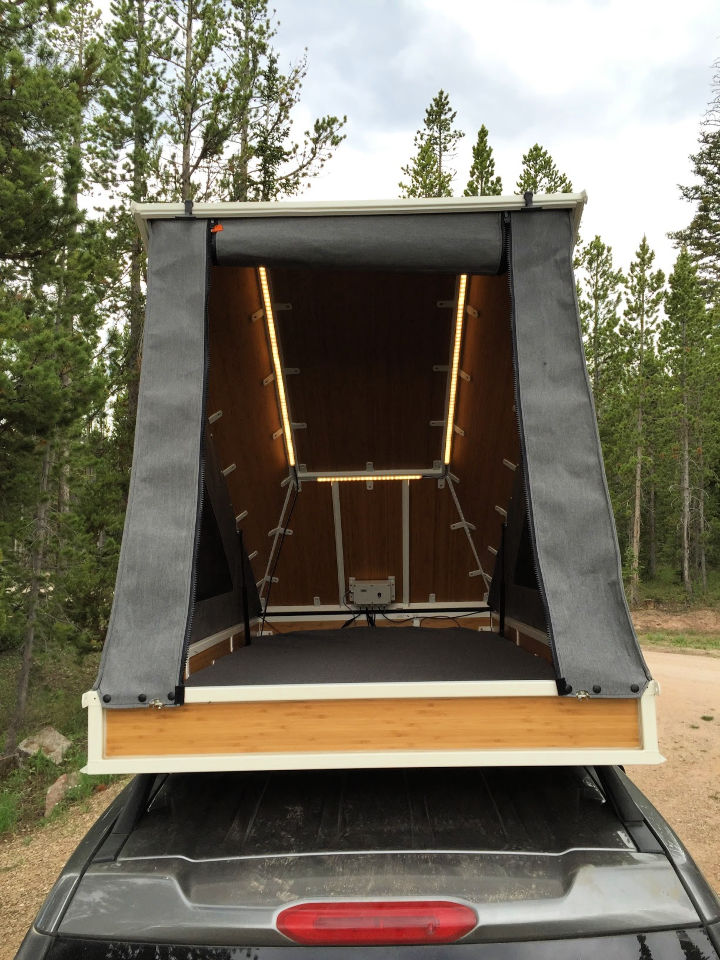 You will love this custom built of the rooftop tent that comes in just fine dimensions. Build this rooftop tent using bamboo plywood, fabric, and metal tube. Just build the whole frame of this rooftop tent by welding together the metal tubes, should come with back hinged. Fill the frame solid using plywood and paint the metal tube lines in white. Next, just grab the triangular fabric pieces to cover the sides and opt for a rectangular piece to cover the front. Install light inside to make this tent work great at night too. imgur
5. Handmade Roof Top Tent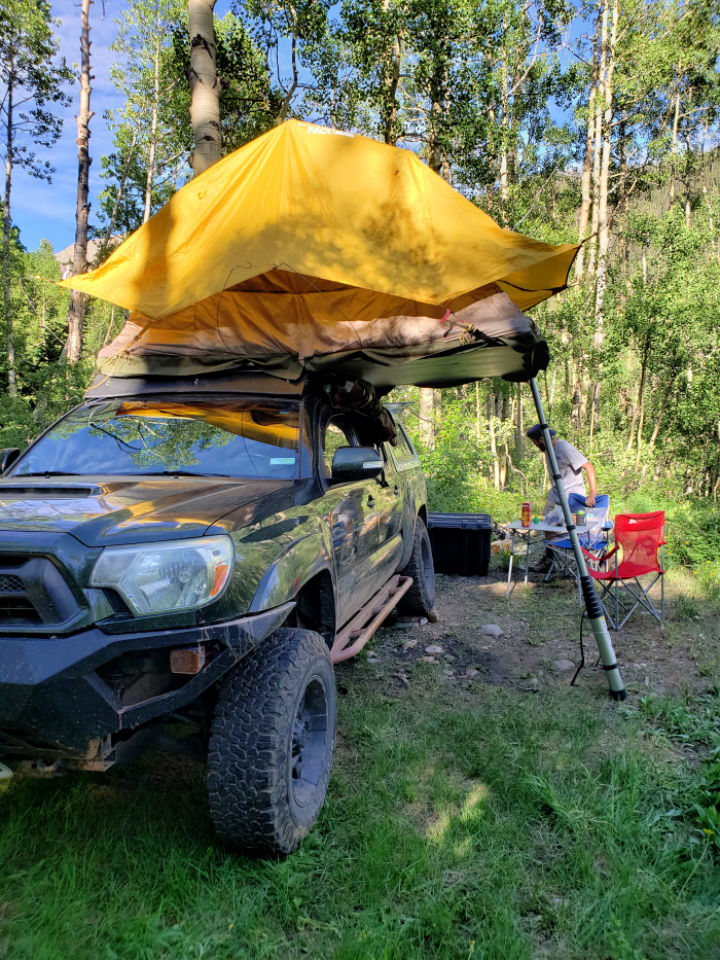 Opt for this another nifty tent that will sit beautifully on the roof of your camping vehicle. This rooftop tent is having most of the parts made of tenting fabric. You can opt for metal tubes or wood slats and even for PVC pipes to build the frame of the roof tent. Simple install the bed mattress inside for the ultimate value of sleeping and sitting comfort and do get a metal ladder to easily reach this rooftop tent. A DIY Roof Top Tent Project for avid sewists. Details here freespirite
6. Best Roof Rack Tent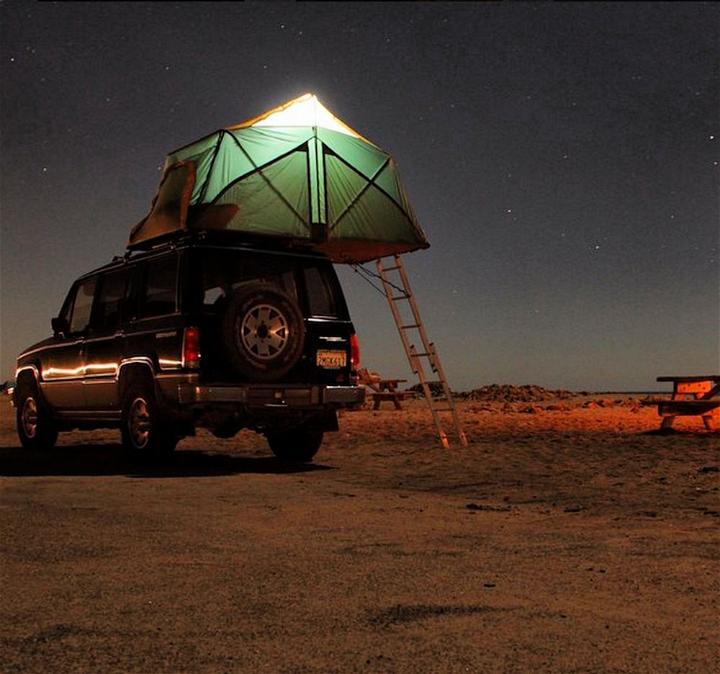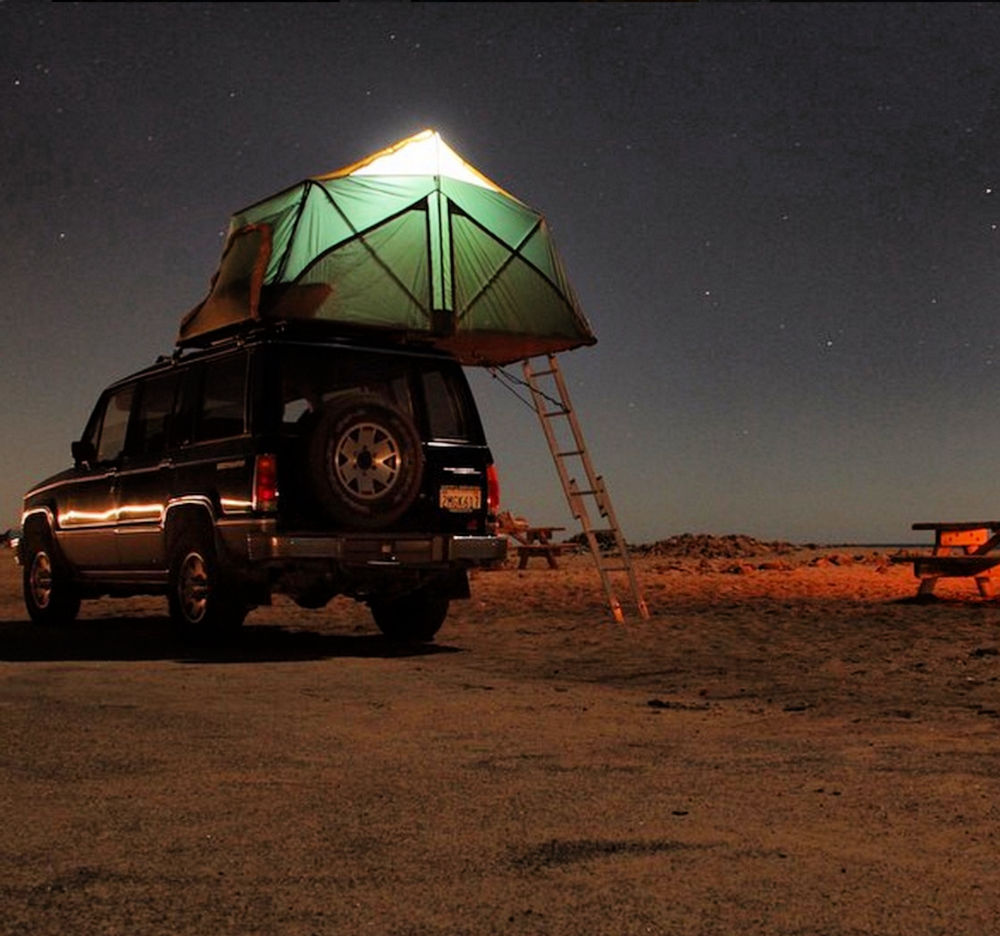 Peek into details of this great looking roof rack tent that comes with a unique frame. It comes with a base made of plywood. Build the tent frame using the conduit. Finally, you can install a tent that you can sew at home. Another budget-friendly option will be to use the reused roof rack tent and those that come with no poles. The final step would be to add the framing straps that may come with sew-on Velcro. Details here imgur
7. Easy DIY Roof Top Tent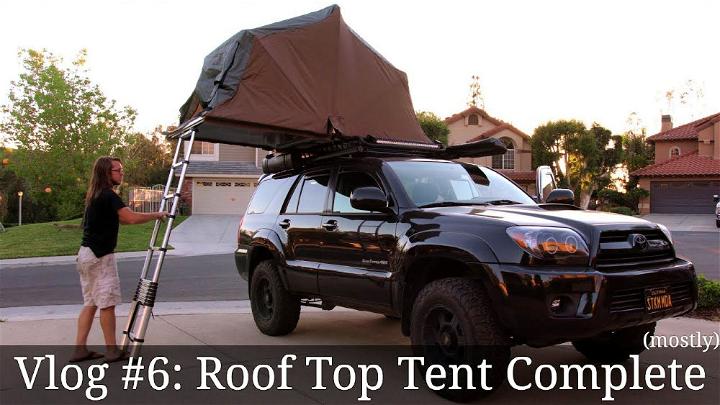 This project is majorly about the sewing and you can use the conduit to make the frame. You must be an expert in sewing to do this rooftop tent project that comes with a slim plywood base. Install the framing straps and make smart use of Velcro to hold the pieces together. This easy to make DIY Rooftop tent can easily be accessed by using a metal ladder. One of the best tent design to build at home. Details here youtube
8. Canopy Camper With Buit In Rooftop Tent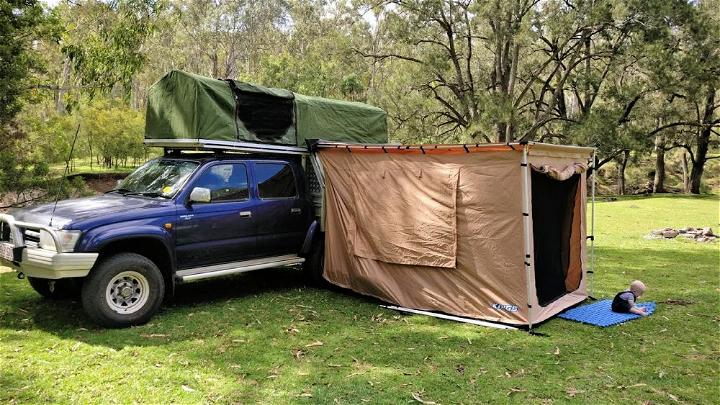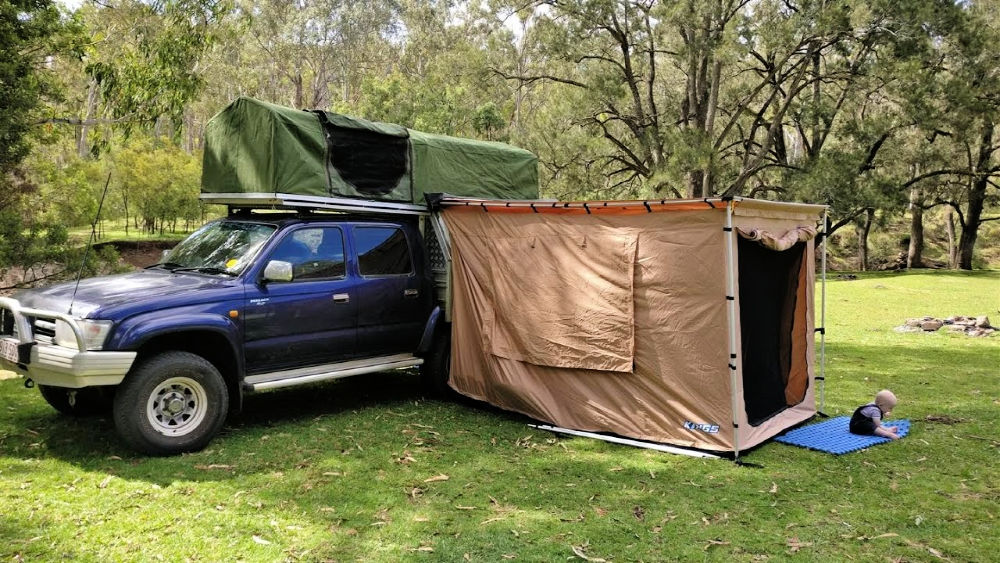 You will surely love to get this canopy camper for your camping obsession. It comes with a built-in rooftop tent and will provide all the camping comfort. The rooftop tent folds out of the canopy roof, and due to being on a height, you will be super safe in this rooftop tent when enjoying camping. Build the frame of this canopy camper using aluminum tubes and then cover it up with the best tent fabric you have easy access to. Build it for a loving camping friend to get praised for your DIY skills. Details here youtube
9. DIY Car Top Tent on Budget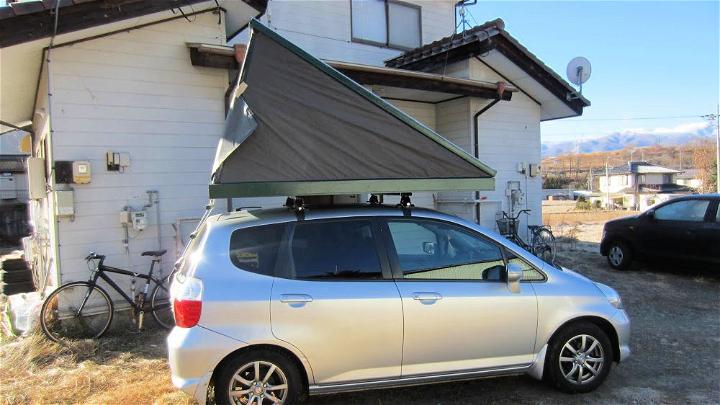 Jump on the safe camping by building this car top tent that will be ready on a budget. This rooftop tent comes with an A-frame and opens on a hinge to reveal the comfy inside where you can install your bed. What is the most amazing in this project, the installation of it in an ordinary car? The finished size of this camp is 210cm long, 130cm wide and 120cm high. A one of the best rooftop tent hat you can quickly build with plywood, 1x4s, and fabric. Details here imgur
10. Wild Coast Roof Top Tent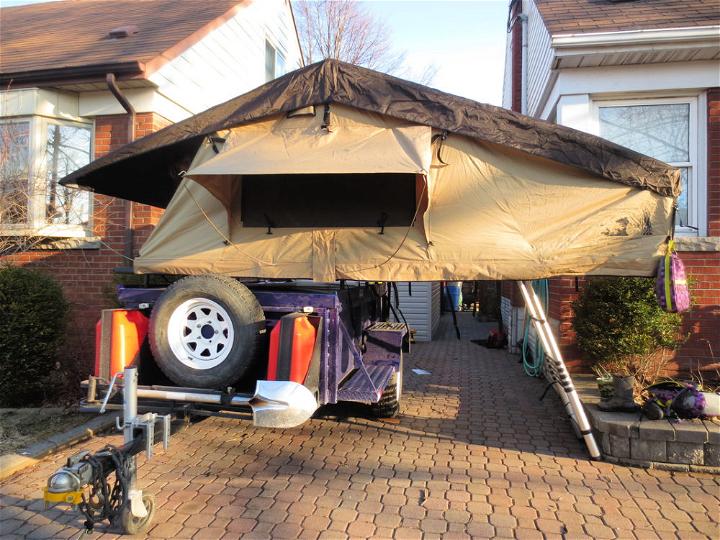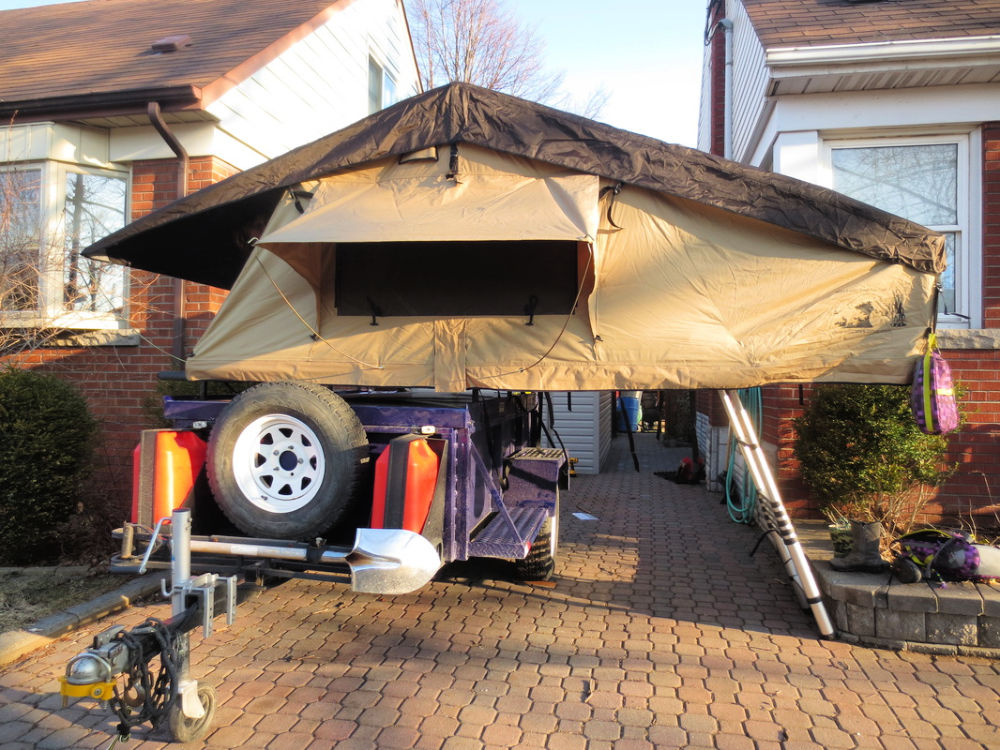 You will surely fall in love with this wild coast rooftop tent that can fold out very wide to provide a space like a full bedroom and a room. This wild coast rooftop tent comes with lots of interior lighting inside to brighten up the entire tent. Just build the frame of this wild coast rooftop tent using aluminum tubing. One of the best rooftop tents ever that will get ten out of ten from you. Here you have to do a lot of sewing to sew the large tent for this rooftop tent. Details here outhereadve
11. Chevy Trailblazer Roof Top Tent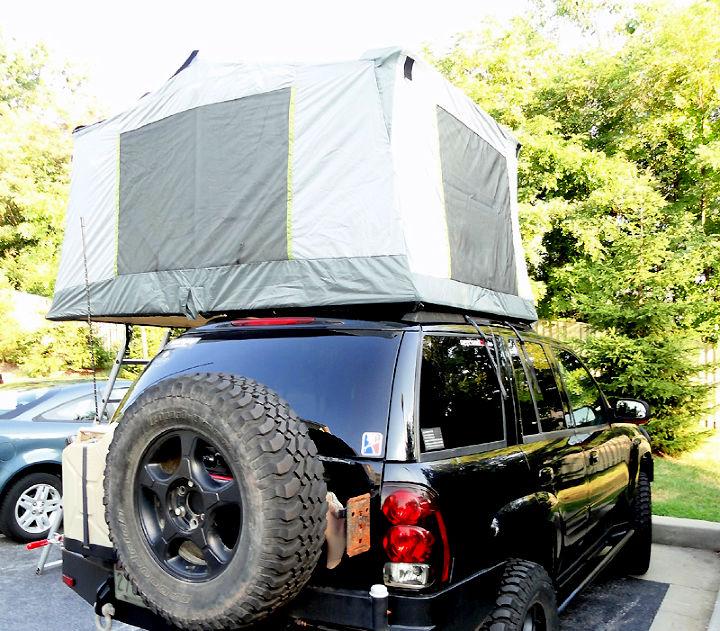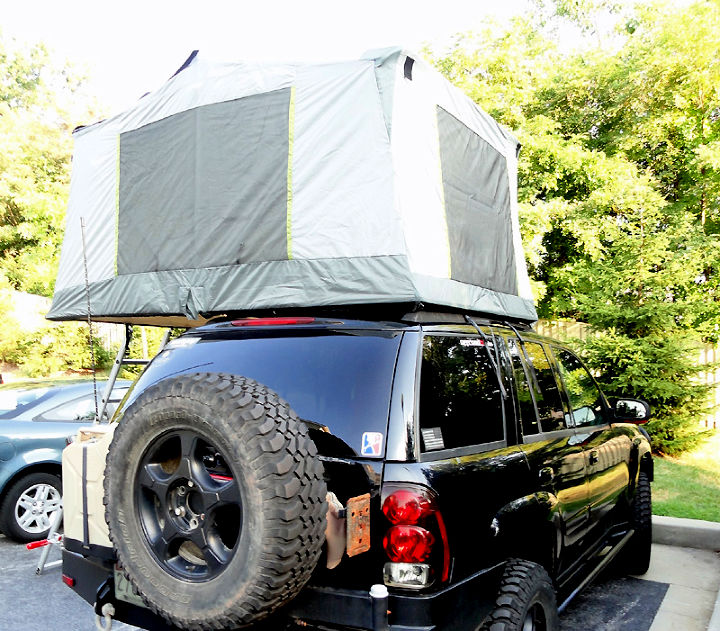 By using the above provided free plans and guides, you will able to quickly set up your own custom rooftop tents with great ease. Try this one. The chevy trailblazer rooftop tent made to inspire. The camping on height will be super possible using this pop-up rooftop tent, which will be quite inexpensive and quick to make. Use plywood to make the base, install aluminum tubing to build the frame, and then cover the model with a tent that you can sew yourself using your sewing skills.
12. Roof Top Tent Platform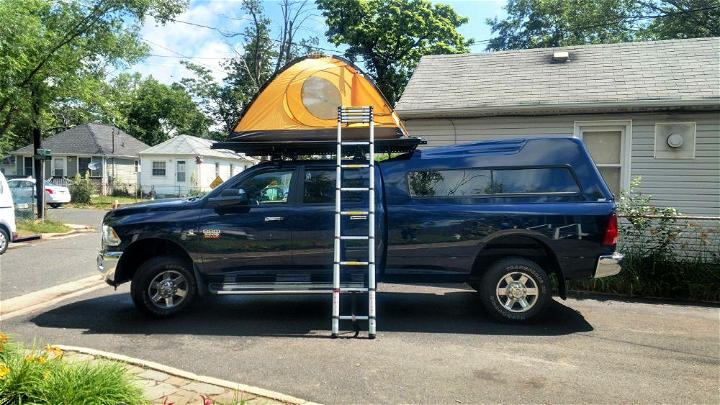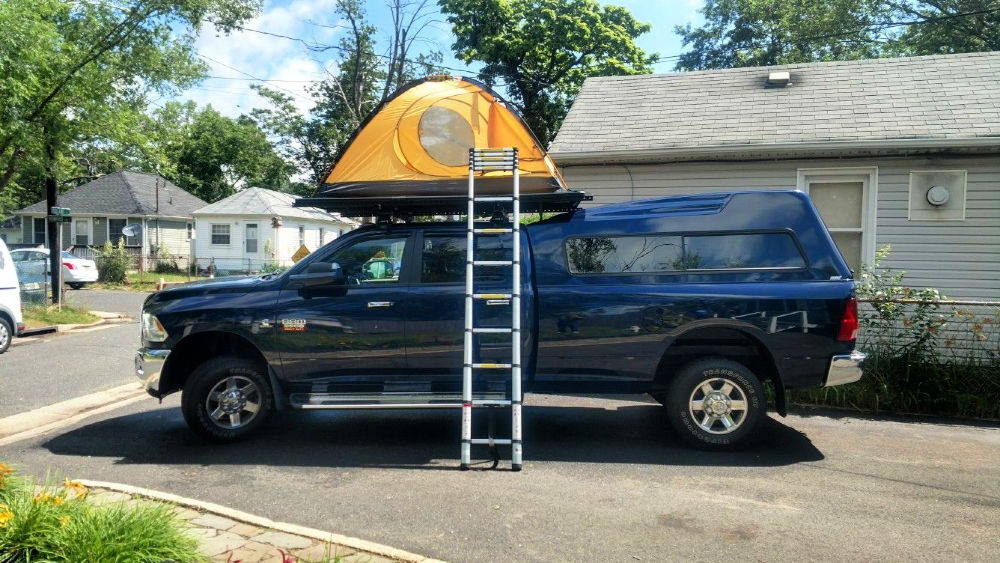 The miniature but good looking rooftop tent that is super easy to access using a ladder. It will keep your savings from the wild animal to be on the top of your vehicle living the luxury. Install light inside and also a bed to feel super comfortable. This tent comes in a domed shape and looks great with a heavy-duty frame and plywood base. Loading it on your vehicle can be a little tricky, but not if you know how to do it nicely.
13. Cool Roof Top Tent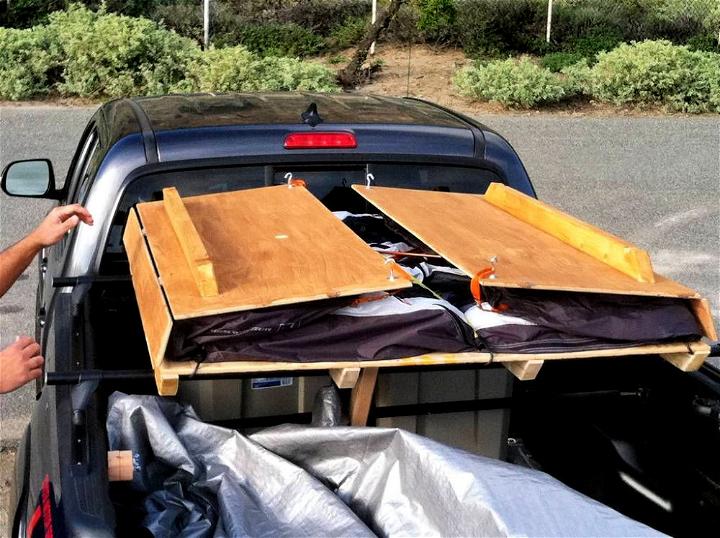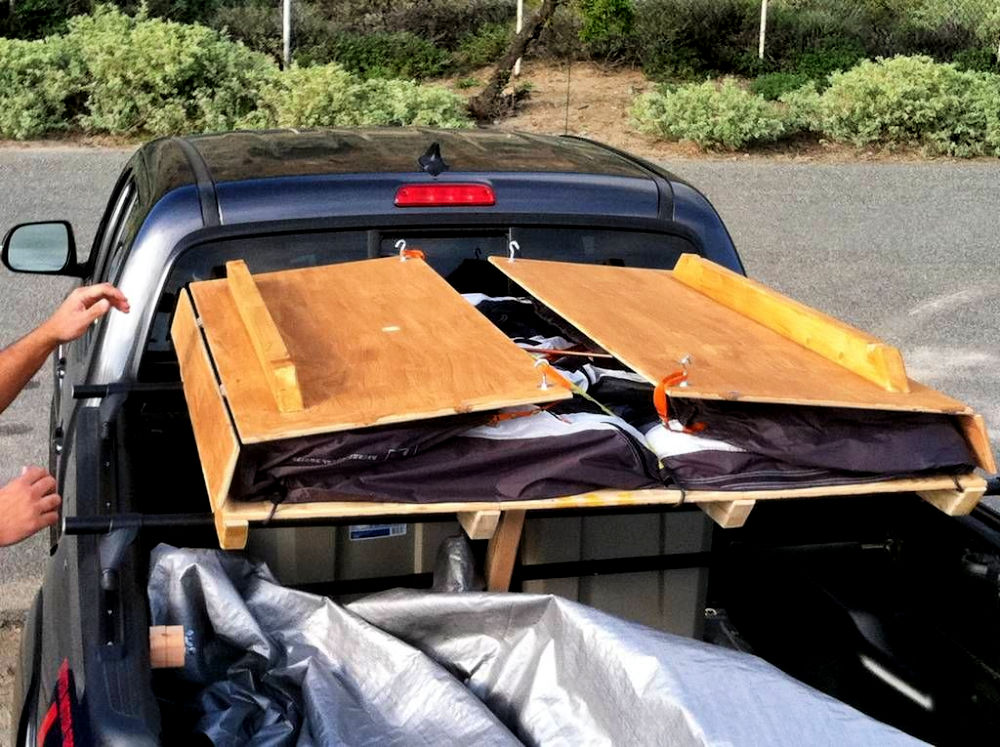 Get inspired by this another cool rooftop that will surely impress at a very first look. The tent is set on a plywood base and comes covered with 2 hinged plywood that will fold to be a part of the base. Installing this rooftop tent will be a smart step toward safe and luxurious camping, and building this tent will not cost you big for sure. One of the best rooftop tent to add to your vehicle.
14. Roof Top Tent for Trailer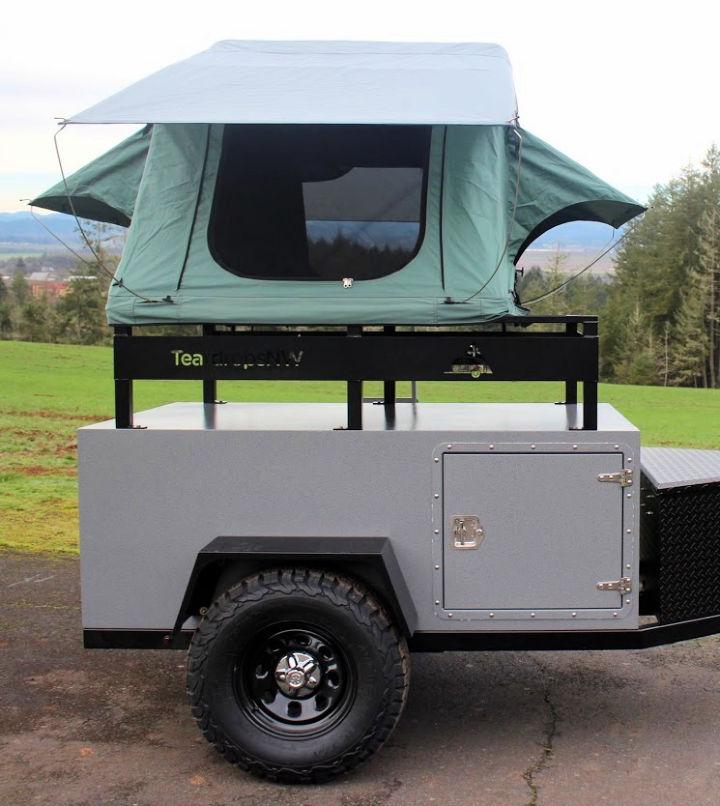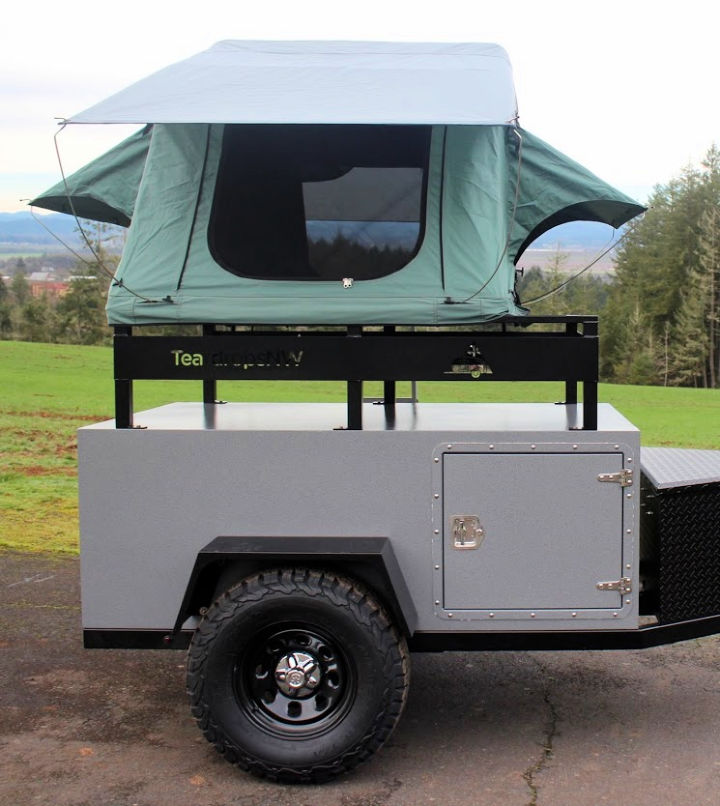 If you have no issue with parking space and can easily pull a camper trailer behind your vehicle, then you must go with this rooftop tent for a trailer project. It includes installing a tent on the trailer, and you have to build a metal or wooden base first. Next, just sew the tent with netted windows and install lighting inside, if possible. This tent also comes with adorable window covers. The best to get for your camping passion. Details here
15. Napier Truck Bed Tent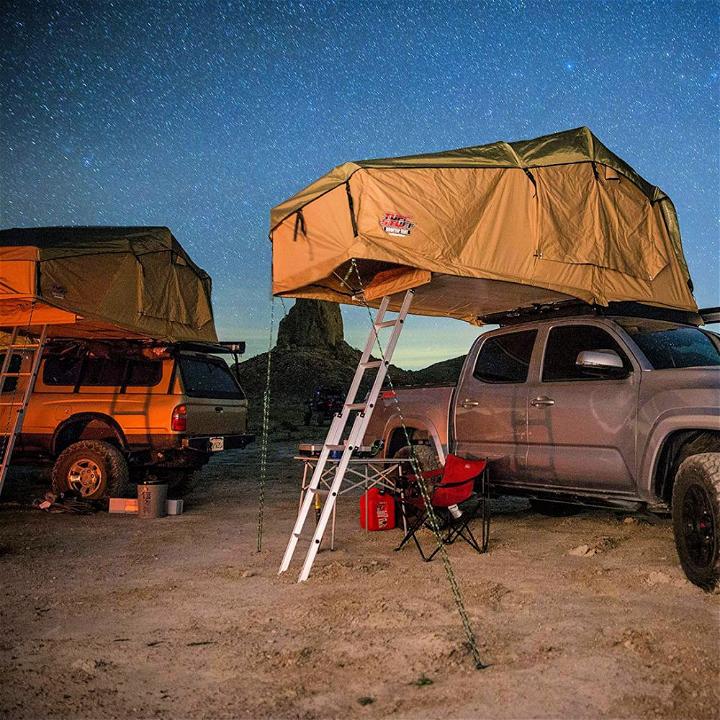 Peek into details of this Napier truck bed tent that is simply outstanding. Get inspired by this another gorgeous truck bed tent that folds out to serve as a great large bed. Again build the base of the tent using plywood and then install the custom frame using aluminum tubing. The final step would be to add a tent that you can sew yourself. Add finishing straps that may come with sew-on Velcro. Do build it for a safe and luxurious camping obsession. Building it at home will not cost you big.
There are tons of creative and handy people who construct homemade campers. Check these homemade camper trailer designs to save your money and lower your camping budget easily. Here are some free teardrop camper plans to help save a lot more.
Conclusion:
Are you addicted to camping? Then you will surely be loving to be safe at camping in the jungle. So, instead of installing the tents on the ground, just opt for these DIY roof top tent ideas that will keep you safe from the varmints. The roof top tents are a height of camping and will be a smart step to spice up your camping. It will save a lot of time installing tents. The list will provide you projects that will fit every budget and skill level. You will get the guides also to install the wiring, lights, and other home amenities to feel like home while being in your tenting camp.