No doubt, the large camper trailer, camping pop-up tent trailers, and large caravans are in trends, but there is still a huge list of fans of teardrop campers. These campers have a shape like a teardrop but provide all home comforts at camping space with the smartest builds. The teardrop campers come with more pleasing design aesthetics than any other camper, and they are quite something lightweight and easy to tow behind your vehicle. The teardrop campers require low maintenance, and this is a big win. However, buying a teardrop camper can be expensive, but you can considerably trim down your expenditures by building a DIY teardrop camper at home. Browse this collection of 15 free DIY teardrop camper plans and see a variety of readymade samples to choose from. So, these small campers are easy to pull, so there will also be less fuel consumption.
Building a DIY teardrop camper is just darn easy with the provided free teardrop camper plans that offer step-by-step instructions, illustrations, blueprints, diagrams, and tutorials also. For the base, just grab a harbor freight trailer, next build the solid wooden deck on it that may also come with sandwiched insulation. Next, install the curved sidewalls, and they will be darn easy to cut out using a provided template.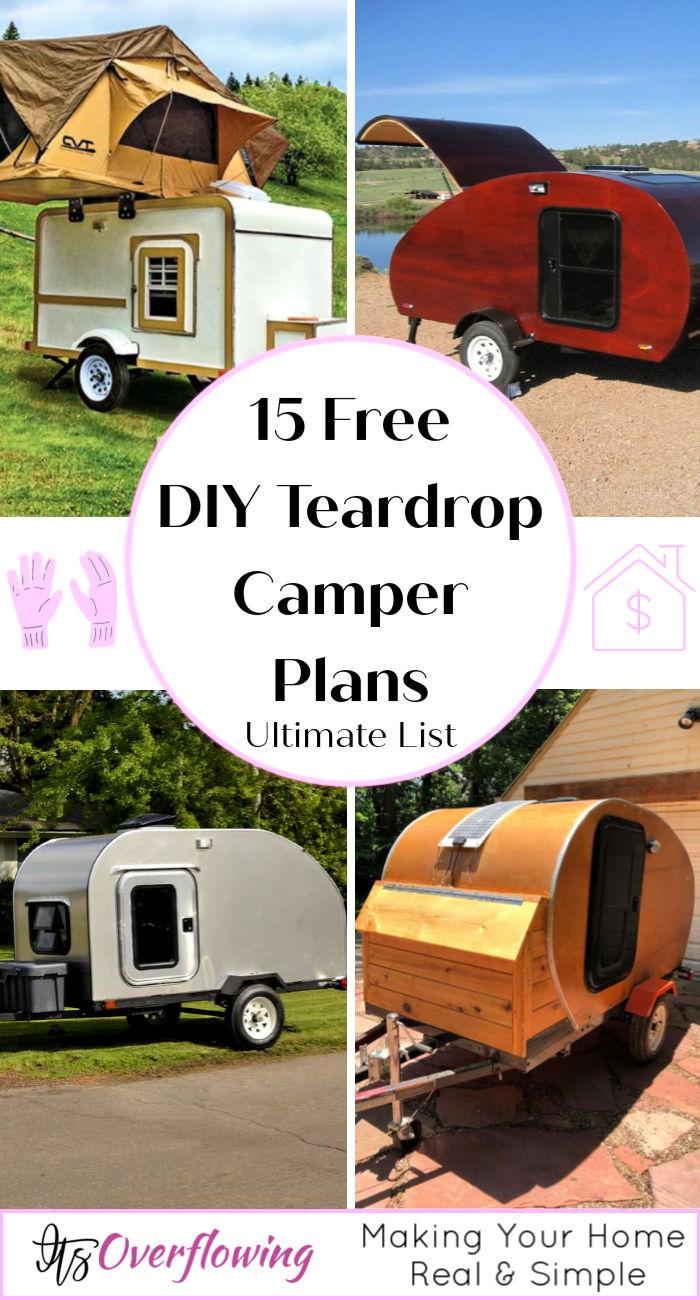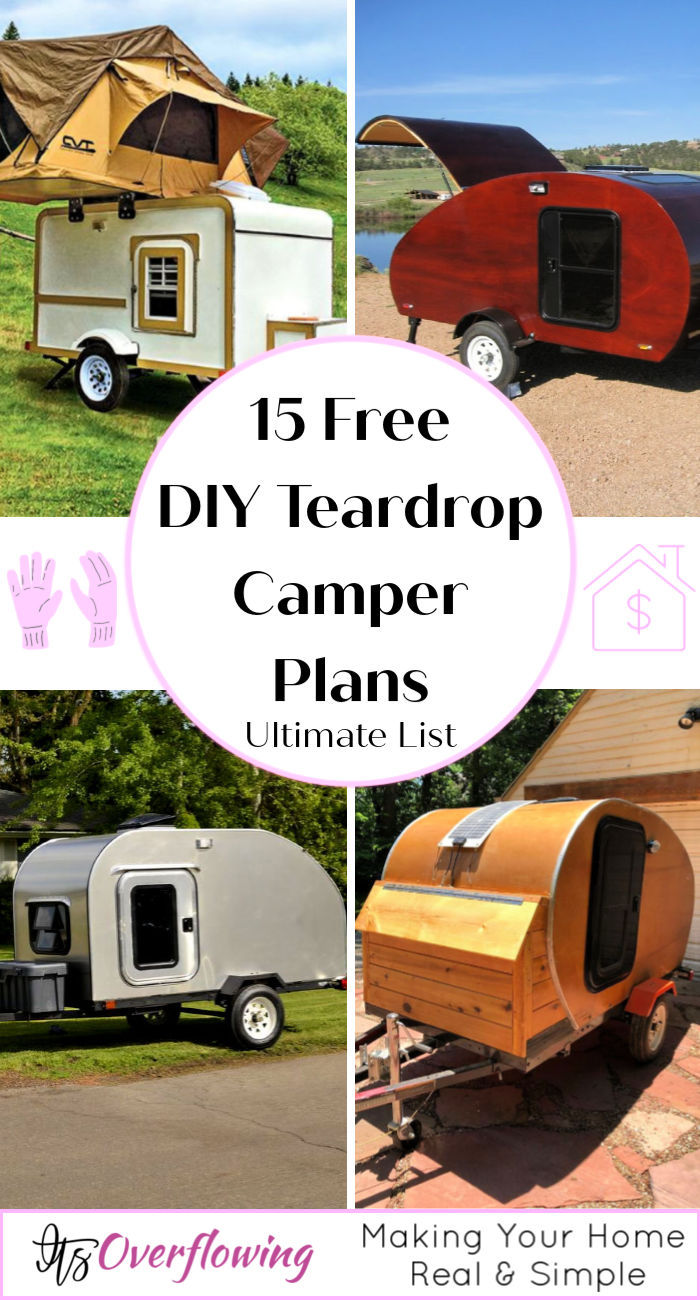 Build the bent beams to come all around the sides, install cross supports, and then aluminum covering. Install wiring, fans, beds, sofas, pumps, lights, and custom storage options, and you are all free to add custom features. Check this collection of 15 best DIY teardrop camper plans to get more camper making hacks.
You should also check these DIY camper awning ideas to protect yourself from sunlight during camping.
1. Build Your Custom DIY Teardrop Trailer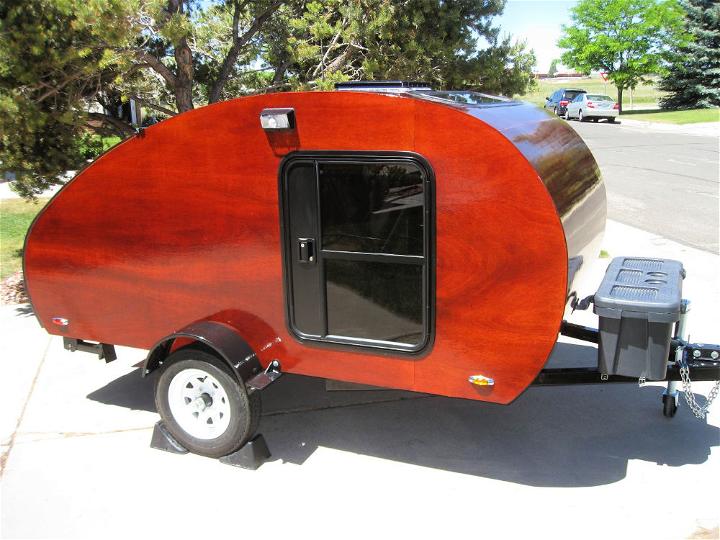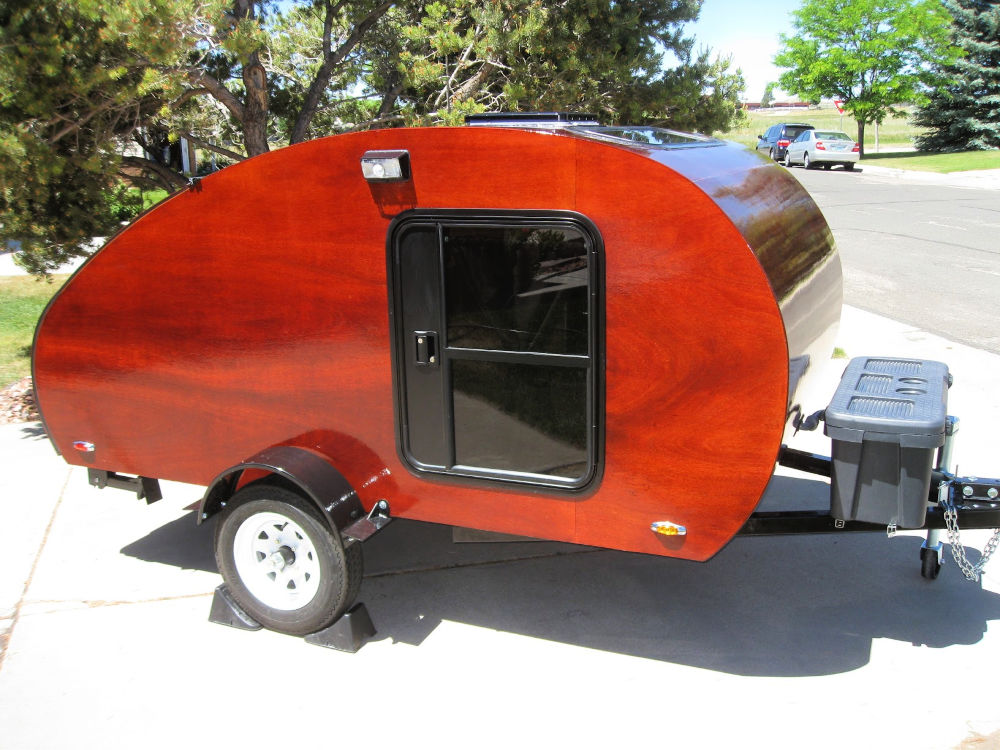 Willing to enjoy camping at any time, even when being in your vehicle? Then build this teardrop camper, the lovely mobile sleeping accommodation that you can build at home. It comes with limited space by providing all the facilities of home. First, build a base frame that will come on wheels and will hold the trailer and lights too. Next, build wooden sidewall frames. Further install wiring, insulation, shelves, metal roof, door, and windows. Plan details here!
2. Homemade Teardrop Camper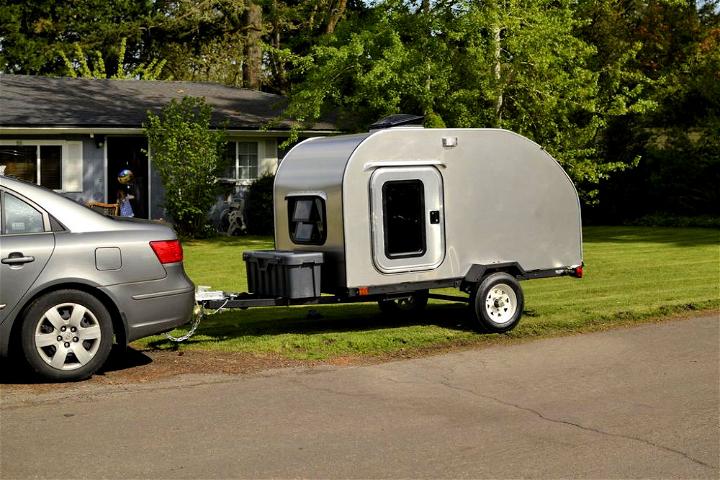 It is super expensive to buy a teardrop camper, the miniature mobile houses to attach to the rear of your vehicles to drag to any picnic or camping space. They are made to make you feel like in a home and comes with installed beds, sitting furniture, and other home amenities. Get here free teardrop camper plans to build this homemade teardrop camper. Build this camper will cost you between $1500-$2000. You need a harbor freight trailer base, aluminum, aluminum molding, water pump, sink, stove, windows, vent, doors, dome lights, and porch lights to make it. Details here instructables
3. Ultimate Teardrop Camper Trailer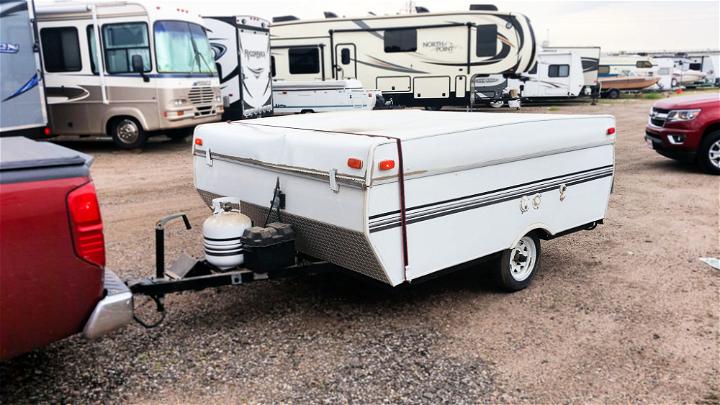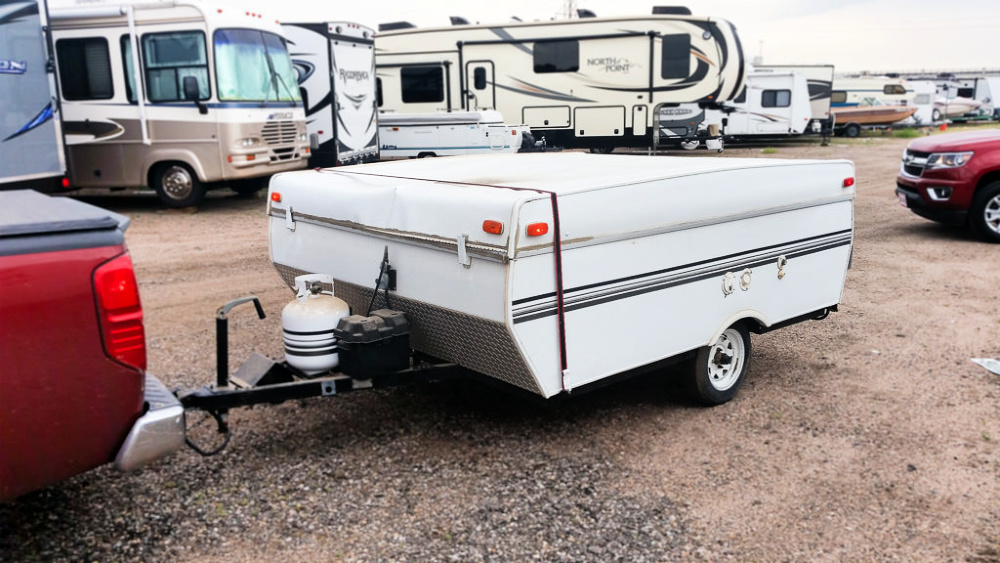 Take your camper game to the next level by building this ultimate DIY teardrop camper that has been self-made. By using the plywood and other lumber or pine wood slats, a custom camper has been built that sits beautifully on the harbor freight trailer base. This homemade camper has decided to come up with a kitchen and plenty of storage space, including the space for bedding and sitting. Install the doors and windows, and that's it. Details here outtherecolor
4. How to Build a Teardrop Camper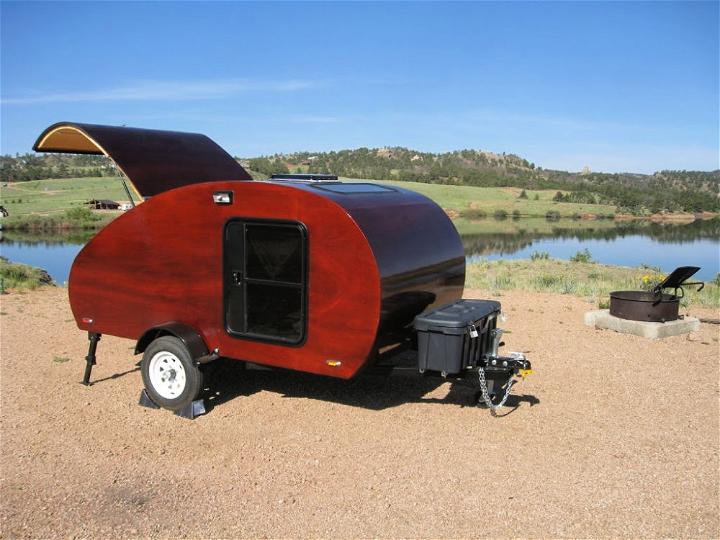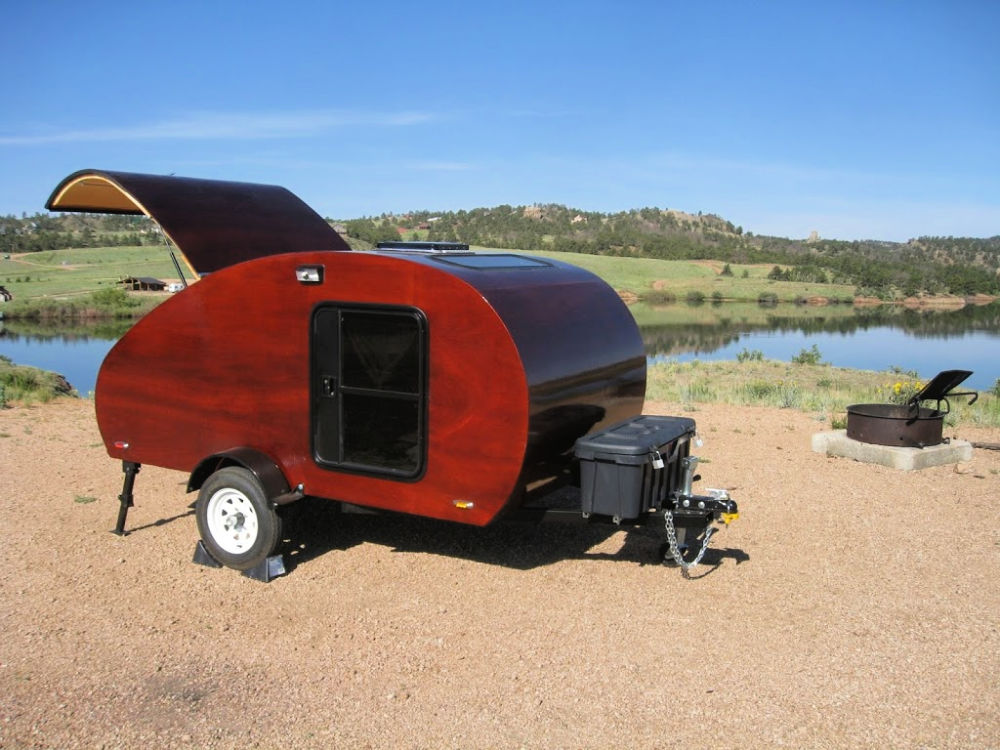 Grab the blueprints and free image guides here about how to build a teardrop camper like a pro. Again you have to start building this DIY teardrop camper with a metal harbor freight trailer base. The finished size of this teardrop camper is 5′ x 8′. Build the base the camper using the poplar boards and next install the insulation sandwiched in the birch plywood. Next, install the sidewall sheathing cut out the sidewall frame for teardrop camper. Details here buzznick
5. Build Your Own Teardrop Trailer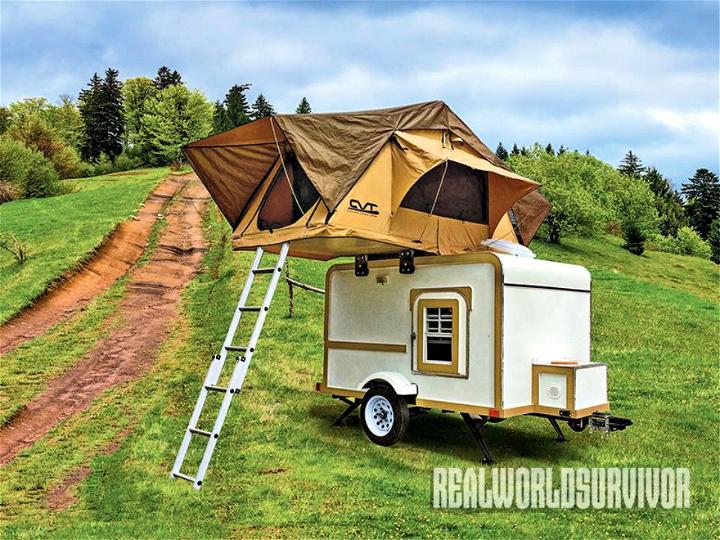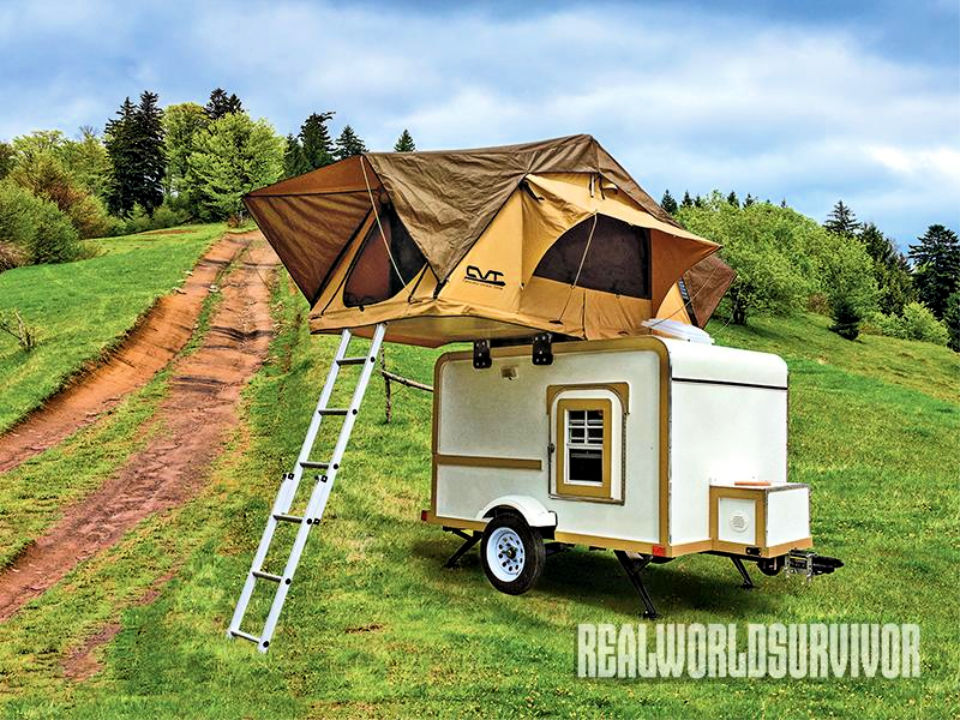 Interested in building your own beautiful DIY teardrop camper trailer? Then get here this free plan helping you build a teardrop trailer at the cost of $2000. First, you need a 4′ x 6′ trailer on which you can build a custom teardrop trailer building. Further, you need plywood sheets, rubberized undercoating, 2×2, 1×2, 1x5s pine wood boards, and lots of other appliances and accessories like batteries, ventilation fans, roof tent, and fiberglass sheets, etc to build this trailer. Willing to clone it now? Grab the free guides and instructions here realworlds
6. Custom Teardrop Trailer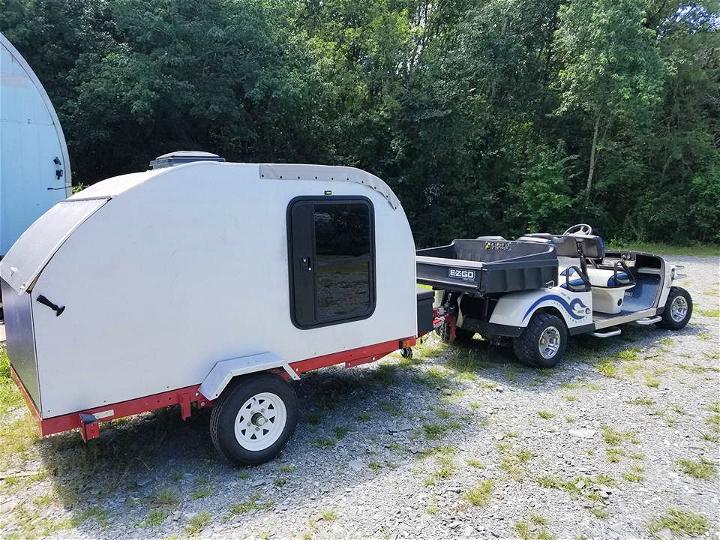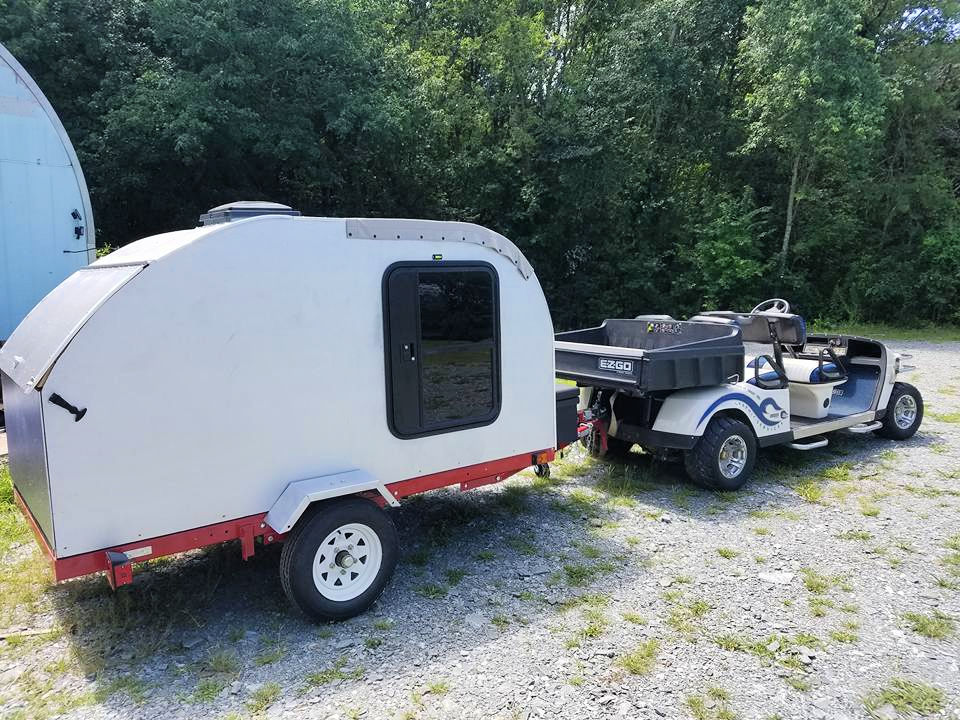 You will surely fall in love with our list of teardrop camper plans that are looking fabulous and luxurious. Here, this luxurious mobile home can easily be dragged to your camping space to feel like a home at the camping space. Build this teardrop trailer using 4'x8′ trailer, and further you need 1x4s wood slats and foam insulation to build this teardrop trailer. Build the frame of the teardrop frame with the plywood and sheathing and use the 1x4s to use as cross supports and next fill the trailer up with the plywood or aluminum sheet. Details here mymobilehom
7. Build a Teardrop Trailer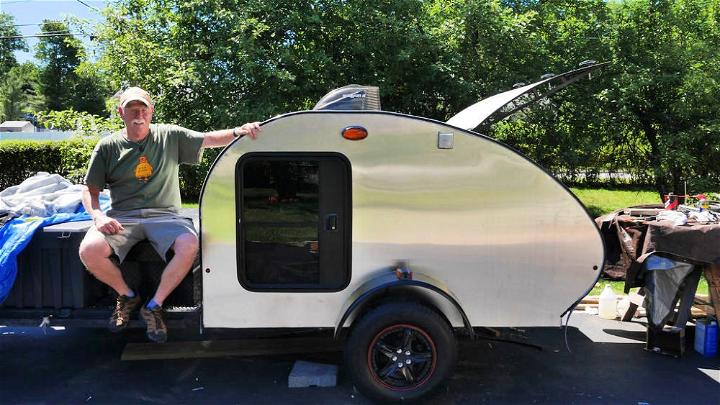 Spice up your camping with this teardrop trailer that is easy to tow behind a car. It will make you live the camping luxury and come with a fabulous shiny design. It has the ability to provide all facilities of a home in a minimal covered space, and making it will not cost you big. This project involves building a teardrop building over a 6′ x 15′ trailer and will surely impress the camping lovers at a very first look. It provides a 7ft sleeping sections for a great zzzzz. Construct building with wood and cover it up with aluminum casing. Details here instructables
8. Cedar Beams Teardrop Trailer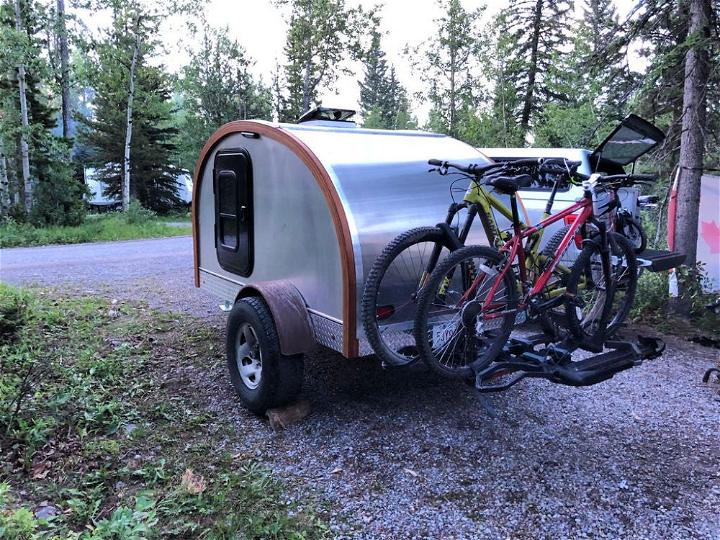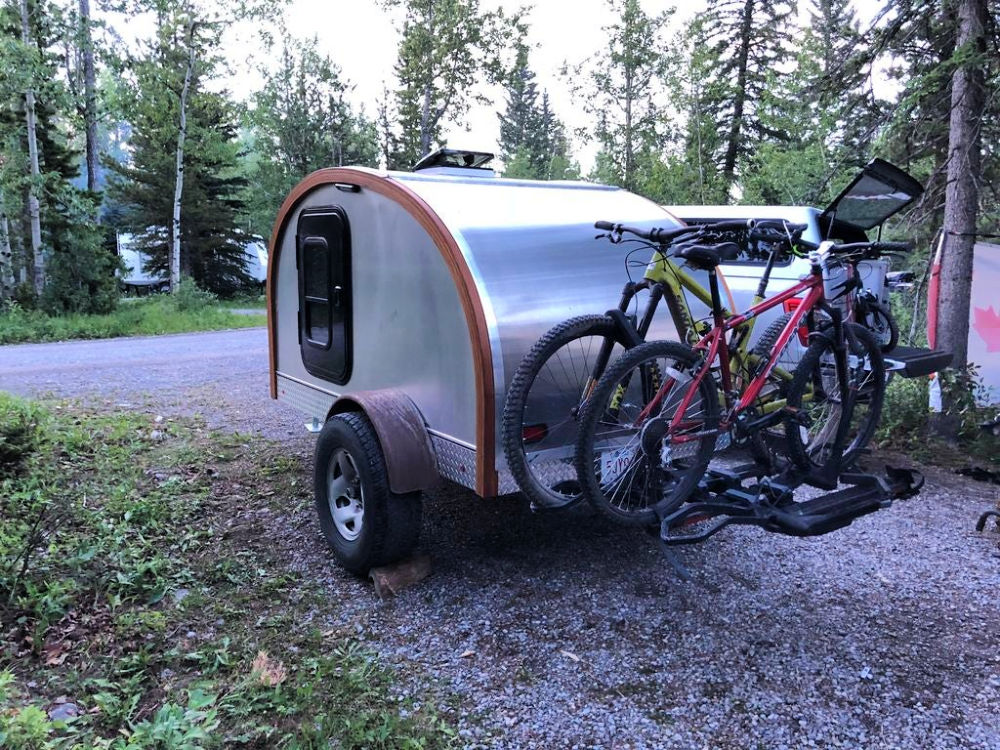 A big thanks to cedarwood beams for making this outstanding teardrop trailer. First, build the cedar beam trailer on wheels and install the sheathing to build the sidewalls and solid floor. Install the foam insulation if you want and then install the bent beams that can be a little tricky to build. After you build the entire wooden housing with doors and windows, cover it up with the aluminum casing. Install the bed inside and a sofa set and also all the other home facilities. Details here instructables
9. DIY Teardrop Trailer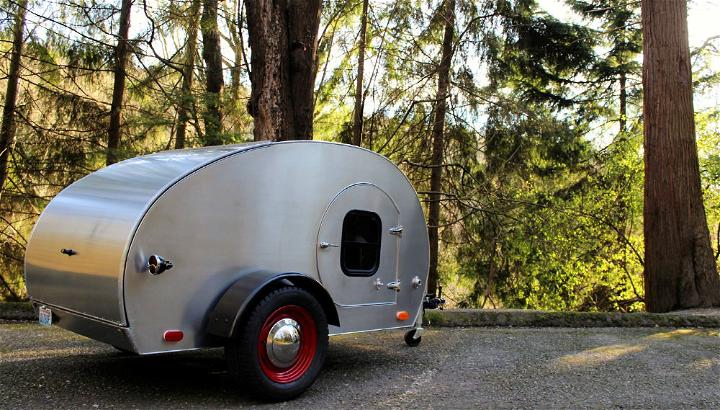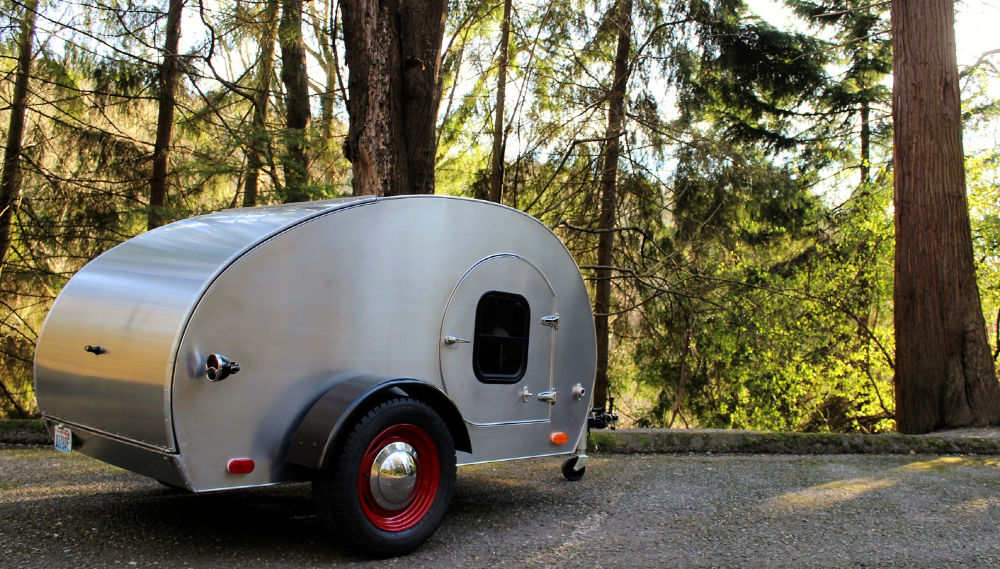 If you have gone through the pain of tent camping and don't want to leave the comforts of home even at the camping space then you must build this DIY teardrop trailer, offering all the luxurious of a home along with being easy to tow. Again use a teardrop trailer template and cut the pieces accordingly. Install the bent beams and then cross supports and cover the entire model with aluminum for a shiny metal appeal. A one of the best DIY teardrop trailer to make at home. metalpress
10. Teardrop Trailer Plans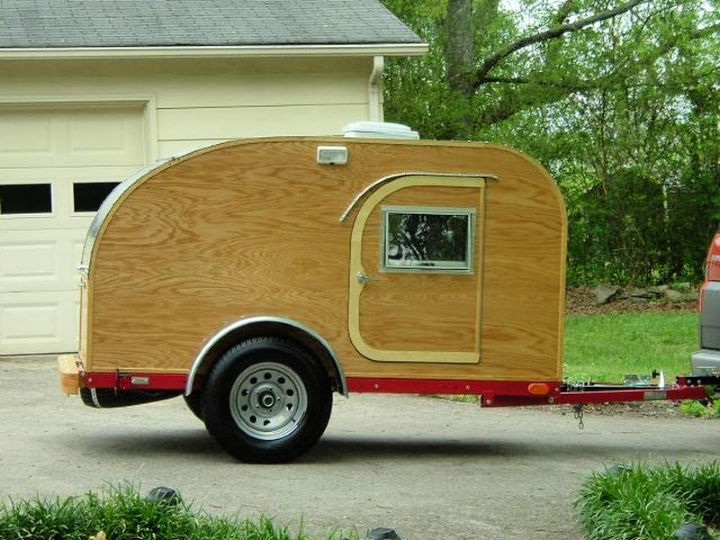 This homemade teardrop camper model will get ten out of ten from you due to interesting designs and features. Grab first a 4'x8′ harbor freight trailer and build first the solid wood floor on it using plywood. Sandwich the foam for insulation. Next, make the side walls according to the design template and cut out the windows and doors. Install storage cabins, inside the bed, sofa, and other life luxurious and then cover the entire wooden housing with the aluminum. One of the best teardrop trailer to build at home. Details here tinyhousefor
11. Teardrop Travel Trailer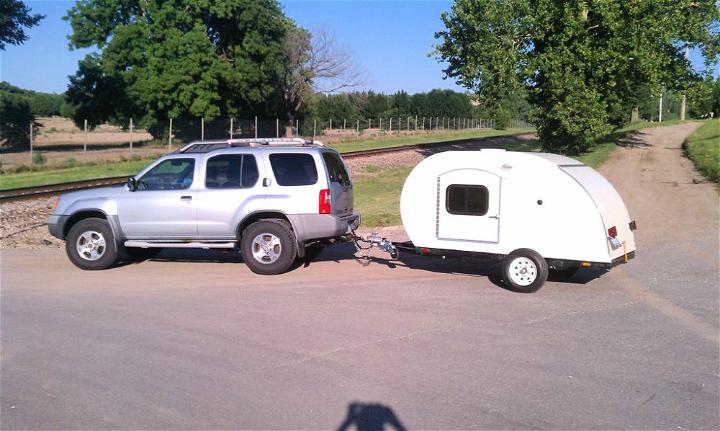 Get inspired by this another great homemade teardrop travel trailer that is to make with a 4×8 utility trailer and will surely impress at a very first look. The constructions are all about building a lovely wooden cabin that you can easily set on the trailer to get a sleepy mobile accommodation for your camping obsession. First, build the floor of the trailer using cedar cross beams. Next, raise the walls and cut out the windows according to your template. You will get the guides to install the wiring too. Details here instructables
12. Build a Wooden Teardrop

You will surely fall for this wooden teardrop trailer that is visually captivating and comes with all the luxuries installed inside. First, make a sketch of the teardrop cabin using cardboard and then use it as a template to cut the walls out of the plywood. Star the project by building a solid wooden, even insulated foundation. Next, raise the sidewalls, cross supports, and a covered roof. Install wiring lighting and other features, and here you go. Building a teardrop camper at home will cost you much less, you must check our ultimate list of teardrop camper plans. Details here instructables
13. DIY Teardrop Trailers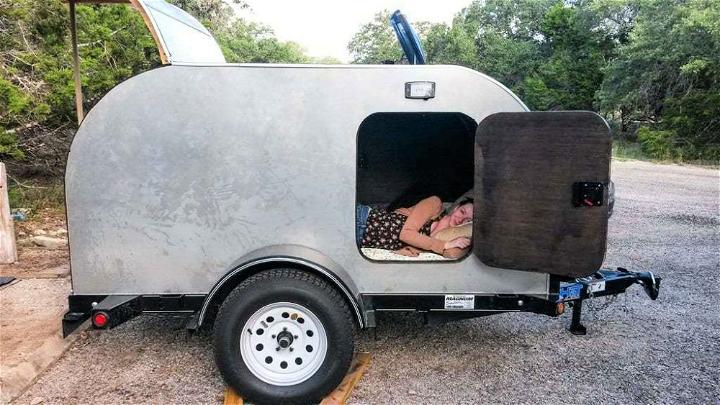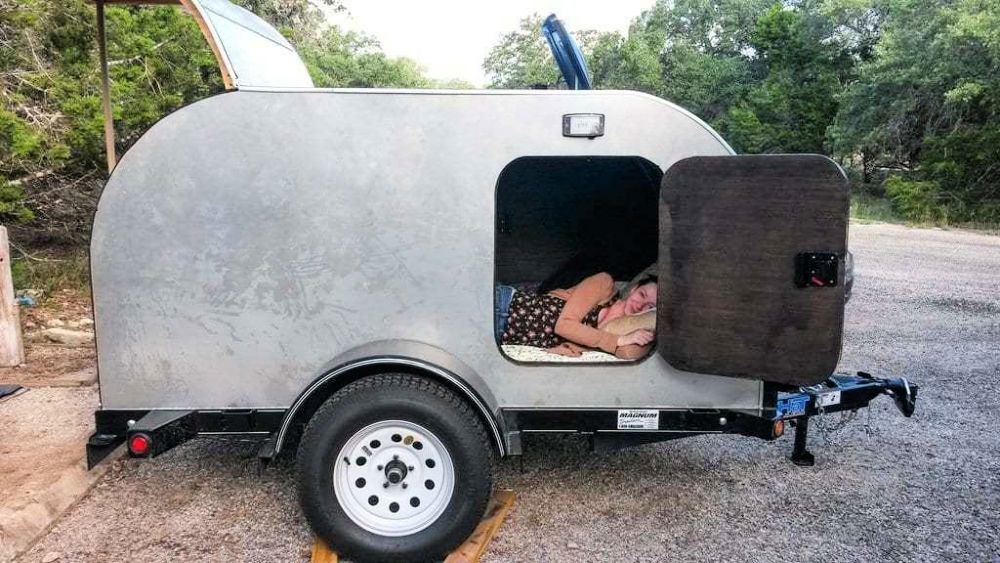 Your love for the teardrop trailers is going to increased a lot more after you look at this teardrop trailer that is to make at home. It will help save tons of your costs and will make the camping lovers live the luxury. Building the wooden cabin on the trailer is all about precise cuttings, bending, and durable attachments. Cutting the curved sides and building the curved beams can be a little challenging. Install the sink and storage to the backside and plan the interior for bedding and sitting. Details here enrg
14. Teardrop Camper Plans

Enjoy the camping more with these our list of teardrop camper plans that are easy to tow behind your vehicle. The best to get for any time and for anywhere camping and the built-in bed will save you from the pain of sleeping at the ground. Building this homemade camper by yourself will be budget-friendly, but it can break your bank to buy a readymade one. Go with the provided plans and see how you can build a teardrop wooden cabin on a harbor freight trailer like a pro. It will provide all the benefits of a home at camping space. Details here littlethings
15. Build Teardrop Camper from Wood

Trim down your luxurious camping expenditures by constructing this wooden teardrop camper. It will work up super quickly and is quite something quick and inexpensive to build at home. This is a whole wooden made teardrop camper to build at home, and it will surely provide all the home comforts at the camping place. The design is impressive and provides black doors and windows for a fine appeal. Install custom storage options to front and backside of it and cover it also with aluminum for a shiny appeal. Details here instructables
Conclusion:
The large camper trailers are all the rage now, but they can be hard to drag behind the vehicle and will also require high maintenance. The large campers may make you live the luxury, but you can make yourself happy under low-budget with these DIY teardrop camper plans that are inexpensive, stylish, easy to maintain and have more beautiful design shapes. There are custom designs having custom sizes to choose from. Moreover, you are all free to add and remove custom features to spice up your camping. So, do browse the entire list of these teardrop camper plans to build one of your choices.